| | | | | | | | | | | |
| --- | --- | --- | --- | --- | --- | --- | --- | --- | --- | --- |
| <![if !vml]><![endif]> | | | | | | | | | | |
---
Last Update: 13-MAY-07
Personal Cycling Trivia, Training Logs, Tips, Testing, and Philosophical Ramblings on Various Topics.
This page contains a collection of odds-and-ends info some folks may find interesting.  Since taking a job with BAE Systems in 2001 and meeting a certain individual who loved keeping stats on things, I too caught the bug and started a training log.  I believe this has helped me tremendously in achieving higher levels of fitness with the many constraints I must train within.  In keeping a detailed Excel spreadsheet log, it is easy to keep track of certain accomplishments and records.  These are highlighted here.  Nothing too extraordinary, other than maybe biking up possibly the biggest vertical bikeable climb in the world, Mauna Kea on the big island Hawaii.  Annual summaries from training logs are given, as well as my complete 2006 training log.  I have gone to the lab for testing a couple times too, the first time for a complete "Anaerobic Medley" of VO2max and LT testing at the Human Performance Lab at Elliot Hospital in Manchester, NH (now defunct), and then more recently at the Exercise Physiology Lab at the University of New Hampshire.  The testing at UNH was part of a graduate student study.  Summaries of this testing are given.  You can launch directly to the topic by clicking on the links below:
2005 UNH VO2max Test and NAC Study
---
Road Cycling Records
Longest Ride: 202.5 miles in 10:05:10 during the Granite State Wheelman's Seacoast Century, September 2002.
Fastest Double Century: 200 miles in 9:56:44, last 100 miles solo, during 2002 Seacoast Century.
Fastest Century: 4:42 with wife on tandem during 2003 GSW Seacoast Century.
Fastest Solo Century: 4:55 from Pelham, NH, out to Mt Monadnock and back. Lots of climbing.
Highest Group Training Ride Average: 24.9 mph on hilly 47 mile Exeter Cycles training ride, including warm-up/cool-down miles.
Highest TT Average Speed: 26.3 mph on 3.25 mile "Prologue" TT loop at work, incl. two hills and two RH turns on std road bike.
Highest Speed: 56.0 mph down 12% grade east side of Kinsman Notch in northern NH.
Best Mt Washington Hillclimb Time: 1:06:11 in 2006 race.
Maximum Climbing Rate: 4613 ft/hr or 1406 m/hr on 2250 foot vertical Mt Ascutney.
Most Road Miles in Calendar Year: 7733 miles in 2003.
Biggest Vertical Climb: 13,790 feet up Mauna Kea on Hawaii, April 2005.
Mountain Biking Records
Longest Ride: 70.0 miles in 8.6 hours, Maah Daah Hey Trail in the Badlands of North Dakota, May 2003.
Best Vermont 50 Miler Time: 5:02:24 in 2001 EFTA race.
Most Dirt Miles in Calendar Year: 3180 miles in 2002.
Biggest Vertical Climb: Mt. Graham, 7105 feet net gain, Safford, AZ, October 2004.
Combined Riding Records
Most Miles in Calendar Year: 10652 miles in 2002.
Most Rides in Calendar Year: 389 rides in 2002.
Most Miles in One Week: 324 miles, September 2002.
Most Rides in One Week: 10 rides, November 2002 in Southern California.
Most Century+ Rides in Calendar Year: 6 in 2002.
Most Consecutive Riding Days: 206 days, May 2002 to December 2002.
Most Days Ridden Outdoors in One Year: 360 days in 2002.
Most Accumulated Climbing in One Ride: 14,500 feet, Vermont "6-Gaps" ride, at least once annually.

Runner up: 13,790 feet, climbing Mauna Kea on Hawaii, April 2005.

Maximum Elevation: 14,135 feet above sea level on Mt Evans, Colorado, September 2005.

Runner up: Mauna Kea, 13,790 feet, Hawaii, April 2005

Lowest Elevation: Sea level in NH, ME, MA, VA, HI, AK, and CA.
Cycling Statistics, Summary by Year:
<![if !vml]>
<![endif]>
Cycling Statistics, 2006:
<![if !vml]>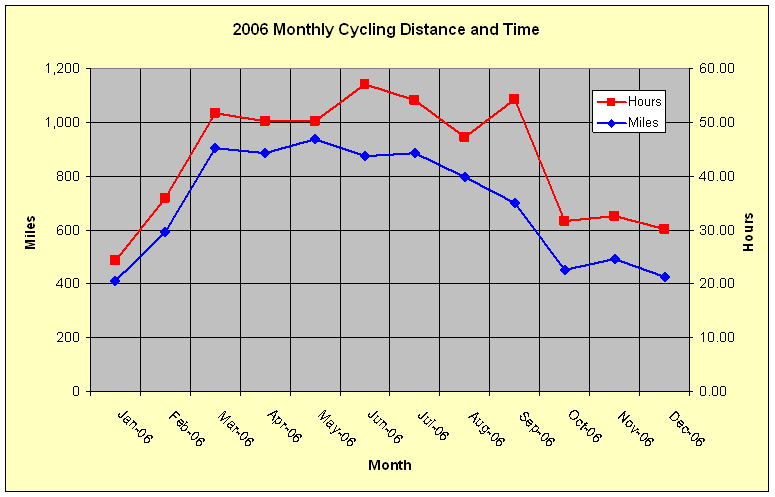 <![endif]>
<![if !vml]>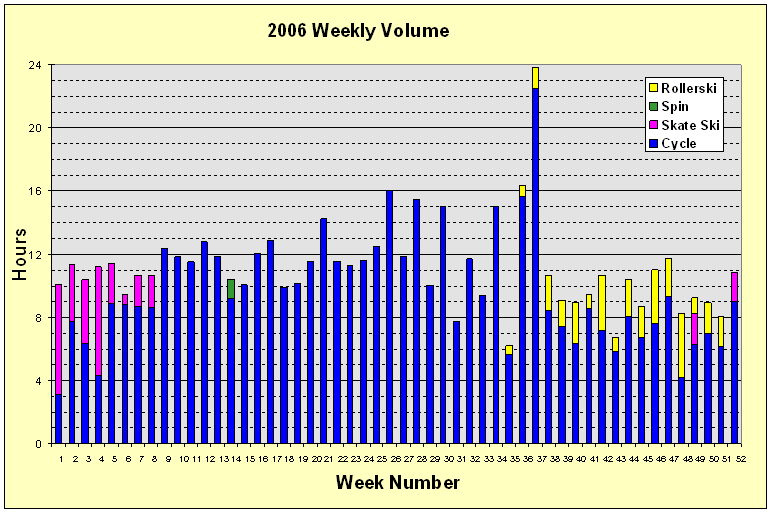 <![endif]>
Complete 2006 Training Log

Follow this link to view my complete training log of the 2006 calendar year.  I use Microsoft Excel to log important facts from all activities.  I believe this is important for several reasons if one is serious about improvement as an athlete.  First, it forces you to think about what you are doing and why you are doing it.  You will begin to recognize patterns, like when you have stellar rides and when you have lousy rides.  Stellar rides don't have to happen by accident.  Proper cycles of hard and easy workouts increase fitness.  Too high a density of hard riding will result in overtraining, making a good race result, pleasant century, or whatever, hard to achieve.  Then again, too many easy or moderate paced rides without a couple high intensity workouts per week will also result in poor fitness gains.  Keeping track over time lets you go back and see how many hard rides you did per week.  It is very important to capture how you felt for each ride, your perception of how hard the ride was relative to how hard it really was (based on HR, power, or others' perception), and some heartrate or power data if you use these valuable tools.
Another reason to record data from your training sessions is you capture what works and what doesn't.  If you record detailed data of training sessions leading up to an important race, the next season you can go back to see why you had a good or bad race.  You want to repeat and improve on training patterns that produce desirable results, and move away from patterns that produced poor results.  It's way too easy to forget how much of what kind of training you did before, say Mt Washington two years ago when you set a PR.  Write it down, preferably electronically, keep it around, and review it from time to time.  Sounds geeky, and you can get carried away or burnt out on this, but it has helped me considerably.  One area it has helped me the most in is tapering for a big race.  I've learned what I do two days before a race is more important than three days or one day before a big race.  The second day before is the most important recovery day for me.  I tend to be most successful race day with a very light, <60% MHR 30 minute spin two days before.  I will do a longer ride with a few short bouts of moderate intensity the day before a race.
From the yearly summaries above, you can see I've been cutting back annual riding mileage about 1000 miles per year, from 10,600 in 2002, 9,700 in 2003, down to 8,700 in 2004.  Yet each year, my fitness has improved as determined in hillclimb time trials.  In 2004, when I rode the least miles in several years, I set new personal records on every hillclimb time trial attempted.  In 2002, I was putting in way too many "junk" miles.  Riding so many hours per week did not allow adequate recover for really hard workouts.  In 2003, some of the reduction in miles were a result of taking up skate-style cross country skiing, but very high cycling volume resumed in the warm months, again, preventing a necessary density of high intensity workouts.  Then in 2004, I backed completely away from the idea of being a 10,000+ mile per year cyclist and started focusing on improving power output for long 20+ minute durations.  I found this could only happen if I reduced weekly training volume, such that two easy short days were required to precede a hard workout day if I wanted to gain any benefit.  I used the skiing to maintain cardio base over the winter, a few long endurance rides in the spring, but then quickly went to a two to three intensity sessions per week regimen.  Most non-intensity days were active recovery days, short duration conversation pace rides.  Studying training methods and logging workouts led to a strategy that works for me.
---
VO2max Test at University of New Hampshire, February 2005
I volunteered for a study a graduate student was conducting for her Master's thesis.  The name of her study was "The Effect of N-acetaylcycsteine on Cycling Performance in the Heat."  Now this got my attention for two reasons.  The first, it would get me a free VO2max test.  Secondly, I knew I had serious problems in the heat, so I might learn some valuable things about myself during this study.  The main purpose of the study was to show that the anti-oxidant NAC can improve athletic performance in the heat.  NAC can be bought over the counter at vitamin stores, and body builders often use it.  It is also used intravenously for acetaminophen and other overdoses to save the liver.  It's been around a while, and it's safe.  The study was set up as follows.  On the first visit, I come in fully recovered with my own bike for a VO2max test.  On the next four visits, I was to ride simulated 30km time trials.  The order was randomized, and one per week was to be run.  The four combinations were 1) placebo at room temp, 2) NAC at room temp, 3) placebo at 95F, and 4) NAC at 95F.  Of course, I didn't know placebo from NAC.  The capsules were in color-coded bags.  Two days before a TT, I would take 800mg, another 800mg day before, and another 800mg 30 minutes before TT.
The VO2max test was to establish baseline fitness, as the study required athletes that were in active training throughout the winter.  My bike was placed in the university's CompuTrainer Pro in a small environmentally controlled room.  The test was conducted at room temp with fans blowing on me.  A fairly large tube was strapped to my mouth to breathe through, and my nose was pinched shut.  The apparatus measures O2 going in and CO2 going out, basically how much oxygen you are consuming.  After a warmup at low wattage, the test is begun.  The test started out at about 225W per my PowerTap and increased 50W every two minutes.  I made it to 12 minutes, or just about ready to kick into 525W.  My max HR achieved was 185bpm, the same as when I did a similar test 3.5 years earlier.  VO2max reached at 10.5 minutes into test was 75.9 mL/kg/min, and incredibly high value for an amateur 42 year old athlete.  The talked to Dr. Edwards, the advisor on this research study, about this result.  He commented they recently tested a local elite skier.  She also came in a little higher than what she tested at a different lab.  Dr. Edwards felt the single-point calibration method their equipment uses is limited and can be prone to some error, but he did not expect it to be off more than 4 or 5 mL/kg/min.  This would still put me above 71 mL/kg/min.  Dr. Edwards also commented that given my training volume of cross country skiing over the winter, a high VO2max can be expected.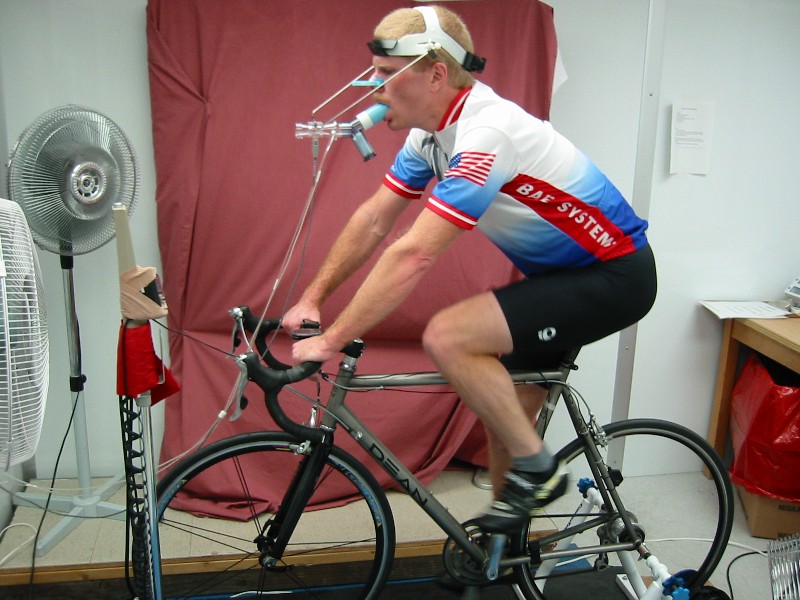 VO2max Test.  Dean El Diente equipped with PowerTap in the
CompuTrainer Pro.
The next two charts show PowerTap and SensorMedics Vmax 229 metabolic cart data.  Note heart rate and power increase linearly while cadence holds steady around 85rpm until 475 Watts is reached.  I struggled to hold cadence steady as I reached maximum oxygen consumption and heart rate.  The test stops if cadence falls below 60rpm.  When my cadence did fall below 60rpm, it was my decision to stop.  I was on the verge of puking.  I was quite pleased with the VO2max test in several aspects.  First, I reached the same max HR as 3.5 years ago.  That means any training I've been doing based on MHR was still valid.  This is not that important anymore, as training as a percentage of one's lactic threshold is much more important.  Another reason I was pleased with the test was I averaged over 400 Watts for the last 5 minutes of the test.  I had never averaged over 400W in a 5 minute window before, and this came after two months over very little cycling activity.  Finally, the test shows I have a very high VO2max.  Now this by itself is not that important.  In fact, my VO2max is nearly as high as Eddy Merckx tested.  But Eddy "The Cannibal" could ride very near his VO2max all day.  You see, it is lactic threshold as a percentage of VO2max that is important.  Mine would be quite low.  LT is trainable, so having a high VO2max does leave me a lot of room to grow in.  It would be good to follow up this testing with an LT profile.  Based on certain rides I do, I have a pretty good idea where my LT is at, probably around 320 Watts at around 167 bpm.
<![if !vml]>
<![endif]>
<![if !vml]>
<![endif]>
So this was the first visit.  My next visit to the lab was to be a 95 degree 30km TT.  Now it has been a cold winter, so I had absolutely no acclimation to heat with all the outdoor skiing was doing.  I do not train indoors.  For the TTs, it was imperative that the test subjects arrive fully hydrated.  This meant drinking lots of water in the 24hr window leading up to the test.  Upon arrival, I was handed a small bottle for a urine sample.  I believe they measured the specific gravity to determine how dilute my urine was.  I think I was 1.004 on first visit.  Cutoff was 1.02 if I recall correctly.  I was well hydrated.  Blood is drawn, I "instrument myself" with a temperature probe (you'll have to use your imagination here), and I'm wheeled in wheelchair into the heat chamber.  It 95F during ski season was HOT.  But it was a dry heat.  I had to wait 30 minutes to acclimate, then blood is drawn again, then I begin warm up on bike.  I start the TT feeling pretty good.  But it didn't take long until I couldn't keep power up.  Wasn't like I was dying or anything, I was just slowing down.  Then the research team tells me I'm going to have to keep my body temp down.  I don't think I intentionally let up, I just couldn't help it.  Then I hit the safety limit of 39.5C for core body temp and they stopped the test.  This happened only 20 minutes into it.  My core temp peaked at about 103.5F, a scary high level.  Strangely, I felt hot, but not ill in any way.  I could produce only about 1/2 LT power at this body temp.  I was very disappointed, mostly for Melissa who had trouble finding volunteers for her study.  She discussed this with Dr Edwards, and they concluded there was still value in me completing the room temp TTs.
<![if !vml]>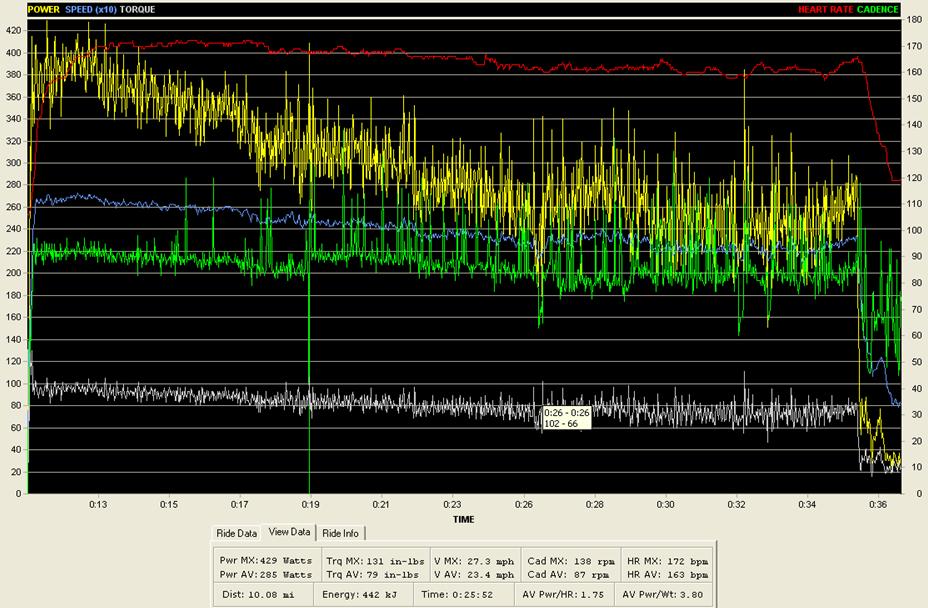 <![endif]>
95F TT.  Core body temp reached 39.5C in 24 minutes despite rapidly dropping power.  Note plot above does not start at zero.
The following week I come back for a 68F, 25% RH TT.  I was actually shivering in the room during the 30 minute acclimating session.  Lot of cool, very dry air blowing around.  This TT went well.  I completed the 30km in just over 45 minutes, a new record at that point among the test subjects, taking 3 minutes off the previous best.  I new only one of the other test subjects, so I had no idea who I was "competing" against.  It was kind of cool that they put up a small sign that said "Time to Beat: 45:03" in the window in front of the bike.  It said 48-something for me.  Kind of a motivator for an otherwise boring TT.  I averaged 316 Watts, which isn't stellar, but not back for not riding much for over two months.  This was on "green" pills.
<![if !vml]>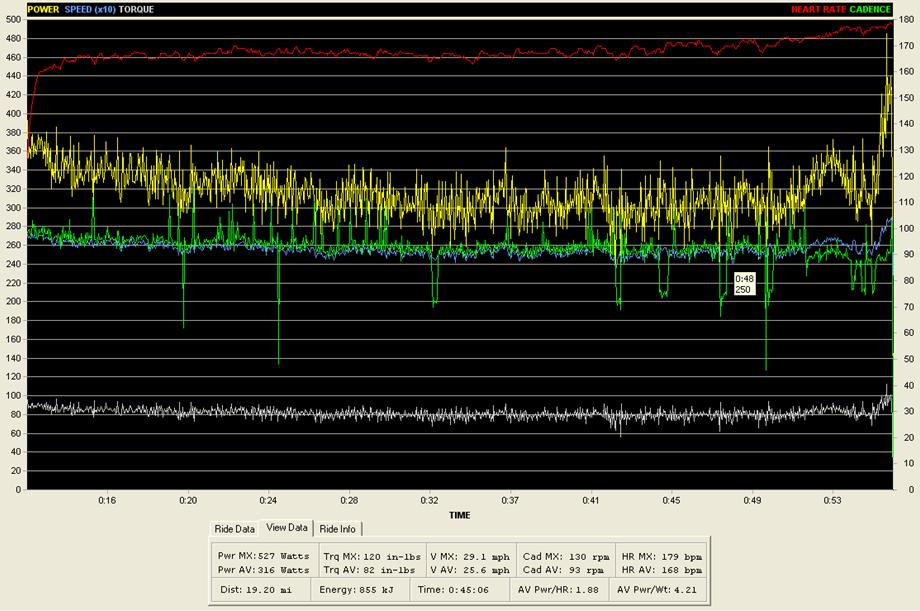 <![endif]>
Successful 30km TT at room temp.  Started out a little hard maybe, but nice rising HR profile.  Dips in green cadence line are
where I up-shifted two gears to stand for several seconds.  Had lots of punch left at end to drive HR to near max.
My 4th and final visit was for another room temp TT.  This time I took the purple coded pills.  No idea which ones were NAC or placebo.  This TT didn't go as well.  Legs didn't feel as fresh as a week earlier, even though I tapered, rested, and dieted exactly the same for both TTs.  I could only assume the pills were a factor, either I was taking placebo this time and I was realizing my natural crappy self, or I was taking NAC, and it's a detriment to my performance.  I still don't know as of June '05, as I haven't heard back from Melissa yet on the conclusion of her study.  A averaged only 300 Watts for this slower 45:30 effort.  I also came very close to the temp limit right at the end of the TT.  Was my body temp limiting my performance?  I suspect the humidity my have been slightly higher for this one.  Melissa did comment that I sweat less than the other subjects.  This totally surprised me, as I have always thought of myself as a profuse sweater.  What might be happening is, my body is slow to respond to rising core temp, and I start sweating after it's too late.  The others would have a pool of sweat under the trainer part way into the TT I was told.  Not me.
---
Lactic Profile from 2001 "Anaerobic Medley" Test at Elliot Hospital
This data was collected at the Human Performance Lab at Elliot Hospital, in Manchester, NH.  The lab closed shortly after taking this test, which costs only $250.  They had top of the line lab grade metabolic and ergometer equipment.  Both the VO2max and Lactate Profile tests were completed on the same visit.  The Wingate test to measure peak anaerobic power was completed on a subsequent visit.  Dr. Robert Confessore administered the tests.
| | |
| --- | --- |
| VO2max* | 63 ml/kg/min |
| Maximum Heart Rate* | 185 bpm |
| Anaerobic Threshold* | 167 bpm |
| Power at Anaerobic Threshold* | 290 Watts |
| Peak Anaerobic Power* | 1059 Watts |
| Resting Heart Rate | 36 bpm |
| Body Weight | 164 lbs/74.5 kg |
*As tested by the Human Performance Lab at Elliot Hospital on Nov 9. 2001.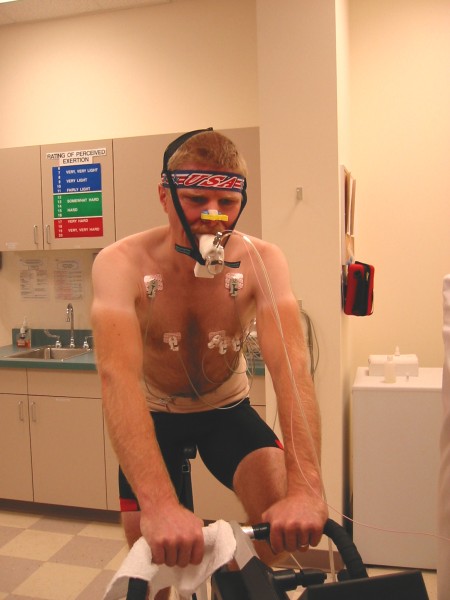 Doug on the Ergometer at the Human Performance Lab, Elliot
Hospital, Manchester, NH.
<![if !supportLineBreakNewLine]>
<![endif]>