White Mountains West 180k Ride Report, Saturday, June 9, 2007
Ride summary:
· Stats: 112 mile loop, 6 significant climbs, 10,500 feet of climbing (per TopoUSA)
· Two riders finished in 6:22 riding time, less than 7.5hrs total time
· Stopped twice for food and water
· Weather: Wet roads to start, constant threat of rain, temps 60's to 70's, muggy for a couple hours when sun came out, rained all day back home.
The White Mountains West ride presented here is a hybrid ride report/review.  This ride encompasses a large portion of the White Mountains of northern New Hampshire.  It is not your typical century ride and is not for everyone.  There is one major dirt road climb and descent.  There is no food or water along the route for lengthy sections.  For those seeking a sense of adventure and like rides along a route less traveled, this loop may be for you.
There are two variants to this ride. The one high-lighted in this report climbs Mt Agassiz (Rt 142) between Franconia and Bethlehem. This option includes more riding on Rt 302, which can be busy. An alternative route option adds more distance and climbing. The map for this option is shown at the end of the report. It adds Sugar Hill before coming into Franconia, and then replaces the Mt Agassiz climb with the more rigorous climb to Franconia Notch on Rt 18. Rt 3 is then taken to the village of Twin Mountain, which cuts out a lengthy section of Rt 302. Some of the roads leading up to Sugar Hill are in rough shape, so you can always ride directly to Franconia on Rt 116 and then decide if you want to ride Mt Agassiz (Rt 142) or Franconia (Rt 18 all the way up). The descent from Sugar Hill offers a spectacular perspective of Cannon Mountain along Rt 117. The alternative route is for those that want to maximize their challenge.
Below you will find an interactive map from GPSies. By clicking on the details link in the map, you can download the track in a myriad of file formats, or even download directly to your Garmin GPS. In some cases, the elevation data GPSies uses is a bit glitchy and may over-estimate total vertical. I round these down a bit, something closer to what you might expect to see with a barometric altimeter
Gonzo Pass (1815ft)
An ideal place to start the ride is at the White Mountains Gateway Visitor Center in Lincoln.  It straight across Rt 112 as you exit I-93 north at exit 32.  There are restrooms there, ample parking, and several other amenities in town for after ride recharging.  The ride begins by heading west on Rt 112 through the village of North Woodstock.  It's a slight descent to Woodstock, then gradual climb leaving the village.  In a couple miles, take the fork to the left, Rt 118.  The climbing will begin in earnest now.  It will be quite steep for the next mile or so, them level off for a bit, then steep again all the way to the top.  Local cyclists call this climb Gonzo Pass.  When I talked with the forest service recently, they had never heard this name.  None of the maps I reviewed show a name for this pass.  From the cars to the summit, it is about 9 miles.  Be sure to look over your left shoulder when you pass a clearing near the summit.  There is a spectacular view towards Kancamagus Pass, the last climb of this ride.
Take great care descending Gonzo Pass to the west.  It is easy to hit 50mph speeds, but there is a nasty chicane part way down that catches riders off-guard.  Our first attempt of this ride in the spring of 2007 ended in catastrophe.  One in our group slid out and went into the guardrail at very high speed.  Multiple facial fractures and extensive surgery were the outcome.  With the speed involved, the outcome could easily have been worse.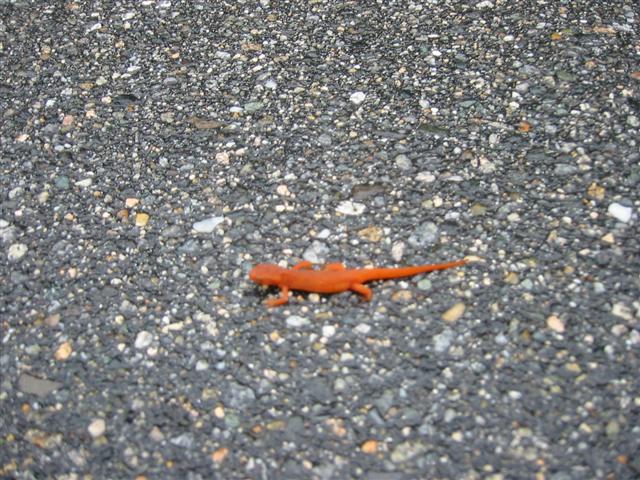 Eastern Newt.  They were all over the wet roads.
Red on the inside too.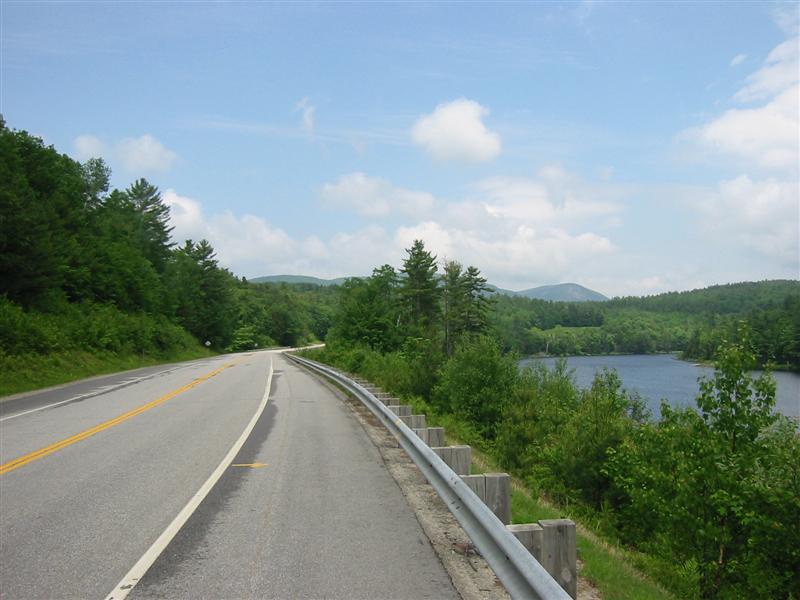 En route to Long Pond Rd on Rt 25.  Only clear part of ride.
Long Pond Road (aka North-South Rd) (1478ft)
After enjoying the long descent, turn right on Rt 25.  This is scenic here, with views of Mt Moosilauke, lakes, and eventually Oliverian Notch to the west.  Keep an eye out for High St on the right.  It will climb modestly on pavement beginning the next major climb.  In about a mile or so, look for small sign on left for Long Pond Rd.  You will at first think this is a Jeep road, but I have ridden it twice now when conditions were excellent for standard road bike tires.  Long Pond Rd is a seasonal road, however.  When we attempted this ride before Memorial weekend, the forest service crews had not yet cleared the winter blow-down and open the gates to auto traffic.  The road was a horrific mess.  There were approximately 30 trees down across the road in addition to continuous tree debris.  In preparation for this ride, I learned where to call to determine status of road.  It is the White Mountains ranger office in Plymouth.  They commented that crews were sent to another state this spring to fight a fire, so they got behind on opening seasonal roads.  The road had been cleared for Memorial weekend, so we were good to go.  The road may be periodically graded too, and if this happens day before you ride, it may be unrideable.  Call first.
Having rained heavily that morning, I was concerned about condition of gravel.  But it was nearly perfect.  Sun had come out by this point, so the road had 1-2hrs time to drain.  It was nice and firm, but only where auto tracks were.  It was kind of like riding on a double track.  There were occasional embedded rocks to avoid.  As you approach the high point of the climb, it levels off and rolls for a mile or so.  There were a few mud puddles in this area.  You get a few glimpses of Long Pond through openings in the trees too.  If you are not trying to break any time records, you might consider stopping at the pond.  Just over the high point and beginning the descent, you will see drive to left with sign for Long Pond.  It's about a half mile in with some climbing.  View is gorgeous.
Take care on the descent.  Gravel can be unpredictable.  Ruts, potholes, and embedded rocks are just a few hazards.  When we rode this, we did not encounter a single motor vehicle over the 9 mile road.  It was wonderful having it to ourselves.  Bear right upon reaching pavement again on Rt 116.  Some more fast descent will ensue, and the stop sign for Rt 112 comes up awfully fast.  Turn right again.  This would be first potential bailout point.  By going straight and up and over Kinsman Notch, you will head right back to cars.  The main loop will stay on Rt 116, so after about a mile on Rt 112, take a left to Franconia.  Its 10 miles and a nice little climb to get started.  At the main junction in town, stop at the well stocked grocery store diagonally to the left for refuel supplies.  You should now have ridden about 42 miles.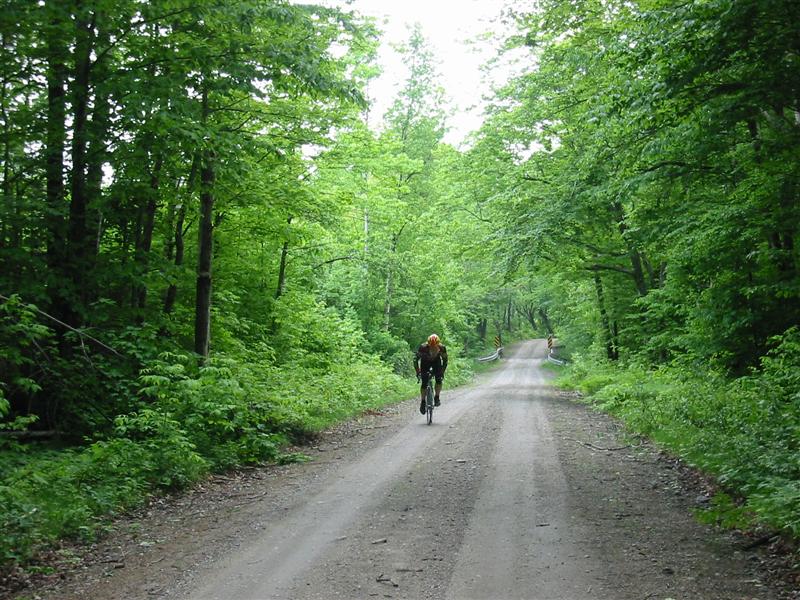 Glen climbing Long Pond Rd.  A few weeks earlier, you couldn't ride more than couple
hundred yards without getting off your bike for downed trees.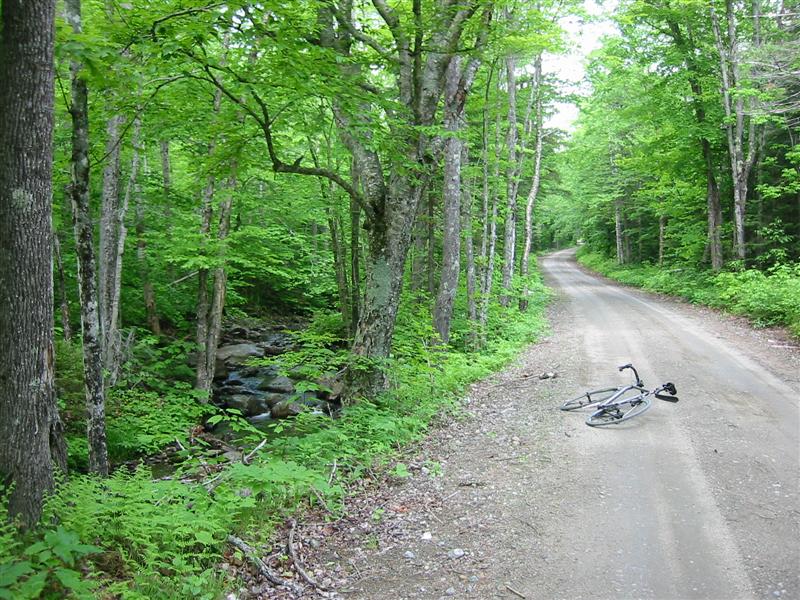 Looking up Long Pond Rd.  Parallels stream first couple miles.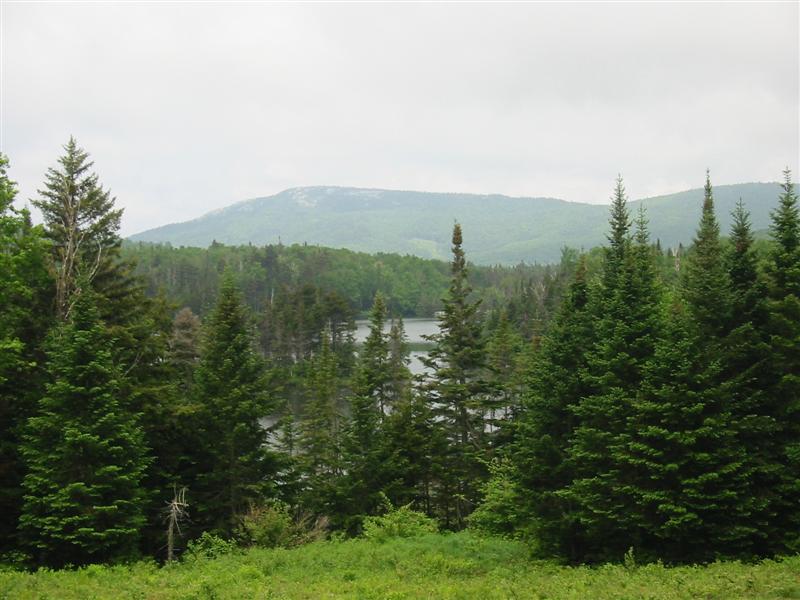 Glimpse of Long Pond from high point of climb.  Jeffers Mtn in background.
Mt Agassiz (879ft)
After refueling in Franconia, head towards Rt 142 (left on Rt 18 as you come out of store, or right on Rt 18 as you turn off Rt 116).  You will only go mile or so before taking left on Rt 142 (Forest Hill Rd/Agassiz St).  Get ready to hunker down and grind for the first part of this climb.  Things will level off, but you will keep gaining altitude in many small steep bursts.  You'll know when you reach the top when you see the sign warning truckers of 11% grade down to the town of Bethlehem.  There are houses along this road, so check your speed.  There are more food opportunities in Bethlehem, but you will likely have already taken care of business a few miles back.  Take right on Rt 302 and get read for a long haul on this road.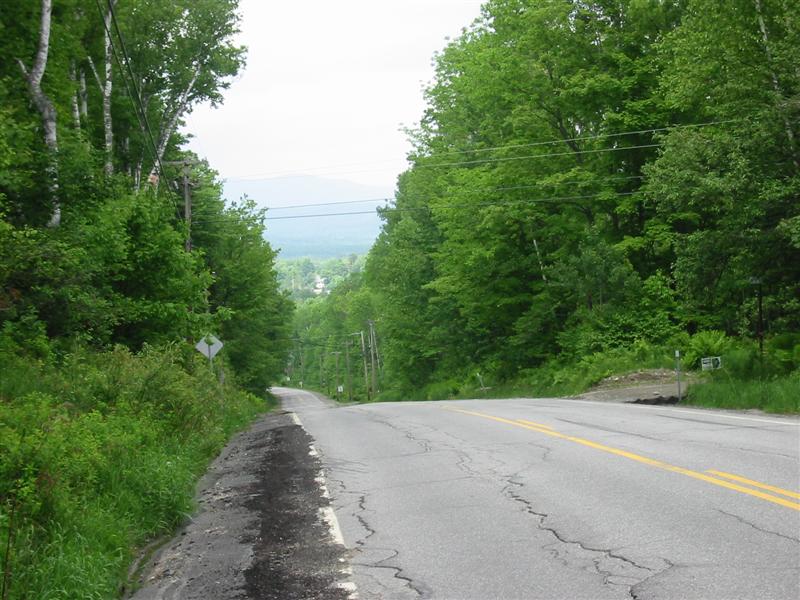 Beginning descent to Bethlehem from high point on flanks of Mt Agassiz.
This is 11% for better part of a mile.
Crawford Notch (828ft)
The ride continues east on Rt 302 for over 30 miles.  This road is the most open and scenic of the ride, but it is also the busiest.  I do not recommend road cycling during peak fall color season in these parts.  Traffic backups, noise, obnoxious tourist, and too many drivers gawking at foliage and not paying attention to cyclists on the road.  Any other time of year should be ok.  Rt 302 has continuous wide paved shoulder.  You will encounter some climbing heading out of Bethlehem, but then a long descent will be your reward.  From the low point on Rt 302 to Crawford Notch, you will gain 828 feet, but you will hardly notice it.  It is spread out over so many miles.  Hopefully your day will be clearer than when we did this ride.  Stunning views of Mt Washington are possible from the Bretton Woods ski area.  Crawford Notch is also geographically interesting.  Towering cliffs to either side, and a valley that seems to just plummet in front of you.  There are some nice waterfalls to the left beginning the steep part of the descent too, but if you are bombing this, keep your eyes on the road.  You can easily go over 50 mph here, and tourist and cars are willy-nilly everywhere.  The road curves sharply and has some divots in it too.  Unless you are doing hard core training ride, stop of a couple of the several pull-outs and viewing points.  Some of the best scenery of the White Mountains is found here.
After cresting the notch, the descent continues forever, but at a gentle slope.  You feel so good cruising at 25, maybe 30mph without even opening your mouth to breath.  Rt 302 eventually takes you to Bartlett, the second and final food stop when we did this ride.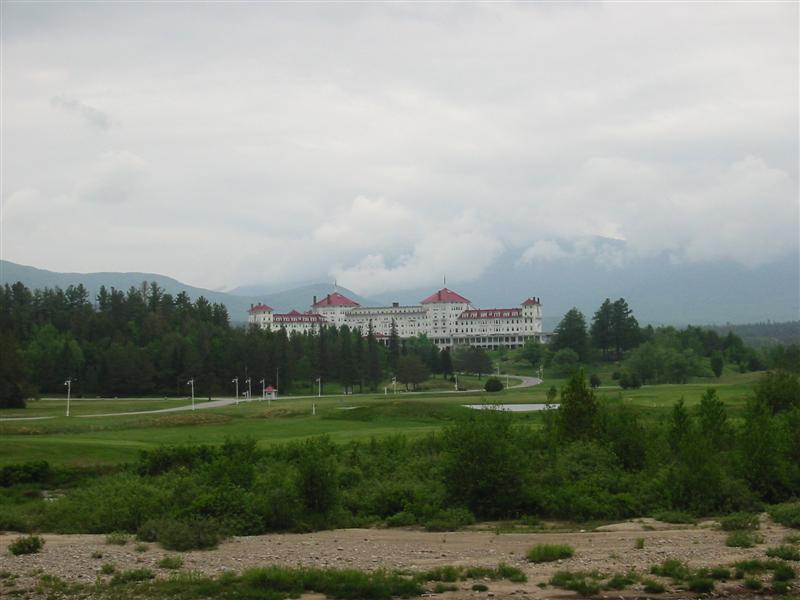 The Mt Washington Hotel with Mt Washington in background socked in with clouds.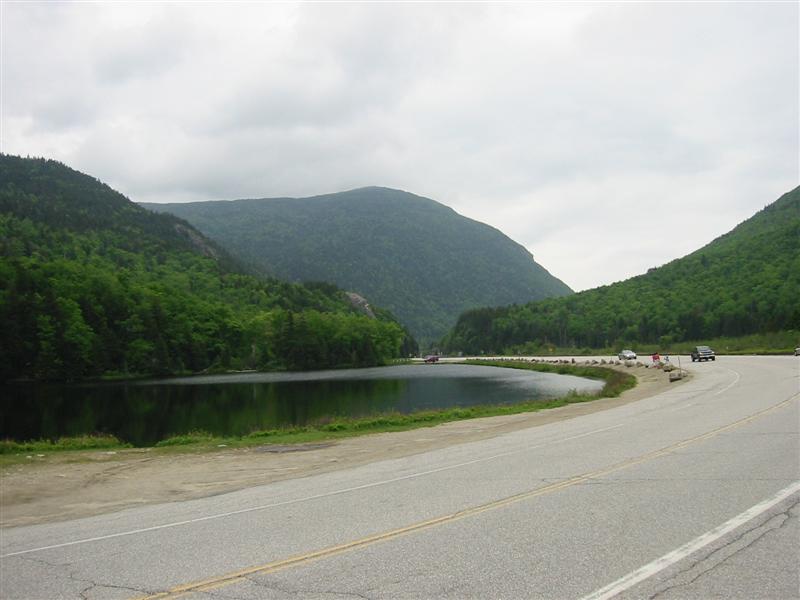 Approaching Crawford Notch heading east on Rt 302.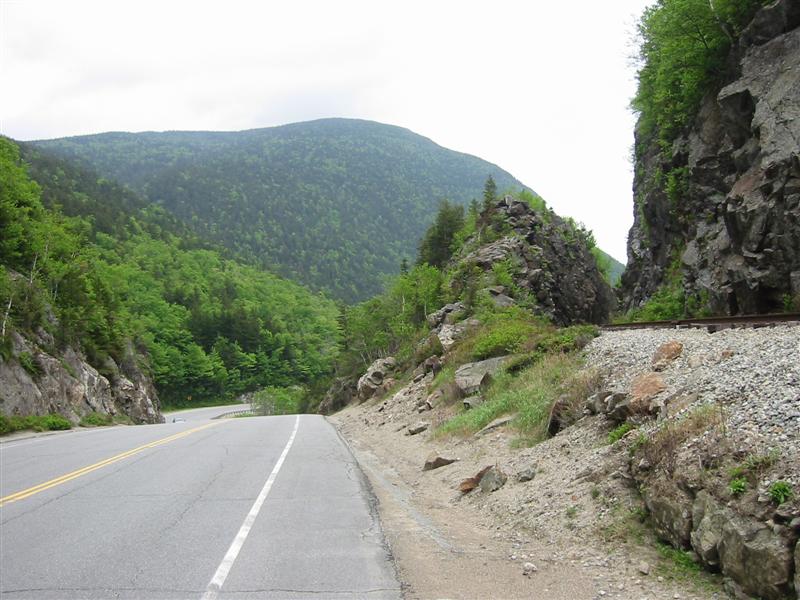 Tightest spot in Crawford Notch.  Note rail line cut through rock on right.
Crawford Notch from pull-off.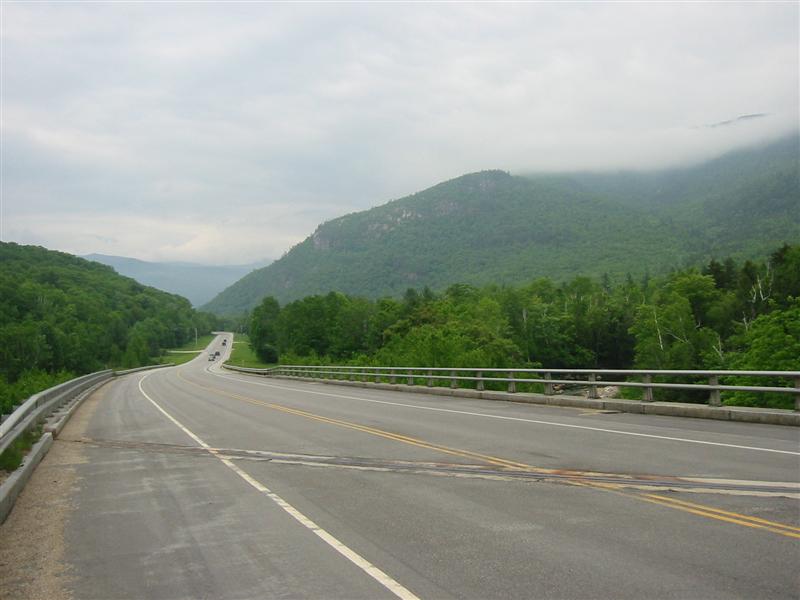 Looking back up towards Crawford Notch.
Bear Notch (1120ft)
There's a country store right on the corner of Bear Notch road on Rt 302.  This is a good place to refuel.  Stopping in Franconia and here roughly divides the ride up into thirds, or chunks of ~2.5hrs depending on home much stopping is going on.  If it is really hot out, more frequent stops may be required.  There are no stores along the route for the next 30 miles.  Some of the campgrounds may have water, but I have not confirmed this.
Bear Notch gets down to business right away.  The nice thing about this climb is that it's a gentle 5% grade and does not deviate much from this.  You gain the 1100+ vertical before you know it.  There are some openings in the canopy to show you altitude progress, with views looking back over the Rt 302 valley.  There is nothing on this road.  It does get its share of summer traffic, is narrow and twisty, and does not have the best surface.  The descent to Rt 112 is less than half the gained vertical.  But at this point in the ride, you will probably think this is a good thing, as the next climb will be hard enough without going all the way to the bottom of the Kancamagus Highway.
Kancamagus Pass (1641ft)
It's now time to begin the final climb of the ride.  The riding is easy the first 6 miles or so, unless there is a strong headwind.  The grade is nearly flat.  But once you encounter some steepness, you will be grinding for the next 4.5 miles to the summit.  Enjoy the occasional views that open up as you climb.  Upon reaching the summit (the "Kancamagus Pass, Elevation 2855ft" sign), be sure to take a break at the one of the pull-offs one just down from summit on each side.  This will be highest point of the ride, and I believe this is highest public paved road in New Hampshire also.  The 13-14 miles back to the cars is nearly all down hill.
Much of the Kancamagus Highway (Rt 112) has been reconstructed over the last several years.  Work continues on a few portions east of the summit.  This work is making "The Kanc," as it is locally called, much more cycling friendly.  Small shoulders are being added, increased road width, and replacing years past due frost-heaved asphalt greatly improve safety.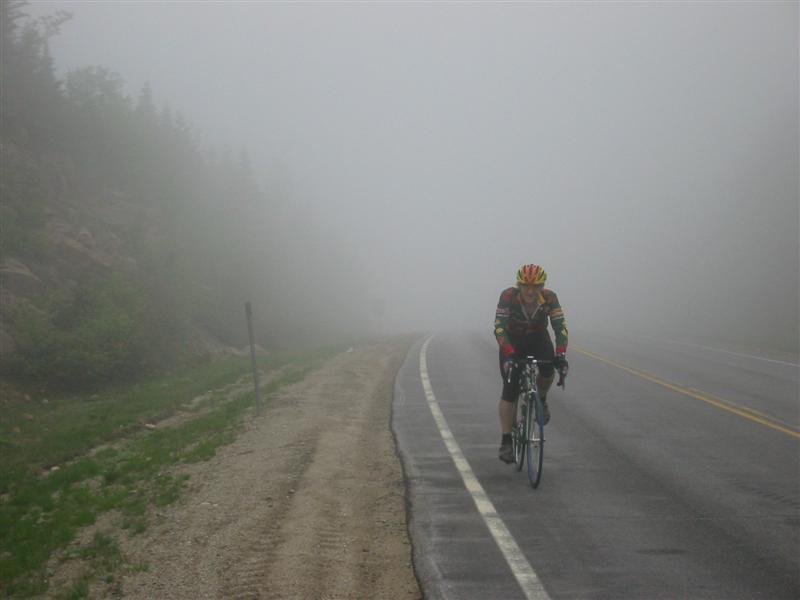 Glen cresting Kancamagus Pass.  Very poor visibility here cresting into the clouds.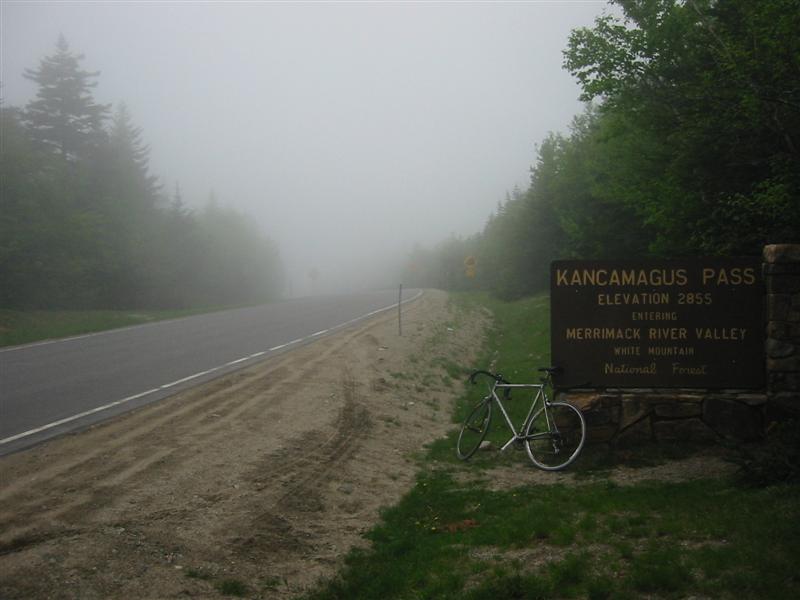 High point of this ride. Nearly 14 miles of descent back to cars from here.
Ride Wrap-Up
So you may ask "I add up all these verticals and don't get anything near 10,500ft.  What gives?"  We'll, as already mentioned, the listed verticals are simple min to max differences for significant climbs.  There are numerous smaller climbs along this route.  Plus, most of the significant climbs are not monotonic, that is, they have rollers on the way up.  This means you climb some of the same vertical twice before reaching the high point.
We really lucked out on this ride.  We nearly bagged coming up north to ride after looking at the forecast, but we never got more than sprinkles right at the end of the ride.  It poured all day 100 miles to south.  Outcomes like this always make you feel great.  I'd like to do this ride more often, at least once per year.  It is less than two hours drive from my house, and some of the roads are quite remote with low traffic.  Scenery is fantastic, and of course, the climbs are the magic ingredient that makes any epic ride special.
Alternate Route with an Additional 4mi and 1000ft of Climbing