White Mountains East 186k Ride Report, Saturday, June 23, 2007
Ride summary:
· Stats: 115.5 mile loop, 4 significant climbs, 9984 feet of climbing (per TopoUSA)
· Three riders finished in 6:22 riding time, approx. 8hrs total time
· Stopped twice for food and water
· Weather: Dry, extremely windy, cold, intermittent sun. Unseasonably cold, most riders opting for arm and knee warmers.
The White Mountains East ride presented here is a hybrid ride report/review.  This ride encompasses a large portion of the White Mountains of northern New Hampshire.  It is not your typical century ride and is not for everyone.  There is one major dirt road climb and descent.  There is no food or water along the route for lengthy sections.  For those seeking a sense of adventure and like rides along a route less traveled, this loop may be for you.
Each of the significant climbs on this ride is briefly discussed below.  The elevation numbers given are min to max, from low point since last climb to high point.  Total climbing may be much more, as there may be down hills along the way up. Below you will find an interactive map from GPSies. By clicking on the details link in the map, you can download the track in a myriad of file formats, or even download directly to your Garmin GPS. In some cases, the elevation data GPSies uses is a bit glitchy and may over-estimate total vertical. I round these down a bit, something closer to what you might expect to see with a barometric altimeter
Hurricane Mtn Rd (1301ft)
This ride begins and ends in Conway, NH.  Don't confuse this with the more popular tourist destination North Conway.  Conway is situated at the junction of Rt 112 (The Kancamagus Hwy) and Rt 16.  North Conway is overrun by tourist, making getting in and out of there a pain.  We parked in the Pequawket Pond Park parking lot.  The Conway Chamber of Commerce recommended this.  It is on Rt 16 right behind the fire station and a church.  A very small sign identifies the lot.  There are hiking trails off the back of the parking lot.
It was chilly starting this ride, barely 60 degrees.  Plus, we hit a few sprinkles on the way up.  Forecast called for slight chance of rain, mainly in the morning.  Heavy dark clouds hung low around all of the big mountains, completely socking in the summits.  Most of the guys slipped on arm and knee warmers.  I just stuffed a light weight wind shell in jersey pocket, a decision I later regretted.
Our ride group consisted of regulars Glen and Brett, plus Kevin with two of his riding buds Ryan and Andrew.  Only Glen and Brett hadn't seen much of today's planned route.  Kevin, Ryan and Andrew planned to split off at Gorham, finishing by going up and over Pinkham Notch back to Conway.  Glen, Brett and I planned to continue west of Gorham, riding over Jefferson and Bear Notches.
We started ride by heading north on Rt 16 just for a bit, taking left at first stop light.  Left at fork in road put us on West Side Rd, a wonderful rode to bike on with new pavement and dedicated bike lane shoulders.  This road has much less traffic than plugged up Rt 16, but still can be quite a few cars coming by during peak tourist seasons.  After 6 miles, a right is taken at stop sign to cut across North Conway.  Go straight across Rt 16 at busy stoplight (Pine St), curving around to right (only way it goes), all the way to Mechanic St.  Turn left, going up hill to Kearsarge Rd.  Take a left, go mile or two until it ends on Hurricane Mtn Rd.  Take a right and get ready.  After a couple rollers, you'll see a gate and sign about nature of this seasonal road.  The next 1.8 miles are wicked steep, averaging about 11%, but containing many sections greater than 15%.  Some of the switchbacks must exceed 20% grade.  Watch out for oncoming cars.  New York tourists still drive here like it's the big city.  I went near race pace up this, part of my training plan for the ride.  Geared only down to 34x27, I suffered pretty badly on the steepest parts.
Be very careful on the descent.  It is highly technical with sudden drops and sharp blind corners.  Cars can easily be hidden in the dips.  It is possible to get air over some of these too, either intentionally or unintentionally.  It is quite the adrenaline rush.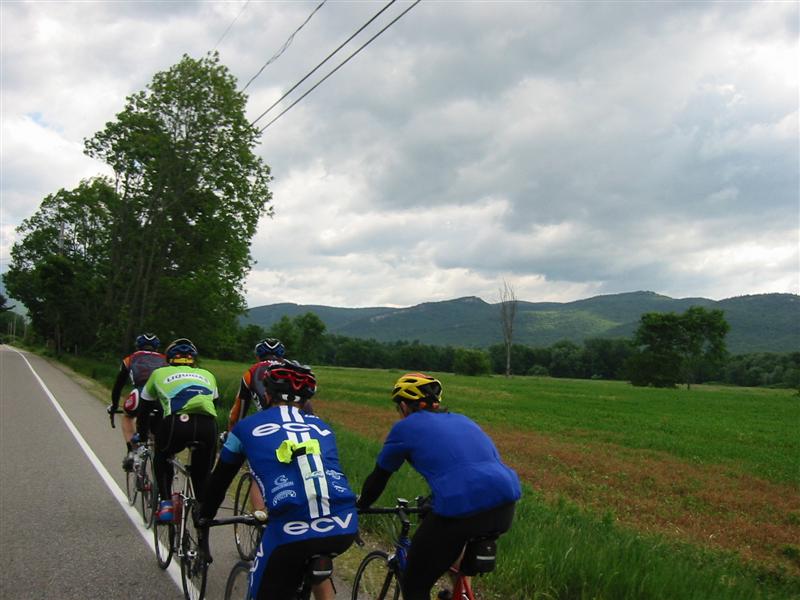 Starting out on West Side Rd.  Note the long layers.  This is end of June!
Brett cresting summit of Hurricane Mountain Rd.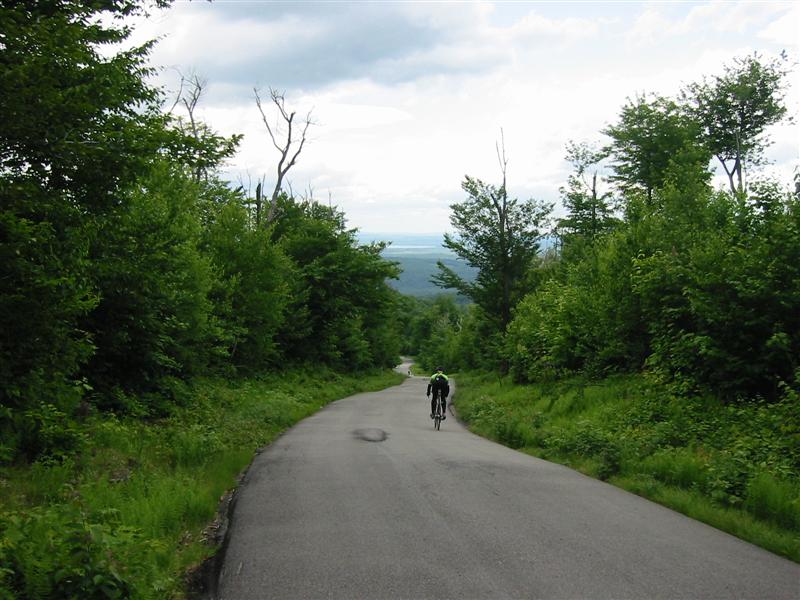 Riders bombing down the east side of Hurricane Mountain Rd.  Sign at top says
17% grade.  Not much wider than one lane.  State of Maine in distance.
Evans Notch (1076ft)
After the white knuckle descent down Hurricane, take a left at the stop sign.  This road goes be many names on the map, such as Main, Chathams, or Green Hill.  Just follow main route around until reaching Rt 113 and go left again, heading north.  You will cross the NH/ME state line three times before reaching Evans Notch.  There are quite a few rolling hills along this part of the ride.  There are plenty of Town/State line signs to sprint for too if you are into that kind of thing.
Eventually you'll see a sign for Evans Notch State Park, then you'll know the next climb begins shortly.  Evans is gentle compared to Hurricane.  It gains only about 1000ft from low point on Rt 113.  Be sure to take in view from top.  Trees are beginning to encroach on viewing area, so hopefully the forest service trims them back a bit soon.  This notch has some similarities to Smugglers Notch in Vermont, as there are towering cliffs above you in the notch.
I also hit this climb pretty hard.  My goal for the ride was to time-trial up the first two climbs, getting in some quality intensity work before the legs got too tired.  Then I could "sit back" and enjoy the rest of the ride.
The descent from Evans is sweet.  Never steep, and it goes on forever.  It is so easy to get a nice rhythm going and cruise 30-something the whole way down to Rt 2.  Both sides of Evans Notch are heavily canopied, and tall peaks to either side further enhance the mysterious darkness that enshrouds this mountain pass.
To avoid a portion of Rt 2 traffic, we experimented with an alternative route.  Instead of turning left on Rt 2 and heading directly to Gorham, we went right for about a half mile then left over the Androscoggin River on Bridge St.  After crossing the bridge, go left and continue to follow North Rd (or N Road on some maps) until it rejoins Rt 2 many miles to the west.
North Rd was a fantastic "find."  In the first five miles, we did not see any cars.  But what we did find nearly caused me to crash.  I was at the back of the paceline fumbling with my camera when suddenly Ryan gets all excited and starts yelling.  Everybody slammed on their brakes, and I nearly ran into a couple riders.  I looked up just in time to see two cubs dart into the woods very close in front of us.  The others saw mamma bear too.  I rarely see black bear in the wild in New England.  Most of the bear I've seen were in populated areas where they go dumpster diving around condo developments in Jackson and North Conway .  North Rd eventually crosses the Androscoggin River again and ends on Rt 2.  Go right towards Gorham.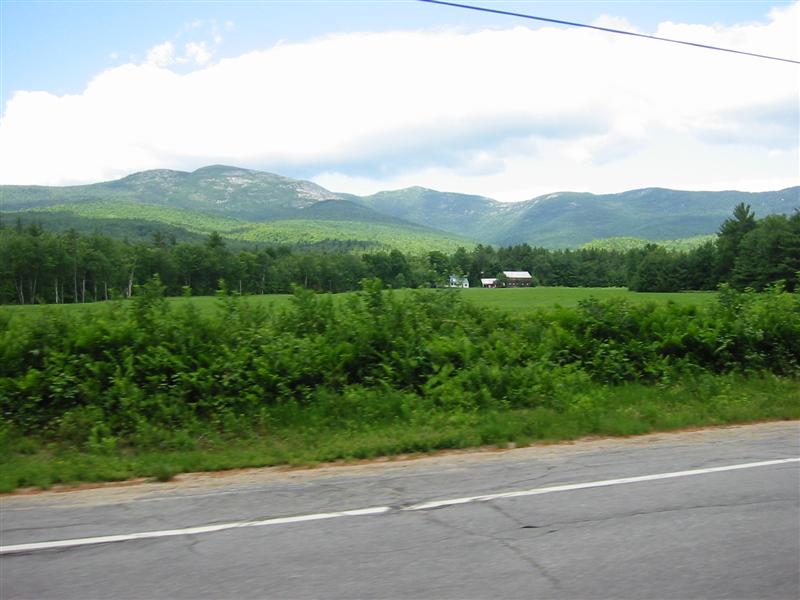 Looking west while heading north on Rt 113 towards Evans Notch.  This might be Baldface
Mountain.  Wildcat Mountain would be on the other side of this ridgeline, and
Mt Washington beyond that.
Ryan and Brett heading north on Rt 113.  Evans Notch is in distance, center of image.
Taking non-blurry pictures while riding at 22 mph is not trivial.
From high point of Evans Notch, looking southwest.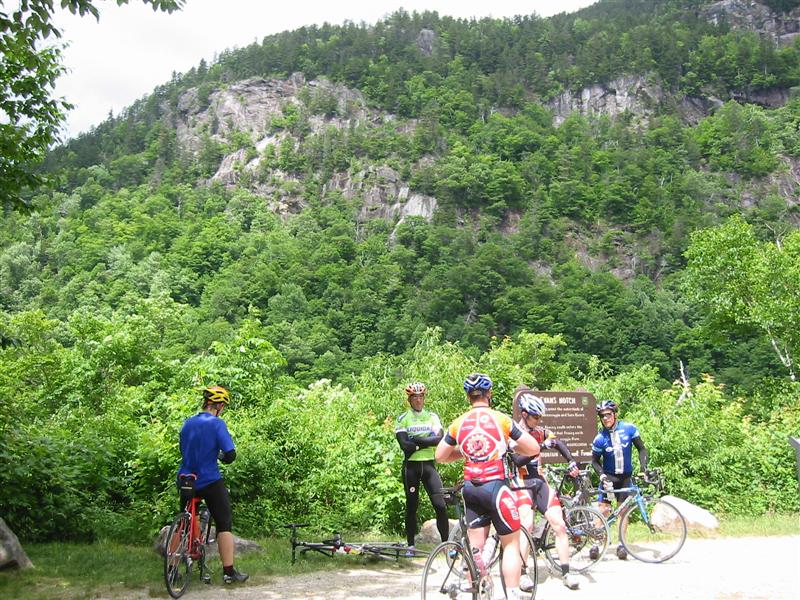 Riding group at summit of Evans Notch.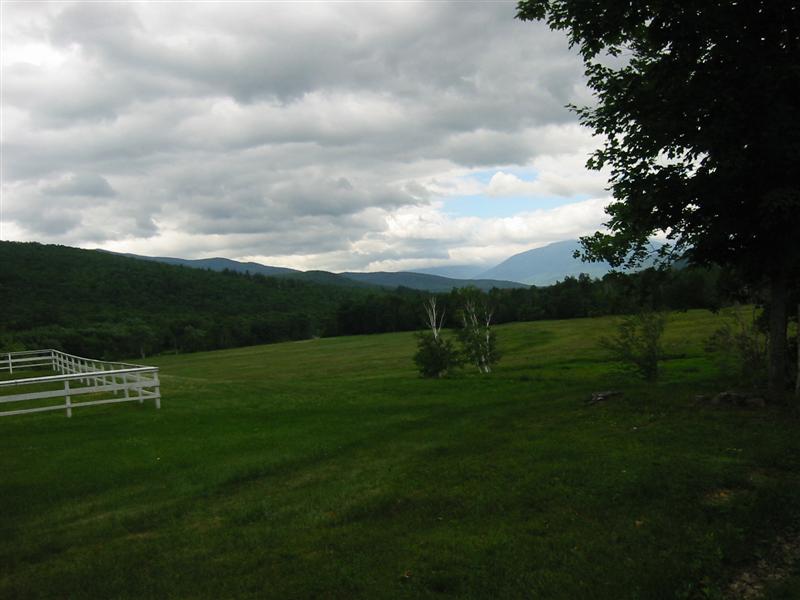 North Rd looking towards Mt Washington (not visible).  This was just before
we ran into the bears.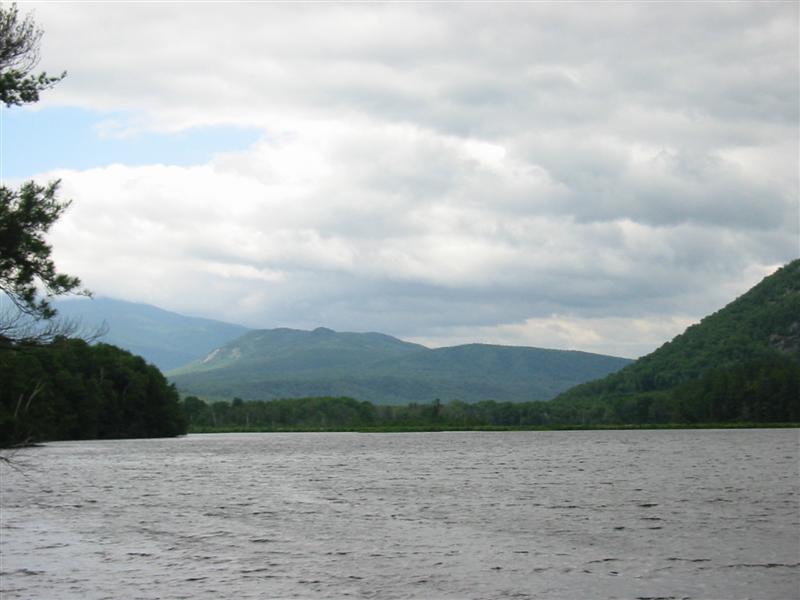 From Rt 2, just after getting back on it from North Rd.  This is looking across the backstop
of the dam on the Androscoggin River.  That might be Mt Hayes on the far left.
Jefferson Notch (2344ft)
We hadn't refueled since beginning the ride, and most of us were out of water.  I was running on fumes.  There used to be a country store on Rt 113 just before Evans Notch, but it is now closed and for sale.  This means we had put in 54 miles before reaching Gorham, our first food stop.  I probably went overboard with chocolate milk, two oatmeal cookies, and sunflower seeds (for extra sodium).  I filled bottles with diluted Gatorade solution.  I can handle full strength Gatorade from powder, but not premixed.  Different carbs are used.  The powder does not include fructose or HFCS, using mix of sucrose and dextrose instead.  Fructose can be absorbed slowly.
It was very windy and cold in Gorham.  We all got cold sitting around packing carbs.  Kevin, Ryan and Andrew were heading back from here via Rt 16 over Pinkham Notch.  Brett, Glen and I were continuing on towards Jefferson Notch.  The ride into the wind on Rt 2 was a cyclist's worst nightmare.  The wind must have been a steady 35-40mph.   Then we had to go up this moderately steep 700ft climb right into it.  Brett chugged one of those high-cal Starbucks cold drinks in Gorham.  He said it gave him a huge boost.  Good thing.  I wasn't looking forward to working into that wind.  Brett pulled the whole way up the big grind, averaging about 330Watts, or 4.4W/kg.  This was over three hours into a mountainous ride.  Glen and I had trouble staying with him.
After some more rolling climbing, we reach the turn-off for Jefferson Notch.  This is Valley Rd to the left.  It starts paved, but soon turns to gravel.  Then a short ways later, left up Jefferson Notch Rd is taken.  Although this was to be the high point of the ride for me (both literally and figuratively), I was so cooked that I wasn't really looking forward to it.  The gravel was in perfect condition though, and the three of us were pretty psyched to see this.  Last year when I rode Jefferson, it was during dry period and the surface was loose as marbles.
Brett and I began together at a stiff tempo pace.  Glen began to fade back.  The grade is gentle for the first couple of miles, but continues to pick up as altitude is gained.  About 1640 feet is gained on the gravel portion alone.  It gets steep enough that Brett and I, both geared the same, end up in our lowest ratio.  I pull away from Brett.  Now he's paying for that huge effort he put in on Rt 2 earlier.  About a half mile from summit, the grade becomes ridiculously steep.  You go around this switchback, and you almost tweak your neck looking up at how steep it stays.  I started laughing out loud, because I knew how bad I was hurting through this section, and I knew the other two were going to hurt even more.  Yeah, cyclists are sick that way.  But I also knew the top was just past this.  Brett and Glen, having never done this climb, did not know.  Brett told me upon reaching the top he cussed when he hit that section.  That is a good indicator of a great climb.  I counted only two cars during this long ascent.  Very nice having the road nearly to ourselves.
When Glen reached the top, he commented that he felt like bear bait.  Riding alone, nothing around for miles, and pockets stuffed with all kinds of sweet goodies that bears can pick up on the wind miles away.  A glycogen deprived mind can start playing games like this, especially just after a close encounter with bears.
The weather at the top, just above 3000ft elevation, was unpleasant to say the least.  Temp was probably below 50F, it was windy, and very dreary.  The cloud deck was just above our heads, socking in an otherwise incredible view of Mt Washington from the trailhead parking lot.  Just 3000ft further up at the summit, visibility was less than 20ft, the temp freezing, winds were near hurricane force, and everything was icing up.  This is middle of summer.  They don't say Mt Washington has the worst weather on Earth for nothing.  I put my wind shell on, but it was not nearly enough to keep me from shivering.
The Jefferson descent was quite satisfying, but bone chilling.  I couldn't wait to get down further where it was warmer and maybe out from under the cloud deck so we could catch some more sun.  My feet and ears went numb.  The dirt ends at a paved road with stop sign.  We continued straight across on unmaintained paved road, called Mt Clinton Rd I believe.  This pops you out at top of Crawford Notch on Rt 302.  Go left and get ready for miles more descent.  Watch out for tourists during first part of descent.  Cars and people are everywhere by the waterfalls.  On this ride, I had biker dude (as in Harley) with whiskey bottle in hand look right at me then walked across road deliberately in my path.  I was going nearly 50 mph.  What do you do in that situation?  I would have loved to give him a piece of my mind, but gang of Hells Angles wannabe's vs spandex clad cyclist?  Don't think it would have gone over too well.
Our second and final food stop on this ride was at junction of Bear Notch Rd on Rt 302 in Bartlett.  A well stocked country store has about anything you would need.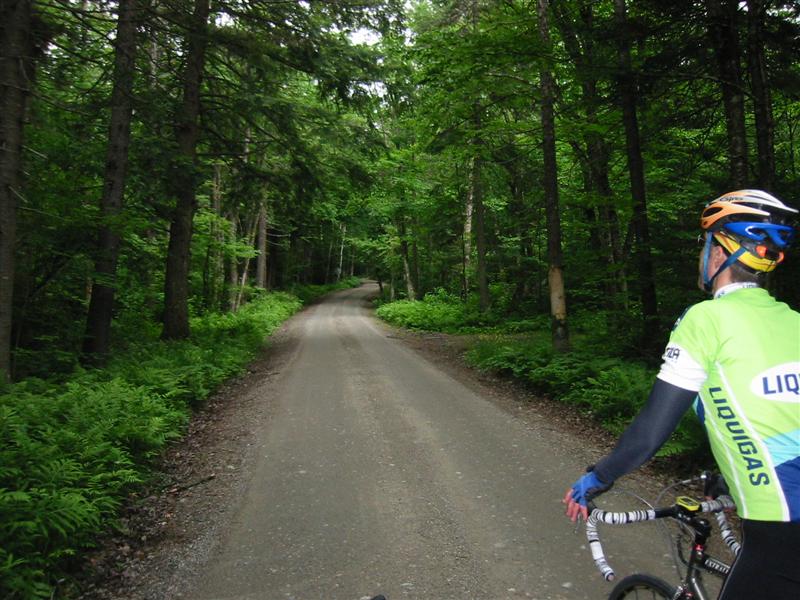 Brett getting ready to head up Jefferson Notch.  Gravel in most places was nearly as
good as riding on pavement, very unlike last August when it was as loose as marbles.
Glen arriving at summit of Jefferson Notch.  I guess the bears didn't get him.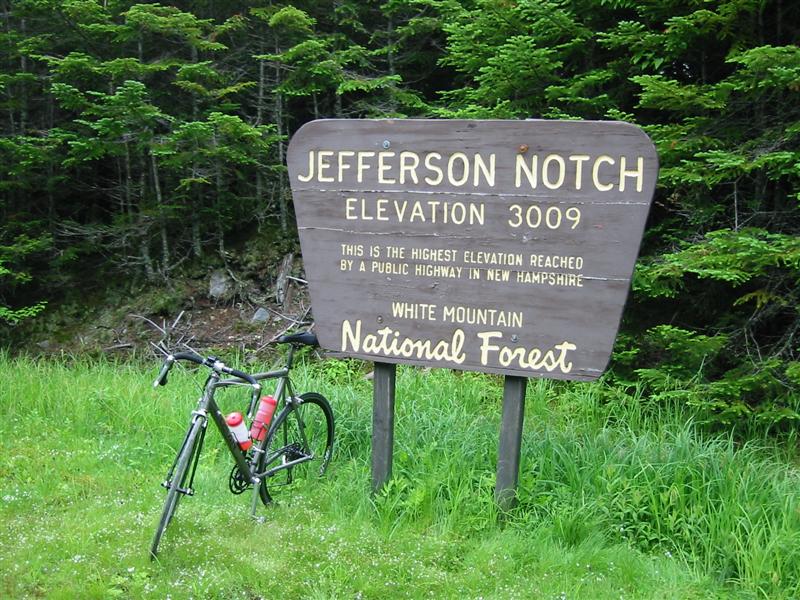 I get a kick out of the state calling this a "Highway."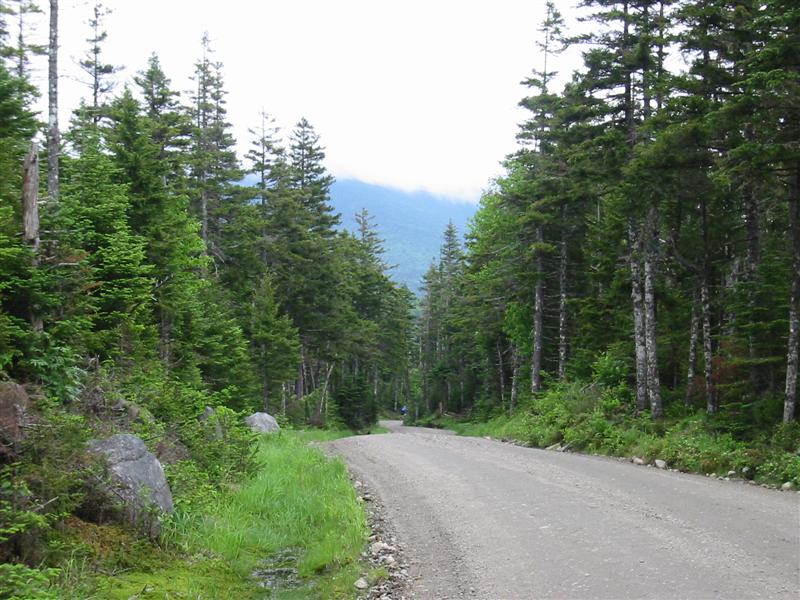 Glen just disappearing around the corner beginning Jefferson descent.  Cloud deck was
very low, completely cutting off view of Mt Washington in this picture.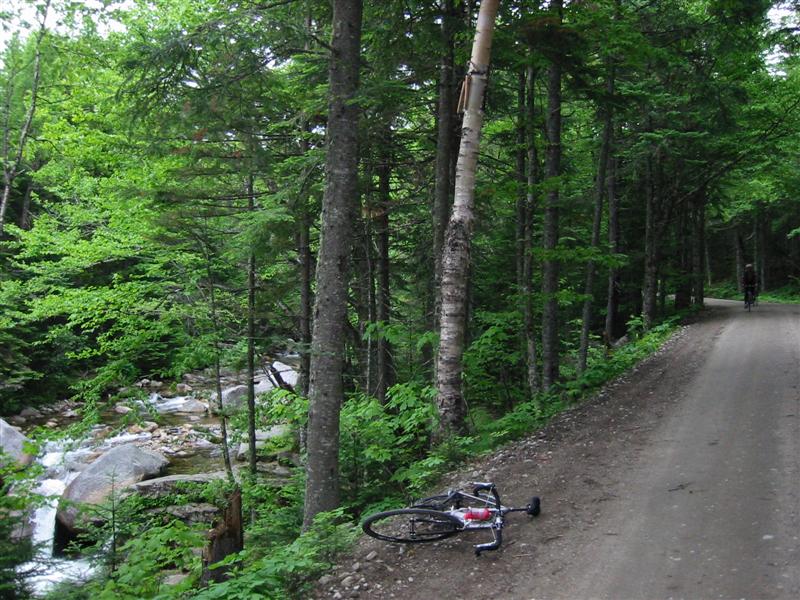 A portion of the descent followed cascades of waterfalls with crystal clear pools.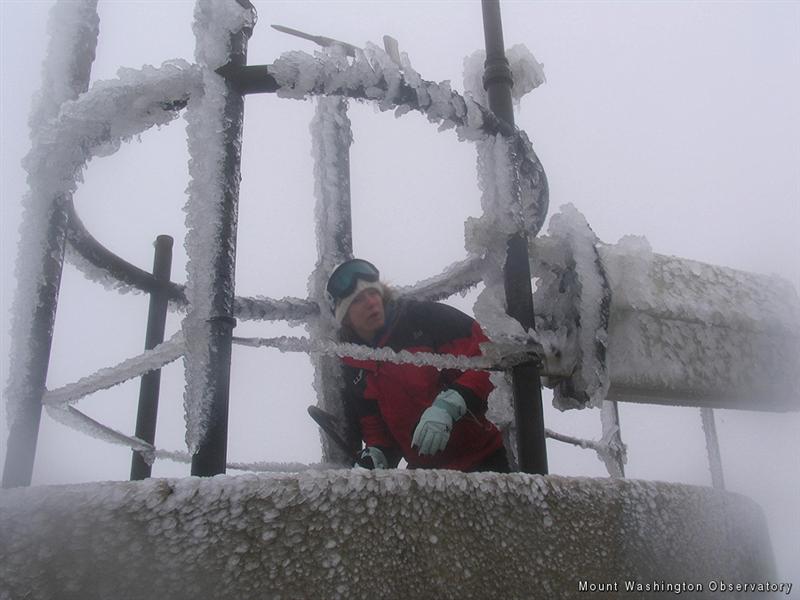 3000ft above us on the same morning.  End of June in New Hampshire?  No
wonder we got so cold going over Jefferson Notch.  Photo from Cathy Radonic's report at
http://www.mountwashington.org/weather/comments.
Bear Notch (1120ft)
After an ice-cream sandwich and more fluids, we tackled the last climb, Bear Notch.  I was pretty much in soft-pedal mode at this point.  I was now paying for the two 20-minute way above threshold efforts on the first climbs.  Brett set pace, and I just sat on his wheel.  No drafting at 12mph with tail wind, so we were doing equal power (we weigh the same).  Effort was tempo pace.  I kept hoping Brett would not pick up the pace, as I doubt I could have gone any harder.  When we got to the top, Brett said he was glad I didn't attack because he couldn't have gone any harder.  Funny how truces like that can just spontaneously happen.
The nice thing about this climb is that it's a gentle 5% grade and does not deviate much from this.  You gain the 1100+ vertical before you know it.  There are some openings in the canopy to show you altitude progress, with views looking back over the Rt 302 valley.  There is nothing on this road.  It does get its share of summer traffic, is narrow and twisty, and does not have the best surface.  The descent to Rt 112 is less than half the gained vertical.  After waiting a couple minutes for Glen, we bombed down to the Kanc.
The plan was to go left on the Kanc (Rt 112) for about 6 miles, then cross over the Albany Covered Bridge and take Passaconaway Rd for the remaining 5+ miles back to Conway.  But a few miles down the Kanc, a section was torn up and was large, loose aggregate - barely rideable stuff.  Glen flatted in this mess.  After fixing the flat, we just took the Kanc the rest of the way back since the ride ran a little longer than we expected.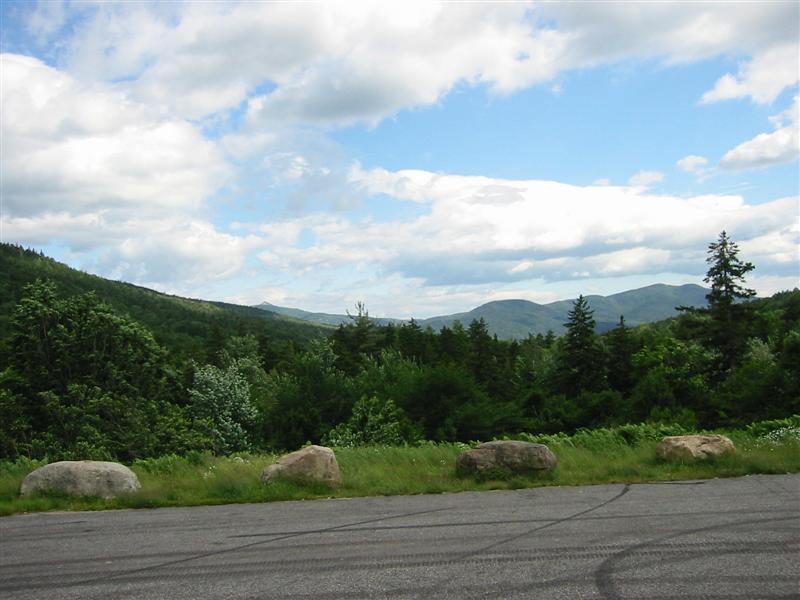 East view from pull-off near top of Bear Notch.
Ride Wrap-Up
The weather can really be a wildcard in the mountains.  I read later that evening about a group that tried to hike Mt Washington and could not go above 5,000ft.  It was too windy to stand, cold, wet, and visibility less than 20ft.  People die up there any time of year.  In hind sight, I should have brought some knee warmers and a light long sleeve jersey to wear under the wind shell.  I would have still shivered for an hour after summiting Jefferson Notch.  People from Colorado might not understand this.  Our tree line is about 4000ft.  If you scale this to Colorado's 10,000ft or so, that would put summit of Mt Washington higher than the Rockies 14'ers in a relative way.
North Rd on the other side of the Androscoggin River was a bonus surprise.  No traffic, good pavement, gently rolling hills, and bears.  Nice scenery though the many openings too.  This road will be included in all future rides that come through these parts.
-Doug