Jay Peak 186k Ride Report, Saturday, June 2, 2007
Ride summary:
<![if !supportLists]>∑ <![endif]>Stats: 115.8 mile figure eight circuit, 8 significant climbs, 12,800 feet of climbing (per TopoUSA)
<![if !supportLists]>∑ <![endif]>Solo ride, finished in 6:56 riding time, less than 8hrs total time
<![if !supportLists]>∑ <![endif]>Stopped twice for food and water on muggy 70ís degree day
The Jay Peak ride presented here is a hybrid ride report/review.† Comparing the Jay Peak 186k with 6-gaps, the Jay ride offers far more scenery.† Most of 6-gaps lies in the Green Mountain National Forest.† It is heavily forested.† The only views are open grazing areas from valley floors or from summits of a few of the gaps.† The Jay ride on the other hand, lies mostly in agricultural and private land.† Much more of the land is cleared, especially at some of the higher elevations.† There are many large mountain peaks in the area too, giving more of a sense of riding in the mountains.
This ride is a nice alternative to the 6-gaps ride.† The climbs are much gentler, but the ride entails nearly as much total climbing and distance.† It will take a lot out of you.† The steepest segment along the route is climbing Rt 242 west, the upper portion above Jay Peak ski area entrance.† Thereís about a half mile of 14%.† Compare this to 1.5 miles of 20-24% grade found in 6-gaps.† Triples are not required for the Jay Peak ride, and most strong riders will do well with 39x27 or 34x25 gearing.† I used 34x27 on my maiden voyage of this loop, not knowing what to really expect.† I did use the 27t cog a couple times, once on the steep part of Rt 242, and again at the end coming up Smugglers Notch when I was tired.
Each of the significant climbs on this ride is briefly discussed below.† The elevation numbers given are min to max, from low point since last climb to high point.† Total climbing may be much more, as there may be down hills along the way up.† For a map showing route, go to http://www.northeastcycling.com/gpx_loader.html and select the Smugglers-Jay Century in VT.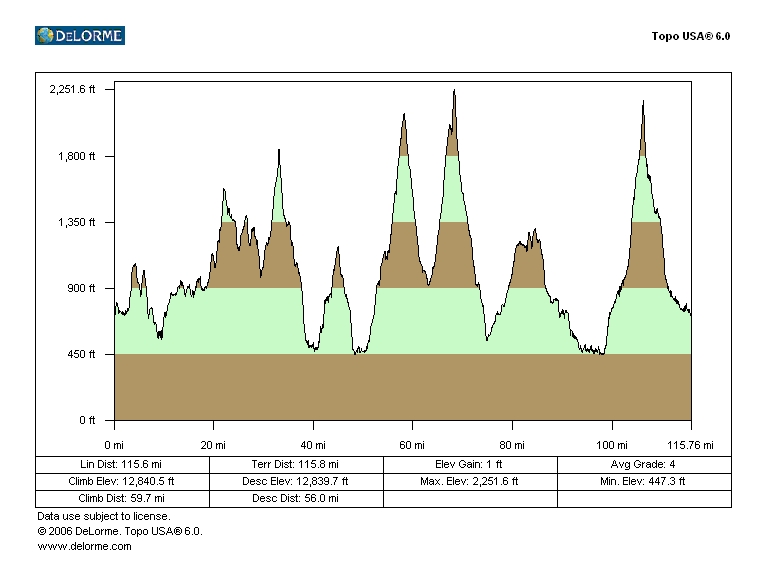 Stagecoach Rd Ė 362ft
The ride begins and finishes in Stowe, VT.† This tourist town can be busy in summer months, but I had no trouble finding place to leave car for the day.† Most parking spots say two hour maximum or are reserved, so be careful. †Start ride by heading north on Rt 100.† In a couple miles, take Stagecoach Rd to the left.† This will have much less traffic on it.† You soon will encounter a steep little climb to get the blood going in the legs.† Bear left on Cadys Falls Rd which becomes Depot St in town of Hyde Park.† A left on Main then right on Church should take you to Rt 100 north directly across highway 15.† Itís tricky.† I screwed it up and went all the way up Rt 15 to Rt 100c before I got back on course.† Most signage appears to be local names for roads, not state route numbers you see on maps.
The Knob (North Rd/Mines Rd) Ė 1031ft
Continue north on Rt 100 to about 1.5 miles past junction with Rt 118.† You will be gaining lots of elevation on Rt 100 in spurts.† Take left on North Rd, climbing more steeply now, gaining a few hundred more feet to high point of this road over the next mile.† This road has minimal traffic and some great views.† It passes by the closed asbestos mines on Belvidere Mtn.† This was the first asbestos mine to open in the USA and at one time supplied nearly the entire USís asbestos demand.† We now know this stuff is evil, so the mines closed several years ago.† The mine tilling piles are quite amazing.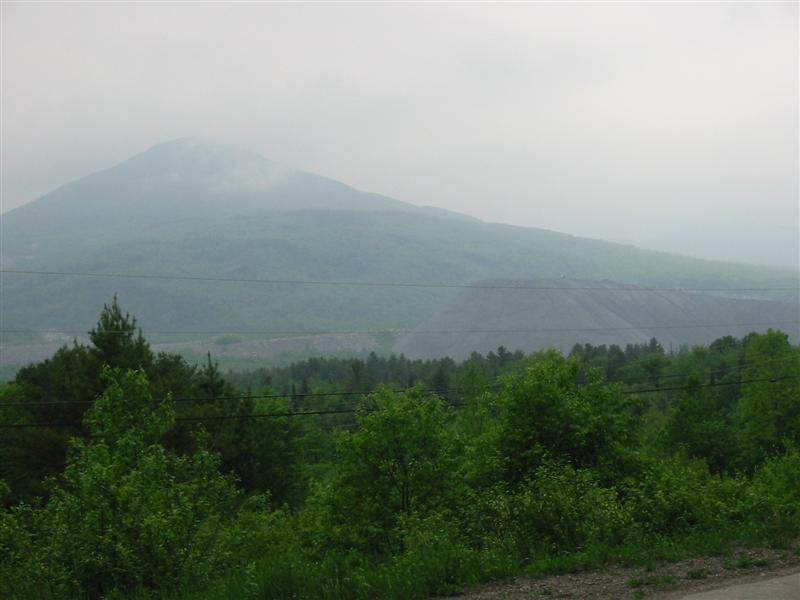 Belvidere Mtn, note mine tillings in center right of image.† Passed below these further
down road, and they looked like mountains in their own right.
Hazenís Notch Ė 873ft
North Rd becomes Mines Rd.† After brief descent, a hard left is taken at the tee junction of highway 58.† I saw no signs here, but the back side of a sign in uphill direction had a faded ď58Ē on it.† Rt 58 is a seasonal road, closed in the winter months.† Rt 58 is paved here, but shortly turns to gravel.† Yes folks, Vermont still has state highways that are not paved.† Upwards of 8 miles of Rt 58 is unpaved, up and over Hazenís Notch.† There is a state campground near the top on this side of the notch.† This was the high point of the ride for me.† Near nil traffic, perfect gravel condition, mild temps, and great early summer scents on the breeze.† It had been raining a lot recently, so this probably had the gravel condition in much better form than usual.† You get glimpses of the notch as you climb, and it gets pretty steep just as you reach the top.† The Long Trail crosses here, a trail this ride will cross three more times.† This descent was wonderful on the day I rode.† It is very steep initially with some washboard bumps coming into the switchbacks.† Be very careful.† But a little further down, I could really let my speed run out, hitting 39.5mph two different times.† The descent continues the last mile or two on pavement into the village of Montgomery Center.
Climbing towards Hazenís Notch in distance.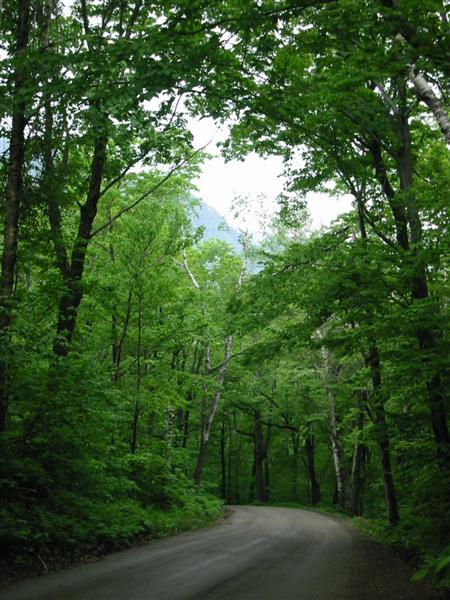 Beginning descent to Montgomery Center from Hazenís Notch.
Cliffs loomed on either side of notch.
Fuller Bridge/Richford Rd Ė 700ft
After refueling in Montgomery Center (multiple options in town), head north on Rt 118 (aka North Main St) about 2.5 miles to Montgomery.† There is also a general store there.† Look for the covered bridge on Fuller Bridge Rd and go through it.† This road climbs briskly a couple times before leveling off some.† The views abound.† Richford Rd tops out at around 1200ft elevation and has lots of open pasture.† The descent to Richford is particularly nice with mountain peaks on the other side of the Canadian border.†† You will see other covered bridges on this ride.† For more on Fuller Bridge, see http://www.vermontbridges.com/fuller.recon.htm.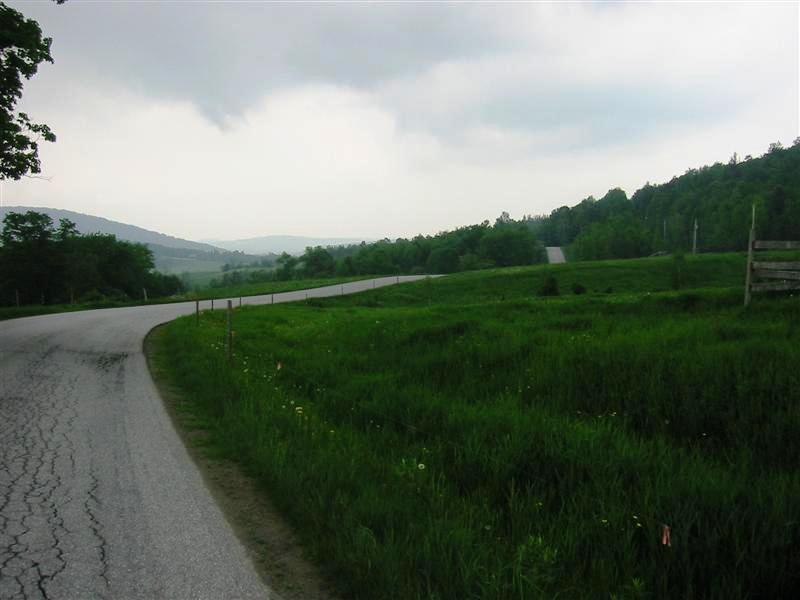 Richford Rd, near high point.† Lots of open valley views here.† Threat of
rain seemed ever present during this ride.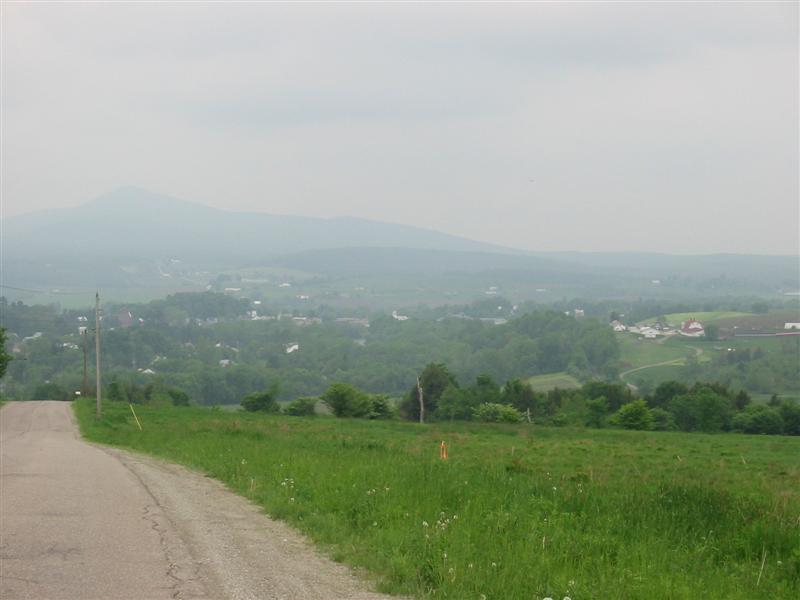 Mont Pinacle in Quebec in distance.† Too bad it was so humid and hazy this day.
Beats the forecasted 64% chance of thunderstorms though.† I stumbled upon a much
nicer photo looking for the name of this mountain here.
Jay Peak North Ė 1643ft
Having bombed down Richford Rd to Rt 105, take a right.† Note that many of the state highways in this area are not named with Rt #ís.† They will be named local street names.† Rt 105 is the road that hugs the wide Missisquoi River, and I didnít see a street sign.† The pavement starting out on Rt 105 is nasty in spots.† The good thing was, on the Saturday in early June when I rode this, there was minimal traffic.† It was easy to avoid the cracked up parts.† It was common to go five minutes at a time with no cars passing in either direction.† Once the road veers away from the river, get ready for the first serious climb of the ride.† Again, nothing uber steep, but the climb goes on for nearly 8 miles.† There are a couple flats or even slight down hills on the way up.† Part way up this climb, you will be less than 1km from the border with Canada.† Just after cresting the top (you will know when you finally hit the top when you see the ďtrucks use low gearĒ sign), look for the pull-off on the right for a fantastic view of the descent.† The descent offered much nicer pavement than the lower part of the climb.† You can take this all the way down to Rt 100, but I decided to avoid any traffic and took a right on Cross Rd.† Cross Road has been recently paved and continues downward slightly.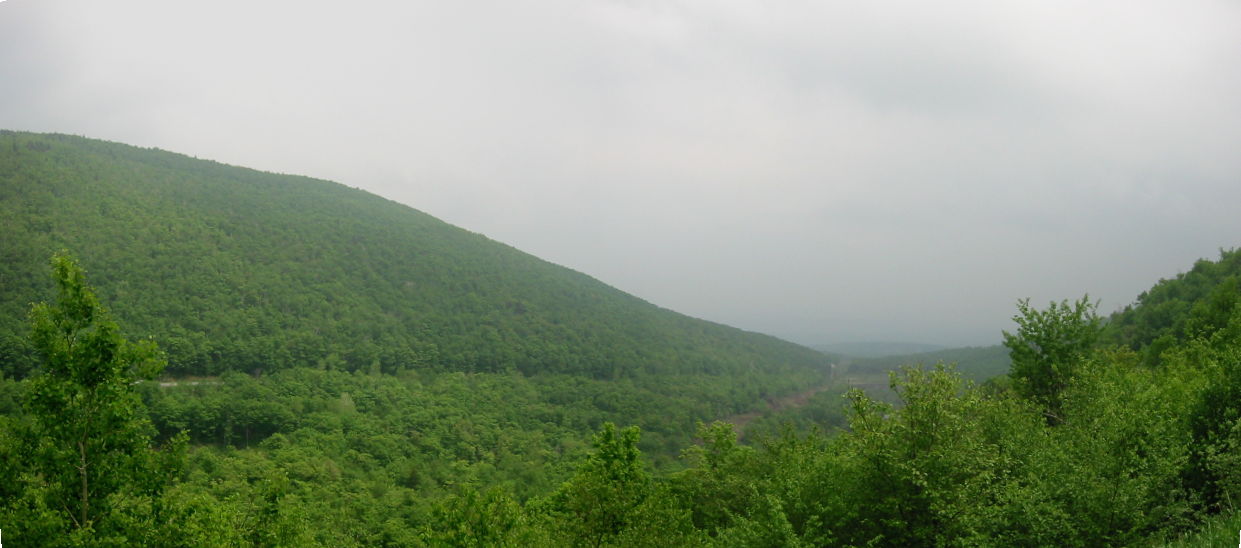 Beginning descent on Rt 105 towards Troy.† Looks like rain in Troy.
Jay Peak South Ė 1338ft
When you reach Rt 242, take a right.† There is a gas/convenience station here.† This begins the second serious climb of the ride.† Rt 242 for the next few miles is also in very rough shape.† Again, there was little traffic to contend with.† You will climb steadily for 4 miles.† The view of Jay Peak will loom above you, and you get an idea of where the pass traverses to the south of Jay Peak.† You will pass the Jay Peak ski area and then crest what you think is the top of the climb.† Nope.† A descent and sweeping turn will bring a shocking view to your eyes, a half mile, 14% grade wall.† Just hunker down and grind it out.† This is the steepest part of the whole ride.† When you reach the top, you realize it wasnít so bad after all.† Now get ready for a rocket descent back to Montgomery Center.† The pavement is decent all the way to town, but it does have some repetitious bumps in it.† This will be the biggest descent of the ride, over 1700ft drop.† You can stop at the same general store you may have stopped at before circumnavigating Jay Peak.† When I did the ride, I stopped twice, and at the some store in Montgomery Center.† You pass through Montgomery Center at roughly the 1/3 and 2/3 points in the ride.† The at this point has circumnavigated Jay Peak and crossed the Long Trail two more times.
Approaching Jay Peak.† The ski runs were visible to the eye, but the humidity washes them
out for the camera.† You could see Jay Peak from many points of the ride, and at earlier times
it was shrouded in very dark clouds.
Rt 118/109 Ė 749ft
After refueling, you will now take the only other route out of Montgomery Center you havenít been on yet.† That is Rt 118 south.† This is another road that is many years past due for repaving.† But like most of the roads in this area, there simply wasnít much traffic to contend with.† You will climb gradually for 8 miles.† When reaching the junction with Rt 109 in Belvidere Corners, bear right.† There will be a couple of moderately steep short climbs on this road.† Rt 109 has been recently resurfaced and was wonderful to ride on.† After cresting the last roller, you will have nearly 14 miles of gradual, mostly down hill to enjoy.† It follows the north branch of the Lamoille River.† The views are fantastic on this section of the ride too.† Much of the road is benchcut into one side of the valley it lies in, and you view big mountains down and across the valley the whole way.† This is part of what makes riding in Vermont so rewarding.† This and very little traffic and country stores that havenít changed in a century in every village.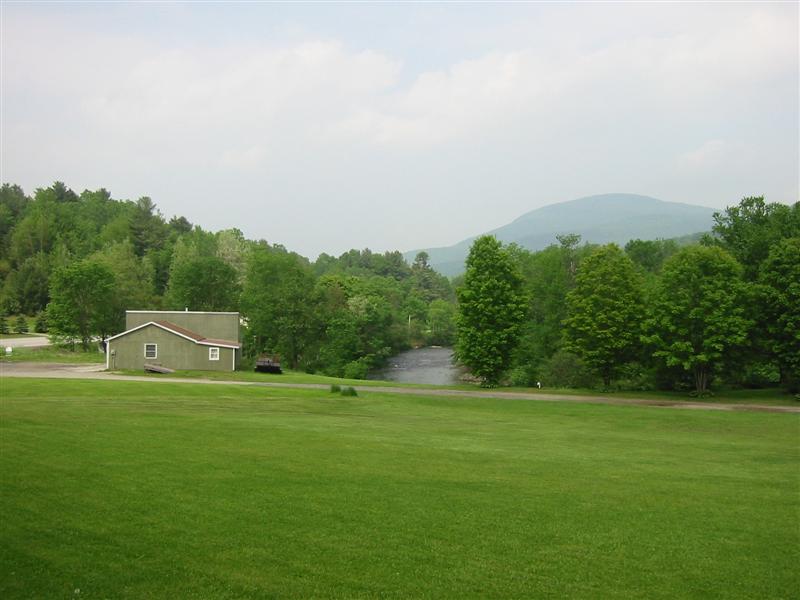 Looking back north along Rt 109.
Smugglers Notch Ė 1735ft
Have to save the best for last.† Smugglers Notch is the most unique notch in all of New England in my opinion.† It is very narrow with towering 2000ft cliffs on either side.† It always seems to be 10 degrees cooler in the notch than elsewhere too.† It is heavily canopied, but there are just enough open spots to see what towers above you.† Smugglers Notch is the single biggest net gain climb of the ride, gaining 1735ft from Jeffersonville to the top in near monotonic fashion.† Thereís a steep section approaching the notch, a half mile averaging 10%.† Other than that, the climb is not too bad from this side.† The descent back to Stowe is much steeper initially, easily over 12%.† Another reason for finishing with Smugglers Notch is the 10 mile descent back to Stowe.† It is a wonderful way to finish the ride. No or very light pedaling all the way back to your car is a great way to cool down after the biggest climb of the ride.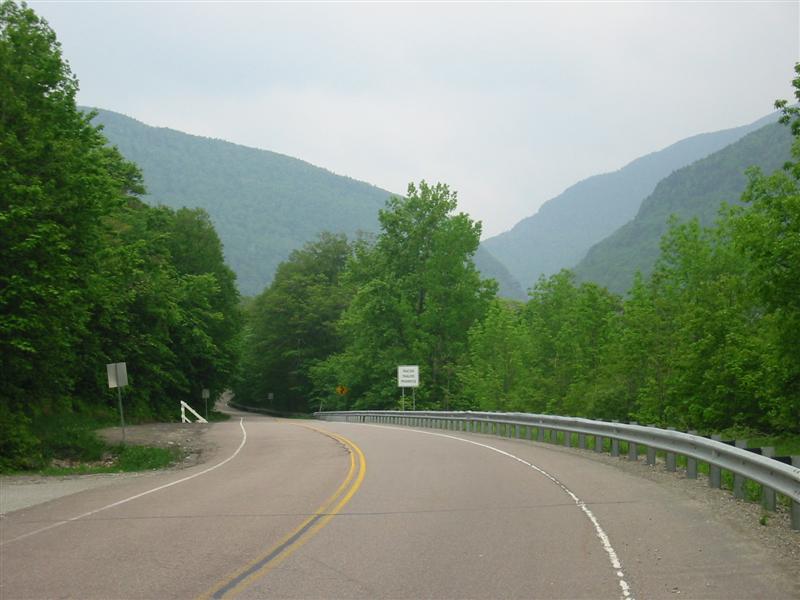 From upper parking areas of Smugglers Notch ski area looking into notch.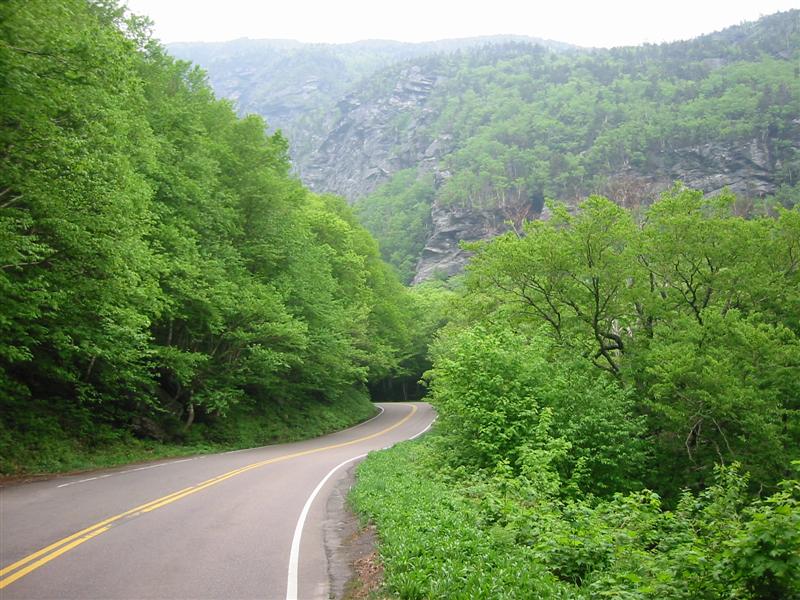 Final approach into Smugglers Notch from the north.
Ride Wrap-Up
So you may ask ďI add up all these verticals and donít get anything near 12,800ft.† What gives?Ē† Weíll, as already mentioned, the listed verticals are simple min to max differences for significant climbs.† There are numerous smaller climbs along this route.† Plus, most of the significant climbs are not monotonic, that is, they have rollers on the way up.† This means you climb some of the same vertical twice before reaching the high point.
This ride was thoroughly rewarding, one Iíll have to repeat when I can get a group to head back up with me.† It didnít seem that hard during the ride, as none of the hills were seriously steep like in the 6-gaps ride.† But I was totally depleted after the ride. †In some ways, rides with lots of small rolling hills can be harder than rides with a few big climbs.† On small hills, you tend to power into them.† You approach the hill fresh, charge up in a big gear, knowing it will be over shortly.† But you go deep into the red each time.† When doing a long ride with fewer but bigger climbs, you tend to easy into the climb, staying out of the red.† If you did charge into a long climb, you would soon be forced to back down anyway.† I probably logged more time above say 350W on this ride than I did on any 6-gaps ride Iíve done.
The scenery here is unforgettable.† You donít have to go to Colorado to find low traffic, mountainous routes to ride.† True, you wonít have 14,000ft peaks towering above you here, but it is very green, steeply contoured, and a place time has not caught up to yet.
-Doug