Six Gaps
September 21, 2007
We began our Six Gap Ride at a dirt pull off at the intersection of Rts 100 and 73 in Central VT.  There were three of us – Jim, Bob and Steve.  The temperature was 53 degrees, heavy fog and a forecast of mostly sunny with highs in the 70's.  The leaves, particularly at elevation, had started to change color.   At we began our climb up Brandon Gap, the first gap of our planned six gaps over 132 miles and 14,000 vertical feet.
The Six Gap Ride is a ride in the Green Mountains north of Rutland.  The Green Mountains are the oldest mountains in New England and in this area are three parallel north/south mountain ranges.   This ride covers 132 miles and 14000 vertical feet.  It covers six gaps on the two ranges that are to the east and west of Route 100.  Most of the ride is paved, but there several miles of gravel roads that can be in varying condition.  There is an excellent web site with maps, cue sheets and comprehensive information on the ride at http://www.northeastcycling.com/six_gaps.html.  This is a challenging and memorable ride.
Brandon Gap – 600' in Rochester to 2183'
Although it is not the smallest gap, it does seem to be the easiest – maybe because it is first and we were trying to take it easy the first few gaps – 132 miles is a long way.
To the right on the ascent is Mt. Horrid at 3216'with its rocky cliffs.  Special attractions: Peregrine falcons and scenic views.  We arrived at the top in beautiful sunny skies, temps in the low 60's.  What a wonderful day and a great first ascent!
Middlebury Gap – 375' in Middlebury to 2144'
Middlebury Gap begins with a gentle 1 mile incline leading into a moderately steep curving pitch.  From there it is nearly 10 miles of long gradual climbs, seeming tops, short descents and more gradual climbs.  You pass through the towns of Ripton and Bread Loaf.  The road is in good shape and there is great countryside throughout the climb.  Just as we were beginning to wonder (for the third or fourth time) how long this can go on the road takes a tilt up for a reasonably long, I am guessing, ¾ mile, challenging finish. 
<![if !vml]>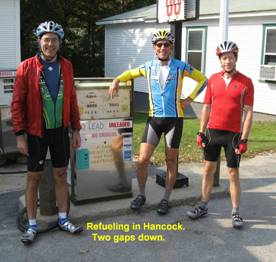 <![endif]>
We arrived at the top of Middlebury gap after 2h30m in the saddle and 2h41m after starting.   We all felt good and were ready for more.
The initial descent is a steep 2 miles of pretty good road where speeds in excess of 50 are easy to achieve.  From there it is 5+ miles of gradual downs into Hancock.  It is a ride of 20+ miles to the next gap and we rode a fast paceline through the towns of Lower and Upper Granville.  Farther north we entered Granville Gulf.  This is a beautiful area of waterfalls and roadside streams running through a gulf alongside the headwaters of the White River which flows south to the Connecticut River.  Once over the top of the Gulf you enter the headwaters of the Mad River which flows north into the Winooski and Lake Champlain.  The road continues north to Warren and the start of Lincoln gap.
Lincoln Gap – 626' in Warren to 2410'
<![if !vml]>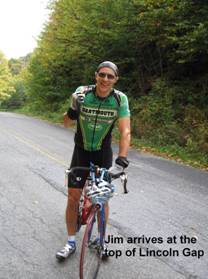 <![endif]><![if !vml]>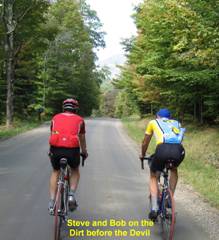 <![endif]>The start of the climb is paved and has a short steep section.  From there the climb is gentle.  After a mile or two it turns to gravel.  The gravel continues for a few more miles.  It is generally in good shape although you may not be able to ride at speeds you normally might due to occasional potholes and wash boarding.  There are a few areas of short steeper pitches but generally it is flat or gradual incline.  When the gravel ends the pavement and fun begins.  It is time to stop and remove your helmet.  From here the road climbs just over one mile at a persistent 20%.  Initially there are a few spots that offer short (real short) sections of maybe 12%.  Enjoy them – 12% never felt so good.  With a half mile to go these short relief spells are gone and the final pitch is a steep grind – some sections said to be as steep as 24%.  Can you balance at 3.5 mph and grind 350-400 Watts?  If so, you will emerge from the pain cave on your bike and on top.  We all had gearing close to 1:1.  I wouldn't suggest anything harder than this for Lincoln and for that matter the rest of this ride.  Even with this gearing we were out of the saddle for most of the last 1000 yards with a little weaving when visibility ahead was enough to allow us to react to any descending cars or bikes.  We arrived on top at 4h04m saddle time, 4h22 total ride time.  This is a tough ascent and we were glad it wasn't 4th or 5th as we were beginning to show a little wear.  If this gap were after another one or two climbs… I don't know.
This is the highest point of the ride.  In some perverse sense it is all down hill from here and oddly there is no top to this gap.  It starts down immediately.  I don't think you could balance a golf ball on the top.  The initial descent is no fun.  It is very steep and the pavement is in bad, gravely condition.  We stopped every minute or so to cool our rims.  It soon turns to gravel and becomes less steep.  Some braking was still required but at least you weren't trying to stop on a 20% grade.  As the gravel proceeds the pavement becomes better and the few mile ride into Lincoln becomes pleasant and scenic. 
Appalachian Gap – 615' to 2365'
<![if !vml]>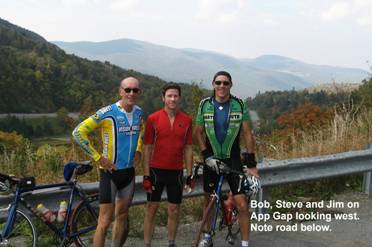 <![endif]>The gap starts out gradually.  After several miles of gradual climbing we started a long gradual downhill - maybe 1-2 miles.  We couldn't believe we had just done Appalachian Gap…  Well, we hadn't.  In fact, we really hadn't even started.  This gap is tough!  After quite a bit of climbing a large group of communication towers becomes visible way up on the ridge.  I am thinking they must be on the top of a mountain and we will pass through a saddle well underneath them.  No such luck.  The last 1500 meters of this climb is steep – 18% - and brings you right to those towers. If you are wearing a pacemaker all the RF will probably have your heart rate at 200 bpm as mine seemed to be, even without a pacemaker.  Along the way there are kilo markers for the Green Mountain Stage Race.  You can treat these as good news or bad.
The other gaps are "tunnel-like" gaps due to the effect of trees overarching the narrow roads.  App gap, however, is wide and offers great vistas to the Adirondacks to the west and the White Mountains to the east.  We were tired, but we enjoyed the view.  We arrived at 5h31m in the saddle and 6h04m total time. 
The descent is wonderful – steep, sharp sweeping turns.  With the sun and changing colors it was a real treat.  But be careful, some of the switchbacks are very sharp and if you are going too fast you will have ridden your last gap.  We arrived in Waitsfield and refueled.   
Roxbury Gap - 882' in Warren to 2383"
<![if !vml]>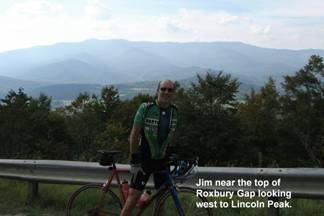 <![endif]>
A few miles out of Warren the ridge you climb over is visible to your right.   This is the only gap where you can see your destination before you start.  I am not sure that is information you want.  I studied that ridge as we rode.  The top was way up there and I was way down here.  I was looking for a saddle or some notch in the ridgeline that was the obvious route of the road.  No such notch.  I was looking for signs of a road going up the ridge.  No such signs.  Where do they get the road over that ridge without going all the way up there?  At the four way intersection we turned right and immediately began a gradual climb that turned nastier with every switchback.  The climb has a long stretch of gravel but it was in good shape and you don't have to worry about going too fast.  I don't want to ruin the mystery of this gap so I won't tell you how you finally get over that ridge, I am not sure I know how I did anyhow.  But you are damned glad when you do.
<![if !vml]>
<![endif]>
As a sidebar, you need to start each of these gaps with a full two bottles of water.  The water loss on these climbs becomes incredible.  Steve almost didn't fill his second water bottle in Waitsfield.  But by the top of Roxbury they were both empty.  I had a little extra water but he only had $30.  That would not have bought much water on the top of Roxbury Gap.
The descent is a lot of gravel so go easy.  Steve flatted half way down and we fixed the flat in a shaded portion of the road along a small brook leading into the Dog River.
In Roxbury we fueled up and began a 25 mile ride along routes 12A and 12.  It is relatively flat and we made good time pulling into a light headwind.  Try to take advantage of this flat to work a little life back into your legs because after the right on Camp Brook Road you have one more gap to go.
Rochester Gap – 577' in Bethel to 2150'
Rochester Gap is a deceptively long gap.  Like all the others it starts out with several miles of gentle incline and when it starts getting steep what it lacks in pitch it makes up in length.  At the top there are a few false peaks and some meandering roadway before you start down.  Allegedly there are pretty views front and back but we had lost our enthusiasm.  The end of our ride was looking a lot better than any views could have been.  We took a left at the first four way stop and from there it was a wonderful, forest canopied downhill into the center of the town of Rochester.  Enjoy it!  We took a left on 100 and soft pedaled the last mile to the car. 
At the car -- WOW we did it!  There were smiles, congratulations and a REAL sense of accomplishment.  This was an incredible ride! 
Two days later I feel great.  Next year it is not a question of whether we can do the ride but how fast!
Final stats:
Saddle time 8h40m, total ride time 10h05m
Effort expended 5678

kjoules

by Bob

,172

lbs..
Distance 133.2 miles
Altimeter reading 12,660 vertical feet,

DeLorme

Topo

5.0 14,500 feet.