Ascutney-Okemo Loop Rides in Central Vermont
Ride Options:
<![if !supportLists]>∑ <![endif]>61 mile loop, 3 significant climbs, 8800 feet of climbing (per TopoUSA)
<![if !supportLists]>∑ <![endif]>87 mile loop, 4 significant climbs, 11,700 feet of climbing
<![if !supportLists]>∑ <![endif]>94 mile loop, 6 significant climbs, 13,000 feet of climbing
Presented here are three options for a loop that includes Mt Ascutney and Okemo Mtn.† An 87 mile version of the ride is presented in detail here.† Photos are from a June 29, 2007 ride unless indicated otherwise.† Highlights of shorter 61 mile and longer 94 mile options with proportionate amounts of climbing are briefly presented later.† The 61 mile loop is fully paved, but the 87 and 94 mile options contain a major gravel road climb and descent and may not be suitable for everyone.† There is no food or water along the route for lengthy sections of the longer routes.† For those seeking a sense of adventure and like rides along a route less traveled, the longer loops may be for you.† Note most riders will require significantly lower gearing than what standard road bikes offer to tackle the 12% average grades of Mt Ascutney and Okemo Mtn.† There are sections that are even much steeper.† Competitive cyclists can get by with compact doubles and MTB cassettes.† Others should consider MTB gearing below 1:1 ratio.
Each of the significant climbs on this ride is briefly discussed below.† The elevation numbers given are min to max, from low point since last climb to high point.† Total climbing may be much more, as there may be down hills along the way up.† For a map showing route, go to http://www.northeastcycling.com/gpx_loader.html and select one of the Vermont Ascutney-Okemo options.
Profiled Climbs: Ascutney, Tyson Road, Shrewsbury/CCC Rd, Okemo.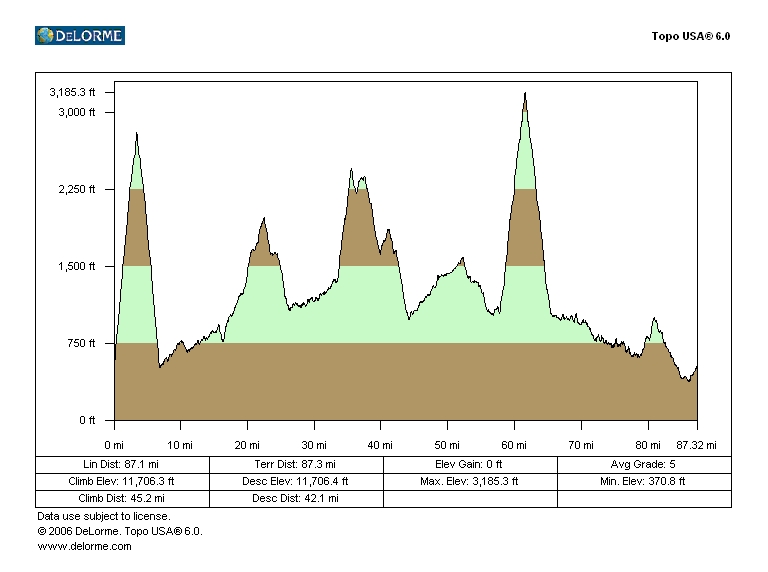 Mt Ascutney (2250ft)
A good place to park for this ride is on Rt 44A right at entrance to Ascutney State Park.† Pay your $3.00 entrance fee (summer 2007) before warming up.† You will want to warm up on Rt 44A before heading up Ascutney. Many riders come out here on weekends for Mt Washington training and time themselves up this beast.† If you have not done the race before, it starts just below the gate on the side road to the left as you come past the toll booth.† There may be a line across pavement there.† The finish is just into the paved parking area at the top.† There may be a faint line on the pavement there too.† The climb goes about 3.7 miles.† If you get there early, the toll road gate may be closed to cars, but bikes are still allowed to ride up.† This means you wonít be able to start at the official start line, but this involves only a few seconds difference at most.† It is not possible to ride around the gate.† Keep in mind there are a few other events throughout the year when the road is closed for special events, a motor car race and foot race to name a couple.† Check calendar of events at http://www.vtstateparks.com/htm/events.cfm for more info.
This climb is perhaps the hardest of all race climbs.† Itís just short enough that riders push deeply into the anaerobic realm.† Itís just long enough to destroy your legs.† The first 2.5 miles is steeper than any 2.5 mile section of other raced climbs.† It just doesnít give up.† Sections are claimed to be 19%.† But from 2.5 to about 3.3 miles, you get a couple breaks, including a bit that may actual go downhill. †But beware when it goes steep again.† Itís not far from top, some folks let up a bit on the respite, and then delve way to deep into the depths of anaerobic despair to finish it off.† But the top doesnít come soon enough, and most riders explosively hit deflection (forced to back way down) before reaching the top.† If you must hurl, please do so off the pavement.† I think at least one person per race hurls at the finish.
The parking area up top sits in a saddle between two peaks, an upper peak to the north and a lower peak to the south.† They both have communications towers on them, but the bigger peak to north has hiking trails and look-out tower.† Itís about 300 vertical feet to summit.† You wonít want to do this in cycling shoes though.† Some hands and feet bare rock climbing are involved.† If you have somebody going up in car, put on some hiking shoes and check it out.† On days when thermals and wind are right, many hang gliders launch off Ascutney.† Iíve seen over a dozen circling above like eagles.
The descent has improved much over the last couple years with new pavement.† Still though, more care than most descents must be exercised.† It is so steep that most riders, especially bigger riders, require heavy breaking most of the way down.† Every year riders blow tires on this descent.† This is caused by rims overheating and a) increased air pressure blows bead off rim, or b) rim tape inside rim melts and tube blows out through spoke nipple hole.† The later has happened to me twice.† Bigger riders, say those over 165 lbs, or anybody that rides with death-grip on levers all the way down should drop air pressure 10-20 lbs as extra safeguard.† Really big riders should stop and check rims a couple times on way down.† If rim is too hot to hold, let it chill for a while.† Iíve heard of rims warping and spokes breaking on this descent too.† The pavement used to be much rougher, but there are still some serious frost heaves around and the switchbacks havenít changed.
Tyson Rd Pass (1452ft)
After finishing your repeats on Ascutney, grab your water bottles and hit the road for Okemo.† North on Rt 44A merges back into Rt 44.† Follow this through village of Brownsville, then to junction with Rt 106.† Go left for about a mile or so into village of Felchville.† Tyson Road is signed but somewhat obscure.† It goes to the right and up.† After several miles, you will encounter a couple surprisingly steep pitches that just sneak up on you.† There are several false summits on this climb.† When you pass the wetlands/moose crossing area, the top is near.† The top has small rock face on right-hand side of road.† You may be able to see through trees that you indeed are at highest point on this road.† There are a couple nice views on the descent.† The descent is thoroughly enjoyable, but does have a small climb or two on the way down.† Be careful of one switchback in particular along the stream.† It seems cars always have gravel and large stones kicked up on the road, and thereís no way youíll hold that turn at 40+mph hitting loose crud on the road.† There is great view of lake just before you dump out at Rt 100.† Then youíll have choice to make.
At junction with Rt 100, go left into Ludlow when doing the 61 mile/8800ft loop (see below).† If doing one of the longer loops with the dirt climb, as described here, turn right.† This portion of Rt 100 is highly scenic.† Actually, Iíve been on many parts of Rt 100 throughout Vermont, and none of it is boring.† There are always towering mountains to either side, lakes, streams, and waterfalls any part you choose to ride.† Itís about 5 miles to junction of Rt 100a (do not take), and just past that on the left is a well-stocked gas station/general store.† You may want to stop at this one, as it will be a while before you see civilization again.† Another 2 miles or so past this store is where the next climb begins.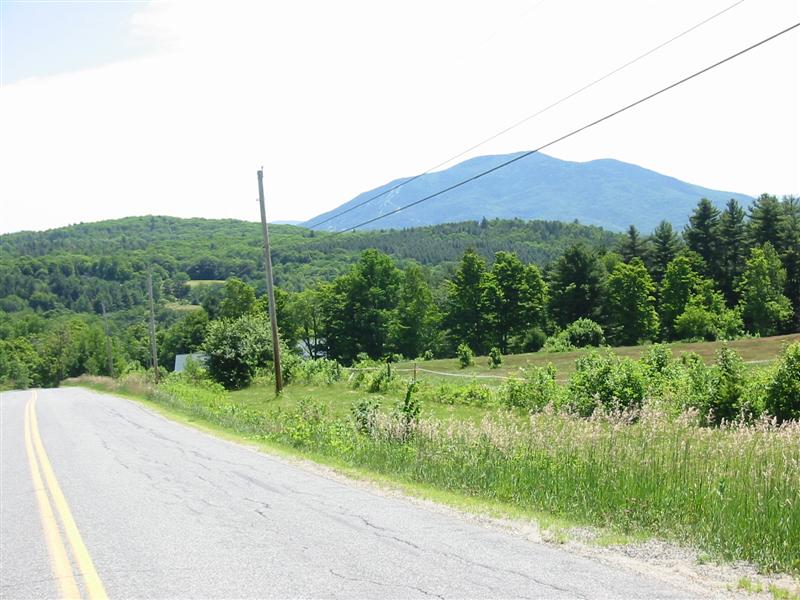 Looking back part way up Tyson Rd. †That is Mt Ascutney with ski runs faintly visible in center of image.
View part way down Tyson Rd heading west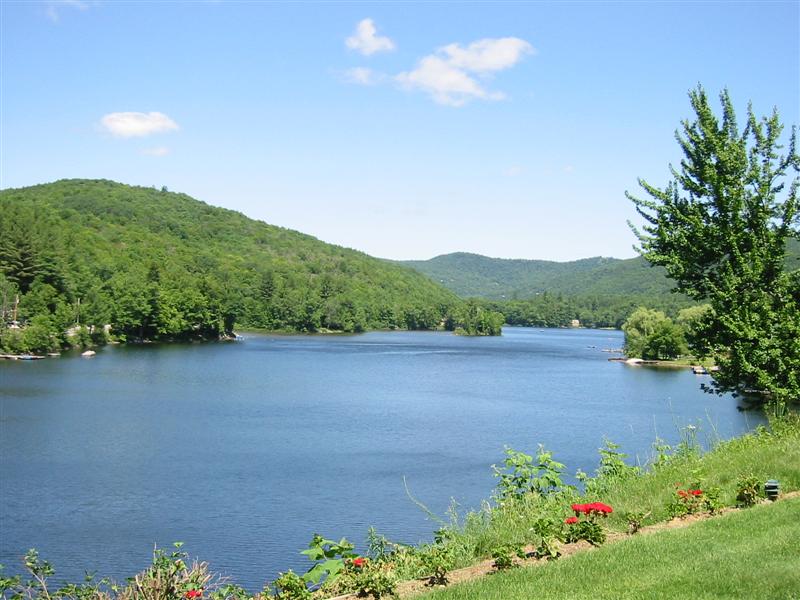 Echo Lake at bottom of Tyson Rd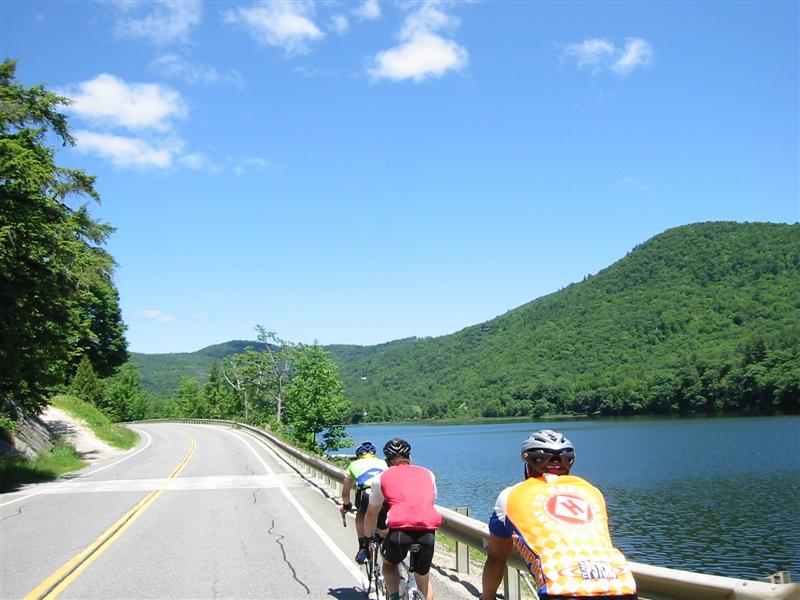 Amherst Lake along Rt 100 on way to Shrewsbury Rd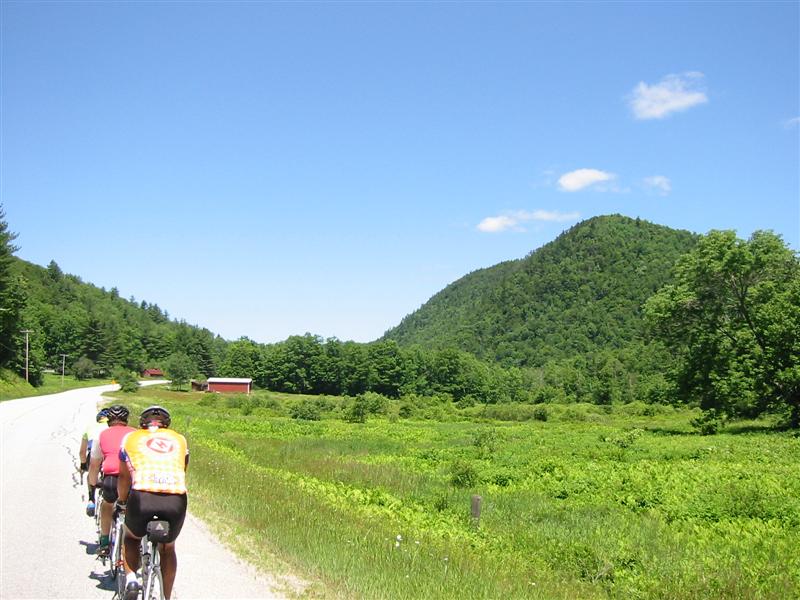 Brett, Dave, and Ernie heading north on Rt 100.
Shrewsbury Rd (aka CCC Road on some maps, 1386ft)
Shrewsbury Rd is nearly hidden as you go by on Rt 100.† It would be easy to miss.† Currently (July 2007), there is no sign of any sort identifying the road.† There is a sign that says the road is seasonal, and there is a large steel gate that they presumably use to close it down in the winter time.† The road immediately begins climbing steeply and packs a steep punch.† It gains over 1100ft in two miles.† The gravel on the first part may be a bit loose and wash-boarded up as cars accelerate beginning the climb.† You may encounter these conditions again at each switch back.† But for the most part, the three times Iíve ridden this road, itís been no problem for my 23mm racing tires.† Make sure you have good tread cap left and pressure topped off to reduce risk of pinch flats.
The first switchback occurs almost right away.† The second is much further up.† The distance between second and third switchbacks is very long.† The grade never backs off.† It is all very steep, and youíll probably spin your tire if you stand.† You will be riding under a very dense canopy of hardwoods most of the time.† Cars are very infrequent.† In fact, the last time I climbed this road, not one passed in either direction.† But make sure you stay visible to cars around corners and bends, as the road is fairly narrow.† After you round the third switchback, the grade slackens a bit and youíll be thinking the top is near.† Nope.† From third switchback to summit is very long, and some of the steepest pitches are in this section just before the top.† Youíll know them when you see them.† Might make you cuss.
When you start going down, you will have crested the high point of this climb.† The descent is often in better shape than the climb, as itís not nearly as steep so cars donít spin their tires coming up that side.† The descent quickly peters out, then you start climbing again, but only for a little ways.† Then the real part of the dirt descent begins.† Watch out for water run-off ruts.† There are a couple sharp left hand turns too that cannot be taken at full speed.† When the gravel flattens out for a bit, stunning views of the Plymsbury WMA and Coolidge SF open up.† Stunning views, negligible traffic Ė who wouldnít want to ride this dirt road?† Total distance on gravel is around 5.5 miles.† Just before you reach pavement, the descent becomes very steep around a sweeping right turn, and cars can spin up large rocks.† Be careful.
When you get to village of North Shrewsbury, thereís a maze of roads heading off in every direction.† You will want to stay on most direct route, not taking any abrupt turns.† This means bearing somewhat to the right on Northam Rd.† Youíll descend a little more on this, then begin climbing again.† Excellent views to the right, I believe of the back side of the Killington Ski Area.† Youíll get some more rocket descent, then pass through Shrewsbury.† Just after the ďvillage,Ē a fantastic view to your left opens up.† You will descend this valley by taking a left on Town Hill Rd just a bit further ahead.
The Town Hill Rd descent is probably the most fun of this ride.† You can carry lots of speed through the many turns.† You start in the open with views down the valley, then drop under dense forest canopy.† Take a left on Rt 103 at the bottom and go about 3 miles to next route decision point.
At the junction of Rt 155 on Rt 103, there is a gas station/general store.† The pizza there always looks tempting, sometimes almost 2Ē thick.† I like thick crust, but I think most east coast natives like it thin.† You can continue on Rt 103 directly to Ludlow, or go right on Rt 155 for a 7 mile, 1300ft additional climbing extension (see below).† The route described here continues on to Ludlow.† Donít go overboard on food and water if heading up Okemo next.† Youíll surely lose it on the way up, as it is only 11 miles up the road, and there are many food/water options in town.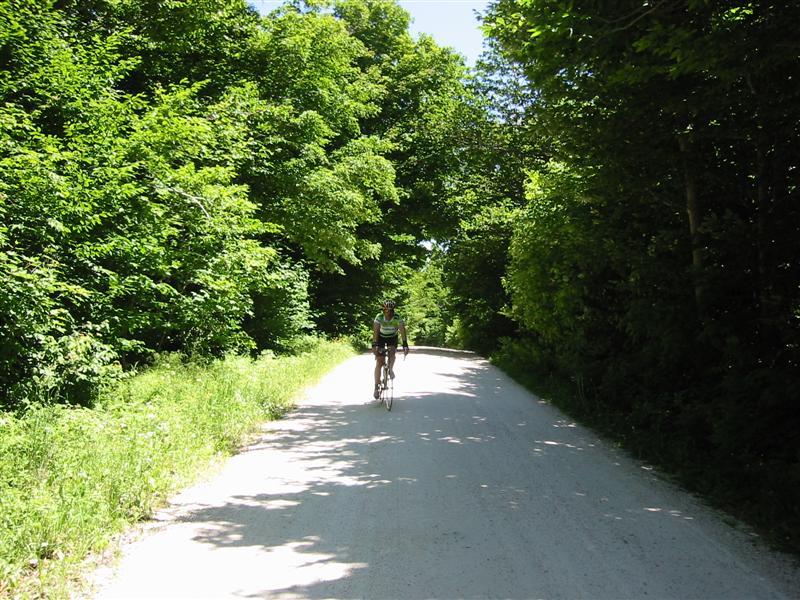 Brett cresting summit of Shrewsbury Rd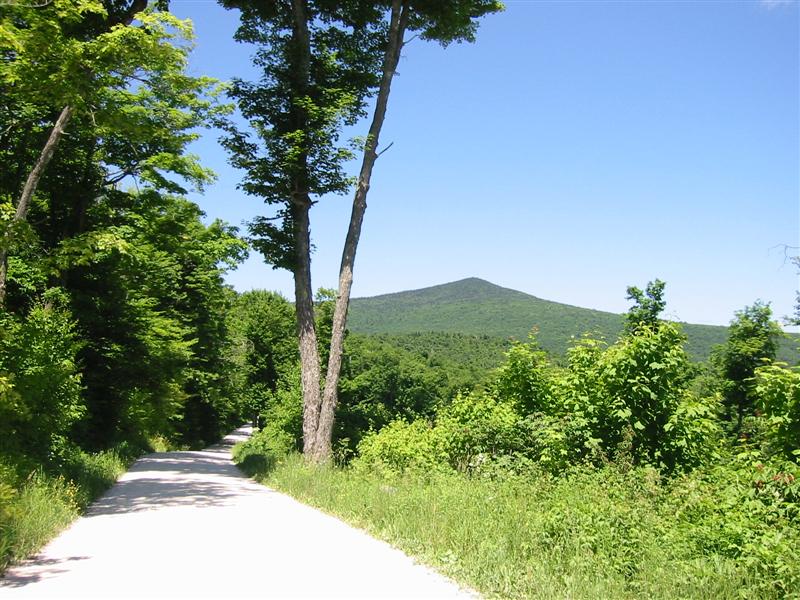 Looking back on Shrewsbury Rd.† I think this is Smith Peak.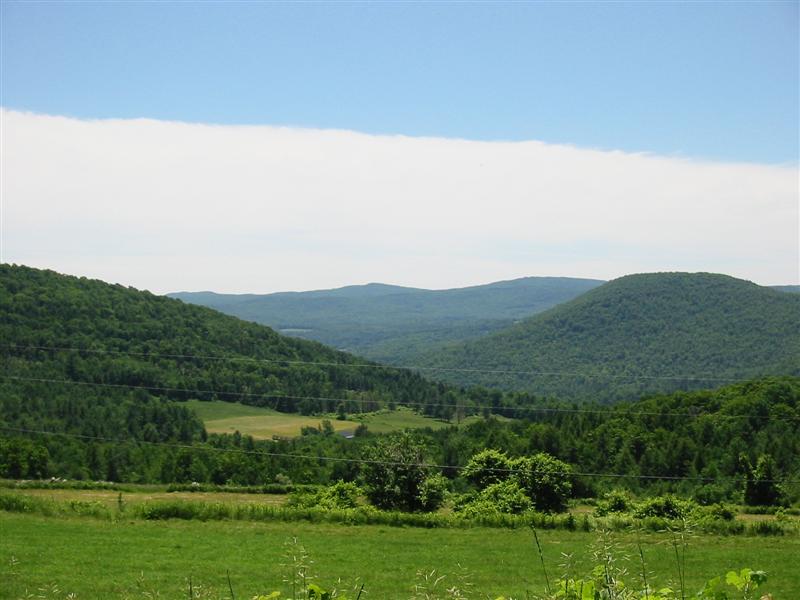 View from Shrewsbury, looking down valley that Town Hill Rd descends.
Okemo Mtn (aka Ludlow Mtn, 2167ft)
If you are like me by this point in the ride, you may be wondering why you are out here, you hurt so bad, and how in the heck are you going to survive another 2167ft, 12% climb.† Half of the time Iíve done Ascutney/Okemo loops, it should simply be called an Ascutney loop for some of the riders (myself included).† When you have a couple excellent cafes on either side of the street at the bottom of the climb, it becomes easy to let the others go do their nutty climb thing while you chill out over a cup of joe and pastries.† No problem with that.
But letís assume you are hardcore and want to charge right into this beast.† What is Okemo like?† Well, itís a near twin to Ascutney.† The average grade is just about 12%, the distance about the same but just a tad less vertical.† Also, you wonít get the special treatment that the first 2.5 miles of Ascutney gives you.† The first 2.5 miles of Ascutney is around 15% grade, and the first 2.5 miles on Okemo is 12% at best.† Oh yeah, there is no fee to ride here.
From Rt 100/103, the climb instantly throws your legs into shock after easy spinning the last 11 miles.† No easing into this climb.† It levels off just a bit at the ski base area (bearing right at fork), but then becomes a serious grind for much of the remainder.† Youíll be in the open a lot more on this climb than Ascutney, as you will be criss-crossing ski runs most of the way up.† Nice views and gives you a progress report each time you look down on Ludlow.
Youíll know when you reach the end, as the road just... ends.† Pavement turns to fire road with closed gate, and really no parking area to speak of.† Maybe a dozen cars or so can fit up there.† This is about 150ft vertical from summit of mountain.† I have ridden my road bike beyond the gate to the top of the ski area.† The high point with a tower is just above that but requires a short hike.† I do not recommend riding beyond the gate.† Mountain bikes, yeah, no problem.† Road bikes, bad idea.† If you want to visit the summit area, ditch the bikes and walk.† Itís maybe 0.5km away, but may be hard on road cleats.
It seems the descent lane of this climb is in much worse shape than the climbing lane.† Thatís too bad, as this is really a nice descent.† You have to be very careful of some holes, and long deep cracks that run right down the lane.† These are easily bad enough to cause wheel damage or a crash.† You might not notice them on the left while climbing on the right hand side going up.† Plus, the top kilometer of this climb is badly frost heaved.† This part is not as steep, and you will notice this going up.† When you get to the bottom, head directly across Rt 100/103 to the cafť for replenishment.† Limited hydration options, but yummy treat options galore.
Time to finish the ride.† Heading through center of Ludlow (it always seems to be plugged with traffic, why?), stay on Rt 103 south.† In a little over 3 miles out of town, turn left on Rt 131.† Youíll be glad to get off Rt 103 with its trucks.† This road is designated a scenic byway.† Once you get along the Black River, you will maintain a gradual downhill grade with pristine scenery.† There is about 10 miles of this where you can really rip without much effort.
When you get to blinking red light at junction of Rt 106, go straight across.† In a few more miles, youíll begin climbing, a 400 footer that flanks Mt Ascutney.† Again, if you are like me, youíll be in pure survival mode by this point.† The descent down the other side towards the Connecticut River is well earned.† Cross under I-91, then take left on Rt 5 north.† Bear left on Rt 44A, following signs to Ascutney State Park and your car.
At junction of Rt 106 and 131, if you chose to go left on Rt 106, youíll add about 5 miles and back track on first part of ride by taking Rts 44 and 44A back to car.† The reason you may want to do this is great views of the west side of Mt Ascutney and a rocky knob called Little Ascutney Mtn.† Scenery here is rural Vermont at is finest.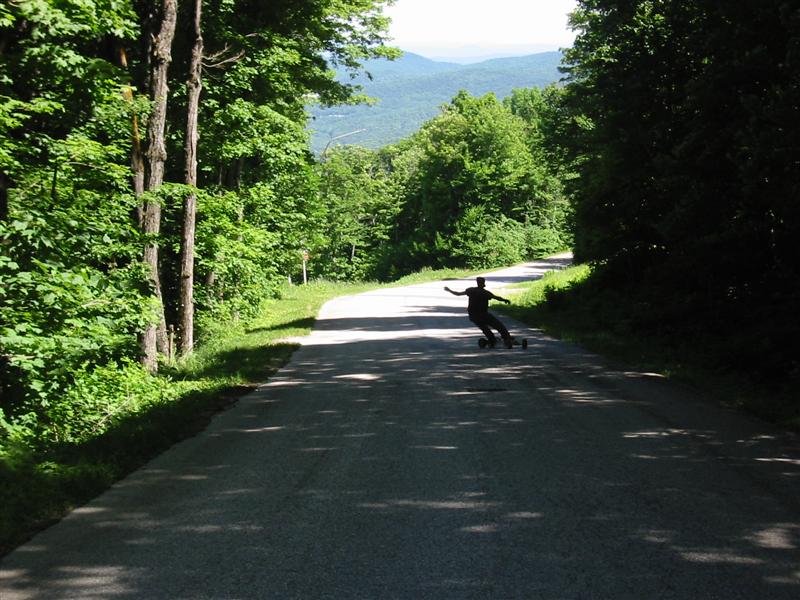 This kid on a suicide mission came flying down as we went up Okemo.† No protection of any sort.† No brakes.
Cars can fly up around corners in a heartbeat.† In high-res photo, there appears to be smoke coming off either
the tires or his shoes.

From near summit of Okemo.† That is Echo Lake on left, ridgeline across center that Tyson Rd comes over,
and Mt Ascutney on right in distance.† Nearly whole ride in one scene.
Other Options (8800ft and 13,000ft)
Say skinny tires on gravel doesnít interest you.† You can always skip the Shrewsbury Rd leg of the route.† This profile is shown below.† Note that youíll lose almost 3000 ft of climbing fun and 26 miles touring pleasure.† If any members in your riding group are cooked by the time you reach Okemo, there are two excellent cafes right on Rt 100 at the base of the summit road.† They can dine on pastries and java while you bust up another climb.
Profiled Climbs: Ascutney, Tyson Road, Okemo.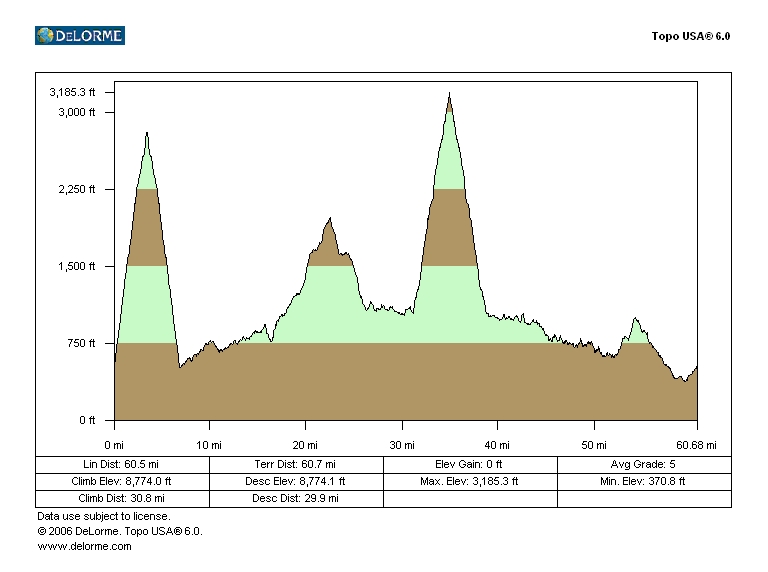 Rt 155/Rt 100 Double Hump Option
Say the gravel road extension still doesnít satiate your climbing desire and you want more.† There is an option to add an additional 1300 ft and 7 miles to the loop.† Instead of heading all the way down Rt 103 back to Ludlow, after 3 miles bear right on Rt 155.† Follow signs to stay on 155 south.† This road has much less traffic on it than Rt 103.† Rt 103 sucks, in fact, since it seems to carry a lot of 18-wheelers and there isnít much shoulder on portions.† From the profile below, Rt 155 begins at roughly the 47 mile mark.† It climbs gradually at first, in an undulating fashion.† But the last few miles crank it up a few notches.† There are some very nice views along the way too.† Youíll know when you get to the top when you see the 7% grade sign.† This will be at about 54 mile mark on the ride if you reset your computer before climbing Ascutney and after you warmed up.† Youíll lose 750 ft on this fast, open descent with smooth pavement.† When you see sign for junction of Rt 100, go left towards Ludlow.† This next climb gains about 800 ft at a much steeper, persistent grade than the last one.† The top will be obvious, as you will see down the road out to the horizon.† There are some nice views on this descent, but the initial descent is 9%, and the second part further down is 12%.† Keep your eyes on the road.† There are a few cracks and divots in the pavement to watch out for.† Coming up this side would be quite the climb.† I may work out another route that comes up this one.† The descent dumps you right in the center of Ludlow.† Go left, staying on Rt 100 north to pick up the Okemo climb in a few tenths of a mile, or turn right on Rt 103 to start heading back to Ascutney where this ride started.† This extended loop packs a lot of climbing in a short distance.† If you spun around 6 miles warming up for the initial Ascutney climb, youíll get 100 miles for the day.
I intended to do this full 94 mile loop on 13-July-2007, but after setting a PR on Ascutney beginning the ride, my legs were so cooked upon reaching Ludlow that I didnít want to dig a training hole that would take me a week to get back out of.† On top of that, the Mt Washington practice climb was less than 48 hours away.† If you plan to do this full loop, itís probably best to hold back some on Ascutney.† At least my 44 year old bones canít get away with it anymore.
Profiled Climbs: Ascutney, Tyson Road, Shrewsbury/CCC Rd, Rt 155 pass, Rt 100 pass, Okemo.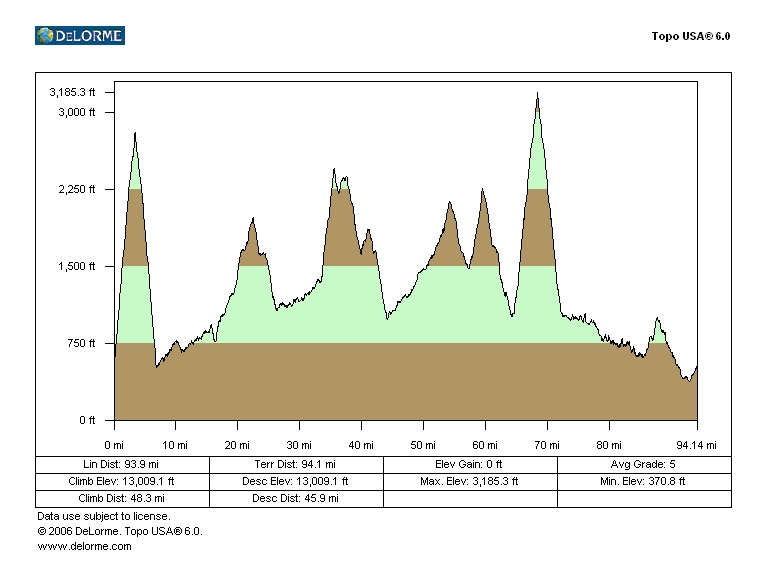 Compiled by Doug Jansen
26-July-2007