SoCal Trip II
Tuesday Night, March 4, 2003
"The Strand," Redondo Beach to Santa Monica and Back
41.3 miles, 2 hours 20 minutes.  Paved bike path along coast, including famous Venice Beach.  Started without the lights until it got dark.  Crowded right up to dark, then deserted.  Could hammer away with no traffic to deal with, just a few other stragglers like myself out there.  Passed a roadie on the way back.  I guess hearing my loud knobbies buzzing past him on the pavement bugged him.  He stayed on my wheel for 5 miles, forcing me to hammer at 22 to 25 mph.  I was so glad when he turned off so I could let up.  Maybe he just wanted the HID lighting since he had no headlamp.  Who knows.  Very pleasant 50's temperature.
Wednesday Night, March 5, 2003
"The Strand," Redondo Beach to Santa Monica and Back
38.7 miles, 2 hours 26 minutes.  Almost ditto of night before but moderate pace.  On way back about 10 miles from hotel, had nasty flat.  Seems that along one part of the path near Marina del Rey, the shoulders were lined with crushed clamshells.  A shard sliced >1/2" gash in rear tire, flatting it instantly.  This was in a very dark unlit area, which had me nervous.  A lot of transient types hang out around there.  A new tube and big patch inside tire had me going in a few minutes.
<![if !vml]>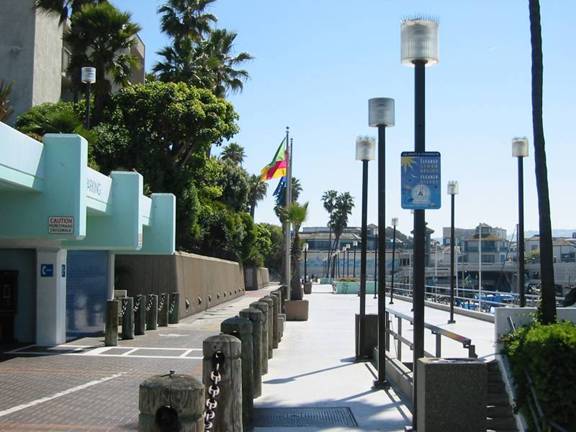 <![endif]>
Bike Path through the Redondo Beach Marina
Bikes only left of poles, pedestrians to right.  Most sections
of The Strand are segregated like this.  The company I visited is
in the campus of buildings in background.
Thursday Morning, March 6, 2003
San Juan Trail, Cleveland National Forest, Orange County
22.3 miles, 2 hours 30 minutes.  One of my top three SoCal rides.  From parking area, you immediately go into steep switchback climbing mode, gaining 2400 feet in 6 miles.  This is out in the middle of nowhere, so views are astounding.  Met a guy on the trial who saw a mountain lion on a previous ride.  Nothing too scary here, just the sweetest carvable singletrack you can imagine.  The 6 mile descent has to be ridden to know how much fun it is.  The rhythm and flow of San Juan Trail gives it the most soul of any trail I've been on.
<![if !vml]>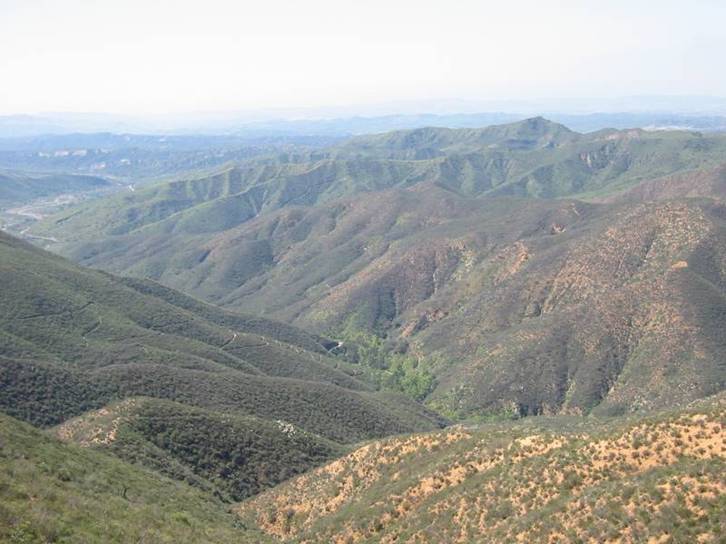 <![endif]>
San Juan Switchbacks (look closely)
Car parked in bright green valley in center of image (car not visible)
<![if !vml]>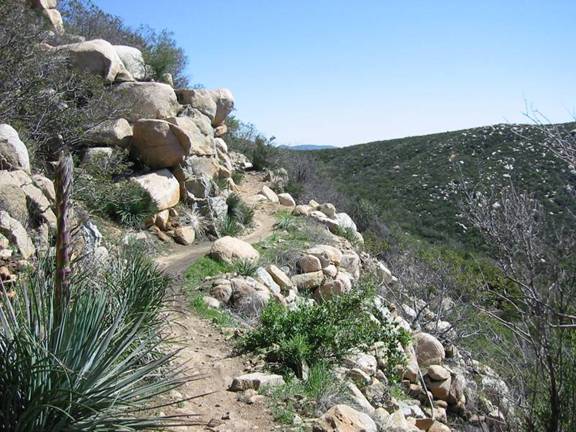 <![endif]>
San Juan Trail
There are a few places you don't want to miss turns
<![if !vml]>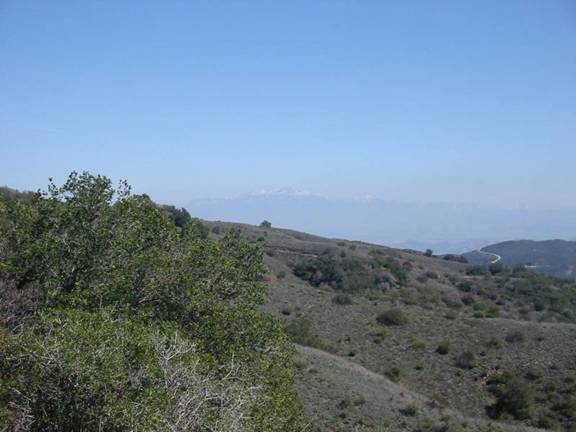 <![endif]>
San Juan Trail
Snow-capped Mt Baldy can faintly be seen in background
Thursday Afternoon, March 6, 2003
Trabuco Canyon, Cleveland National Forest, Orange County
16.2 miles, 2 hours, 19 minutes.  Long gradual climb up jeep road, eventually turns to singletrack.  Some Trabuco Creek water crossings.   Was running out of daylight on this ride, so I turned around before I had zero margin left.  Climbed approximately 1700 feet, part way into Horsethief Trail switchbacks.
<![if !vml]>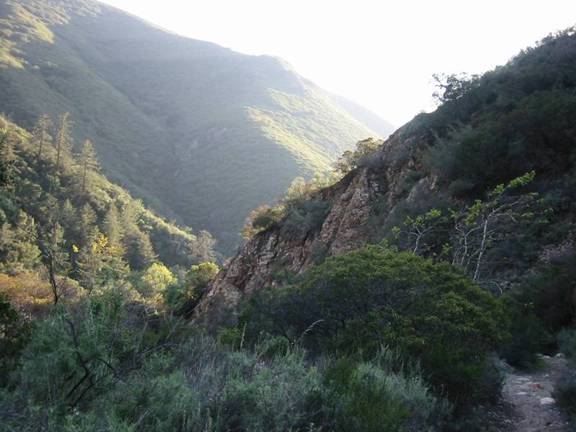 <![endif]>
Trabuco Canyon
Near Horsethief Trail switchbacks looking down canyon to west
Friday, March 7, 2003
Mt Wilson/Gabrielino Trail, Angeles National Forest, Pasadena
36.2 miles, 4 hours, 31 minutes.  This is a giant loop.  Parked car near bottom of Gabrielino Trail, then shuttled by bike on roads over to the Mt Wilson Toll Road.  This is a gated fireroad open for passive recreational use.  It gains 4200 feet in 9.2 miles.  This was my biggest single dirt climb ever, topped only by Mt Washington which gains 4727 feet in 7.6 miles mostly on pavement.  The toll road had some nasty rock slide sections as one of the photos shows.
The descent on Gabrielino Trail was very fast, fun, and smooth for first few miles.  It then took a turn towards the insane side with exceedingly steep drop-offs and water crossing after water crossing.  The trail must have crossed the stream at least 50 times, most times unridable.  The trail follows a deep canyon, sometimes so narrow in the bottom you are riding in the stream bottom, and at other times high above on singletrack benchcut into solid rock.  For a couple-mile section, the trail was a skinny ribbon with near vertical drops hundreds of feet down.  They call this "exposure."  If you go over here, you have a few seconds to live... a few seconds because that's how long it will take to hit something solid enough to stop you hard.
<![if !vml]>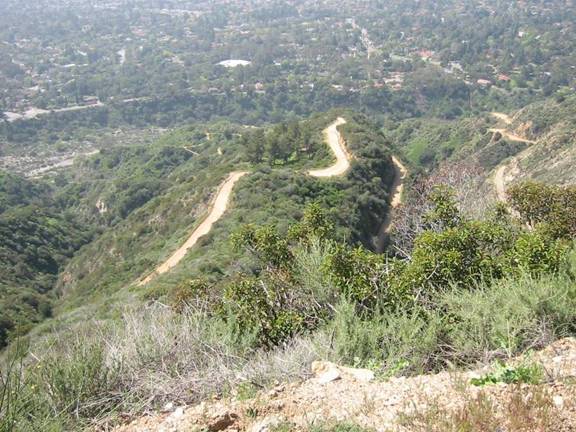 <![endif]>
Mt Wilson Toll Road
Outskirts of Pasadena below
<![if !vml]>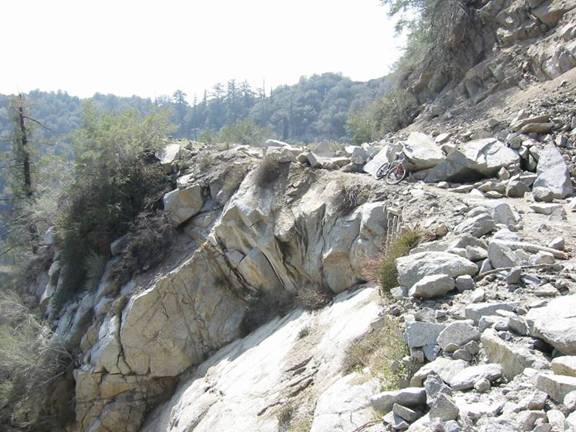 <![endif]>
Mt Wilson Toll Road
One of the rock slides, no room for error here
<![if !vml]>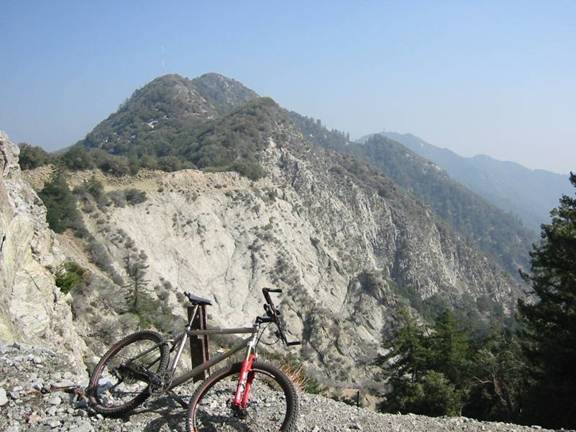 <![endif]>
Mt Wilson Ridgeline
From around 5000 feet, see hints of snow
<![if !vml]>
<![endif]>
Gabrielino Trail
One of many, many stream crossings.  This one happened to be ridable.
<![if !vml]>
<![endif]>
Gabrielino Trail
A highly scenic, but way scary section with near vertical drops on singletrack
 at times no wider than handle bars.
Saturday Morning, March 8, 2003
Gridley/Pratt Trail Loop, Los Padres National Forest, Ojai
16.6 miles, 2 hours, 15 minutes.  My favorite ride last year when I visited SoCal.  From town, Gridley gains almost 4000 feet to Nordhoff summit in 8.9 miles.  Descent down Pratt is much steeper with many "no-fall" zones.
<![if !vml]>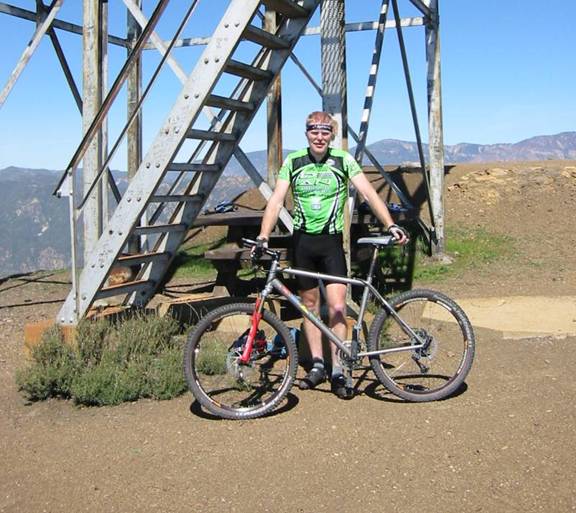 <![endif]>
Nordhoff Summit Fire Tower
Saturday Afternoon, March 8, 2003
Santa Cruz Trail, Los Padres National Forest, Santa Barbara
17.2 miles, 2 hours, 20 minutes.  My favorite ride this trip.  This loop ride begins by climbing 3300 feet in about 11 miles on Camuesa and Buckhorn fire roads.  Mostly middle ring stuff.  The views from the summit of Little Pine Mountain are stunning.  Met up with local riders Dave and Mike at bottom of climb and stayed with them.  One of them commented that that was the fastest he'd ever climbed Little Pine and was happy with his time (leg shaving, racer, heart rate monitor type).  When we got to talking up top and I mentioned that I did Ojia that morning, he was bummed and wondered if everybody out east climbs like that.  Well, they got the last laugh in.  What was gained in 11 miles is lost in about 5 miles of some of the scariest singletrack I've been on.  Lots of exposure here again.  From the top, Dave and Mike bombed down some nasty steep grades right down the fall line of the mountain.  At one point they waited at the bottom of a particularly steep section to see my reaction.  I saw them before I saw how steep it was and knew something wasn't good.  I stopped.  Said something like "ain't no way..."  They laughed and said "see ya!"  I walked that and many other sections too narrow to ride with shear drops to the side.  I have a hunch they never unclipped a foot during the whole descent.  Good guys though.  I did meet back up with one of them in the parking lot after the ride (the other had already cleaned up and split, that's how much slower I was!).  A must repeat ride if I ever get back out there.
<![if !vml]>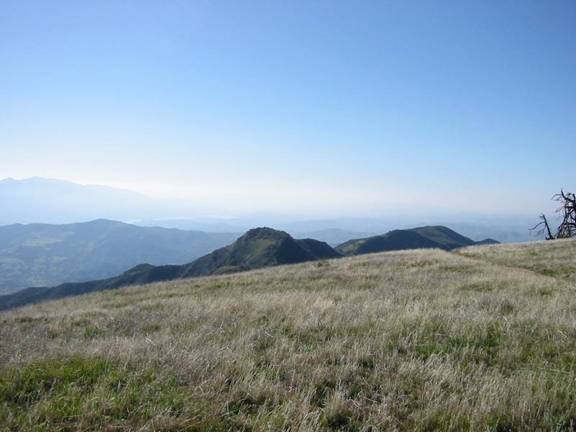 <![endif]>
Santa Cruz Trail
Unobstructed view from summit of Little Pine Mountain
<![if !vml]>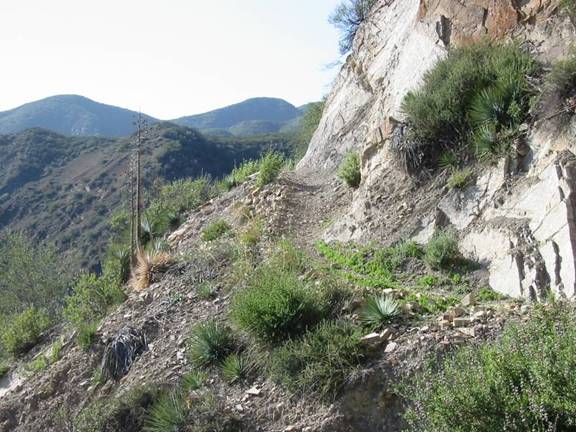 <![endif]>
Santa Cruz Trail
One of the many hairy sections
<![if !vml]>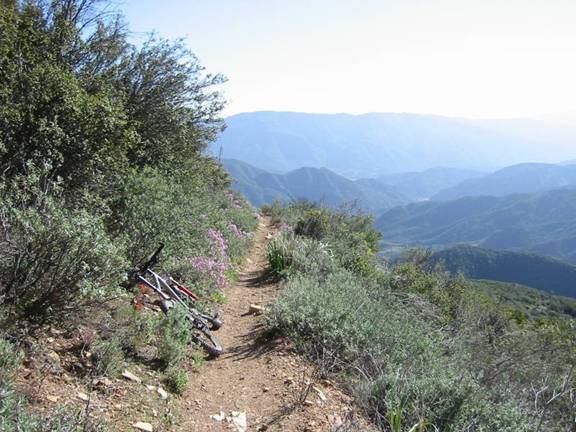 <![endif]>
Santa Cruz Trail
With views like these, it's very hard to keep eyes on trail
Sunday Morning, March 9, 2003
Los Robles Trail, Santa Monica Mountains, Thousand Oaks
12.1 miles, 1 hour, 25 minutes.  Quick, early morning ride before heading to LAX.  Singletrack trail head is half mile from hotel room.  Doesn't get any better than that.  Very fun singletrack, and very popular on Sunday mornings with the MTB crowd.  I did this same ride last visit on Sunday before flying back.  Must have encountered at least 30 – 40 riders on the trail, one almost head on around a high speed corner.  There are two 750 foot climbs and several smaller ones, giving maybe 2000 feet climbing in this short ride.  Only time I hammered since no rides were planned for Monday.  No time for pics.