SoCal and Arizona Business/Biking Trip
Saturday, Feb 21, 2004 through Monday, Mar 1, 2004
Trip Highlights
Saturday, 2/21/04
†

ďThe StrandĒ bike path in Santa Monica, CA

36.0 miles estimated

2:00 hours

Minimal elevation change

Flight got in late.† Picked bike up at Helens, then headed to Santa Monica Pier to pick up rental tandem so I could show Cathy the LA area coastline and the famous Venice Beach.† It was cold, dank and rainy, and the tandem cruiser was a real piece of work.† Handlebars didnít point straight when wheel was straight, captain and stoker pedals werenít lined up so pedals would hit rounding corners, and the seven total speeds shifted spontaneously.† Plus, the proprietor of the rental shop would only stubbornly commit to staying open long enough for us to return the bike.† He wanted to close early because the rain made business slow.† Anyway, we got a good ride in.† Not much happening on the beach in 50 degree rain, but thereís always curious looking people hanging out at Venice Beach.† The bad weather did make for clear cruising on a normally crowded boardwalk though, which was a bonus.

<![if !vml]>
<![endif]>
Cathy with Schwinn cruiser.† Note pedal (mis)alignment.
Sunday, 2/22/04
†

Mt Wilson ďToll Road,Ē Pasadena, CA

24.5 miles

3:05 hours

4700 feet net gain, >5000 feet total climbing

Did this same climb last February in much nicer weather.† Cathy hiked while I biked.† Saw two guys starting the ride up while we were figuring out where to legally park.† They got at least 30 minute head start, a nice incentive to see if I could catch them.† Anyway, this dirt road (was a toll road in early 1900ís) gains about 4700 feet in 9 miles, making it a similar climb to Mt Washington in NH.† Only deal was, it was a rainy day.† That was why we were here and not in the soupy clay singletrack trails of the Santa Monica mountains.† The Mt Wilson Toll Road doesnít get too soft in rain.† The climb started dry, but about half way up I encountered heavy rain.† Started seeing snow around 4500-5000 feet.† At about 5000 feet, I caught the two guys I saw heading up earlier.† Turns out one was from France, the other from Belgium, but they both currently reside in LA.† The Belgian was tough, picking up the pace with me on his wheel, totally dropping his buddy.† From about 5000 feet to the summit at 5700 feet, we had to ride in truck tracks as the snow approached 12 inches in depth.† Very hard to do on 10-12% grade.† Temps were near freezing, and the wind was blowing a nasty sleet into my eyes.† I didnít wear my booties, so my feet froze.† I knew it would be cold up there, so I put on my balaclava, second thermal jersey, and a wind-proof shell I carried up.† The Belgian guy did about the same, except he was in knickers, I was in AmFibs.† The other two were going back down the same way, I chose to go down a different way, which was also different from the way I went down last year.† I took the Mt Lowe Rail Path down the nasty weather elevations, then picked up awesome Echo Mtn and Sam Merrill singletrack trails the rest of the way down where it was drier.† These few miles of singletrack turned out to be the bulk of singletrack riding I did this SoCal trip.† Cathy hiked a couple miles up the very steep toll road to a nice vantage point over the LA basin before going down.† She also caught a period of heavy rain on the way down.

<![if !vml]>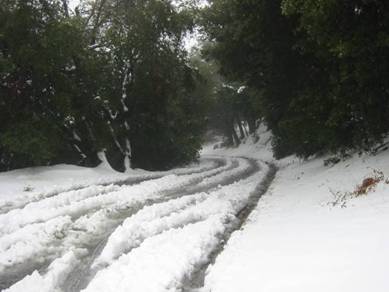 <![endif]>
Truck tracks near summit.† Deep ruts in places meant your front wheel was always
sliding out or your pedals were bashing into snow or rocks.† Not what you expect in Pasadena.
<![if !vml]>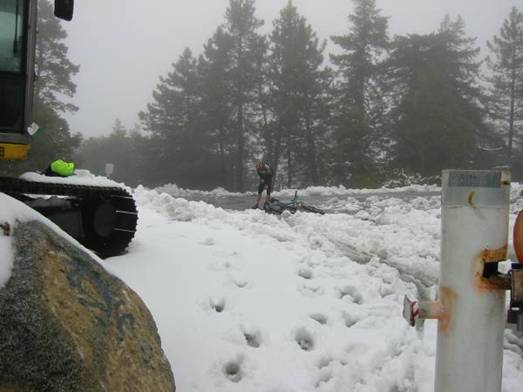 <![endif]>
Belgian rider adding more layers.
<![if !vml]>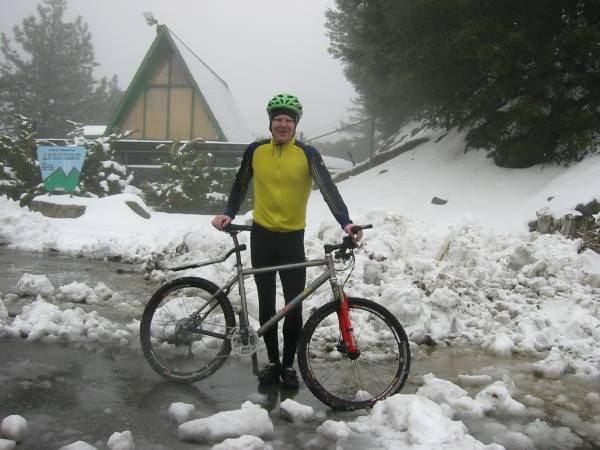 <![endif]>
Summit of Mt Wilson 5000 feet above Pasadena, CA.
Soaking wet, sleeting, in the clouds, foot of snow on the ground.
<![if !vml]>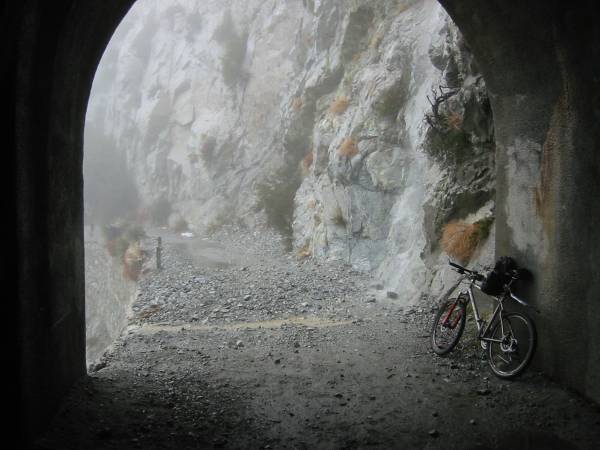 <![endif]>
Only dry spot on this trail was inside this rail tunnel around 5000 feet.
Camera did not capture well the water pouring down the rocks.
<![if !vml]>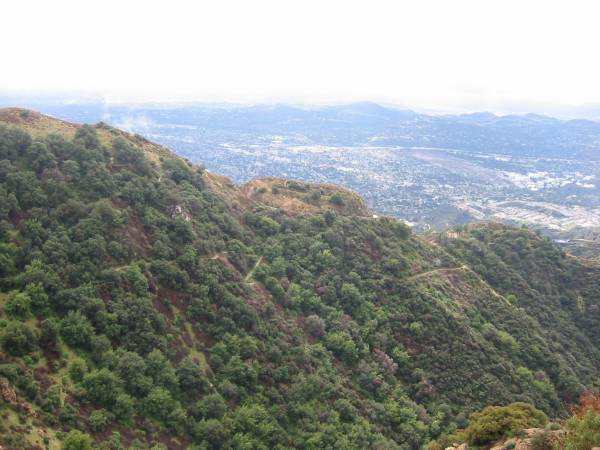 <![endif]>
Out from under the rain, the singletrack zigzagging down the mountain side can be seen.
<![if !vml]>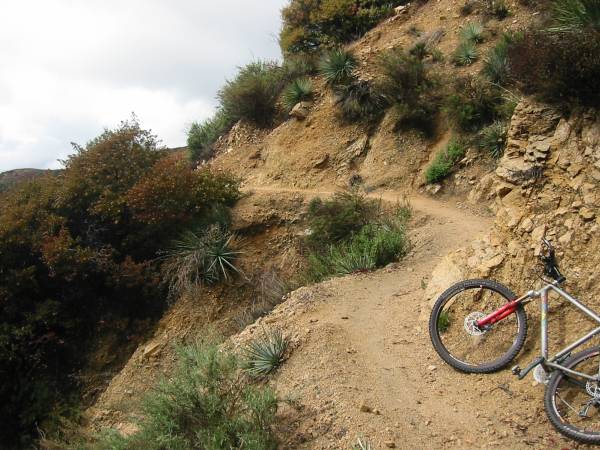 <![endif]>
Very fine singletrack here.† Several miles of cliff-hanging stuff like this.
<![if !vml]>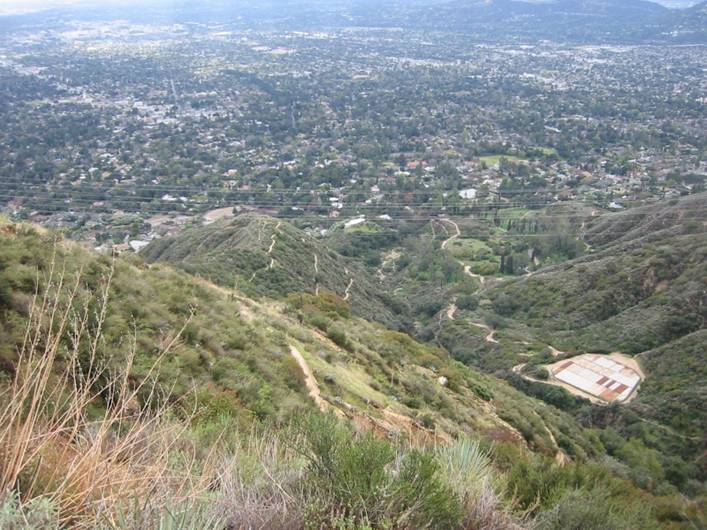 <![endif]>
The Sam Merrill Trail meandered all over as it worked itís way down to Pasadena.
The trail was surprisingly dry despite the periodic downpours.† Soil here is like baseball diamond sand.
<![if !vml]>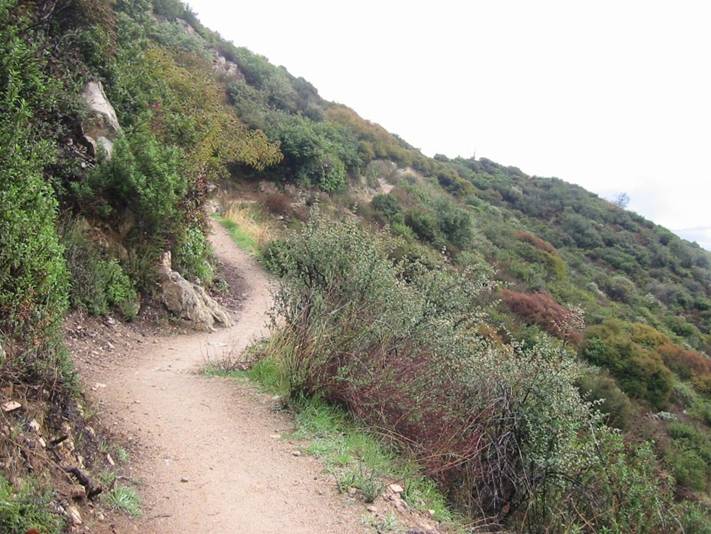 <![endif]>
Some more of SoCal hardpack singletrack.† Itís amazing how the climate can change in just a few thousand feet of elevation difference.
Monday, 2/23/04
†

San Diego Zoo

Canít visit San Diego without visiting the world famous zoo.† It rained off and on throughout the morning, but temps were mild and sun poked through some.† No biggie.† Been a while since we visited a zoo, and we were both thoroughly impressed.† In the four hours we spent there, we covered probably 75% of the main exhibits.† Although the Panda exhibit probably draws the most attention, I liked the Gorilla and Polar Bear exhibits the best.




<![if !vml]>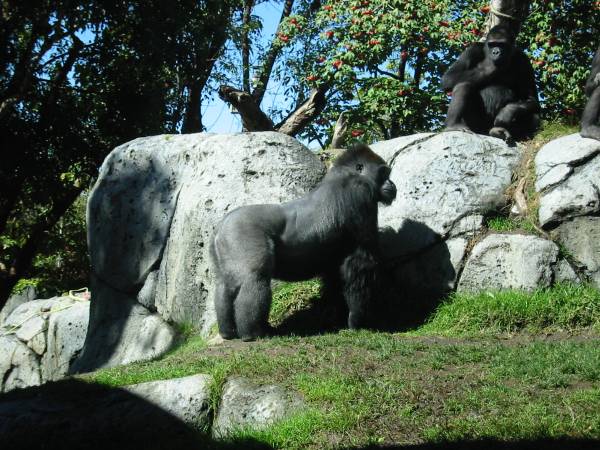 <![endif]>
Gorillas.† The male in foreground was very fast and dominant and HUGE.
<![if !vml]>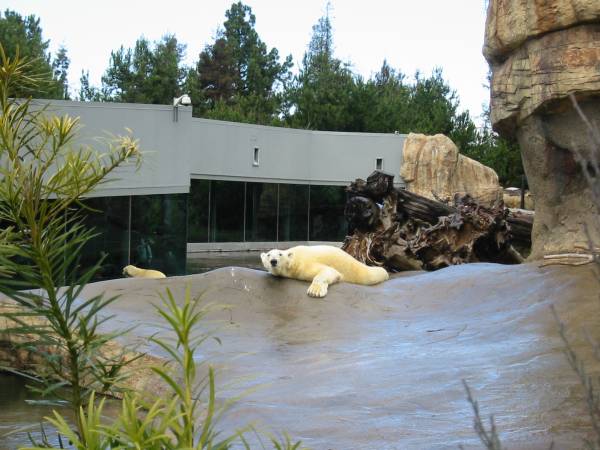 <![endif]>
Polar Bears.† I was kind of in an area not for tourists taking pictures, so this guy came over to sniff my scent.
<![if !vml]>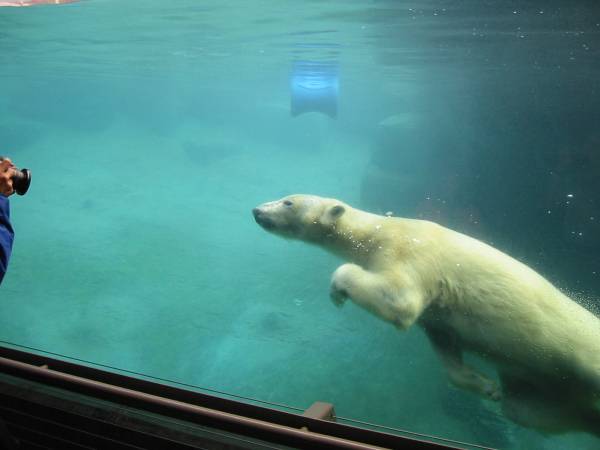 <![endif]>
This guy (or gal?) spent most of his time under water showing off to the visitors against the glass.
<![if !vml]>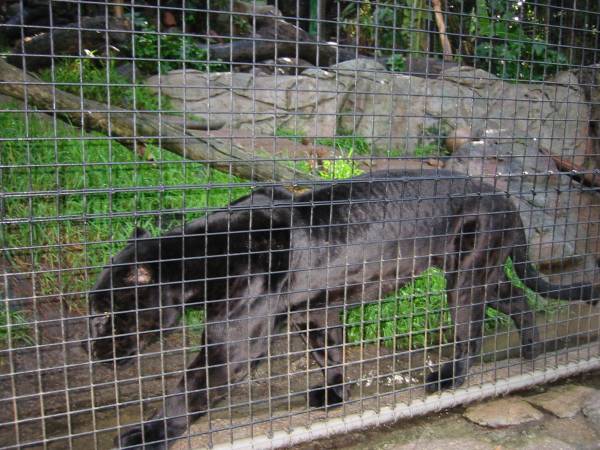 <![endif]>
Black Panther.† Would not want to run into one of these in the wild.† Pure muscle and huge feet.
<![if !vml]>
<![endif]>
Cathy at the Giraffe exhibit.
<![if !vml]>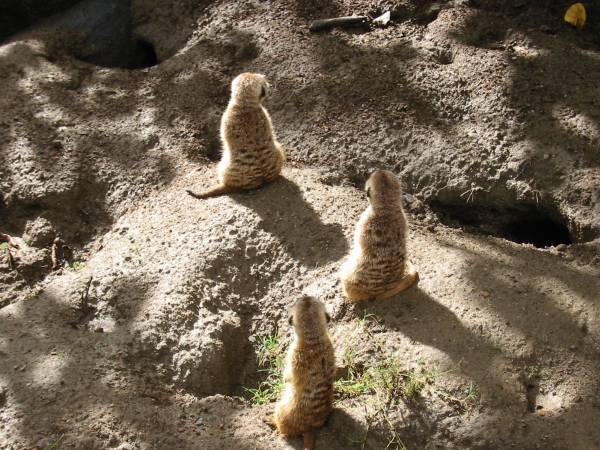 <![endif]>
Meerkats.† If you work at BAE Systems, you know about these critters.† A lot smaller than I thought theyíd be.
Monday Afternoon, 2/23/04
†

Black Mountain, Ramona, CA

29.0 miles

2:56 hours

3020 ft vertical gain, 4010 ft summit, 4800 ft total climbing

This all fire road ride is about 45 minutes north of San Diego.† Was warm and sunny in San Diego during the afternoon, but cold and rainy here in the mountains.† Parked at the ranger station in Ramona.† Began a modest climb up Black Canyon Rd to the saddle, then big descent into the Santa Ysabel Canyon.† After crossing the Santa Ysabel Creek, modest climbing again begins on Upper Santa Ysabel Truck Trail.† Very nice view of the canyon along the way, and no rain at this point.† However, the summit of Black Mountain was shrouded in a heavy black cloud.† Eventually Black Mountain Truck Trail is reached which switchbacks around for several miles at a persistent steep grade to the summit.† The surface got sloppier and sloppier the higher I got.† Eventually, I resorted to pushing my bike up sections.† Granny gear did not work, and even middle ring started chain sucking.† About the time I reach the top, it started to sleet.† I rode in heavy sleet or rain for much of the way down on slick as snot, 3Ē deep chili mix goo.†† The descent was nearly monotonic 3000+ feet of vertical at a much steeper average pitch than the climb, as a different route was taken back to the car.† There was still one more 680 foot paved climb hurdle to get back to the car.† Nasty steep, and both granny and middle rings did nothing but suck up the chain.† Had to big-ring it out of the saddle the whole way.† At least 10% grade Ė my legs were screaming.

<![if !vml]>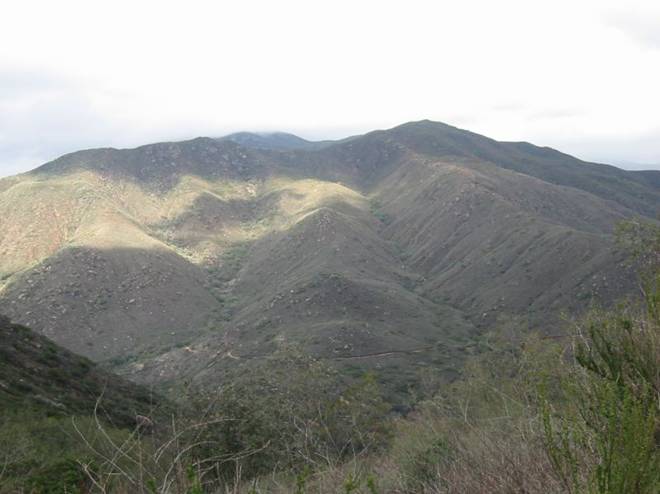 <![endif]>
Summit of Black Mountain in clouds.† Santa Ysabel Truck Trail can be seen near base of mountain in canyon.
<![if !vml]>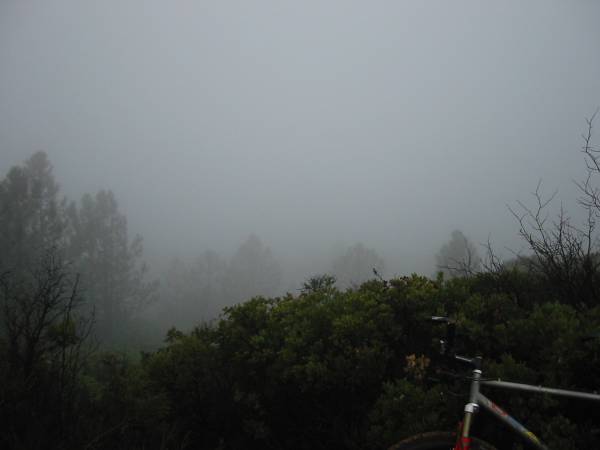 <![endif]>
View from summit.† Hard to believe just a few thousand feet down it was sunny.
<![if !vml]>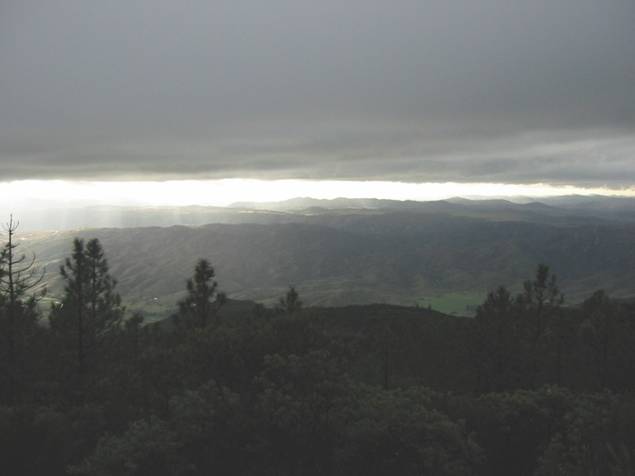 <![endif]>
On descent, just below cloud line.
Tuesday,
†

2/24/04

†

Silver Strand Bike Path, Coronado, CA

24.0 miles

1:27 hours

After the meetings and taking Cathy out for dinner at Miguelís for some great Mexican food, I jumped on the bike with lights for a late evening ride on the paved path that runs the length of the Coronado peninsula, about 11 miles long.† Went at a steady moderate pace.† Nice view across the bay of lit up downtown San Diego.† Cathy walked this path during the day to the touristy area of Coronado and back for 10+ miles of hiking.† Beautiful day and evening.
Wednesday ride #1,
†

2/25/04

†

Silver Strand Bike Path, Coronado, CA
22.1 miles
1:11 hours
Mid day I got in a quick lunch ride in between presentations.† Got to see all the things I missed riding the night before on the Silver Strand bike path.† Cathy hung out around the beach and enjoyed another perfect day.
<![if !vml]><![endif]>
View of downtown San Diego from Coronado.
Wednesday ride #2,
†

2/25/04

†

Mission Trails Recreation Area, San Diego, CA
9.3 miles
1:05 hours
Appox. 2000 feet of steep climbing
In the late afternoon after the last meeting finished, we drove over to the Mission Trails.† Most of this area† was closed, as it was consumed in one of the big fires last fall.† But a nice ridgeline loop was open, which required a hefty climb to get to it.† Only had an hour of light left, so this was going to be a quickie bonus ride.† I found it really amazing how the firefighters saved so many houses in such a huge burn area.† When I left San Diego for Tucson, I drove 45 minutes on interstate through populated, burned out areas.† Only occasionally did I see foundations left.†† I thought I read San Diego county lost 2700 homes to the fires.
<![if !vml]>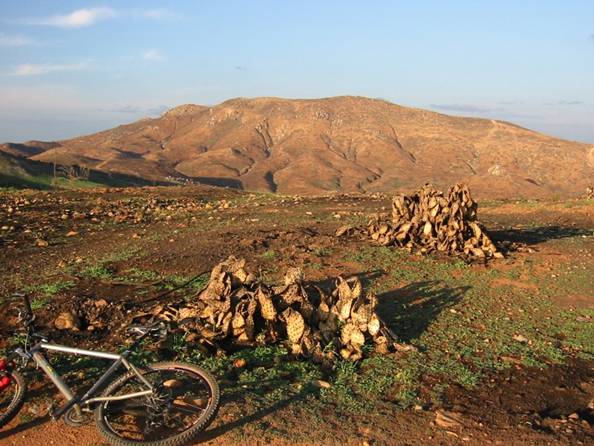 <![endif]>
Burned Fortuna Mountain and Prickly Pear cacti.
One other story.
†

This morning Cathy wakes me early, says waterís coming in everywhere!

†

I knew it was raining, but we were on second floor, with floors above us.

†

I get up, and wow, water was coming in through wall switches, wall and ceiling light fixtures, vents, you name it.

†

Bathroom was getting flooded, personal items got wet, and I got wet.

†

We call front desk, they said theyíll send an ďengineerĒ up to look at it.

†

10 minutes, nobody.

†

Call again, say need new room NOW, I have meeting in less than an hour to get ready for.

†

They did address that quickly.

†

We got a large suite, Iím guessing a $400/night deal.

†

Later in my busy day I asked what happened at the front desk.

†

They wouldnít spell it right out, but someoneís dirty toilet overflowed above us. Yuk, yuk, yuk.
Thursday ride #1,

†

2/26/04

†

Mission Beach, La Jolla, CA

37.5 miles estimated

2.5 hours

An 800 foot steep climb to summit of Mt Soledad

Cathy and I rented a tandem on the beach again.† Got a much better bike this time.† We waited until the morning showers stopped, then headed over the La Jolla area.† We cruised the bike path along Mission Beach and Mission bay, some of it twice.† A lot of fun, and pretty nice weather.† After that, we headed north to check out the coast line of La Jolla.† Of course, that peak with a monument on top of it kept catching my eye down at sea level.† Somehow, the roads we happened to take ended up at the summit, about 800 feet above sea level.† I couldnít fool Cathy though, sheís been married to me too long.† She did really enjoy the view up there after the pain and suffering of climbing was over.† Could probably see 50 miles of coast north and south, as well as all of San Diego, and the mountains to the east I rode previously.

<![if !vml]>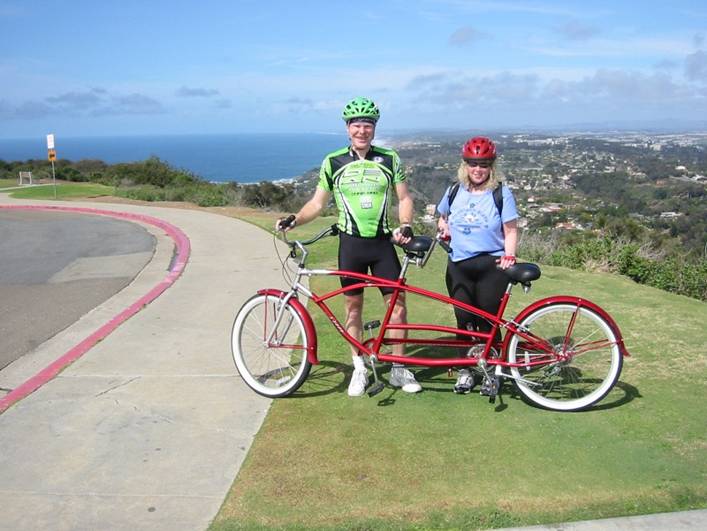 <![endif]>
Doug and Cathy with tandem cruiser on Mt Soledad in La Jolla.
Thursday ride #2,
†

2/26/04

†

San Clemente Canyon, San Diego, CA

6.2 miles

0:47 hours

Approx. 400 feet of climbing

Cathy was wiped from the long tandem ride, so after we checked into our cheap hotel (free business part was over), I went out for another quickie bonus ride just a few minutes away.† This park is right in town, and it has several miles of moderately scary, steep-grade-hugging singletrack.† I started from the lot heading east.† Came to a white water stream crossing after only one mile and didnít know what to do.† Pondered it for a minute, then a couple came from the other direction.† They stopped momentarily, then since apparently the guy knew the crossing, charged through it.† He cleared it just fine, getting only wet feet in about one foot of water.† His mate did the same.† Then I went.† No problem.† I keep going, coming to another crossing.† I assumed they had crossed that one too, so without hesitation, I stormed on across.† About midway across, my handlebars disappear under water and I freaked.† Strong current too.† I jumped off the bike, and itís buoyancy automatically brought it to the surface.† I waded across to the other side.† The trail continued to switchback across the flooded stream, but I turned around and went back, having to wade across the rushing, waste deep stream again.† I caught up to the couple and asked if they crossed there too, and they said oh no, we came in after that.† They thought my incident was pretty funny.† Anyway, continuing west was some very nice, very steep off camber singletrack with climbing.† Kind of made up for the wheel bearing cleansing incident.

<![if !vml]>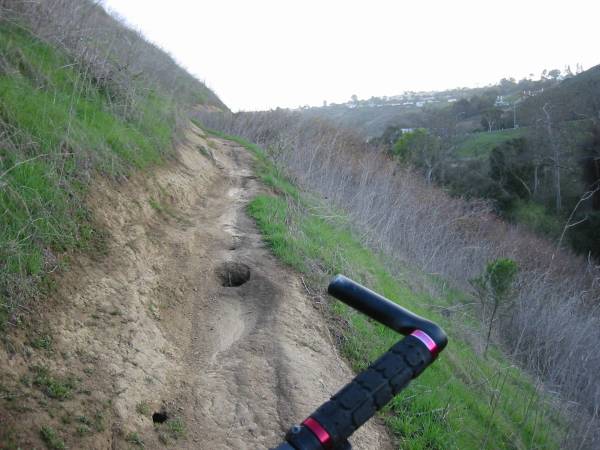 <![endif]>
The canyon side was very steep and the clay surface was very slimy in places.† Made for some fear of death jitters in a few places.
Friday,
†

2/27/04

†

Kitt Peak, Pan Tak, AZ

24.2 miles

1:58 hours

Approx. 3630 foot monotonic climb to 6870 feet

It rained all night, so the trails around San Diego were going to be crap.† I had planned to do a big mountain ride near Palm Springs, but the snow line was down to 5000 feet, and the trails below that would be all mud.† Cathyís part of the trip was over, so after dropping her off at the San Diego airport, I headed straight to Tucson to visit my friend Chris.† Weather forecast showed less probability of rain there for Friday.† Yeah, right.† Before meeting Chris and his wife Dana for dinner, I stopped at Kitt Peak, about an hour southwest of Tucson.† I had not planned on riding this mountain, but it was on the road atlas so I could find it (barely), and Chris said guys he knew ride it.† The climb is actually a paved state highway to the observatory complex, so nice and wide with guardrails.† I park outside the gates (they close the road at 4pm), and it starts raining.† I put warm stuff on and begin the climb.† The climb heads mostly in a SW direction, the way the wind was coming from.† The higher I got, the nastier the wind got.† About halfway up, a motorist (observatory worker?) stops and tells me, ďyou know, thereís hundred mile per hour winds up there.Ē† I thought he was joking but said I could believe that.† I had to stay on centerline to avoid getting blown over the guardrail.† The headwind made me mad, but it also made me push all the harder.† I get to the top, thereís some snow up there, and Iím in the clouds again. †Couldnít stand without holding onto something or taking shelter behind a building.† After taking a photo, I start to head down but stop in the open parking area to put my windbreaker on.† While Iím fighting with that, my mountain bike actually begins blowing across the asphalt!!† I had to jump and catch it from blowing away.† Unbelievable.† The descent was very unpleasant, rain and wind blowing me all over the place.† Pretty much rode the brakes the whole way down.

<![if !vml]>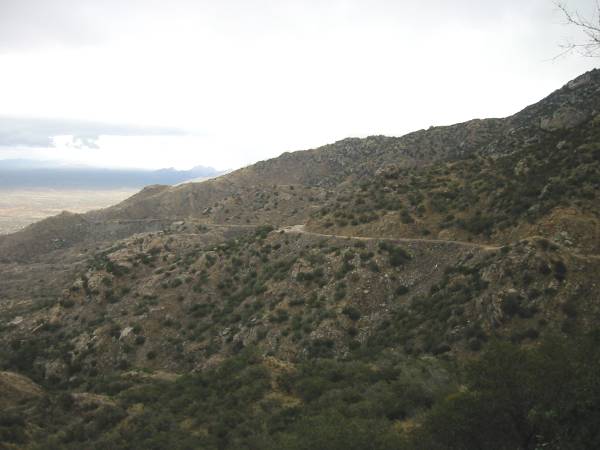 <![endif]>
Road to Kitt Peak, about half way up.
<![if !vml]>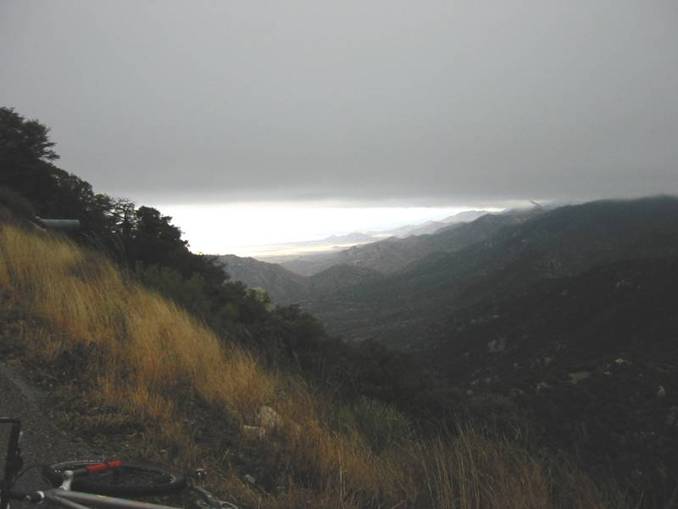 <![endif]>
Near Kitt Peak summit, just below cloud line.† Why is it I have to ride big mountains where the sun isnít shining?
Nearly identical shot as Black Mtn from a few days earlier and hundreds of miles away.
Saturday,
†

2/28/04

†

Mt Hopkins, Amado, AZ

38.6 miles

3:23 hours

Appox. 5515 foot climb to 8585 feet

This ride on an improved weather day would have to be my capstone climb of the trip.† It was my longest hours ride, offered the most dramatic views, and the most dramatic climate change.† Mt Hopkins, another observatory peak, is about an hour south of Tucson.† The road to the summit is mostly gravel, and very narrow in most places.† The climb began with temps in the 50ís, with the summit in clouds.† I thought about just wearing shorts, but I saw how much snow was up top and figured that maybe thereís snow up there because it is cold up there.† I wasnít smart enough to bring winter gloves though.† So I head up in tights, thermal jersey, ear band, even neoprene booties over the shoes.† I carried two more upper layers and balaclava in Camelbak.† The climb is quite typical for the area, 8-10% grades, incredible views, very isolated from civilization.† At about the 6000 foot level, thereís snow on the ground.† Then I encountered some animal tracks unlike any Iíve seen, both in shape and size.† They were black bear tracks, freshly laid in the snow, crossing the road.† I was quite nervous stopping to catch a photo of them.† Continuing, the air was getting very cold and thin.† I stayed warm climbing though.† The last quarter mile or so was incredibly steep, probably over 20% grade, and I thought I was going to pass out in the thin air at 8500 feet.† The summit had a good covering of snow, and anything exposed to the wind had rime ice on it.† Wind was mild today, and clouds had cleared by now.† The view was fantastic, at least 60 miles visibility in all directions.† I froze on the descent.† The temp must have been around 20 degrees at the summit, and I had thin, fingerless gloves.† In very short order I couldnít feel the brake levers to control my speed.† Had to stop and hold my hands against my tummy.† It wasnít until most of the way down the 19.3 mile descent that the air was warm enough to stop freezing my hands.† The climb took 2:23, the descent 1:00.† Hundreds of bends, switchbacks, wet/icy spots, and frozen hands prevented a faster descent.

<![if !vml]>
<![endif]>
Mt Hopkins summit in clouds at the start of the climb.† Started with wet feet after crossing normally dry wash.
<![if !vml]>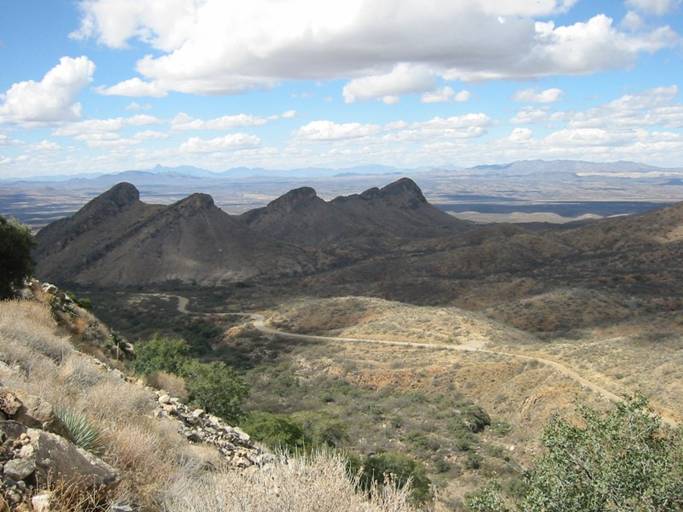 <![endif]>
A few miles into the climb looking back.
<![if !vml]>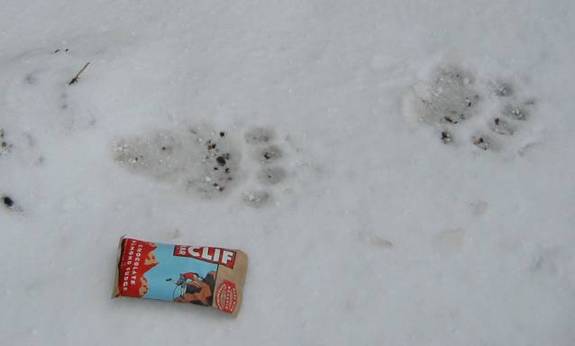 <![endif]>
Fresh Black Bear tracks 2/3 of the way up.
<![if !vml]>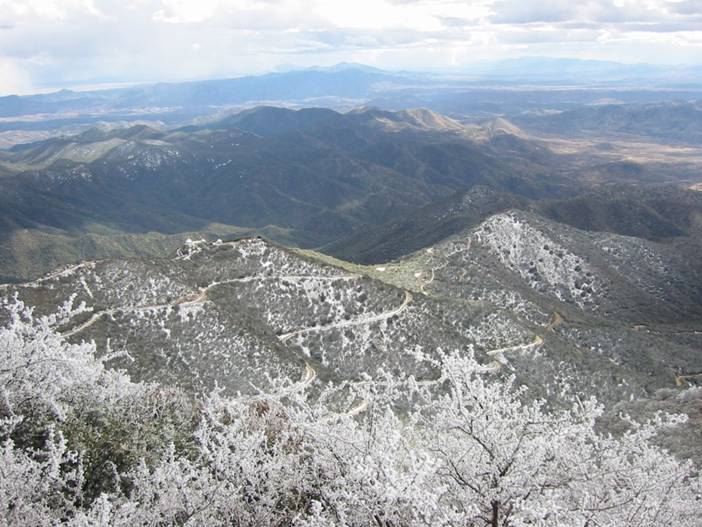 <![endif]>
Mt Hopkins road from 8585 foot elevation summit.† Snow on trees is actually rime ice.
Note also that clouds have lifted to above the summit, opening up a 360 degree panoramic view.
<![if !vml]>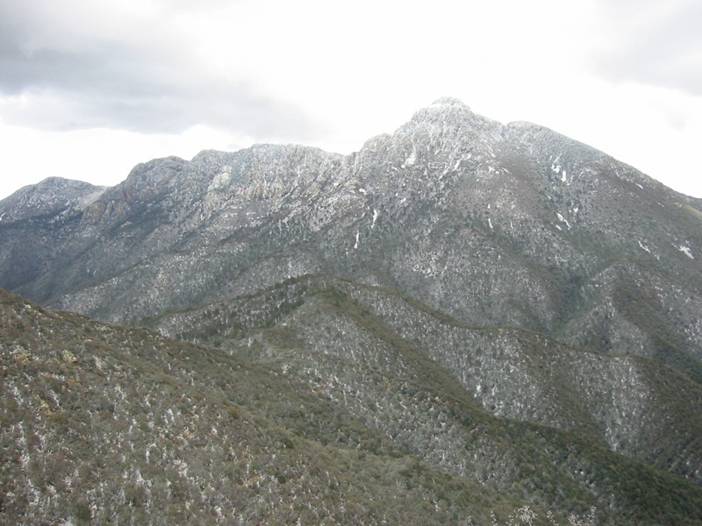 <![endif]>
The Mt Wrightson Wilderness Area to the east shot from about 7000 feet.† A 9400í peak adjacent to Mt Hopkins in the Santa Rita Mountains.
<![if !vml]>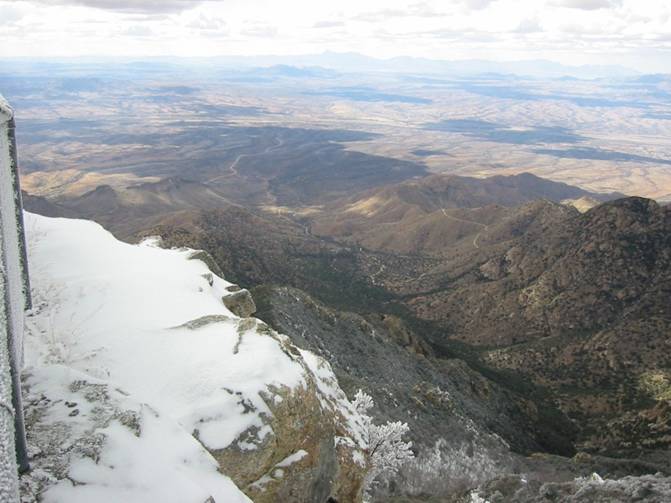 <![endif]>
Looking west from summit.
<![if !vml]>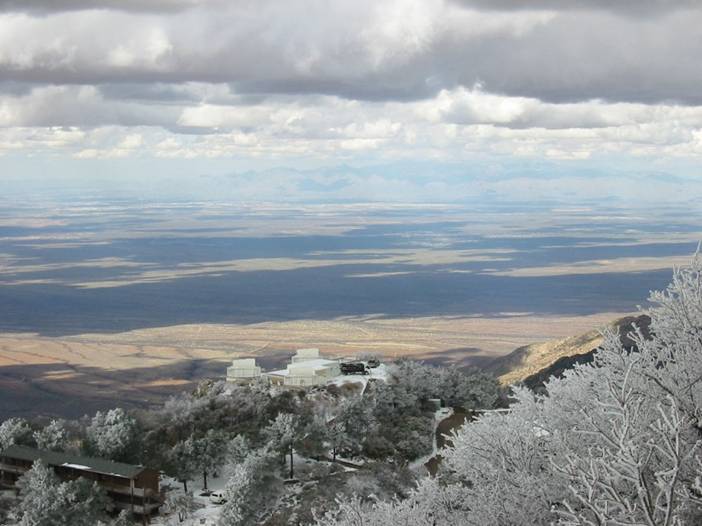 <![endif]>
Looking north from summit.† The Santa Catalina mountains that tower above Tucsonís north side are barely visible.
Tucson lies on the flatland at the base of those mountains.
Sunday ride #1,
†

2/29/04

†

Arizona Trail, Sonoita, AZ

25.5 miles

3:00 hours

Appox. 2900 feet climbing between 5000 and 6000 feet elevation

Chris and I planned this ride many weeks back, even before I knew for sure if I could make it out or not.† This ride was a 2000 IMBA Epic. Most of the terrain is rolling higher elevation grasslands, open, rocky, and filled incredible scenery.† Much of the loop we did followed various forest service roads or ATV trails.† However, there was several miles of technical singletrack descent from the high point of the ride.† Chris had a crash on this section, and I pinch flatted my front tire.† Tons of loose rocks, steep grades, ledgy sections, tight switchbacks, and cacti to dodge.† Weather was very nice, starting out around 40, warming to 50ís, and mostly sunny.




<![if !vml]>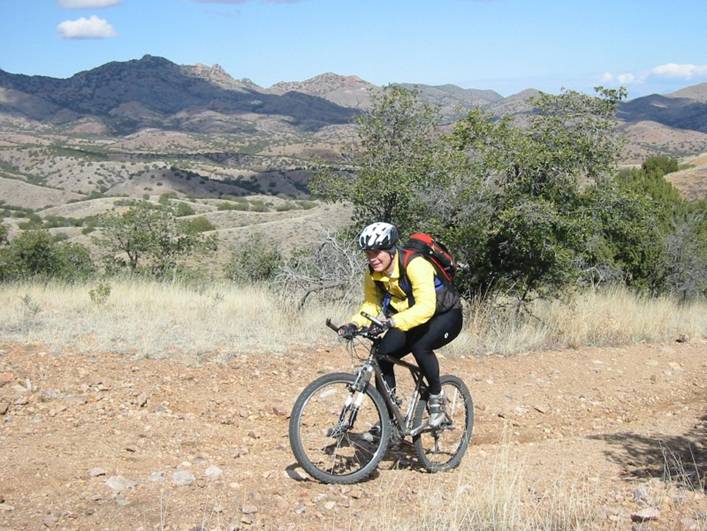 <![endif]>
Chris climbing near the beginning of the ride.
<![if !vml]>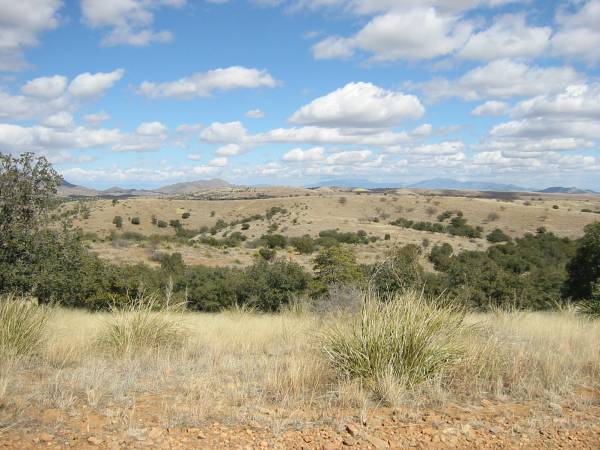 <![endif]>
Typical view of the grasslands around 5500 feet elevation.
<![if !vml]>
<![endif]>
Chris on Arizona Trail singletrack at highest point of the ride.
<![if !vml]>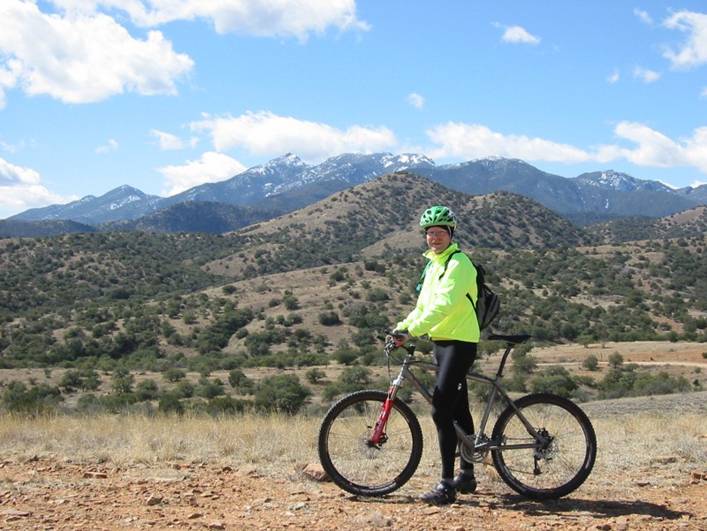 <![endif]>
Mt Wrightson in background, area I was up in day before.† Mt Hopkins is just behind Mt Wrightson from this view.
<![if !vml]>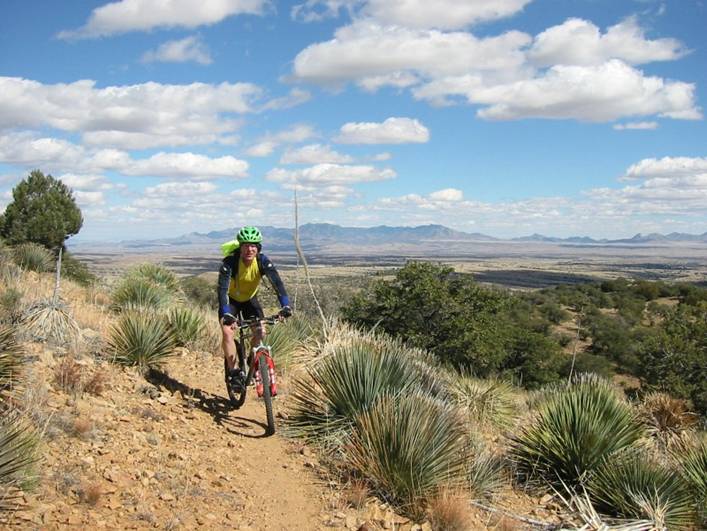 <![endif]>
Arizona Trail singletrack.† The long singletrack descent began here.
Sunday ride #2,
†

2/29/04

†

50 Year Trail, Oro Valley, AZ

11.6 miles

1:02 hours

Appox. 500 feet climbing

Kind of another unplanned ride.† Chris and I headed to his house after the IMBA Epic ride with an hour plus good light left.† I had ridden the 50 Year Trail several years earlier and remembered it as my favorite trail of that trip.† It was only 15 minutes from Chrisí house, I was already in biking gear, so I just had to ride a piece of it.† I headed to the trailhead off Golder Ranch Road, and was on the trail in about a minute.† Didnít notice that my computer wasnít working at first.† From where you park, you take some feeder trail to jump on the lengthy 50 Year singletrack trail.† I had to remember where to get back off to my car, as there is quite a maze of side trails from the 50 Year Trail.† My plan was to go 5 miles out or to sundown, whichever came first.† Since my computer didnít register for a good portion of the ride out, I turned around as the sun set, assuming Iíd get to the car just as it got too dark to see.† I had no lights.† As Iím heading back, the coyotes were yipping and howling all around me, as they do every night at sunset.† Even had one run right in front of me.† Got my heart beating pretty good.† I flew back, not realizing I overshot were I was supposed to get off.† It got too dark to see on the trail, so I popped out on a dirt road that I crossed earlier, assuming it could take me back to my car.† Problem was, the two-track roads out there go to all these dead-end shacks basically.† Now it was almost black out, and I couldnít even see on the two-track.† I was about to randomly stop at a place with lights on to ask where I was when I decided to try one more path I hadnít tried yet.† It went to my car.† Moral here is bring lights when you know you will be cutting daylight close.

<![if !vml]>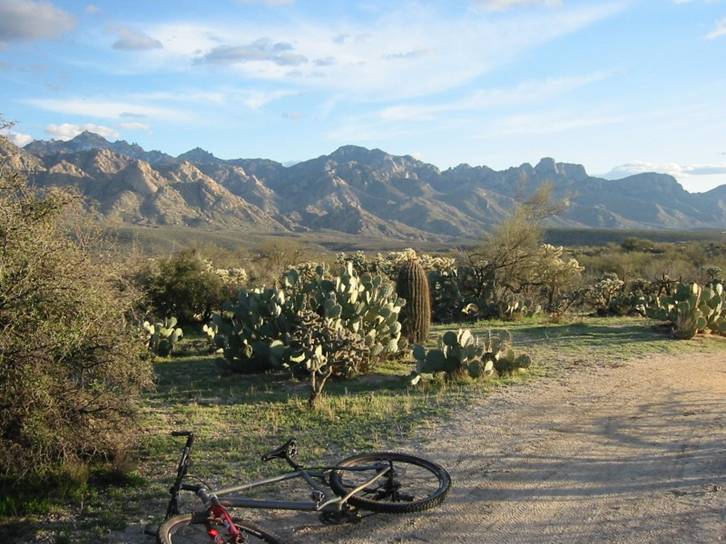 <![endif]>
Santa Catalina Mountains near sunset, looking southeast.
<![if !vml]>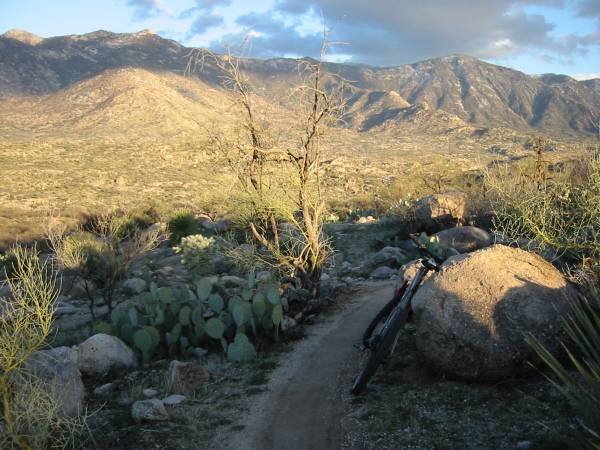 <![endif]>
50 Year Trail singletrack.† Many miles of this here.† Rock formations to go over and around in some places,
roller coaster-like chutes (called ďThe ChutesĒ locally) in other places.
<![if !vml]>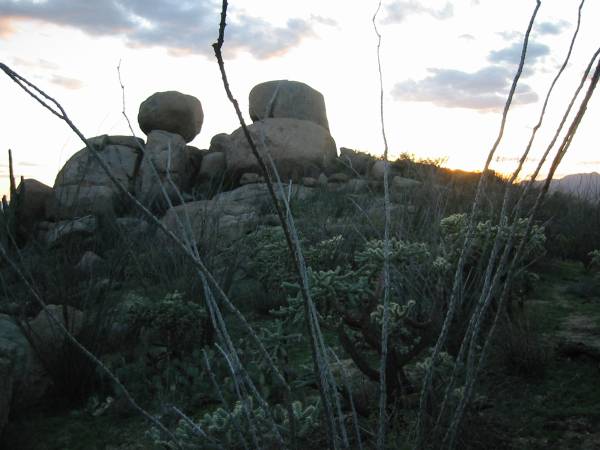 <![endif]>
Sunset on the 50 Year Trail.
<![if !vml]>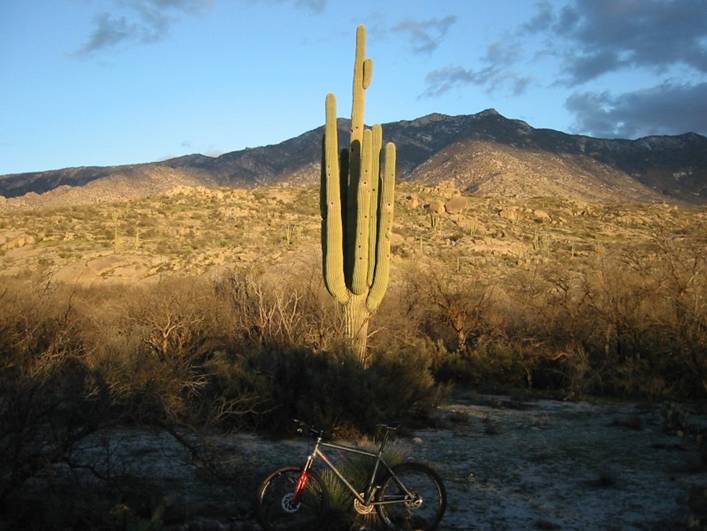 <![endif]>
A giant Saguaro Cactus, which Tucson is famous for.† Stands maybe 30 feet tall.† Holes are bird nest burros.
Monday,
†

3/1/04

†

Fantasy Island, Tucson, AZ

12.0 miles

1:00 hours

Appox. 300 feet climbing

This area shares some common issues with the area affectionately know by Boston area mountain bikers called Vietnam.† Fantasy Island has mountain biker built and maintained trails on public land, but it is at risk of being developed.† Itís pretty flat here, mostly small roller coaster style hills, some of which you could get crazy air off of, and itís chocked full of every kind of cactus.† Wicked fast, wicked fun to ride.† Pretty much rode all of the singletrack.† Missed doing one out and back piece due to time constraints.† Had to be to airport by noon.† Perfect day for last ride of trip.




<![if !vml]>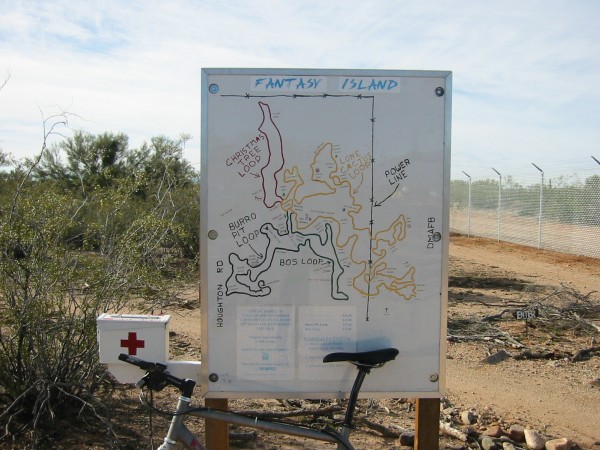 <![endif]>
Sign at the trail head.† Note the first aid kit.† Nasty cacti everywhere here,
sometimes barely squeezing through them at 20 mph.
<![if !vml]>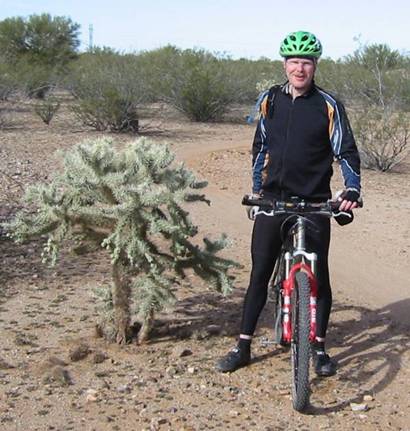 <![endif]>
A Cholla cactus.† A mountain bikerís worse nightmare.† From a distance they look fuzzy.
But itís a mass of thorns as stout as 8-penny finishing nails.
<![if !vml]>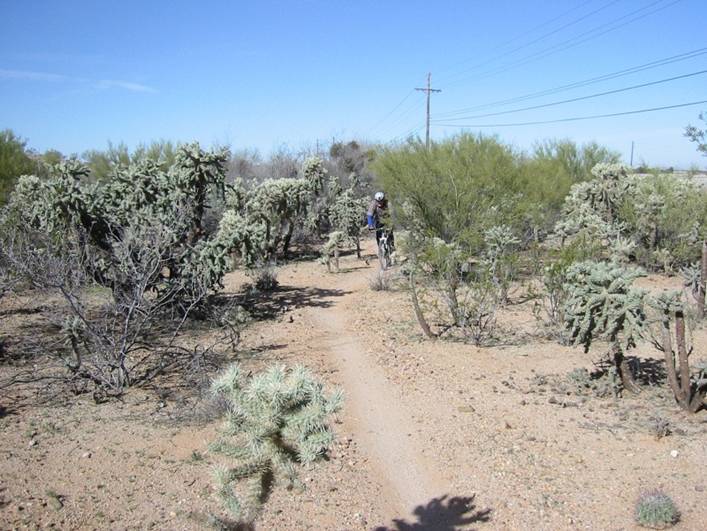 <![endif]>
Chris rounding a bend on Boís loop I think.
<![if !vml]>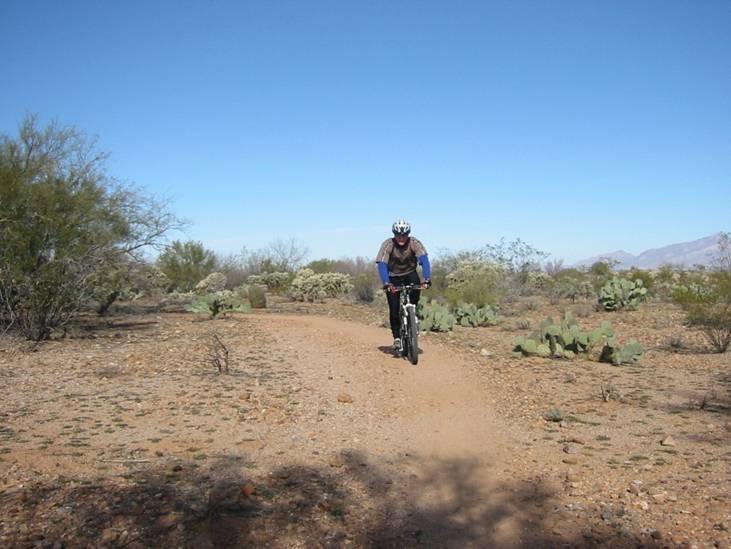 <![endif]>
Chris on Lone Cactus Loop.† The way I remember Tucson from two previous trips.
Not a cloud in sight, desert, but definitely not dead.
Trip Summary
Despite foul weather (both indoors and out) much of the time, Cathy and I had a good time.† This was my third trip to southern California, and each time I ran into trail closure issues.† Just part of life there I guess.† The tandem rides with Cathy along the coast more than made up for it.† This was Cathyís first visit to the southwest.† I think she feels California is a little less evil now than before the trip.† But she didnít encounter any earthquakes, brush fires, rattlesnakes, or riots while we were there either.† She did see huge burned areas, including remaining home foundations, and what heavy rain can do there.† Not as bad as what heavy snow does here every winter though.† Fortunately, Tucson came through with nice weather and no closed trails.