BAE Systems Silver and Gold Awards Trips
Phoenix, Arizona
Tuesday, Oct 26, 2004 through Sunday, Oct 31, 2004
Edinburgh, Scotland
Wednesday, Nov 3, 2004 through Sunday, November 7, 2004
Trip Highlights
Arizona
Wednesday, 10/27/04
 

South Mountain Park, Phoenix, AZ

30.1 miles

3:22 hours

3500 feet total climbing

We arrived at the Arizona Biltmore resort Tuesday night.  Bike was pre-shipped to the Bike Barn about 10 minutes away.  There was a threat of rain later on Wednesday, so I got an early start to get a ride in before rain moved in and the awards banquet that evening.  Picked bike up, continued on to South Mountain Park near the airport.  This park is completely open to mountain biking and has some of the area's best trail riding in it.  After putting the bike together, I began the National Trail assent.  Cosmic Ray's guide book describes the National Trail this way: "The teacher of terror!  Wicked tough climb.  Narrow singletrack along a skinny ridge.  Ultra-hairball, cactus infested descent…"  It is rated a "10" on the Puck-O-Meter.  Needless to say, I got off my bike several times on this trail.  I saw several other riders on the trail.  All were on full-suspension rigs, and only one other was not wearing full body armor.  The trail was nearly one trials section after another with some really sweet carvy stuff in between.  Views over Phoenix were spectacular from a couple of the lookouts.  I rode just past the antenna farm and went back almost the way I came.  Once back to the car, I rode the Desert Classic Trail.  This followed the southern base of the mountain range for about 8 miles, slightly gaining elevation.  The ride back was an 8 mile rollercoaster blast.  The washes on the return trip were particularly hairy.  You'd fly into them at big chain ring speeds, launch, spend 1 or 2 seconds in the flat bottom, then hit the opposite bank like a brick wall.  There was one instance where I was certain I was going to make a full body imprint into the opposite bank.  So steep and way too much speed.  Managed to finish this ride unscathed and dry.  Got a bit sunburned though.  Later that night heavy rain moved in.  In fact, it rained or snowed most of the day just north of Phoenix, where I had planned to bike in Sedona the next day.

<![if !vml]>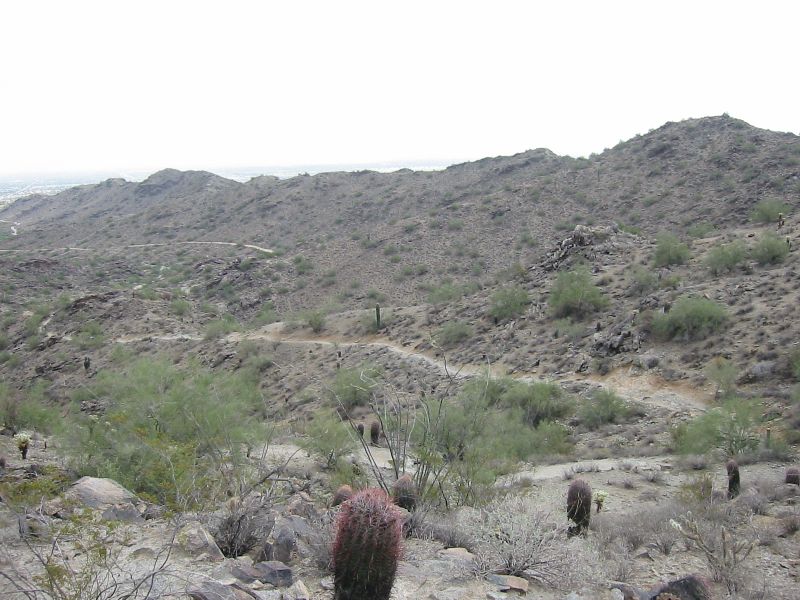 <![endif]>
National Trail climb looking back towards parking lot.
<![if !vml]>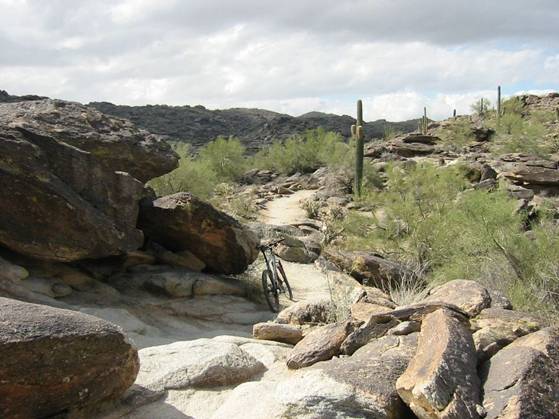 <![endif]>
National Trail near ridgeline.  Very rocky.
<![if !vml]>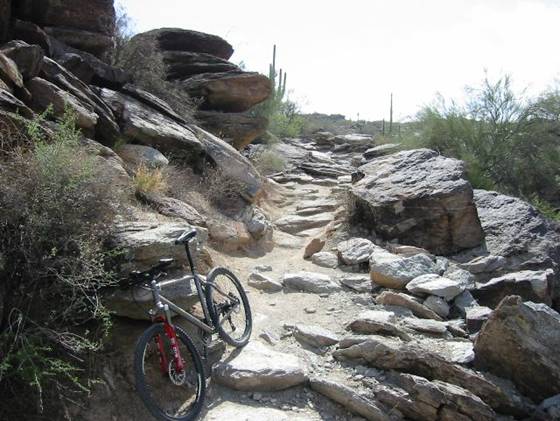 <![endif]>
National Trail section I cleaned on my way back.
<![if !vml]>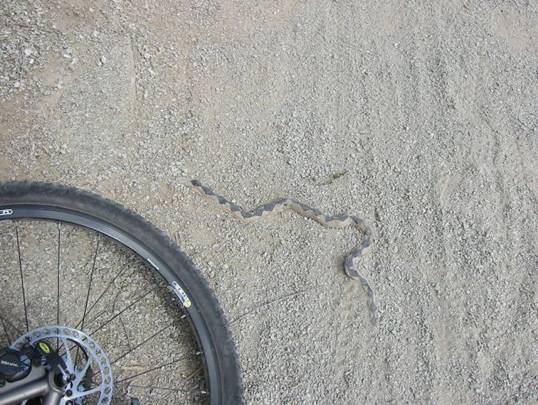 <![endif]>
Real quick: you come around a bend, see this, and know you're going to hit it.  What do you do?  You let out your best girlie scream like I did and pray it doesn't bite you.  But then you stop well past it, look back, and it hasn't moved.  Closer inspection reveals some prankster painted a root to look like a diamond back rattler.  Very, very clever.
<![if !vml]>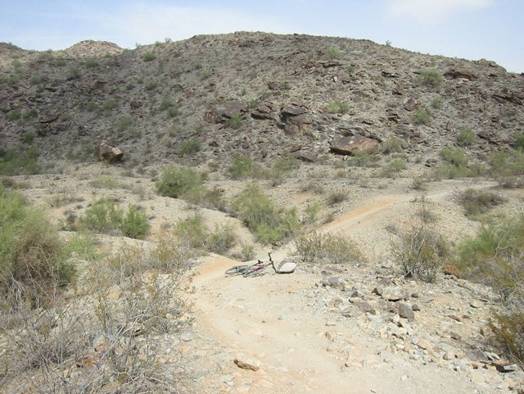 <![endif]>
Typical view of Desert Classic Trail showing one of perhaps hundreds of dips in it.  Mostly nice smooth stuff.
<![if !vml]>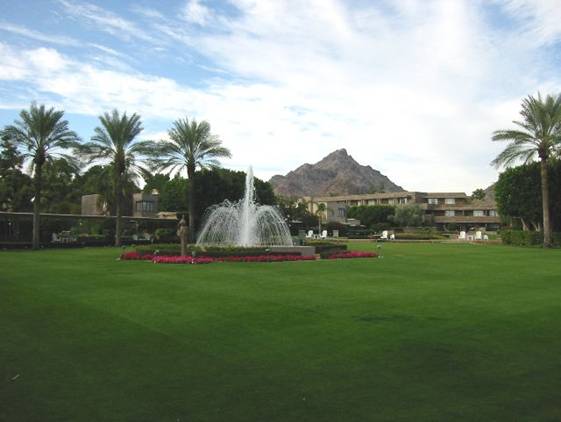 <![endif]>
Courtyard in the Biltmore Resort.
<![if !vml]>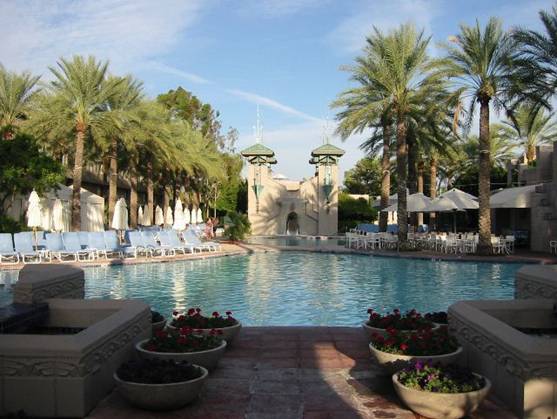 <![endif]>
One of many "swimming holes" at the Biltmore.
<![if !vml]>
<![endif]>
Typical home style and yard landscaping in Arizona.  These are backyards.
Thursday, 10/28/04
 

Mt Graham, Safford, AZ

62.2 miles

4:56:30 hours

8000 feet total climbing, 7,105 foot net gain

Upon awaking, it was pouring outside.  This was the day I was to drive up to Sedona, a couple hours north, to ride some of the most scenic trails in Arizona.  But the red sandstone there becomes a mess in rain, and it rained the whole day before too.  So I had to bag riding there, choosing instead to bike up Mt Graham a few hours to the southeast.  I figured that was mostly paved, and I could suffer through a 3 hour climb in the rain.  I packed up, checked out, and hit the road.  Well to my surprise, about 2/3 of the way there, I popped out from under the clouds to a beautiful sunny sky and 70's temps.  I first stopped at the ranger station to check on summit conditions.  The assistant there said "Oh, the summit is usually about 15 degrees colder than down here."  I said that's funny, the website usually shows closer to a 40 degree difference.  Safford is at 3000 feet, the summit is at 10,000 feet.  So she brought up the website I was referring to, and it puzzled her.  So she calls somebody she knows up top to see what it was really like up there.  The change in expression on her face said it all.  It was near freezing and rime ice was starting to build up!  So I learned what I needed to know, parked the car nearby in town, packed my warmest winter clothes in my Camelbak, and commenced on my biggest climb ever.  I had about 7 miles at very easy grade before hitting the summit road.  The head wind was incredible, maybe a steady 35 mph?  Just before turning into the summit rode, I met up with another guy on a road bike, also heading up.  Mark asked if I wanted company, but I hesitated, as I was on a MTB and I would slow him down.  He had no problem with that.  Mark was big, forget how big/tall he said he was.  But lean, and he sure could climb for a big guy.  Kicked my butt.  We talked most of the way up, but I was gasping for air between words.  I climbed the bulk of the vertical at a harder pace than I had planned, especially after the very hard, long ride the day before.  I didn't eat enough either.  I was cramping up in a big way near the top.  At the top, I split off to the right to climb a couple miles on steep jeep road to reach Heliograph Peak, the only peak I could legally ride my bike to above 10,000 feet.  The rest of the area above 10,000 feet is the Mt Graham Squirrel protected species area, in which people are not allowed.  Mark continued on to the end of the pavement a few miles further on, which did not gain any additional vertical.  Interestingly, Mark rode up in a sleeveless jersey, and the temp was in the 30's up top.  I could understand climbing in that, but I would have immediately froze during the descent.  In a follow-up email, Mark did confess it was cold up there.  After reaching Heliograph Peak, I dress up.  Only problem was, every time I bent a leg to zip the bootie zipper, my groin muscles would start to seize up.  It would not stop, and I could not get the zippers zipped.  Boy I was cussing.  I had no idea how I was going to make it all the way back, 31 miles to the car.  There were some ups along the way, it wasn't all down hill.  I eventually got around that problem and started the descent.  That was my all-time best descent.  I didn't realize how many turns and switchbacks were in that road while climbing it at 7mph.  For at least 20 miles, the road descends near monotonically at a 6-7% grade, and not a straight piece in it.  Pavement was perfectly smooth too, none of that northeast frost heaved stuff.  As I packed up the bike in town, I noticed the summit was completely socked in by a dark cloud, and there were a few rain drops on the windshield too.  The $4.95 Chinese all-you-can-eat place a couple blocks up the road really hit the spot after this personal record climb.

<![if !vml]>
<![endif]>
After first turning on Rt 366.  Doesn't look steep, but this few miles hurt bad.  Heliograph Peak just touches the clouds on the right side of photo.
<![if !vml]>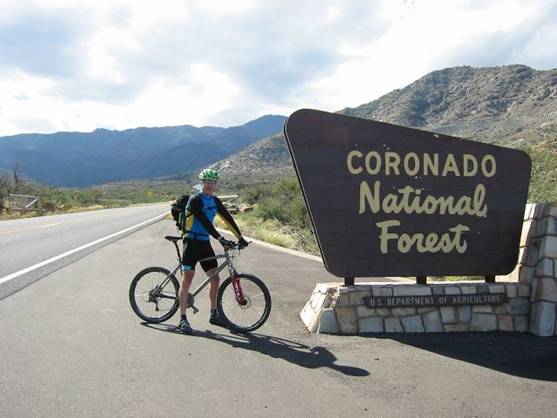 <![endif]>
Near the end of the first few miles of the climb that were straight as an arrow and very demoralizing.  It looked flat, but your 7mph speed said otherwise.
<![if !vml]>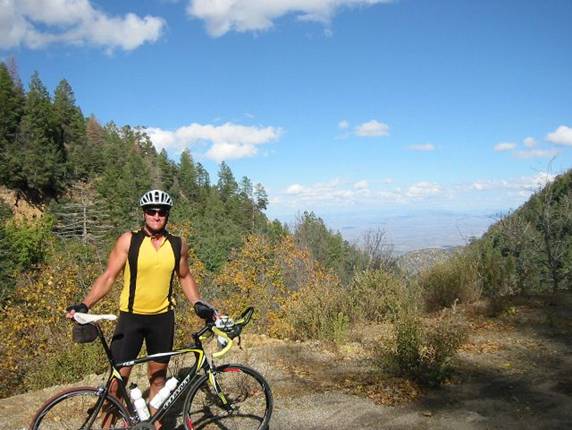 <![endif]>
Mark a little further up.
<![if !vml]>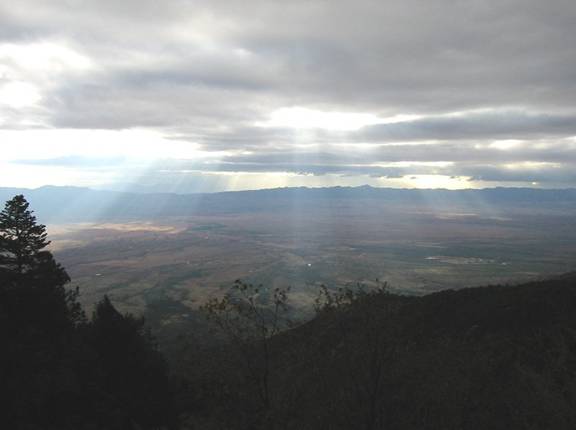 <![endif]>
View to the south most of the way up.  Neat how the rays illuminate patches on the ground 7000 feet below.
<![if !vml]>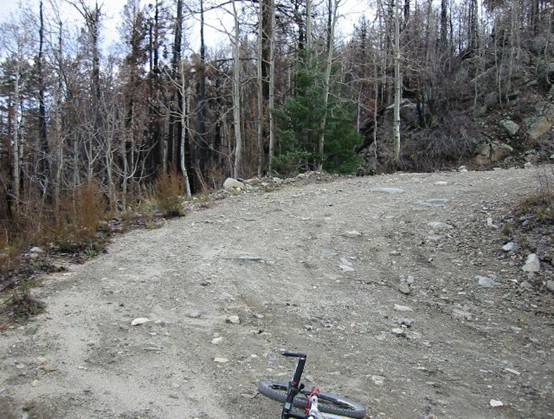 <![endif]>
Heliograph Peak access road.  Very steep and rough.
<![if !vml]>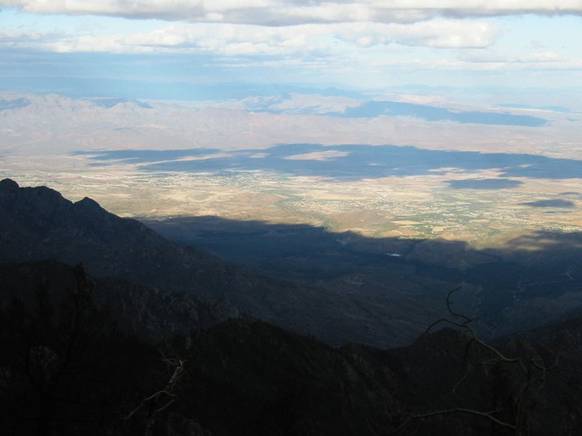 <![endif]>
From Heliograph Peak.  The city of Safford is 7000 feet below in between mountain shadow and cloud shadow.
<![if !vml]>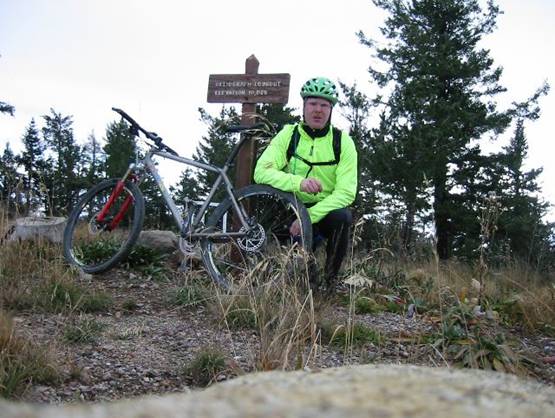 <![endif]>
Very tired and in pain here at Heliograph Peak.  Temp felt near freezing.  Used AmFib tights, gloves, and warmest balaclava for descent.
<![if !vml]>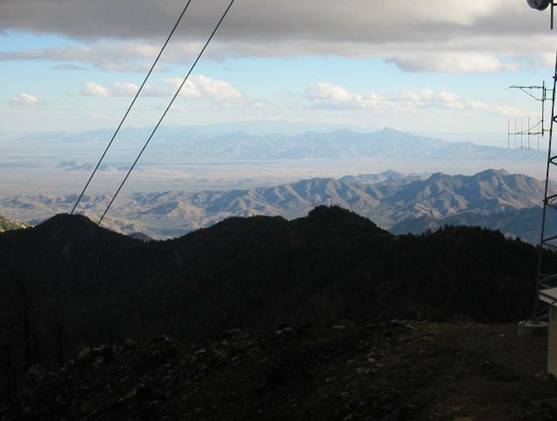 <![endif]>
Another angle from Heliograph summit.  Clouds are rolling in from west.
<![if !vml]>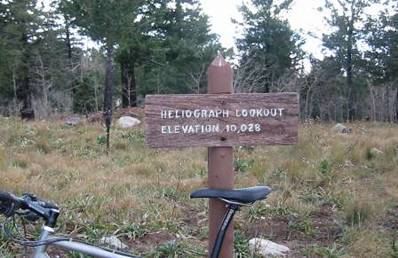 <![endif]>
Proof.
<![if !vml]>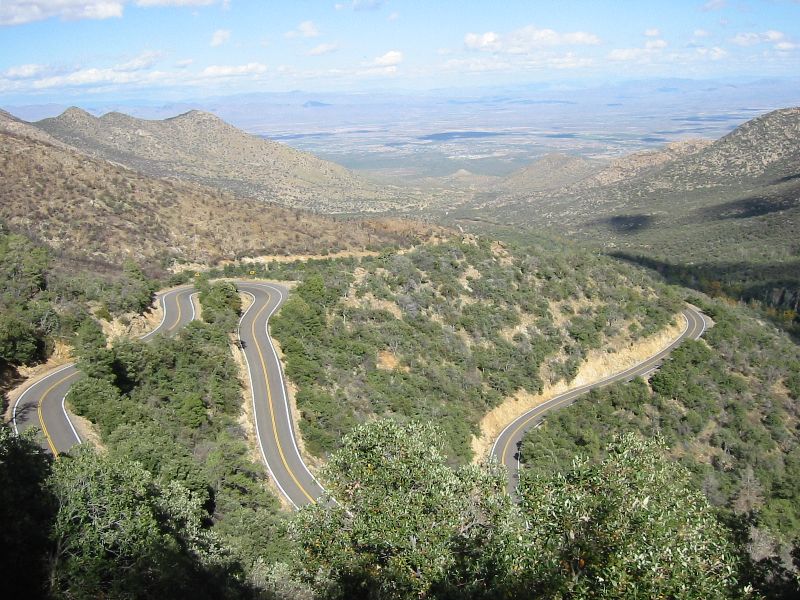 <![endif]>
The Descent.  20 miles of this stuff to just rip down.
Friday, 10/29/04
 

Continental Divide Trail, Silver City, NM

25.6 miles

3:30 hours

5000 feet total climbing, with initial 2500 foot climb

After completing the Mt Graham climb on Thursday, I drove in the dark to Silver City, NM, a couple hours away.  It must have rained there overnight, as the roads were wet in the morning.  But after sunrise, every last bit of clouds dissipated to leave that pristine blue sky I only see in the desert southwest.  After carbo loading on a "deluxe" continental breakfast, I head to the Continental Divide trailhead.  I parked on Rt 15, where the CDT crosses.  Then I biked up Rt 15 to the Signal Peak fire road turn off.  Many miles of moderately steep gravel road climbing ensued.  Signal Peak sits at about 9,000 feet.  The trees up top were a spectacular site in the bright sun:  they were covered in ice!  It was even colder up here than Mt Graham the day before now that the cold front had moved through.  Climbing has a way of keeping you warm though.  From Signal Peak, the CDT singletrack is picked up, which follows ridgeline and passes another adjacent peak called Black Peak before beginning the many miles long descent.  Some of the descent was brutal, consisting of large, loose lava rocks.  I couldn't even walk on the stuff.  But the majority of the descent was mountain biking nirvana. 

<![if !vml]>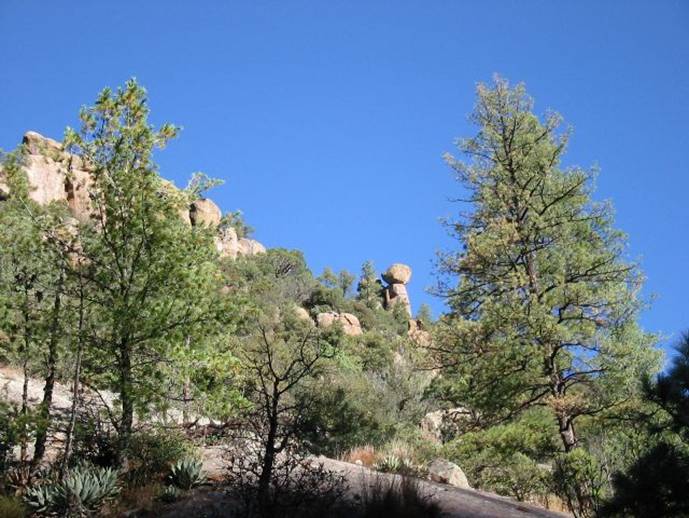 <![endif]>
Yeah, the sky really was that blue.  Note the balanced rock, the size of a small building.  See these all over out here.
<![if !vml]>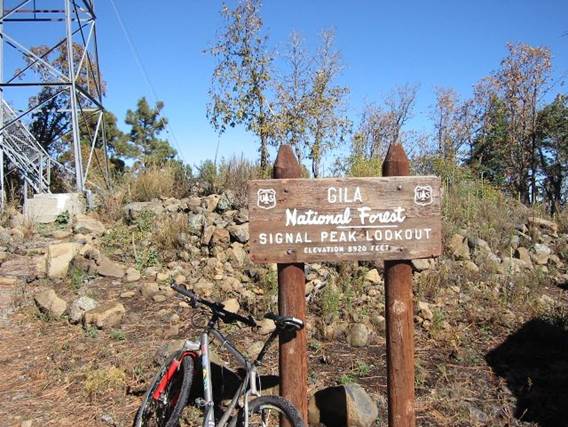 <![endif]>
Signal Peak summit at 8920 feet.
<![if !vml]>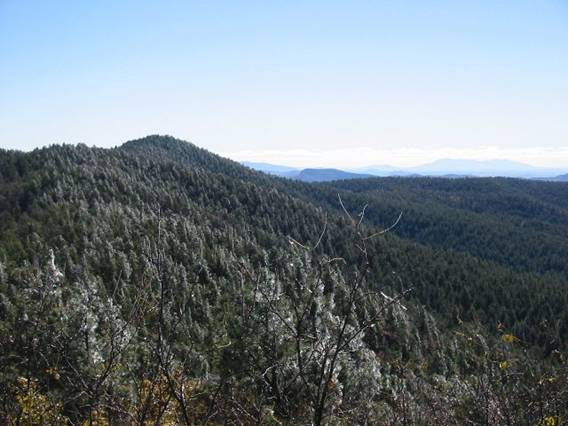 <![endif]>
Icy trees below from Signal Peak.
<![if !vml]>
<![endif]>
Nice shot of icy tree.  I was getting pelted by the stuff as wind was ripping it off.
<![if !vml]>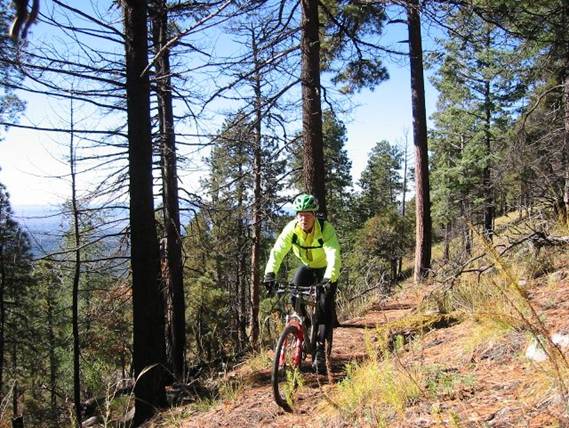 <![endif]>
Beginning descent on Continental Divide Trail (CDT).
<![if !vml]>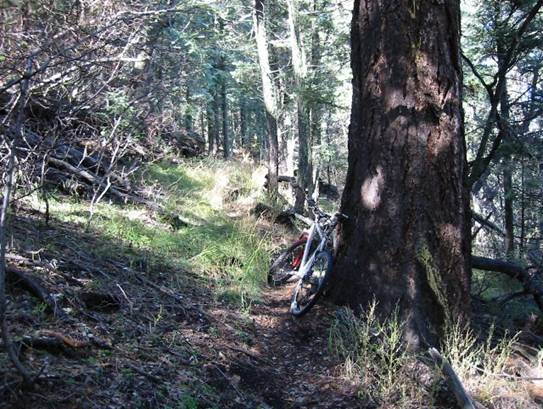 <![endif]>
There were a few fine specimens of old growth along the CDT.
<![if !vml]>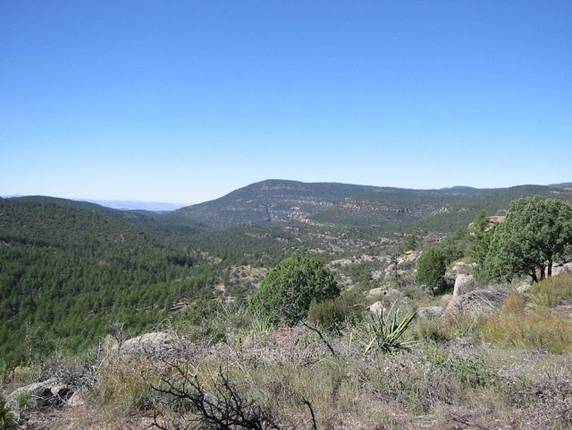 <![endif]>
One of many open views encountered during the descent.
<![if !vml]>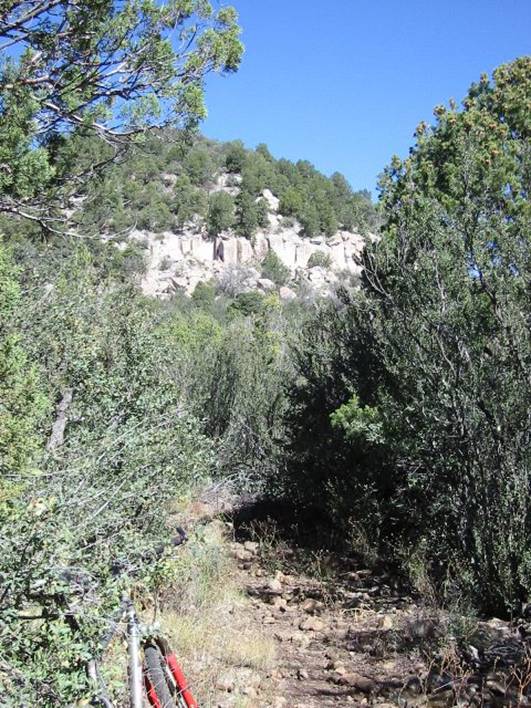 <![endif]>
Another descent view.  Note the loose lava rock on trail.  Practically impossible to ride or walk on.  A couple sections of this were quite frustrating.  Fortunately, they didn't last long.
Saturday, 10/30/04
 

50 Year and Arizona Trails, Tucson, AZ

25.5 miles total

3:10 hours total

4000 feet total climbing

After finishing the CDT shortly after lunch time, I headed over to Tucson to meet Chris and Dana.  I stayed with them the final two nights.  Chris had a big ride planned for Sunday, so he couldn't do much riding on Saturday.  He was riding the annual Soul Ride, a timed 30, 60 or 100 mile epic.  Tinker Juarez won the 100 miler last year I believe.  It starts with Jack-O-Lantern lighting at 4am on Halloween.  I really wanted to do the 30 mile ride with Chris, but I had to fly out on Sunday, and there was no way to make it work.  Instead, on Saturday I settled for a ride with Chris on my favorite Tucson trail, the 50 Year Trail.  The scenery and trail vibe just can't be beat.  When Chris and Dana headed off on errands later in the day, I hit a portion of the Soul Ride course.  I wanted to ride a particular singletrack section in reverse so I could descend the switchbacks.  This ride was in Oracle, just north of Tucson on the back side of the Santa Catalina Mountains.  Views were spectacular, as was the riding.  This was my fourth visit to Tucson, so getting to know the area and trails quite well.

<![if !vml]>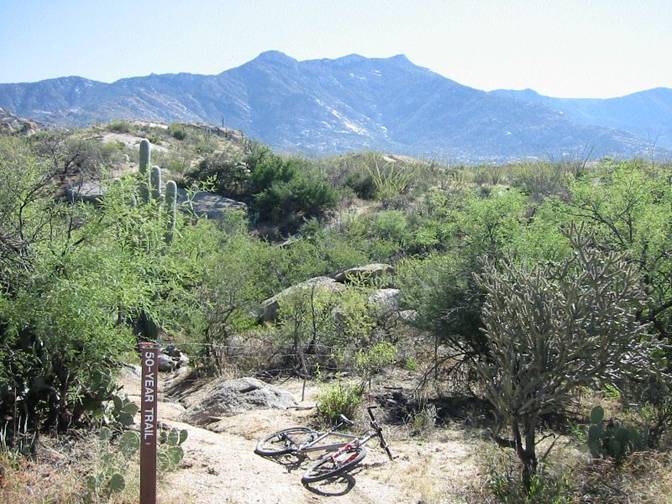 <![endif]>
One of many such views on the 50-Year Trail.
<![if !vml]>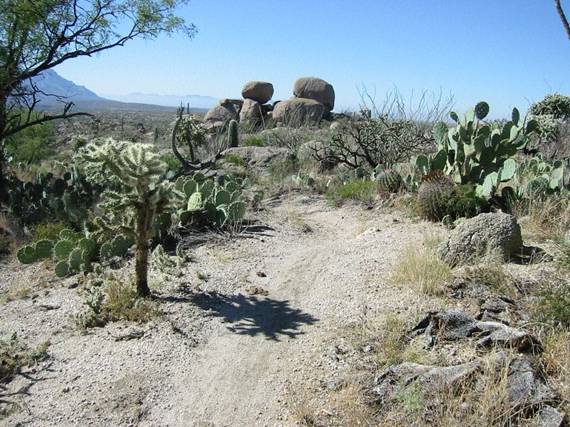 <![endif]>
Fun scenery and fun trail.  Just don't get too distracted by the neat stuff all around you, or you're apt to get snagged by any number of nasty prickly things.
<![if !vml]>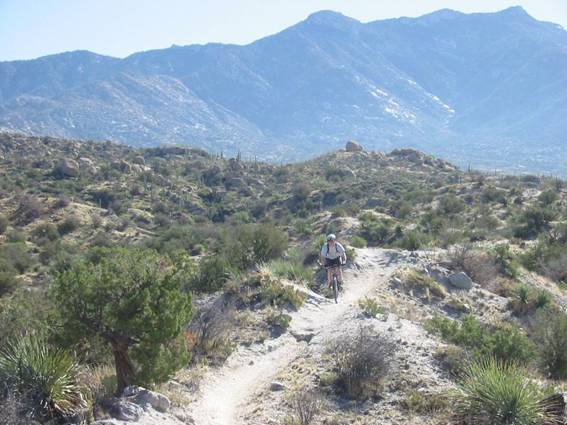 <![endif]>
Chris bombing down "The Chutes."
<![if !vml]>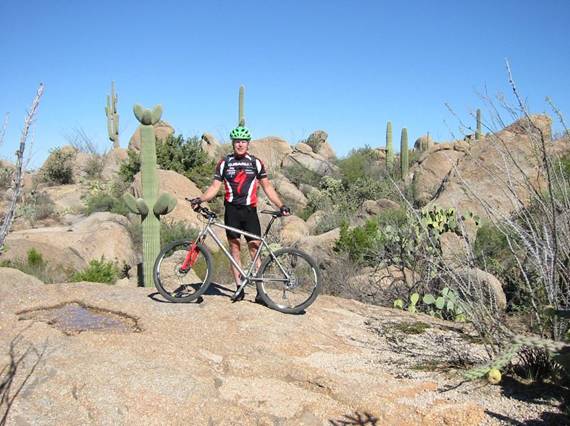 <![endif]>
I wish the cactus behind me was a little misaligned.  I wonder if the hiker I got to take this photo intentionally lined me up to look as if I have a cactus growing out of my head.
<![if !vml]>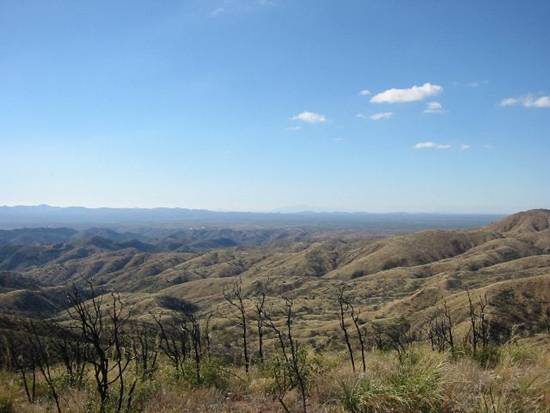 <![endif]>
The Arizona Trail, looking west.  The Biosphere II is just visible left of center.
<![if !vml]>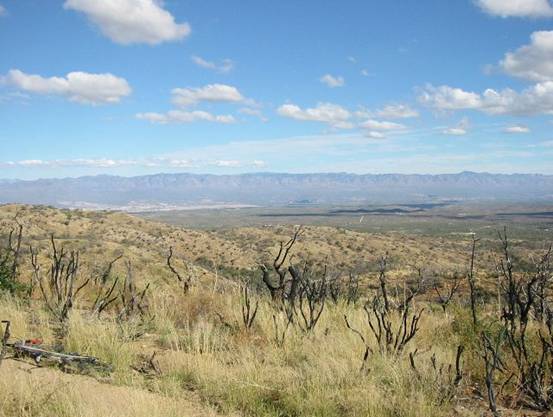 <![endif]>
The Arizona Trail looking east.
<![if !vml]>
<![endif]>
The Arizona Trail looking south towards the Santa Catalina's.  This area was burned last year in a big fire.
<![if !vml]>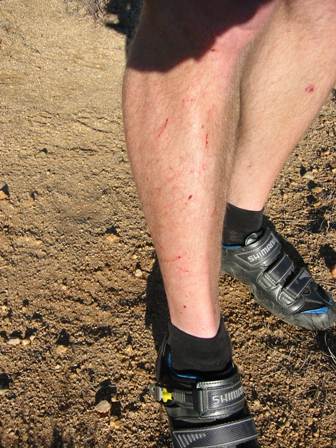 <![endif]>
Lots of stuff to slice up legs here.  Don't even feel it.
<![if !vml]>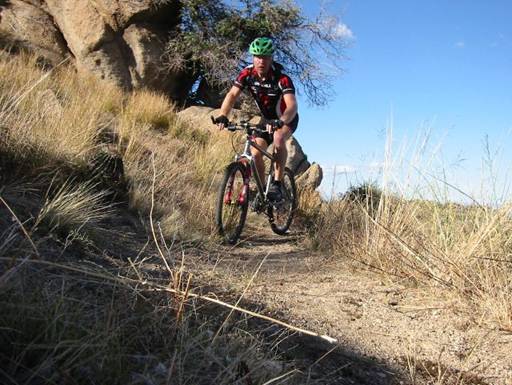 <![endif]>
On the singletrack descent.
<![if !vml]>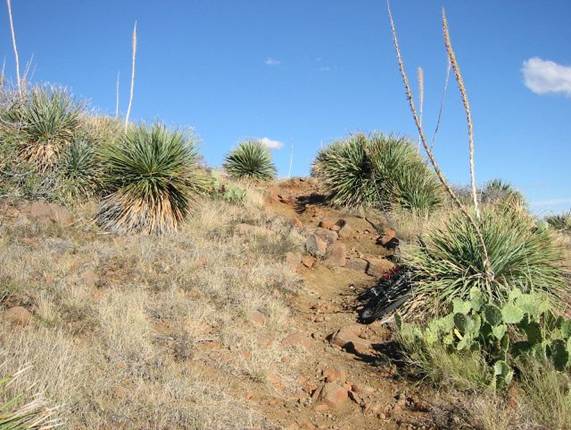 <![endif]>
Further down the descent.
<![if !vml]>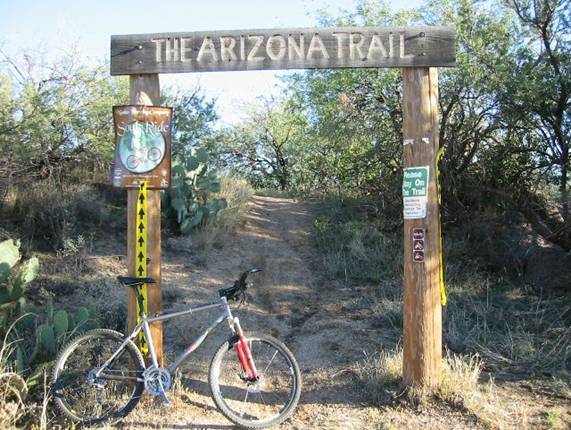 <![endif]>
At trailhead where I parked.  Note soul ride poster.
Saturday, 10/31/04
 

McDowell Mountain Park, Scottsdale, AZ

11.5 miles total

0:50 hours total

1000 feet total climbing

This afternoon I had to jump on a plane back to NH.  I wanted to squeeze one quick ride in in the Phoenix area before doing so.  After spending the night at Chris's in Tucson, I had to drive to Phoenix, ride, pack bike, drop bike off at bike shop, and drop rental car off all before 1pm.  This would have been fine, except a major road was closed for a triathlon on the way to McDowell Park   Then I get to the park to find not only the MTB race loops are closed for the 24 Hours of Adrenaline race going on, but the remaining singletrack was closed for a 100 mile foot race also going on.  I was steamed.  There was one little bit of trail open I could ride.  I was there, had no time to go elsewhere, so I got bike out.  I very quickly hit the outer loop where the runners were and ran into a course marshal.  After talking a bit, he said there were very few runners left, and it would be ok for my to ride the trails they were on if I was careful.  He said they were delirious, presumably because they had been running since Saturday.  So I got a nice quick loop ride in on Pemberton and Bluff trails.  Bluff was a blast to bomb back down the slight grade several miles back to the car.  Big chain ring, 25mph fast!  The terrain here was cleared by a fire several years ago, so it's very open with nice views.  Most of the singletrack here is beginner level stuff, except for the expert loop on the race specific trails where 24 Hours of Adrenaline was going on.  I finished the ride behind schedule and broke down bike for shipment in record time.  Nice feature of this place is the campground right there had showers, so at least I got to travel home feeling fresh.  On the way to the bike shop, an Interstate was closed for bridge repairs.  I got dumped into town with bumper to bumper traffic thinking I was either going to miss my flight or have to try to fly my bike with me.  I did reach the bike shop in time to leave it for Monday shipment (no FedEx sites were open).  Got to airport with very little margin.  The ride at McDowell probably wasn't worth it.  I could have ridden in South Mountain Park again and got a good two hour ride in for all the hassle I went through to ride out east of town.

<![if !vml]>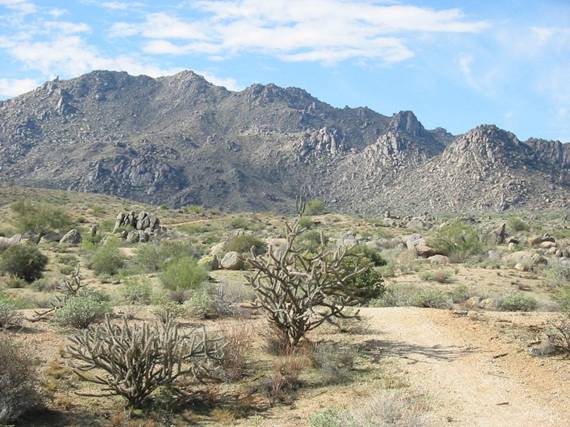 <![endif]>
Typical McDowell Mountain Park scenery.  This is Pemberton Trail climbing a modest grade.  Trails here are smooth, non-technical, and very fast.
<![if !vml]>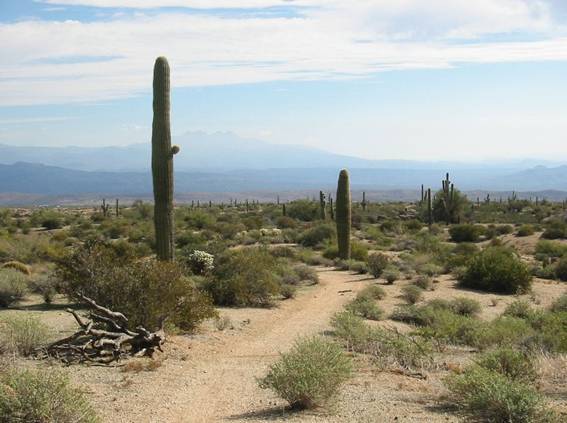 <![endif]>
Bluff Trail, returning to car in far distance.
Scotland
Thursday, 11/4/04
Edinburgh, Scotland
Few miles of touristy hiking around historic Edinburgh
Getting to Edinburgh for the Gold Awards ceremony was tough.  We left 1.5 hours late from Manchester, NH.  Thought for sure we'd miss our connection in Newark.  The red-eye flight over the puddle was long.  I did not sleep.  Fortunately we reserved our rooms for the night before so we could check-in in the morning and get a few hours sleep.  Upon arrival to the Dalmahoy, we were horrified to learn that because we didn't show the night before, they let our rooms go.  No place to crash.  We went through the long, quite boring awards ceremony that evening with little or no sleep for 36 hours straight.  Never want to do that again.  During the afternoon we visited Mary King's Close in the old part of the city.  A close is a medieval alley that is very narrow.  Mary King's Close has been built over, so it is essentially underground.  Very dark, musty, and spooky.  Many, many people lived in small one-room houses off this close 500 years ago.  Many stories of the people that lived there have been recorded and survive to this day.
<![if !vml]>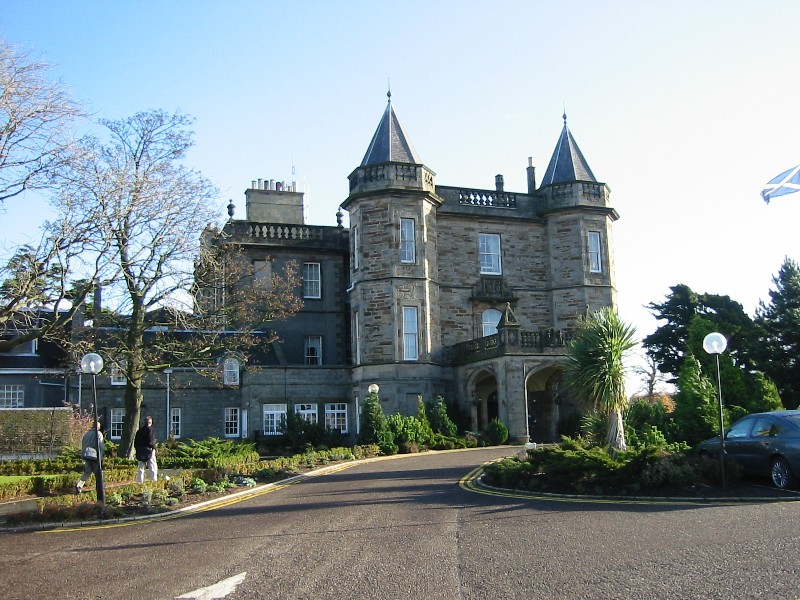 <![endif]>
The Marriott Dalmahoy hotel and country club.  Our fancy place to stay for three nights.  Not sure what the story behind or age is of this place.  Note Scottish flag on right edge of image.
<![if !vml]>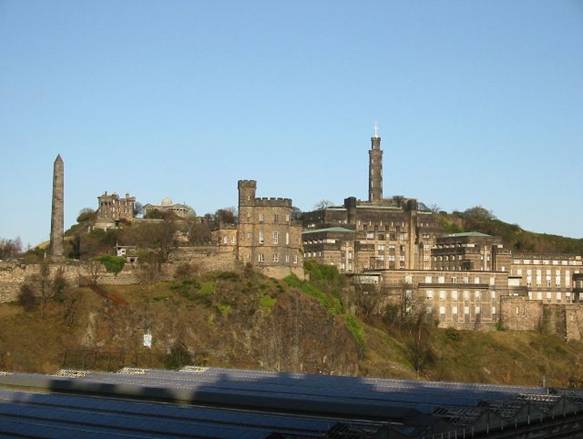 <![endif]>
A shot from downtown Edinburgh.
<![if !vml]>
<![endif]>
Another view of Edinburgh from the castle hill.
<![if !vml]>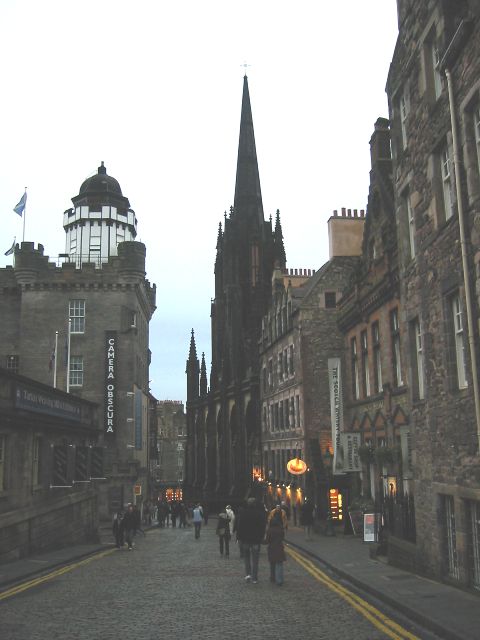 <![endif]>
This shot in Edinburgh was just off the Royal Mile I believe.
<![if !vml]>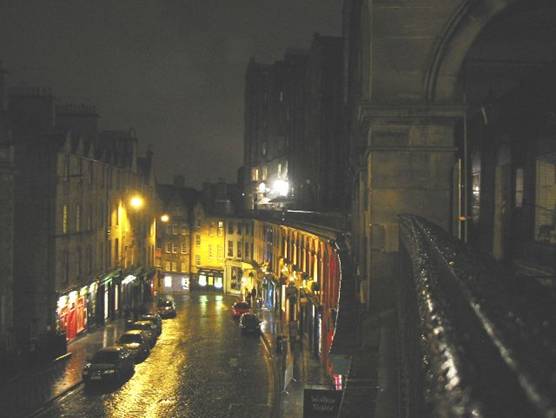 <![endif]>
A night shot in Edinburgh.  There was a pedestrian walkway and shops about two stories above street grade.  The back side of the buildings at walkway level came out even with next street over.
<![if !vml]>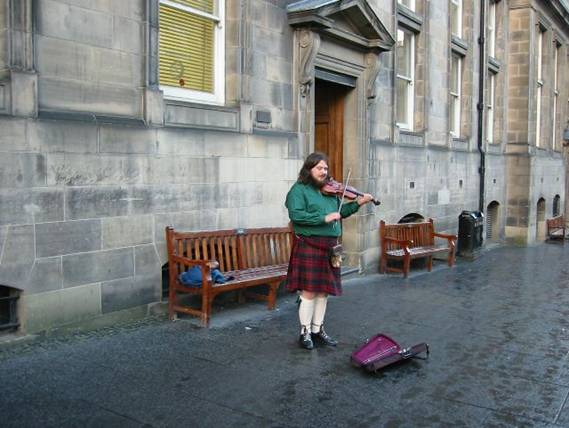 <![endif]>
Saw lots of guys in Kilts, from young to old.
<![if !vml]>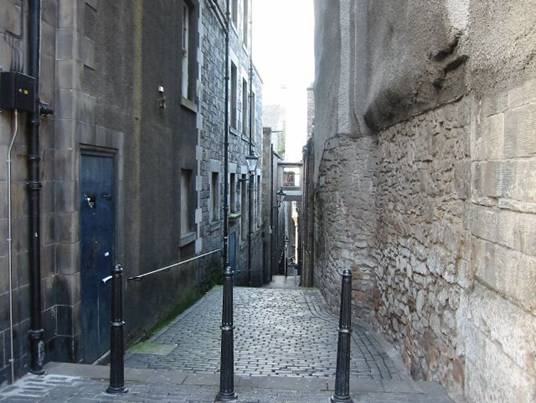 <![endif]>
One of many closes in Edinburgh.  They would generally slope downward steeply towards Lock Nor.  Each morning, the occupants that lived on the close would empty their toilet buckets into the close.  Thus the saying "$#it flows down hill."
<![if !vml]>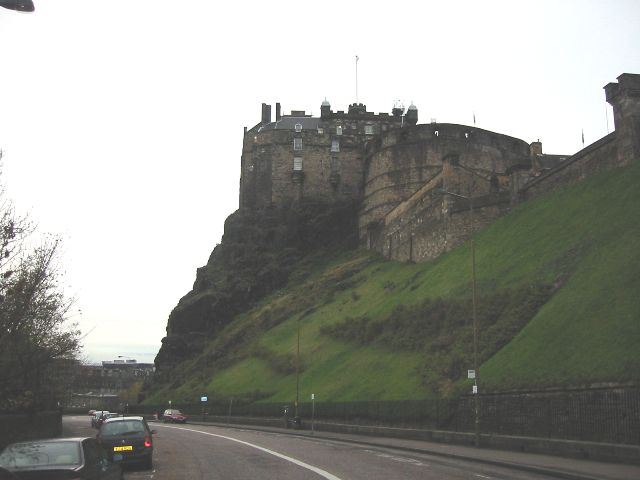 <![endif]>
The famous Edinburgh Castle.  I did not tour inside, choosing to MTB that day instead.
<![if !vml]>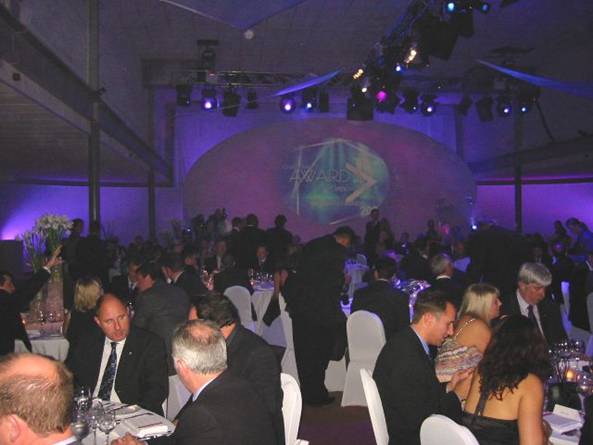 <![endif]>
The Gold Awards banquet.  The meal was brought out one course at a time between sets of awards.  We had "Terrine of Highland Game, Kumquat Marmalade & Petit Salad, Guinea Fowl with Broad Beans & Oyster Mushrooms with a Butter Sauce, and a Trio of Chocolate."
Friday, 11/5/04
 

Glentress Forest, Peebles, Scotland

46 km

3:30 hours riding time

1200 meters climbing

With formalities out of the way, I finally had a couple days to explore some of the best mountain biking terrain the UK has to offer.  I must say I was a bit skeptical at first.  I fretted about driving part way around the city, then way out into the countryside on my own.  With 25 years driving experience in the US, driving in a backwards country just freaked me out.  You drive on the left side, the steering wheel is on the right side, the shift is on the left side, the rotaries go the wrong way around, you always look the wrong way for traffic before pulling out, you pull out into the wrong lane, etc.  Actually, all of this came quite quickly.  It was just plain navigation that was hardest.  The narrow roads, no shoulders, and fast impatient drivers allowed no mercy for an American struggling to find his way.  I did get to The Hub bike shop and café no problem.  Hired (not rented in the UK) a Giant XTC hardtail with disk brakes, an entry level bike.  I hit Helly Hansen V trail, an expert rated trail first.  No rain was in the forecast for today, but recent rain left the trails wet and slippery, but not muddy.  You spend most of the first hour on Helly Hansen climbing to the highest point of the ride on combination of fireroads and singletrack.  The singletrack was crushed granite surface, smooth in places, and very bony in others.  Several long descents on this trail were pure bliss.  Views were spectacular everywhere.  The Britney Spears ("Hit me baby one more time") section was perhaps the most fun.  The free-ride terrain park near the end was too scary for me to try.  All North Shore stuff, from ladder bridges, logs, big drops, seesaws, etc.  After completing the Black rated Helly Hansen loop, I did the intermediate Red loop.  This trail had a newly constructed 1.7 km terrain park descent called Spooky Wood in it.  Unbelievable.  Just one mammoth bermed turn after another interspersed with doubles, table-tops, rollers, you name it.  All very smooth and scary fast.

<![if !vml]>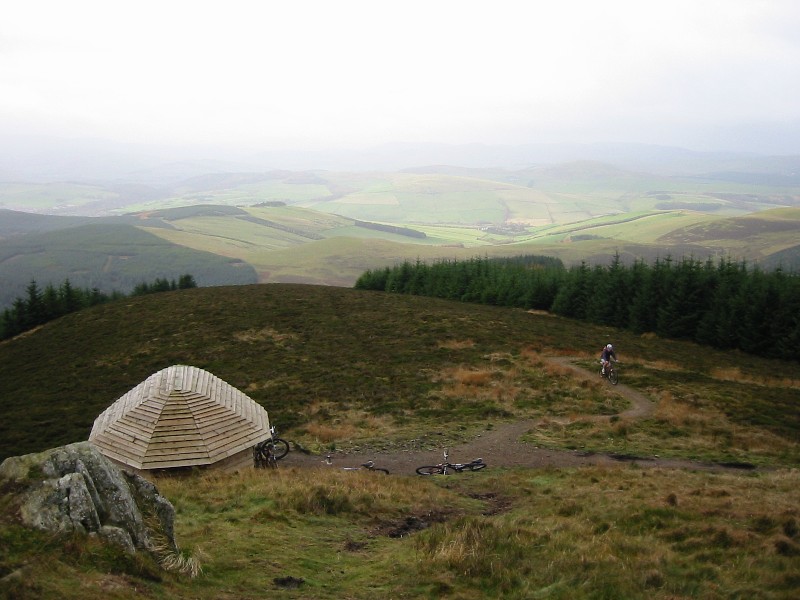 <![endif]>
High point of Helly Hansen V trail, near 600m above sea level.
<![if !vml]>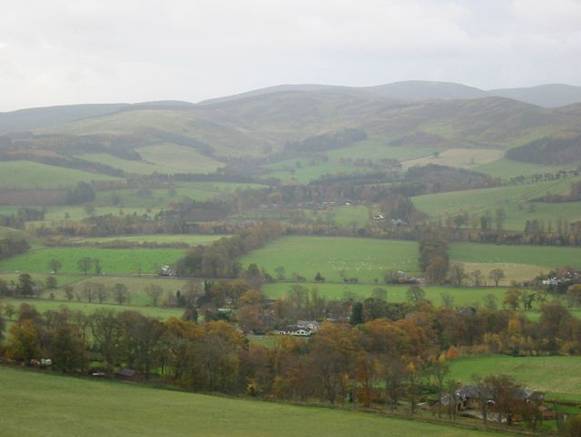 <![endif]>
The valley.  White speckles are sheep, which are about the only farm animals you see around here, and by the thousands.
<![if !vml]>
<![endif]>
Typical singletrack at Glentress.
<![if !vml]>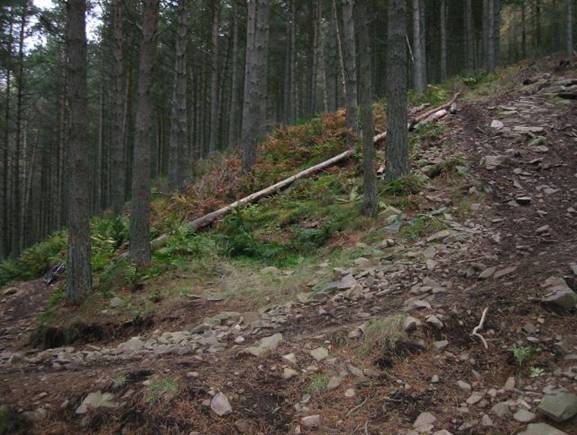 <![endif]>
One of many bony sections.  I walked the first part of this hairball descent.
<![if !vml]>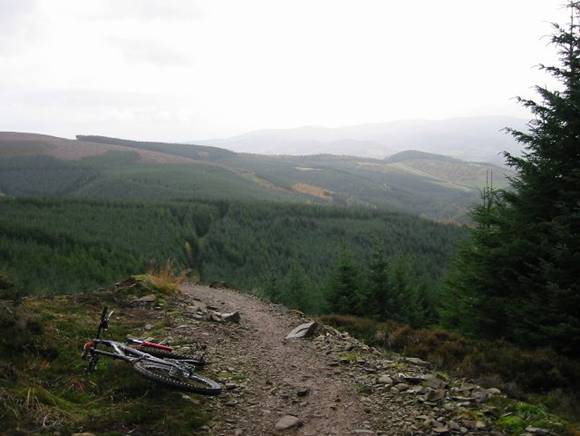 <![endif]>
Some minor ridgeline exposure.
<![if !vml]>
<![endif]>
The Britney Spears section.  I did want to hit it one more time.  More fun than a human being should be allowed to have.
<![if !vml]>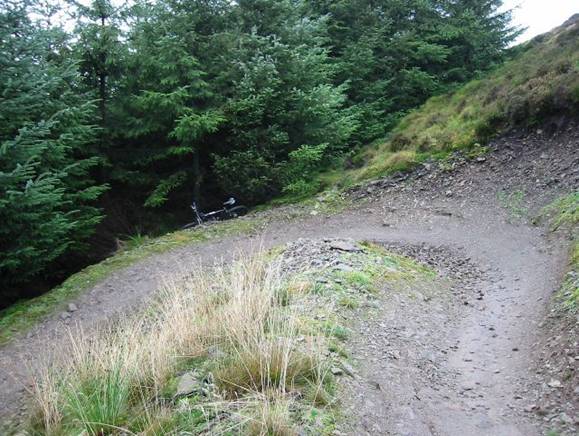 <![endif]>
One of many bermed swithbacks on the Britney Spears section.
<![if !vml]>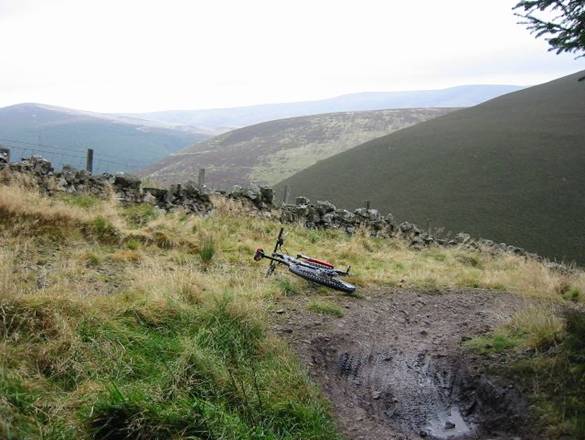 <![endif]>
All hills on the horizon here.
<![if !vml]>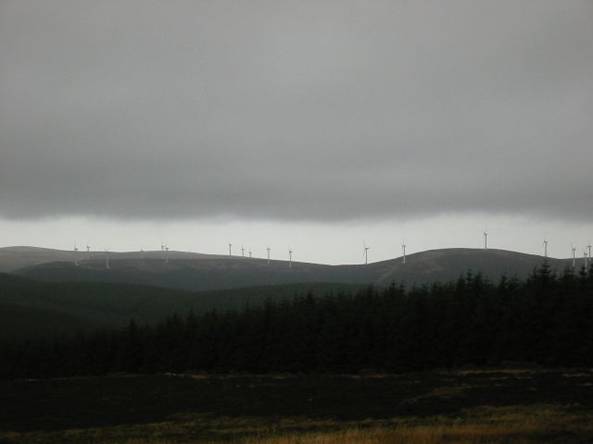 <![endif]>
This ridgeline had a wind farm on it.
<![if !vml]>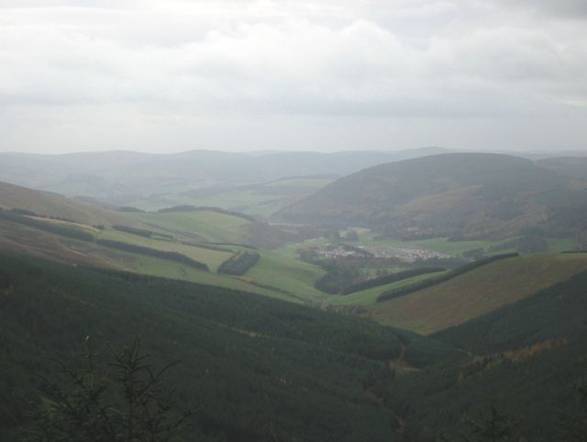 <![endif]>
Not sure what village this is in the valley.
<![if !vml]>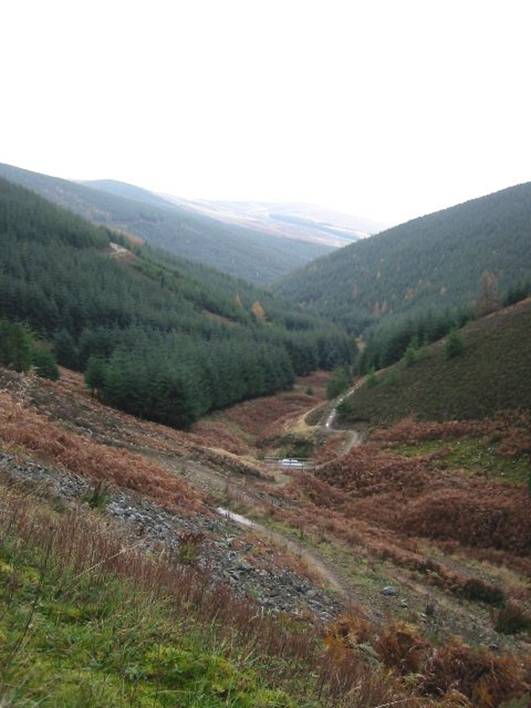 <![endif]>
The singletrack wound its way down this valley out of sight for many miles.  I thought the ride would end this way, but no, another big ridgeline had to be climbed with yet another long descent.
<![if !vml]>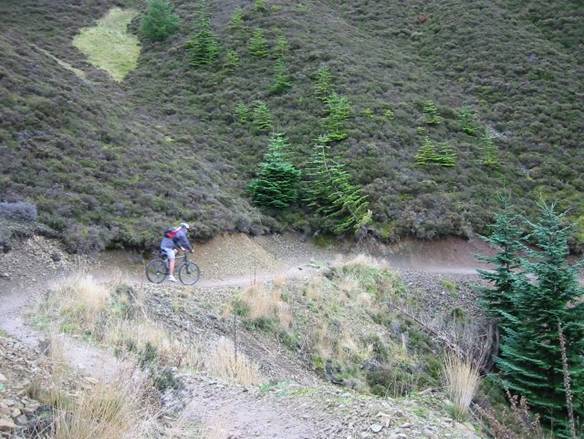 <![endif]>
One of only a few riders I saw on the trail.
<![if !vml]>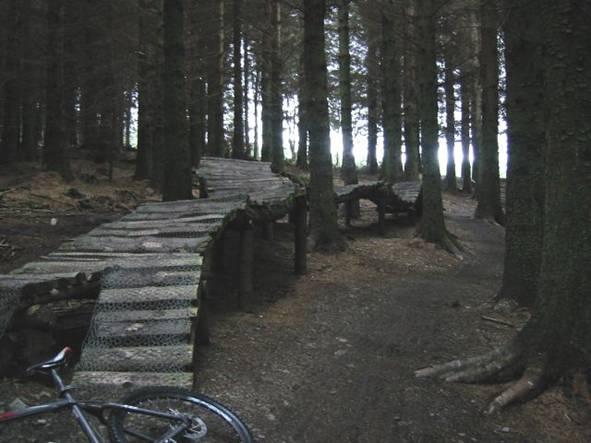 <![endif]>
Beginning of North Shore stuff.  This was tame.  It degenerated to insane from here.
<![if !vml]>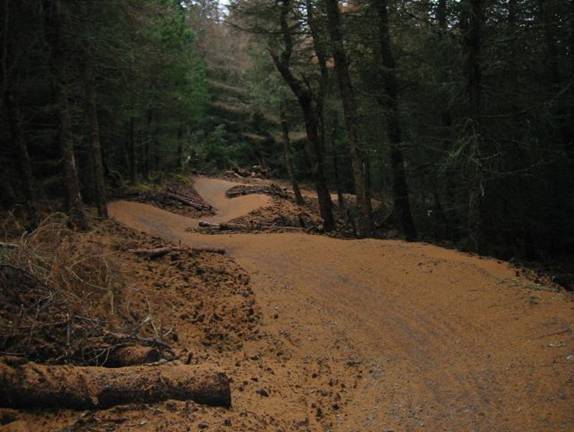 <![endif]>
Swoopy berms on the Red loop.  This descended steeply, and I could almost go no brakes through this.  I'm sure others can.
<![if !vml]>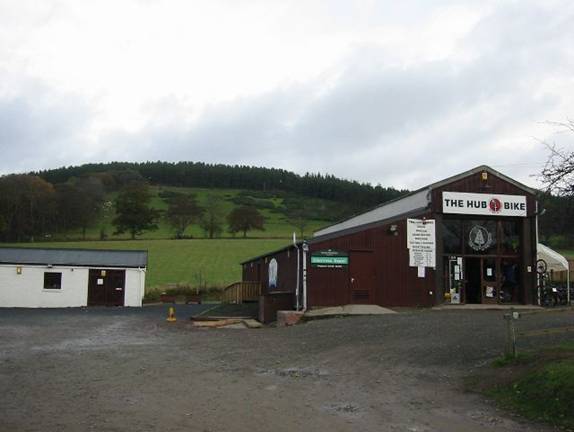 <![endif]>
The Hub bike hire shop.  Café next door where you are welcome in full muddy bike garb.
Saturday, 11/6/04
 

Traquair Forest, Innerleithen, Scotland

22.4 km

2:00 hours riding time

800 meters climbing

Rain was in the forecast for today.  I had the bike in the car, so I could get an earlier start.  After talking with the guys at The Hub and other riders on the trail on Friday, I concluded that Innerleithen would have to be the next place to hit, just 6 miles further down the road.  The cross-country loop was supposed to be much more technical, plus the forest had a full-up downhill park.  When I arrived, there were zero cars in the lot.  Cloud ceilings were well below the summit.  It was drizzling out.  The good thing was the temperature was quite mild at about 13C.  I began the long climb to the summit of Minch Moor.  Views starting out, but none from the top.  This place was considerably muddier than Glentress.  Some sections of trail where natural, not crushed stone.  The first "black graded" section was intimidating, but I think a few times there I could clear most of it.  The second black graded section was insane, with huge jumps, 5 foot drops, hairy switchbacks, etc.  On top of this, my front disk brake pads were completely gone and I had zero front breaking power left.  The signs on the steep parts were cute, stating "Skids are for kids."  With only rear break left, I couldn't help but skid in spots on the wet, greasy surface.  This loop was thoroughly entertaining and would be a lot of fun to ride with a group to see who would dare do what.  When I got back to the car park (parking lot), many cars were there as now the lift service was running (a Land Rover carrying packs of downhillers with bikes up on big wagon).

<![if !vml]>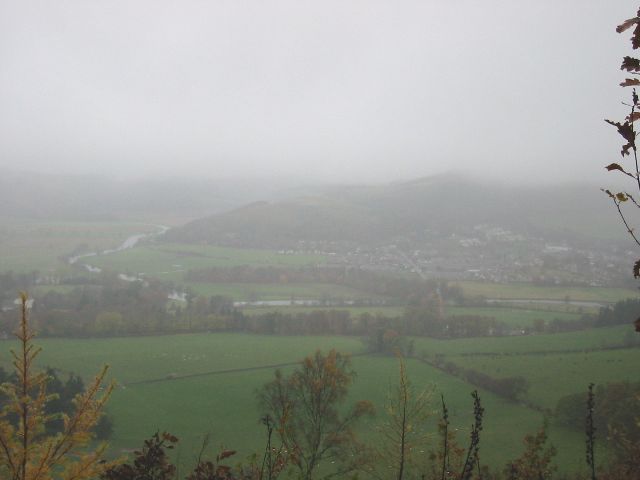 <![endif]>
Innerleithen and the Tweed River valley.  Half way up near cloud line.
<![if !vml]>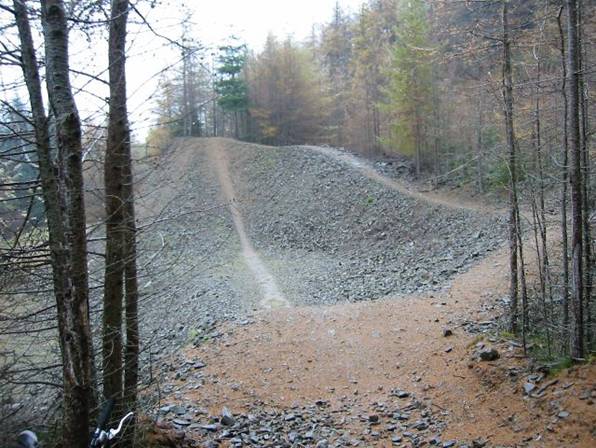 <![endif]>
A gravity cavity 4-times the one at FOMBA.  Got my heart pounding.
<![if !vml]>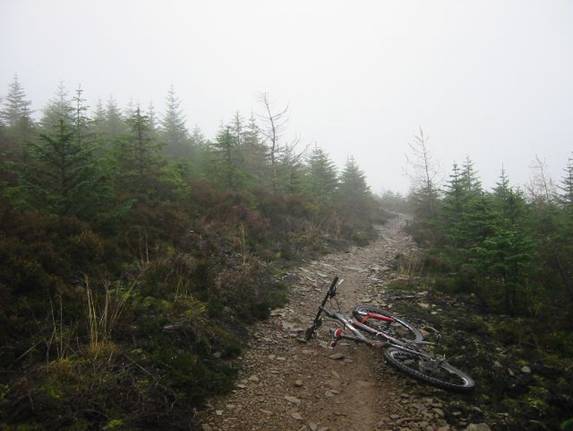 <![endif]>
On way to summit of Minch Moor.
<![if !vml]>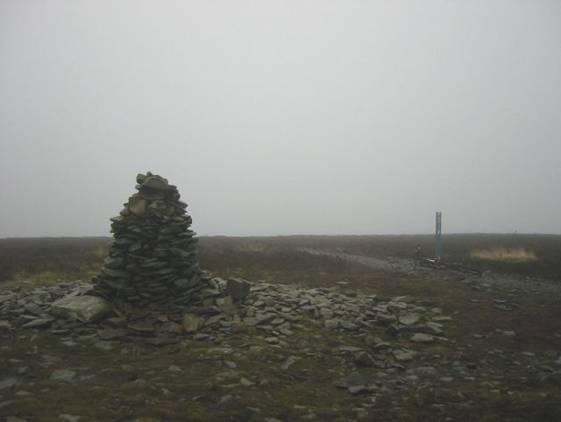 <![endif]>
Summit of Minch Moor in clouds on this day.
<![if !vml]>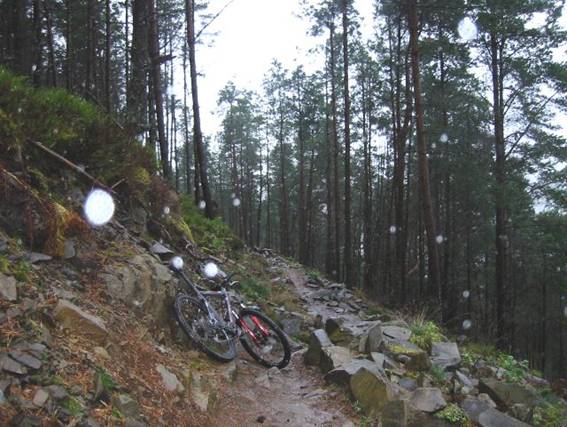 <![endif]>
Rocky ledge with no front brake left.
<![if !vml]>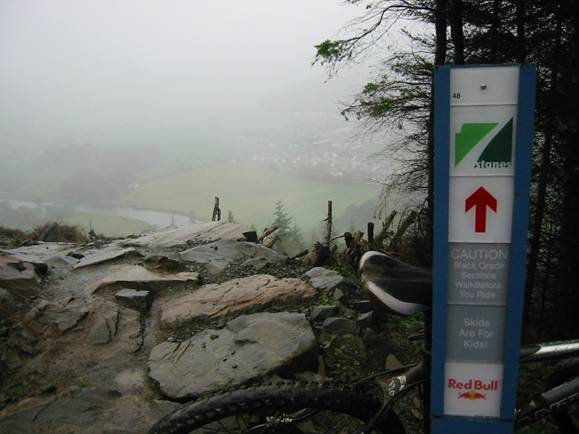 <![endif]>
Sign warning of impending doom for a mere mortal such as myself.  Town of Innerleithen and the Tweed River in background.  Note the "Skids Are For Kids!" on the sign.
<![if !vml]>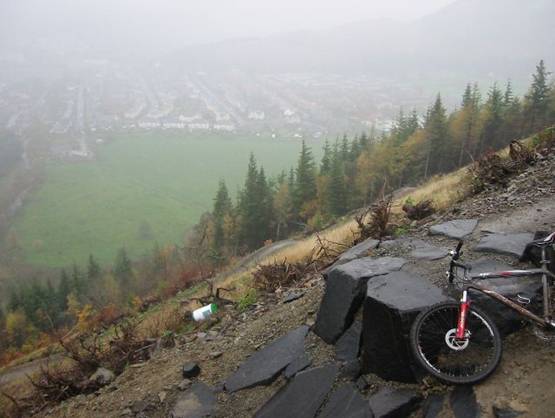 <![endif]>
One of several large drops on this final black grade section.  Note singletrack just visible below with huge rollers in it.
<![if !vml]>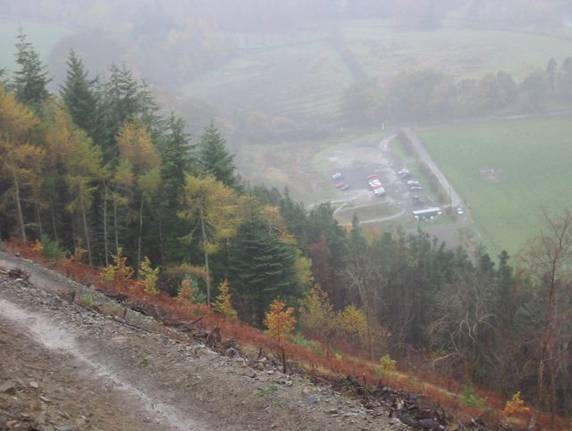 <![endif]>
This hill was so steep that I was practically straight above the car park.
<![if !vml]>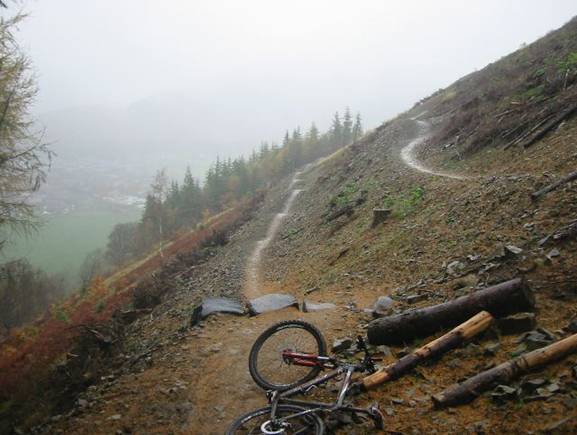 <![endif]>
The rollers on the lower trail were huge, each one being a gravity cavity 10 feet deep.  I didn't dare get air on these.
<![if !vml]>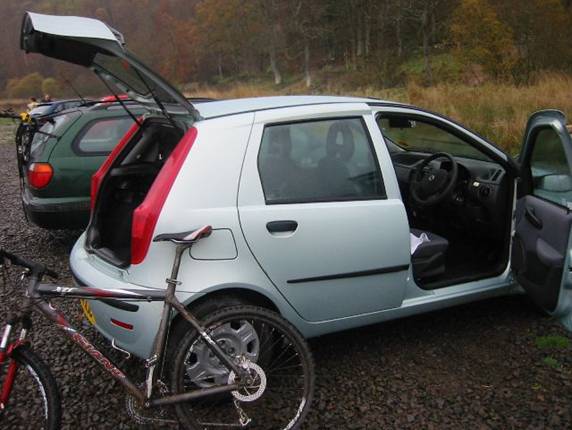 <![endif]>
My tiny Fiat.  Bike would just nicely fit in back with only wheel removal.  Note steering wheel in "passenger" seat.  Thing really zipped along with 1.2 liter engine.
Two Trips Summary
I can now color another state in on my states mountain biked – New Mexico.  By using one day of vacation combined with an off-Friday weekend, I got almost four full days of riding in.  Visiting and biking in Scotland was a real treat too, even unexpected.  Was pretty much a no strings attached three-day vacation fully funded by the company.  I just had to stand when our silver award team was recognized at the awards ceremony.  I was reluctant to go to Scotland at first, but now I'm glad I went.  The program manager thinks that if we do our job right, we'll be a shoe-in for a gold award next year on a different program.  No idea where that will take us.
Being gone almost two weeks straight does take a toll however, especially since the two destinations are 8 time zones apart (about a third of the way around the world).  Barely had time to adjust back to EST before heading 5 time zones in the other direction to Scotland.  In my short stay in Scotland, I don't think I had a chance to adjust.  Upon coming back to New England, I had no jet lag.
No trips are planned in the near future, except for a week in Michigan over the holidays.  Next potential business trip will be in April to Las Vegas.  Nevada is the only western state I haven't biked in yet.