******* 2008 Results *******
104) Iron Cross VI Race Report
Monday, October 13, 2008
My longest race of the season deserves a lengthy report, so fill the coffee mug and make sure the boss isn't around. The Iron Cross race is touted as America's longest cyclocross race. At 62 miles, 7200 feet of climbing, it is a beast. None of this puny, buffed 40 minute Gloucester stuff. IC goes big: brutal two mile singletrack descents, 500ft gnarly run-ups, fire roads and ATV trails, many downed trees to dismount for, and yes, some pavement. I have a fondness for point to point races like this. Since its inception in 2003 when I last did this race, entries have steadily grown. This year, there were nearly 300 racers at the start. Dave Penney and I headed down to Carlisle, PA Saturday evening, a 7hr drive in my xD.

It was chilly warming up, probably in the low 40's. The temperature was expected to rise dramatically during the day. I had left four water bottles to be placed at various checkpoints on the course, plus I took two with me to start. I barely warmed up for this race, figuring how hard could the start be when you have 4hrs to go?

The race start was spectacular. The day before, an email update implied that there would be four waves. Incorrect. It was only guidance on seeding. They launched all 300 of us into a traditional 'cross course in one wave. Over the PA, they said this would be the biggest mass start CX race in America. They called up about 10 top riders, then everybody else would self seed behind them. I was a few rows back on the one-lane dirt road we started on. It was riders as far back as I could see.

They had the Iron Cross Lite race the day before, a classic course with barriers. It contained "The Spiral of Death." Picture a large field that is taped off as a spiral into the center. Then with a U-turn in the middle, you work your way back out of the multi-turn spiral. 300 racers. You would wind in tighter and tighter until you reached the center. But to either side of you, massive numbers of riders were going the opposite way. It was a most sensational effect. I saw no pile-ups, but speeds were quite slow. Strangely, this start approach worked.

It took me only a few minutes to clear the classic course before heading out into the woods for the "big loop." I was with lead pack that went ballistic on the hiker-biker path. After a few miles of hauling-A, we began the first climb, still going all out. Small splits started to form, especially when coming to closed fire-road gates that created huge bottlenecks. Some guys gained spots by dismounting and sliding under the gate. The first stretch of fireroad was littered with nasty sharp embedded rocks. In a pack, you could not see these coming. The rear tire of a guy next to and just ahead of me exploded. Not like pow-hiss, it was just pow hurt-your-ears loud. The blast sprayed my whole body with rocks. Flats are a common theme of this race.

After cresting this long climb, we cruised on flatter gravel for a while before picking up pavement. On the pavement, the lead group came back together again. We had maybe 20-25 riders at this point with our motorcycle pace vehicle ahead. I saw only one mountain bike in this group, a tall young kid. The rest were cross bikes.

When we reached the first Check Point (CP1), I still had a full water bottle. I was with a select group, and nobody stopped. I did not want to lose my spot on this train. I figured at the pace we were going, I'd have enough water to get to CP2 where I had two bottles of Gatorade spotted. They were serving HEED on the course, something that did not agree with me at the Everest Challenge race last fall. The descent from CP1 was insanely fast. It was hard gravel but contained numerous embedded rocks that would nearly launch you into outer space. I promptly jettisoned my full bottle into the woods. Now I had no water and an hour's worth of riding and hiking before getting to CP2. Not only was the Gatorade my primary source of carbs, I needed the added electrolytes in the mix. It was already getting warm.

The first section of singletrack was typical New England fare: rocks, roots, downed trees and rutted out loose sections. I did not know it was coming and went in about last of my group. Big mistake. They all started walking! It was perfectly rideable climbing at a modest grade. I passed many but got held up a lot. Then the two mile descent came. I must confess, I dismounted for a short piece of this. Two mountain bikers that we left behind earlier came flying by on this section. There were many trees across the trail too, most could be bunny hopped. This killed my wrists. It was a relief to reach pavement again.

The front of the race was busted up by the time we reached the next climb, the dreaded power-line "run-up." Some dirt road and bony ATV trail brought you to an incomprehensible scene, a 500-700ft wall that appeared unscalable. The first installment begins in the woods. It is so steep I found my self grabbing trees a few times. It is all loose rocks and sand. It was so easy to slip off rocks or slide in the dirt. The average grade had to be at least 40-60%. The trail momentarily plateaus, but then the second installment appears before your eyes: Another few hundred feet vertical worth, not quite as steep, but just as difficult to hike. It was ankle deep loose baby head and fruit sized rocks.

Reaching CP2, I devoured a couple cookies and restocked my water supply. The volunteers informed me I was in 10 place overall. Amazingly, I put some time on the three kids I was working with coming into this climb. They eventually caught back up to me. The pace I sustained up to this point was very high. Consuming only 1 of 3 planned water bottles with electrolytes left me with a huge deficit. I already felt some early warning signs of cramping coming on, and I was only 28 miles into a 62 mile race.

The story gets a bit fuzzy on what transpired between CP2 and CP3. We were back to a group of four working together again. I was the only masters rider. Muscle spasms were becoming more frequent now. A spectator on the course said we were riders 10-13 to come through. Excellent I thought, but I know once the cramp demons come to roost in my legs, a race is pretty much over for me. I had one more bottle spotted on the course at CP3 and none at CP4. The guys I was with knew the course and told me CP3 was just coming up, and the hardest climb of the course was right after it. Terrific.

I could not find my drop bag at CP3. All the bags looked the same and there were a zillion of them spread out on the ground. I lost at least 30-40sec looking for it. My kid train was gone. Just as well. I could not have stayed with the fastest rider in the group anyway. I caught one of the riders and dropped him on this 800ft/8-9% beast of a climb. Dirt of course.

I thought that might have been it for major climbs, but no. I was out of water again at CP4. Apparently the volunteers were refilling dropped bottles and I took a hand-up of HEED. Two riders were fixing flats there. I believed that put me in 9th place overall with only 10 miles or so to go. Some nice descending ensued, some of it wicked scary. I hit speeds of over 40mph on some pretty rough, loose gravel.

The climbing would not end. Nor would the bony singletrack bits. I was cramping so badly I resorted to walking the slower but completely rideable bits. I started hemorrhaging places. First the two young'ns that were fixing flats, but others came by too. This situation really sucked. To do this well so close to the end and then just see it all go poof.

Apparently the last major climb was designed to be another run-up. Talking with Ross Delaplane, 2nd place overall finisher after the race, he said nobody is able to ride that climb. This was a good thing for me, as I could walk without seizing. My muscle spasms were playing like Tchaikovsky's 1812 overture at this point. The cannon blasts were when all major leg muscles would spasm simultaneously. I could pedal up at all, not even up the slightest grade. I was pretty sure I was not going to finish the race. What is amazing, during a 15 minute interval that I walked, no other riders came by. Was I DFL? Was I off the course? It was just spooky how slow my progress was yet there must have been nobody within 10 minutes behind me when I hit this stretch. I reached the top of this crawl-up and there were spectators there. I begged and pleaded for water. Mercifully, they let me gulp from one of their Camelbaks.

It was only 4 miles or so to the finish, mostly downhill, but a couple stiff climbs on pavement to tackle. I could only stand and pedal two strokes on the climbs before having to lock my hamstrings out to keep then for permanently seizing into a knot of hellish pain. Again, despite coasting or barely moving on the rolling climbs, nobody was coming up behind me. I rolled into the finish solo, in 13th place overall out of 253 finishers. It is amazing I even finished, let alone just missing my target finishing place of top 10. One of the riders I hung with to CP3 finished 12 minutes ahead of me I believe, so I was on target for a 4hr finish. My time was 4:12:01.4, good for 5th/93 in the masters division. I could not walk after finishing, and my stomach was in a major funk. I could only drink water. After about 30 minutes, I attempted to eat a chicken burrito, but struggled.

Dave came in 5th/27 in the singlespeed division with an impressive time of 4:38. I couldn't imagine doing this course with one gear. But there were a large contingent of single speeders, double the number of last year. Gunnar Shogren, famed MTB pro from years ago handily won the SS division and beat me too. He even flatted. What I didn't know before we left is that Gunnar, of masters age, was a SS rider. The initial results posted showed me in 6th for masters, but Gunnar was ranked in the SS division. Cash paid five deep, and had I stuck around, I could have collected my $75.

I heard the overall winner was on a 29er mountain bike. I think it's been a while since a mountain bike has won this race. In a sense, most of us were on "29ers," as 'cross bikes use the same 27" rim. We just run skinnier tires with drop bars and have no suspension. It's a toss for me whether I could have finished faster on a MTB. Probably not. I would have gotten dropped earlier in the race on the roadie sections. Andy Applegate came in 3rd overall, again winning the masters 40+ field.
There was way more blood at the finish area than there should have been. You would've thought this was a rugged MTB race. I suppose many of the riders are primarily roadies, and if you send them through some gnarly singletrack or at speed down dirt roads, shit happens.

Dave is already talking about next year, maybe bringing his wife Beth with him. She too enjoys off-road sufferfest events, pedaling solo from Canada to Mexico through the Rockies a few years ago. Iron Cross is kind of like Battenkill. It breaks the mold, is unique and has gained a reputation for being epic. It's not a MTB race, not a road race, not a traditional cross race. It some how magically marries all three into one package. It embraces skills from all three types of competition. It is very well organized and staffed with possibly hundreds of volunteers. Hats off to everyone that makes this race happen. Good chance I'll be back next year.
4:12:01.4 5/93 Masters 40+
13/253 overall
62mi, 7200ft vertical
103) Burke Mountain Hillclimb
Another fine day on the hillclimb circuit. Tropical storm Hanna threatened to put a damper on the Burke Mountain hillclimb race. Leaving the house before 6am, it was already raining. We soon drove out of it. Warming up, a few sprinkles started to fall. I figured it was just the beginning, as surely we'd be finishing the race and returning from the summit in a deluge. But no. It stopped before the pavement even got wet.
A shity Easton Ascent II wheel was not going to ruin this race. I repaired the rear wheel that failed for the third time during the Mt Washington race, but it is barely rideable. There is 2:1 unevenness in spoke tension and the wheel still is not true. More spokes will surely snap. I will use it as a winter training wheel. I still used the front Ascent II wheel. It is radially laced but transfers no torque. I never had a problem with it. For the rear, I used the Rolf Prima Vigor off my training bike.
Approximately 50 riders showed up for the climb. When I first arrived, I thought I had good shot at overall win. Then somebody said "Hey Doug, Steve Gatzos (BRC) is here." Great, now I knew who had the $500 prize cinched. Steve has won many hillclimbs this year and was third overall on Mt Washington. Then I saw Charlie McCarthy (Metlife). He won Burke overall last year. Now I was bumming, as that left only one spot left for cash payout. Surely there was some other fast guy here to fill another top-three spot. There was. John Bayley showed up on a beautiful new De Salvo. Then I ran into Charlie Casey. Charlie beat me here last year when I broke a spoke, and he beat me more recently on Mt Washington a few weeks ago, again when I broke a spoke. But my Mt Washington time was a PR. Strangely, I beat Charlie on Mt Equinox by good margin the last two years. Hard to say how this was going to play out, but I was pretty sure I was looking at 5th place overall. It's funny how hillclimbs are like this. You can look around the parking lot before the race and pretty much know how its going to play out. You really don't have to do the race. You can just survey the competition, claim where you'll finish in that group, then go home without actually having to do the race to prove it.
On the women's side, Karen Smyers was present. She has won numerous gold metals, including Ironman Hawaii. She brought some monster gears to the race, I think 34x27. I would stall out on the long 18% section with this gearing. I did not know who she was before the race, other than she told me she was a triathlete. At 46, she beat most of the guys there. Doh! Despite being a small, somewhat obscure race, a lot of talent certainly was present.
We started on Mountain Rd this time, taking out the neutral finish down the base area access drive. The clock didn't start until the Moose Crossing sign last year. Now we were lined up about 50 meters before the sign. Thus the race was slightly longer for comparison purposes. The first half mile or so is very gentle, starting out at a few percent grade and gradually hitting 8-10 percent before the Toll Road. Once bearing left on the toll road, it is all steep all the time.
McCarthy, Gatzos and Bayley pulled away in a three-some when the going got steep. I traded places with several riders for a while until we got to the 0.3mi long 18% grade section. Chalk on the road said it was 22%. Regardless, my 30x27 min gear did not seem to go low enough on this. I was pretty much doing linked track stands for an eternity. After dropping a couple young guys that went out too hard, Charlie Casey started to ride away from me. Now I was in 5th place and struggled to hold it for a while. Eventually, the two closest guys behind me faded out of sight.
The summit came unexpectedly fast. I crossed the line in 26:39, a nice PR with 44 seconds off last year's time. Charlie Casey was less than a minute ahead I believe. A new course record was set too, with Charlie McCarthy breaking 24 minutes. Steve Gatzos was just behind him, with John Bayley following to fill the top three spots. McCarthy actually signed up as part of co-ed team, so that bumped me up to 4th in the solo rider division, just one spot shy of cash payout. Co-ed team winner gets $2000 cash and prize award. It is simply the fastest combined time of a man/women team. I didn't stick around for awards, but I suspect McCarthy and his teammate won it. This put Gatzos in for $500 first place solo prize.
It never rained during the race, descent, or lunch afterwards. In fact, it was partly sunny and quite warm. The food at the Tamarack Grill was excellent. Race organization and support was superb. I honestly believe more riders aren't doing this race simply because it hasn't been "discovered" yet. It is one of my favorite hillclimbs on the New England circuit. Many thanks to Keone and his team for putting on such a wonderful event! Burke will be part of next year's Bumps Challenge.
26:39.1 2/9 in 45+ (new PR)
5/45 overall (3:21.8 back)
3.3mi, 2090ft vertical
102) Mt Mansfield Hillclimb
Saturday was the first annual Race to the Top of Vermont hillclimb in Stowe, Vermont. It ascends the toll road to the summit of Mt Mansfield, a 2550ft/4.3mi climb. Bikes have not been allowed on this road until this event. Local riders may get away with poaching a climb every now and then, but this is not something I would risk. The first 0.3 miles is paved, the remaining 4+mi gravel. It is very steep in spots and can be loose and wash-boarded up. Most riders are expected to ride their bikes back down after the race. For this reason, race organizers required fat tire equipment, minimum 2" tire width. This kept the playing field equal and the decent safe. One finisher was penalized for having <2" tire width.
I warmed up on Smugglers Notch road for about 30 minutes, getting in only a couple hard efforts for 60 seconds or so. The rest of the time I was soft pedaling or tempo pace at best. The race was both bike and foot. The cyclists went off at 10am, the runners at 10:10. Riders went off in single, big wave. I went to front. I recognized only one rider here, Diana from the hillclimb circuit. It seemed weird lining up with MTBs on pavement that aimed straight up the fall line of Mt Mansfield. Pavement soon gives way to dirt, however. With GMSR going on, I would assume most here were mountain bikers. Not too many roadies MTB anyway. There were many full suspension bikes present, a few rigid rigs, and a number of carbon hardtails. I was on my Dean Ti hardtail with Fox fork that locks out. It weighs at least 25 lbs I believe.
The race starts and over a dozen riders go ballistic. I thought I had shot for overall win here, but I kept my blinders on to ignore this foolishness. I told myself "I'll see you guys later," as in when you implode and I pass you. This is typical MTB race style. The race is backwards. The sprint is at the start, and they wind down (bonk) for the finish. Mountain bikers would benefit by taking Time Trialing 101.
A mile or so into the dirt, I was picking off riders. I quickly moved into 6th position overall. Catching guys in 3th and 4th proved to be hard. I passed them somewhere around the half way point. Then I was on 2nd place guy's wheel. Apparently he would have none of it and picked the pace up a tad. I figured the race would take about 32 minutes or so based on Ascutney time. I was way off. Knobbies on loose gravel with heavy bike is way slower. I was pacing for an Ascutney duration but soon realized I went out too hard. If I didn't want to implode and lose many positions, I had to back down a notch. I figured 3rd overall is not a bad place to be anyway.
Having never done this climb, it was all new and full of surprises. It was more punishing than Ascutney. The grade varies something fierce. It seems it was either 12-15% or 5%. Never steady, and I could not find a steady groove to get into. It was deep into the red zone on short, steep pitches or sub threshold on less steep pitches. I really couldn't shift gears fast enough. I must have made many hundreds of gear transitions during the climb. About 3/4 of the way up, we get into some serious switchbacks. The grade was all steep here, maybe 14-15%. The claimed max grade was 10 degrees, which is over 17% grade. There were many places it could have been this steep. Number two guy (who wore no shirt and was 100% lean muscle mass) dangled not far in front of me. To my horror, guys in 4th and 5th position were gaining on me. I was now past the 30 minute mark and still had a long ways to go. I definitely over cooked this one. I was still managing to stay out of my granny ring.
Finally I hear the crowd up top and I knew the end was near. A couple more nasty steep chicanes brought the finish into view. I crossed the line at 39:08 on my computer (40:08 on timing clock). This was about 2min back on winner and less than a minute back from 2nd place. I easily won my 40-49 year old age division. I finished the climb never using my granny ring, going down only to a 32:32 ratio. Other riders noted a one minute disparity between posted time and their own recorded time. Wonder if this will be corrected in final results?
To my surprise, runners were only a few minutes behind me. They started 10 minutes back. Yes, I got beat by runners. I did an analysis a while back that shows runners achieve parity with cyclists at about 17% grade. That is, the best runners will match the time of the best cyclist when the grade reaches 17%. Less steep, cyclists are faster. But this was for paved surfaces with road bikes. Mansfield was a loose dirt surface, with heavier mountain bikes and wide tires. The fastest runner almost beat the fastest cyclist. It seems parity on dirt is achieved at a much less steep grade, more like 12%.
The talent here was impressive. There were Olympians, masters world champions, and 2010 Olympic hopefuls, all from the Nordic skiing world. Most of the talent was in the foot race. Apparently a lot of them run for cross training. The guy that came in second ahead of me is a biathlete and hopes to make the 2010 team. That explained his upper physique. He was big too, I'd say at least 180 lbs.
The food afterwards at the Matterhorn was excellent: two kinds of fresh pizza, two kinds of pasta, rolls and salad. An entertaining incident at our table occurred when the guy across from me made reference to that "crazy guy" with the climbing website. Diana pointed out to him that "crazy guy" was me. It took a long time to get awards going. I had planned to mountain bike nearby in the afternoon, but I wanted to see what the prizes were going to be. Top three in each age category got Darn Tough merino wool cycling socks and a mug. Nice stuff. With our race packet we also got a Pearl Izumi running jersey (great for rollerskiing or hiking) and a Catamount Trail guide book. This event appeared to go off without a hitch with around 200 athletes. Very impressive for a first time at this venue. I'll definitely be looking for this on next year's calendar. I was now way late for phase two of the day's plan, trail riding at the Millstone trails in Barre.
39:08 1/21 in 40+
3/81 overall (1:54 back)
4.3mi, 2550ft vertical
101) Mt Washington Hillclimb
The August racers finally got a pristine day. Well, most of the racers did. There were some brief sprinkles in the area before the race, enough to make the roads wet. But the summit was visible and winds practically non-existent. Temp was about 60 at the base too. We hadn't had it this good in at least 6 years.
I had no goal for Mt Washington this year. Having just PR'd at Mt Equinox and seeing favorable conditions, I thought prospects were decent for a PR here too. I had bike setup a little differently than in past (see prior post).
The race started an hour later than prior years with Top Notch going off at 8:40am. Several guys lined up across the front were from Colorado. The loud cannon goes off, and there wasn't the usual insane attack from the get go. Everybody pretty much eased into the climb, surprisingly. I settled into 13th place as the grade got steep. Gerry Clapper (Benidorm) and Steve Gatzos (BRC) were well ahead of me, Steve setting a blistering pace hanging with overall contenders.
By mile two, I had moved into 9th place overall. This started to mess with my head. I knew there were a lot of strong local and out of state guys here, yet I was looking at potentially a top 10 finish. I didn't feel like was even going that hard.
Approaching mile 3, I was gaining on Ian Gordon (Arc en Ciel) who beat me at Equinox. Now I'm starting to think I'm going too hard. I thought there's no way I'm going to stay ahead of Ian and take 8th place or better on this mountain. I was getting fairly warm as the sun was coming out and there was no wind at all. But I never felt better on this climb and was beginning to believe I was going to have the climb of my life.
Then it happened. A heinous loud snap from the rear wheel. This was the same sound when I snapped a spoke at Burke Mtn last fall. Sure as shit, my wheel was rubbing both the seat and chain stays badly. My bike was unrideable. I had no tools. The wheel was so badly out of true I couldn't even turn it by hand. Limited spoke wheels do this when high tension spokes pop. I didn't have brake pads on the rear to contend with this time, but the chain stays are quite narrow at the bottom bracket. I was utterly devastated. At first I tried to bend the wheel into true with my hands and then offset it in the dropouts to keep it from rubbing. It did not work. The wobble was so bad it would hit both chain stays. I stopped again. I've built and trued wheels many times now. I have a knack for how they behave. So how do you true a stubborn wheel with no tools? You use your carbon frame as a truing jig and slam the crap out of the wheel against the pavement. Oh, do this while letting out a verbal tirade too. All the riders passing me stayed well clear. I'm sure they thought I was having a shit fit. I was, I suppose, but the bike slamming was a "precisely" calibrated attempt to make my bike rideable again. I had to get to the top, as my wife is way to scared to drive back down the mountain. The slamming worked, marginally. When I got back on the bike, it was just clearing the chain and seat stays. It did starte rubbing again after a mile or so, but not badly.
So the race was back on for me. I had pretty much written off any respectable finish. At least 8 guys passed me in the 60 to 90 seconds I spent stopping twice to mess with bike. I gave the rest of the race my best shot, figuring I tapered for a hard ride and I had a lot more frustration to vent. Might was well vent it with my legs on the bike. I started passing guys again, for the second time. One or two I never saw again.
I did not run any electronics on my bike. I figured I'd be looking at something like 1:08 crossing the line. I was flabbergasted to see 1:05:33 crossing the line, a new PR. Plus Cathy told me I was 8th from the Top Notch wave. There must have been faster riders in waves further back, as I came in 10th overall out of nearly 600 finishers. This too is my best placing in this race. So either my fitness has taken a quantum jump this season for no apparent reason or the conditions were just so fast. I think its a little of both actually. You see, some lengthy stretches of gravel from the 2006 race (my previous PR) are now paved. Asphalt always rolls faster than gravel. But this year's gravel was almost as good as riding pavement too. Factor in negligible wind and ideal temps, you have a recipe for PR's. Several riders I talked to in fact PR'd today.
I predicted Steve Gatzos and Gerry Clapper would come in under and hour. Both did. Steve gave the fastest guys on the course a run for their money, coming in third overall with a 57:33, only 2:36 minutes back. Gerry came in 5th overall with 59:48, winning my 45+ age group handily by over 4 minutes. A couple other fast guys in my age group knocked me off the podium, one from Colorado.
So the race was only half the story today. The weather as last finishers were summiting was the other half. Shortly after I finished, a dark cloud began to form at the summit. Bits of rain could be felt. The temp dropped. It got darker, visibility went down, then it began to really rain. But that ain't enough on Mt Washington. You got to throw in hail. Buckets of hail pea to marble size. Where there were once hundreds of racers and spectators became wide open space. It must have hailed for 20 minutes, making the walk down to the car dicy with all the ice on the road. While we're walking down, lightning split the sky. Terrific, we're on the highest peak in 2000 miles in a lightning and hail storm going hypothermic. It was so cold. Yet there were many racers still coming up in this stuff. Many were walking, some in short sleeves. I heard from one later at the bottom that tires were slipping in the hail.
It was warmer at the bottom for lunch, but the rain and thunder continued for a while. The lunch was excellent as always. Hart's does an awesome job with this. As soon as results were posted, I had to split to catch a plane. Four more storm cells, one with extreme hail on the Kanc, made for slow going. I get to airport a little late, get boarding pass with no seat number on it because flight is over booked, and the girl does not know how to check a bike in. I stood at the ticket desk for 45 minutes. My plane was boarding by the time I went through security. Like I didn't have enough stress for one day. I was quite sure my bike was not going to make it, but I saw it go up the belt into the plan. Boy that was close. I'm in Minnesota now and Sunday looks like a good day to ride here. It will be at least 40 degrees hotter than the summit of Mt Washington.
I should have known better than to risk those Velomax Ascent-II wheels again. This is third time I broke a spoke in the rear wheel. Only drive side are crossed and thus transfer power and this is side breaking. First time, it's a fluke. Second time, the design is faulty and I should have gotten ride of them. Third time, I'm a loser for not getting rid of them. Anybody want a Velomax wheelset cheap? Actually, I think the rear wheel is beyond repair now. I may consider a set of carbon (gasp) tubulars for climbing next year.
This race put me through the ringer today. I go from abysmal forecast to conditions looking best ever. Then I'm having my best climb ever and the bike craps out on me. Recover from that to claim another PR. That just led to the next stress riser trying to get everything on a plane in time.
1:05:33 4/100 in 45+ (new PR)
10/538 overall (10:36 back)
7.6mi, 4700ft vertical
100) Tokeneke Road Race
Masters 45+. The Tokeneke Road Race was my 100th bicycle race. This includes many MTB and hillclimb races. I've only done 27 USCF mass-start road races. Some masters will do this in a season. The more road races I do, the more I learn how little I know about racing tactics. Today I learned how teamwork can turn a race around whose outcome seemed certain to me. I anticipated a hard race, and hard it was.
If you had asked me at the starting line who was going to take the top three positions, I would have said John Funk (Cycle Fitness), Dzmitry Buben (CCB), and Gerry Clapper (Benidorm), but not in any particular order. Read on to see how these three took the top three spots.
Almost from the get go, Bill Thompson (CCC/Keltic) and Frank Jennings (Gearworks) got away clean. Normally, I would fret over something like this. Thompson has won several races this season. But Cycle Fitness had three other guys in the race besides Funk, including Mark Luzio, Tom Officer, and Randy Kirk. I figured they weren't going to let this get too out of hand. Clapper had a very strong teammate with him too.
Jennings dropped back and Thompson kept going solo. Then we got to the climbing on 181. The pace got serious. I went into an anaerobic stupor and stayed there for the rest of the race, so some details might be sketchy. Around the second or third wall on 181, Buben launches off the front. He quickly caught Thompson and they worked together on the descent. Buben dropped Thompson on the climb to the KOM (also the finish line on lap two). Buben grew his lead. I've been told he wins this race every year. Buben won it decisively last year solo from first lap. I figured he had clinched the win half way into the race. Our chase effort up the finishing climb was hard with sizable group, yet Buben continued to gain on us.
Beginning lap two, Cycle Fitness guys came to the front repeatedly to keep the pace up. Often these would feel like mini attacks, the acceleration was so sudden. This certainly started to wear me down. Beginning the stair step climb on 181, we begin to bring down the time gap to Buben. Luzio and Clapper put in some killer efforts here, and I was sure I was going to get popped out of this dwindling chase group.
After the Cycle Fitness guys with help from Benidorm brought the gap to Buben down to manageable size and softened the rest of us up, Funk came to the front. I was quite sure I was going to hurl after an effort he put in. We were down to five guys with sizable gap to next splinter group. Funk pleaded for me to keep it going and pull through, but I was completely gassed. I wasn't trying to be a dink by sitting in on another's hard effort. So it was just Funk, Alec Petro (Team Psycho, who won Bow last weekend), Paul Wonsavage (Onion River Sports), Clapper and myself.
With the rest of us gassed, Funk made his move. He took off like being shot out of a mortar. I had absolutely nothing to respond with. I can only assume the others were equally gassed, as nobody tried to go with Funk. I've witnessed John make this move in several races now, and I'm amazed each time. He's a whole different level of rider and one of the nicest guys you'll meet in the masters field too.
Funk quickly caught Buben while the four of us worked to maintain our feeble gap to the next chase group. We got caught by another 5-6 riders on the descent. With Funk and Buben up the road, I figured we'd be going for 3rd place. I was hoping I had enough left in my legs for a top 10, as if I came in last in this group, I'd be looking at around 12th place.
We hit the finishing climb and everybody sat up initially. I didn't want another five riders latching on, so I picked up the pace a little bit, still in an anaerobic stupor. Clapper pulls along side and asked how I was doing, not even breathing hard. Oh, was I in trouble. Last year I went head to head with Gerry up this hill for second place and nipped him at the line. This year it was for third. Gerry and I quickly found ourselves separated from the rest of the 10 guys in our group. The gap grew nicely, but Gerry has no limit to how many times he can upshift while standing, climbing a big hill. He rode me off his wheel. I figured I was going to do no worse than 4th place at this point anyway. Amazingly, Clapper caught Buben before the line and took 2nd. Funk dropped Buben beginning the finishing climb and claimed a solid win. I held on for 4th as riders were gaining on me. The time splits weren't posted, but I assume we all came through one at a time. Clapper had at least 20 seconds on me, and it was at least that to the next guy behind me.
So the Cycle Fitness guys claimed a well-earned win today. The combination of wearing the rest of us down, thinning our ranks, and bringing Funk close enough to catch Buben without taking others along was a winning strategy. I was very happy with 4th place. This was the hardest race I've done so far this season in terms of percentage of race I spent in the "red zone." Cool temps were a huge factor in not blowing a thermal fuse or cramping up. This will probably be my last road race this season. I have three more hillclimbs lined up, including Mt Washington on the 16th. Then it's time to break out the roller skis.
4/63 finishers (73 starters)
1:53:20 (1:40 back), 44 miles
99) Bow Road Race
August 3, 2008.† Bow, NH. Masters 45+.† This is the fourth year continuing my tradition of racing Equinox/Bow on back to back days. Seems to be working. I generally win Equinox (see yesterday's post) and podium Bow. I know well now the feeling in my legs getting up for Bow. It sucks. But I also know that if I go into this weekend with light volume and just a little intensity, I do alright. It just takes the first lap or so of the race for my legs to come around.
Only 40 Masters 45+ guys were pre-reg'd. But John Funk (Cycle Fitness) and teammates Tom Officer and Mark Luzio were in. So was Paul Wonsavage (Onion River) who nipped me at the line for a win last year. But many other fast guys showed up day-of, like Bill Thompson (CCC/Keltic) and Dave Kellogg (Arc en Ciel). We may have had close to 60 starters with a fairly stacked field. I don't really have any goals when I do this race the day after Equinox other than to just enjoy the ride.
We kept the modified course from last year thanks to rave reviews. It makes it just a tad more of a climbers course. We were neutral this time up the first portion of the climb. But when we got to the second portion where the KOM line is, things heated up quickly. John Funk and Paul Wonsavage got away. Terrific. The strongest climber in masters racing and last year's winner gone. The dual of Mark Luzio and Tom Officer pretty much shut down any attempt to bring John back. These guys are the consummate teammates. They selflessly spend themselves to ensure John's success. It drove me friggin bonkers. Every time I came to the front to do some work and motioned for the next rider to pull through, it was Mark or Tom. These guys followed me more closely than my shadow. This was totally disruptive to chasing the 2-man break.
Another rider, Alec Petro (Team Psycho), recognized this and made many valiant moves around the blockers to put in some serious pulls. Many other riders just wouldn't come up. Not sure what it is. Maybe you'd see a few guys up there and think you're comfy back there, let them do the work. But half the guys you see up there are not only not doing any work, they are disrupting those trying to do some work. So Alec and I put in a disproportionate amount of work, much to the chagrin of my two teammates.
As we wrapped up the first lap, it poured briefly. This was a mixed blessing. It greatly reduced my probability of overheating, but I don't like the mess it makes of my good bike. I wasn't sure how well my carbon wheels were going to work wet either, as I've never ridden them in the rain.
Apparently John dropped Paul, and we brought Paul back in on the second lap. I didn't talk to Paul after the race, but in hindsight, I wonder if this was a mistake on John's behalf. With John still up the road solo and teammates blocking, the race was very well controlled. Attacks were futile. There weren't any, really. That suited me fine. I moved up to the front on lap two and led all the way up the first climb. Speed is low enough there that drafting benefit was negligible, and I could ensure blockers would not be setting the pace. I went pretty hard, but not 100%. Most of the field seemed content with that pace and nobody tried to come around. I took pleasure in a sadistic sense that only cyclists can appreciate, that if I was hurting by setting the pace up this thing, the others behind me probably weren't too comfortable either.
Lap three played out just like lap two. John was up the road still, but working by himself, he started to lose time. Alec and I continued to spend a lot of time at the front of the pack. I set pace again up the big hill. Clearing the KOM hill, I started to not feel so well. On the descent, Alec was just off the front when Bill Thompson launched hard and I followed. We drew a gap. We caught Alec. But Tom and Mark would have none of it and we were viciously reeled back in. Dang. There went a match or two for naught. We had John in sight most of the time now and his wheel van fell back behind us. Spectators were yelling out times like 35 seconds. Bill commented that we should "let John simmer out there a little longer" before shutting him down. Good plan.
Just as we crossed the start/finish for our bell lap, we caught John. Alec commented to me that we pretty much singlehandedly shut down what looked like a winning break at one point. A couple others contributed to the effort too. Kellogg, Dave Foley (BOB/Stonyfield), and Jon Eichman (Quad Cycles) also pushed the pace a few times.
Alec was still riding amazingly strong going up the climb on the fourth lap. He rode away from the pack of 25 or so riders left in main group. He crested the KOM hill about 10 seconds up. I was really feeling it at this point and started to think putting in all that effort to chase John down was stupid. But boy, it was fun. Not sure it would have happened if Alec and I didn't step up to the plate. Then John, a teammate or two and one other rider gapped me at the KOM. I was cooked. Fortunately, Kellogg and a few others were right there to ensure we got back with John's group.
Now we had a different guy just up the road. Is anybody besides me going to go after Alec? I must have this terrible reputation for chasing everybody down, such that the pack can pretty much count on it. But I've been in too many races lately where nobody works and breaks fly clean out of sight to the end. We had maybe 15 guys left just as we began the big descent. Everybody sat up. Since I was at the front, I didn't know they sat up and I accidentally rolled off the front. I figured if they are going to do that, I'm not going to let Alec win this race alone. I put my head down and discretely ramped up the power. The gap began to grow. I guess Mark and Tom didn't know what to do without John up there. I entered no man's land hoping to bridge up to Alec. I killed myself, spinning up to 47mph for about 2-3 miles. I finally caught him with maybe 10-15 seconds gap to the pack. Alec was very agreeable to work together.
I was pretty much cooked, however. Alec did about 60-70% of the work in our two-man break. The pack was never far behind. We continued to TT drill the remaining 3-4 miles in the race. All those turns (hard left where I almost took Alec out on wet road), all those steep blips, and all those short descents where you could not for one second let your power drop. Once we crested the final blip with sizable gap, I was pretty confident we had it. I still took no chances and took one more good pull down towards the fire station. Crossing the intersection, we both knew we had it. Now it got interesting. I can't sprint for shit. I didn't really care if I won or not at this point. Alec certainly deserved it more than I did. Rather than play cat and mouse games, we lined up side by side and ramped it up together with over 200m to go. Alec slowly inched away from me to the line. That was all I had. He was maybe a bike length ahead of me at the line.
After the finish, we learned the pack wasn't just letting us go. They were drilling it at times too but perhaps not on the descents. You can almost bank on nobody in a pack wanting to work on a descent. Alec commented how fitting it was that the two guys that did most of the work shutting down a dangerous break got away in the end to take first two spots. It usually doesn't happen that way. I was very surprised myself I found the reserves to bridge up to Alec. The pack of around 15 guys came in only 16 seconds behind us. I heard that with even a modest group size, the sprint was very sketchy. No crashes, but apparently some close calls. Glad I was clear of that, as I would have just gotten out of the way.
Alec Petro is relatively new in the masters road racing scene. I believe he comes from a triathlete and mountain bike background. The bar to win a masters road race just got raised a little higher. He won his race last weekend too.
It is spooky how similar this weekend has played out two years in a row. In 2007, I won my age group at Equinox, took 4th over all, and set a new PR. Then the next day in 2007 at Bow, I get in a small break on the last lap and took second place, just missing a win. This year, same... exact... deal. Win age at Equinox, 4th overall (with Ian Gordan in #3 spot both years too!), and set a new PR. Come to Bow, get in small break in last lap and just miss the win with second place finish. I think I should do more hillclimb races before hilly road races. Maybe there's something to that "opening" concept elite riders talk about. I was going to do the Agamenticus TT next weekend, but now that I had a decent road race finish, I just may have to participate in the Tokeneke sufferfest.
2/42 finishers (48 starters)
1:57:48 (same time as winner), 43 miles
98) Mt Equinox Hillclimb
August 2, 2008.† Manchester, VT.† After coming out of my hardest week ever on two wheels a week ago, I pretty much wrote off the rest of the competition season. The hole I dug myself into in Colorado was massive. Last Sunday in Boulder, I took it fairly easy up Flagstaff Drive, which was a sub-threshold (barely) 52 minute climb from the hotel. So that was an easy day compared to rest of the trip. Monday was recovery day. Having a double race weekend coming up, I wanted to get at least a little intensity in during the week. I hadn't had any for almost two weeks, not VOmax work anyway. Wednesday was too close to the Equinox Hillclimb, so I opted for some 3-5 minute VOmax intervals on Tuesday. I thought it was ludicrous even planning such a workout, but I figured if it didn't work, I'll finish the whole week as recovery.
I felt pretty bad as I ramped power up in prep for first interval. But I easily dropped Dan, an elite triathlete in the process. I thought hmmm, that doesn't happen too often. Then we got to the first hill. Dan lasted 30 seconds on my wheel. I haven't been using any HR or power feedback lately, so all I had to go by was my speed going up this hill which takes about 4 minutes. No record, but it was one of my faster climbs. There seemed to be a disconnect between how I felt and what I was actually capable of. So I went with the workout plan. I proceeded to get four more high quality VOmax intervals in. I was rebounding nicely from my week out west.
After tapering from that workout the rest of the week, I arrived at Equinox apprehensive. I really have no "A" races this year, except maybe for wanting to do well at Battenkill, which went so-so. I certainly wasn't planning to PR any hillclimbs. My Mt Evans hillclimb race in Colorado was a disaster. I like to blame the rental bike that was ill-matched to the task, but I can't be sure it wasn't me either.
For Equinox, I warmed up on the same bike I was going to race up this time. Last year I had a solitary 24t ring up front that precluded warming up on the road. You'd just spin out at 10mph. So last year I brought a second road bike along to warm up on. This year I didn't feel like messing around with my bike that much, mostly because I wasn't going for any PR's and such. I put a compact double with an elliptic 36t Q-ring on up front. On the back, a 32t MTB cassette. I pulled the rear brake off. That's it. The setup weighed around 15.5-15.6 lbs. I've never raced Equinox with such a big ratio, but I've become less of a spinner the last couple years. Riders with carbon tubulars sport rigs that weigh much less. Last year I also removed front derailleur and excess chainrings for about 15.0 lbs.
So the Top Notch wave goes off at 8am, and like most years, the starting gun misfires. I let about 12 riders bolt away and kill themselves for the $500 first mile preem. These included the usual suspects like Ian Gordan (Arc en Ciel), Eric Tremble (Kenda) and others. Mark Luzio (Cycle Fitness) was there too, and he's beat me in the past up this beast. Not last year when I PR'd. Mark took off faster than me too, but not like the $500 contenders. I was somewhat disheartened by how fast so many riders bolted away from me. It is so hard to mentally block that out, knowing that last year I was 4th overall here. I don't use a power meter for hillclimbs, so it's all perceived exertion.
At about the half-mile mark where it started to get steep, I inched past Mark. We watch each other closely here. He stayed right behind me for a while, and I wondered if I just accelerated into a zone I didn't belong and he'll soon pass me again for good.
It is fun watching the action up front play out for the $500 preem from second or third row seats. Eric Tremble bolted well clear of the next closest contender. He was taking no chances. Last year he missed it by 0.5 seconds. Ouch. But later I would learn his primary reason for drilling it so hard for the first 5.5 minutes of the race.
After the first mile action was over, most of those player's were cooked. I was in 12th place. Slowly but surely I began to pick off riders. This started to build my confidence. Mark was now gone out of sight behind me, nobody else was gaining on me. I was riding my pace. By the halfway mark (2.6mi), I was quite sure I had ridden the race on borrowed energy to that point. I thought there was no way I could continue to hold that pace. Then I'd pass a couple more young whipper-snappers, including preem winner and last year's overall winner Eric Tremble. This gave me another shot of confidence that I hadn't popped yet. Now I was in like 6th place out of Top Notch wave. From mile 4 to mile 5, I passed three more riders. Holy crap, I was now potentially in third place overall. How can this be? Everybody else having a bad day? I really don't try to pace by mile or know where I need to be time-wise at mile so-and-so to have a good finish in hillclimbs, so I still believed I was going to have a mediocre finish. Approaching mile 5, I could see that some of the recent kids I passed were attacking each other. Good and bad I thought. Good, in that each attack will take more matches out of their books and hurt their ability to bring me back. Bad, in that if one of them gets second wind and carries a surge to the finish, they'll surely pass me. Ian did this too me last year. After all, I was only about 20sec up the road from this silliness going on. As the finish line came into view, I knew I had clinched third place. It didn't take long to realize I had a minute and a half to my PR time to cover about 0.2 miles. Another PR was inevitable. I crossed the line in 41:15.9 minutes, nearly 30 seconds faster than the PR I set last year. I was psyched.
A couple minutes after crossing the line and no longer seeing cross-eyed in an anaerobic haze, a rider from the second wave crosses the line. New course record at 37:46.8, breaking Joe Moody's record from 2006. Cool. But dang! That meant I just got bumped off the overall podium. I killed myself to hold third place in my wave. This rider was Steve Gatzos (BRC). His racing age is 32, and he recently started transitioning to hillclimbing after successful road racing. The funny thing here is, Steve sought my advice on gearing for Ascutney and this race. I recommended, even for a strong rider such as himself, going close to 1:1. He put a single 24t granny on up front with standard 23t road cassette on the back. He won Ascutney overall two weeks ago, just edging out formidable climber Gerry Clapper (Benidorm), who won Ascutney last year. So Steve brought the same setup to Equinox, and he not only won the race, he broke the course record. I jokingly quipped with Steve at the summit, "no more gearing tips for you!" Steve is a great guy. He does the bulk of his hill training on Blue Hill. It goes to show you don't have to climb 30 minute hills to do well in 30 minute or 1 hour efforts.
Eric Tremble knew Steve was going to be at the race and knew he'd be starting one wave back. Eric knew Steve was a contender for the $500 first mile preem too. Apparently you don't have to be in the Top Notch wave to win it. Fastest time from any wave wins it. So Eric bolted clear of everybody in our wave as insurance that Steve wouldn't nip him with a faster time. This paid off. Eric had huge margin on the next closest Top Notch contender but beat Steve by mere seconds for the preem. So Eric met his objective in winning the preem he barely lost last year, but forfeited the overall win. I think if Steve had been in the first wave, Steve would have won both the preem and the race. With a qualifying time of less than 50 minutes, Steve will be in Top Notch wave next year. Ought to be interesting.
As usual, Andy Holzman and crew do a fantastic job putting this race on each year. The first thing that crosses your mind after crossing the line are the yummy donuts and coffee at the summit. The post race meal is excellent, especially the premium icecream. I went up for seconds of Moosetracks. The awards purse exceeds $5000 value. For my first place 40-49 year old finish, I have one night's stay and breakfast at the posh Reluctant Panther Inn ($329-$429/night) in Manchester, VT. The weather held up nicely. It started to thunder as the awards were wrapping up, and it rained the entire drive home.
Competition wise, this season has not gone that well for me. Riding in general has been fabulous, especially three cycling trips so far. But mediocre finishes in road races at best have left me a bit disenfranchised. I turn 46 this month, and each year I wonder if its the year I start going downhill. But that is what is so cool about hillclimbs. They are personal fitness tests. This is my fifth year racing Equinox, and to pull off yet another PR shows I have not yet gone over the age precipice. Taking 30 seconds off last year's time, which I thought would never be bested, more than makes up for the disappointing road race and other hillclimb race results. Mt Washington is in two weeks. I'm not planning or even hoping for a PR there, but it isn't entirely impossible. I'm not going to stress over it.
1/39 Men 40-49
4/147 overall
41:15.9, 3:29.1 back overall
97) Mt Evans Hillclimb (Bob Cook Memorial Hillclimb)
July 19, 2008.† Idaho Springs, CO. The Mt Evans Hillclimb was a "F" race for me, "F" for fun. Still though, I had a target finishing time in mind. Scaling how I did against Tom Danielson a few years ago on Mt Washington, I thought I could muster a 2:15 finish, good for around 15-20th place in the Masters 45+ category.

We arrived in Denver on Friday, picked up rental road bikes for the race, and went for a short spin on the awesome Denver bike path system. It was hot out. The bikes worked well but felt a little sluggish. Our rentals were steel frame Bianchi's, probably weighed about 22 lbs, and were a tad small at 54cm. I normally ride 56.5cm. When I spun up on a descent, something didn't feel right. The crank arms were only 170mm. I normally ride 175mm. But that wasn't the worst part. The Campy equipped bikes actually rode quite nice. The worst part was tire treatment. There were these really heavy strips inside the tires to protect against punctures. The strips were just like glued type patch material but wrapped around the outer portion of the tube. If that weren't enough, the tubes were filled with Slime. I think my rear tire was almost half full. I brought spare tubes and tires along just in case the rentals had touring tires. But the tires were so hard to get off, and the strips so messy to put back in, I opted to leave the stock tires on. We had to rush after the race to get the bikes back and pick up our MTBs before they closed at 4pm. There just wouldn't be enough time to swap things back over.

We got the bikes from Paul's Cyclery. Paul warned us these were not racing bikes. He also told us he had only one flat in his rental fleet last year. I supposed if you are a tourist or on travel and looking to squeeze a ride in, not getting a flat has high value. But all that stuff in there probably increased rolling resistance at least 4x. The slime in the both tires made them feel like they were on a magnetic resistance trainer. Paul is a super nice guy, and I would do business with him again. Armouring the tires makes good business sense. Had I known this, I probably would have taken one of my wheelsets with me.

Just over 1000 people were registered for the hillclimb. Apparently there was another road race going on that stole riders. Last year there were about 1200 finishers. Tom Danielson was supposed to race Saturday but didn't show. Being a 2+hr TT, I did not warm up rigorously. I lined up a little late and ended up at the back of the pack.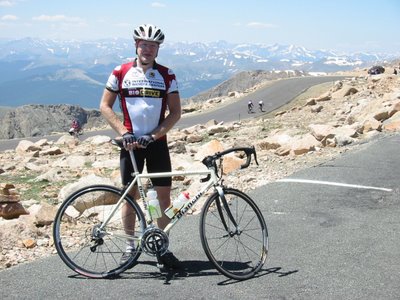 The race starts off fairly flat, and it is definitely pack racing. Speeds of around 20+mph were held starting I think (no computer). Drafting was everything. The lead pack held together for the first 7-8 miles of the race. But I was dying. Many guys were casually talking in the pack for the first few miles while I was just killing myself to stay in the pack. I was freaking out. It had to be the bike. 7000ft altitude does not make that big of a difference for a low lander. By the 8 mile post, I made conscious choice to let lead group of about 30 riders go and ride at my own pace. I pretty much rode the remaining 20 miles of the climb by myself other than passing dropped riders from the field 15 minutes ahead of me. But even riding at my own pace became increasingly difficult. The bike was so sluggish I began to doubt I'd even finish this climb. With 5 miles to go and the steepest part of the race, I started cramping up. With 1km to go, I was having such severe cramps that I would slow to a track stand to keep hamstrings stretched out for seconds at a time. I finished, but not until most dropped riders from my field passed me.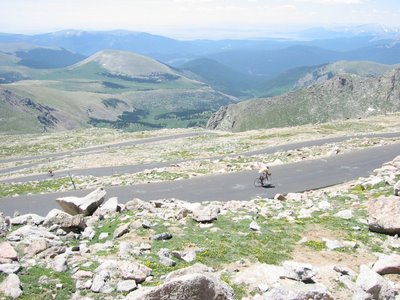 I was in a pretty foul mood finishing. There was nothing but water up top (pure water, no carbs or electrolytes), and no food. I wasn't mad because of placing poorly. I didn't expect to do well here anyway. I was mad because of the damage I did to my legs at the beginning of a week of epic riding. I had so many screwed up muscles in my legs I couldn't even walk right at the top. My time of 2:37hrs is only slightly faster than when I rode my mountain bike up Mt Evans three years ago with knobbie tires at a recreational pace. This fun race turned into a death climb. With no nutrients up top whatsoever, the descent was going to be long. It takes better part of an hour to descend. A couple places required pedaling and my legs immediately went back into spasms.

Dave finished a few minutes faster than me in the 35+ category. He was on a similarly equipped Bianchi. Another New Hamshirite, Tom Ramsey, finished in around 2:27 in the 55+ category. Tom took his race bike with him.

Other than the racing being a catastrophe, the day was perfect. A little warm at the bottom, maybe 50's up top, and very little wind. It was clear and you could see a hundred miles in all directions. After the descent, it was warm. It nearly hit 100F in Denver nearby. We got the bikes back in time and grabbed our MTB's. Our next destination was Salida, CO for an Epic 54 mile trail ride at 12,000ft. I'll have to save how that ride went (fantastic) and today's ride in Taos, NM (fantastic but brutal) for another day.
2:37:07hrs, ~27 miles/7000ft vert
44/79 finishers Masters 45+, 31:28 back
96) Okemo Mtn Hillclimb (Race for Grace)
June 28, 2008.† Ludlow, VT.† Despite rigorous attempts to fight off a cold, I was unsuccessful dodging the bullet this time. We're not talking the full-blown, knock you flat out kind of cold here. But the throbbing head, sore throat, achy-noodly legs were enough for me to contemplate bagging this hillclimb. It was a "C" race for me, and I did encourage many others to give Okemo a try, so I felt obligated to race anyway.
My warmup was brief and rather hard from the start. I did a couple repeats up the lower portion of Ridge Rd that took just over 15 minutes. Rain was in the area, and the summit of the mountain was completely socked in with clouds. It was hard to say if it was wet up there or not. It was very humid out, but the temp was manageable around 70F. For such a short event, I wasn't too worried about thermally blowing up.
Before getting sick, I thought I had a chance for an overall win when looking over the pre-reg list. Of the names I recognized plus a few I researched, there appeared to be no threats. Then the morning of the race, Brett Rutledge calls and was wondering about the Bikereg.com kid. I looked up his USCF results. Crap. A few years ago Ross Krause placed 2nd in the P/1/2 prologue hillclimb at GMSR. So much for an overall.
This race is unlike most other hillclimbs, as it starts out like a regular road race with a pack and drafting. There's two miles of flat before the climb begins. Us faster guys got to line up at the front, a semi self seeding with some race director guidance. Nobody was willing to hammer those first two miles. There were about six of us rotating in paceline with the remaining 50 riders of the race in tow. We cruised about 23mph and were talking. Once rounding the corner for the 3.8mi climb to the summit, the hammer dropped.
Many riders went way too hard on the first two walls right at the bottom. I was about 8 back. The deal was, I couldn't be sure if it was me from being ill or the others just going plain stupid hard into the climb. Turns out it was not me. Slowly but surely I began reeling guys in. I went from 8th to 5th position in about 5 minutes. Rider in number four position dangled in front of me for half the race. This was Jeff Johnson (Battenkill-United). On a flatter piece halfway up, he took the bait and let up a bit. I passed him, but now I had a shadow. With tail wind on this part, he had no drafting benefit whatsoever, so I was confident eventually he'd roll off my wheel. He did ever so slowly. I'm still holding my pace as we ascend into the clouds. Just as sight of Jeff became obscure, I could barely make out another rider behind him. Could this rider be gaining on both of us? There was no way I was going to pick up my pace to be sure to hold my position. Hillclimbs don't work that way. What I could be sure of though, is to maintain my power output on the less steep parts. I have lots of gears on my bike, and I used them. Too many hillclimbers, even experienced ones, let up on the less steep parts. If you've been holding a given power for the last 5 minutes, don't give seconds back to the clock by dropping your power by 30% when grade eases a bit!
With a mile to go, no riders were visible behind me in dense cloud cover, and guy in number three spot was just slipping out of visibility in front of me. It looks like my position in number four spot was secure. With the visibility down to about 50ft, I had to keep the power up because I really couldn't be sure how far back anybody was. I didn't let up until I passed the 250 yards (yes, yards, not meters) to go sign. I finished in 32:29.9 minutes. I had estimated the race would take me 33-35 minutes depending on how slow the first two miles went. I was near the verge of puking for the last five minutes, so it was so nice to stop.
So who were the guys in front of me? First place went to David Glen from Warren, VT. Really can't find much on this 29 year old kid. I already mentioned Ross Krause, age 28, Cat 1, finishing 2nd. In third, who dangled just in front of me for most of the climb, was Ethan Gilmour in USA National Team kit. He is only 18 and represented the USA at the 2006 'cross worlds on the junior team. Skinny whippett kids. Sick or not sick, I doubt I could have done any better placing in this race. Quite happy with the result.
Turns out five riders from this year's 6-gaps ride were here. Four of us made age group podium. Brett was second on the podium with me for 40+ group. Dave Penney and Glen Fraser also made their age group podiums. Perhaps rides like 6-gaps are not of dubious training value after all.
As the awards were wrapping up, the skies opened up. Buckets-o-rain. We drove two hours non-stop in this stuff heading home. Looking at radar, Claremont, NH could get a couple inches. Combine this with feeling icky, the planned EFTA mountain bike race there ain't going to happen for me Sunday morning.
The Okemo Race for Grace went off without a hitch. The open roads portion of the race were well marshaled. BBQ after the race was excellent. We were under huge metal roof over tennis courts for the food and awards. Nice bathroom facilities too. It is an excellent venue for a hillclimb race. Next year the race may be held earlier in the day. Hope this draws a bigger crowd. Many thanks to organizers Jack Dortch and Glenn Deruchie (who ran the Killington Stage Race years ago).
32:29.9min, 5.8mi, 2100ft gain in last 3.8mi
1/14 Men 40-49
4/55 overall, 3:10.9 back
95) Housatonic Hills Road Race
June 15, 2008.† Southbury, CT, Masters 45+.† No, this is not my favorite beverage. Actually, my palate hasn't sampled an alcoholic beverage in over 22 years. Fat Tire Ale was the color of my pee hours after the Housatonic Hills road race today.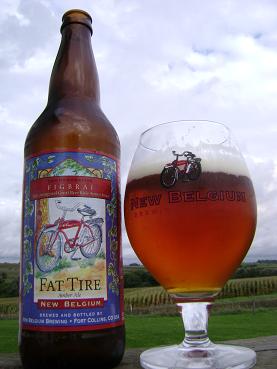 When I left home this morning, the temp was in the 50's and it was drizzling out. I had no idea the temp would rise 20 degrees, taking the dew point up with it. It wasn't that hot out, but just kitting up for the race had sweat pouring out of me. I had to fill empty Gatorade bottles before the race in a desperate attempt to stay hydrated. I mixed up only two bottles with Endurolytes for the race, and I knew trouble was down the road.

Lining up, I noticed many riders had three bottles, and several had four bottles. I lose more electrolytes than most, so I started freaking out before our race got underway. The course was modified from last year, removing the ratty section that took out carbon wheels in each field. This also meant we would not finish up Constitution Hill, but it was still in the race. The neutral start went up Constitution Hill. The second time around was going to be a ball buster.

Early in the first lap, at least 5 or 6 guys got off the front. I was playing this race a little more conservatively than the last couple, so I was buried in the field when this occurred. With prominent teams represented, the blocking was overt. We coasted down every little hill and soft pedaled the climbs. This was nuts. Surely there were other teams or individuals that weren't ready to throw in the towel just yet. I wasn't. Myself and teammate Brian Anderson started taking some good pulls. This motivated others to come around the blockers, especially that persistent Deno's guy. Paul Wonsavage (Onion River Sports) put in some serious chase effort too. As we got to the steep pitches in climb three, we shut the break down. I think Bill Thompson (CCC/Keltic), Tom Luzio (Deno's), maybe Dave Kellogg (Arc en Ciel) and others were in this initial break.

After some serious descending at 50mph, we hit the KOM blip on the way down. This was nasty, as you go from full tuck to all-out grind in seconds. I actually led the field almost all the way up this 200+ft rise. With John Funk (Cycle Fitness) breathing in my right ear, I had no intentions of going for the KOM. I just wanted some margin cresting the top, as I suspected a split could form there. It didn't. I did not feel so good after this climb - a bit nauseated from over heating. I was almost through my water already, and we weren't even half way through the race.

Next up was Constitution Hill. This was the hill I believed before the race would be the main selector. What was left of our field at this point (30 guys?) hit it hard. About a third of the way up, my thermal cork popped. I was getting abdominal cramps from overheating. Past experience tells me that muscular cramping is just around the corner when this happens. I seriously contemplated dropping out at this point before having a complete meltdown. I have never willingly dropped out of a race though, so I became relegated to the fact I was not going to make this selection. I was amazed how nimble Gerry Clapper (Benidorm) and Dzmitry Buben (CCB) came flying past me to join Funk and others as they pulled away. I was in good company though with Todd Buckley (Arc en Ciel), Joe Rano (Bike Alley), Mark Luzio (Cycle Fitness) and others. But the deal was, most of these guys had someone up in the break, so they weren't going to work too hard.

This pretty much shut my race down. With Funk, Buben, Clapper, Eric Pearce (Bethel) and a couple others in the break, they would surely be gone. In my group, the first chase group, guys bridged up to us over the next several miles. Our pace was relaxed. Then we'd hit the next climb and shell a few. After climb three, I think we were down to less than 12 guys. I figured if I can just hold off totally seizing up, I might make top 2o. Then we hit the KOM hill again. I had so many muscles cramping in my legs I thought I was going to fall over like I did at the Everest Challenge race last year. There were several riders from other fields on the side of the road here that were cramped up. Mark Luzio was setting the initial pace up this little prick of a climb. I told myself if I can just make the summit, I should be able to finish the race. I cleared the top without a cataclysmic meltdown with Luzio, Tom Officer (also Cycle Fitness) and one other rider with a small split behind us. The split didn't last long though. I certainly had nothing left to contribute to the effort. I was looking for wheels to sling my bungee cord on to.

When we got to the bottom we have a couple miles of flat to the finish. Buckley launched early here and held a slim gap to the finish. There were a couple other fliers here, but we pretty much came together making the corner into the finishing area. Officer made a nice attempt and gave me a great wheel to be on until about the 200m sign. Then I went. I'm pretty sure I was first from the group to cross the line, a few seconds behind Buckley who launched earlier.

We had conflicting reports of how many were in the lead group. We heard 4, 5, and 7. So I should have made top 10. But when preliminary results went up, I was not in the top 10. I protested, and apparently they missed me. They revised the results showing me as 9th. I'll take it for a race I nearly abandoned.

My legs were so messed up I couldn't even walk right. I drank 4 bottles of water, 1 lemonade, and 1 chocolate milk at the finish area. I drank more when I got down to my car.

I'm enjoying road racing less this year. It is so disruptive to riding. We had beautiful weather Fri/Sat, yet I had to take it easy on those days. I get every other Friday off, and I would loved to have gone up to the Kingdom Trails in northern Vermont for an all day MTB ride. But instead, I worked Friday anyway, I slept poorly the eve of the race, got up at 4-something in the morning, burned $40 gas round trip, payed $30 registration fee, only to cramp up in oppressive humidity.

After the race, I got my dirt fix in at Case Mountain near Hartford. I had never been there, so I had no idea what to expect. I did not know the route I embarked on would take me up a 350ft wall in 0.5mi (you do the math). My legs felt like death starting out, but I knew with hydration and carbs back in the system, they would come around. They did. The conditions were challenging. I would have trouble riding some of the stuff in dry weather. It was so humid that all the rocks were wet with condensation. They might as well have been coated with motor oil. I had one crash, and I wasn't even on my bike. I was standing on some off-camber granite to take a picture when my feet went out from under me. Camera survived. I rode from Exit 4 off 384 to the southern boundary of the reserve on ridgeline singletrack and back on fireroads. Going out took 1:15hrs, coming back took 30 minutes. I finish this long winded post with a few pics from the trail ride.
9/66 finishers (76 starters)
54mi, 2:36:49 (5:55 back)
94) Waterville Valley Time-Trial
June 7, 2008.† The day started out cool, but you could tell the air was soggy, a sign of things to come. Over 60 riders were pre-reg'd, and it looks like others signed up day of. It was very calm and comfortable warming up.
After spinning around for 7 miles, I went off at 9:52:30. I caught my 30sec man in 6 minutes. Then around 12 minutes, I passed a whole group of riders as the grade picked up a bit. I expected this. I was not using any aero equipment. Many riders were fully decked out in aero - full TT bike, skin suit, pointy helmet. Before the TT, another rider on a Ridley said "dude, lose the gloves!" I don't think he understood that I was already riding at a 100 glove aero handicap. I do have 50mm deep dish wheels, but true TT wheels are deeper with disk in rear. What surprised me is nobody passed me on the climb to the turnaround, an 800+ft net gain in about 9 miles. Speed going out reached 27mph on the flatter parts.
I probably went out just a tad bit hard, as around the 2-3 mile mark, I perceived a little deflection - a forced back-off due to lactic acid build-up. But I got into a nice rhythm after that and must have passed a dozen riders before the half-way turn around point in the village.
I fully expected riders to pass me on the decent. Two did. To my dismay, they were riders I steamrolled past heading up. One of these riders looked quite a bit less lean than myself and probably had several years on me. He had the aero goodies. All I can say is that stuff really works. Another rider (Brad Ek, NHCC) similar in fitness and leanness to myself hit speeds in excess of 40mph on the return. I never saw 38mph. Haven't seen the results, but I may have come in faster than him. This means I had to be considerably faster going out. Speeds going out averaged 20-23mph (less than 15mph on one blip) and 28-32mph on the return.
I came through the finish in 48:30 per my computer. That is good for 24.3mph. Normally this would suck, but considering there was about 1300ft of climbing on this course and I rode cannibal (no aero), I was quite pleased. I don't think I left anything on the table on this course. It was a good effort. I think the TT bug has bitten me. My Ridley could easily be adapted for TT use, but its mission in life is hilly road races. I will have to start researching my options. It would be really cool to come back here next year with all the aero goodies to see how big of a chunk I can take out of my time.
19.7 miles, ~1300ft of climbing, ~70F with light SW winds, cannibal
Time: 0:48:32.0
2/14 Masters 45+, 13/83 overall
93) Lake Sunapee Road Race
May 17, 2008.† Masters 45+. For a third race weekend in a row, it looked like rain. Procedure is such - check radar, and if it looks like pouring rain during race, go back to bed. But like Jiminy and Sterling, the rain cleared out just in time and other than wind, I found Sunapee conditions ideal.

We had 60 guys pre-reg'd in the Masters 45+ field. Many of the usual suspects were there, minus the New Yawkers. Sunapee is not quite hilly enough to bust things up. As such, I didn't have high expectations in this race. Optimally, I hoped to get away with a few big riders like Bill Thompson (CCC/Keltic) or Keith Button (NorEast) that could fight the tough winds.

Right from the rotary at the start of the race, attacks started. I participated in many of these. The deal is, anybody that went off was a contender, and everybody wanted to have a piece of what they were starting. Nothing worked. We stayed together through the hills on the front side of the course. On back side (Rt 103A), Tom Butler (CCC/Keltic) and I got away on the first few rolling hills with a decent gap. A couple minutes later, we got caught just before the biggest, steepest hill on Rt 103A. I nearly got shelled right then and there.

I sat in for the rest of lap one. Before finishing the first lap, another two riders got off the front. Don't know who they were. They had 30-60 seconds on us at one point. Nobody seemed to be working. A couple attempts quickly became disorganized. I was recovered from initial burst with Tom and worked my way back to the front. IBC teammates Brett Rutledge and Brian Anderson, myself, and one other rider began a four-person tempo pace rotation at the front. This gradually brought the gap down. Around the time we reached Rt 11, the break was shut down. Hard to say how far that break could have gone if IBC hadn't stepped up to do something about it.

More attacks ensued on the hills of Rt 11. Tom Officer (Cycle Fitness) made a decisive move, taking two others with him. Not sure what happened, as the effort abruptly petered out with some strong words exchanged. Over the crest of the big hill, a split of about 10 riders pulled away. It appeared though that some of the strongest riders in the split stayed at the back. It wasn't working and never got very far away. We were all back together before turning onto Rt 103A.

On Rt 103A, with 15-20 minutes to go in race, Randy Kirk (Cycle Fitness) makes a strong surge off the front. For a while, he hung out only 20 seconds or so ahead of us. I was pretty much cooked by this point. It didn't really matter to me that we'd be sprinting for second place, as in these kind of finishes I'm so far out of contention anyway.

Climbing the stair step hill back to the rotary, I figured I'd go out on a suicide launch on the last rise. I did, nobody responded. The field probably knew I was gassed anyway. Cresting the high point, I had maybe 10 seconds lead with Randy 20-30 seconds up. But the descent down to the rotary was not kind to me. I got swarmed as I went into the rotary, and the posturing to the finish had already begun. I pretty much stayed out of the way. I was quite sure the entire field came by. I was so spent I could have walked my bike up as fast.

I was surprised to learn that Tom Butler won. I was sure Randy's lead was insurmountable, but he got swarmed in the last meters too. So I took 19th out of 59 finishers. With team support present, I should have done better.

In four road races so far this year, I have not placed better than 9th. I podium'd several races last year. I think multiple things are going on here. First, teammate Brett points out that I can't just anonymously ride away from the field anymore. When you race with the same guys enough times, they get to know who you are. Second, I missed or screwed up in two races this year. I was sick for Turtle Pond and I missed getting in the 45's at Jiminy, both podium finishes last year. I haven't been good at benchmarking my fitness this spring, but I should be pretty close to where I was last year at this time. I think there is one other thing going on.

Since the last couple races have not been very hilly, any chance for a decent finish must come from a clean break. I've spent a lot of time near the front waiting for opportune moments or hopping on promising moves of others. Rarely do early attempts succeed, but it just kills me to sit mid pack fretting over what if THE move happens and I'm stuck there. I could get caught in a split over a hill too. But it is costly to hang out near the front. Kilojoules tick away even though it may not seem much work is being expended. It comes down to being greedy, always being there at the right moment. I'm sure more experienced riders are better at reading the race and know when to move forward. Teammates have mildly admonished me the last couple races for my tactical recklessness, and the criticism is well taken.

Next planned road race is Housatonic. That course is hilly enough to bust things up good. Hope I have the goods to do it justice. In the mean time, 6-gaps (132 miles, 14,000ft vertical, dirt, 20% grades) is this Saturday. Looks like 20+ guys are on board for the sufferfest. Following weekend looks like another long mountains group ride.
46 miles
Time: 1:54:19 (same-time)
19/59 Finishers Masters 45+
92) Sterling Classic Road Race
May 10, 2008.† Masters 45+.† I reluctantly signed up for the Sterling road race since most of my team was going to be there. The organizers also created a separate Masters 45+ field this year. Looking at Bikereg pre-reg before the race, it seemed most of the combined masters 35+ field in year's past were 45+ rides, as our field was much bigger than the younger field this year. Sterling is raced more like a crit, as the hill is not steep enough for long enough to break things up. Successful breakaways are tough to pull off on this course. The finish usually comes down to a bunch sprint, albeit not a high speed one going up the short rise to the finish line. This was my first time racing Sterling.

Lining up, our field of 75 riders was asked if we wanted to do 6 laps instead of 5. Apparently many 45+ riders felt cheated from year's past riding in a combined masters field for 6 laps. Nobody objected, so moments before the start of our race, another 8 miles was tacked on. I was cool with that.

The 35's were staged 20 minutes ahead of us. A lap takes about 20 minutes. The race has a 2.5 mile neutral roll-out to the actual course. We no more than went live than a two-man break from the 35+ field came flying past. Then we were told to neutralize for the rest of the field to come by. Paul Curley (Gearworks) had a better idea. He got the field and our officials to completely stop our field for about 2 minutes to give the 35+ field a little gap ahead of us before we started racing again. It was the right thing to do, although Curley speculated that with all the fire power in our field, we'd catch them soon again anyway. It never happened, but looking at the results, they finished with about the same 2 minutes on us we gave them when stopping. The Bikereg results show elapsed time for each field and do not reflect that we were not moving for at least two minutes in the 45+ field. Bikereg also shows we did only 40mi, which is incorrect. We did 48 miles.

Our race stayed quite fast. The first time up the hill finishing lap 1 was quite hard. But many flat parts that intersperse the climb to the high point of the course gave the "gravity challenged" opportunities to stay on. The hill simply wasn't enough to be a "selector" as they say. Our field stayed largely intact to the finish.

I think it was on lap 4, Eric Pearce (Bethel Cycle), Dave Kellog (Arc en Ciel), myself, I think Tom Butler (CCC/Keltic), and one other rider got away at the top of the hill. We actively worked this, growing a sizable gap for a couple minutes. But it didn't stick. Strangely, after the race another rider thought one of Kellog's teammates chased us down. I couldn't confirm this. If true, why? Too many guys? Wrong mix of guys?

A few minutes later on the descent, Pearce, Kellog, and Mark Sumner (Battenkill-United) saunter off the front again. For a minute, it didn't look serious, and I made conscious choice to stay in field. I was right there and could have gone if I wanted. I just figured they'd be ruthlessly reeled in again. Nope. They put the hammer down and were gone, game over. Sumner was dropped a short while later and commented after the race that he couldn't hang on. Apparently Pearce was motoring something fierce. For much of a lap, the break was only 30 seconds up the road. We could have shut it down quickly, but nobody wanted to work. Gearworks? Mystic? BOB? Nope. IBC (my team) gave chase for a while, expending two of the riders in the process. In hindsight, I was mad with myself for not pursuing this one. But it very well could have been the case that had I joined, the threat would have been too big and not let away. You never know.

I continued to hang out in the front 10 guys for the rest of the race. Sometimes I was hung out off the very front to flounder. I was quickly draining my matchbook by doing so. Teammate Brett Rutledge commented that I was spending way too much time up there. But I am as non-sprinter as they come. In a bunch finish, I'm lucky to get 20th place. On a fast course like Sterling, my only hope is to create or join a break. Usually the types that are successful in breaks are more like myself, in that they can time-trial but not sprint well. This levels the playing field when coming in to the finish and I have a shot for a win. Otherwise, forget about it. Staying out front and draining myself at worse was going to knock me down a few places in a bunch finish, and who's counting at 20th place anyway? There were numerous attacks and counter attacks in laps 4-6. I tried to participate in many of these but was pretty much fried by the last lap. Anything that went off the front was viciously snuffed out. Butler, Joe Rano (Bike Alley), and Tyler Munroe (CCB) were mixing it up at the front a lot too.

I was in another unsuccessful break attempt near end of lap 5. Butler, myself and two other riders got away on Rt 12 as we overtook groups of Cat 4 riders. But on the initial climb to the finish, we were caught. That was the last couple matches I had left in my book.

Coming into the home stretch on Rt 12, we had a nice tail wind going up slight grade. Pace initially was 34mph, which ironically wasn't that hard. It did string things out good though. We still had over 40 guys in main field with Pearce/Kellog a minute up the road. I tried rolling off the front a couple times. If I got more than 1-2 seconds off the front, the gap would get slammed shut. Several attacks ensued, with two riders getting a few seconds on us at turn to the finish. I believe they were caught, as there were no time splits other than for Pearce/Kellog. I was in front few guys rounding the corner to the finish but was completely gassed from my futile efforts to get a gap. I kind of just stayed out of the way as what seemed like the whole field came by in the last 200m to the line. At least this isn't a 40mph sprint finish. It's more like a 20mph finish for the fastest guys, and they give us the whole road once rounding the corner. I finished in 18th place, mid pack-ish, which is typical for me in a sprint finish. Had I raced conservatively, I might have made the cash cutoff for top 6. To do so on a course like this, however, is to give up any chance for a podium finish.

So it was a frustrating race for the team and for me. I killed myself pretty much during the whole race and have nothing to show for it. Such is bicycle racing. Ironically, the races I place best in are ones where I didn't feel like I worked very hard. These tend to be big climbing races or where I get away and TT to the finish. Sterling was either 500W for a minute or nothing. Give me 350W for 30 minutes or more, maybe I can do something.

I debuted the new Ridley at this race. It performed flawlessly. One final tweak I still plan to make is change bar from 44cm to 42cm. I feel like I'm steering a school bus. The frame/wheels are ultra stiff. Energy transfer is immediate. The bike also rides harshly compared to my Dean Ti bikes. But the Ridley is race bred. It is supposed to be responsive, not a touring comfort bike. The steering is very quick. I feel a little less secure in tight pack than I do on my Dean. I'm sure I will adapt to this quickness as I ride and race it more.
48 miles
Time: 2:04:09 (1:05 back)
18/64 Finishers Masters 45+


91) Jiminy Peak Road Race, Hancock, MA
May 3, 2008. Masters 35+ today at Jiminy Peak. Weather was dank - drizzly, windy, with temp in the low to mid 40's. We lucked out though. At least the rain stopped before we rolled off. The roads remained wet for most of the race.
I know very few riders in the Master's 35+ field. I recognized names of many pre-registered riders that place well, but I can't put faces to those names. A lot of riders have switched teams or have completely redesigned team kits too, further complicating who's who. 113 were pre-registered, and I'd guess 100 lined up. My plan was to not drift too far back from the front and not get caught behind a split. This plan did not serve me well.
As soon as we popped out on Rt 43, three riders took off and the field did nothing. I was not going to hop on every wisp that went off the front. We went so pathetically slow, 12mph at one point on Rt 43, that the 45+ field caught up to us as we turned onto Rt 7. The officials tried to neutralize us, but they weren't very successful. Eventually we started racing, setting a blistering pace over the finishing climb. This brought us all back together. I hit 55mph on the descent.
Back on Rt 43, attack after attack ensued. I did not participate in any of these, but I stayed very close to the front and had no choice but to all-out accelerate to stay with lead guys. It seemed guys like Ruiz (CCC/Keltic - who won 35's last year) and Aspholm (Westwood Velo - at least I think that was him) weren't concerned about many of these attempts either. This type of racing doesn't play into my strengths well at all. Each acceleration removed a match from my book. It seemed at any one time, there were always two or three guys off the front, but not very far, and not for long. We'd go gang-busters, catch somebody, then sit up. Our average speed was pretty slow, but when we went, we really went.
The second time over the finishing hill, I started to think I wasn't going to survive it one more time. Jiminy always does this to me. More riders got away on Rt 43 again, and this time it stuck. I don't know who they were. It seemed odd that some of strongest guys I knew in the field weren't part of this and teammates didn't seem to be proactive in chasing them down. There were several CCC/Keltic guys in the field and I don't think they made it in this initial break. On one of the risers on Rt 43, we got a nice split of about 15 riders away from the main pack. I pulled through working this a couple times, but was barely able to pull through. The field still had some fire power and caught us after a few miles. I'm guessing teams of the three-man break didn't want us spoiling their party. A little later, a couple more guys rolled off the front, then again on Rt 7 we lost a couple more.
I've learned my lesson in the past hopping on everything that takes off only to get reeled back in and being toast well before the finish. Well, in this race, pretty much anybody that took off on the third lap was let go. Go figure. We still had Aspholm, Ruiz, Gump (Incline Training) in the field of at least 30, maybe 50 guys going into finishing climb. Climb or no climb, I hate these kind of finishes. We would be competing for about 10th place. I was perfectly content just finishing with the field at this point. I was near the front rounding the corner onto Brodie Mtn Rd. It was still wet and a little muddy on the inside, the line I took each time. Half way up, about 10 more guys come past me, but then as we approached the finish, a lot of guys ran out of gas and I passed many. This was still good for at best 20th place, but more likely 25th or lower. We were mixing in with other dropped riders, so it was hard to tell. Not really that disappointed. It was a safe race and I got an excellent workout.
Talking with guys from the field I really wanted to be in, the 45+ field, I heard there were a couple minor crashes. Teammate Brett flatted on the first lap and was not able to get back on. The finishing climb was also quite mellow too.
56 miles, 4400ft climbing
Time: 2:23 (8sec back)
28/84 Finishers Masters 35+


90) Tour of the Battenkill, Salem, NY
April 19, 2008. Masters 40+.† We had stellar weather all week. A God-send actually, after one of the longest, snowiest winters on record. But could it have been too much of a good thing? For Battenkill this year, I think it was.

This was my third BK race in three years (the BK is only four years old). It has quickly become a northeast region classic. Nearly every field max'd out with waiting lists, and on race day, there were over 1300 competitors pre-registered. My field was limited to 125 riders, but it looked more like 80-100 were at the starting line.

The night before, the forecast was calling for high of 74F. But it was almost this warm already driving over in the morning. It was going to get much hotter. I packed three water bottles, and I knew I was going to have trouble. Heat is my Achilles heel. Additionally, it hadn't rained in over a week. The previous two years, the gravel parts of the course were well packed, even moist in spots. But I do plenty of road cycling on unpaved roads to know that a week of sun can turn most gravel roads into a bed of marbles. Reports before the start of the race weren't encouraging.

The beginning of our race was uneventful. The pace over the first small dirt climb before coming back into town was manageable. No giant craters with water bottle mine fields this year. Then we hit Juniper Swamp Rd. The first portion of this double hump climb is paved. The pace went to very hard. I stayed with top 10 guys. After a brief descent, we get to phase two of this climb, a steep wall of loose as marbles sand and rocks. We had already overtaken Cat 4 stragglers here, and they were walking all over the place. Master's riders were having trouble too, one guy spinning out right in front of me, causing me to lose several positions cresting the hill. This was enough for John Funk (Cycle Fitness), Jonny Bold (Corner Cycle), a CCC/Keltic rider and one other to break clear of our field. Catching them would prove tough. A large portion of our field was shelled on this climb, less than 10 miles into the race.

After a sketchy high speed descent, we pick up pavement again. The covered bridge was back in the race. I wonder if anybody bites it turning on to slippery wood deck? The break was putting good distance on us heading down Rt 313. The deal was, teams represented in the break were very effectively blocking. It is so frustrating when this happens, as teams not represented in the break often don't step up to the plate. Both teams and individuals think it's the next guy's job to do something about it. You can sit back, rest, take a gamble somebody will do something about it, but your race might just ride up the road away from you too. In this case, knowing who was up there, I chose not to gamble. I still had one teammate with me, Richard Barnwell (IBC/Global), and we both put in disproportionate amounts of work closing the break down. We got a few other riders to jump in a few times, but Corner Cycle and CCC/Keltic guys kept the interference factor high. Just as were were about to close in on the four-man break, the CCC/Keltic guy in the break went down. Apparently he clipped a wheel. But he was back on his bike and chasing before we overtook him. Moments later, however, we were one big happy family again, maybe 40 riders strong. Richard and I both burnt way too many matches on this effort. We'd pay dearly for this later in the race. Of our other two teammates, one flatted on Juniper Swamp, the other got caught behind the split.

We head through Cambridge, then begin the long, gentle climb up Rt 59. There were a few half hearted attacks here, and I actually found myself off the front on the descent. I wasn't ready to go for it though. As we made the turns to pick up the infamous Meetinghouse Rd, I waited for the field. Meetinghouse Rd is a barrage of steep climbs, mostly on gravel. Shortly after the suffering began, Jonny Bold and John Funk got away again. I didn't see Jonny go, but John's move was decisive. I doubt anybody could have matched it. They joined forces and developed a substantial lead to the finish. The rest of us stayed together for the most part through this rocky purgatory. One section was particularly brutal, littered with sharp, fist-sized rocks. I heard two tires go Pfssssssssst right by me. There must have been a dozen riders from other fields either fixing flats or walking bikes with flats here. By this point, I was running out of water and felt early signs of cramping coming on. I secretly prayed I too would flat to end the suffering now.

We get on pavement again and get a reprieve from hills, dust, and rocks. We're down to maybe 20 guys out of 80 or so that started with 2 guys up the road. We snake through the town of Greenwich next, overtaking what surely must be the last of the Cat 4's. I was several guys back at this point. I see Eric Pearce (Bethel Cycle) roll off the front. He was making his move. Nobody does a thing. I should have been more careful and stayed on his wheel, as I knew this was coming. By the time I came to the front and started to pick up the pace, Eric had maybe 5-10 seconds on us. I was hurting though from the huge chase effort earlier in the race, an effort Eric benefited from (but didn't help with). Nobody else would come up to chase. We just pretty much all sat up. Eric was gone, just like last year when he won, but this time he would likely not finish better than 3rd with Funk and Bold way up the road.

A while later, a few of us did get a bit of a chase effort going, but it was too little, too late. We erroneously thought a rider in a white jersey just up the road was Eric. When we realized it wasn't him, the chase was deflated. My prospects of finishing well were now long gone. I had been out of water for a while, and my throat was so dry I thought for sure it would crack and bleed. If I stopped pedaling or pedaled too hard, many muscles would go into spasms. Despite spending a week in Arizona riding recently, it was nothing like the heat today. I ride outdoors and ski all winter, so I really don't have a chance to sweat until it gets hot out.

We get to the final climb with about 20 riders in pack, Funk and Bold way up the road, Pearce between us and them. This climb starts gravel, then paved, before a long fast paved descent about 4 miles out from the finish. It's not too steep, and unlike last year, what was left of our field went surprisingly easy up this climb. I fully expected to get shelled here, but had no trouble staying with them despite every muscle in my legs firing randomly in fits of pain. Even with the gentle pace, we seemed to whittle our pack down to only a dozen or so riders at the top. I guess there were a few guys hurting even more badly than I. It was essentially all downhill from here.

Two riders bolted well before the finish, maybe 1.5 miles out. I somehow missed the 1km to go banners, so the finish line caught me by surprise. I was just following the train home at this point anyway. As things wound up, I passed a couple guys that went early, just taking wheels that appeared in front of me until we were over the line. Surprisingly, this sad effort was enough to get me in the cash which goes 10 deep. $25 for 9th place.

I immediately drank two large water bottles after getting back to the car. While discussing the race with teammates and Dave Penney, Dave's rear tire pretty much just exploded standing there. He had a large shard of rock or glass wedged into the sidewall. How he ever finished the race on that tire is beyond me.

So it was a decent race for me. Of course, I had hoped to do a little better, but I did better than last year and there may have been more heavy hitters there this year. I think the chase effort early in the race and not being able to stay hydrated did me in. It is hard to say how the race would have played out if Richard and I just sat in and let others (maybe) pursue the initial break. That left us both cooked. But chasing down a break of the strongest riders in the field is fun. Hydration would still have been an issue. Car thermometer read 85-87F leaving Salem. As always, Battenkill was an epic race, one of the most challenging in the northeast.
55 miles, 4400ft climbing
Time: ~2:32 (xx back)
9/xx Finishers Masters 40+


Ski-9) Ski to the Clouds, Mt Washington, NH
March9, 2008. Wouldn't you know it, we close in on another ski race and a weather system fouls things up again. The two days before the race consisted of heavy rain and sleet before the temperature plummeted. To make matters worse, conditions at the 6288ft summit of Mt Washington were expected to be 85+mph winds with windchill many 10's of degrees below zero. I was worried the race would not go up the auto road or be cancelled.
The planned course consisted of 4km of rolling hills before climbing 2200 vertical feet in 6km up the Mt Washington Auto Road. The finish was to be around 4000ft, well below the summit, but exposed above tree line. When Dave Penney and I arrived at the venue, the race was on as planned, but about 45 minutes before race start, a decision was made to shorten the race by 2km, for a race total of 8km. Thus this year's return of Ski to the Clouds was re-dubbed "The Toughest 8km Race in America." The decision to move the finish down was not due to extreme wind and temperatures, it was due to a wind swept, bare ice surface that could not be groomed. This would be too dangerous to race. The summit winds topped 113mph with -42F windchill before the race. Our finish would be a little less extreme.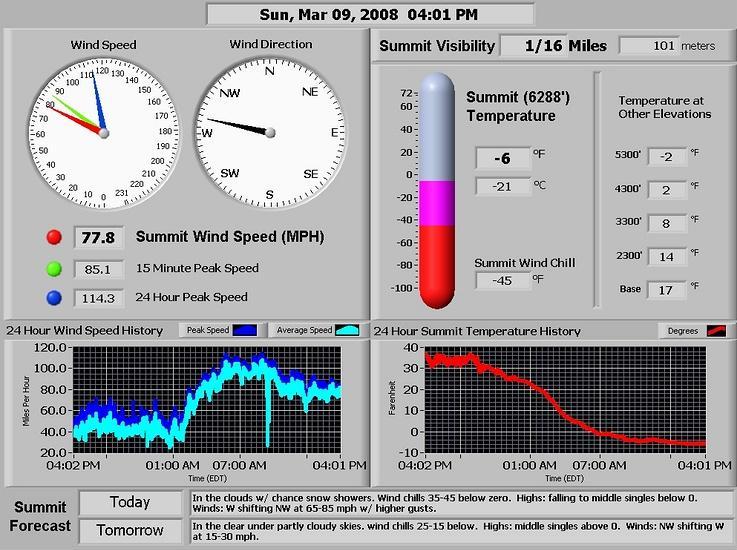 Warming up, we noted that the recent grooming churned up fist sized chunks of frozen granular all over the place. It varied from loose chunks to solid and choppy. This was true for both the 4km rolling start and the 12% grade climb. I could barely stay vertical rounding corners on this crud. The only redeeming quality of it was that it was quite fast. It probably didn't matter a whole lot what glide wax you were using. I suspect the classic skiers had trouble.

The start was self seed. I placed myself about 2/3 of the way back, not wanting to get tangled up on the fast, gnarly corners. The start was delayed 15 minutes for one last pass down the auto road with the groomer. The race was started by the same cannon used to start the bike races at Mt Washington. It scared the crap out of me, actually. It is so loud you feel the percussion.

The first kilometer was all double polling, not by rule, just because the pack pulled you along at great speed. As soon as we got into rolling hills, I started passing people. Lots of them. I probably picked off 10 skiers before getting to the big climb. This held me up some, and I was skiing well below my limit during this part of the race.

Then we hit the climb. The Rock Pile, as it is affectionately known by the cycling community, is an old friend that I missed last year. The Rock Pile can be cantankerous sometimes, and both cycling races were cancelled due to extreme weather in 2007. I was going to take what I could get today, even if it were a teasing morsel to the 2.5 mile mark. The race really busted up as the climb ensued, and I started passing a lot of guys and gals. I might have lost a minute or more on the rolling 4km, but that pales in comparison to how much time I was going to put on those I passed going up the Rock Pile. I never got passed by anyone in this race, but that doesn't mean much when you start near the back.

This was a "C" race for me. I just wanted to enjoy it and get a premium cardio workout out of it. I didn't taper much, riding 3.3hrs in the two days prior. I had to haul my own descent layers up too, as we got there to late to send them up ahead of time. And I carried a camera up. As everyone hunkered down for the grind up, I went into my climbing mode. I quickly found a groove and stayed with it, passing skiers right up to the finish line. There's something about a deep burn in the chest that is so addictive. I managed to put good distance on several skiers that put good distance on me last weekend at Rangeley. The difference today was mostly due to the fast, crusty conditions. I can be reckless with my technique, utilizing core cycling strength, and bully my way up this beast. I crossed the line in 45:05 minutes. This is the "sweet spot" for me as a hillclimb/time-trial cycling specialist.

It was bitterly cold at the finish, around 3100ft elevation, although I didn't notice it right away. At times, the wind would come up and conditions would nearly white out. The trees were pretty short and scrubby here, but still provided some shelter. Now that the easy part was over, the hard part was next. Yes, the race up was way easier than the frozen icecube surface we had to snowplow or try to carve back down. I saw many skiers taking headers. I took one. This destroyed my quads and hips more than the race, plus it was nerve wracking.

Back at the Nordic Center, Dave and I ate a few bites and went back out for another hour to sample the Great Glen trail system. Little of it was groomed. We did find one large loop that had nice flow to it that might have been groomed the night before. It was very hard and scratchy, but at least smooth. We did two laps for another 14km. We were completely cooked after this. This brought the day total to about 30km distance, 900m (3000ft) climbing, in 2.4hrs skiing time.

Not being a priority event for me, I was quite pleased with my result. Still a far cry from what I can do here on a bicycle. In 2006, I placed in the top 2-3% overall out of 600 competitors. On skis, only in the top third out of 70. But at Rangeley last week, I was in the bottom third of finishers.

No more skis races this season. I hope to ski a few more times however, especially on one of those special spring days where you can dress light and fly on corn snow. With three bike races planned next month, I really need to focus on quality intensity work on wheels now. I think the cardio engine has been tuned to optimal efficiency with skiing, and this should provide a solid base for this cycling season.
8km, 45:05
5/11 Men 40+, 22/70 overall (results)


Ski-8) Rangeley Lakes Loppent, Rangeley, ME
Saturday, March 1.† I felt quite good about my training base going into this freestyle (skate technique) ski race. It has been a while since I did a ski marathon. Weather initially looked highly favorable, but as the weekend drew near, heavy snow warnings were in place the eve of the race. The race organizers said no fear, we'll have two groomers running 'round the clock.

Dave, Brett and I beat the snow to Rangeley, ME, about a 4.5hr drive from Nashua, NH Friday night. Several inches of snow fell by breakfast the next morning. If that were it, things would have been fine. But it snowed all day, and winds were gusting at 30mph. Arriving at the venue, the course had indeed been groomed earlier, but it was filling in again. The race was delayed one hour to make sure folks made it there in time on bad roads.

Now these conditions are challenging for any skier. I dread these conditions, as I'm all legs and no upper body. Cyclists on skate skis tend to be this way. When Brett first started skiing many years ago, he tore the wheels off his rollerskis in just a couple weeks (5th paragraph). This was mostly due to poor technique, using all lower body with poor balance and not bringing enough upper body into the power equation. I think I'm where Brett was in the mid-90's.

There were about 200 skaters pre-reg'd for this race plus tourist and classic racers. They broke the skaters up into two waves. Having placed well at the 10k race a couple weeks ago, I was disappointed to be placed in the second wave. You needed points or prior placing in this race to make first wave. I fretted even more, as surely the first wave would churn the soft course into minced meat.

After a cursory warmup, Brett, Dave and I lined up for our 10:50am start. The start was clean, no pile ups, not too much tripping over poles going into the trail. The trails were groomed quite wide. My heart rate immediately red lined. I was dying to stay with the front half of my field. Brett was in front of me and took a header around a corner. He stuck a ski tip into the deep bank. I passed, trying to stay with the group. There is drafting benefit in a ski race, primarily on flat and especially downhill sections. This group slowed a little too much on the small hills for my liking, and I passed many of them. But I'd get passed again on the flats. This went on for a while. Brett was behind me again and told me to keep the gap closed. I couldn't. I was on verge of popping, and this was only 5k into a 50k race. We hadn't even reached the first of three big climbs yet. I let Brett pass and he was gone with the pack.

When I reached the top of the first big climb around the 9k mark, my triceps and lower back where toast. I knew at this point my race was essentially over. Dave was now hanging out just behind me. He stopped at first water station, but in no time was right behind me again. Dang. The second climb was a ball buster. Long straight-aways right into the wind, course chopped up into mashed potatoes consistency, with blinding snow bouncing off your eyeballs. I even had my glasses on. I now realized even finishing this race was going to be a challenge. The third climb hurt almost as bad, then a nice descent back to start/finish area. I contemplated bailing, but encouraged Dave to go after Brett. The thought of going around that whole course a second time was more than I could bear, but I plodded on anyway.

My back and triceps were utterly trashed and I had no upper body to contribute to motive force. But that's what was precisely needed in these soft conditions. I tend to mash, as my leg strength is over developed for skiing, and I do nothing to develop my upper body. Brett and Dave both do upper body work all year, and it was serving them well in this race. I was just pushing snow around with my legs and going nowhere.

The emotional low point of the race was when a few college girls where trailing me. I was killing myself to stay ahead of them, yet there were chatting the whole time like they weren't even working! Eventually they one by one dropped me. After that, I spent a good hour without seeing another competitor. I figured I was DFL by this point. But tail ends of races like this tend to get very spread out. The second time over the middle climb about did me in, my triceps badly cramping. I still had one more big climb after this one.

When I crossed the finish, there were about two people left, and they were the ones recording times. The awards ceremony was about over too, as the contenders finished an hour earlier! Competition is chocked full of humbling experiences, and this was certainly a biggie. On the positive side, this was the first marathon I did not crash in despite very challenging conditions. I think I also got the nutrition aspect right. Maybe ate a little too big of a breakfast, but I did not bonk. I carried a Camelbak with about 60oz of Gatorade mix, perhaps bogging me down further. Contenders carry no or only one bottle of water. But they were serving evil HEED on the course, something my lower GI does not tolerate at all. In terms of percent difference, 8 minutes is the closest I've finished behind Brett in a Marathon. Dave had an awesome race, his first 50k, finishing just a minute behind Brett. Racing on skis for 3.5+ hours in mushy snow is incredibly hard.

Technique is everything when it comes to this sport. There were guys in their 60's that beat me good. I doubt they're much more fit than I. They are vastly more skilled. Had the conditions been more in my favor, like crispy granular where I could lay power down with reckless abandon, I would have placed much higher overall. I've learned in training I fair the worst when conditions are soft.

After the race, I was in a pretty foul mood. I could barely change clothes with my back totally destroyed. I was in a major carb deficit too, and that by itself makes most athletes cranky. It took ibuprofen, coffee, a couple of huge oatmeal cookies that were out of this world, and a vanilla shake to bring my attitude around.

Another race to look forward to (or fear) next weekend. This one is dubbed toughest 10k in America. Could be. The last 6km goes up Mt Washington Auto Road at 12% average grade. Race will essentially be a one hour time trial sufferfest in good conditions. I don't even want to think about repeat conditions...
50km, ~1000m of climbing
3:40:00 finish, 7/9 Men 45-49 (results)


Ski-7) Cross-Trainerís 10k Challenge, Waterville Valley, NH
February 9, 2008.† Masters 45+. A recent change of plans had Brett and I doing the Cross-Trainer's Challenge up at Waterville Valley on Saturday instead of the Nordic 300 relay race at Great Glen on Sunday. The X-Trainers (map) race is aimed towards runners, cyclists, and other non-skier athletes that cross train in the winter months by skiing. A lot of cyclists show up for this one, and a local cycling club helps run the race.

I have been doing more skate skiing this winter than any previous season. I probably have over 50 hours on snow, plus many additional hours on rollerskis. This pales in comparison to athletes that ski only, but I carry over 500 cycling hours of fitness into this winter sport. However, XC skiing is a technique dominated sport. Skill, not fitness, matters most. I am slowly, frustratingly slowly, getting better.

After a recent knee injury that had me off the skis nearly two weeks and then lack of local snow this past week, my skiing hours plummeted over the last three weeks. I did not expect to place well in this race, but I had high expectations of getting an incredible workout.

Brett and I warmed up for about 30 minutes. We did the first climb on the course twice. The descent was sketchy. I spiked my HR pretty good the second time around and felt pretty good on the skis. I waxed with FastWax Tan, a high fluoro for cold temps. Weather and trail conditions were spectacular. Temp in 20's, no wind, glide about 7 out of 10, and control about 9 out of 10. In other words, conditions don't get much better.

The race is wave start by registration order. Only five skiers went off at a time every 30 seconds. Brett was staged 30 seconds behind me, exactly where I did not want him. He said I was a marked man. Either way, being rabbit or greyhound is a good motivator. It's better though when you can see your target in front of you. 30 seconds isn't much with long steep climbs where you might see a minute ahead. I fully expected Brett to pass me on the first climb.

I went off in third wave with two other skiers (other two must have bailed). I was surprised to out-pole them and begin skating first. I immediately red-lined on the first climb. I held off the two I started with. Near the top of the first climb, two other guys staged further back started to gain on me.

The first descent had some very steep drops with abrupt turns at the bottom, including one that plummeted to a bridge with near 90-degree left hand turn. Drop from bridge to rocks and water below was at least 6ft. Fortunately we saw this warming up, but I both scared and surprised myself by how fast I went through here in the race. Still didn't matter. I got passed by the two guys that started 30 or more seconds back. I still cannot step through turns at speed without first scrubbing off some speed. Skilled skiers step through turns without any snow-plow scrubbing. Note in image below, race is interval 1, the block of highest heart rate. The race climbs are small in comparison to Tripoli and Upper Snows skied after the race.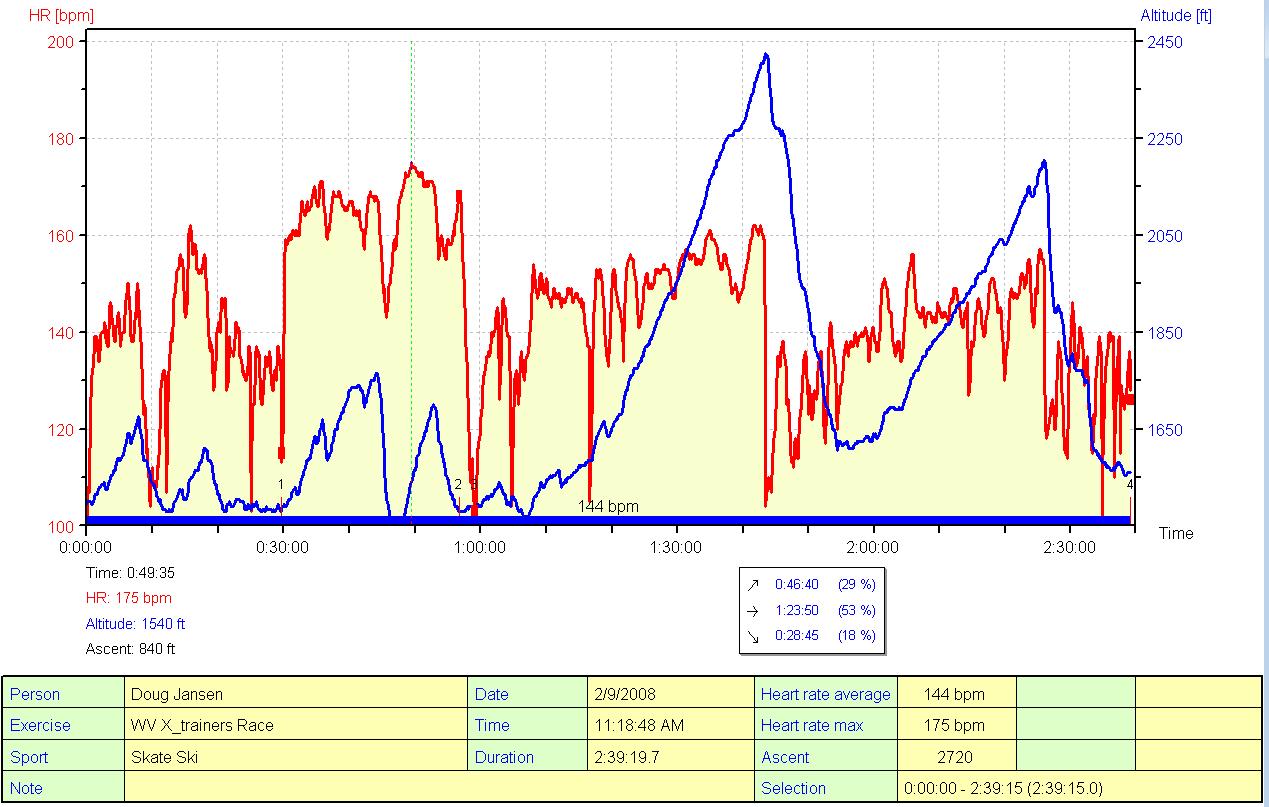 Race is elevated HR section from 30 to 60 minutes
We go into second climb, and I immediately catch the two that passed me on the descent and passed them. It is very difficult to pass while climbing, as the trail is often just wide enough for one skater. They were good about it though and gave me a little room. I put distance on both of them before reaching the top. But I knew what entailed next - a long, wicked fast descent. Sure as $hit, I got passed again. All that hard work dissipated in a couple of ill-placed scrubs around corners.

The two did not get out of sight before going into final and hardest climb. This climb is up back side of Jennings Peak, a one-way trail on which the race was going up the wrong, steep, difficult way. The trail is very narrow. I thought for sure I'd be stuck behind these guys going much slower on the climbs. But I found a window and passed both of them. I was holding a heartrate I thought not possible going up this beast. I put good distance on the two cresting the top. This time I was determined to not get passed again, as it was all downhill for 2km or so to the finish. I took huge risk. I surprised myself again by how much speed I was carrying around some of the turns I've taken many times before in training. Funny how adrenaline works that way. But on one turn, a rut was forming and I caught it. I thought I was going right through a line of spectators but recovered. I came through the finish with one of the two guys about 20sec back, the other no where in sight.

It felt so good to finish. This race hurt more than Ascutney or any number of the anaerobic hill climbs I do. Being a weight bearing, full body workout drives the cardio system into immediate overload. Great training value. After the race, a few of us skied around at a more leisurely pace for a while. One by one we bailed out of what we said we were going to do though. First Keith bailed on Tripoli, then Brett bailed part way up Tripoli, and then my gas tank finally hit bone dry heading up Livermore to Cascade. I barely had enough energy to get over Upper Snows to get back down to Nordic Center. I did about 38.3km in 2:37hrs and 2720ft vertical for the day.

When I got back to see posted results, I was flabbergasted to take 3rd place for men's masters. I guess being the rabbit worked pretty well after all. I finished well ahead of Brett. To be sure, there were no elite masters there, like Rob Bradley for example. Still nice to take a podium spot for first race of the season. Hope it's a sign of things to come this summer. I'll definitely have to do this race again. It nicely quenched that competitive bug, was thoroughly satisfying, and provided great training value.
9.5km Freestyle
3/17 Masters 45+, 27:03min


Race Results Archive, 2006-2007
Race Results Archive, 1999-2005