******* 2007 Results *********************
89) Everest Challenge Stage Race, 7th Annual, USCF, Bishop, CA
September 22-23, 2007. Masters 45+.† Several years ago when I first became a hillclimb enthusiast, another rider told me about this climbing race in California that ďhad my name on it.Ē† At the time, I thought that was a long way to go for two days of riding.† Early this year when a few of us were kicking around what events to hit, training plans, etc, I threw out the possibility of doing the Everest Challenge.† A few others quickly latched on to the idea, and eventually six of us from New England were on board for the USCF race.† These were Brett Rutledge, Dave Penney, Bill Dunkerley, Rich Brown, Tom Ramsey, and myself.† One of Tomís friends, Tiger Shaw, came out to do the non-competitive ride of the EC course as well.
We flew out on Thursday, Sept 20.† This gave us a full day on Friday to unpack bikes, go for light recovery ride, and just unwind in a new place before race day.† We ran into a couple issues, however.† Richís bike was not at the shop in Reno.† It was scheduled for delivery the same day we arrived (zero margin).† Apparently UPS entered the ship-to address wrong and the driver took it back to the distribution center in nearby Sparks, NV.† So off to Sparks Rich and I went to nab his bike.† This set us back an hour or more from Brett, Dave, and Bill, who were in a second minivan.† Tom rented his own car, stopping by a friendís house in the area before and after the race.
The other issue was the forecast.† Normally, the weather for the EC is very hot, often over 100F in the valleys.† But an early season system was moving through the area over the weekend, and they werenít talking just rain.† In fact, one forecast predicted 10-15Ē of snow down to 7500 feet.† Most of the climbs go above 7500ft, including first and last climbs that go above 10,000ft.† Would they cancel the race?† Modify the course?† I wanted to do the real Everest Challenge, not a diluted version of it.
We built up bikes Friday morning and went for test spin.† It was nice out.† I did about 9 miles at very easy pace.† After that, Dave and Rich took off to ride the final climb of day one.† I thought they were nuts, but part of the thinking that went into it was that Saturday could be a miserable day to race.† Dave turned around before Rich did, and I think Rich probably did over 3000ft of climbing.† While they climbed, the remaining four of us ďclimbedĒ too, in the minivan.† We pre-drove the first two climbs of Saturdayís stage.† Beautiful country.† The summit of first climb, above 10,000ft, still had some bits of snow about.† Enough to make snowballs.† We now had a sense of just how deep we were in after driving the first climb.
We picked up race packets Friday evening in Bishop.† There we learned of the weather contingencies.† If surface conditions Saturday morning precluded going above 7500ft, alternative route and climbs were in place.† This basically lopped off the top 2500ft of first climb, inserted a new climb between climbs 1&2 that stayed in valley, and lopped a little bit off the final climb as well.
When we got up Saturday morning (and waited an eternity to be served at Dennyís), we saw the mountains were blanketed in white.† Hard to say what elevation the snow line was down too, but it was easily below 10,000ft.† It was cold too.† I dressed up in knee warmers, race jersey, and heavy weight long sleeve jersey over that.† My race number was under the heavy jersey, but race organizers said we could do that, as most riders will be adding and shedding layers throughout the race.† I brought a wind shell along for descents, and wore full finger Goretex gloves with windproof headband.† Forecast was calling for bone chilling rain on Saturday.
The alternative course was definitely a go.† So instead of three monster climbs, we were getting four reduced climbs and 1500ft less vertical.† The lost vertical would be made up on day two.† The format of the EC is out-and-back climbs.† You go back down each climb the way you went up.† Nearly all of these roads dead-end anyway.† Only a couple actually are passes where you could up and over.† The race each day also stops at the final summit.† You could chose to ride back down or try to catch auto transportation down.† The second day most riders were expected to ride back down, as there was very limited parking at that summit.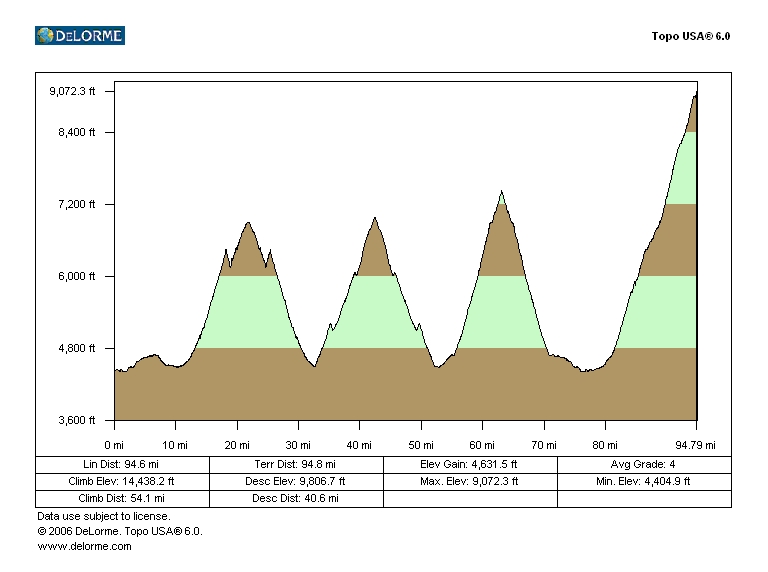 Everest Challenge 2007, Stage One Profile
I was apprehensive going into this race with the sport drink being served on course.† I had tried another Hammer Nutrition product before, something called Sustained Energy, with disappointing results.† I believe the HEED served on the course uses the same carbohydrate, a long-chain glucose polymer, Maltodextrin.† It seemed every time I used Sustained Energy, I ended up with bloating, gas, and diarrhea during or just after the race.† I thought maybe HEED would be formulated differently.† Drinking just water was not an option, as I was expecting to race ~6 hours each day.
The race start was supposed to be neutral first 10 miles or so.† From profile above, you can see this section is pretty flat.† No warmup needed.† But a couple knuckleheads took off on the field anyway.† The Webcor guys put a lot of work in at the front at 24+ mph to chase them down.† I thought I heard some stern words exchanged when the break was finally caught.† This was just before the first climb.
Going into first climb, the effort went from recovery pace to threshold pace.† Brett, with his Power Tap, said we were doing 330 Watts.† That was higher than I wanted to go, but a large portion of the field was holding this level.† Brett dropped back, I stayed with lead pack.† It didnít take long for most of the field to throttle back, including the Webcor guys.† I dropped back with them, but three kept on charging ahead.† Most of the guys continued to let up on the pace, and mid climb I found myself alone, solidly in 4th place and strengthening this position.† I settled into my pace and felt good.
Before hitting the turn-around point on climb #1, there is a steep curvy descent into a ravine before climbing resumes.† It was in this area I started passing guys from the 35+ field, including Bill.† Rich was still a little ahead of me and we passed each other as I was approaching the first aid station at end of the climb.† They were staged 5 minutes ahead of me.† I spent very little time exchanging bottles and sucking down a gel.† I decided it was not cold enough to need my wind shell, and it would cause significant drag on the high speed descent anyway, so I did not put it on.† I quickly settled in behind a Pro/1/2 rider on the descent (they were staged 10 minutes ahead of me).† He seemed to be working a least parts of the descent, where you werenít riding the brakes anyway.† I got a good rest out of that.
We next crossed over the Rt 395 highway for the make-up climb due to snow cutting first climb short.† It was quite warm now in the valley, and this climb was wide open and looked pretty boring.† It even looked flat, but 10mph max speeds said otherwise.† I caught Rich at the food stop at the top of this climb.† He had hooked up with other Pro/1/2 and Cat 3 riders that were holding a nice pace.† I joined them for the descent.† I was confident I was a least in a solid 4th place, maybe better.† I was now passing many, many other riders from other fields and could not tell if I had passed any of the three from the break in my field.† The 45ís had 400-series numbers, but most ridersí numbers were covered with long layers.† We simply had to holler out our number at checkpoint at end of each climb.
We next begin climb #3, which originally was climb #2 from baseline course.† This one stays under 8000ft, so we would climb it as planned.† We pass another aid station, but I did not need any.† I was feeling a bit bloated and probably not drinking enough.† Rich and the guys he hooked up with were not climbing at the pace I wanted to hold, so I peeled off from the small group.† Before long, I had good distance on them.† About 3/4 way into this climb, I started to realize something wasnít right.† I was getting those early muscle cramping warning signs.† At the top, I grabbed two more bottles of HEED, ate two gels, and swallowed two Endurolytes capsules.† I also had to take a pee stop.† Rich passed me, and I motored down this ruckus descent alone.† About half-way down, riders climbing told me to slow down.† I was going 49mph.† There was a particularly sharp chicane, and it had just sprinkled out so the road was wet.† Apparently, a rider had just lost control and hit a car around this corner.† Rumors varied, but one said he broke his pelvis.† Ambulance was coming up as I reached the bottom of the descent.
We pass the food station again at the bottom of climb #3.† I did not need anything.† There was long stretch between climbs 3&4 in the valley.† It was right into the wind, and I lost my train (group Rich was with).† By now I was in serious trouble.† I was cramping up severely.† I could not pedal without major spasms.† I forced myself to drink HEED, but my body didnít seem to be accepting it.† I let up enough that a large group caught up to me and I jumped on the back of it.† This helped immensely into the wind.† We next pass the cars at start/staging area.† I seriously contemplated about abandoning the race at this point.† I had biggest climb yet to go, more than a vertical mile and over 20 miles long.† I could not figure out what was going on.† Thus far, the race was easier than any number of hilly training rides I did over the summer, like White Mountains or Catskills rides with well over 100 miles and 12,000ft of climbing.† I figured if I just soft pedaled it for a while, Iíll work through it.
We reach base of climb #4, by far the biggest of todayís stage.† Our pack of over a dozen riders fragments.† Surprisingly, most of the riders drift off behind me despite not being able to put any power to the pedals.† I even caught back up to Rich, whose group had slowed down too.† I stayed with Rich during much of the climb.† However, there is a particularly heinous section, a wall a few miles long, and you can see the whole thing.† Very demoralizing.† I very slowly lost ground on Richís small group.† It was here where I started loosing positions too, seeing other 400 series numbers come by.† I just could not go any harder without seizing up.† Just before reaching the food station at the finish, I had a major spasm incident.† This sent me off the bike to keep my quads from completely seizing up.† After working it out, I got back on the bike.
By now, all my major leg muscle groups were randomly firing, and I was experiencing pain like never before.† I figured I just passed the summit food station, and the actual finish was just a tad further.† The climbing levels off with a few rollers and turns.† I could not pedal up the short rises and could barely coast down the rollers.† I was off the bike walking 10ft rises.† Then, with about 100m to go, both legs went thermonuclear.† They just seized up and I fell over in the road.† The pain was unbelievable.† I was screaming, unable to move anything.† Fortunately, a sports masseuse was right there and came to help.† He understood exactly what was going on and how to work things out.† But spasm after spasm ensued.† I laid in the road, with cars and bike racers going right by my head for a good 20-30 minutes.† The spasms just would not stop.† Nearly every major muscle in my legs took turns spasíing.† I thought what if my heart goes next.† At least the pain would have stopped.† Eventually I was able to sit up.† Another volunteer gave me some electrolytes to drink.† They also gave me more HEED, but my stomach was rock-hard bloated by this point.† I donít think anything I was eating or drinking for the last two hours was being absorbed.† My race was over.† 92+ miles, 14,000ft of climbing, 100 meters to go, and I could not even crawl to the finish line.
With help, I was eventually able to stand.† I needed help walking over to an SUV whose driver offered to give me a ride down.† The race director would bring my bike down on bike trailer with other ridersí bikes.† I was so deeply disappointed, having trained and focused on this event all year.† Something went terrible wrong.† I should have been able to podium this event.† I was thoroughly conditioned for it.† I did not go out too hard.† I felt superbly fresh starting out.† So what was the deal?
It was the HEED.† When I used Sustained Energy sport drink previously, I got abdominal bloating, gas, and diarrhea each time.† I had bought a large tub of the expensive stuff but had to throw it away.† S.E. also contained protein, something HEED does not.† I thought maybe it was the combo that gave me grief.† Now I know itís the funky carbs they use.† My symptoms were completely consistent with those of Lactose intolerance, except HEED uses Maltodextrin instead of Lactose as its base sugar.† Could I lack an enzyme needed to adequately break down the long-chain polymers Hammer uses in this product?† Quite possibly.† I know most people do well with this product, although many object to the taste.† I do know one other rider that has problems with Hammer carbs.† Talking with the race directorís wife the next day, she commented another rider last year had problems with HEED.† They used to use powdered Powerade, but they lost that sponsorship and Hammer stepped in the last two years.
The cramping session was only half of my suffering.† I didnít think I would make it to the bottom soon enough to find a toilet.† My abdominal core was hard as a rock and extremely bloated.† The discomfort was extreme.† Iíll spare the details, but I went through about three hours of flatulence and the runs like Iíve never experienced before.† I was still unable to eat.† I had raced 6 hours, totally depleting my glycogen stores, and was not able to start the recharge process for many hours afterwards.† Later in the evening, we went to load up on pasta, but I could not finish mine without having to run back to hotel room next door.† I was in sad shape.† Eventually, I got all of the HEED out of my system.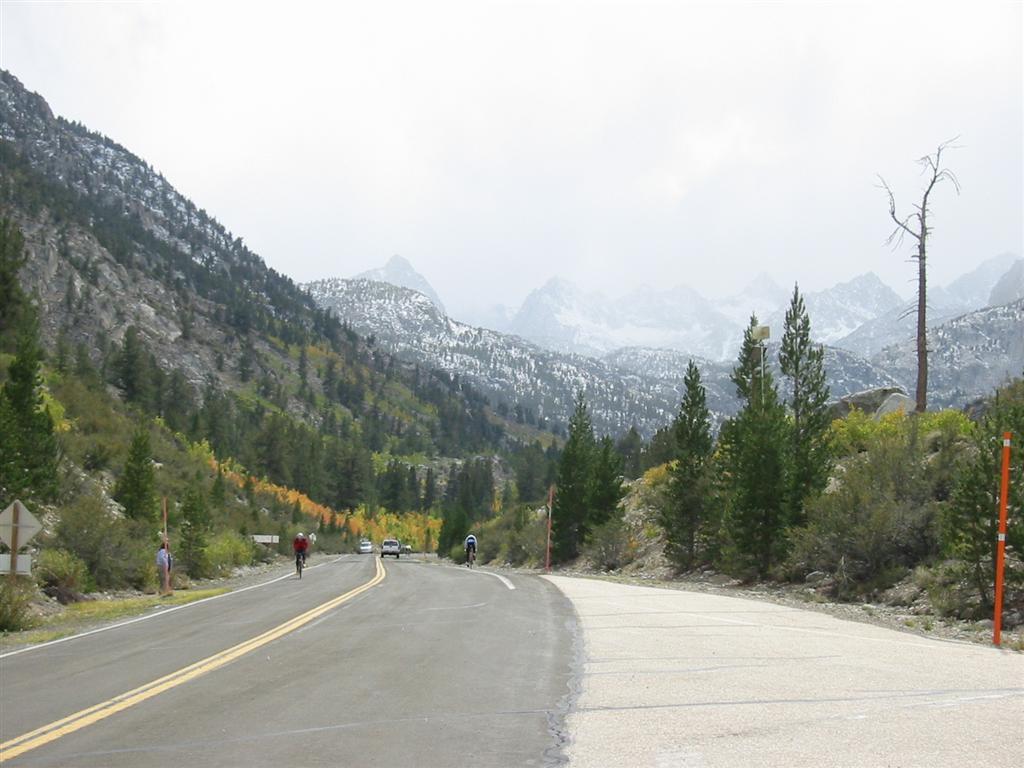 Looking towards stage one finish.† It snowed heavily shortly after taking this photo.
The next morning, my lower GI was back to normal and I had a ravenous hunger.† Having DNFíd the first stage, I would not be racing today.† I could have started if I wanted, but would not be given overall finish.† But my legs were severely damaged.† I had to use both rails going up and down stairs.† I could not even walk right.† Many muscles had tight, excruciatingly painful knots in them.† I brought Rich to 2nd day race start in nearby Big Pine and went back to motel.† It looked like it was going to be a very nice day, and I was sad I would not be racing.
I stopped at the famous bakery in town, http://www.erickschatsbakery.com/About/About.htm to continue making up for previous dayís deficit.† This place will blow you away with selection.† I got donuts and shortbread chocolate chip cookies.† I knew I would just have to ride on this beautiful day.† Plan was to do short spin in valley to loosen some of the knots in my legs, then head back to race to pick Rich up.† But I said screw it.† I will bike up the finishing climb, the biggest in this yearís EC, and coast down with the others after they finish.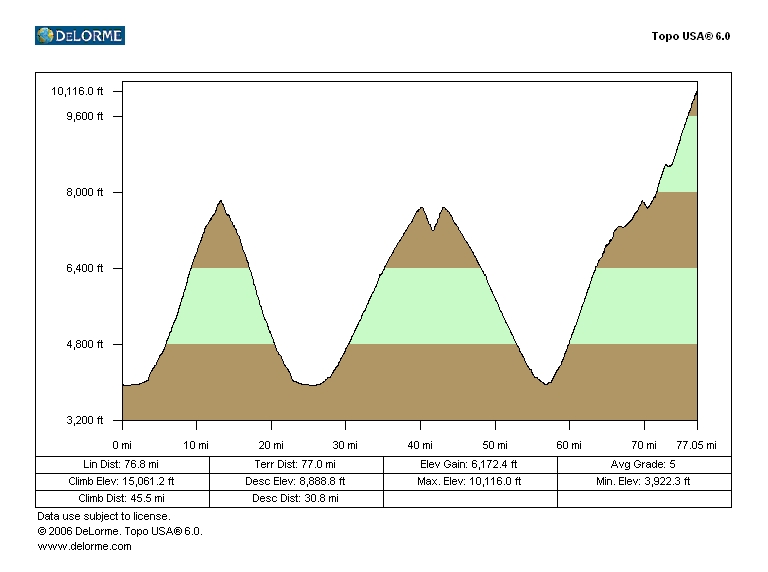 Everest Challenge 2007, Stage Two Profile.† Sick, eh?
The finishing climb up White Mountain Peak entailed 6200ft net gain, with a couple rollers along the way.† I would have several hours to climb it.† I started around 10am, not expecting any of the guys from my group to finish before 1pm.† I quickly had to shed my long layers.† It was warm in the valley.† My legs hurt, but I could soft pedal on this gentle grade.† It was so peaceful out.† No bike racers, and only an occasional vehicle every 10-15 minutes or so.† The first food stop was just setting up.† I stopped and talked with these nice people for a while.† The gentleman running this volunteer station does a lot of riding in these hills and explained what was in store for me.† I was glad to just be riding.† But no more HEED for me.† I had 100oz of Gatorade in my Camelbak.
I continued my climb.† I passed other local riders out for an epic climb.† Took lots of pictures too.† I passed another food station but did not stop.† The USCF officials came down in a vehicle and asked if I knew where the race finish line was.† I did not, but they did not go far enough up either.† The air was getting dramatically colder, but my legs were loosening up and I was able to keep my power output high enough to stay warm in shorts and short sleeves.† Bursts of clouds would occasionally obscure the summit area.† The scenery was incredible the whole way up.† Eventually I reach the 10,000ft mark and knew the finish was moments away.† The officials found the finish, and the food station was just over the crest.† I went on down to eat.† This time, no bloating, and I was starving.† I had quesadias, cookies, coffee, hot cocoa, chips, etc.† I quickly had to put warm layers back on.† There was snow on the ground here, and you could see your breath.† It wasnít long until race winner Lindsay Blount came up.† After hanging around the food for an hour or so, I went back to finish line to wait for the New Englanders to come through.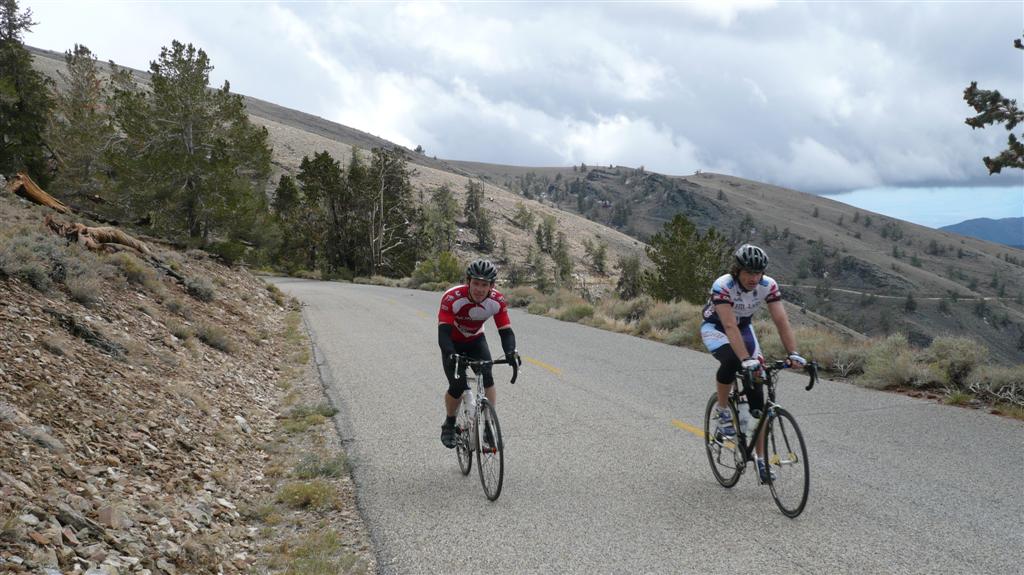 Dave (in red NoríEast kit) finishing stage two above 10,000ft.
Hanging out at the line was a blast.† There were a couple other riders there.† Weíd tell them 30 meters to go.† The line was just around the bend.† One guy said ďI fín love you guys!Ē† Another said ďjust throw a rock at me!Ē† Everybody was cooked.† From my group, Tom was first to come through.† He started an hour earlier though.† He medaled in the 55+ division.† Then Richard and Dave came through just a couple minutes apart.† Dave took 9th in the Cat 4/5ís, and Rich also took 9th in the 35+ division.† I learned Bill abandoned the race early in first climb of second day.† He had some nasty cyst-like thing going on in one of his feet, and it became too painful to pedal.† We waited a while for Brett, and I wondered if he abandoned too.† But we no more than began the 20 mile descent, and he was right there just finishing.† So 4 of 6 of us finished.† Tomís friend Tiger also finished the citizenís ride of the course.
The descent was marvelous.† I hit speeds of over 50mph, and the temperature increased dramatically with lost altitude.† At least the day was not a complete loss for me.† I thoroughly enjoyed this climb, easily ranking in my top ten climbs of all time.† It is very similar to Mt Lemmon or Mt Graham in Arizona.
I now contemplate going back in 2008.† Iím mad this thing beat me, or should I say, Iím mad I took a gamble on HEED and lost.† I was too greedy.† Pure water was also served.† Some riders brought their own sport drink powder to mix with served water.† I could have done that but was worried about the many minutes I would lose each day doing it.† But I would have finished.† Live and learn.† I was also somewhat dismayed by the willy-nilly support many riders were receiving from personal support vehicles.† This was only to be done in a few designated areas, but it was total chaos.† I would love to have support in a race like this.† It would make things so much easier.† Plus not having to carry two full bottles up each climb...
So the end of my competitive season imploded.† Mt Washington was cancelled.† Equipment failure on Mt Burke.† Then nutrition failure in my biggest cycling event ever.† But the rest of the season was stellar.† I think training for the Everest Challenge brought about the new hillclimb PRís and so many road race podium finishes.† I canít complain.† I may dabble in a Ďcross race or two this fall, but looking forward to hopping on the rollerskis to get ready for the other season.† Many more photos from this race and the four days of mountain biking afterwards will be posted in trip reports in a few days.
Result: DNF
<![if !supportLineBreakNewLine]>
<![endif]>
88) Burke Mountain Hillclimb, 1st Annual, East Burke, VT
September 8, 2007. This is a brand new hillclimb on the New England hillclimb scene.† Was really looking forward to this event, partly because I have ridden this mountain many times on my mountain bike and always wanted to race it, and partly because the best trail riding in New England is here, the 100+ mile Kingdom Trails system.† Race in the morning, play all afternoon.† Life is good.
I didnít taper for this one like I would for an ďAĒ race, but it was a relatively easy week for me.† Forecast was for oppressive conditions, and getting ready for the race, it was already in the 70ís and soupy.† I knew I was going to overheat on this one.† A study at UNH that I participated in showed that it only takes about 20 minutes under hot conditions for my core body temp to hit 103F and then things shut down.† I warmed up at light pace to keep my core temp down.† Even still, I became drenched with sweat.
Several really fast guys and gals made it out for this one.† I think the $2000 coed team and $500 individual first place prize money drew them.† Total purse was over $5000.† Impressive for first year event.† Looking around, I thought my prospects were still decent for 3rd place overall.† Since there were about 60 racers total, we went off in one wave.† Made it real easy to see how you are doing, no wondering if somebody in another wave is going be faster.
The race starts from the Sherburne Lodge, goes downhill for 200-300m distance, then hard right turn onto Mountain Rd to begin climb.† Due to poor conditions of Sherburne Lodge access road, the race was neutral until we rounded the corner with deep loose gravel on it.† There would surely have been mayhem there coming into it at 30+ mph.† The grade on Mountain Rd is still quite modest, maybe only 5%, so pack dynamics were definitely a factor here.† The Legal Seafood kid came to the front, and a few others of us that could hang with him settled in to draft.† But there were a few rotations, where riders didnít want to work on this portion.
When we forked to the left onto the toll road, the climb gets uber steep and stays that way.† This immediately busted things up at the front.† I fell to third place, then a short while later, fourth.† But somewhere around here, my bike made a heinously loud pop.† At first I thought I shattered another cassette cog like I did on Labor Day while mountain biking.† Things looked ok.† I had just put that new XTR cassette on the day before, a setup I was breaking in for the Everest Challenge race in two weeks.† Since I could not see anything going on, I assumed it was just the pawls in the freehub slipping a tooth, like they do sometimes.
Several minutes later, I get to ďThe Wall,Ē a section that must be around 20% grade for about 0.3 miles, and I can no longer hold the pace.† This was about 18 minutes into the race.† Usually I pull away from other riders on stuff like this, but my bike felt woefully over-geared.† Soon, riders that donít normally pass me started coming by.† I was overheating big time, and I was struggling to keep the pedals going even in my easiest gear.† At this point, I started to give up since 5 or 6 riders came around me and I would no longer be in contention.† This same thing happened to me a couple years earlier on Whiteface Mtn when it was very muggy out.† No sense going into the danger zone when thereís nothing at stake.
I had anticipated this climb taking about 35 minutes based on 45 minute climbs on MTB from town, so when I started hearing spectators around 27 minutes into the climb, I was surprised.† A rider had just passed me, and wouldnít you know it, the line is right there.† I sprinted, but the pedals just wouldnít yield to my effort.† I think it was Bob Lesmerises that just nipped me by a second or so at the line.† Jeff Daigle was just a few more seconds ahead of him.
After we all caught our breath up top, a rider asked if I popped a spoke.† I didnít think I did, but when I went to roll my bike, the rear tire just skidded on the pavement.† It was seized right up.† Could hardly turn it by hand.† It was hitting both the brake pads and frame chain stay.† I did break a spoke, the second time in this expensive wheel.† I think a pothole I hit the weekend before might have weakened it.
So now I was partially relieved that it wasnít all me that sucked so badly on this climb.† I had an excuse, but I felt stupid for not even noticing this.† Everybody seemed to know I popped a spoke when it happened.† But would they tell me?† Nooooooo!† Make me suffer.† These Velomax wheels use direct pull spokes, so when it broke at the rim, the spoke stayed stoutly screwed into the hub.† Nothing to vibrate or flop around.† Plus there was absolutely no rubbing noise.† When I got home, I inspected things.† The frame had a pretty good gouge in it, and the tire sidewall had exposed cording.† I donít think the gouge is deep enough to cause eventual frame failure, but I wouldnít trust the brand new Michelin Pro2 Race tire anymore.† This was the first time I climbed Burke and did not get to enjoy the blast back down.† Glad they had a couple trucks and vans to carry riders like me back down.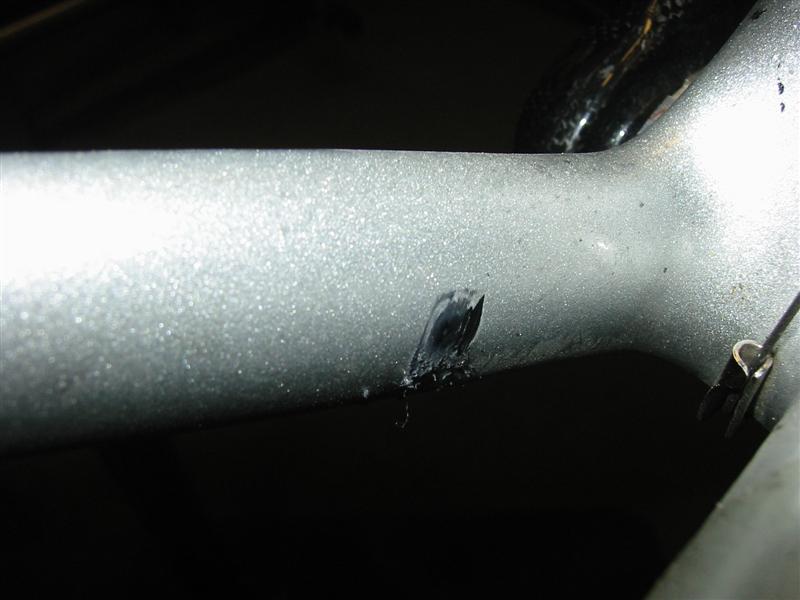 Gouge in Trek 5900 OCLV 110 Frame.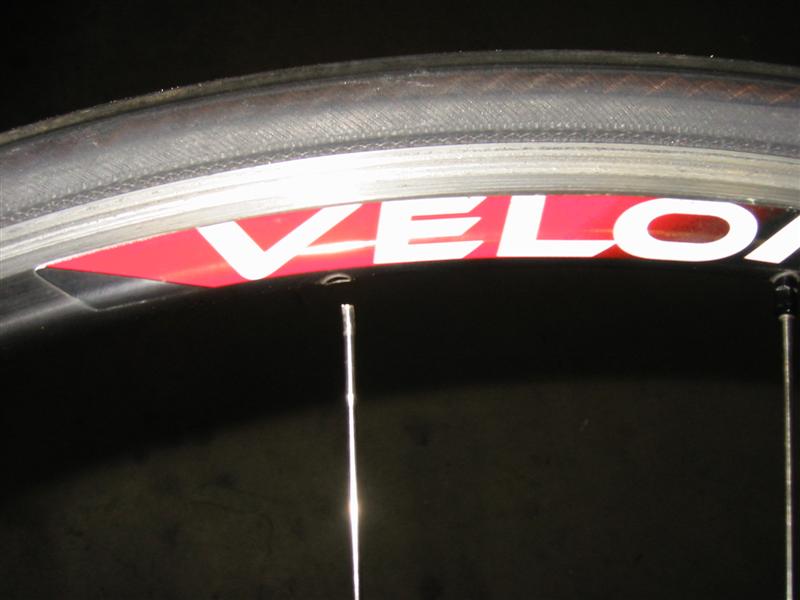 Broken spoke.† Note thin spot on tire sidewall.
The biggest bummer, and yet good thing, is that I was going to pack this bike up the next day to ship out for the Everest Challenge.† Had the wheel not broken here, it surely would have during the first day of the EC, my most important race ever.† That could have ended my race one hour into the first day.† I can fix this myself (I have spares of these special spokes and the know-how to fix it), but I wouldnít trust it.† Why are these spokes popping?† Iím going to have to use my much heavier Rolf Prima Vigor RS aero wheels for the EC.† Iíll descend much faster, but I bet it wonít make up for the added climbing weight.† A pound over 29,000 feet could make about 3-5 minutes difference.† So Iíll be shipping a wheel with new tire and swapped over cassette with no ride time on it.† I will fret over this until the EC race is over.
I assumed I didnít place, and thunderstorms were in forecast.† I wanted to get my MTB ride in before it rained.† I swapped shoes and bikes, enjoyed the delicious lunch catered by the Tamarack Grill, then headed back up Burke Mtn on trails.† The trails were the driest ever, the best conditions I been on here.† I hit almost all the stuff with the word ďMooseĒ in the name coming down Burke Mtn, about 10 miles of singletrack.† I stopped by the Kingdom Trails office to pick up my complimentary season pass sticker, which came with the hillclimb registration.† I learned there was a Kingdom Trails BBQ from 2-5pm in town, all you can eat for $5.† That would be perfect timing.† The skies still looked the same, which is that iffy muggy afternoon look when a storm can pop up any moment.† I went over to the Darling Hill system of trails next and rode the usual culprits like Harp, Coronary Bypass, Pasture, and a new one called Tap and Die.† I was having trouble staying hydrated in this heat and was fading fast.† I wasnít going to be able to hit all the stuff I like on the way back.† I rode Culvert, then took the easy Vast trail much of the way back, picking up Beat Bog and finishing on the pure adrenaline rush Kitchel down to town center.† I have finished every ride on Kingdom Trails with this one.† Itís just the right way to finish.† I rode nearly 30 miles of trails in 3.3hrs of riding time.† My legs were black with trail dust.† Dipping into the Passumpsic River after the ride was fabulously refreshing.
At the BBQ, I ran into race director Keone Maher again.† Heck of a nice guy, and Iím amazed at how many hats he wears and still has time to organize a race.† Despite the popped spoke, Keone told me I came in 6th place overall.† Since three of those ahead of me were coed team riders, that put me in 3rd for the individual category, good for $125.† I was pretty psyched to still make the cash cutoff!
This race has a great venue, and I believe it will become a premier hillclimb event.† Nice facilities at ski area base lodge, great paved surface, can ride your bikes down again, fantastic food after the race, great area to spend your weekend in, and a cash purse bigger than other hillclimbs.† I definitely plan on doing this one each year, and I hope word spreads.† Many congrats to Keone and his volunteers who did an awesome job pulling off this inaugural event.
Time: 27:23.62 (2:31.66 back overall)
6/50 finishers overall
[Virtual] #88) Mt. Washington Hill Climb Race, 35th Annual, NH
August 18, 2007. Having tapered all week for this event, I was all set to establish a new PR, hoping to best my 1:06:11 last year with a finish around 1:04.† Many truly fast people were there, including Ned Overend (multi-discipline world champ), Sue Schlatter (going for overall Womenís win this year), and Gerry Clapper (overall winner at Ascutney a few weeks ago).† The forecast the night before was looking up, only a little wind, and chilly to moderate temps.† Upon arrival at the venue, it was dry at the base, but the summit was socked in with dark clouds.† Wind seemed mostly out of the north, which could actually make some of the more exposed parts of the course faster.† I was psyched.
At 7am, just as I was heading off to warm up, an announcement is made for all racers to come to the tent.† Odd I thought, as theyíve never done that before the many times Iíve done this race.† When a significant portion of the riders made it to the big tent, the bomb was dropped.† They were turning drivers around at the summit because of dangerous conditions, and the race was cancelled.† The Auto Road general manager said the next day did not look much better.† A rider asked if that meant they were canceling the race on the ďmake upĒ day as well, and the answer was affirmative.† They expected even worse conditions to develop overnight with icing and temps in the 20ís.† It was a rather emotional moment for both racers and event staff.
We waited a good while for our drivers to get back off the mountain, then we started getting the reports of just how bad it was up there.† It was too windy to stand (60-70mph), wet, with windchills dipping into the teens (10-20F).† When I got my stuff back from the summit, Bill D. and I took off for short road ride before coming back to at least eat our $300 turkey lunch.† We rode down to Gorham, then the big climb up Rt 2 to Randolph where he was staying.† We got poured on en route with temps around 50F.
When we came back, the lunch that was prepared to feed about 1200 people was barely going to get sampled.† Maybe 200 people were left.† When most people had finished lunch and with Richard Fries MCíing the raffle, we were asked to vacate the tent.† The huge mooring rods were starting to rip out of the ground and the thing was at risk of going down.† It was wicked windy at the base with intermittent downpours.† Later we learned the winds were gusting above 90mph at the summit, and we would have still been up there waiting for the last riders to finish had the race gone on as planned.† They made a good call.† Image below shows summit conditions over 24hrs up to 2:31pm in afternoon.† Note gusts of over 90mph just after 10am.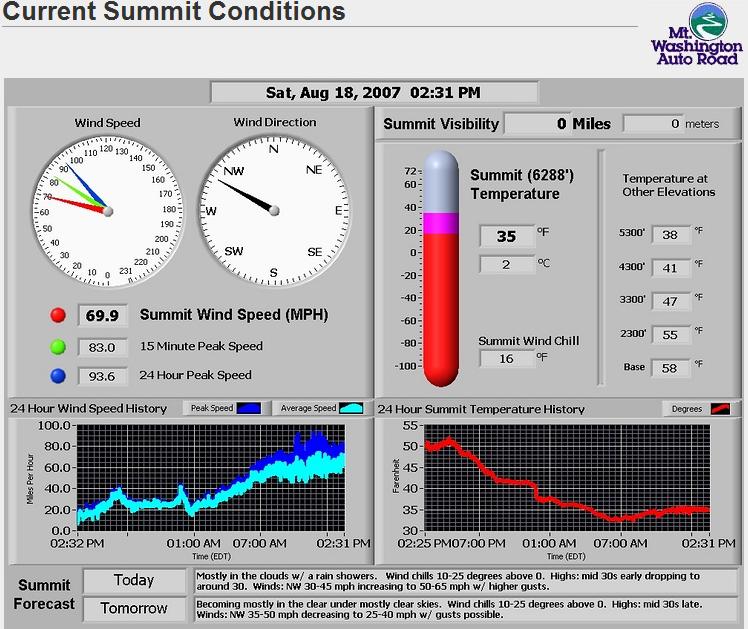 Now for the virtual race report.† Mountain Biking legend and XTERRA world champ Ned Overend won in a major upset, just nipping Anthony Colby on the finishing 22% grade.† Sue Schlatter dominated the womenís field with a blistering 1:04:30 finish.† Local climbing phenom Gerry Clapper came in at 59:08, handily taking the top spot in the menís 45-49 division.† And I achieved yet another PR, finishing in 1:03:43.† My hillclimb estimator tool proves it.† I rode a 28:14 on Mt Ascutney a few weeks earlier, and this is good for 1:03 and change on Mt Washington.† A real climb isnít needed.† Just do one of them, and youíll automatically know what you are good for on the rest of Ďem.† Online virtual hill climbing.† Enough dreaming...
Thatís a wrap for Mt Washington until next year.† Once in a while the Rock Pile wins.† Feel sorry for all the folks who come from thousands of miles away to do this thing.† I decided to bag the planned MTB race on Sunday, the next day, despite not having done the hillclimb.† Didnít sleep at all Friday night, and did not want to get up at 4:30am for a 6 hour race with lack of sleep two nights in a row.† Good chance Iíll be doing Burke hillclimb on Sept 8, and definitely want to be in peak form for the Everest Challenge on Sept 22-23.† Perhaps next year Iíll have to come out to Nedís neck of the woods and do the Evanís hillclimb.† He kicks butt there too.
87) Mt Agamenticus Time-Trial, 4rd Annual, USCF, S. Berwick, ME
August 12, 2007. 4th time doing Mt Friggin A.† Had my biggest volume training week of the season going into this race.† The following week is taper down for Mt Washington, a high priority event for me.† So I sacrificed the Mt A TT to get in some serious training volume in preparation for Everest Challenge next month.† Thursday I did a solo White Mountains ride, entailing 115 miles and over 11,000 feet of climbing.† I rode three of the climbs at steady threshold power bottom to top, including Gonzo Pass, North-South Rd, and Bear Notch.† Expending about 4800 kJ on this ride, I was uber trashed afterwards.† The first day of EC will be 50% harder.
For the TT, my legs felt fair with some lingering tight spots.† I knew I wasnít going to PR this one like Iíve been PRíing everything else this season.† I didnít care.† There was barely a hint of wind this year too.† Last year new male/female course records were set with strong tail wind on the flatter part of the course.
I queue up.† My 30 second guy took a serious header off the Ramp ĎO Death.† Not sure what happened, but he looked hurt pretty bad.† There were guys behind me who were not planning to use the ramp BEFORE this happened.† This really rattled my nerves starting off.† The sound and sight of him hitting the pavement was rather horrific.
The first couple miles went pretty good, seeing speeds of 30-31mph.† I probably went out too hot though, as when I got into some of the rollers, instant burning set in.† I hit the gravel at about 38mph and held it until the grade reversed.† It was well packed but bumpier than usual.† There were serious embedded rocks poking up.† I had trouble finding a rhythm beginning the climbing on dirt.† I was fading.† Thatís what happens when doing such a short, high intensity effort like this when not fully recovered.† The gravel levels briefly before climbing another steep pitch.† Then levels again just before picking up the steep remaining paved portion of the climb.† Having spectators cheer you on does help keep the motivation up.† You know the end is near when you see the people.† I crossed the line about 14 seconds slower than year before, which is much better than I thought I would do.† Plus this was less far back from overall winner than last year too.† Times on average were a bit slower, due Iím sure to lack of tail wind.† This was good enough for first in age group, but with a smaller field present this year.
After the TT, Dave Penney and I promptly left to get in a good endurance ride.† We did the classic Parkers/Catamount loop, 64 miles worth with about 3400ft of climbing.† For the day, including warmup, TT, return from TT, and loop ride, I got in 85 miles and upwards of 5000ft of climbing.
Time: 21:54.55 (0:41.67 back overall)
1/24 Finishers 45-54 Male
6th out of about 104 finishers overall
86) Bow Road Race, USCF, Bow, NH
August 5, 2007.† Masters 45+.† Continuing the pattern of the last two years, I did back to back race days this weekend:† Equinox hillclimb on Saturday, Bow road race on Sunday.† Sunday was another fabulous day for racing.† Legs actually felt much better this year than they did last year after Equinox.† Today there was a bit of tail wind climbing, then headwind along parts of the return trip coming mostly downhill, especially approaching the finish.† Goal was to finish top-10.
This course is neither a sprinters nor hill climbers dream.† Although the course was modified (with additional climbing) from prior years due to road work, the hills are not long or steep enough to shed the sprinter types early in the race.† Plus, much of the approach to the finish is screaming downhill, giving the sprinters that manage to stay on all the reprieve they need to do their thing at the line.† This race requires careful strategy and monitoring of energy expenditure to do well.† It tends to be a very peaky race.
We start off with Eric Pearce (Bethel Cycle) at the front, going about 90% full-throttle into the most serious climb on the altered course.† This new hill climbing White Rock Hill Rd is much steeper and more sustained than climbing Bow Center Rd on old course.† Eric stayed up front the whole way, stringing us out single-file.† After brief, fast descent, we merge back onto old course before hitting the last steep wall on Bow Center Rd.† The pace cresting the high point of the course at KOM line was wicked hard, but most of our field stayed intact.
On lap two, there were several feeble break attempts.† I half-heartedly jumped on a couple of these.† But whenever I went, many others followed.† I spent fair amount of time at the front of our field during mid part of the race.† I did this in places only where I didnít have to work harder than the others, such as on climbs or when tailwind was present. †Especially on climbs with tailwind, I didnít mind at all lighting it up at the front on some of the rollers, as I know that the others were going to suffer just as bad.† Thereís no hiding when there is no draft benefit.† But, I suspect there were bits of time when I should not have been up there, wasting precious kilojoules.† I stayed in front five guys most of the race, never drifting more than 10 back.
At one point, a rider was well up the road.† Everybody at the front was looking for somebody else to do something about it.† I let way up in hopes of somebody else coming to the front.† I was as guilty as the next guy.† Pearce came along side me and said ďthere goes your race up the road!Ē† I have history of chasing too many things down myself, and I think others recognize my weakness, but Iím getting better at holding back.† It seems every time I chase something, it only benefits others and hurts my own result.† I had one teammate in the field (Keith Button), but even he told me to calm down and let a couple of the other teams give chase.† Miraculously, we managed to catch the guy.
On third lap, we had whittled our field down to maybe 12-15 guys going over the hill.† Still too many for my liking.† Dreading bunch sprints, I feel much more comfortable in smaller group.† Before my race, I got to see the Cat 4ís finish.† Apparently much of the field stayed together right up to the finish.† Reports say about half of the 40+ guys sprinting to the line went down in massive pile-up.† It was just out of sight from my vantage point, maybe 300-400 meters out.† I saw several riders carrying their damaged bikes to finish area.† Thatís one of my reasons for dreading bunch sprints.
Anyway, on back side of lap three, Rick Sorenson (now riding Wyoming Athletic jersey?) bolted from remnants of our field.† Nobody seemed to care at first, but when the gap grew dramatically large in short order, there was much consternation among the field.† I overheard one rider say ďthatís Rick up there, he could win this thing!Ē† As we came through the feed zone, a Bethel Cycle rider in the feed zone hollered out to his teammates with me what the time split was, and they needed to do something about it.† I came to the front to set pace going into White Rock Hill.† With some tail wind here and speeds below 20mph, I wasnít really ďpullingĒ in the sense that others were drafting me.† The gap to Rick started to come down.† A couple other guys came to the front to really crank it up another notch as we crested last part of White Rock Hill.† We merge onto Bow Center Rd, Rick only 15 seconds or so out now.† I gave the wall to KOM line all I had on this last lap.† I may have crested in 2nd position (no KOM points for Masters 45+).† Surprisingly, four of us drew a gap.† It was Dave Kellogg (Arc En Ciel), Paul Wonsavage (Onion River Sports), and one other rider.† We quickly caught Rick and dropped the fourth guy that crested with us.
So now itís just me, Dave, Paul, and Rick with 10 seconds gap to chase group.† Dave and I worked hard initially and encouraged the other two to do the same.† It paid off.† We started to grow the gap on the rolling descent.† Rick was not doing much work, probably trashed from his 3/4 lap solo flyer.† The others were taking short pulls.† Now I had a vested interest in working hard.† If I killed myself in this quite select group of riders, the worst Iíll do in the end is fourth place.† I liked those odds.† Play cat and mouse with one or two guys not doing much work, weíd surely be caught and Iíd be faced trying to sprint for position, something I utterly suck at.† I took long, hard pulls where it paid the biggest dividends Ė on the descents.† Riders hate working hard on descents because everybody behind you is coasting.† The last lap was my fastest, hitting the highest speeds everywhere.† In fact, I almost blew the hard left turn after the initial descent.† Of the four, I knew I was doing a disproportionate amount of work, but I wanted as much margin as possible.
During this last lap, I was going too hard to drink.† My throat dried up.† Not like tacky dry, but like when I tried to swallow, the back of my throat and tongue felt like dusty sandpaper rubbing together.† Very unpleasant.† There are many rollers in the last two miles to the finish.† I made sure our pace did not let up cresting these by coming to the front several times to keep the hammer down.† I was totally dying, but I knew the suffering would be over in just a few minutes.† We could see riders behind us, but it was hard to tell if they were chasers or dropped riders from another field.
When we crested the final roller about a half mile from the finish, I knew we had it and let up some.† I think Paul came to take one last pull, but by the time we reach Bow Center Rd, we were all sitting up.† We cross, then start looking at each other.† Ok, whoís going first?† 400 meters out.† Nothing happening.† We had plenty of margin to chasers.† We get ridiculously close, spectators even, and nothing is happening.† Finally Paul goes, I pull in behind him, then realize the line is so close that I should not have pulled in behind him.† I was still gaining on him when he crossed the line about 6Ē ahead of me.† Not sure how close behind Dave and Rick were, but it had to have been close.† Maybe I shouldnít con myself into thinking I canít sprint.† Had I taken the initiative here, I might have won.† Oh well, I raced very hard all weekend, taking podium spots both days.† Despite coming to this race with a partially empty matchbook, I was still able to race and thoroughly enjoy it.† This was an exciting race for me, and I was quite pleased with how strong I felt having done the second hardest hillclimb in the Northeast the day before.† I hope they keep the new route for next year!
2/38 Finishers Masters 45+ (50 Starters)
Time: 1:58:54, 1 millisecond back
43 miles, ~4000ft of climbing per Topo
<![if !supportLineBreakNewLine]>
<![endif]>
85) Mt Equinox Hillclimb, 4th Annual, Manchester, VT
August 4, 2007. Great day for a hillclimb, folks.† Overnight thunderstorms pushed the oppressive heat down to pleasant conditions by Saturday morning.† I did not do an ďAĒ race taper this year.† Having already established a significant PR on Mt Ascutney two weeks early, I didnít feel compelled to squeeze every last second out of this climb.† Takes too much out of training plan to do so.† My PR going into the race was 42:09 from 2004, the first year this race began as a Lyme Disease fundraiser.† Compared with other climbs that year, this was an exceptionally strong effort.† I felt with reasonable taper, I had about 50% chance of beating my 2004 PR.
Like Ascutney, I brought two bikes, one with full complement of gears to warm up on, one with single granny ring for race.† I spent only about 15 minutes warming up, about 5 miles total, with two decent intervals on Farm Hill Rd.† Last year I brought only my climbing bike and was not able to warm up properly.†
Going off with the ďTop NotchĒ first wave at 8am, I stayed out of front row.† I leave that for the guys going for the $500 first mile prime.† Without HR or power feedback, it is hard to mentally block out a dozen or so guys, some I know I will beat, but going for broke on the first mile.† I passed all but three of the first-milers later in the climb.† There were three guys I was going to keep my eye on this year, not that I race for position in a hillclimb, but partly to judge my own effort.† If you can keep a running average of your pace against a few others you know will be going similar pace, you can kind of tell if you are letting up a little too much or surging a little too hard.† These guys were Erich Gutbier (unattached, who I just edged out on Ascutney this year), Mark Luzio (Bike Barn Racing, who beat me here last year), and Larry Watson (unattached, also beat me here last year).
Well, Erich bolted off with the fast guys going for the $500.† Not sure if he was going for it, but he was in group of 4 or 5 lead guys getting pretty close to the 1mi mark before the young guns bolted.† Mark was with me for first mile or so, and Larry stayed near me for over the first half of the race.† Last year, both these guys passed me half way into race.† So I felt pretty good about my pace, with Erich slowly gaining distance on me, Mark and Larry slowly fading back.† During mid part of race, I passed several of the guys that went off uber hard for the $500 prime.† But I traded places with one of these guys, Ian Gordon (Arc-en-Ciel), over a dozen times.† At one point Ian asked if I wanted to do 30 second ďpullsĒ with him.† I wasnít sure if he was serious or not, and I kind of chuckled in between gasps that there is no such thing (as pulling) on such a steep grade.† Ianís pace was very peaky.† He and another rider would drift behind me on less steep parts, then close big gap and blast past me on steep parts.† This had to cost these guys a lot of time in the end.† I think they may have been attacking each other.† I ignored all this posturing by holding my pace.† Eventually, the other guy with Ian blew up and it was just Ian and I finishing the last mile or so together with two guys up the road.† When we got within the last three or four tenths of a mile, Ian (who is only 19 years old) put the hammer down for good.† It was too far to go for me to respond with that kind of power.† I just held my pace.† Ian finished 7.6 seconds ahead of me.† I crossed the line in 41:45.4 minutes, a new PR, and 4th overall.† I was quite pleased.† Nobody broke 40 minutes this year, so I was very close to winner Eric Tremble (Kenda/Raleigh Racing) and Erich Gutbier who took second overall.
As always, Andy Holzman and the Rotary Club volunteers do an outstanding job putting this race on each year.† This hillclimb event is comparable to Mt Washington in organization and camaraderie, and offers substantial prizes to all age group placers.† I believe a record number 209 riders were pre-registered this year.† The food at the top and barbecue at the bottom were top notch.† Iíve noticed another pattern here too.† The valley is always foggy in the morning while warming up.† By race start, you start seeing the sun.† First wave racers climb back into the clouds, but by the time the last climbers finish, the summit is in the clear.† The view in most directions is fantastic.† There were three riders in the 70+ age group this year, and they were not finishing at the back of the pack.† Charlie Beristain finished in just over an hour flat.† Ray Gengenbach (age 72) rode his bike to the race the day before, a long ways from Amherst, MA, and finished in 1hr-21min!† I can only hope to be riding so strong 25 years from now.† You guys are astounding!
Time: 41:45.4 (1:22.9 back)
1/43 Men 40-49
4/158 Finishers Overall
84) Tokeneke Classic Road Race, East Hartland, CT (updated results June 30)
July 29, 2007, Masters 45+. When I first saw the profile of this course, I knew this race would be for me.† Fortunately, there were no other planned races going on this weekend.† Having just PRíd Mt Ascutney, I thought my prospects were pretty good here.† A 2 mile, 5% climb to the finish suits me well.† But Gerry Clapper (Benidorm Bikes), Dzmitry Buben (CCB), and several of the areas other top Masters 45+ riders were going to be there.† Gerry had won the Ascutney climb overall, beating my time by over 2 minutes.† A hilly course with uphill finish doesnít make it an easy race for me, it just gives me a chance.
Prep for this race did not go well.† My primary event Iím training for this year is in September, so racing now disrupts training for late season event.† I was sure to get some mid-week intensity in.† I did hard 3hr training ride on Wednesday with many 350W to 400W+ hill intervals.† Thursday I did 1.2 hour threshold pace MTB ride at lunch.† Friday/Saturday were recovery ride days, but Friday I worked all day on my house, ripping out front entrance door unit with sidelights and installing new one.† That really messed up my back, upper body, and hips.† I could hardly move on Saturday.† I should do core body workouts, but Iím lazy and donít.
I felt a little better on race morning, and my legs actually felt pretty good.† But getting to the race did not go well.† 81mph in a 65 on Mass Pike.† Statie in unmarked car.† I was running late before I got pulled over.† Now I was stressed.† Turns out it was much quicker to get to East Hartland than MapQuest said.† I had time to spare even after that.
I did very little warmup before lining up.† I figured itís rolling flat to huge downhill first several miles, so I could warm up on the course.† Masters do two 22 mile laps with about 2200ft of climbing per lap.† The climbing comes in two major chunks, the back side of the course with undulating steep rises, and the climb back to start/finish area which is 2 miles at 5% monotonically rising.† The climbing begins about 8 miles into the race.† The first blip hurt.† On the second blip, which is twice as long as the first and just as steep, our field became unglued.† My plan for the race was to shadow Gerry, since I thought he was the most likely winner even though Dzmitry won it two years earlier.† Gerry wasnít even breathing and everybody else was gasping.† Scary.† Cresting the second blip, Dzmitry rolled off the front and put the hammer down.† He was gone.† Chase attempts were non-existent or disorganized at best.†
Going up the finishing climb on the first lap, Gerry set the pace the whole way.† Heíd stand, push a fairly big gear out of the saddle, and put out unbelievable power.† Then the pace would slowly keep getting harder, and harder, and harder.† Guys would drop like flies.† I was hanging on by a thread.† I think there were 5 of us crossing the KOM/Finish line together, but more came back on as things leveled out.† Dzmitry was just in front of us, but then slipped away again.† Nobody wanted to work together to reel him back in.
Our group was pretty small going into climb on back side of the course.† Most stayed on up the first wall at the bottom.† But the second wall whittled our group down to very small size, to 5 guys I think.† As Gerry and I crested the second wall less than half way up back side climb, we rolled away from the others in our group.† Gerry did most of the work.† Talking with others after the race, they reached a point where they were happy to let Gerry and I duke it out for second place.† Gerry is a phenomenal climber, and I was feeling pretty good myself.† Climbing continued for several miles, but at a more moderate pace.† On the screaming descent, we caught up to a SUV that was stuck behind some dropped Cat 4ís.† We were going way faster than they were.† I was hammering my biggest gear at 45+ mph, they were coasting.† I had to do very quick chicane between SUV, guardrail, and Cat 4 riders, hoping I wouldnít clip the front bumper of the SUV.† Gerry lost a second or so on me through this mess, and the finishing climb was coming up fast.
Through the SUV/Cat 4 mess, another rider from our field briefly joined us.† Think it might have been Mark Luzio (Bike Barn).† But as soon as the climb began, he disappeared behind us.† Now itís just Gerry and I again, with Dzmitry at least a couple minutes ahead of us.† After seeing what Gerry did on Mt Ascutney the weekend before, I thought my prospects for 2nd were slim to none, and I would be quite happy with third.† But I wasnít going down without a fight.† Again, Gerry set pace nearly the whole way up this 2 mile climb, probably not as hard as the first lap though.† Didnít need to.† There were no other Masters riders in sight behind us, and Dzmitry had too much lead ahead of us.† Still though, I struggled to stay with Gerry, dropping back a bike length a couple times.
As the grade lets up slightly approaching the finish, I expected an attack.† It didnít happen, but Gerry did keep picking the pace up.† Then we can see the line up the road.† There were spectators.† Gerry was going fast enough now, up hill, for me to derive enough drafting benefit to warrant staying behind him as long as possible.† When we got very close to line, less than 100m, I popped around him.† But I freaked.† Stopped in our lane right at the finish line was a big truck with wide trailer.† The race instructions made it clear that the yellow line ruled also applied at the finish. †I had no choice but to go over the line to avoid hitting the trailer.† Gerry followed suit. I didnít look back, but I think I crossed the line with good margin.† We were not DQíd, as we werenít going over the line to advance position on other riders.
Taking second place here was just as satisfying as winning at Turtle Pond.† This was a hard race with a lot of talent present.† Talking with Gerry after the race, I learned heís been having some calf issues and was cramping on the finishing climb.† I could relate back to my experience at Housatonic.† This was a well organized race, one I hope they can continue to have.† There were no sketchy parts to the course, the scenery was great (especially going over the dam), and the road surfaces were in excellent shape.† This was one of my most enjoyable road races to date.
Learning who the players are in Masters racing is paying dividends.† By knowing who I should stay with, I can expend energy only when needed.† I donít think I could have ridden this race much more efficiently than what I did.† I pushed very little wind until it was just Gerry and me, and even then Gerry did more than his share.† I have a bad habit of getting stuck up front when nothing is to be gained from it.† Of course, Dzmitry got away, and it would have been nice to be there when he did.† But I might not have been able to match his initial attack anyway.† Second place was probably the best I could have done given how this race played out.† After results were posted on bikereg.com, I was surprised to see Dzmitry finished only 35 seconds ahead of us.† Since Gerry and I put 1.5 minutes lead on chasers, we probably took 1.5 minutes out of Dzmitryís lead.† Would have been very interesting to see how things shook out in the end had we caught him.
After the race, I did a short 12mi loop on different roads.† I went north on Rt 179, right on South Lane (a narrow, curvy, steep, white knuckle descent), south on Rt 189, then big 4 mile climb up Mountain Rd back to East Hartland.† Sign on lower portion of Mtn Rd says 13% grade.† It was hot during the race, and by early afternoon it was almost unbearable out.† The forecasted thunderstorms never happened.† I left with $65 in my pocket, enough to cover gas and dinner for two that evening, but not enough to even begin to cover the $160 ticket plus increased insurance premiums.
2/57 finishers (64 starters), Masters 45+
Time: 1:56:46, 35sec back
44 miles, ~4400 feet of climbing
<![if !supportLineBreakNewLine]>
<![endif]>
83) Mt Ascutney Hillclimb, 8th Annual, Ascutney, VT
July 21, 2007. Two weeks before this race, I went over to Mt Ascutney with PowerTap bike for training.† I averaged 344W (about 4.6W/kg), a record power for 29:44 minute duration.† This was not a PR time, as this bike was very heavy at 20+ pounds.† One week before the race, I went back with my hillclimb bike.† PR power should translate to PR time with a 5-6 lb weight reduction.† It did.† I crushed my 2004 PR time of 29:16 with a 28:30 finish.† But I was even faster than just what the weight reduction would have given.† My estimated power for this effort was 4.7W/kg.† Maybe since I knew I was going for a PR, I went a little harder.† But this was also my first time climbing Mt Ascutney with an elliptical Q-ring.† I PRíd Whiteface last year with one, and now Ascutney.† Really starting to think thereís something to these things.† Having no power feedback, it was exceedingly hard to pace myself starting out though.† My first mile took 7:25, the second 8:15.† The second mile is steeper, so itís hard to judge pace this way.† Nonetheless, I was psyched and looked forward to an official PR a week later at the race.
Race day.† Perfect day forecasted, 60ís in morning, maybe some wind, zero percent chance of rain.† I rested most of the week, off Monday, very hard 2hr ride with intervals Tuesday, then light recovery spins Wed-Fri.† I took both PowerTap bike and climbing bike.† The climbing bike has a single 30t ring up front, so it is unsuitable for warming up.† Plus, we had group ride planned after the race.† I warmed up just like I did for my PR a week earlier: about 6 miles/20-25 minutes worth with a couple above threshold bursts toward end.
I went off in third wave.† I tried so hard not to go too hard.† A rider in my group I did not recognize (Erich Gutbier) starts pulling away.† I blocked it out.† Sort of.† We traded places many times in the first two miles.† I often bolted past him on the flats, trying to keep my power constant.† I know his power had to be fluctuating wildly since he kept passing me on the steepest bits.† About half way up, I left him behind for good.† Of course, there were multiple waves with riders in my age group, so I had no idea if anybody in my age class behind me was going faster. Waves were 3 minutes apart.† Both my first and second miles were about 20 seconds faster than my training PR climb.† So at two mile point, I was 40 seconds faster.† I thought I would surely break 28 minutes.† But I was riding on borrowed time.† I gave most of that 40 seconds back in the last 1.7 miles.† I came across the line in 28:14, another 16 seconds faster than my training climb a week earlier.† I was quite pleased.† My estimated power for this effort was 353W, or 4.8W/kg.† Had I not played games with Erich during the first portion of the climb, I might have broken 28 minutes.† Looking at prior results, Erich usually beats me at these things.† I came out on top of others I donít usually beat either.† So it was a good day for me.
When I registered for this race, I just clicked the usual 45-54 age group button on bikereg, since my USCF racing age is 45 even though my 45th birthday is in August.† But this is not a USCF race, and it goes by your actual age, not USCF racing age (age you become during that calendar year).† This was not noted on bikereg, and I donít think non-USCF race organizers know that most races go by racing age, not actual age.† There was confusion on this with Mt Washington registration too, and the organizers had to make corrections.† Had I correctly registered for the 35-44 age group, I would have taken a first place with prize of a lift ticket for Ascutney ski area.† But my result was placed in the 45-54 age group, and strangely enough, the overall winner was in this group.† Gerry Clapper (Benidorm Bikes) won with a 26:12 finish, which Iím sure is an age group record.† So I ended up placing second in this group and only getting a medal.† The race director said she didnít want to mess with a one month discrepancy in age, and I donít blame her.† It was my fault anyway.† I donít really care where I place in a hillclimb race.† Itís essentially an individual time trail, where each rider goes against the mountain and a ticking clock.
After the race, five of us went on the customary Okemo loop.† This goes out Rt 44, Tyson Rd (a 1200ft climb), then out and back on Okemo, a near copy of Ascutney.† The return follows scenic Rt 131 back to Ascutney.† We had thought about extending the loop.† We opted not to, so Dave and I hit the Tyson Rd climb pretty hard.† I held 300-350W pretty much the whole way.† After waiting a few minutes for the last guy to summit, we bombed down to Rt 100.† None of us were in good shape by the time we got to Okemo.† Mark did not have steep grade climbing gears on his regular road bike and almost abandoned.† Matt almost gave up before climbing the first 50ft when he realized his legs were running on fumes.† I started with good intentions, hoping to keep power around 300-320W, but my power dropped linearly with altitude gained.† By the time I reached the upper part, I was struggling to hold 270W.† I was 100% spent.† It was very warm by this time too, and I was soaked.† Dave summitted a minute or two behind me, then Glen and Mark.† Mark said his cadence was dropping to 50rpm.† Ouch.† Matt told us not to wait for him at the top, as he might bail or would just turn around when we came by coming down.† But we no more than start heading down, Matt was right there.† So we all made it.† The cafť stop at the bottom was well earned.† I fueled up on chocolate milk and Red Bull.† Had some nice bits of tail wind on the way back.† On the last 400ft climb flanking Mt Ascutney, Dave bolted away from the rest of us and there was nothing we could do about it.† About 70 miles and 8000ft climbing for the day, including warmup, race, and loop.† We met three other riders from the Ascutney race on this loop.† Perhaps my best hillclimb day ever.
Time: 28:14 (new PR, 1:02min faster than 2004 PR)
2/53 45-54 Men
5/218 Overall
82) Housatonic Hills Road Race, USCF, Southbury, CT
June 17, 2007, Masters 45+. This was a race Iíve wanted to do for several years.† It always seemed to coincide with other events like the Whiteface Hillclimb in NY.† This year I decided not to do Whiteface this weekend (first year I missed it) and try this hilly road race.† The course basically consists of three 500+ft climbs per lap for two laps, plus a bonus 500ft climb to the finish.† There are many other rollers along the course, adding up to 2880 feet per lap per Topo USA.† With the 500ft finishing climb, this race entails over 6000ft of climbing in about 54 miles.
I had high expectations for this race, but ďeverybodyĒ was going to be there.† Many of the masters 45+ contenders from the northeast region were pre-registered.† This would not be an easy race.† The forecast called for humid temps well into the 80ís.† Heat is my Achilles heel.† I packed three water bottles with endurolytes.†† After a minimal warm-up by putzíing around for 10 minutes, I lined up.† I suspected probability of attacks in first 6 miles would be low, so I could finish warming up during beginning of race before first climb.
No neutral start here.† Pace was brisk, but nothing crazy.† After crossing I-84, the pavement was crap.† There were very dangerous cracks and potholes everywhere.† I got boxed in along stonewall and was constantly dodging tree debris.† I heard in the 4/5 field there were at least six flats along this stretch.† I did not hear any in my field, but I stayed as near to the front as possible.
After about 7 miles, we hit the first climb.† Pace was quite reasonable.† After a nice descent, we come to second climb.† Pace goes ballistic, and I couldnít figure out whatís going on.† I had completely forgotten about the KOM points at the top of this one.† John Funk (Fiordifrutta) launched well clear of the front and took it.† I stayed with these guys, but I later learned this burst shelled a large portion of our field.
Shortly after the KOM competition, Colman Oíconnor (Bicycle Link/MBRC) and one other rider take off.† Not far at first, but nobody wanted to reel them back in.† Before you knew it, they were clear out of sight.† At one point, a spectator told us they had over 2 minutes on us.† During the rest of this first lap, Bill Thompson (CCC/Keltic) along with others popped off the front on repeated occasions.† I went with Bill on a couple of these attempts, but the field was not going to let us just ride away.† I gave in before Bill a couple times, not wanting to waste any matches for a worthless cause.† Eric Pearce (Bethel Cycle), whoís been winning a lot of races lately, jumped on most of these attempts but just sat in.† Very frustrating not having a rider pull through when trying to peel away.
Beginning second lap, we briefly had Colman in sight, but what was left of our field just wasnít interested in finishing the job.† Along the I-84 stretch, another rider goes solo off the front and stayed out there quite a while.† Colman and his break partner rolled out of sight again.† At this point I was pretty sure he was going to take it.† He does very well in races like this.
Before we got to the first climb of lap two, I rolled off the front.† Eric Pearce joined me.† I drew a pretty good gap initially.† But Eric either didnít come up to pull or wasnít putting in the effort needed to make it work.† I stayed up front for a long time until we were into the first climb.† We quickly passed and dropped the lone rider that went off along I-84, and we now had Colman clearly in our sights.† We caught Colman near the top of the big climb.† I asked if he was interested in still keeping it going, and he said sure.† Now we had four strong guys, and the main field was out of sight behind us.† All of us started working now, but not always very rhythmically.† The beastly climb, where the KOM was on first lap, was next.† We went into the climb out of sight of our field, but as we climbed, I could see riders bridging up.† It was Dzmitry Buben (CCB), Junk Funk, Dave Kellog (Arc En Ciel) and maybe Doug Oíneill (Denoís Wonder Wheel).† Cresting this hill now, we had most of the fieldís contenders in this break away of eight.† I was pretty psyched, as cash pays eight deep, and we were almost certain to stay away.† Most of these guys were intent on keeping us at eight riders and put in good work.† Dzmitry can be quite persistent in ďencouragingĒ us to work together.† But in bicycle racing, convincing riders to work together can be more difficult than herding cats.† This does not bother me, but one in the group who apparently hasnít been in a split with Dzmitry before, was irritated with his persistence.
We stayed out of sight of the rest of the field for the rest of the race.† We passed the Cat 4 field with about 10 miles to go.† I was pulling at the time, and our pace car got hung up behind them and I panicked.† I read somewhere one time you can get DQíd for passing your pace car.† But they got around the fairly large Cat 4 field just in time.† I thoroughly enjoyed hammering at the front of our break, just behind our pace car, at huge speed differential to the Cat 4 field.† Burned a match doing it though.† Our pace slowed down several times with one big climb left to go before the finishing climb.† Many of these times, I came to the front to pick it back up.† I figured my chances were slim of winning going into the finish with these guys anyway, so at least I wanted to do my share in not getting caught by any other riders bridging up.† I thought finishing worst case 8th out this rather elite group of 8 riders was not bad.† But between bridging up to Colman and doing more work than some of the others in this group, my match book was nearly empty.
About 1km before the finishing climb, I rolled off the front.† The other seven did not respond at all.† I drew nice gap, maybe 100m at one point.† I rounded corner and began the 500 foot climb leading the race with ~5 second gap.† The grade gets steeper.† I stand to put the power down, and my hamstrings and groin muscles went into thermonuclear spasms.† There was no warning, and there was nothing I could do.† I had to sit back down. †Very quickly most of the other riders in our break flew past me.† Even some of the Cat 4ís that we passed much earlier started coming by.† But our break had such good margin that I was not in risk of loosing 8th place.† The climb went what seemed like forever, then I see 2km to go on pavement.† I started cussing.† I thought I was going to curl up and die.† But the grade slackens way off, and I was able to spin out most of the remaining 2km to the line.
After the results were posted, I was astonished to see I made 6th place, as I was sure at least 6 or 7 of the guys in our break came around me.† But the Cat 4ís were mixing in, so it was hard to tell.† I was also puzzled that cash payouts started at 6th place, when race flyer said 8 places.† So I still made the cash, just barely.† John Funk won it, so it was a good day for him.† Talking with Bill Thompson after the race, he commented the one time he didnít go with somebody off the front it stuck.† This was when I bridged up to Colman.† I thoroughly enjoyed this race.† I will do it again.† It was probably the toughest road race course Iíve done to date, easily on par with the Battenkill-Roubaix course.† Fellow bike racers told me I would like this race, and they were right.
6/76 finishers (98 starters), Masters 45+
Time: 2:29:45, 10 seconds back
54 miles, ~6200 feet of climbing (per Topo USA 6.0)
<![if !supportLineBreakNewLine]>
<![endif]>
81) Jiminy Peak Road Race, USCF, Hancock, MA
May 5, 2007, Masters 45+. I came to this race recovered but with no lofty expectations.† Plan as usual was to create or select successful break, and if that seemed unlikely, ride conservatively and duke it out on the finishing climb.† Sprint finishes are never part of my plan.† In prep, I did only one hard day this week, the Exeter Cycles Wednesday night training ride.† Did 1hr recovery rides Thur/Fri.† Legs felt good.† Temps were nippy to start, but I decided to shed long sleeves anticipating warmer temps by race end.† Good call.† I did almost non-existent warm-up, even though I anticipated break attempts right from the start.† I just putzed around the parking areas at recovery pace.
Sure enough, once we got to the bottom of the hill on first lap, attack after attack ensued.† I held tight in front quarter of field for most of these.† Then I got boxed in.† Iím not sure who started it, but Iím told Mark Hagen (CCB/Volkswagon), Randy Rusk (Arc en Ciel), Bill Thompson (CCC/Keltic), Tom Luzio (Denos Wonder Wheel), and one other rider peeled off the front in unorganized fashion and started to work well together.† I was kicking myself for not being more prepared for this, as I had some recent dialog with one of these riders regarding break opportunities.
The 5-man break rode out of sight very quickly.† The teams represented by the break were strong, and they formed an impenetrable barrier at the front of this race.† By this, I mean that any thing that went off the front was mercilessly chased down.† The pace was controlled.† Anytime anybody pulled through, break teammates would just sit on their wheel.† This was so frustrating, infuriating in fact. I admired the effectiveness of their blocking skills despite getting left behind.† Thompsonís teammate Tom Butler (CCC/Keltic) was incredible.† He single-handedly chased down most of the guys that popped off the front, time after time.† He did this in such a fashion that he would pull the whole field up with him.† Wouldnít that destroy any would be chasersí morale?† I think so.† In the end, Tom still placed in the cash.† Very impressive.
On second of three laps, break is still out of sight, but they popped one rider off, so now just four are left up the road, probably two, maybe three minutes ahead.† On the back stretch, the long, gradual Rt 7 climb with tailwind, nobody would do any work.† I found myself at the front of pack several times. †I worked hard a few times, but not kill myself hard.† I did not mind being up front on this stretch, as there was minimal drafting benefit.† If I worked hard at the front, so too did the guys 10 wheels back.† No hiding under these conditions.† We did get the break back in sight though, but still at least a minute up the road.† I thought there was a chance to catch them on the climb or descent, but they actually increased their lead up and over the finishing climb.† On third lap, I stayed with the front 10 guys 90% of the time.† I kept coming around the blockers, only to have them sit on my wheel.† I and a few others made several attempts to peel away.† No such luck.† I think these were half-hearted attempts, including my own attempts.† We were getting so close to the break though, it was pathetic.† The break might have been 150m up at one point.† One good sprint could have shut it down.† Teams that were not represented in the break refused to commit the kilojoules to finish it.† I had no teammates in the race to help out, and I was quickly becoming cooked.
Coming into back stretch on final lap, I was at the front of pack much of the time.† I didnít really want to be, but I was taking very little wind so it didnít matter much.† Sometimes I was hammering, other times Iíd let up to see if anybody else would come up to work.† Eric Pearce (Bethel Cycle) spent time at the front too.† He took some launch attempts, but to no avail.† Butler or one of the other blockers always pulled things back up, then sat on our wheels.† After I put in some fairly hard, long pulls on the steepest parts of Rt 7, we reach the last riser before turning off Rt 7 into finishing climb.† This is about 2 miles out from finish.† We may have had 30-40 guys left out of the 125 or so that started.† The break was less than 300m ahead.† I reached the conclusion that I was cooked, I had maybe one good blast left in me, and I was not going to place well regardless of what happens.† I decided to chase down the break myself, most likely taking the field with me, and NorEast Cycling will at least get some recognition for shutting down a highly successful break-away.† I had no doubt I could do it, as the break did not seem to be working too hard relative to my effort and I had tail wind advantage.† As I crested last steep part of Rt 7 at the front, I put the hammer down and rolled off the front.† I unexpectedly drew huge, immediate gap.† One other rider bridged up to me, who I believe was Dave Kellog (Arc en Ciel).† He had been blocking for Rusk up in break.† Initially, he would not take pulls, but did take one before the big finishing climb.† I passed him again, attacking the lower part of the climb in my big ring at 27mph.† The field is now way back, with just Kellog on my wheel.† I was approaching the break away very fast.† We pass the feed zone, now with about 500 meters to go.† I blasted past the break and freaked.† I was now leading a race that I had given up all hope on with less than 500 meters to go.† Only problem was that Rusk, who was in the four-man break, jumped on my wheel and stuck there.† The rest of the break fell back and got swallowed by the pack.† I suck at sprinting.† As the climb levels off into the wind, Rusk came around me.† I took 2nd place by less than a second.† Had I played cat and mouse games coming into the finish, I surely would have lost positions, as the field was fast approaching.† You could say the break-away succeeded, as one of the guys still won, but only after briefly being caught.
So I was totally psyched with this result - 1st and 2nd place finishes in back-to-back races.† I believe I expended more energy recklessly during this race than Jiminy last year when I did poorly.† I go to races to race, not sit in and hope to get lucky in the end.† Pace was slower this year with all the blocking going on.† Not sure where the reserves came from in that many-minute burst at the end.† It was the same move I made at Turtle Pond.† I got away with it again, but I bet at some point it will get harder.† And so much for race plans.† I failed to make the break with nothing but contenders in it, and then I failed to ride conservatively the rest of the race.† Things still worked out in the end.† I was amazed with the team organization in this race.† Iím still quite new to road racing, having done less than 20 road races, and I still have much to learn.† Team support was evident the entire race, with strong teammates vigorously controlling the pace in the field while their guy was up the road.† The break-away ultimately failed, but it came so close.
Time: ~2:17, 53.9 miles, ~4400 feet of climbing
2/72 finishers, Masters 45+
80) Turtle Pond, USCF, Loudon, NH
April 21, 2007. Expectations were low for this race.† Did poorly here last year in the 3/4 field.† Course has many rolling hills with one big climb to finish.† Masters do 5 full laps plus initial climb up hill starting out.† When I checked climbing per lap last year, I think it was 800ft.† Add the extra climb at start, you have almost a Mt Washingtonís worth of climbing in this race.† With lots of small hills and team hijinks going on, this race tends to be very peaky.† Either everybody is sitting up and talking, or itís balls to the wall.† I do best in steady state situations with high power output, such as TTís or hillclimbs.† The weather was spectacular, chilly 40F starting out at 9am, but quickly reaching around 70F by race end.
The first two laps were uneventful.† Bill Thompson (CCC/Keltic) was at it again, just like at Battenkill last weekend, launching off the front in long break-aways with one or two other riders.† The pace up the big climb each time was quite hard, and the descent often blistering fast.† It always seems on this course that it all comes back together after the descent.† The third lap was very fast, and it brought our field back together again, except for the unfortunate ones that got dropped.† A pattern was emerging however.† Pace would be very fast up and over the big hill, but once we came around on north side of course, everybody would sit up.† When two or three riders from different teams got away, their mates did superb job of blocking.† This was particularly true of CCB with about seven guys in the field, but the CCC/Keltic guys seemed quite organized in this regard too.† This was very frustrating.† Iíd pull through, only to have teammate of break-away group sitting on my wheel, leaving me up there to flounder.† The other teams were afraid of doing more than their share of work giving chase, so nobody did any work.† Iím amazed that these early break attempts got reeled back in.
I spent a good deal of time near the front on lap four.† MBRC/Bicycle Link and CCB guys became much more active.† Teammates Keith Button and Steve Mcgrath were right up there in the mix too, helping to control breaks.† The entire field was together going up the hill the fifth time.† A small split formed as we crested the top, and Eric Marro (BOB/Shift) tried in vain to get us to work together.† It wasnít happening.† Kind of like herding cats I suppose.† Most of the strongest riders in the field were in this split group.† At one point, I yelled out a ďGo!Ē to a well known rider in front of me, and he replied back ďPull through and shut up!Ē† I did, and that gave me the motivation to try a different strategy.† I was not going to place well charging up the hill with these guys.† I donít have the same peak W/kg they do.† The hill is not big enough to be a dig down deep for a long time kind of thing Iím better at.
After the double right turns on final lap, a rider rolls off the front.† Nobody cares.† Field sits up.† A moment later, I non-chalantly roll off the front too.† I was pretty cooked at this point, after trying in vain to keep the split going coming down the hill.† When I saw nobody was responding, I slowly grew the gap, so as to not draw attention.† I had about 6-7 miles to go, and I thought this was going to be a suicide mission with all that firepower behind me.† After pulling a few hundred meters away, I put the hammer down.† Head down, no looking back, no looking forward either.† I speculate my power went from 200W to 400W and stayed there.† I quickly caught up to Frank Jennings (Gearworks/Spin Arts).† He jumped on and struggled to hold my wheel initially.† We were now out of sight but still had several miles to go.† I did nearly all of the work, as Frank could not hold my pace.† Based on how things heated up in the last miles last year, I would need good margin to pull this off.† The speed I was holding was unbelievable compared to leisure pace the pack held on first four laps.† Wish I had some PowerTap or HRM data to look at.† I was on verge of puking whole time.
I was not too worried about Frank sitting in and taking me at the line.† He was not able to match my effort on the rollers, so the hill was going to sort things out fair and square.† As we turned the corner beginning the finishing climb, the main field was nowhere in sight.† At this point, I knew I had it, but itís not over until itís over.† Frank stayed with me until the midpoint of the climb where it flattens some, but then as it gets steep again before the line, he fell back.† Itís been a while since I sauntered across the line for a solo win.† Iíve never done the double arm salute thing either until today.† I did it for the other NoríEasters who just finished their race and were spectating.
In talking with teammate Keith after the race, he said nobody wanted to give chase after I rolled away.† Could be they donít know me yet, but Iíve won a couple masters races this way now.† The field may have been burnt out by riders going off the front throughout the race and nobody wanting to work to chase them.† Having teammates execute effective blocking really destroys the motivation of other teams who donít have somebody in the break.† Why is that?† Keith and Steve spent time near the front after I rolled away to control any chase attempts that might ensue.
In looking over race reports from prior years, it is interesting to note the stark contrast between individual efforts (such as hillclimbs, TTs, or even MTB races) and pack/team efforts in road races.† The individual efforts are all about "I did ...," while road race reports are more about "team so-and-so did ..." This is both frustrating and addictive at the same time.† You can be the most fit rider in the pack, but if you are unlucky or have a weak team or make tactical errors, you will do poorly.† The fittest riders are not the ones necessarily winning.† You can never eliminate the random element to road racing.† I think a mix of road and hillclimb racing is a good balance.† In hillclimbs, you are racing against your personal best.† Hillclimbs provide superb gauge of fitness using only stopwatch.† There are no pack dynamics, and the only uncertainty is the weather (mainly on Mt Washington).† Road racing is more like poker.† Sometimes the race unfolds in a hand dealt in your favor.† Winning implies some basic fitness, but it is the culmination of many other interactive forces that you have limited control over.
1/52 Finishers Masters 45+ (66 starters)
Time: 2:30:38 (won by 10sec, 1:04min to main field, approx. 58 miles)
<![if !supportLineBreakNewLine]>
<![endif]>
79) Battenkill Roubaix, USCF, Salem, NY
April 14, 2007. Had big expectations going into this race.† Won it last year.† Tapered well, felt great after warming up and lining up at start.† It had rained and snowed for two days right up to race day, but word was course was not muddy.† I had expected a mud bath, as there was a foot of new snow coming over the mountains in Vermont.† Temp range 39-44F during race with stiff NW wind.
Early in the race, I found myself off the front with Ruiz (CCB) and Funk (Fiordifrutta) plus two others. Ruiz and Funk were two guys I was going to watch closely. Ruiz had a large contingent of CCB support. Our brief break did not last long though. Later, Thompson (Keltic/MCRA) and one other rider bolted way off the front. The larger teams present didn't seem too worried. Thompson was out of sight at times, for maybe 20 miles of the race. It wasn't until things really heated up on Meetinghouse Rd that this two-man break was reeled back in.
During the first half of the race, I spent a lot of time mixing it up at the front, way too often finding myself at the very front not being able to relinquish the lead. I wanted to be ready for Ruiz or any of a few others to make their move. But the teams were well organized, and most moves proved futile. It seemed anything I went with was promptly reeled in. Maybe winning the Master's 35+ here last year made me a marked man. Anyway, I burnt way too many matches doing this. I think Ruiz, after testing the waters early in the race, just sat in and waited for his moment near the end.
In the long straightaway before the last climb, we started mixing in with dropped Cat 3's or 30+ riders. Somewhere in this, Pearce (Bethel Cycle) got away and it seemed nobody noticed. It escaped me. He ended up winning by a minute. Going in to the last climb with the front of the field, I realized I was in trouble. Ruiz and a couple others slowly slipped away as we crested the top. I stayed with a second small group of riders to the finish, desperately trying to bridge back up to Ruiz's group of four at speeds over 50 mph. I took some long pulls in the final two miles. After realizing Ruiz's group had enough margin, my group of 12 let up a little. Since I can't sprint, I bolted off the front with maybe 300-400m to go. Drew nice gap, but real sprinters can shut that down in a hurry. Six guys came around me at the line.
After the race, teammate Rich asked me what in the world I was thinking spending so much time near or at the front during first half of race. It sure was fun. I guess I have a hard time risking getting boxed in and missing a good opportunity. But as I am learning, more often than not, chasing every little wisp off the front is just foolish wasting kilojoules. It worked last year, but nobody knew me in that field.† You only have so many kJ to expend in a 2.5hr race. Given I made mistake #1 and was cooked before the last climb, I proceeded to make mistake #2. Had I just sat in after cresting the final hill, I should have been able to finish at least a few places higher. I did too much trying to bridge back up by myself. After all, Ruiz et al were only 15 seconds ahead of us.† The others drafting me were greatful for my valiant efforts I'm sure.
So I came in 12th out of 87 finishers. I was quite happy with my fitness, but I wasted it.† Like last year, this race was wicked fun. Fields were much larger, and competition more serious this year. It is safer than most races with few sharp turns and steep climbs to thin fields out.
The course turned out to be in excellent condition.† The gravel was a little mushy in a few spots with a few small mud puddles.† They could easily be avoided.† Considering the course could be loose as marbles or submerge your rims in goo, it was about as good as it gets.† I did not have to clean bike after race.† There were some nasty bumps in the dirt though, especially the first little dirt foray heading out of Salem.† Not only were riders dodging giant pits, we were dodging the dozens of water bottles strewn about from earlier fields.† I learned my lesson last year on this course loosing a bottle.† Skimpy, lightweight cages are BS.† Save 20 grams and lose half your water?† What will cost you more time in the end?† After last yearís race I bought the heaviest, stiffest cages I could find.† These are the Elites with gel grippers.† Not light, they even look heavy, but you could ride off a bridge and not lose a bottle with these things.† Built for New England roads.† Save the skimpy cages for pure hillclimb events where you donít go over 10mph and where weight might actually matter.
Time: 2:36:56 (1:27 back, approx. 55.5 miles)
12/87 Finishers Masters 40+
<![if !supportLineBreakNewLine]>
<![endif]>
******* 2006 Race Season *******
78) Milford Cyclocross Classic, 1st Annual, Milford, NH
September 30, 2006. I did this race mostly on a whim, not committing to it until morning of event.† CX is not my forte, having only done one traditional CX race to date.† Very hard road ride on Wednesday, hard singlespeed trail ride on Thursday left my legs sore and tired.† But the Milford CX race was being put on by a LBS, it was a very nice day out, and I thought it would be fun to support this event by racing.† It appeared many others registered the day of the event too.† There were 44 Masters 35+ pre-registered, but close to double that many at the starting line.† On a tight course, that creates mayhem for first lap or two.† I got a 40 minute warmup in, mostly just tooling around the venue watching the earlier fields race.† I did get two laps around the course at moderate pace before my race.† There were no run-ups.† There were two sets of barriers, including one that had long sand pit between barriers.† The running bits kill me.† Course was dry for most part, even dusty in places.† A couple corners had loose gravel or were covered in acorns.† Very tricky.† Didnít see any crashes, but a few riders did slide out and catch themselves.† I started near the back of the pack.† First lap came to near complete standstill in a few spots around tight corners.† I wasnít too concerned, as this was a ďCĒ priority race or even lower for me.† After things thinned out, I started passing riders.† I was passing people the rest of the race.† We raced 45 minutes.† They estimated when five laps to go would give 45 minutes and then started a lap count-down sign, which was nice.† I finished in back half of field, which was expected.† Again, I could not get the disk brakes on my Dean Torreys CX bike to not rub.† I think the problem lies mostly in the super light weight Hayes labeled Hugi 240 hubs Iím running.† Any axle flex will cause very low clearance road specific disk brakes to rub.† I am now determined to build a better wheel set where weight is not a concern.† May go with some Hope or Chris King hubs.† The race was wicked fun (despite being on the verge of puking for 45+ minutes), appeared to be a huge success on itís debut, and I plan to come back next year.† Event was not a USCF sanction race, so results were posted only for top three finishers in each category.† Bummer.
Time: 49:40, mid-pack finish
<![if !supportLineBreakNewLine]>
<![endif]>
77) Mt. Washington Hill Climb Race, 34th Annual, NH
August 19, 2006. Turned 44 today, and I was looking for a birthday gift.† After some frustration with mid-season mixed results, I took some experimental risk this year for Mt Washington.† The primary thing I did differently was tapering longer than usual.† I did the Mt Agamenticus time-trail last Sunday, six days before Washington.† Very high intensity, a new PR, and a long moderate intensity ride afterwards.† Then Monday through Friday leading into Mt Washington, I backed way down.† My max heart rate is 185 bpm.† My average heart rates for rides on each of these five days were 99/124/123/100/100bpm.† This ranges from 52-67% MHR.† Very low.† Max HRís on these rides were also very low except for one brief burst on Wednesday.† Ride durations varied from 40 to 60 minutes.† I was going through intensity withdrawal by Friday.† Iíd typically get some intensity in on Tuesday and/or Wednesday for a Saturday event.† Not this time.† I also had my bike set up quite differently.† I reduced weight by going after ďlow hanging fruit.Ē† I removed rear brake and cable.† I removed front derailleur and cable.† I removed large chain ring.† In fact, I used an Ultegra triple crank with the spider arms sawed off, holding only a single 24t ring.† On the rear, I swapped out the MTB cassette/XTR derailleur for a D/A 23t road cassette/road D/A derailleur.† This significantly reduced the weight, to just under the UCI limit of 6.8kg at 6.795kg (14.98 lbs).† It also improved gear ratio spacing.† But the bike was now hillclimb specific, not being good for anything but going up Equinox or Washington where a car must be taken down.† I then addressed power losses to the fullest extent possible.† When I modified the Ultegra crank, I milled down the granny mounting posts to get optimal chain alignment with the largest four cogs in the back when using a D/A double bottom bracket.† I used a very expensive lube, pure fluorine based stuff by Dupont called SB10, about $20 per tiny 15ml bottle.† Studies have shown very little can be gained in using an expensive lube, as a dry unlubed chain shows virtually no loss in performance.† Still though, I thought it couldnít hurt.† I also used Michelin latex tubes for the first time.† I was dismayed to see they lose 30 lbs overnight!† That means theyíd lose a few pounds pressure climbing Mt Washington too.† They were actually heavier than the thin butyl tubes I removed, but rolling resistance of latex has proven to be lower than butyl.
Forecast for summit kept changing, from cold, dry and windy to humid, wet and calm and combinations thereof.† Summit was clear upon arrival, but clouds were developing.† Temp was perfect at bottom, around 60-65F, and there was no wind.
I got a better nightís sleep than usual for this event, but got up much earlier than usual too at 5am.† Weíve gotten caught in the huge backup going into the venue in prior years, where I barely had any time left after bib pickup to warm up.† This time we beat the line, getting there at 6am.† I had time to spare to warm up.† Since my hillclimb bike was not suitable for warming up, I used my mountain bike I planned to ride in the afternoon.† It had big enough gears to get the heart rate up.† I warmed up for only 30 minutes despite having time for more.† Because Mt Washington is climbed at threshold and lasts over an hour, a long warmup with several bouts of intensity can be too much.† You could deplete too much glycogen and run into deficit before reaching summit.† I did only one sustained burst lasting over a minute about 15 minutes before race start.† I swapped shoes and bikes and put myself in third row of Top Notch wave.
Many pros were present, including Tyler Hamilton and Ned Overend again.† The Kenda team was there too.† While waiting the last 10 minutes for the cannon to go off, it started raining pretty hard.† I thought we would freeze.† It let up just before we started, but the road was wet.† Weíre off with the cannon at 7:40am.† I wore a heart rate monitor this time, and my HR did not come up very fast.† This might have caused me to push a little too hard the first mile.† I thought about 25 riders got ahead of me.† I believe only two riders passed me during the climb, around the 2-4 mile area.† First was Dale Stephanos (Bicycle Link).† The next was teammate Steve Humphreys (NorEast).† No others passed after this, and I passed no others.† This usually is a good sign, as when I have a bad climb, riders pass me in the last half.† About 5 miles into the climb, I struggle to keep HR around 170bpm, just above my LT.† It was dropping to 166bpm.† I thought I was doing poorly, and since nobody was coming up behind me, I may have just given up killing myself since I thought my finishing position was sealed.† We hit a sustained stretch of headwind, and pace slows even further, but Steve is still no more than 20-30 seconds ahead of me.† I knew he would be a challenge here, as we were neck and neck in MTB races that favored riders with high W/kg at LT ratios.† Then around mile 7 with 0.6 to go, a spectator yells out Iím in 15th position.† I thought no way and hollered back ďare you sure?!Ē† He said yes.† That would make my best placing ever.† Weíre getting into the clouds now, and I see Steve is passing a young Casters rider who seemed to hit the wall.† I too quickly came around this rider.† 14th place now?† I was really feeling motivated, so I thought after taking it ďeasyĒ for the last 10 minutes or so, I should push what Iíve got left to see if I could take Steve.† Heart rate came back up to 170-172bpm, and I rather quickly overtook Steve.† Now Iím 13th in Top Notch wave.† I kept looking back, but Steve was not able to respond.† Crowd was getting thick, and I could hear the ruckus riot up top even though the summit was completely socked in by clouds.† I really lit it up for the last two minutes of the climb, and now I realized my elapsed time was showing a PR was imminent.† I recorded 1:06:10.9 with my HRM.† My official time was 1:06:11.† This beats my official PR of 1:08:48 from 2001 race and unofficial PR of 1:07:46 from 2004 practice.† Got my birthday present.† Made third place for 40-44 age group, my first podium finish in five years on Mt Washington.† Although I finished 13th out of Top Notch wave, one rider in a later wave finished one second faster than I, so I finished 14th overall out of 570 finishers.† Prior best overall was 17th with fewer pros present.
So what all do I chalk this PR up to?† Hereís my prioritized list with swags at time benefits (in minutes):
1.† Bike was 4.5 lbs lighter than five years ago. (1:39)
2.† Thee pounds lower body weight, estimated 161 lbs (73 kg) race morning. (1:06)
3.† Got more cycling volume earlier than in prior seasons. (0:15)
4.† Slight modification of diet in 48 hrs leading to event - reduced fat, meats, and dairy intake.† No carbo-binging though. (0:12)
5.† Drive train improvements - only gears I need, closer gear spacings, high-tech lube, and latex tubes. (0:10)
6.† Complete recovery taper in five days leading to race. (0:00)
7.† Weather. (-0:45)
This equals the 2:37 time improvement from my 2001 official PR set under similar conditions on Mt Washington.† So after making such a big deal about recovery at the beginning of this report, why do I rank it as no benefit?† Because botching recovery results in a negative impact on potential performance.† Getting it right results in optimum finishing time.† You can always train more or buy a lighter bike to improve time, but you canít arbitrarily recover more an improve time.† I think I got it about right for Mt Washington this time.† My recovery impact on Mt Equinox two weeks earlier would have been about -3:00 minutes.† I had done everything else right, but I did too much too close to the event.† That work may have had value for Mt Washington, but not Equinox by itself.† Although weather was near ideal, there was some moderate head wind to deal with up top.† After doing some analysis on raw S725 data, I could correlate where climbing rate dropped about 15% (from 70ft/in to about 60ft/min) for extended periods of time with where the headwind was.† Iím estimating this to cost 45 seconds.† Wind the prior couple years was more like 2-4 minutes impact.† There was very little wind in 2001 I recall.† Temperature was near ideal for me this year.
Many age group records were broken this year.† It was the first year in four with decent weather for the race.† Tyler Hamilton, now 35 years old, set the new 35-39 age group record at 52:21.† Ned Overend beat his 50-54 age group record from last year at 54:41, coming in 2nd overall.† Utterly amazing.† Jack Hutchinson also broke his 55-59 age group record at 1:12:20.† Several other men and womenís age group records were broken.
I talked with Ned Overend briefly after the race.† Last year he used a single 26t granny ring I believe.† This year he appeared to have a completely different setup, which looked bigger.† I asked him about it.† He has been using the Rotor Q-rings.† He had a compact 36t ring on the front, the same Q-ring I used to set a PR on Whiteface earlier this season.† He is sold on the Q-rings, as am I.† However, he coupled that 36t ring with a 29t cassette.† He felt this was too big of a minimum ratio in a few places and suffered for it.† He did not want to go to MTB crank to get a smaller Q-ring.† I have the same problem, and thatís why I havenít used the Q-ring on Ascutney, Equinox, or Washington.† I simply canít push a 36x32 up those grades.† I need closer to 1:1 ratio.† Rotor is just coming out with a 24t, 74mm BCD Q-ring for Shimano road triples, but Iíll have to wait until next season to use it.† Gives me hope in setting PR again next year if thereís as much performance gain there as I think there might be.
As always, this event is the capstone event of the hillclimb season.† Mary Powers and crew do a stellar job pulling this off each year.† With racers and families, at least a couple thousand people are involved.† Looks like last hillclimb for me this season, as Iíll be in Colorado when Greylock is held on September 10. †Thereís another Whiteface race on the weekend I get back, which I canít make.† Thereís also an Appalachian Gap hillclimb on October 5.† Havenít ruled that one out.
Time: 1:06:11 (13:40 back overall)
3/135 40-44 Male
1/93 New Hampshire competitors
14/570 Finishers Overall
76) Mt Agamenticus Time-Trial, 3rd Annual, USCF, S. Berwick, ME
August 13, 2006. After some quality intensity work last weekend (two races) and during the week this past week, my legs were still feeling a little bit sore when I got up this morning.† Still felt somewhat optimistic though about this quirky 7.4 mile individual time trial.† Course begins as a few miles of flat pavement, descends to dirt which transitions to steep 500ft climb up Mt Agamenticus.† Weather was going to be ideal.† My PR from two years ago was set in rain.† Strong headwind on the flat part last year killed any chance for a PR.† Today was going to be sunny, very cool, with potential tail wind.† I got to the staging area plenty early.† Picked up number and learned I went off at 10:36.† Jeff Palleiko (Boston-Scientific) was staged 30 seconds behind me.† He finished about 8 seconds faster than me last year.† I wish he wouldíve been the rabbit instead of me.† You can see your 30 second guy most of the time on this course. †I also put my name in for a combined TTT time.† NorEast was represented with two 4-man teams.† This is not a real TTT, as we still race individually.† Rather, we pre-select four names ahead of time (for an additional $5 per toward the cause).† Then total team time is added up for potential awards.† I think Boston Scientific had three teams, Team BOB two teams.† I warmed up by spinning moderately for about 6 miles, then ramped up a couple 30 second threshold bursts about 10 minutes before my start time.† Legs felt ok after this, but I sensed just a touch of asthma.† It is ragweed season now, and itís been the driest so far this summer.† I went off and immediately noticed the nice tail wind.† I held 30-32mph for much of the first couple miles, way faster than last yearís 25mph.† Then we begin modest climbing, still with tail wind, and I start picking off riders.† My 30 second guy was the hardest to catch, catching riders staged in front of him first.† On the dirt portion, I passed at least three riders.† Passed a couple more on the steep summit road.† I crossed the line in 21:40.59, taking 1:15 off my PR of 22:55!† Of course, the tail wind conditions today were the likely cause behind most of this time differential.† Men and womenís course records were shattered by similar amounts, with Kerry Litka taking nearly 2 minutes off the womenís record.† I was happy with my result.† I did feel somewhat asthma limited in first 3 miles of TT, but heartrate came up nicely once the climbing started.† Jeff still came in three seconds faster than me.† Easy to do when you have an ideal bullseye target 30 seconds in front of you.† Looks like a record number of 154 people started the race with a few DNFís.† Two of the Bos-Sci TTT groups took top honors (elite and masters groups), then the group of NorEast riders I was part of took the third TTT spot.† Afterwards teammate Dave Penney and I did a 65 mile loop through Safford, Kennebunkport, Ogunquit and back, making it 88.5 miles total for the day.
Time: 21:40.59 (1:12 back overall)
3/42 Finishers 35-44 Male
8/154 Starters Overall
75) Bow Road Race, USCF, Bow, NH
August 6, 2006.† I debated what to do on this beautiful day.† Do hard MTB ride in morning?† Road ride with some hills?† Or Bow Road Race?† It was so cool in the morning, I opted to race the Masters 35+ race at 1:30 in the afternoon.† Historically, this race is very hot.† I figured racing was the best way to get a little more intensity in over the weekend, having done the Mt Equinox hillclimb the day before.† The problem was, I was going into this race with a half-full match book.† Legs were very tight when I got up.† With crazy stuff going on at work, I worked the morning then headed up to Bow.† It got quite warm, probably well into the 80ís, so I was a little concerned.† I did buy new water bottle cages so I hopefully wouldnít be jettisoning my large bottles over potholes.† My goal for this race was to primarily get a good workout and to just finish.† Nothing more.† I planned to focus on energy conservation since I was already partially depleted.† Stay sheltered in the too-brief downhill and flat parts in the hopes of hanging on in the hills.† I lined up with what looked like 60+ other masters riders.† Almost from the get-go, a small group peels off the front.† They very quickly disappeared, and nobody gave chase.† The first lap was not too hard.† But several teams put the hammer down on the second lap.† It took so much out of me and I was struggling so bad to stay with the lead group that I seriously contemplated abandoning the race.† Iíd figure Iíll finish lap three, then just ride to truck.† But we caught the break, and the pace let up.† The rest of lap three and all of lap four was much easier.† I stayed in the race.† At one point, Dale Stephanos (Bicycle Link/MBRC) encouraged me to go for it with him.† I didnít have it.† Dale ended up in a five or six man break (and took 2nd in the end).† I didnít care.† I just didnít have the legs today.† Both of my teammates had been dropped already.† The main field was less than half what we started with.† Beginning the fifth and final climb, I stayed near the front.† I did this more as a buffer, such that maybe as I crawl up the hill, the last guy wonít pass me before cresting the top.† But amazingly, five of us drew a good gap on the main field.† I went with it, encouraging the other four to work the break we had.† I wasnít sure who was up the road ahead of us and whether those left behind us would give serious chase or not.† Maybe the strong teams were represented in the lead break and didnít care about us.† We still had 8+ miles to go to the finish, mostly downhill, but a few short steep climbs near the finish too.† We never got completely out of sight of a sizeable chase group, but we sure worked hard.† We picked up a team BOB guy dropped by the leading break.† He mostly just sat in.† A couple of the other guys were skipping pulls too.† I took some pretty serious downhill pulls while the others recovered.† After hammering up one of the climbs with about 2 miles to go, I flicked my elbow in desperation for somebody else to come up front.† Then I verbally begged, and all I got from the guy behind me was ďwhat, are you kidding me?!Ē† I must have had a little twitch left in my legs after all.† Had to stay away from the chase group, maybe only 10-20 seconds back.† If they caught us, I would be stuck in a bunch sprint.† I dread bunch sprints, and I suck at it.† After rounding the corner through the fire station parking lot one last time, I started my ďsprint.Ē† It would be suicide starting a sprint this early if you were really going for a win, but we were sprinting for 7th place.† Plus, nobody in our group wanted to work hard going into the finish.† If we played cat and mouse games there, we surely would have been caught.† So I took the initiative.† Two guys were able to stay on my wheel on the small climb to the finish and came around at the line.† I took third out of six in the sprint, comfortably staying ahead of the sizeable chase group.† So that was good for 9th place in a race I nearly abandoned.† Quite pleased with the result.† But then again, my expectations were low.† Many riders did drop out of this race.† It was hard, and it was warm.† I heard others complain of cramping in the race.† I add electrolytes to my carb mix.† I believe this works extremely well for longer 2-3 hour races like this in hot weather.† Later in the evening I was unbelievably sore.† Got the workout I sought.
Time: 2:21:48, 1:16 back, 52.6 miles, 5040ft of climbing
9/35 Finishers Masters 35+
74) Mt Equinox Hillclimb, 3nd Annual, Manchester, VT
August 5, 2006. Having done a big volume week (15hrs) last week, I backed way down this week in anticipation of breaking my PR on this hillclimb.† I did a few short hill ďsprintervalsĒ on Tuesday, and a handful of 1-5 minute intervals on Wednesday.† I did 45 minute recovery rides Thursday and Friday.† Legs felt fresh Saturday morning for the climb, and I slept well.† Temps were pretty good, but humid in the valley.† I made a last minute decision to not bring a warmup bike.† I brought only my hillclimb bike, stripped down to single 24t chain ring and one brake.† Weight was sub-15 pounds.† My weight was down too, so I was feeling pretty good going into this climb.† Warming up, I quickly realized I made a mistake in not bringing a warmup bike with bigger gears.† The nearby hill was not nearly long enough or steep enough to get any kind of intensity in without wildly spinning.† Legs need high tension when warming up for hillclimb TT.† Cardio system needs sustained power.† I could get neither.† I didnít think it was too big a deal, as it is a long climb.† I go off at 8am with the top-notch wave.† I ignored the Kenda Factory Team bolting off the front.† They are much younger and were going for the $500 first mile prime.† I quickly settled into my pace, but by the time I got to the first mile marker, something didnít seem right.† Guys were passing me that have never passed me.† I couldnít do anything about it.† I didnít feel bad, other than I was borderline overheating.† I just didnít have the gas.† I held a pace I thought I could sustain to the top.† I finished in 44:28, nearly 1.5 minutes slower than last year, and nearly 2.5 minutes slower than my PR from 2004.† I was extremely disappointed.† Didnít have a good explanation for what went wrong.† I donít think a poor warmup was that big of a factor.† I wondered if I went too easy during the week.† Maybe I should have done some ďopeningĒ work on Friday, as other riders say this works for them.† I believe I fueled and hydrated properly.† My bike and body were the lightest ever for this climb, but I did my personal worst.† Maybe the extreme work stress and long hours are taking a toll.† Donít know.† I still made the podium, 3rd for the 40-49 age group.† But I made the podium only because Eric Gutbier in my age group made the top three overall and was ranked overall only, not also in age group.† This race is awarded that way.† I may have been 4th in the 40+ division actually.† Joe Moody (Kenda) set a new course record at 38:37.† Despite the disappointing finish, I still enjoyed the climb and the camaraderie of the hillclimb tribe.† Andy Holzman and the Rotary Club volunteers do a wonderful job putting this race on each year.† I believe a record number of riders registered and finished this year.† The food at the top and barbecue at the bottom are always great.† The prize list is extensive too, exceeding $6000 in cash, gift certificates, and merchandise.† This event will always be a ďmust doĒ on my calendar.
Time: 44:28 (5:51 back)
3/38 Men 40-49
13/151 Finishers Overall
73) Cyclonauts Road Race, USCF, Monson, MA
July 29, 2006.† Havenít done a road race in a while, so I thought I do this one again.† Won the 4/5ís here last year.† Didnít really taper much for this race.† Just wanted to have a safe race in the Masters field.† Forecast was for very hot weather, my Achilles Heel.† Temp was mild at race start however, and we started out quite easy.† The roads were horrible.† Huge, swallow your wheels whole potholes and cracks.† I heard there was a bad crash from one of these holes in the 2/3 field.† Flats too.† I lost one of my two large water bottles on a hole that bucked me right up into the air.† I thought that was the end of my race, as I had no support in the feed zone.† I needed that water.† Nothing much happened until we got to the big climb the first time around 32 miles into the race.† Kind of slow and boring actually.† I finished with a small lead bunch over the top, but a big portion of the field bridged back up to us several miles later.† Pace was livelier after this, and a couple guys rode off the front and finished that way I thought, although the results show no time split.† My motivation was pretty low in this race to stay near the front.† Most attacks were quickly reeled back in.† With about two miles to go, I did jump on one attack with two other guys.† Burned a couple matches in what turned out to be a futile attempt.† We got into the final climb to the finish as a pretty big bunch, at least 30 guys.† I stayed near the front, hoping to catch some draft on the flat part in the middle of the climb but not get boxed in.† We approached 30mph before hitting the last really steep part with 200 meters to go.† I was only a few bike lengths back from guy leading the bunch when somebody for no reason makes a wild swing all the way across the oncoming traffic lane.† I locked tires with him for about two seconds.† Canít believe I didnít go down.† Speed was low, but it still wouldíve hurt.† I lost at least five positions as a result.† I might have been in the cash had that not happened, but it doesnít bother me much.† A lot worse can happen racing.† Overall a fun, safe race, and I didnít overheat like I expected to after losing the bottle.
Time: 2:20:28, 56.2 miles
11/68 Finishers, Masters 35+
72) Mt Ascutney Hillclimb, 7th Annual, Ascutney, VT
July 22, 2006. The organizers told me 260 riders were pre-regíd.† I was happy to hear that, as hillclimb attendance looked flat or down in the last year or two (except for Washington, of course).† I believe that was a record number in seven years.† A record number of 220 riders finished.† I suspect many didnít show due to bleak forecast, which called for potential of heavy rain and lightning.† Temp was 70F with near 100% humidity in the morning.† Makes overheating while climbing at 6-8mph likely.† I warmed up for about 25-30 minutes with some threshold bursts and a couple moderate sprints.† Legs were tight from a hard week of training.† This past week was first real training in about three weeks, having been on vacation and sick.† I was treating this climb as training, hoping to get back in form by the Washington hillclimb.† I was actually looking forward more to the post race group ride, a 54 mile loop that includes two additional significant climbs, including 2200ft Okemo.† I went off in the second wave of 35-44 year old men and women.† Marti Shea immediately bolted off the front and stayed there the better part of the first mile.† I didnít know who she was at the time, so I was impressed.† But I think she went out too hard, probably at a 28 minute pace.† Around the one mile mark, I passed her, and a little later after that she faded out of sight.† Before reaching the two mile mark, Steve Roszko (Bikereg.com) passed me.† Steve stayed 10-20 seconds ahead of me for the rest of the climb, finishing only 10 seconds ahead.† Marti finished more than a minute back at 30:35.† I suspect she could have done at least 30 seconds better by not going out so hard.† I finished in 29:31, five seconds slower than 2005, only one second slower than 2001, but 15 seconds slower than my PR.† My times just donít seem to vary much on this mountain.† Kerry Litka (Terry) beat her womenís record of 31:40 with a 31:06 finish, but unfortunately Marti Shea came in 31 seconds faster for the new womenís record.† Jay Gump (Incline Training), in my 35-44 age group, went up in fifth wave where day-of registrants were placed.† He finished in a blistering 27:31, a record for this age group.† I was pleased with my result, having not tapered much for this climb and just coming back from illness.† I was disappointed that heavy rain robbed us of the post race ride.† We were all set to head out when it started pouring.
Time: 29:31 (5sec slower than last year)
5/61 35-44 Men
11/220 Overall
71) Whiteface Hillclimb, 5th Annual, Wilmington, NY
June 17, 2006. Havenít missed a Whiteface hillclimb yet, and this year I was feeling primed to beat my PR from two years ago.† Primary goal was to beat 50:26, and secondary goal was to break 50 minutes.† It was a warm day, and having been cold all season, I was not acclimated to the heat.† Heat is my Achilles Heel.† Last year I did very poorly at this event in oppressive heat.† This year I warmed up longer at much lower intensity, so as to keep my core body temperature down before the race.† I carried no water, but was well hydrated before lining up.† When our 40-49 age group went off, a rider bolted off the front.† Iím getting much better at not doing this.† But, I stayed with him, as the grade gradually increases.† He was going fast enough for me to derive appreciable drafting benefit.† His pace became irregular however, and breathing patterns suggested he was riding well beyond a sustainable pace.† At the 1.5 mile mark, I passed him and he slowly faded out of view.† So Iím leading the age group with big gap now crossing toll booth at the 3 mile mark, already passing much of the 30-39 field staged 5 minutes earlier.† Around 4 miles into the climb, I hear heavy rhythmic breathing behind me.† Odd, I thought, as I didnít pass anybody breathing like that.† Turns out Mark Miller from my age group was gaining on me as I began to feel overheating coming on.† My speed was dipping below 8mph occasionally.† Marked passed at very small speed differential, so I stayed with him for a while.† I was really worried about overheating and knew I had to ride my pace.† I let him go, but he never rode far ahead of me, maybe 15-20 seconds at the most.† I wore no HRM, as in the heat my HR runs so high it provides data of which I have no baseline to compare.† I did have my cycle computer set in elapsed time mode however.† There was moderate cross wind on some of the upper mountain, and it provided some cooling benefit.† Temperature dropped with elevation gain too.† On the second to last switchback, the grade slackens, and a good tailwind was available.† Doesnít mean it got easier, it just means I went faster.† Almost 20mph in fact.† I made good time on this portion of the climb.† Then taking the final switchback to the finish, it was all headwind.† Nasty, especially through the notch cut through rock which acted as a funnel.† Almost felt like you were being pushed backwards.† Anything gained with the tailwind was going to be paid back with interest in the last 0.5 miles.† But it was looking like I had a PR shot anyway, so I gave it my all.† Thought I was going to explode going over the line.† Computer said 50 minutes exactly, so I clearly set new PR, and it was iffy if I really broke 50 minutes, as the computer doesnít start until you start rolling.† When results were posted, I saw I just squeaked under 50 minutes at 49:59.3!† That also means I took about 27 seconds off my 2004 PR.† I was pretty psyched.† Mark crossed the line exactly 10 seconds ahead of me, so I was gaining some lost ground on him in the end.† However, placing really doesnít matter much to me anymore in hillclimbs, as it boils down to you vs. the mountain.† An optimal time is achieved by riding a steady pace that can barely be maintained for the duration of the climb.† This means starting out at a pace that feels easy, but gets harder and harder to maintain, but maintained none the less. A little burst as you collapse over the line is ok.† Any interaction with other riders during steep climbs is at your own peril.† The next morning at 6:30am, another rider and I climbed Whiteface again before the toll road opened.† This was my first non-race climb of Whiteface, and the weather was absolutely perfect.† It was a thoroughly enjoyable climb and descent, nearly having the mountain to ourselves.
Time: 49:59.3
2/67 Men 40-49 (9.5sec back)
4/217 Finishers Overall (4:50min back)
70) Balloon Festival Road Race, USCF, Cambridge, NY
June 10, 2006. I really wanted to race this weekend... MTB race that is.† The deal was, Mother Nature dealt us yet another noríeaster this week - 5Ē and counting.† Half the course in Topsfield Mass would likely be under water.† I perform poorly in slimy conditions.† Canít seem to keep the rubber side down.† So just before online registration closed, I signed up for the Balloon Festival road race.† I wasnít sure I would end up doing it, but at least being pre-registered meant I wouldnít have to leave home as early for the 3+ hour drive.† The radar at 6am said things looked wet almost all over the northeast.† Cambridge NY was on the fringe of the system with spiral arms of precip moving in that direction.† I figured it was surely going to be wet here in southern NH, and at least thereíd be a chance it would be drier there.† So at 6am, I decided I was racing in five hours.
It poured the whole drive over, getting out from under the rain just as I arrived in Cambridge.† It was cold there, not much above 50F.† I kitted up and soft pedaled around for 15 minutes as a warmup.† Many strong riders were present from top regional teams.† Master 35+ and 45+ fields were combined.† Our race was three laps around a 21.3 mile circuit with about 1654ft of climbing per lap.
The first climb is one mile into the race, one of the climbs in the Battenkill-Roubaix race I did a few weeks earlier.† Not much happened.† But after the descent, a right hand turn goes up a short steep pitch.† An intense blast up this shelled riders only five miles into the race.† Roger Aspholm (Westwood Velo), ranked top master nationally, took off on us.† I think everybody expected this.† No chases were organized.† The field just let him go and we never saw him again.† I was buried in the pack, which was probably a good thing.† I doubt I would have stayed with Roger for the whole race if I jumped on, and he would have been annoyed by me sucking his wheel anyway.† I certainly couldnít have added anything to his effort.
The dirt section, only a half mile or so long, was in good shape despite heavy overnight rain.† You could find clean lines and miss the water filled potholes, even on the 35mph descent.† When the field got to the ďWall,Ē things got crazy.† Dzmitry Buben (CCB), John Funk (Fioridifruta), and a couple others lit it up.† I was about fifth to crest the top.† Looking back, the field was totally fragmented.† I burned about half the matches in my book in three minutes staying with these guys.† The first selection was made.† I made the cut.† We had maybe 8 or 10 guys on the 50+ mph descent back to Rt 22.† Dzmitry was hollering at all off us to pull through, go-go-go, etc.† But after several miles, another sizeable group bridged up to us.† We had a third of the field back together coming into town.† I was first over the start-finish line with many spectators present.† Approaching the line, there are two closely spaced sharper than 90 degree turns, a left, then a right, on narrow roads.† In a bunch finish, these could produce major carnage.† Struck fear in me.
My legs were already reeling, and that was only lap one.† The second lap was just plain hard.† When we got to the Wall again, I think the pace was even more ferocious.† This time I lost ground on the first guys to crest.† I was part of the fragmented waste left in the wake, 8 or 10 riders back.† We managed to close the gaps.† Barely made the second cut.† Our field was now down to around 15-20 riders or so, with Roger gone off the front.† I was now quite convinced I would not survive that hill one more time at the same pace.
The third lap gave rise to a few futile break attempts, usually just one rider at a time.† I ignored these for a while.† I think everybody was feeling it at this point, as the first portion of lap three was not too hard.† After putting the gravel section behind us for the final time, we had a rider a little ways off the front of the pack, floundering.† Then I popped off the front, one of those cases where nobody was working and I just found myself out there.† Dave Edry (Fiordifruta) was with me.† At this point, weíre just diddling along 100m in front of the field, with another rider 100m in front of us.† I asked if he wanted to go for it.† He shrugged and said sure, why not.† We quickly reach Mark Sumner (CRCA) and tell him to hop on the train.† We put good distance on the field.† They let us go for the time being.† After a bit, we see two more bridging up, both Masters 45+, Bill Thompson (Bethel Cycle) and Rick Sorenson (Casper Wheelmen).† Now we had five riders working together, a bit awkwardly at times.† We soon got out of sight of our field, mixing in with increasing numbers of dropped Cat 3 riders.† The pace was about 40k time-trial, and we had to climb the Wall one more time.† I told the others that if we can crest the top without getting caught, weíd have a good chance of making it to the line.† You see, after the steep descent, thereís another 5+ miles of flat to rolling road to the finish, but with a good tailwind.† Tailwind diminishes a packís ability to chase down a break.† The work each rider does becomes more linear with speed, so riders in the pack donít get much draft benefit.† The greyhounds work almost as hard as the rabbits.† Since we were maxíd out approaching the hill, we couldnít go any deeper into the red climbing the Wall.† My matchbook was empty anyway.† The strong guys left in the pack likely came up to the Wall like the first two laps, recovered, and then firing up the afterburners.
I could see chasers beginning the climb as we reached the mid point.† This was going to be real close.† Our break crests together still with a good gap on chasers.† We kept a decent paceline going after hitting Rt 22 at the bottom back into town.† Rick started sitting in and told us he wouldnít contest the sprint.† Bill and I were taking some pretty serious pulls.† I had a vested interest in this working.† By making a preemptive strike 10 miles out, I got to climb the Wall at my pace, and I wouldnít get mired up in a bunch sprint if we stayed away.† As we approach town at 2km to go, I could see chasers gaining and getting scary close.† I think the five of us were still together when we got to the double turns.† The finish is less than 200m from the second turn.† I was third around the last turn, coming around Bill just before the line for second in the sprint, and third for Masterís 35+.† Dave took second by winning the sprint, and Roger finished several minutes ahead of us.† Looking at the posted results, it was oh-so-close.† A group of six strong chasers came over the line eight seconds behind us.† A very satisfying race - it never rained, except for maybe a touch of drizzle, and roads stayed mostly dry.† It poured all day back home.† Small field for most of race was very comfortable to work in.† ...and making the podium.
Coming from a mountain biking/hillclimb background, Iím finding road racing increasingly addictive.† I think itís the ďnot knowing how itís going to play outĒ aspect.† I used to have plans for road races, like Iím going to attack here and go for it, or cover somebody elseís wheel, etc.† But unless youíre riding the yellow jersey in the Discovery team, where the team is strong enough to control the whole race, youíre at the whim of all the other players in the race.† Or unless youíre Roger Aspholm.† Never thought Iíd make the podium in this race, but things just came together in the last 10 miles.
Time: 2:51:26, 63.9 miles, 5000 feet of climbing
3/55 Starters, Masters 35+/45+
69) Lake Sunapee Road Race, USCF, Sunapee, NH
May 20, 2006. I registered for this race just before pre-reg closed at the urging of fellow racers.† I did this race in the 4/5ís last year and didnít do well.† The course seems more suited for the sprinter than a climber type like myself.† The masters field of around 50-60 riders takes off with six NorEasters present.† My plan was to form or find a successful break (as always), and if that failed, to support NorEast teammate Steve Gauthier with a leadout to the finish.† He can sprint.† Early in the first lap, CCB rider Ruiz takes off solo, and we never saw him again.† Truly amazing.† Was a windy day too.† The beginning of the first lap was rather unorganized, with numbers of riders peeling off the front erratically, always getting reeled back in.† I got suckered into a couple of these too.† Things settled down somewhat for the remainder of the first lap.† Lots of red and white swirl NorEast jerseys working at the front of this race, both in break attempts and in chases.† Pace was hard only on the hills.† On the second lap, I suspect a couple of the stronger riders tried to peel away over the top of the big hill on Rt 11.† They carried impressive speed over the top.† I hung on in top 10 guys or so with small gap to front guys.† This burst shelled a bunch of guys off the back.† Some managed to get back on, only to get shelled again.† As we wrap around the back side - Rt 103A full of rollers, the pace was very hard for the most part.† After the ďwall,Ē Jay Gump (Incline Cycling) took a few guys with him off the front.† I won the Battenkill race a few weeks earlier working with Jay in a 40 mile break, but I didnít have the legs to match his acceleration at this point.† Plus, many strong riders were still in main pack, so prospects were good theyíd be caught.† We still had a bunch more climbing to do before coming back down to the lake.† With about 20 guys chasing, we struggled to close a gap that grew to maybe 20-30 seconds, but hung around 5-15 seconds for a few miles.† Eventually we caught Jay and crew before the descent to the rotary.† Weíre all together now, except for Ruiz who probably already crossed the line.† Teammate Richard Brown was riding strong and offered to lead me out around the rotary into the finishing climb.† I was supposed to lead Steve out, but he didnít fare too well with the earlier hill bursts.† Unfortunately, a couple other riders snuck onto Richardís wheel before I got in line, but this may have been a good thing.† Richard pulled an impressive pace around the rotary leading what was left of our field.† As the climb began, he got over.† Pace was very hard going up the initial blip to finish.† PVC rider Fred Thomas moves to the front, and I take his wheel.† Fred is now leading out on the flattish part before final rise to finish line, such that weíre shooting for 2nd and 3rd place.† But this most untimely wind blast nearly pushed Fred back into my wheel (he slowed and I almost hit him).† He worked at it for a few seconds more and I thought to myself, ďsure glad Iím not pulling into that.Ē† I come around Fred, now shooting for 2nd place, but I know full well that guys that can sprint are right back there.† With less than 100m to go, a group in tight formation comes blasting around to my right.† I hop into the nice little wind shield they were creating and followed them over the line for 7th place.† Was hardly a sprint finish for me, as my effort remained fairly constant the whole way up to the line.† Itís only about 120ft (40m) rise total, but with headwind, made for a challenging finish.† I never expected to finish so well in a bunch finish on this course.† Some teamwork helped make it happen.† Turned out to be a safe and very fun race, and I took home a little cash.
Time: 1:54:17, 44.4 miles, 3600 feet of climbing
7/47 finishers, Masters 35+
68) Jiminy Peak Road Race, USCF, Hancock, MA
May 6, 2006. Second Masters race with top riders from northeast region present.† Driving out to venue, we hit rain.† I did not want to do this race in the rain.† With an Alaskan cycling trip coming up in June, I could not afford an injury.† Light rain persisted through race start, but then let up.† Course dried up halfway through race, making the riskiest part of the race safer.† Almost from the get-go, two riders drifted away from the field of over 100.† I believe one of them was Donny Mills.† I thought to myself if anybody can pull that off, Donny can, especially with his teammates flawlessly blocking.† Every time the pace slowed down, sure enough, a Fiordifrutta rider was at the front.† I came around him many times, bringing other riders up with me to pick the pace back up.† The pace kept slowing down, so the break rode off out of sight.† On the back side of the loop, we were going so slow that that Cat 3ís staged 3 minutes behind us caught up.† We were neutralized for a few miles, including going into the finishing climb.† I was extremely frustrated with this.† We were going as slow as the slowest dropped Cat 3 riders up the hill.† I eventually rode up along side our wheel van (who came up front to slow us) to sarcastically ask the passenger official if we had to spend the rest of the race behind the slowest Cat 3 rider as the break gains considerable advantage on us.† The official replied the gap between fields was not big enough to let us resume racing.† Around the feed zone, we were released, and I was first in main field to crest the top.† Descent was ďslow,Ē all tucked coasting.† A few attacks occurred on Rt 43, but nothing serious.† I stayed very close to or at the front for the first two laps.† Didnít seem like I was burning too many matches, but it was way more work than sitting in.† Then we turn right onto Rt 7.† Our wheel van holds out a placard informing us the break has 2:20 on us.† Thatís pretty good with only 1.3 laps to go.† But then the pace went ballistic.† The last portion of Rt 7, which climbs modestly, disintegrated our field.† I barely held on to lead group.† One rider running an SRM said he was pushing over 400W in the draft!† But in just a few miles of this pace, we reeled the break in.† Amazing.† We also blew back past the Cat 3ís.† Wish I could claim some of that work put in up front.† With no break off the front now, the second climb up to finish line was hard, but not insane.† I crested at about 15-20 back out of 30 or so guys left in the lead bunch.† The second descent was fast, over 50mph.† The third lap began a series of attacks and counter attacks.† I was still reeling from the chase on lap two, so I sat in.† All but one break attempt came back in.† Problem is, being new to the masterís field, I really donít know who has a chance of getting away.† A few guys did get away and held it, just barely, to the end.† Several more riders launched on the back stretch approaching the finish.† One pair almost made it but was caught on the final ascent.† I was third in field, with a few off the front, beginning final climb.† Pace was hard, but not all out yet.† Problem was, 20-30 guys were right behind me.† I lack sprint legs.† Sure enough, after passing the feed zone, many guys came around me on the gentle pitch to the finish line.† Goal for the race was to finish in the cash (top 10).† Time wise, didnít miss it by much.† Legs felt good for this race.† Felt I had the goods for a strong finish.† But as Iím learning in road racing, itís less about fitness and more about tactical skill and a little luck.† Iím sure I can take most of the guys that beat me in a one hour hillclimb time trial, as I have beat some of todayís top finishers in prior hillclimb events.† Today I wasted too much energy in the easy first lap and a half by hanging out near the front.† Iím just more comfortable up there not being boxed in.† I think creating or selecting successful breaks is my only chance of winning races like this.† It is more time trial-ish, and energy production, although high, is controlled and non peaky.† After all, my training is geared toward hillclimb events.† Overall, a great race with a decent finish in strong field.† Felt comfortable in this race, as field seemed very experienced.† I may have been the greenest of the riders in this field.† On a side note, we noticed a rider completely immobilized on a stretcher past the finish being loaded into an ambulance.† The ambulance just got there, yet he was all ready to go.† Not sure when or where this happened, but it looked serious.† Then on Rt 495 driving home, there were the remnants of a horrible wreck.† The investigators were in the highway measuring things out.† One glance at the car told you no way anybody in there survived.† You can get hurt in a bike race, but more likely to get killed driving home from the bike race.
Time: ~2:12, 53.9 miles, 4000+ feet of climbing
19/106 finishers, Masters 35+
67) Turtle Pond Circuit Race, USCF, Concord, NH
April 22, 2006. First race in a Cat 3 field Ė Cat 3/4 to be exact.† Thought Iíd try something different.† Course is 11.4 mile circuit with about 800 feet climbing per lap.† Cat 3/4 field did four laps, plus partial fifth lap to high point finish, for 53 miles total.† Sat in first two laps.† Not whole lot of action.† Things started heating up in third lap with organized attacks.† I moved to the front so I wouldnít miss any opportunities.† A lone rider got away from the field, holding 30 seconds for much of the race.† I thought about going with him, but seeing how futile other attempts were, I thought otherwise.† Fourth lap started frenzy of well organized attacks.† I jumped on most of them, often pulling others up with me, each time burning a match or two.† We crest the hill the fourth time.† Pace was unbelievable on the descent, using everything I had to close the gap with the top 10 or so guys.† Weíd always seem to come back together at the bottom though, perhaps the double turns having much to do with it.† When we came around the last right hand turn for the hill sprint to the finish, I was fifth in line.† Perfect I thought.† I could hear the wheel van horn going non-stop, as Iím sure all kinds of guys were boxed in and violating the yellow line rule.† Pace goes to ridiculous, and as I stand to hammer, both hamstrings seize up.† I backed down, then tried again.† Just wasnít going to happen this race.† Only good point was we blew past the lone flyer.† He was more cooked than I.† Several riders came around me on the upper part of the climb, then several more in the sprint to the finish where it flattens out up top.† Took 17th.† Teammate Keith came across with me in 18th.† Keith and I mixed it up some at the front in the second half of the race.† We had five other NorEast teammates helping out too.† Was by far the peakiest race Iíve done.† The Battenkill race the weekend before was more akin to a 2hr TT.† Turtle Pond was more like sprint training with little or no recovery between sprints for the last hour.† Young Cat 3ís aspiring to become Cat 2ís sure can put the hurts on an old fart like me.† Still a great race.† Staying in the mix of things this time, I learned much about racing.
Time: ~2:18, about 16 seconds back
17/56 finishers, Cat 3/4
66) Battenkill-Roubaix, USCF, Salem, NY
April 15, 2006. First race in Masters field, having recently upgraded to Cat 4, so I have to give lengthy report.† The Battenkill-Roubaix (B-R) race loops 55 miles through semi-mountainous terrain of central eastern New York, with 4200 feet of climbing.† About 25% of the course is dirt road.† The infamous Meeting House Rd was recently graded and was loose right up to race day, but overnight rain nicely matted things down.† Still a bit mushy early in race, but not sloppy, and not loose pea gravel.† Temps rose to nearly 70, perfect for racing.† Was hoping for a top 10 finish, although strong field of about 60 riders was present.† Didnít really know what tactics to try in this race.† Had no teammates in Masters 35+ field.† Races with tough uphill finishes tend to favor me, but the B-R had a moderate climb 5-6 miles out, then mostly down hill to finish.† I thought about attacking on that last climb, then try to hold field off to finish.† Bunch sprints are not my thing.† Also thought it was good chance with all the climbing in this race, weíd be down to a small lead group which would guarantee a top 10 finish - if I was able to stay with the strong guys.† The race begins with a short loop out of town with modest dirt climb before looping through town again to head out on main course.† My field hit the first major climb out of town hard and was whittled down in the process.† Was a real shock to stay with the top 20 guys.† Heartrate redlined, and I began to realize just how hard this race was going to be.† Like the first small climb out of town, everybody sat up on the decent.† I was seeing a pattern of all-out on climbs, sit-up on descents.† When we got to Rt 313, nobody wanted to work into the wind, with one rider commenting ďitís a long race.Ē† I kept unintentionally popping off the front and nobody was coming with me.† Finally, a rider takes off well clear of the field.† This is about 12 miles into a 55 mile race.† The main field was still sitting up, so I rode up to this guy to see if he was interested in taking off together.† This went against everything I had planned for this race.† I did not know this rider, and I was willing to take a huge risk.† So we put the hammer down, very quickly drawing a large gap, maybe half a mile.† You could see way back on this open road.† After a while, I could see two other riders bridging.† Cool I thought, as if they are strong enough to gain on us like that, with four strong riders, weíd have a chance to survive 40+ miles to finish.† We let up just a tad to let them bridge.† Turns out, one was a woman riding with the master men.† Very impressive.† We talked after the race, but forget her name.† The other that bridged, I learned after the race, was Jay Gump.† The four of us worked fairly well together, growing the lead further, with the three guys doing the work.† Jay took some big pulls on the descents, stating that the field will sit up on descents and we needed to maintain pace there.† Key was to keep pace more steady, not peaky like main field was doing.† Good advice.† We survived the first barrage of climbing on Meeting House Rd intact, but the next major dirt climb was not kind to our break away group.† The first guy I bridged up to was dropped, and also the gal.† Jay put 20-30 meters on me cresting that monster of a hill too, and for a moment, I thought he was going to go it alone.† He probably could have.† But he let up a bit on the descent, and now itís just the two of us with about 28 miles to go (only half way), and a lot of flat road.† We get out of dirt hill purgatory and end up on Rt 29 I think.† Tail wind, but slight uphill grade.† We traded pulls, often at over 30mph.† No sign of riders coming up behind us, and by now weíre passing many dropped Cat 3 riders.† But now, Iím starting to doubt Iíll make it.† Was feeling those early signs of cramping coming on, and still had one big climb and 15+ miles to go.† I lost one of my water bottles in Cambridge over the bumpy tracks.† When we crested that last hill with no riders from our field in sight, I felt some relief.† Finishing in top two was beyond my expectations.† The 2km to go markings came sooner than I expected, and I had no idea how the sprint was going to play out.† Iím no good at it.† I wasnít stressing over it anyway, as the work was done and a podium spot was assured.† Probably about 300m out, I put the hammer down, taking the initiative.† I never really looked back to see if Jay was right there or not.† The finishing lane was screwed up - our lane was backed up with cars.† Had to go over into the clear oncoming lane and hoped none of the cars I was passing made a left turn.† Some were further up ahead.† But this was an area where we had full road, so no rule violations.† I held the lead over the line.† Turns out our lead was sizeable.† The next 35+ rider to come across the line was back maybe 2-3 minutes, with chase group over three minutes back.† I talked to Jay for a while after the race.† I also visited his website at www.incline-training.com.† Jay is an accomplished competitor and elite-level certified coach.† I doubt I could have pulled off a win on this course without his help.† During the race, I kept losing track of the fact we were racing.† With just one other rider, it seemed like one of my weekend training rides.† Pretty safe this way too, even on the one descent hitting 54mph.† Looks like I may have taken the first win for the new NorEast Cycling Team.† A thoroughly enjoyable race, great season opener for me, and great course - one Iíll have to do again.
Time: 2:29:52, about 3 min ahead of main chase group
1/58 starters, Masters 35+
Ski-6) Weston Training Series, Weston, MA
January 24, 2006. 5km freestyle at night.† Wet snow day before left course with loose granular in most areas.† Some hardpack.† However, skis seemed fast.† I used FastWax Bronze for spring conditions, even though temp had probably dropped below freezing by 7pm race start.† Two races were run, an ďAĒ race and a ďBĒ race.† However, everybody in both races went against the clock for overall standing.† I went in the ďAĒ group.† Strangely, most people thought they were ďAís.Ē† ďBĒ group was small.† Started by double poling down the hill from finish line (backwards to normal start).† I lost no ground double poling, but I was near back of wave.† Quickly passed a couple guys after skating started, then pretty much held position for rest of race.† Traded places with one guy three times.† I passed him in lap one, he stayed in my draft until end of fourth lap when he came around me.† But he didnít have enough to hold me off in a sprint for the finish.† I came in two seconds ahead of him.† Good clean race.† My form was poor due to high speeds and soft conditions.† But I averaged much higher speeds than last year there.† My GPS measured 1.38km per lap.† My first lap time was 3:55, giving 21.1kph.† Avg for race was 20.3kph.† Heartrates also ran lower than last year.† Must be getting more efficient.
Time: 0:16:20 (~2:30 back overall)
25/48 Overall
Race Results Archive, 1999-2005