R.O.A.G 6-gaps Ride Report
Saturday, June 30, 2007
Report and Photos by David Katz
They said Six Gaps couldn't be done. They said we wouldn't enjoy Six
Gaps. They said that picture of Scott Graham from the Mt. Washington
road race is the most pitiful photo they've ever seen.

Well, on a beautiful final day of June, Mike "I fart in your general
direction" O'Connor, Dave "My sweat, if bottled, could satisfy the
hydration requirements of a small third-world country" Peternell, Tim
"I thought you said we were going to visit six formerly hip,
mid-market clothing retailers" Wing, and David "Never met a turkey
sandwich he didn't like" Katz gathered in the early morning light,
loaded up, hit Dunkin' Donuts hard, and began a journey into the
deepest reaches of their souls.

Driving north, the four men committed to a full day of public
urination and overused Borat references. They all secretly hoped that
the only thing they'd break was wind.

Mimicking Doug Jansen's epic route, we drive over the final gap
(Rochester Gap) and arrive at the gravel parking lot in Rochester with
a mixture of nervousness and excitement. It's chilly as we leave, and
we wrestle with our clothing choices. It is going to be a long day,
and it will inevitably warm up, and we don't want to lug around
unneeded clothes all day. Dave, David and Mike opt for base layers
under their jerseys, while Tim decides to wear a vest. Further, all
but Mike opt for the to-be-classic '07 ROAG jersey, while Mike sticks
with the '06.

While pumping tires, Dave breaks the valve stem on his tube. After a
quick change, decisions about how much goo and how many bars to pack,
we're ready to go. Tom, a guy from CT attempting two gaps, pulls into
the parking lot just before we're ready to leave and take our picture
to commemorate the occasion.

We head out toward Brandon Gap, which we later discover is the easiest
of the six gaps. The roads are clear and well-paved, and we steadily
climb up to the gap, keeping the group close together. The pitch is
moderate and consistent; no need for extreme gears on this climb.
After a few pictures at the summit and head down toward Brandon. It's
really windy which makes for a nervous descent. One down, five to go.

We head north on mostly flat, rolling terrain toward the second gap in
Middlebury. The weather is perfect, except for the wind. We'd see lots
of exquisite wildlife along the route, but none as surprising and
exotic as what we saw as we passed Lake Dunmore: a giant life-sized
fighting squirrel. To me, this squirrel could kick the ass of the
giant beaver in western Mass. Rumor has it there's also a giant
gorilla somewhere nearby, but we are reluctant to go out of our way to
find it.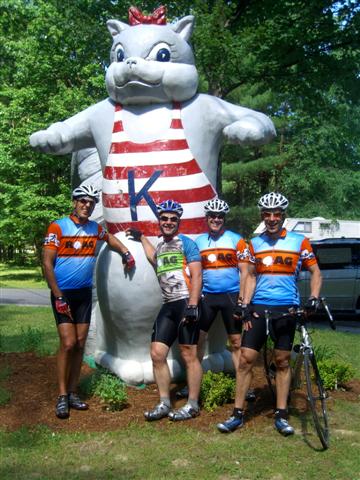 After refueling, we headed up Middlebury Gap, which is noticeably more
difficult than Brandon. The road gets steep almost immediately, and we
get strung out a bit. It's a long climb (~9 miles), with varying
terrain. Middlebury College owns a number of really nice facilities
(some kind of retreat and the Snow Bowl) along the way, and the road
flattens out a bit in the middle of the climb. The last two miles are
quite steep, however. We reach the summit, and get some guy to take
our picture. We then head down to Hancock, a one-intersection town,
and end up talking to some old coot who tells us the general store
makes the best sandwiches around and that he loves hanging out and
checking out the women. The guy seems like a nut, but we got some
darned good turkey sandwiches and saw some funky chicks as well. Plus,
we identify characteristics unique to the Vermont woman: a humongous
rear butt shelf, with a skinny husband appendage. It's now about noon,
and we've only tackled two gaps. We know it's gonna be a long day, and
we start to do the math about how long it will take and when we'll
likely finish. A bunch of cyclists trickle into the store while we're
there, including a guy riding a Calfee tri bike who claims to have
just climbed Lincoln Gap in a 39x23. We're skeptical, but we haven't
climbed Lincoln yet so we have no idea how impossible this actually
is.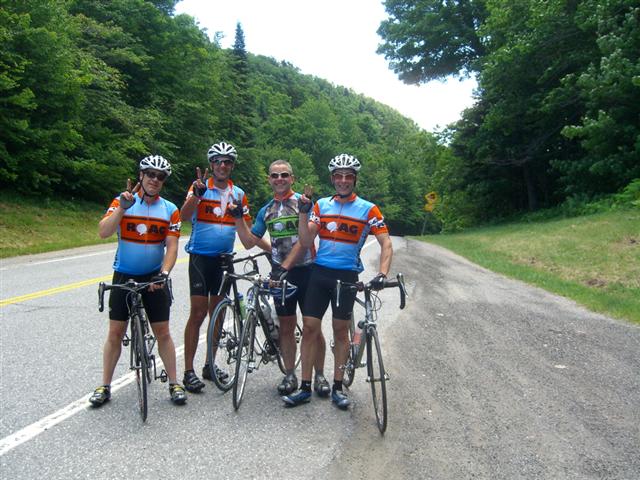 We then head north on Rt. 100 toward Warren and dreaded Lincoln Gap.
(Of course, nobody wants to be the first one to enter Warren.) There's
a mini gap along the way up to Warren, and it's mostly uphill but we
maintain a steady, pretty fast tempo. Gorgeous area, with streams and
waterfalls right alongside the road.

Now Tim has a decision to make. He opted to join us at the last minute
(literally on Friday afternoon), and is probably not as prepared as
Dave, Mike, and me for the challenge of this ride. Luckily the route
offers many bail-out options, and enables a rider to complete two,
four, or six gaps. Tim considers a four-gap option that bypasses the
two most difficult gaps (Lincoln and Appalachian), but ultimately
decides to keep going and do all six. He's incredibly tough.

Lore has it that Lincoln is the toughest of the gaps, with stretches
of gravel road and over a mile of impossibly steep pitches. The gap
begins innocently enough, with some small hills and a moderate pitch,
a stretch of dirt/gravel, and then, finally, the dreaded steep part.
This stretch is, without doubt, the hardest road I've ever ridden up.
The pitch is a relentless 20-25%, and we have no idea when it will
end. I've never seen an extended steep stretch like this before. We
get pretty strung out on this stretch (Dave P. is using a compact
34x27), and all suffer like we've never suffered before. Skeletons and
abandoned steel frames litter the sides of the road. I can't even tell
you how many times I want to stop and walk, but I soldier on. It's
impossible to get a comfortable rhythm. While seated, my front wheel
bounces on the ground, and while standing, I feel like I'm going
nowhere. At times I go deep inside myself and try to focus on a single
pedal stroke...one more, one more...until finally reaching the summit.
I thought it would never arrive. This is one painful hill. There is
absolutely no way that the guy on the Calfee climbed this in a 39x23.
I used a 24x24, and I struggled. Three down, three to go.

We regroup at the top, then head down toward Lincoln. The downhill
absolutely sucks. It's steep at the top, then quickly turns to a loose
gravel for miles. It's impossible to go fast, and we've got our hands
on our brakes the whole way down. What a waste. The bottom is nice,
though.

In Lincoln we stop a nice general store and meet a really nice older
cyclist from Carlisle who bought some property here years ago. He's
impressed that we're attempting six gaps, and tells us that the other
gaps pale in comparison with Lincoln. The store is filled with deer
heads, along with the cheapest turkey sandwich ever -- $2. The woman
working at the store enthusiastically tells us about a short cut that
would put us halfway up Appalachian Gap, but we scoff at that idea!
Maybe for the September crew, but no shortcuts for us!

We then head toward baby gap and App Gap. Baby Gap is about four miles
of steady climbing, followed by a nice downhill stretch, and then we
hit App Gap. App Gap is about four miles long, and has some steady
stretches, but the last few miles are steep (about 18%) and
psychologically tough. Most of the roads through the gaps so far are
in wooded areas, and it's impossible to see the entire route up to the
summit. On App Gap, at one point you turn a corner and see the winding
road up to the summit clearly in view, and it looks (and is!) very
difficult. The view at the top is spectacular, and we rate this the
second most difficult climb. Four down and two to go. We're feeling
pretty good about ourselves at this point, but we're also increasingly
worried about time. By now it's about 4:30pm, and we've gone about 80
miles. We still have fifty miles and two gaps to go, and we're getting
tired. We've just done two brutal gaps.


We head down into Warren, looking for food to refuel. Dave P. is
feeling pretty bonked, and, we later learn, is worried about
finishing. He's contemplating bagging the last two gaps or even asking
us to come back and pick him up later. Luckily, we hit the Warren
store, and Dave eats a scone, a sandwich, and a cookie, and we leave
with him feeling rejuvenated. We know the most difficult climbs are
behind us, but (I at least) mistakenly think the last two gaps will be
relatively easy. Roxbury Gap proves surprisingly difficult,
unfortunately, and we all suffer to get to the top. Each gap has its
own personality, and Roxbury gets steep almost immediately and turns
to dirt/gravel for most of the climb. The loose road surface makes
climbing a challenge, since it's easy to spin the rear wheel when
standing, and it's tough to find a smooth line while seated. At one
point, I turn to Mike and say, "If the top isn't around this bend, I'm
going to go into a deep depression!" We're pretty wasted as we get to
the top, and the downhill is difficult, too. Dave P wrings out his
gloves (does anyone else *ever* need to do this?), and we begin the
descent. It's also dirt/gravel, and since one must brake most of the
way, it's tough on the hands, shoulders and neck.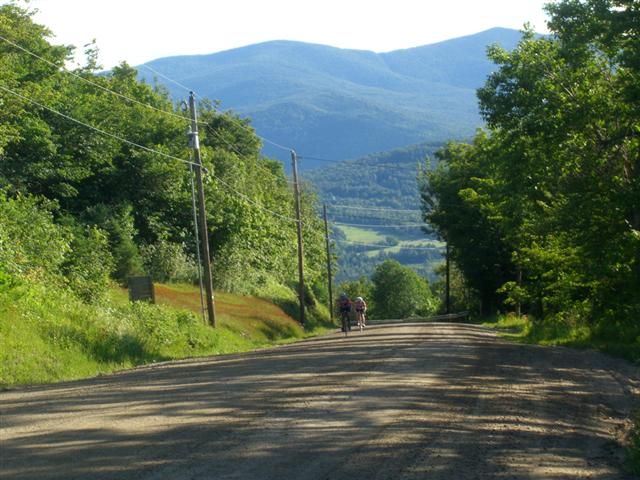 We get to the bottom at right around 100 miles, so we have thirty to
go. We're tired, the sun is getting lower, and it's starting to get
cool. I'm worried about getting cold, and we're all concerned about
daylight. We've got about 20 miles until the start of Rochester Gap,
and we need to make time. Thankfully, the Rt. 12A and Rt. 12 are both
flat and slightly downhill, so we cruise at 22-25 mph. It feels good
to be eating up miles quickly.

Still, daylight is running short, and we know we're going to cut it
close. We have no choice, so all we can do is keep going. We hit
Rochester Gap, and are encouraged by the gentle slopes at the bottom.
We'd driven up this gap in the morning, and none of us recall anything
unusual or difficult about this gap, which helps a lot. We all feel
this will be an easy gap, maybe the easiest, and we're psyched that
we'll make it to the end with a minimum of additional pain. Boy are we
mistaken! After a few miles of steady tempo up a smooth grade, the
road kicks up and we're suffering like crazy. It's really
discouraging, because we don't recall anything like this during the
drive. It's getting dusky, we're pressed for time, and we're suffering
up the last few miles of the gap. I put my head down and just focus on
getting to the top. I just repeat a mantra in my head and keep going
and going. We regroup at the top (and discuss the depressing notion
that there's a second summit up ahead), then blast down into Rochester
and the car. It's the best descent of the day, and we're highly
motivated to get done and avoid riding in the dark. We make it to the
car and about 10 minutes later it's pretty darn dark. We finish around
9pm.

After loading up the car and heading to the motel in Killington, we
take showers and head out for food. The only place open that's still
serving food is the Outback Pizza and Night Club. We down a few beers
and some pizza, fail at helping a soon-to-be-married woman on a
scavenger hunt for condoms ("sorry...we've all had vasectomies..."),
then head back to the hotel to crash. I barely sleep, and in the
morning me, Dave, and Mike head out to get coffee and figure out
breakfast while Tim continues to snooze (no Matt to wake him up for a
middle-of-the-night trip to the emergency room). Unfortunately, Tim
wakes up before we're able to pull off the shaving cream pranks we've
been thinking up. We then head out to Blanche and Bill's pancake house
( http://www.roadfood.com/Reviews/Overview.aspx?RefID=1639) for
pancakes, french toast, and coffee.

Some notables:
- We leave around 8:40am and finish around 9pm
- We actually ride for about 8:49. The breaks are short and needed,
but there's a bunch of them and the time adds up
- ~131 miles
- ~14,500 feet of climbing
- Three of us had triples, but Dave P. had a compact with 34x27
gearing. He's one tough mother.
- Tim says he would have been ok with doing two gaps, figured four
would be the max, and didn't think doing six would be possible. Of
course Tim did all six, and in fine form, too.
- Mike was climbing like a champ. We all agreed that this ride is
perfect Mt. Washington prep.
- Doing this route with a small group is perfect. It minimizes issues,
waits, and regroups. These guys were awesome and we had a ball.
- It's probably better to drive up the night before and get an early
start. We left around 8:40 on one of the longest days of the year,
didn't take any super-long breaks, and almost ran out of daylight.
Starting at 6 or 7 would reduce the stress at the end, and is an
absolute *must* if a group is planning to go in September