Maah

Daah

Hey MTB Trip Report
May 29-June 3, 2003
Trail Riding North Dakota, South Dakota, and Wyoming
MDH Day 1:
MDH Day 1, May 30, starts off with very nice weather.  Little chilly in morning.  Dry trail conditions.  All five of us start off after carbo-loading on bagels, Wheaties, and fruit.  Scenery here reminds me of scaled-down Moab scenery.  Less rockier, but a lot greener.  Conditions were much greener than typical at this time of year due to regular rain this season.
Riders:  Randy Bailey, Brandt Bailey, Jerry Horne, Dan Mills, and Doug Jansen
RV Support:  Richard Bailey (Randy's dad)
<![if !vml]>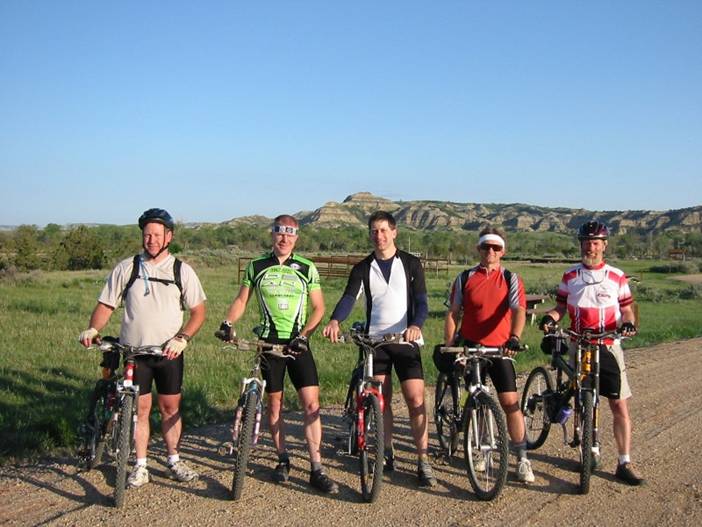 <![endif]>
MDH Team
From Left: Brandt, Doug, Randy, Jerry, and Danny.
 

Just after sunrise.




<![if !vml]>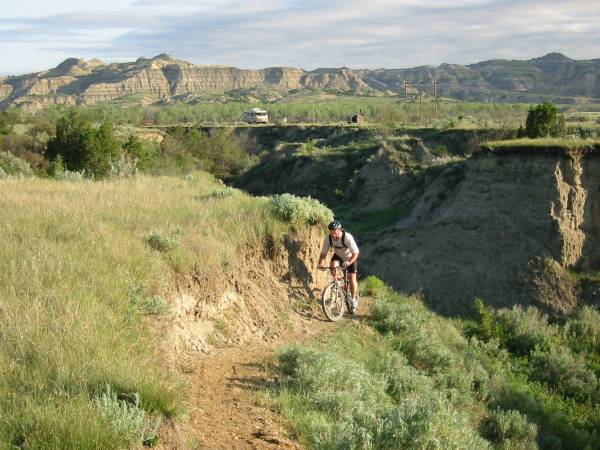 <![endif]>
Brandt on first climb of the ride.
 

RV on overnight CCC campsite at
north trailhead in background.
<![if !vml]>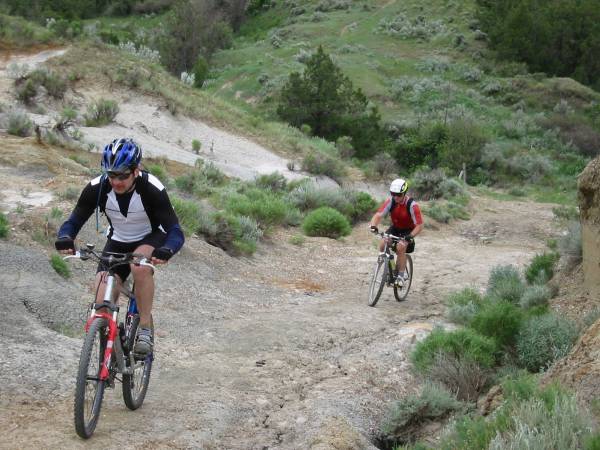 <![endif]>
Randy and Jerry on very steep section.
 

Jerry sheared derailleur shortly after this.

<![if !vml]>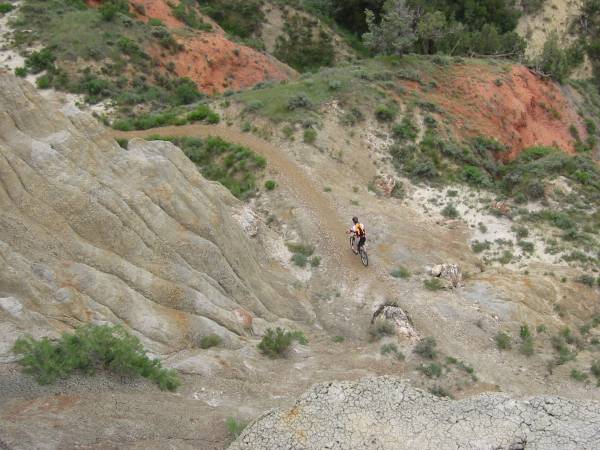 <![endif]>
Danny straight below after switch-backing around and down.
<![if !vml]>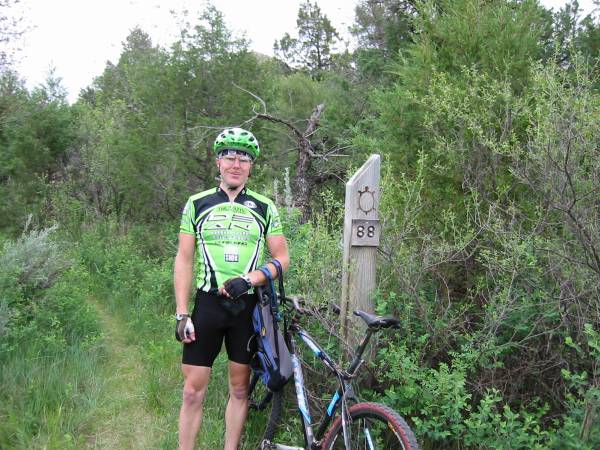 <![endif]>
Mile marker post 88 was at border of Northern Unit of Wilderness Area.
Had to pay rancher off to cross his land adjacent to wilderness.  Bikes are not allowed on the 1.5 miles of MDH in the wilderness area.
<![if !vml]>
<![endif]>
Jerry on Devil's Pass.
<![if !vml]>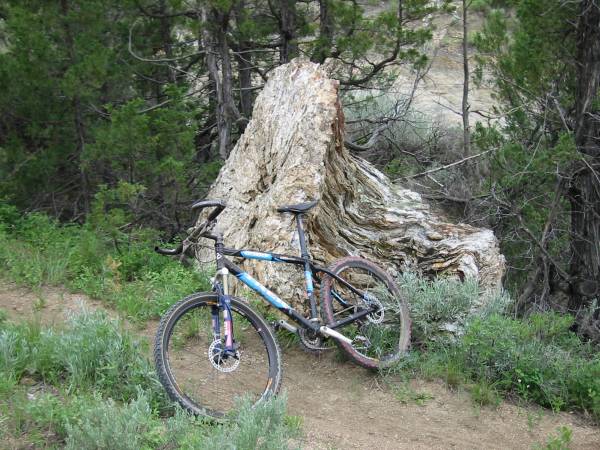 <![endif]>
One of several petrified stumps along the MDH.
<![if !vml]>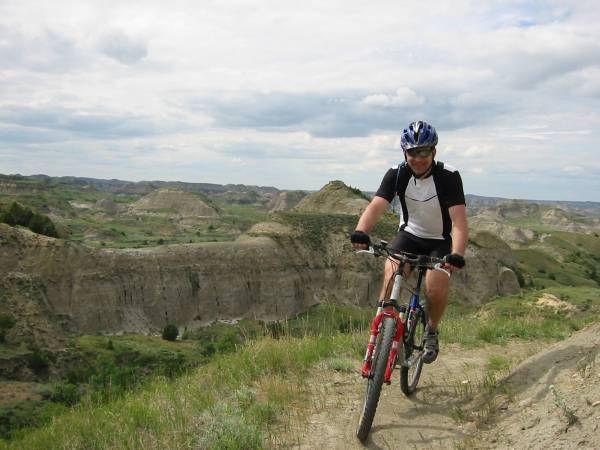 <![endif]>
Randy cruising along high up on a rim.
<![if !vml]>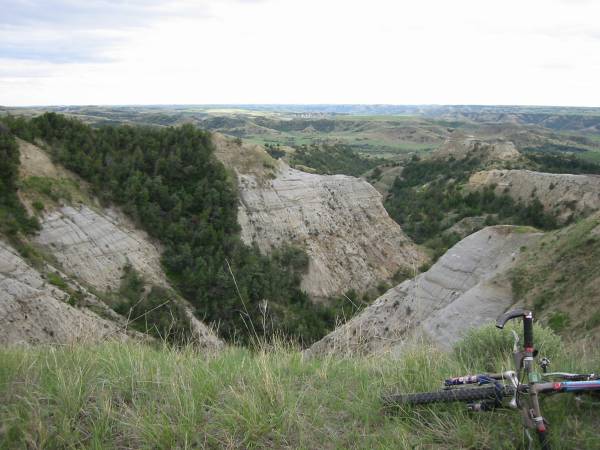 <![endif]>
View near half-way mile post 49.
<![if !vml]>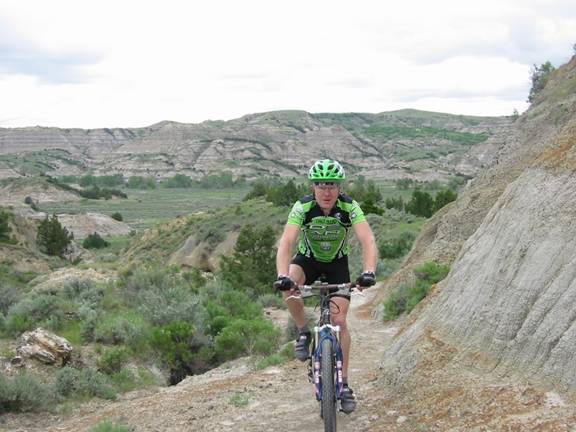 <![endif]>
Doug on bench-cut singletrack.
<![if !vml]>
<![endif]>
Randy "power spraying" Little Missouri River goo out from toes.  When you sit on Camelbak, it makes a nice pressure washer!
Summary of MDH Day 1:
There was one (confessed) crash, where Danny caught tire in washout.  Some pretty nice road rash to show for it.  Jerry caught rear derailleur on side of cut-in cow trail, bumping it into spokes, completely sucking it in and wrapping it around wheel.  Had to pick up loose pieces off ground.  We converted bike to single speed.  Fortunately, we were only 1.5 miles from RV.  Unfortunately, it was all uphill, and this mishap dashed Jerry's attempt to ride the entire MDH in two days.  Jerry was back online after running into Medora for repairs and was able to get in another 20 or so miles later in the day.  Danny "hit the wall" pretty hard 35 miles or so into the ride and decided to hole up in Grassy Butte for later  pick-up.  I think he met the whole "town" while he was there.  Doug, Randy, and Brandt finished the day unscathed.  Doug and Randy completed the first 60 miles of the MDH, with Brandt cutting out early with a little less mileage.  Just after crossing the Little Missouri, we spent the night in the RV at Roosevelt's Elkhorn Ranch Site.  My total for the day was 70.0 miles in 8 hours, 37 minutes riding time, a new trail record.

MDH Day 2:
MDH Day 2, May 31, starts off chilly, with heavy overcast.  This was supposed to be the nicer of the two days according to forecasts, but it turned out to be a wet one.  I've read the stories of what riding on Bentonite clay is like and thought they were exaggerated.  Not anymore.  Doug, Randy, Jerry, and Danny started the day from the Roosevelt's Elkhorn Ranch Site.  Danny stopped at the first checkpoint (a wise decision).  The remaining three of us rode until things got wet.
<![if !vml]>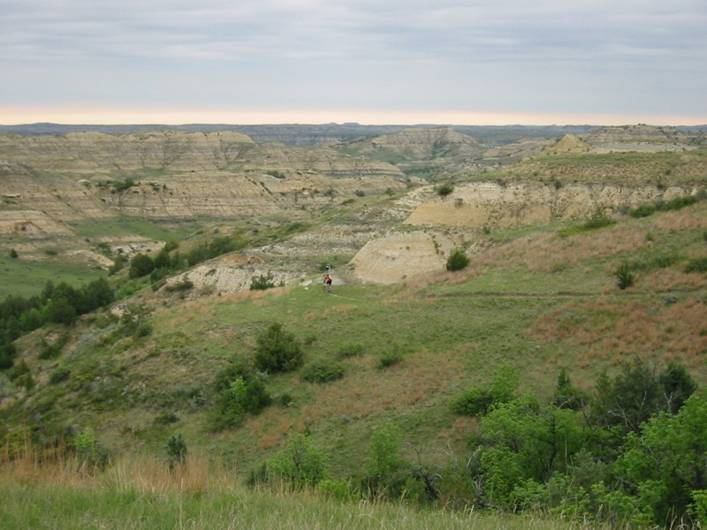 <![endif]>
Bombing down ribbon of singletrack.  Day 2 was characterized by long sustained climbs followed by long flowing descents.  Lots of fun and very fast.  Note the clear skies are receding on the horizon.
<![if !vml]>
<![endif]>
Danny coming up one of the very scenic climbs.  The canyon below is at least a couple miles across.
<![if !vml]>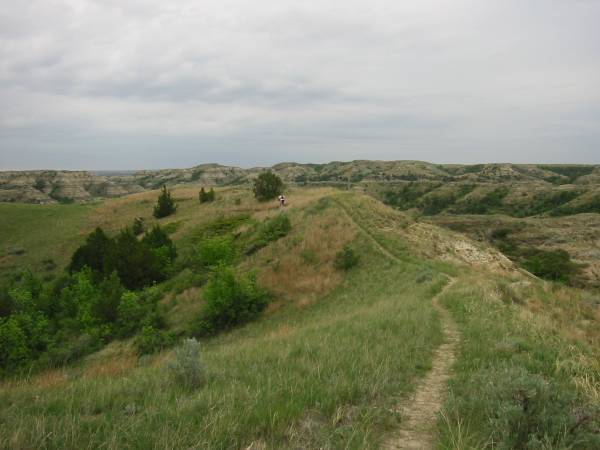 <![endif]>
Singletrack along high ridge line.  Very hard to stay on the trail because you just have to look around.  Overcast is building.  Light drizzle started at this point.
Summary of MDH Day 2:
The day started off dry and chilly.  Used insulated long sleeve jersey.  Saw first rattler ever in the wild too.  Was riding 20 feet or so behind Randy, when Randy hit or nearly hit the rattler coiled up in trail.  He never saw it, but he startled it, it moved into defensive position, and I barely missed it myself.  Was pretty good size, maybe a 3 footer.
Stopped taking photos once the rain started.  Didn't want to get the digital camera wet.  A few miles before the next RV checkpoint, the Bentonite was getting slick.  I came very fast down one of the descents, grade began to taper off and trail straightened out, so I let go of brakes.  Only thing was, the trail was slipperier than ice.  I went down hard at high speed driving knee into the rock hard clay (only top few millimeters were softening up).  Took a while to get back on bike.  After several more minutes of steady light rain, the trail became completely unridable.  Jerry's brakes were packing up so thick, his wheels wouldn't even turn.  With my disk brakes with greater brake-arch clearance, the clay was extruded to exactly the shape of the fork brake arch, or about 3" wide and maybe 4" around rim into spokes.  Each wheel had to weigh at least 10 lbs!  Even when we could ride on the more gravelly spots, the clay packed into drive trains would cause immediate chain suck.  We pushed/carried our bikes to the next road, and fortunately the RV was waiting there instead of 3 miles further up like they were supposed to be.  The wrong turn worked out in our favor.  With about 20 miles for the day, we came up about 20 miles short from finishing the MDH.  We loaded up the RV and headed back to Bismark.
While driving up out of the Badlands, we took the most direct route, which was a hilly, narrow, Bentonite surface road.  Well, it, like the trail, was slicker than snot too.  Jerry was driving and began to lose traction, then steering.  The grade was fairly steep and the road was trench cut into the hill, so there were ~6 foot vertical side walls.  The RV side-swiped the embankment and ground to a halt.  Was very tricky getting it out.  Had to crawl out the window since the door was against the bank.  Five of us rocked the RV while backing down the road.  Each time the RV rocked away from bank, it would move back a little.  This took quite some time.  Once we got it clear of the bank, we were able to turn it around and head out the long way.  Still had a less steep slippery hill to climb, and we barely made it.  Damage to RV was minimal, primarily to the awning supports.  Danny commented that it was good it was an "up" embankment and not a "down" embankment.
Despite the disappointment of not completing the trail, the MDH was a very fun ride.  The North Dakota Badlands are now on a short list of totally unique places I have ridden, ranked with Saguaro cactus desert in Arizona, slickrock in Utah, and Tsali in North Carolina.
MDH Two-day Ride Stats:
92.7 miles
11 hours, 56 minutes
4500-5000 feet climbing
Mickelson Rail Trail, Deadwood, South Dakota:
Sunday, June 1:
 

After spending the night at Randy's (and

chowing

down on some more of Randy's Mom's great

cookin

'), I head off to the Black Hills of South Dakota in a Chrysler PT Cruiser rental.

 

Forecast was bleak, calling for rain and T-storms throughout the day.

 

So I played things conservatively and stuck to the Mickelson Rail Trail.

 

This 107 mile long trail runs the length of the Black Hills in SD and has a groomed, gravel surface.

 

I picked up a room at a Super 8 Motel, right on the trail.

 

Headed off on my bike, first stopping to pick up a $2 pass at the bike shop one block away.

 

Weather was partly sunny at first, then quickly clouded over, then poured for 40 minutes when I was 8 miles out.

 

It got so cold out I could see my breath, and I had no warm clothes.

 

I froze.

 

Once the rain stopped, it became partly sunny again.

 

I went 32 miles out, cresting at about 6250 feet at the high point of the trail, with 18 mile long descent on the back side.

 

Half way coming back up the 18 mile climb, sky grew black.

 

Thought I could beat it, but not a chance.

 

The trail at this point was wide open, no trees,

no

shelter.

 

I hammered ahead, into very high winds, looking for something.

 

I eventually came upon a caved in shack in a field.

 

I ditched the bike, hopped a fence, and took cover.

 

Fierce winds, lightning, torrential downpour, and hail came all at once.

 

I was afraid the shack would fall the rest of the way on my head.

 

It didn't, and I stayed mostly dry.

 

30 minutes later, sun came out again.

 

The trail surface drained very well, so it was not muddy, just a little soft.

 

Had about 24 miles to go, 8 climbing,

16

all downhill back into Deadwood.
Since I spent way more time out on the trail than I anticipated, I ran out of food and water.
 

I never bonked so bad before.

 

Even the 16 mile descent, mostly coasting, was difficult.

 

All I could think about was the Little Debbie snack Randy's mom put in a snack bag for me.

 

It was in the car.

 

As I approached the motel, the sky grew dark again.

 

I no more than packed the bike and jumped in to eat the snack, the sky opened up again.

 

This time I didn't care.

 

Had a nice room there, right above a white water stream.

 

Opened the window, and the rushing water drowned out all other noise.

 

Slept very well that night.

Ride stats:

65.3 miles

4:33 ride time (14.35 mph avg)

Approx. 3100 feet climbing

6250 feet peak elevation




<![if !vml]>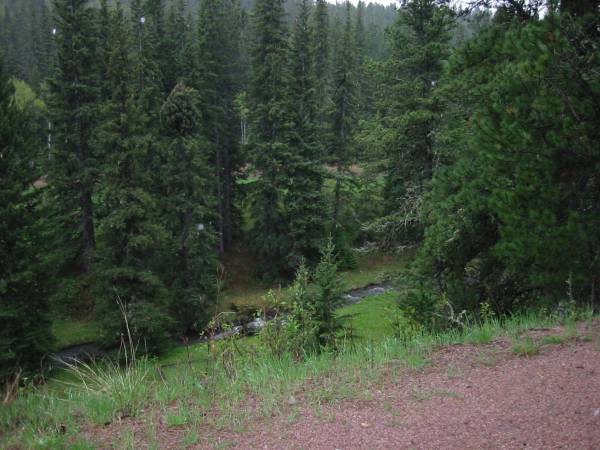 <![endif]>
Standing under fir tree during first heavy down pour.
<![if !vml]>
<![endif]>
After first down pour, on 18 mile descent, same area I got caught in second storm on way back.
<![if !vml]>
<![endif]>
Many views like this on the Mickelson.  There were also a couple of short tunnels through solid rock that I rode through.  Trail follows a white water stream most of the way down, not quite visible on right-hand side of photo.
<![if !vml]>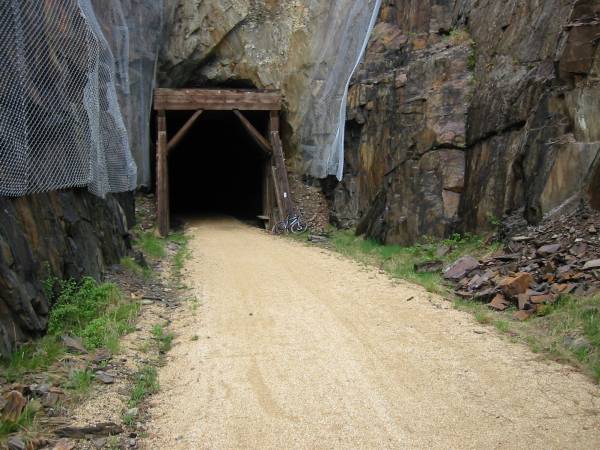 <![endif]>
Tunnel "D" on the Mickelson.  Too bad they have to drape the chain-link fence all over to catch potential falling rocks.

Sundance Trail System, Sundance, Wyoming:
Monday, June 2: After a good night's sleep in Deadwood (and all-you-can eat diner at China Buffet in Sturgis), I headed off to Sundance, WY, about 45 minutes away.  A portion of the Black Hills National Forest is there also, with more mountainous terrain peaking out about 6600 feet.  The rest of Wyoming in that area is flat grasslands.  There were T-storms in forecast for later in the day.  After picking up maps at the rangers office, I headed to the trail head on the edge of Sundance (a very small community).
<![if !vml]>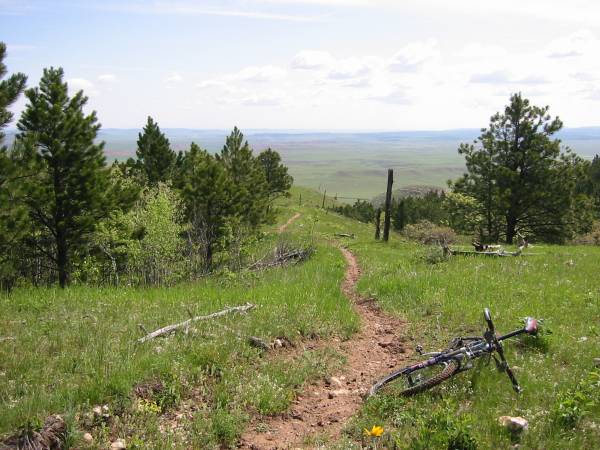 <![endif]>
Singletrack part way up.  The area was cleared by a forest fire several decades ago, so many of the trails offer open, panoramic views.
<![if !vml]>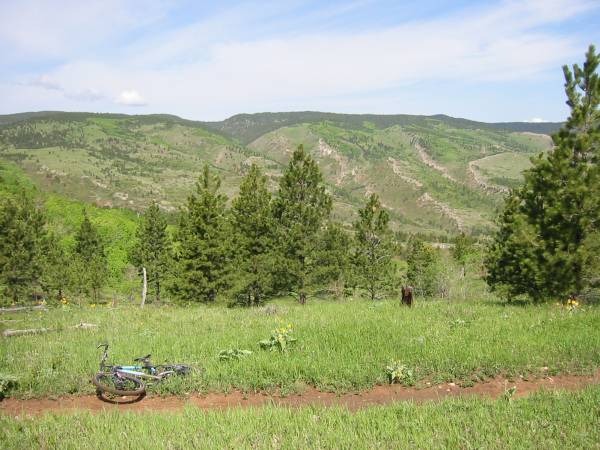 <![endif]>
The Bearlodge Mountains.
<![if !vml]>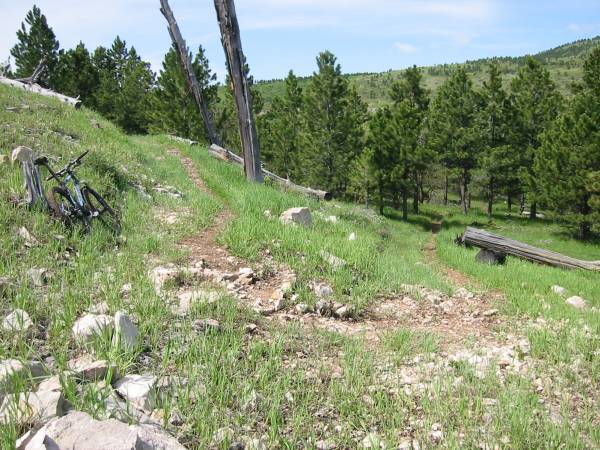 <![endif]>
Lots of switchbacks here, and it can be quite rocky in places.
<![if !vml]>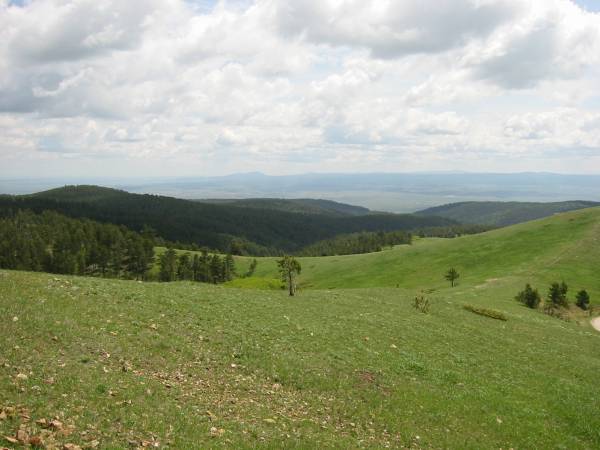 <![endif]>
From the summit of Warren Peak, 6656 feet.  There was actually still snow up here in a few places in the shadows.
<![if !vml]>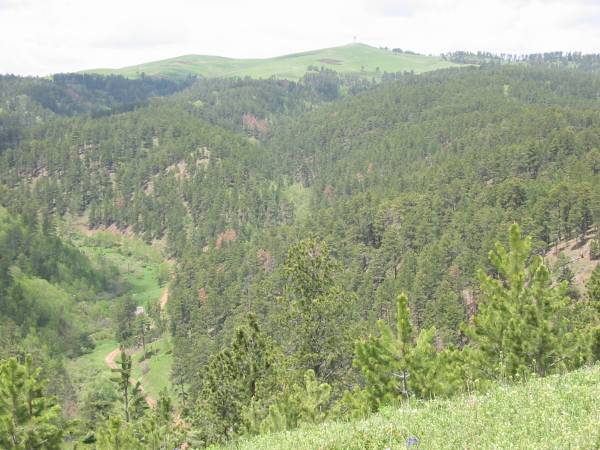 <![endif]>
Looking back at Warren Peak from Ogden Ridge Trail.  Trail climbed to summit can be seen lower left.
<![if !vml]><![endif]>

From ranger tower at top.

<![if !vml]><![endif]>

Snow near summit.
<![if !vml]>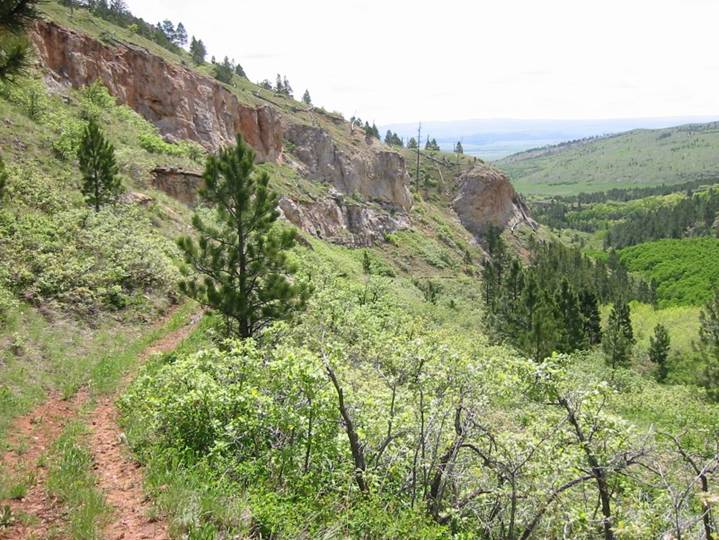 <![endif]>
Looking down Ogden Creek Trail.  Grueling climb, at times going only 2.9 mph.  Had antelope run right in front of me, run up to cliff above, then stand and stare down at me from above.  But before I could take a picture, he split.  This trail, combined with a little bit of road up top, gains about 1800 feet.
<![if !vml]>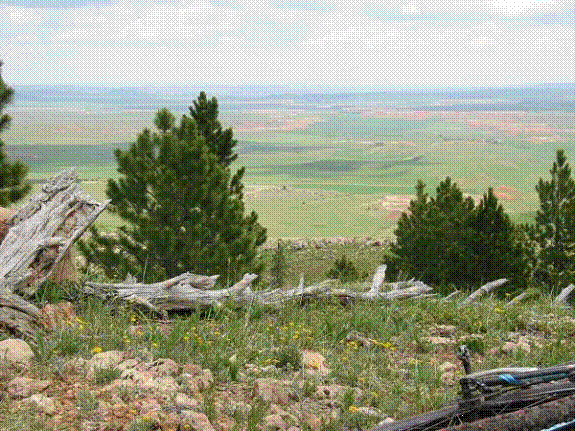 <![endif]>
Grasslands of Wyoming below.  The Black Hills mountains of SD are in distant background.
Ride Summary:
Thoroughly enjoyed riding here.  Never once encountered another trail user.  Only saw rangers a couple of times.  The Bearlodge Mountains are the site of the popular Bearlodge Fat Tire festival each year.  There are over 50 miles of trails here, with all types of terrain.  Views are stunning wherever you ride.
I finished the ride with a 1600 foot descent back to the car.  Started as fire road bombing, then "expert" singletrack.  Way too much fun.  Had the parking lot to myself (as far as I know, not one other car parked there while I was riding), so I washed up right there and packed the bike.  Shortly after leaving for Bismarck, the rain started.  I stayed in the storm front for 200 miles, that's 200 miles of very heavy rain and lightning on wide-open highway.  That PT Cruiser hydroplanes very easily.  Spent that night at Randy's.  Rain the next morning provided incentive for Randy and I to get more sleep over riding.
Ride stats:
31.4 miles
3:52 ride time
Approx. 6000 feet climbing, most of it above 5000 feet
6656 feet peak elevation