Hawaiian Trip
April 15 – 29, 2005
by
Doug Jansen
Trip Highlights:
Doug and Cathy from New Hampshire and Mom Jansen from Michigan visited Oahu (2 days), Maui (7 days), and Hawaii (The Big Island, 4 days)
Biked, Hiked, and Snorkeled
Visited Pearl Harbor, Polynesian Cultural Center, Maui Ocean Center, active lava flow, numerous waterfalls, lava tube caves, Pacific Tsunami Museum, Road to

Hana

, Haleakala National Park, Volcanoes National Park, and more
Doug's cycling summary

447.4 miles
31 hours, 42 minutes
45,080 feet of climbing

Images captured: 470 with Canon cameras Digital Rebel SLR and S110
Traveled with Dean

Torreys

Ti

cyclocross

bike with disk brakes.

 

This bike can accommodate wider tires for dirt road climbing.

 

Not very light, but very comfortable touring.
Oahu
April 16, Saturday Morning Ride on Tantalus Drive/Round Top
30.3 miles
2:09 hours
3480 feet climbing per S725 HRM
After about 16 hrs total travel time, we arrived in Honolulu at dusk Friday evening.  Walking out of the airport, we see rainbow over the rental car lot.  Fitting for arrival to the "Rainbow State."  Got up early (6am Hawaiian Time is noon Eastern Daylight Time) to build bike and get a ride in before driving over to the Polynesian Cultural Center on the other side of the island.  Tantalus Drive rises from the outskirts of the Honolulu metro area through lush rain forest.  It turns into Round Top Drive near the high point around 1600 feet.  Round Top offers spectacular views of Waikiki and Diamond Head crater.  Tantalus Drive is also used in USCF hillclimb time trials.  I did not time myself on it as I didn't know exactly where the start and finish lines are, but I did do two climbs at near race pace.  I felt this might be the only chance in two weeks to get any anaerobic intensity in, as intensity during the monster climbs I had planned needed to be very carefully controlled with long recovery periods before and after them.  The first time I came down via Round Top and shot many pictures.  The second time I came back down Tantalus to shoot photos from that side.  On my way back to Waikiki, I side tracked over to the "punchbowl," or Pu'owaina Crater.  The National Memorial Cemetary of the Pacific is located there, and it is reminiscent of Arlington.  Many December 7, 1941 war dead are buried there.  Grounds were meticulously tended.  Mom and Cathy toured Waikiki beach and outlets.
<![if !vml]>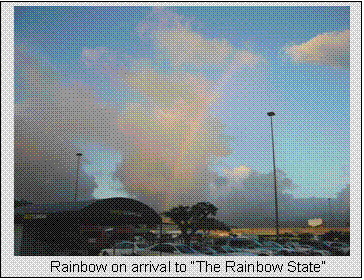 <![endif]>
<![if !vml]>
<![endif]>
<![if !vml]>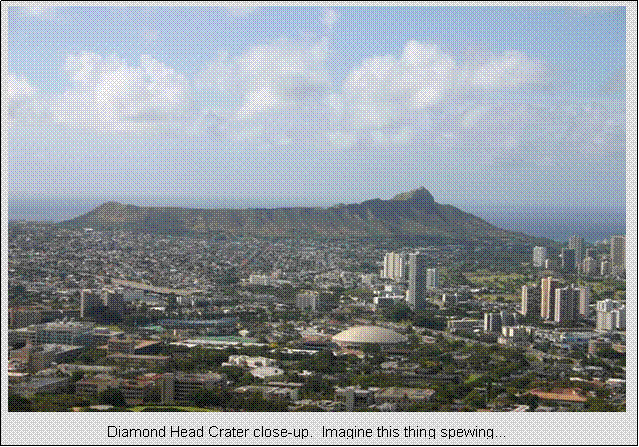 <![endif]>
<![if !vml]>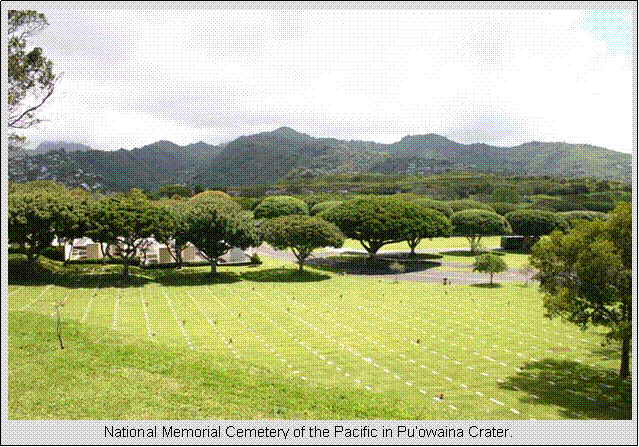 <![endif]>
After morning activities, we drove over to the Polynesian Cultural Center.  It is a touristy thing run mostly by Brigham Young University students from the Polynesian Islands.  Proceeds help fund students earning degrees.  It is claimed to be the number one paid visitor attraction in Hawaii.  Authentic cultural displays from each of the island nations are represented, such as Fiji, Samoa, Hawaiian, Tahiti, Tonga, etc.  We did a package that included the evening show and luau feast.  The presentation of exhibits and the food were excellent.  We did not stay for the entire evening show which started around 7pm (1am EDT), as I was getting very tired (and cranky) and had a one hour drive back to Waikiki.  We got back around 9pm.
<![if !vml]>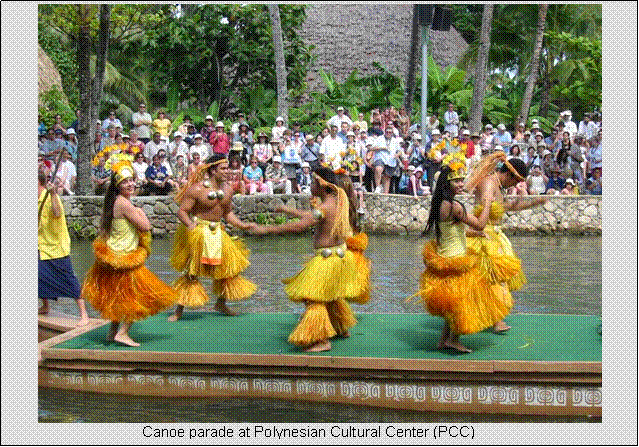 <![endif]>
<![if !vml]>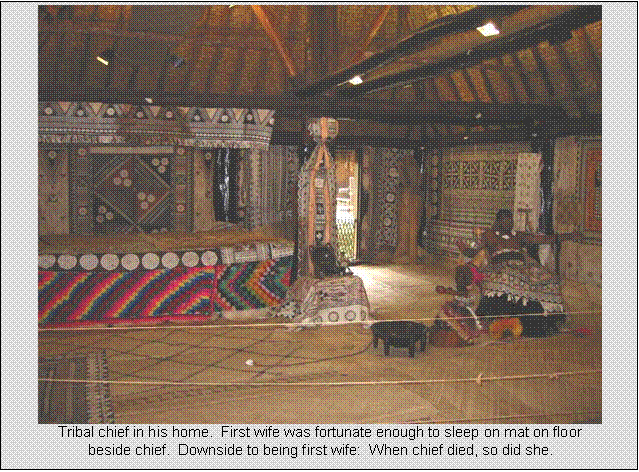 <![endif]>
<![if !vml]>
<![endif]>
<![if !vml]>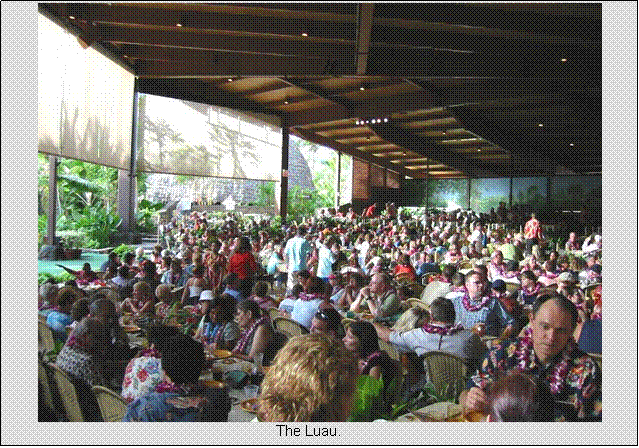 <![endif]>
<![if !vml]>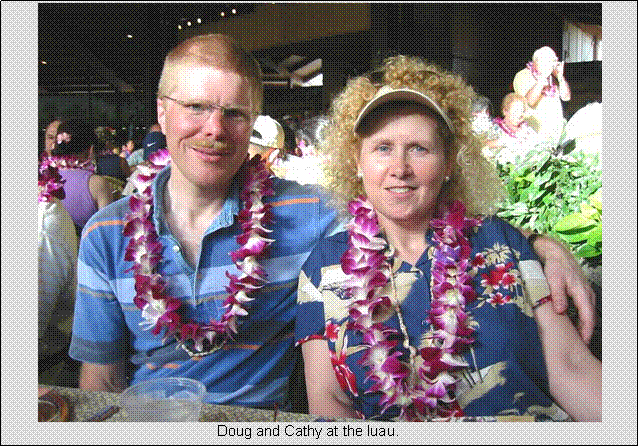 <![endif]>
April 17, Sunday Morning, Pearl Harbor
No visit to the Islands can be complete without visiting the memorials at Pearl Harbor.  The Arizona Memorial opens at 7:30 and the free tickets are on a first come first served basis.  It was not particularly busy during this off-season, so we got on the ferry boat to the memorial in about an hour.  Pretty solemn place.  I never realized the deck of the Arizona is just below the surface and is visible from the memorial open-air deck.  Much above deck was salvaged, however the remainder of the ship was left intact as the final resting place of the 900+ sailors entombed here.
After visiting the Arizona Memorial, we toured the USS Bowfin Submarine dock at the Arizona visitor facility.  It is a WW-II era sub with four 16-cyllinder diesel engines, plus batteries and electric drive.  It is beautifully maintained/restored.
<![if !vml]>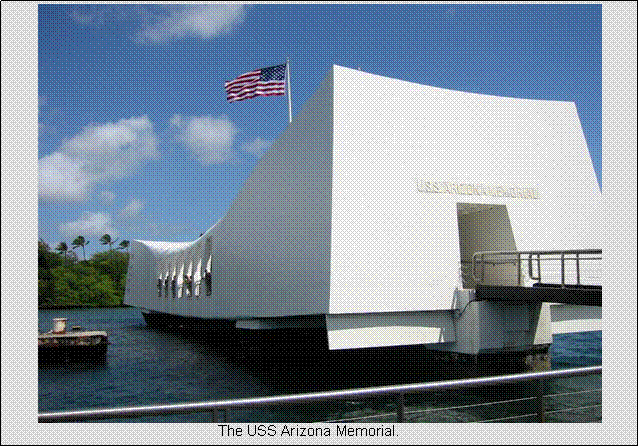 <![endif]>
<![if !vml]>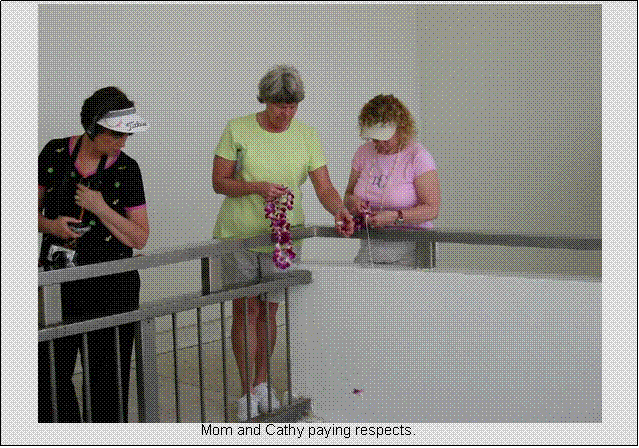 <![endif]>
<![if !vml]>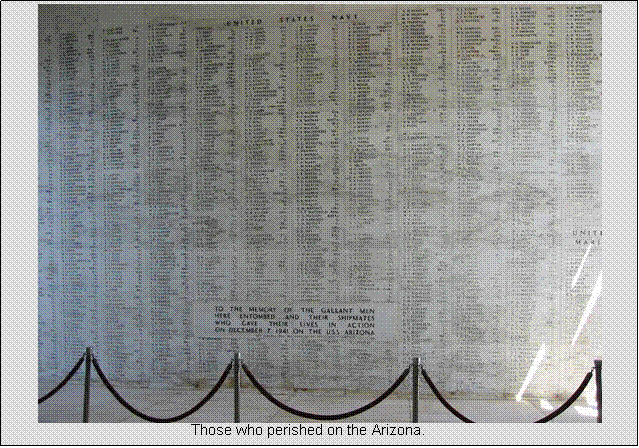 <![endif]>
<![if !vml]>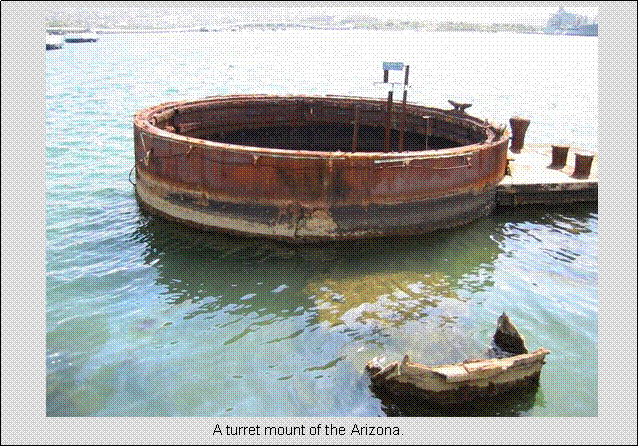 <![endif]>

<![if !vml]>

<![endif]><![if !mso]>

<![endif]> <![if !mso]>

<![endif]><![if !mso & !vml]> <![endif]><![if !vml]>

<![endif]><![if !vml]>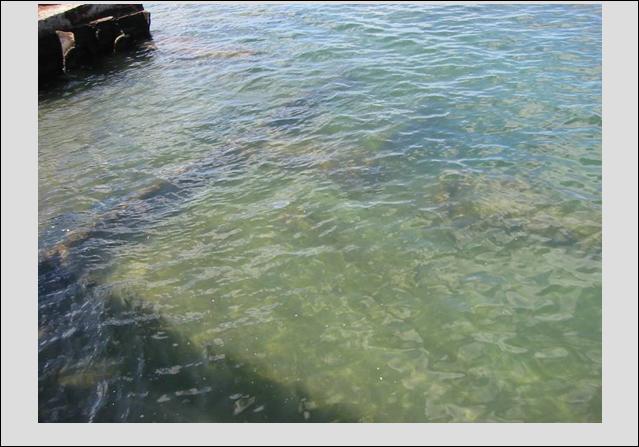 <![endif]>

<![if !vml]>

<![endif]><![if !mso]>

<![endif]>

Model of Arizona and the Memorial built structurally independent of it.

<![if !mso]>

<![endif]><![if !mso & !vml]> <![endif]><![if !vml]>

<![endif]><![if !vml]>
<![endif]>

<![if !vml]>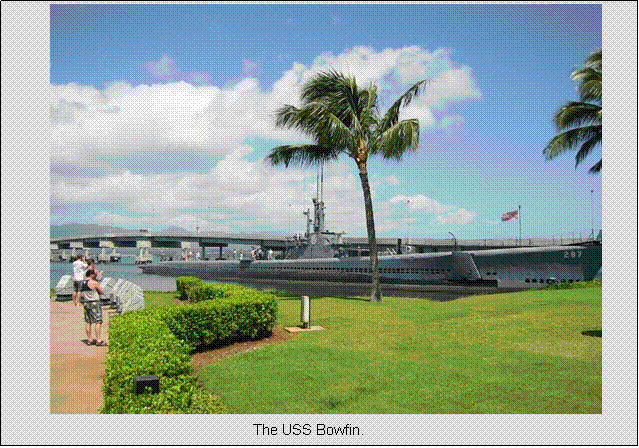 <![endif]>
<![if !vml]>
<![endif]>
<![if !vml]>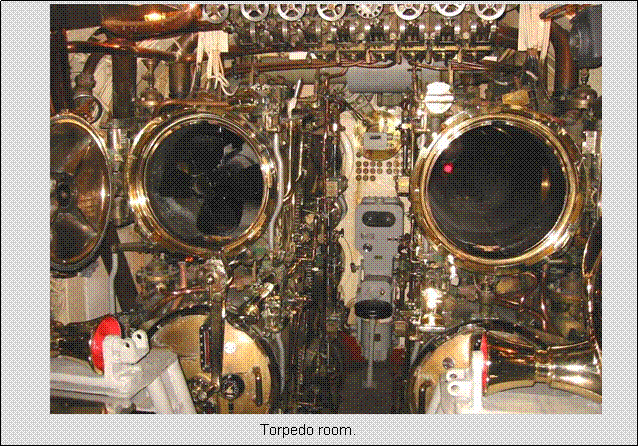 <![endif]>
<![if !vml]>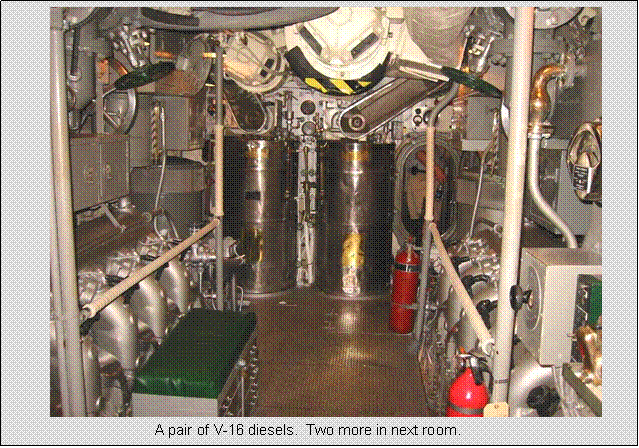 <![endif]>
<![if !vml]>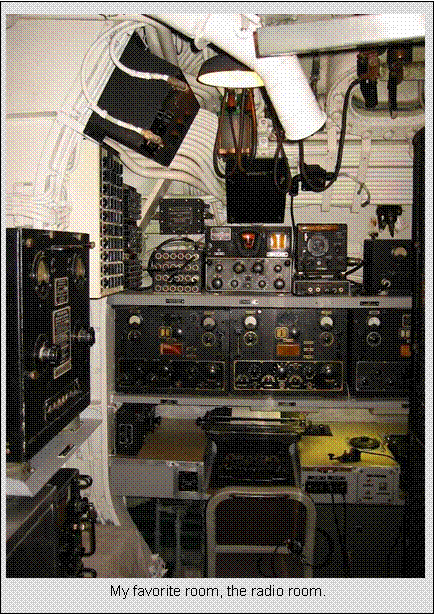 <![endif]>
April 17, Sunday Afternoon, East Oahu road ride
47.9 miles
2:37 hours
3000 feet estimated total climbing
After our Pearl Harbor visit, I was able to get out for an afternoon ride.  I choose to go miles instead of vertical this time, although I got a liberal dose of climbing in anyway.  Seems I can't pass a hill without climbing it first.  I headed east out of Waikiki on Rt 72, wrapped around Makapu'u Head, to a town called Waimanalo.  Highly scenic, as most of it was coastal riding.  The road was busy however, and in tight spots there was no shoulder.  The trade winds, which are very strong late in the day, were mostly out of the east.  This made for a fast cruise on the way back, at times 32 mph on the flatter parts.  Ended up being a fairly hard ride as I had two days to recover for the 10,000 foot Haleakala climb.
<![if !vml]>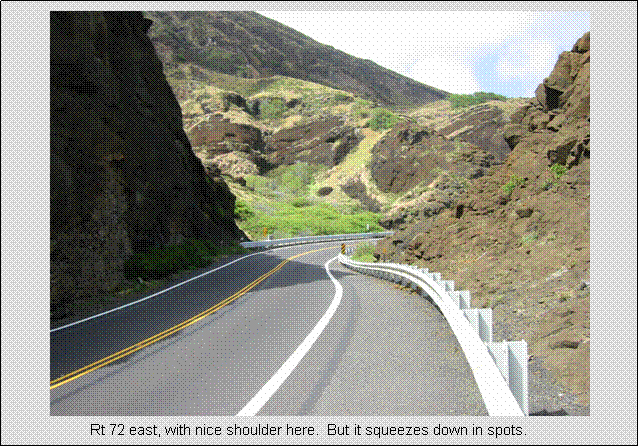 <![endif]>
<![if !vml]>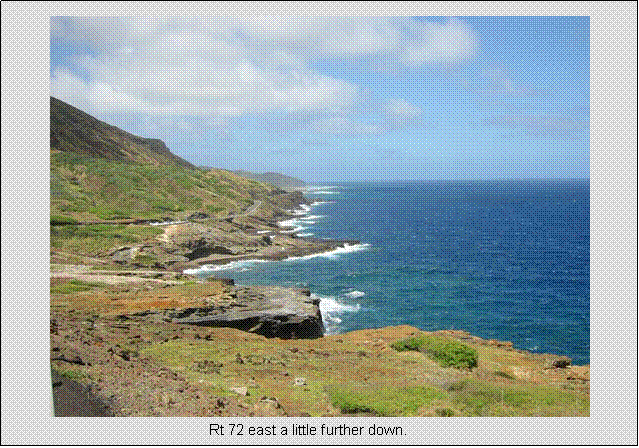 <![endif]>
<![if !vml]>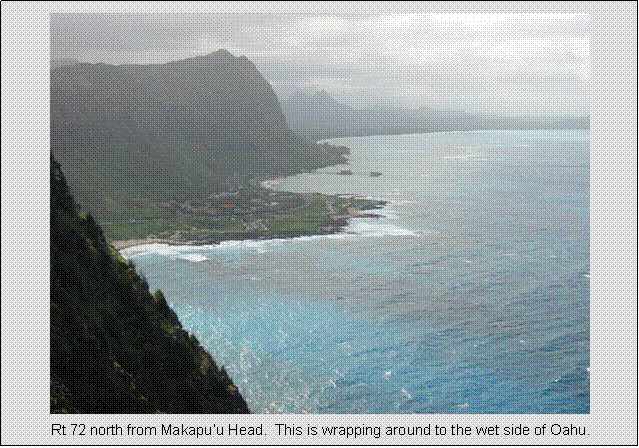 <![endif]>
<![if !vml]>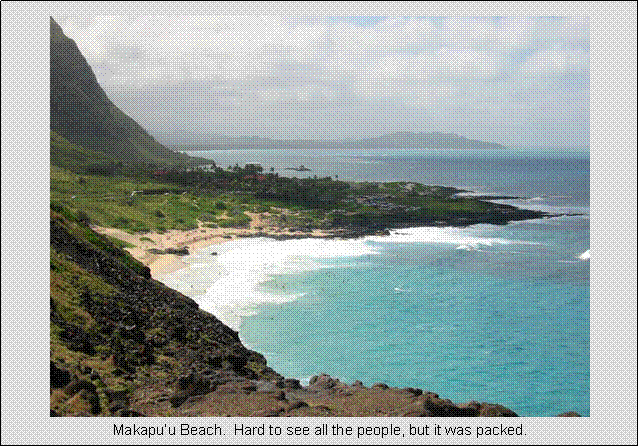 <![endif]>
<![if !vml]>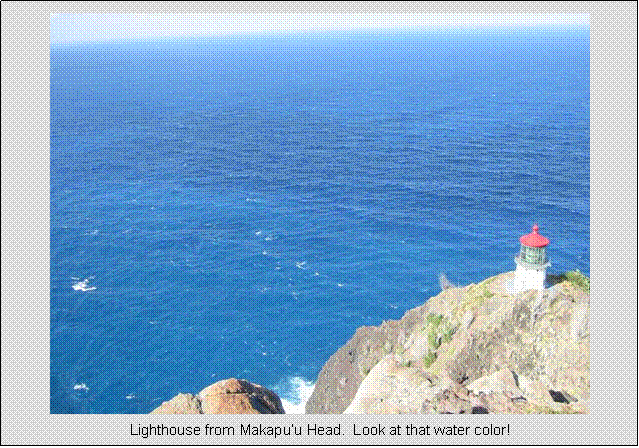 <![endif]>
<![if !vml]>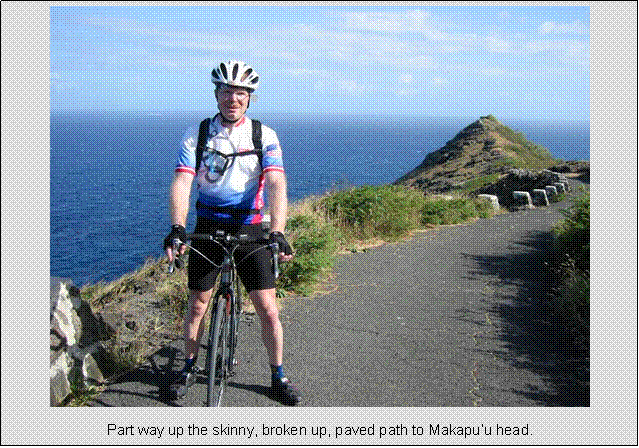 <![endif]>
<![if !vml]>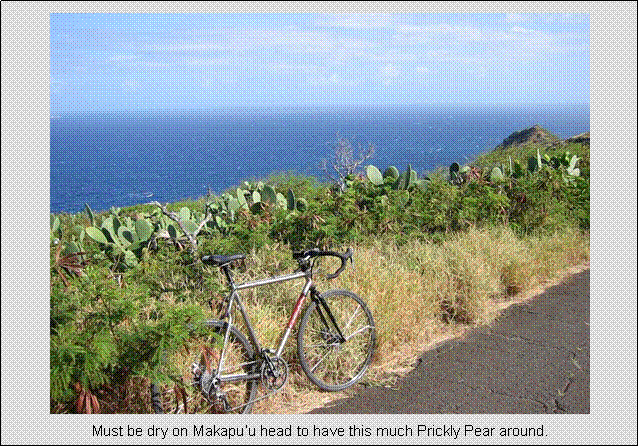 <![endif]>

<![if !vml]>

<![endif]><![if !mso]>

<![endif]>

Looking back towards Waikiki, with (front to back) Koko Crater, Koko Head, and Diamond Head in the wee distance.  From Makapu'u Head.

<![if !mso]>

<![endif]><![if !mso & !vml]> <![endif]><![if !vml]>

<![endif]><![if !vml]>
<![endif]>

<![if !vml]>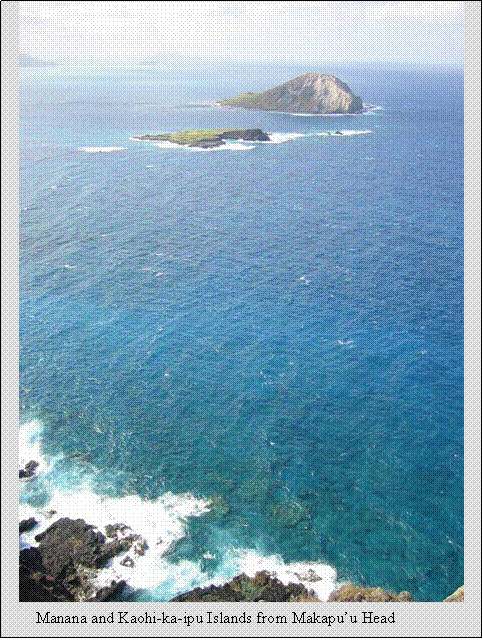 <![endif]>
Maui
Monday, April 18
Travel to Maui, recovery ride day, swim
15.0 miles
1:01 hours
500 feet estimated total climbing
We left Honolulu early on Monday to have some time the same day on the island of Maui.  Our stay on Maui was less action packed, so we had more time to relax and check things out.  We stayed 6 full days.  We were fortunate that our room at the Royal Lahaina Resort was ready in the morning so we could check in early.  I went out for a short ride on Rt 30 north, but the wind was something else.  Even 15mph avg (I went about 30 back) was harder than I wanted to go.  Turned around at Kapalua, where there was a nice view of the ocean from a world class golf resort.  Pineapple plantations along the way too.  Went for a swim here.  Beach and sunsets were spectacular.
<![if !vml]>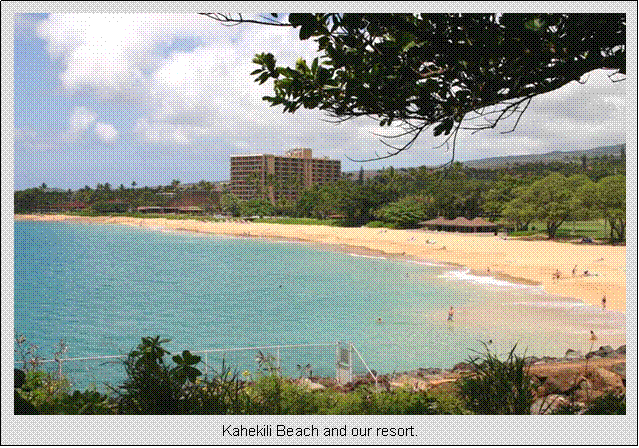 <![endif]>
<![if !vml]>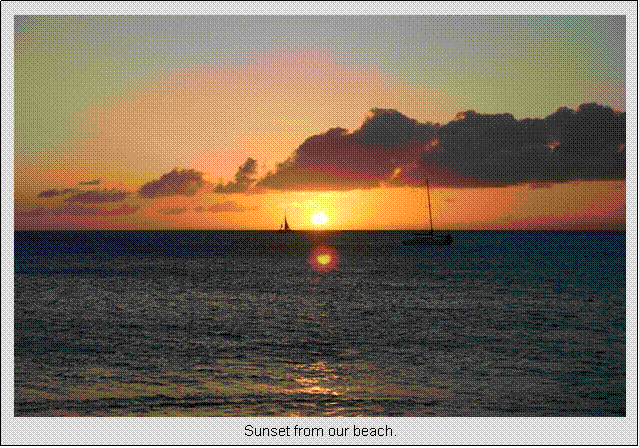 <![endif]>
<![if !vml]>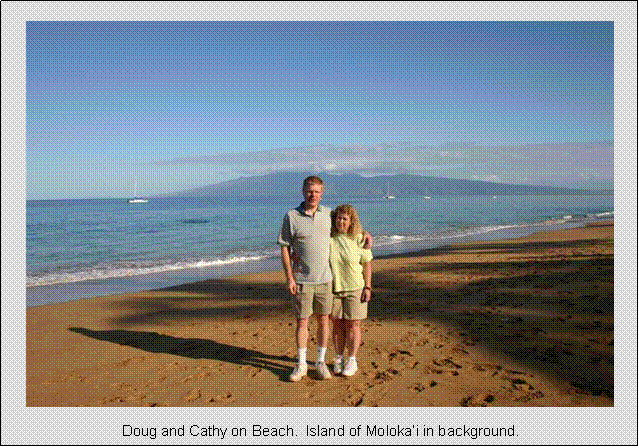 <![endif]>
<![if !vml]>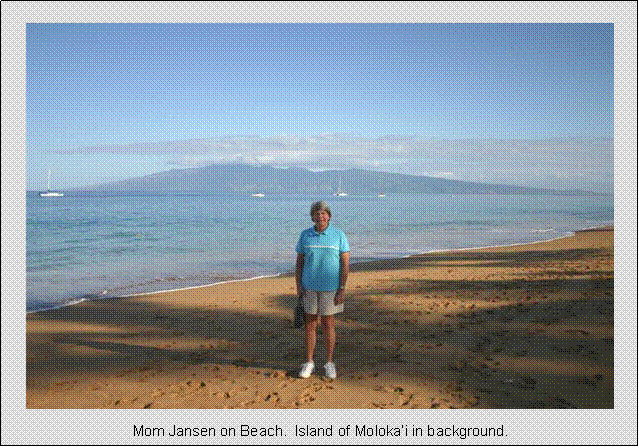 <![endif]>
<![if !vml]>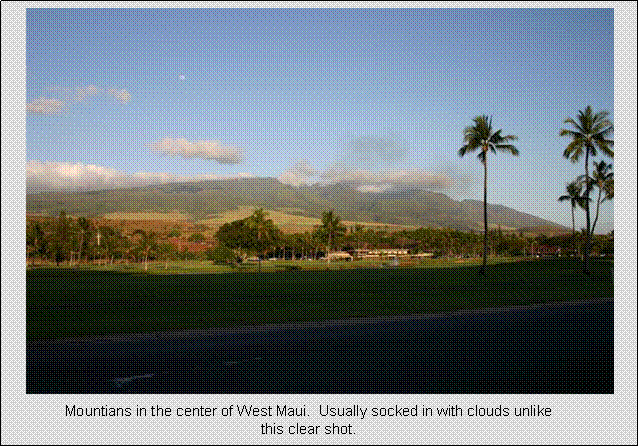 <![endif]>
<![if !vml]>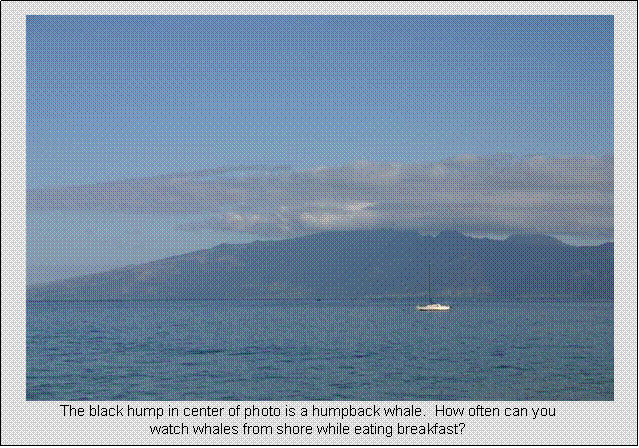 <![endif]>
Tuesday, April 19
Road to Hana car tour
We reserved this entire day to drive the famous Road to Hana.  This road contours the rainy side of east Maui, a tropical rain forest.  Numerous waterfalls and ocean views are found along this sometimes very narrow winding road.  It supposedly has 617 turns in it.  It might only be 50 miles Kahului to Hana, but the tour typically takes all day.  Our first stop was at the Na'ili'ili-haele Falls.  There are four falls here, two of which are easily accessible.  The other two require some minor "repelling" skills, using a rope to pull yourself up a 12 foot rock face.  We opted not to risk it, stopping at the second falls which had a nice swimming hole.  Even the hike to the first two falls was a bit treacherous from the road.  Steep slippery clay-like soil forced use to use bent over bamboo trees as pull ropes.  We also hit the Garden of Eden along the way, located above the valley where the opening scene of Jurassic Park was shot.  We only went a little past half way on the Road to Hana.  Went for a swim when we got back.  Needed to rest and relax in preparation for the big Haleakala climb the next morning.
<![if !vml]>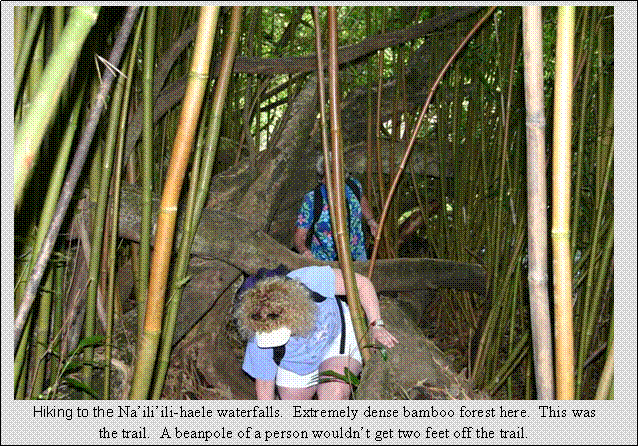 <![endif]>
<![if !vml]>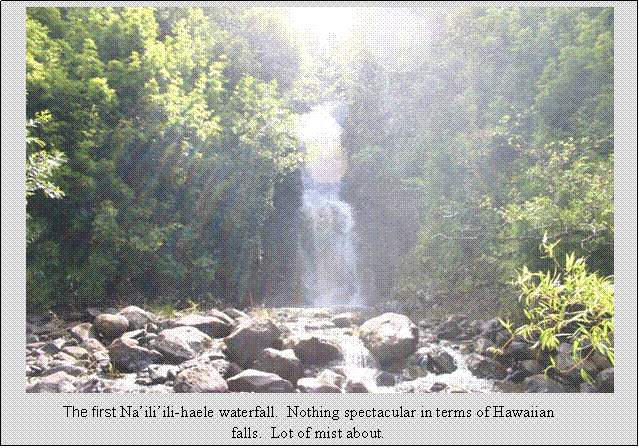 <![endif]>
<![if !vml]>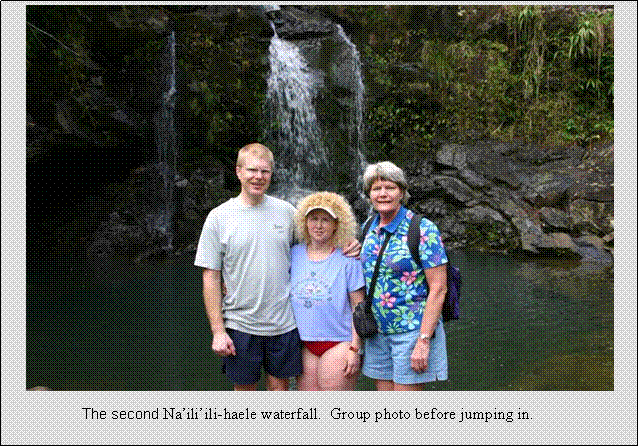 <![endif]>
<![if !vml]>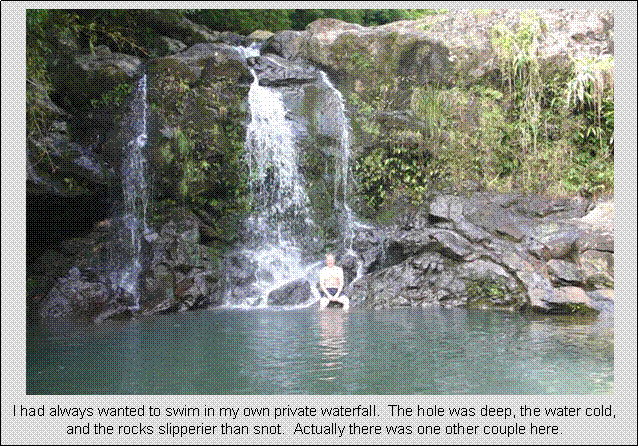 <![endif]>
<![if !vml]>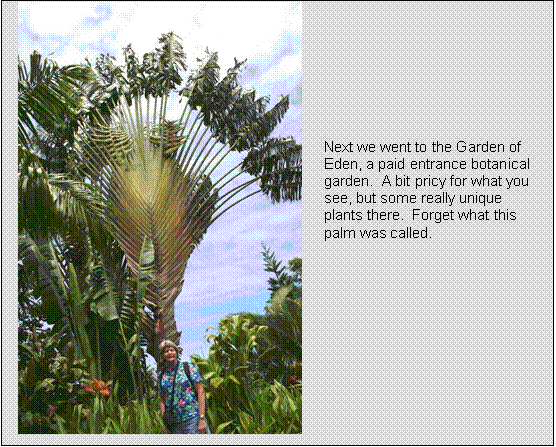 <![endif]>

<![if !vml]>

<![endif]><![if !mso]>

<![endif]>

Cathy at the Garden of Eden.

<![if !mso]>

<![endif]><![if !mso & !vml]> <![endif]><![if !vml]>

<![endif]><![if !vml]>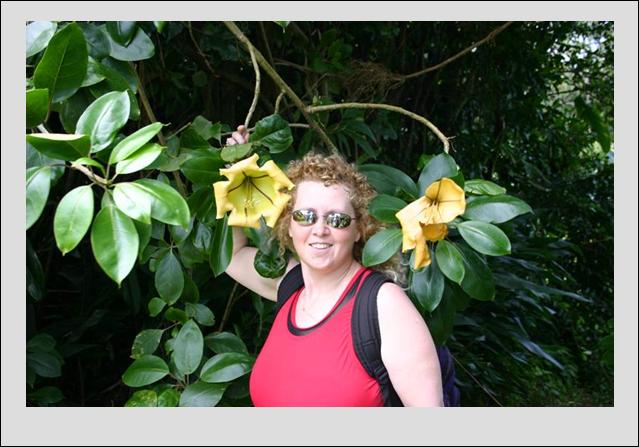 <![endif]>

<![if !vml]>
<![endif]>
<![if !vml]>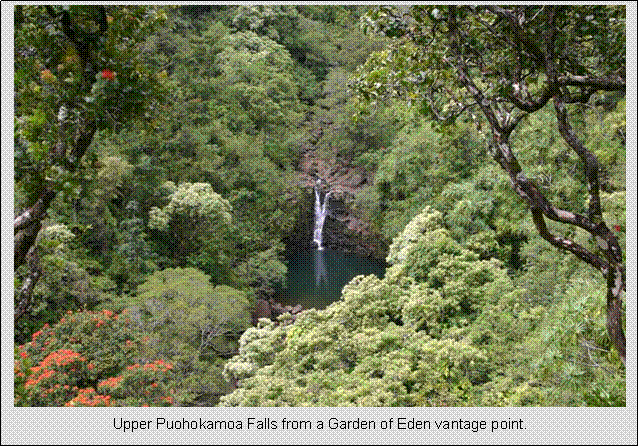 <![endif]>
<![if !vml]>
<![endif]>

Wednesday, April 20

Haleakala Hillclimb

75.0 miles

5:31 hours

10,000 feet net gain

There are several paved routes from sea level to reach the entrance of Haleakala National Park.  I chose to start in Kahului, as my wife and mother wanted to do the touristy thing of biking (coasting on singlespeed cruisers with dual drum brakes) down from the 10,023 foot summit to sea level.  I pedaled up while they shuttled up.  70,000 tourists downhill Haleakala per year.  The easterly trade winds were particularly nasty that day, steady 30mph, and the first 10 miles of the 37.5 mile climb was dead into the wind.  Thought for sure I wasn't going to make it, and when the van carrying wife and mom up passed me a few miles into the climb, the tour guides said I didn't have a chance due to how I was already struggling.  But the climbing route eventually wrapped around into the shelter of the mountain itself, so a good portion of the remainder of the climb had moderate wind.

There are two predominant sets of switch backs, a tight set of 22 leading to the national park entrance, and another set of about 10 inside the national park.  All are above tree line, and the views are stunning.

There were at least a few hundred tourists coming down Haleakala during my climb.  All in formation in groups of 10-13, with bulky Gore-Tex rain gear (crash liability gear) and full face helmets.  Looked like astronauts.  Tour groups are allowed to descend from the summit through the national park if they have a guide up front to limit speed (to exactly 18mph), and a chase van to warn cars coming down of group up front and to take timid/slow riders down in van.  Individuals like myself have no restrictions.  Just pay $5 and enter.  Got a lot of comments from the train of folks coming down, like "you're going the wrong way," or "you bought the wrong tour!"  Many of them paid $100+ to go down, while northeast hillclimbers pay $300 to go up Mt Washington.  Non-hillclimbers won't get it.

I didn't have any time goals in mind for the climb, other than around 4 hours.  I was on vacation after all.  I reached the summit in 4:11 riding time, having stopped a few times along the way to take photos and eat a snack.

The grade is fairly constant, between 5% and 6%, and the pavement is perfect.  Near the top, there may have been some 8% grade.  There is a claimed 19% section, but I don't believe it.  This has been my second climb to 10,000 feet, the first starting at 3000ft, rather than sea level, in Arizona.  Climbing at 10,000 feet doesn't particularly bother me, other than the expected racing heartrate and shortness of breath.  You go a LOT slower at 10,000 feet than you do at Mt Washington's 6,000 feet.

The descent was my most enjoyable ever.  37.5 miles, monotonically descending except for one tiny blip.  Only took me 1:20 to get back to car.  I passed a couple cars on the way down.  Maui asphalt is made from lava rock.  It is extremely abrasive, and tires stick like glue to the stuff.  Hate to think what kind of road rash it would produce.  I went around some of the switchbacks at ridiculous speeds.

I had originally planned on biking down with Mom and Cathy from a rendezvous at 7000 feet.  Mountain Riders felt it was best if they joined the group descending from the summit, where they'd be guided the whole way.  I didn't know this until they came blasting by at 8000 feet when I was still climbing.  Oh well, at least I got to enjoy a rocket descent.  We got back to the car within one minute of each other.

The next day, I rented a MTB, shuttled to summit, and biked down the "other" side of Haleakala.  This is Skyline Trail to Mamane Trail through Poli Poli State park, about a 7,000 foot descent with views too surreal to describe.  It follows a moonscape spline of volcanic craters.  I rode for an hour before getting down to the clouds.  Mom and Cathy hiked the crater while I biked, and we later met at 3000 feet for the drive back to Lahaina.

The locals say no where else in the world can you be 10,000 feet above sea level only 6 miles (as the crow flies) from the ocean.  I wouldn't mind trying the Haleakala hillclimb "Cycle to the Sun" race some time.  Top notch times fall around 3 hours, last year only one person finishing in just under 3 hours.

<![if !vml]>

<![endif]><![if !mso]>

<![endif]>

Starting out on Rt 37.  Wind was 30 mph.  Note sugarcane leaning over.  Skies are almost always clear first thing in the morning.

<![if !mso]>

<![endif]><![if !mso & !vml]> <![endif]><![if !vml]>

<![endif]><![if !vml]>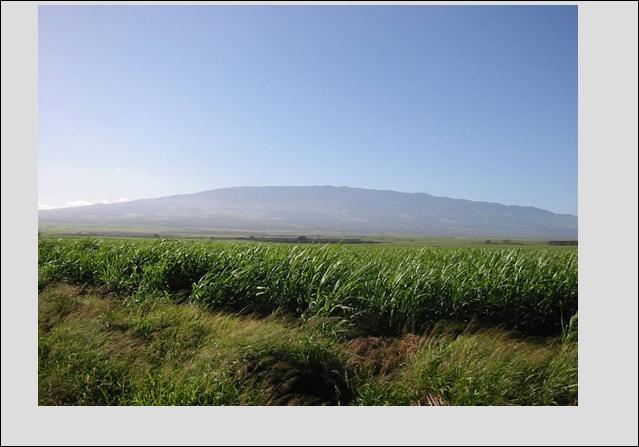 <![endif]>

<![if !vml]>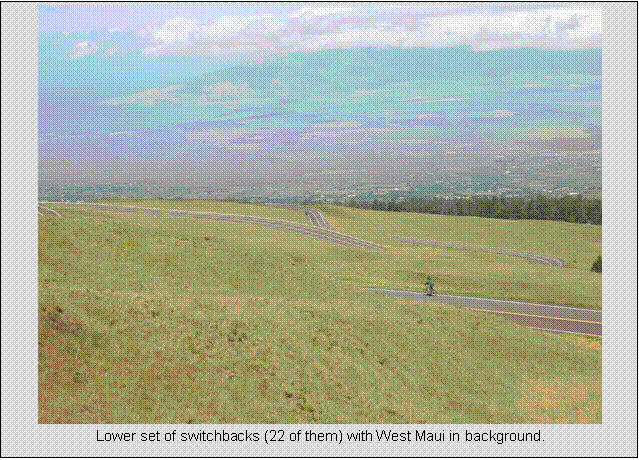 <![endif]>
<![if !vml]>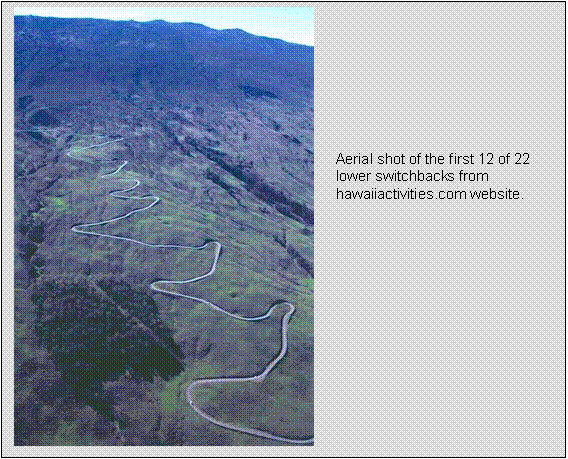 <![endif]>
<![if !vml]>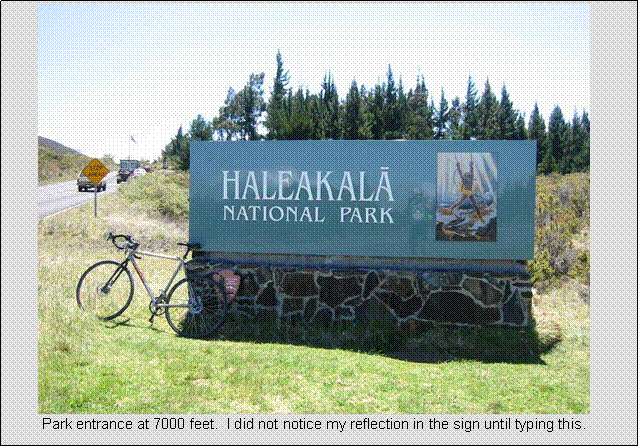 <![endif]>
<![if !vml]>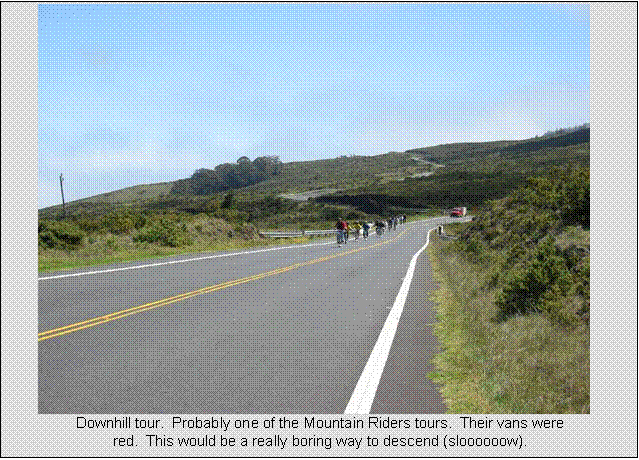 <![endif]>

<![if !vml]>

<![endif]><![if !mso]>

<![endif]>

After climbing well past park entrance at 7000 feet (center of image), clouds began to move in.

<![if !mso]>

<![endif]><![if !mso & !vml]> <![endif]><![if !vml]>

<![endif]><![if !vml]>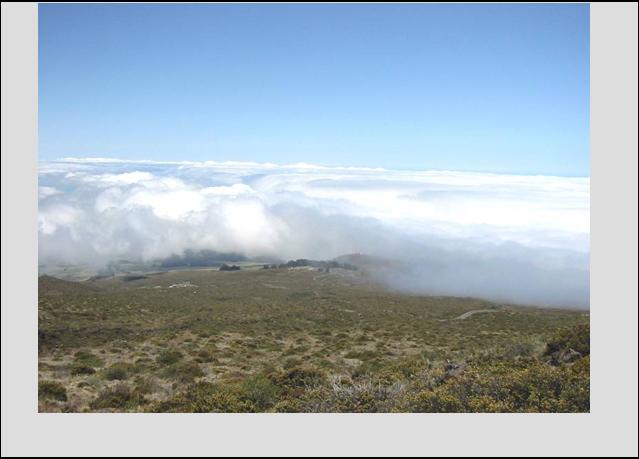 <![endif]>

<![if !vml]>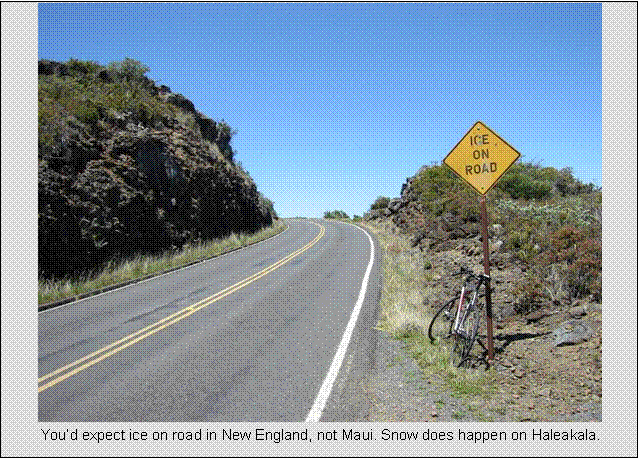 <![endif]>
<![if !vml]>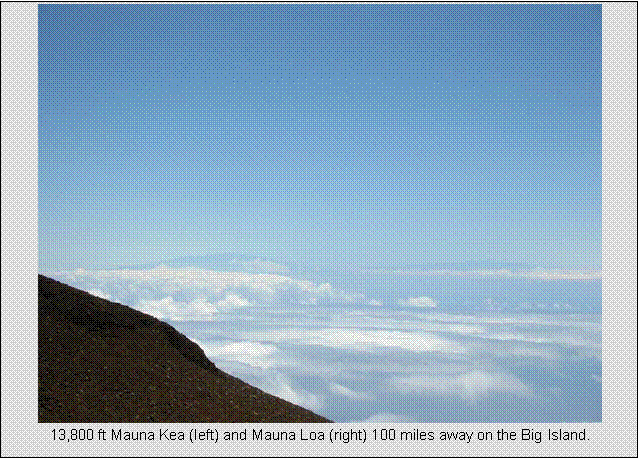 <![endif]>
<![if !vml]>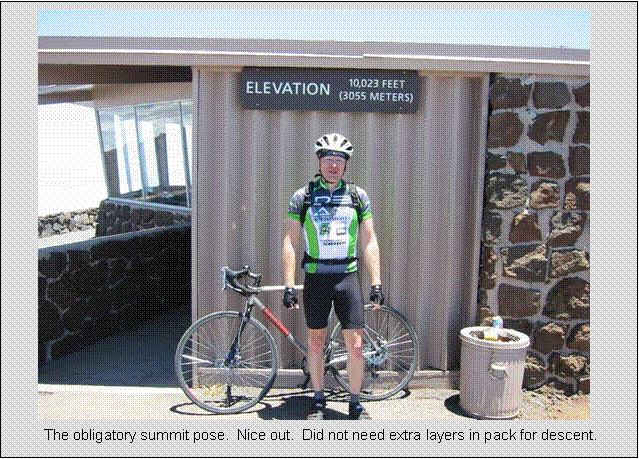 <![endif]>
<![if !vml]>
<![endif]>
<![if !vml]>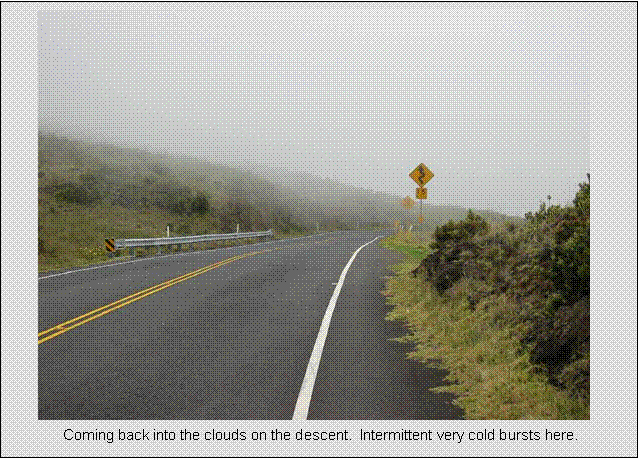 <![endif]>
Thusday, April 21
Haleakala Off-road Descent
20.1 miles
1:40 hours
7,000 feet net loss
This turned out to be my only pure MTB ride.  The night before I swung by West Maui Bikes to pick up a Giant Iguana hardtail mountain bike with disk brakes.  A fairly low end bike, but seemed to be in descent enough shape for what I wanted to do.  Strangely, they steered me to another rental outfit that offers high-end free-ride bikes for blasting down hills and over cliffs and stuff.  Not my thing.  There was a chance I'd be up for some climbing too, and having huge amounts of squishy travel under you is not much fun to climb with.  Sucks the life right out of ya.
Thursday morning, the three of us head up Haleakala with the Toyota Camry rental.  After last minute bike adjustments, Mom and Cathy head off into the Haleakala Crater trails, while I swooped around the observatories to pick up the Skyline Trail trailhead.  The pictures I've seen of this were spectacular, and I was not disappointed seeing it in person.  The trail consists of a long ago closed 4WD road, which now has a singletrack-ish ribbon winding down it.  However, the surface is nothing but loose lava rock.  A few places were firm, but that would just tempt you into building speed before spewing you into more loose rock.  Sink up to the rims loose.  I nearly lost it so many times.  Problem was you wanted to look around while bombing down, but you'd certainly crash if you did.  I stopped many times to take in the few and snap pictures.
After roughly 5 miles of Skyline, Mamane (pronounced Ma-ma-nay) trail is taken.  This is true singletrack.  It descends very steeply at times, over lava outcroppings, roots, ruts, and loose sandy sections.  Very fun, and quite technical.  The trees here were huge, not unlike those I've seen in Montana or Washington.  I've read there are Redwoods in the park.  Only down side was it is quite short at around 1.3 miles.  I pinch-flatted bad on this trail too.  I had the pressure low for the loose stuff up higher, plus as you descend, tire pressure drops.  Things you don't think about in flat land.
Mamane trail dumps out on Poli Poli Access Road in Poli Poli Springs State Park.  This is now around 6000-7000 feet I believe, and I was coming down into the clouds.  Poli Poli is about the only legal place on Maui where you can ride singletrack, and only a small portion of the trails are open to bikes.  Poli Poli Access initially traverses mostly flat around Haleakala.  Once it turns into very narrow one lane paved Waipoli Road, it descends steeply through 20+ switchbacks, all of it through open range ranch land.  There were a lot of cattle around here.  Just like coming down Haleakala on the road the day before, coming through the clouds was very cold.  This time I did not have extra layers along, as it was so nice at the summit.
Waipoli Rd eventually comes out on Hwy 377, which traverses the mountain some more to the rendezvous point with mom and Cathy.  I did not know that there was a 500 foot climb in between me and the car.  The previous days big climb left nothing in my legs for climbing today, so I had to poke along and grind it out.  After this brief climb, a 500 ft descent then brought me to the end of the ride at Sunrise Market.  Ironically, mom and Cathy arrived within seconds after I did.  I decided this would probably be the only chance to MTB on this trip and let me color Hawaii in on my map, so I dropped the bike off on our way back.  The swim at the beach felt great.
<![if !vml]>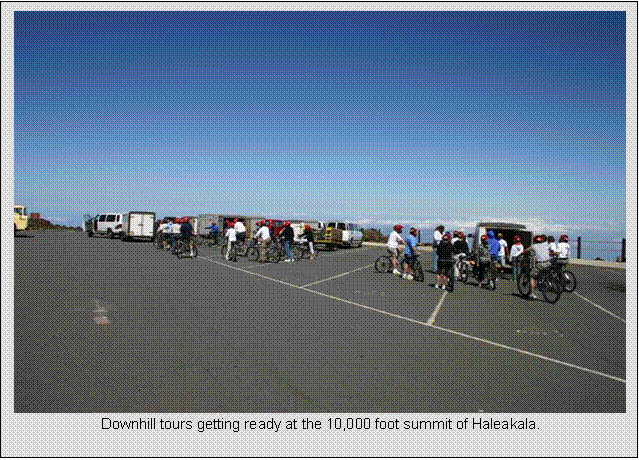 <![endif]>
<![if !vml]>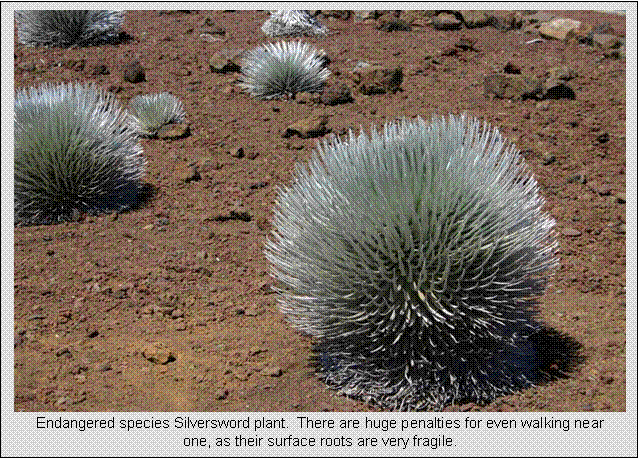 <![endif]>
<![if !vml]>
<![endif]>
<![if !vml]>
<![endif]>
<![if !vml]>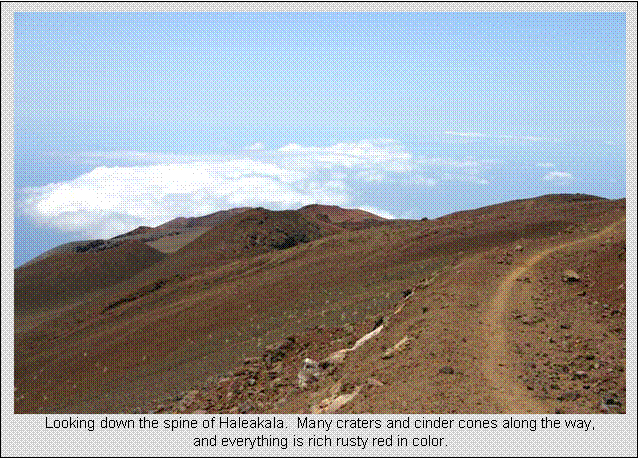 <![endif]>
<![if !vml]>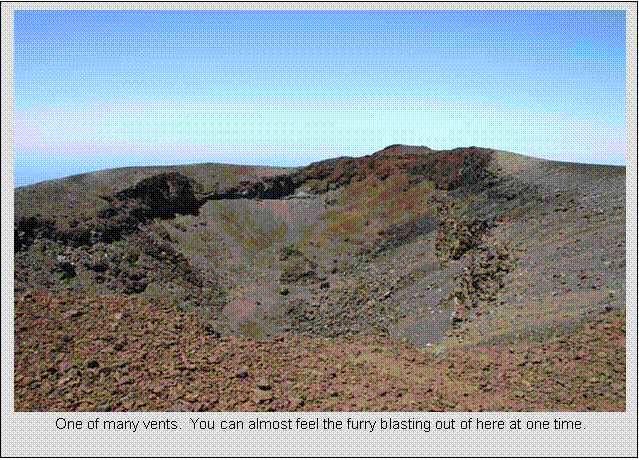 <![endif]>
<![if !vml]>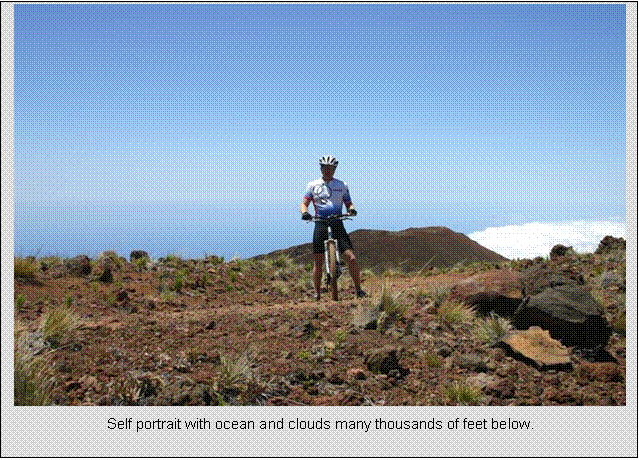 <![endif]>
<![if !vml]>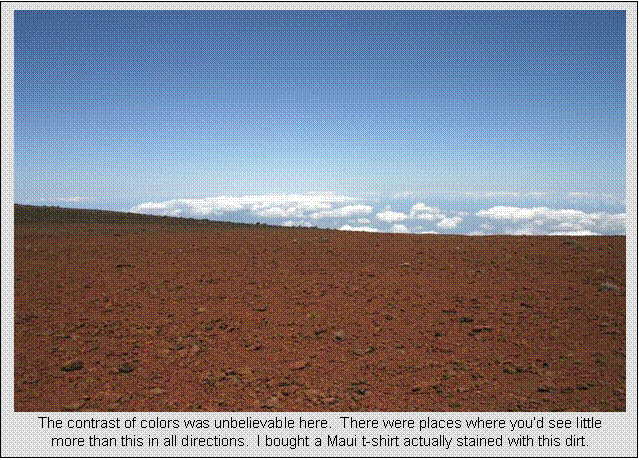 <![endif]>
<![if !vml]>
<![endif]>
<![if !vml]>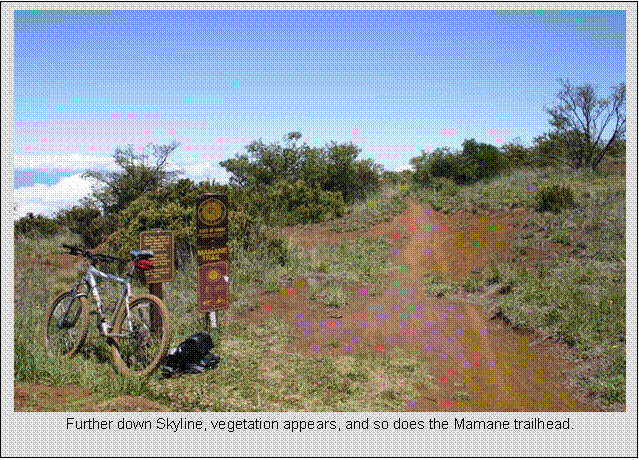 <![endif]>
<![if !vml]>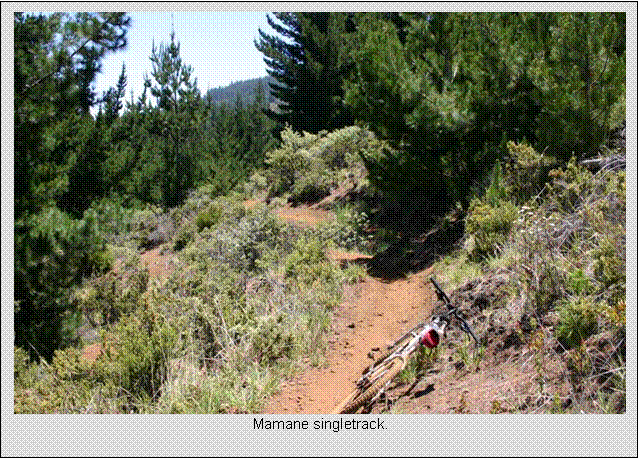 <![endif]>
<![if !vml]>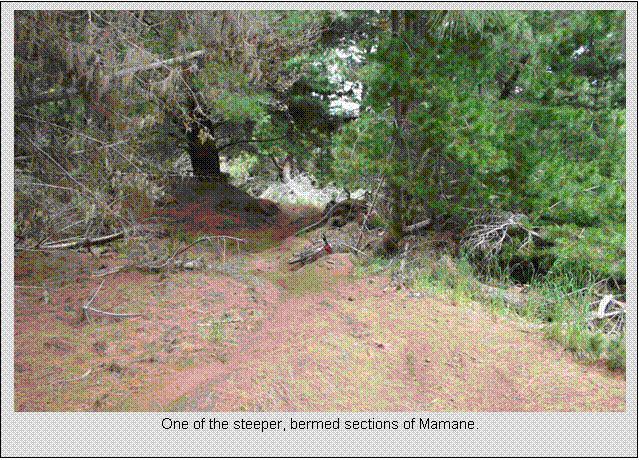 <![endif]>
<![if !vml]>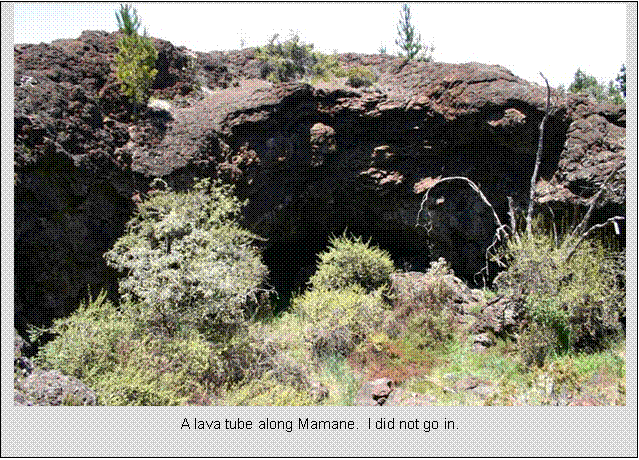 <![endif]>
<![if !vml]>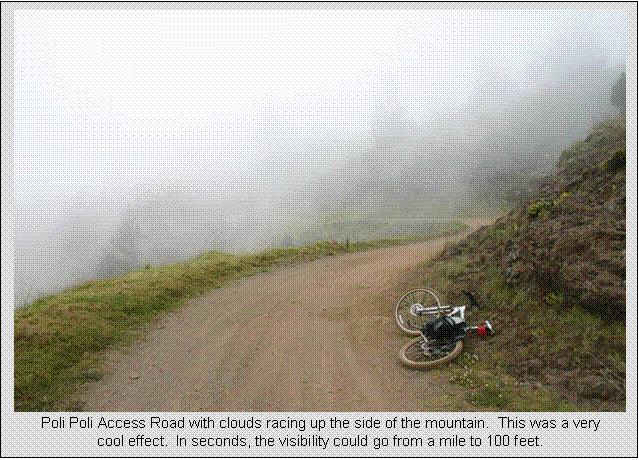 <![endif]>
<![if !vml]>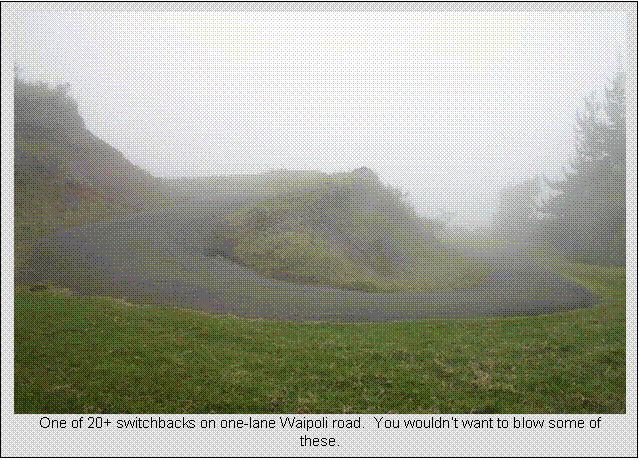 <![endif]>
<![if !vml]>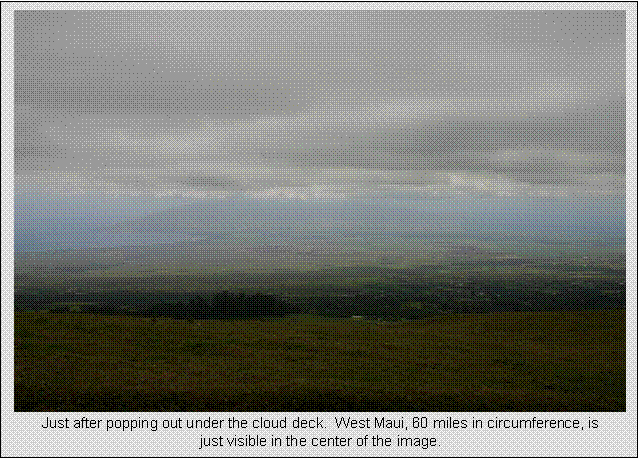 <![endif]>
<![if !vml]>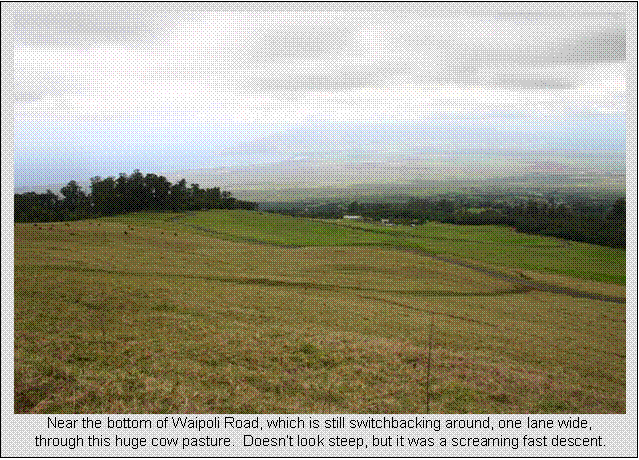 <![endif]>
Friday, April 22
Tandem Ride Around West Maui
65.0 miles
4:20 hours
5,000+ feet total climbing
The ride around West Maui is a classic loop that any serious cyclist visiting Maui must do.  It almost continuously hugs the highly scenic coastline.  Long sections on the north shore are single lane wide (barely wide enough for a car and bicycle to pass) and hug very steep cliffs to the water below.  The loop has considerable climbing too.  DeLorme's Topo 5.0 says over 7,000 feet, but I know Topo is inaccurate where roads contour steep terrain.  The local bike shop says the loop contains over 4,000 feet of climbing, and we added the inland climb to the Iao Needle on our ride.  The road along the north shore would contour every nook that came inland.  It had to.  Ironically, the low points of each nook were inland, coming down nearly to sea level each time.  Then when you'd pop back out on the sea cliffs, you would climb, climb, and climb to get there.  One of the climbs is sustained 18% grade, and we barely made it with our 30t/34t granny gear.  High points above the surf made for very nice views.
I wasn't sure how my legs were going to hold up for this ride, having ridden 7+ hours over the last two days.  I was counting on Cathy to at least carry her share, and she did.  She was worried too, having hiked and bike many hours the previous two days also.
One of the high points of the ride was Julie's Best Banana Bread shack.  Straight from the oven to a roadside stand.  Melt in your mouth good.  It was the best banana bread I've had.  One loaf was perfect size to refuel Cathy and me.  This was mid ride, in the middle of the most scenic part of the ride.
There was, how should I put it, a strange encounter on the route.  We passed a man and woman touring on a motorcycle a couple times when they'd stop at pull-offs for views.  They then would pass us on the road.  Well, one time when they passed us and we came by them later, they weren't enjoying the view.  Let's just say they were engaged in a completely different activity.  Cathy didn't even catch it, and neither did they until we passed them.  We tread quietly.
When we came inland through Wailuku to begin cutting across to the south shore, I took a diversion.  Cathy was starting to feel it and was hoping we'd get back soon, but I really wanted to see the Iao Needle in the beautiful Iao Valley.  Cathy didn't at first know where we were going, but she new it was up.  And up.  After nearly a thousand foot gain, we reached the end of the road in the Iao valley.  The needle was visible from where we stopped, and Cathy yelled "we came all the way up here for that!?"  Guess she didn't think it was worth it.  I hiked a couple hundred yards to the viewing deck for photos while Cathy rested by the bike.  This was deep in the West Maui mountains, on the wet side.  It suddenly started to pour out.  I wrapped the camera up good, came down and expected to get a butt chewing.  Instead, Cathy was sitting out right in the rain enjoying it.  The rain made the climb up into the valley worth while to her.  On the way out, we didn't ride more than 200 yards and it was dry.  A bit further, it was sunny.  Looking back, it sure was dark up in the valley.  Probably stayed that way the rest of the day.
Continuing our descent on Rt 30 to the south shore, we had strong tail wind and slight downhill grade.  Being on a tandem, we hauled.  Maybe 40 mph coasting, and it looked almost flat.  We just passed the Rt 380 junction and, POW, the rear tire blew.  I barely brought the tandem to a controlled stop.  I was horrified to find a hole big enough to put my finger through in the rear tire.  We had just passed a sign that said we had 17 miles to go to Lahaina.  Just then, a local pulls up and asks if we needed help or a ride.  She tells me, "Oh, I have a patch kit for my son's bike in the trunk.  He won't be needing it, he's back in jail."  We'll I needed more than a patch kit (and I had my own anyway), and I had serious reservations about accepting a ride from this person.  Small car, big tandem too.  I told her thanks, but I should have everything I need to repair the flat.  I was taking a gamble.  I had just started carrying a 1" by 2" oval patch of milk jug with my patch kit.  This can be inserted in between a severely damaged tire and tube to keep the tube from herniating out and blowing.  The gamble was the hole was so big, and I have never tried this before.  My friend Steve who recommended the idea has successfully used it before, so I was keeping my fingers crossed.  I put my own tandem tube (28mm) in the tire, and just before slipping the last of the tire bead on, I carefully inserted the polyethylene patch between tube and tire.  I inflated the tire to about 1/2 pressure for fear of milk jug rupturing through the tear.  It seemed to be working.  You could see the milk jug through the whole, but it looked ok.  We headed off and I remained ultra cautious to avoid glass or bumps that could pinch-flat the soft tire.  Fortunately, most of the way back was on wide, clean, recently repaved shoulder.  It held the 17 miles back to the bike shop.  When I told West Maui Bikes what happened, they were impressed that we recovered from it.  But they also said that was a new tire and I would have to pay for it.  I expected to.  They only charged me $9, which I think was their cost on a basic touring tire.  I thought that was extremely fair.
One thing I've noticed riding on all of the islands is how much glass is on the road.  Almost continuous broken booze bottle or smashed car window glass.  Car window glass happens two ways.  There were many abandoned cars along the roads on Maui.  In fact, this problem is in the news a lot.  Invariably, all the windows are smashed out.  Also, in many popular areas to park (beaches and trails), thieves break windows.  I have no idea what I hit with the tandem.  We were going so fast we were at least 200 feet past it when we came to a stop.  I suspect bottom of beer bottle.
Overall, the ride was very satisfying.  We got to see part of Maui we wouldn't have otherwise.  It was a hard ride due to all the climbing, and I pushed quite hard on the climbs.  We passed by the beautiful Honolua Bay, a popular snorkeling sight.  I told myself we had to come back there and try it, thus setting up activities for the next day.
<![if !vml]>
<![endif]>
<![if !vml]>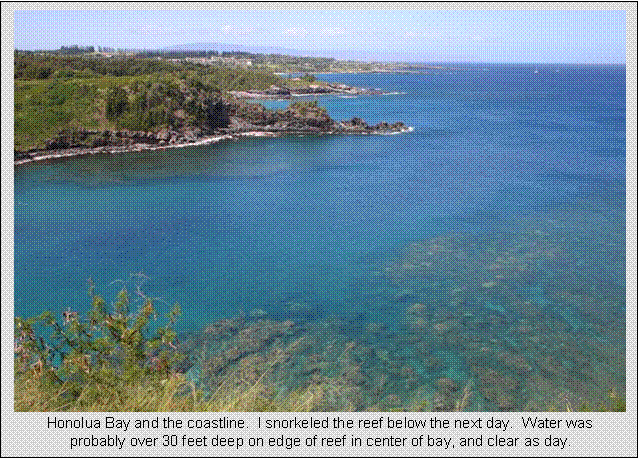 <![endif]>
<![if !vml]>
<![endif]>
<![if !vml]>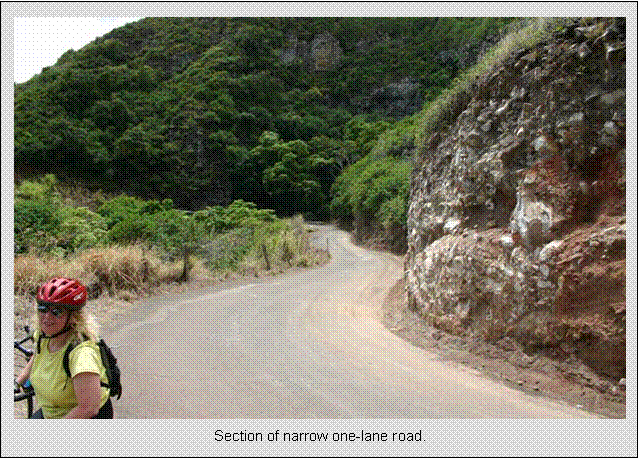 <![endif]>
<![if !vml]>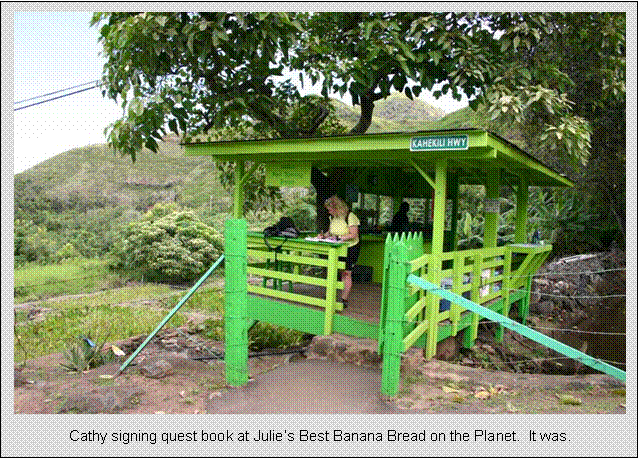 <![endif]>
<![if !vml]>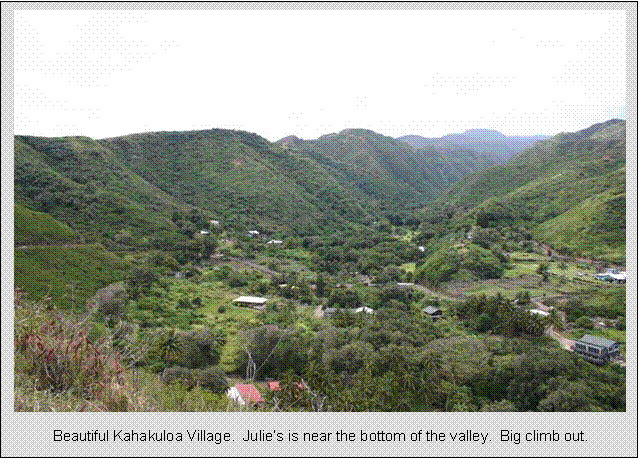 <![endif]>
<![if !vml]>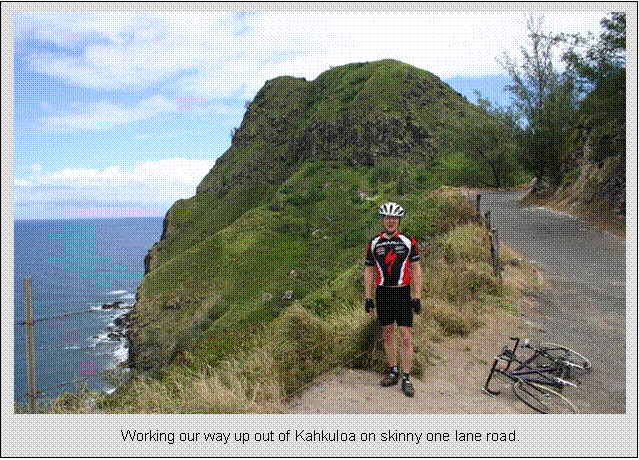 <![endif]>
<![if !vml]>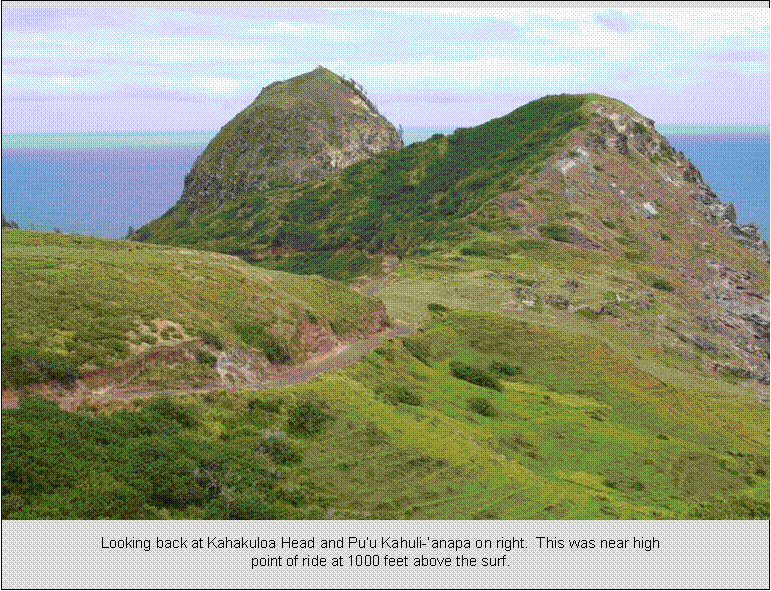 <![endif]>
<![if !vml]>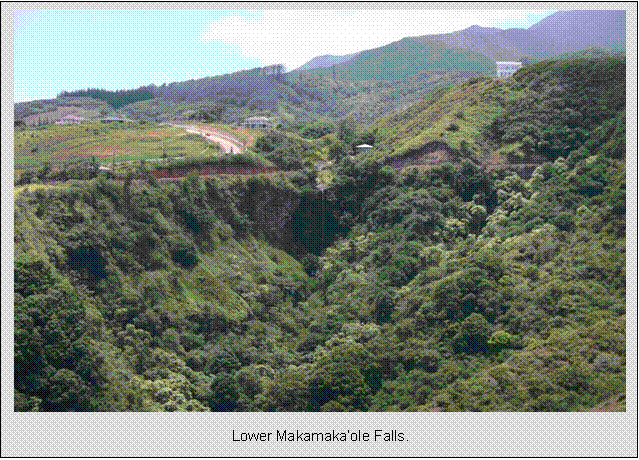 <![endif]>
<![if !vml]>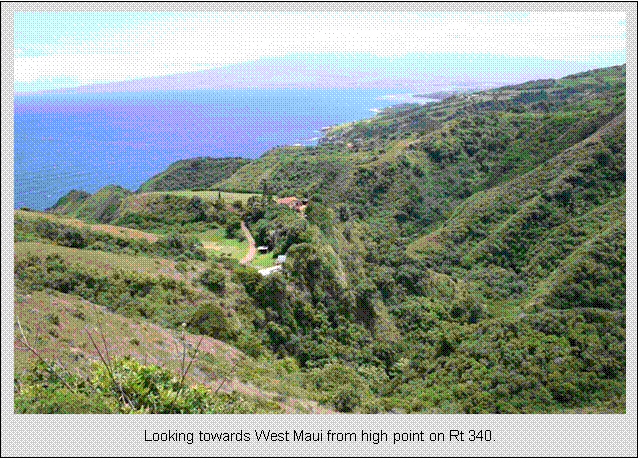 <![endif]>
<![if !vml]>
<![endif]>
<![if !vml]>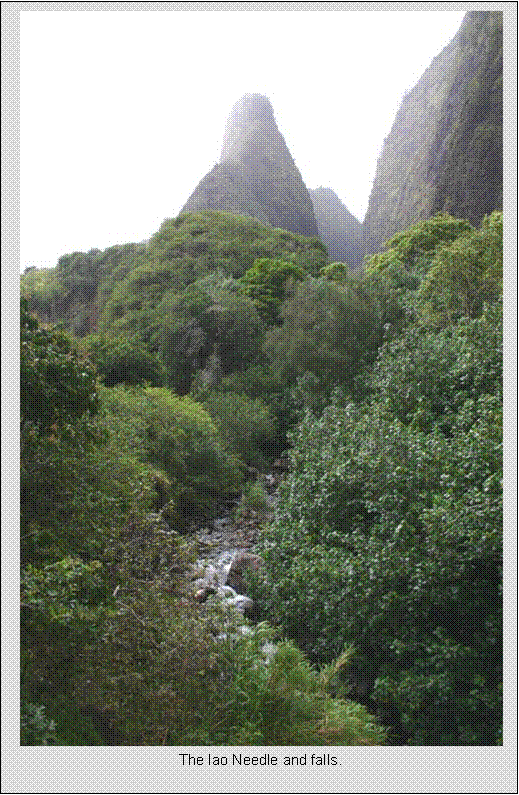 <![endif]>
<![if !vml]>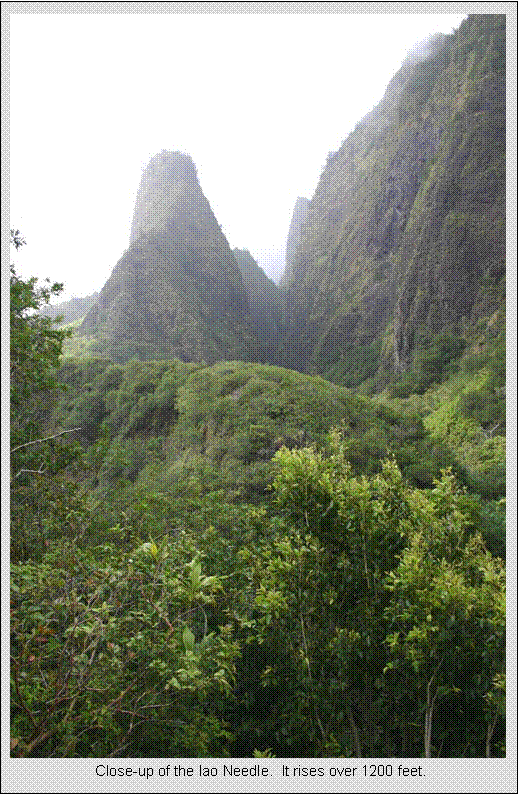 <![endif]>
<![if !vml]>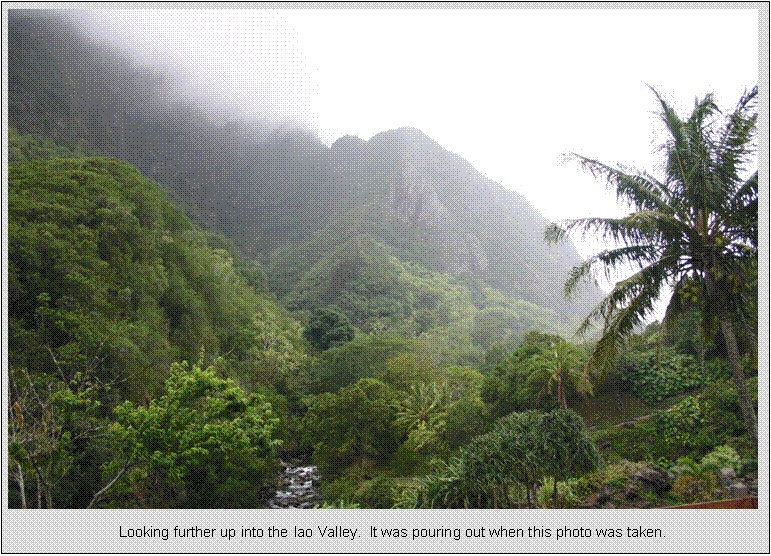 <![endif]>
Saturday, April 23
Solo West Maui coastal ride and snorkeling
32.2 miles
2:00 hours
3,000+ feet total climbing
2.5 hours total snorkeling
We ate our normal buffet breakfast (all the good stuff that's bad for you) and headed to the nearby Maui Dive Shop and waited for them to open.  Glad we stopped there for snorkeling gear.  The staff was highly knowledgeable, and the equipment was a step up.  I even got corrected lens goggles, as I do not where contacts.  We drove about 9 miles to the north to Honolua Bay.  Many cars there already had a small walk to get down to the bay.  Honolua can be murky if it rained at all recently, but Maui was having an unusually dry spring.  Mom and I also rented wet suit tops to help with floatation.  I sink like a rock, even in sea water.  I have always been dense in the water.  Took us a while to figure out where to paddle too and develop the nerve to go way out where the water is very deep.  But that is where the water is the clearest and the coral most colorful.  The fish were amazing.  All sizes, shapes, and colors.  I should have picked up a disposable underwater camera.  There was a catamaran there too, with many snorkelers and scuba divers on board.  It was cool to see divers way below you.  The water was so clear.  I would guess the visibility was at least 60 feet, maybe even 100 feet.  The water by the edge of the reef was maybe 30 feet deep, and you could see bottom like you were looking through air.
After an hour and a half snorkeling, we headed back to the resort.  I jumped on my bike for a short moderate pace ride.  Went same way Cathy and I did on tandem the day before and came back.  I hit 42 mph going down the 18% grade and nearly didn't make the hairpin at the bottom.  Went pretty hard on the numerous hills, and a strong headwind going out made for a pretty hard ride.  Hope this wasn't too much just three days before the climb of my life on Mauna Kea.
When I got back from my ride, I talked mom and Cathy into snorkeling at Black Rock a short walk from our resort.  Mom didn't want to snorkel at first.  Cathy just wanted to putz around close to shore, and I went out to the point.  Can be currents and big waves there late in the day, so I didn't go out fully exposed.  Black rock juts a few hundred feet from short.  It's a popular jump rock, maybe 30 feet to the water, but you have to jump from the right spot.  There were submerged lava outcroppings.  Water was maybe 20 feet deep at the base of Black Rock.  Water was clear, and lots of fish to sea.
While I was out by the point, Cathy hollers "Turtles!"  So I swim over closer in to shore, and sure enough, two huge sea turtles were feeding on what may have been kelp drifting near the sandy bottom.    This was enough to get mom back in t he water too.  Every few minutes, they would come up for a gulp of air and swim right in your face.  Almost scary.  Was really cool to get to swim with these huge docile creaters.  After an hour of hanging out with turtles, it was time to head in and head out for dinner.
<![if !vml]>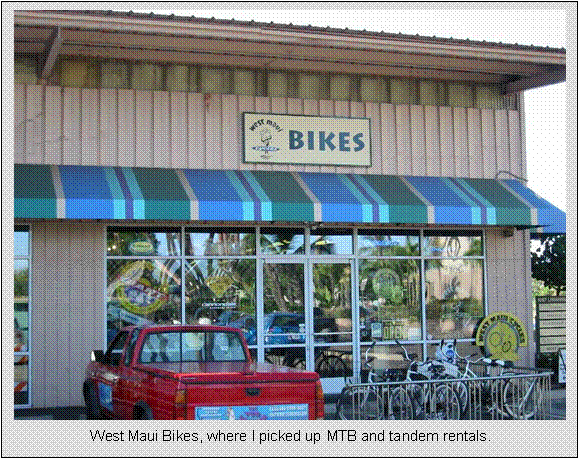 <![endif]>
<![if !vml]>
<![endif]>
<![if !vml]>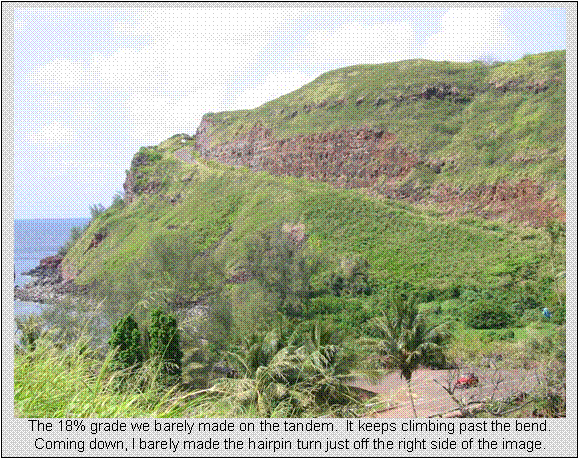 <![endif]>
Sunday, April 24
Rest day, Maui Ocean Center, and Travel to the Big Island
Today was somewhat of an open day.  We evening travel, we didn't want to do anything too big.  Plus, two days out from my epic climb up Mauna Kea was the most important recovery day.  We relaxed in the morning, returned beach towels and snorkel gear, and then headed to Maui Ocean Center, which was on the way to the airport at Kahului.  This small center had a highly diverse selection of marine critters, from sharks, giant stingrays, turtles, fish, shrimps, crabs, coral, you name it.  Lots of things I've never seen before.  The main attraction here is their 750,000 gallon tank with sharks and stingrays in it.  You walk through an acrylic tube through the tank, so critters swim all around you.  After this, we shopped for Maui t-shirts and went to the airport.  To get to Hilo from Kahului via jet service, we first had to fly back to the Honolulu hub, then 216 miles direct from Honolulu to Hilo on Hawaii.  We needed jet service because the little planes don't take bikes.  Flights are so short.  We almost walked from getting off one plane to getting on the next in Honolulu, so it wasn't a big deal.
Monday, April 25
Big Island Waterfalls Day, Short Recovery Ride Through Hilo
12.7 miles
0:58 hours
1,000+ feet total climbing
Two hours hiking waterfalls and lava tubes
In the morning, we toured most of the waterfalls close in to Hilo.  Hilo is on the wet side of Hawaii, the side opposite Kona, where most of the resorts are.  Hilo is not a very touristy area, but it's where you stay for seeing volcanoes in action or climbing the biggest bikeable climb in the world.  Heading north on Rt 19, we first stopped at Akaka Falls.  This was impressive, a 420 foot drop with good flow.  There was a second falls on the mile long loop hike.  It was slightly obscured by vegetation and almost as big.  The forest here was how I imagined rain forest to be.  Huge leafy ferns and other broad leaf plants.  Tall bamboo stands.  Hundreds years old banyan trees.  Interestingly, there were very few bugs.
We next went up to Multi-tiered Umauma Falls in World Botanical Gardens.  The gardens themselves were still quite new.  It is a work in progress and will really be something in a few years.  Many interesting flowering and fruiting plants.  In fact, there was a large pomelo tree there.  It was heavy with fruit, including a cantaloupe-sized one lying on the ground.  After we finished our garden tour, I asked the attendant at registration about it, and she said if I wanted it, go grab it.  We put it in the fridge and ate it a day or two later.  A bugger to get into, but tastes something like a pink grapefruit.  The big attraction at the gardens is the multi-tiered Umauma Falls.  They have a monopoly on viewing access.  This was probably the most impressive falls I've seen that can be viewed from the ground.
After finishing up at the gardens, we headed back south on Rt 19 towards Hilo.  There are a couple falls right on the outskirts of town to see.  The first was Rainbow Falls.  Also rather impressive, but I'm not a really big falls guy.  Through in a little adventure, like a challenging hike or swimming, there's enough in it to keep me interested.  Another mile or so up the road was yet another falls, Pe'epe'e Falls.  This one is viewed from a bit further back, but also very natural and tropical looking for being in town.  The Boiling Pots were also here, a cascade of falls with deep roiling pots of frothing water.  Hard to capture a photo that does this scene justice.
Late afternoon, I jumped on my bike to tour town and make sure I knew which way to go early the next morning for my biggest ride of the trip.  I got on Kaumana Drive, Rt 200, which turns into Saddle road.  Saddle road cuts across the island to the Kona side, but pass through the saddle between 13,677 foot Mauna Loa to the south and 13,796 foot Mauna Kea to the north.  The saddle itself crests at about 6,600 feet.  The ancients used to believe the Mauna Kea was home to Poli'ahu, the snow goddess.  Mauna Loa was home to Pele, goddess of fire.  The two often did not get along, and the saddle was their battleground.  The saddle was avoided in ancient times.  I rode up to just past mile-marker 4, or to the Kaumana Caves.  This is a lava tube that was created in the 1881 eruption of Mauna Loa.  I walked down into the opening and decide I would have to bring Cathy and mom back yet that evening with lights to check it out.  Four miles up Saddle Rd was nearly 1000 ft net gain, which was more than what I wanted to do that day, so I screamed back down into town to tell of my find.
On our way to Kuamana Caves, we stopped at a 7-elevin to pick up a flashlight in addition to our two head mounted LED lights.  The three of us go down into tube, and we immediately realize it is black in there.  And it's no Disneyland walk either.  You could get hurt bad stumbling, or even falling off ledges.  We needed much brighter head-mounted lamps that freed hands up, and gloves to catch yourself when stumbling or for the hands and feet parts of it.  Mom chickened out and didn't go far enough in to be out of entrance daylight coming in.  Cathy in I went in several hundred yards.  There were all kinds of neat formations and colors in there.  Rock slides to scramble over in some places, ledges to climb up or walk along in others.  Had to watch your head in places, as Cathy learned the hard way, and she's only 5' tall.  With mom waiting at the mouth of the cave for us, we cut our hike short and headed back out.  Got a couple descent pictures out of it.  The lava tube went both ways from the entrance, and we only hiked one of them.
<![if !vml]>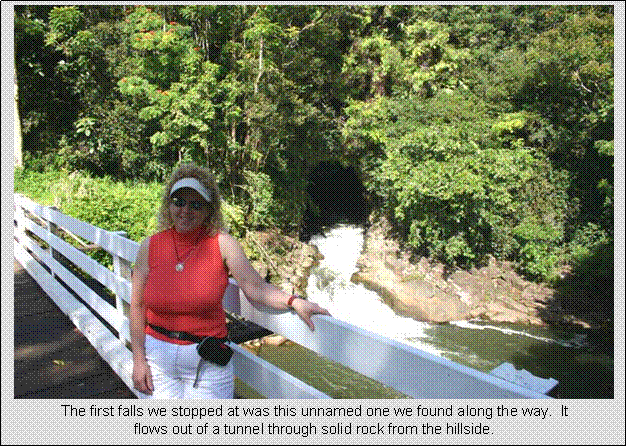 <![endif]>
<![if !vml]>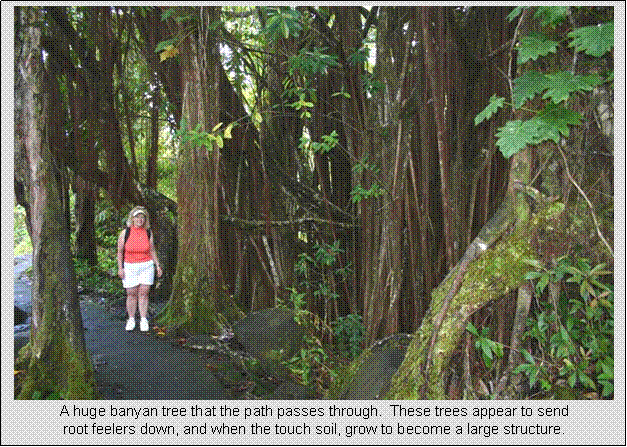 <![endif]>
<![if !vml]>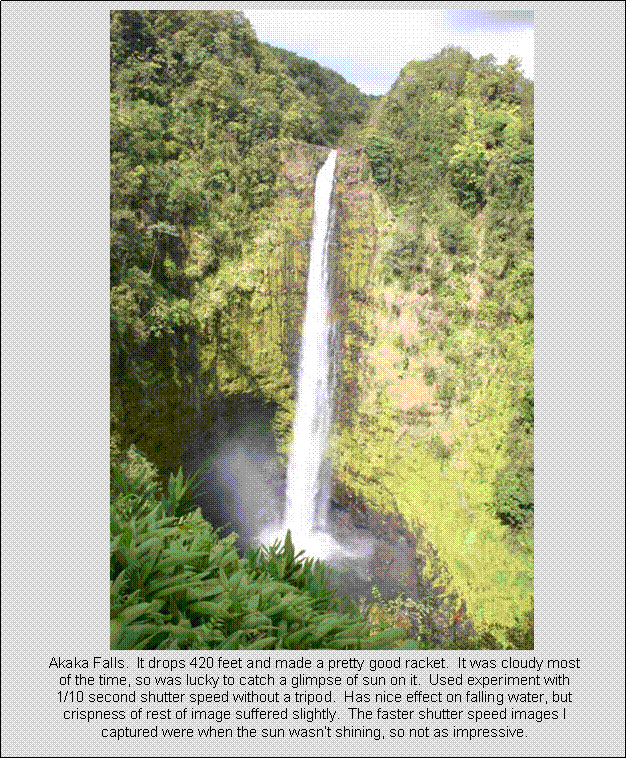 <![endif]>
<![if !vml]>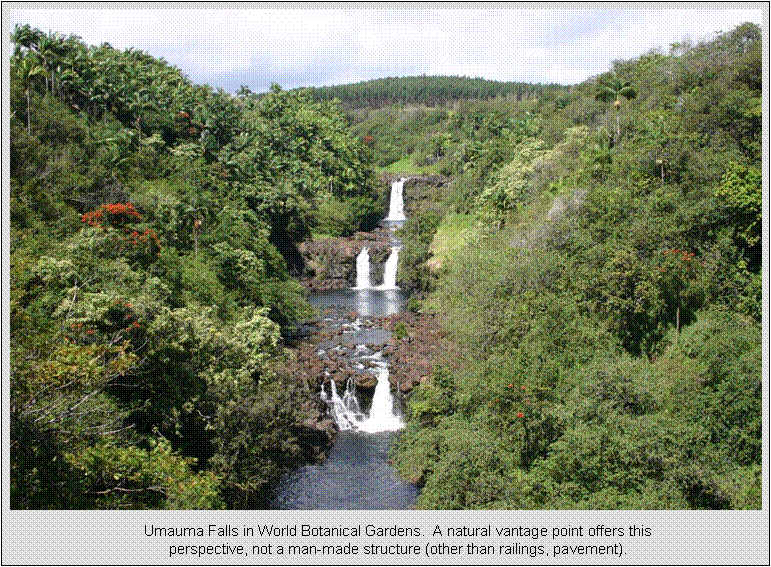 <![endif]>
<![if !vml]>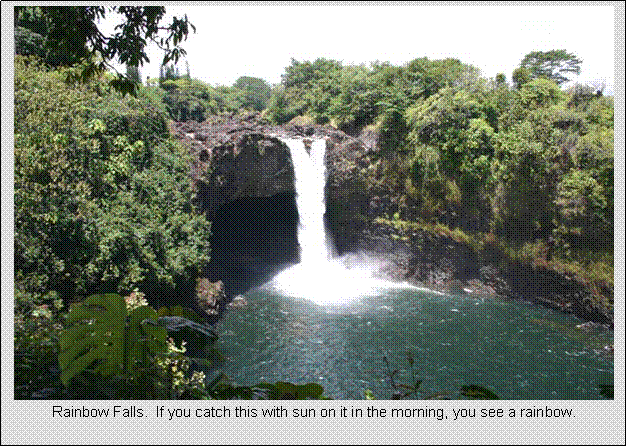 <![endif]>
<![if !vml]>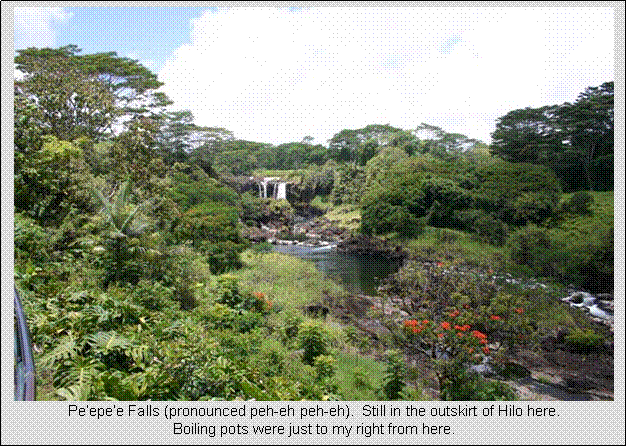 <![endif]>
<![if !vml]>
<![endif]>
<![if !vml]>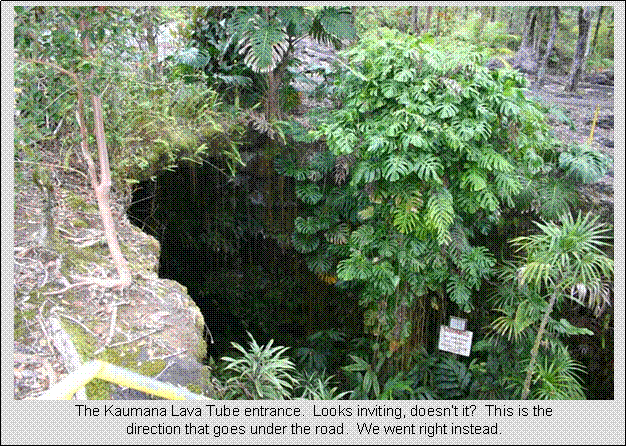 <![endif]>
<![if !vml]>
<![endif]>
<![if !vml]>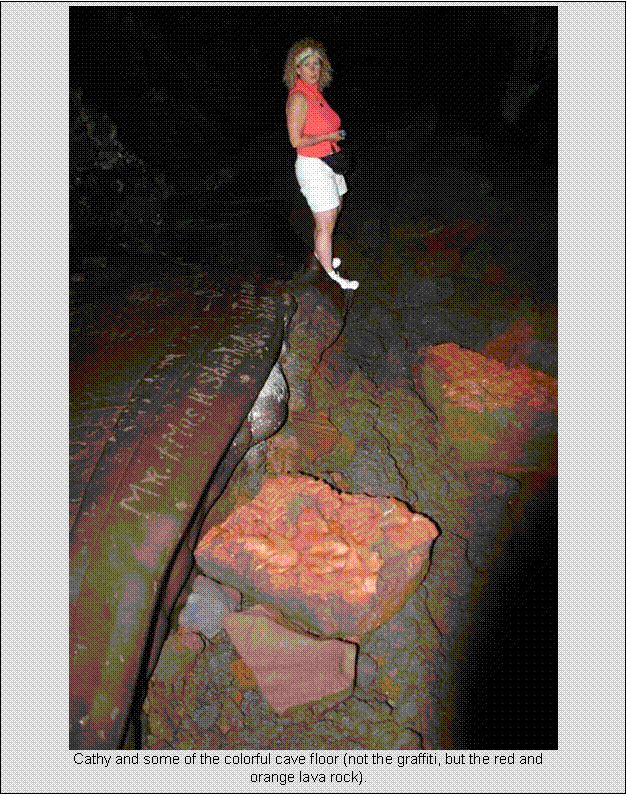 <![endif]>

<![if !vml]>

<![endif]><![if !mso]>

<![endif]>

A tight spot in Kaumana Cave that made Cathy extremely nervous.  It opened up to large cavern on the other side of this squeeze that also dropped many feet.

<![if !mso]>

<![endif]><![if !mso & !vml]> <![endif]><![if !vml]>

<![endif]><![if !vml]>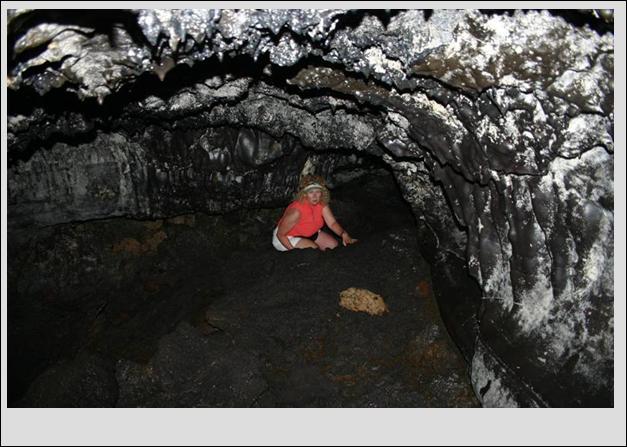 <![endif]>

<![if !vml]>
<![endif]>
<![if !vml]>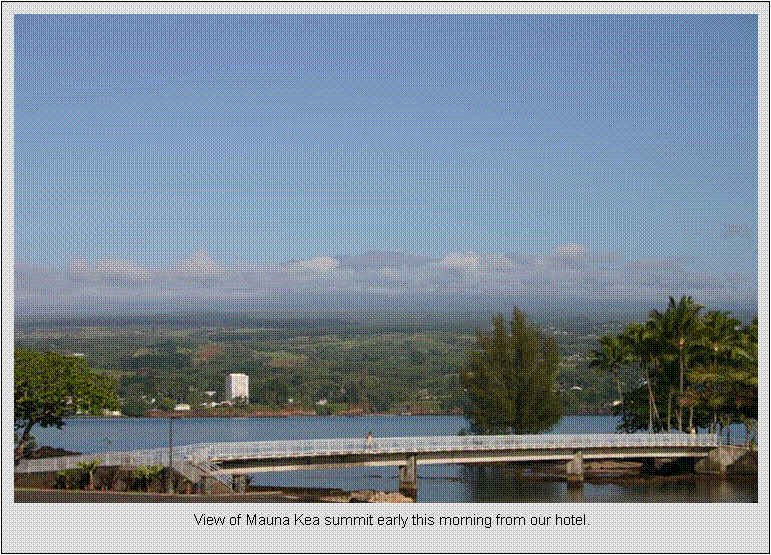 <![endif]>
Tuesday, April 26
Mauna Kea Hillclimb
88.6 miles
8:18 hours
13,790 feet net gain
The Mauna Kea climb was to be my capstone ride for this trip.  I put my odds on completing the climb at 50% before leaving for Hawaii.  I estimated a 25% chance the weather could have been foul (50mph winds) or a 25% chance physically I could not do it (altitude sickness, bonking).  I had a two day window to climb it, Tuesday or Wednesday.  After readily completing the Haleakala climb 6 days earlier and now with the weather forecast looking highly favorable, I was feeling very confident the morning of the climb.  Winds were expected to be light, and no fronts were moving in that could bring clouds and rain to the higher elevations.
I found the following trivia on Mauna Kea on americasroof.com, a high-pointers website:
<![if !supportLists]>· <![endif]>It is the highest in the Pacific (more than 1,000 feet higher than Mount Fuji).
<![if !supportLists]>· <![endif]>It is the world's highest mountain from base to summit (it rises more than 33,000 feet from the ocean floor -- Everest's height is 29,000 feet).
<![if !supportLists]>· <![endif]>It -- along with the rest of Hawaiian islands -- are the most remote places on earth -- nearly 2,500 miles from the closest continent.
<![if !supportLists]>· <![endif]>The telescopes on its summit are among the most sophisticated in the world. The space exploration phase were underscored by the fact that a Challenger astronaut was from here and astronauts trained here in preparation for the lunar landing.
<![if !supportLists]>· <![endif]>The mountain which on one side climbs up a desert and other a jungle it encompasses most of the planet's ecosystems -- from plains to arctic tundra.
You can pass through 10 of Earth's climate zones ascending Mauna Kea, including artic tundra (there is perma frost deep in Mauna Kea in places).  Hilo is also the wettest city in the United States.  70" in a year is a severe drought, triggering water rationing. 
This climb will probably be the most challenging I'll ever complete on a bicycle.  It gains nearly 14,000 feet in 42 miles.  Average grade doesn't seem that bad, only 6.2%, but in terms of net gain, it's almost three back to back Mt Washington's.  Further, the last 6,500 feet of vertical averages over 10% with sustained 17% grades, is in very thin air, and five miles of it is loose cinder gravel.  I opted to stay with skinny 23mm road tires since 37 of the 42 climbing miles were paved.  My bike was set up with a compact double, 34t front, 34t rear low ratio.  Both tire choice and minimum ratio proved to be inadequate as I'll get to.
I set out at about 6:15am from our hotel in Hilo.  Hawaii is not on daylight time, and days seem are shorter there, maybe only 13 hours of usable daylight due to proximity to the equator.  A short 1.3 miles at sea level brought me to the base of the ascent.  The first 30 miles on dangerous Saddle Road gains only 6,600 feet or so.  This road sees many deadly crashes as it is often socked in with clouds and idiots drive ridiculously fast on it.  Rental car agencies make a big deal of notifying you that you are prohibited from driving their cars on that road.  This portion of the climb went quite easily and I made good time on it, even being careful to keep my intensity very low.  I chose to not wear a HRM for this climb.  Visibility was maybe 50 miles in the morning.  But once you turn off on Mauna Kea access road, the grade nearly triples, gaining another 7,200 feet in only 12 miles.  I reached the visitor center at 9,200 feet in less than four hours and stopped to re-fuel and re-hydrate before continuing.  Felt good at this point, well ahead of schedule.  But the next 4.8 miles after the visitor center is unpaved.  It is graded on Mon/Wed/Fri.  I thought perfect, the cars will pack the loose grading down by Tuesday so my skinny 23mm tires will be good.  NOT!  Parts of it are so steep that it immediately turns into washboard bumps.  Think loose pea gravel on hardpack with big rocks thrown in.  There was no way to maintain traction on it.  I walked the steepest switchbacks initially, but the last 0.8 miles of dirt were so loose and steep, I walked all of it.  This stuff was even hard to walk up, as each step would slide back a half step.  When I could ride, I mostly rode up the wrong side of the road since cars descend on that side and didn't bump it up as bad.  This was very dangerous due to all the blind switchbacks, but I could easily hear them coming and get out of the way.  There was maybe a car (usually 4WD) every 10 to 20 minutes, so not busy at all.  A ranger did stop once to make sure I was alright, had enough water, etc.  I've read that they want you to talk to make sure you aren't suffering from hypoxia and becoming incoherent.
Once you get past the dirt section, the last 3.2 miles are paved and I thought I was good to crank it out.  But by now you are around 12,000 feet, and altitude becomes an issue.  It was steep, and my speed dropped so low (<2.5mph) that my computer was dropping out.  This would have given me about a 30rpm cadence.  I was getting so dizzy I had to stop a few times.  I finally crested one of the last switchbacks and the observatories came into view.  I was almost there.  I reached the summit in 6 hours, 18 minutes of riding/walking time.  There was still large patches of snow about, even some snowboard tracks, but the temps on this calm day were probably about 50 at the summit.  The summit is typically 40 degrees cooler than sea level.  I had such an excruciating headache developing that I had to get down fast.  In fact, I've read 0.5% of the adult population (8% of children) can die at 14,000 feet from pulmonary edema.  It's a genetic thing, where your lungs become water logged.
A couple of things I noticed at 13,000+ feet.  The air is much thinner, and you get little wind resistance to slow you down.  In fact, it was even harder to blow snot of your nose.  In terms of atmospheric pressure, the summit of Mauna Kea is 40% of the way to space.  I read a story where a woman arrived up top and she was completely orange.  Even the inside of her car was covered with a bright orange powdery film.  When the researcher asked what happened, she said that as she approached the summit, a large unopened bag of Cheetos in her vehicle exploded.  Hilarious.  Who would've thunk?
During my initial descent, wrists would immediately start to seize up with a death grip on the brakes.  Don't know how you could descend this beast with rim breaks.  They'd never last.  As I descended to the dirt section, two mountain bikers were coming up.  They started at the 9,200 foot visitor center.  Even they, with their wide knobby tires, had to walk some sections of the dirt.  For me, the descent was horrible.  At best, I could go about 5-7mph on the washboard.  It was even worse than a couple hours earlier during my ascent, as cars/trucks roughed it up even more.  My wheels would not stay under me.  Many times I'd skid out and barely get unclipped in time.  Other times I couldn't control my speed due to skidding tires.  I didn't walk any of it going down, but could just as well have.  The washboard drove my altitude headache past unbearable.
Back at the visitor center at 9,200 feet, I took three Ibuprofen and had a cup of coffee to quell the headache.  That and being lower worked well.  The remaining 34 miles was a speedfest back to Hilo.  The clouds already built up to the visitor center at 9,200 feet, and I didn't pop back out of them for good until I got below maybe 2000 feet on Saddle Rd.
As I was descending Saddle Road, somewhere around the 18 mile marker, I got blasted by wind from all directions.  I was going 30-40 mph, so I could only hear wind in my ears.  But I also noticed the vegetation was blowing all over the place.  I looked up and nearly fell off my bike.  There was a chopper hovering no more than 50 feet above the road in dense clouds.  I slowed to stop, look, and grab the camera, but the chopper moved away slightly and was just hidden in the clouds.  I thought that was odd.  Nothing out there, maybe a car every 5 minutes, so why would a chopper be that close to the road.  I start riding again, and before I even get up to speed I'm confronted with flashing lights and people.  Then I thought there was a wreck and it was airlift chopper.  When the people at the scene quickly motioned me to come through, I went around two more choppers right in the middle of the road, one military.  There were no wrecked cars.  Now I was really confused.  Later that night I watched the news.  It turns out I just missed a helicopter crash landing right on Saddle Road by no more than 10 minutes.  The headlines said an army chopper was doing drug surveillance when it hit powerlines in poor visibility along the road.  Pilot suffered only minor injuries.  I was lucky they let me continue my descent through the mess.
Below the clouds at 2000 feet, it was just warm, humid rain.  I was so afraid of getting hit by a car in the clouds, but I did have a HiViz shell on and wasn't going much slower than cars, so only a few passed me.  Parts of the Big Island can get over 300" per year.  I was very fortunate this was the bulk of the rain I encountered riding in two weeks.
I got back to the hotel around 4:25pm, with no more than 2 hours daylight margin.  That's a total elapsed time of 10 hours, 10 minutes, with 8 hours, 18 minutes riding.  Most of the non-riding time was spent at the visitor center at 9,200 feet on the way up and down, with 10 minutes or so up top, and many minutes stopping for photos along the way.  Don't think I would do this climb again.  I was so unprepared for the effects of altitude, and afternoon clouds sock much of the descent in with poor visibility.  Completing this climb was thoroughly satisfying though, and it was on my must do list for several years.  It is likely the most vertical that can be ridden in 42 miles anywhere in the world.  Mt Evans in Colorado is a few hundred feet higher, but net gain is only 7,000 feet.  Even if you started in Denver far away, you would net about 9,000 feet.
People will ask "how much harder than Mt Washington was it?"  Really, I can't compare them.  Not because Mauna Kea is nearly three Mt Washington's in vertical, but because Mt Washington is shorter and raced.  I hurt more the day after racing 4700 feet on Mt Washington than I did climbing at a very low intensity 13,800 feet up Mauna Kea.  Mauna Kea was climbed at an extensive endurance pace, a 6hr/130bpm climb, while Washington is climbed right near my anaerobic threshold in just over an hour.  Of course, if I geared a bike very low and climbed steeper Mt Washington at a 2 hour pace, it would be far easier.  Mauna Kea's altitude is a huge factor.  A local bike club does organize a race on Mauna Kea.  It is called Sea to Stars and finishes at 9,200 feet.
Here's a tally of food consumed from just prior to and during the ride.  I ate very well for dinner that evening too.
Breakfast:
3.5 bowls of

Kashi

Honey-Wheat-O's type of cereal with 2% milk
2 cups of coffee
Ascent:
90 oz Gatorade mix in

Camelbak

1

Clifbar

2 granola bars*
1

Milkyway

bar*
4-16oz energy drink*
1 long

Slimjim

*
Descent:
2-16oz energy drink*
1-100cal chicken noodle soup*
1 coffee*
3 ibuprofen
* purchased and consumed at the 9,200 foot visitor center (a couple drink bottles went in Camelbak).
<![if !vml]>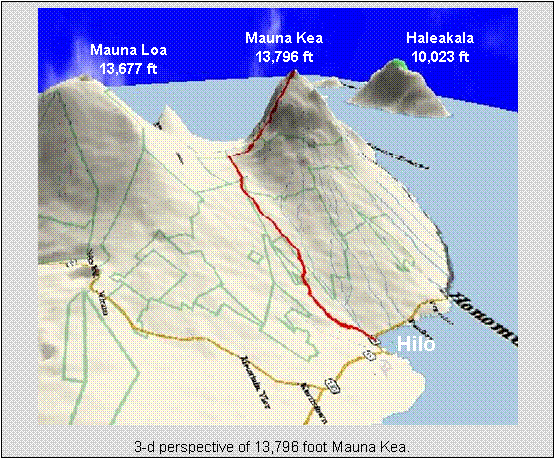 <![endif]>
<![if !vml]>
<![endif]>
<![if !vml]>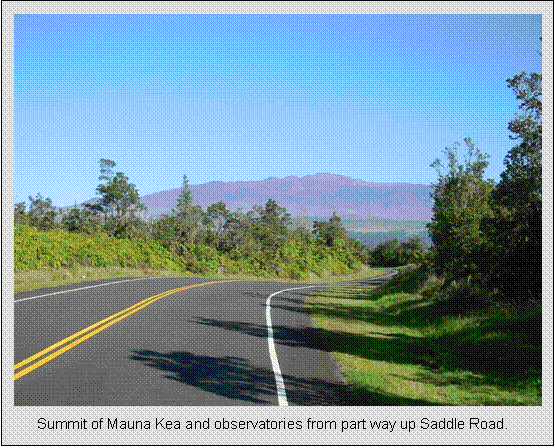 <![endif]>
<![if !vml]>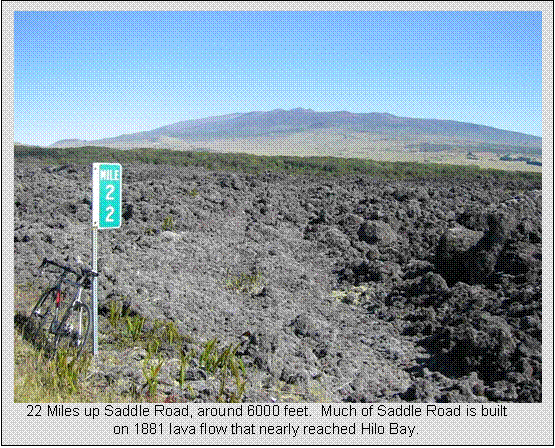 <![endif]>
<![if !vml]>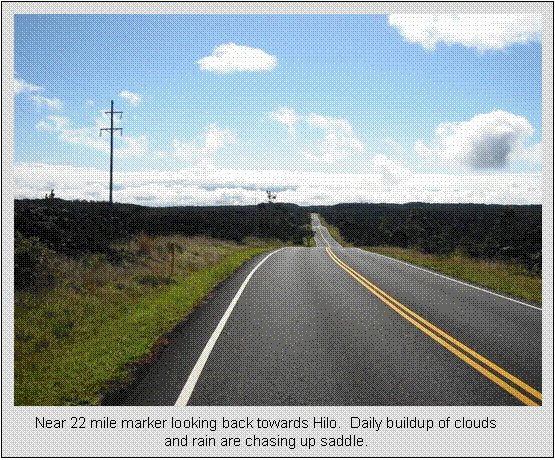 <![endif]>
<![if !vml]>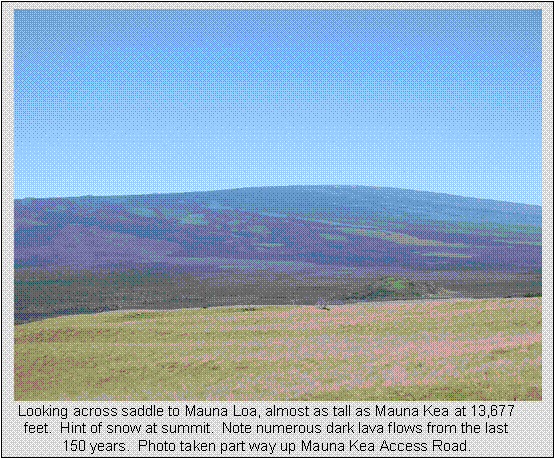 <![endif]>
<![if !vml]>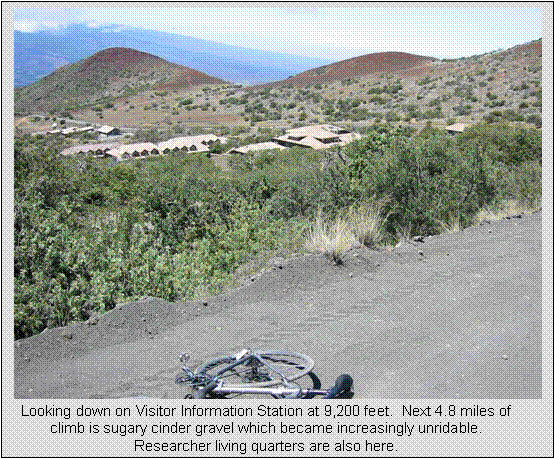 <![endif]>
<![if !vml]>
<![endif]>
<![if !vml]>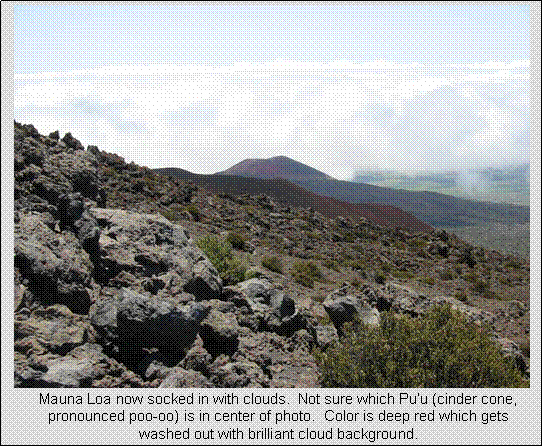 <![endif]>
<![if !vml]>
<![endif]>
<![if !vml]>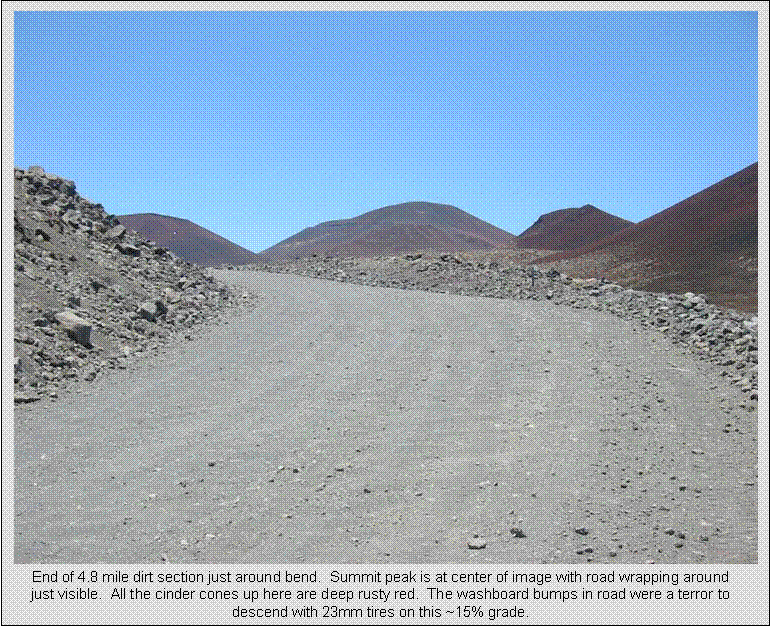 <![endif]>
<![if !vml]>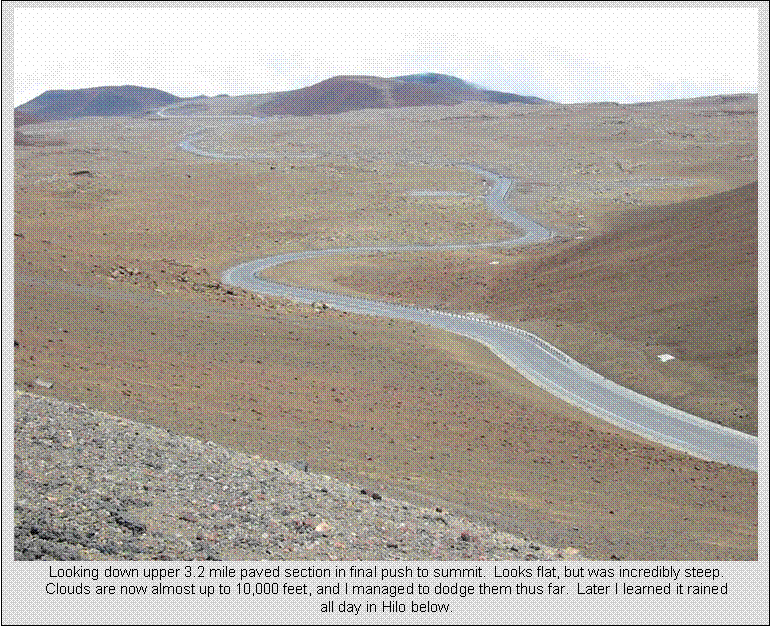 <![endif]>
<![if !vml]>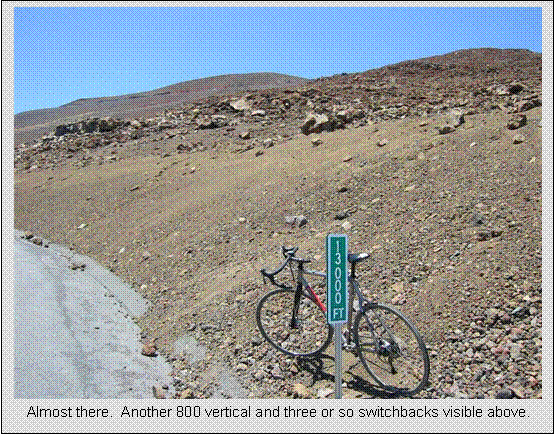 <![endif]>
<![if !vml]>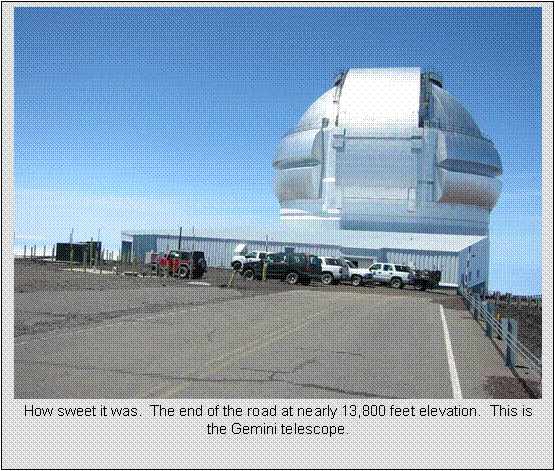 <![endif]>
<![if !vml]>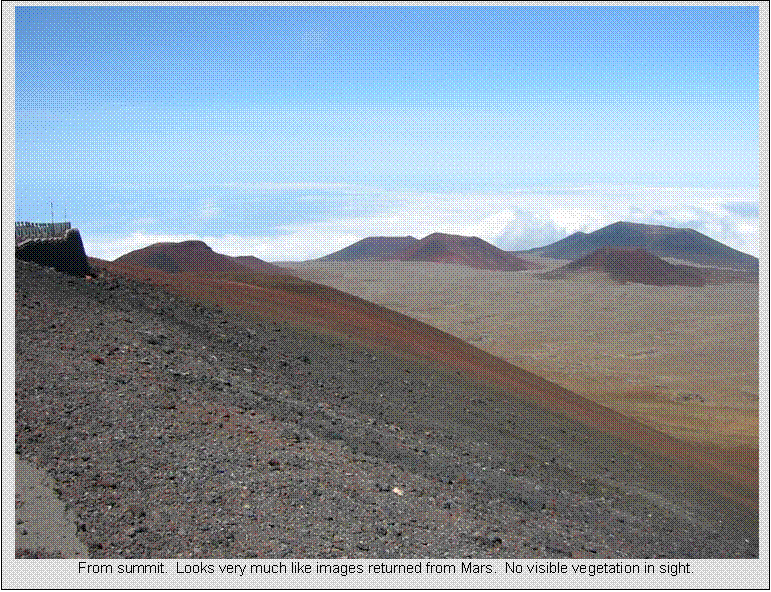 <![endif]>
<![if !vml]>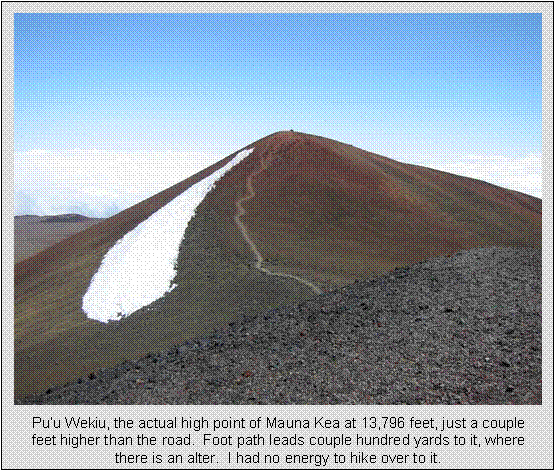 <![endif]>
<![if !vml]>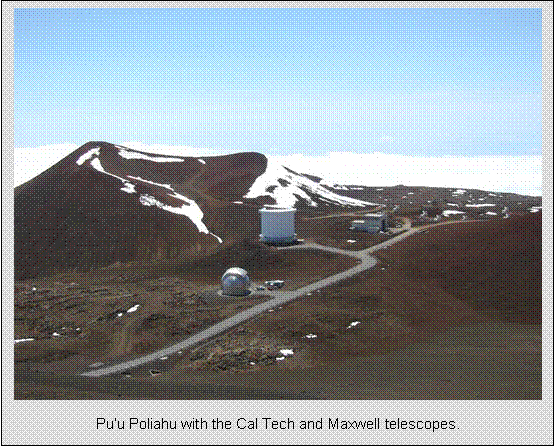 <![endif]>