| | | | | | | | | | | |
| --- | --- | --- | --- | --- | --- | --- | --- | --- | --- | --- |
| <![if !vml]><![endif]> | | | | | | | | | | |
---
Last Update: 25-OCT-05
Below, several popular notch, pass, and gap hill climbs from the New England states are plotted. Lincoln Gap in the Green Mountains of Vermont is regarded to be the steepest climb around, with about 1.4 miles of sustained 20-24% grade near the top on the east side. A popular loop links up five other nearby gaps for a serious day in the saddle, or should I say, out of the saddle hammering (see rides page)!   The highly scenic Kancamagus Highway (Rt 112) slices through the White Mountains of New Hampshire and offers the most vertical gain, plus it reaches a higher elevation than the other paved pass climbs.  Many pass, notch, and gap profiles have been recently added, so the profile charts have been split into geographical areas to keep them readable.
<![if !supportLineBreakNewLine]>
<![endif]>
New Hampshire and Maine Passes and Notches
I have ridden most of these passes over the years.  The White Mountains of New Hampshire plays host for many organized centuries and charity rides.  There are several ways to link up these climbs into big loop rides.  Use the vertical info provided here with your maps to plan a great ride.  The Kancamagus Highway (The Kanc) is one of my favorite roads to ride in New England.  The scenery can't be beat, and it's a brute of a climb from either direction.  You can park in Conway, ride to Lincoln and back, or vice versa for a 100+ km ride.  What you miss seeing behind you going out you will see coming back.  The only downside to riding the Kanc is there are no paved shoulders.  During peak tourist times, traffic can be heavy.  Avoid this road during fall color season.  The road is being resurfaced starting from Lincoln, which is way past due.  This will make descending that side far more pleasant, plus it looks like a bit of shoulder is being added.
Notch, Pass, or
Gap Name

Beginning At

Ending At

Beginning
Elevation (ft)

Maximum
Elevation (ft)

Vertical
Rise (ft)

Terrain
Distance (mi)

Kancamagus Pass on Rt 112

N. Woodstock

Bear Notch Rd

728

2840

2112

23.5

Gonzo Pass on Rt 118

N. Woodstock

Warren

736

2529

1793

16.4

Jefferson Notch Rd*

Valley Rd (just off Rt 2)

Rt 302

1378

3020

1642

12.0

Thornton Gap* on Rt 49/Tripoli Rd

Rt 175, Compton

Rt 175, Woodstock

651

2278

1627

20.7

Pinkham Notch on Rt 16

Rt 302

Rt 2

581

2032

1451

22.4

Kinsman Notch on Rt 112

Rt 302 in Bath

Rt 118 near N. Woodstock

494

1906

1412

17.9

Crawford Notch on Rt 302

Bear Notch Rd

Rt 3

669

2026

1357

23.1

Hurricane Mtn Rd

Rt 113, N. Freyburg

Rt 302/16, N. Conway

388

1734

1346

11.5

Franconia Notch **

Rt 112

Rt 302

728

2046

1318

22.8

Bear Notch Rd

Rt 302

Rt 112

663

1778

1115

9.0

Evans Notch on Rt 113

N. Freyburg

Rt 2

390

1473

1083

21.3
*   Gravel surface, loose at times
** Paved bike path along Rt 93 through notch
<![if !supportLineBreakNewLine]>
<![endif]>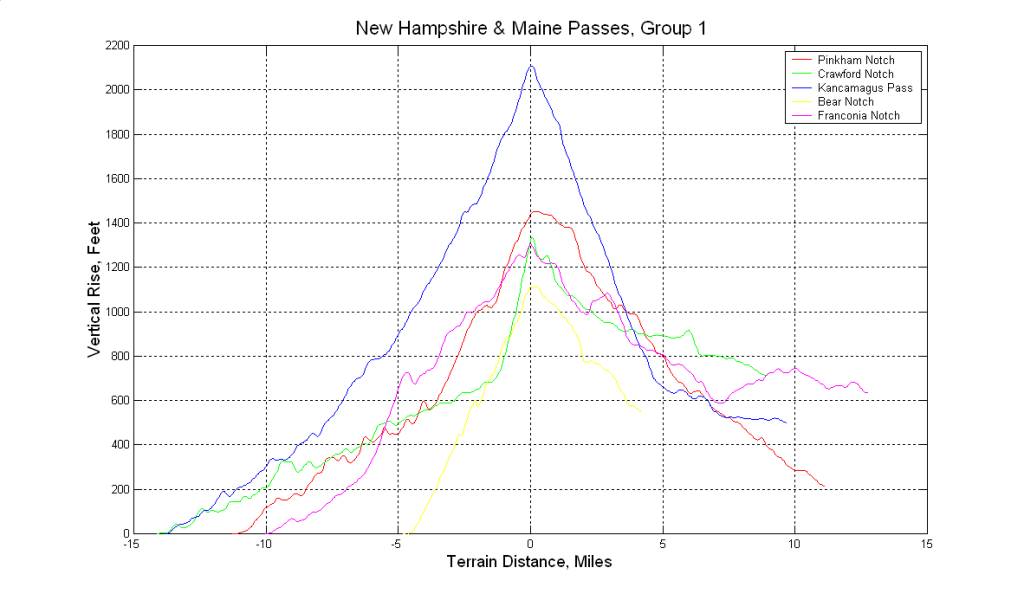 <![if !supportLineBreakNewLine]>
<![endif]>
The Vermont 6-gaps Group
These six gaps are the soul of the Six-Gaps ride discussed in detail on the hillclimb rides page.  There are so many paved gaps in VT that I had to break them up into two charts to show them.  These six are tightly clustered together in the center of the state.  They all crest above 2000 feet, and they gain 1500 to 1800 feet.  Most have very steep grades, 10% or more.  Lincoln gap from the east has sustained 20% grades, max'ing at 24%.  It is perhaps the hardest climb in all of New England.  When comparing the grade of these gaps to gaps in the other charts, note the bottom scale difference.  6-gaps only shows +/-10 miles, while the other two show +/-15 miles.  Most of the vertical here is gained in 2-3 miles, while in the other gaps the bulk of the vertical is more spread out.  Middlebury and Appalachian Gaps are included in the popular Green Mountain State Race held late each summer.
Notch, Pass, or
Gap Name

Beginning At

Ending At

Beginning
Elevation (ft)

Maximum
Elevation (ft)

Vertical
Rise (ft)

Terrain
Distance (mi)

Lincoln Gap*

Rt 116 Bristol

Rt 100 Warren

626

2469

1843

12.1

Appalachian Gap

Rt 116 Bristol

Rt 100 Waitsfield

637

2414

1777

15.8

Middlebury Gap

Rt 7 Middlebury

Rt 100 Hancock

376

2145

1769

16.0

Brandon Gap

Rt 53 Brandon

Rt 100 Rochester

600

2185

1585

14.2

Rochester Gap

Rt 12 Bethel

Rt 100 Rochester

577

2150

1573

10.2

Roxbury Gap*

Rt 100 Warren

Rt 12A Roxbury

882

2382

1500

8.3
* Sections of packed gravel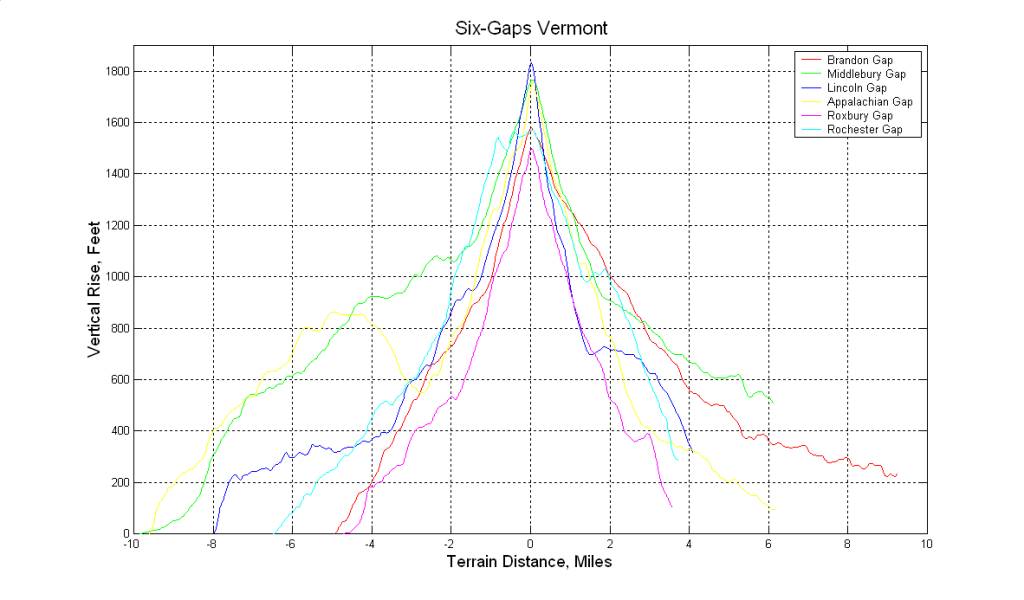 Other Vermont and Massachusetts Gaps
The gaps are spread out across Vermont and western Mass.  Petersburg straddles the border between NY and MA.  Of these gaps, I have ridden Smugglers from Stowe, Tyson from Ascutney, Sherburne from Rutland, and Petersburg from Petersburg.  I have driven Rt 9 past Olga and Prospect Mountains several times.  Looks like a nice ride.  Haven't made it up to the Jay Peak area yet.  The steepest sustained grade of this set can be found approaching the crest of Smugglers Notch from Stowe.  The terrain in this narrow, deep notch is very interesting.  As the pitch steepens, you see a sign that says road narrows.  Then you see a sign stating no yellow line.  The road essentially becomes a single lane that barely squeezes through house-size boulders.  Petersburg Pass offers a very persistent, moderately steep grade from either side.
Notch, Pass, or
Gap Name

Beginning At

Ending At

Beginning
Elevation (ft)

Maximum
Elevation (ft)

Vertical
Rise (ft)

Terrain
Distance (mi)

Olga Mtn – Rt 9

Brattleboro

Harriman Reservoir

281

2199

1919

21.5

Smugglers Notch – Rt 108

Jeffersonville Rt 15

Stowe Rt 100

456

2190

1734

17.6

Prospect Mtn – Rt 9

Bennington

Harriman Reservoir

682

2402

1720

18.8

Jay Peak – South, Rt 242

Montgomery Rt 118

North Tory Rt 101/105

550

2263

1713

16.6

Jay Peak – North, Rt 105

Steven Mills Rt 105A

North Troy Rt 101/105

497

2089

1592

15.1

Sherburne Pass – Rt 4

Rutland Rt 7

Killington Rt 100A

662

2180

1518

22.5

Petersburg Pass – Rt 2

Williamstown, MA

Petersburg, Rt 22

617

2087

1470

12.3

Tyson Road

Reading Rt 106

Ludlow Rt 100

751

1955

1204

9.8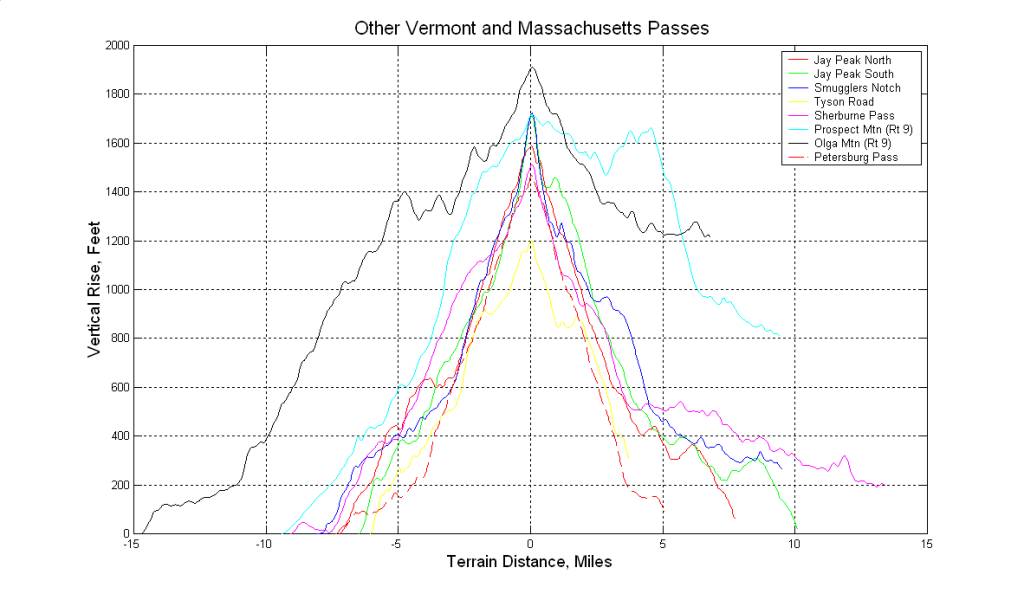 ---