Everest Challenge Trip, Bishop, CA
October 4, 2007
Trip Stats:
<![if !supportLists]>· <![endif]>Three road rides, approx. 143 miles, 20,000+ feet of climbing, in ~10 hrs riding time
<![if !supportLists]>· <![endif]>Five MTB rides in NV and CA, 133 miles, 16.4hrs, and uber amount of climbing
<![if !supportLists]>· <![endif]>Six racers in Everest Challenge, two riders for MTB riding after race
<![if !supportLists]>· <![endif]>Weather ranged from below freezing with snow to sunny and 80F during day
<![if !supportLists]>· <![endif]>No flats, mechanicals, or mishaps, except for a nutritional failure and a physical problem during EC race
Day 1
Friday, Sept. 21
Recovery Road Ride in Bishop
9.2 miles
This trip was a long time in the making.  A group of New England riders committed to doing the Everest Challenge race early in 2007.  Only four riders finished the race, myself not included.  A blow-by-blow commentary on the race can be found here.  The race report will not be repeated here, but photos covering the race will be presented.  After I dropped out of the race, I was able to capture nice shots of stage two.
We all pre-shipped road bikes out to Reno.  We had set them up with suitable gearing for a race that entailed 29,000 feet of climbing in two days.  We arrived on Thursday, picked up bikes, then drove down to Bishop, the primary staging area for the race.  We built up our bikes the next morning and went for a test ride.  It was nice out, but the weather was unsettled the last couple days with unseasonably cold temps and snow down to scary low elevations.  Some years the temps are over 100F in the valleys for this race.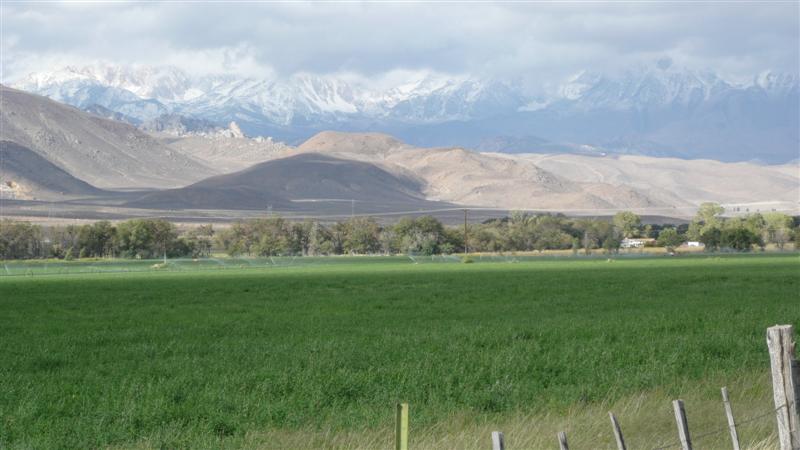 The eastern Sierra's.  Lots of snow cover that fell in last day or two.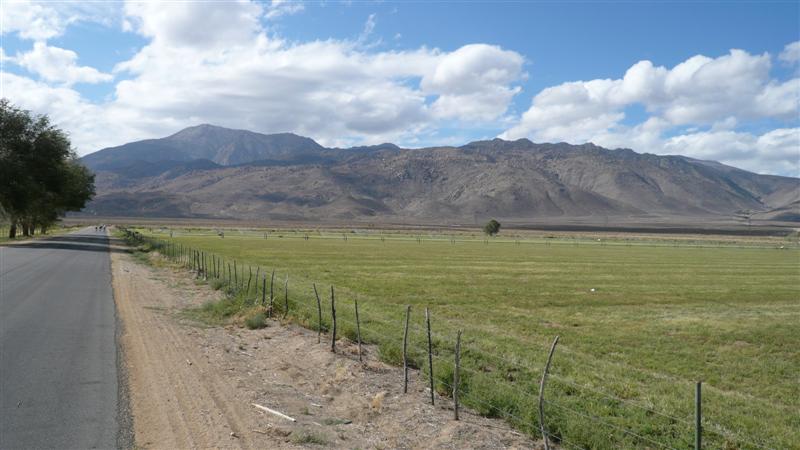 Ride group heading south on Bishop side street.
After a short test spin, Dave and Rich decided to continue riding further, heading a good ways up final climb of stage one.  The rest of us jumped into one of the minivans to survey the first couple climbs of the Saturday's stage.  The first climb was huge, over 20 miles, and it gained nearly 6000ft.  Some rollers along the way increased the total climb.  Views were stellar everywhere.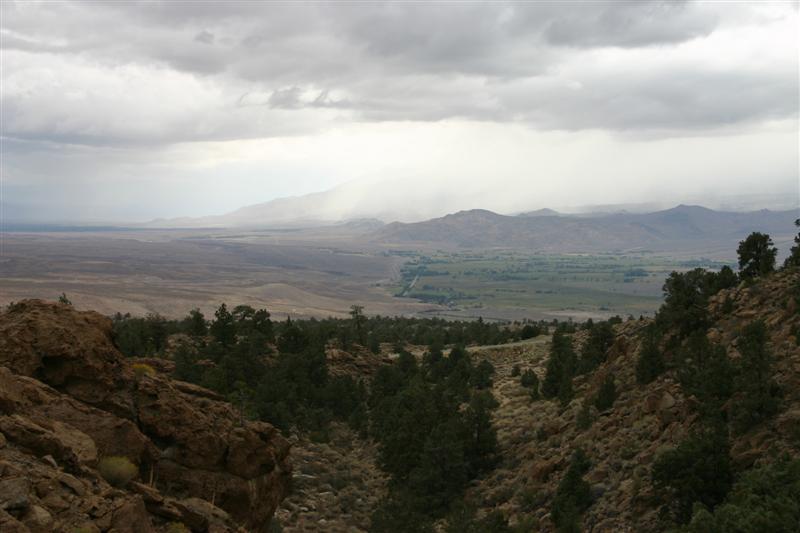 Part way up Lower Rock Creek Rd.  Bishop in distance center left.  Heavy rain squall obscuring mountains in center of photo.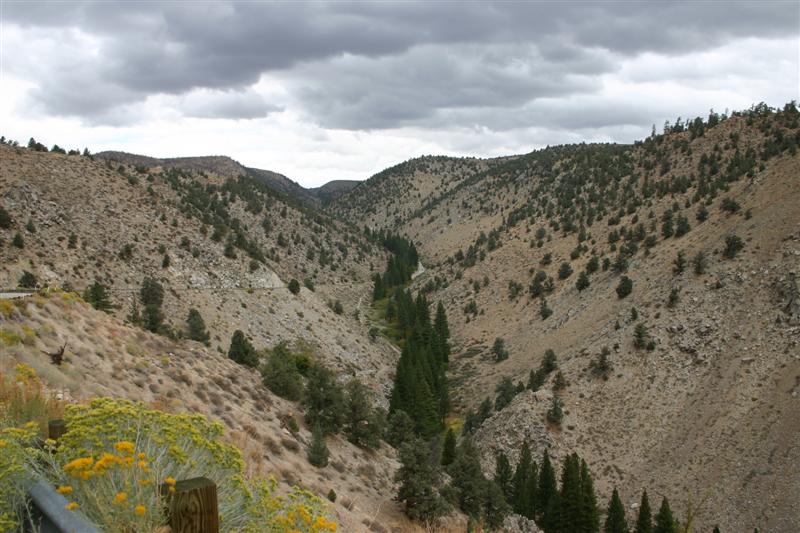 Descent into a ravine while still climbing Lower Rock Creek Rd.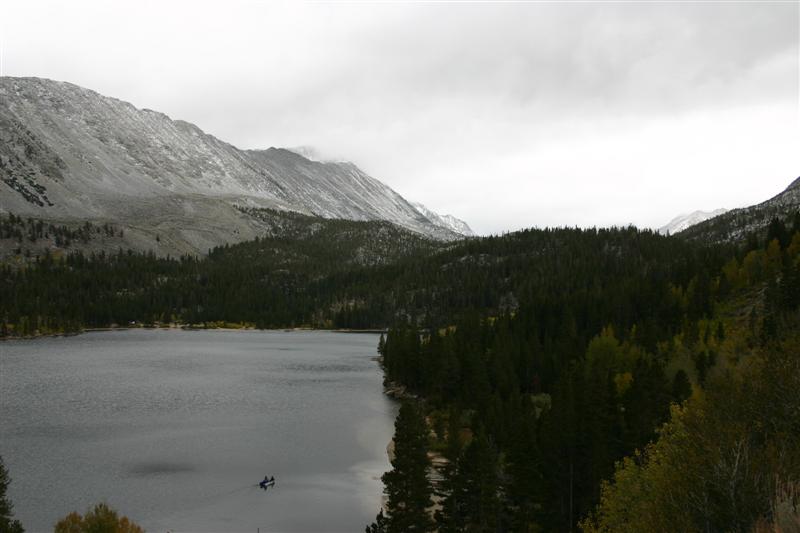 Rock Creek Lake near summit of the Rock Creek climb.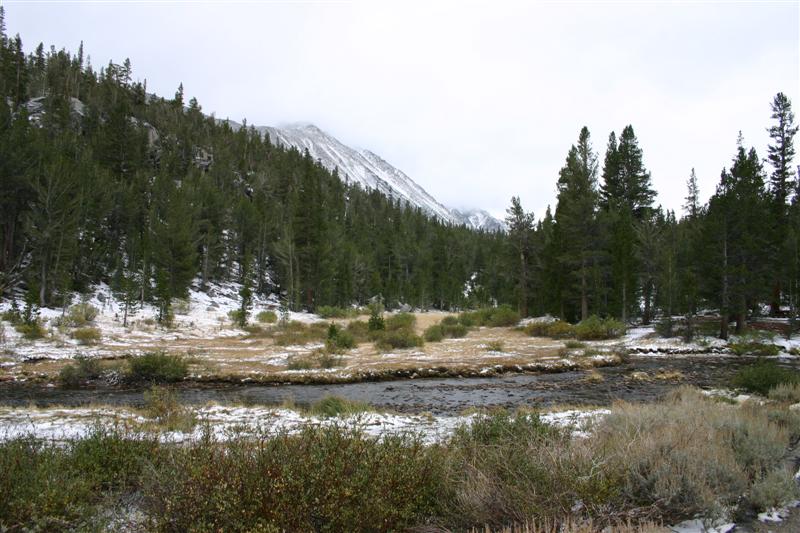 Summit parking area of first climb in Stage 1.  Rather wintry looking, and things probably got much worse overnight, resulting in modified course that would not bring us up here above 10,000ft.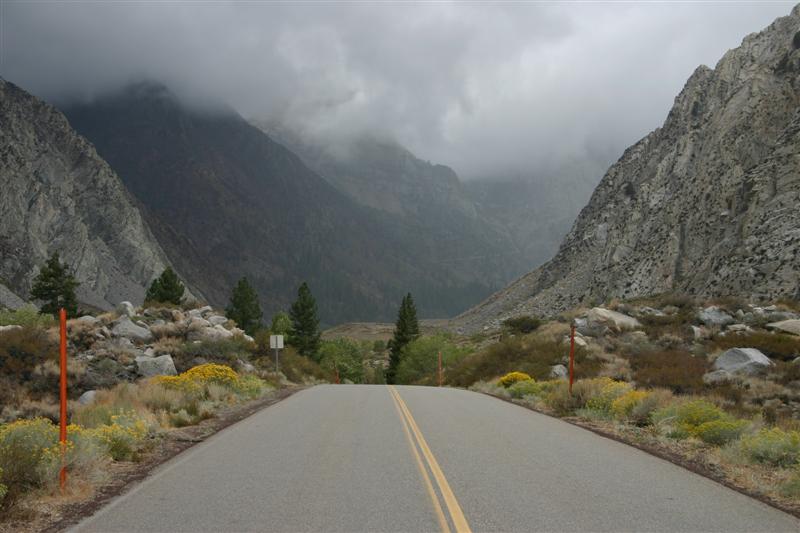 Approaching Pine Creek summit, climb #2 in first stage.  This turned out to be climb #3 with alternate course.
Everest Challenge: Stage 1
Saturday, Sept. 22
92.5mi, 6:14 ride time
After our driving tour, we had a good dinner and hit the sack early.  The forecast for the next morning was bleak, 10-15" of overnight snow down to 7500ft, 80% chance of rain in the valley on Saturday, and chilly temps.  Overnight, it stormed something fierce.  Heavy rain, hail, and lightning in Bishop.  It woke all of us up.  Getting up in the morning, the rain had stopped, but everything was wet.  The mountains were much whiter than the day before.  Tom had gotten up at about 4am to eat at Denny's so that his food would have time to settle before his 6:30am start.  We ate at Denney's much later than that and waited forever to get served.  No surprises there.  There was no immediate rain in the area, so we had our hopes up.
A complete race report will not be given here (follow this link).  I did not finish the first stage, cramping up severely just before the finish line.  It never poured on our race, although we did encountered brief sprinkles a few times.  This was barely enough to make the roads wet one time.  But we stayed dry and bikes stayed clean for the most part.  That was a huge relief.
View from hotel balcony pre-sunrise on race day (slow shutter speed, no tripod).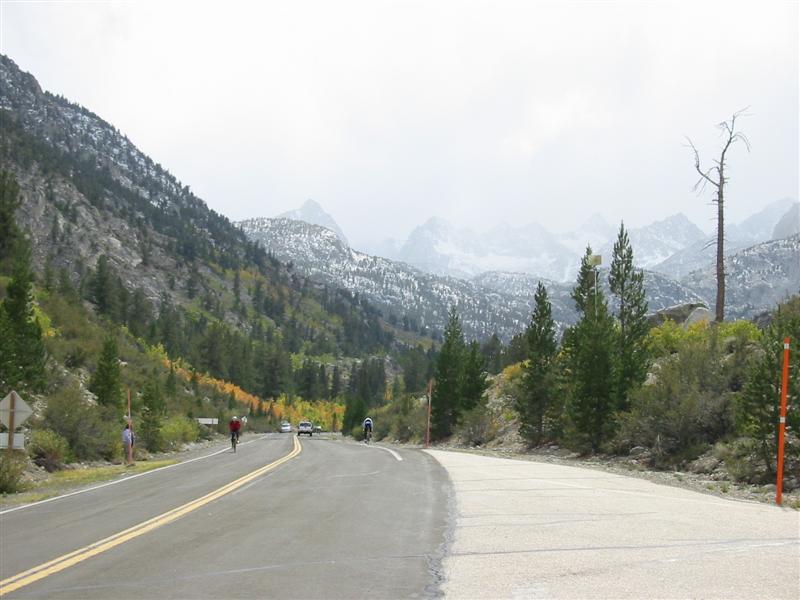 From food station near final climb of stage 1, looking up climb towards finish about 1km away.  It snowed heavily shortly after taking this photo.  This is just above 9000ft.
Everest Challenge: Stage 2
Sunday, Sept. 23
40.8mi, 3:08 ride time
So stage 1 was a disaster for me, but I was not going to let my destroyed legs keep me off the bike the next day.  After dropping racers off at the start in Lone Pine about 15 miles away, I went back to the hotel and stewed over not racing.  Sunday was a beautiful day.  The vertical not covered on Saturday would be made up by extending one of the climbs up and over the mountain pass a short distance before turning around and coming back up and over.  The last climb of stage 2 would be the biggest in this year's EC, gaining over 6200ft net in 20 miles to 10,100ft elevation.  When I dropped the other guys off, my plan was to do some easy spinning in town to work out the knots in my muscles from the severe cramping episode the day before.  But it was too nice, so I loaded the bike up in the van and headed back to Lone Pine to ride up the finishing climb.  I figured I had low gears, all the time in the world, and I could just soft pedal up it.  Then I could wait for the others to finish their race and take lots of pictures.  Going was tough at first, but half way up, most of the knots were working out and I could put out enough power in short sleeves to keep warm.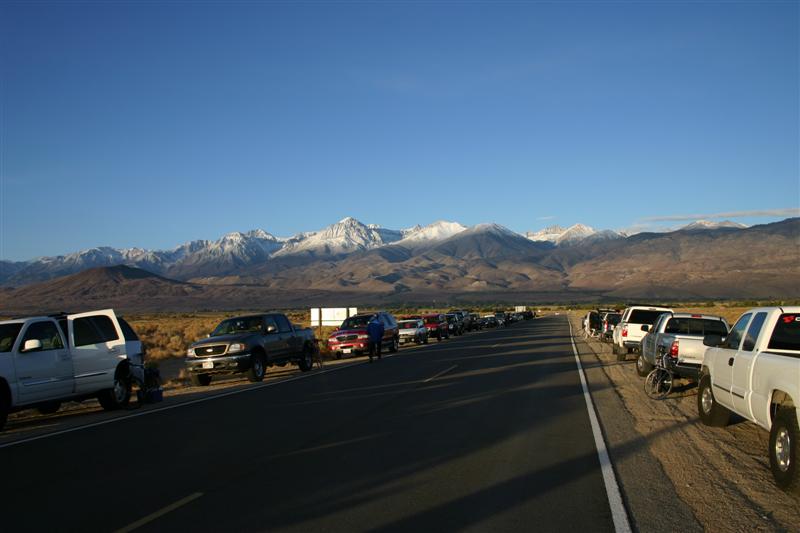 Starting area of Stage 2.  The first climb of stage 2 goes right up the mountains in the distance.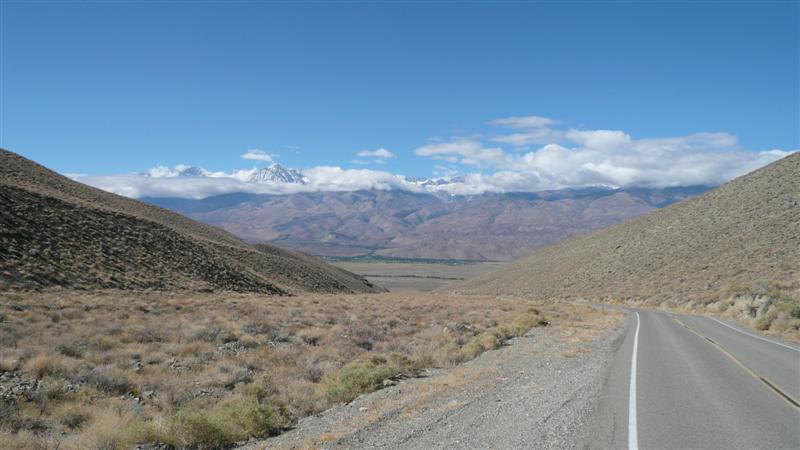 Couple miles into final climb of race.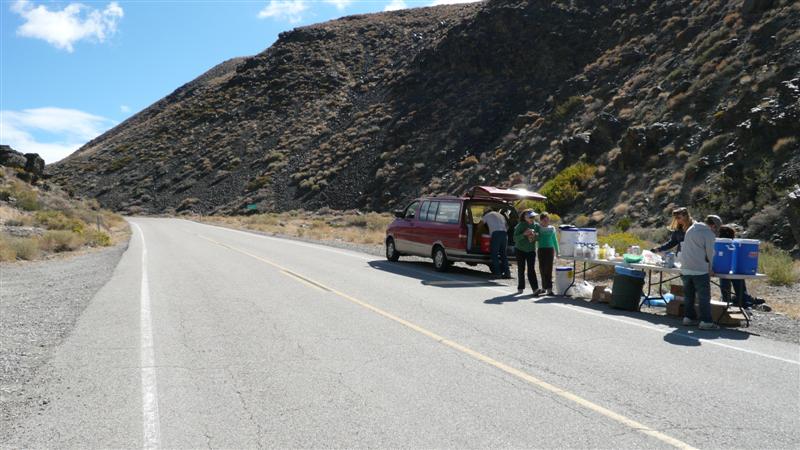 First food stop setting up on final climb of race.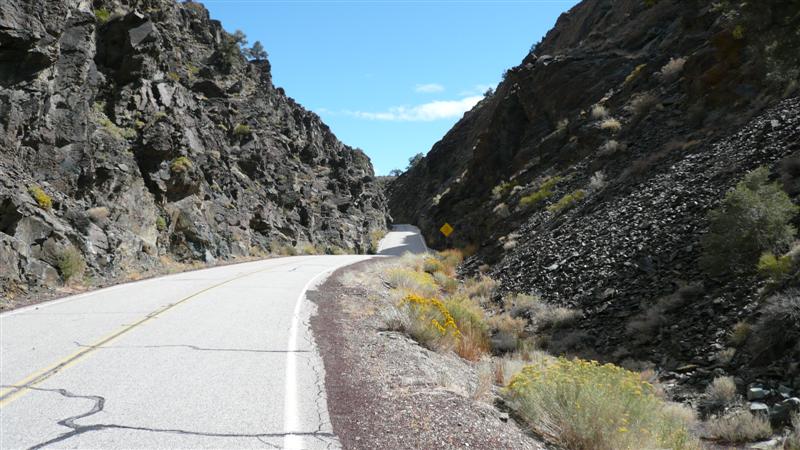 A tight squeeze spot where road briefly goes down to one lane.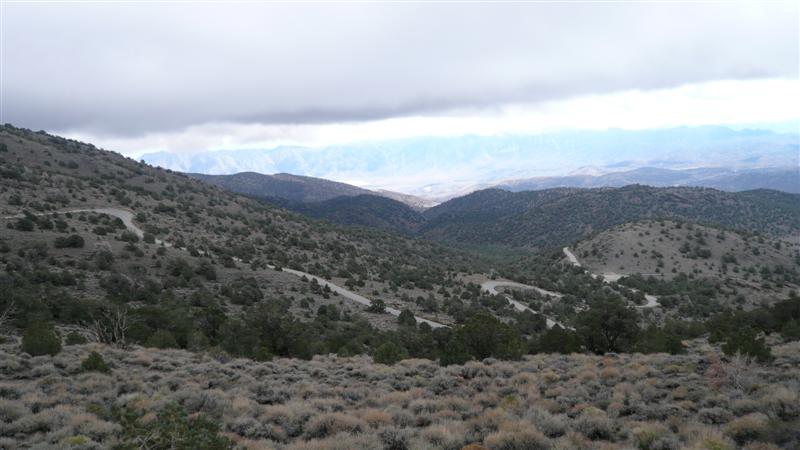 The dreaded switchbacks.  The climb was persistently steep in this section, but it was a blast to descend.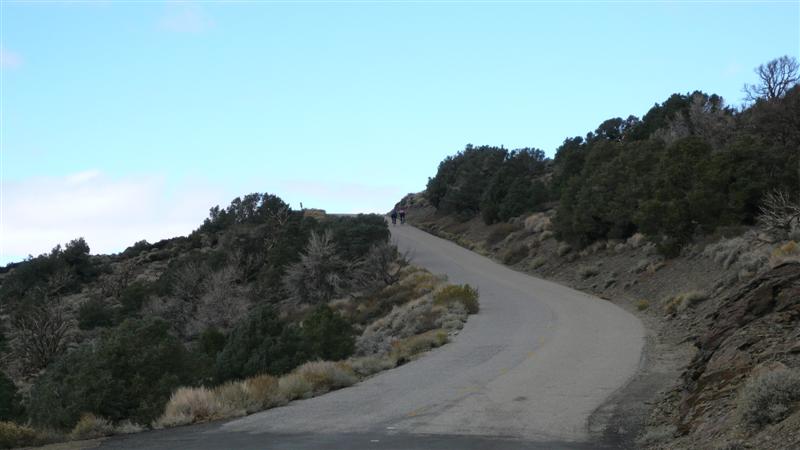 A very steep spot just before wonderful vista pull-off on the left.  Two local riders out for a ride are just cresting this steep pitch.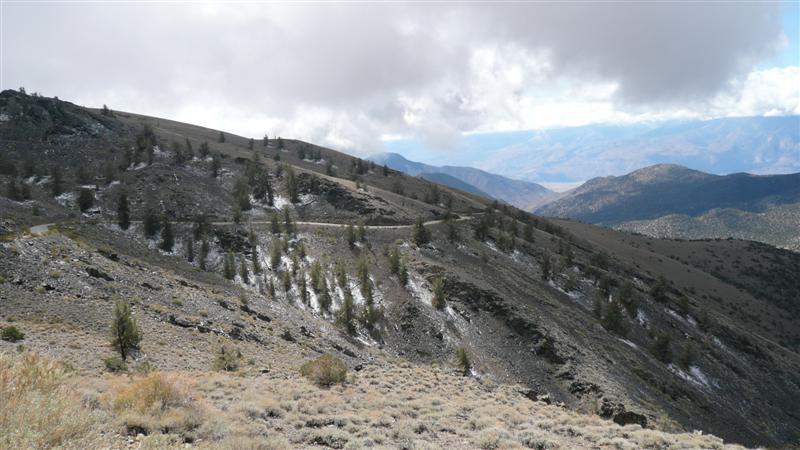 Just about to the finish looking back down.  Bits of snow in the shadows here.
Looking in upward direction from same spot of photo above.  This is right around 10,000ft level on White Mtn Peak.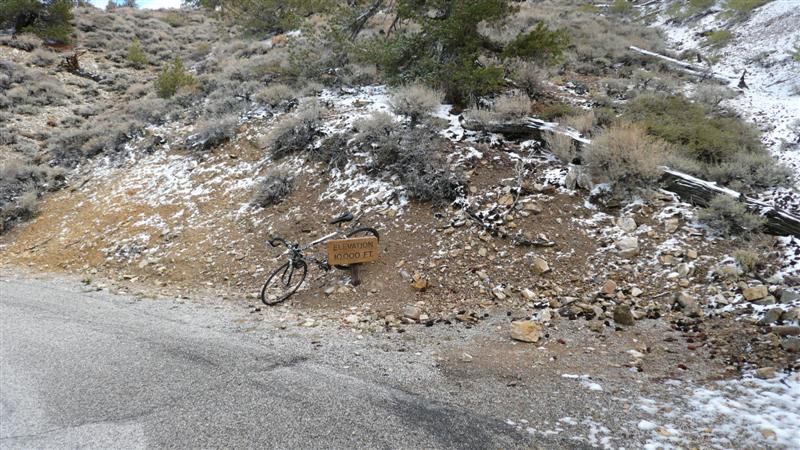 And the sign...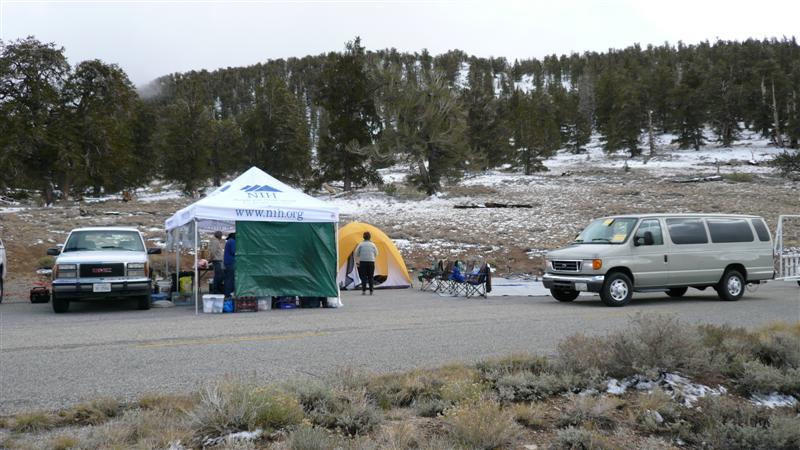 The finishing food station just past and below the finish line.  Nobody has made it up yet other than a couple local riders.  Very cold here.  I made it up in short sleeves but needed to quickly get into my long layers.  I still shivered a bit in them.
Another shot of finish after several racers have come up.  Clouds would intermittently move through and the temp would drop dramatically.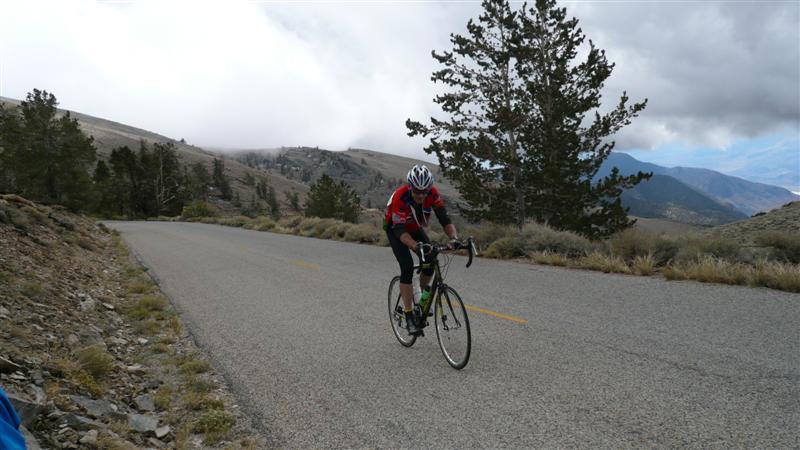 Tom finishing up his race.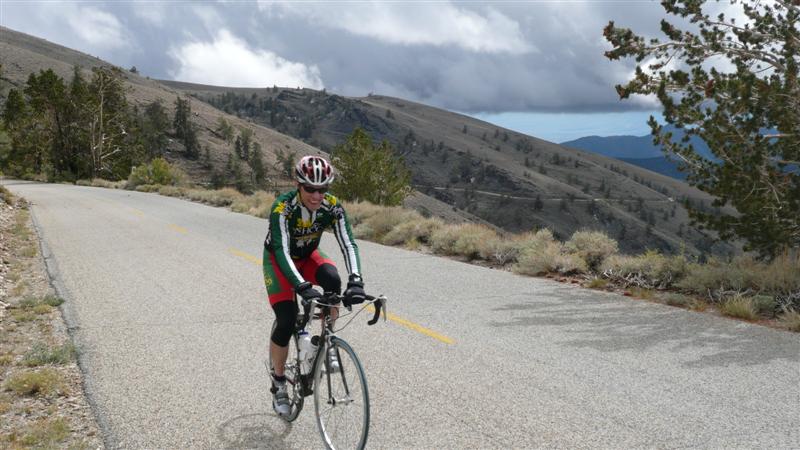 Rich approaching the line and even smiling.  That's just not normal.
Dave finishing.  He does not look happy.
And myself.  Disappointed I didn't finish, but happy to be up here.
So that covers the race.  I never got to see two of the climbs from stage 2.  Maybe next year.  After feasting in Bishop and sleeping in the next morning, we packed up the bikes.  We dropped them off at a FedEx/Kinko's in Carson City.  Monday night was spent in South Lake Tahoe.  Tom went his own way to visit with a friend.  Dave, Bill, and Brett flew back first thing Tuesday.  Rich and I were staying on a few days to hit the trails.  The foul weather that plagued the race had moved out, and the rest of the week was looking fantastic.  Monday afternoon we got fitted for our MTB rentals from Flume Rentals on Lake Tahoe.  These were brand new Specialized Stumpjumper FSR Comp's with 5" + 5" of travel.  These would be the perfect weapon for some of the trails we planned to hit.
Epic MTB Ride #1
Tuesday, Sept. 25
Tahoe Rim Trail/Flume Trail
29.8 miles, 3:48 riding time, 4:24 total time
Rich and I went back to Flume rentals about 9:30 to pick up our bikes and begin the ride from right there.  I had originally planned to do a slightly bigger Mr. Toads Wild Ride loop, but Rich really wanted to hit the Flume Trail loop again.  He had been out there several years ago.  The change in plans was fine by me, and the Flume trail was the one I most wanted to hit while out there too.  I've wanted to ride it ever since reading about it maybe 7 or 8 years ago.  My legs were still in sad shape from cramping incident during race, but I survived.  Temps started out with frost on car in the morning warming to around 60F at 9000ft in the afternoon.
We started up the North Canyon fire road for about 5 miles or so, then picking up an even steeper double track up to the Tahoe Rim Trail (TRT) high above Marlette Lake.  Once on the TRT, we went north.  Views here to the east were killer.  A ruckus descent soon begins, with switchback after switchback.  All rideable, and relatively tame by New England standards, but wicked fun.  A major trail junction is reached, and after a brief steep double track descent, we were on the famed Flume Trail.  Riding south on the Flume Trail is slightly uphill and thus just a tad slower than going the other way, but it felt almost flat to me anyway.  This steadily follows the contour of the rugged slope that dives down into Lake Tahoe.  Of course, the views here are plastered all over in glossy calendars and in bike magazines.  It was good.  You do have to keep your eyes on the trail in many places though, lest you go over the edge and land in Lake Tahoe a thousand feet down.  Actually, there was maybe only one or two place you would really get hurt bad if you went off the edge.  Exposure was moderate in most places.  We explored some other bits of the TRT on this ride, the details of which I won't go into here.  Needless to say, the riding here ranks with the best places I've hit in Colorado, Alaska, and elsewhere.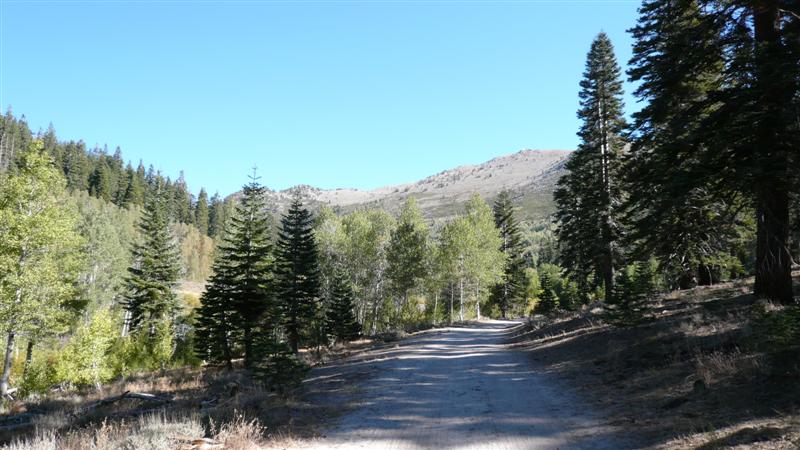 Climb up to the Tahoe Rim Trail (TRT).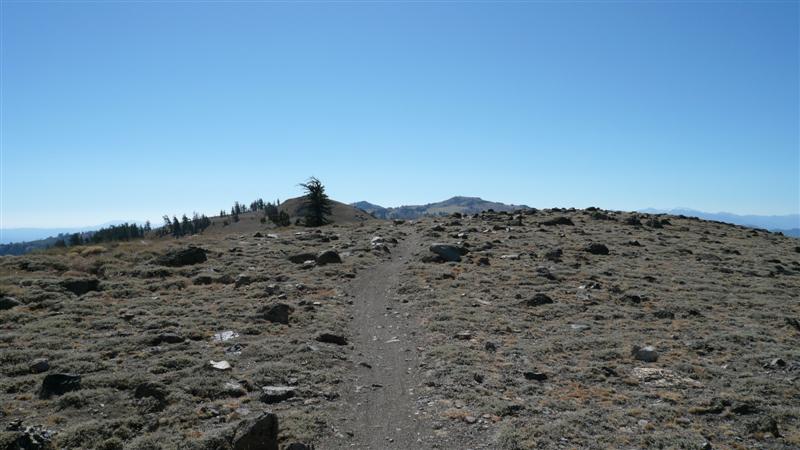 The TRT above Marlette Lake
Rich on TRT descending north of Marlette Lake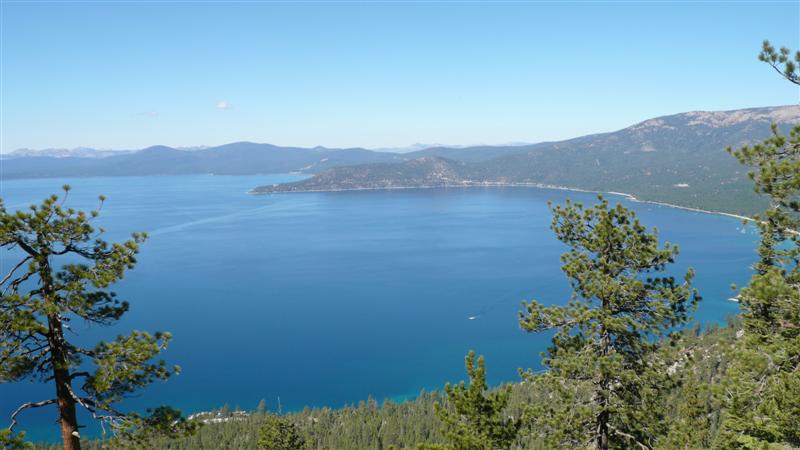 Lake Tahoe.  I saw bumper stickers that said keep Lake Tahoe blue.  Reminds me of Crater Lake in Oregon.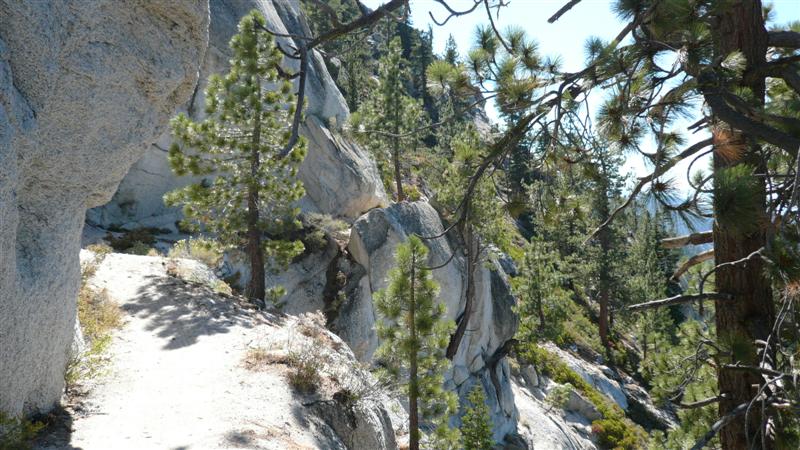 Getting into the tight stuff.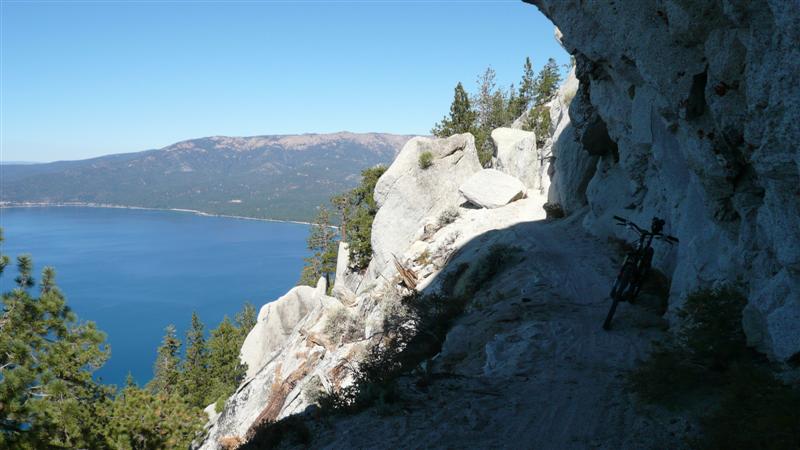 Other side of the squeeze.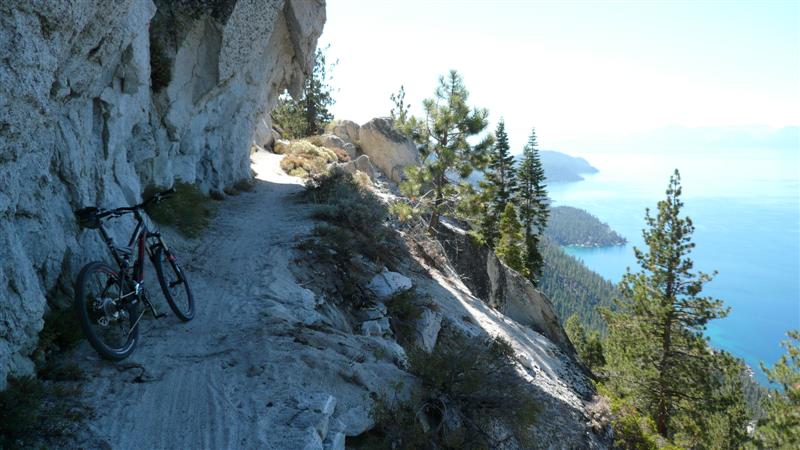 Some more exposure.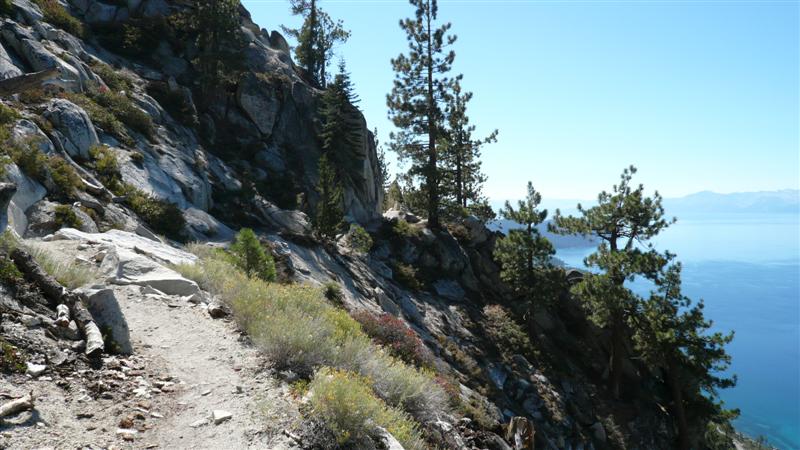 Views were tempting, but best enjoyed after stopping in sections like this.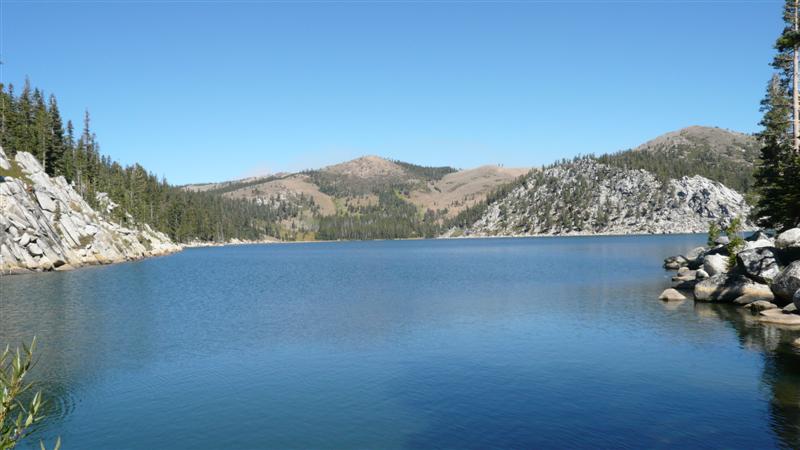 Marlette Lake at 7823ft.  I think this originally fed the Flume aqueduct for mining water.  We were at peak in the distance earlier in the ride.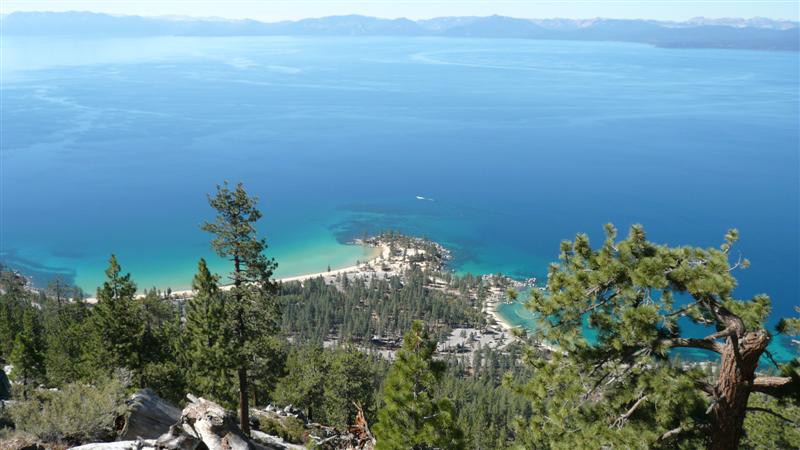 The famous Sand Harbor.  Swimming looked nice when driving by here later, but I bet water was frigid.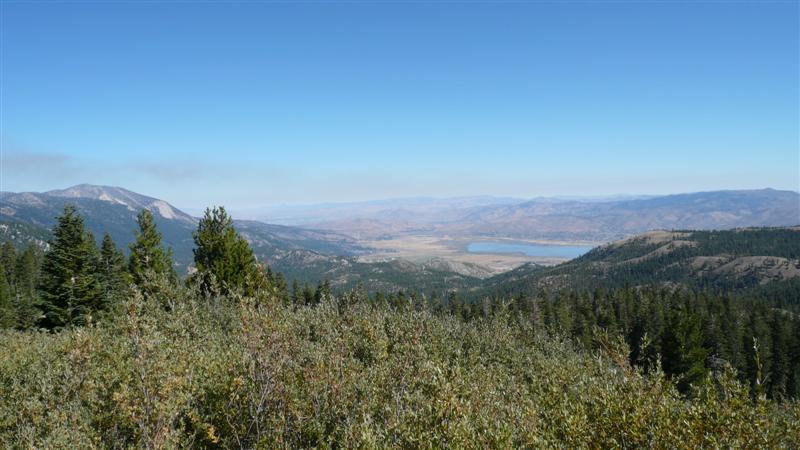 Washoe Lake just south of Reno from TRT.  Haze in air is from controlled burn.  Recent rains allowed rangers to burn off years of collect fuel in controlled fashion with minimal risk of forest fire.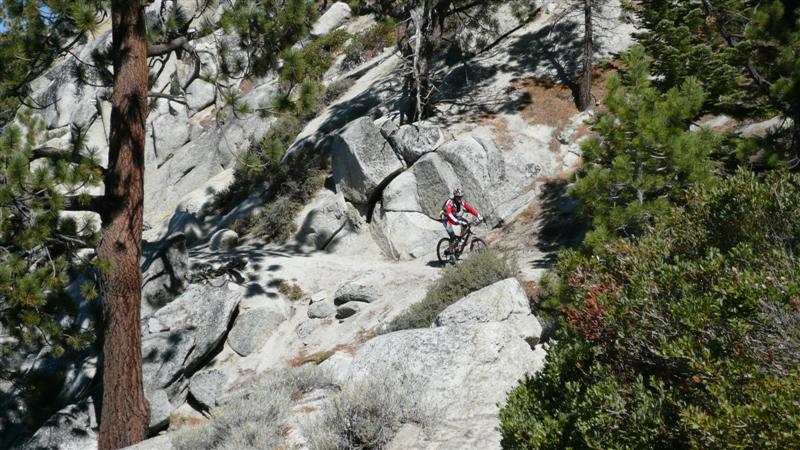 Rich on the TRT.
Epic MTB Ride #2
Wednesday, Sept. 26
Downieville XC Loop
41.5 miles, 4:30 riding time, 5:30 total time
After our Flume Trail epic, we headed to Nevada City, CA for the next two days of riding.  As in every place we stayed at on this trip, there was always a Starbucks right across the street.  Amazing how that happens.  After a good night's sleep and sleeping in a bit, we were out to the old gold mining town of Downieville by mid morning.  We talked to the rental/shuttle shop first to see if there was anything we needed to be concerned with on our planned route.  Nope, but they really wanted to sell us a shuttle ride to the top.  That is definitely not my deal.  Riders should earn their vertical.
With full Camelbaks and a large water bottle on the frame, we headed out initially on the paved Rt 49.  After 6 miles of gradual climbing, we picked up the dirt FS-93 fire road.  This climbed earnestly for 14 miles.  Yep, we had to climb for 20 miles before we got to anything that resemble a trail.  This resulted in a net gain of about 4200ft.  But total climbing for the ride was much greater than this, as there were other large descents and climbs before we got into the singletrack.  From the saddle, we took FS 93-31, then FS 93-3 to pick up Big Boulder Trail.  An insane descent ensued, using every bit of suspension my FSR had to offer.  Baby heads, loose slabs of rock, sand, gravel, anything but firm buff soil to ride on.  After crossing Pauley Creek, and equally insane climb ensues.  This seemed to go on forever, maybe not quite as gnarly, but lines had to be carefully picked on this climb lest you spin out.  But finally after reaching the top of this one, climbing for maybe 3 hrs, were at the top at last.
The ride back down to Downieville was one of my best 15 miles on a bike ever.  Nearly all down hill, buff and scary fast at times, tight switchbacks at other times, and fear of death ledges along the river.  We took Big Boulder Trail down to 3rd Divide, then turned up 3rd Divide for just a bit to pick up the upper end of 2nd Divide Trail.  This was the nicest part of the ride for me.  Nice views of the gorge, but lots of exposure.  Not all down either, but mostly.  2nd Divide pops out on Lavezzola Rd for just a few hundred meters to pick up the upper portion of 1st Divide Trail.  More high speed narrow ribbon ripping down hill.  More exposure with sheer drops to river below too.  Lavezzola Rd is crossed again picking up Lower 1st Divide Trail.  This had some of the fastest, all out no brakes descending of the whole ride.  Had to be careful of unexpected turns or unexpected air over rises too.  I like my tires on the ground.  Eventually the trail ends and you are back in town.  What a ride it was.  We both emptied our water supplies on this ride and could not imagine doing it in the summer.  It was quite chilly starting out our ride.  I took a quick dip in the ice cold Downie River at the car to rinse 5hrs of dusty grit off.  So refreshing.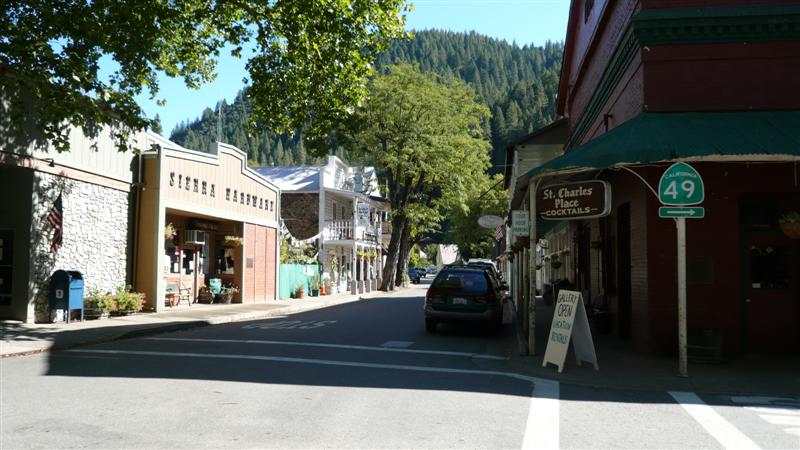 Village of Downieville, CA.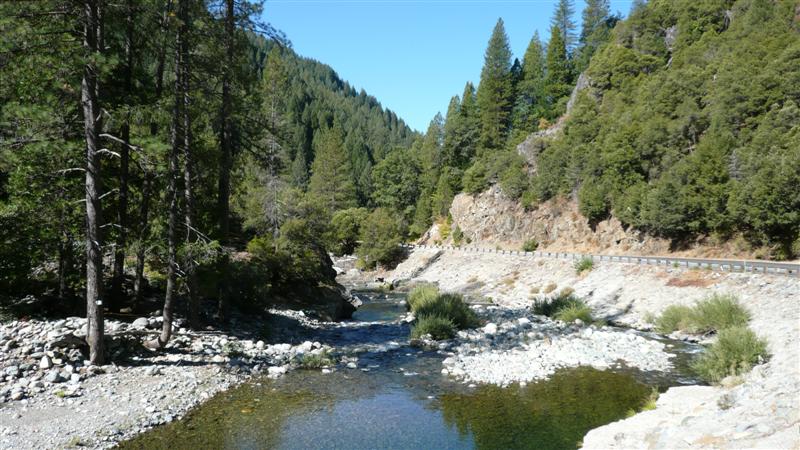 Beginning ride on scenic Rt 49 along the North Yuba River.
Rich climbing on the very long FS 93 fire road.
Further up FS 93 on ridgeline.  Many areas here had these bands of funky fluorescent green moss wrapping around the trunks.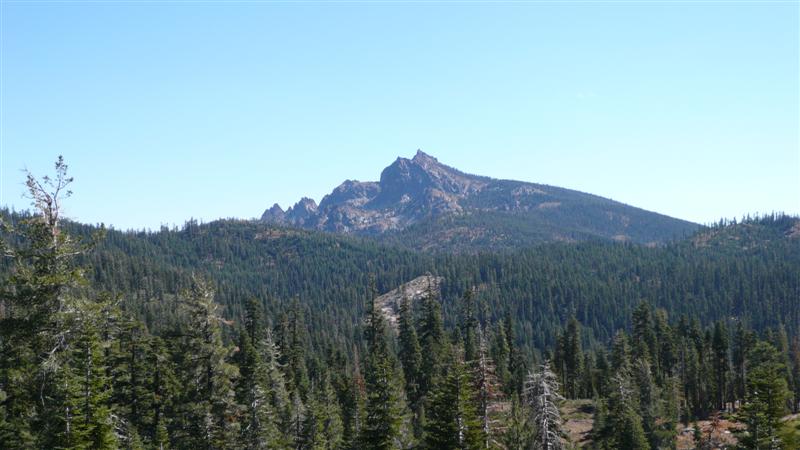 Craggy peaks called Sierra Buttes.  This might have been from FS 93-31.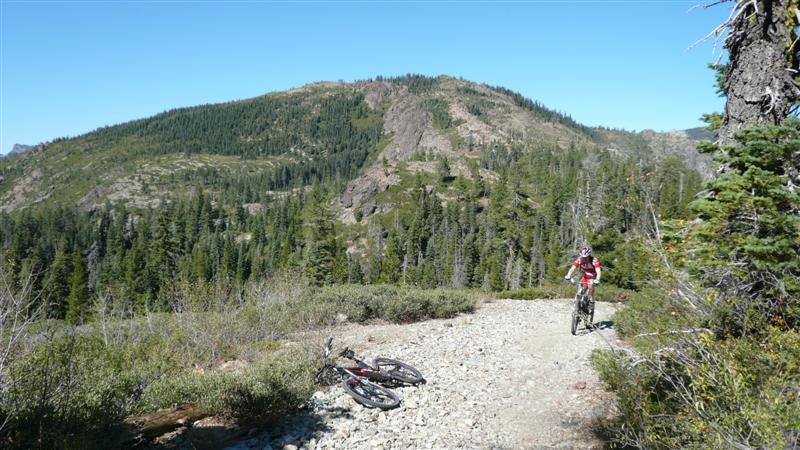 Nearing finish of climbing to top of Big Boulder Trail.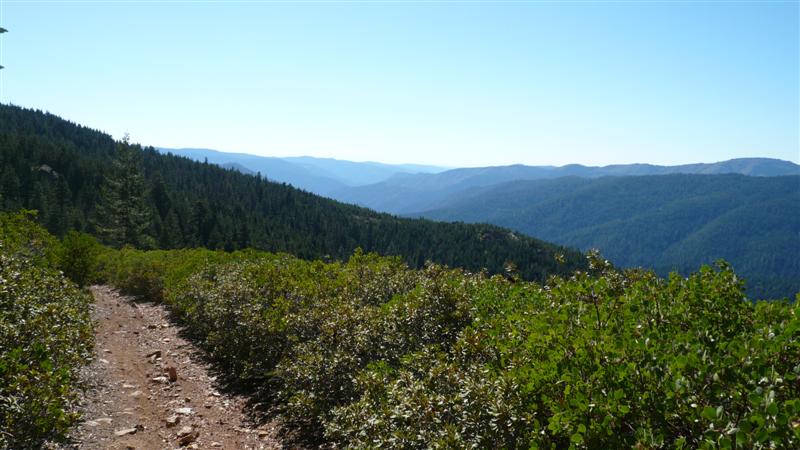 Beginning of miles and miles of descent nirvana.  Top of Big Boulder Trail.  Thousands of feet of drop back to Downieville.  Yummy...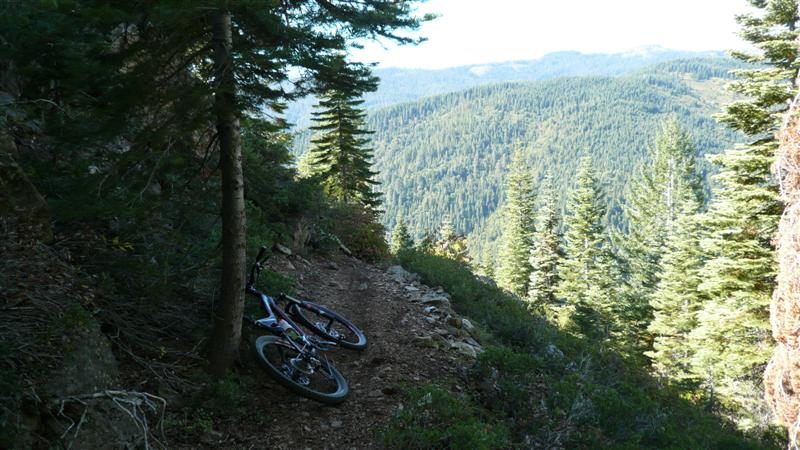 One of the more exposed parts near top of Big Boulder.  Most of Big Boulder was fairly well buried under old growth canopy.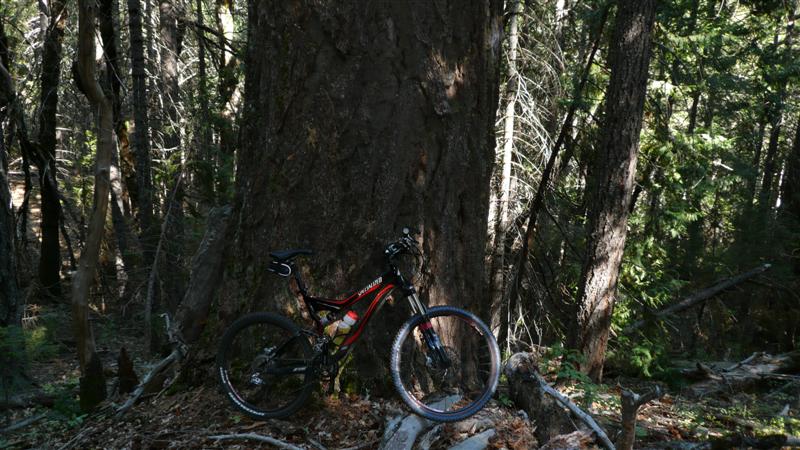 A fine specimen of old growth.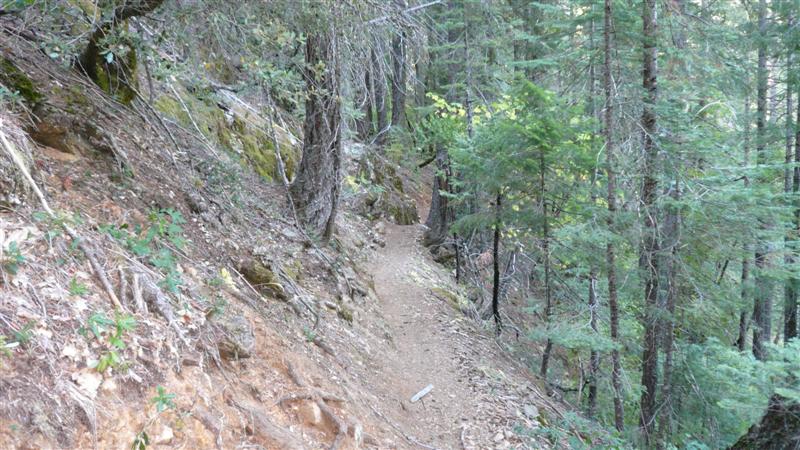 Typical Big Boulder singletrack.  Narrow ribbon of loamy surface that switched back a zillion times.
This might have been 2nd Divide Trail.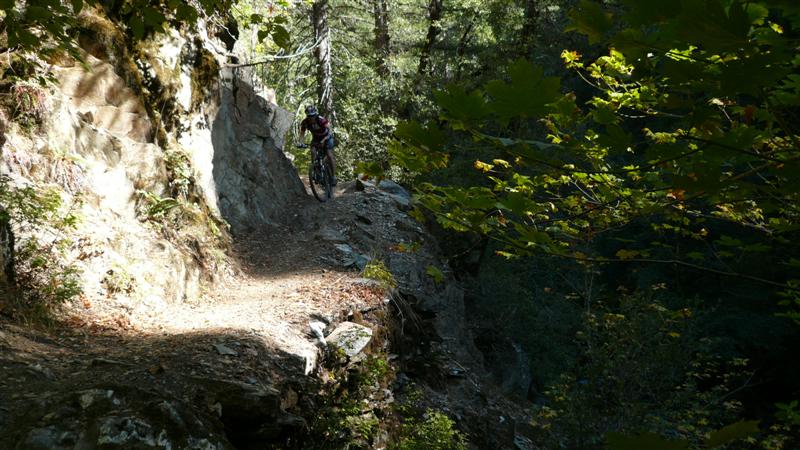 Exposure on 2nd Divide.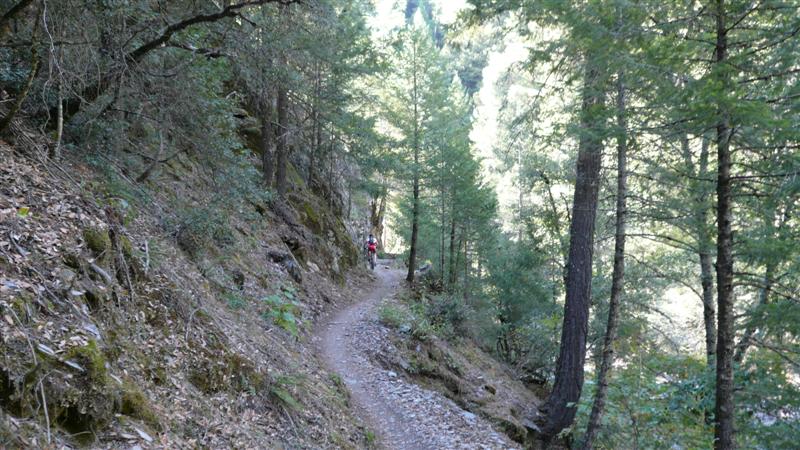 Probably 1st Divide Trail here, as river is now on right side.  Smooth, fast, but quite exposed in spots.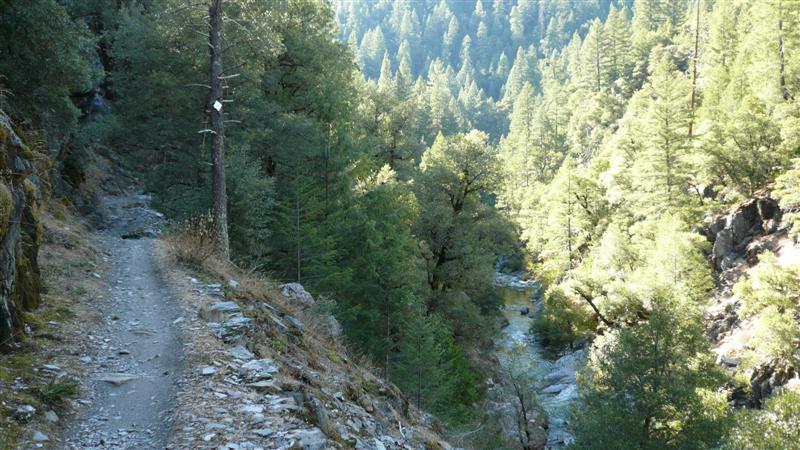 More 1st Divide Trail with stream far below.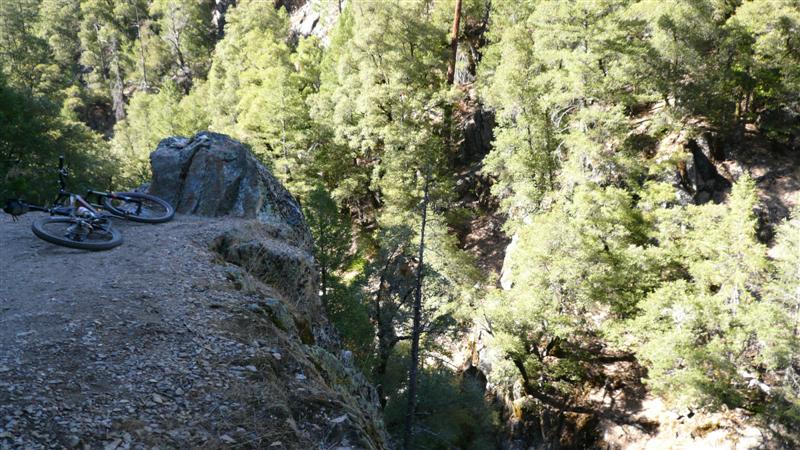 A nice vantage point...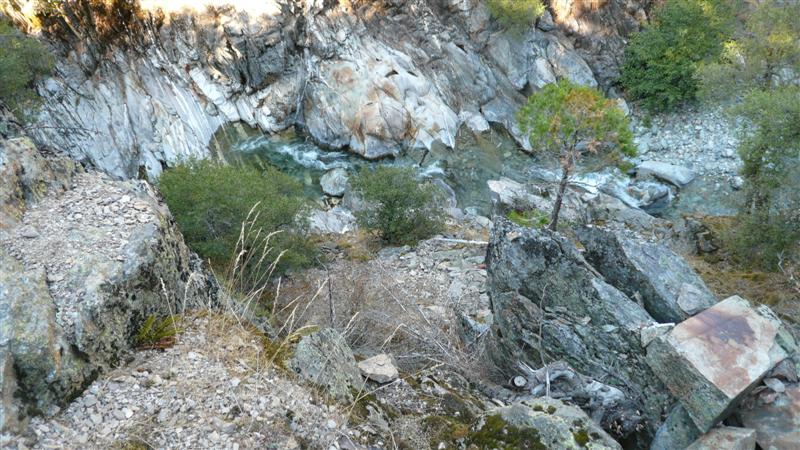 and going over the edge here is not an option.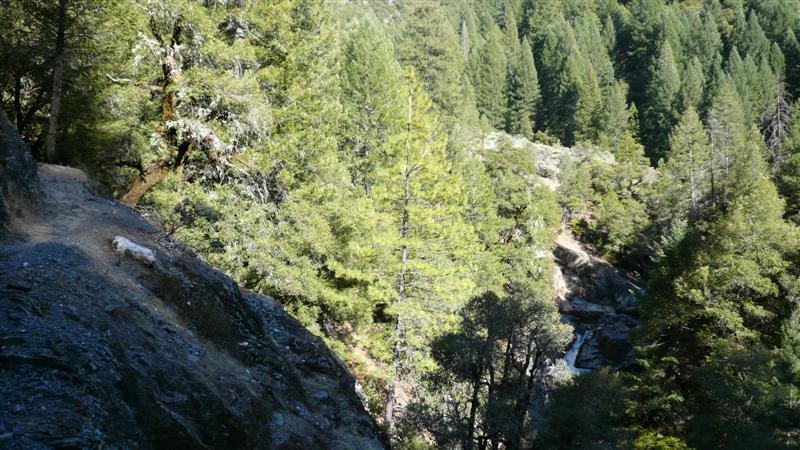 Final shot of Downieville ride.
Epic MTB Ride #3
Thursday, Sept. 27
South Yuba River Loop
34.5 miles, 4:01 riding time, 5:00 total time
We would need an early start on this ride in order for Rich to get his bike back to rental shop in time.  He flew back the next morning.  I had a lot of uncertainty in how long this ride would take.  It was less miles, but so many reports warned it takes longer than you think due to a lot of climbing and the technical, risky nature of the trail.  It is rumored guys got caught in darkness out here and had to spend the night in the woods (there are animals that eat humans out here – bear scat was all over the place).  We didn't anticipate roughing it overnight in the woods, but we had a schedule to keep.
I think we got started around 8:30am with full Camelbaks and extra water bottle each.  The ride begins with some steep dirt road climbing on N. Bloomfield Rd, picking up a really sweet singletrack trail called Rim Trail around the Malakoff Diggins site for 3 miles, then resuming climbing on one-lane Relief Hill Rd.  The Rim Trail was a nice early morning treat.  Buff stuff without too much climbing.  But about half way around on it, something very big went crashing into the brush right in front of me.  I suspect it was a bear.  I made a racket to make sure it kept going.  Eventually the high point on Relief Hill Rd is reached, and several miles of high speed gravel descent ensues.  It was a shame to waste all that vertical on road, but as we would learn, we'll be climbing that vertical many times over on South Yuba River Trail traversing the canyon wall.
We pick up the South Yuba River Trail at the trailhead near Washington.  This begins 16 miles of pure singletrack back to town with virtually no bail-out options.  The first half of this trail is quite technical, and there are many no-fall zones.  Rich is a rock climber, and he told me that if I go over the edge, I better do it in a place where he won't have too much trouble extracting the car keys from my body so he could get home.  Pleasant thought...  Having raced and already done two long, hard rides, neither of us had much climbing mojo left in our legs.  It seems the trail either climbed large sets of switchbacks at 3-4mph, or you had death-grip on brakes going 10-15mph descending same.  There just weren't many places you could let your speed run out like on the Downieville Downhill.  But the riding was good.  Would have been better with fresh legs, but I still thoroughly enjoyed it.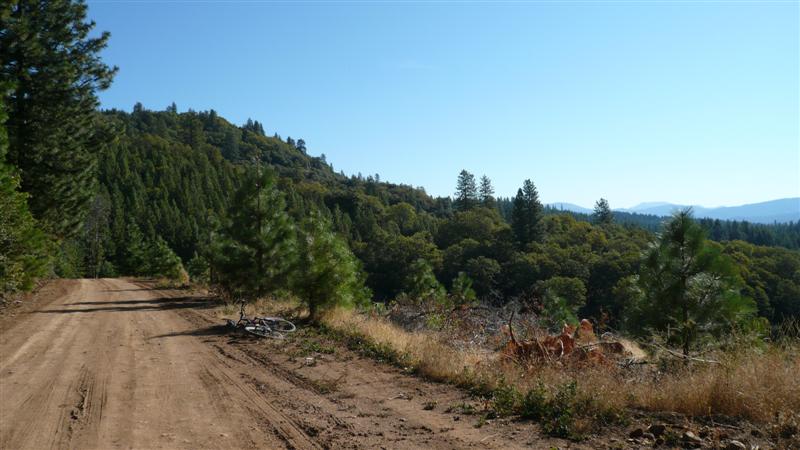 Near high point of red clay Relief Hill Rd.  You could see "petrified" MTB tracks in this road left over from wetter days.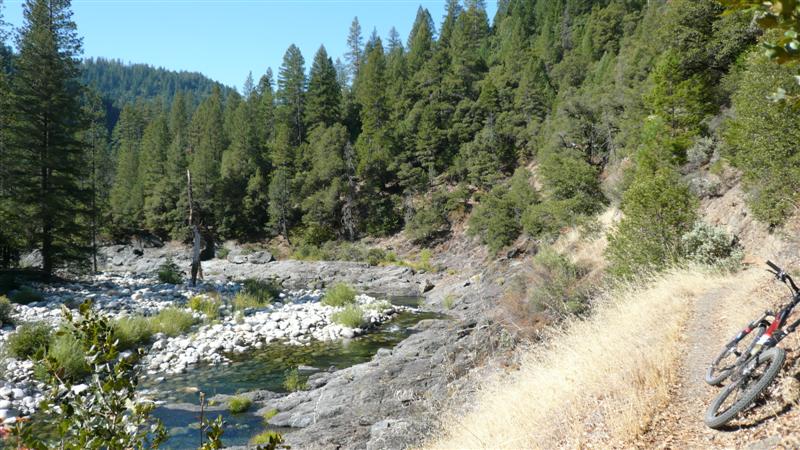 Starting out on South Yuba River Trail, the more technical section near village of Washington.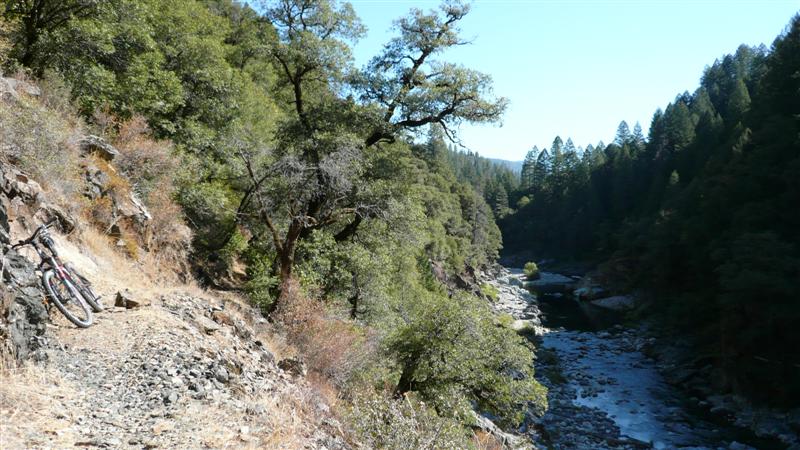 Typical bench-cut ledge on S. Yuba.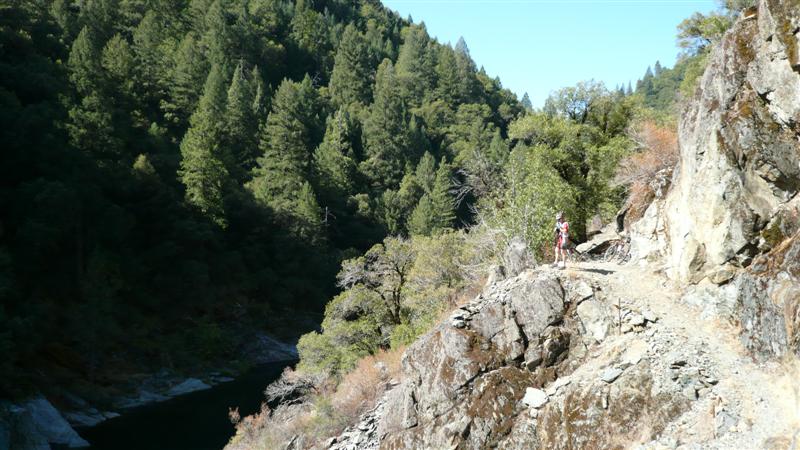 Rich pondering the depths of this very deep pool in the S. Yuba River.  No room for error here.  Stop before looking.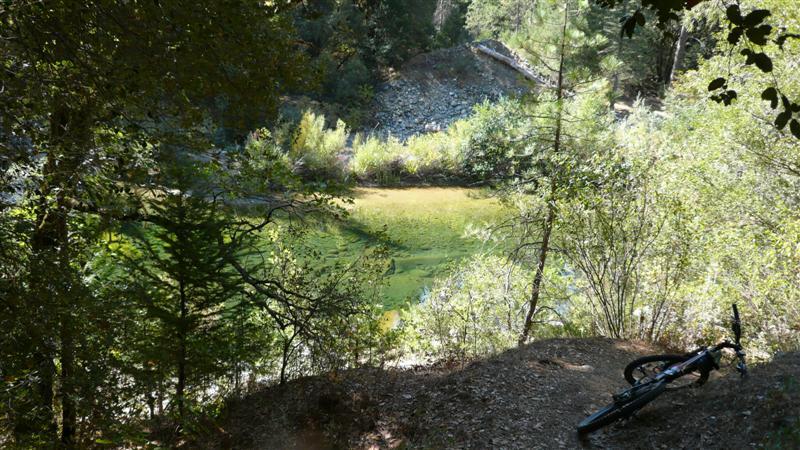 Most of the rivers around here had a green tint to them, but the S. Yuba in particular had an iridescent green glow too it.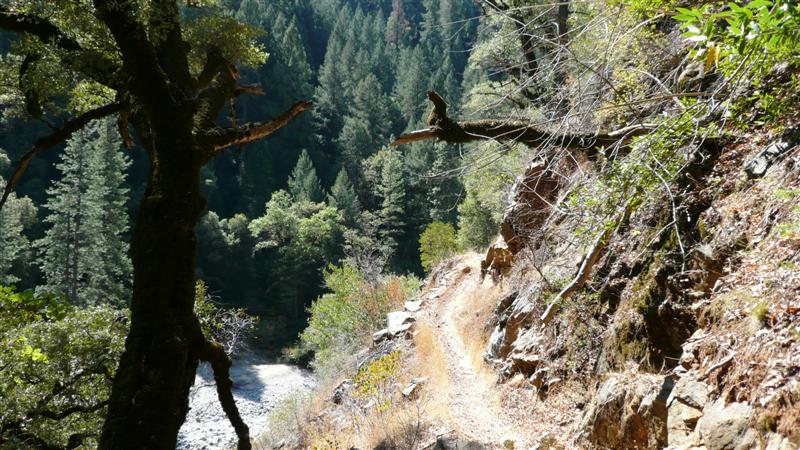 More skinny ledge on the S. Yuba.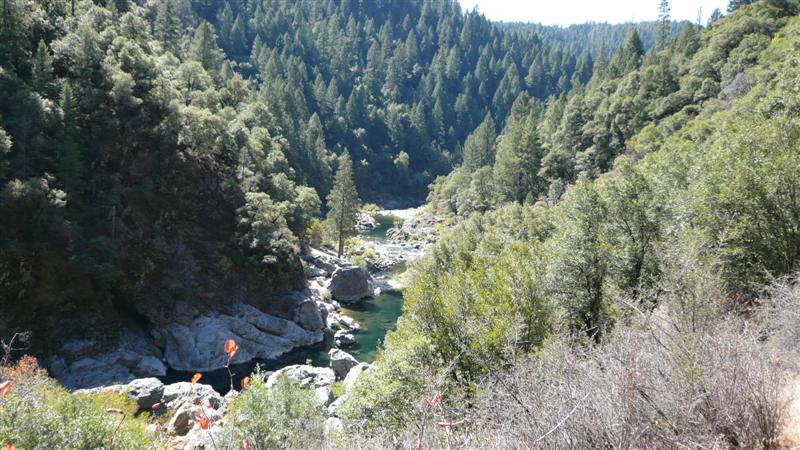 Magical green swimming holes.
The water might have been 10-15ft deep here, yet crystal clear.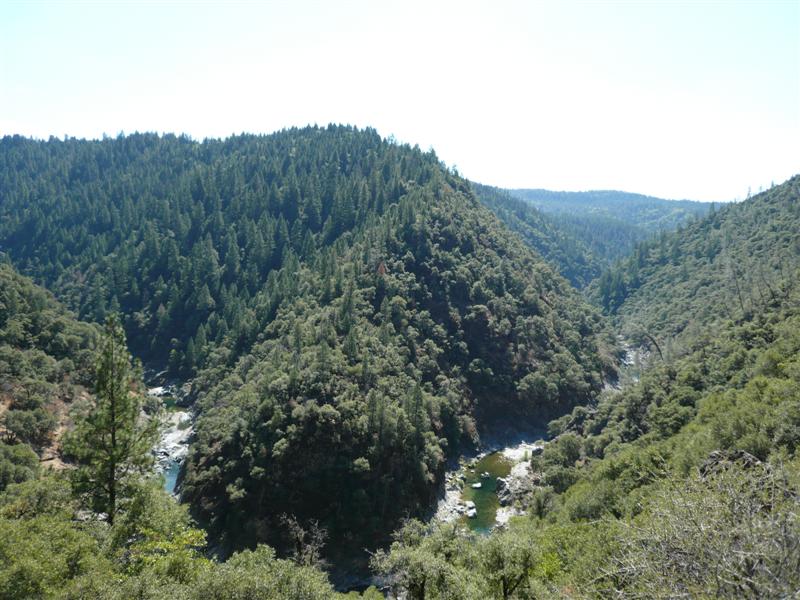 My favorite view from the ride.  Click on this photo to open a large panoramic view.  View at 100%, full screen, and pan around.  Taken with Panasonic Lumix FX-100, three stitched exposures at ISO100.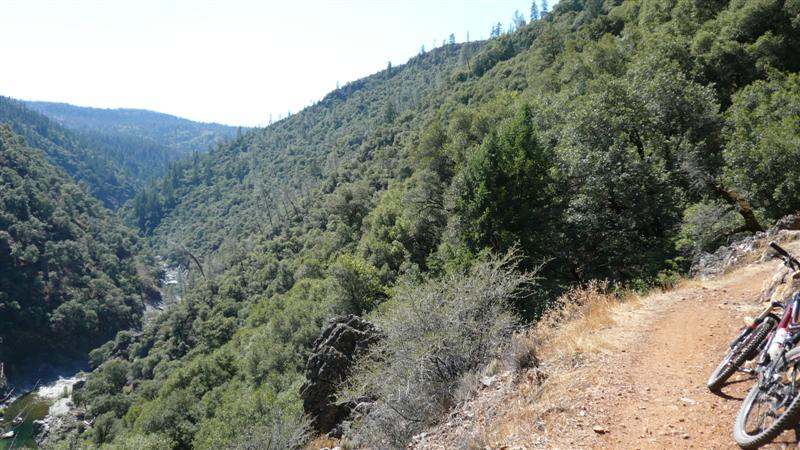 From same vantage point above, capturing a bit of the trail surface.
MTB Riding, Day #4
Friday, Sept. 28
Hole in the Ground Trail
17.0 miles, 2:19 riding time, ~3hrs total time
Tahoe Rim Trail
10.5 miles, 1:15 riding time, ~1.5hrs total time
There was 30-40% chance of rain in the forecast this day.  Skies were mostly cloudy.  I dropped Rich off at the airport and headed back west on I-80 to Donner Pass.  There's a nice loop of singletrack here call the Hole in the Ground loop.  It climbs 1000ft to the ridge line, descends a long ways over the other side, then a bunch of climbing to get back up to the car.
The middle section of the ride was very technical.  I could ride all of it, but for me to carry speed would entail considerable risk.  I was riding alone and had two expensive cameras with me.  Lots of slick rock, ledge stair step drops, loose switchbacks, washboard coming into switchbacks, it was all there.
The descent finished out on a section called "The Steps."  These were first rail road tie erosion control bars, but spaced closely enough together that you'd be hitting more than one at a time.  There were also some very big, steep rock bars too with loose dirt in between.  I had trouble controlling my speed on this stuff and ended up walking a segment.  I didn't want to break my digital SLR camera (that's my sorry excuse anyway).
After bottoming out at the bottom of the steps, climbing on gravel road and some more singletrack begins.  I didn't study the topo of this ride, but it descending a long ways down the west side of Donner Pass.  I think 800ft had to be climbed to get back to the car.  A lot of it was on the other side of I-80 on jeep road to base of Boreal Ski Area.  After crossing back over I-80, a small bit of climbing brought me back to the van.  I was so cooked finishing this ride I contemplated walking the bike.  I needed food big time.  The meal the night before was mostly meat, not enough carbs.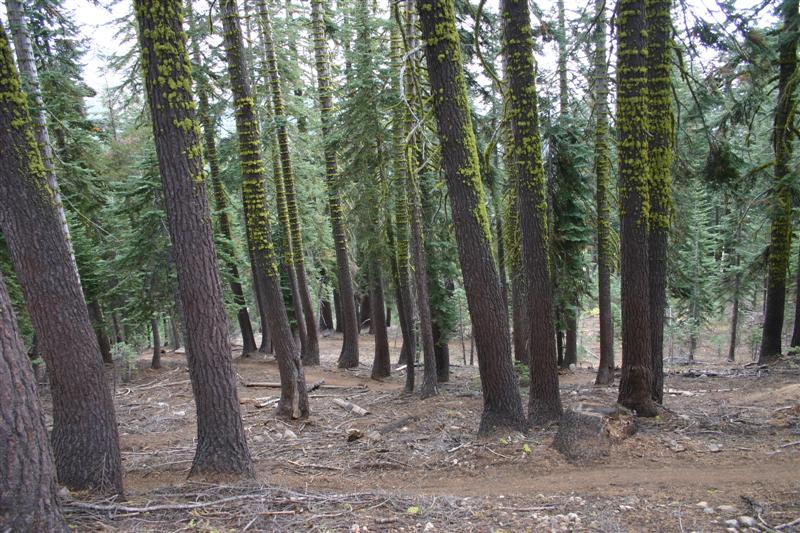 Hole in the Ground climbing switchbacks with moss-ringed trees.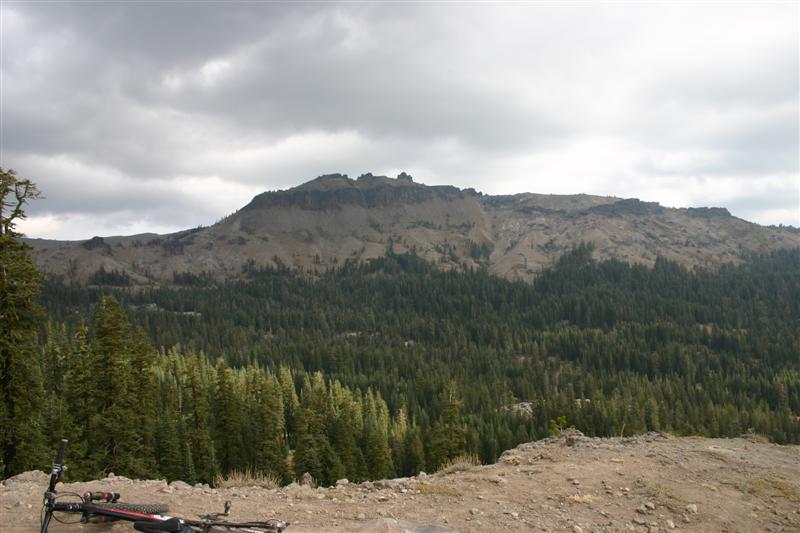 View of Castle Peak (9100ft) from Andesite Peak (8200ft).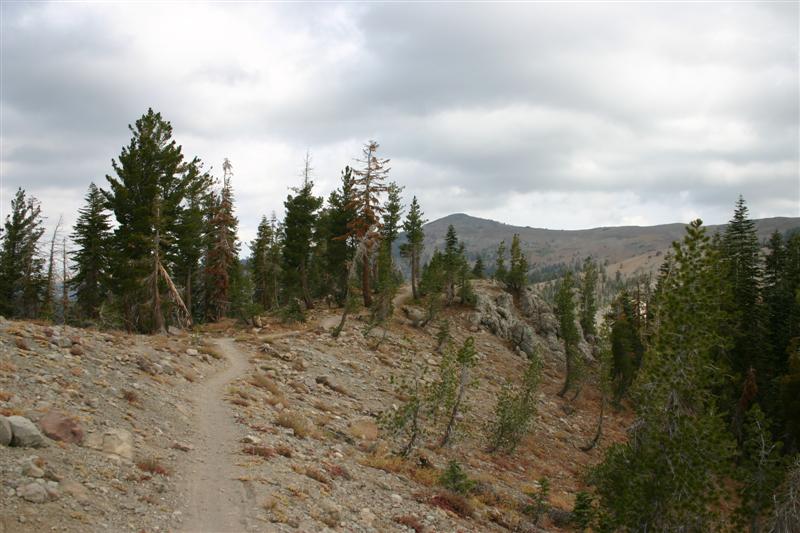 Beginning of Hole in the Ground singletrack descent.  It was fast and swoopy here, but not for long.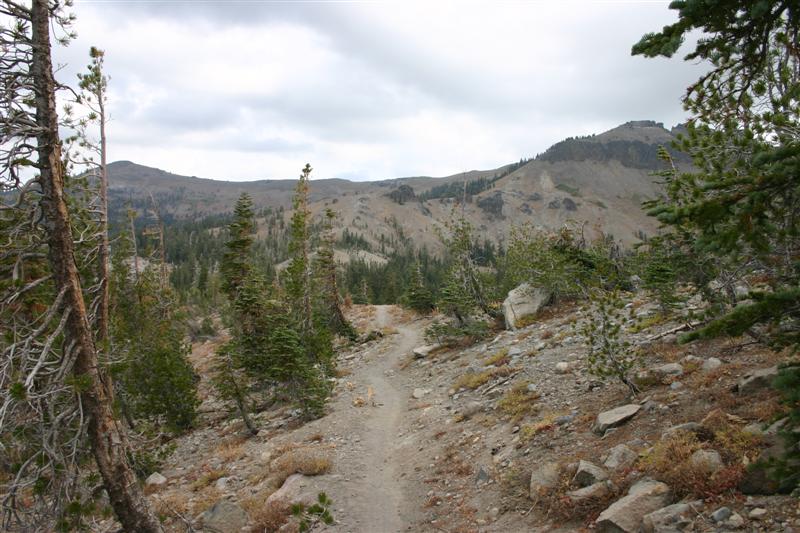 Continuing Hole in the Ground descent.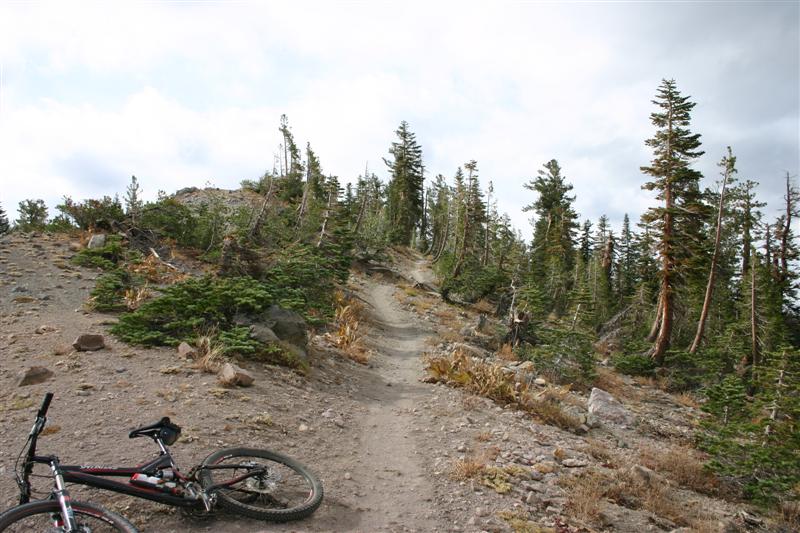 Looking back up Hole in the Ground.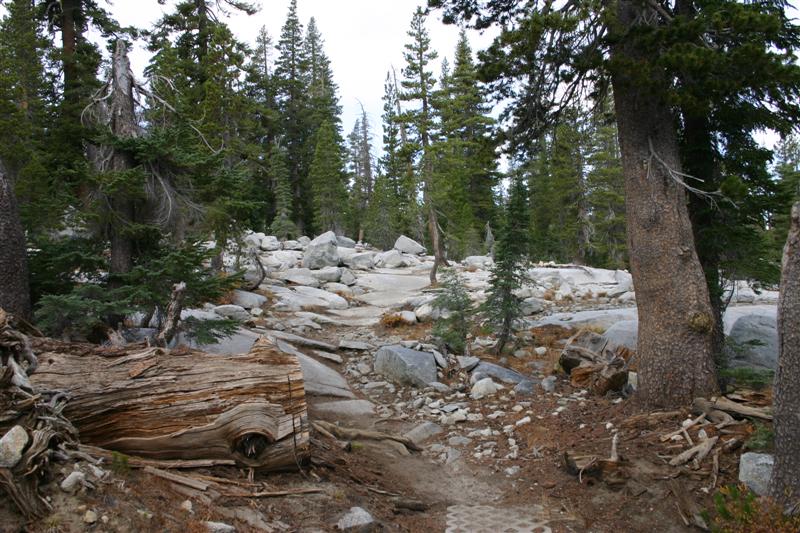 The trail became many miles of rock garden like this.  All rideable.  There were lots of slickrock side features that others appeared to play on.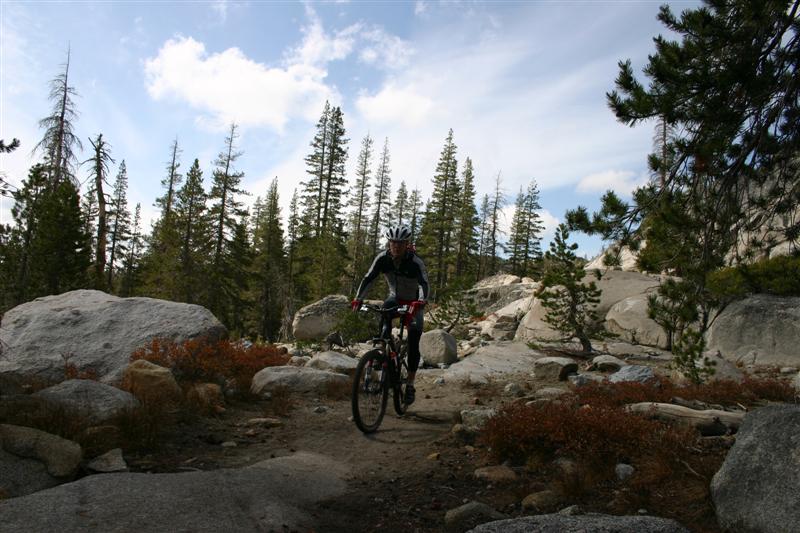 Self portrait on Hole in the Ground loop.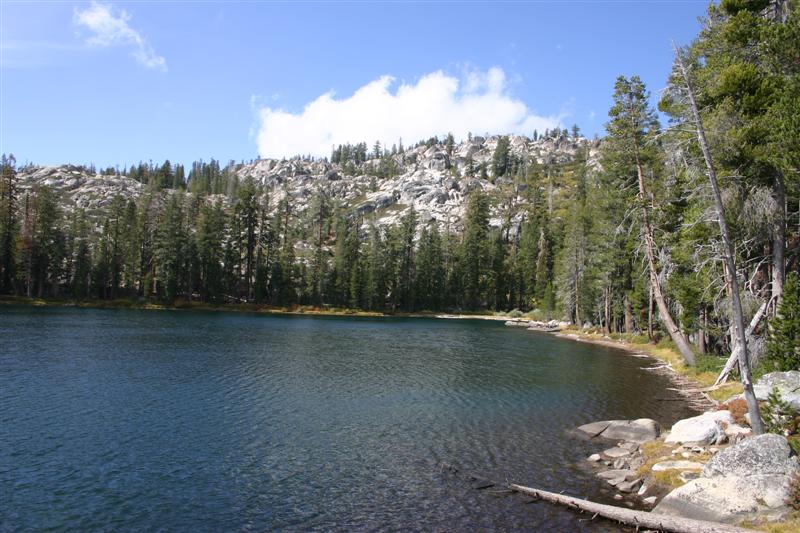 I took a short spur to see Lower Lola Montez Lake.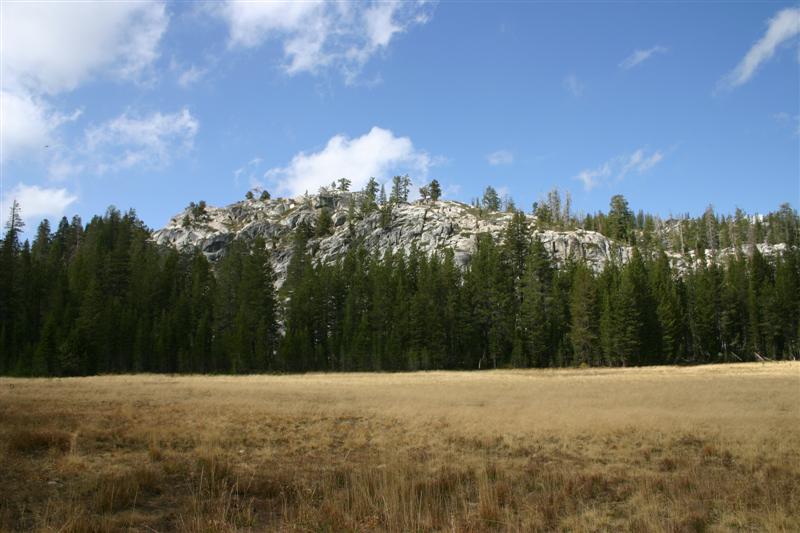 A nice meadow near the lake just before wrapping up the descent on the "Steps" section.
Still being early in the afternoon, I just could not bring myself to calling Hole in the Ground the last ride of the trip.  I had several hours before the rental bike had to be back.  After wolfing down a large sandwich at Quiznos and picking up a grande Starbucks, I was good to go for at least a little bit more.  I drove up Hwy 431 from Lake Tahoe to Tahoe Rim Trail (TRT) section from Mt Rose to Flume Trail.  This was section that we did not ride previously and is about 9 miles long.  It is open only on even days to mountain bikers.  The trail head starts at about 8500ft and nears 9000ft at highest points, but does not climb steeply or vary much in altitude.
It was extremely windy this afternoon, and so far the threat of rain held off.  I had to brace myself to take pictures from the ridgeline.  It was also very cold up here, maybe only in the 40's.  I wore long layers, two up top including wind breaker.  Could have used an ear band.  Lots of riders were out on this, despite being a Friday afternoon.  The scenery was spectacular almost everywhere.  I only had about an hours' time, so I turned around just over 5 miles out on this trail.  Not stopping to take pictures on the way back to the car was nice on this flowy trail.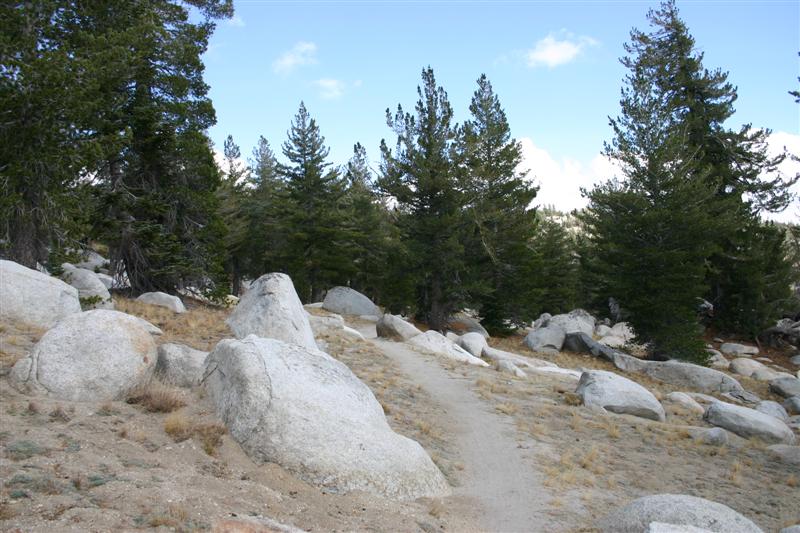 Tahoe Rim Trail from Hwy 431.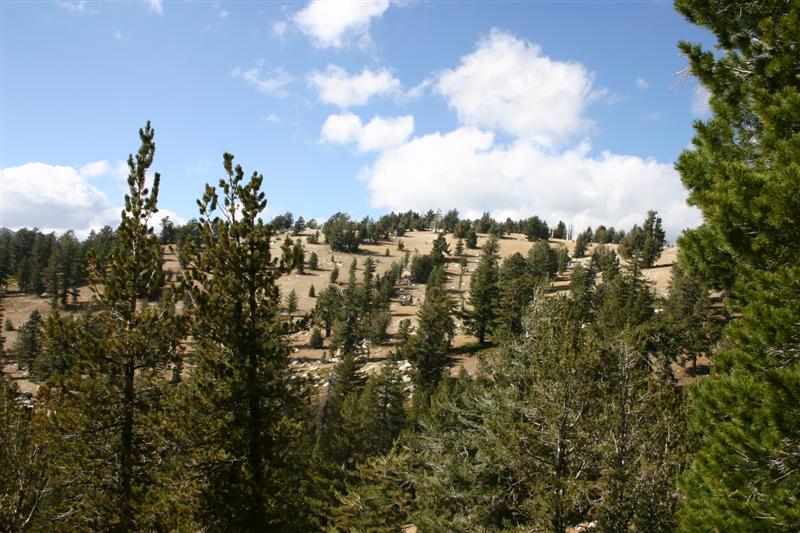 View along TRT.  Trail actually cuts through the center of this image but not visible without blowing up high-res photo.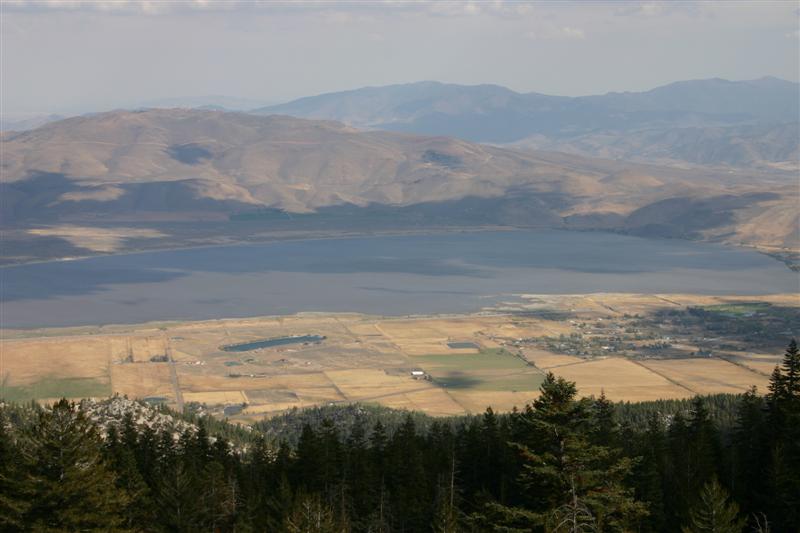 Washoe Lake just south of Reno.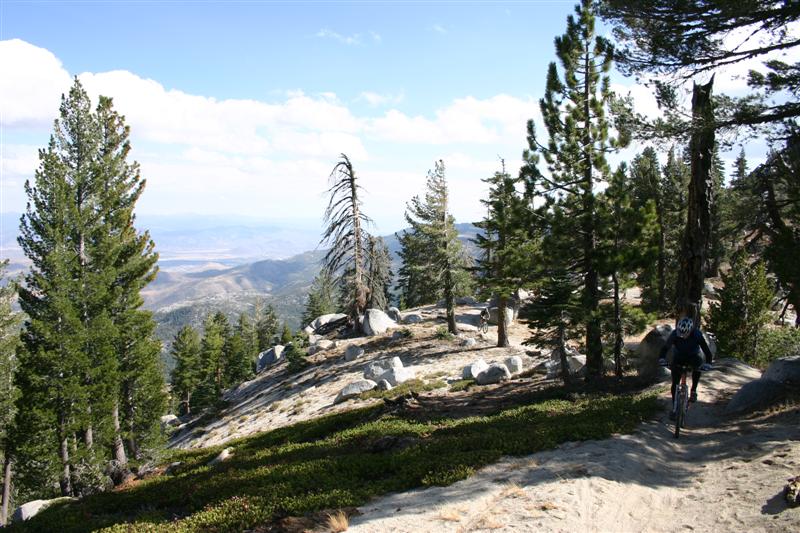 Other riders shredding on TRT.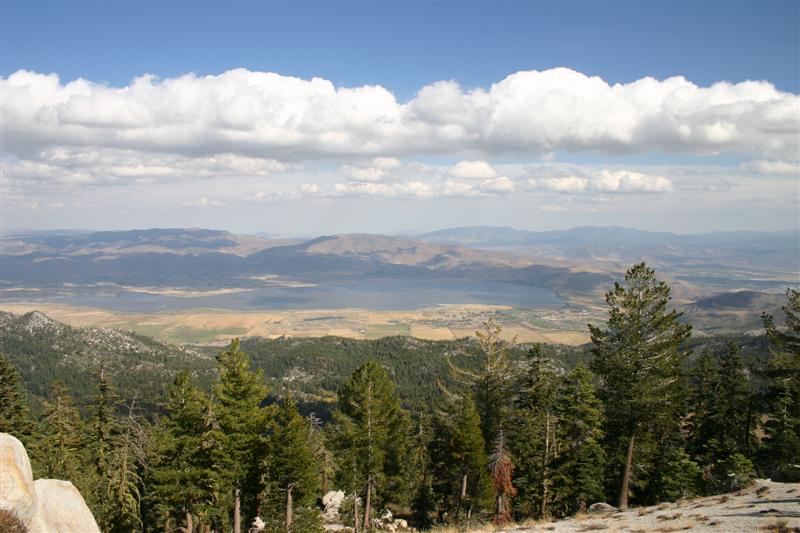 Different view of Washoe Lake from near summit of Diamond Peak Ski Area.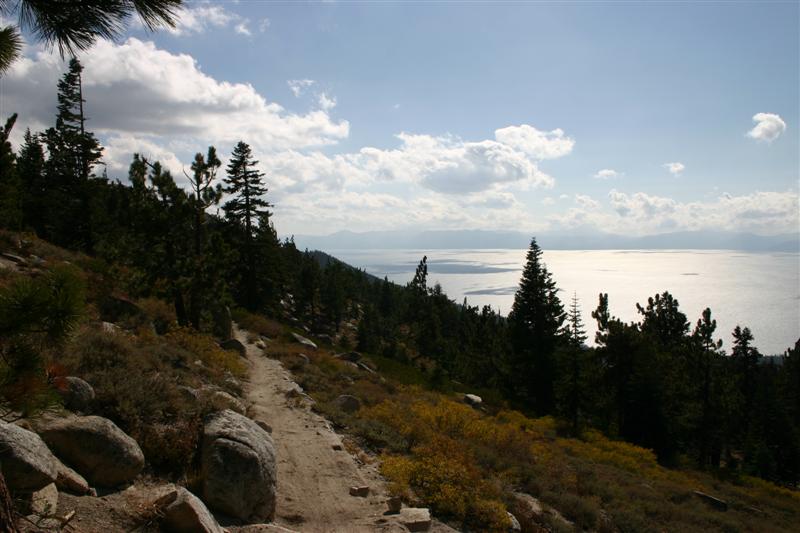 TRT with Lake Tahoe in view.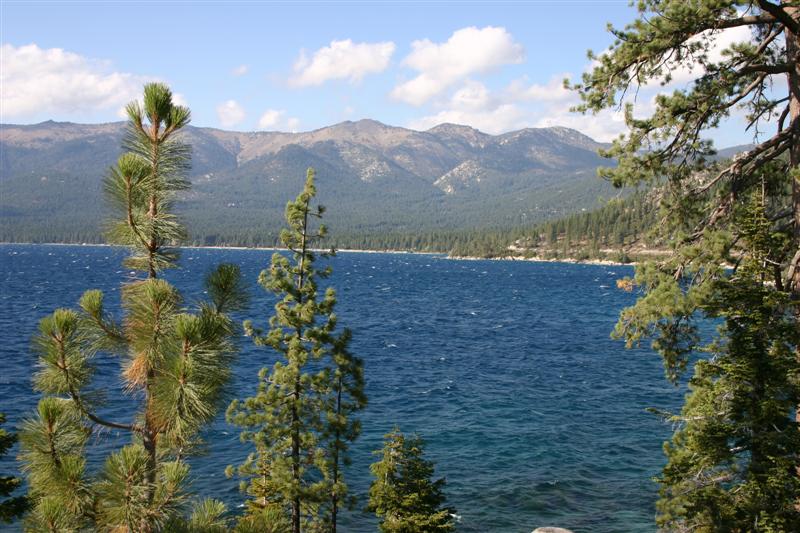 Lake Tahoe after wrapping up final ride of trip.  There's trails up on them there mountains!  Whitecaps on water tells you it was extremely windy.
Trip Wrap-up
So the trip overall was a success, despite my race being a major disappointment.  I haven't decided yet whether I'll come back to redeem myself in the Everest Challenge.  It requires a pretty big time commitment, logistically is tough to get self and bike to, and requires a season long focused training regimen.  I would do more mountain biking around Lake Tahoe and NorCal when an opportunity arises.  The riding here compares favorably with the best in North America.
As I left Reno early Saturday morning, the sun rose to illuminate freshly fallen snow on the peaks around Lake Tahoe.  Hours earlier I was up there at 9000ft.  At least the weather for mountain biking was perfect, unlike my last two MTB trips to Colorado (rain and snow in September '06) and Arizona (rain and snow in February '07).
I can now color another state in on my map of states I've mountain biked.  Nevada was the only western state I hadn't done until this trip.  At this point, the Midwest section of my map is looking pretty bleak.  I do plan to soon make a trip down to Arkansas and Oklahoma and hit some of the epic singletrack that has been built recently in the Ozarks.  All day epics can be made down there.
Compiled by Doug Jansen
4-October-2007