Colorado Cycling Trip
September 15 Ė 21, 2005
Doug Jansen
Trip Highlights:
Solo off-road cycling trip to Colorado, hitting fall season hot spots while Cathy and her mom headed to Maine for a womenís outing
Hit Mt Evans,

Fruita

, and Crested Butte
Six Days Cycling summary

213.0 miles
23 hours, 3 minutes riding time
28,260 feet of climbing
Zero mechanicals, one minor crash

Wildlife sightings: Elk, Moose, Deer, Coyotes, and Marmots
Mt Evans, Idaho Springs
<![if !vml]>

<![endif]>
Western 180-deg Sweep from Summit of Mt Evans
Friday, Sept 16, 27.1 Mile Paved Hillclimb to Summit
54.5 miles
4:13 hours
6580 feet net gain, nearly 7000 feet total climbing
I arrived in Denver late the night before, getting to hotel about 12:30am local time (2:30am EST).† Fortunately, I could sleep in as Wheat Ridge Cyclery opened at 10am.† They were nice to let me in the back door to pick up my pre-shipped Dean hardtail at 9:30 though, so I got to the base of Mt Evans ahead of schedule.† The ranger station is right at the beginning of the Bob Cook Memorial Hillclimb Race route, so I checked on conditions first.† The upper gate at Summit Lake was locked, but that portion was clear and open to non-motorized use.† Summit temperature was just above freezing.† Chance for pop-up storms was low.† So I bundled up tights, heavy long sleeve jersey, wind shell, ear warmer, and full finger gloves in my Camelbak and took off.
The climb starts very gradual from Clear Creek at 7,555ft, no more than 3% grade.† In the race, you could gain considerable benefit here by drafting.† The grade picks up some after a few miles, but still probably no more than 5%.† Upon reaching Echo Lake at 10,597ft, the course flattens for at least a half mile.† A right is taken onto SR 5 to the summit, and the toll was only $1.50 since the upper gate was locked.† This is roughly the half-way point.† Now the grade picks up a bit, and soon the trees are left behind for good.† The air gets colder, and the wind gets stronger but manageable.† After about 22 miles, Summit Lake is reached at 12,830ft.† There is a significant downhill approaching the lake, where 100-200ft of hard earned vertical is lost.† This is also the only place with bad pavement with a few hundred meter stretch of nasty frost heaves and deep gaps in the pavement.† Even with MTB, I had to bunny hop some of these.† There was a good dusting of snow on the north facing slopes of the top couple thousand feet of Mt Evans.† After riding around the closed gate, the grade picks up a little more for the remaining 5 miles.† I also spotted a ďrabbitĒ up ahead and that gave me an incentive to go a little harder.† I soon caught up to Jim from Oregon.† We chatted for a good part of the remaining climb and hung out at the summit for a while.† The last couple miles are a spaghetti maze of switchbacks, but still, the grade was very reasonable at 5-8% by my estimate.† It was the altitude that made it hard, making the grade seem like 22% at sea level.† The 14,135ft summit parking area was very cold, and immediately upon stopping I had to put my long layers on.
The summit area is a special place.† A short hike brings you to the high point at 14,258ft from the parking area.† That ďbeing on top of the worldĒ feeling kind of overwhelms you.† Dramatic views are found in all directions.† Pikes Peak was visible to the southeast.† The Continental Divide was visible to the west.† Downtown Denver was just visible to the northeast.† To Jimís amazement, there was cell phone coverage up there.† Go figure.† He called a bunch of people from ďthe top of the world.Ē† We spent 20-30 minutes on the summit before hiking back down to the bikes.† I experienced none of the altitude sickness symptoms I did on Mauna Kea earlier in the year.† Donít know why.† A couple differences were my legs were fresher for Mt Evans, and Mt Evans was a much less steep climb that gained less than 7,000ft, whereas Mauna Kea gained nearly 14,000 feet.† I sure did suffer aerobically in the thin air though.
The descent was a blast.† Nearly no brakes required except at hairpin switchbacks.† I did have to pedal a portion of the bottom.† I was overheating with all the layers on by the time I got back to the car.† It must have been in the 80ís by then.† Colorado was experiencing record heat for that time of year while I was there, which made for perfect temps at high altitudes.
<![if !vml]>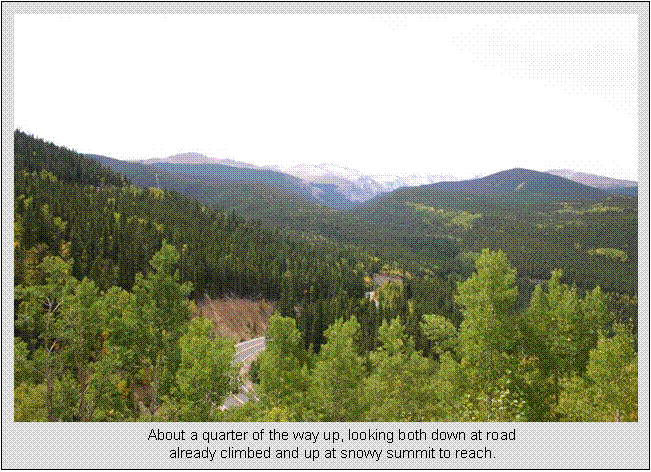 <![endif]>

<![if !vml]>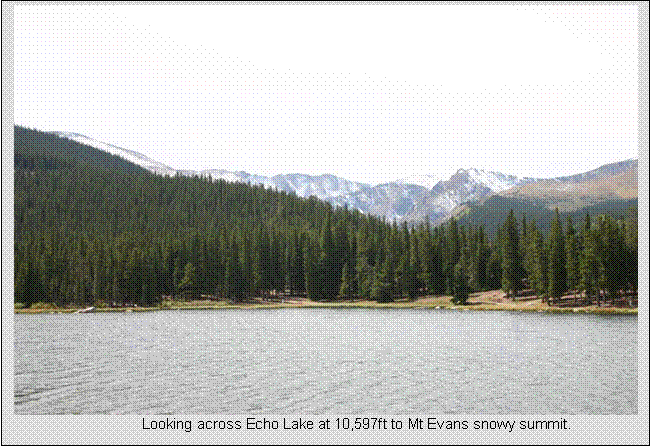 <![endif]>
<![if !vml]>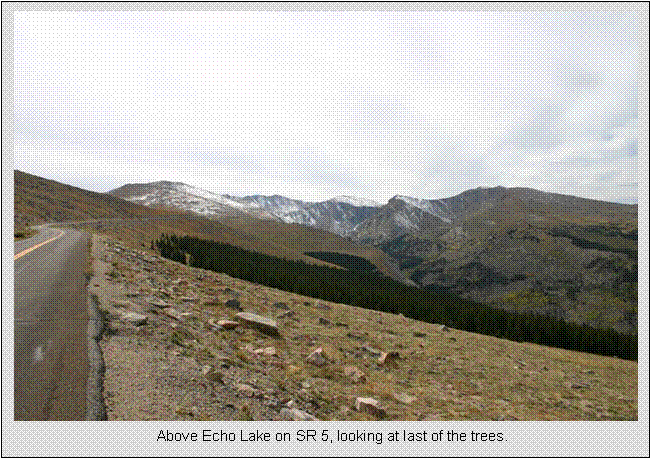 <![endif]>

<![if !vml]>

<![endif]><![if !mso]>

<![endif]>

Echo Lake and tree line below.

<![if !mso]>

<![endif]><![if !mso & !vml]> <![endif]><![if !vml]>

<![endif]><![if !vml]>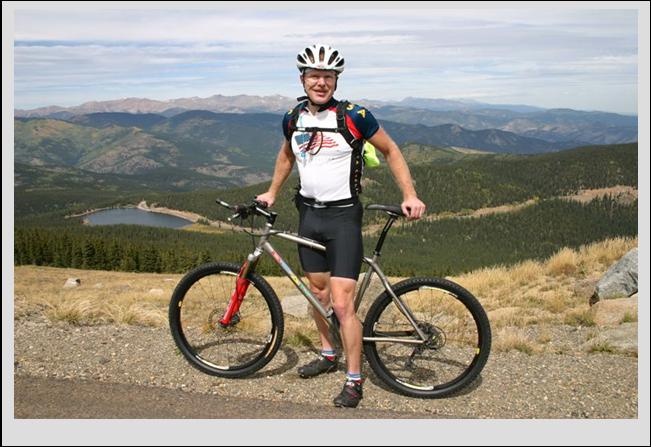 <![endif]>

<![if !vml]>
<![endif]>
<![if !vml]>
<![endif]>
<![if !vml]>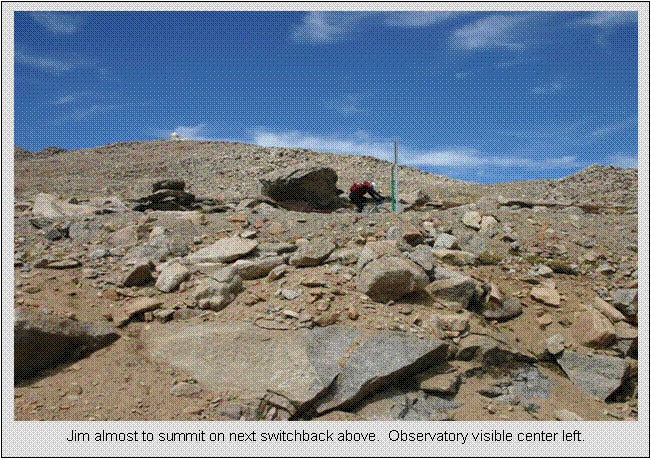 <![endif]>
<![if !vml]>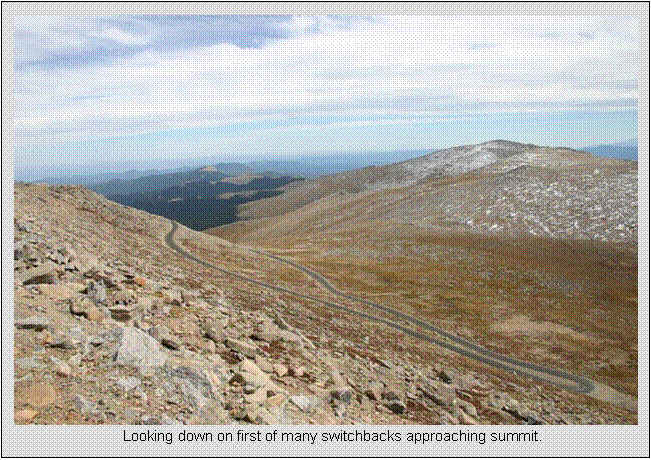 <![endif]>
<![if !vml]>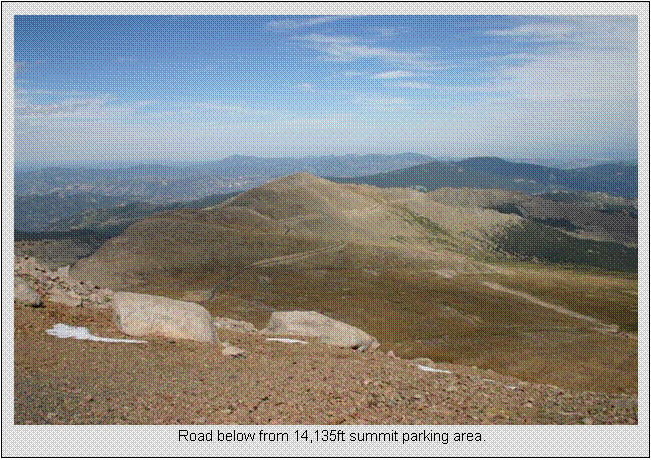 <![endif]>
<![if !vml]>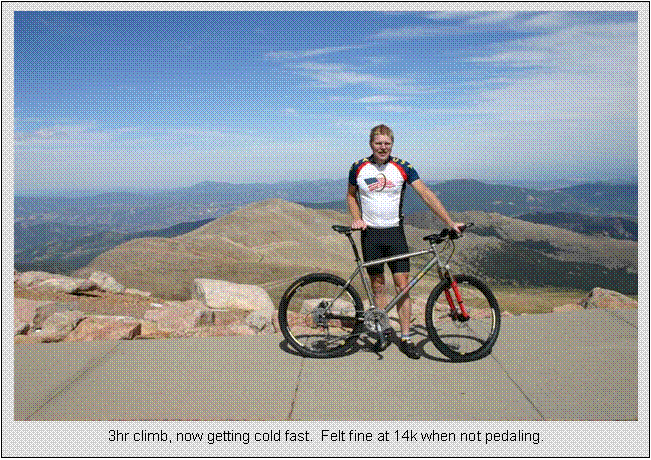 <![endif]>
<![if !vml]>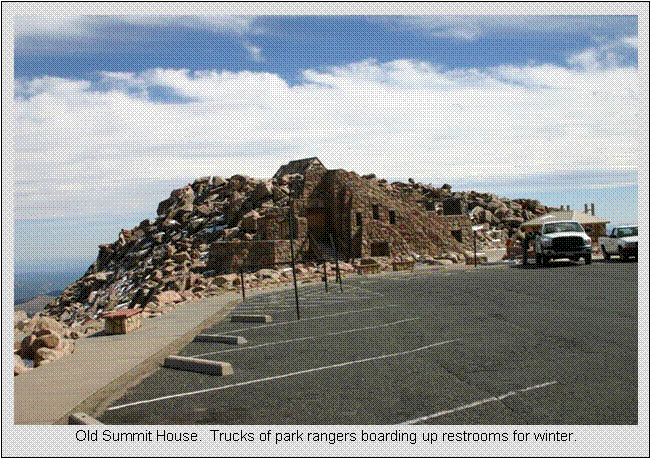 <![endif]>
<![if !vml]>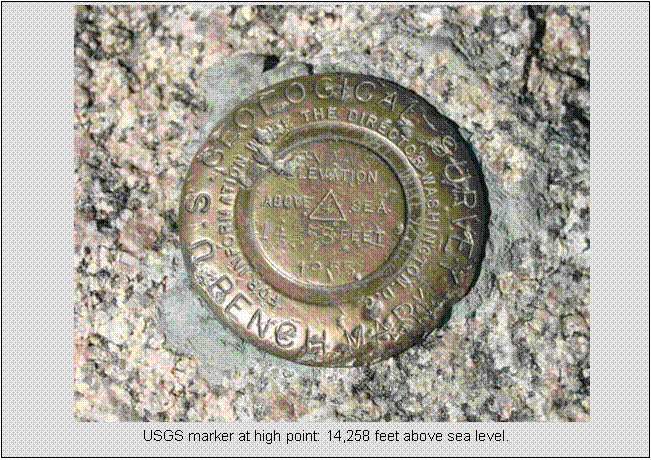 <![endif]>
<![if !vml]>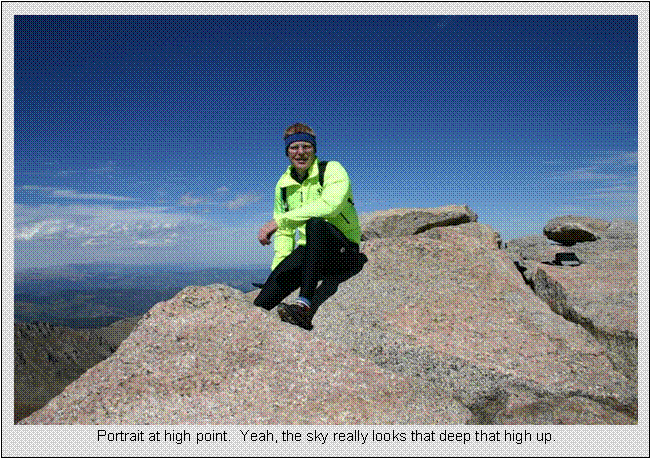 <![endif]>
<![if !vml]>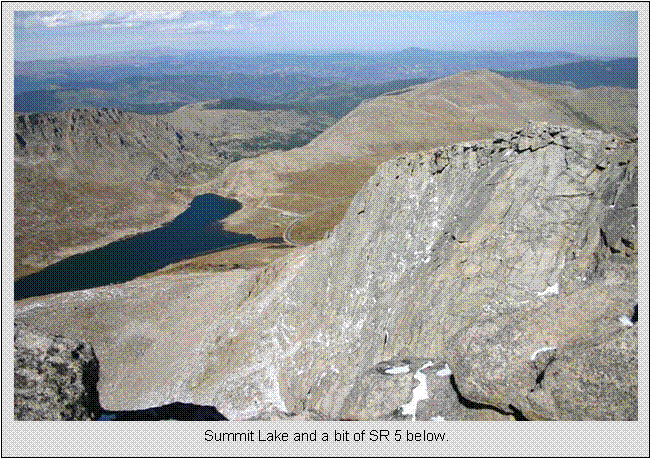 <![endif]>
<![if !vml]>
<![endif]>
<![if !vml]>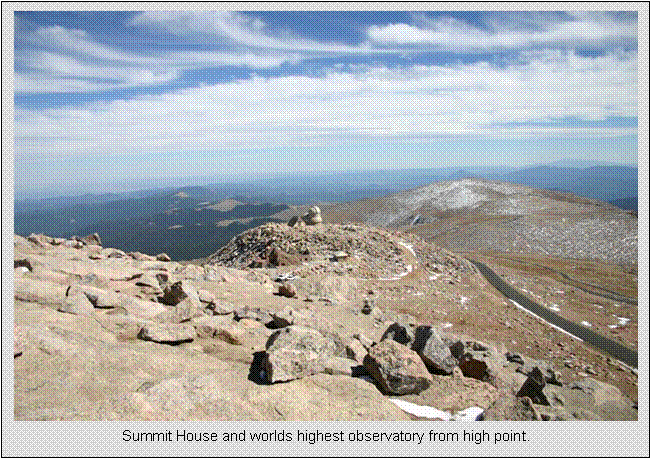 <![endif]>
<![if !vml]>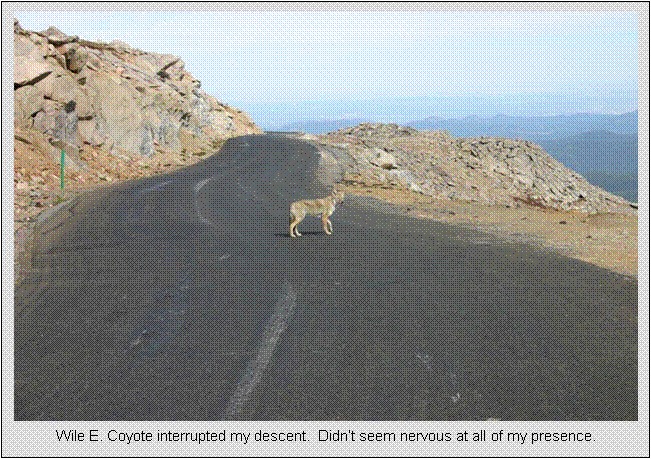 <![endif]>
<![if !vml]>
<![endif]>
Bookcliffs Trails, Fruita
Saturday, Sept 17, Edge Loop Trail Ride
44.0 miles
4:56 hours
~5000 feet total climbing
After wrapping up Mt Evans, I continued up I-70 to the Grand Junction/Fruita area.† I had wanted to stay in Fruita, but had to book Motel 6 in Grand Junction.† Everything else was booked.† Turns out there was a huge wine festival going on that weekend.† Grand Valley is lush, with vineyards and orchards.
Saturday morning, after a terrible Burger King breakfast, I drive over to the Bookcliffs trailhead.† My plan was to ride the Edge Loop (29.2 miles) then hit some of the popular trails closer in.† The Edge Loop starts out on singletrack, then goes behind the cliffs you see from the parking lot, steadily climbing Coal Gulch on jeep road until you reach the ridge line.† A couple thousand feet is gained.† The views down Coal Gulch and of the cliffs across the gulch were what this ride was all about.† At the ridgeline, I kept taking wrong turns.† One of them infuriated me.† Thereís all these gas well heads up there, and you canít tell the side roads from main road.† One descended hundreds of feet to a dead end.† I forgot to bring detailed guide instructions with me.† Turns out the most inconspicuous route was the one I had to take.† This cost me an extra 4 miles and upwards of 1000ft of climbing.
The descent down the front side of Bookcliffs was chocked full of terrors for a limited skills XC weenie like myself.† First some extremely steep loose, rutted pitches, where you are looking practically straight down.† I could not control my speed on a couple of these by braking, so I walked a couple stretches.† Views of the Grand Valley were spectacular.† Then singletrack continues the descent into Lipan Canyon. †Nice stuff, very steep, tight, twisty, and a bit rocky.† This dumps out into the wash at the bottom of the canyon.† At first, I tried to figure out where the trail went, thinking it canít possibly stay in this deep wash.† But I saw a few hints of tracks heading down the wash, so I followed them, thinking theyíll pop back out soon.† Nope.† You ride the wash.† Mostly rideable, sandy in spots, rock ledges in other spots, and overgrown in yet other patches.† Deep and scary.† Wouldnít want to get caught in there during a thunderstorm.† Your body would probably get washed all the way out to the Gulf of California.
Then came ďThe Waterfall.Ē† The guide book warned of this, said it was a 30ft drop, usually a rope there, and use the buddy system to get down it.† The book also said ďalthough is seems dramatic, nobody has ever been hurt here.Ē† I thought it canít be that bad.† When I reached it, I said to myself ďainít no friggin way!!Ē† I was horrified, as I would not have enough energy or water to climb 2000ft back up and ride 20+ miles to back track the way I came.† I had to repel down this thing.† The rope was a heavily abused climbing rope (about 1/2Ē diameter), but the outer sheath was gone, so it was a loose pile of small strands.† Plus, it didnít reach the bottom.† There was no way I could descend with bike, as I was going to need both hands on rope, and I would have to drop the last four feet to rock at bottom.† A small amount of water was flowing, so everything was slippery.† There was a short rope also attached to the anchor point.† I used it to drop my bike to a ledge part way down, but it was too short too.† So my bike is hanging maybe 8ft down, Iím hanging on the long rope trying to untie bike with one hand.† Then I had to drop my bike to ďledgeĒ and hope it didnít keep going another 20+ feet and smash into the rock below.† It didnít.† So I get to ledge and now have no way of going back up, and no way of getting my bike down the remaining huge drop but to literally toss it down.† Hanging on the rope, I drop my bike from the front tire.† It free fell about 15 feet to water and rock below.† I couldnít use the rope I was using to repel down to lower my bike, as the end of it came about 8-10ft from the bottom.† Once I dropped to the bottom, there would have been no way to reach my bike.† Now my bike is laying in the water, probably with bearings filling up, so I quickly slid down the rope and dropped the remaining few feet.† I was sooooo glad that was over.† Nobody was out there had I gotten hurt.† Bike seemed to be ok, only minor abrasions on legs from sliding against the rock.
The ride continues down the wash for at least another mile, some sections completely rideable, others forced me off my bike.† Skilled riders might be able to clean the whole descent.† Eventually, singletrack leaves the wash for good with a good climb.† A few more steep climbs on nice singletrack ensue before a long, easy descent to the car finishes the ride.† This loop was truly an epic, something I would never do again alone.† I never saw another rider during this 3:46hr loop.† The only human I saw was a grater operator on Coal Gulch Rd.
Upon reaching the car, I ate a bit, refilled Camelbak which was empty, and went out on the Chutes and Ladders loop.† This is one of the more challenging singletracks there.† I rode up on Prime Cut trail, then looped back down on Chutes and Ladders.† It gets its name from the series of short, nasty steep climbs (ladders) followed by steep, technical descents (chutes).† I cleaned all but one climb, but dabbed a few times on descents.† Fun stuff.
I had wanted to also ride the famed Zippety Do Da trail, but I was trashed at this point, and I was beginning to believe the trail ranking system in the guide book.† I speculated I would have been intimidated by some of the drops on Zippety, so I opted for a shorter Kessel Run loop.† I climbed up 18 Road, took Kessel Run back down.† Kessel is a 2+ mile ďslalomĒ run.† Was the most fun two miles of trail Iíve ridden.† Nice down hill bias, and it follows this shallow, hard-packed wash the whole way down.† Itís a narrow ribbon, non-stop swooping, banked turns in the shallow drainage, with many drops or even rock launches into the wash.† Light pedaling here and there, but very little brakes needed.† Non-stop adrenaline rush.
I figured Kessel Run was a good note to finish my riding for the day on.† The day was perfect, cloudless, 60ís to 70ís temp, and never more than a dozen cars in the lot.† In fact, in nearly 5 hours riding, the only place I saw other riders was right around the parking lot!† Felt like I had the place to myself, and this was a Saturday!† I also lucked out in that a week earlier it had rained heavily for a couple days.† This makes the trails completely unridable.† I could see evidence where riders didnít wait long enough for things to dry out with deep, baked-in tire tracks.
<![if !vml]>
<![endif]>
<![if !vml]>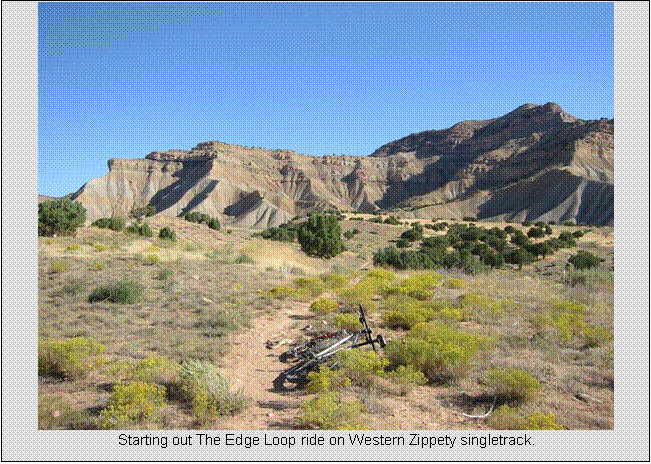 <![endif]>
<![if !vml]>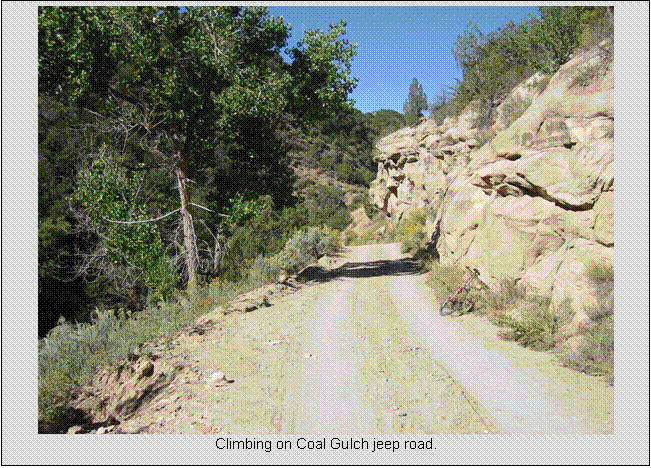 <![endif]>
<![if !vml]>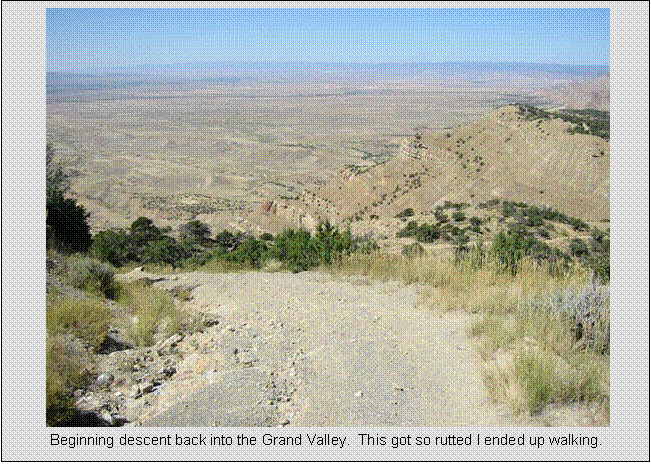 <![endif]>
<![if !vml]>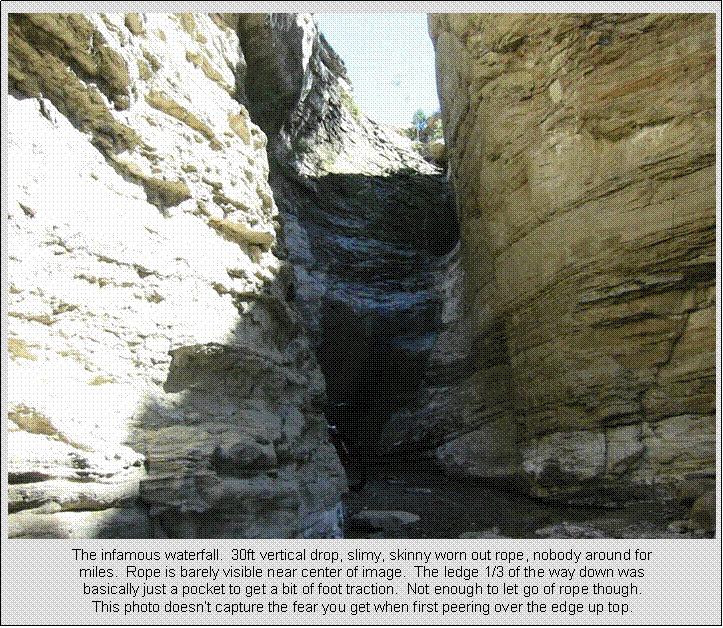 <![endif]>
<![if !vml]>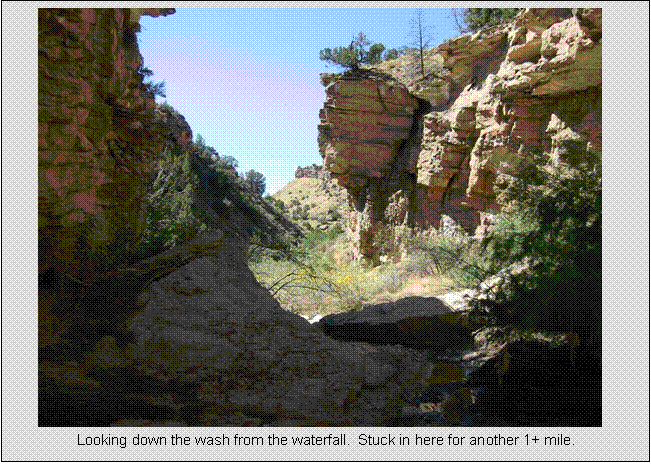 <![endif]>
<![if !vml]>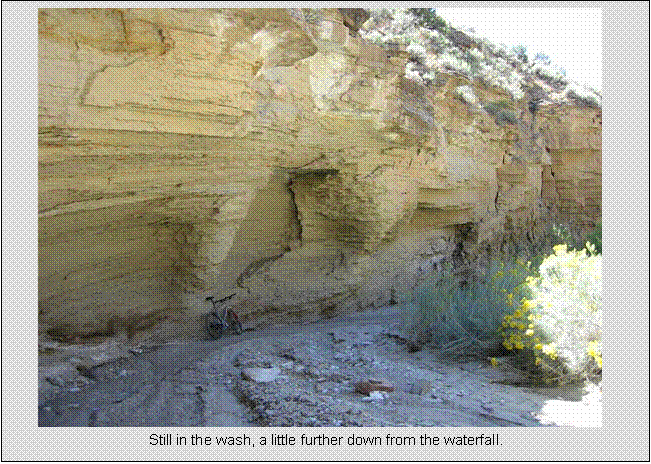 <![endif]>
<![if !vml]>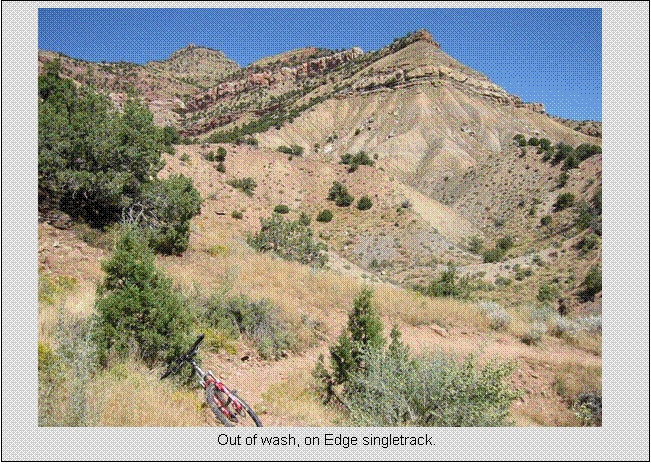 <![endif]>
<![if !vml]>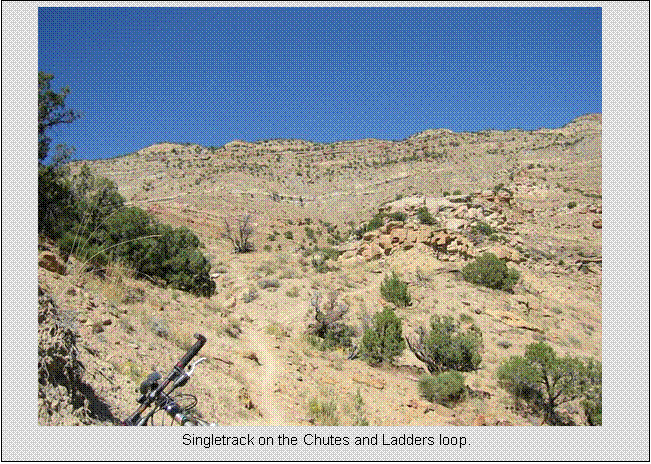 <![endif]>
<![if !vml]>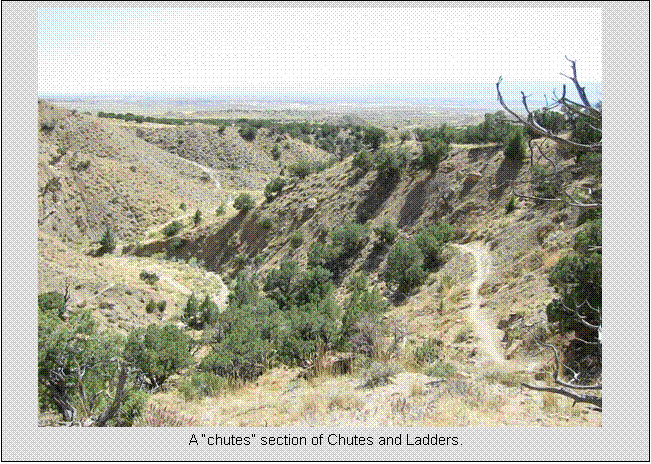 <![endif]>
<![if !vml]>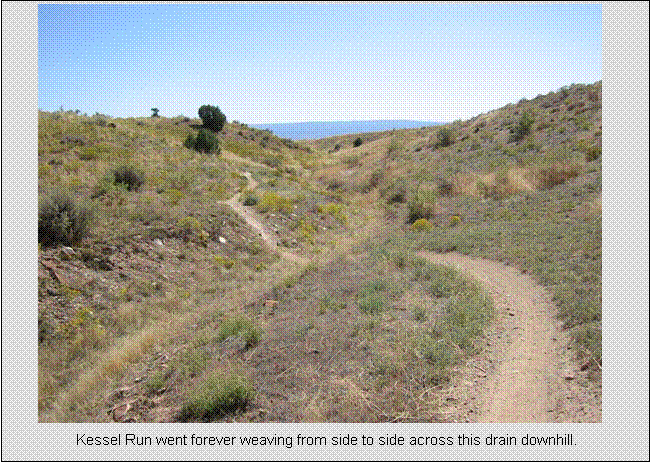 <![endif]>
Kokopelli Trail System, Fruita
<![if !vml]>

<![endif]>
Colorado River Basin, Kokopelli Trails Area West of Fruita
Sunday, Sept 18, All Singletrack, Numerous Loops
26.7 miles
3:10 hours
~4000 feet total climbing
This day I started out with a much better Dennyís breakfast: Pancakes, eggs, two kinds of sausage, and a bowl of oatmeal.† I checked out, and drove just west of Fruita to the Kokopelli trail system.† Many riders were pulling into the parking lot.† I ran into the same woman here that I talked to the day before at the Bookcliff trails.† Looked like another perfect day was in store.† I begin my ride on the Rustlerís loop, an easy rated trail that is also referred to the ďpractice trail.Ē† I thought to myself, if this is practice, what is intermediate, or double black diamond difficulty?† I had planned to ride trails with double-D sections.† This 3+ mile loop was nice, buffed, with some great initial views of the Colorado River.† At a view point, I swapped cameras with a group of guys to get a picture of myself.† The next day, I would run into the same group 200 miles away in Crested Butte at the Old Town Inn and have dinner with them.
I next ride the Horsethief Bench loop.† To get to the bench, a steep hike dropping about 100ft was required.† This was nearly hands and feet climbing in a couple spots, but to my amazement, I saw skid marks on the rocks.† Hard to belief there are people that can ride something like that.† This gets more challenging.† A few portages were required on rock ledges or bony sections with serious exposure (where a fall is not an option).† But still, really fast, hard surface stuff with bit of slickrock here and there.† The views get better too.
Popping back out on Maryís Loop, a very fast couple miles ensues.† This follows the contour, often with a shear couple hundred foot drop to the left.† It is this section of trail I often saw photographed on the web and in magazines.† I popped down onto Steveís Loop.† This was another nice sweet piece of singletrack that connects to the Handcuffís Loop, one I did not do.† Instead, I latched back on to Maryís.
After just a bit on Maryís, I picked up Lionís Loop.† This trail looked highly intimidating, but it wasnít too bad.† I dabbed a couple times, but found the trail highly scenic and enjoyable.† Itís cut into the side of a very steep grade that looks like a giant rocky/boulder slide.† The trail itself meanders around and finds fairly clean lines through the mess.† There were a few places a fall was not an option.† It goes on 2.5 miles like this.† Eventually, it turns to double track, and a big climb away from the Colorado begins.
From Lionís, I pick up Mack Ridge Trail.† This was claimed to have a challenging descent in it, so I assumed Iíd be doing some hike-a-biking.† The high point of the Kokopelli Trail system is quickly reached on Mach Ridge, reaching 5324ft, about 1600ft above starting parking lot.† You could see most of the other trails already ridden in one giant gaze below.† Really cool.† Mack Ridge becomes singletrack at the top and follows the edge of a precipitous drop very closely.† I found it quite daunting.† The descent heads down the Grand Valley side of the ridge, offering spectacular views of the Fruita area.† The narrow ribbon tightly descends the spine of the ridgeline, dodging many giant rocks and obstacles.† There was one spot that required a hands-and-feet portage for me, but I found the bulk of the descent doable.† This trail was by far my most favorite ridden in this area.† The views and flow of the descent were the greatest.
Overall, I found the Kokopelli area trails more fun to ride than the Bookcliffs trails.† Less elevation gradients, great views of the Colorado River basin, little to no sand, and greater speed can be carried.† However, I do enjoy monster off the beaten path, climb until you drop, think youíre not going to make it rides too, so the Edge Loop the day before was a nice compliment to the shorter, faster loops found here.
<![if !vml]>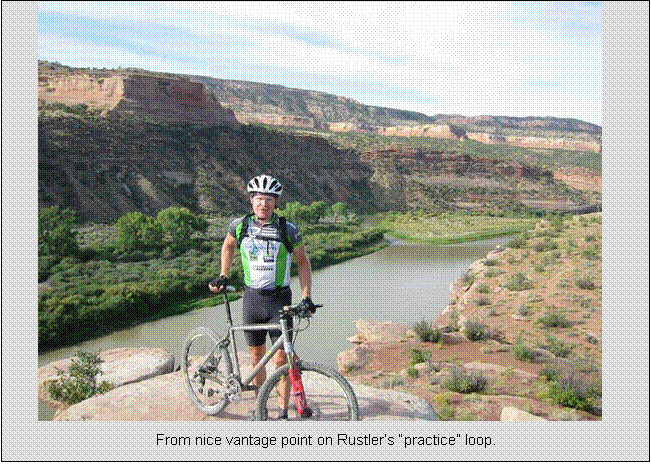 <![endif]>
<![if !vml]>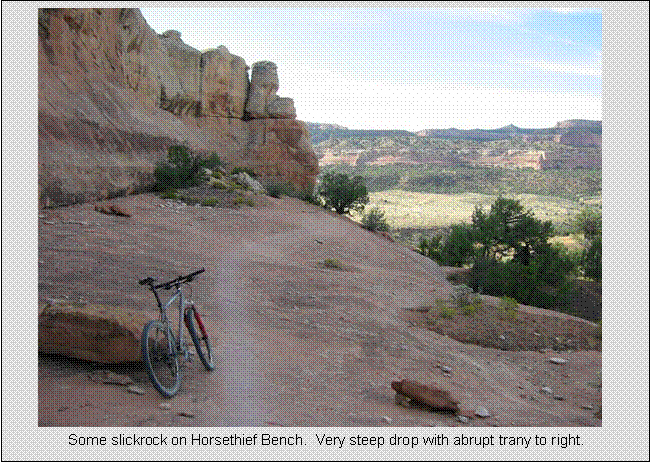 <![endif]>
<![if !vml]>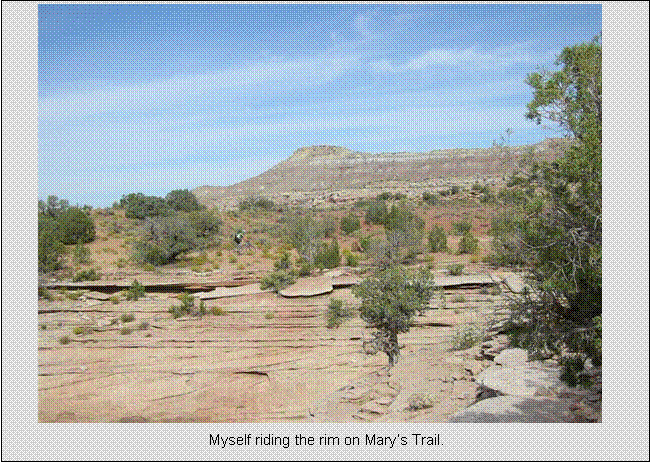 <![endif]>
<![if !vml]>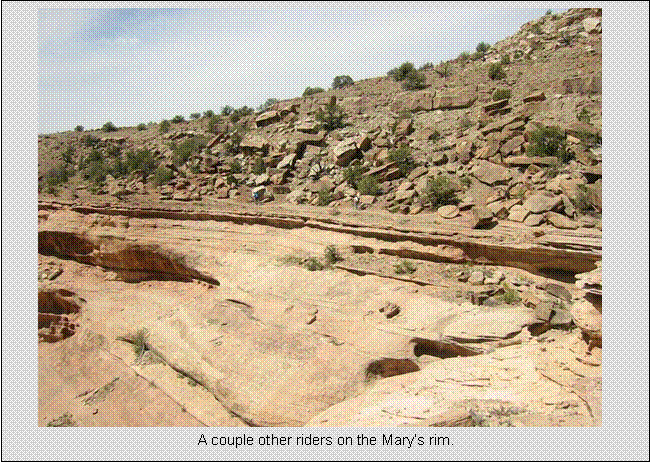 <![endif]>
<![if !vml]>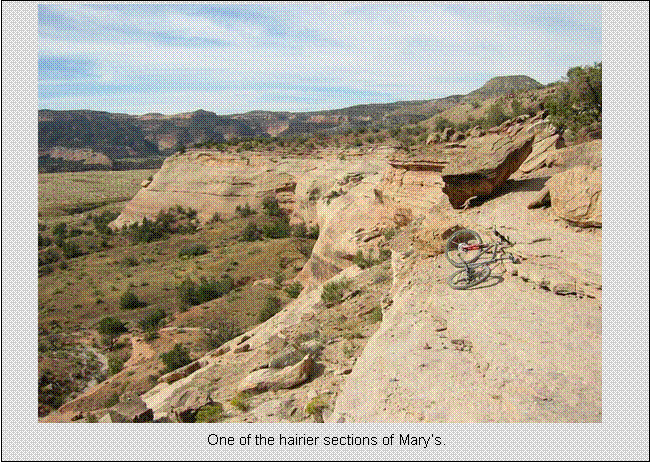 <![endif]>
<![if !vml]>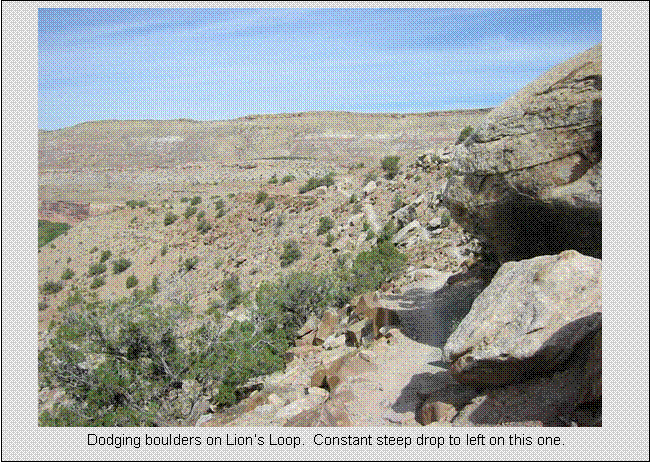 <![endif]>
<![if !vml]>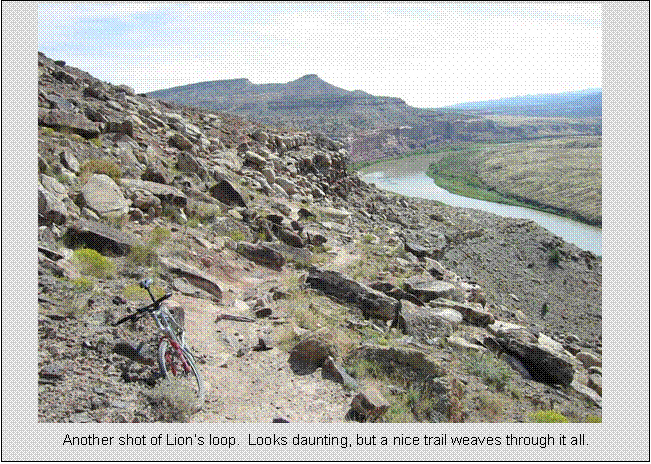 <![endif]>
<![if !vml]>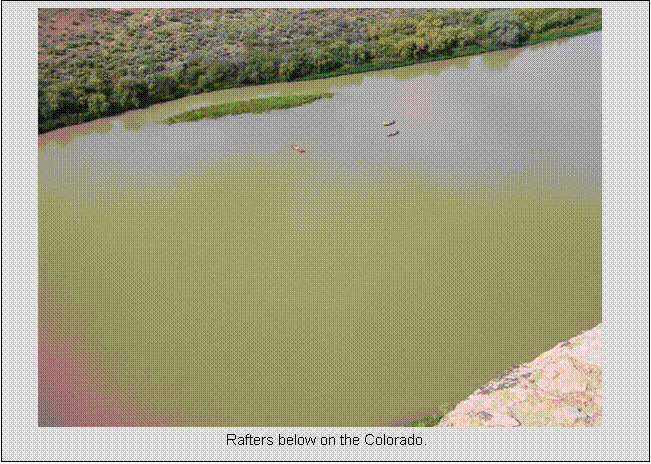 <![endif]>
<![if !vml]>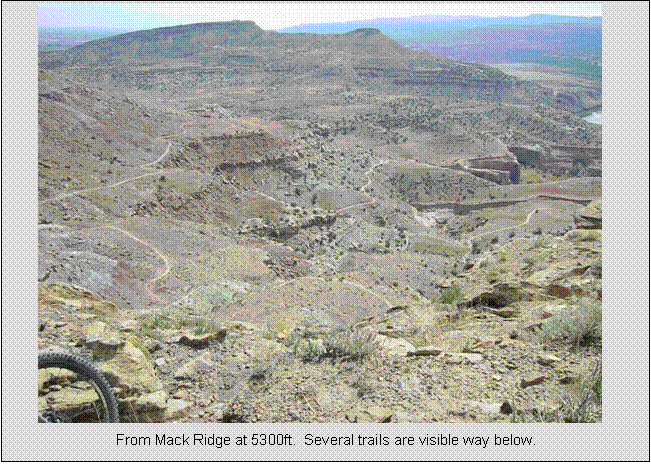 <![endif]>
<![if !vml]>
<![endif]>
<![if !vml]>
<![endif]>
<![if !vml]>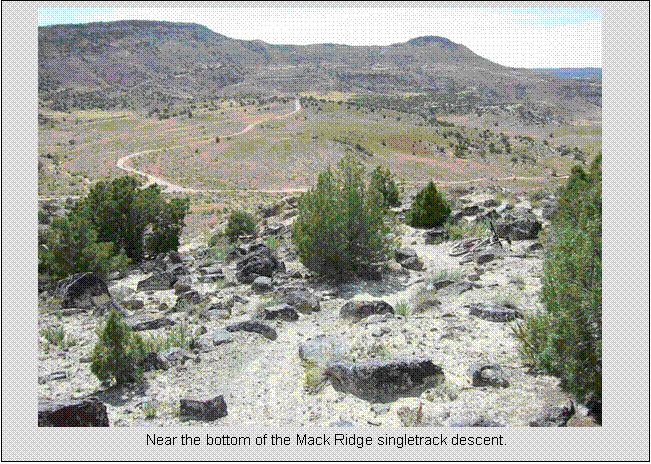 <![endif]>
Crested Butte
Sunday, Sept 18, Evening Bonus ride on Upper/Lower Lower Loop
10.1 miles
0:58 hours
~500 feet total climbing
I finished riding in the Fruita area a little early and decided to head over to Crested Butte (CB) while it was still light out to take in the views.† When I stopped in Delta to ask about a potential shortcut to CB, they said dirt Kebler Pass (10,007ft) was completely drivable with a car this time of year.† So I took it, knocking at least half an hour off my driving time.† Views heading up Kebler where fantastic.† Road was very twisty, a little dusty, and very busy with traffic.† I checked in to the Old Town Inn early enough to get a short ride in before dark.† I decided to hit the Upper and Lower Lower Loop (not a typo, as there is also an Upper/Lower Upper Loop on Mt Crested Butte).† This buffed singletrack starts right from the edge of town just a couple blocks over.† I went out on Upper Lower Loop, came down the short Boy Scout Trail, then back on Lower Lower Loop.† I immediately recognized this was going to be one of the most beautiful places I have trail ridden at.† Many locals were also out on this loop, usually running or riding with dogs.† I kept the intensity way down, as this brought the dayís riding to over 4 hours, and I was planning to ride 5 hours the next day.
<![if !vml]>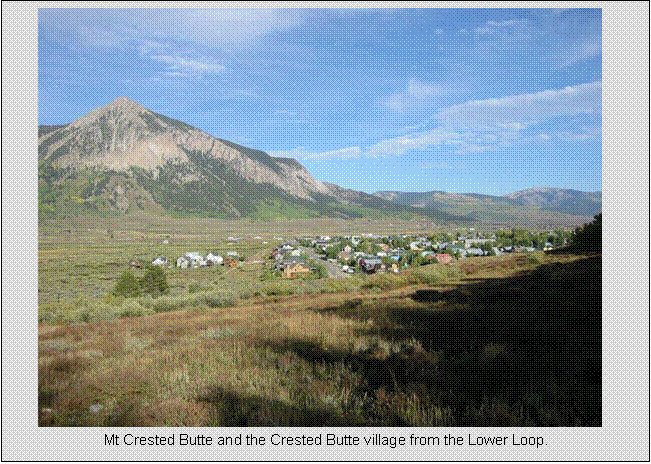 <![endif]>
<![if !vml]>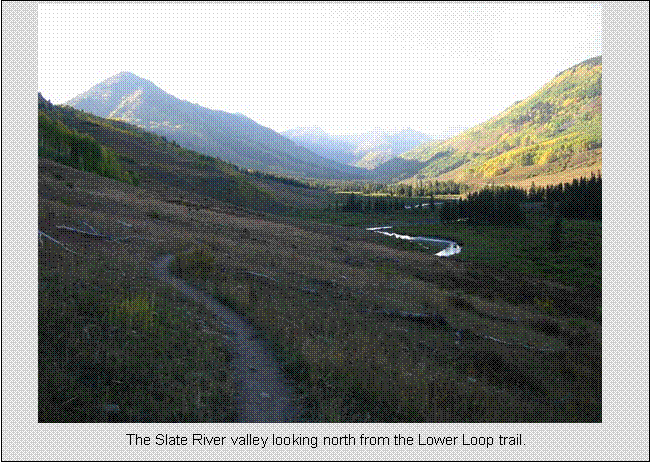 <![endif]>
Crested Butte
<![if !vml]>

<![endif]>
Trail 403, high point, looking east
Monday, Sept 19, Epic 403/401 Trail Loop
36.6 miles
4:12 hours
5240 feet total climbing
This was planned to be my ďcapstone rideĒ for the trip.† I always pick one ride that I plan to be the greatest in some way and plan the rest of the trip around it.† I anticipated this ride would take the greatest number of hours to complete, the most out of me, and offer the most spectacular scenery of the trip.† Advice from Mike and friends in Aspen said this was a must-do ride when visiting CB.† Iíve read a lot of hype about this loop, yet all of my expectations were exceeded.
I got up around 7am, ate as much as I could from the skimpy continental breakfast offered by the inn (3 servings of oatmeal, bagel, eng. muffin, banana, 3 small cups of coffee), and changed.† Temp dropped into the 20ís overnight, and there was ice on puddles.† I started with heavy long jersey and shorts.† Knees were a little cold, but temperature rose quickly in brilliant clear skies.† In fact, the min to max temperature difference for the day was about 50 degrees!† Forecast was for no rain or clouds in site.
I headed out before 9am, legs feeling quite sluggish.† Could see breath in air.† CB sits at nearly 9000 feet.† I could immediately feel the effects of thin air.† Itís a strange feeling.† You are huffing like you are going anaerobic, but thereís no associated lactic burn in the legs.† You just reach a point where you get too dizzy to continue a hard pace and back down to an altitude forced compromise pace.
The ride out Washington Gulch was scenic.†† A lot of traffic at first.† There is much construction going on all over the place, mostly around the village of Mt Crested Butte (not same as Crested Butte).† Mt Crested Butte is the ski village at the base of the mountain.† Many conspicuous mansion-sized vacation homes popping up all over polluting the landscape.† More condo buildings going up.† More subdivisions going in.† Too bad.† Many of the cars there were from out of town.† You could tell either by out of state plates, nice big clean and shiny SUVís, or by the E-Zpass transponders in the windshield.† All but one road leaving CB are dirt, so cars donít stay clean more than a day there.
As the town site of Elkton is reached with 12% climbing grade, Trail 403 is picked up.† This climbs further, often steeply, to above 11,000 feet.† The views from up top were spectacular, big peaks in all directions.† Trail 403 passes between Mount Baldy and Gothic Mountain, each 12,000-13,000 feet tall.† Trail 403 then begins the nearly 2000ft descent into the next gulch over, picking up Gothic Road.† This was one of the steepest singletrack descents I have ridden.† The upper several switchbacks were so steep, loose, and rutted that I walked them.† Most of the remaining descent was quite ridable, but extreme braking was required nearly the whole way with butt hanging just over rear tire.† This doesnít just run down the fall line, itís all switch backs with very steep gradients between switchbacks.† Really hated to lose all that vertical (gained potential energy) by wasting it in heating brake pads.† I doubt rim brakes would survive a descent like this.† Saw a couple hikers heading up on my descent.
Once on Gothic Rd, the route continues further north to pick up the north end of Trail 401.† Steep sustained gradients of at least 9% had to be climbed to get to Schofield Pass on narrow jeep road.† Once reaching Schofield Pass (elevation 10,707ft), Trail 401 is picked up with hundreds more feet of climbing on buffed singletrack.† Once up top where it opens up, a whole new set of expansive views appear.† Saw two more hikers here and got one of the women to take my picture.† The views were surreal and untainted.† The best part of the ride, and perhaps the whole trip, was about to begin: the descent down Trail 401.† This trail is bench cut into the side of the mountain range, high above the valley floor, with wide open views of the valley and mountains all around.† It descends gradually towards Crested Butte for mile upon mile with very little braking needed.† In the springtime, it is claimed to be handlebar deep wild flowers here.† I had bits of brilliant aspen yellow for color.
Eventually, Trail 401 dumps out on Rustlerís Gulch jeep road.† A couple switchbacks down, Trail 401 singletrack resumes to the left with another hefty climb.† This section of 401 doesnít offer as many extraordinary views, but at times it transitioned from dark conifer forest to brilliant golden aspen canopy.† Lots of cattle about too, and one time I had to holler at Bessie to get out of my way.† Eventually, the final singletrack descent begins, switchback after switchback, all nicely buffed stuff.† Took a long time of carving switchbacks to get down to Gothic Rd.† Dirt Gothic Rd is taken several miles back to CB.† Where 401 dumped out on Gothic, the trail head parking lot was nearly full.† Many people start here, ride up Gothic Rd, and just do the 401 loop.† I did meet up with a local rider heading back to town after doing the nearby Deer Creek Loop.† He commented I was moving along pretty good, but I complained about the altitude.† He said in 10 years it hasnít gotten any easier to ride at 10,000ft, you just get used to it.
This ride easily ranks as my best all-time trail ride.† Sure, some of the scenery in Hawaii was incredible, but there just arenít many opportunities to legally go off road there.† You see it by hiking, car, or road cycling.† It is claimed Crested Butte has over 500 miles of ridable singletrack.† I believe it.† I rode 77 miles of trail this trip and barely touched whatís there.† When I visit CB again soon, Iíll hit Deer Creek, Dyke, and Strand Hill areas.† But I will ride the 403/401 loop again too.
<![if !vml]>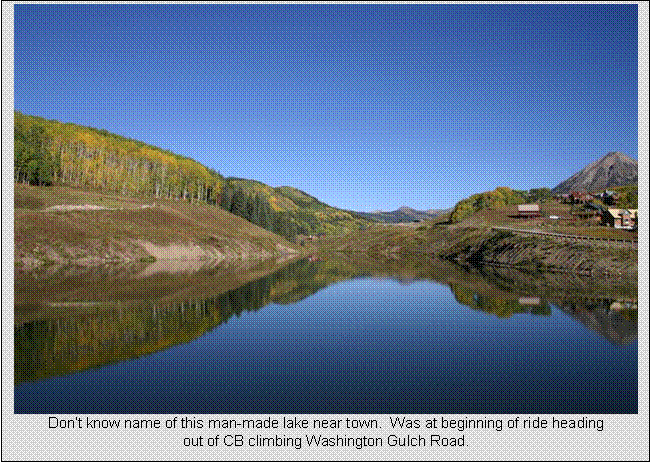 <![endif]>
<![if !vml]>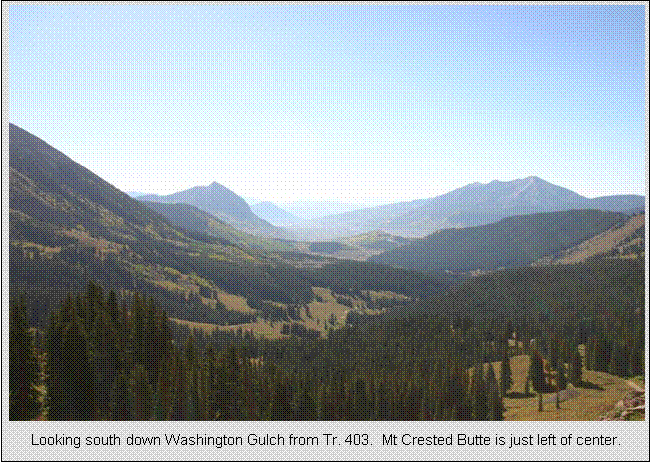 <![endif]>
<![if !vml]>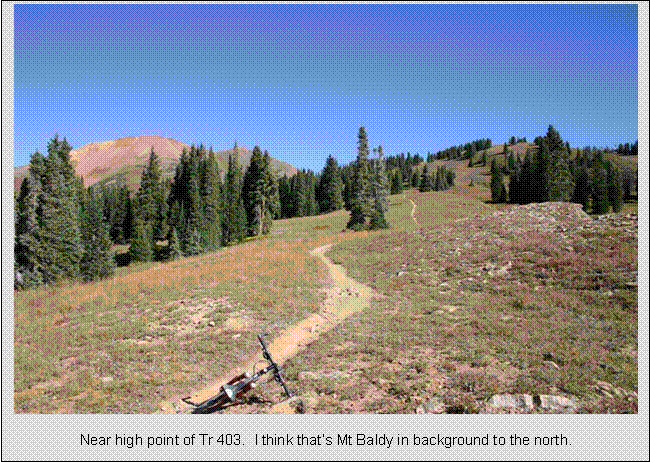 <![endif]>
<![if !vml]>
<![endif]>
<![if !vml]>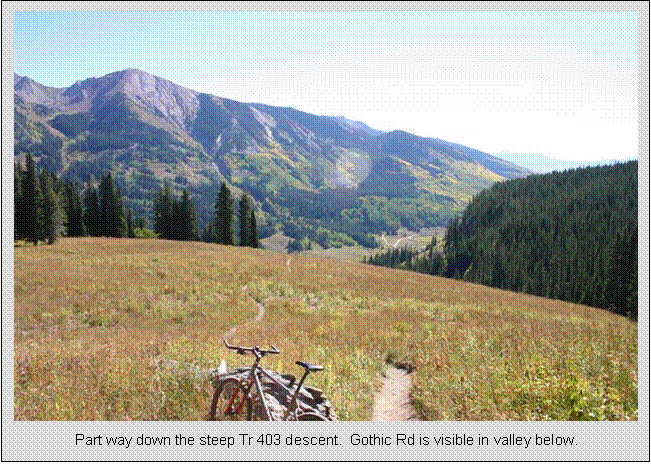 <![endif]>
<![if !vml]>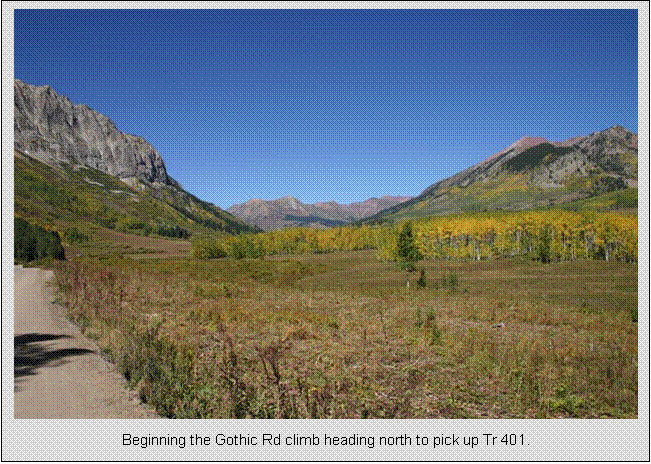 <![endif]>
<![if !vml]>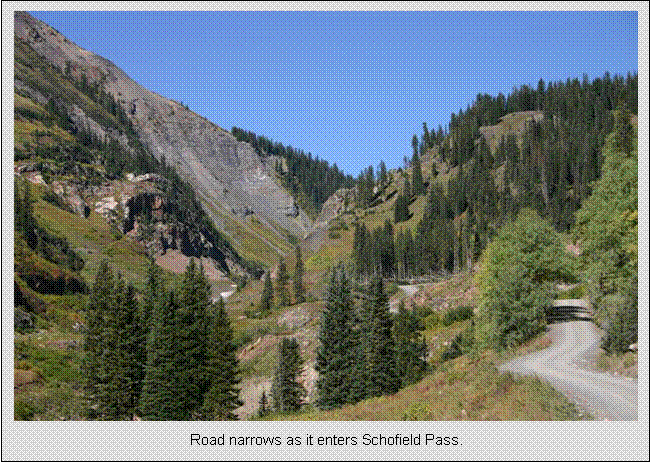 <![endif]>
<![if !vml]>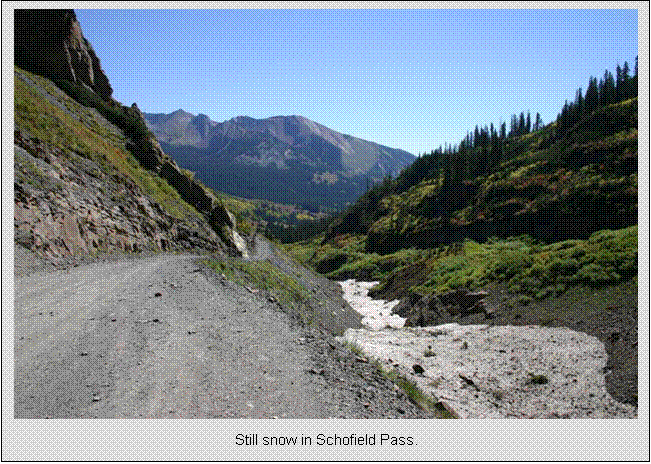 <![endif]>
<![if !vml]>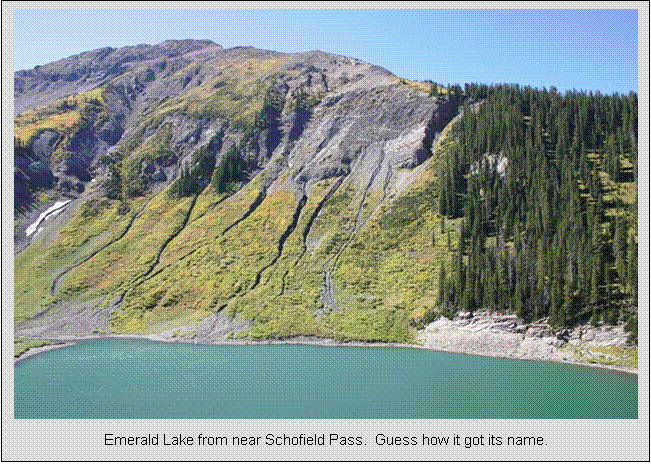 <![endif]>
<![if !vml]>
<![endif]>
<![if !vml]>
<![endif]>
<![if !vml]>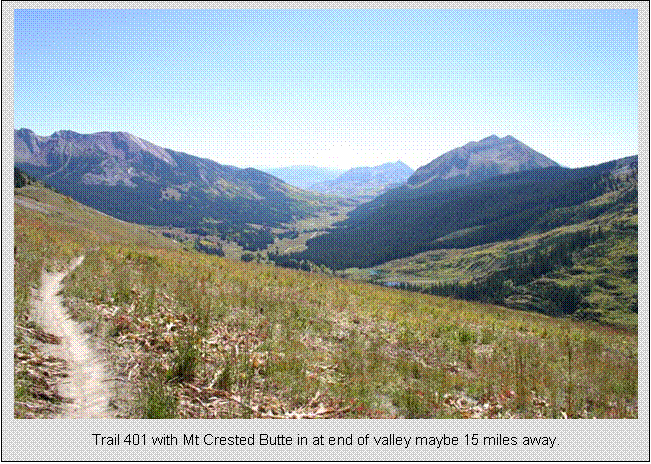 <![endif]>
<![if !vml]>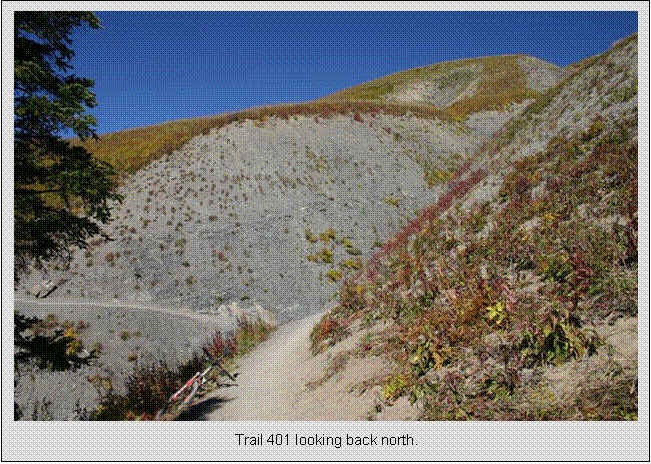 <![endif]>
<![if !vml]>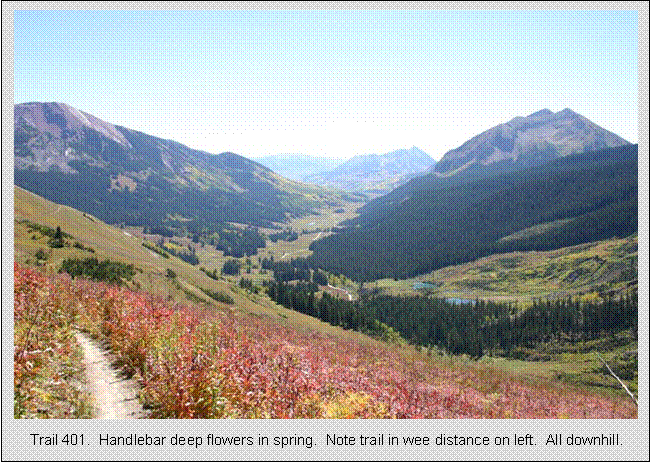 <![endif]>
<![if !vml]>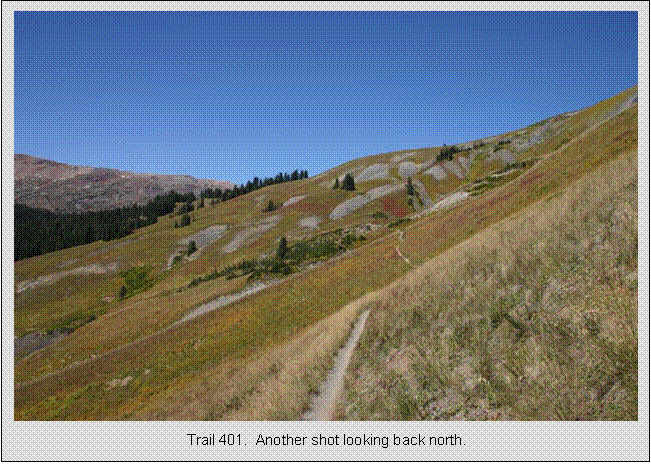 <![endif]>
<![if !vml]>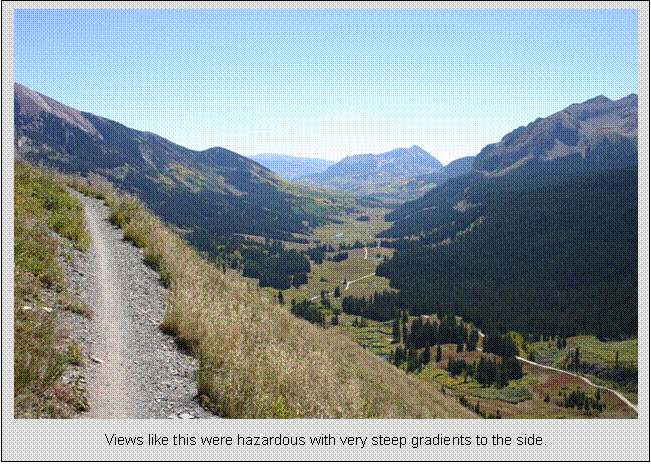 <![endif]>
<![if !vml]>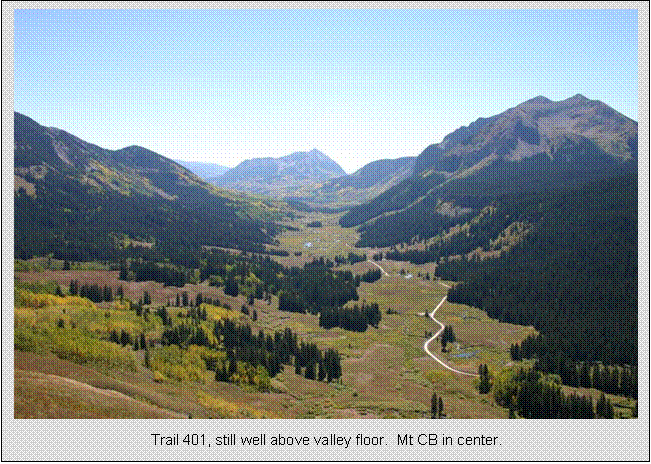 <![endif]>
<![if !vml]>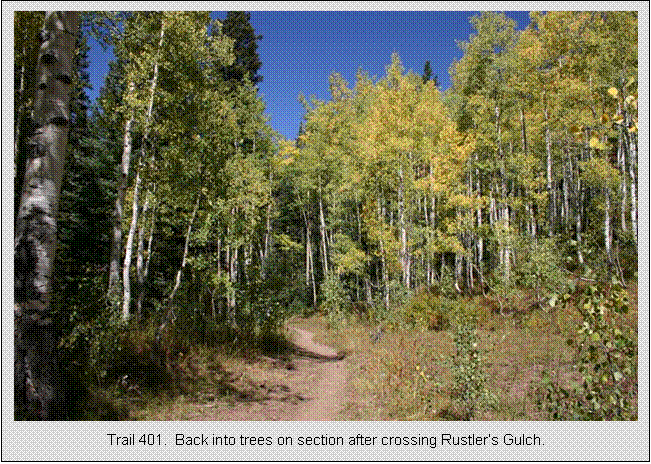 <![endif]>
<![if !vml]>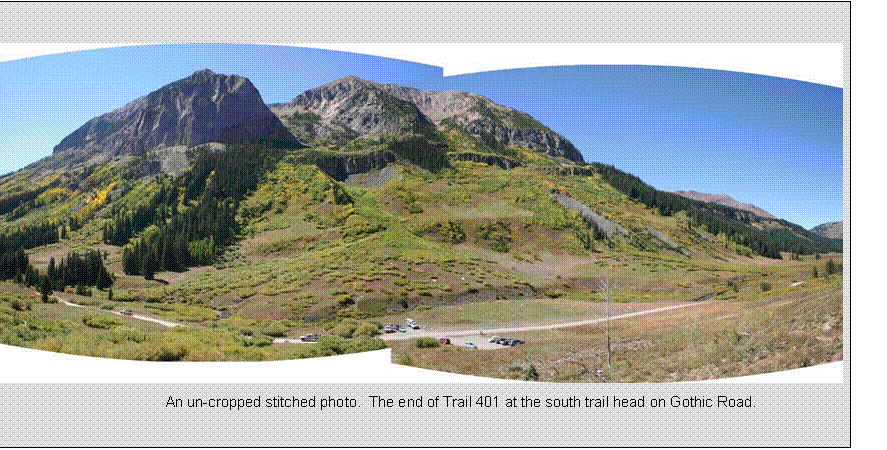 <![endif]>
Crested Butte
Monday, Sept 19, Late afternoon ďbonusĒ ride on Upper Loop/Tonyís
10.1 miles
1:05 hours
880 feet total climbing
After taking a break from the epic ride and wolfing down a huge chicken burrito from Teocalli Tamaleís, I jumped back on the bike for a close in ride on singletrack at the base of Mt Crested Butte.† From town, the paved rec path is taken to the village of Mt Crested Butte.† This gets you well away from the traffic on Rt 135.† A right on Hunter Hill Rd takes you to the Upper Loop trailhead.† But I chose to keep climbing the paved switchbacks past all big houses under construction to see what kind of view was available.† The view was good at about 700ft net gain from Crested Butte.† After snapping a couple quick pics with the S110, I bombed down to the singletrack.† Nice stuff, a bit choppy to start, then buffed as it wraps around below the dominating rocky bluffs of Mt Crested Butte.† I chose not to continue on the challenging Upper Upper Loop, instead taking the first option back down to town, Tonyís Trail.† This was fun to rip, the whole time staring down at Crested Butte.† Kind of went fat on a couple switchbacks.† A bit muddy at the bottom in the marsh area.† A great little ride to end an epic day of riding.
After washing up and getting ready to head out for supper, I ran into the same three guys I swapped cameras with in Fruita the day before.† Bob, Ted, and Jack (I think) were checking in to the Old Town Inn and were planning on doing the 401 loop the next day.† We headed out to the Secret Stash pizza house together.† Bob plans to do the Leadville 100, so we had a lot of racing and training stories to exchange.† All three are retired LA firefighters with a passion for epic mountain bike rides.
<![if !vml]>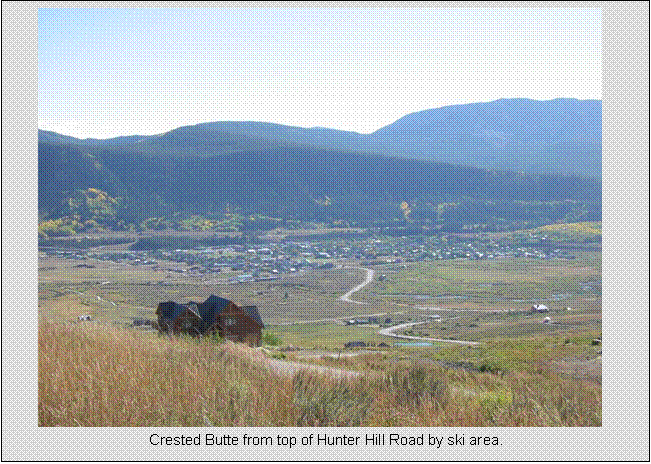 <![endif]>
<![if !vml]>
<![endif]>
<![if !vml]>
<![endif]>
<![if !vml]>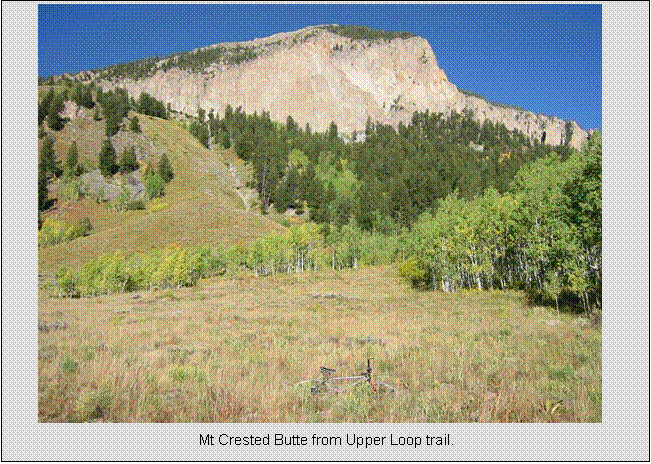 <![endif]>
Crested Butte
Tuesday, Sept 20, Epic Ride #2, Reno/Flag/Bear/Deadman loop
20.4 miles
2:48 hours
3500 feet total climbing
Another big ride day planned.† Ate a similar breakfast as day before, packed, and checked out.† Iíd be leaving straight from this ride back to Denver area.† Another overnight low in the 20ís left it a very chilly morning, but minimal chance for rain again.† I chose to drive to this trailhead.† Starting from town adds nearly 30 roundtrip miles of pavement and gravel road.† Legs were so toasted I didnít know if I could even do the 20 mile singletrack loop.† I assumed it was just one big climb on jeep trail then singletrack back down to car.† Boy was I wrong.† The jeep road climb was just the first of three huge climbs.
The ride begins on Cement Creek Rd for a couple miles before veering off on Reno Divide, a relatively smooth, steep, hard packed jeep road.† This climbs to 11,253 feet when climbing just a bit extra to an open peak.† Nearly 2000 feet are gained from the car on Cement Creek where the Deadman Gulch Trail drops out.
From the top of Reno Divide, Flag Creek Trail is taken for a wonderful descent.† Very little brakes needed, fast, but a bit sandy in spots.† It follows the Flag Creek gulch for a long time.† This whole area is open to dirt bikes, but I saw none while I rode.† The only people I saw for the three hour ride were a couple guys on quads that came up and over Reno Divide.† I had the feeling of being ďway out thereĒ on this ride, as there was no road at the bottom to take you back if you got into trouble.
At the bottom of Flag Creek Trail, the Bear Creek Trail is taken.† This begins the next big climb, gaining over 800 feet in a few miles.† There were some wicked steep patches in this trail, forcing me off my bike with worn-out legs at one point.† At the top, Bear Creek Trail begins the most fun descent of the ride.† Starts out in an open gulch, then dives into the trees taking tight lines benchcut along the stream with many steepish drops.†† It was on the initial Bear Creek descent that I had my only crash of the trip.† I was too busy gawking at the scenery and hit the outside lip of the trail.† The trail was well worn into the grade, leaving it sunken a bit.† I was going too fast to recover, so I ejected, but too fast to run also.† I took a bit of slide in the brush, getting some brush rash on my leg.† No biggie, at least the Canon Digital Rebel was alright.† Bear Creek Trail goes on a long time, and the whole time I kept thinking this ainít good, Iím going to have to climb all the way back up out of here since I was descending on the back side of ridgeline from car.† The Bear Creek Trail eventually pops back out into the open, and soon the junction with Deadmanís Gulch Trail is reach.
A pattern is beginning to emerge on this ride.† Monster climb up to ridgeline is followed by long, flowing descent down gulch.† I had just completed second big descent, so now third big climb was due.† The climb up Deadmanís Gulch was perhaps the most scenic and felt the most remote.† The stream in the bottom was dammed up every hundred meters or so by beavers, so it was a string of small ponds as far down you could see.† Intermittent patches of aspen or evergreens added color.† Mostly just open with great views up and down the gulch.† After another climb that seemed to take too long, the top of Deadmanís is reached, almost as high as the initial climb up Reno and on the same ridgeline.† Now itís a final descent down Deadmanís to the car.† I knew there were switchbacks here, but not how many.† It was something like 20 minutes of switchback riding, all ridable, and wicked fast.† Not super smooth, as dirt bikes also use this trail.† But fun nonetheless.† I didnít count, but Iíve heard there are 29 hairpin switchbacks.† Seemed like 40.† It must have taken considerable effort to build this trail.† The trail was well built to hold up against erosion too.† There were one or two water bars between each switchback, easily throwing you into the air if you wished.† Many areas of the Deadmanís descent were covered by a brilliant golden canopy of aspen.† Finally Cement Creek is reached, the car on just the other side.
<![if !vml]>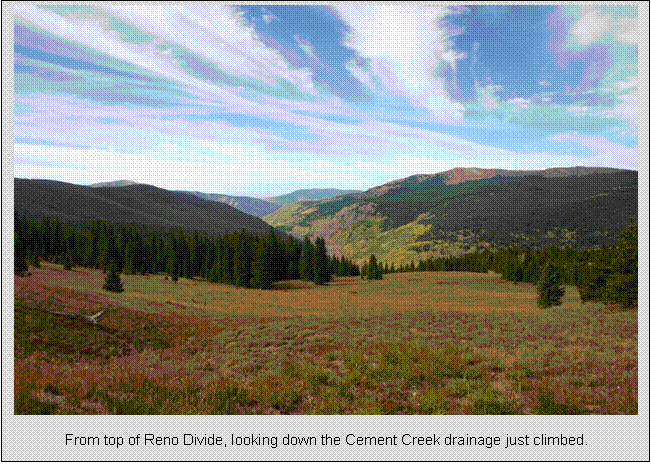 <![endif]>
<![if !vml]>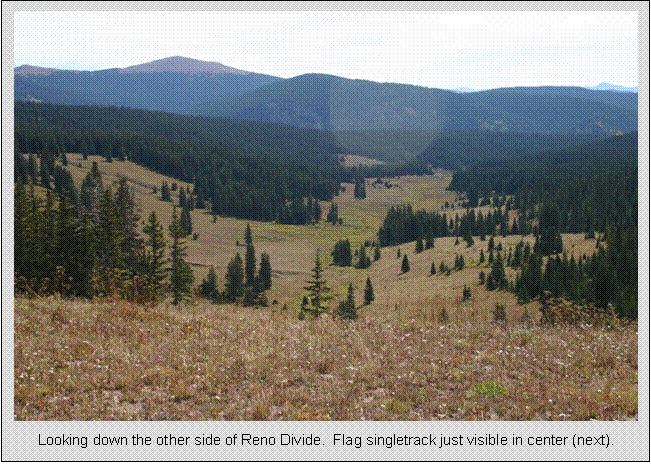 <![endif]>
<![if !vml]>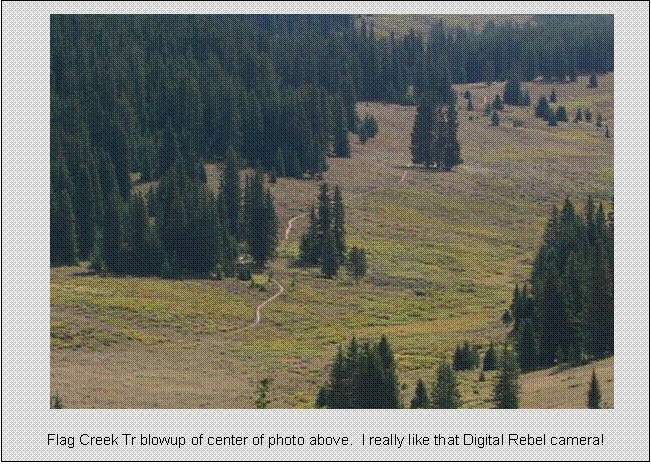 <![endif]>
<![if !vml]>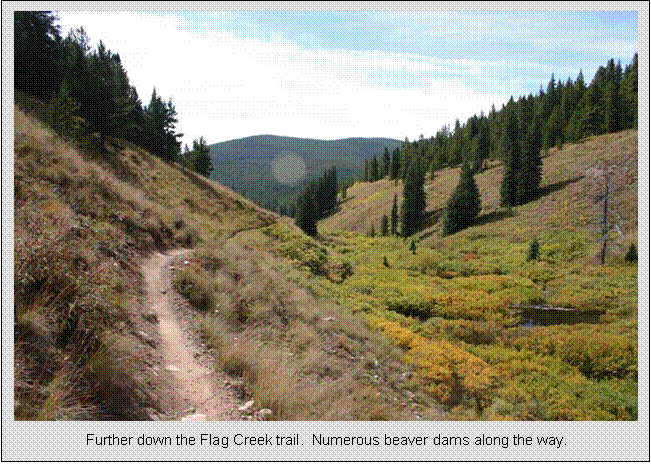 <![endif]>
<![if !vml]>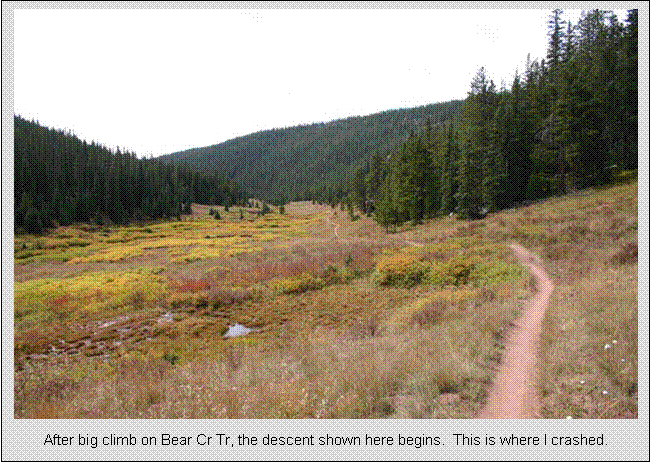 <![endif]>
<![if !vml]>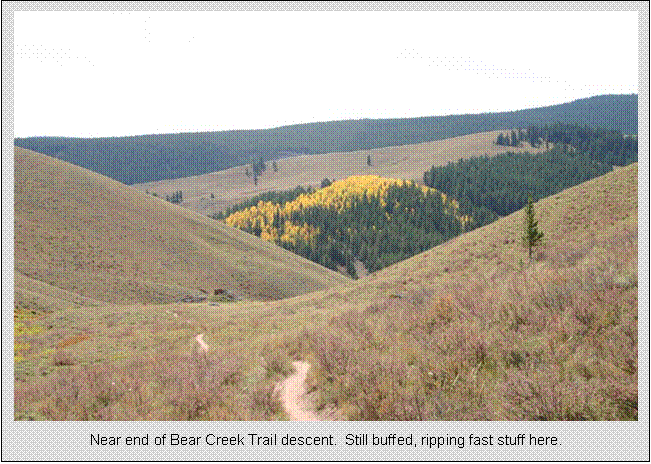 <![endif]>
<![if !vml]>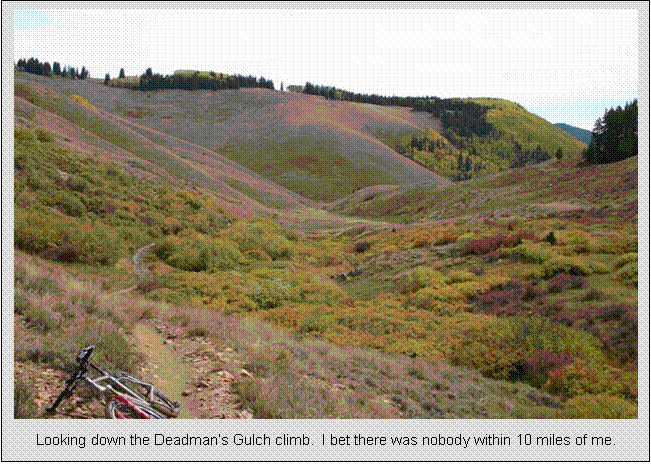 <![endif]>
<![if !vml]>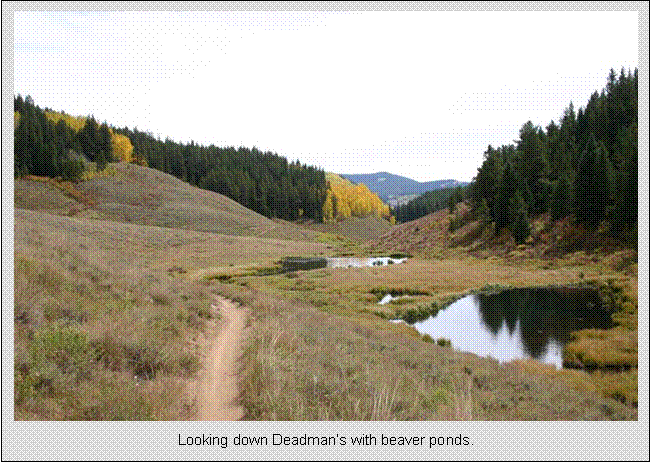 <![endif]>
<![if !vml]>
<![endif]>
<![if !vml]>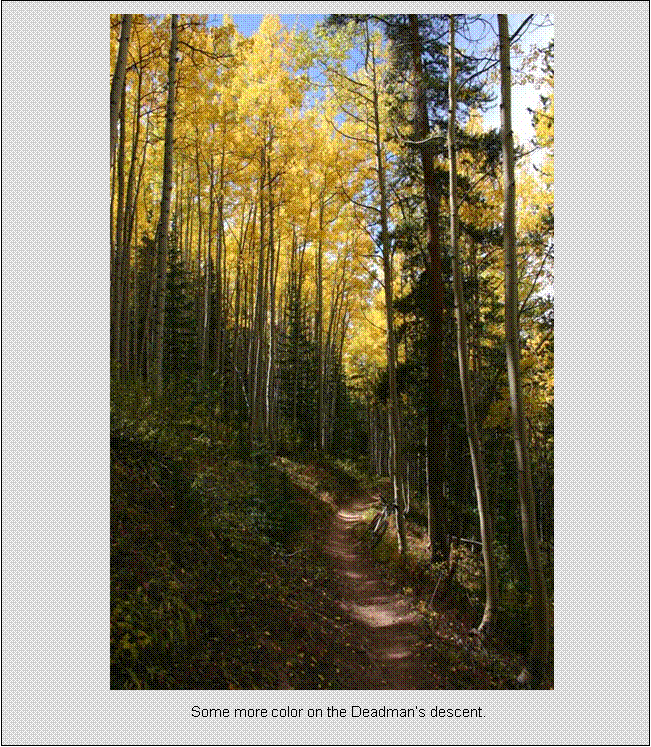 <![endif]>
<![if !vml]>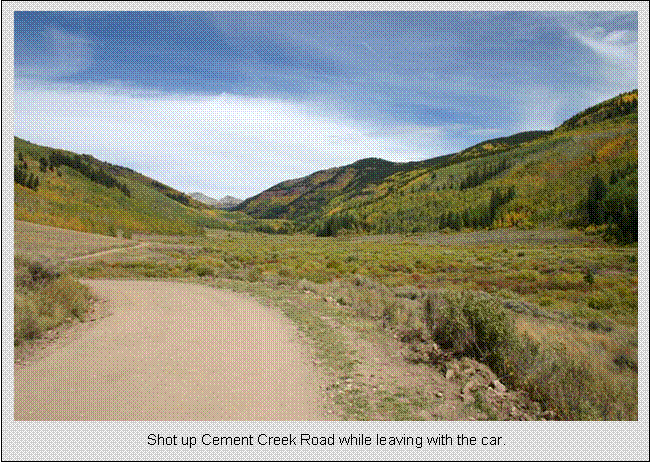 <![endif]>
Crested Butte to Golden Drive
When I checked out of the Old Town Inn, I inquired about quickest way to Denver area.† One of the gals said I should take Cottonwood Pass, saving a lot of time.† Cottonwood Pass goes over 12,000 feet, and itís a long dirt climb.† Back side is paved.† So I gave it a try.† My Ford Taurus was starting to struggle above 11,000 feet.† It had very little reserve power, and I could smell antifreeze which worried me.† This was out in the middle of nowhere.† I made it to the top without overheating.† This was the highest elevation I have ever driven a car even though Iíve biked to around 14,000 feet twice now.† The views from both sides of the pass were spectacular.† The continental divide also follows this ridgeline.† After hanging out for several minutes up top, I began the descent to Buena Vista.† On the way down, several cars were stopped with people gawking over the edge.† There was a pair of moose foraging in the lake below.† People get just as whacked out sighting moose in Colorado as they do in New Hampshire.† I snapped a couple pictures and continued.† The route took me through Leadville, a city that sits about 2 miles above sea level and hosts the famous Leadville 100 mile mountain bike race each year.† I may try it next year.† Too many people I know and have met say I have to try it.† Mountains look intimidating around Leadville.† Many biggies there.† Soon Iím on I-70 and well on my way to my last nightís stay.
<![if !vml]>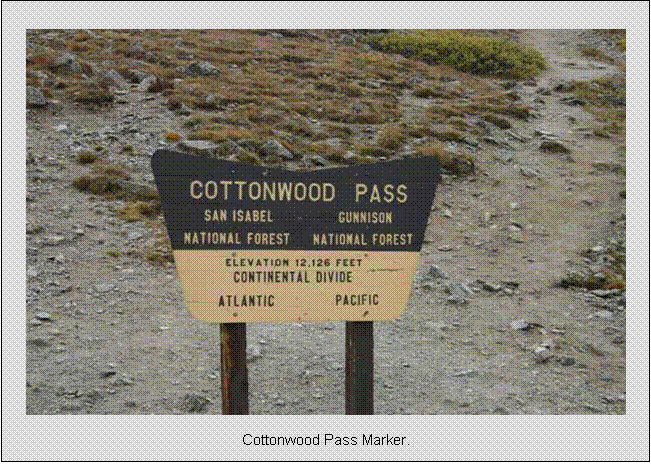 <![endif]>
<![if !vml]>

<![endif]>
<![if !vml]>
<![endif]>
<![if !vml]>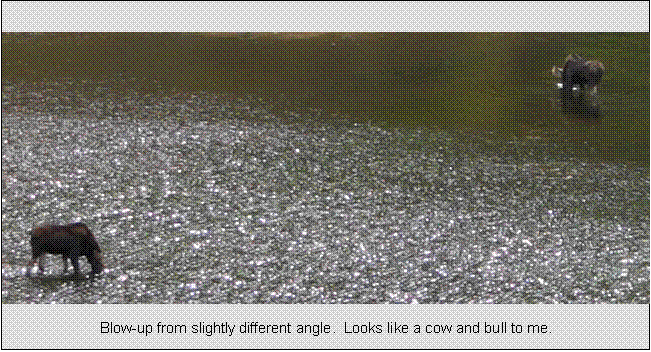 <![endif]>
Evergreen
Wednesday, Sept 21, short ride at Elk Meadow Park
10.6 miles
1:41 hours
2140 feet total climbing
This was another ďbonusĒ ride.† If the weather held up, me legs held up, I got out early enough, etc, I could squeeze a quick ride in before checking out of the hotel and heading to the airport.† I ate one of my better breakfasts, including two large waffles and a large bowl of raisin bran at 7am.† I was at the trailhead 5 miles away by 7:30.† Elk Meadow Park is somewhat of a metro park even though it is 25 miles or so out from Denver.† But it adjoins undeveloped wilderness and is part of the Mt Evans Elk Management Area.† I didnít expect to see elk here, but I did.
The park is small and has a nice 10 mile loop that crests the summit of Bergen Peak at 9700 feet, gaining over 2000 feet from the parking lot.† There are a few other connector trails at the lower elevations.† The climb starts out modest on Sleepy ďSĒ and Meadow View Trails.† On Sleepy ďSĒ, I spotted an elk, then another, then several.† I shot a couple pics with my S110, then moved closer.† They saw me but didnít run.† I was able to get very close, scary close in fact.† I gathered they are somewhat protected right here and not scared of people.†† Iím sure they are hunted in the management area though.
Once on Bergen Peak Trail, the climbing gets serious.† This was a very rocky and ledgy place to ride.† For those who have climbed paved Mt Ascutney in Vermont, think what climbing a trail next to the road would be like, and youíd have Bergen Peak.† Many switch backs were too tight for me to make on the climb.† There was also a section or two so steep that my tired legs at altitude refused to push hard enough to clean them.† The climb was worth it though.† Even though rain was in the forecast for today, I still had mostly clear skies in the morning.† From the summit of Bergen Peak, I could see Pikes Peak to the southeast, Mt Evans and the continental divide to the west, and Denver to the northeast.† A birdís eye view of the town of Evergreen was also for the taking.† Even though it took much longer to reach the summit than planned, I still had margin to get back down in time.† I descended on the Too Long Trail, very similar to the Bergen Peak Trail.† Several dabbed switchbacks and a portage or two on ledgy sections.† Once back down on Meadow View Trail, a gentle ripping descent loops back to parking lot linking up with the Founders Trail.† Never encountered other trail users on the upper loop.† Several were jogging the lower trails.
Upon getting back to the car, I quickly broke down the bike for shipment back via FedEx to my house.† Had plenty of time to get back to hotel, grab a bit more breakfast, shower, and check out before 11am.
<![if !vml]>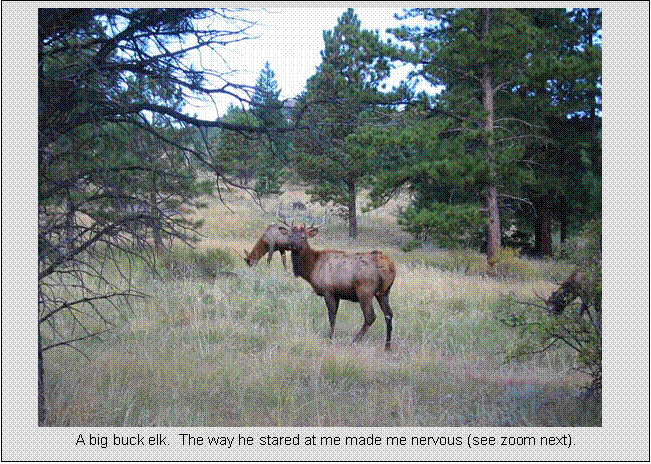 <![endif]>
<![if !vml]>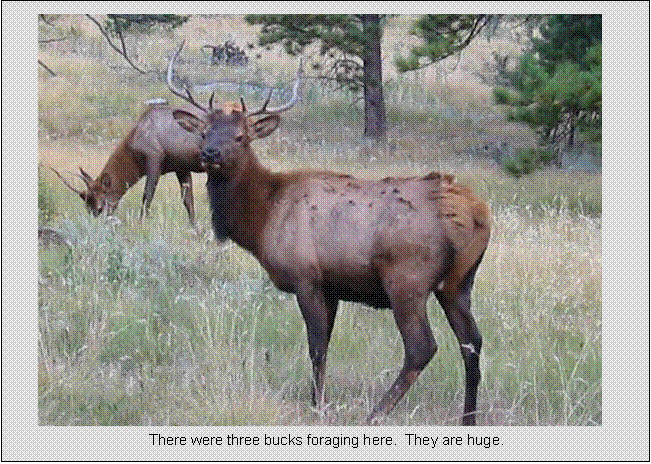 <![endif]>
<![if !vml]>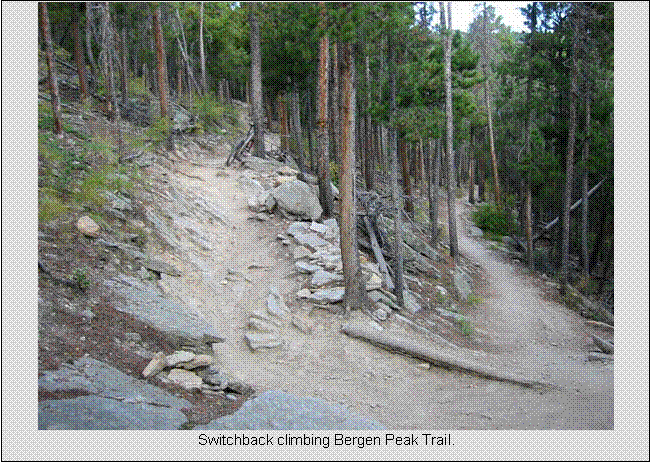 <![endif]>
<![if !vml]>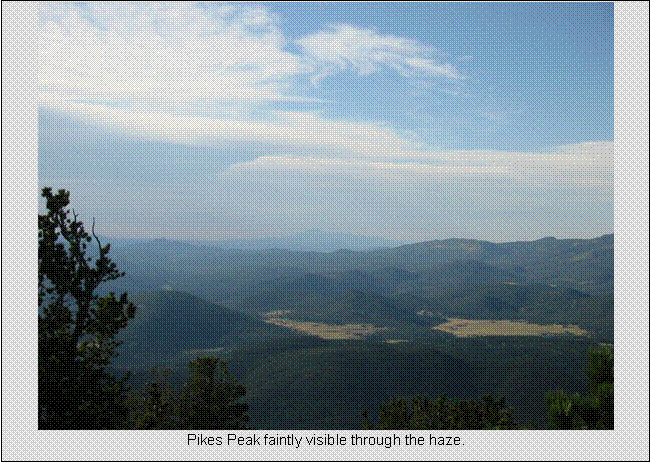 <![endif]>
<![if !vml]>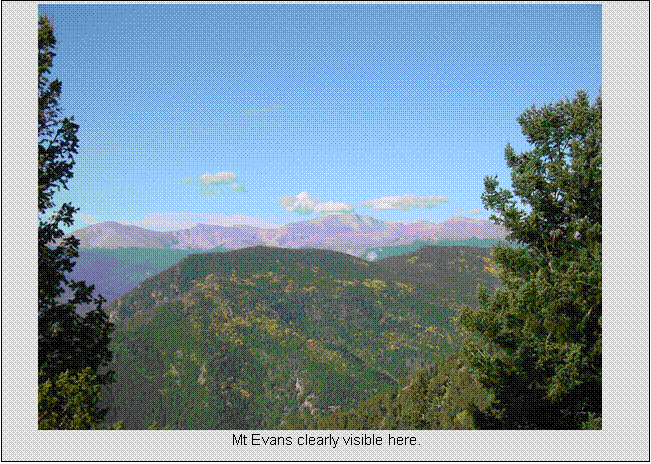 <![endif]>
<![if !vml]>
<![endif]>
<![if !vml]>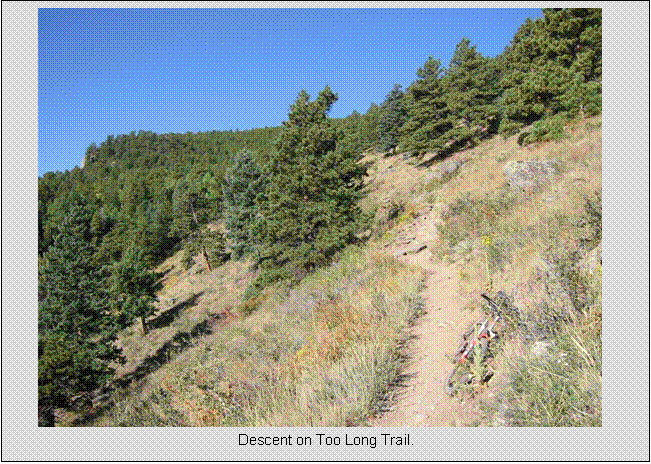 <![endif]>
<![if !vml]>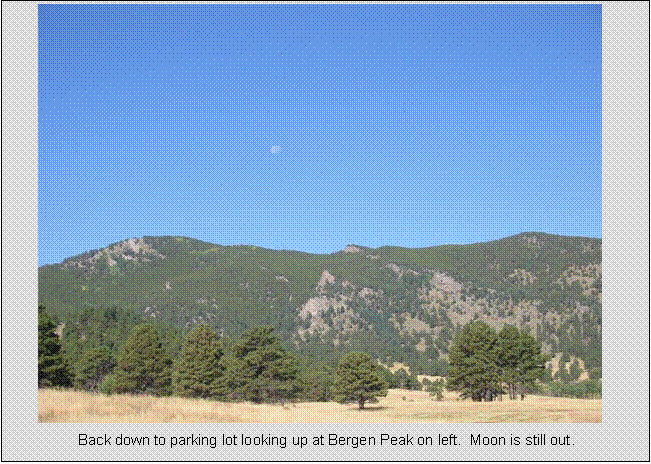 <![endif]>
Trip Summary
This has been my most enjoyable cycling trip to date.† The key word here is ďcycling.Ē† This wasnít a few days added to a business trip or vacation with family.† Cathy was away a few days with her mom, so that left me on my own for a few days of guilt free cycling utopia.† I could not have wished for better weather.† I experienced zero rain the duration of my stay, and most days were brilliantly sunny.† The first rain drops I saw were boarding the plane to go home when a giant dust storm kicked up at the Denver International Airport.† Riding in Fruita easily ranks in the top ten places Iíve ridden, which includes Hawaii, Oregon, Arizona, SoCal, and Scotland.† But Crested Butte tops them all.† I plan to go back, possibly when flowers are in bloom, and with Cathy.† In addition to visiting Crested Butte again, I would like to swing through Telluride and Durango as well.
<![if !vml]>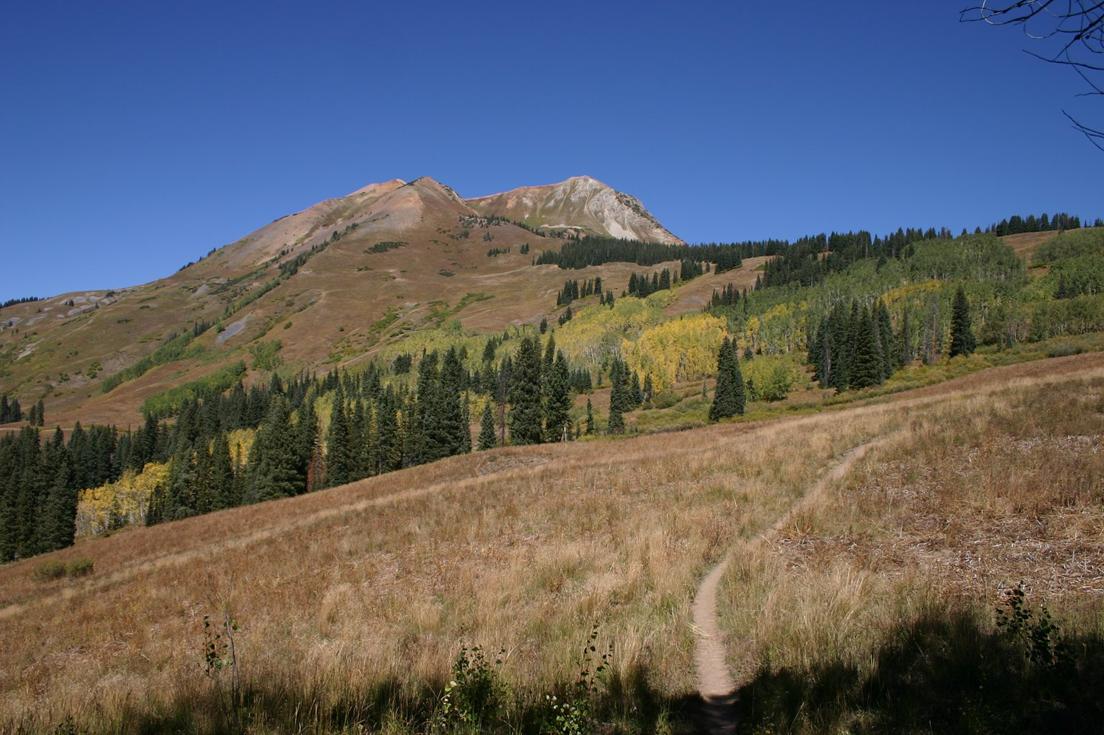 <![endif]>
All photos by Doug Jansen unless indicated otherwise.† Permission to use any photos by author is granted.
Trip summary was compiled on September 26, 2005.
Last edited 11/26/05