Day One:  Travel to Denver, 7-SEP-06
Manchester, NH, to Denver, CO
Arriving at the airport was an omen for more bad things to come.  Dave somehow lost his wallet, and thus his ID.  While Northwest airlines will allow passengers to travel without ID, they must go through a full pat-down search.  But Dave needed the wallet for more than just ID.  With frantic cell phone calls, it looked like we were boarding without Dave getting his wallet.  The pat-down was rather humorous.  I sat on the side-lines while Dave was searched.  A nearby police officer noticed how entertaining I found Dave's bodily search.  He jokingly said that since I find it so funny, I'll be next while Dave watches.  Anyway, Dave's wallet was found and he was able to leave the secure area, go through pat-down again (since his boarding pass was specially marked), and just made the gate as general boarding was announced.  We got to Denver on time, but retrieving luggage, shuttling to rental car, and driving to hotel got us in bed after 1am Denver time (3am Eastern Time).  We needed to be up by 6:30am to pick our bikes up by 7:30am to get an early start up Mt Evans to beat forecasted rain and thunderstorms.  Wheat Ridge Cyclery, where we pre-shipped bikes via FedEx, was willing to let us pick bikes up 3 hours before they opened at 10am.  I was quite psyched about this early start.
Day Two: Mt Evans Hillclimb, 8-SEP-06
From Idaho Springs
26.3 miles
2:08 riding time (approx. 2.5 hrs total time)
3130 feet climbing
7550-10,680 feet elevation range
It was not raining in Denver area at 7:30am when we picked bikes up, but just as we approached base of Mt Evans around 8am, it started to rain.  Was chilly too, maybe around 50F.  We checked in at the ranger station to learn of summit conditions.  The upper 5 miles of road were gated, but open to hikers and bikers at own risk.  The ranger said it was snowing up top.  I kitted up in full winter riding gear for the climb: Craft tights, thermal jersey, Goretex shell, windproof balaclava, and AmFib lobster mitts.  I made last minute decision not to bring rear fender.  Big mistake.  Dave brought his.  I also did not bring booties.
We started our planned three hour wet slog up the mountain.  Grade starts very gradual, picking up to 5-6% after several miles.  As we reached Echo Lake about half way up, the rain started changing over to snow, and the air temp was near freezing.  Our feet were already numb, and this was working hard while climbing.  We became deeply concerned about the descent, especially if we continued to climb where it was going to get much colder.  We reached the lodge at Echo Lake, asked for some plastic merchandise bags to use as liners inside our shoes, then aborted the ride in the coldest descent I ever did.  My face froze so bad I was getting an excruciating ice-cream headache.  We both were chilled to the bone by the time we got back to the car.  Fortunately, we could quickly change back into dry clothes at the ranger station.  Was quite disappointing not reaching the summit, but climbing Evans was not a planned highlight ride.  I was more disappointed for Dave, as he has never ridden to the summit of Mt Evans.  After returning from our aborted attempt, the ranger told us they just closed the summit road above Echo Lake (top 14 miles), as it was becoming snow covered and icy.  We might have made it up, but never back down.
It rained on and off most of the drive to Gunnison, our staging grounds for the next five days.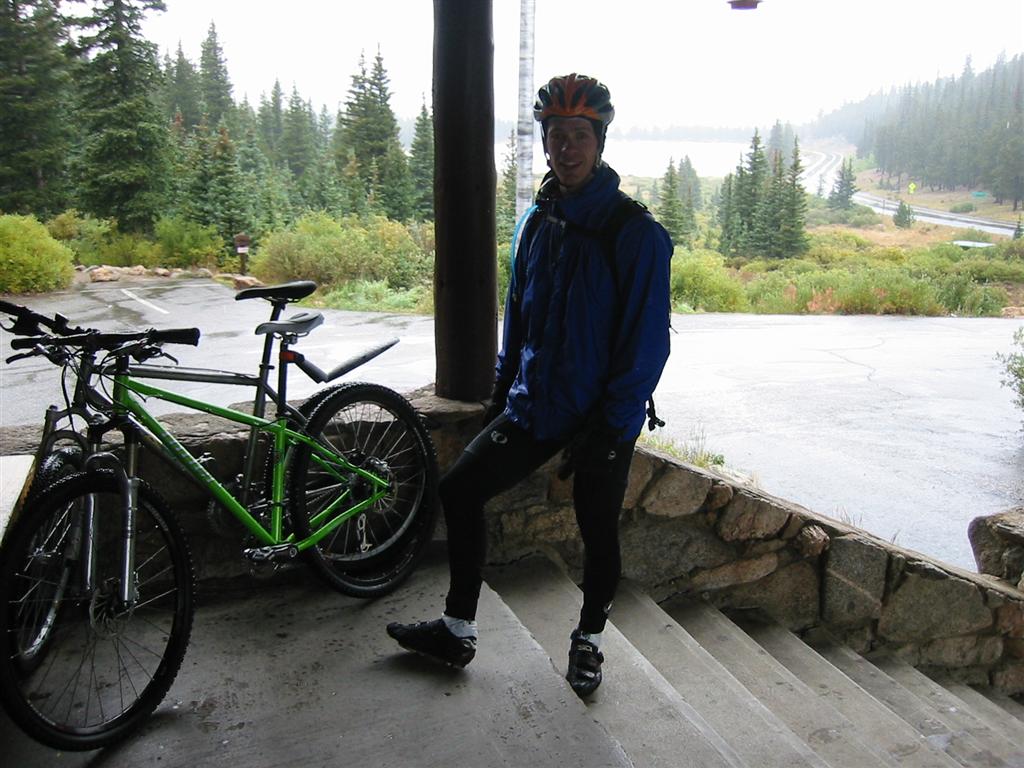 Dave on lodge steps at Echo Lake.  Rain and snow mix coming down.
Day Three: Reno, Flag, Rosebud, Cement Mtn, Deadman Loop, 9-SEP-06
Near Crested Butte
32.4 miles
4:42 riding time (approx. 8 hrs total time)
6120 feet climbing
9340-11,130 feet elevation range
We started this ride as early as possible, as there was good chance of afternoon thunderstorms in forecast.  You simply do not want to get caught on exposed mountain ridgeline when these storms pop up.  There is no where to take shelter.  You and your bike are the tallest objects around.  The skies were partly sunny as we drove up to the Cement Creek drainage area near Crested Butte.  It was cold.  We started riding around 8:30am, beginning the 2000ft climb up to the Reno Divide.  About 3/4 of the way up, the sky grew dark and opened up on us.  No lightning, just moderately heavy rain.  It juicied things up nicely.  Since the sky looked dark in all directions, we were sure it wasn't going to end anytime soon.  We gave up, and bombed back down the gravelly red clay road, totally gumming our bikes and bodies up.  We rinsed bikes off in Cement Creek for the drive in defeat back to Gunnison.  But the rain stopped.  More riders showed up too, two couples older than us.  They had same loop in mind.  The sun actually came out again.  So we decided to give it another go.
Climbing the Reno Divide Road a second time hurt.  Not super steep, but after a few thousand feet of climbing at brisk pace the day before, then waiting 30 minutes or so for weather to clear up left my legs stiff.  Wasn't sure how the remainder of this ride was going to go.  The climb to the divide went ok.  Not too much mud, but a very large convoy of Jeeps passed us.  At the top of the divide, we begin a fantastically fun singletrack descent.  This is Flag Creek Trail.  It goes on for many miles until eventually running into Bear Creek Trail, which climbs again.  The trails in this area are open to motorized dirt bike use, so they get a bit rutted out.  This mean low pockets in the trail fill with and hold water.  There was no way to avoid most of these water pockets.  They would throw mud into your face and drive train.  It didn't take long before the chain suck problems started.  This is where the chain binds to the front chain rings and wraps around twice until it seizes up.  Only dunking in water would remedy this problem.  So the pattern soon became stopping at every water crossing to rinse drivetrains off.  Very time consuming.
The climb up Bear Creek hurt.  Parts near the top are extremely steep, a little rooty and rocky, and in thin air for us flat-lander's.  I was able to ride one section I walked last year, but other sections I still succumbed to walking.  The top of Bear brings about one of the best descents in the whole ride.  Descending along Bear Creek goes on forever, partly in the woods, partly in the open.  The trail undulates wildly with sudden drops and sharp off-camber turns.  Upon reaching the junction with the Deadman Gulch Trail, we decided to add the Rosebud extension by going left on Deadman.  This was probably a mistake given the conditions, but only in hindsight.  Deadman drops a bunch more vertical before picking up the Rosebud Trail.  This portion of Deadman was extremely wet and muddy, non-stop spray in the face stuff.  My drivetrain was rendered completely useless by this gritty material.  Only after rinsing off in the Deadman stream at the junction with Rosebud, was I able to pedal again.  This didn't last long.  It seemed each wet spot slopped enough grit into the drivetrain to provoke chainsuck.
The climb up Rosebud took forever.  This was way longer and more difficult than just climbing Deadman back out like I did last year.  Due to tired legs at this point, thin air, and barely working drivetrains, we were forced to walk sections of this climb.  Once picking up Trail 553 at the top, it all seemed to be worth it.  The views along this 11,000 foot ridgeline were to die for.  Completely open in nearly all directions.  However, when I stopped to take a picture, a rumble of thunder boomed from an approaching dark cloud line.  I panicked, as we had a ways to go before we could get to anything remotely sheltered.  I think my heartrate pegged numbers never before seen in a fit of high altitude frenzied hammering.  I soon realized I had to run up anything that required pedaling, as my drivetrain ceased to function.
We eventually reach tree line, but the loamy soil here was completely unrideable in places.  Off-camber Vaseline on waxed paper would be good way to describe it.  We finally reached the initial descent back to Deadman Gulch trail, and we couldn't even ride parts of it.  We eventually reached the top of Deadman Gulch and the famed 30 switchbacks down to the car.  I was fearing we'd have to walk this incredibly fun (on dry day) portion of trail.  The trail was well designed, so water ran off well. It was completely rideable, and even fast.  We made it back to the car before any new batches of rain moved into the area.  Shortly after getting back, a group of local riders finished, not the same ones that started when we took off the second time.  They were still out.  We commented that we were from NH, and they marveled that even guys from NH knew where the "good stuff" was.  After almost 8 hrs of elapsed time from first attempt at ride to finishing loop, we were completely depleted, and I had a wicked bad headache.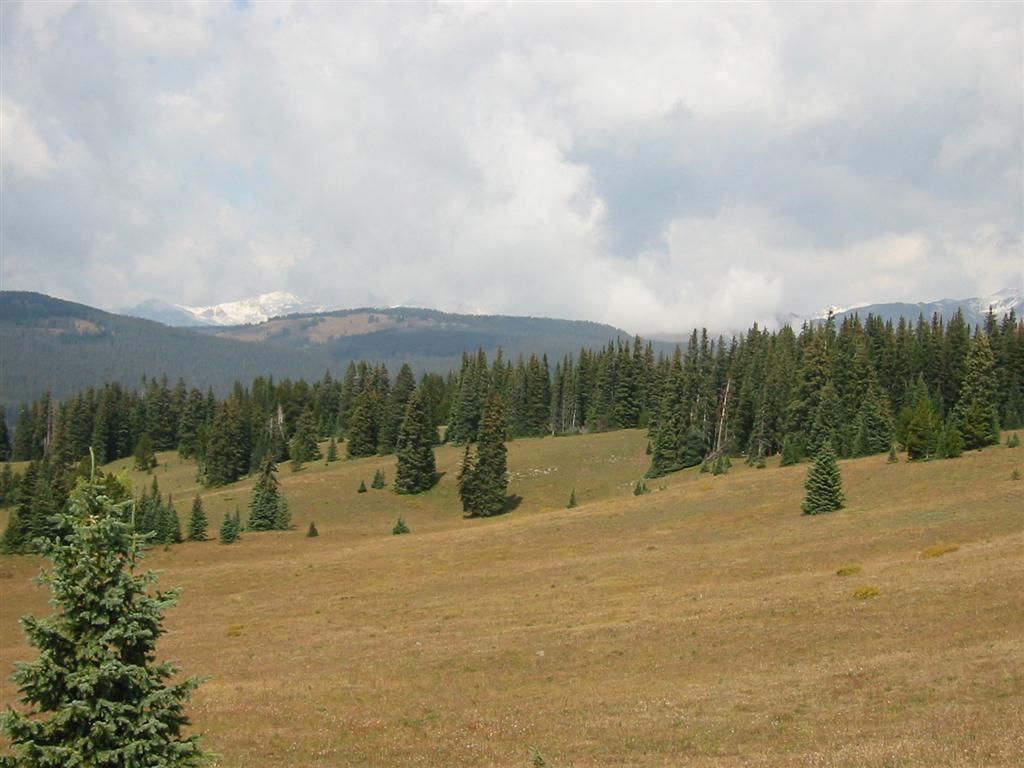 From near top of Reno Divide.  Snow capped mountains in distance.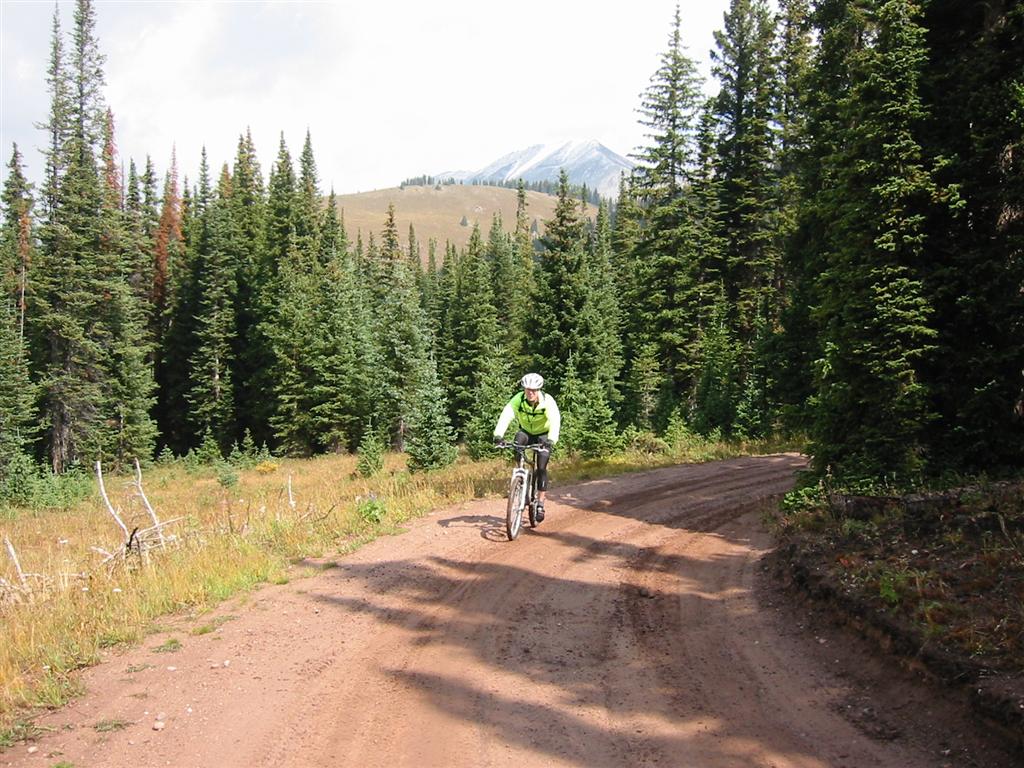 Reno Divide Road.  Muddy after morning downpour.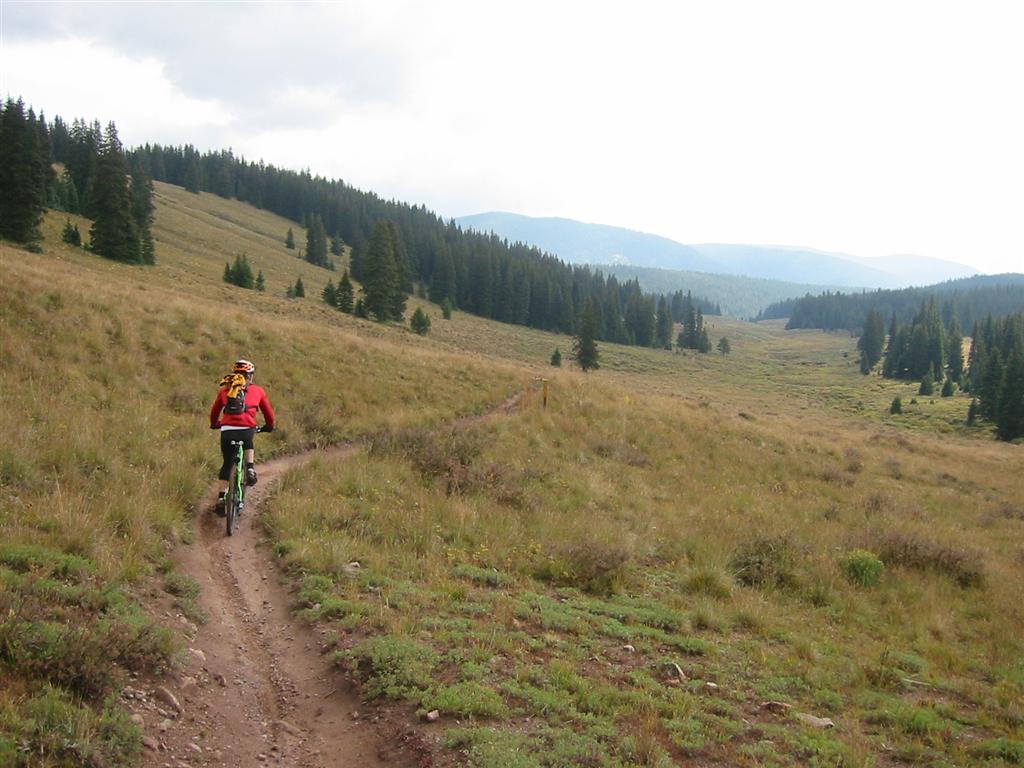 Beginning descent on Flag Creek Trail.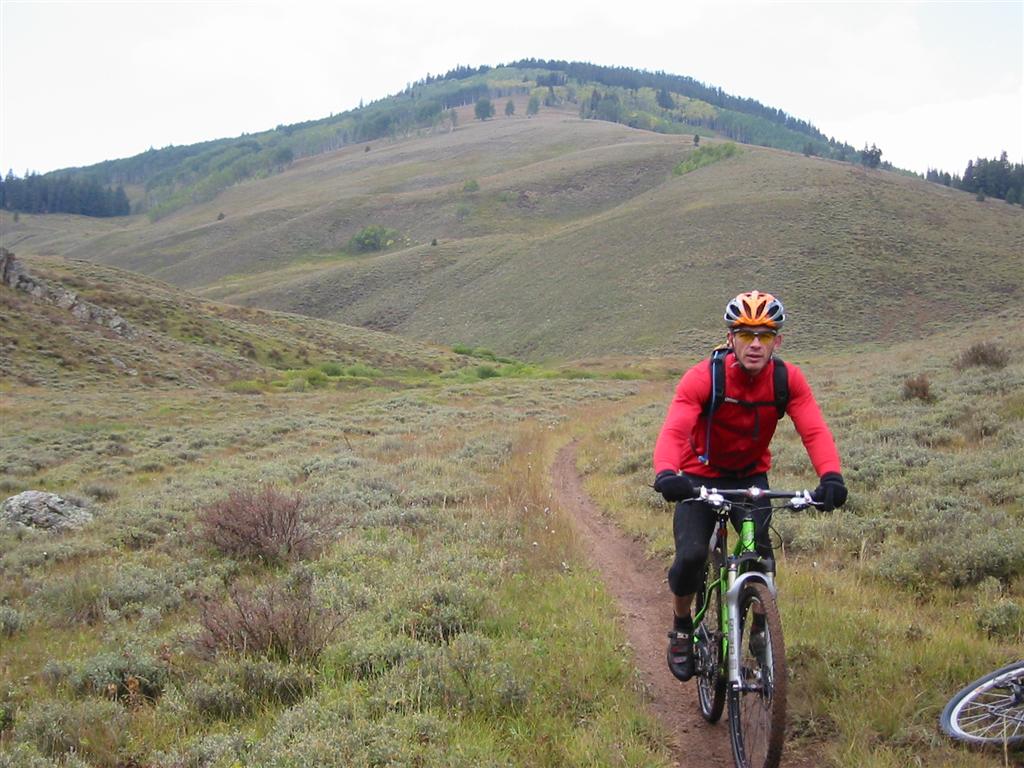 Final descent on Bear Creek Trail.
A messy spot on Deadman Gulch Trail, caused by beavers.  I rode through most of it.  It wasn't like the bike was still clean...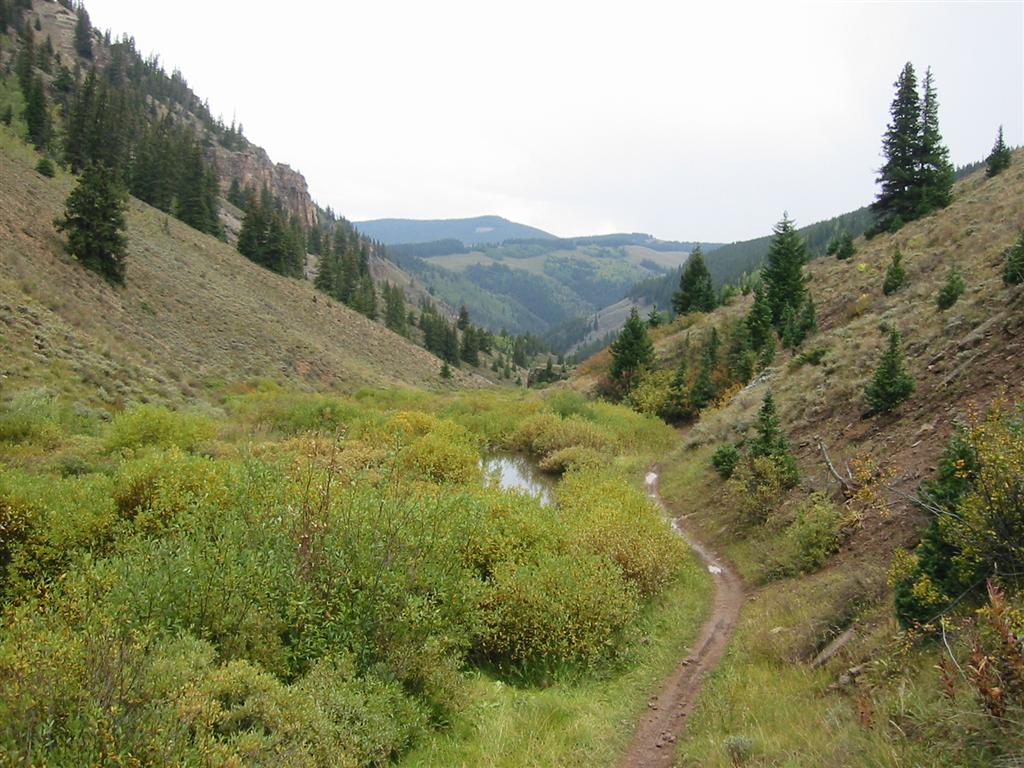 Looking down lower portion of Deadman Gulch Trail.  This section was continuously sloppy.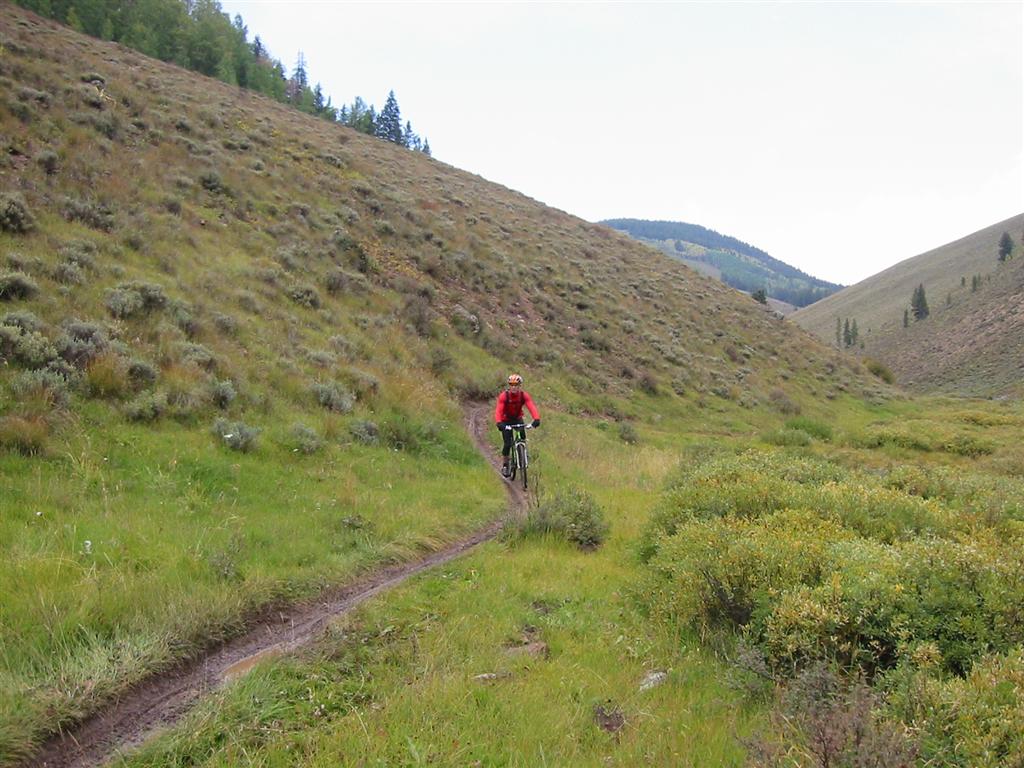 Looking up sloppy Deadman Gulch Trail.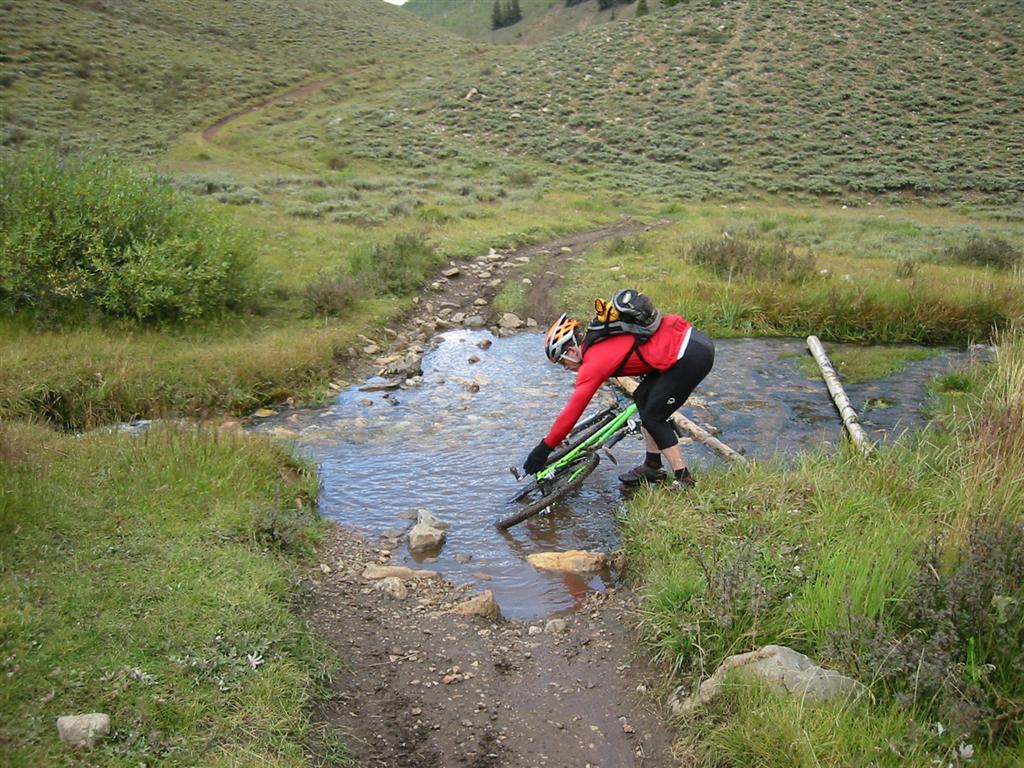 Bike wash at junction of Deadman and Rosebud trails.  We had to wash off drivetrains every chance we had, as we kept experiencing chain suck problems.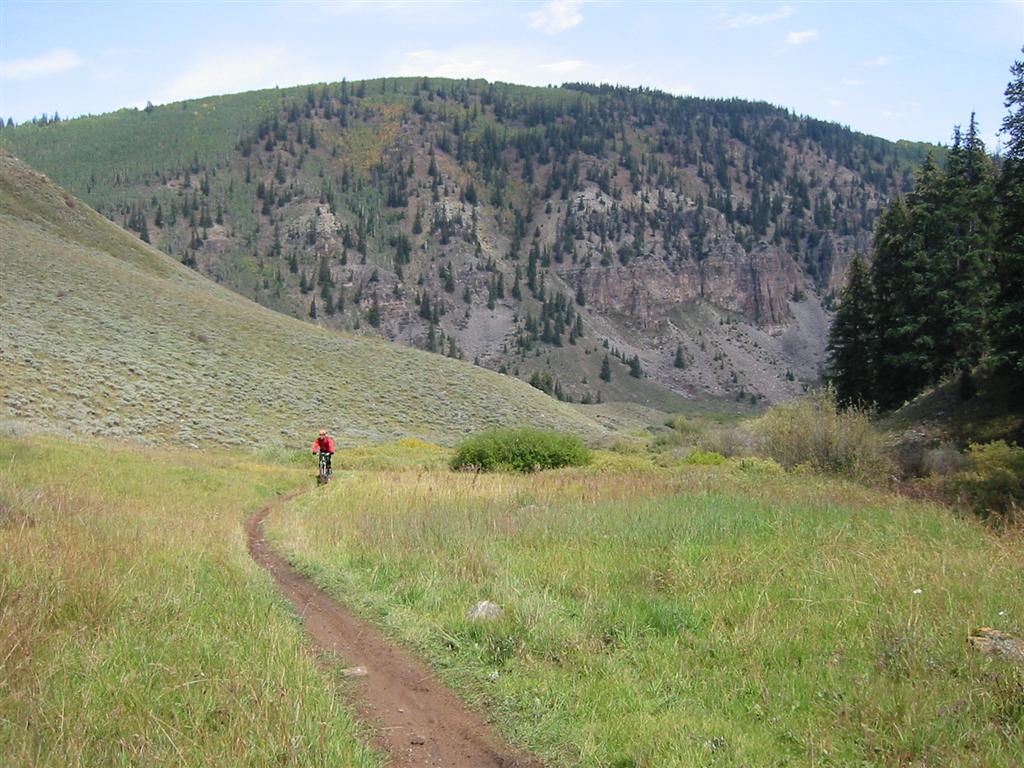 Beginning climb up Rosebud Trail.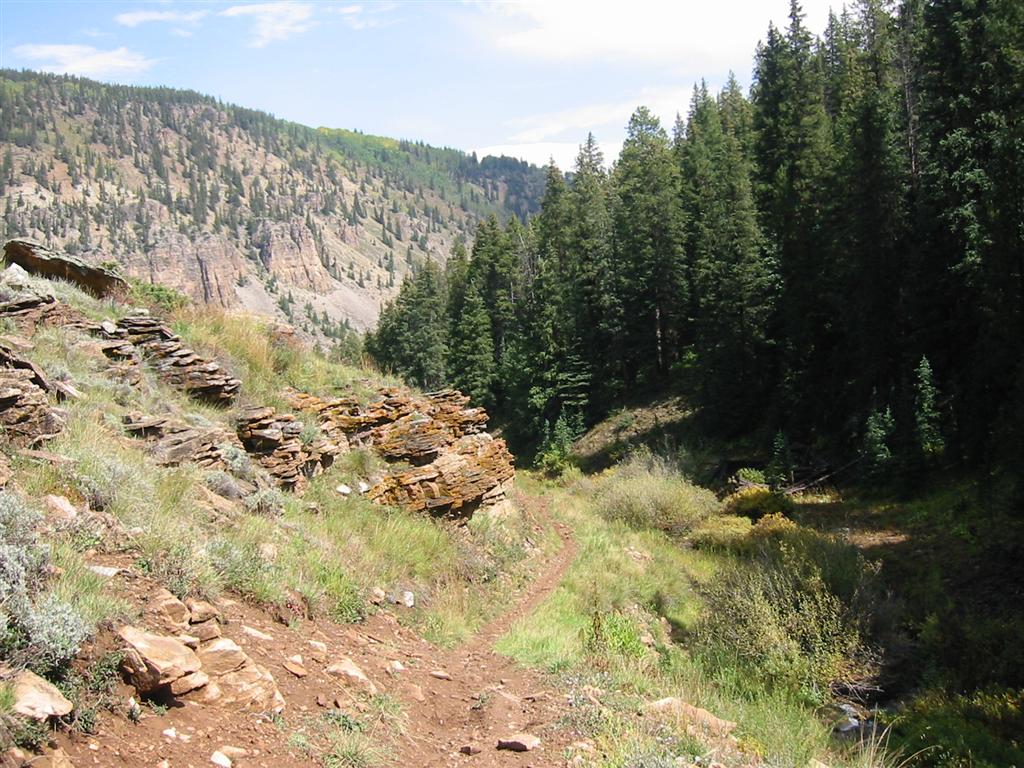 A little further up Rosebud.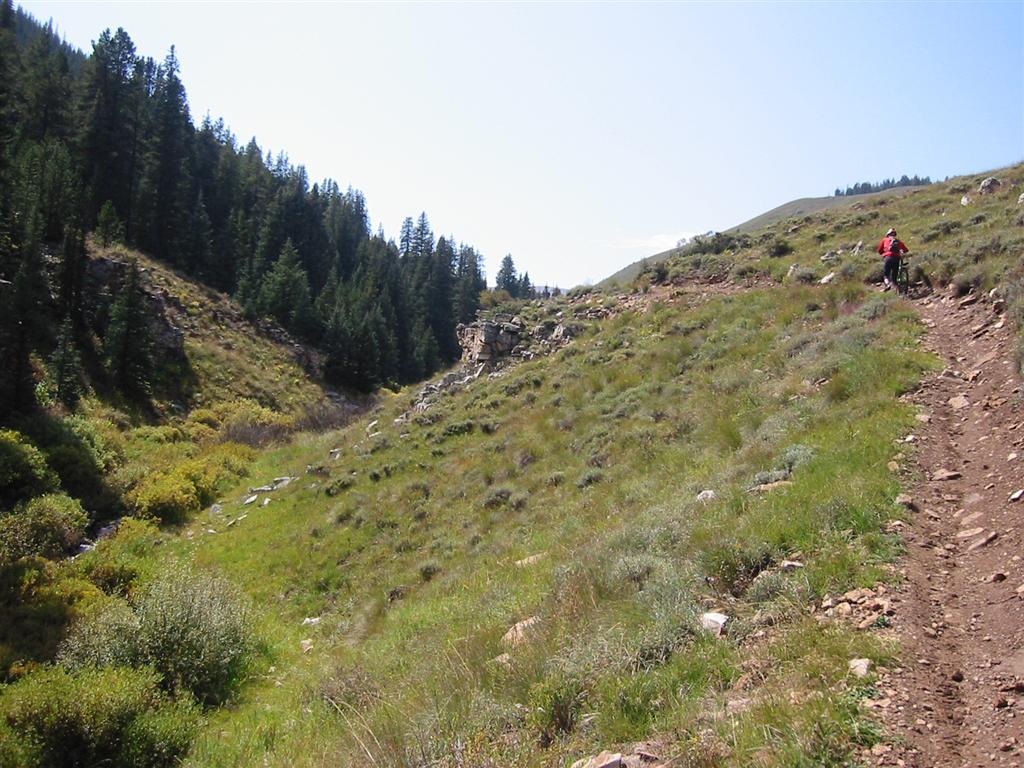 Rosebud Trail got so steep in places, that combined with our tired legs and altitude, forced us to walk a couple sections.
Nearing the top of Rosebud Trail.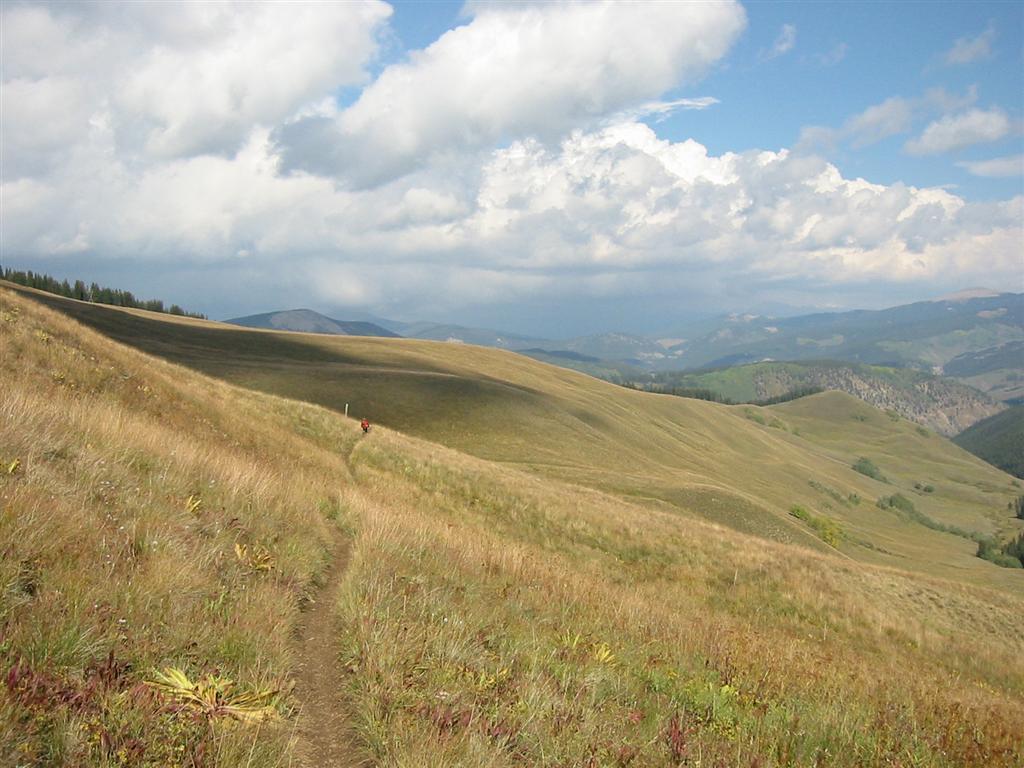 Cement Mountain Trail (Tr 553) with wide open views.  Dark clouds in distance let out a rumble of thunder while we were up here.  I never hurried so fast in my life to get back down from somewhere high.
Day Four: Hartman Rocks, 10-SEP-06
Gunnison
30.2 miles
3:26 riding time (approx. 4 hrs total time)
4000 feet climbing
7700-8700 feet elevation range
The forecast was for improving weather.  I think there was only a 40% chance of afternoon thunderstorms today, on Sunday.  We decided to take a semi-recovery day and ride Hartman Rocks, where there is not too much climbing.  Plus, it's close, and you are never too far from the parking area if a storm does pop up.  The trail head was only three miles behind our motel, but we decided to drive over anyway to start as early as possible to beat any potential rain.  Hartman Rocks becomes more unrideable than other places in rain, as there is a good deal of red clay base to the soil there.
Hartman Rocks is an 8000 acre playground chocked full of singletrack.  Like other BLM land in the southwest, it is open to motorcycles as well, but we did not directly encounter any during our ride.  Riding here is a lot like Fruita or Moab riding: hardpacked gritty trails, some slick rock, and lots of technical features.  It is open country, mostly sage brush covered.  This is also the site of the famous Rage in the Sage 24 hour MTB race.  We rode portions of the Rage course.
Our loop covered a huge swath of Hartman Rocks singletrack.  Starting from the main parking area, we headed out on Rocky Ridge, Broken Shovel, Wiensy's, and Outback.  Outback was wicked fun, very tight with lots of rock features.  After descending into the valley under the powerlines, we crossed over to the other side to ride the Aberdeen Loop.  This singletrack loop climbs one valley in a sea of Sage, traverses over on high ground, then descends another valley.  The descent dropped upwards of 1000ft in three miles and could be ripped with reckless abandon.
Crossing back under the powerlines with the nasty climb back out of the South Border Creek drainage, we hit portions of the Rage singletrack.  We rode the Enchanted Forest, Dave Moe's, McCabe's, Gateway, Josie's, Buddy Bear, Sea of Sage, and Rattlesnake.  Gateway and Josie's were thoroughly enjoyable.  These followed the height of the land, weaving around the ridgeline seeking out interesting rock formations to drop over, pop up onto, or just barely squeeze through.  The descent at the end of Josie's was a hoot, kind of loose in places, but all adrenaline.  Buddy Bear and Sea of Sage work back up again to connect with Rattlesnake, the last major trail we did.  This was one of the most technical trails we rode.  Dave on his Niner was riding everything.  Those 29" hoops really do seem to roll over everything.  I think Rattlesnake is aptly named, as this trail will bite you if you are not careful.
We heard a rumble or two of thunder while riding Rattlesnake.  There was a growing dark cloud approaching from the west, and you could see it was deluging that area with rain.  We had covered a huge area of Hartman Rocks and decided to wrap the ride up after Rattlesnake, lest we spend an hour cleaning our bikes again.  We finally had a dry day on trails that were almost completely dry, although 3.5 hrs in the saddle was hardly a recovery day.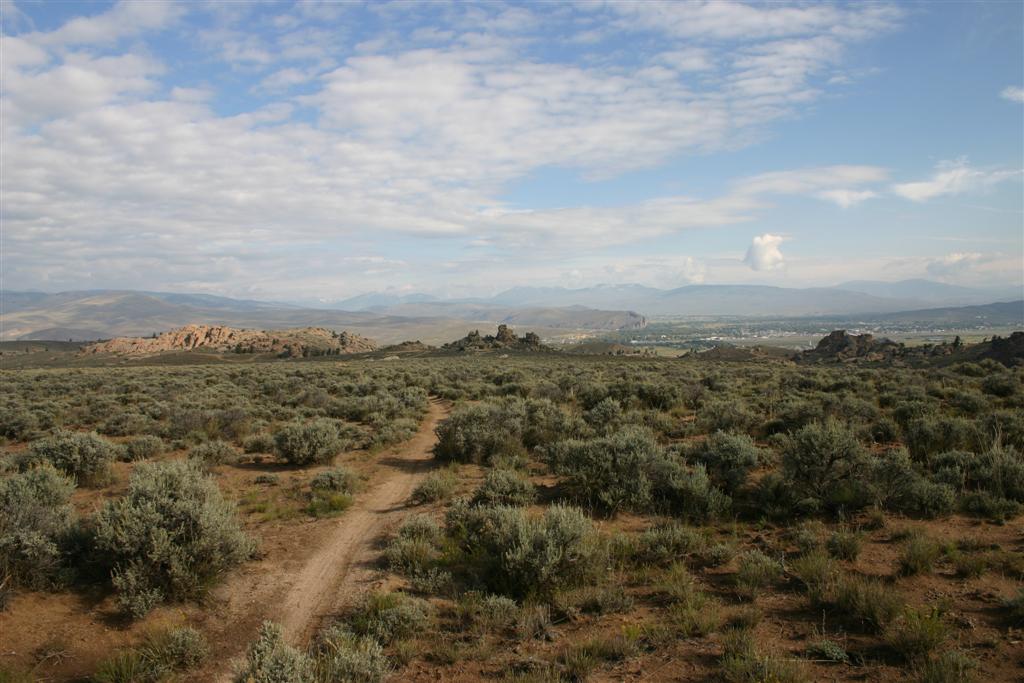 Starting out on Hartman Rocks trail system.  Gunnison in background.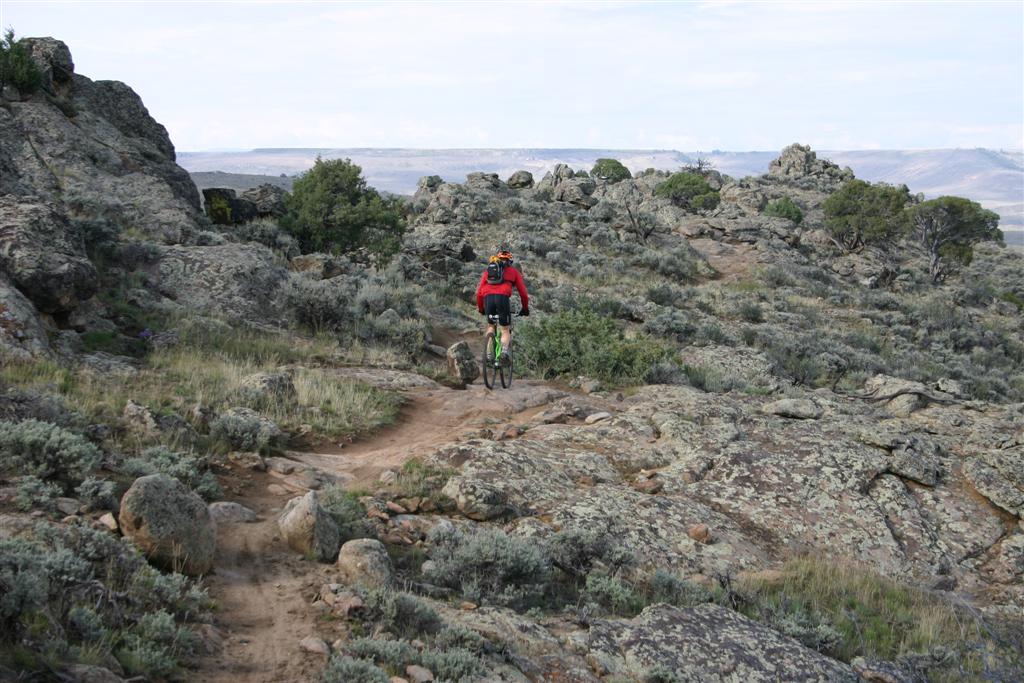 Lots of rolling technical terrain here.
Hartman Rocks is a lot like Fruita.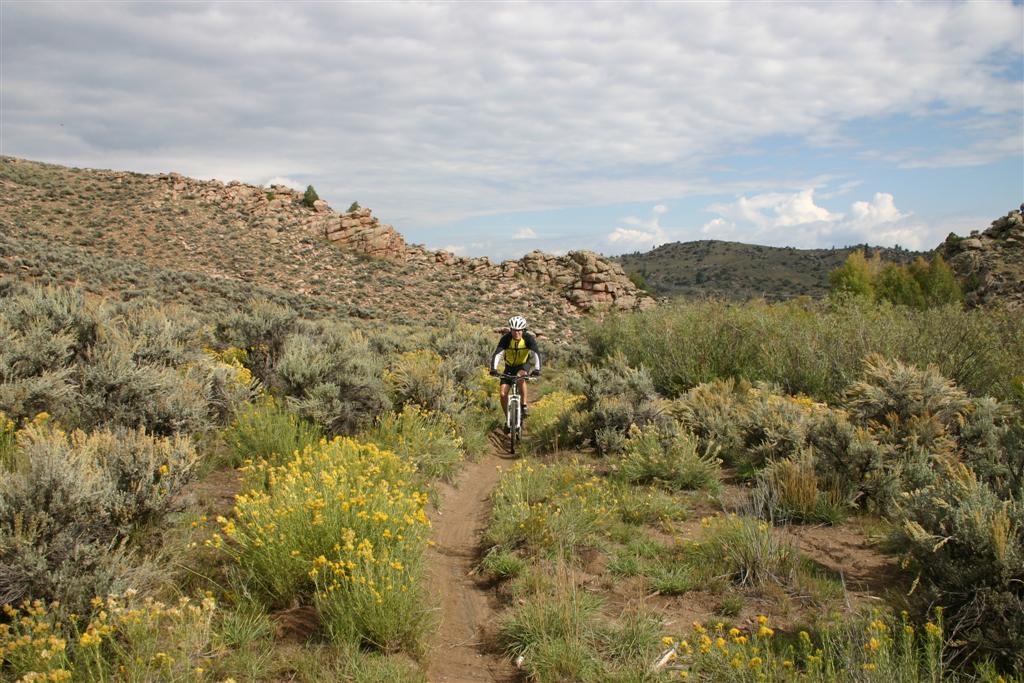 This was climbing on the Aberdeen Loop.  Scenic, remote, peaceful.
Dave coming up Aberdeen, getting nearer the high point of the loop.  Almost 1000ft gain from valley a few miles in the distance.
Descending the next valley over on Aberdeen Loop.  A few miles of perfectly buffed singletrack was oh so sweet.
Some interesting rock formations where powerlines cross South Beaver Creek.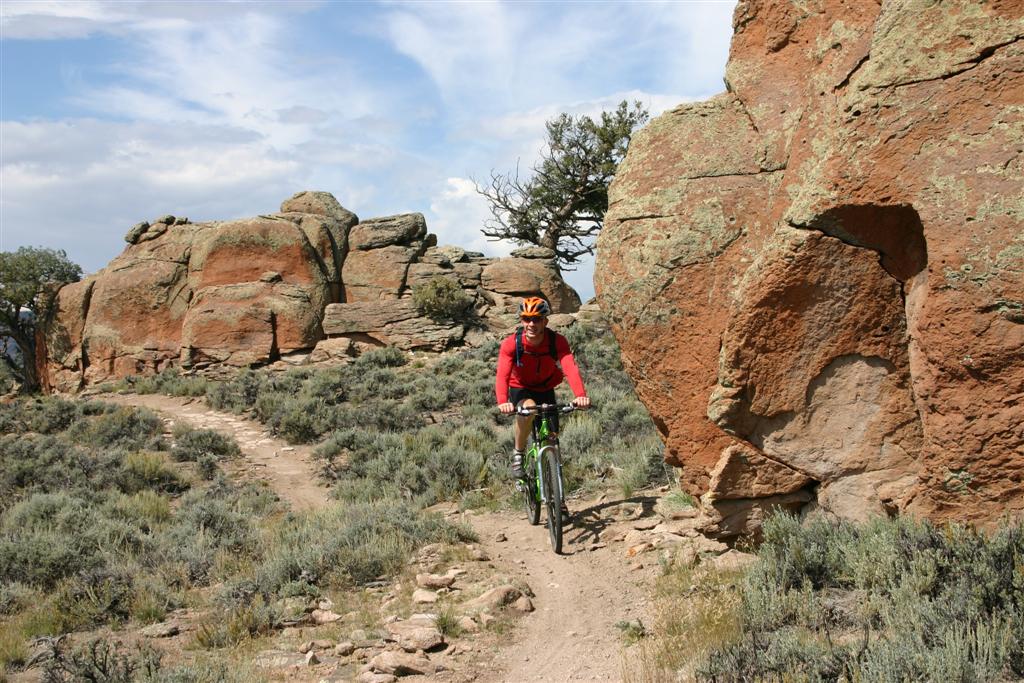 Later in ride, not sure which trail.  Maybe Enchanted Forest or Dave Moe's.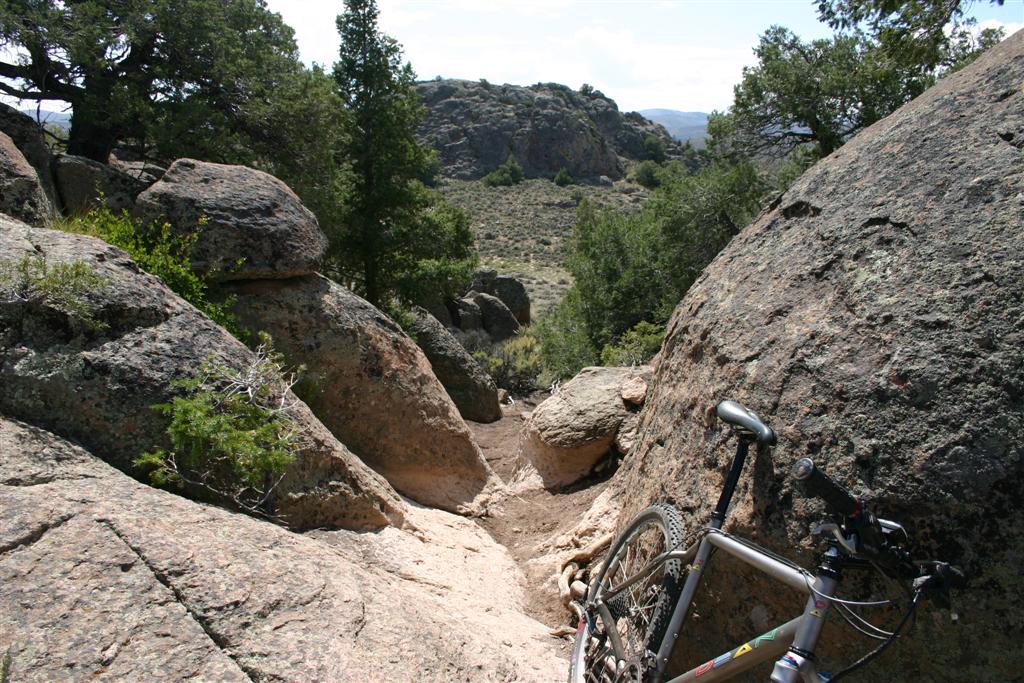 A very tight squeeze that neither of us made up.
Dave gesturing me laughing at him for walking up this nasty steep grade to Gateway Trail.  I walked it too.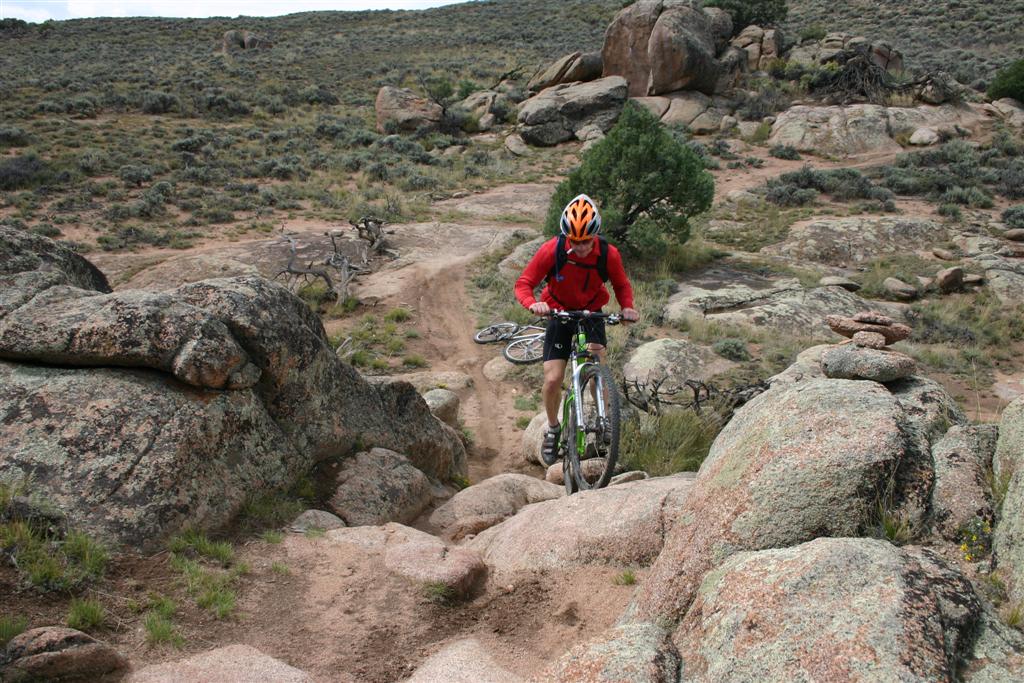 On Gateway or Josie's, don't remember.  We both cleared this steep incline.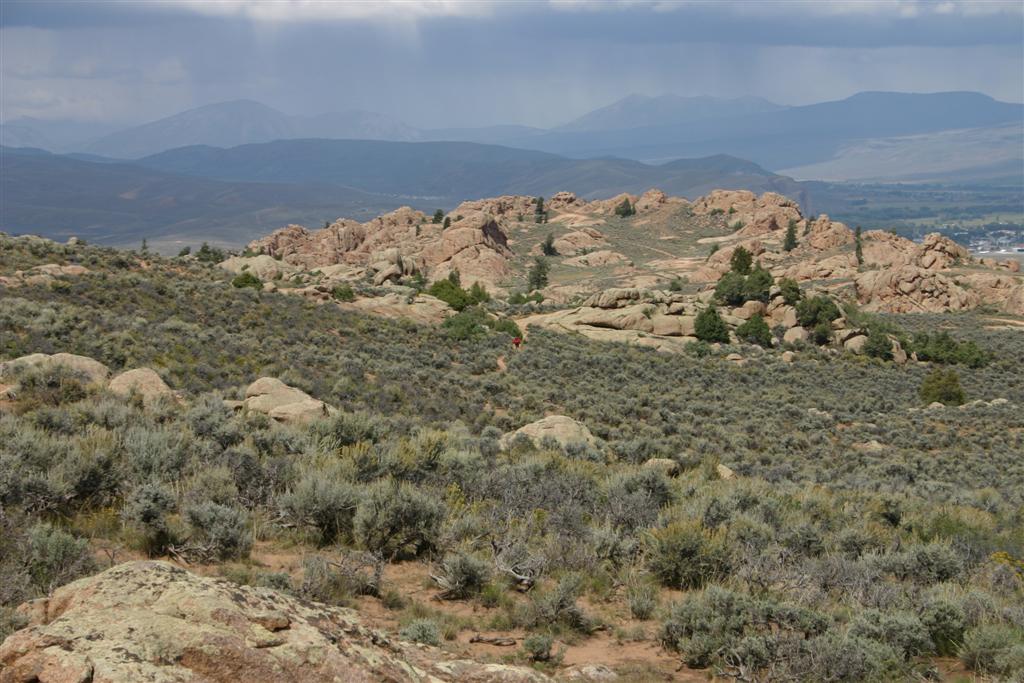 Wrapping ride up on Rattlesnake Trail, which was very technical and wicked fun.  The dark clouds in distance were dropping some rain and belching a few rumbles of thunder.  We managed to keep bikes clean and dry this ride.
Day Five: Trail 403/401 Loop, 11-SEP-06
Crested Butte
34.8 miles
5:28 riding time (approx. 7 hrs total time)
6430 feet climbing
8860-11,420 feet elevation range
Forecast again today was for afternoon thunderstorms, so we got as early a start as possible.  It was chilly in the morning again with heavy frost on the car, but the day warmed up nicely to about 70F.  When checking my bike out before the ride, I realized my front brake pads were about gone.  To my horror, I discovered that somehow the spare sets of pads did not make it along.  This ride was long, and it had one nasty descent that was heavy brakes all the way.  We had to give it a go rather than wait for the LBS to open at 10am.
This classic loop begins by climbing dirt Washington Gulch Road.  Scenic, and it gets increasingly steep towards the end.  Upon reaching the Trail 403 junction, singletrack is taken and climbing continues.  At the top of Trail 403, the views in all directions are stunning.  The descent on 403 requires expert skill in handling switchbacks.  This trail gave me a lot of trouble last year, and it was no different this year even though Dave was whooping me on almost everything.  Must be those 29" hoops again?  I rode mostly the rear brake down this1000+ foot wall trying to save what little pad material remained on my front brakes.  Just before reaching the bottom, my rear brake overheated and faded to nothing.  Lever went to the bar.  Ugggh!  I used the front brake the rest of the way down.
Upon reaching Gothic Road, the rear brake cooled and recovered.  Had it not, I would had to have taken the road all the way back and the best singletrack was yet to come.  Fortunately, the serious descending was over.  Heading north on Gothic Road, we climb again, this time to almost 11,000 feet.  Upon reaching Schofield Pass, Trail 401 is taken with about 700 of additional steep climbing on singletrack.  The trail was just dried out enough to not slip on it like tracks from day before suggested was happening.  We talked with three guys at Schofield Pass who were from Texas and Louisiana.  They were doing the same loop.  One of the guys said a trail called South Border near Taos, New Mexico was a lot like Trail 401, but even longer and better.  Have to check that out sometime.  At this time, the 403/401 loop at Crested Butte was my favorite ride on the planet.
The descent on Trail 401 is among one of the best in the world.  The view is so good it makes calendars and ads in magazines.  The view down the Gothic valley to Mt Crest Butte is just to good to not stop and take it in every few minutes.  Hard to keep your eyes on the trail too, and this is especially risky here.  The trail is buffed, downhill, wicked fast, and precariously steep grades to the right.  You would tumble or slide a very long ways down the grassy slope if your tires went off the narrow lip of singletrack cut into the mountain side.
After many high speed switchbacks, we finished upper 401.  Several hundred feet of climbing takes us back up the mountain side to lower 401.  This portion has a lot of open range cattle on it, so the trail condition was pretty poor.  It was wetter, totally chopped up in places, and steaming cow pies all over the place.  Bike got pretty well covered, as you couldn't avoid all the fresh pies.  At one point, Dave jumped off his bike to walk around one particularly nasty mud/poo/urine sludge pit.  There were some logs in there to help keep riders on top of the goo.  I went for it, stuffed front tire, foot didn't release from pedal, so I toppled over.  Fortunately I just barely kept my face from going into the slop, but my hands and feet sunk way in.  Dave was amused.  Lower 401 can be quite nice in the spring I read, but gets chopped up in fall when cattle are brought in for grazing.
We wrapped up the ride with several miles of dirt Gothic Road back into village of Mt Crest Butte (ski village, not town of Crested Butte a couple more miles down the road).  The deal was, I forgot where car was parked.  The whole area is getting built up like major ski resort, and we were in small public parking lot off one of many side streets that all looked the same.  I went up and down the huge hill through the village twice in a bonked state of mind before Dave straightened me out.
We had trouble finding a place to eat, as this was off-season and not many places are open on Mondays.  We ended up getting Gyros from Sunrise Deli in Crested Butte, which were quite good. Since no rain appeared to be coming, we decide to do another short loop right from town.  We jumped back on the bikes and rode the Lower Loop, Upper Lower Loop out, and Lower Lower Loop back.  We also added the Boy Scout Trail off the end along Oh Be Joyful Creek.  It descends along a deep gorge with steep, sheer drop-offs.  Even though we rode this at very easy pace, I was cooked and wasn't sure how I would be able to ride our biggest planned epic the next day after 5.5 hrs riding today.  Back in Gunnison, there was a Sonic and Taco Bell.  Our recharge pattern was becoming this: for quick after ride replenishment, chug a Sonic Malt (yeah, you can get real Malts there), then later grab bean burritos from Taco Bell or another Mexican restaurant.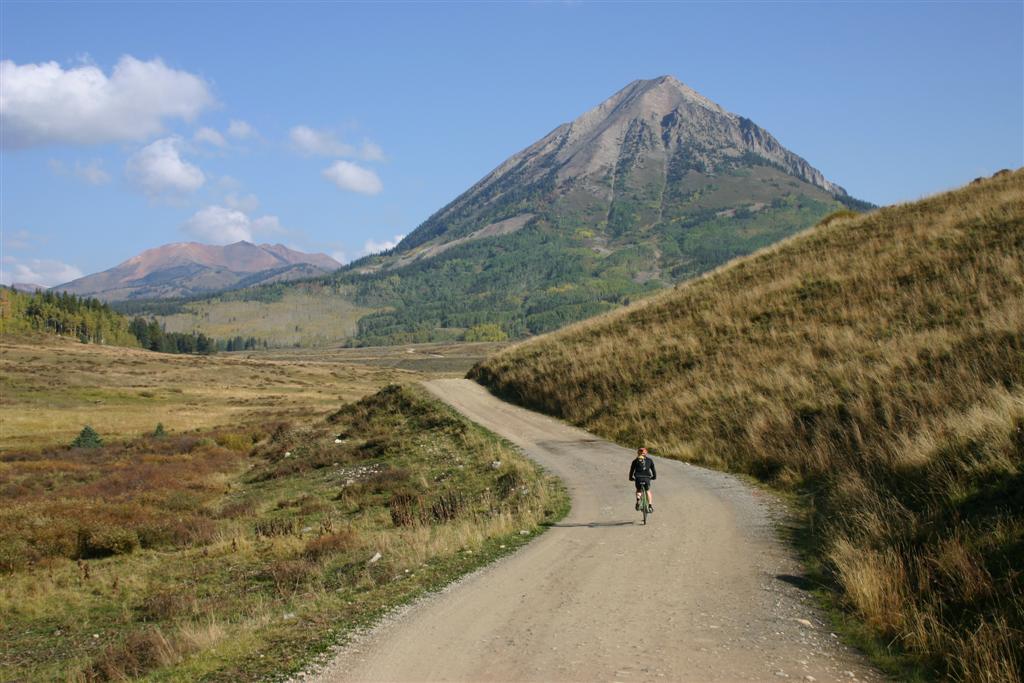 Beginning ride up Washington Gulch Road out of Crested Butte.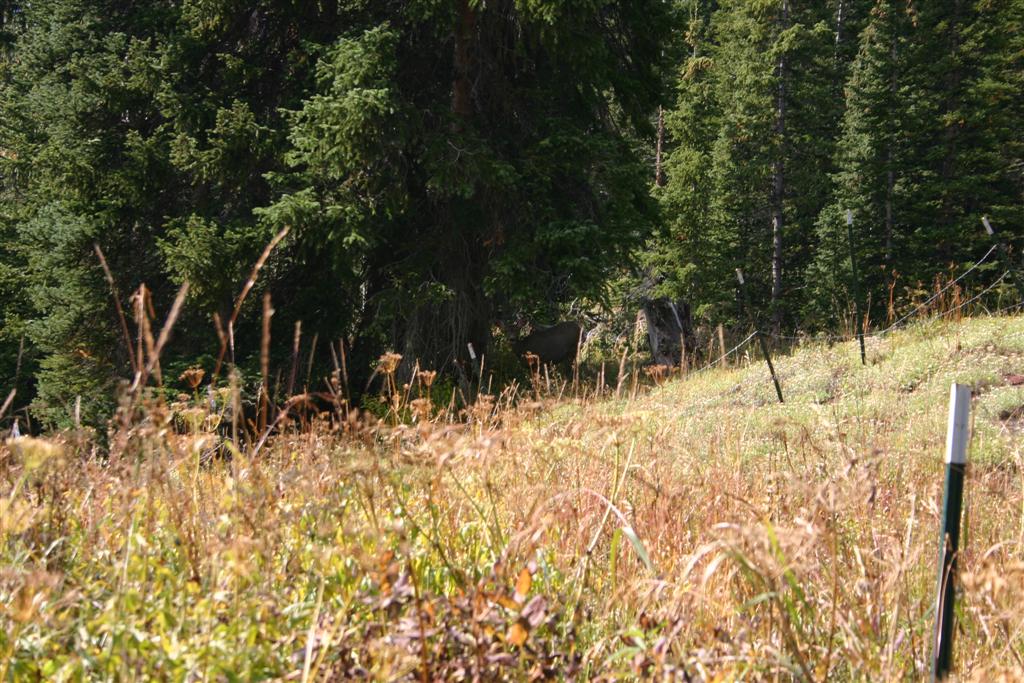 Look closely, a white tail doe is looking at you.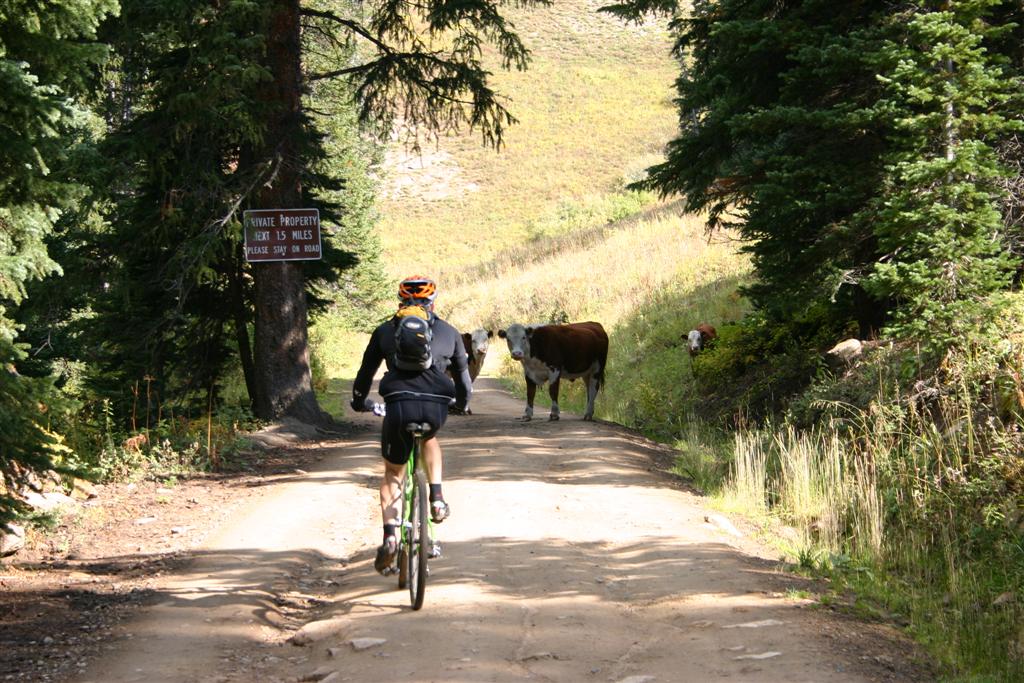 Cows on Washington Gulch Road.  Lots of free range cattle around Crested Butte.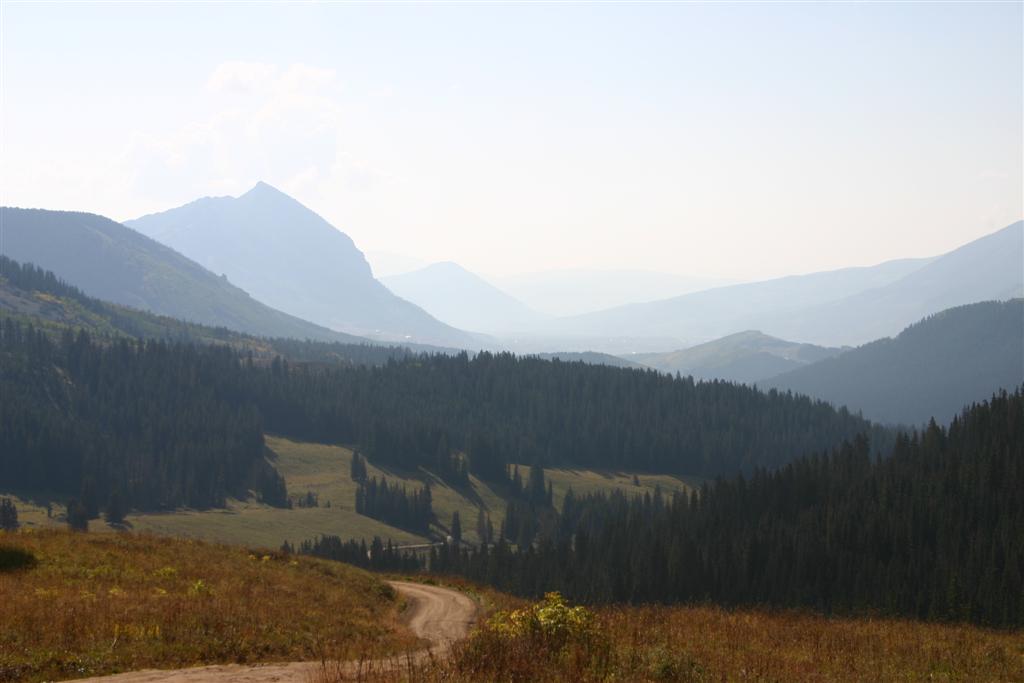 Looking back south down Washington Gulch Road with Mt Crested Butte in Distance.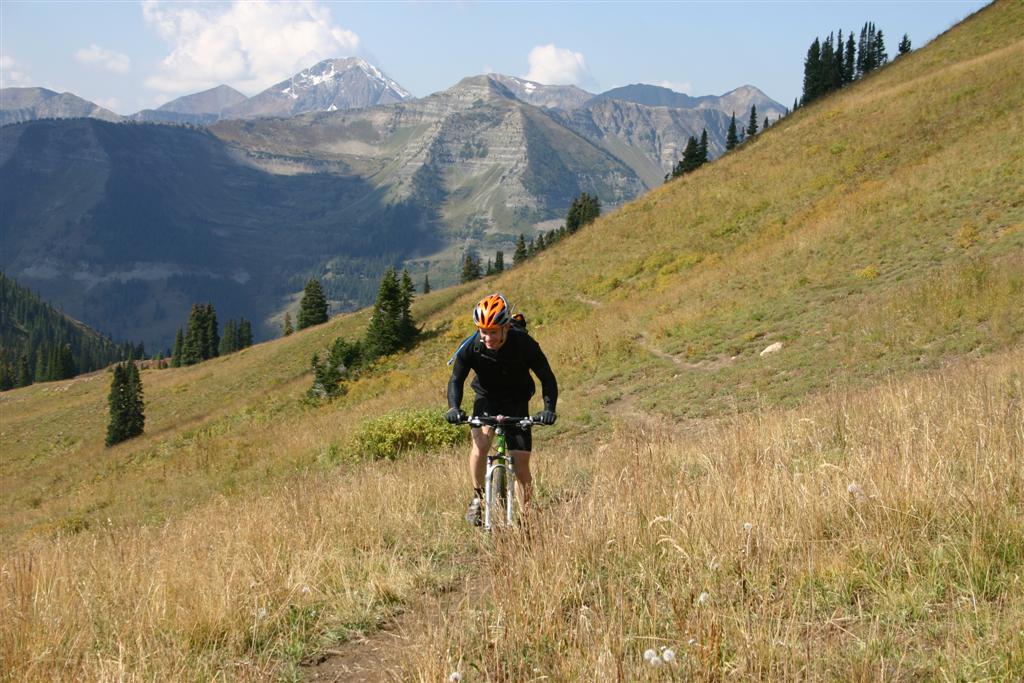 Dave coming up Trail 403.
Doug near high point on Trail 403 between Mt Baldy (background) and Gothic Mtn.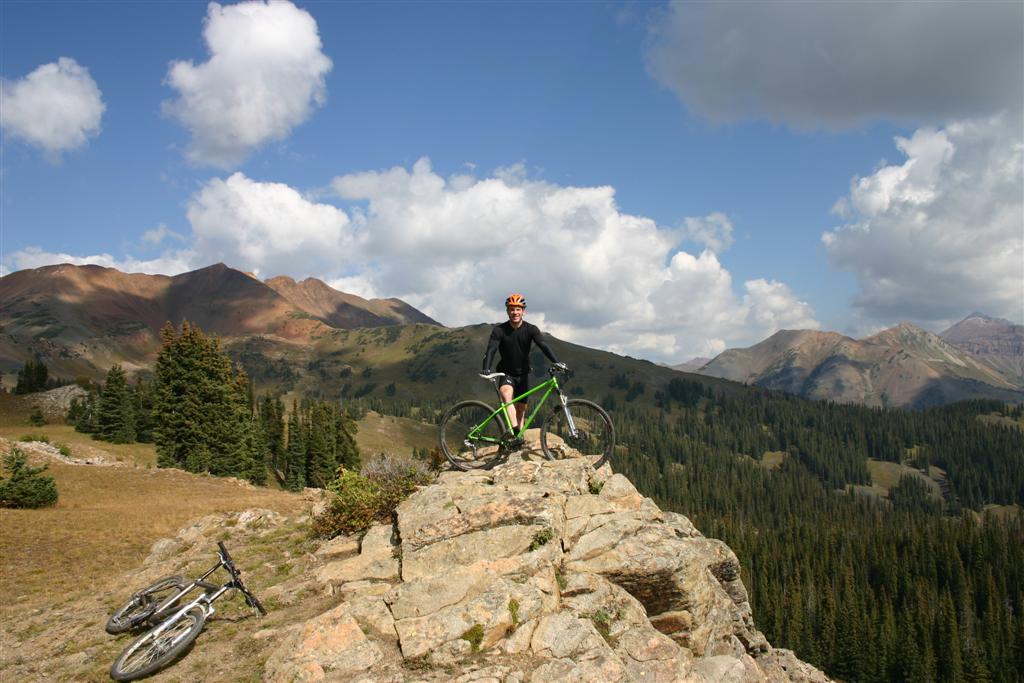 Dave at high point with particularly nice vista on Trail 403.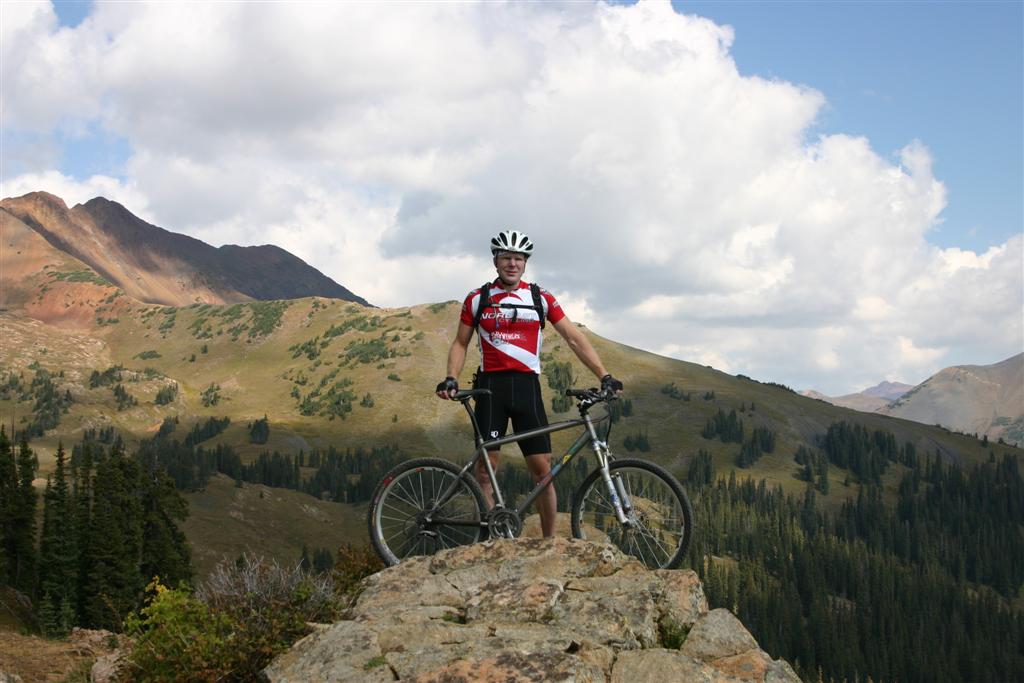 And Doug...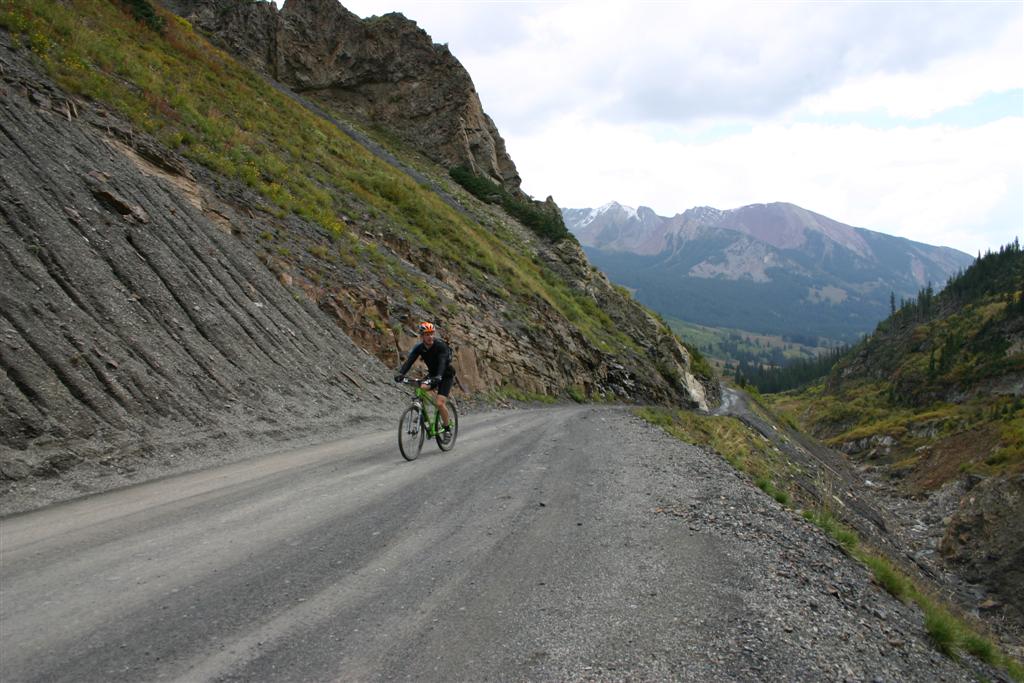 Climbing Gothic Road getting near Schofield Pass.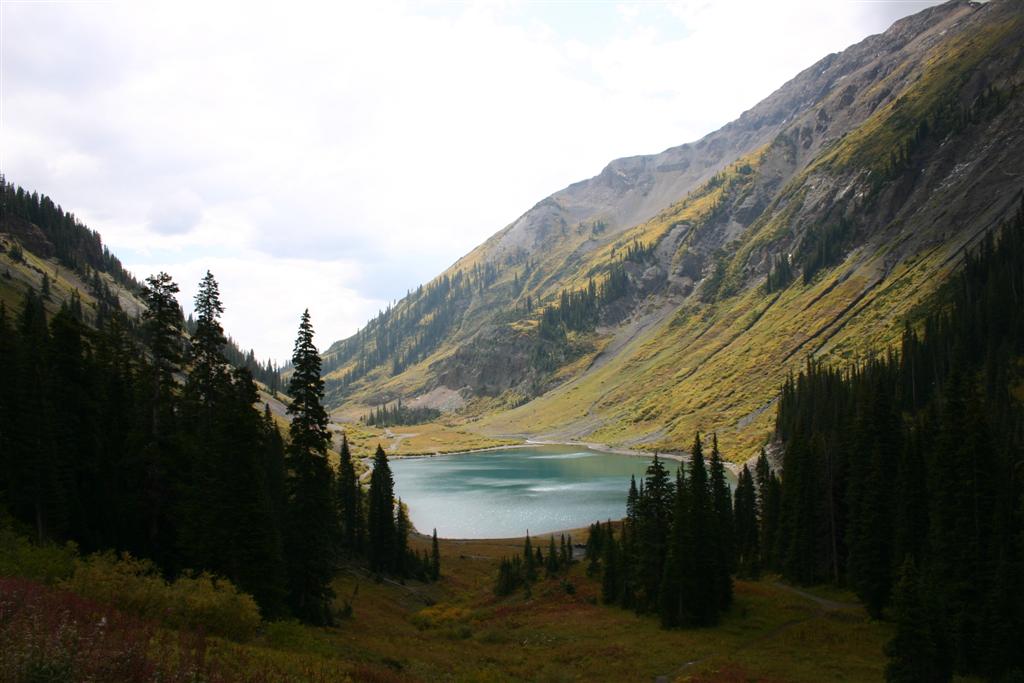 Emerald Lake near Schofield Pass from Gothic Road.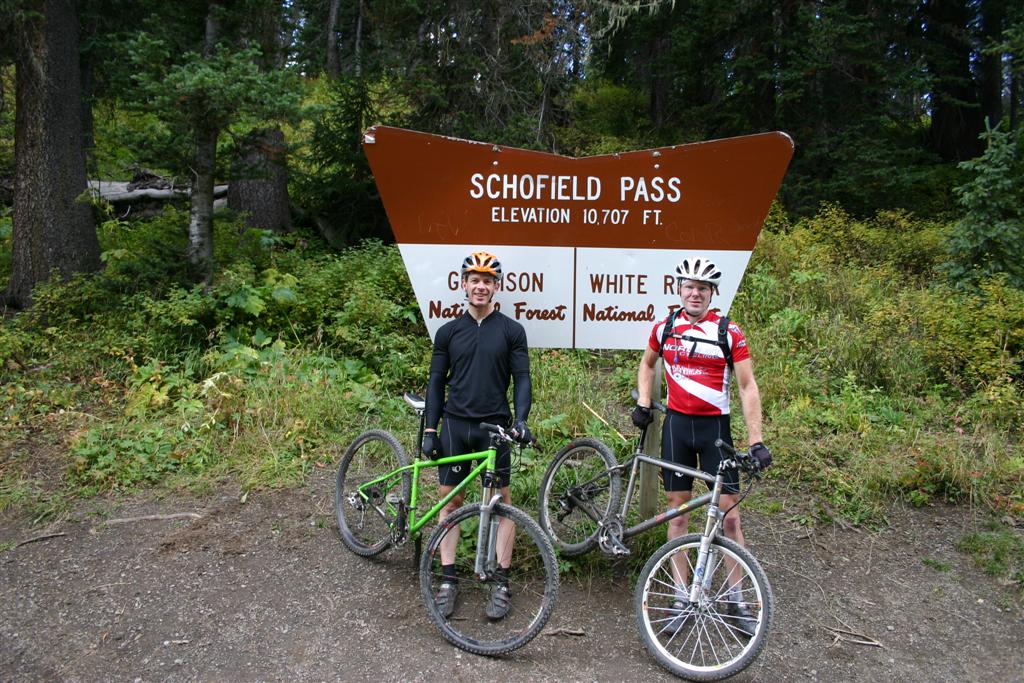 Schofield Pass at 10,707 feet.  A group of three from Texas and Louisiana took the photo.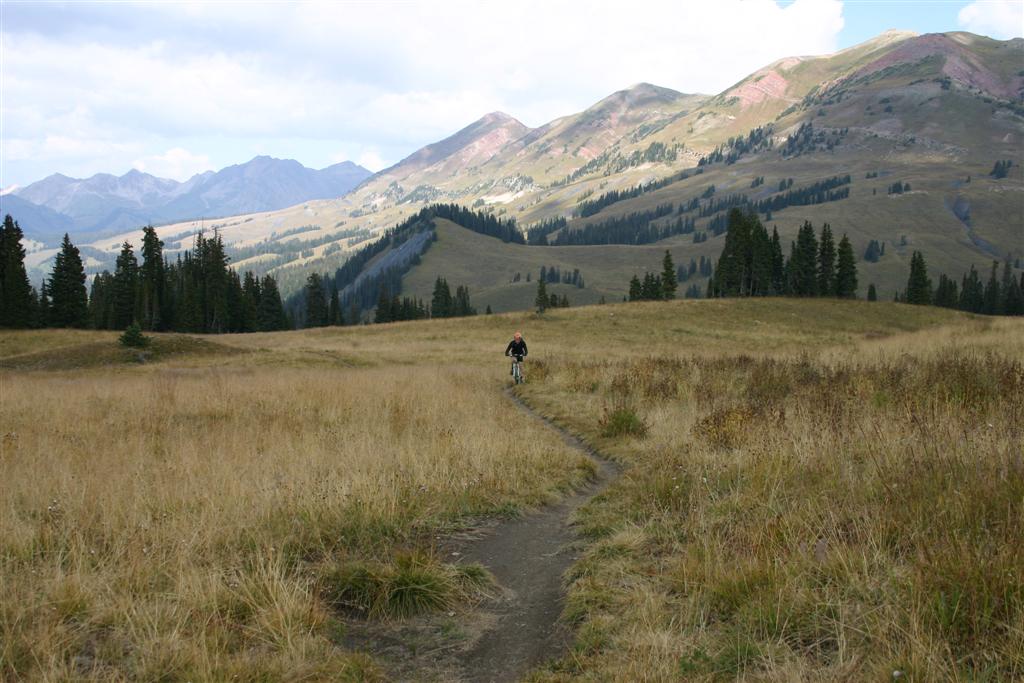 Coming up Trail 401 from Schofield Pass.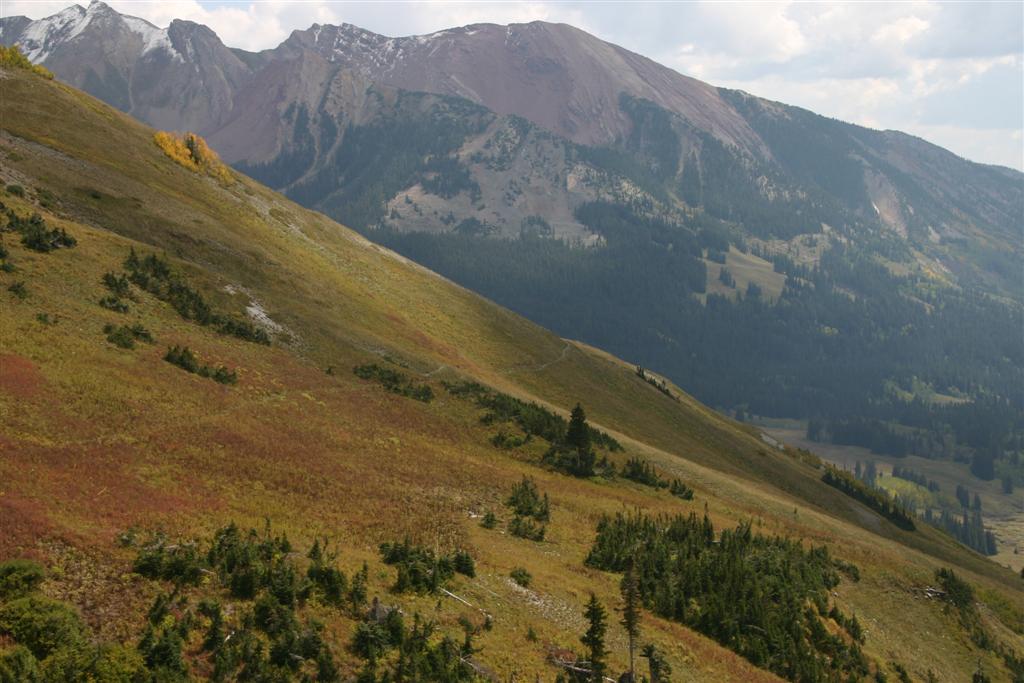 Trail 401 is why people come to Crested Butte to ride.  Endless miles of perfectly buffed singletrack with never-ending views.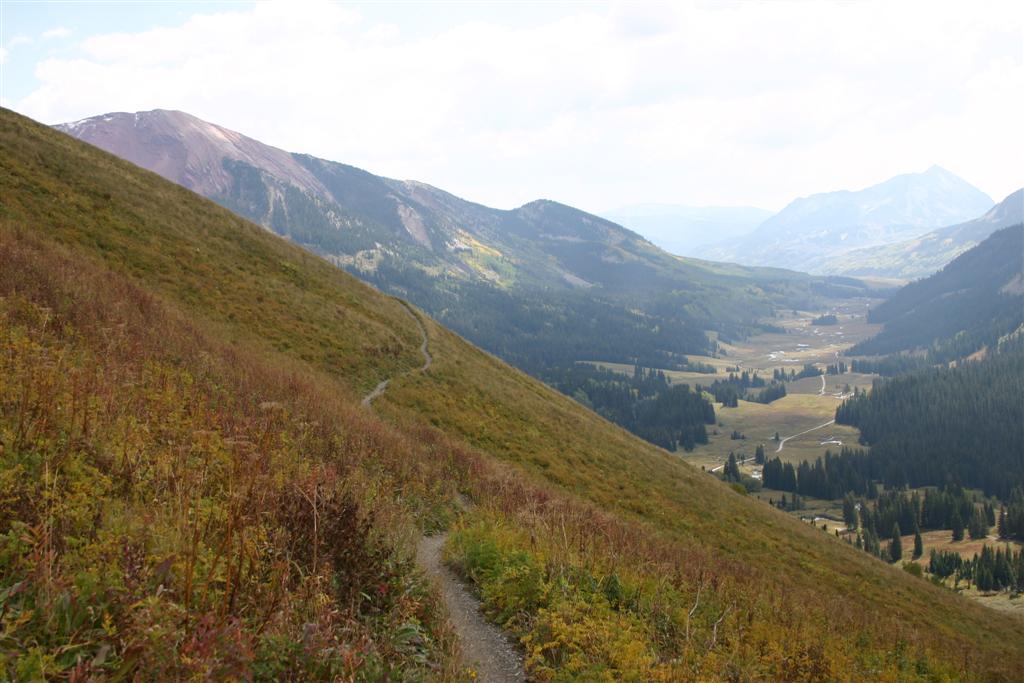 The classic Trail 401 shot.  This view shows up in many calendars, advertisements, and magazines.  Mt Crested Butte is towards right of image.  Very hazy today, but at least warm and dry.  I read that some of the haze was due to California
wildfires.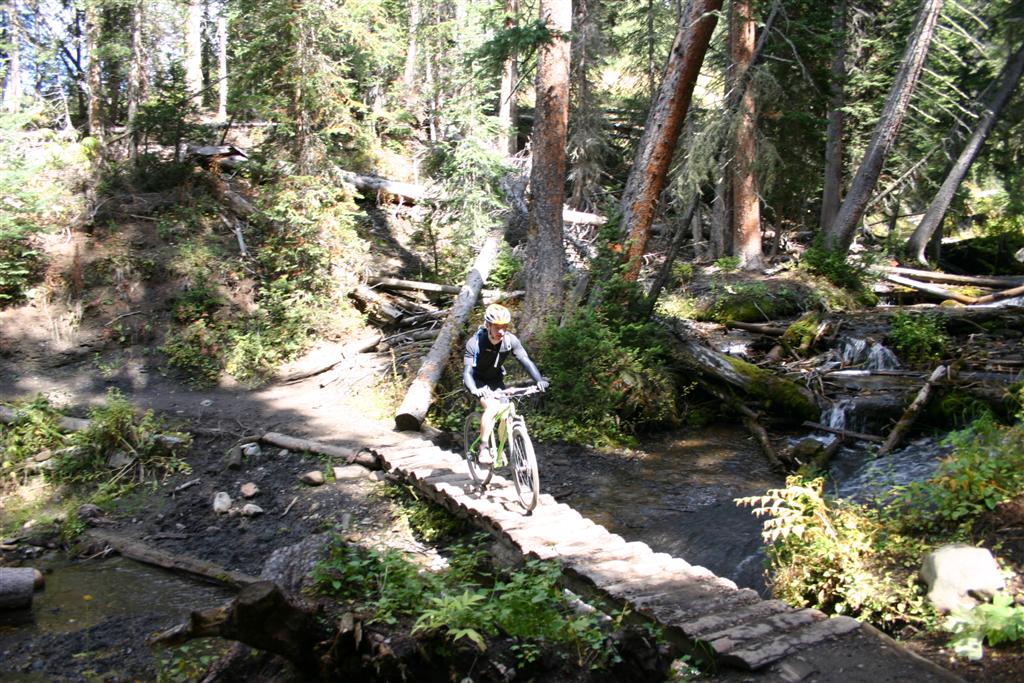 I believe this is on lower portion of Trail 401.  It is more wooded.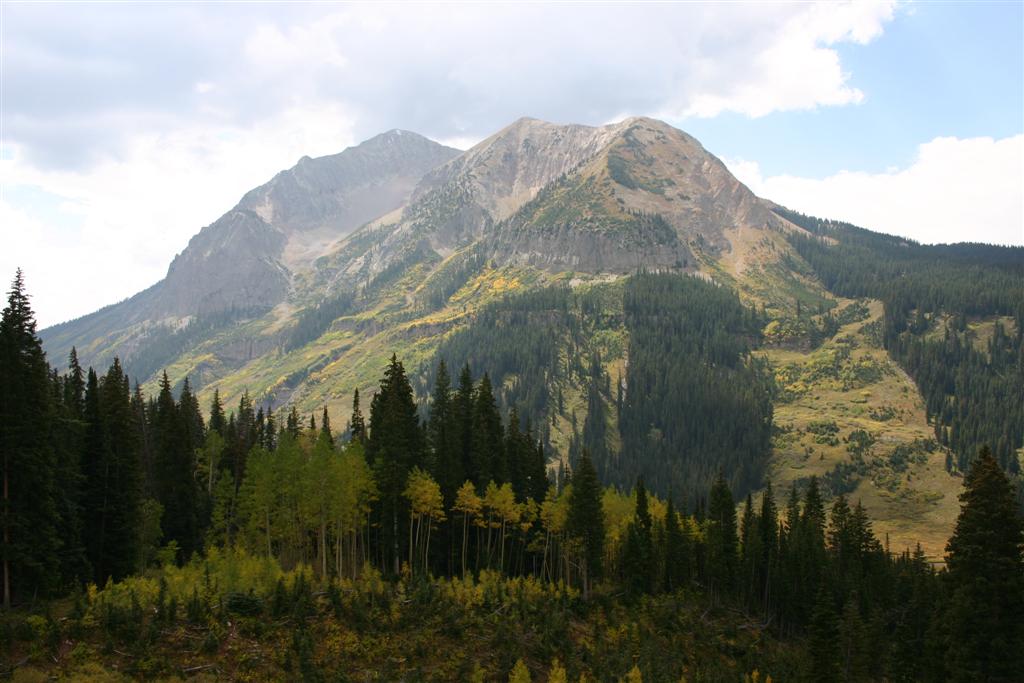 Nearing end of Trail 401.  This is Gothic Mountain.
Mt Crested Butte and the village from the Lower Loop trail.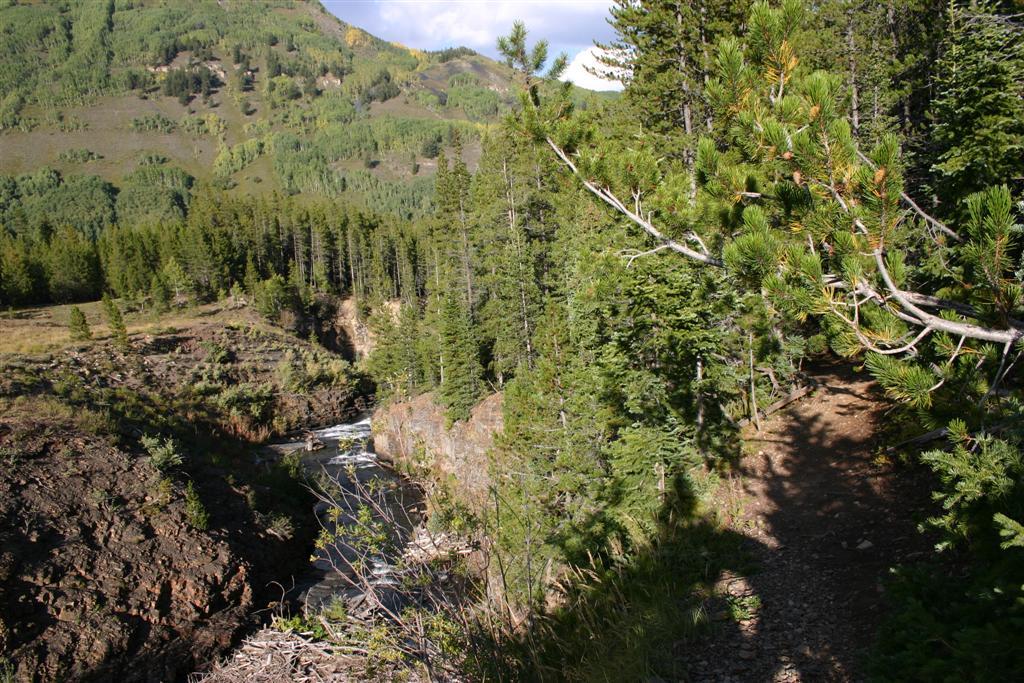 Extension of Lower Loop, called the Boyscout Trail or GB Loop per sign.  Oh Be Joyful Creek below with no room for error here.
Day Six: Black Bear Pass/Imogene Pass Loop, 12-SEP-06
Ouray and Telluride
45.3 miles
6:23 riding time (approx. 8 hrs total time)
10,700 feet climbing
7700-13,100 feet elevation range
Today, the forecast was perfect:  No chance for rain and warm.  This was absolutely required for this ride, as it presented the most exposure and risk to the elements.  We made a last minute decision to do this ride, after we got in the car in fact.  With another planned long, hard ride the next day, we first thought a shorter, closer ride would have been better.  But we couldn't have asked for better forecast, and we thought we may never have a chance to try this ride again.  It would present scenery and challenges we wouldn't see or get anywhere else.  Black Bear Pass is one of the most famous Jeep passes in the world.  It is not for the faint of heart with extremely technical sections where errors would result in certain death.
We drove the nearly two hours from Gunnison to Ouray, the starting point of the ride.  Ouray has changed little from it's mining days in the 1800's.  It has many nicknames today, such as the Jeep Capital of the World and the Switzerland of America.  Heading up Hwy 550 (also known as the "Million Dollar Highway") at about 10:45, we had a 13 mile climb ahead of us to Red Mountain Pass at 11,000 feet.  This was paved, no shoulder, and sheer drop offs in many places with no guardrails.  I would think fatalities on this highway are regular events.  The views up and down the Uncompahgre Gorge were spectacular.  No wonder they call it the Million Dollar Highway.  We made good time to Red Mtn Pass, but still had a bunch of climbing off-road to Black Bear Pass.
Climbing Black Bear Pass jeep road, the air got thinner and thinner as the grade got steeper and steeper.  We were forced to walk a couple brief sections.  We encountered no people for the bulk of the climb, only a few right at the bottom.  The view from Black Bear Pass was stellar.  A little snow was about in the shadows and no vegetation.  This was at nearly 13,000 feet.  You could see the valley where Telluride lie, but not the village itself as it was nestled so deeply in the valley.
After wolfing down a Clif bar and some Gu, we began the descent to Telluride.  It starts as open, sweeping turns, but very steep in spots, and all of it was loose, jagged rocks.  This was pinch-flat city.  Glad we were both riding tubeless tires.  As we approached the waterfalls area, the terrain became steeper, off camber, and more unpredictable.  I walked a couple portions, not wanting to wipe out with the Digital Rebel SLR camera (at least that's my excuse).  Again, Dave seemed to easily flow over the riffraff with his Niner.
The famed switchbacks were not nearly as intimidating as the section leading into them.  At this point, we had not encountered any Jeeps yet, just a single hiker on the way down from the pass.  It wasn't until we got below the Power House that we encountered Jeeps on this one-way trail (down only).  The switchbacks were fun, the scenery surreal, but constant vigilance against pinch flats or wiping out on the loose rocks was required.
We made it into Telluride, a quaint little gold rush era town that is now known more for its ski area.  We asked a local for nearest grocery store for refueling.  I became deeply concerned that we were going to run out of daylight.  We got a much later start than I had originally planned back home for this ride.  I was cooked, and we had a steeper climb to higher altitude ahead of us in order to get back to car.  After munching a Pop Tart and peanut M&Ms, we headed up Imogene Pass Road.  This starts out at a reasonable 15% grade for the first three miles or so, but the last three miles averages over 20% grade in very thin air.  I discovered new depths of suffering on this climb.  At one point with about 2 miles and 2000ft of climbing to go, I slipped, fell, and slid down the road with my bike.  That's how steep it was.  I didn't think I could get back up and continue.  I walked nearly all of the last two miles, where sections must have approached 30% grade.  My hardtail gearing was race oriented, a 24t front, 32t rear minimum ratio.  Dave was running a 22t front, 34t rear ratio and was able to maintain a more reasonable cadence than I.  I had never considered that this would matter, but with thin air, tired legs, and steep grade, it made all the difference.  Dave was able to ride most of the last three miles.
Entering the summit area, there was a good blanket of snow on the ground.  The road was mostly clear, but wet.  The 13,100ft summit was covered with snow, and the descent to Ouray side, which lies more in the shade, had about a foot of snow on it.  I had a killer headache going on at this point.  I couldn't eat.  The thought of trying to eat something made me sick to my stomach.  I did take three Ibuprofen.  Was probably a combination of altitude sickness and extreme fatigue.  We encountered a Jeep as we approached the summit, and the driver questioned our plan to ride over and back down to Ouray.  He didn't think we had enough daylight left.  This didn't build any confidence in me either.  Another driver we encountered earlier said the back side was not all down either, that some climbing was involved.  We encountered maybe 6-8 vehicles during the climb to Imogene Pass.
The first mile or so of the descent consisted of staying in the Jeep tracks.  The snow was quite deep.  Air was not cold though.  We did not have to put wind shells on.  The first several miles of descent were wet and messy.  Not slippery mud, just mess your bike up kind of stuff.  All of the descent was loose sharp rocks, again, pinch flat city.  We carried some insane speed through these rock fields, bikes and bodies taking a pounding.  If it weren't for the grueling 2 hour climbs, a full suspension rig would be much more suitable for this kind of riding.  We reached a place where we started climbing, and climbing, and I got worried.  We were already in the shadow of the mountains and it was getting darker, and we had at least 10 miles to go yet.  The profile I ran of this loop did not show a sustained 1 mile climb on the descent.  I wondered if we were chasing up one of the many mining roads.  We weren't.  We eventually reach Camp Bird Rd, and the descent became much smoother.  Still bumpy gravel, but fast now.  As we approached Ouray, the road was quite good and we hit speeds of 40+ mph.  It felt so good closing this loop.
We quickly changed out of bike clothes and walked down Main St, Ouray to find a place to eat.  We found a place with big burgers.  I never ate a half-pounder that tasted so good.  A little coffee with that did wonders for the altitude/fatigue headache I had.  It was nearly dark in town after we ate.  On the way back to Gunnison, we stopped somewhere near Cerro Peak on Hwy 50 to look at the stars.  Dave commented that the stars were bright as we were driving.  This is high altitude in semi-arid area, and we were many miles away from the nearest town.  The moon hadn't yet risen above the horizon either.  I was blown away by the night sky here.  I had no idea what the Milky Way could look like.  It was such a distinct band of white running form horizon to horizon.  I never saw more stars in the sky before.  That alone made the long drive to and from today's ride worth the trip.
I think Dave summed up this ride well by rhetorically asking "Isn't this the sickest ride ever?"  It was easily the hardest off-road ride I have ever done.  The scenery is stuff you will never forget.  That is why we did the ride.  No singletrack, but brutally challenging Jeep road for mountain bikers made up for it.  If I did this ride again, I would do several things differently.  I would start earlier, so pace was not an issue.  I would go into the ride with fresher legs.  And I would gear my bike as low as possible.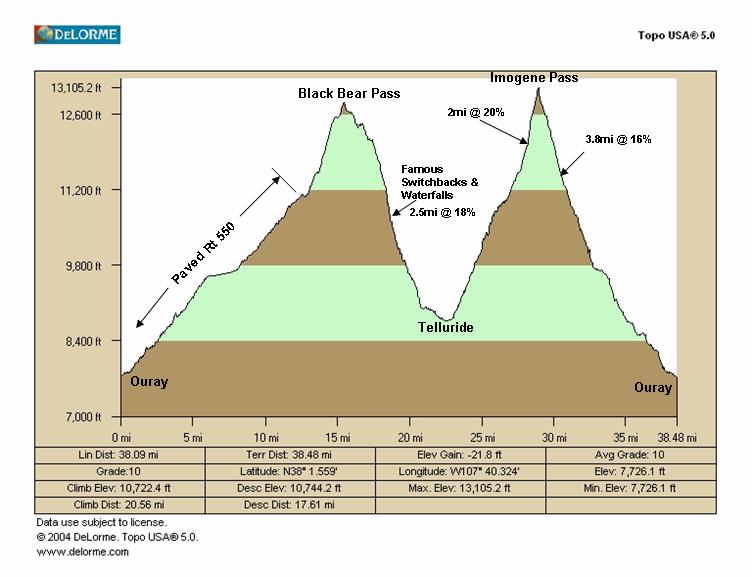 First, a profile of this beastly ride.  The grades alone are killer.  Put them up around 11,000 to 13,000 feet, these two climbs will doom just about anybody.  They did me in.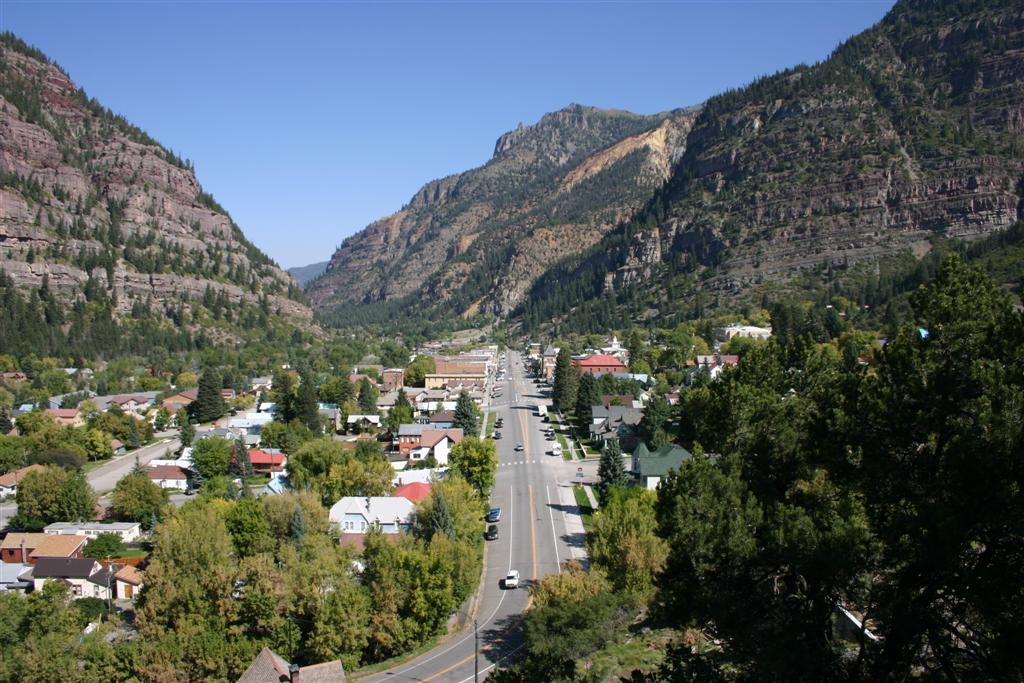 Town of Ouray (pronounced yer-AY) from Hwy 550.  This town is sometimes called the Switzerland of America or the Jeep Capital of the World.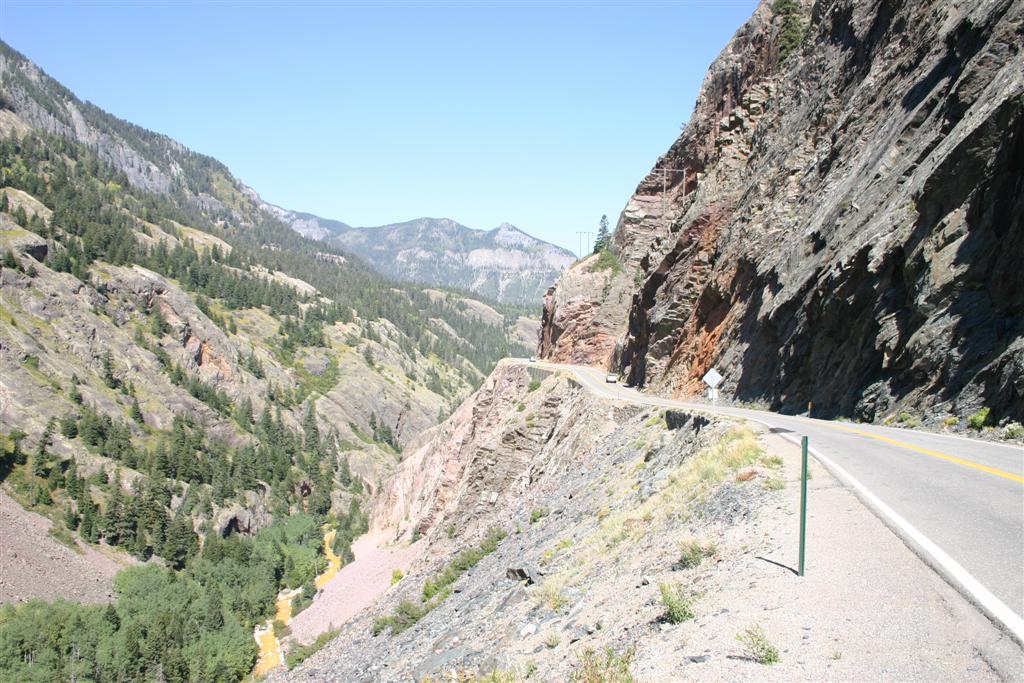 Further up Hwy 550, sometimes referred to as the Million Dollar Highway.  This road had no guardrails, yet shear drop-offs much of the 13 miles to Red Mountain Pass.  I was scared to ride my bicycle close to the edge.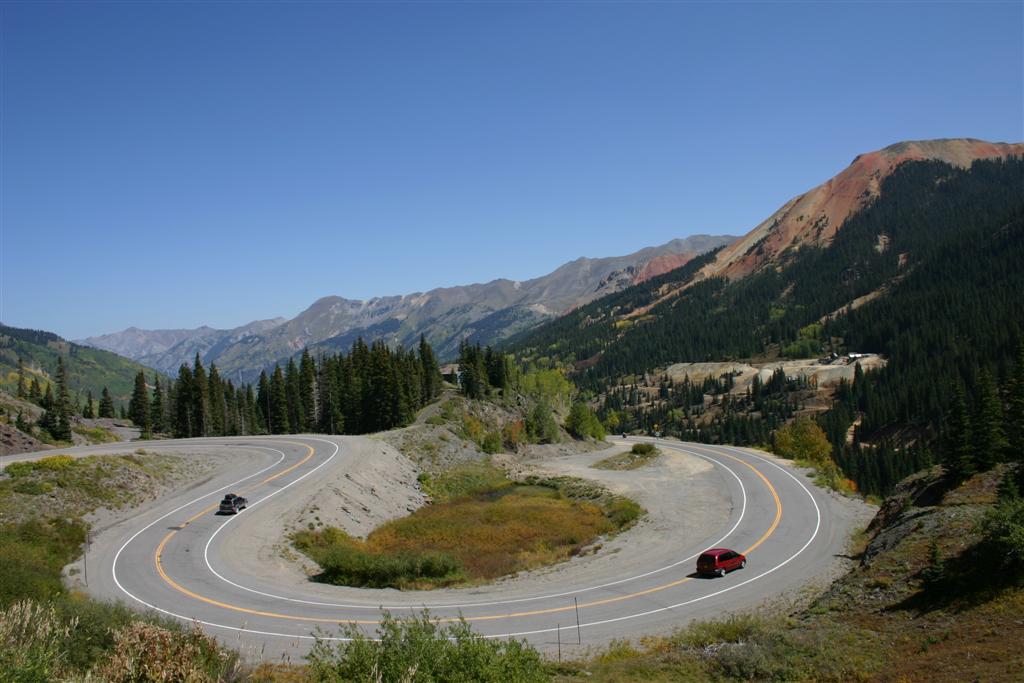 Hwy 550 much further up.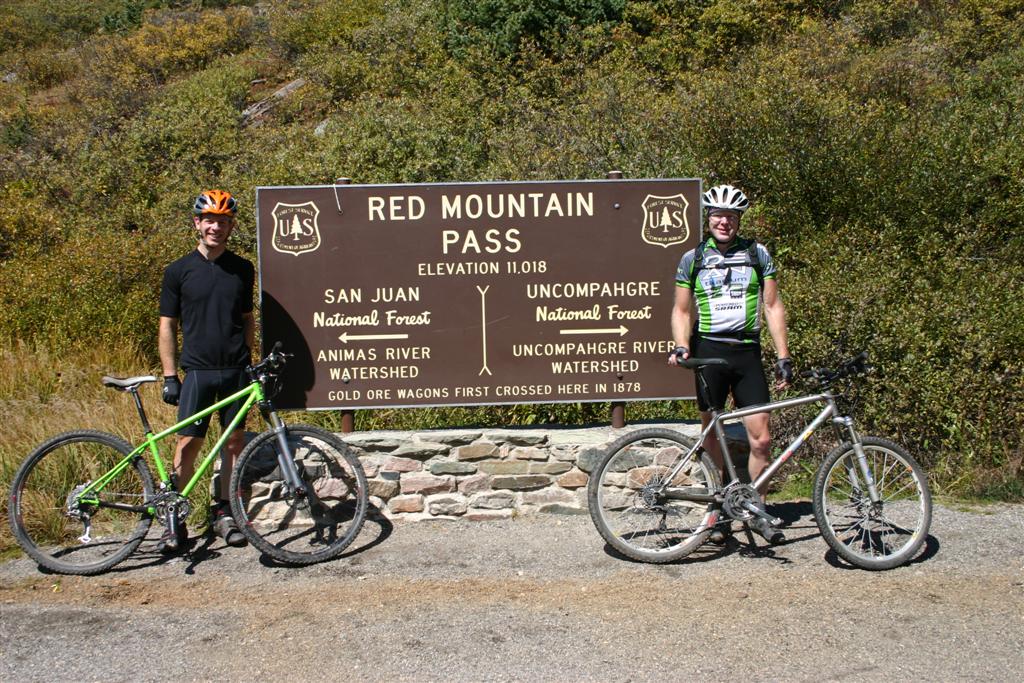 Red Mountain Pass at 11,018 feet.  The first 13 miles of climbing was over, now the real climbing begins to Black Bear Pass.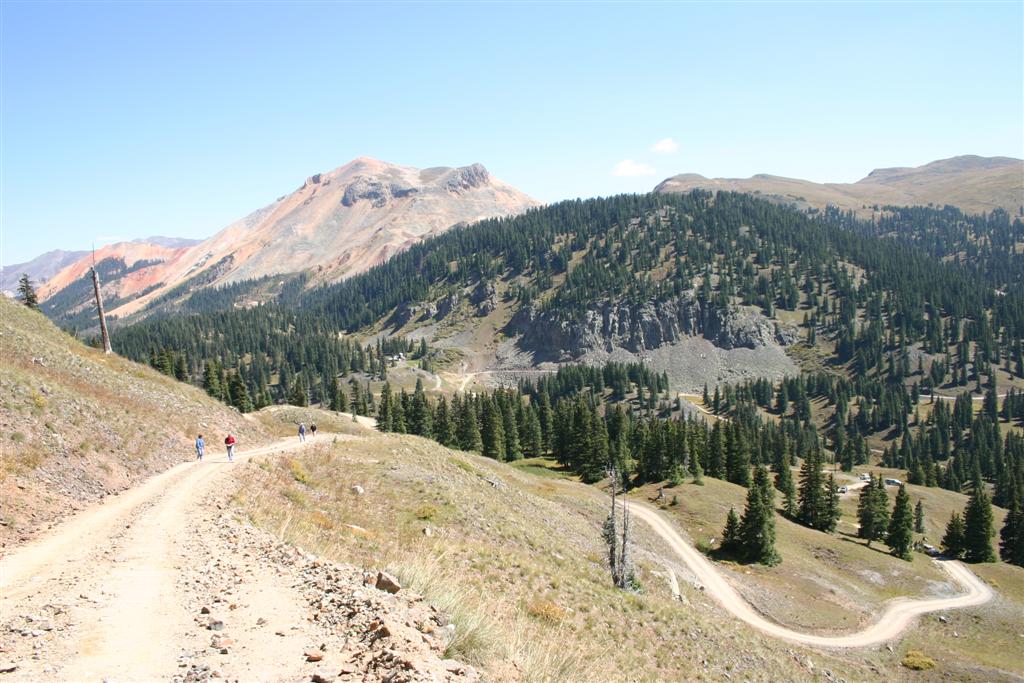 Beginning Black Bear Pass climb.  This part was rideable, had a few hikers on it, and one Jeep passed us.  We asked the Jeep people for directions since there was a fork in the road that was not on our map.  Of course, our route took the steeper way up. This was the last vehicle we saw until we got down the other side.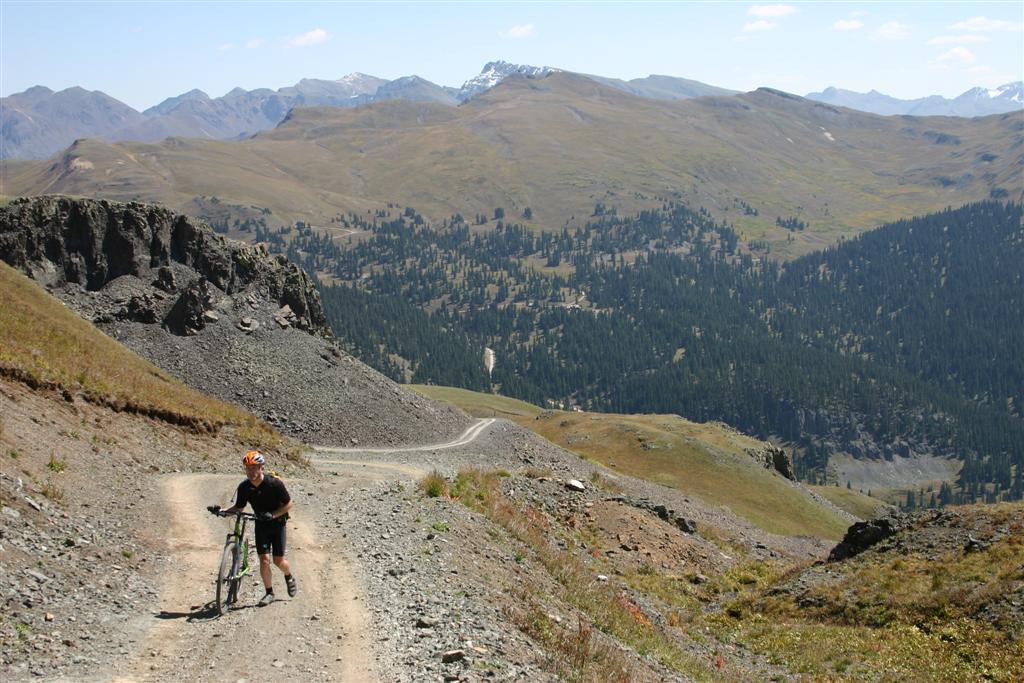 We did walk a few bits to the summit of Black Bear Pass.  Grade here was easily over 20% and with little air to breath.
Near summit of Black Bear Pass.  Red Mountain in background.
Dave cresting summit of Black Bear Pass.  Pretty barren up here, mostly rock to ride on.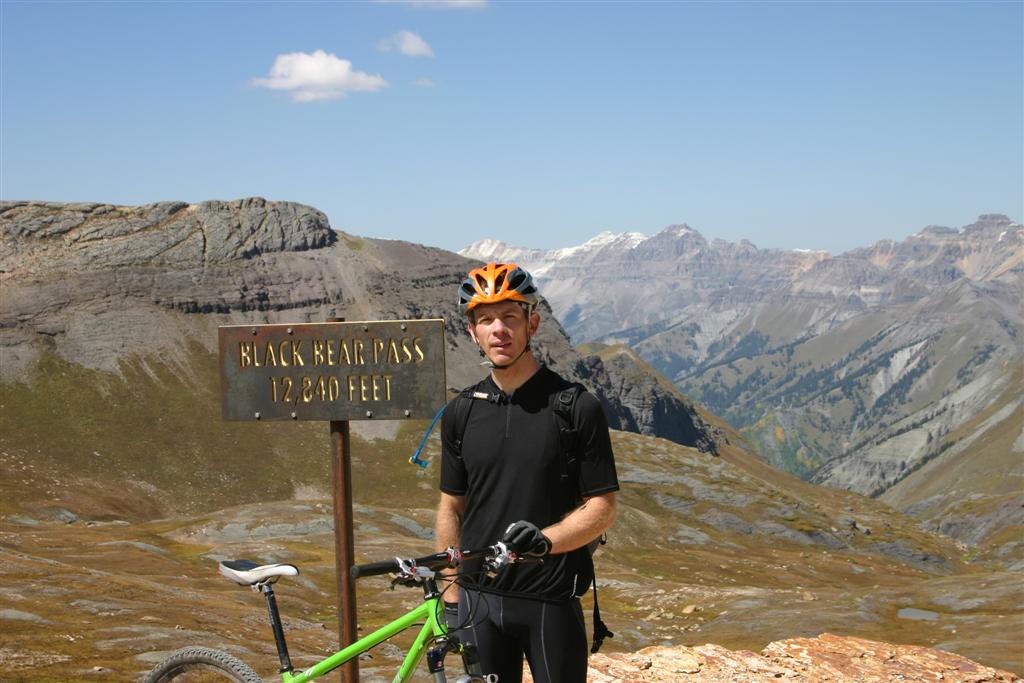 Dave at Black Bear Pass summit.  Views up here were stunning in all directions.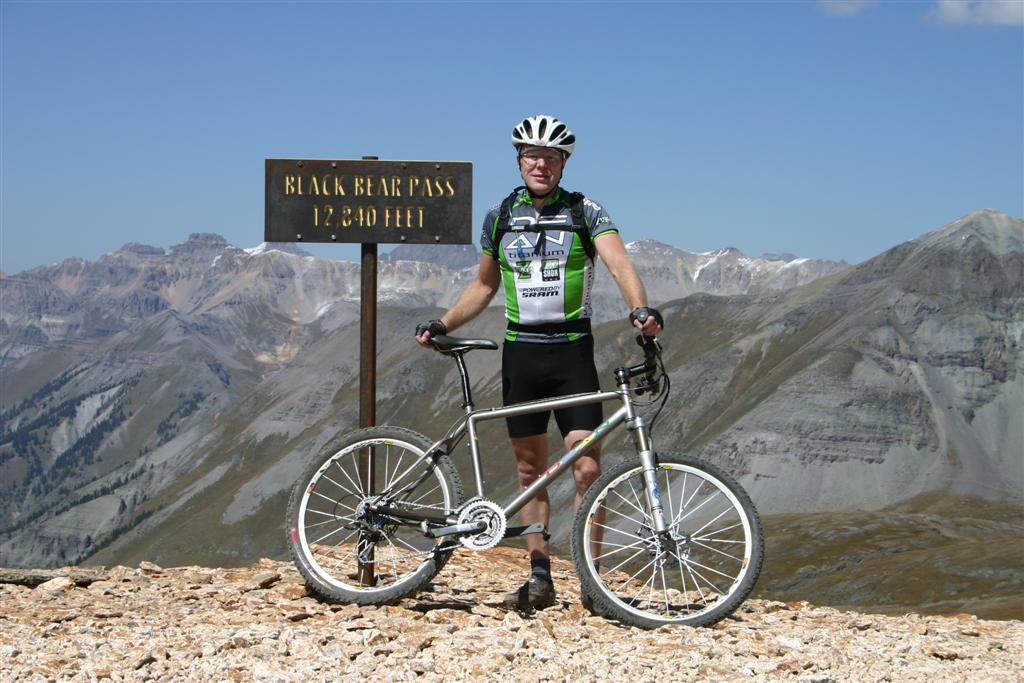 Doug at Black Bear Pass.  Seemed like we were on top of the world here.

Stitched panoramic image of Black Bear Pass looking mostly north toward Telluride in distant valley very far below.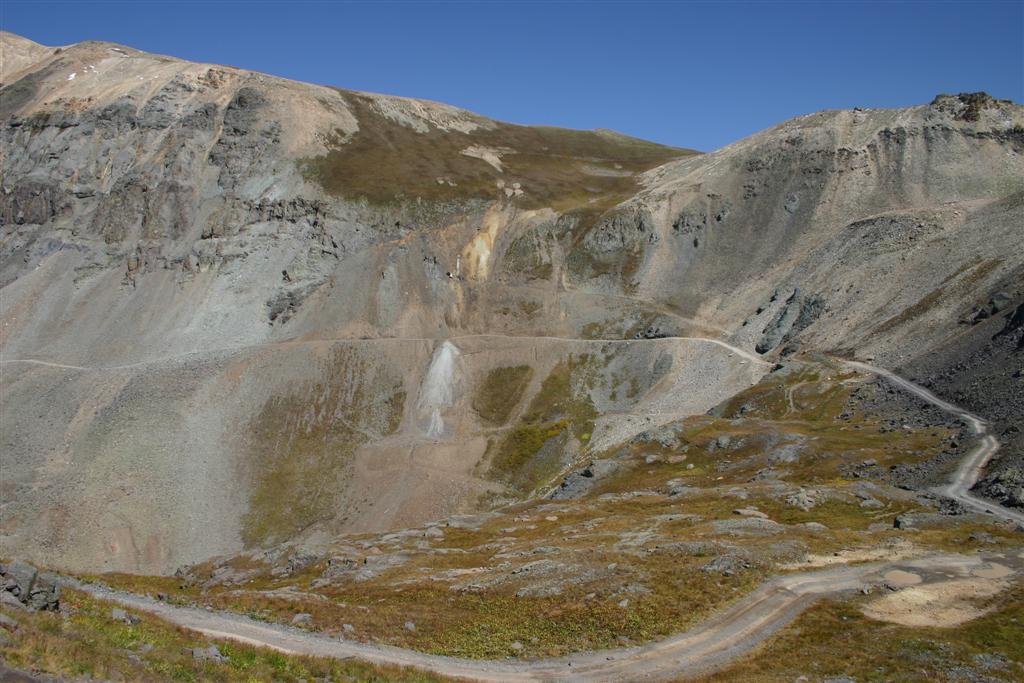 Beginning descent from Black Bear Pass towards Telluride.  Very rocky and loose in places, perfect terrain for pinch flats, but we never got any.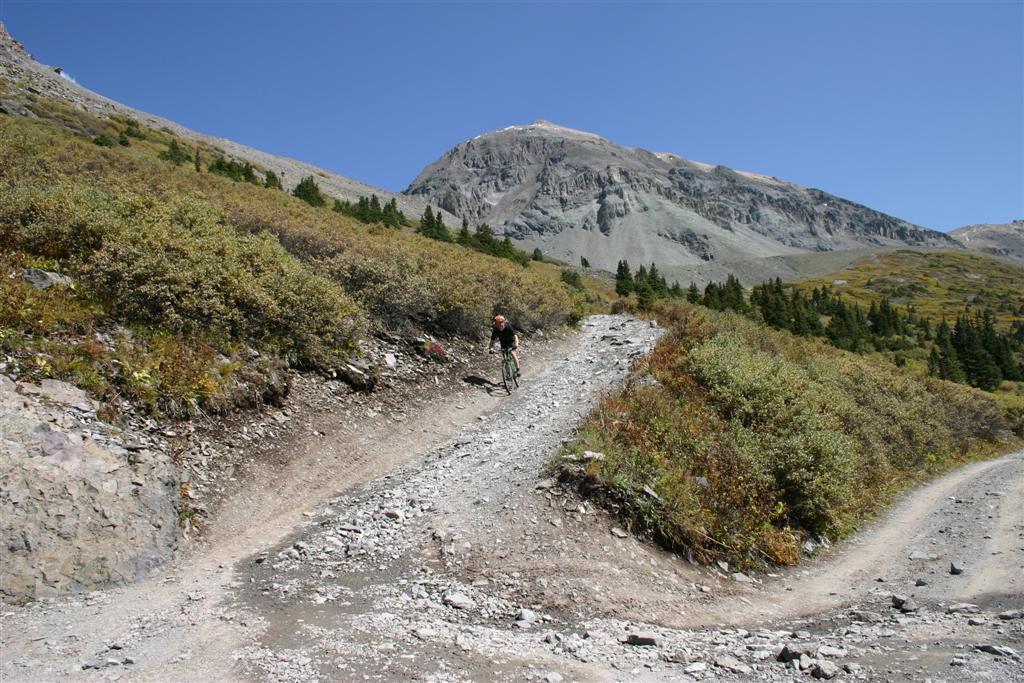 One of many, many switchbacks descending Black Bear Pass.  These were still high up, well above Telluride.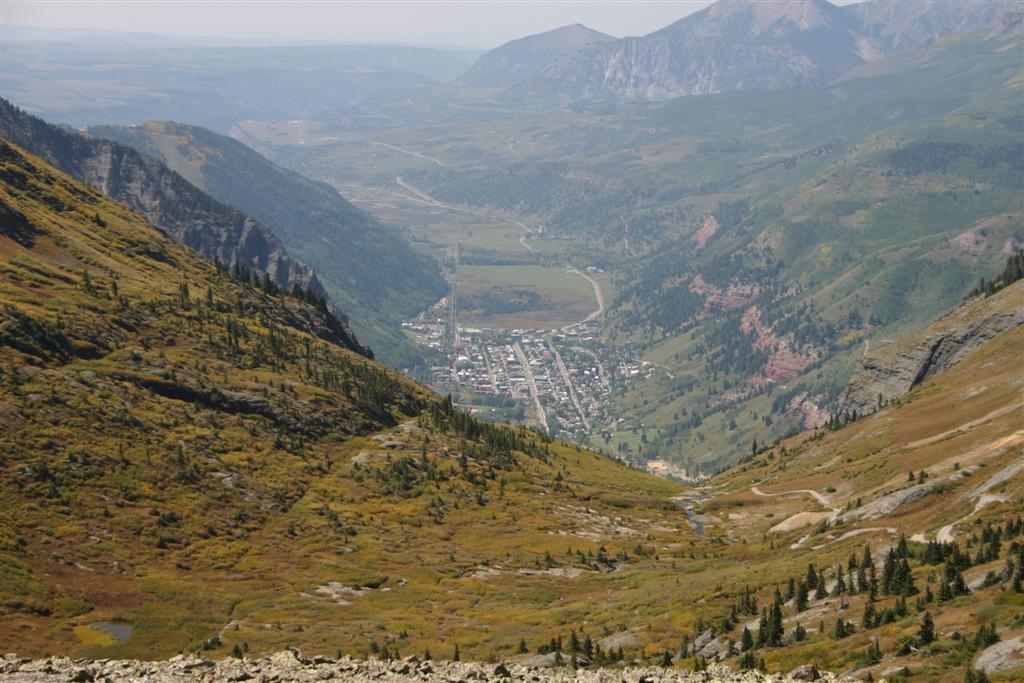 Telluride first coming into view.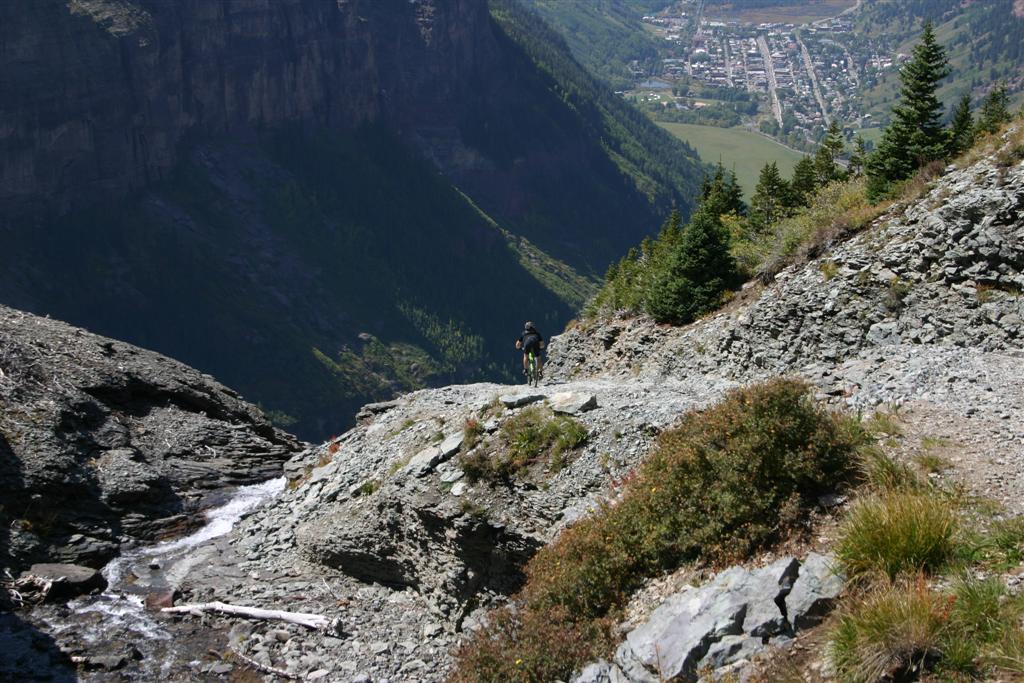 This is were the Black Bear Pass descent got serious.  No room for error here.  The surface was loose rocks over rock, off camber, and at times 20-30% grade.  I would never ride in a Jeep over this stuff.  People must die trying.  Riding here felt like riding over 2000 foot cliff, as you couldn't tell how steep it really was going to get.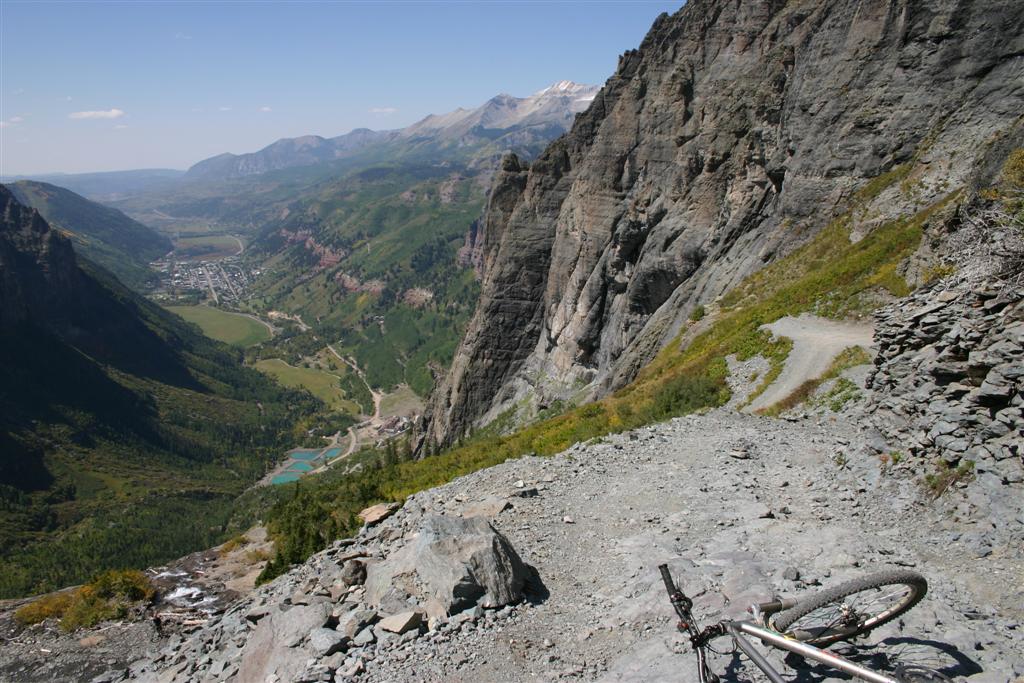 Another view looking down the descent to Telluride.  Dave is standing below in lower left corner of image.  He seemed to roll pretty calmly with his Niner over this stuff.  I had rear tire skid marks on my butt and still got off my bike at one point!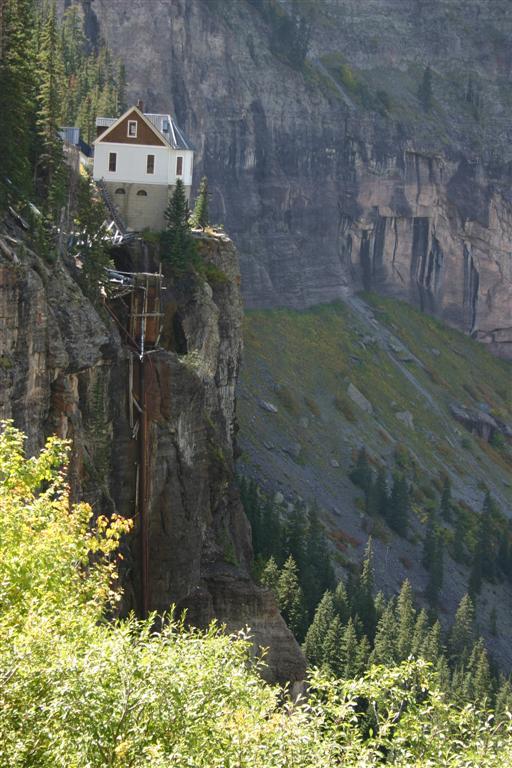 The power house above Telluride.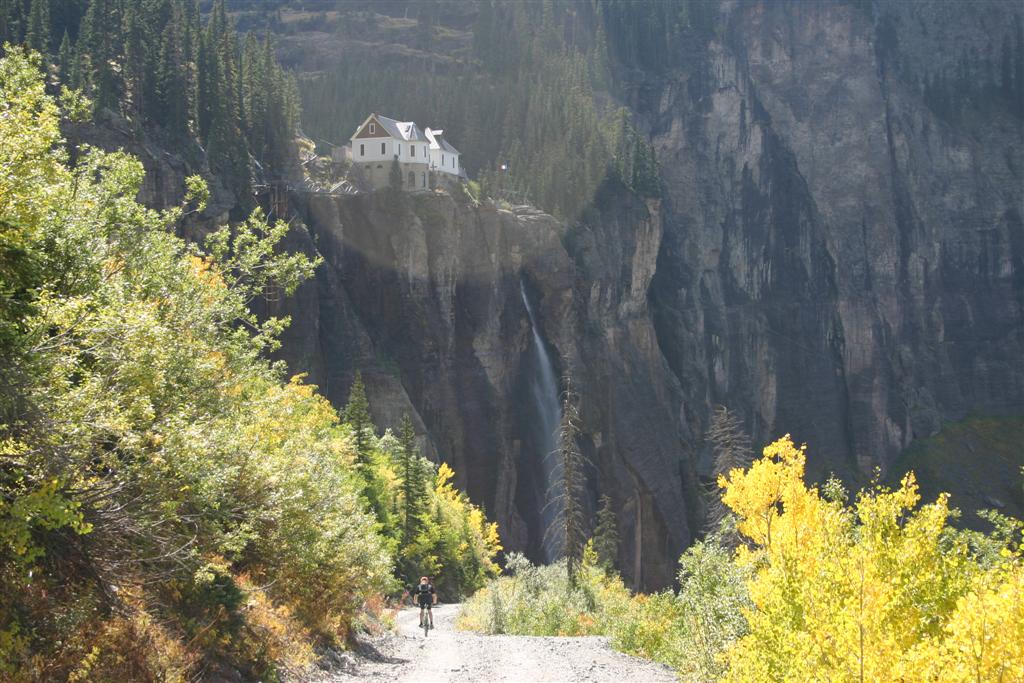 The power house from slightly below and Bridal Veil Falls.  Now we were on the famous switchbacks coming down to Telluride.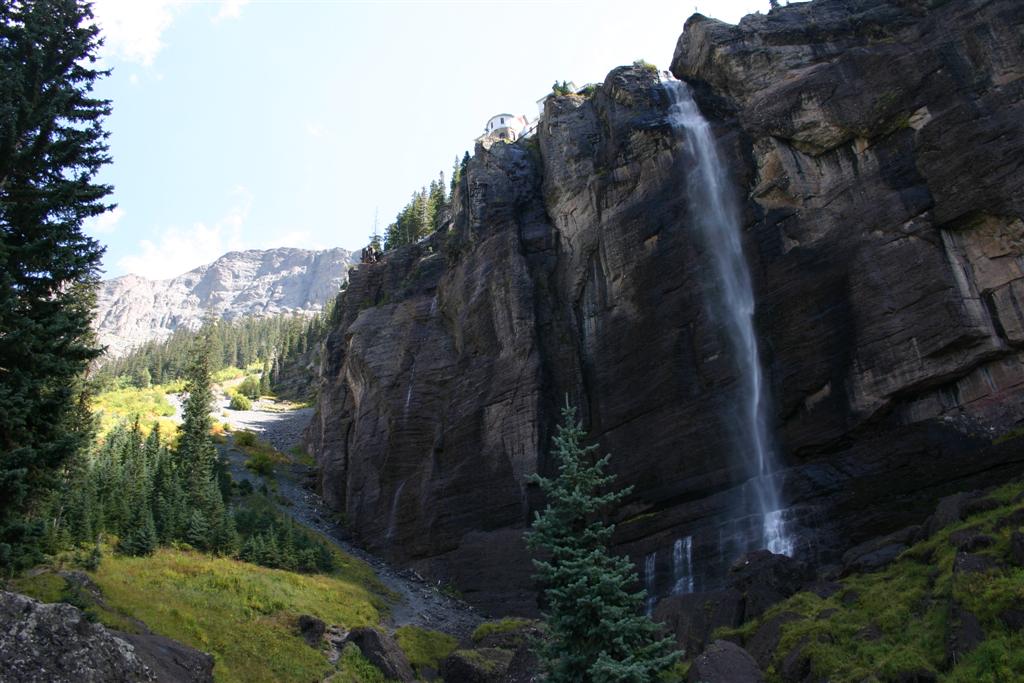 Yet one more view of the house and falls.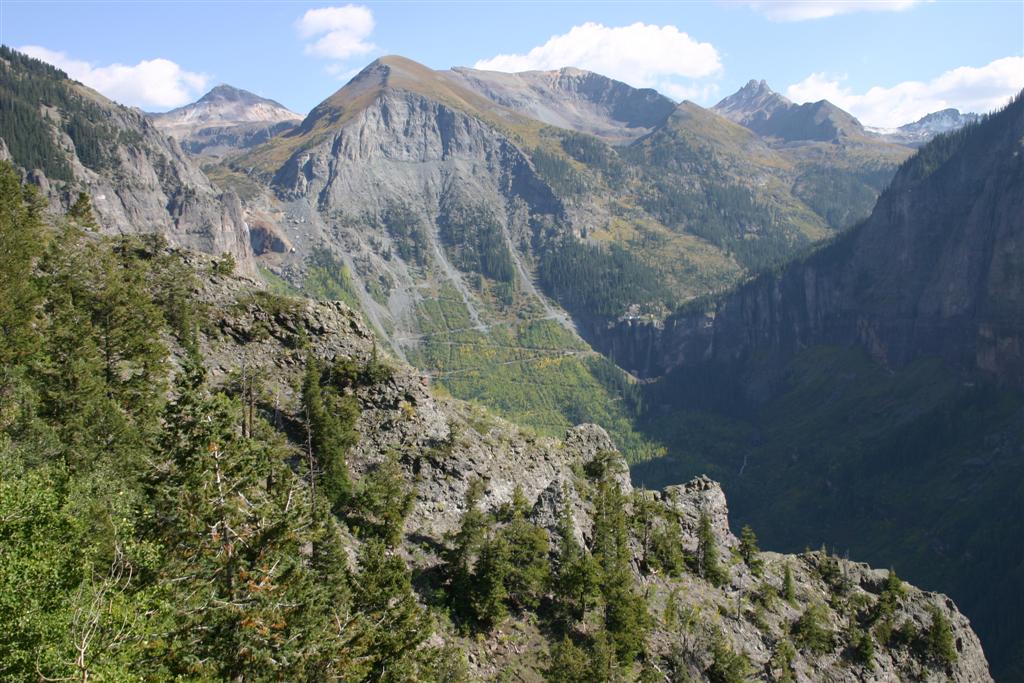 The famous Black Bear Pass switchbacks from Imogene Pass road.  It's hard to believe there's a path down the mountains on the upper left side of image, but we rode it.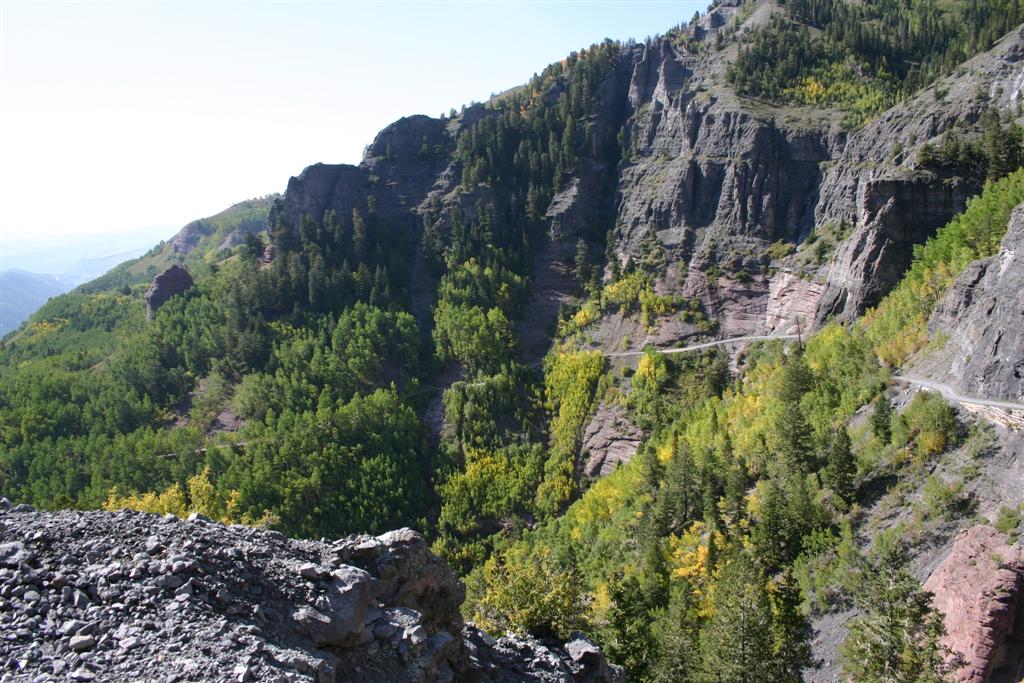 Beginning climb up to Imogene Pass out of Telluride.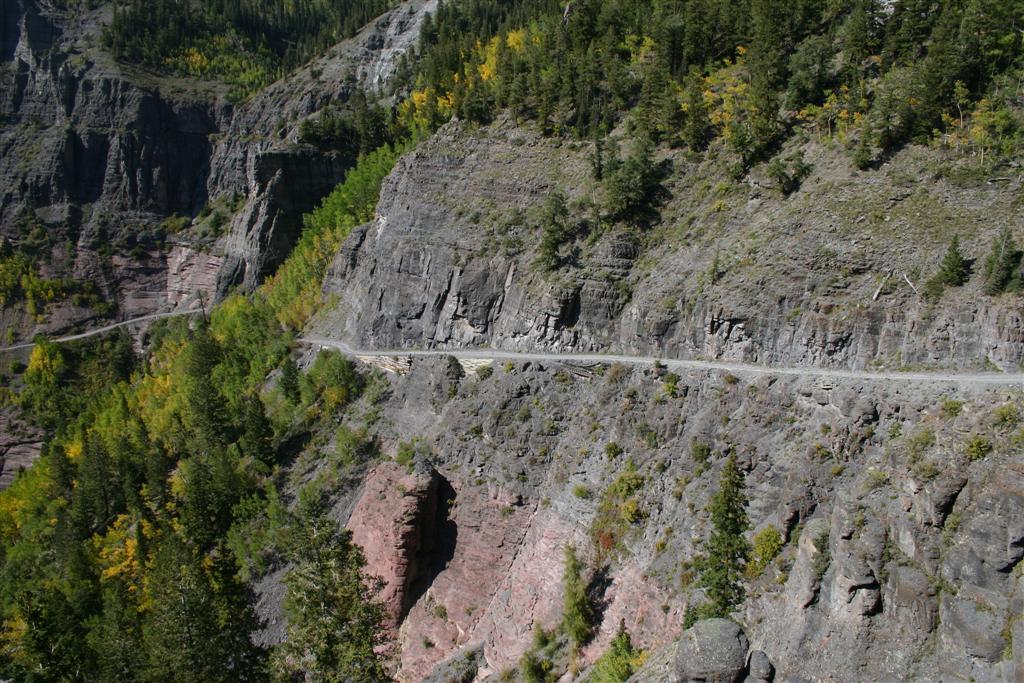 Closer view of ledge cut Jeep road up to Imogene Pass.  No room for errors here.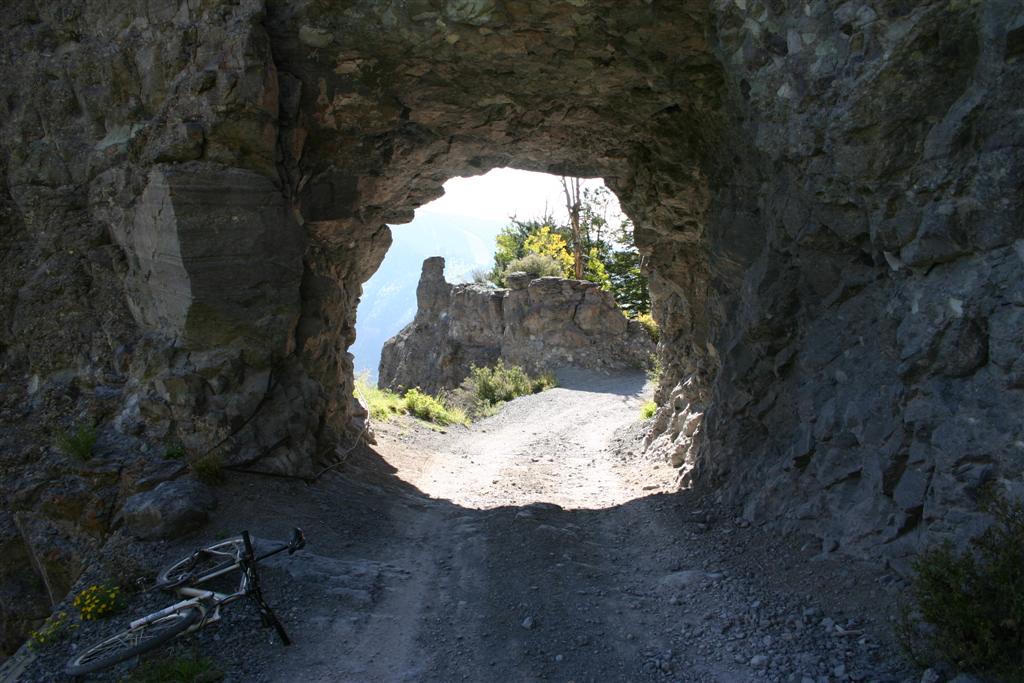 A small tunnel part way up to Imogene Pass.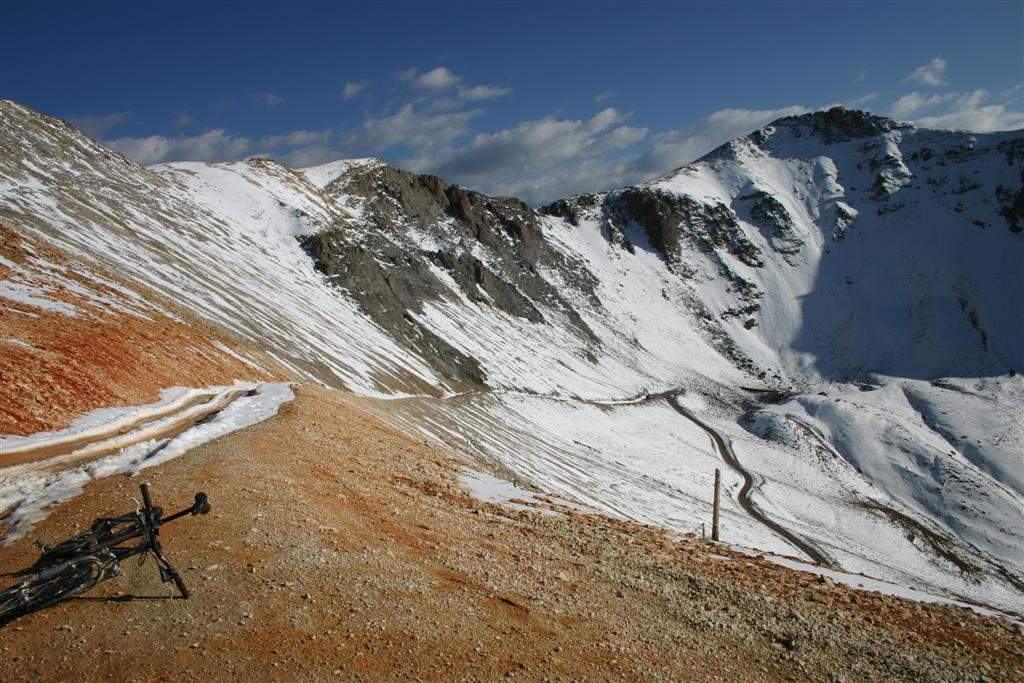 At 13,114 foot summit of Imogene Pass. Despite all the snow, it was not cold up here on this day.  I walked nearly all this.  I think Dave rode all of it.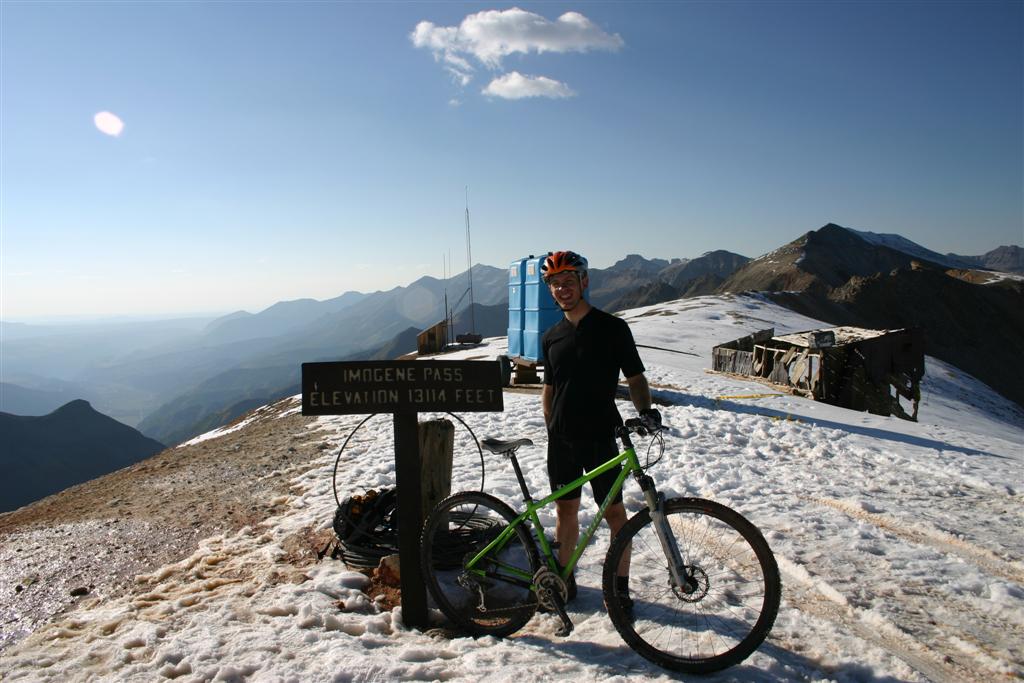 Dave at Imogene Pass summit.  Port-O-Johns are probably left from prior weekend when a foot race was run over this beast.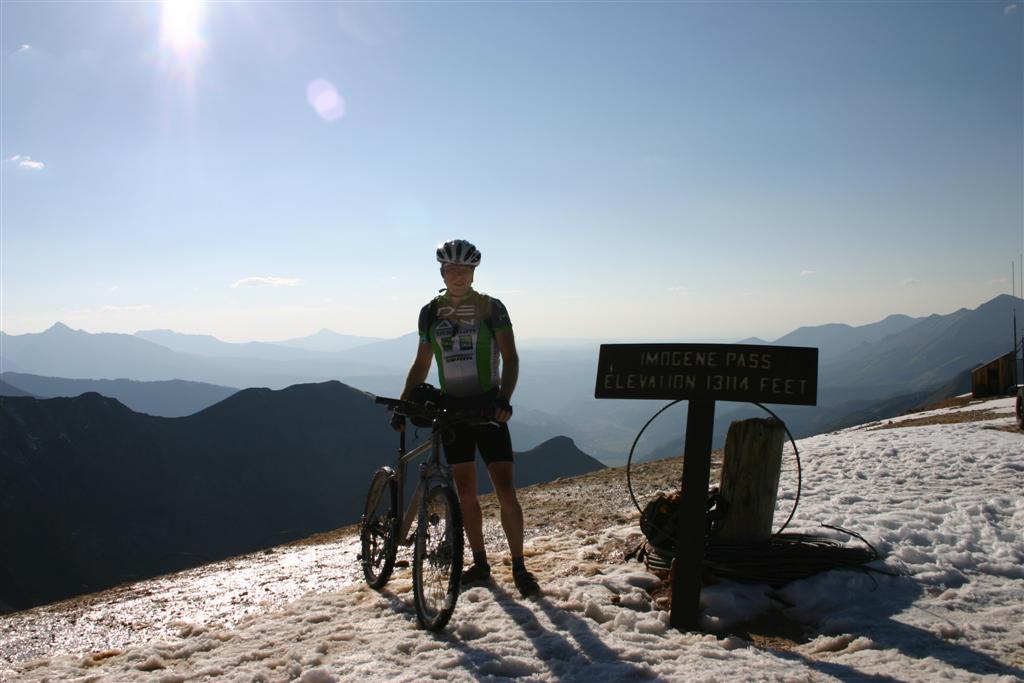 Doug at Imogene Pass summit.  Our shadows were getting long, and we had 14 miles of unknown terrain and conditions to head down before getting back to car in Ouray.
Beginning of descent.  Trail was very sloppy, and the snow was about a foot deep on the back side of this peak.  Had to carefully stay in Jeep tracks.  Snow petered out in about a mile, but wet conditions persisted a long ways down.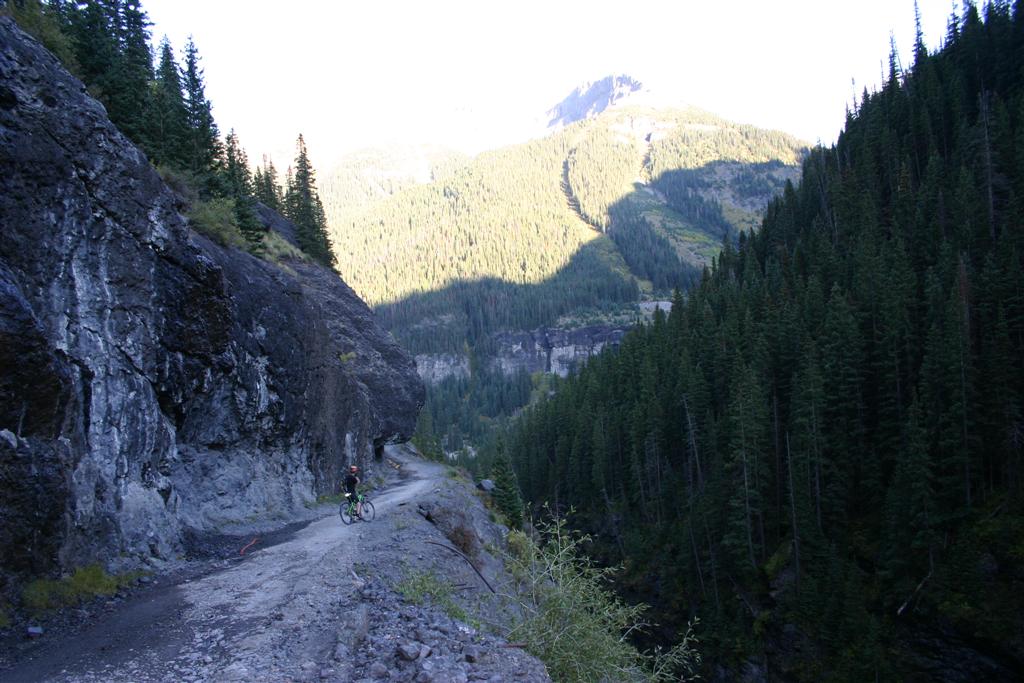 Parts of the descent from Imogene Pass had a roof over the road.  The gorge here was very deep.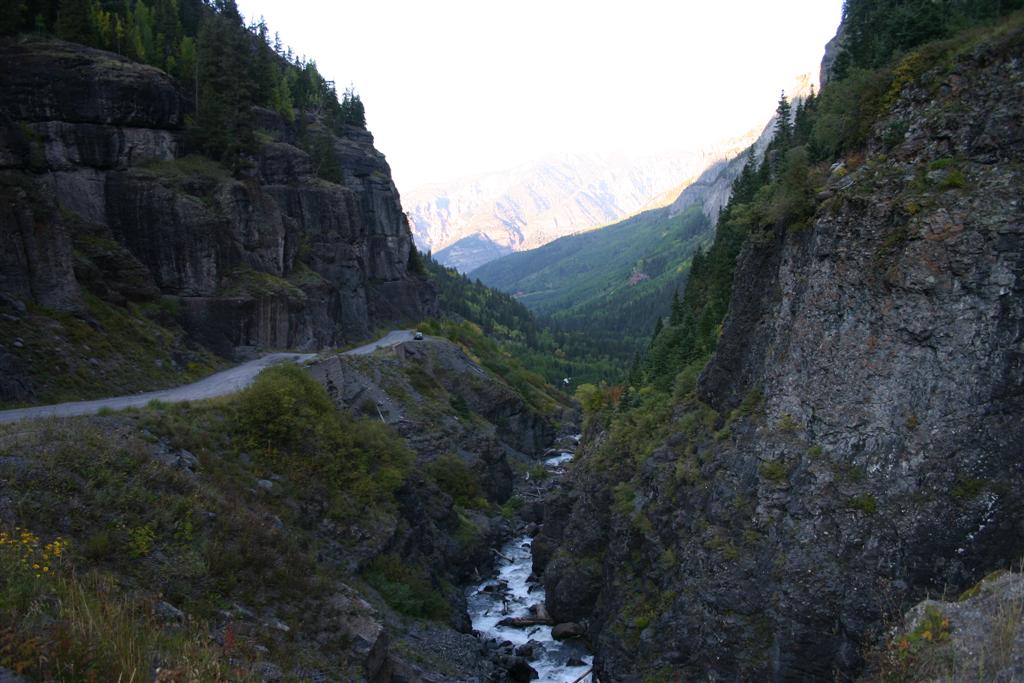 Still several miles out from Ouray.  We followed this stream all the way down.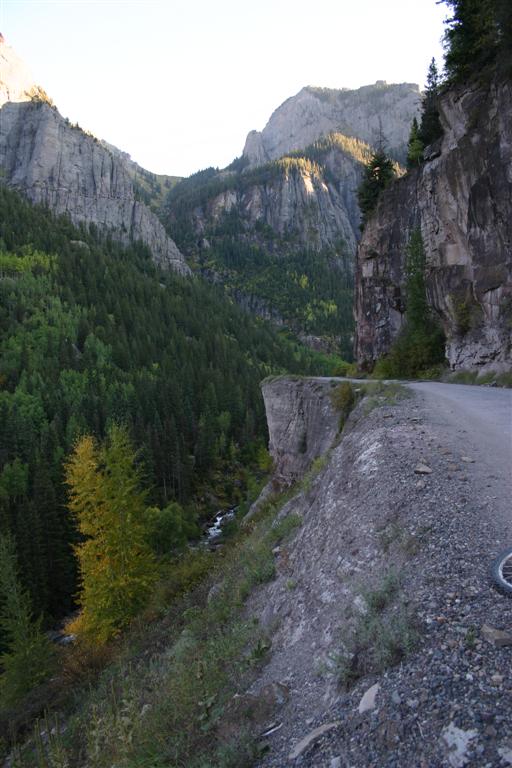 Crazy roads out here.  The edge simply goes over into the abyss hundreds of feet straight down.
Day Seven: Monarch Crest, Silver Creek, and Rainbow Loop, 13-SEP-06
Poncha Springs
54.0 miles
5:37 riding time (approx. 7.2 hrs total time)
9000 feet climbing
7500-12,000 feet elevation range
Another great weather day was forecasted.  This loop was one I was really looking forward to, as it entailed all the right ingredients that make up my perfect ride: monster road climb, ridgeline singletrack, fantastic views, and singletrack descent.  Poncha Springs is on our way back to Denver, so we checked out in Gunnison, loaded car up, and headed 66 miles to the east for the ride start.  At Monarch Pass, we stopped to leave water and food, as we'd be coming back up this way on bikes.
So how do you start the perfect ride?  With an 18 mile, 2 hour climb of course!  Climbing Hwy 50 to Monarch Pass was not nearly as painful as I thought it was going to be.  I think Dave might have finally showed some tiredness in his legs, which helped.  The grade does not exceed 6%, but the climb is very long.  There is small visitor center at the top with food.  I got a large hot dog and sizeable bowl of ice-cream.  Not your best riding fuel, but Gatorade, Gu, and Clif bars didn't work so well the day before.  The hot dog and ice-cream went down very well, and at our pace, having stomach full was not going to be an issue.  I had no signs of bonking for remainder of ride.
At Monarch Pass, we pick up the Crest singletrack which follows the continental divide for about 15 miles before we headed back down.  The views up here from 11,000 to 12,000 feet were drop dead gorgeous everywhere.  By now I was somewhat acclimated to the altitude and was not having as much trouble with headaches.  The terrain rolled up and down, zig-zagging across the divide up to a dozen times.  Marshall Pass was reached in about 10 miles.  This is an easy bailout point, a railroad grade road back to Poncha Springs.
We continued on the crest to pick up the Silver Creek trail.  This trail descends on a narrow ribbon of singletrack for 5 miles, at times in narrow creek valley bottom and at other times with open meadow views.  Was fast, buffed in most places, and wicked enjoyable.  Upon reaching the junction with Silver Creek Rd, a decision had to be made.  Continue descent on jeep road for several miles back to car, or take the much more demanding Rainbow Trail.  Dave really wanted to do more singletrack, so I opted to give it a try despite being pretty cooked at this point and low on water.  The Rainbow Trail only adds a couple miles to total ride, but adds 1500 feet of climbing by continuously undulating along the valley side as it works its way back down towards Poncha Springs.  I'm glad Dave wanted to do it.  The Rainbow trail was a fine way to cap off one of the best rides I've done.  Most of it the trail was buttery smooth, very narrow, and often bench cut into very steep hillside. It popped in and out of tree cover.  It is open to motorcycles, although from trail condition, you'd never know.  We encountered one dirt bike.
We eventually reached the end of singletrack at Hwy 285, where we encountered a group from Connecticut that shuttled up to the top of Monarch Pass and did the same ride we did.  The woman, who was near my age, was an incredible rider.  But she grimaced when we told her we BIKED to the top of Monarch Pass.  We did not shuttle (take auto transportation up, then bike back down) any rides on this trip.  Against our philosophy.  You have to earn that descent.  You feel much better about yourself riding down that 5000 foot descent having climbed up there on your own power in the first place.
We had to take Hwy 285 a few miles back to the car, and we were still surprisingly high, maybe 1000ft above Poncha Springs.  We hit speeds of 45mph on this nicely paved road.  Despite this being third very long, hard day in row, I was not trashed after this ride.  Satisfied is a better word.  We had ample daylight to complete the full loop, so there was no rush from this standpoint.  We started at an easier pace too, working more from fat breakdown than glycogen depletion.  This loop will rank in my top three rides of all time, maybe making number one.  I will have to dwell on it for a week or two to see how I feel about it then.  I will do this ride again sometime.  It is that good.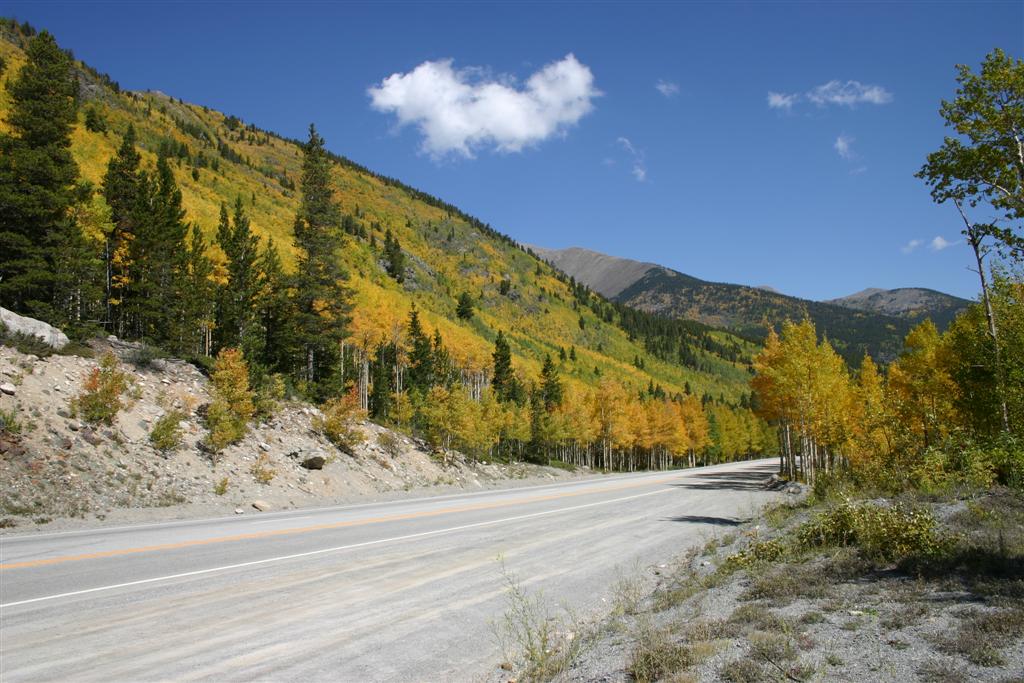 Climbing up Hwy 50 from Poncha Springs to Monarch Pass.  Color in spots.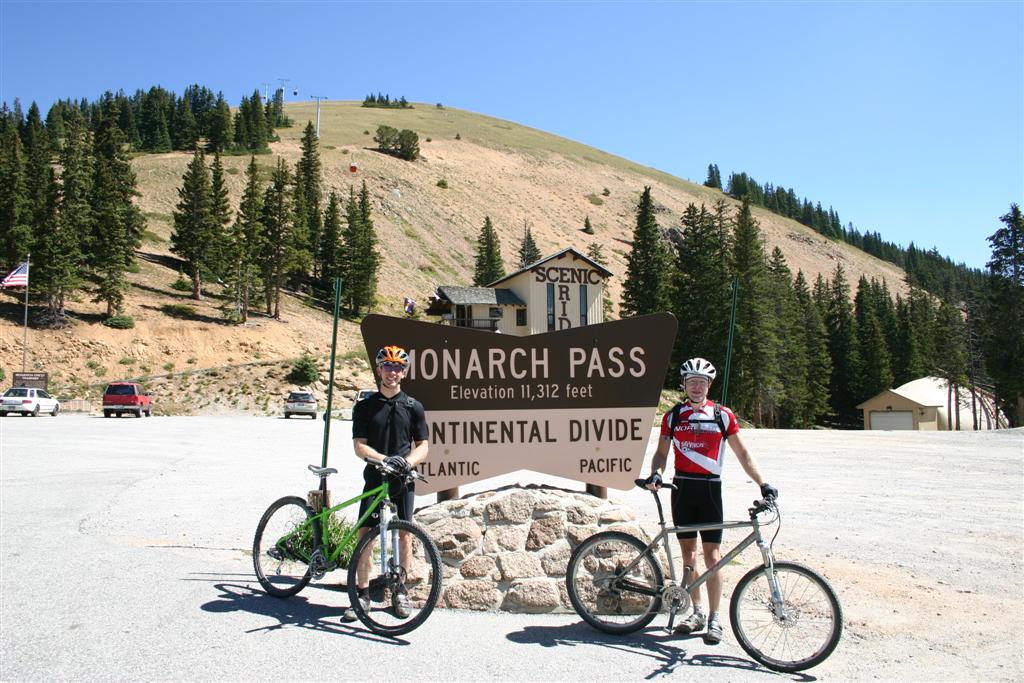 On the Continental Divide at Monarch Pass, 11,312 feet.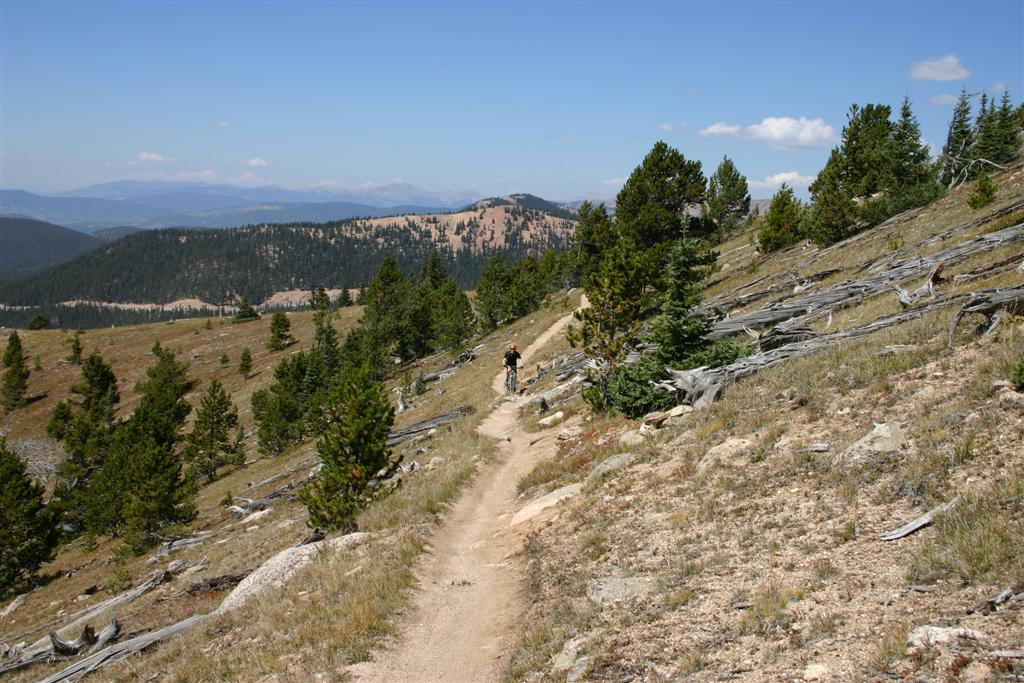 Crest singletrack.  It doesn't get any better than this.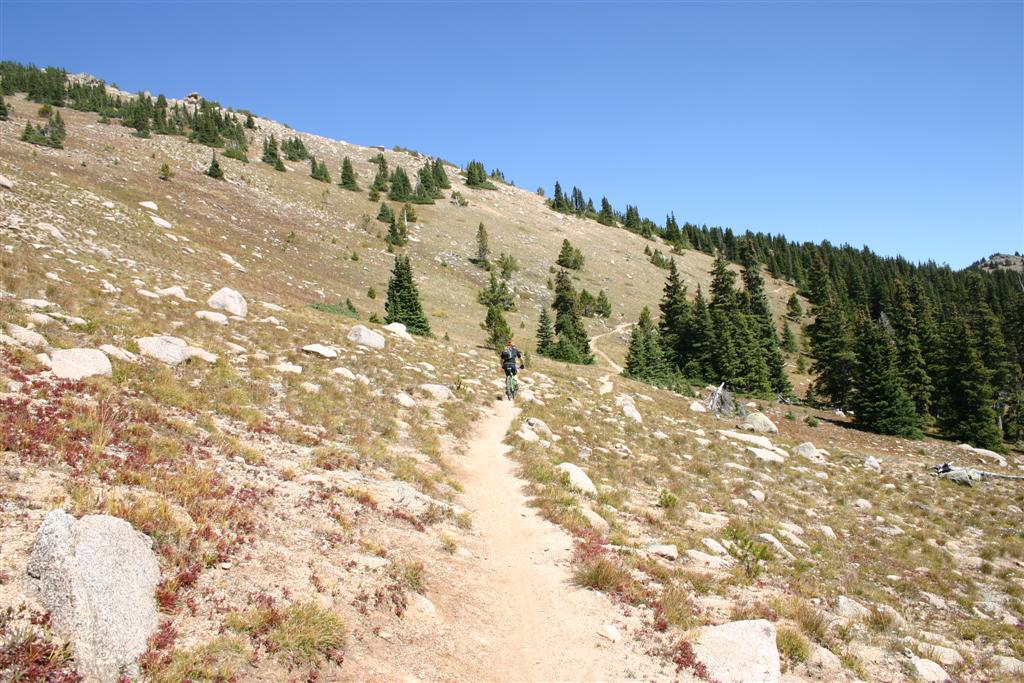 We had an absolutely perfect day for this epic ride.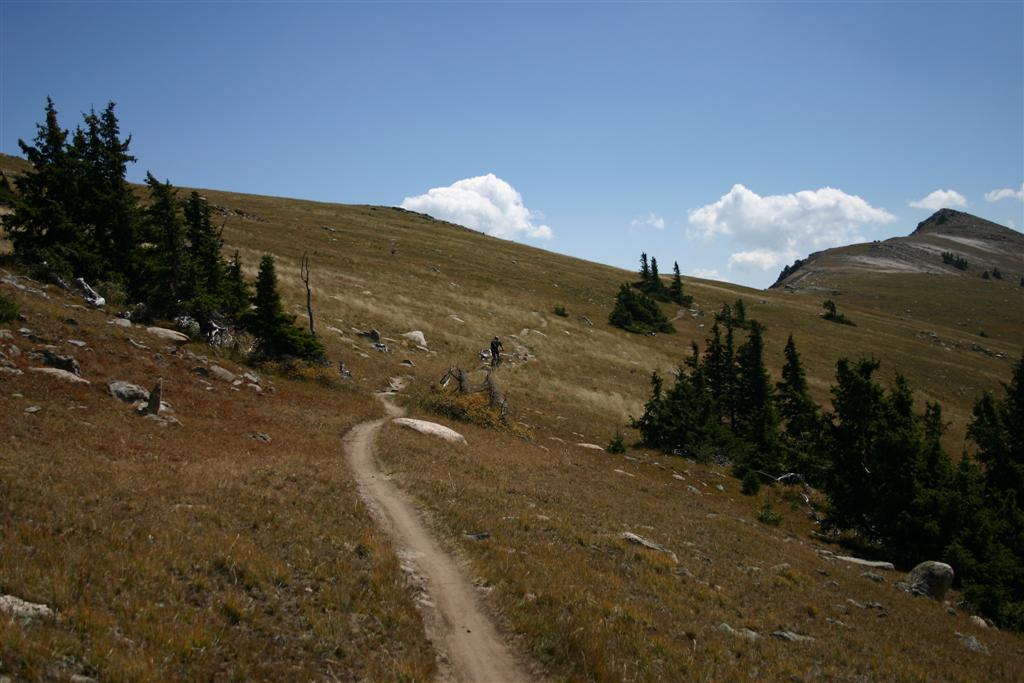 Further along on Monarch Crest Trail, cruising around 12,000 feet here.

A panoramic image from Crest Trail looking east.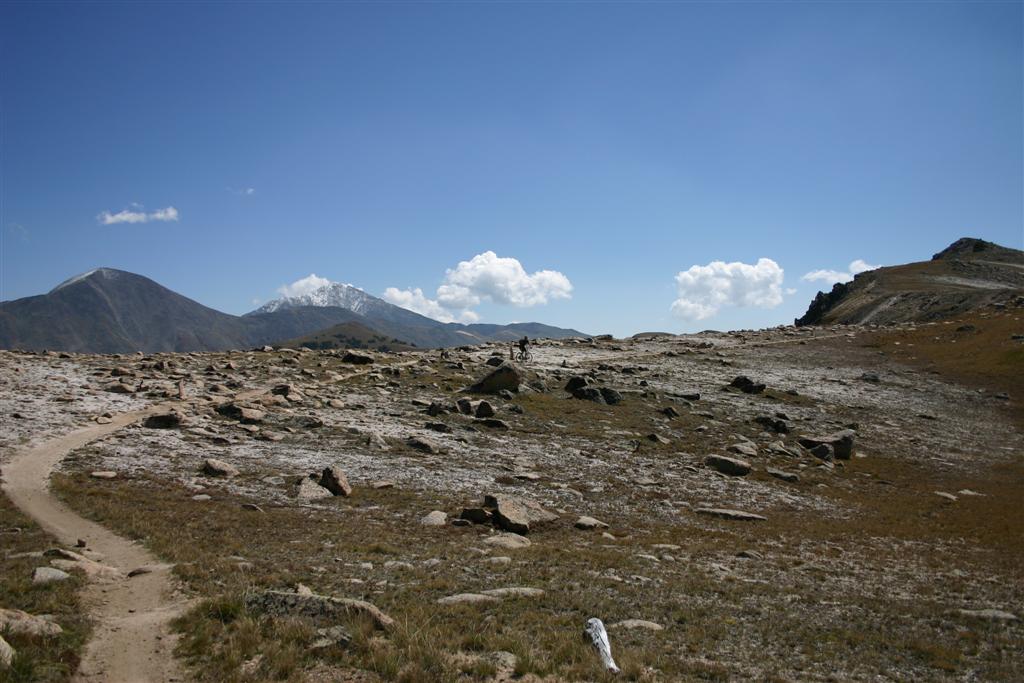 Looks like snow, but this is actually bright white quartz stone in this area.  Simply amazing to ride at 12,000 feet, on ridgeline, above tree line, and on a crystal clear day.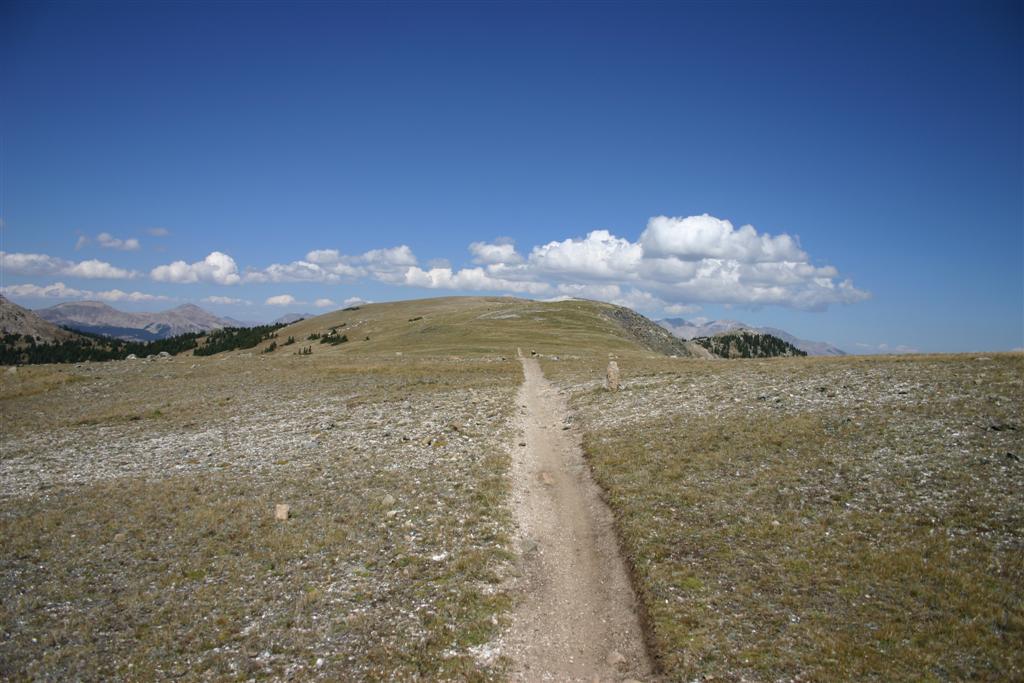 Monarch Crest goes on and on with views like this.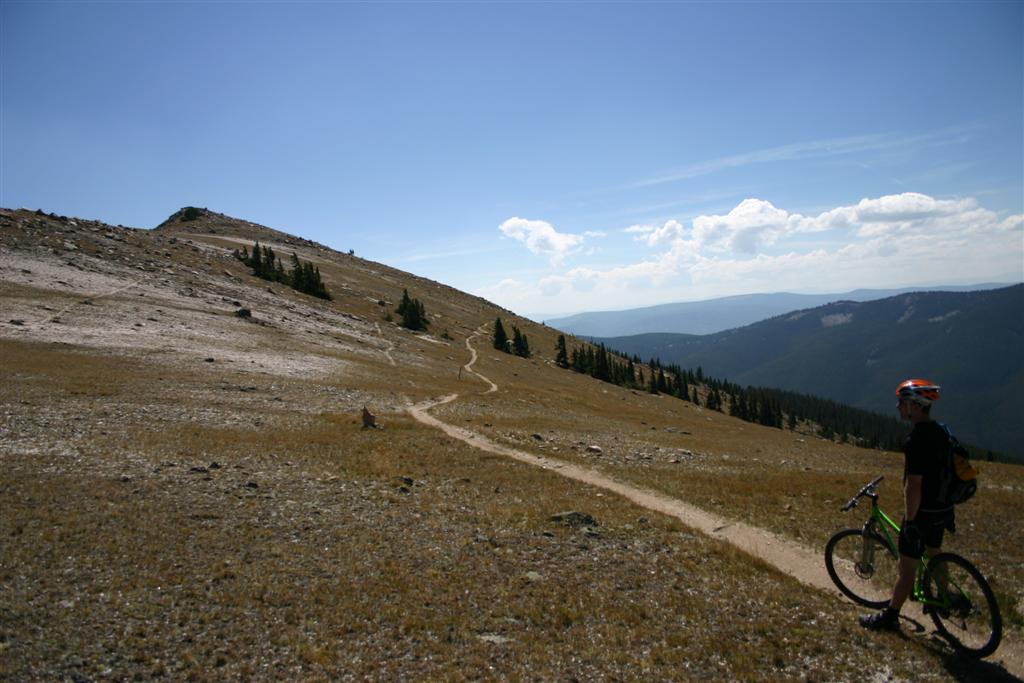 Monarch Crest.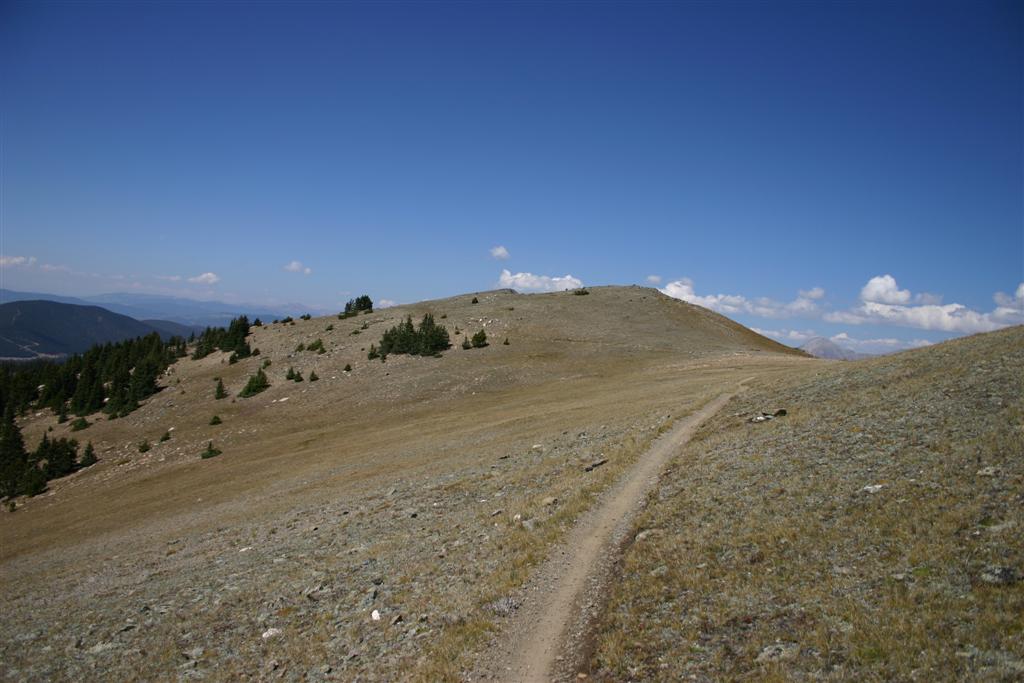 Probably looking back north on Monarch Crest Trail.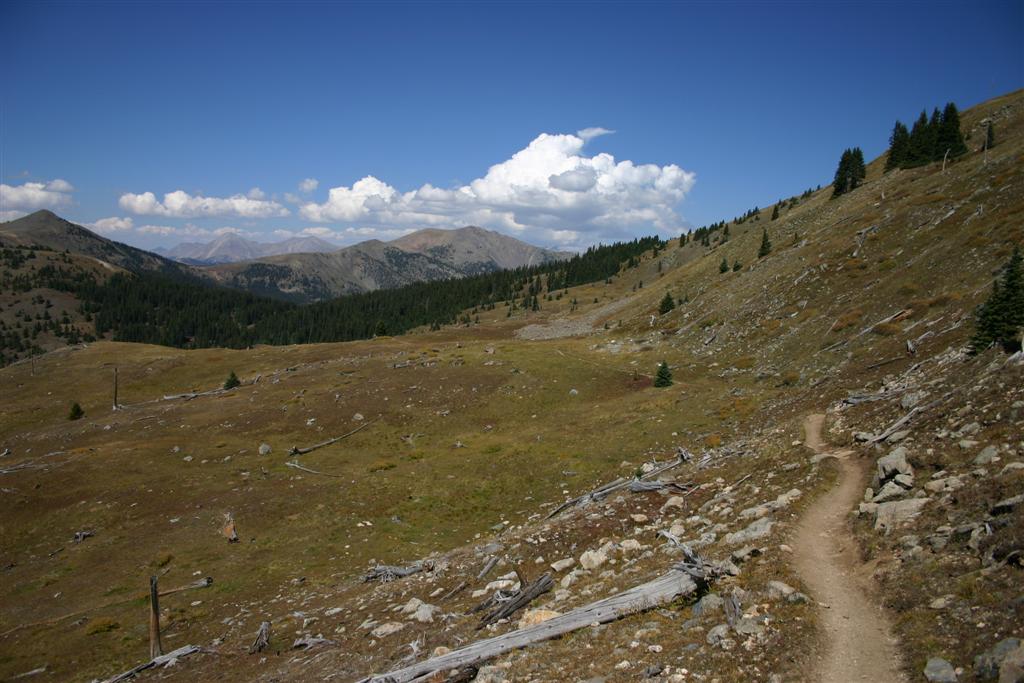 Rocky terrain, yet the trail is perfectly buffed out.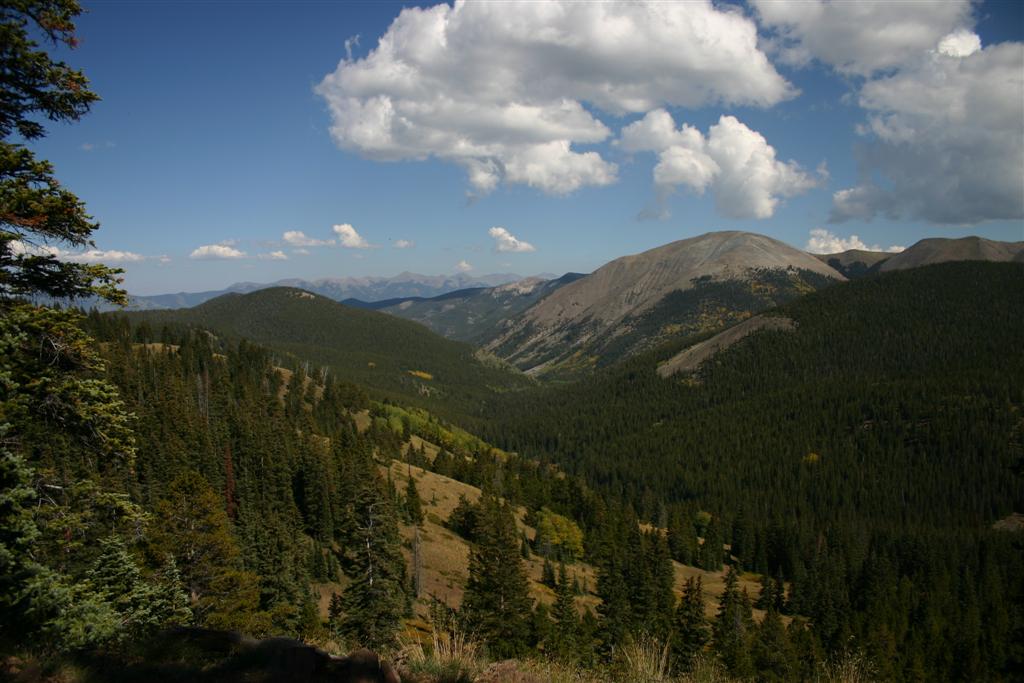 The Silver Creek valley that we begin our descent on from the Continental Divide.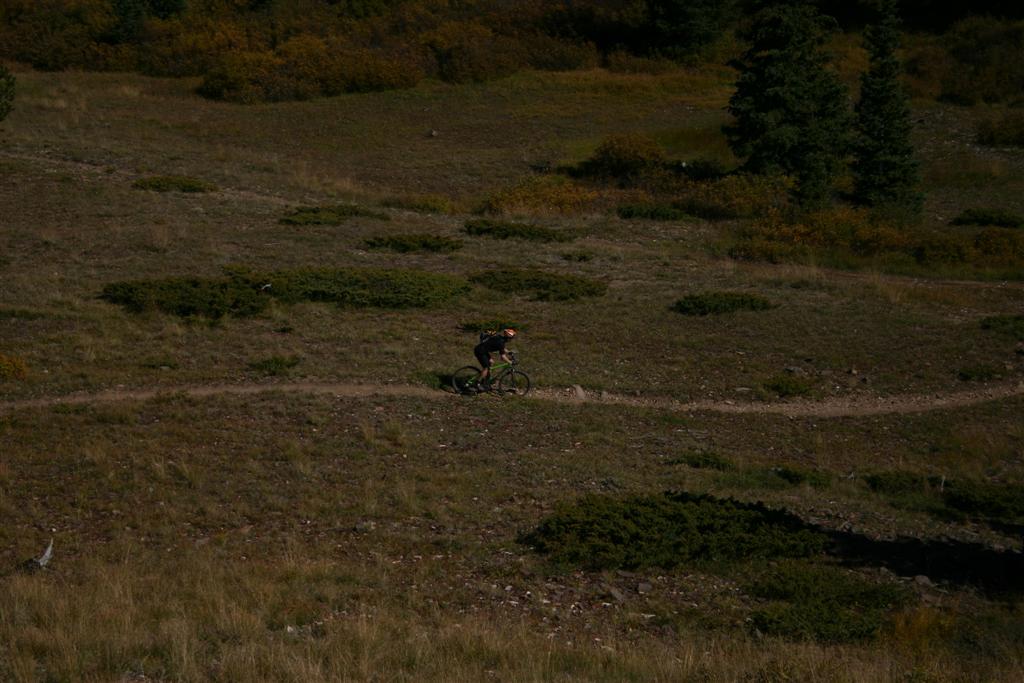 Dave beginning initial switchbacks descent on Silver Creek Trail.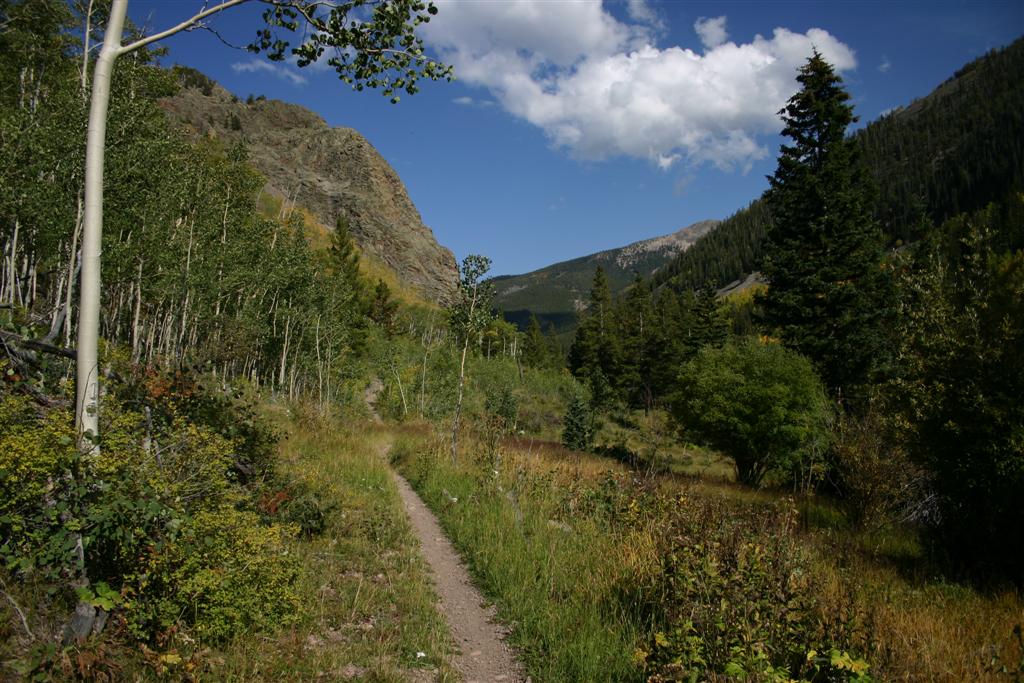 Further down on Silver Creek Trail.  Trail popped in and out of Aspen canopy, opening up views like this.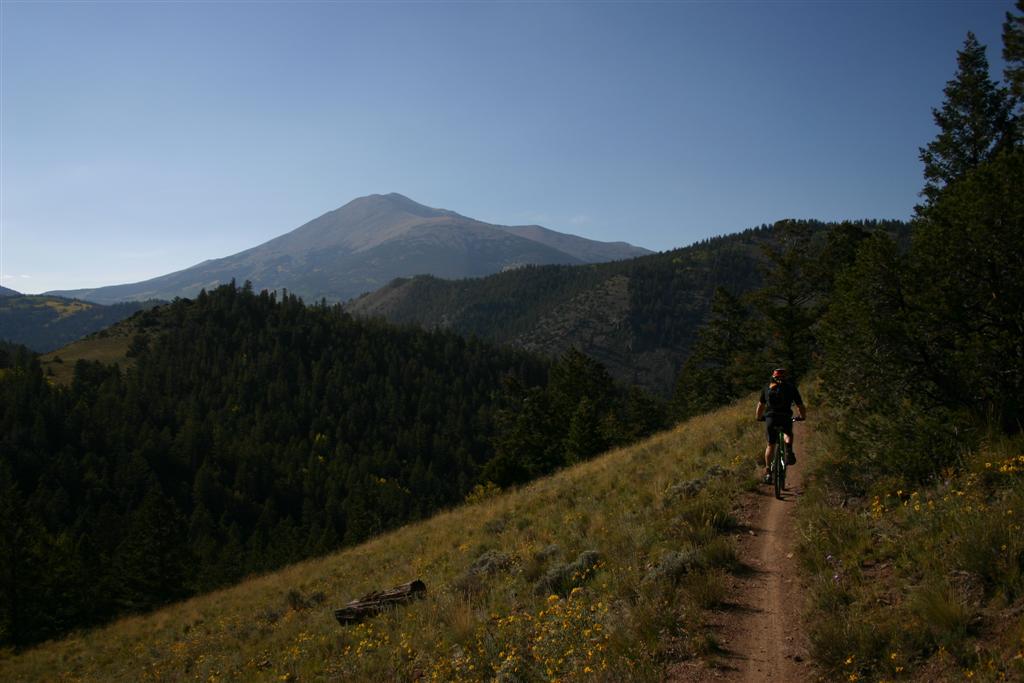 Last part of descent was 10 miles of the Rainbow Trail.  Pure bliss to ride.  Smooth in most places, and undulated something fierce.  Just like a kid on a rollercoaster here.
Day Eight: Elk Meadow Park, 14-SEP-06
Evergreen
10.7 miles
1:42 riding time (approx. 2 hrs total time)
2500 feet climbing
7500-9700 feet elevation range
Our final day in Colorado.  We had just enough time to get early morning local ride in before packing up bikes and checking out of Quality Suites in Evergreen.  We decided to ride close by in Elk Meadow Park instead of the more popular Red Rocks Park closer to Denver.  The local ride allowed us to come back to hotel and shower before checking out, while we'd have to check out before leaving for Red Rocks.
I rode Elk Meadow last year.  It's a small park but the climb packs a big punch: over 2000ft net gain to Bergen Peak at 9700 feet.  The riding is very technical too, with tight switchbacks and rocky drops on both the way up and back down.  Both Pikes Peak and Mt Evans are visible from the summit.  You can expect to see Elk here too, and we did.  No mishaps, but we had some close calls on the expert descent.
We finished the ride with ample time to break down bikes for shipment back home.  We showered, checked out, then headed to FedEx.  I couldn't remember which FedEx center I used last time.  I had a listing with addresses, but no directions.  I picked one that seemed not much out of the way in Lakewood, but it was a long haul down a congested boulevard.  I didn't deal with that too well on an empty stomach in a severe carbohydrate deficit state.  We had time to stop at a Panda Express and Starbucks next to each other, my first Starbucks in a week.  Hit the spot.  We rushed to get to the airport in time.  No time to clean completely muddy car off, but Hertz didn't seem to notice.
Getting to the airport on time was a wasted effort it seems.  Some lightning stirred up just as we were boarding.  The Denver airport pulls all ground crews inside anytime lightning is detected within five miles.  We waited for a while, then pushed away, then sat for nearly two hours!  Apparently some other piece of airport equipment wasn't working right and they had to allow 30 mile spacings between takeoffs.  We missed our connection in Detroit.  We were fortunate that a plane with room to Boston was waiting for the pilots flying our plane.  We were also fortunate that Beth, Dave's girlfriend, was willing to pick us up at 12:30am at Logan, getting home around 2am, even though she had to get up at 5am to teach on her new job.  I retrieved our luggage the next day when it came in on a morning flight from Detroit.  In hindsight, a small glitch in an otherwise awesome trip.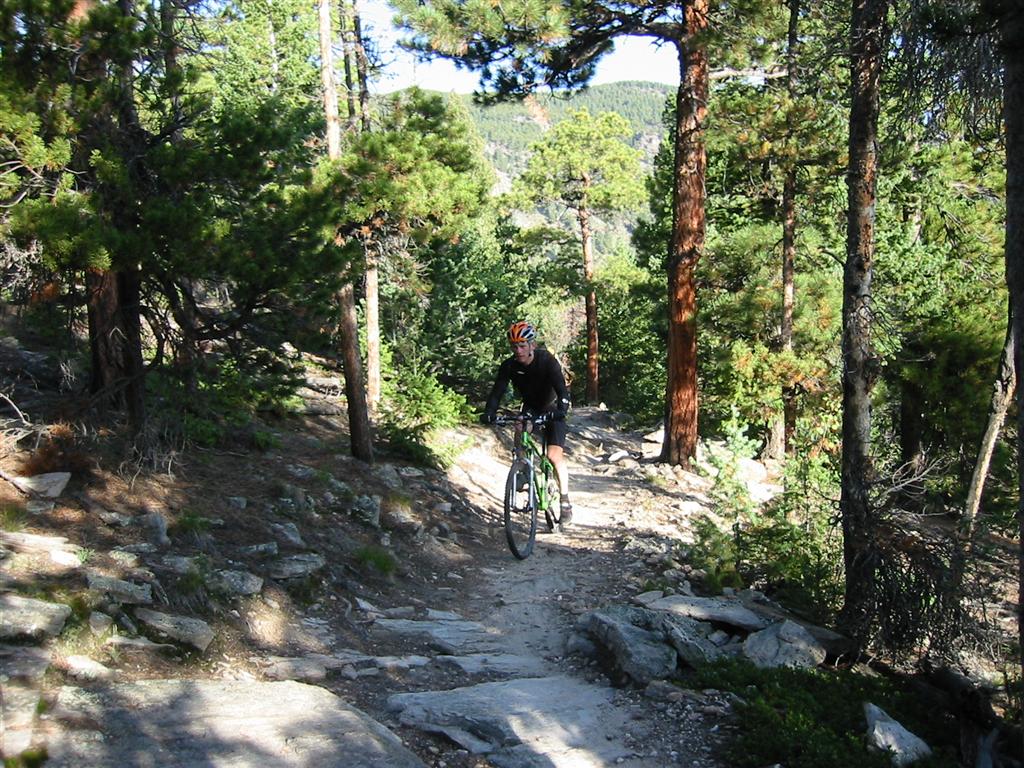 Dave climbing toward Bergen Peak in Elk Meadow Park.  Much of the climb was rocky like this.
View of town of Evergreen from Bergen Peak, at about 9,700 feet.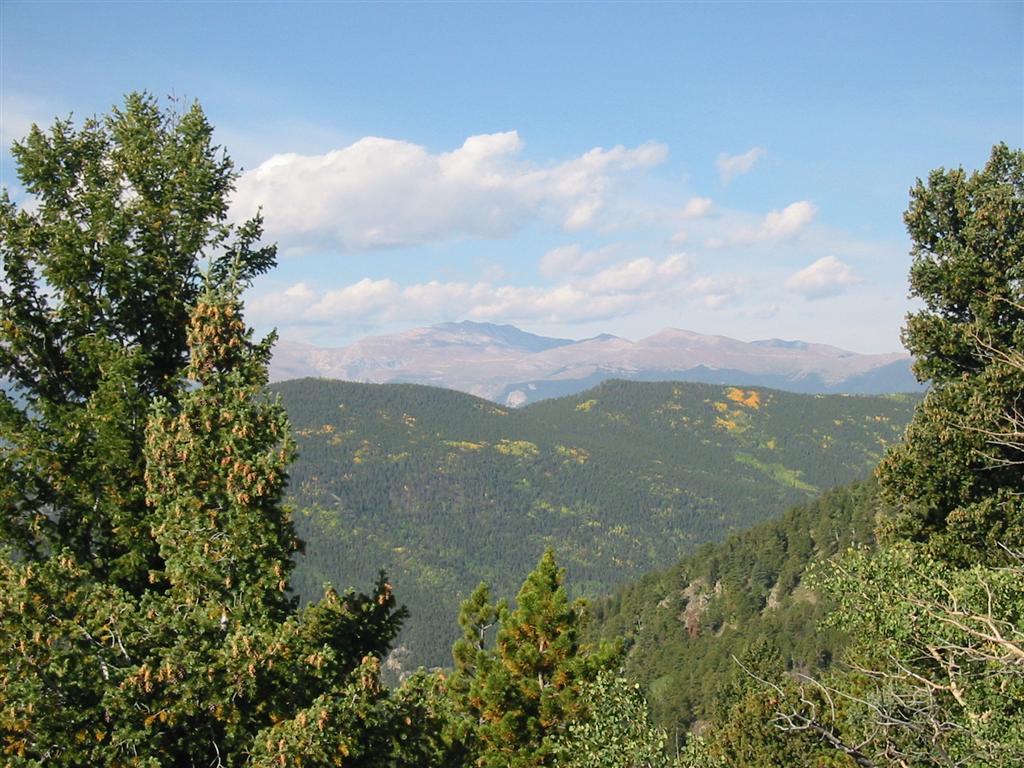 View of Mt Evans from Bergen Peak.  No snow on Evans today.  A weather crystal ball would be nice for trips like this.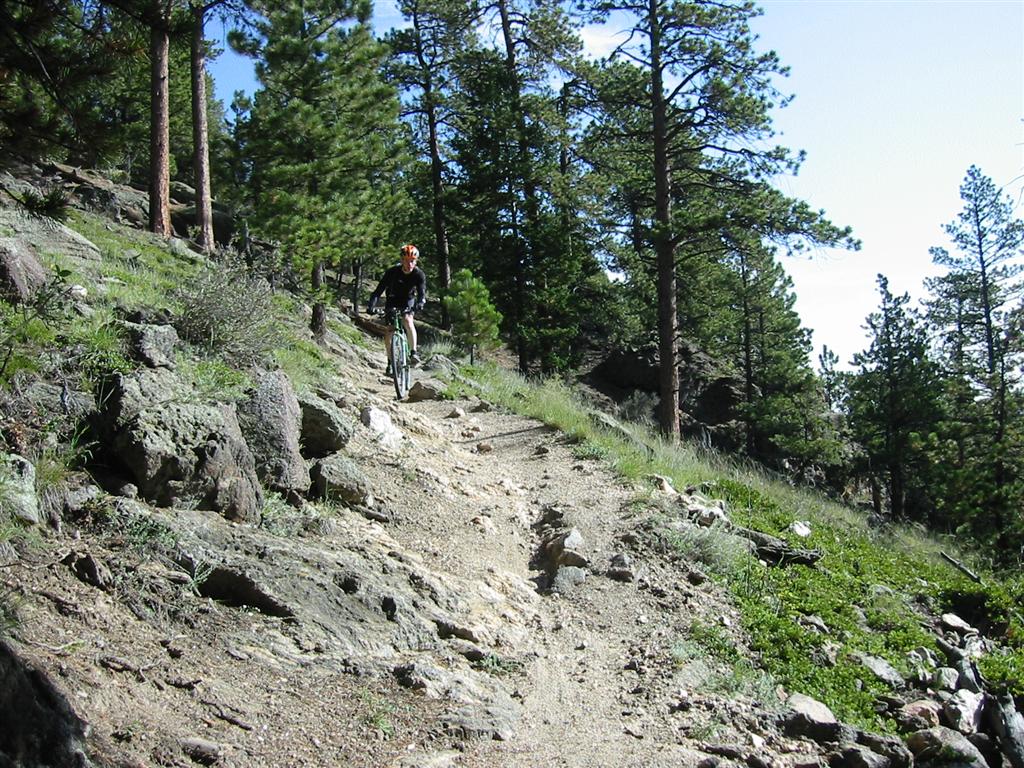 Descent from Bergen Peak in Elk Meadow Park.
Summary
Despite a rocky start (snow and rain) and a rough finish (missed connection), this was one of my best cycling trips ever.  The Monarch Crest Loop may well become my favorite ride of all time.  No new states added to my list of states ridden, but lots of new trails and scenery were explored.  Scenery from the Ouray/Telluride loop will never be forgotten.  I have typically ridden epics like these by myself in the past.  Riding with a companion this time enhanced the experience.  Could take on greater risks by going longer, higher, and more challenging.  Misery also loves company, as at least a couple of the rides turned into sufferfests for me.  I'm sure I provided entertainment for Dave on more than a few occasions too.  Already looking forward to next trip, maybe hit Durango and parts of New Mexico next time.
Report compiled on 19-SEP-2006 by Doug Jansen.
Permission to use any images is granted.