View from Engineer Mountain. Click, view 100%, pan around.
Colorado/New Mexico Cycling Trip
July 18-26, 2008
Trip Stats:
· Started trip with Mt Evans hillclimb race, finished with week of trail riding
· Two riders, Dave Penney and myself
· Nine riding days, 329 miles, 51,000 feet of climbing, in 34 hours riding time
· Cooperative weather, clear mornings, highs in 70's, post ride thunderstorms in afternoon
· No flats or mechanicals, but there were a couple minor crashes
After hitting Crested Butte and other parts of Colorado two years ago, Dave and I agreed a trip to Durango would have to be planned. The trip finally came to fruition. Pretty much all of the text you will read here is a compilation of blog posts. If you followed the Hill Junkie blog during this trip, you won't find any new words of wit. You will find, however, many new pictures, including a couple panoramas. Most pictures are clickable for high resolution rendering.
Friday, July 18
Denver Bike Paths Rental Bike Test Ride
17mi, 400ft, 1:00hrs
Sunny and Hot
We arrived in Denver on Friday, picked up rental road bikes for the race, and went for a short spin on the awesome Denver bike path system. It was hot out. The bikes worked well but felt a little sluggish. Our rentals were steel frame Bianchi's, probably weighed about 22 lbs, and were a tad small at 54cm. I normally ride 56.5cm. When I spun up on a descent, something didn't feel right. The crank arms were only 170mm. I normally ride 175mm. But that wasn't the worst part. The Campy equipped bikes actually rode quite nice. The worst part was tire treatment. There were these really heavy strips inside the tires to protect against punctures. The strips were just like glued type patch material but wrapped around the outer portion of the tube. If that weren't enough, the tubes were filled with Slime. I think my rear tire was almost half full. I brought spare tubes and tires along just in case the rentals had touring tires. But the tires were so hard to get off, and the strips so messy to put back in, I opted to leave the stock tires on. We had to rush after the race to get the bikes back and pick up our MTBs before they closed at 4pm. There just wouldn't be enough time to swap things back over.
We got the bikes from Paul's Cyclery. Paul warned us these were not racing bikes. He also told us he had only one flat in his rental fleet last year. I supposed if you are a tourist or on travel and looking to squeeze a ride in, not getting a flat has high value. But all that stuff in there probably increased rolling resistance at least 4x. The slime in the both tires made them feel like they were on a magnetic resistance trainer. Paul is a super nice guy, and I would do business with him again. Armoring the tires makes good business sense. Had I known this, I probably would have taken one of my wheelsets with me.
Saturday, July 19 "Mt Evans Disaster"
Mt Evans (Bob Cook Memorial Hillclimb Race), Idaho Springs, CO
2:37:07hrs, ~27 miles/7000ft vert, 44th/78
Warm at base, just chilly enough at summit for windbreaker, mostly sunny
The Mt Evans Hillclimb was a "F" race for me, "F" for fun. Still though, I had a target finishing time in mind. Scaling how I did against Tom Danielson a few years ago on Mt Washington, I thought I could muster a 2:15 finish, good for around 15-20th place in the Masters 45+ category.
Just over 1000 people were registered for the hillclimb. Apparently there was another road race going on that stole riders. Last year there were about 1200 finishers. Tom Danielson was supposed to race Saturday but didn't show. Being a 2+hr TT, I did not warm up rigorously. I lined up a little late and ended up at the back of the pack.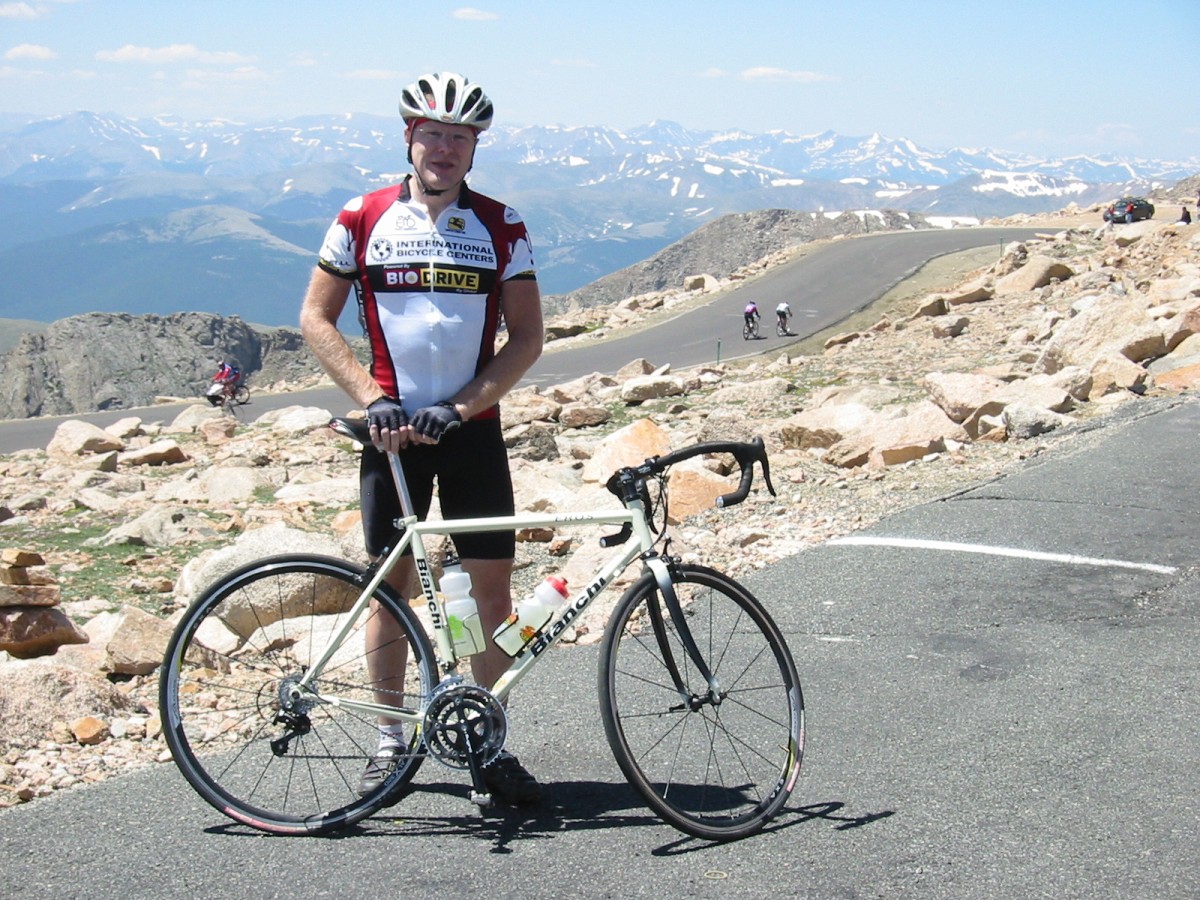 Finish at 14,000ft
The race starts off fairly flat, and it is definitely pack racing. Speeds of around 20+mph were held starting I think (no computer). Drafting was everything. The lead pack held together for the first 7-8 miles of the race. But I was dying. Many guys were casually talking in the pack for the first few miles while I was just killing myself to stay in the pack. I was freaking out. It had to be the bike. 7000ft altitude does not make that big of a difference for a low lander. By the 8 mile post, I made conscious choice to let lead group of about 30 riders go and ride at my own pace. I pretty much rode the remaining 20 miles of the climb by myself other than passing dropped riders from the field 15 minutes ahead of me. But even riding at my own pace became increasingly difficult. The bike was so sluggish I began to doubt I'd even finish this climb. With 5 miles to go and the steepest part of the race, I started cramping up. With 1km to go, I was having such severe cramps that I would slow to a track stand to keep hamstrings stretched out for seconds at a time. I finished, but not until most dropped riders from my field passed me.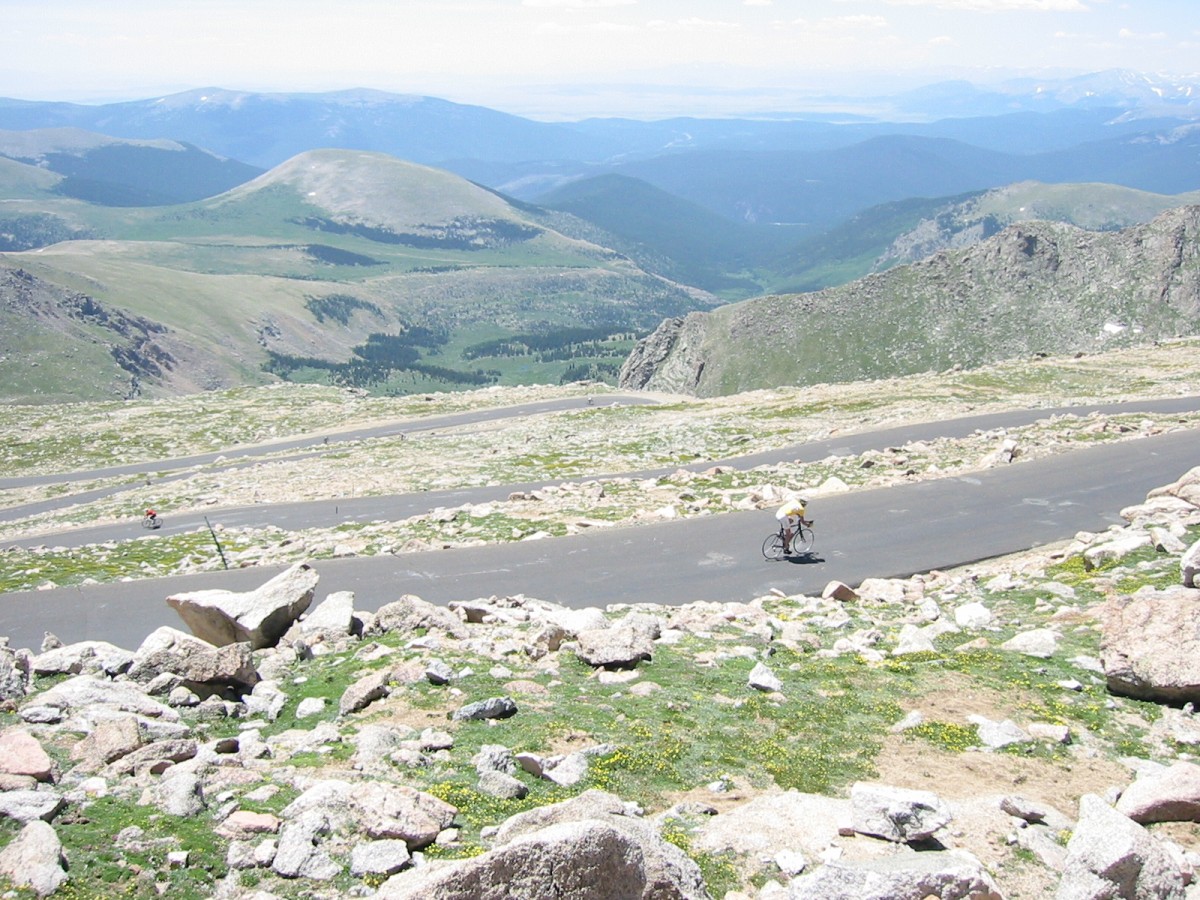 Switchbacks to summit
I was in a pretty foul mood finishing. There was nothing but water up top (pure water, no carbs or electrolytes), and no food. I wasn't mad because of placing poorly. I didn't expect to do well here anyway. I was mad because of the damage I did to my legs at the beginning of a week of epic riding. I had so many screwed up muscles in my legs I couldn't even walk right at the top. My time of 2:37hrs is only slightly faster than when I rode my mountain bike up Mt Evans three years ago with knobby tires at a recreational pace. This fun race turned into a death climb. With no nutrients up top whatsoever, the descent was going to be long. It takes better part of an hour to descend. A couple places required pedaling and my legs immediately went back into spasms.

Panorama looking south from near summit of Mt Evans
Dave finished a few minutes faster than me in the 35+ category. He was on a similarly equipped Bianchi. Another New Hamshirite, Tom Ramsey, finished in around 2:27 in the 55+ category. Tom took his race bike with him.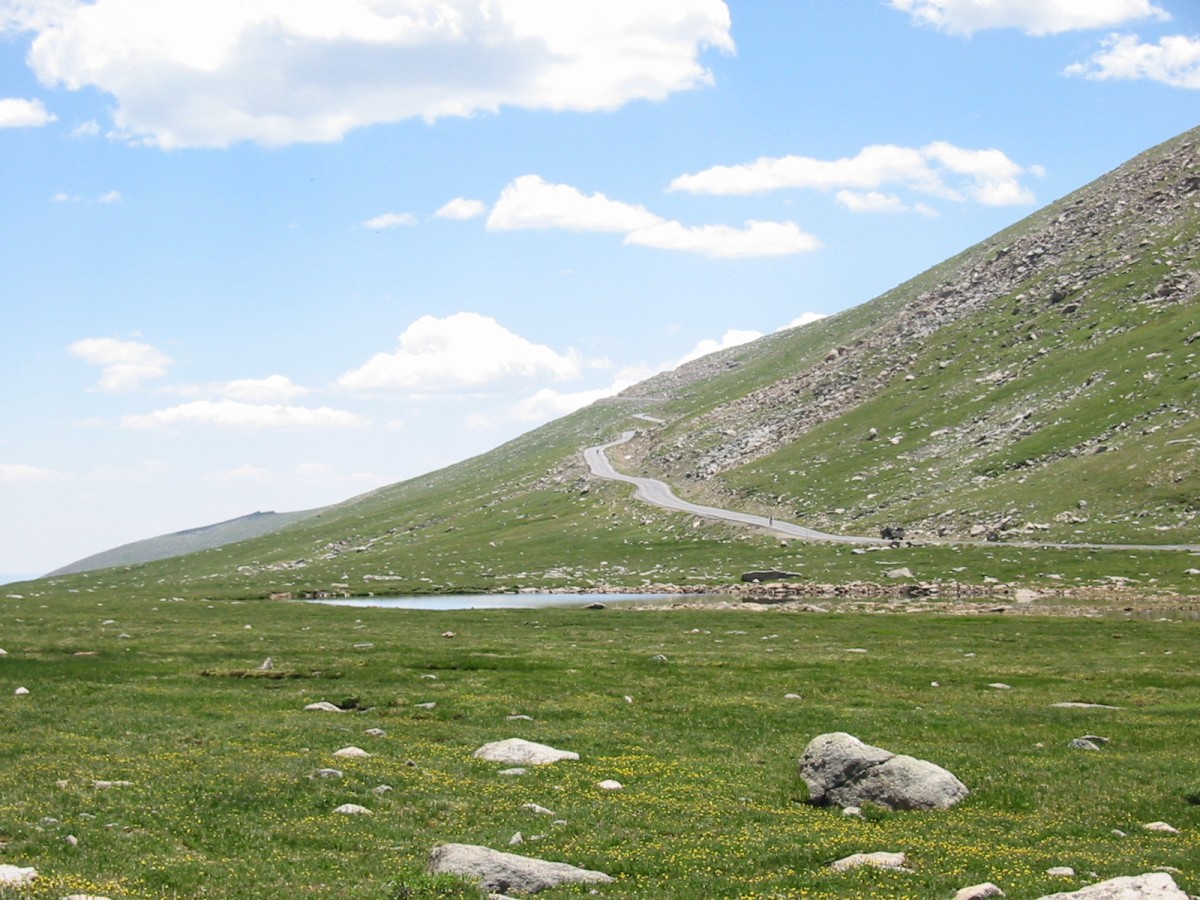 On descent, the 5mi mark looking back up
Other than the racing being a catastrophe, the day was perfect. A little warm at the bottom, maybe 50's up top, and very little wind. It was clear and you could see a hundred miles in all directions. After the descent, it was warm. It nearly hit 100F in Denver nearby. We got the bikes back in time and grabbed our MTB's. Our next destination was Salida, CO for an Epic 54 mile trail ride at 12,000ft. I'll have to save how that ride went (fantastic) and today's ride in Taos, NM (fantastic but brutal) for another day.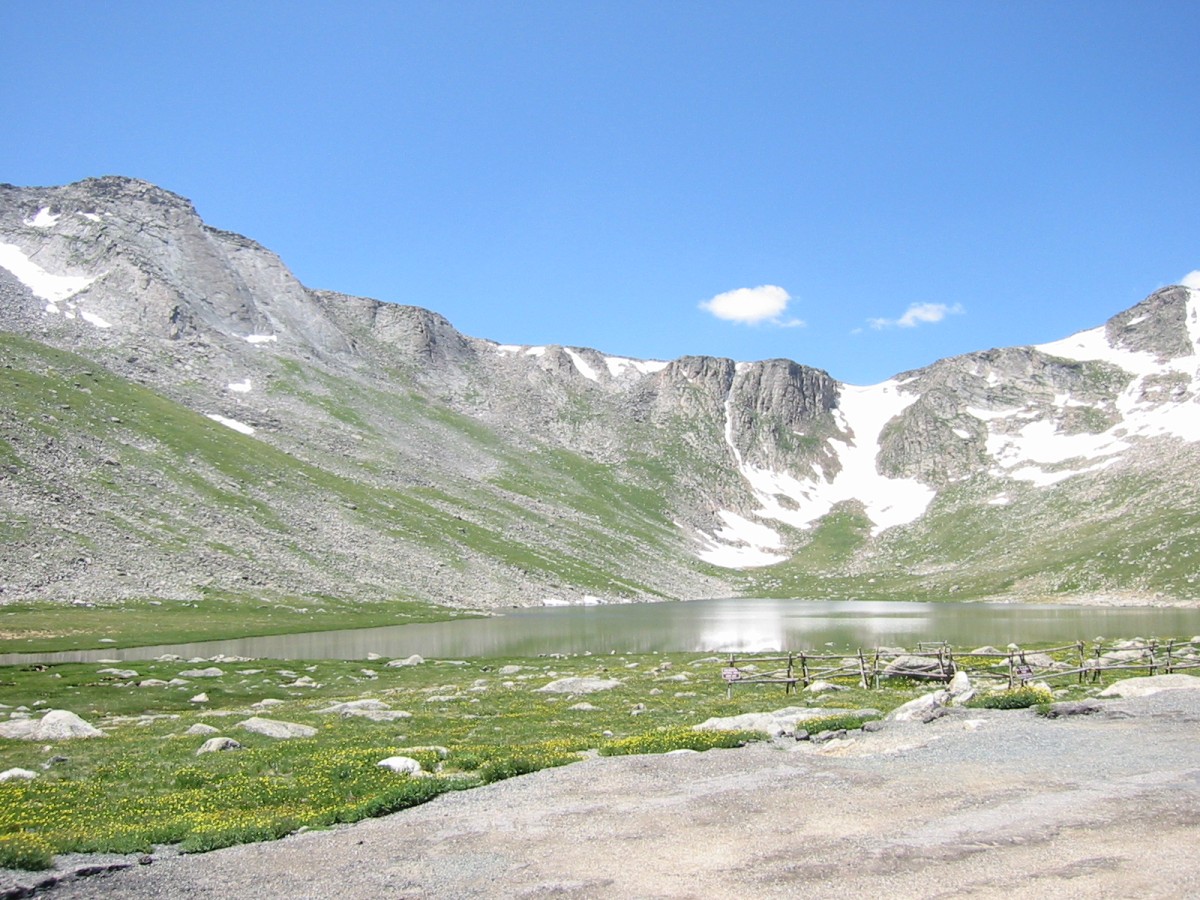 Summit Lake and the Mt Evans summit above
Sunday, July 20
Monarch Crest/Rainbow Trail Loop, Salida, CO
53.4mi, 8000ft, 5.4hrs
Warm, mostly sunny
The Monarch Crest loop just outside of Salida, Colorado still remains my favorite trail ride on the planet. It has all the magic ingredients: Endorphin raising climbs, ridge line singletrack with killer views, and harrowing singletrack descents. The loop runs about 53 miles with 8200ft of climbing.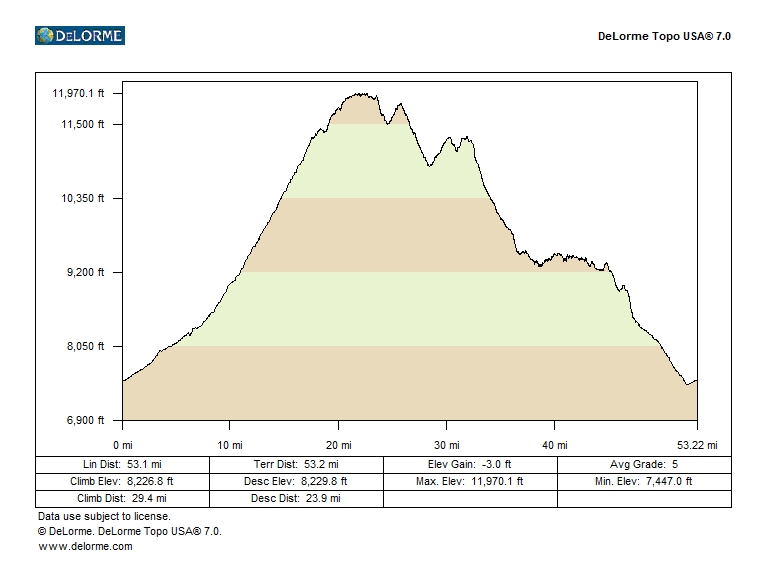 The ride begins with a 17.5 mile climb up highway 50, gaining 3800ft on pavement. On this Sunday morning, traffic was light. At Monarch pass, 11,300ft, singletrack is picked up. This follows the continental divide, hovering between 11,000 and 12,000ft for a good ways. Most of this is above tree line, and the scenery is surreal. The trail is 100% rideable with only occasional tech bits. There are some pretty serious upward grinds, however, especially for us oxygen challenged low-landers.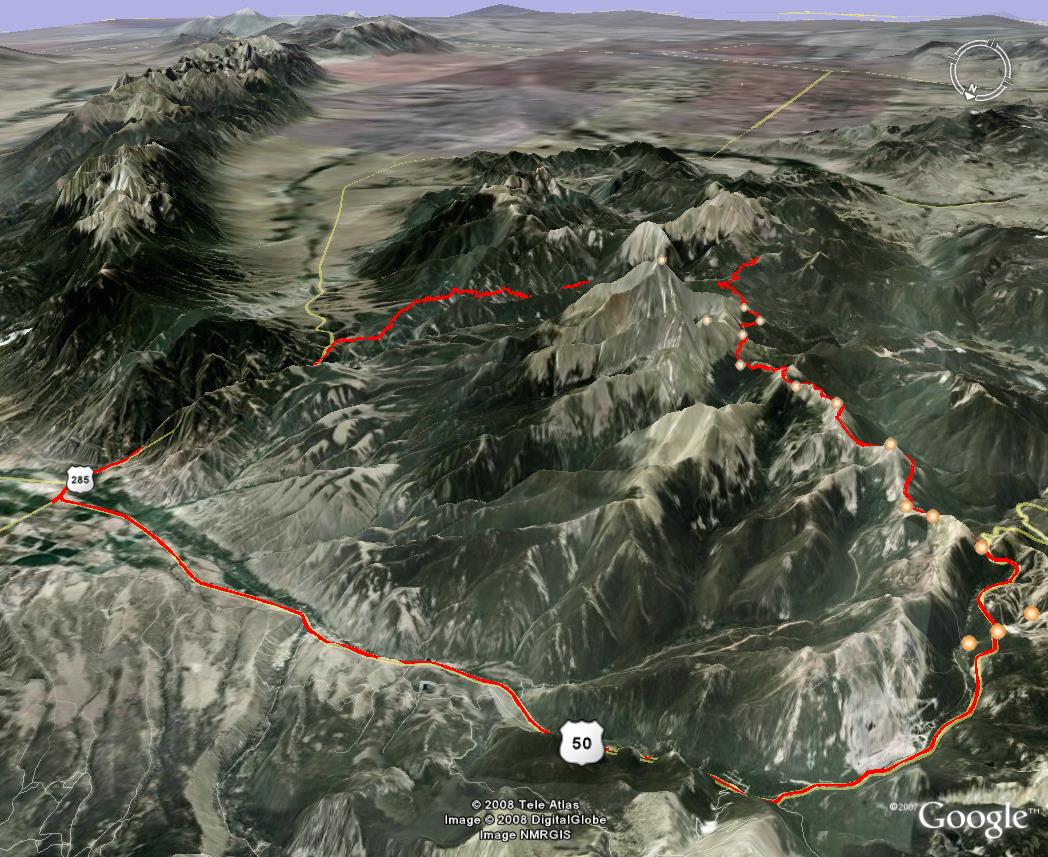 The High Valley Bike Shuttle website says this ride requires a shuttle. Bull. This is the second time Dave and I have ridden the full loop without relying on fossil fuel to haul our lazy asses up to the pass. The initial climb took us 1hr, 48min. The Monarch Pass gift shop was open, suitably stocked with replenishments. But the ride was less than 1/3 over, and I would learn how quickly a 100oz Camelbak can be consumed at high altitude and warm conditions.
When we arrived at Monarch Pass, another rider on an old hardtail came up immediately behind us. Turns out the three riders we saw in the visitor center parking lot are a like minded bunch. In fact, this guy (I never got his name), was a man after my own heart. He said the 17.5mi highway climb was the best part of the ride! I couldn't agree with him in this case, but a true hillclimber none the less. I did get the name of one of his friends after we said where we were from. His friend was Matt Daigle, an ex pro roadie from New England and former overall winner of Mt Washington back in the 80's. Matt was built big and did not look like a hillclimber, but he sure was a good mountain biker. This trio was following the same route as Dave and I. We didn't agree to stay together, but we cris-crossed each other on the trail many, many times and finished at about the same time. They were all on old-school hardtails with V-brakes. It was interesting they asked me for trail directions a couple times, since they were from Colorado. Dave and I also cleaned a couple steep pitches some of them walked (he-he).
After flying high on endorphins and a Starbucks Frappuccino along the ridgeline, it was time to descend. The initial descent takes place on Silver Creek Trail. It starts with a wicked steep set of switchbacks. Loose slabs of rock fly all over the pace as you bomb this. Eventually you enter the woods and follow the creek. At times, the exposure was quite extreme. You did not want to look down through the trees to the stream, lest you become one with the water a hundred feet down. There was a pretty nasty 2ft drop in a steep, loose rocky section too. After Dave cleaned it, I had no choice. I think both of us walked it last year. Penalty of error here could have been way worse than just endoing into pile of jagged rocks. The bottom was a long ways down.
When we got to the Rainbow Trail cutoff, I was out of water. We were lower now, and it was very hot. Without water, I couldn't eat either. My stomach wouldn't allow it. Dave brought his filter, but we figured the car wasn't that far away. It was at 1.5+ hours though. With legs trashed by the Mt Evans race the day before, the last part of the ride became a deathmarch for me. Rainbow Trail no longer descends monotonically like Silver Creek Trail. It undulates something fierce, adding 1500ft of climbing to the ride. It would have been tempting to take the Silver Creek dirt road the rest of the way down, but the Rainbow Trail is one of the best parts of this loop. The trail has incredible flow if you have the legs to power up the many steep grinds.
We eventually hit the final set of switchbacks down to Hwy 285, the road we'd be taking down to Taos, NM after the ride. This last bit of pavement brought us back to the car parked in Poncha Springs. Total riding time was about 5.4hrs, and total elapsed time was nearly 6.5hrs. The last 4.5hrs out on the trail have no support. Many of the epic loop rides out here are like that. It adds a bit of suspense to the rides.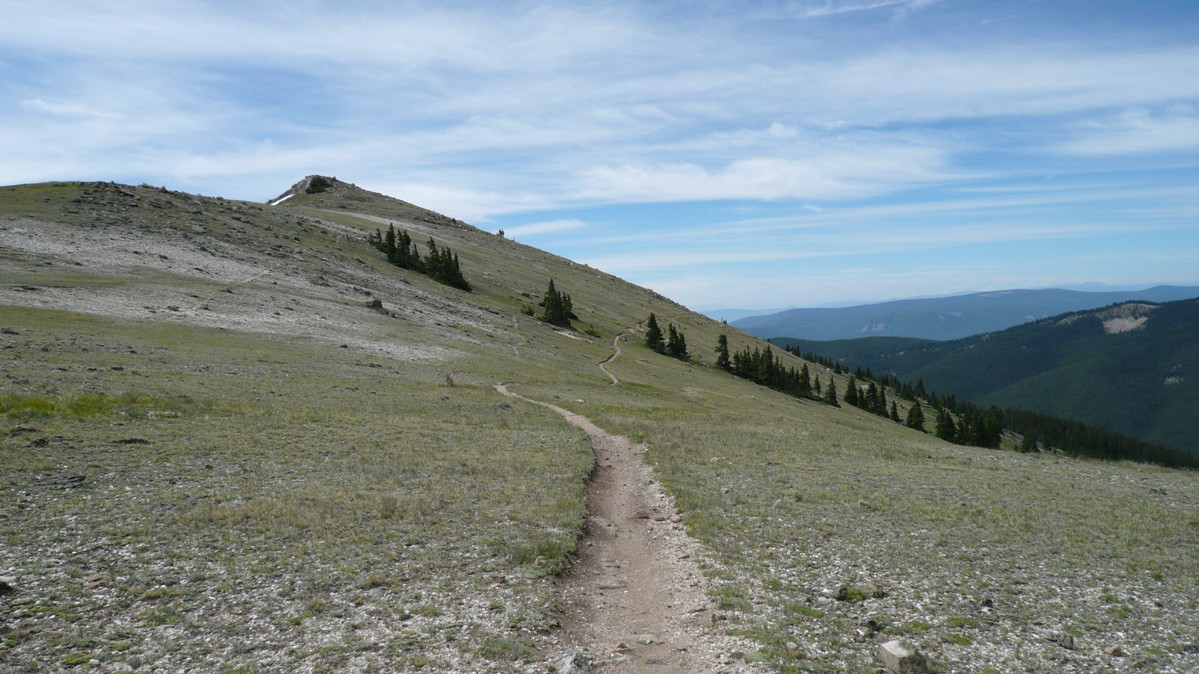 Monarch Crest Trail
Classic crown drift at nearly 12,000ft. First week in July this was still 30ft high.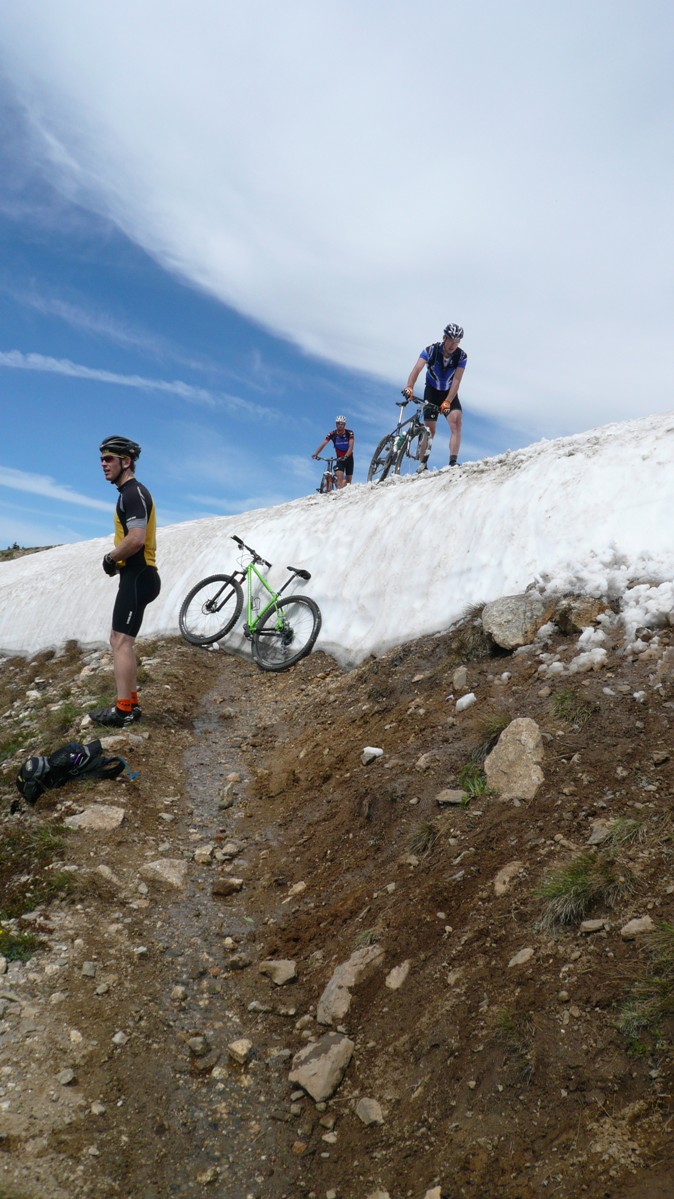 Matt Daigle figuring out how to come down the crown drift. I slipped and fell here, tweaking my knee.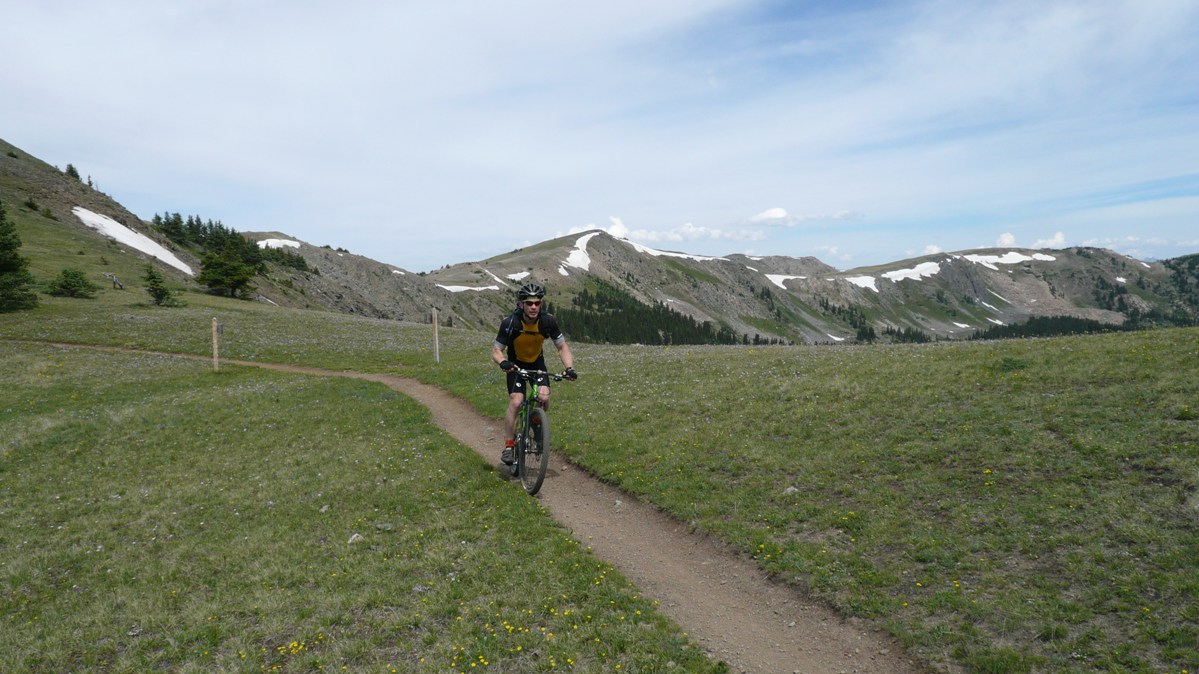 Dave on buff section of Monarch Crest Trail
Dave and the other three ahead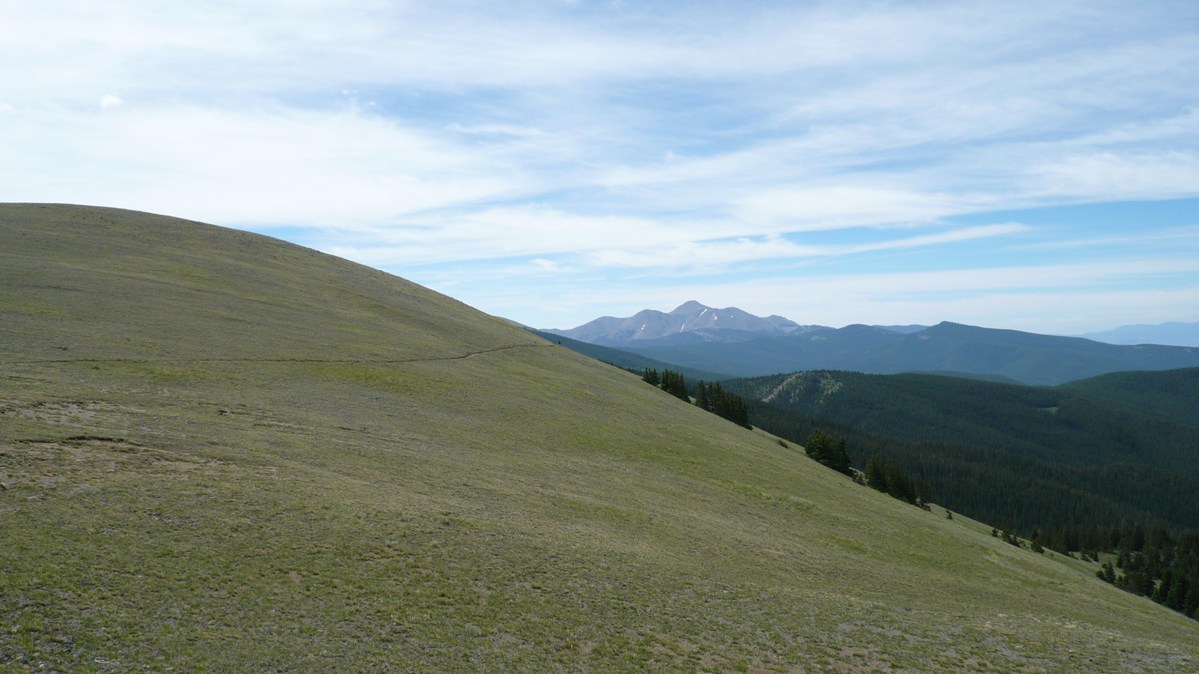 Pristine treeless ridgeline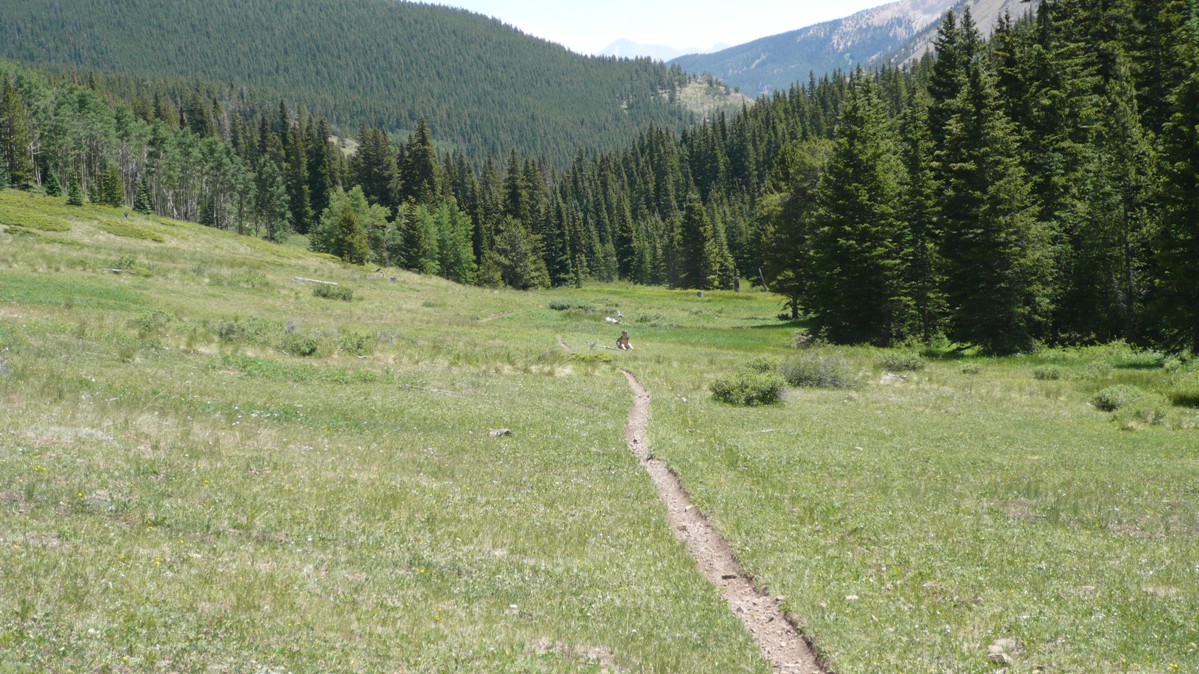 Silver Creek Trail. Where's Dave?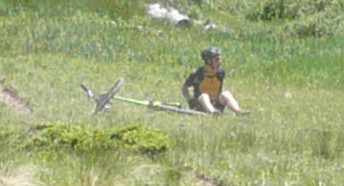 Oh, there's Dave. Ouch, me bum! There was a bit of a lip on the skinny trail here, and if your eyes or brain wandered, it would rip your wheels out from under you in a heartbeat. Speeds were high on this no-brakes section of the descent.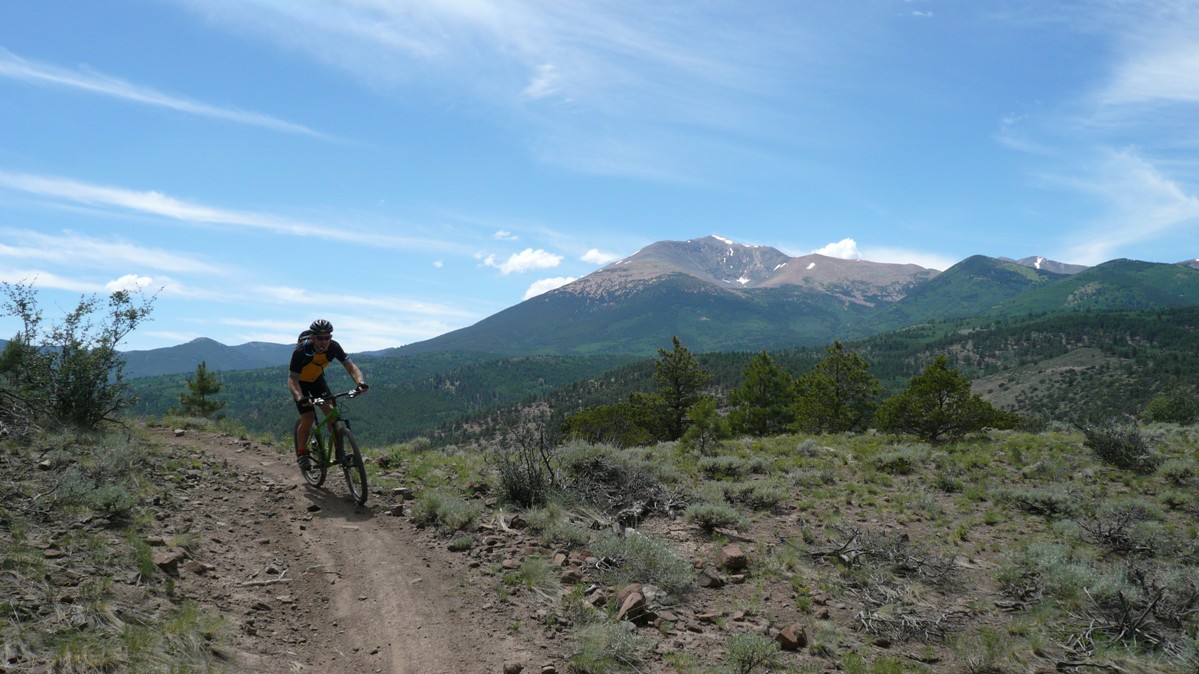 Rainbow Trail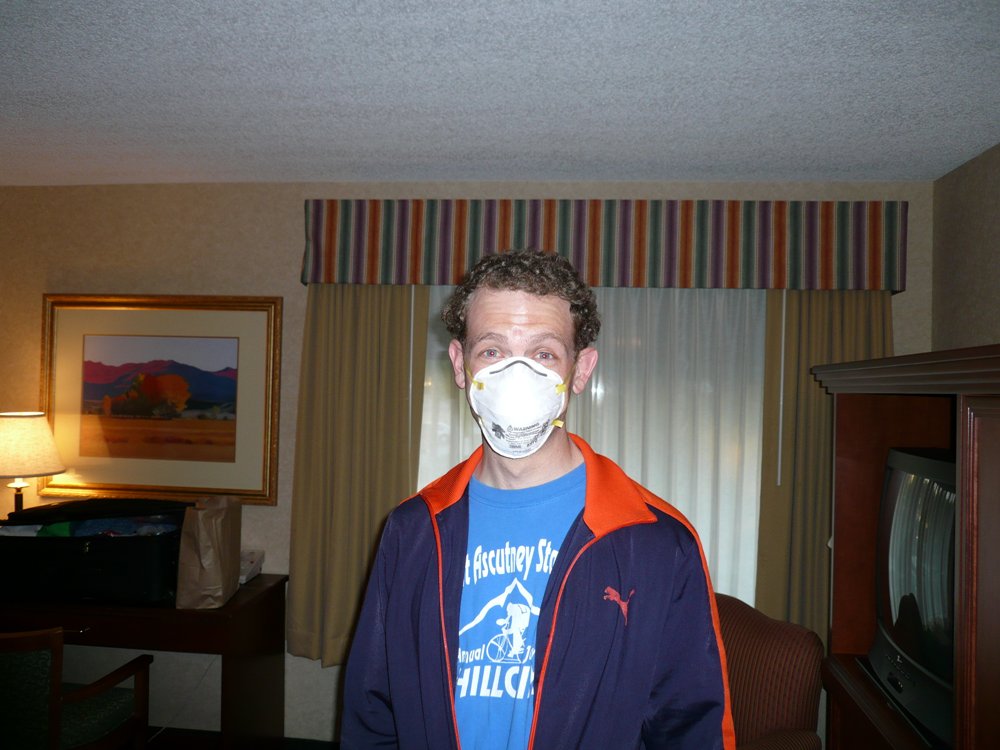 Dave came prepared. Ride all day, eat burritos at night, room can get gassy.
Monday, July 21
South Boundary Trail, Taos, NM
50.0mi 7500ft, 5.3hrs
Sunny for the ride, T-storms within hour after finishing, mild temps at altitude
I still have Colorado on my mind. I'm noticing today that my left knee hurts more now than it did riding 5hrs a day in Colorado. Dave commented that I'm just now coming down from the buzz that a week of riding there induces. So all those aches and pains that have been suppressed are rising to awareness.
Two years ago when we did a Colorado trip, we crossed paths with three guys on the Trail 403/401 loop in Crested Butte. They were puffing a J. When I commented that the 403/401 was my favorite loop on the planet at the time, they said there was one better in New Mexico. It was the South Boundary trail. These guys were about our age and from different parts, two from Texas I believe. After the trip, I did a little research, and indeed there was a trail called South Boundary that followed a ridge line. Various references gave it high ratings. I made a note to ride this trail some day, having only ridden once in New Mexico.
Fast forward to our recent trip. After riding the Monarch Crest trail on Sunday, we continued down highway 285 to Taos, NM. The South Boundary trail is another one of those loops that riders typically shuttle, but you will probably have to earn at least some of the vertical here.
We were able to ride right from the hotel, going through town, then heading east up highway 64. This climbed very gradually for about 10 miles. We then hit a dirt road, flat at first, but then began climbing in earnest. I lost track of how many switchbacks we went through. We climbed fast enough that we could sense temperature drop. I used my Garmin Edge 705 for navigation on this ride, the first time ever using it this way (risky). We were vitally dependent on it telling us the way, as there are no good maps for the route, and most references say to bring a human guide along. We soon learned why. We got off the dirt road and continued climbing rugged ATV track. The ATV track contained many monsoon filled puddles. Some grades were barely doable, and approaching 10,000ft, the air was getting thin.
The ATV trail finally terminates at 9800ft Osha Pass, and a marker indicates the beginning of Trail 164, the South Boundary Trail. I thought surely the climbing was done now, and we'd be rolling along prestine ridgeline on singletrack. No such luck. The single track, short-lived, kept climbing. What's worse, the peak we saw looming way yonder and well above us - we had to climb it. There were at least 10 trail junction decision points per mile. Cow trails, ATV trails, double-tracks, you name it. It was a maze of wrong ways up here. Only twice did we start down a wrong path though, the GPS quickly correcting us. I was a little dissapointed in how much rutted out, brutally bumpy ATV track we were riding. Having already logged about 10hrs in the saddle in 2 days, the monkey butt demon was going to be tough to battle this trip.
After a particularly heinous grade, we caught up to two kids, probably high-school age, riding the loop. One had no helmet with him, and later we would learn how stupid this was when we encountered the descent. The kids confirmed we were now at the highest point of the ride, just over 10,700ft. This was a 3600ft net gain, but numerous drops along the way had us climb much more than this. The climb took 2.7 hours.
Finally, we got into the secton of the ride that everybody rants about. The singletrack was sweet. Buff, perfectly bench cut at a grade that didn't require excessive braking. But this lasted for less than 5 miles before we began climbing again, but this time not for long and not much vertical. The singletrack descent resumed. Then it turned down. I mean really down. Not like Flight of Icarus in Fruita, but one section scared both of us off our bikes. I rode stuff I wouldn't tell my wife about. I was shaking after flying through a couple nasty bits. About 3/4 of the way down, there was a very nice vista of Taos. The trail tamed a bit the rest of the way down.
This turned into a very long ride, 50 miles, 5.2hrs riding time. No way does it compare to the 403/401 loop in Crested Butte. If you value rugged terrain and hairy descents instead of buff singletrack and views to die for, perhaps South Boundary is your bag. I was glad to ride and experience it, but South Boundary alone would not warrant another trip to Taos. The GPS performed flawlessly in guiding us to the finish, but later in the trip I would experience the dreaded 705 screen-lock that Garmin has yet to figure out. Thunderstorms started shortly after we ended our ride, a theme that would be repeated daily.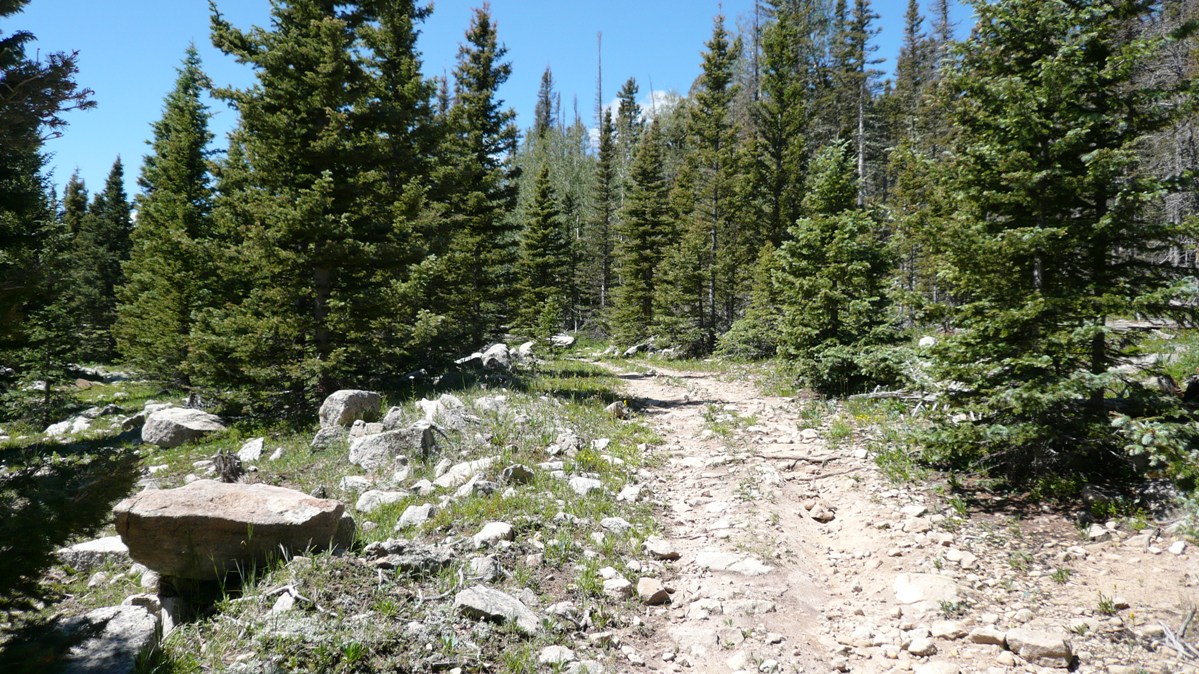 We spent at least an hour climbing steep grades of this crud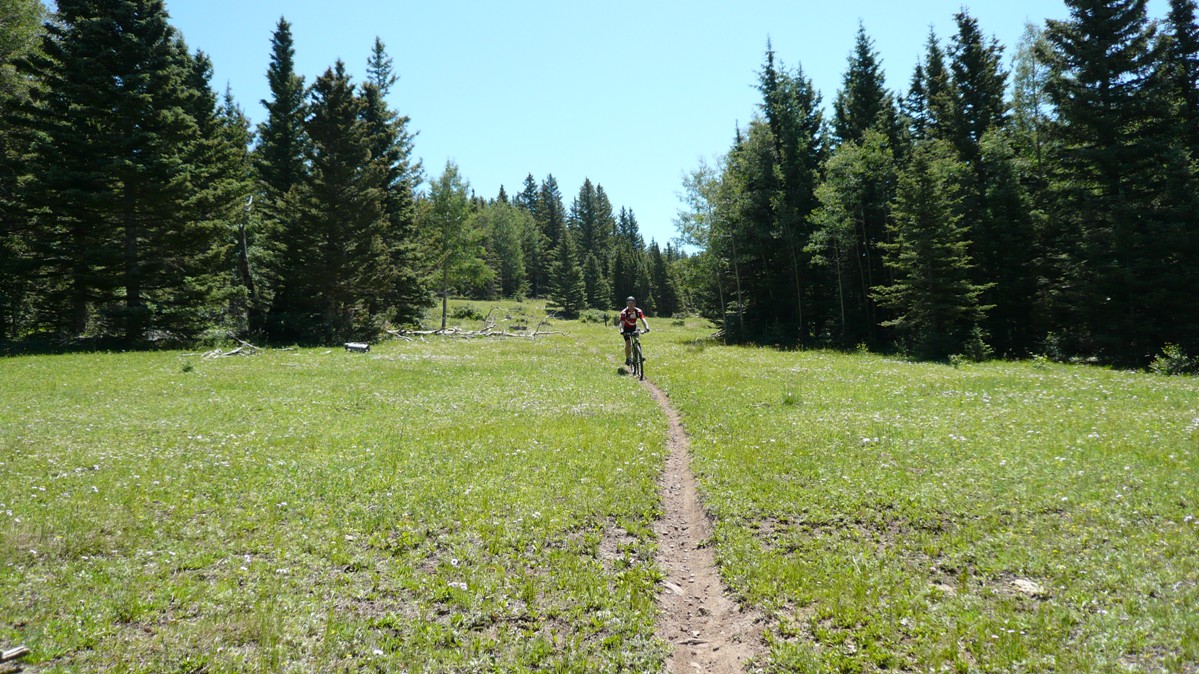 Singletrack at last, beginning the descent at from the high point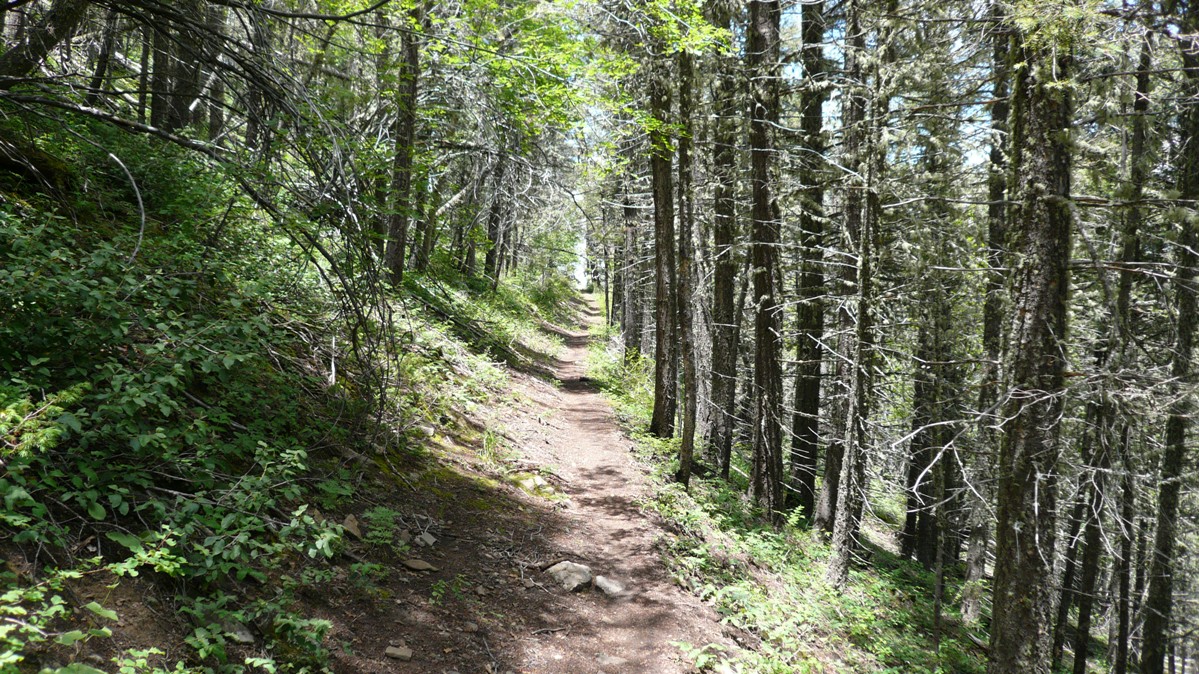 Much of Trail 164, aka South Boundary Trail, was benchcut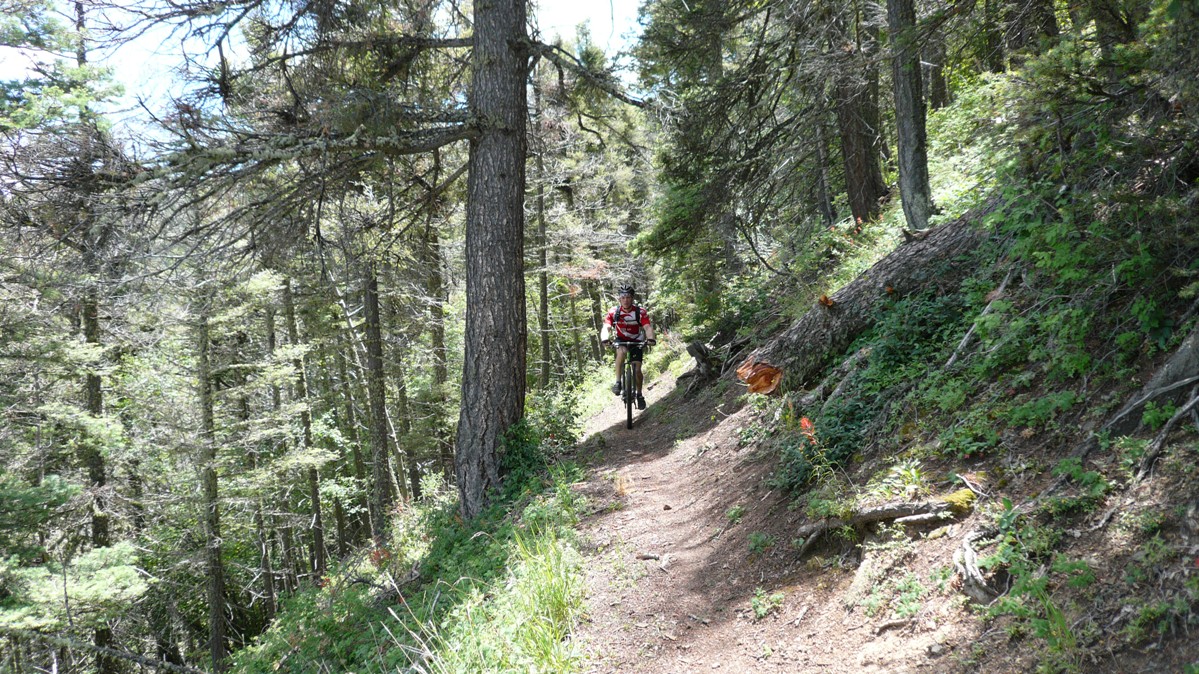 Dave on a section of benchcut
An aspen grove. I've seen photos of this section from autumn. It's nice.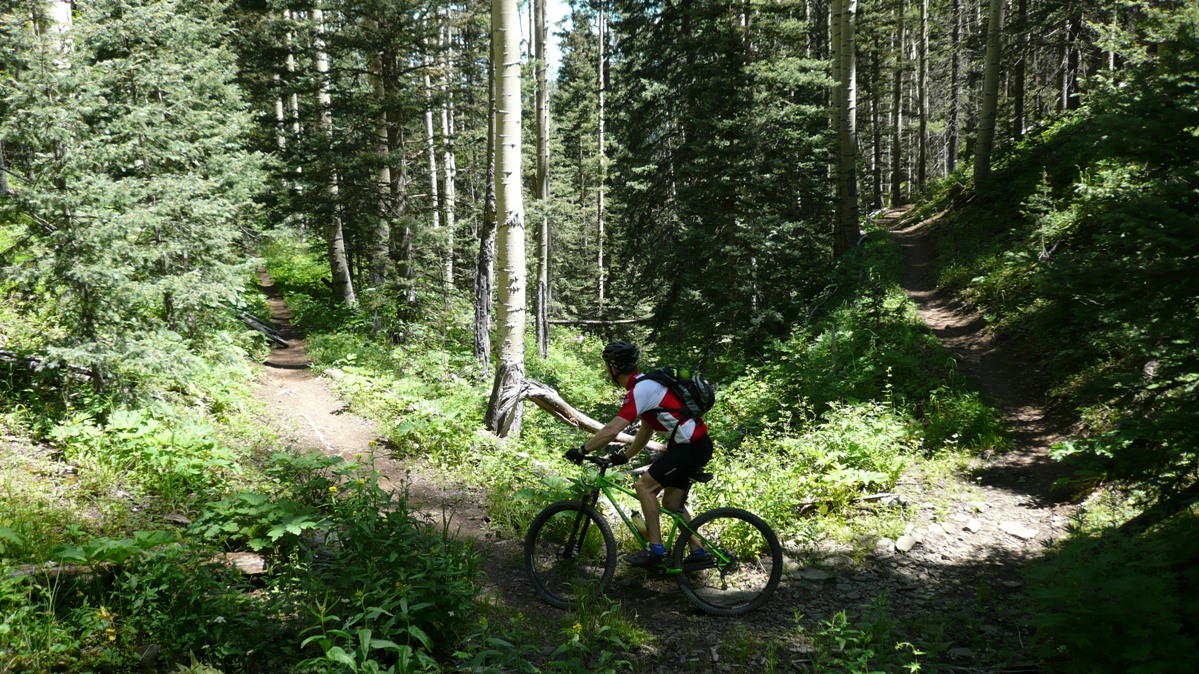 Dave on one of the South Boundary Trail switchbacks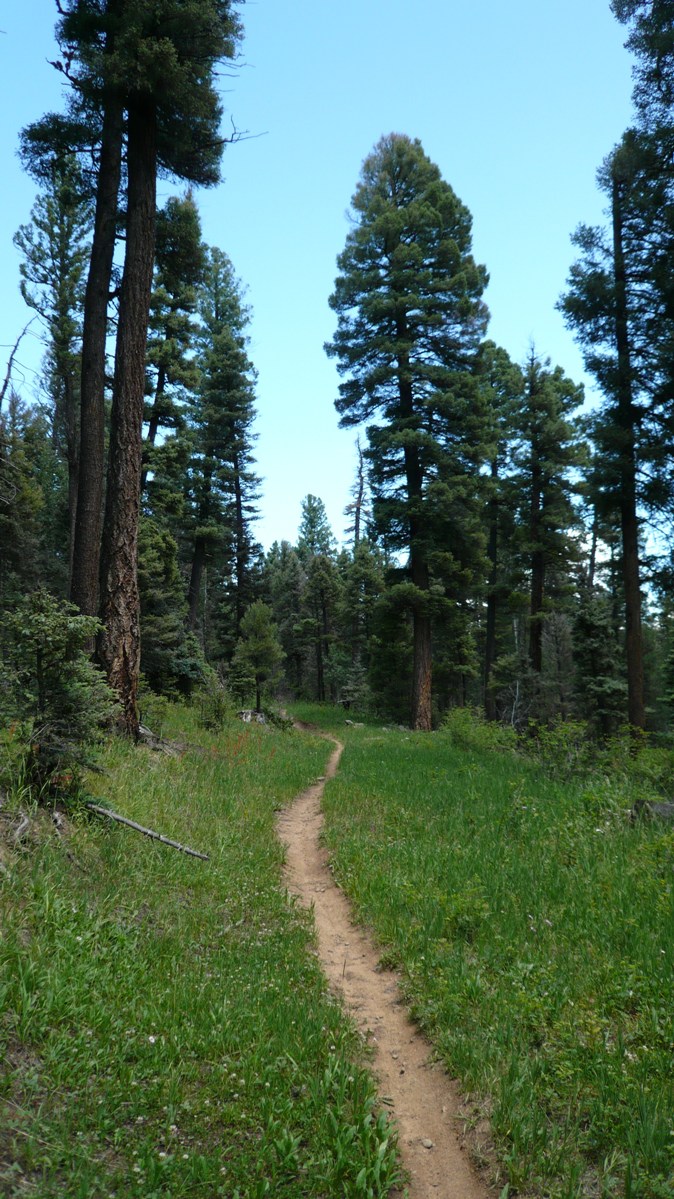 Cool trees on the ridgeline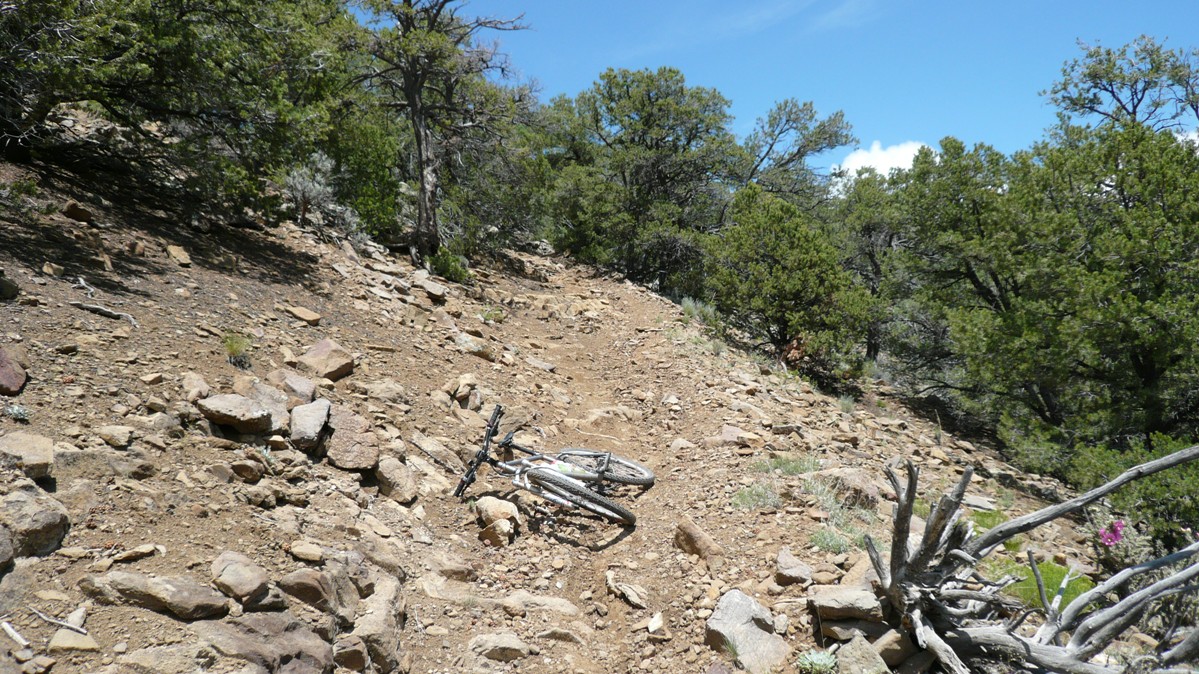 Much of the final plummet to Taos looked like this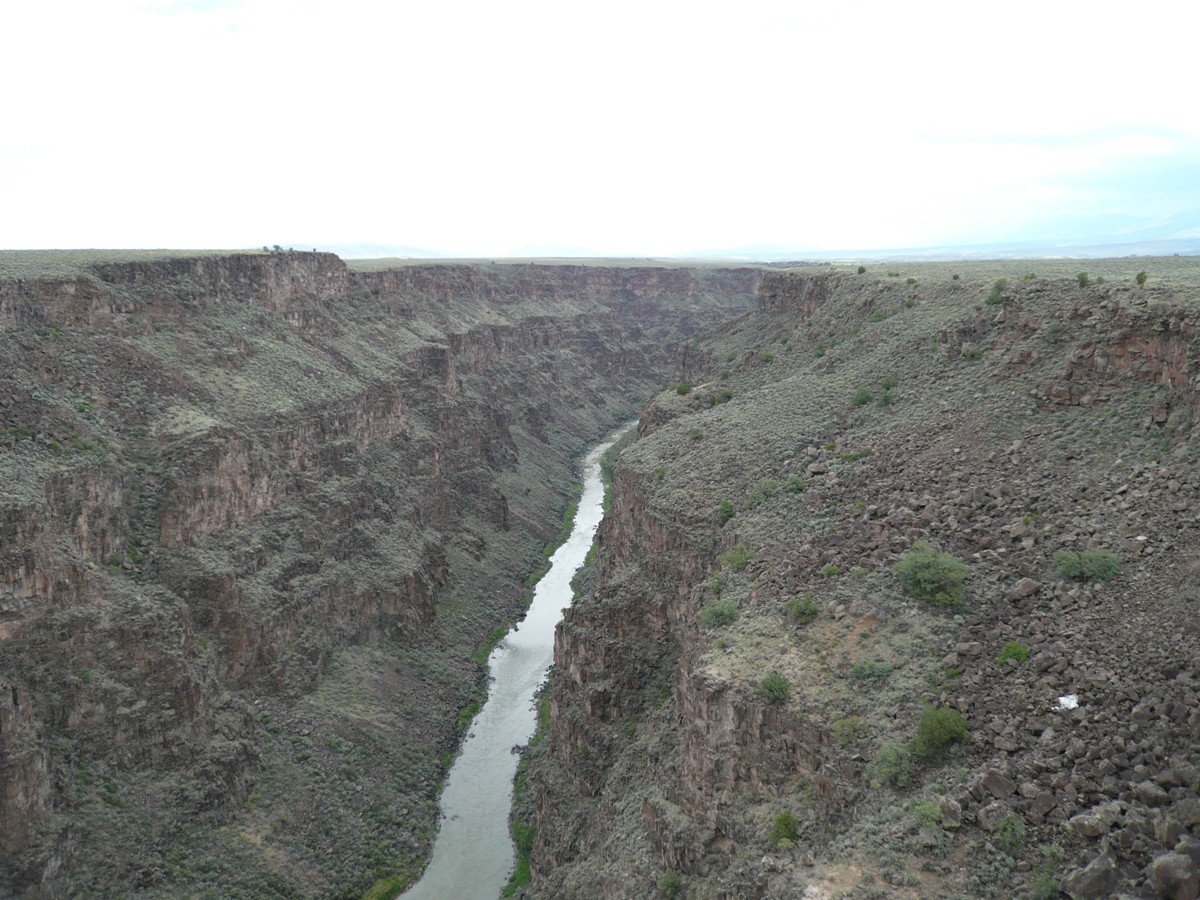 The Rio Grande river from Highway 64 on the way to Durango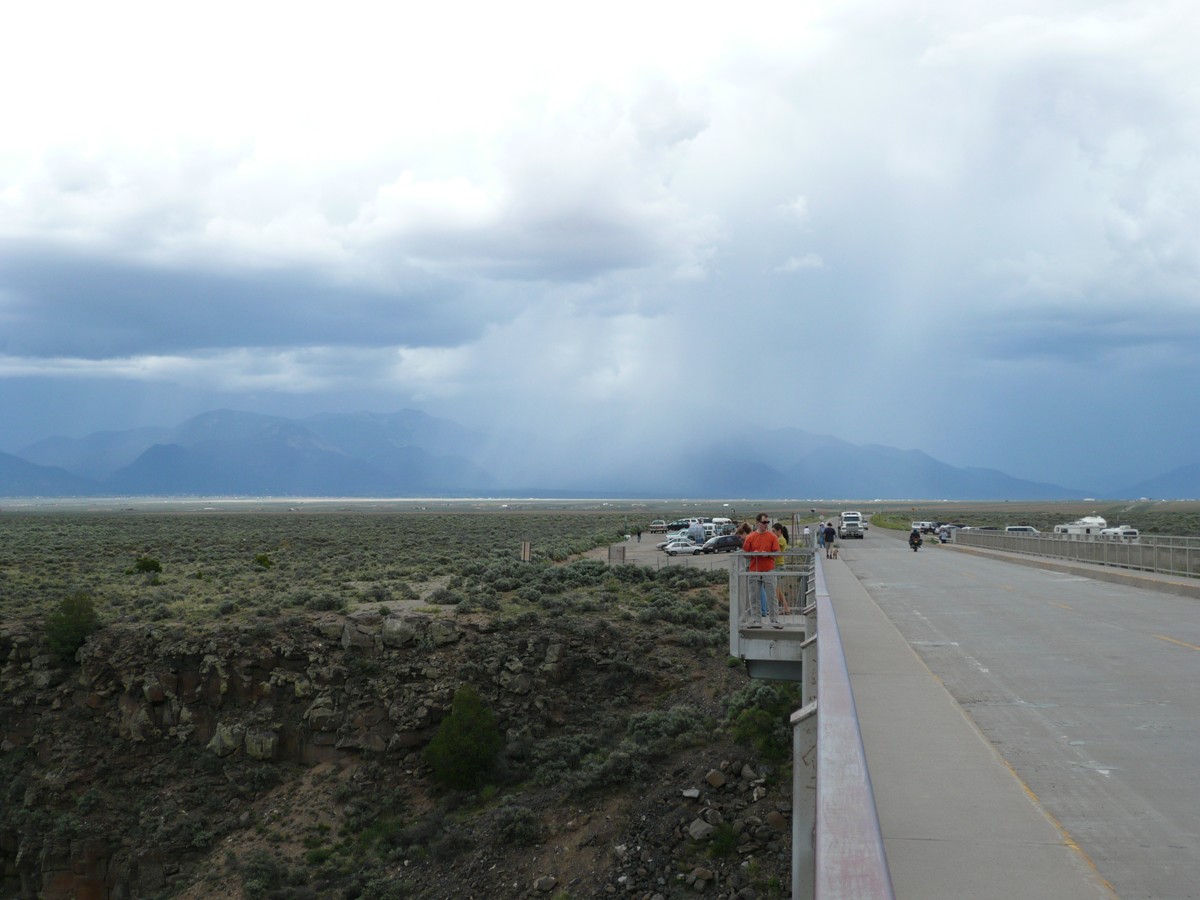 Looking back at Taos from Hwy 64 at the Rio Grande - the down pour and frequent lightning we narrowly escaped on this ride.
Tuesday, July 22 "Getting High in Durango"
Hermosa Park Rd/Colorado Trail/Corral Draw loop, Durango, CO
231.5mi, 8900ft, 4.7hrs
Cool temps throughout ride, wicked thunder last quarter of ride but stayed dry
No, we didn't burn a doobie. We're talking about riding the Colorado Trail to nearly 12,000ft. Today's ride was supposed to be "easy," at only 28.6 miles. But when you factor in most of the riding was above 10,000ft, the climbs nasty steep, and the descents exposed to very steep drops, the ride was anything but easy.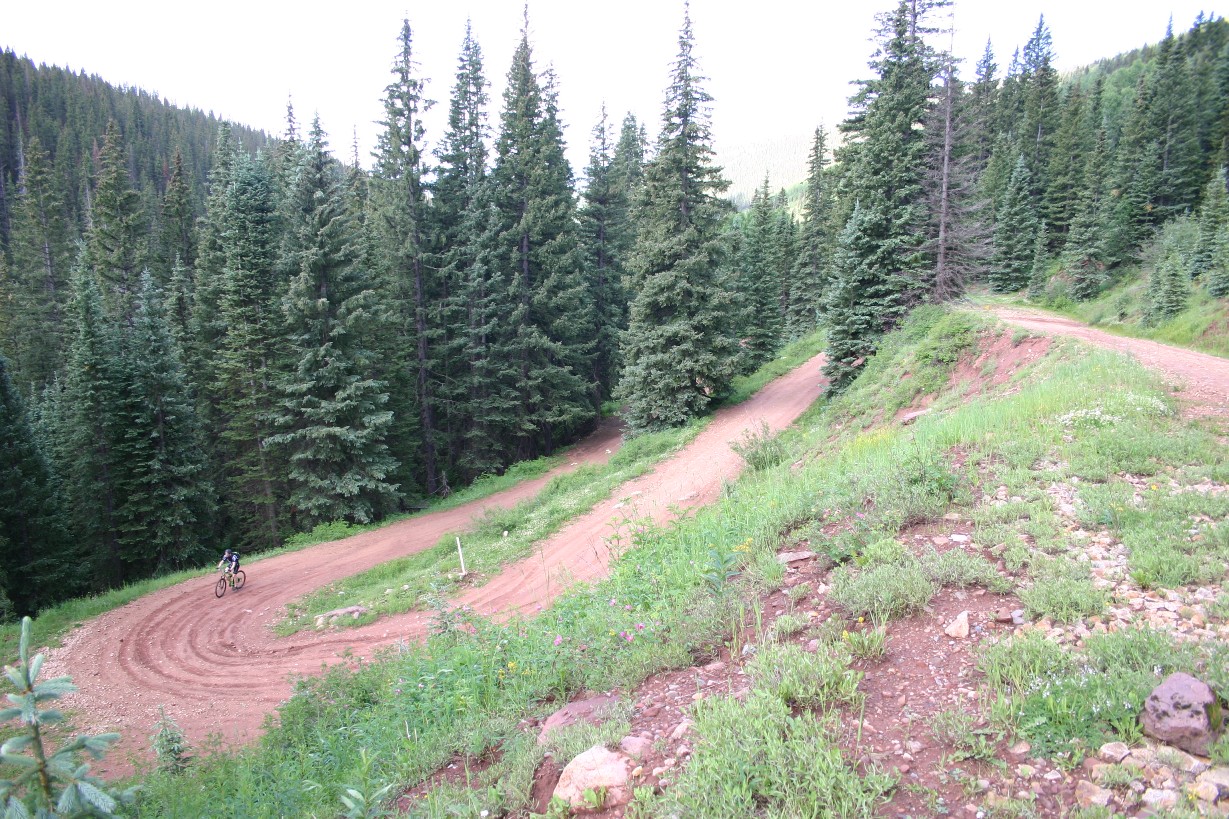 Hermosa Park Rd climb
The Hermosa Valley below, road we started on just barely visible (if you click for hi-res)
I expected the ride to take 3.5-4hrs, but saddle time went out to 4:40hrs. The mileage was higher than expected too at 31.5 miles. I used my Garmin Edge 705 for navigation. It appears the track file I downloaded from Motion Based didn't capture the numerous switchbacks on the climbs and descents.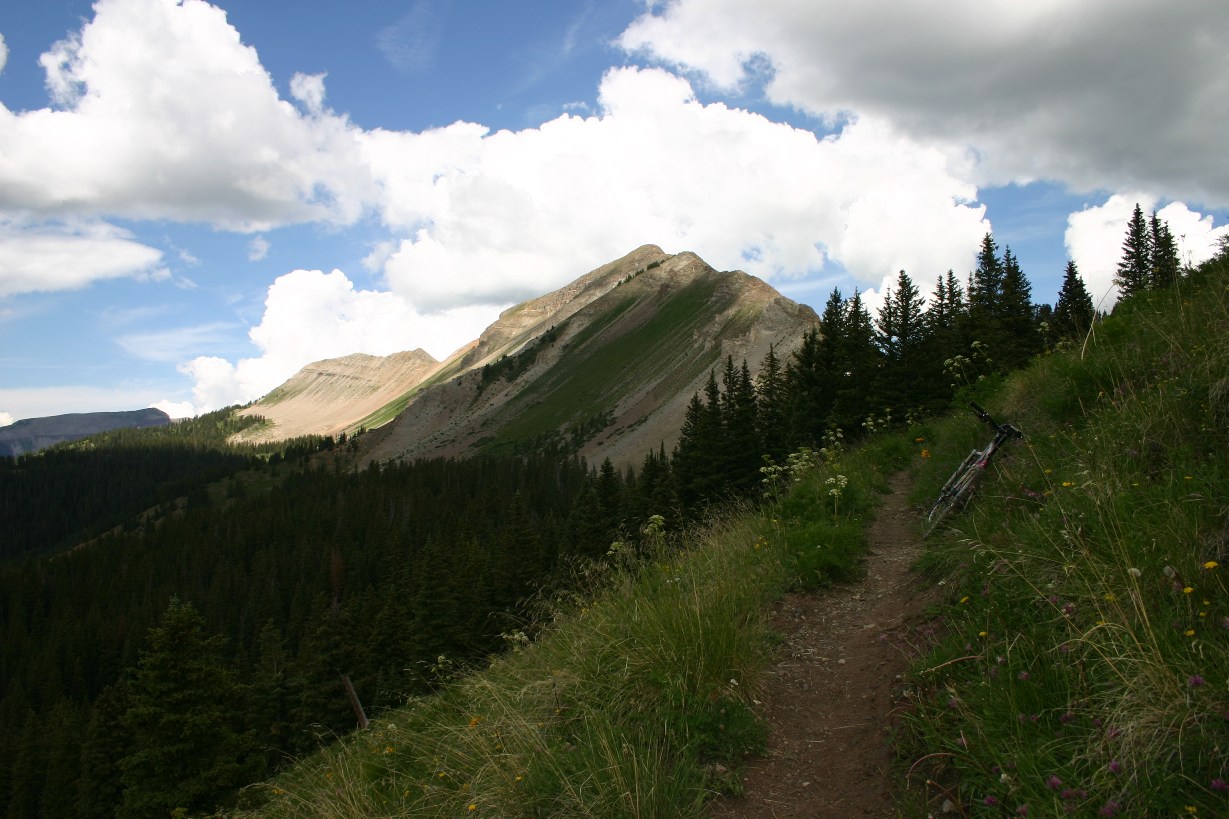 Blackhawk Pass in distance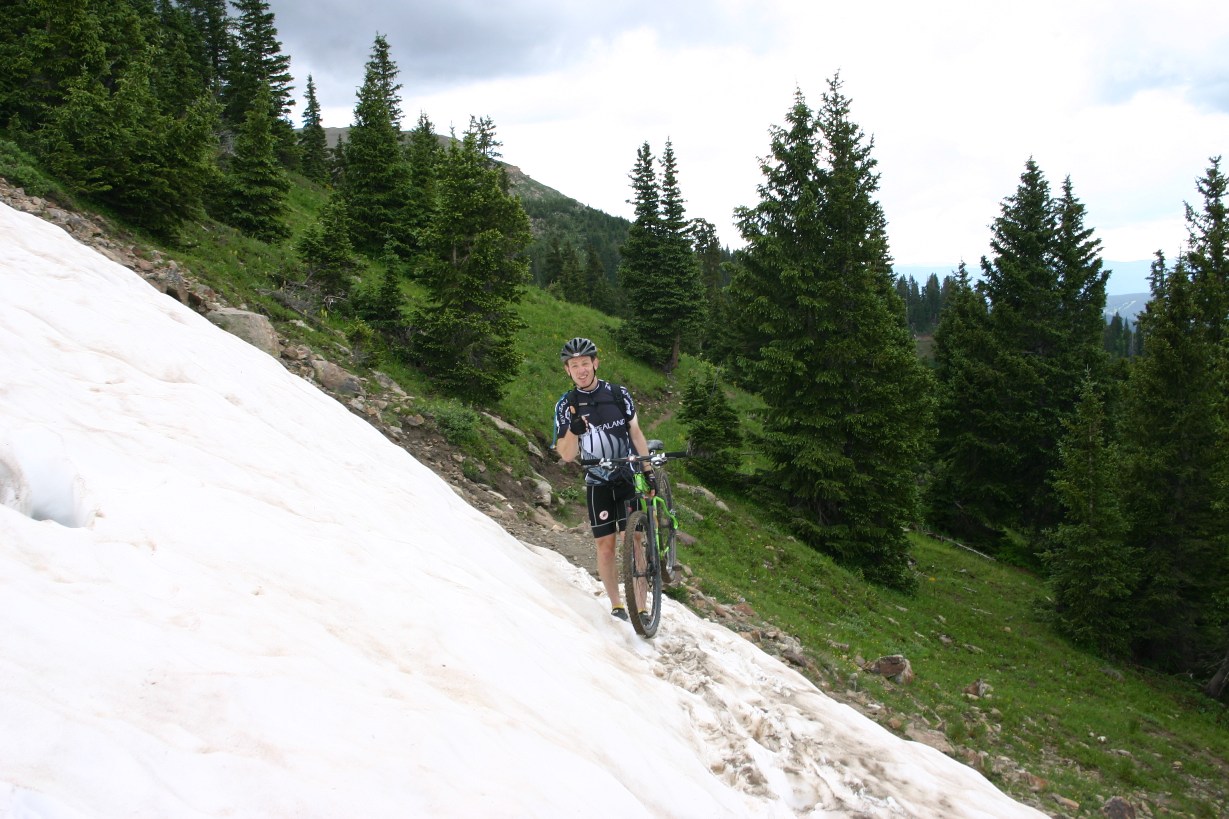 Still a couple snow portages left on the CT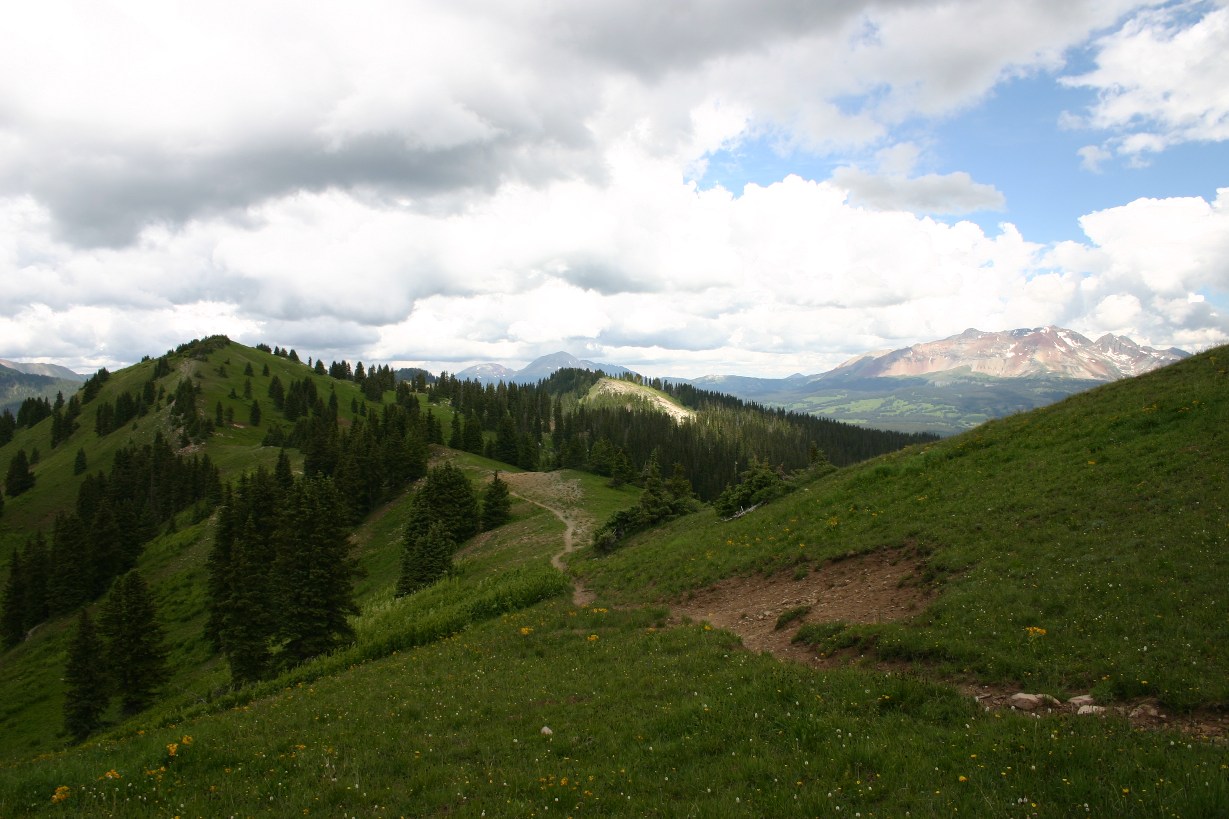 The CT crossing ridgeline
The ride began at just below 9000ft, climbing 8 miles on a rough Jeep road. This was a middle ring affair until the last mile, which was nasty steep. Maybe 25% around the switchbacks, and at 11,000ft, the thin air didn't allow anything more than a pace short of falling over. The road went to Bolam Pass, where we picked up the Colorado Trail (CT). Climbing continued, often exposed with scary steep drops to the left. The view of the Hermosa valley below was surreal.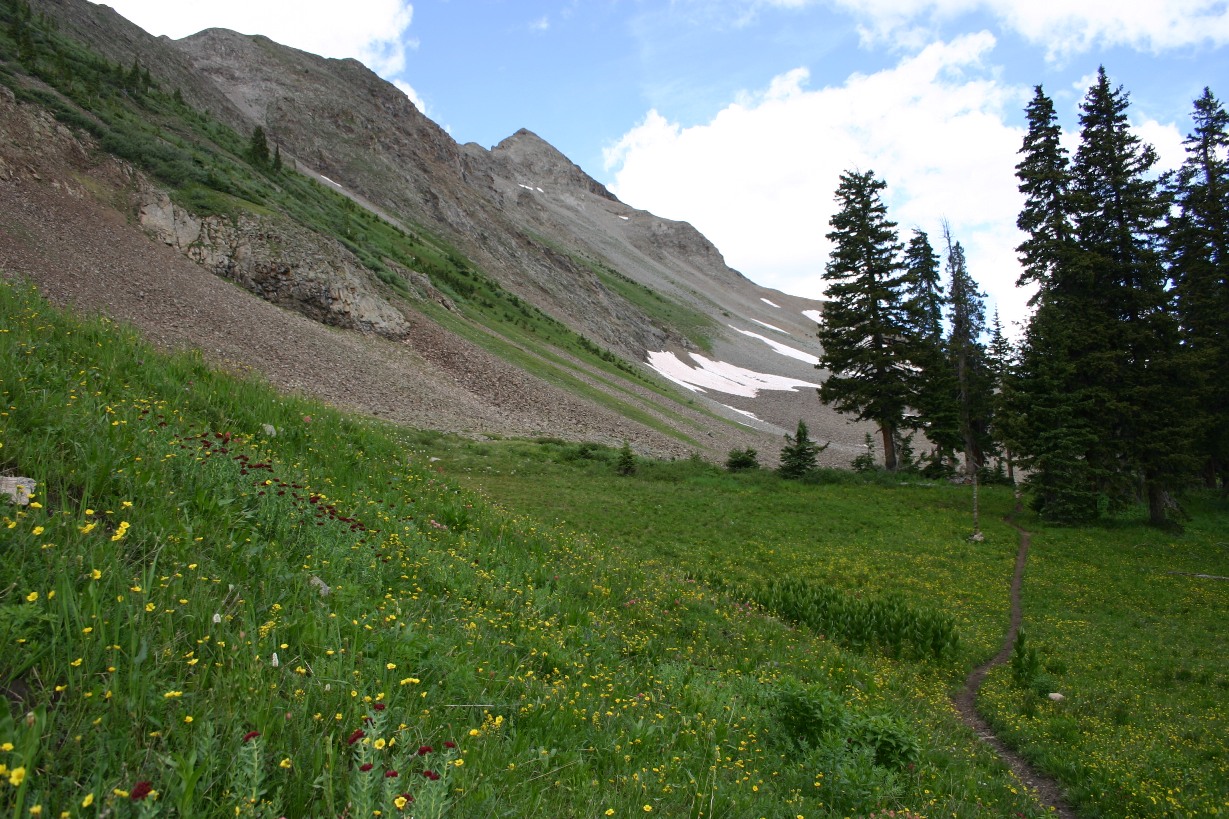 Approaching back side of Blackhawk Pass
The CT wrapped around Hermosa Peak with views fit for expensive glossy calenders. The elevation held constant around 11,500ft altitude. Very easy to get dizzy picking your way through rock gardens here. The trail rolls on the north side of the ridgeline and eventually drops after passing Section Point. I thought maybe that was Blackhawk Pass, but it was a false crossing over the ridgeline. The CT popped over the ridge several times. Eventually, we start climbing in earnest again. Then the Blackhawk Pass comes into view. The sight struck fear in me, as I was beginning to bonk, and the pass loomed as a formidable wall above me. At first, you can't figure out how a trail goes over the thing. It does, but not without some lengthy hike-a-bike sections for us low-landers.
We encountered some back packers in this area. The sky was looking ever more threatening, and afternoon thunderstorms were in the forecast. It was chilly up top at 11,970ft. Dave put on his wind shell. The descent was pure bliss. We encountered our third and final snow portage, but nothing like the ones on the Monarch Crest Trail a couple days earlier.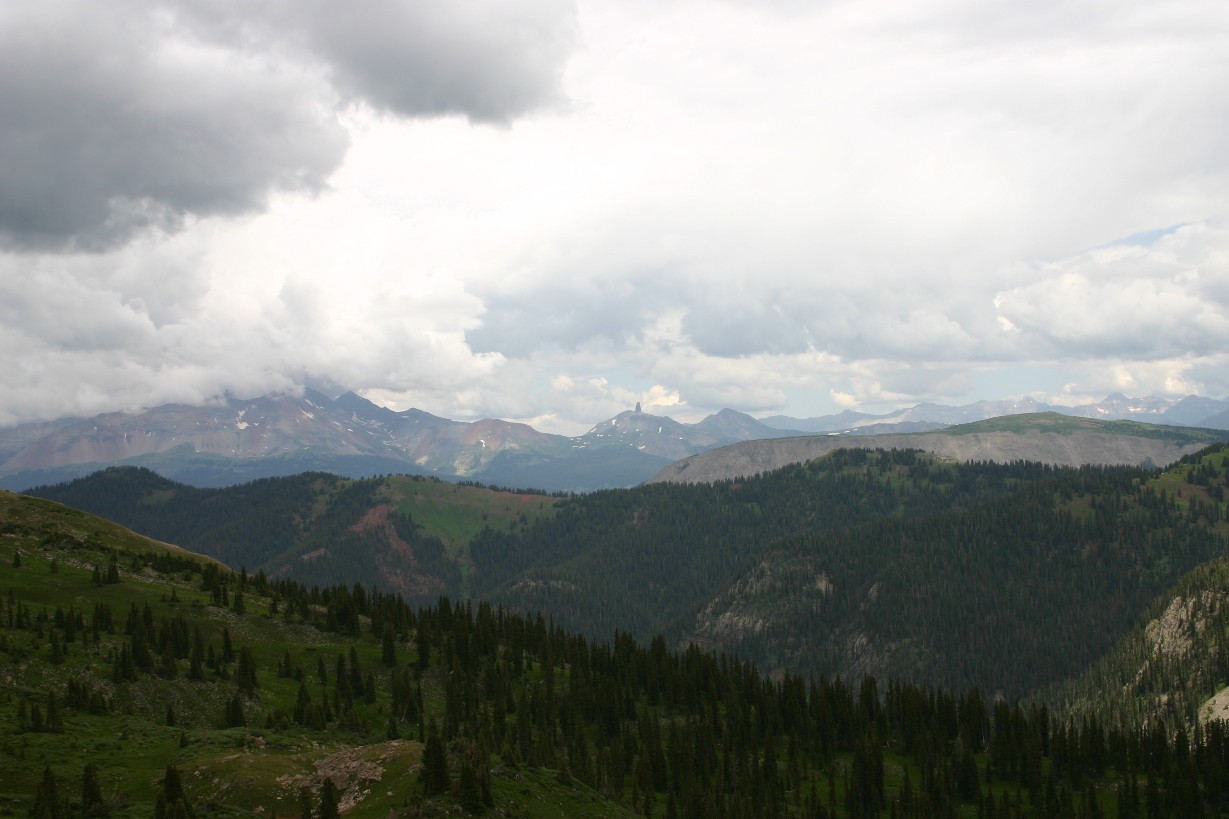 I believe that is Chimney Rock in distance with very threatening clouds moving in
After much descending, we hit the top of Hotel Draw forest road. This was our escape route back had the weather turned on us. It seemed dicy, but Dave commented he might never get to ride here again and wished to continue on with the planned route, which had us continue on the CT to the Corral Draw singletrack trail back down. I knew this had some more climbing in it, but wasn't sure how much. We also heard our first clap of thunder in the distance too. That adds strong motivation to keep moving. The CT moved nicely here, but then the climbing started. I went deep into bonk mode, as I only had two Clif bars left to take on the ride and the going was much slower than anticipated. Dave just bolted on me.
Myself riding at the 12,000ft ridgeline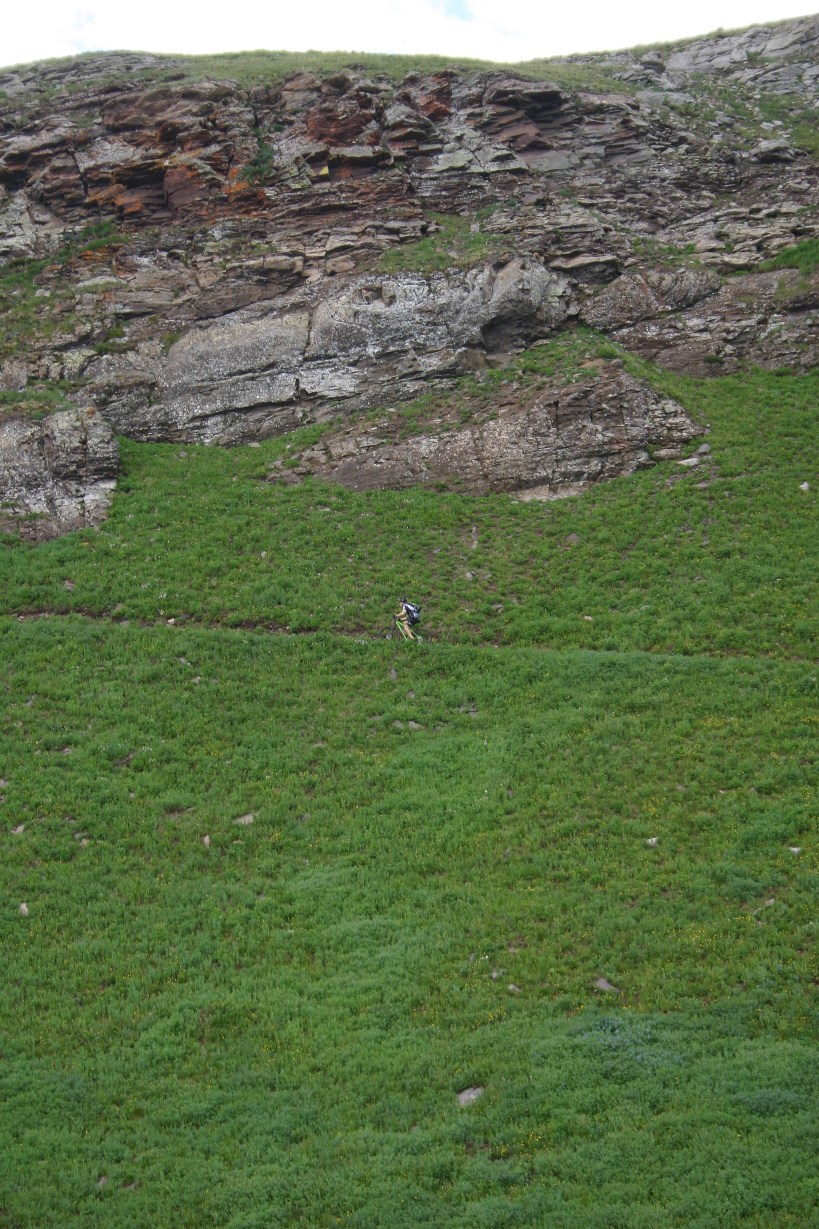 Dave on final assault of Blackhawk Pass along headwall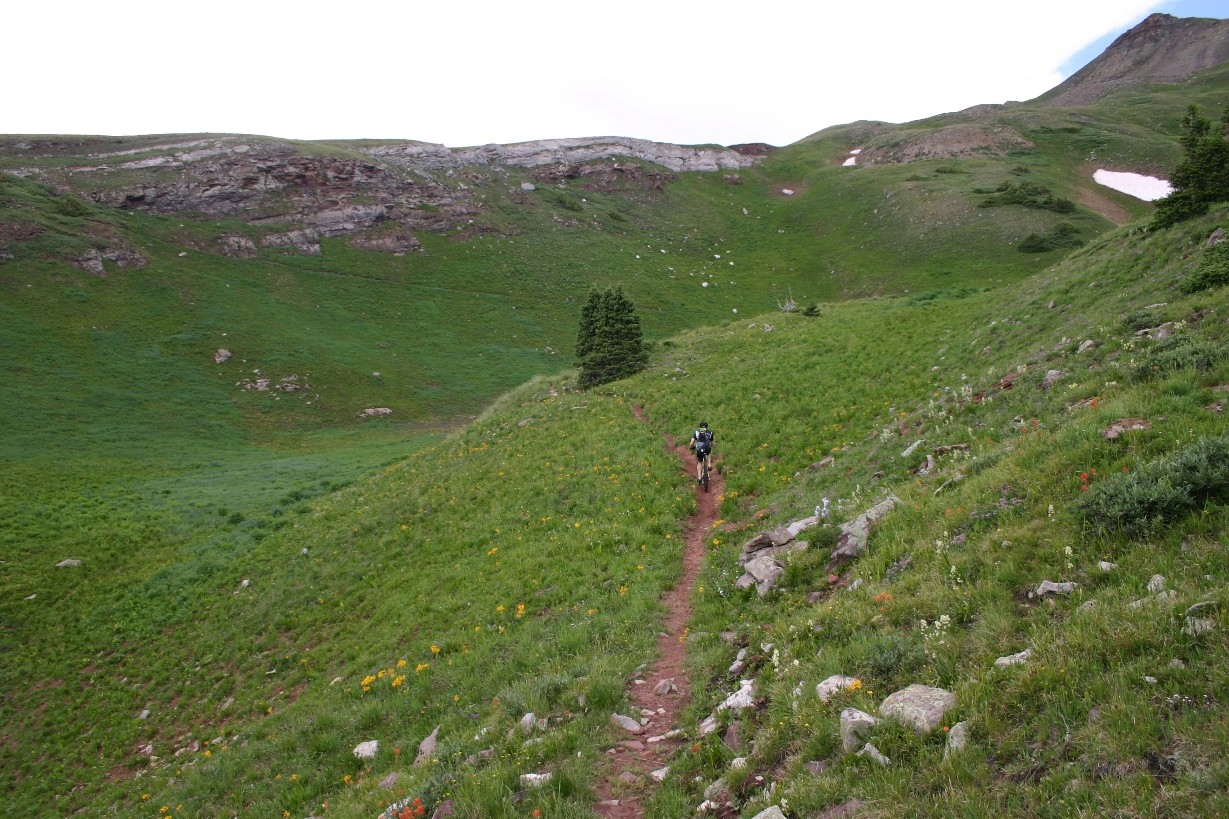 Dave approaching Blackhawk Pass. Note trail benchcut into headwall.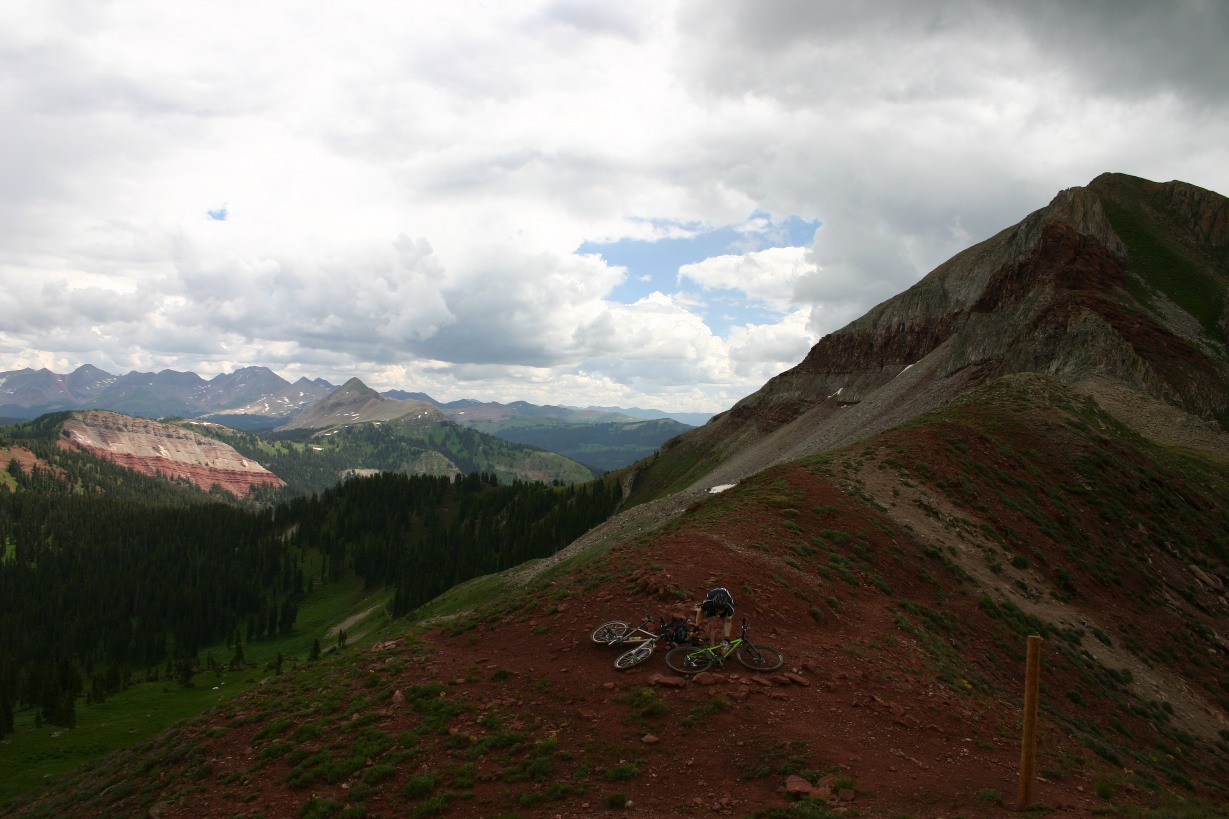 At Blackhawk Pass. All downhill from here (yeah, right!)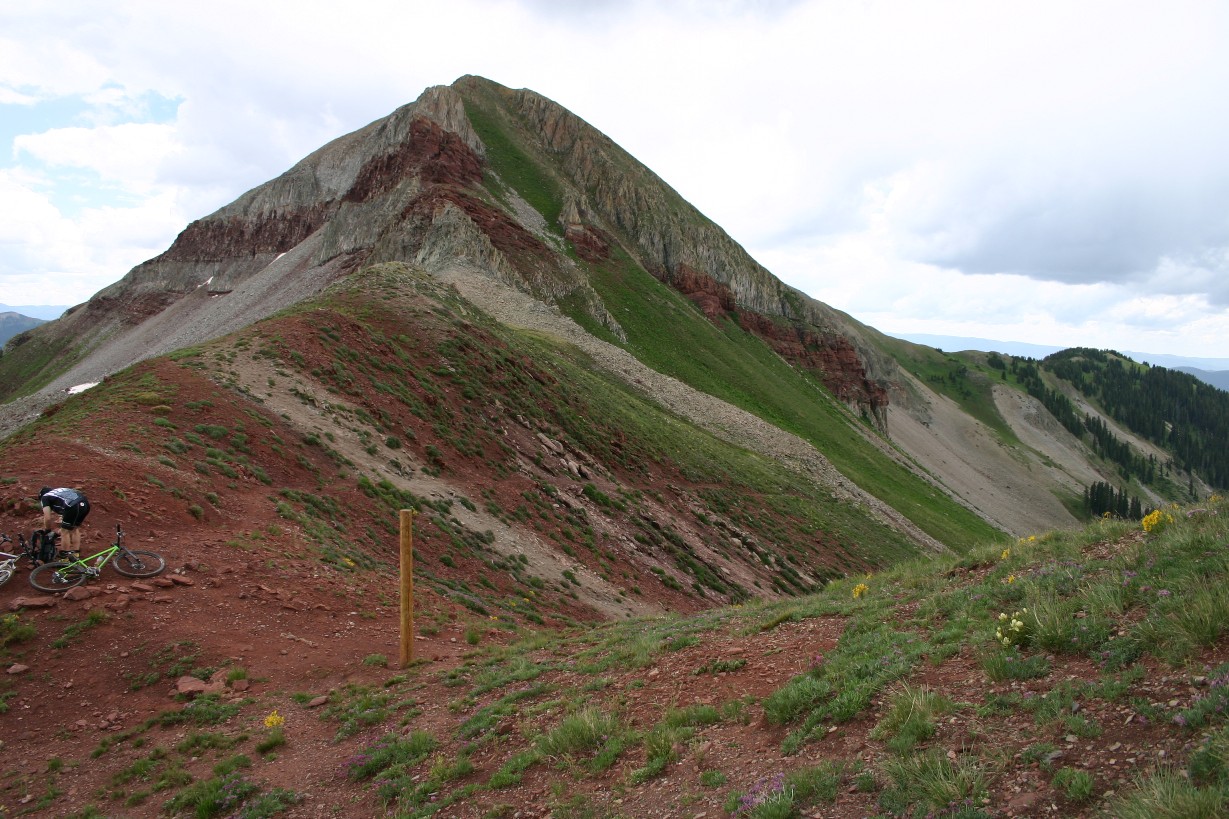 Blackhawk Pass with trail descending to the right back towards Hwy 550.
When I reached Corral Draw, Dave was already gone. I waited a moment and heard the strangest thunder ever. It startled me. It might have been very close lightning, but it was not loud. It was more like a very high pitched hissing sound that snapped and crackled a bit. No booming or echos. Maybe that's just how thunder sounds at 11,000+ feet on top of a mountain. It totally freaked me out.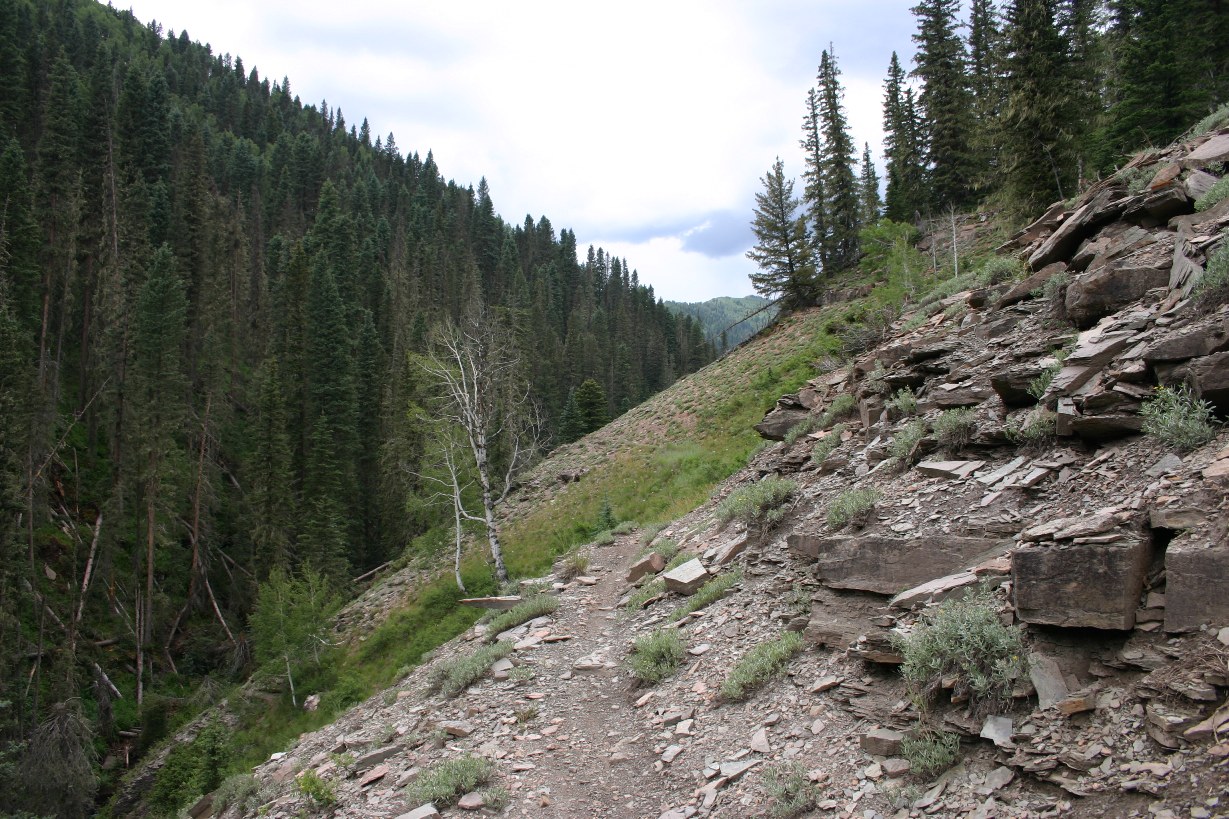 Corral Draw trail near the bottom
The descent was hairy. All switchbacks, alternating between open meadows and dense forest. The open areas were large and exposed to lightning. The thunder became more frequent, but no rain. Rain would have been a disaster, as the soil has a clay base to it. The trail was no more than 6" wide in places and a bit overgrown. The switchbacks were tight and a bit much for a bonked rider with pounding altitude headache. Dave was no where in sight and left me for dead. The cool thing about Corral Draw was that it was all rideable and nearly monotonically descending. Miles and miles of it, much of it exposed on extremely steep slopes.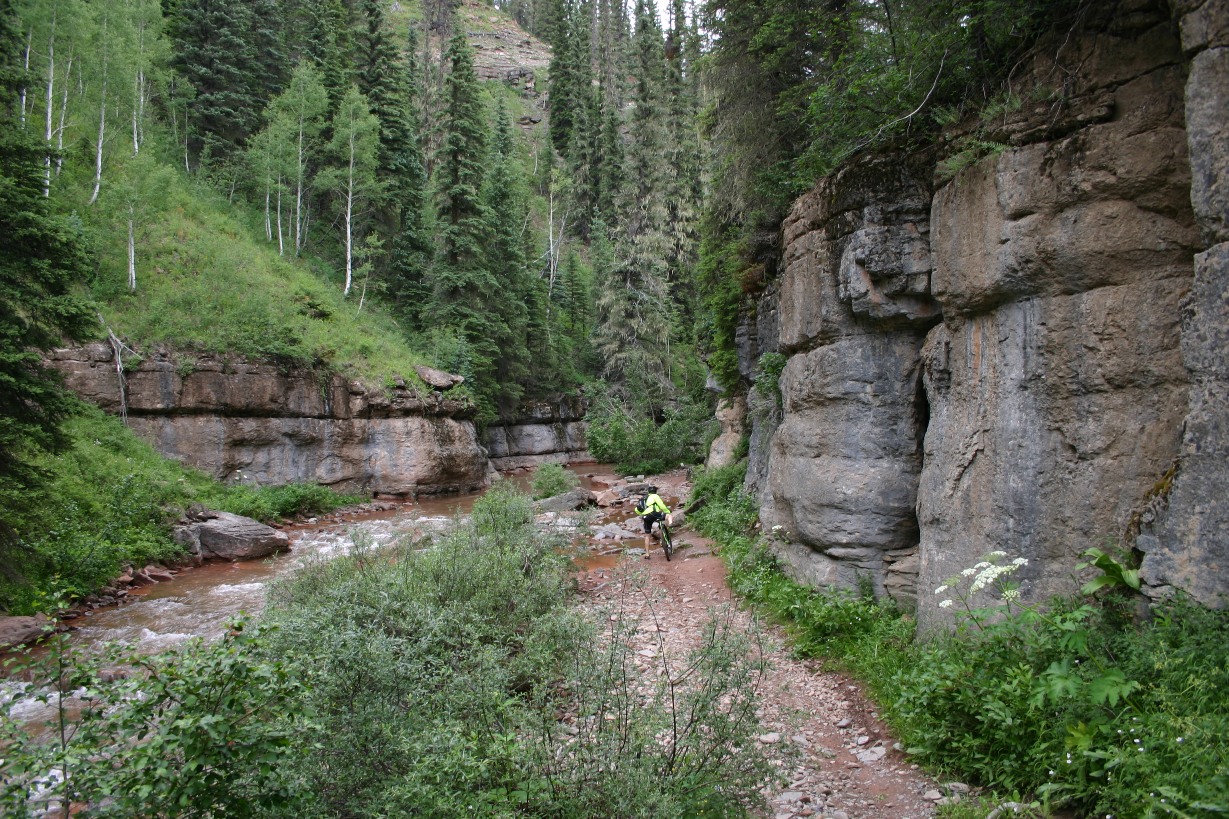 Hermosa Creek Trail
I finally reached Hermosa Creek where Dave was waiting, probably a long time. I was so relieved to reach this point without being struck dead by lightning or deluged by rain. It was only a few miles back to car from here along an ATV rutted widetrack up hill. Perhaps the best view of the ride was when the car came into view. The trail here was juicy. It had rained at the car while we were high.
Post ride bike wash in Hermosa Creek
Wednesday is probably going to be a recovery day. Averaging over five hours rolling time per day three days in a row takes a toll. These aren't like rides back home either. The approximately 7000ft we did today was our easiest day. We commented after the ride that a mile here is equal to two miles of riding back east. So our 31.5 mile ride today would be like doing 63 dirt miles back home. The altitude, duration and steepness of the climbs makes it so much more challenging.
Wednesday, July 23
Hermosa Creek Trail out and back
32.5mi, 5000ft, 4.0hrs
Morning ride, chilly, thunder started late morning but stayed dry
Alien Run, Aztec, NM
8.9mi, 900ft, 1.0hrs
Evening ride, warm, threatening storm cell all around but trail stayed dusty
We rode Hermosa Creek on our second day in Durango. Our legs were cooked, so instead of doing a 50 mile loop of Dutch Creek/Hermosa Park Rd/Hermosa Creek Trail, we opted for a shorter out and back on just the Hermosa Creek Trail. Additionally, this day had much higher chances for thunderstorms.
We parked at the lower trail head. The plan was to bike up to the junction of Corral Draw Trail. This is where we dumped out on Hermosa Creek the day before and climbed to upper trail head. By starting from lower trail head, we will have covered all of the famed Hermosa Creek Trail.
Most riders shuttle this trail. It takes a lot of miles by car to reach the upper trail head. From Durango, this is upwards of 40 miles I think. The lower trail head is only about 10 miles from town. Hermosa Creek has a lot of climbing in it either direction. You can't be a total couch potato and thrive on this trail. On the way back down, there is a brutal 500+ foot climb that just doesn't give up.
We encountered a few other riders on this mid-week morning. Part way up, three frantic riders had a very close encounter with sow and two cubs. When they said they saw bears, Dave points and said "like that one over there." Ha-ha, funny I first thought. But sure as shit, there was a yellowish black bear across the creek from us lumbering up the hill. I guess black bear there can be about any color, whereas in New England, I think they are all coal black. That was cool, but we were pretty apprehensive after that, especially passing through the constricted area where the others ran into the three bears.
Near the turn-around point of our ride, we met the same two guys we saw at the upper trail head the day before. We were doing a Blackhawk Pass loop that day, they were dropped off for a shuttled descent of Hermosa Creek Trail. But this time, they parked at the top, rode down the first four miles of what are essentially muddy ATV trail, not singletrack. They thought that was the best part of the ride, not the many miles of cliff hugging singletrack further down. Huh? Not us.
It started thundering mid-morning as we began our descent. We were very fortunate to finish the ride without getting poured on. The bikes, however, were a complete mess. Overnight rain left many puddles and slimy spots on the trail. A French couple were just setting out as we left. I wonder if they escaped unscathed.
Hermosa Creek is the most famous ride in Durango, but I'm not sure why. With high country loops like Blackhawk Pass and Engineer Mountain, I don't see it. Maybe it has to do with touring companies offering shuttle service for Hermosa Creek. It is a net vertical drop. Other loops require much more climbing. Hermosa Creek was a good ride though. There's a high probability I'll go back to Durango in the next couple years to hit more of the high country stuff we did not get to. I would potentially include Hermosa Creek again, but in a larger loop ride like we originally planned.
Dave rested his finicky knee the rest of the day while I headed back over the border into New Mexico. I had read about a race loop near Aztec called Alien Run. It goes about 8.3 miles, is unidirectional, without a huge amount of climbing. The trail gets its name from an alleged UFO crash site where craft and alien bodies were recovered. I personally don't believe in any of this UFO B.S., nor do I believe in cover up conspiracy theories. Folks that use contradictory evidence to bolster their claims by reasoning "see, see, it is true, they are denying it" bug me. Anyway, there was an amusing plaque there that looked official and all, but it was placed by private parties.
The trail was wicked cool. It had way more fun factor than Hermosa Creek. It was an au naturel amusement park for mountain bikes. I was the only one there when I arrived. There is no kiosk at the parking area, and being in the middle of desolate nowhere, I couldn't even be sure I was at the right place. But little stakes with MTB symbols and one way arrows said I found what I was seeking. Some readers may have biked the famous Moab Slickrock trail. Maybe even a couple have biked Fantasy Island Trails in Tucson. The Alien Run trail was a 50/50 hybrid of these two riding areas. Half the time I was riding on slickrock, the other half undulating, packed desert sand dodging boulders, juniper trees, and scurrying little lizards.
With thunder constantly rumbling in the distance, I kept my pace high. This was supposed to be an easy day, and Dave was perusing I don't want to know what on the web with my laptop back at the hotel. Bottom line was, I was going to get spanked the next day by doing another 5hr day at fairly rigorous pace. It was worth it though. The trail was a lot of fun. When I hit Durango again in a year or two, the 40 minute drive out here would be worth a repeat ride.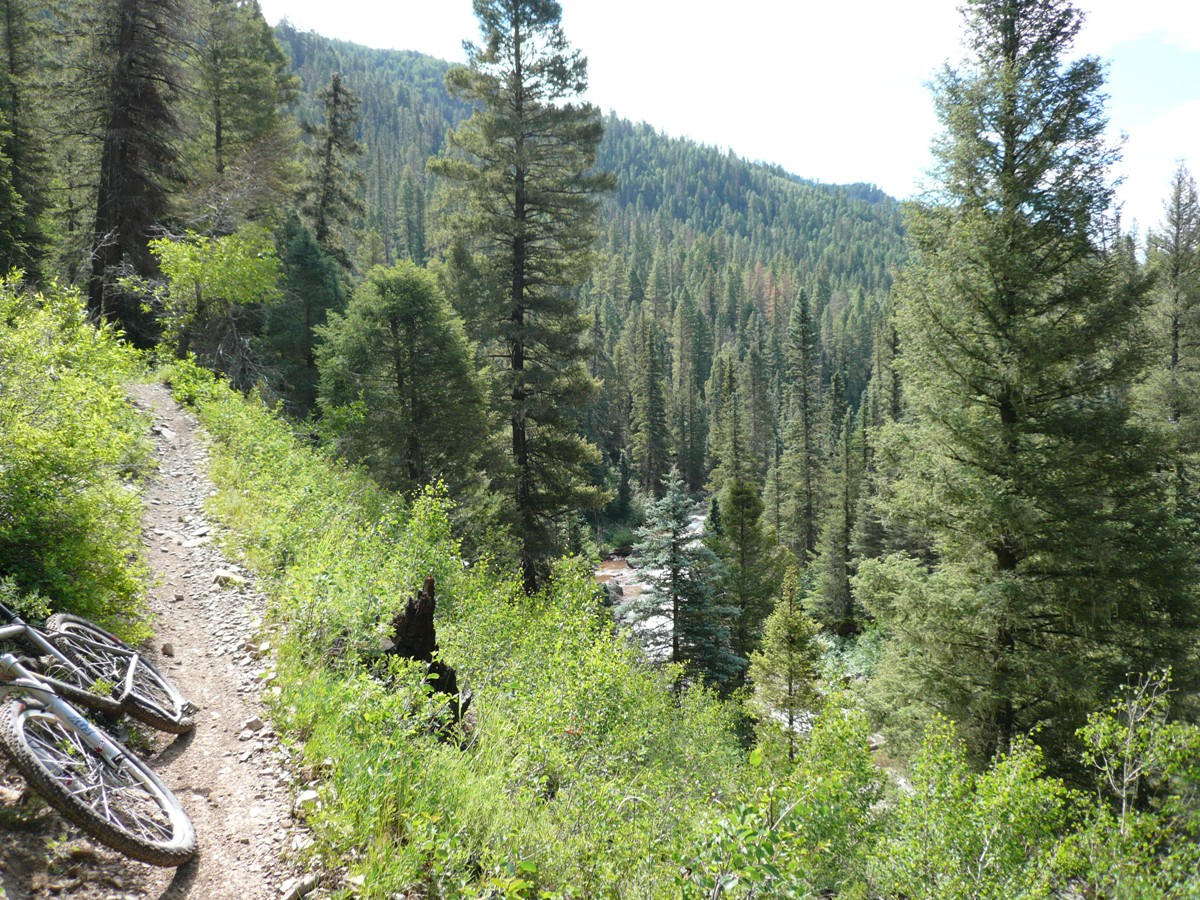 Lots of exposed riding on Hermosa Creek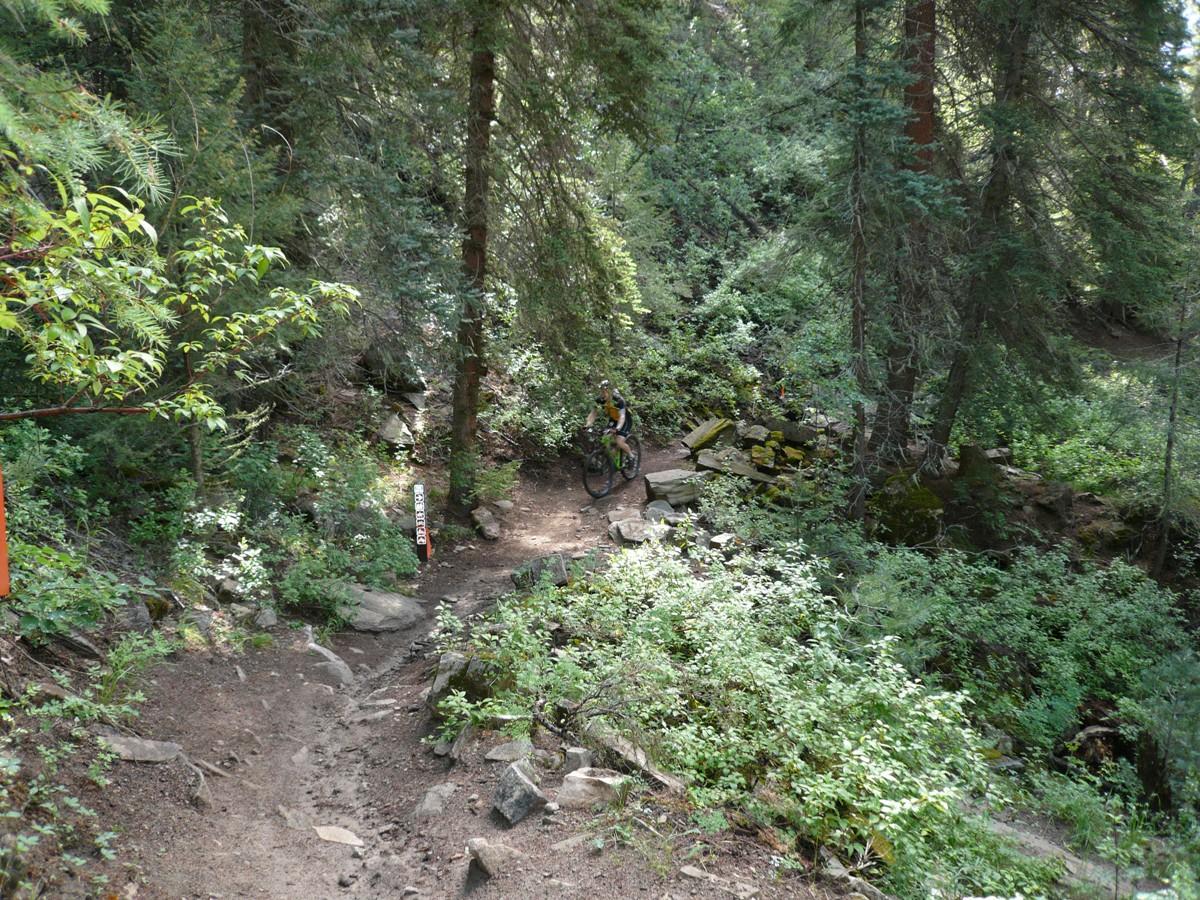 Hermosa Creek cut in and out of numerous gullies, some wet, some with bridges, most with climbing involved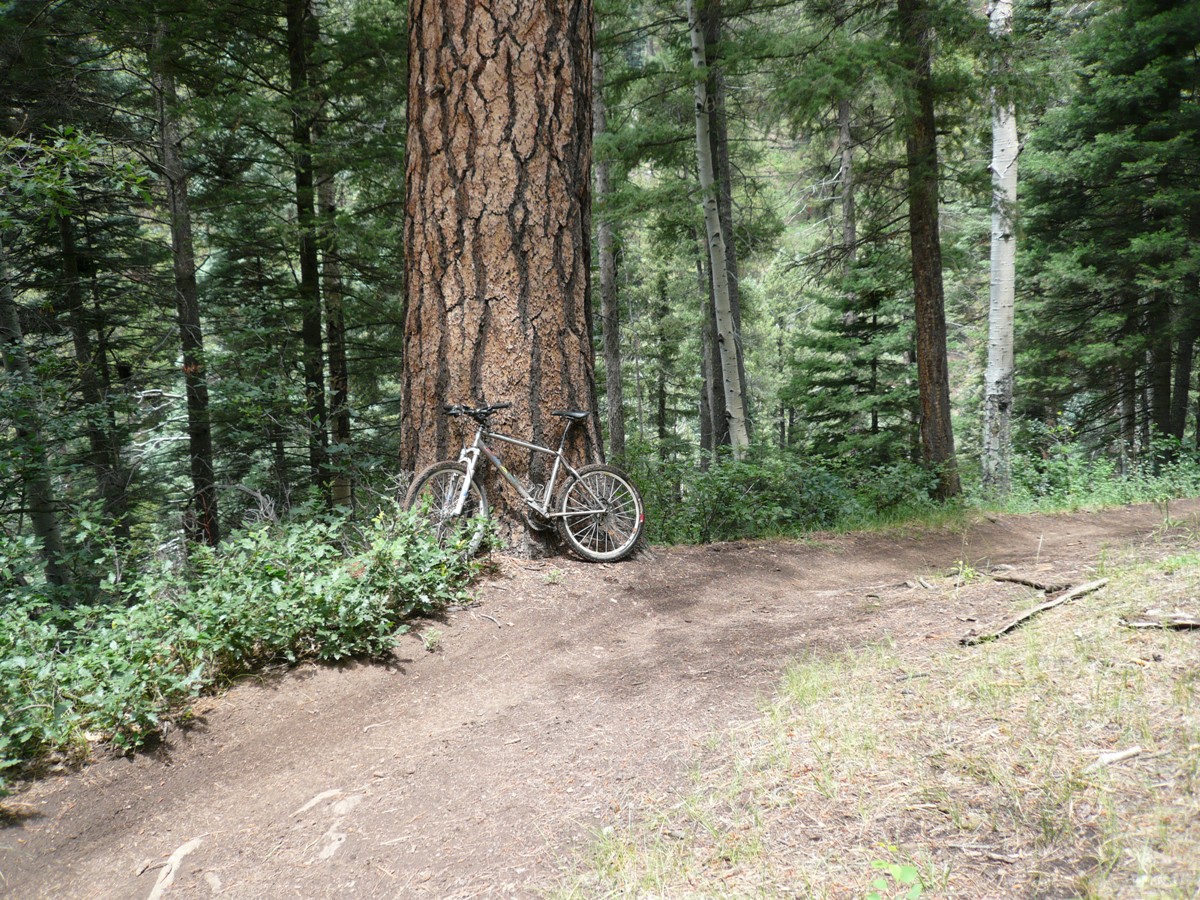 Some old growth trees along the way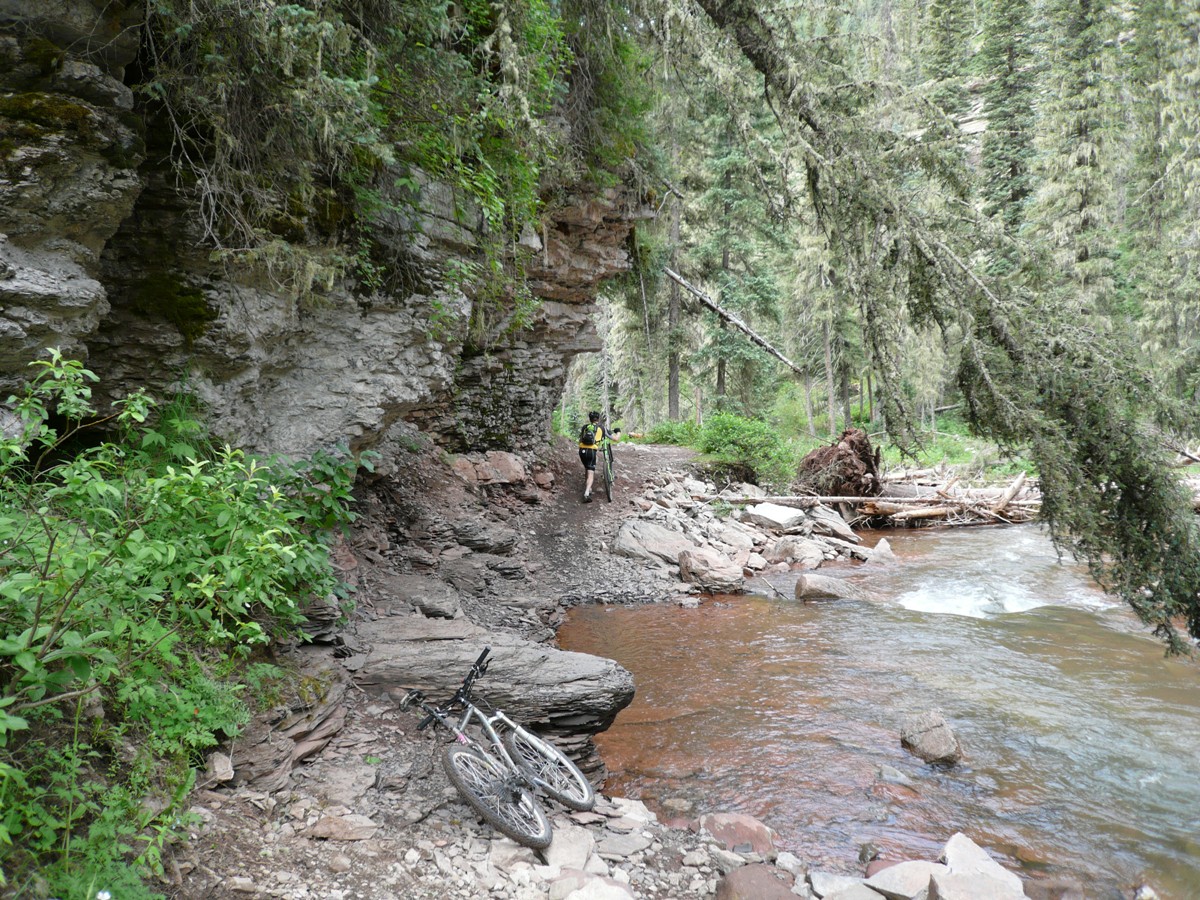 The water was possibly rideable, but large rocks in the bottom were risky. This was area where others encountered bears.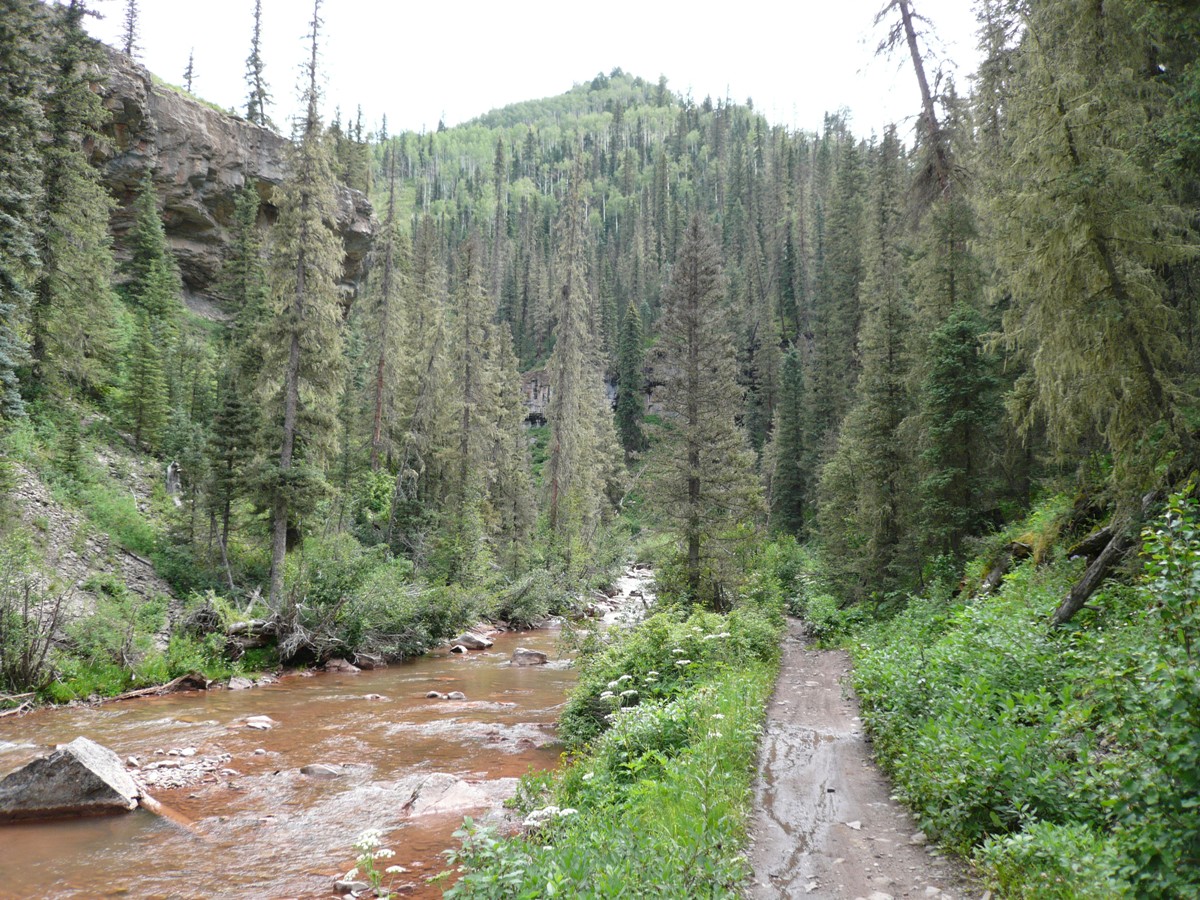 This was the upper part of Hermosa Creek where ATVs are allowed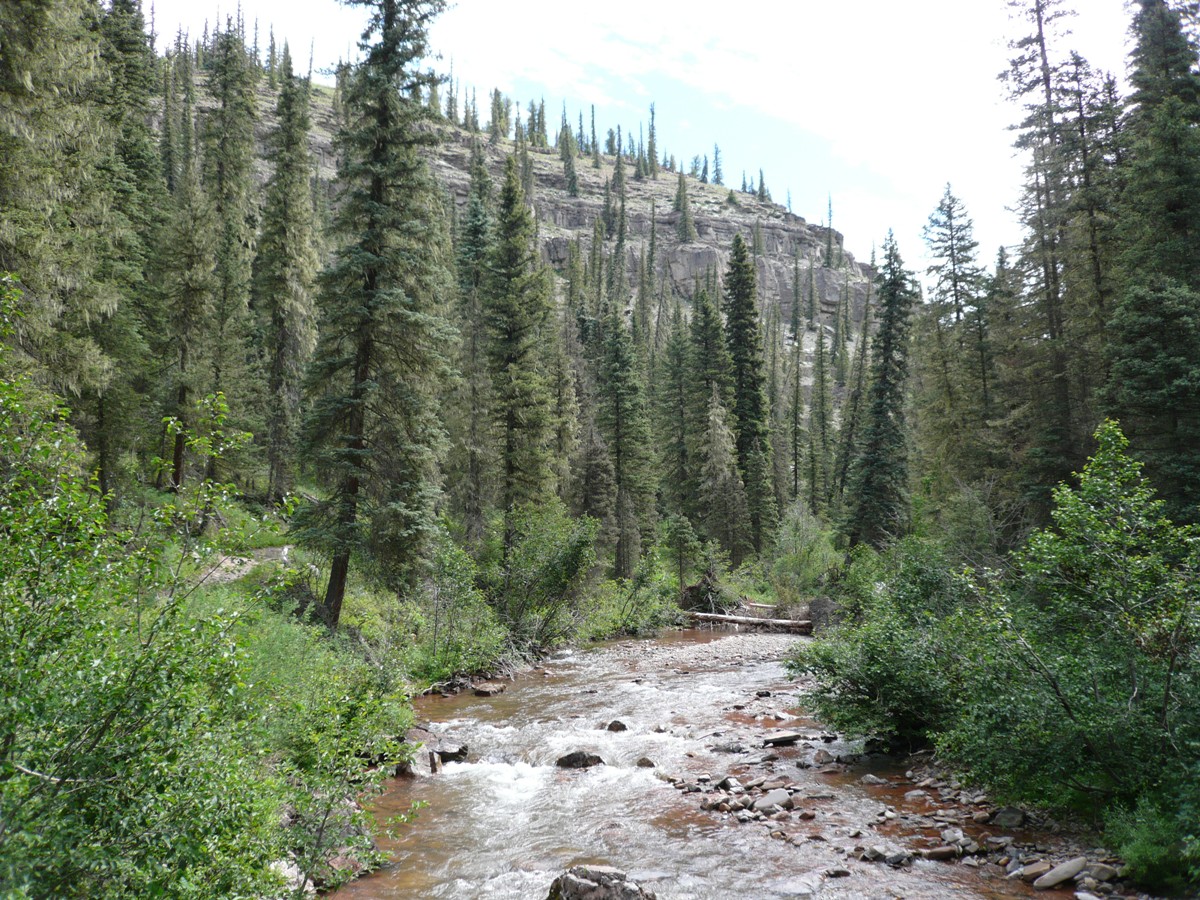 Cliffs along the upper portion of the Hermosa Creek gorge
Plenty of slickrock ledge to ride on at Alien Run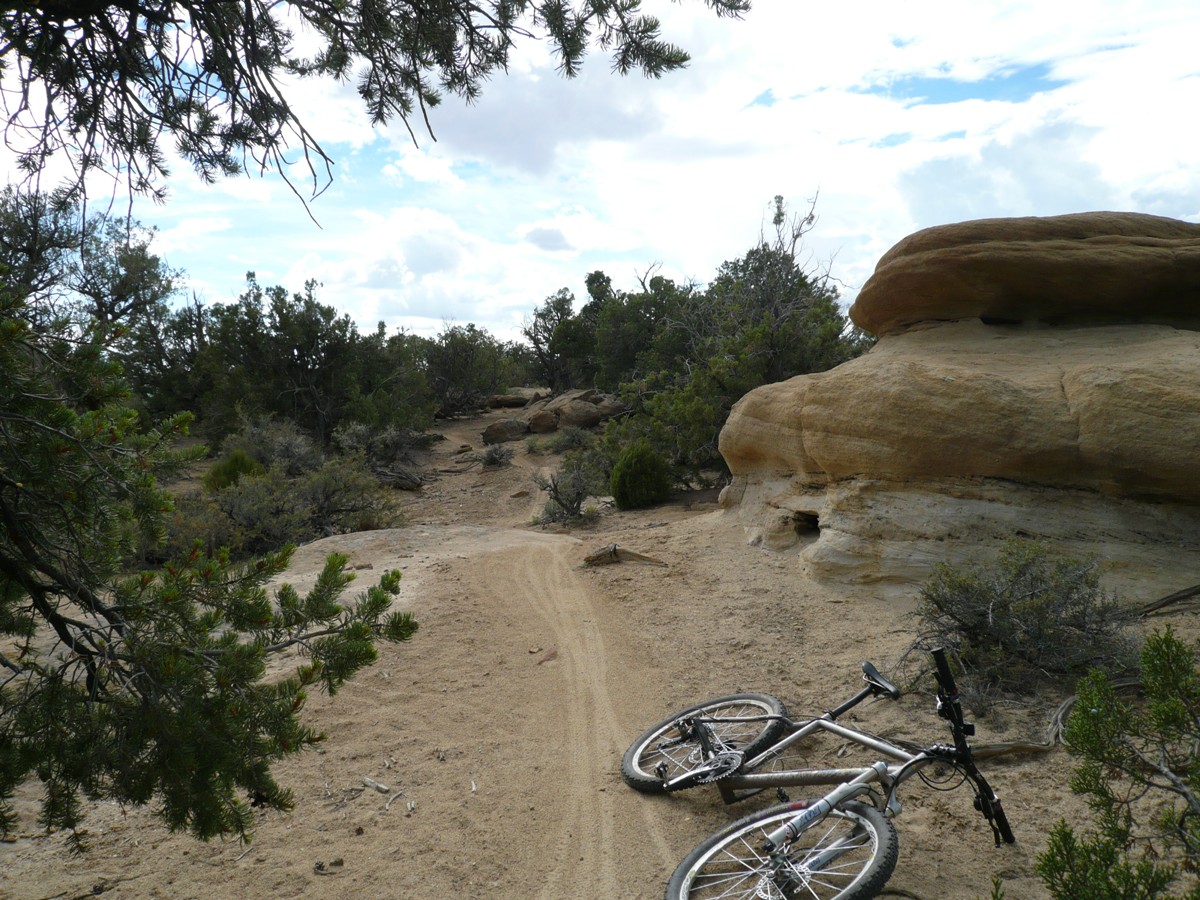 Even the natural rock formations look like spaceships here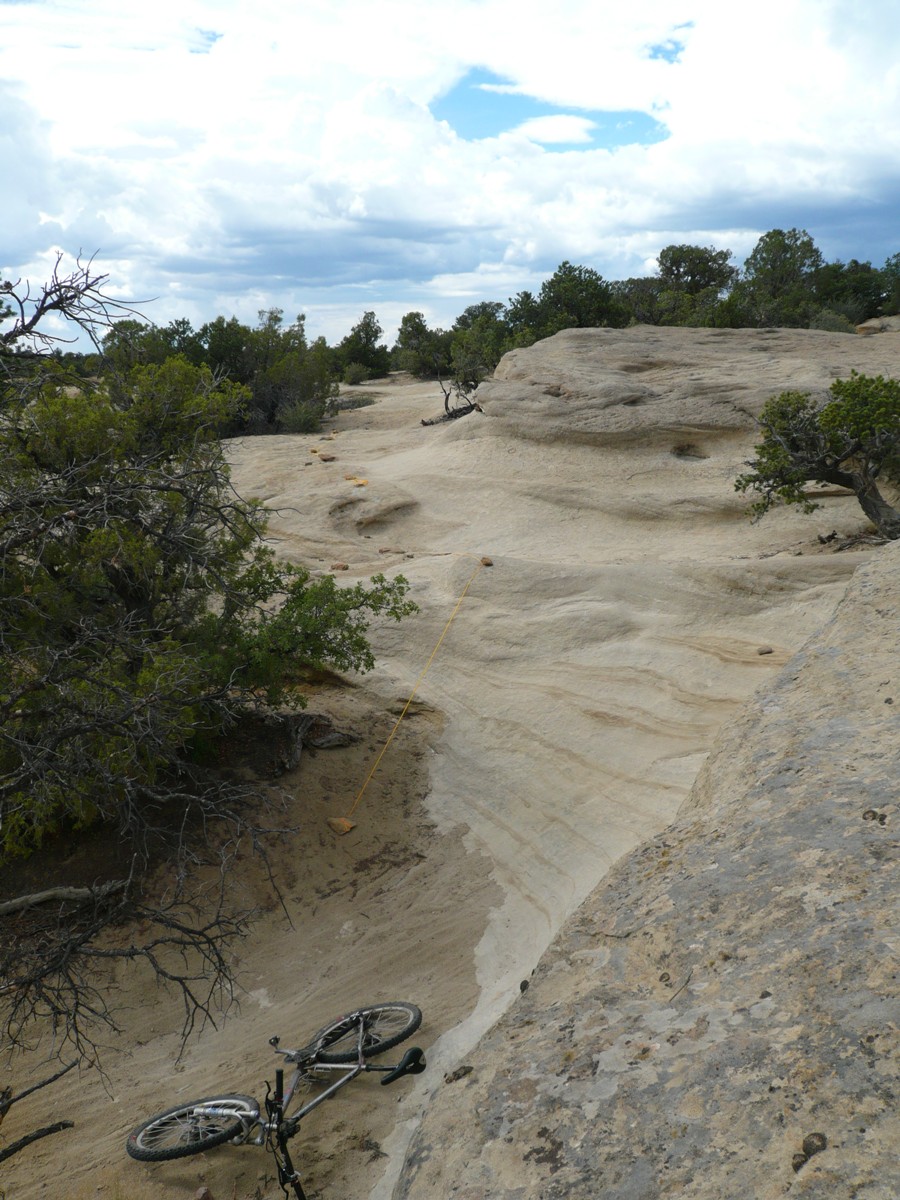 When I first saw this, I thought I had no business riding it alone. With a little momentum to carry you around the bowl shape, it actually transitions very nicely to the sand in the bottom. Fun!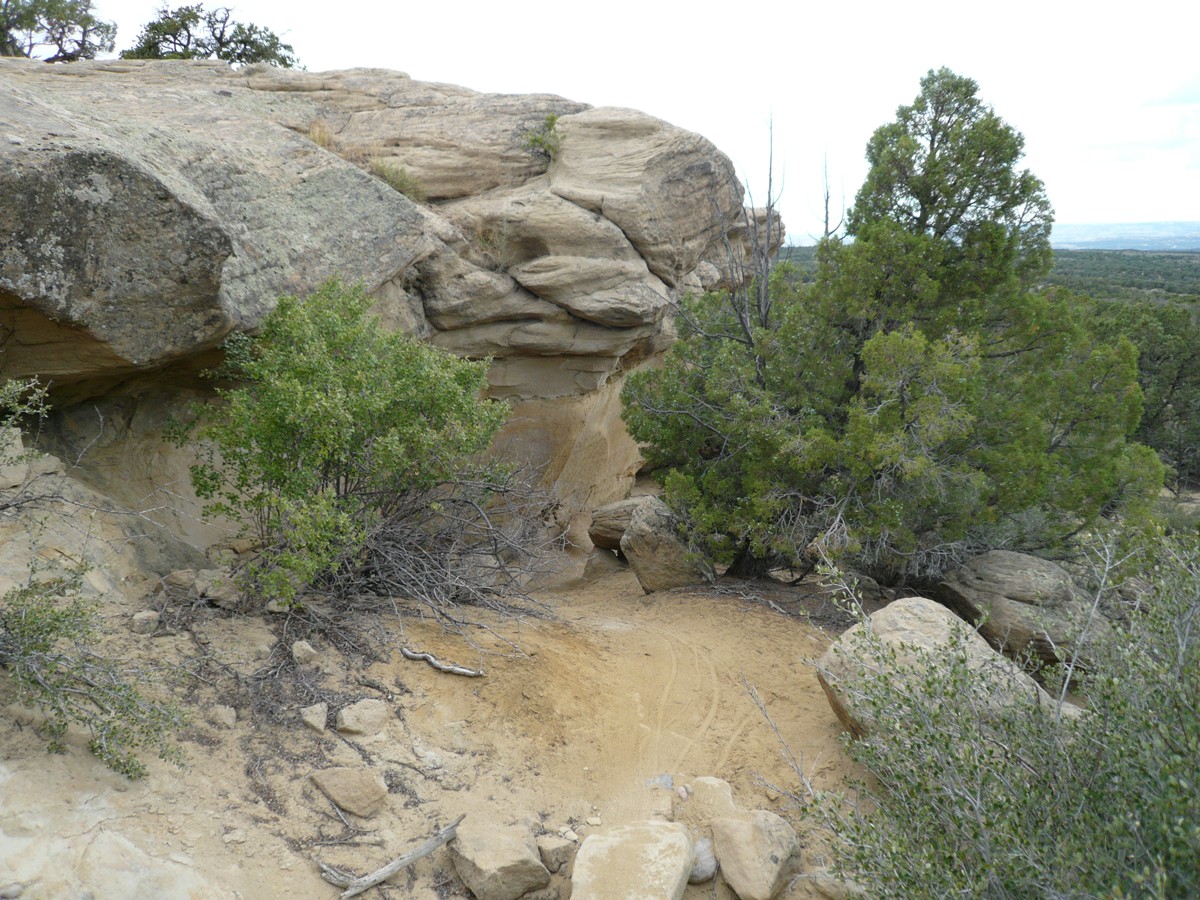 The trickiest part on the whole loop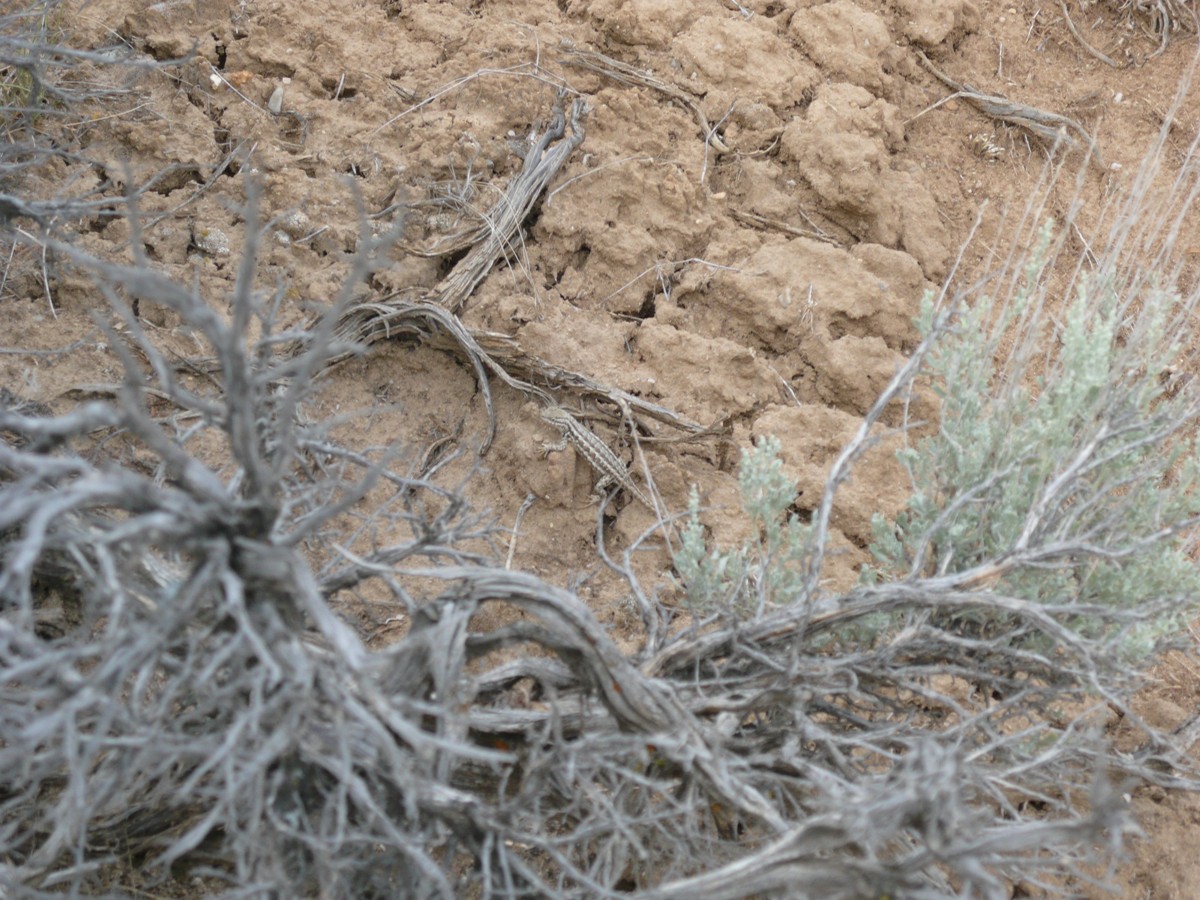 Look closely. These little lizards were all over the place.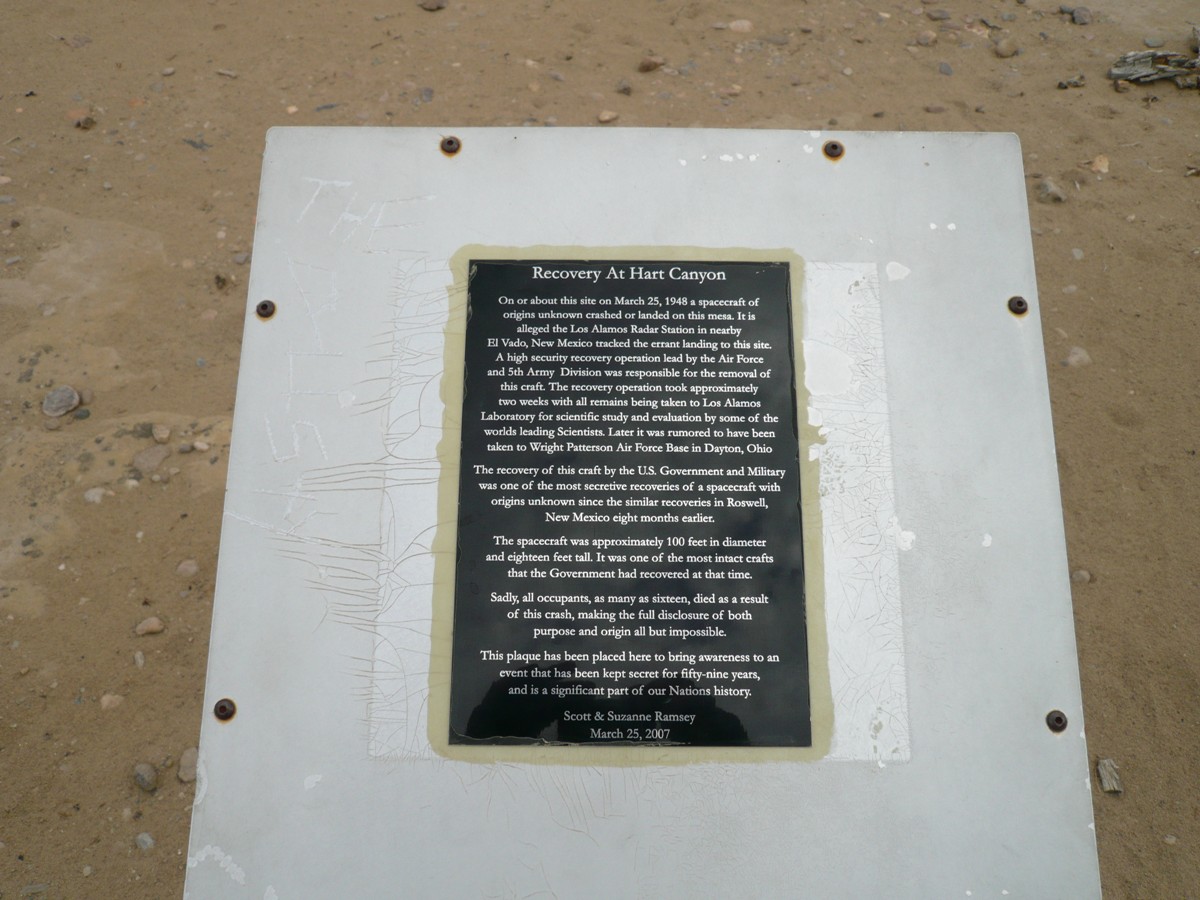 UFO crash site. BS if you ask me.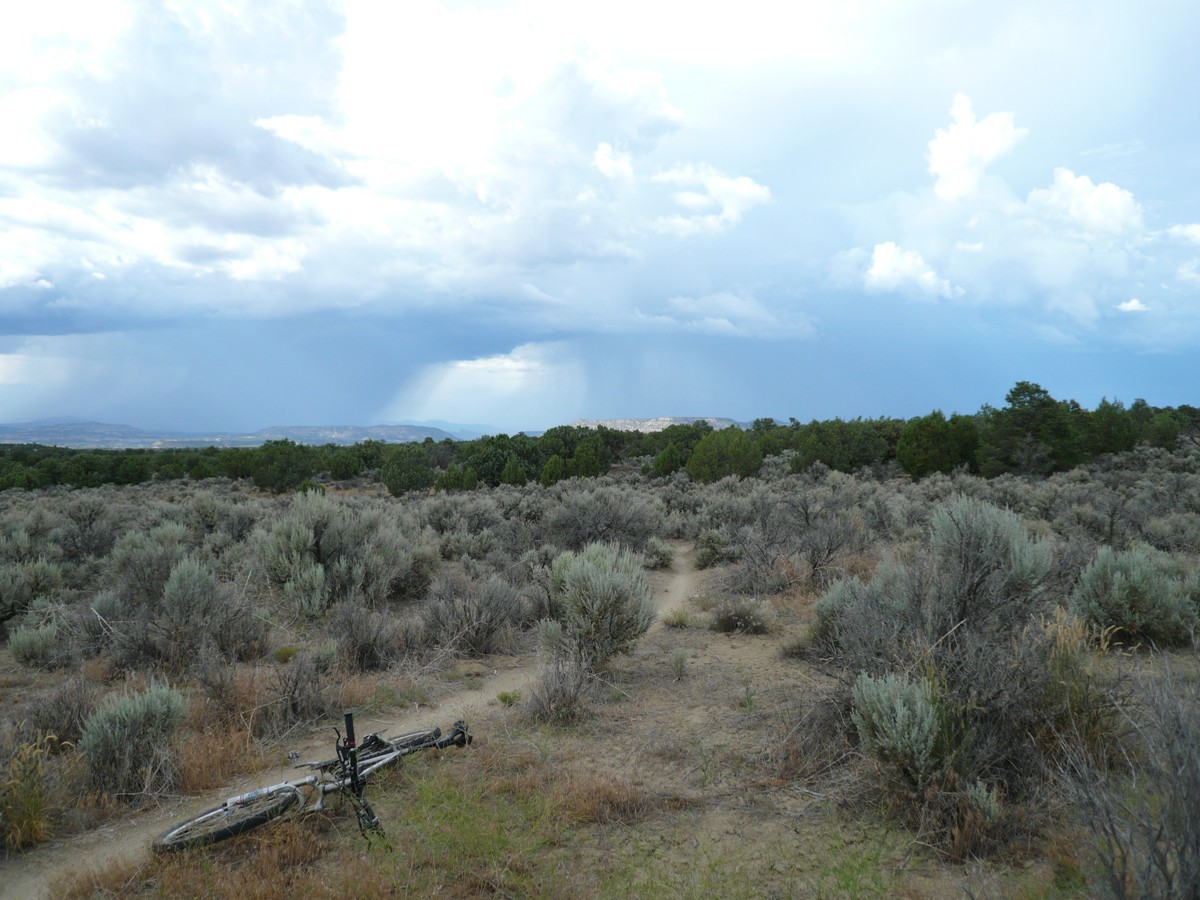 Motivation to keep moving on Alien Run in distance. Frequent lightning and thunder were the backstop to this ride.
Thursday, July 24 "Best Descent Ever"
Lime Creek/Pass Creek/Engineer Mtn Loop, Durango, CO
24.2mi, 4500ft, 3.2hrs
Very chilly start but cloudless, thunder started before ride ended
Took a "breather" from epic riding in CO today. After riding over 20hrs in four days, the legs were thoroughly tenderized. Today's loop, just north of Durango, went like this. Ride up dirt Old Lime Creek Rd about 12 miles and 1000ft of gain (lots more total climbing). Then head back towards Durango on Hwy 550 up to Coal Bank Pass. This gains upwards of another 1000ft, summiting at 10,640ft. At the pass, Pass Creek Trail is taken up, at times handlebar deep in wild flowers. It gains about 1000ft in just 2.5mi. This is nice singletrack, but a few very challenging sections required brief dismounts. We encountered hikers here, and soon we were to learn why.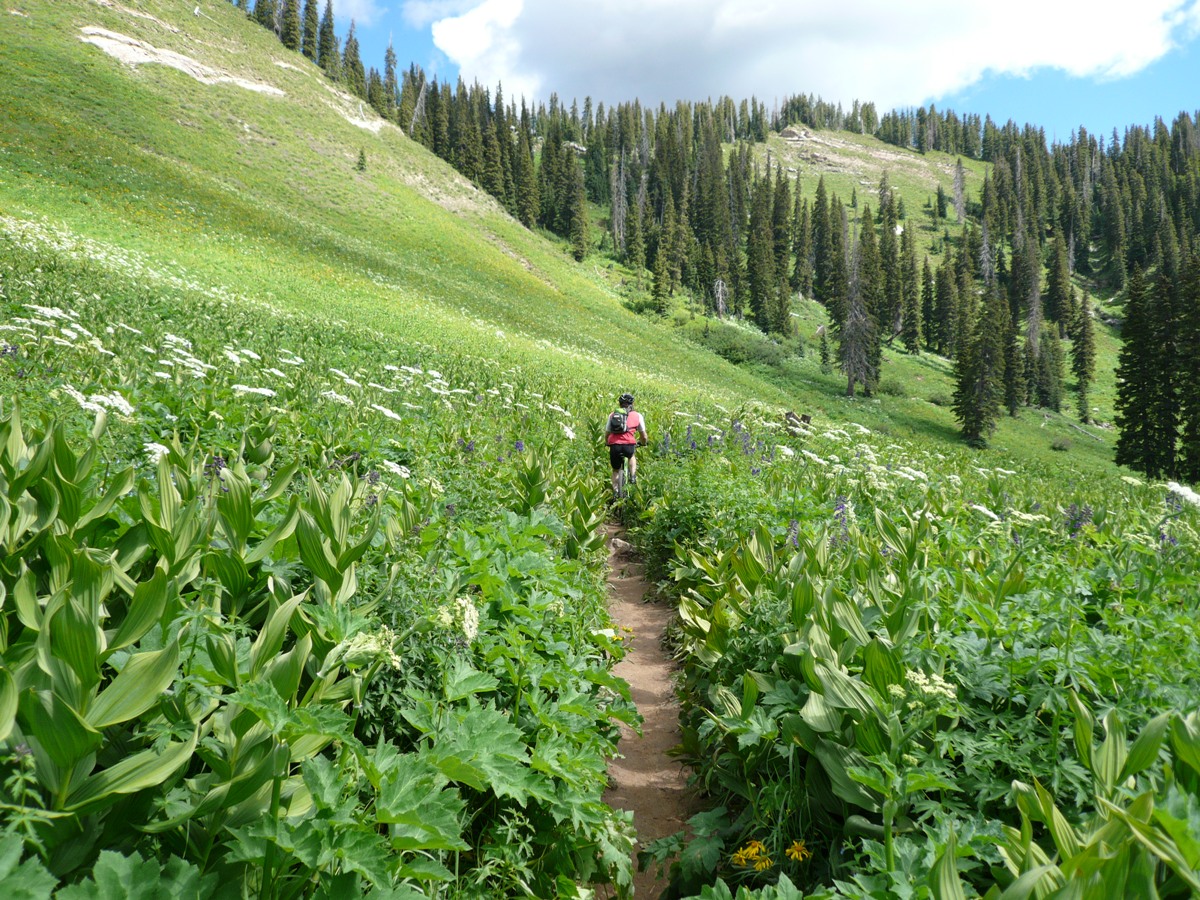 Pass Creek Trail starting out from Coal Bank Pass
Pass Creek Trail ends at Engineer Mountain Trail above tree line. A small amount of climbing on Engineer Mtn brought us to a saddle in the mountains at about 11,750ft elevation. The steep climbing in rarified air made for some slow going. The views up here were the best I've encountered in Colorado to date. This is partly due to peak flowering season. Many hikers came up here for the views and wild flowers.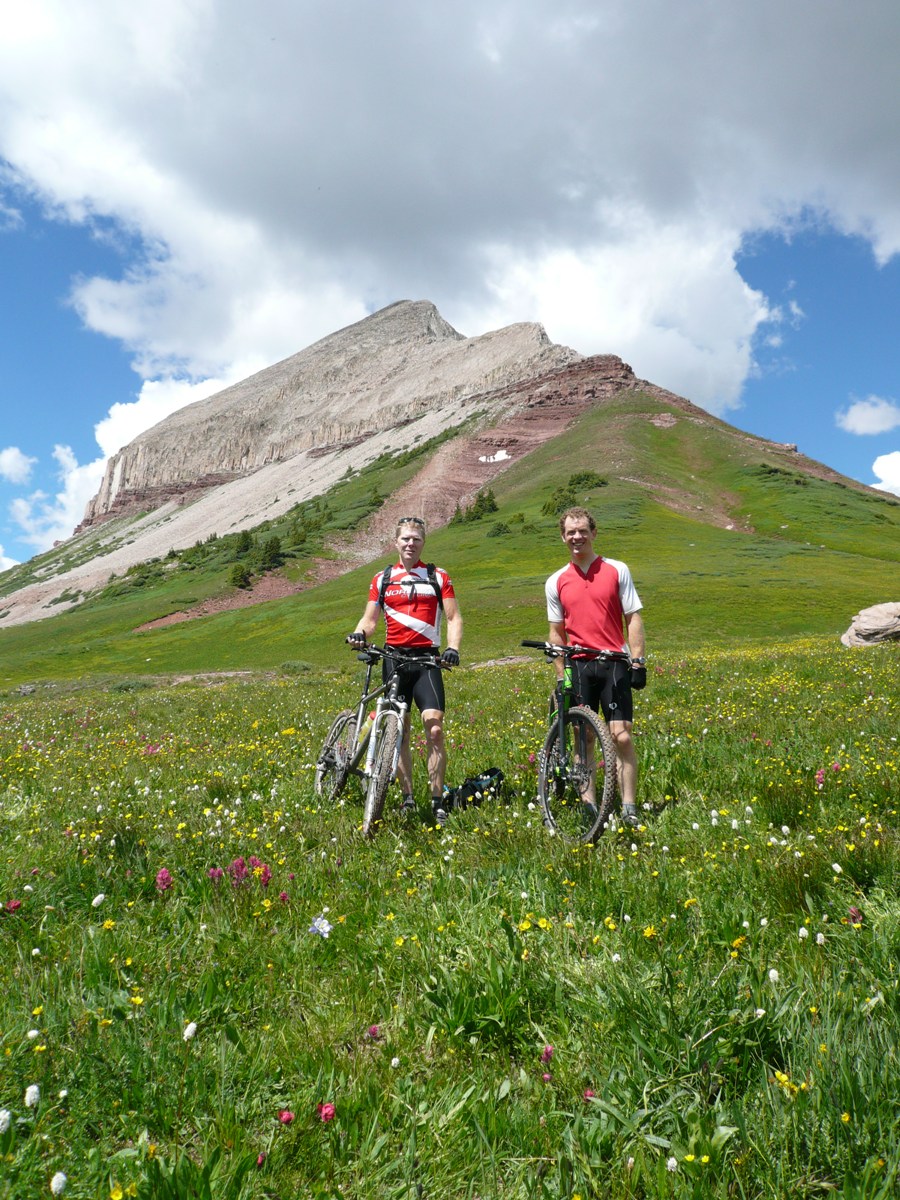 Engineer Mountain with nearly 13,000ft summit in background
If the scenery weren't reward enough for riding up here, the descent certainly was. Engineer Mtn Tr drops 3000ft in about 6 miles on pristine singletrack. It was 100% rideable. Non-stop switchbacks, alternating between open meadows, dense forest, and cliff edge hugging in a couple spots. The descent was so relentless, Dave and I experienced descent fatigue. Alpine skiers might know what this is. You know that feeling you get dropping a couple thousand feet in powder on a bumpy run, that burn that says stop for a minute but fun factor says it is too much fun to stop? That was this descent. I would say this descent tops the famed Trail 401 in Crested Butte.
We started the ride in pristine, cloudless skies. But as we wrapped up the descent, we felt a few errant drops falling out of blue sky above us, although dark clouds were forming around Engineer Mountain. Loading the bikes up, thunder could be heard. We no more than pulled out onto 550, the skies opened up with rain. A short ride at 24.2mi and just over 3hrs riding time, but one of the most satisfying rides of the trip.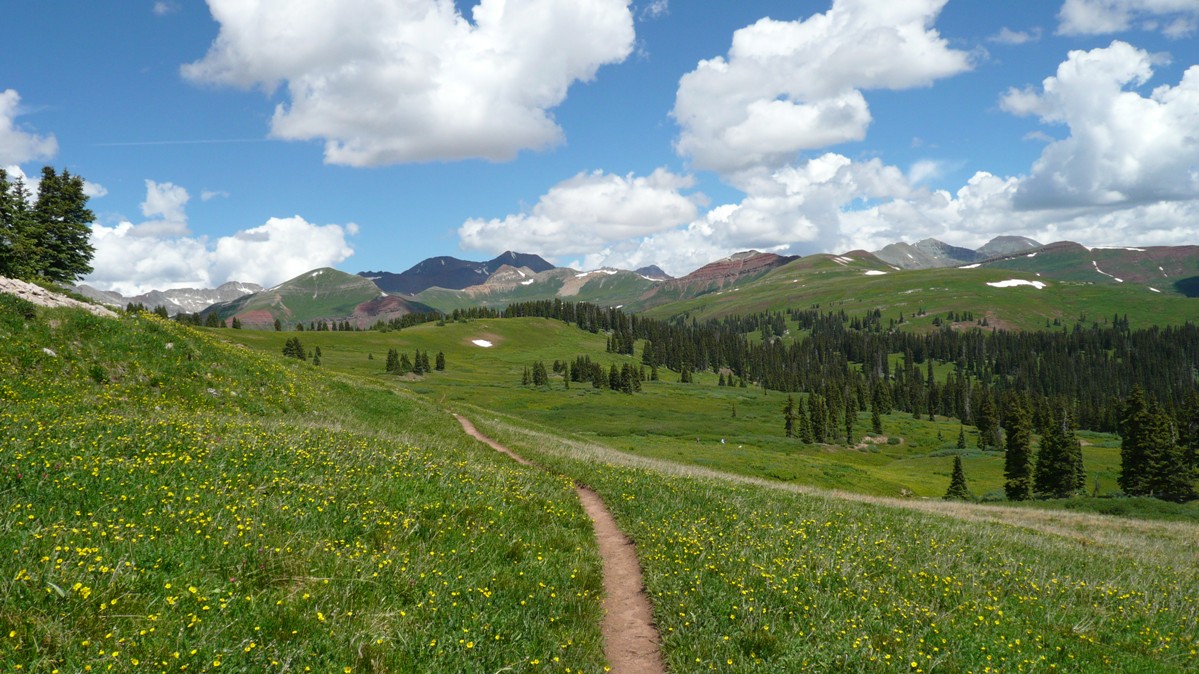 Looking north from high point on Engineer Mtn Tr
Yesterday's riding will have to wait for posts after we get back. Dave and I did out and back on the most famous trail in Durango, the Hermosa Creek Trail. Most riders do the lame shuttle thing, that is, get dropped off at the top and bomb 21+ miles down to the bottom. I bet shuttling riders wouldn't have seen the bear that we saw. Dave's knee was bothering him, so he chilled for the rest of the day while I headed 40 minutes south of Durango into New Mexico. I rode Alien Run near Aztec. It's an 8.3 mile singletrack loop that sweeps past the alleged UFO crash site. Really cool riding. Think 50/50 hybrid of Moab Slickrock with Tucson Fantasy Island. Only couple scary bits and wicked fast for the most part. Intense lightning across the desert kept my pace moving. Stayed dry again, hitting heavy rain on the way back. We hear thunder every day, but keep lucking out.
We're in Fruita, CO now. It was 100F when we rolled into town, and even at 8pm, it was still 98F. Will be almost as hot on Friday when we plan to ride the infamous Flight of Icarus loop. This too drops 3000ft, but at a far more aggressive pitch. But to drop that 3000ft, we have to earn it by climbing Hwy 139. If the sun doesn't doom us like Icarus, we plan to hit Zippity Do-Da in the Bookcliffs trail system in the afternoon. Then we're off to Boulder.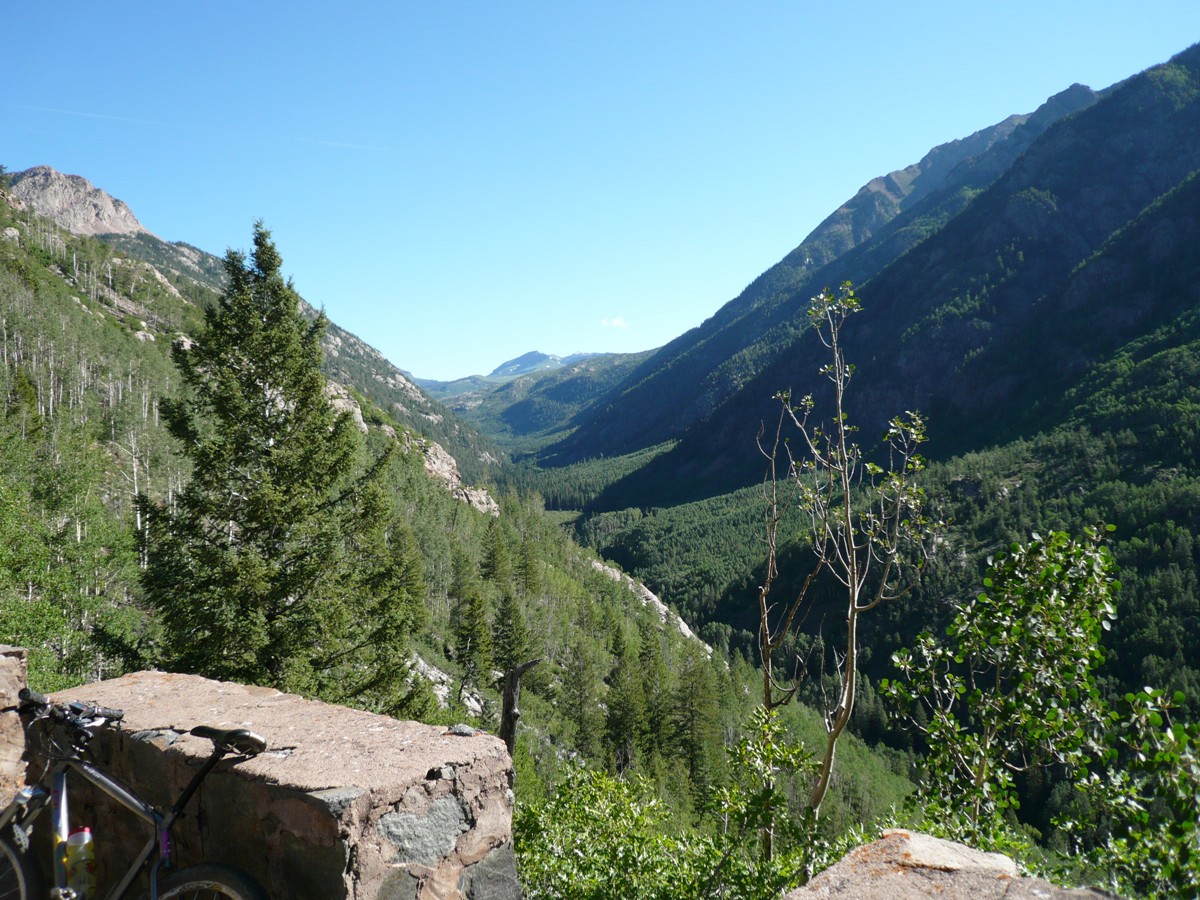 The Lime Creek valley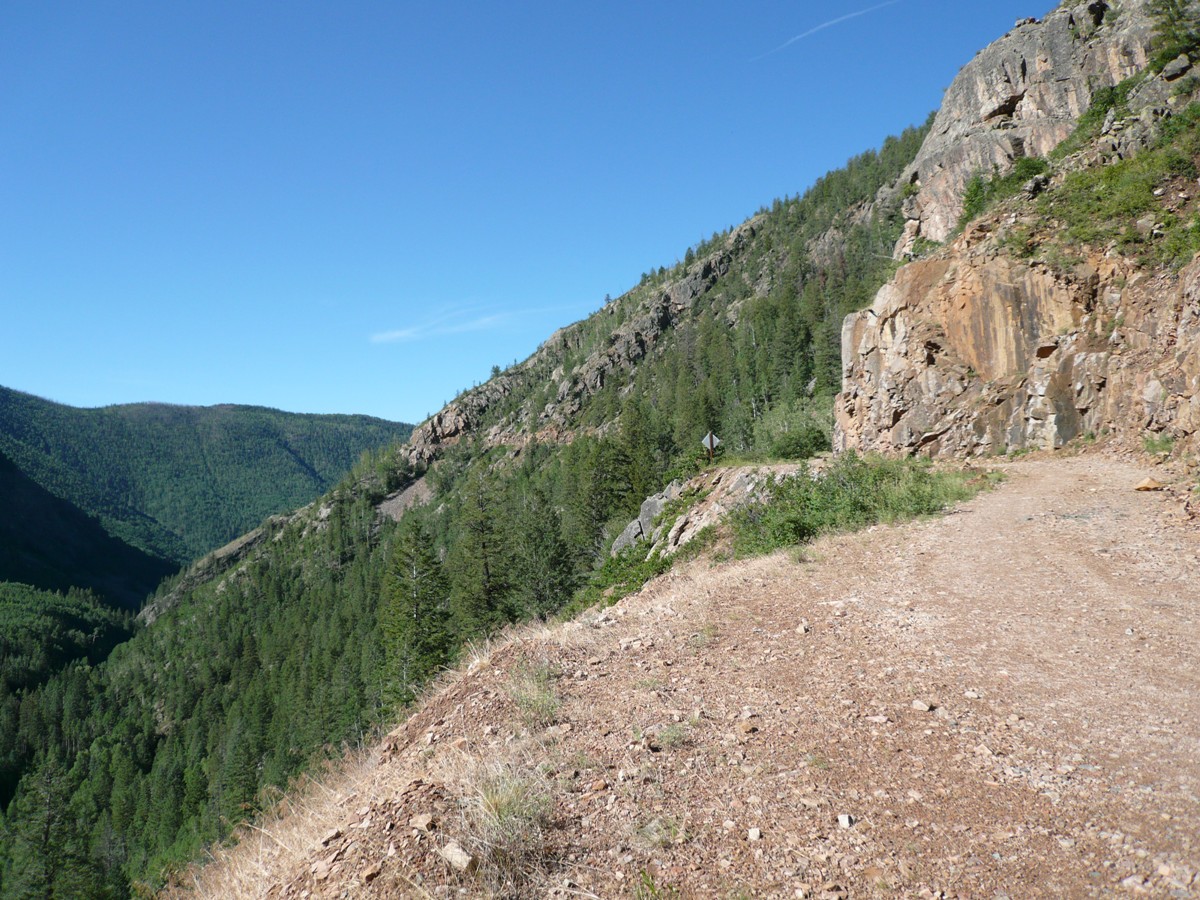 Descending on Lime Creek Rd. You wouldn't want to blow any of these turns!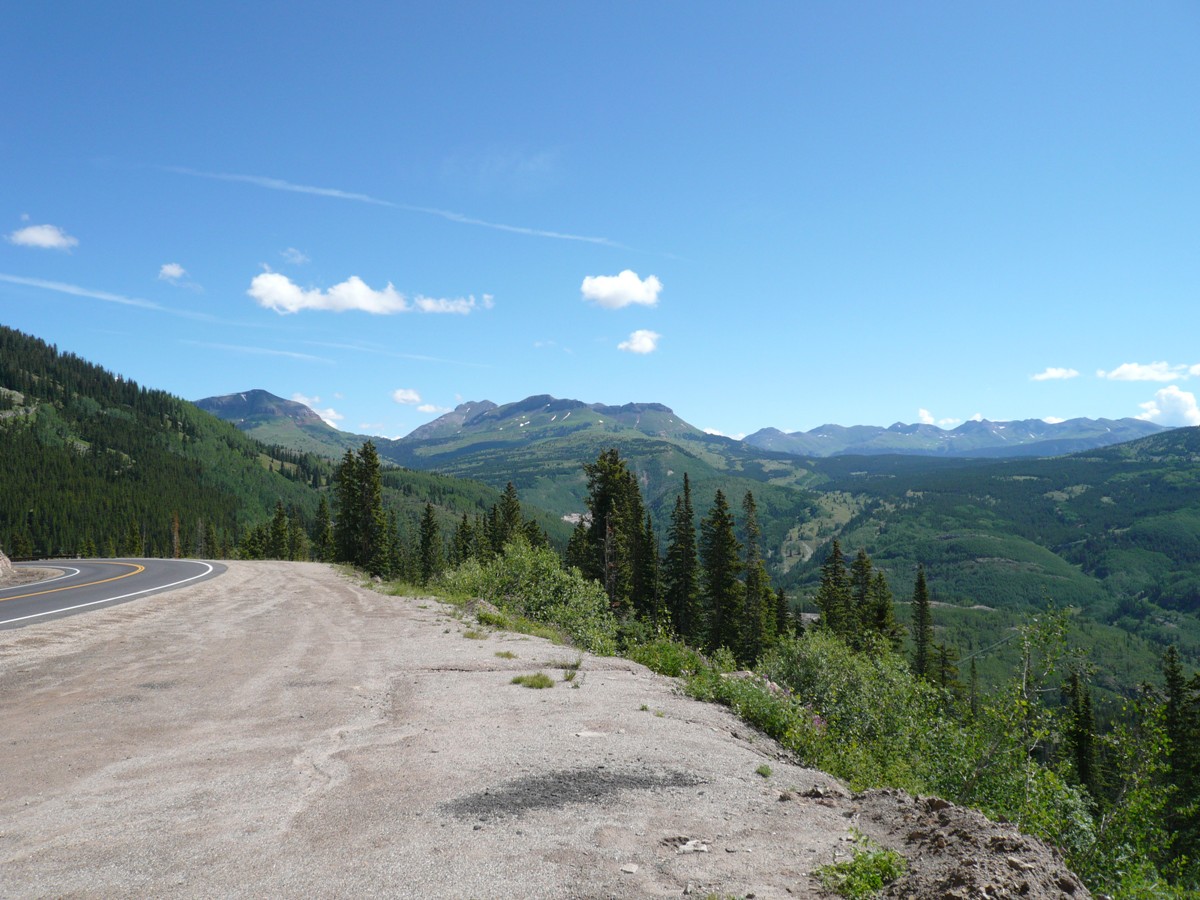 View from near Coal Bank Pass on Hwy 550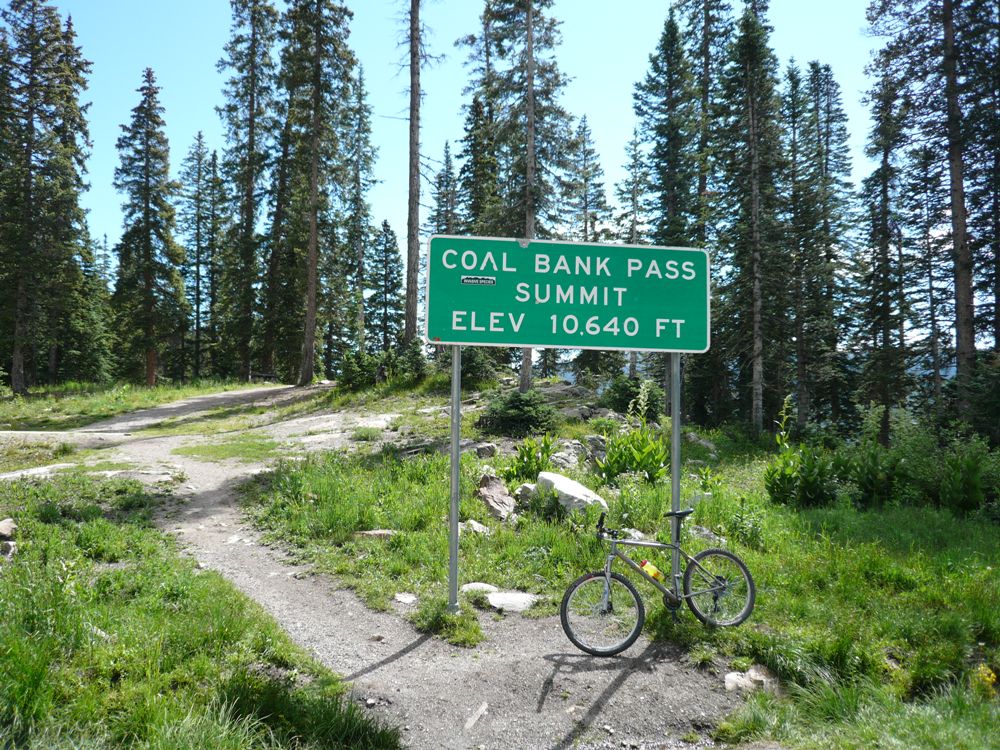 Always have to get a shot of the summit sign.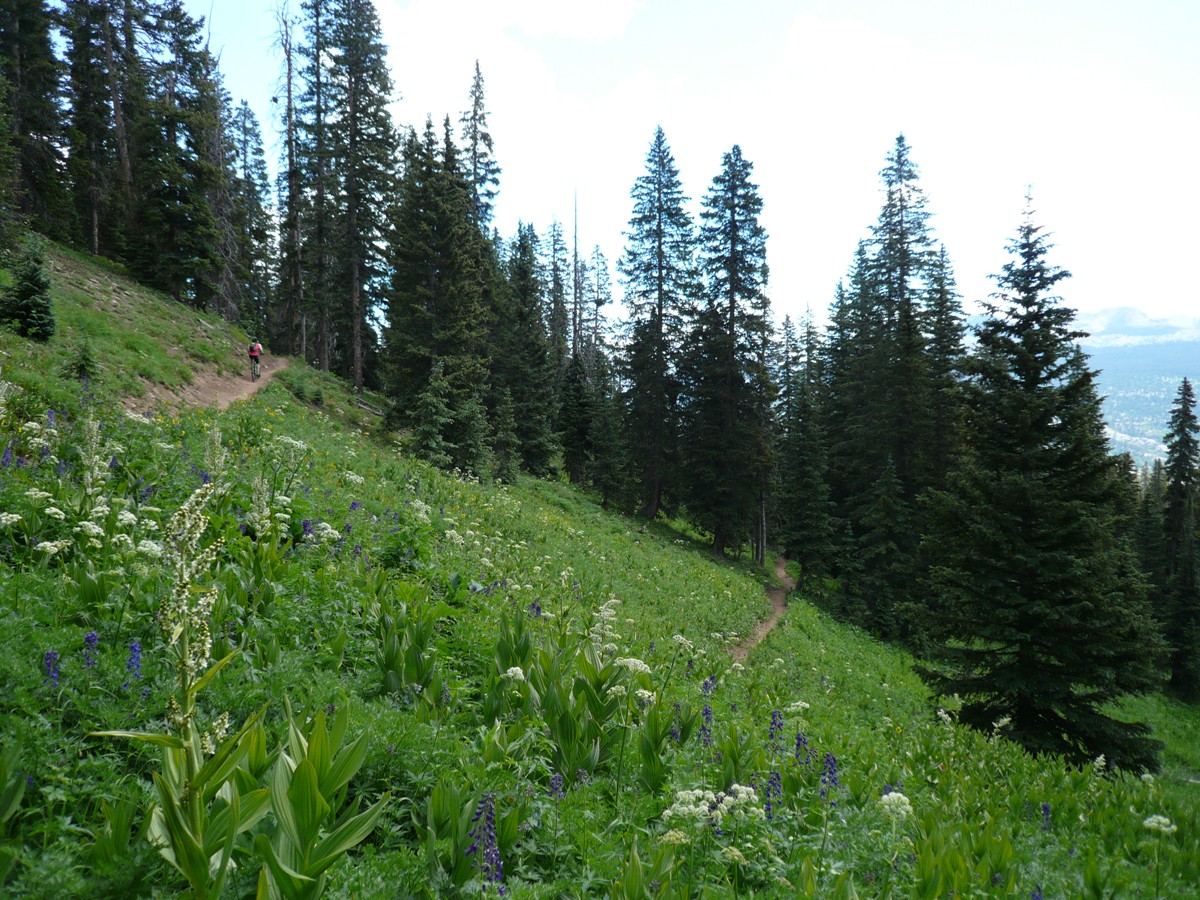 Switchbacks on Pass Creek Trail.
Looking up at Engineer Mountain from last part of Pass Creek Trail climb. This was a popular hiking trail due to easy highway access and huge payoff for relatively short hike.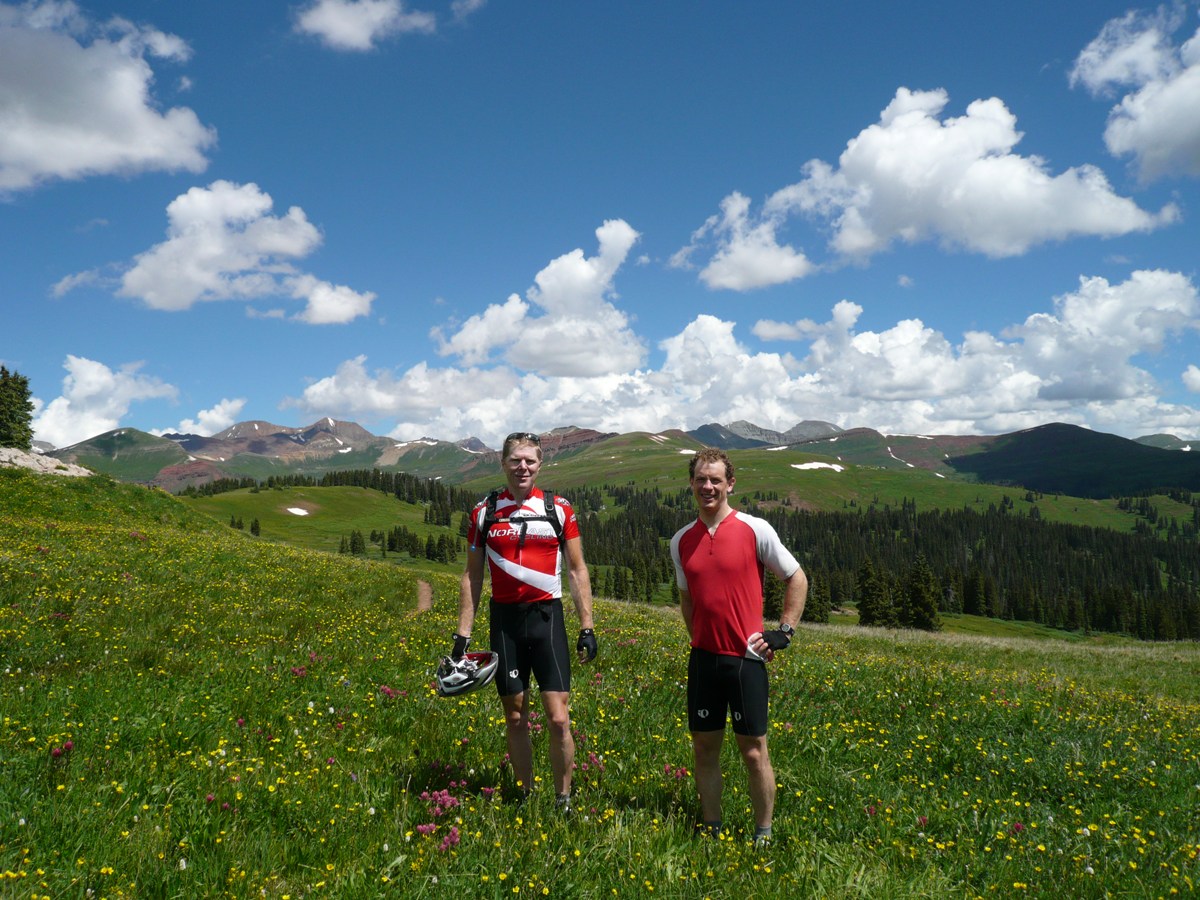 Ok, another pose at Engineer Mountain looking north along the Colorado Trai.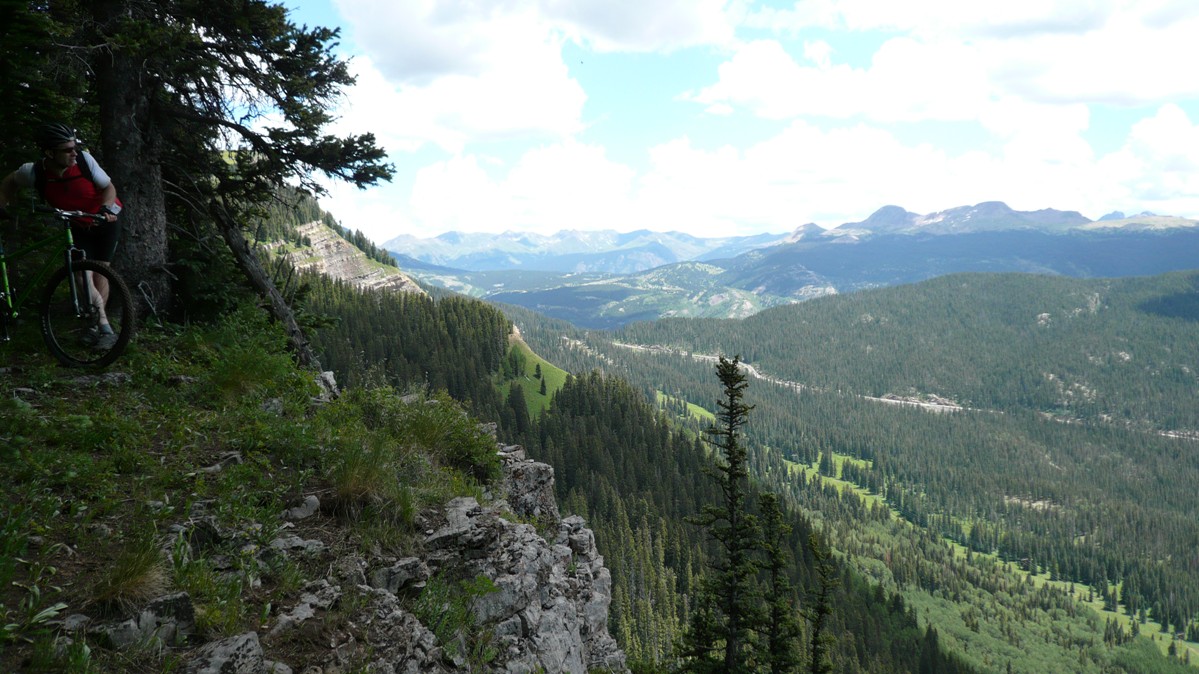 Engineer Mtn Trail descent. View looking north with Hwy 550 in valley below.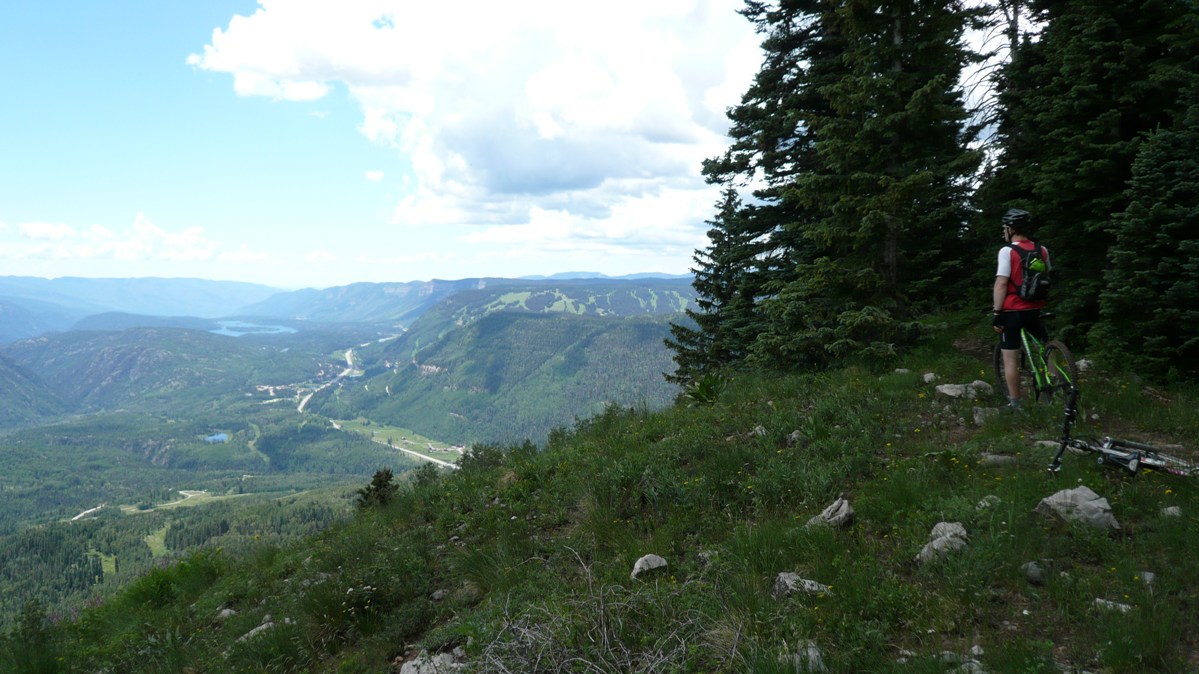 Pondering the view looking south along the descent on Engineer Mtn Trail.

Panorama looking south with Engineer Mtn on right. Durango would be in the distance on the horizon.
Friday, July 25 "Scariest Descent Ever"
Flight of Icarus loop, Douglas Pass, CO
25.3mi, 4500ft, 2.9hrs
Sunny, warmed up fast, cooler at the pass
Zippety Doo-Dah/Kessel Run loops, Fruita, CO
12.6mi, 1100ft, 1.3hrs
96F for afternoon ride, no threat of rain
After seeing the Peter Fagerlin video of this ride, I told myself some day I'd have to try it. The deal is, most riders shuttle this thing with downhill oriented gear and bikes. Dave and I ride hardtails, Dave with no suspension at all. We earn our vertical.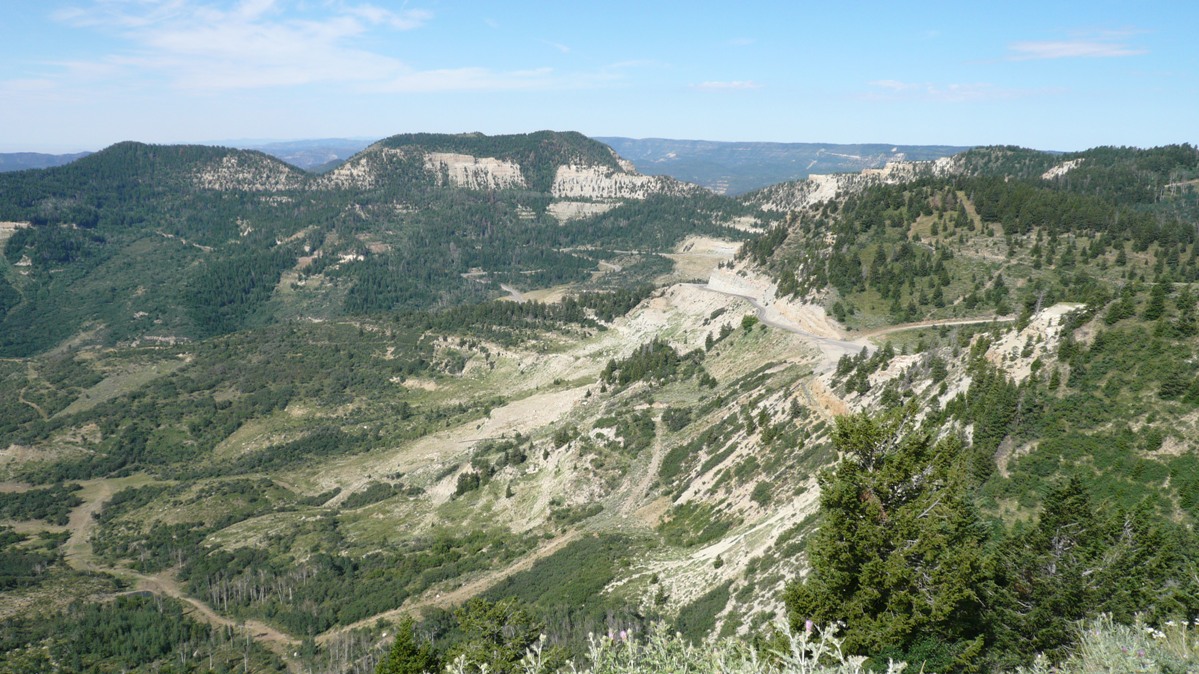 Paved climb to Douglas Pass. Much cooler up here than in Fruita thousands of feet below.
The ride starts with a 2470ft vertical climb up CO-139 in 10.6 miles. This road has very little traffic. The grade picks up after a few miles with tight switchbacks. Around one of these, a novice tanker truck driver had trouble finding the right gear, stalled, and actually started to roll backwards towards me. He manage to recover, barely.
At Douglas Pass, a dirt road is taken to continue the climb. At high point on this road, 3100ft was gained. Lots of rolling hills piled up accumulated vertical on the way to the plummets.
Icarus Ridge. Slipping off this off-camber skinny ridgeline was not an option.
ATV trail eventually peters out into singletrack that is very hard to follow in places through the brush and trees. But eventually, it became obvious which way to go, as immediately to the left or right was shear cliff. The trail hug closely to the right drop-off and was off-camber to the right. Zero room for error here, as a fall would have been hundreds of feet.
The first plummet was not kind to me. I'm sure parts of it approached 100% grade (45 degree angle). Dave did better with 29" wheels but misjudged which line to take in a couple places, forcing stops or dabs. On one of the steepest loose parts, my wheels slid out from under me. I more or less face planted into brush, which fortunately was not thorny. That left my nerves on edge and I ended up walking a couple other bits after that. This descent was totally nuts. I think I bruised my sternum, as I had my butt so far back over the saddle.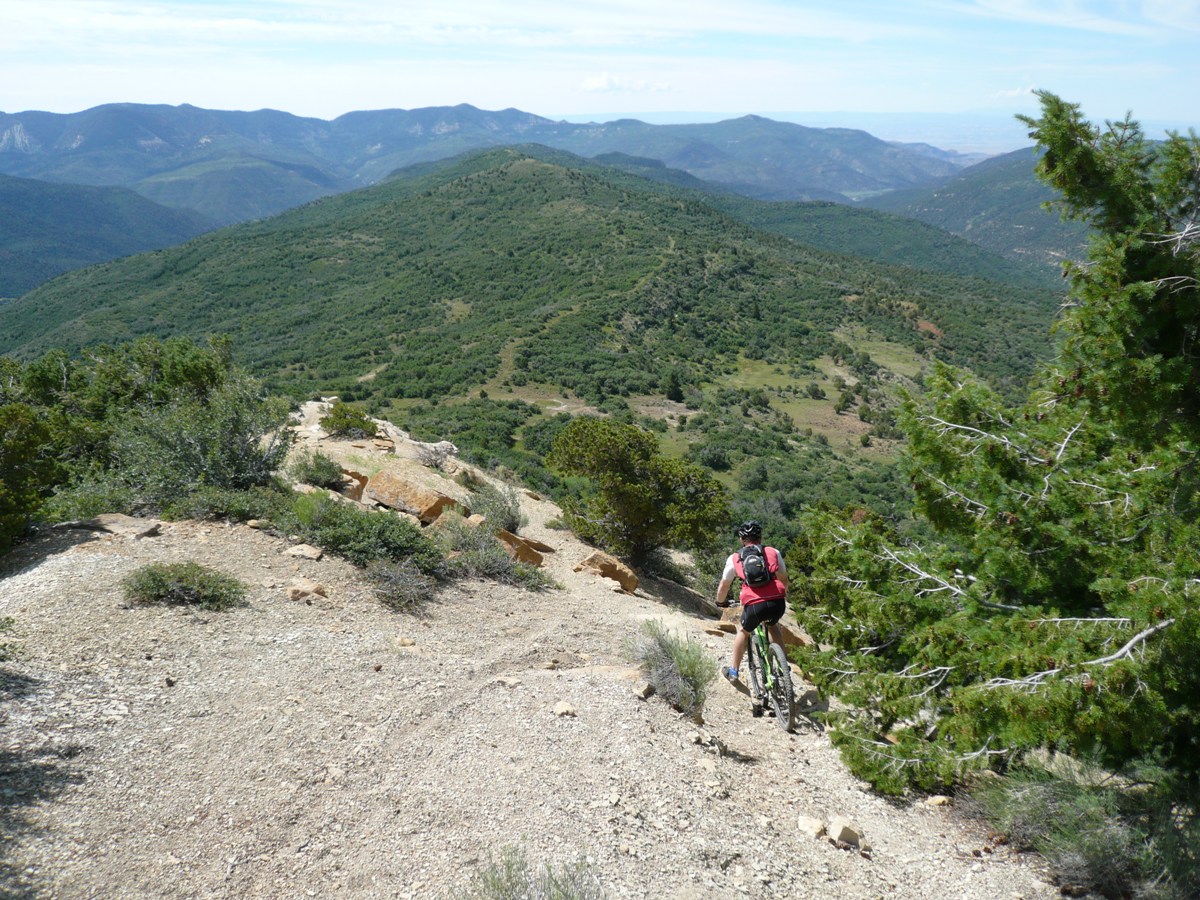 First plummet. Makes you contemplate life before proceeding.
After some rolling bits, another bigger plummet was next. This one switchbacked more and was not as persistently steep, but still probably averaged about 30-40% grade. Definitely not IMBA kosher trail design, as it tended down the fall line at insanely steep grades. I rode all of this 1200+ft plummet in a mile or so with one dab.
The ride finishes on bumpy cow trails the last mile or two back to the car. The loop was worth doing, but I probably wouldn't do it again. Death grip on brakes whole way down seems a waste of good vertical. The paved climb, however, was marvelous. It was nice and cool at Douglas Pass, while temperatures were soaring in Fruita below. Here's a bunch more post scripted photos.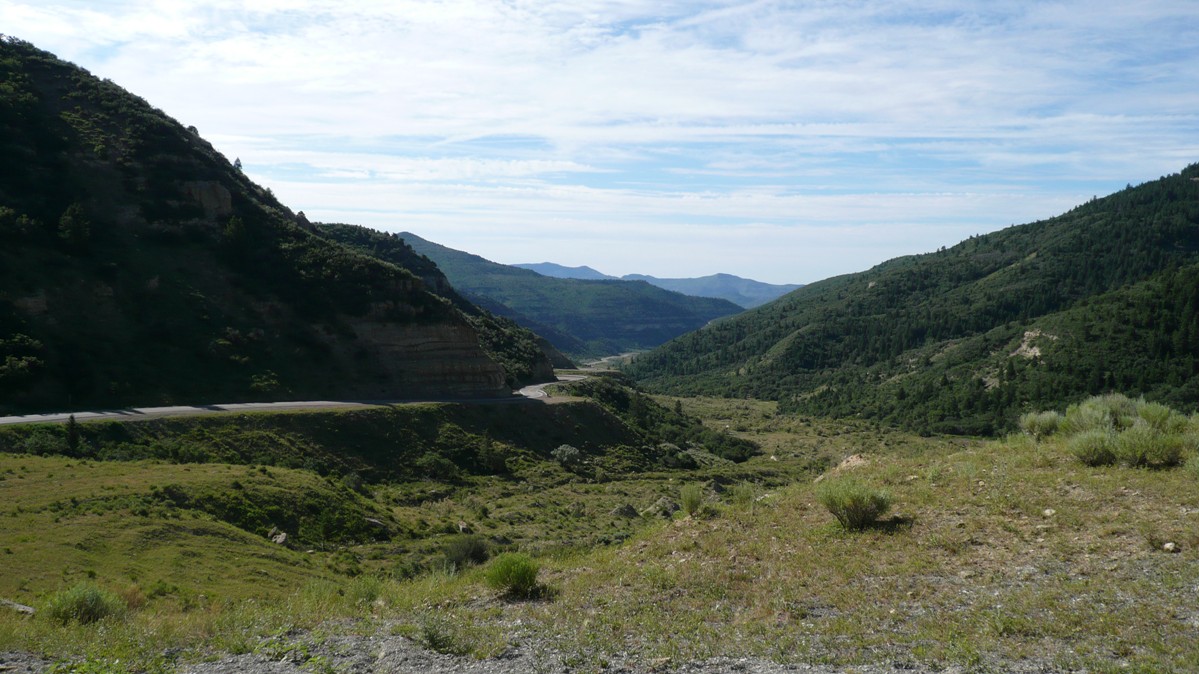 Rt 139 to Douglas Pass. Car parked many miles down the valley.
Glimpses through unique rock formation to valley where Rt 138 is.
Nice for the BLM to put a sign up so we cyclists knew which spur was the right one.
Rolling out onto the scary stuff. Trees still hide how precipitously it drops to either side.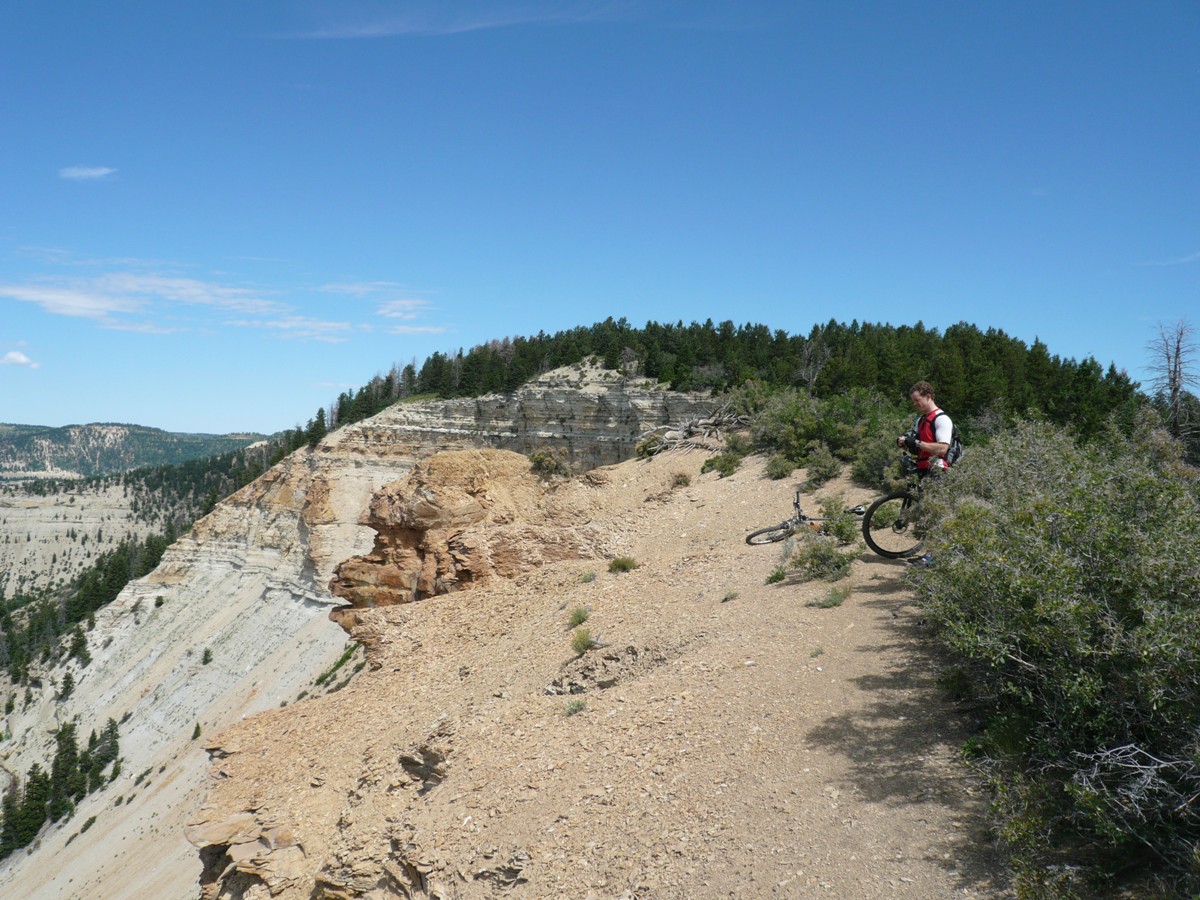 On the Icarus ridgeline. Nice spot for photos.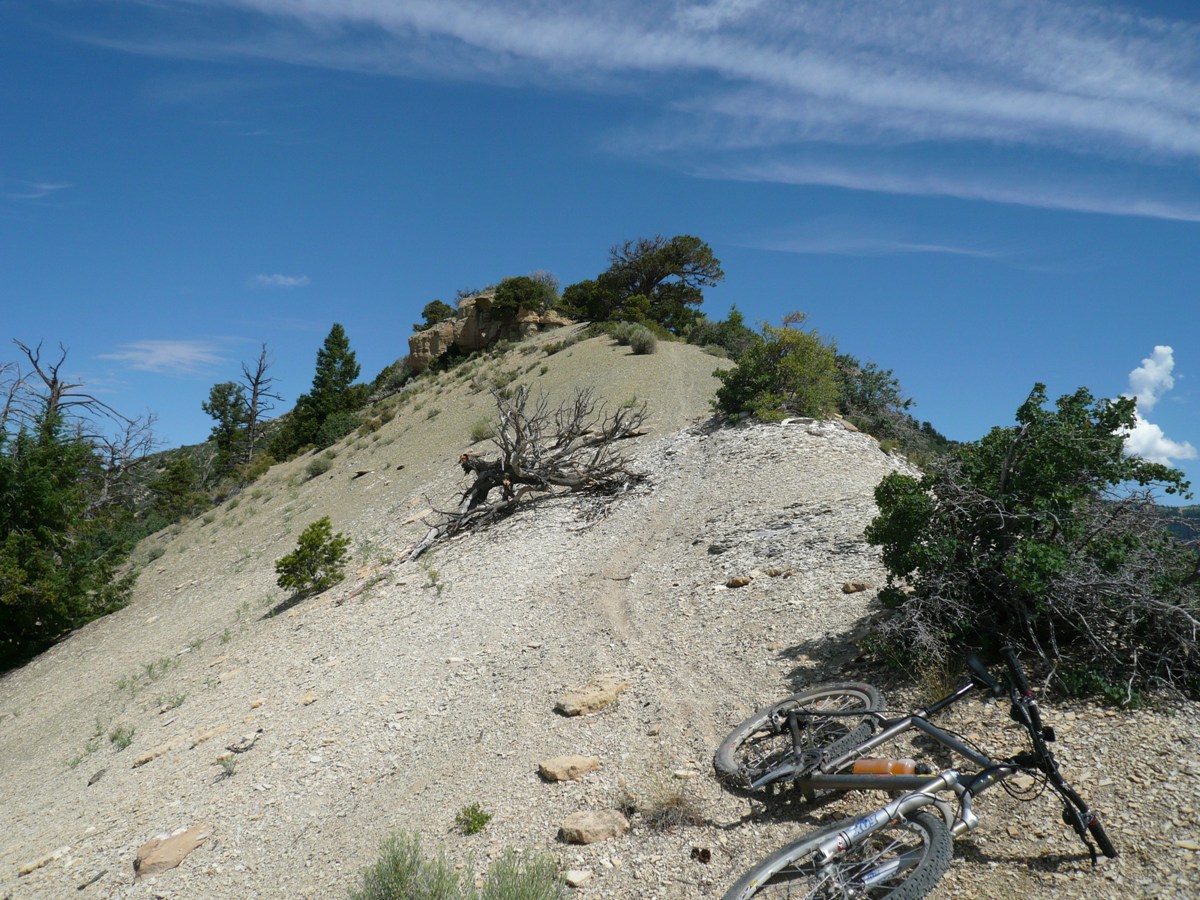 Some of the steepest parts of the Icarus descent were loose as pea gravel. This photo does not do justice to how steep it was. I could not control my speed or keep my rear tire behind the front. I think the rear tire burned holes through my chamois because I had my butt so far back.
I think this was between the first and steep plummets, the second just past the point in the distance.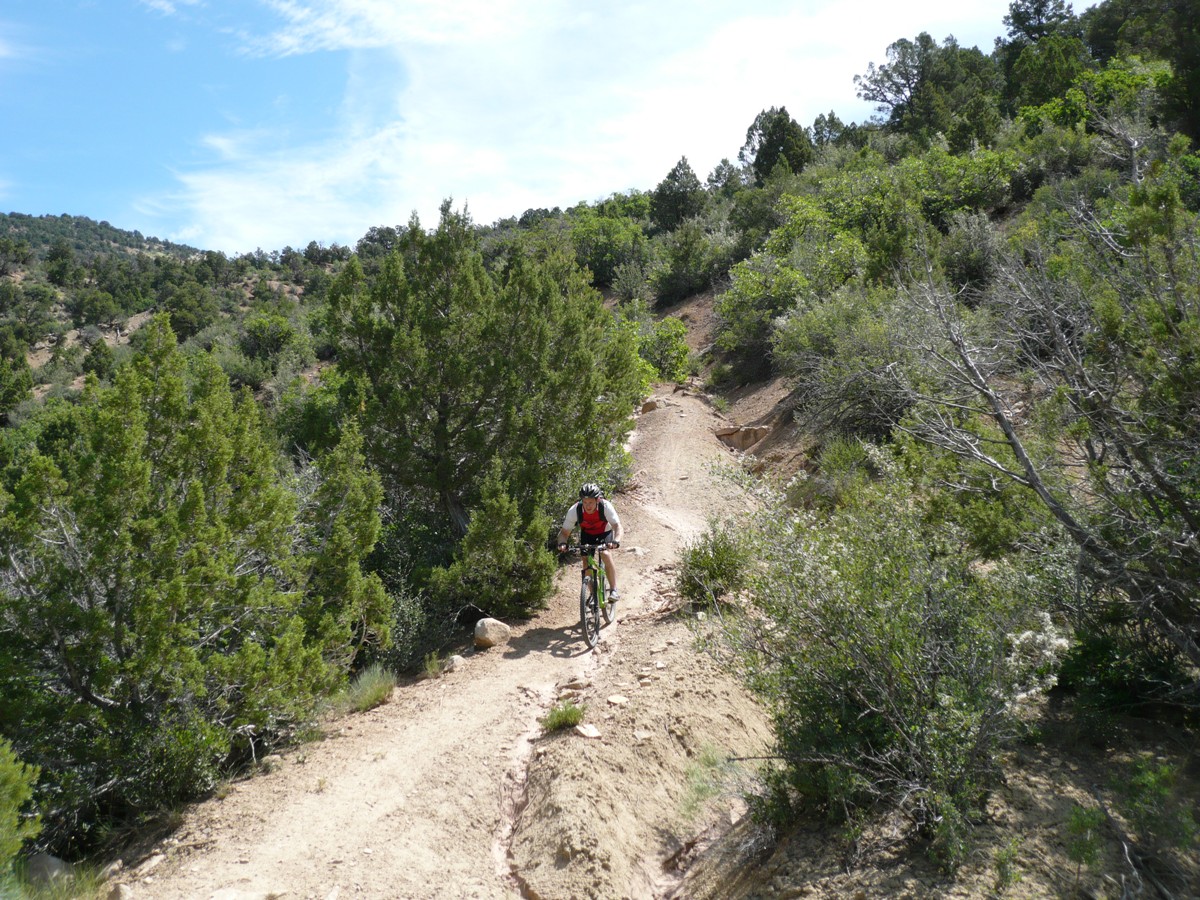 Lower portion of Icarus descent. Pretty much fall line stuff that was badly eroded in spots.
Ride #2 of the day was at the Bookcliffs system. I had always wanted to ride Zippety Do-Da. It too has some exposure, but the plummets are only 50 footers or so and more carefully designed. Some could easily reach 100% grades as you drop into them. Think roller coaster steep with perfect run-outs at the bottom. Huge G forces were experience bottoming out down these drops. There were some nasty steep climbs here too, maybe 50ft gains at greater than 30% grades. Putting a foot down was not an option. You'd slide on rock hard clay for a hundred feet.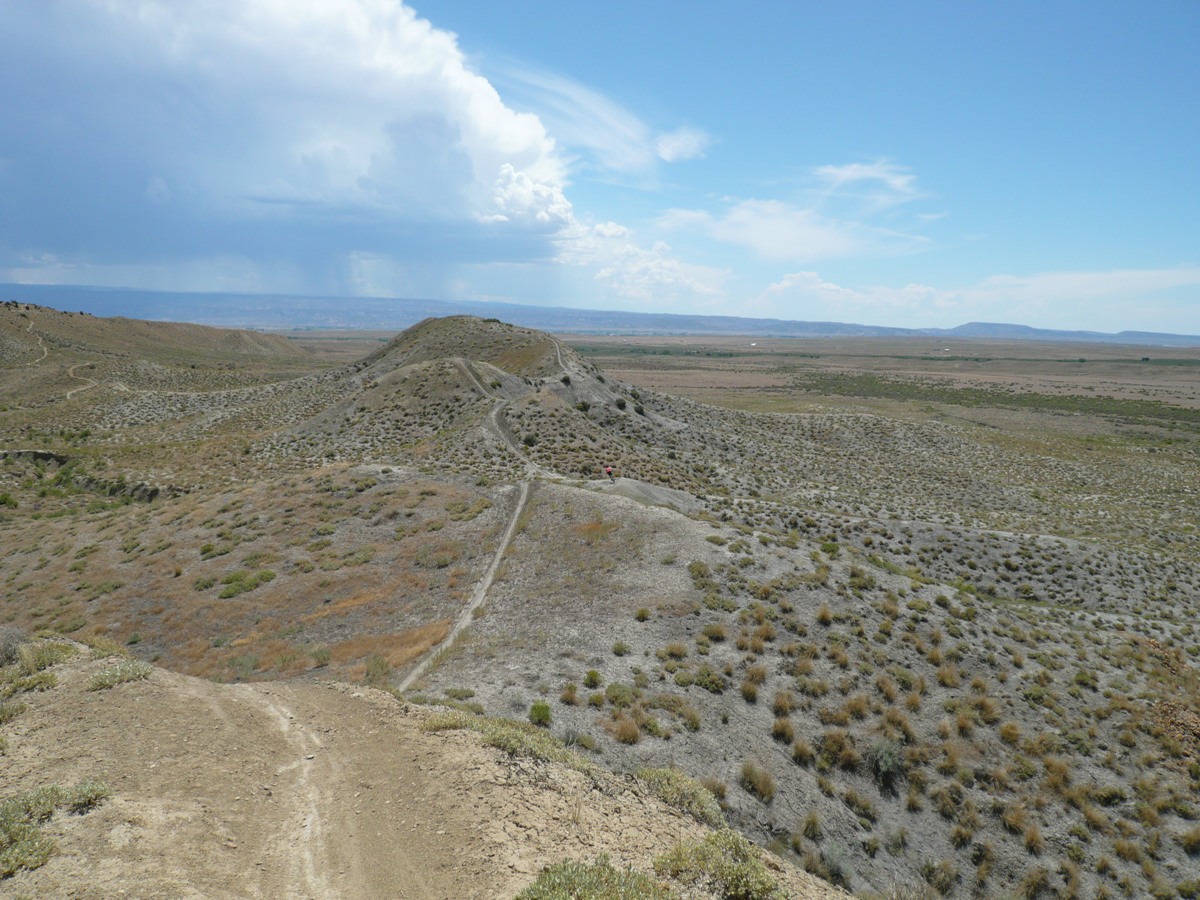 Zippity Do-Da
We finished the day's riding by bombing down Kessel's Run. This drops maybe a few hundred feet after climbing the dirt road to the upper end of the 2.2 mile trail. The whole run is like a slalom course. No matter how bonked you are, you cannot help but smile bombing down this getting air every few seconds. Here's some more post script Zippety photos.
Heading out to Zippety-do-da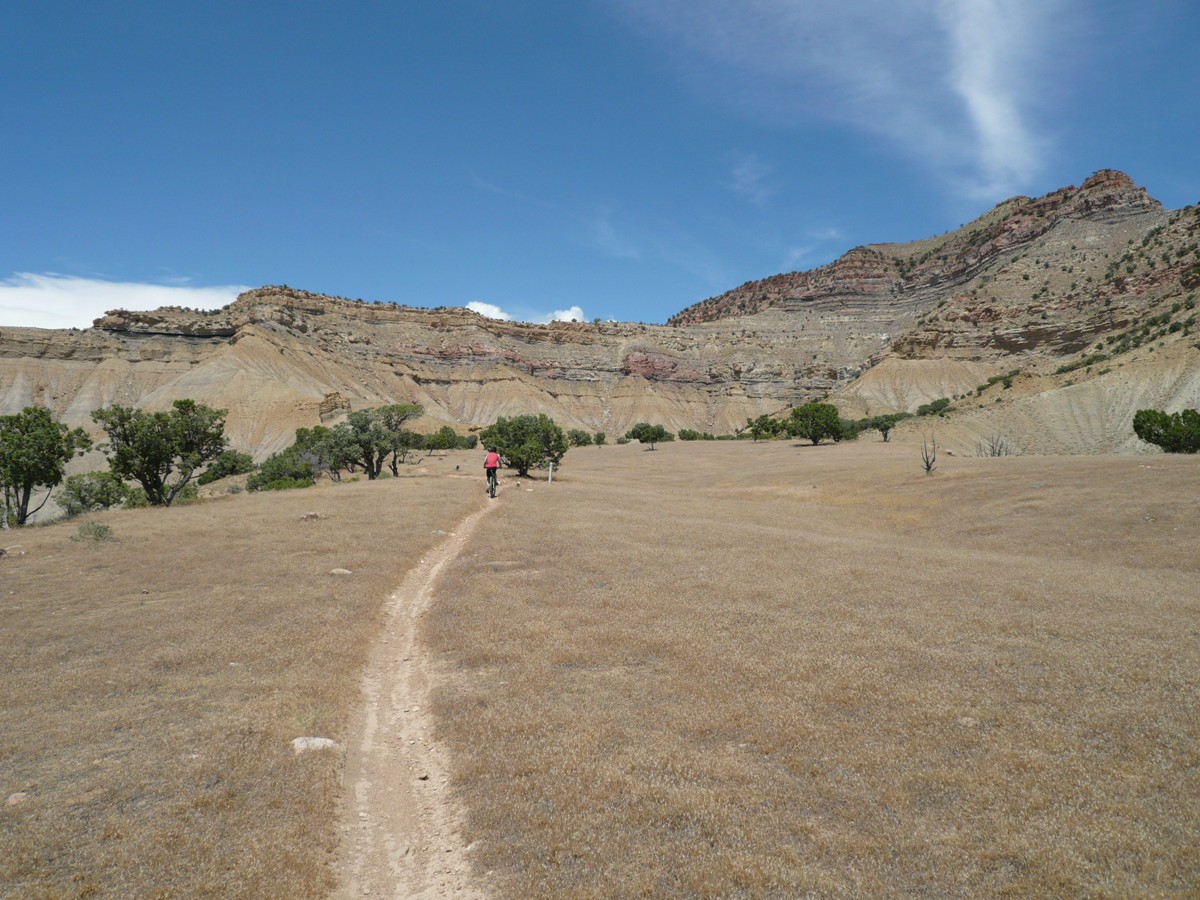 This should be Western Zippety heading towards the Bookcliffs.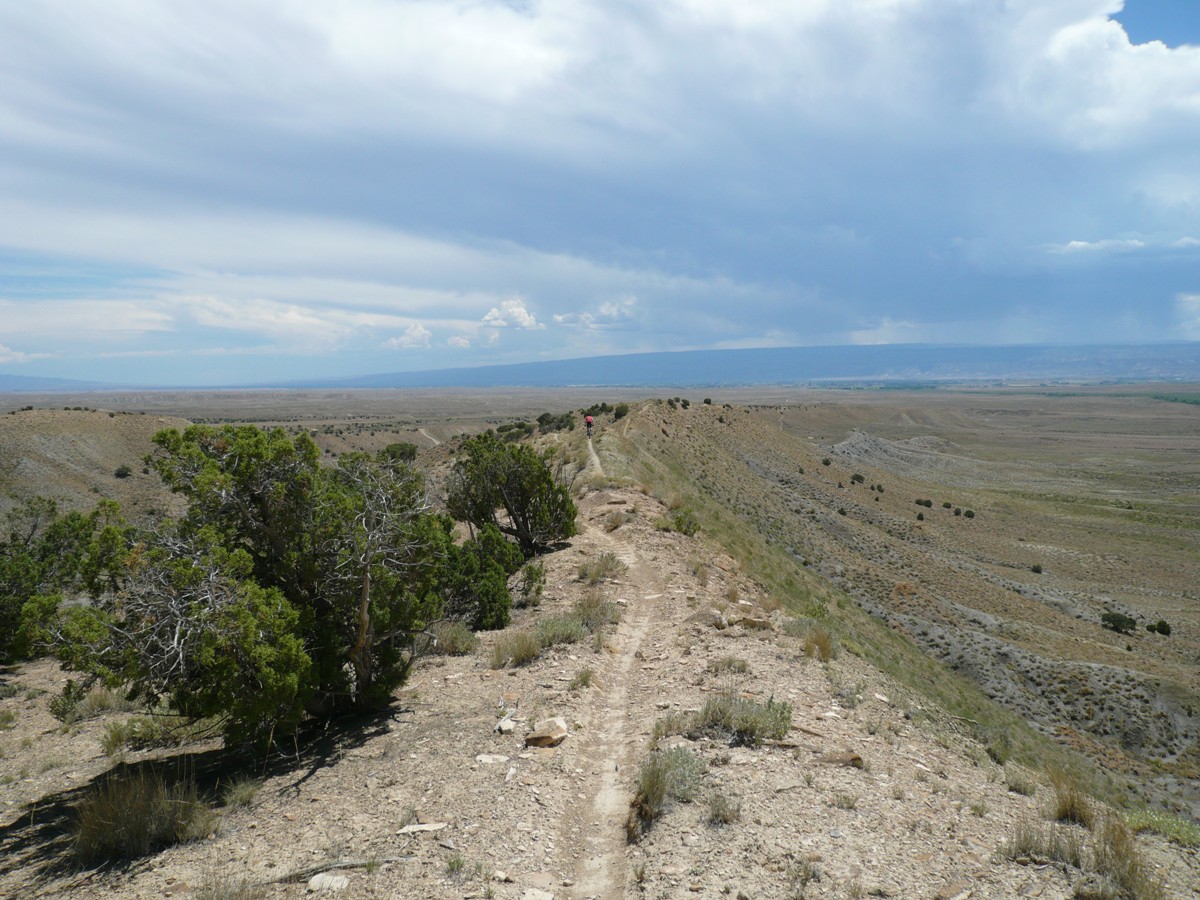 Beginning Zippety-do-da.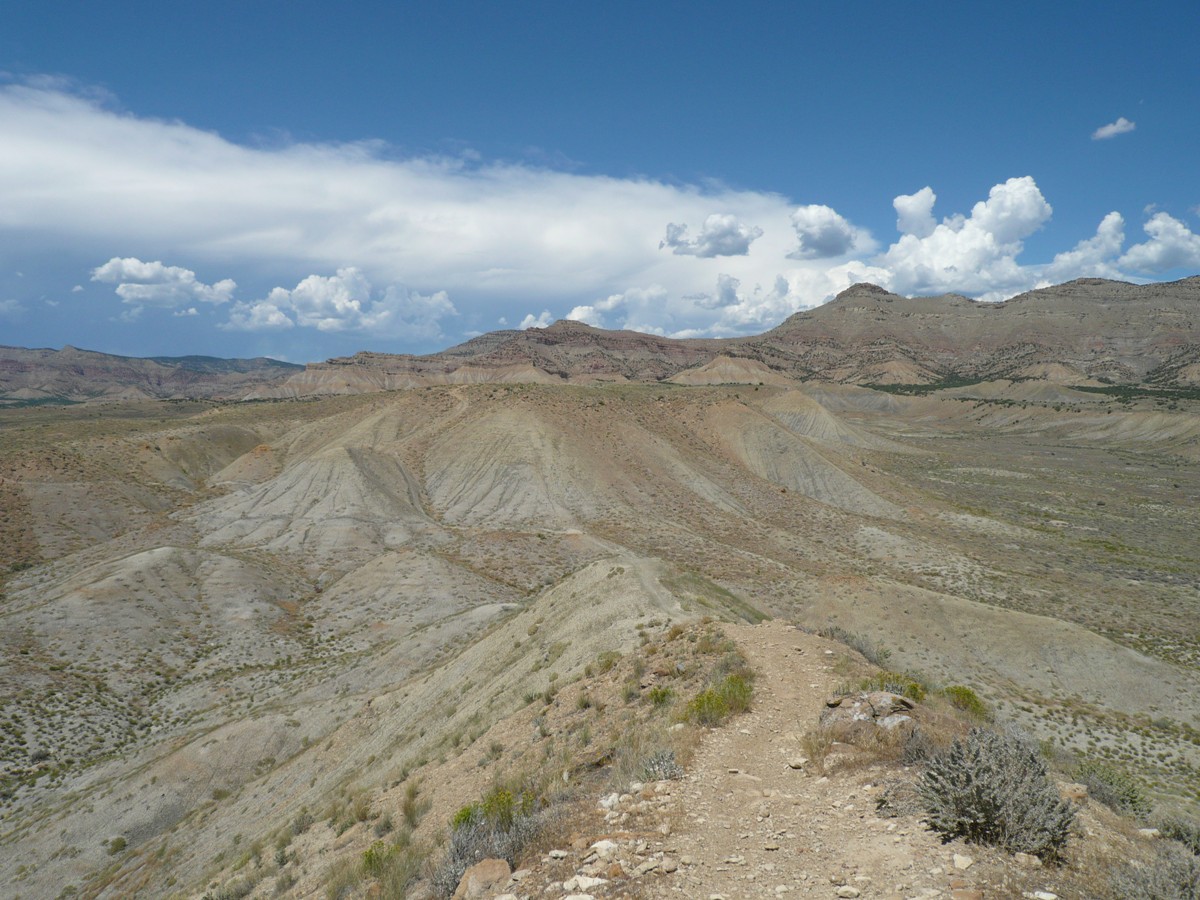 Zippety is pure roller coaster playground.
Saturday, July 26 "Flagstaff Drive for Breakfast"
Paved out and back hillclimb up Flagstaff Drive, Boulder, CO
13.2mi, 2400ft, 1.1hrs
Cool, rode to the cloud deck which promptly burned off
Had time for a quick ride this morning before jumping on a plane back home. This was a paved hillclimb right from our hotel in Boulder up the Flatiron Mountains. The gain is about 2400ft in 6.6 miles. Most of the vertical is gained in 4 miles at 11% average grade. The road is non-stop switchbacks and many fantastic views of Boulder are offered.
The coolest thing about this climb, and Boulder in general, is how many people ride here. On our 16 minute descent down Flagstaff, I must have seen 100 cyclists coming up. All types, mountain bikers, hard core roadies, young and old riders, single riders and groups of riders, you name it. We talked to a local rider who works in environmental issues at the top. He climbs Flagstaff every morning before work. Awesome. He commented that there's a 40-50 mile loop you can do with four out and back climbs that total 10,000ft of climbing. Think I'm moving to Boulder next.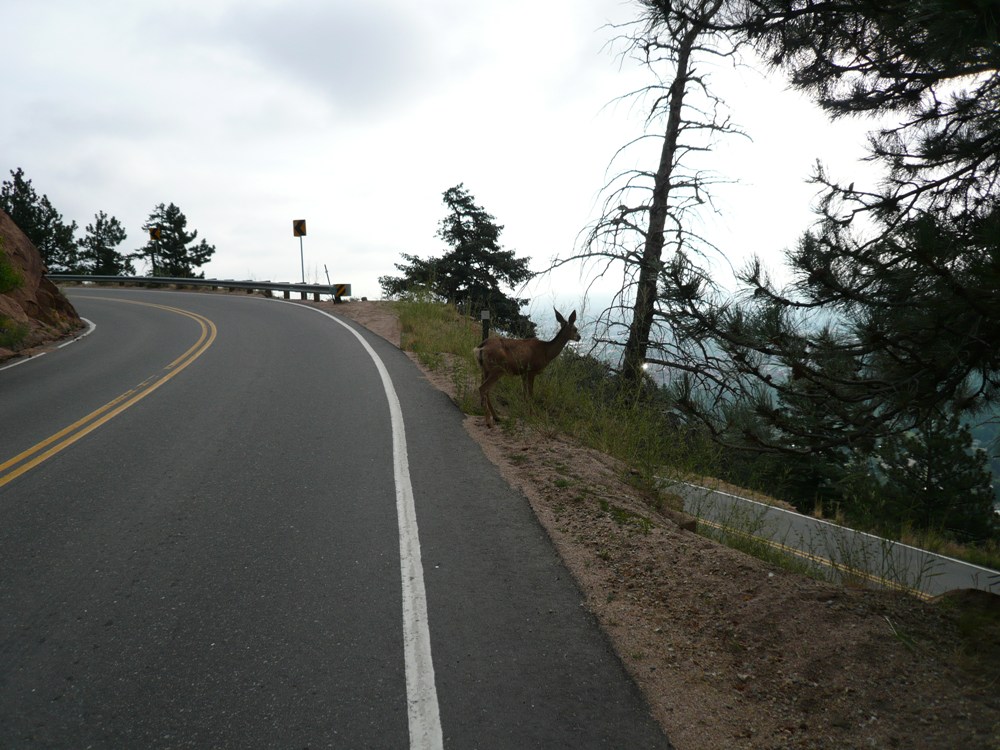 I could have smacked this guy (or gal) on the rear as I went by. Had no apprehension of cyclists whatsoever.
One of many switchbacks on Flagstaff Drive. Steady stream of cyclists were ascending and descending.
Trip Wrap-up
This past week was my most enjoyable and successful cycling trip to date, despite also being the most exhausting. Here's a run-down of the rides we did:
| | | | | |
| --- | --- | --- | --- | --- |
| Fri | 17.0mi | 1.0hr | 400ft | Rental test ride on Denver bike paths |
| Sat | 60.0mi | 4.0hr | 7500ft | Mt Evans race with warmup |
| Sun | 53.4mi | 5.4hr | 8000ft | Monarch Crest loop, Salida, CO |
| Mon | 50.0mi | 5.2hr | 7500ft | South Boundary loop, Taos, NM |
| Tue | 31.5mi | 4.7hr | 8900ft | Colorado Trail/Corral Draw loop, Durango, CO |
| Wed | 32.5mi | 4.0hr | 5000ft | Hermosa Creek out and back, Durango, CO |
| | 8.90mi | 1.0hr | 900ft | Alien Run loop, Aztec, NM |
| Thu | 24.2mi | 3.2hr | 4500ft | Lime Creek/Pass/Engineer Mtn loop, Durango, CO |
| Fri | 25.3mi | 2.9hr | 4500ft | Flight of Icarus loop, Fruita, CO |
| | 12.6mi | 1.3hr | 1100ft | Zippety/Kessel loops, Fruita, CO |
| Sat | 13.2mi | 1.1hr | 2400ft | Flagstaff Drive hillclimb out and back, Boulder, CO |
| | 329mi | 34hr | 51,000ft | TOTAL |
Four consecutive long days had us logging over 20 hours in the saddle. The seven non-travel days had us riding over 30 hours with nearly 50,000ft of climbing. These are PR stats for me and pretty nearly killed me. Dave seemed to get stronger as the hours piled on, I began to whither. It was interesting to note that I ate about 20-30% more than Dave, yet we weigh roughly the same and logged the same miles. I have often thought I am not very efficient with the calories I eat, and this adds more evidence. I lost two pounds when I got back from the trip. I plan to dedicate a future post on Cycling Economy. The most efficient (calories to kilojoules) riders in the world are only about 25% efficient. I may be well under 20%. This could explain why I may not do so well in really long endurance events. My digestive tract simply cannot process enough calories to keep up with the excessive rate my body is consuming them. I'm not sure much can be done to train this. Genetics is a huge factor.

It is monsoon season in the southwestern part of the country. This means there is a shift in wind patterns that brings moisture into the area. Pop-up afternoon thunderstorms can be expected. These are strange. They start every day around noon, they don't move like a frontal system, but rather persist against mountain ranges until the sun sets. We finished virtually every ride with thunder rumbling but managed to stay dry. It never seemed to rain in the cities, but is sure did at higher elevations. The rushing torrents of water were evidence of this. We had to get up around 6am every morning to be off the ridge line by noon or shortly after. Getting caught without even as much as a rock to hide under when lightning starts is not an option.

Six of our rides topped 10,000ft elevation. Most of these rides were Hill Junkie style - huge paved, dirt, or ATV track climb with singletrack ridgeline riding and singletrack descent. Most other riders will shuttle these rides. This means they leave one vehicle where they drop out at, then haul bikes and bodies up as much of the vertical as possible expending fossil fuel. I can't say I have a strong moral opinion against such riding. After all, we drove around in a tank of a vehicle ourselves to hit all these cool riding destinations. But my philosophy is that one must earn their vertical. You feel so much better about yourself when you do. There may be a physiological basis in the difference between these two camps of riders. The shuttlers seek adrenaline highs, the climbers seek endorphin highs. Coming down Icarus, I experienced too much adrenaline. That descent was just plain scary. It was like a bad coffee buzz and detracted from the endorphin buzz I had going by climbing to the top.

Having ridden several Durango trails now, I'd still have to say the Monarch Crest loop near Salida is my all-time favorite loop. Most of the climb is paved road, about 4500ft worth. The ridgeline at 12,000ft offers killer views and is 100% rideable. Then the longest descent ensues, again virtually all rideable. The ride that comes close in Durango to this one is Blackhawk Pass. The deal with Blackhawk is we had to hike a few portions getting up to the pass. Dave was able to ride a little more of it than I did. It is possible that a loop in Durango could be put together that could surpass Monarch Crest in rideability, enjoyment, and scenery. It generally was more scenic around Durango, especially with wild flowers in full bloom.

Dave kicked my butt again riding 29" wheels with no suspension. Seeing him ride that thing has me believing the downsides to big wheels are negligible compared to the benefits. I couldn't imagine carrying the speed we did on some of the descents without my 3" travel Fox fork. Would I suck less if I started riding a 29er? Dave thinks swapping out the rider might make my bike faster.

We experienced no mechanicals or flats in about 500 combined trail miles. We both did hit the dirt a couple times. It's tough in epic scenery to keep your eyes and mind on the trail in front of you. Twice, Dave caught the edge of rutted single track and went for a tumble on descents. In my case, I just don't know how to descend loose stuff approaching 100% grade without the wheels sliding out from under me.

It turns out the long rides I was doing earlier this summer weren't really that dubious in training value after all. They were actually training for this trip. I suspect my road and hillclimb racing ability has suffered some, but there is so much more to cycling than racing. What I gave up in one form of fitness was gained in another, namely endurance. The rides Dave and I did out west weren't flat, sissy century rides. We surmised that due to altitude and steepness of these off-road rides, a trail hour in Colorado was more like two trail hours back home. Average speeds were quite humbling on a couple of the rides.

Compiled by Doug Jansen
24-November-2008