Austin Trip II
Purpose of Trip
Friend Chris getting married, visit dad on coast, and ride, ride, ride.  Rented Trek 6700 hardtail from Bicycle Sport Shop in Austin.
Friday Afternoon, March 28, 2003
Barton Creek Greenbelt, Austin
20.7 miles, 2 hours 19 minutes.  Mostly singletrack path along Barton Creek, starting right from center of Austin out about 7 miles.  I started the ride from the bike rental shop, about 0.1 miles from the trail.  Went from airport to bike shop to trail.  At times, this trail is in the bottom of a very deep gorge with walls greater than 100 feet high.  The trail crosses Barton Creek multiple times, and the water was quite high, requiring portaging in 2-3ft of water.  At one point, the trail was so narrow that dismount was required.  A chain was bolted to the side of the gorge wall to grab, and foot pockets carved to place feet into, lest you slip and fall into the river.  At the end of the trail, there is a hill called "Hill of Life."  It rises 300 feet in 0.3 miles, for nearly 20% average grade.  That's not the hard part.  Parts are much steeper and filled with man-made and natural ledges.  It took three attempts to clear the whole hill.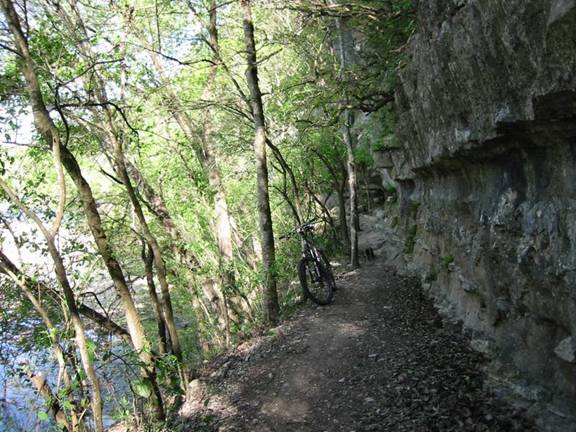 Barton Creek Greenbelt
Bench-cut trail with very high gorge walls.  Hard to believe
this is virtually downtown Austin, TX.
Barton Creek Greenbelt
One of the more open slickrock areas.
Saturday Morning, March 29, 2003
Muleshoe Bend Recreation Area, Spicewood (near Austin)
20.1 miles, 1 hours 55 minutes.  A 7 mile singletrack loop, used in races.  Mostly non-technical, but there are several challenging sections.  Very fast, small rolling hills.  I did three laps and still could not clear two areas in third lap.  Lots of prickly pear and sharp rocks around.  Fun to ride, but would not be my kind of place to race.  The trail is very tight in most places, making passing next to impossible.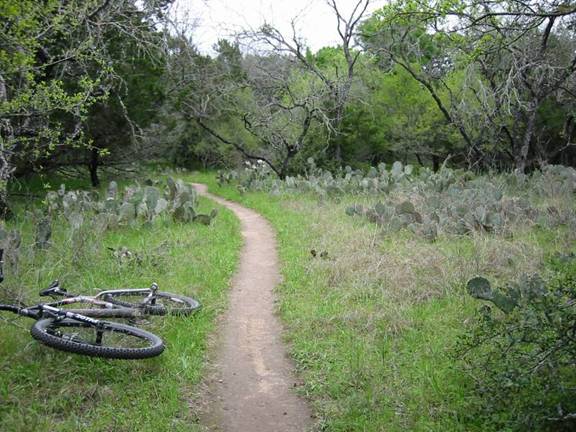 Muleshoe Bend
This section was hard as pavement through a prickly pear patch.
Saturday Evening, March 29, 2003
The Guggenberger/Joyner Wedding, Burnet (near Austin)
Chris and Dana got married in one of the coolest places in central Texas, the Falkenstein Castle.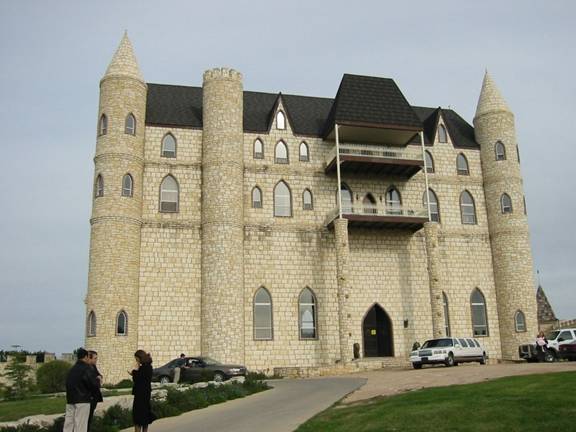 The Falkenstein Castle
Built from medieval plans for a castle that was never built in Europe.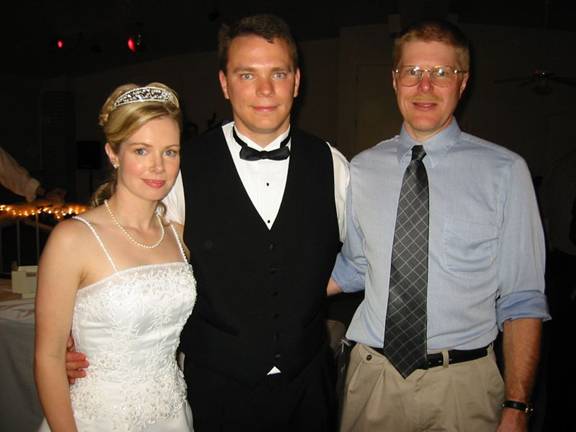 Dana, Chris, and Doug
Sunday, March 30, 2003
Hill Country State Natural Area, Bandera (near San Antonio)
35.1 miles, 3 hours, 53 minutes.  Whenever I travel and ride away from home, I try to select one place that will be my "capstone" ride.  For this trip, it was Bandera.  This was THE rockiest place I've ever ridden.  As the name implies, it is very hilly here, looking almost mountainous.  The park ranger told me the min to max elevation difference was about 900 feet in the 5000+ acre park.  The trails here are very well marked and mapped.  No excuse to get lost, but the maze of trails in some areas do require good orienteering skills.  I rode approximately 70% of the trails in the park, estimating there must be about 50 miles of trails.  The trails marked difficult on the map generally required some hike-a-biking, especially going up.  Equestrians rule this place, and after a while you start ignoring the "care packages" they leave behind.  I encountered only a few equestrians on the trail, but the horse lot had 10x as many vehicles with trailers as the MTB lot had.  The ranger made it clear the mountain bikers were guests of the equestrian camp too.  Always yield and wait for their instruction on how to proceed.  Riding here reminded me a lot of SoCal and Arizona.  Semi-arid, rocky, little vegetative cover, and great views.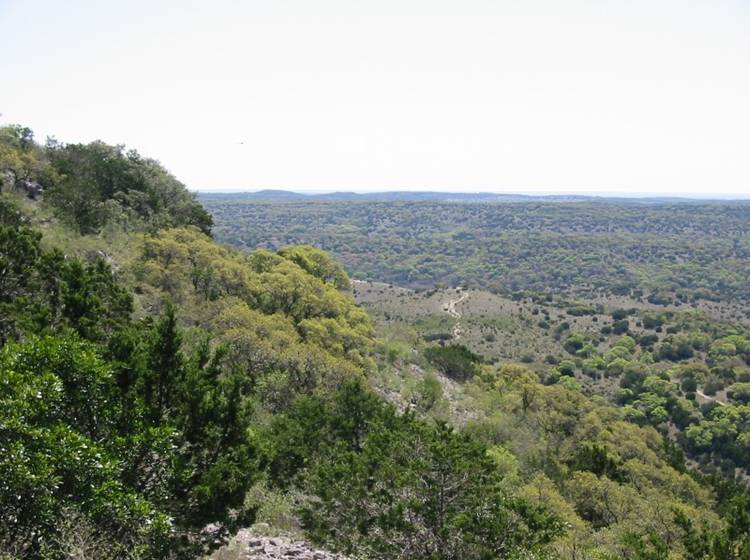 Hill Country State Natural Area
From ridgeline of trail 4b, looking southeast.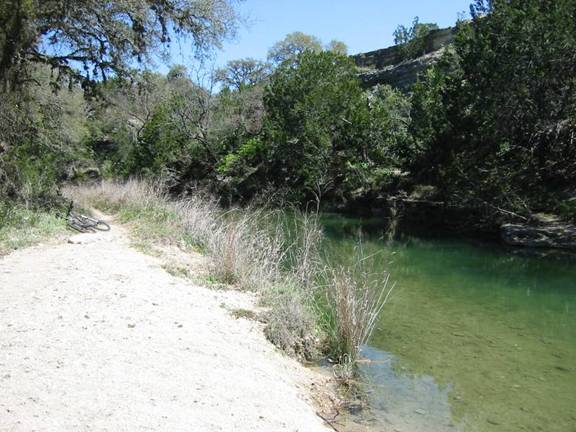 W. Verde Creek
Trail 8a.
Monday, March 31, 2003
Walnut Creek Metro Park, Austin
23.0 miles, 2 hours, 1 minute.  This relatively small park was like an amusement park for mountain bikers.  Nearly all of the trails were smooth, clean hard-pack.  No big hills either.  So in other words, you could rip in this place.  The 1.5 mile "Whoop-de-doo" loop was a blast, so much fun I did it three times.  It had several drops where scary big air could be had.  Lots of opportunities for ridable water crossings here too.  As the name implies, this park is in town.  It was hard to believe that biking this good was so close to the city center.  Since I rode on a Monday morning, I practically had the place to myself.  Saw about 8 or so other riders on the trails.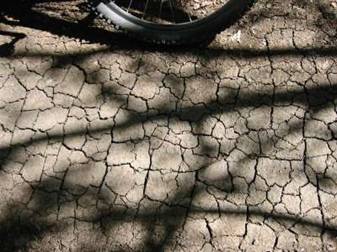 Walnut Creek Hardpack
Run tires a little soft on this stuff and they stick like glue.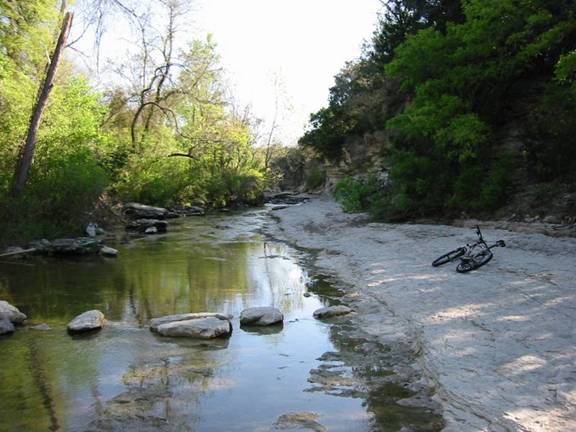 Walnut Creek
One of the stream crossing areas where you could
ride on slickrock along the creek.
Tuesday, April 1, 2003
Rockport, on the gulf coast
Here's a couple of shots from Dad's boat in the inter-coastal waterway.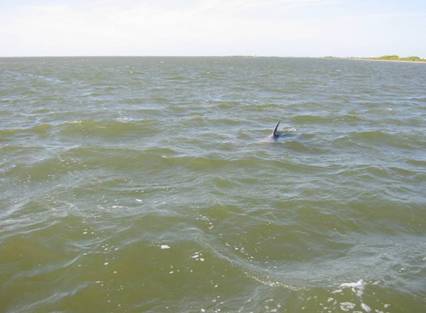 Porpoise
Looks like shark coming at you.  They come very close to underside of boat, and they are huge.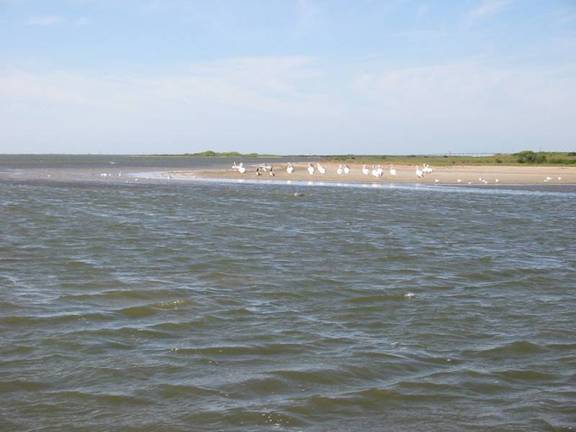 Pelicans
Water in the inter-coastal waterways ranges from a few inches to a few
feet deep in most places.  Dad and I did run aground once, like here.