Desert Classic Ride in Phoenix, 22-MAR-07
From Western-most Trailhead
16.0  miles
1:38 riding time (approx. 1.7 hrs total time)
500 feet climbing
We had almost cancelled this trip.  All the forecasts were pointing toward cold temps and thunderstorms for 3 of the 5 days.  We decided to go anyway, packing full New England winter riding gear.  En route to Phoenix, the pilot said rain moving in at 4pm.  We thought great, as we could get 2-3hr ride in before heading south to Tucson.  It was not raining on arrival, but storm cells were scattered all over the area.  It took forever to pick up rental car.  They bus you half way across the city to centralized rental system.  That is somehow more efficient.  Despite flight being on-time, we were almost an hour behind "schedule" picking bikes up at Landis Cyclery.  They recommended we not ride at McDowell Mtn Park as planned, as the area is prone to flash flooding.  They said lightning was much less to worry about this time of year, so South Mtn Park was better bet (higher, but more exposed).  But as we unpacked bikes, Mother Nature unleashed a fury of torrential rain and lightning on us.  It move out soon enough, but now there was standing water everywhere.  No mud, just wet.  We headed out on Desert Classic trail in hopes of getting back before next cell moved in.  We didn't make it.  No lightning, but persistent cold rain drenched us.  Not a good way to start trip.  Forecast for next two days looked even worse with 60% chance of thunderstorms and snow at higher elevations for Friday's hillclimb.  Bikes were trashed already, and we were not in good moods.  We got in only 1.6hrs out of 3 planned hours of riding before heading to Tucson.  It stormed whole drive to Tucson after this ride.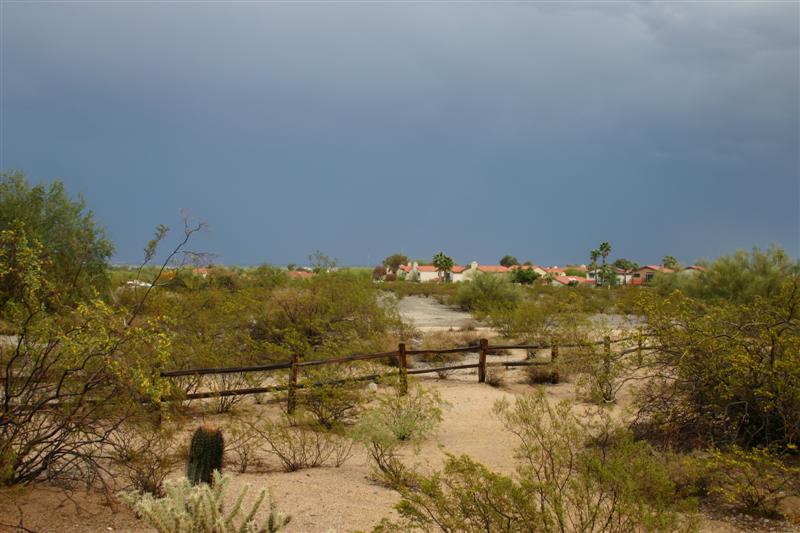 The skies just after bruising thunderstorm moved through.  Everything was wet, but runs off quickly.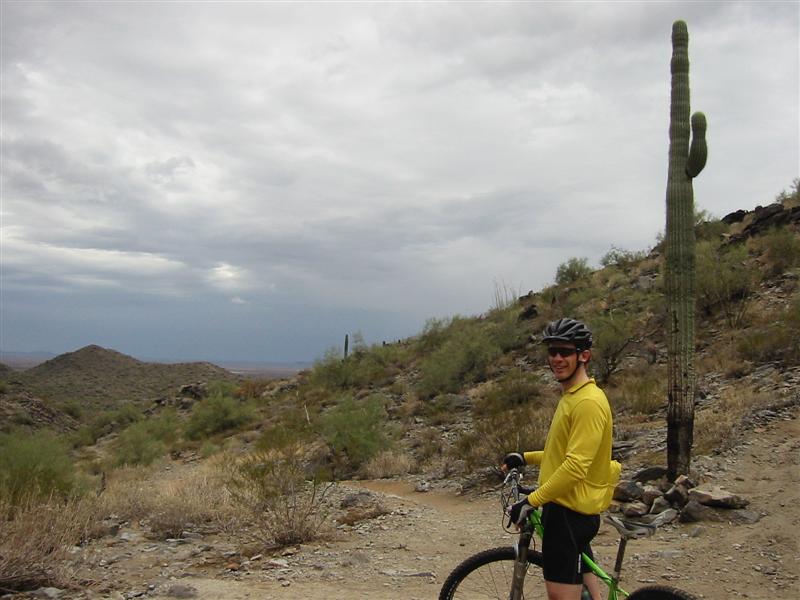 Dave on Desert Classic trail with new rain cell in distance quickly moving in.
Mt Lemmon Hillclimb, 23-MAR-07
From Tucson - South Side
80.9  miles
5:12 riding time (approx. 7.5 hrs total time)
8000 feet climbing
2500-8500 feet elevation range
Forecast was bleak, but hole opened up in the clouds by 9am.  It had rained all night.  We decided to abandon our planned capstone ride of the trip, the "Squeeze the Lemmon" ride.  This loops from Tucson through Oracle, then up back side of Mt Lemmon on dirt and back down on pavement to Tucson.  This would have been over 100 miles and 7-8hrs riding time with the additional climbing.  There is nothing back there, so to get caught in thunderstorm was frightening at least.  So we opted for an all-paved climb up the Catalina Highway to summit of Mt Lemmon instead.  From our vantage point in the city, we could already see the mountain tops were snow-capped.  We weren't sure how far we'd make it, but with everything else wet and rain moving through during the day, we really had no other riding options.  We set off in complete New England winter riding gear: AmFib tights, neoprene booties, "lobstah" mitts, balaclava, and three layers up top.  With the sun out beginning the climb, we had to shed some layers.  The roads were still wet though.
The climb went well, having reasonably fresh legs.  The 1.6" slicks rolled almost as well as Michelin Pro 2 Race tires.  We stayed dry until reaching the snow line where snow melt made the road wet and messy.  It was plowed.  I reached Summerhaven before Dave and took the right to Ski Valley at the summit.  This was not setup the way we expected and Dave did not take the turn.  But after climbing several hundred feet of steep vertical, the road was closed and unplowed beyond the ski area.  This meant the last several hundred feet to the summit was not going to happen this trip.  It was utterly unrideable.  I turned around and bombed back down to town, which was being rebuilt after the fire a couple years ago.  I read only two out of over three hundred buildings and homes survived.  Arson.  The Mt Lemmon Café with world famous pie was closed.  I was not happy about that.  Bike uphill for 40 miles and no pie in the sky?  We had to make do with snacks from the general store, which was open.
We kitted up with every bit of clothing we brought up with us.  Just after beginning descent, the dark clouds gathering around the summit blasted out a thunderclap.  We boogied.  There's an initial descent from the village, but then a long 500ft climb before beginning the real descent.  As we began the real descent, it started to snow.  It snowed pretty hard and it was icy stuff.  Hurt like crazy in the face at 40mph.  We encountered several other riders coming up during our descent, including two guys who didn't have much layers with them when it started to snow.  It looked like another guy we saw come up on our initial descent hitched a ride back down.  We quickly got out from under the snow however, and the rest of the descent was dry and pure bliss.  We could hardly believe we pedaled up all that, 20 miles of nearly monotonic descent at 40mph.  The summit area stayed socked in with dark clouds for much of the rest of the day.  As we came back into Tucson (where Dave caught me off-guard and took the town-line), it started to rain again.  At least it was warm now, and with all our winter crap on we were over heating.  We didn't want to stop to shed layers, so I'm sure we looked like freaks riding through about 10 miles of Tucson in full winter gear when many people were in short sleeves.  They had no idea.
I have now done all the great climbs in southern Arizona, including Mt Graham, Mt Hopkins, Kit Peak, and Mt Lemmon.  That evening we had dinner with Chris from Raytheon at the Contessa Italian Café in Oro Valley.  Dinner is served buffet style, all you can eat.  Perfect after a five hour hillclimb ride.
Mt Lemmon Profile from edge of Tucson.  Summerhaven sits at 25 mile mark, ski area at 27 miles.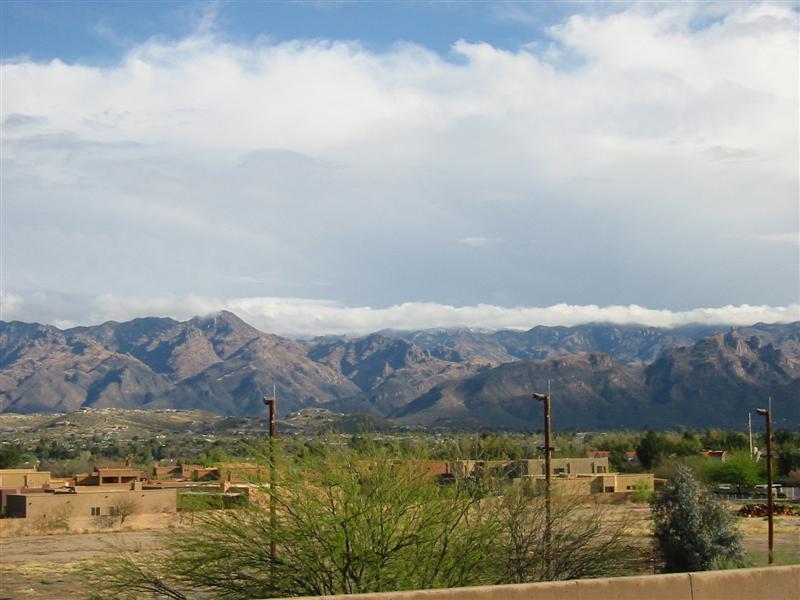 Mt Lemmon shrouded in clouds, hints of snow just visible at cloud line.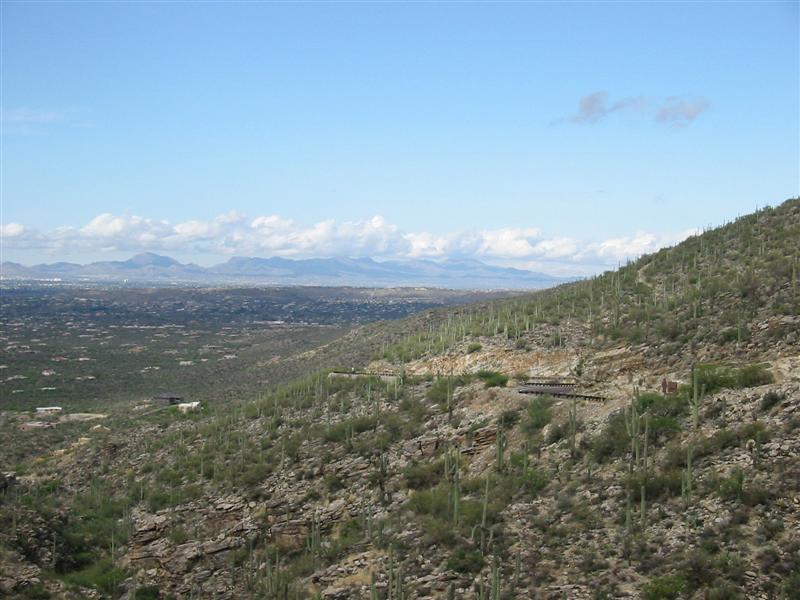 Lower portion of Catalina Highway with Tucson in distance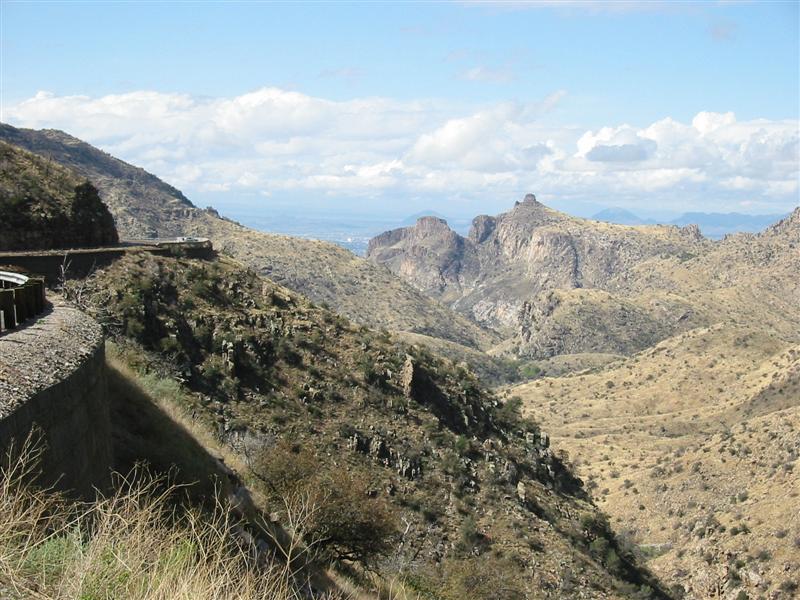 Catalina Highway benchcut into mountains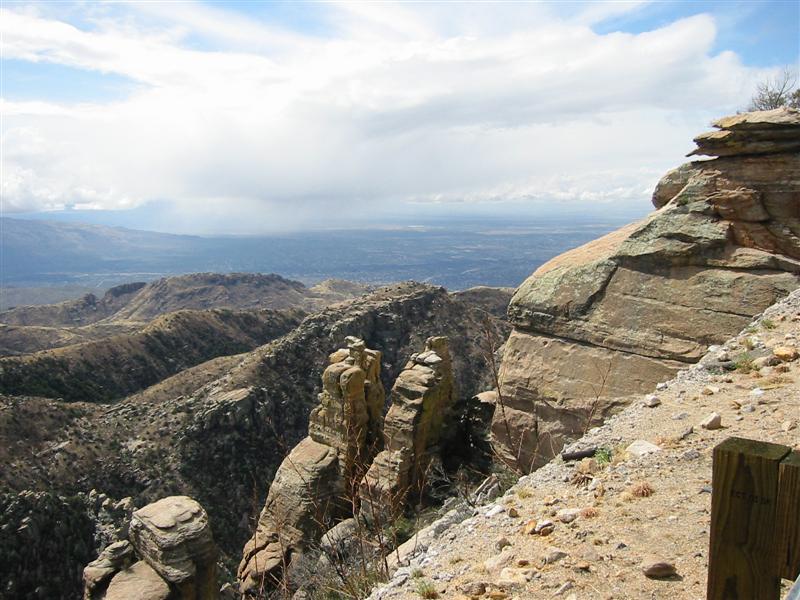 Interesting rock formations with rain cell just south of Tucson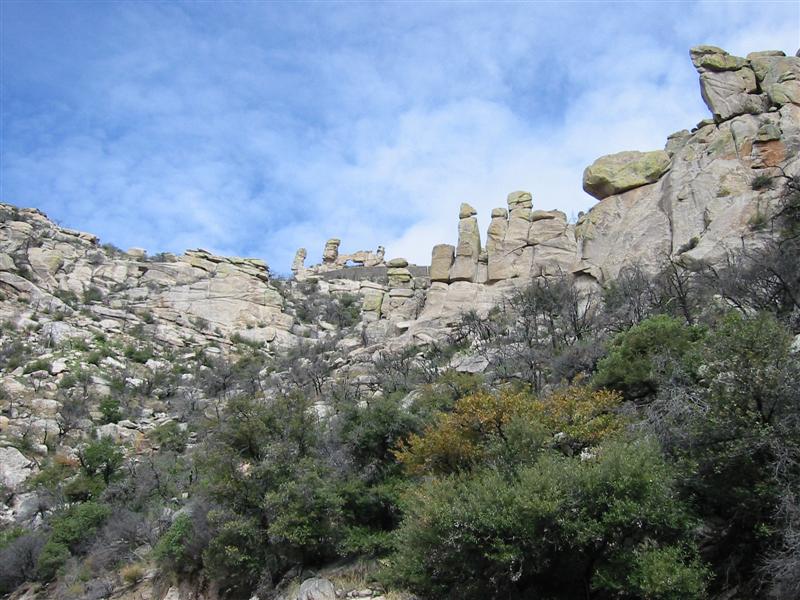 Rocks we'll pass by shortly on climb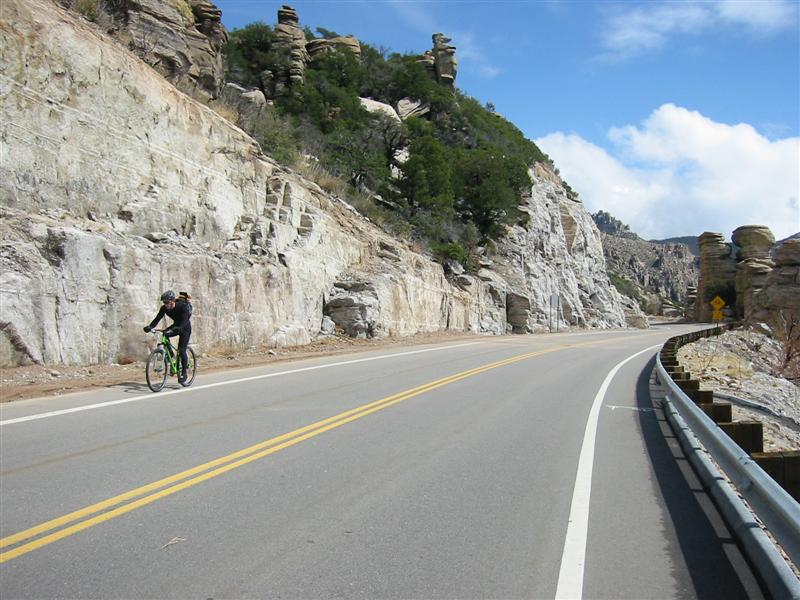 Dave climbing with a "Share the Road" sign on right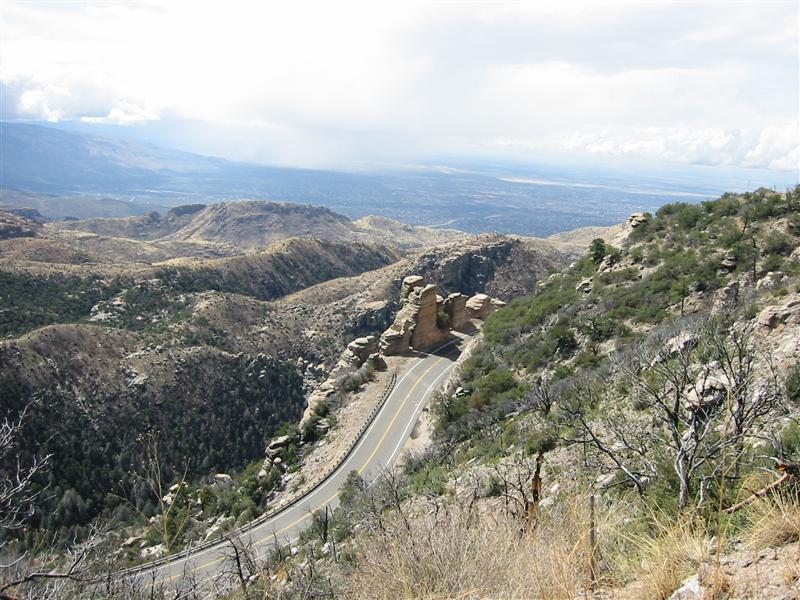 Curve below, city in distance, and rain moving into the city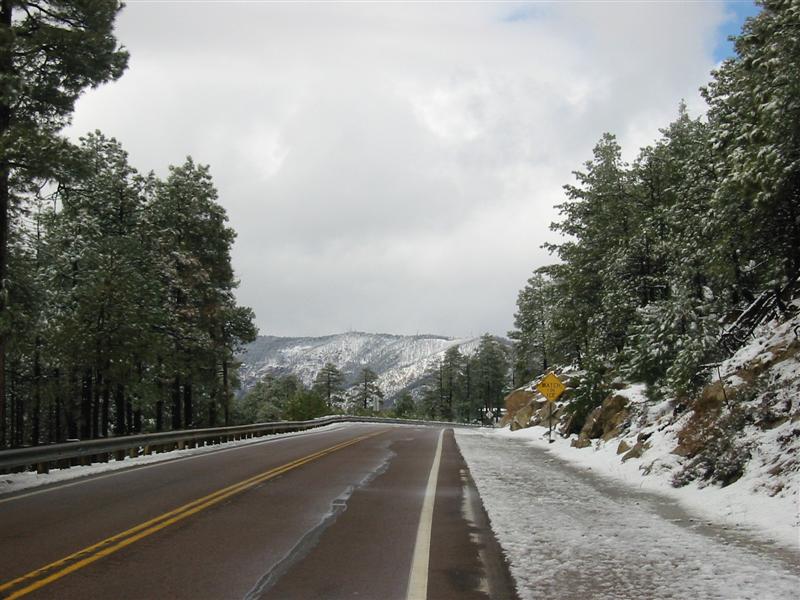 Snow approaching 8000 foot level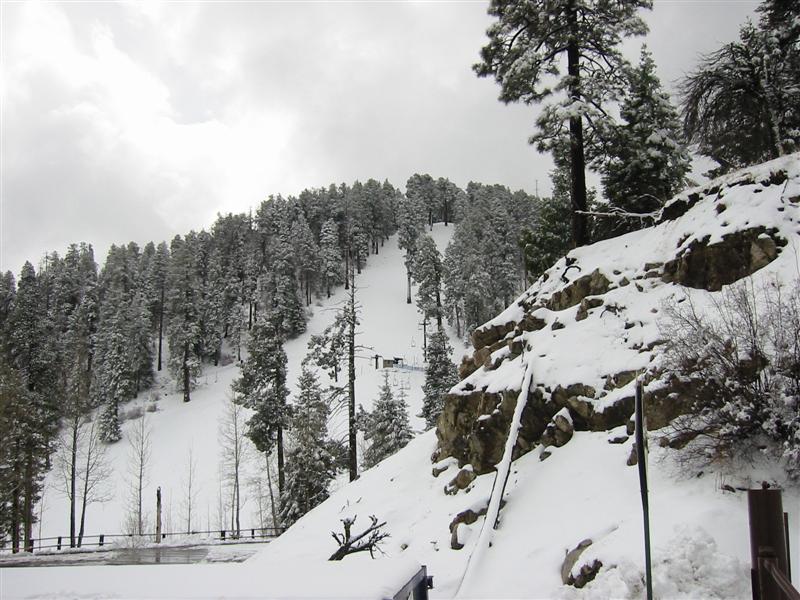 Ski Valley ski area, a bunny hill by New England standards.  About 6" new snow here.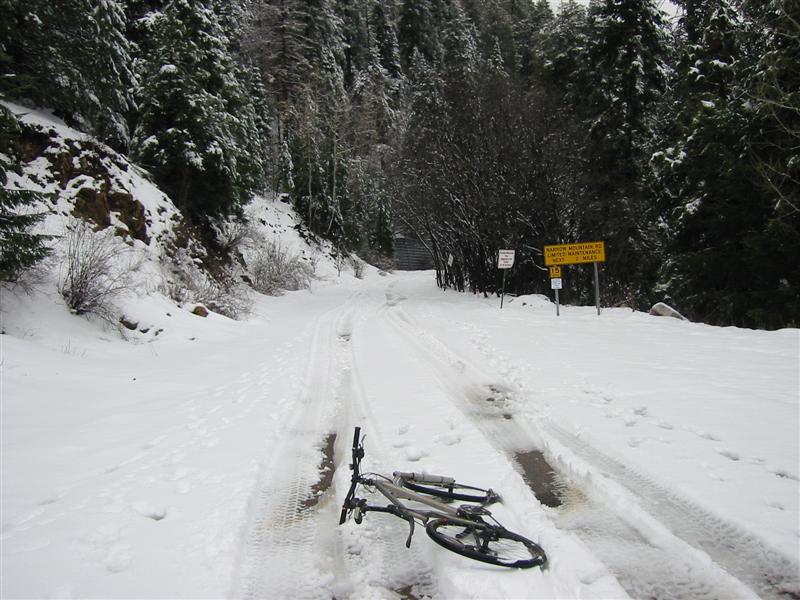 The reason the summit was not going to happen this trip.  Completely unrideable
with skinny slicks.  About 2 miles to summit from here.
Fantasy Island and 50-Year/Charouleau Gap, 24-MAR-07
Tucson Area
16.8/28.5 miles
1:27/3:25 riding time (approx. 6.3 hrs total time)
3500 feet climbing
2700-4200 feet elevation range
Finally the weather was looking positive.  The low pressure system that was spinning Pacific moisture up from the south had moved north.  Last of rain moved out early Saturday morning.   Our only time constraint was to ride Fantasy Island first, then get stuff and check out.  The parking at Fantasy Island looks a little sketchy, so we didn't want to leave all our gear in car while riding.
The trails were mostly dry, really nearly perfect with that just right amount of tackiness.  Just a couple of wet patches on the Valencia loop.  We rode all the loops there at pretty fast speed, enough to scare myself most of the time.  The whole place is a playground of sorts with drops into washes, table-tops, a half-pipe, and other fun features.  I had ridden these trails on two prior visits, but never the Valencia loop.
After checking out, we headed over the Catalina State Park for the main feature of the day, the 50-Year/Charouleau Gap loop.  We decided to park in the state park and pay the fee with all our gear in the car.  It's safe there.  This starts off on the southern terminus of the 50-Year trail, a several mile portion I've never ridden. I've ridden parts of 50-Year on each of my three prior visits to Tucson.  It is that good.  But this time we were going to ride beyond "The Chutes" and pick up Charouleau Gap Road, a 4WD road over the gap.  Char Gap is very steep.  Few riders can clear the whole thing.  Our legs were cooked by this point, so we got off bikes a couple times during the climb.
When we reached the turn-off for Cherry Tank and the singletrack trail back down, we decided to skip the out and back to the gap itself.  This would have entailed hundreds of additional feet climbing, and daylight could become an issue.  Arizona does not do daylight savings time.  So we continued to climb instead to Cherry Tank (anything that holds water in the desert is called a tank, including natural ponds).
After reaching the tank, singletrack back down would finish the ride.  I had GPS with me, and this was going to be the first time I used one to actually navigate by.  I plotted a track file from Google satellite imagery and other map info posted by mountain bikers.  You see, this area is open range land.  Cow trails went everywhere, and the singletrack we started to follow kept forking.  This route may in fact have been created by cows in the first place.  No matter.  It was wicked skinny, steep in spots, barely squeezing through all sorts of prickly traps, and scenic.  It entered a narrow, deep wash which made things interesting.  We got off track a couple times, and with GPS, we quickly made corrections.  Would have been nice to have handlebar mount.
We finally meet back up with 50-Year trail and now could relax the rest of the way back, except there were about two miles of baby head rocks and two moderate climbs.  Both of us had major saddle sores going on by this point, partly due to riding in rain on Thursday, then putting in so many miles on bikes we hadn't ridden all winter.  None-the-less, it was a great day of riding.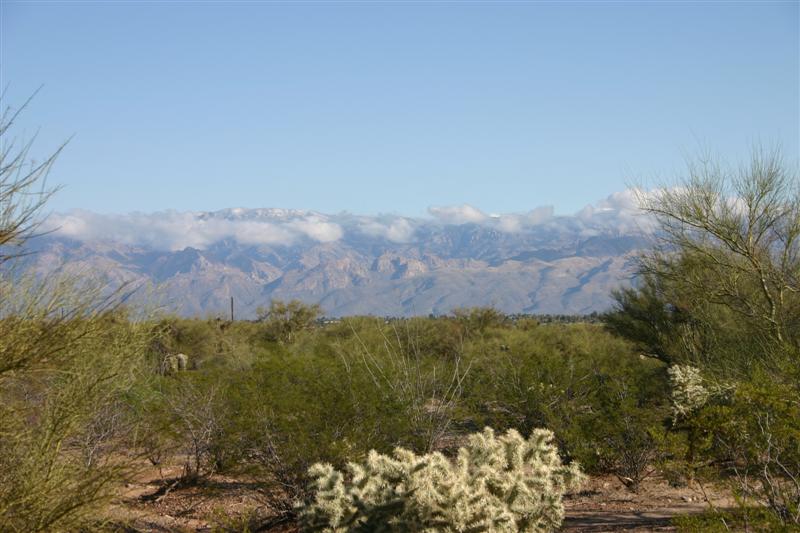 Snow capped Mt Lemmon from Fantasy Island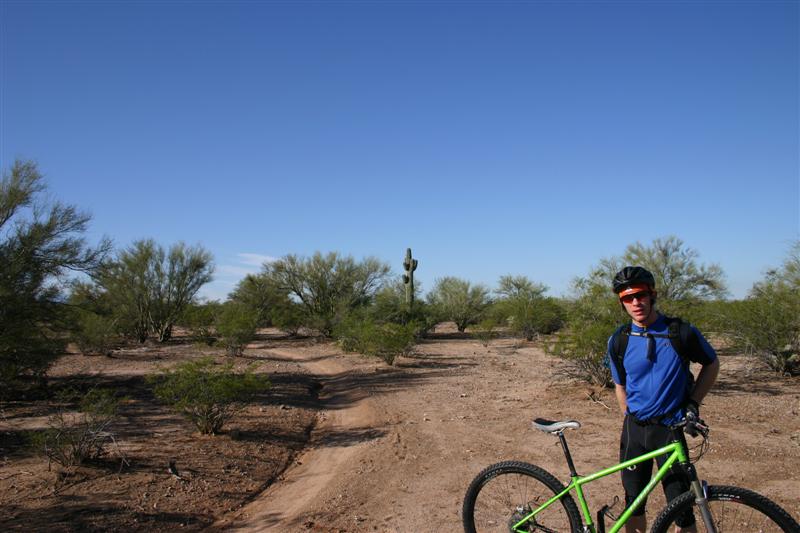 Dave at Fantasy Island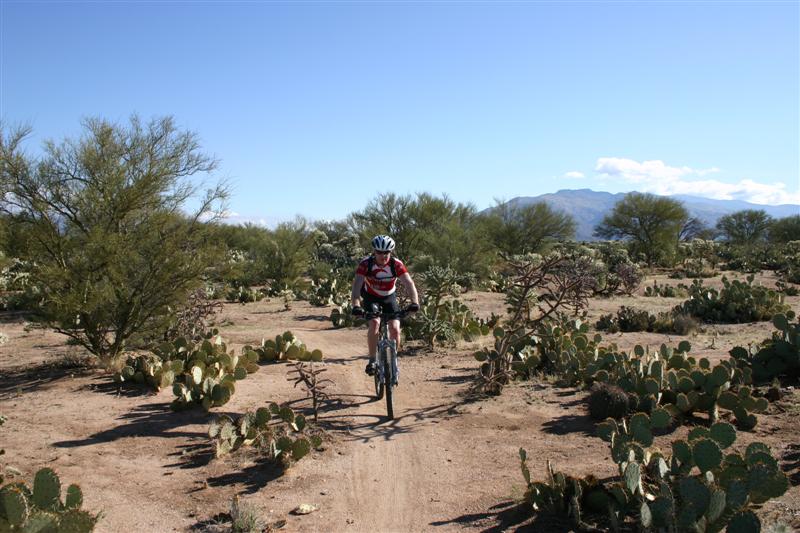 Doug riding through prickly pear patch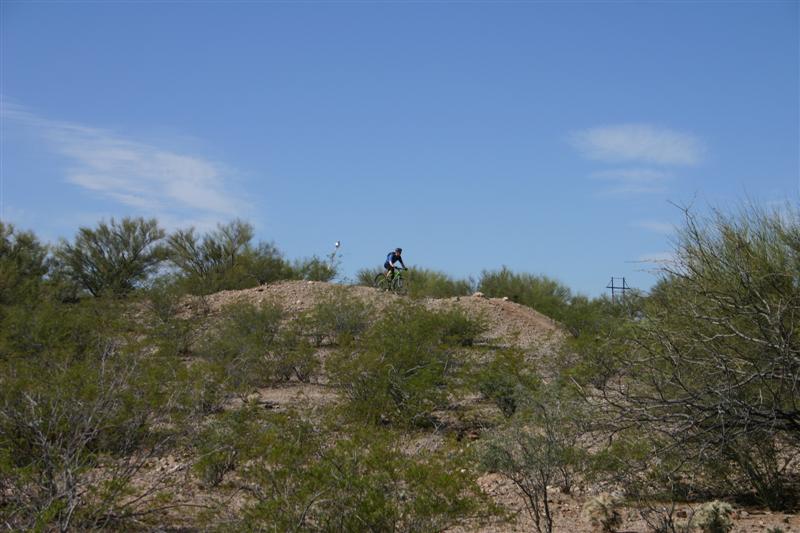 Dave cresting one of the table-top jumps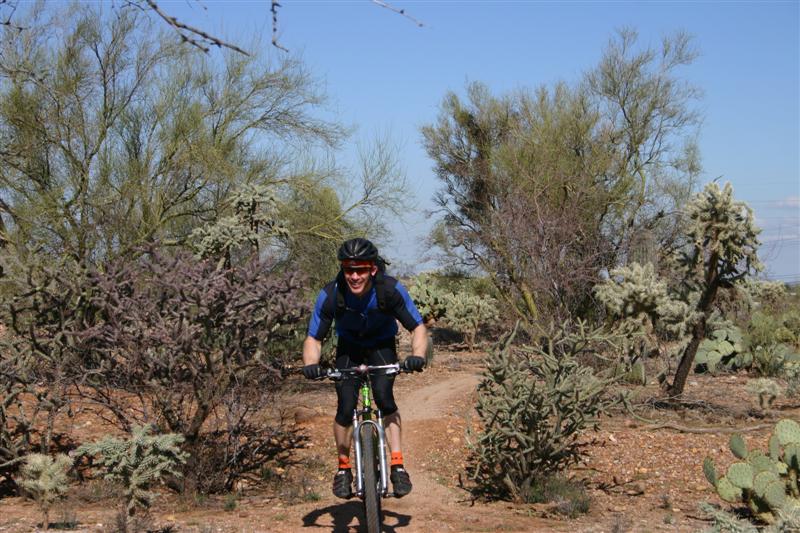 Many of the thorny desert traps are represented in this photo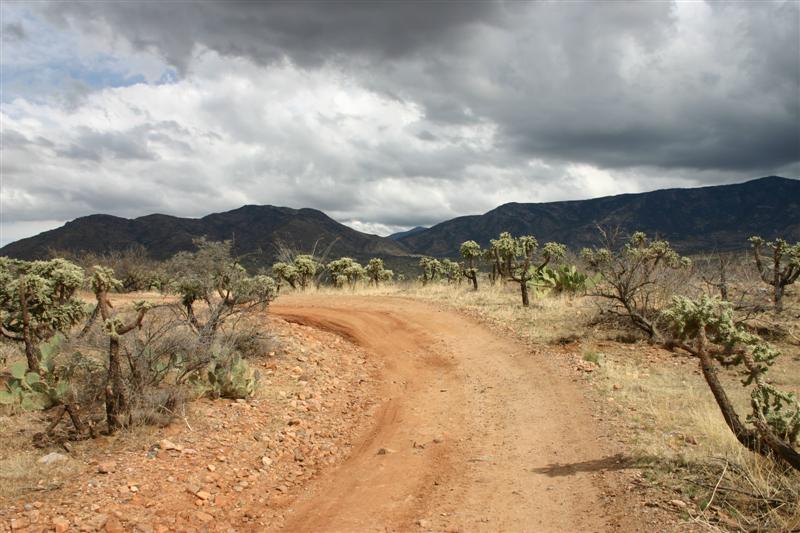 Road to Charouleau Gap in distance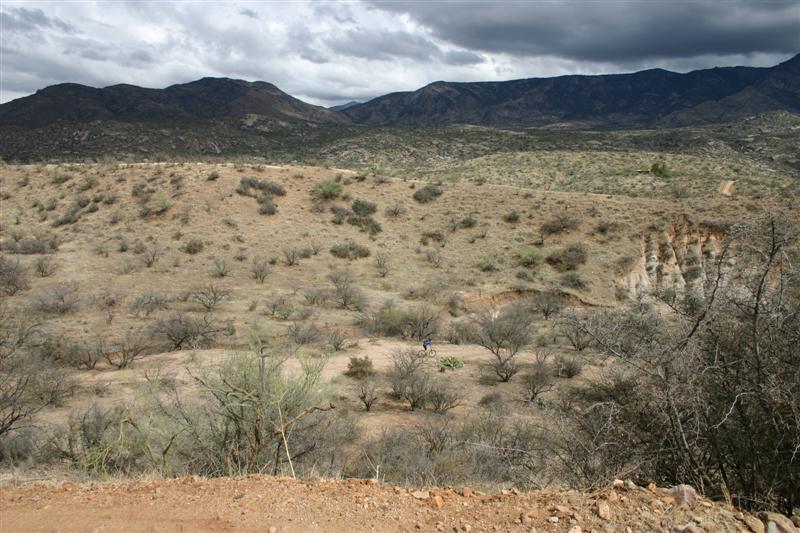 Dave in Canada Del Oro Wash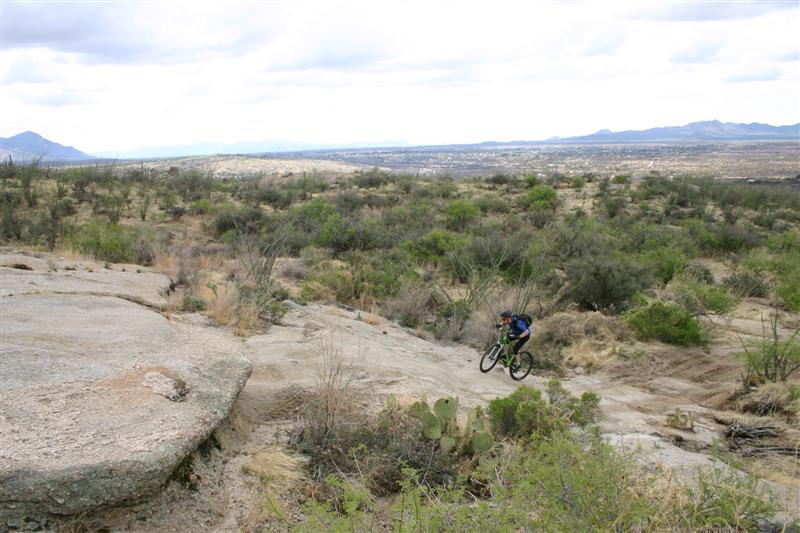 A steep slickrock area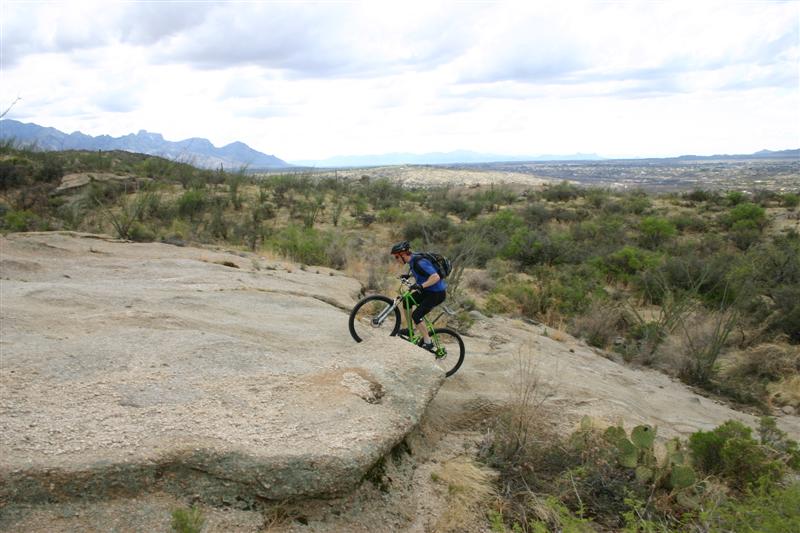 And yes, Dave cleaned it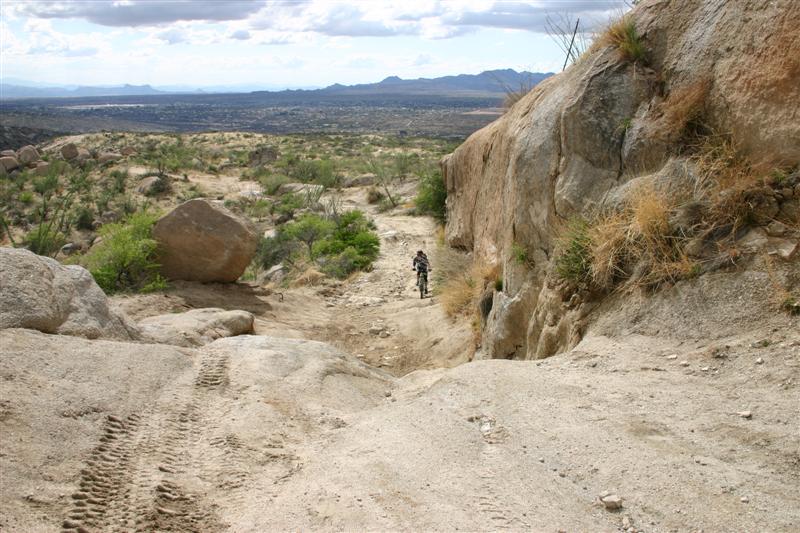 Another challenging pitch coming up Charouleau Gap Rd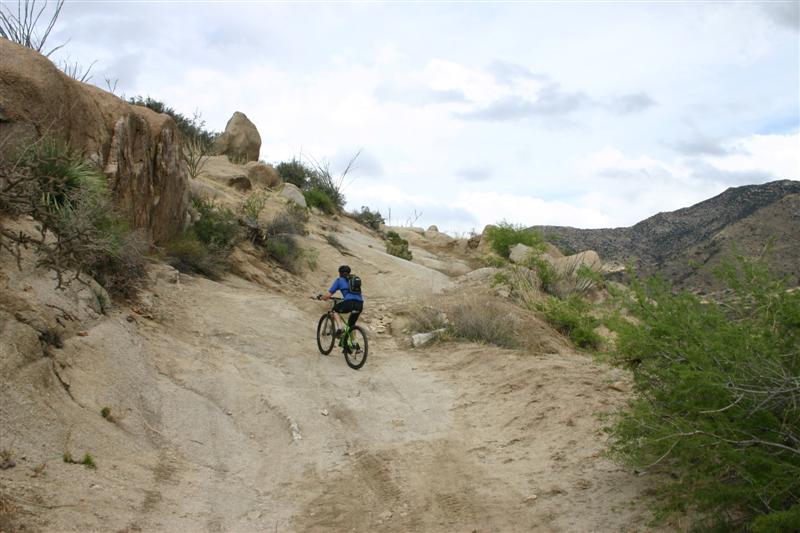 An off-camber slickrock wall to climb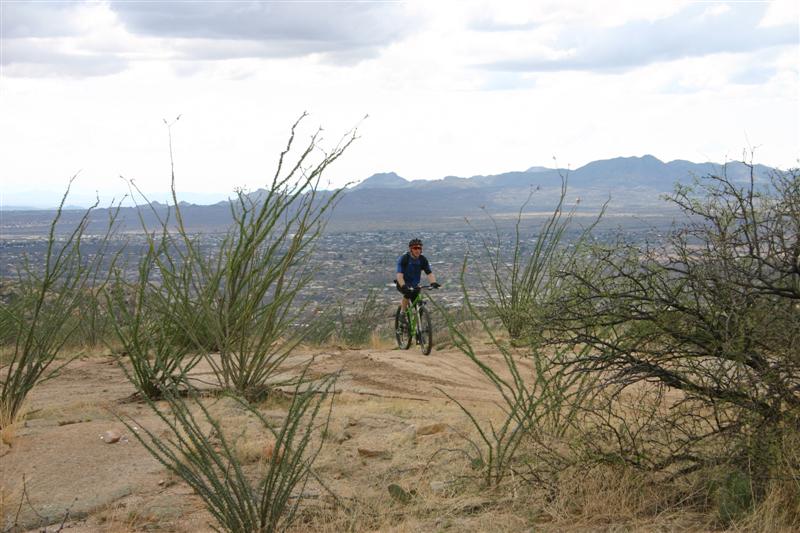 Near turn-off to Cherry Tank.  Oro Valley in background.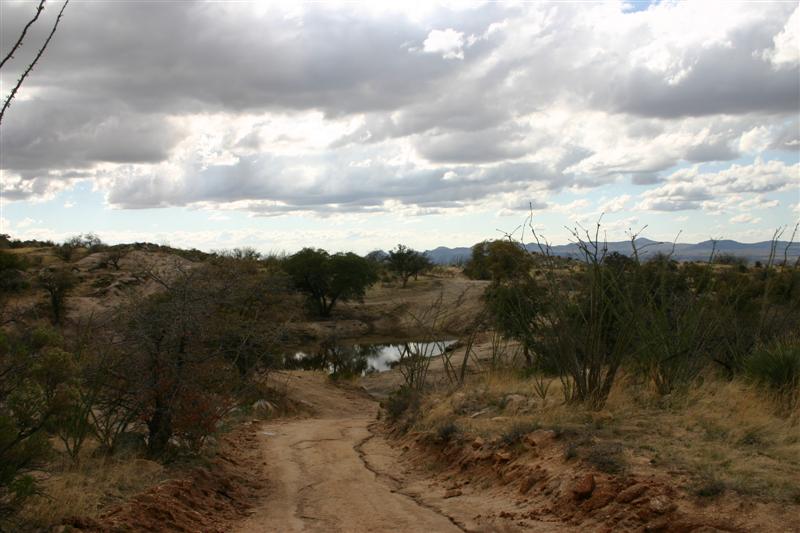 Cherry Tank.  It was natural pond, but it looks like heavy equipment recently
dredged and reinforced it to hold more water.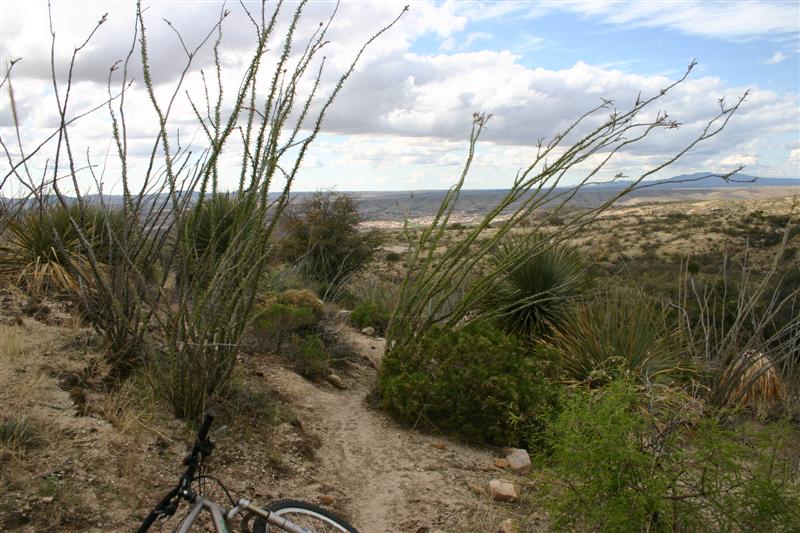 Beginning of singletrack descent.  Very narrow, steep, and thorny.  The skinny
stalk-like plants are covered in razor sharp thorns that shred anything brushing by.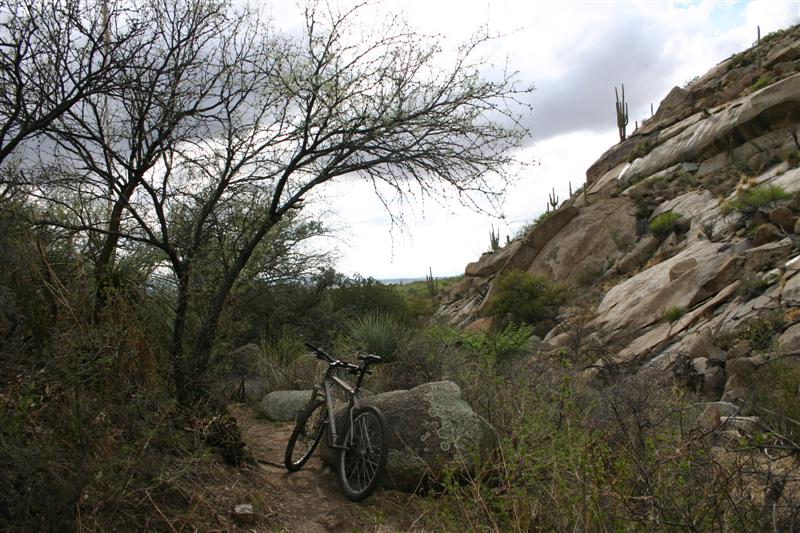 Farther down descent in narrow rocky wash.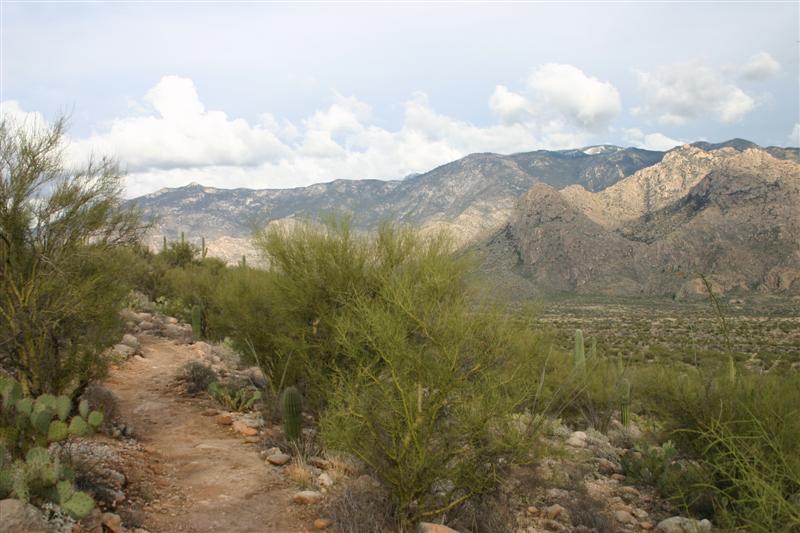 Wrapping up ride on 50-Year Trail.  Note there is still snow at tops of Santa Catalina's
in background.
Sedona Trails, 25-MAR-07
Sedona
40.5 miles
5:12 riding time (approx. 7.5 hrs total time)
5000 feet climbing
4000-6000 feet elevation range
The forecast for what turned out to be the epic ride of the trip was perfect: sunny in the 70's.  We drove up to Camp Verde from Tucson the night before, so we only had short drive to reach the village of Oak Creek where we began our ride.  The Comfort Inn in Camp Verde was the cleanest, best breakfast, nicest place we stayed.  It was also fairly cheap.  Plan was to ride as much of Sedona area trails as we could in one day.  The system is vast, we could not possible ride all of even the good stuff.  I believe we hit much of the best stuff though.
We started with the Big Park loop at the bases of Bell Rock and Courthouse Butte.  Then we wrapped around to pick up Llama Trail, across on Little Horse, then the famed Broken Arrow Tail.  Broken Arrow was nice, offering fantastic scenery, technical challenges, slickrock riding, and lots of tourists since Jeeps can cart them in and out of this area.  Dave took a header on initial descent from Chicken Point, scuffing up his arm.
We had to cut off Broken Arrow where it ran into wilderness area and take road to next major riding spot, Bear Wallow Canyon.  We stopped at the Circle K to refuel along the way.  We rode up rocky Schnebly Hill Road to the vista point, a ledge overlooking Sedona at 6000ft.  There were great views all the way up actually.  The climb from Rt 179 was about 1800ft, pretty near monotonic.  Just down from the top, we picked up Munds Wagon trail for the descent.  This was a wild, rock strewn, butt behind saddle blast down.  Several dismounts were required.
Upon reaching the junction with Huckaby Trail, we made a decision to scrap riding the northern Sedona stuff since the ride had already taken so much time.  Jim Thompson and other trails will have to wait until another visit.  We decided to loop back to Oak Creek via Brewer and Airport Loop trails.  This turned out to be a big mistake.  Our legs were in no shape for the climbing that ensued, and the Airport Loop turned into a monster hike-a-bike in the direction we went.  But there was some tantalizing ledge riding along the way.  When we got to what looked like the top of the mesa the airport sits on, we could not tell where the trail went.  It look like it just dead-ended, leading me to believe we were in fact on Table Top.  Maybe, but we could not find any other trail junctions on the way there.  It was getting late and we were tired, so we abandoned planned route, hiked back down to Overlook Point just off Airport Road, then took road back down into Sedona.
We took mix of roads and trails from Sedona back to Oak Creek.  This included the easy Mystic and Bell Rock Pathway trails.  Unfortunately, this meant we missed the Templeton Trail past Cathedral Rock.  This too will have to wait until another visit.  So basically, we rode almost everything east of Rt 179.  Two other large areas close to town remain to be explored, the area just north of Sedona nestled against the Red Rock Wilderness, and the area south of Sedona by the airport and Cathedral Rock.  There are many other trails further out too.  Overall, riding in Sedona easily ranks in my top ten.  I will definitely go back when I can stay there several days to explore many more trails.
Bell Rock with Courthouse Butte on right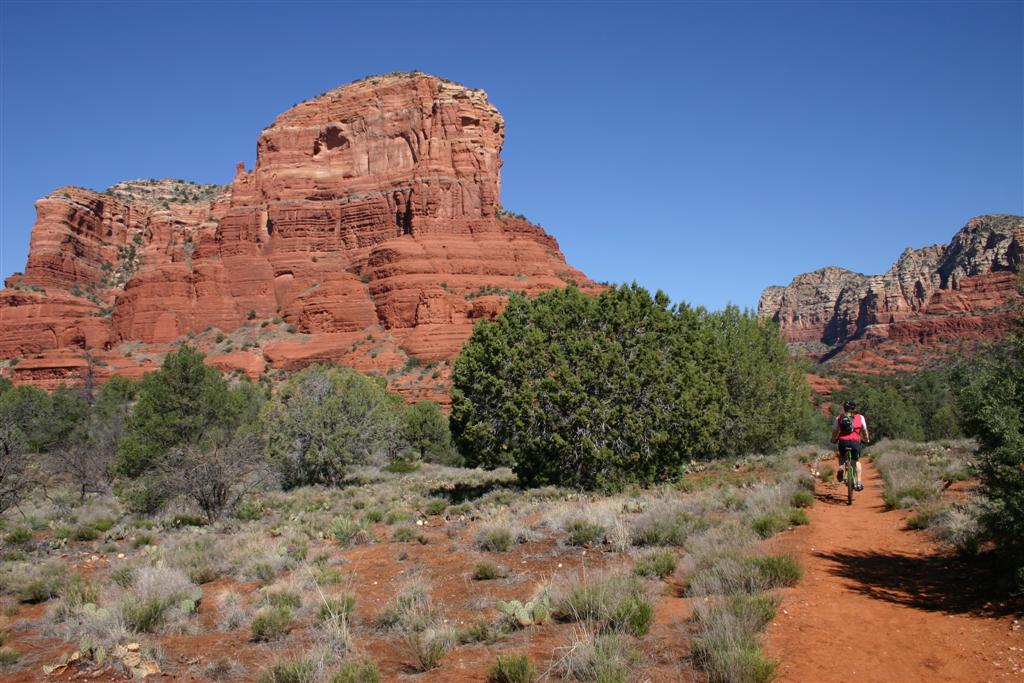 Courthouse Butte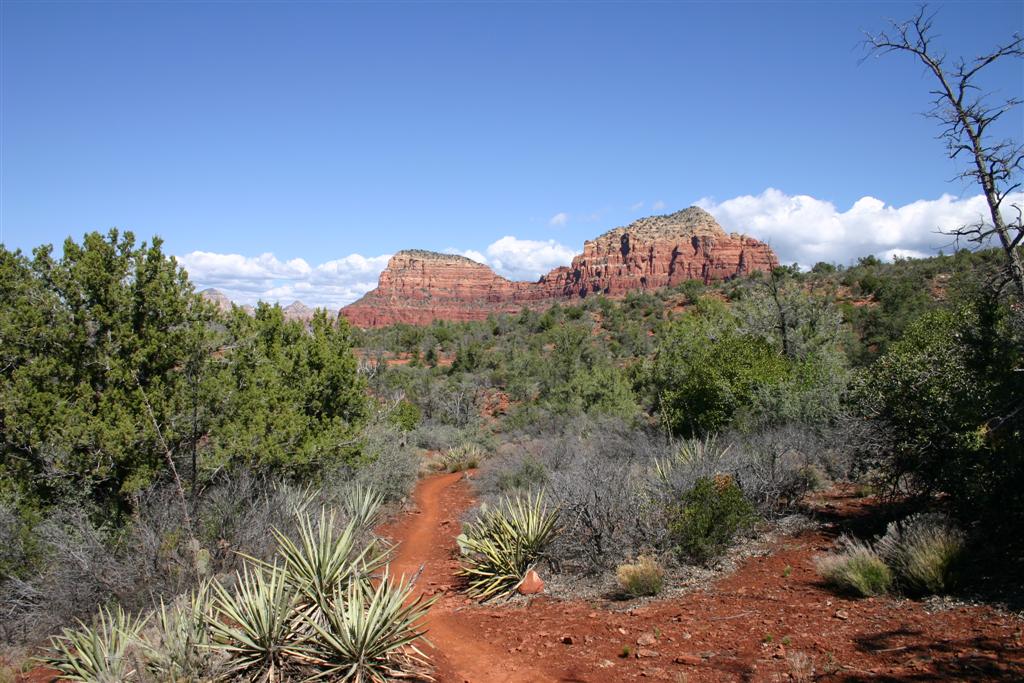 Heading northerly on Llama Trail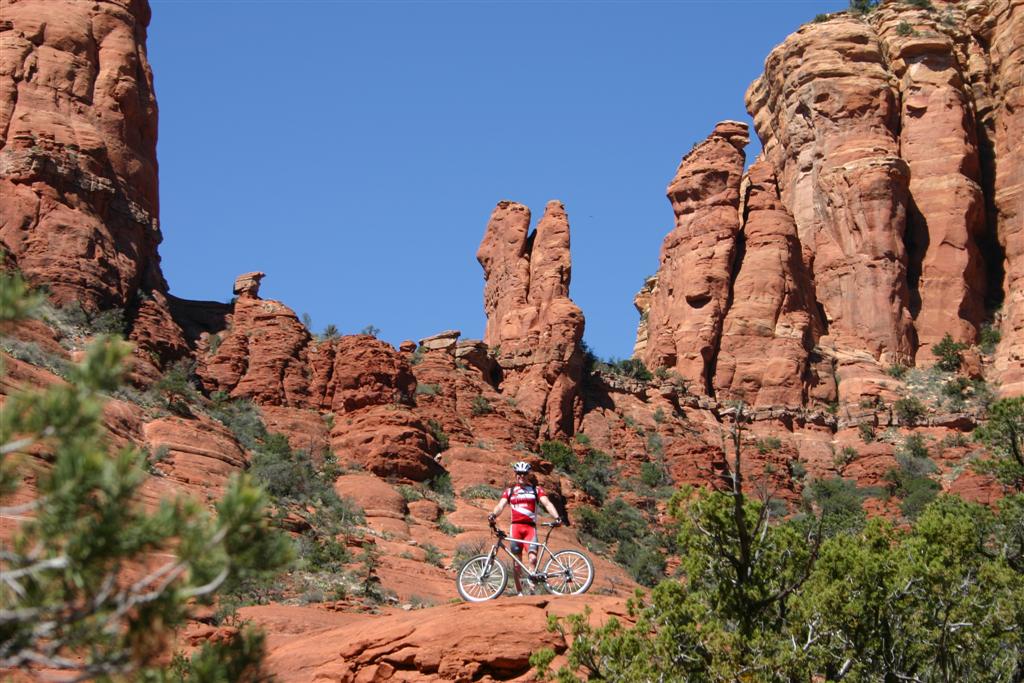 Doug at Chicken Point on Broken Arrow Trail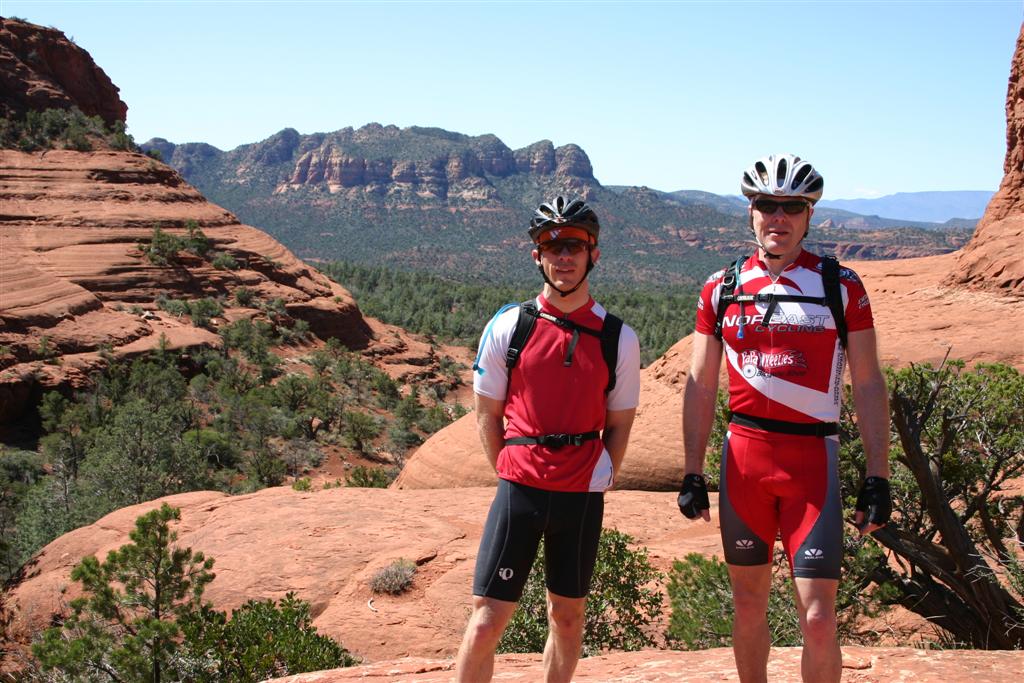 Dave and Doug on Chicken Point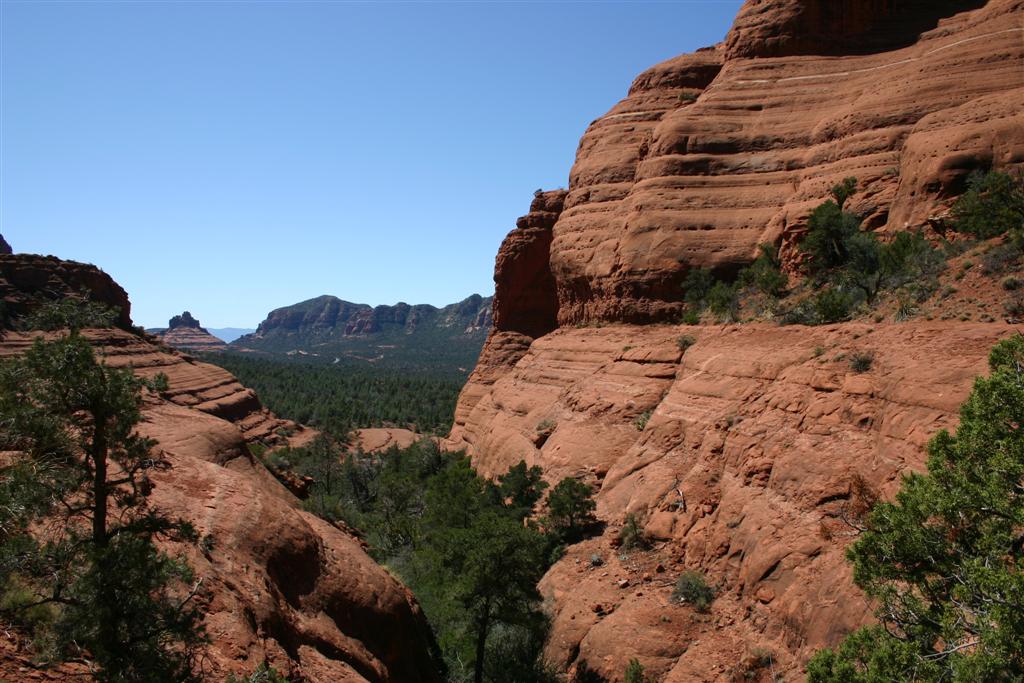 Deep gorge at Chicken Point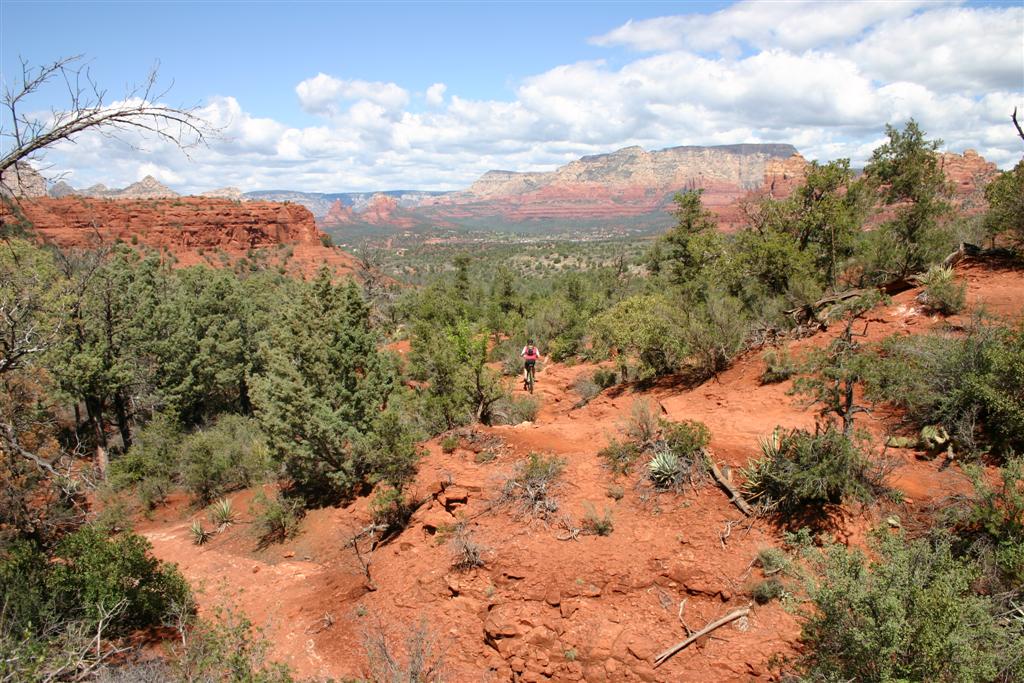 Descending Broken Arrow Trail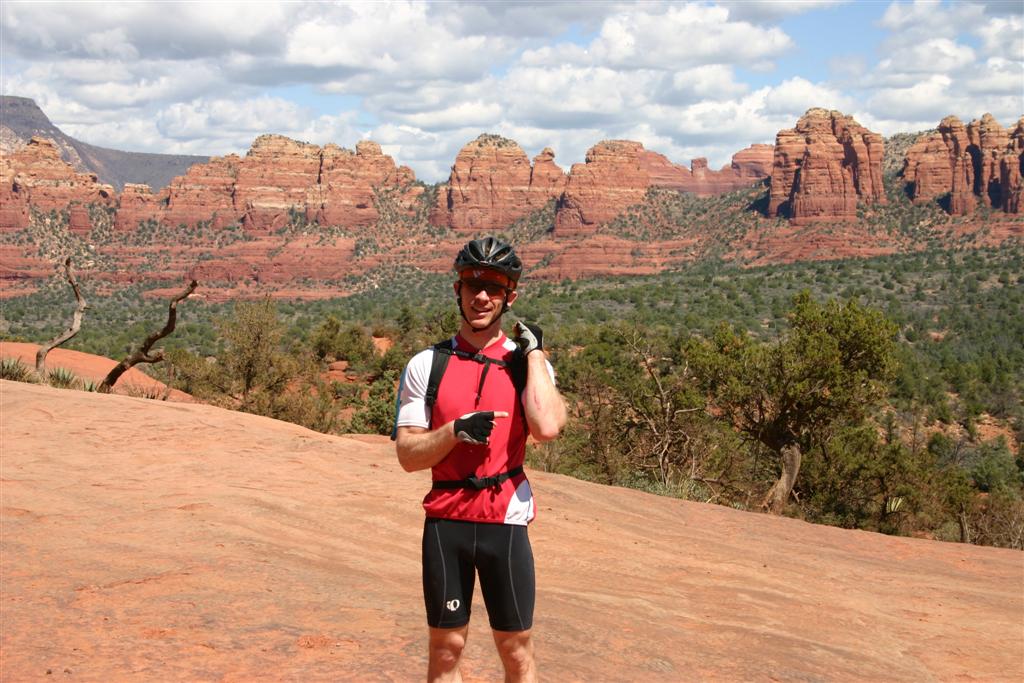 Dave a little further down Broken Arrow after going over the bars.  Lots of red slickrock to ride on here.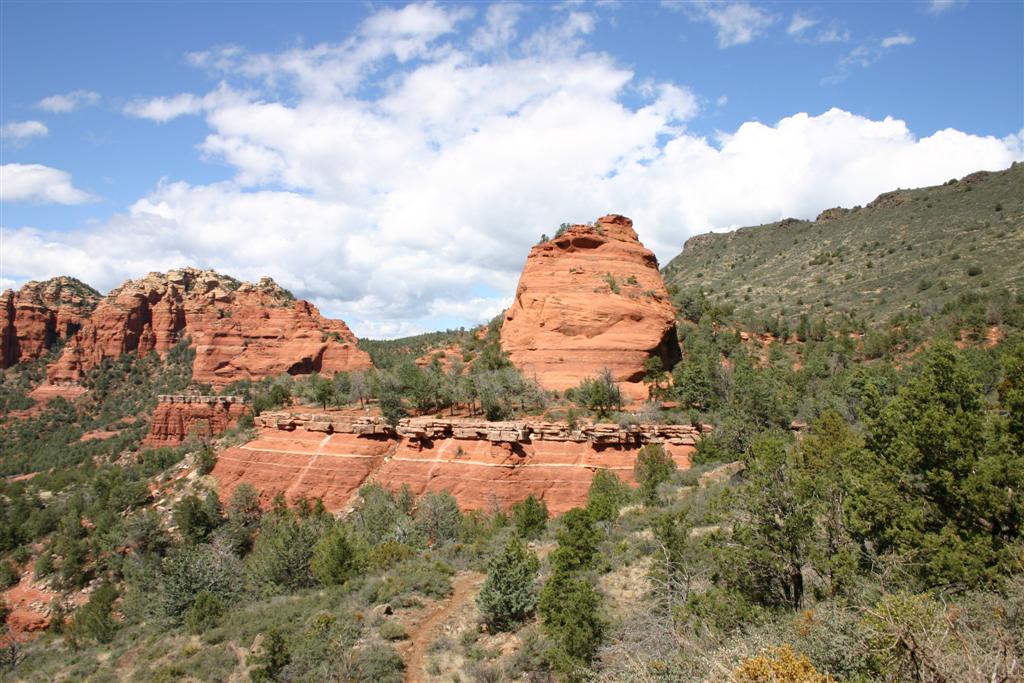 The "Merry Go Round" on Schenbly Hill Road.  You can walk around this in a spiral until reaching the top.  Bad
idea in steel cleated cycling shoes.  The Munds Wagon singletrack is visible just below the merry go round.  We take
this back down after reaching the ridge line.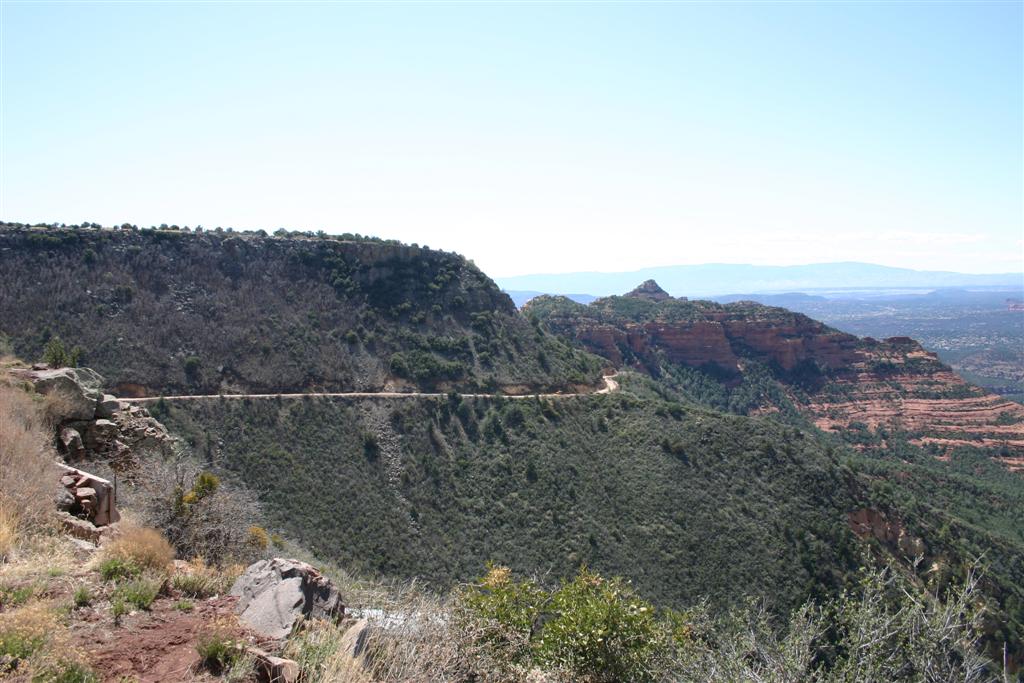 From top of Schnebly Hill Road, which climbs nearly 2000ft out of the Sedona/Oak Creak valley.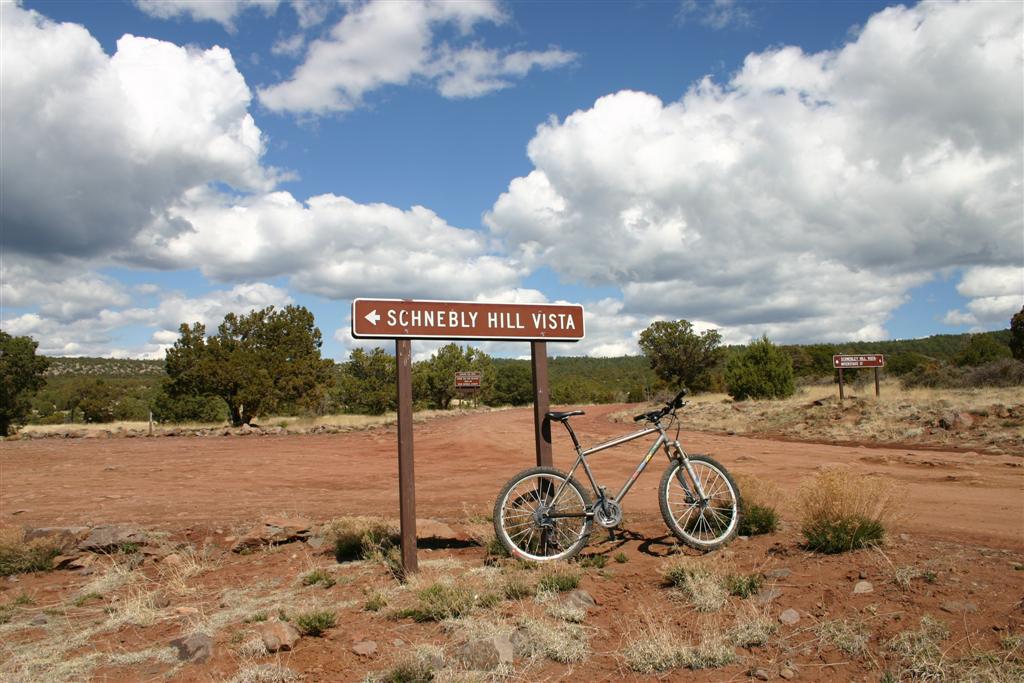 The vegetation up here was noticeably different.  Just a tad cooler too, at 6000ft.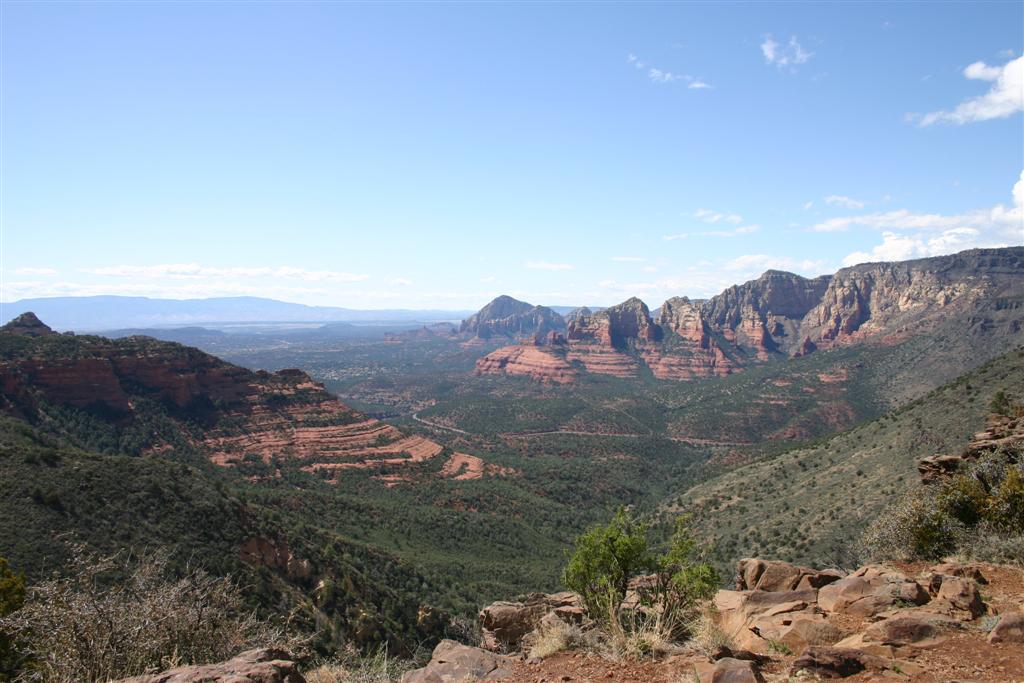 View from Schnebly Hill overlook.  Sedona is in distant background center left of image.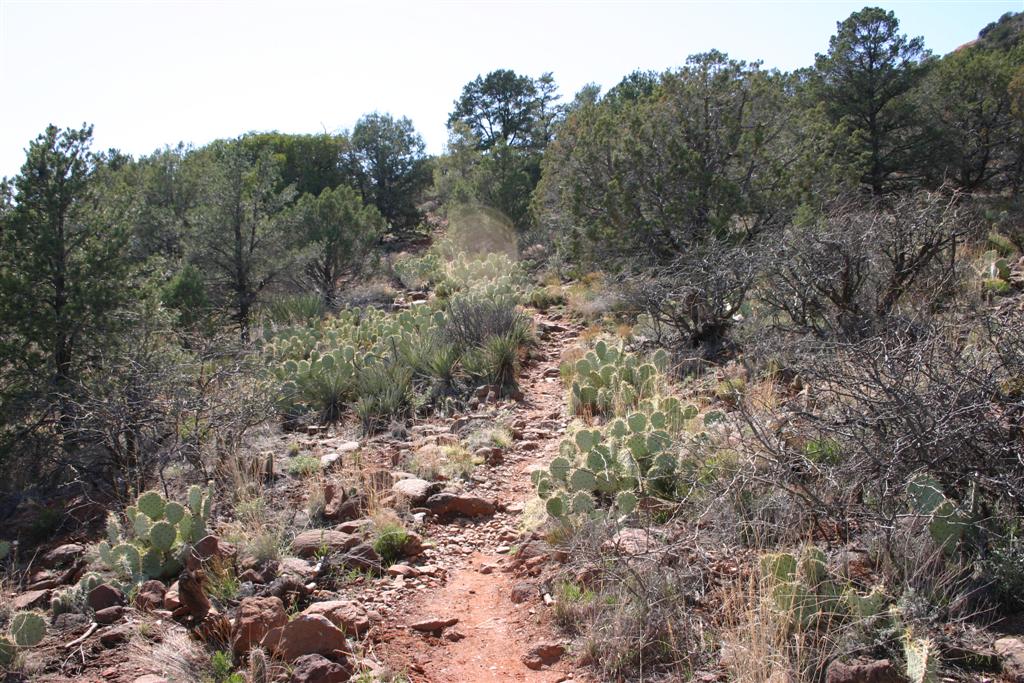 Climb up Brewer Trail to the airport mesa was wicked steep, full of loose rocks, and you could not afford
to fall anywhere unless you wanted to go to hospital for thorn extraction.  Dave did topple over along this
segment, but fortunately he did not directly fall on any cacti.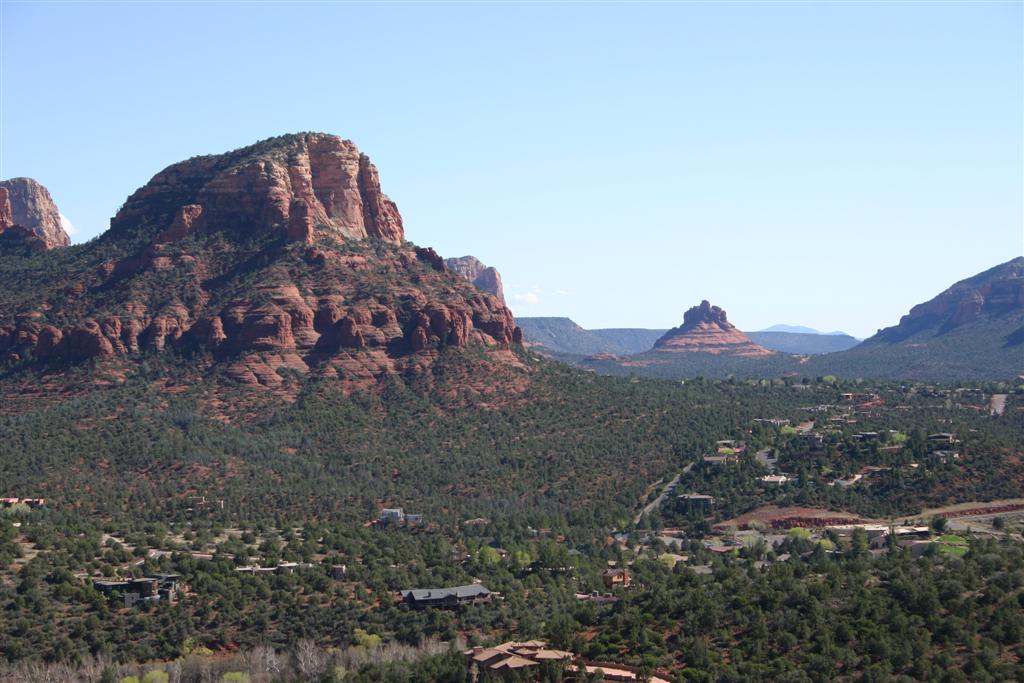 Bell Rock from Brewer Trail looking over Sedona  We are parked a couple miles beyond Bell Rock,
and the day was getting late.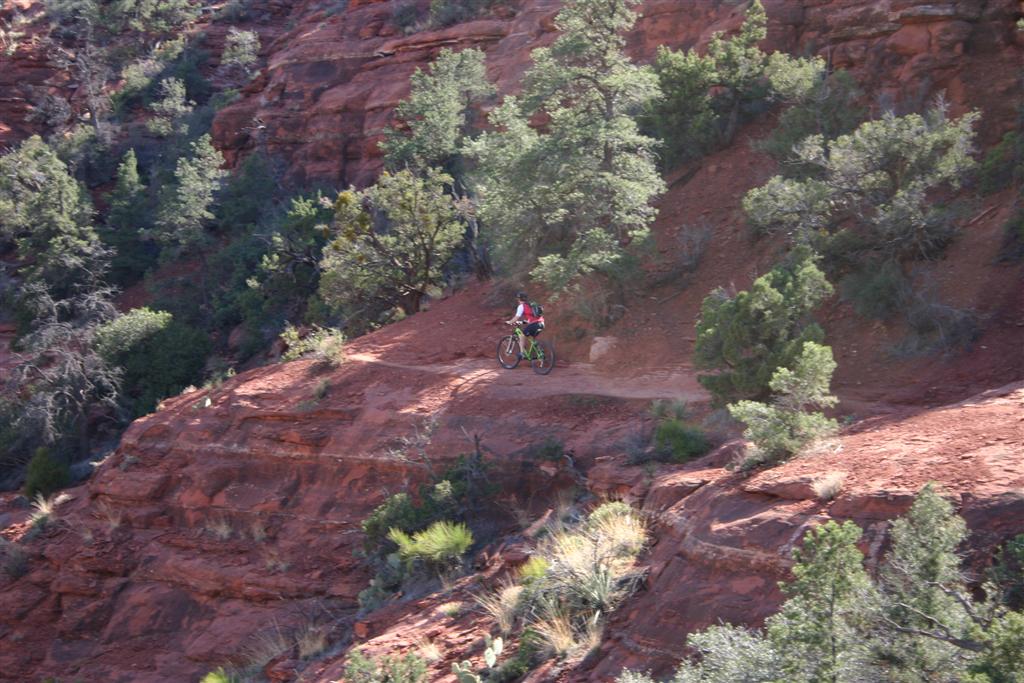 Dave on initial part of Airport Loop trail.  You don't look down in spots like this.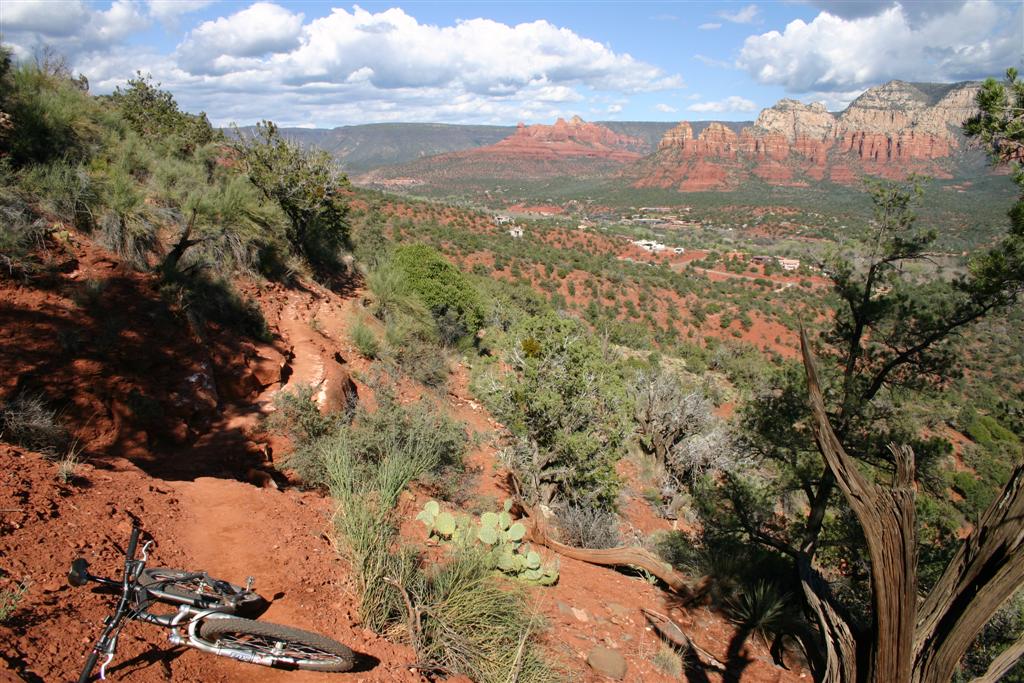 Airport Loop trail looking northeast towards Schenbly Hill ridgeline in far distance.  With sun getting low
in sky, west facing rocks are brilliantly illuminated.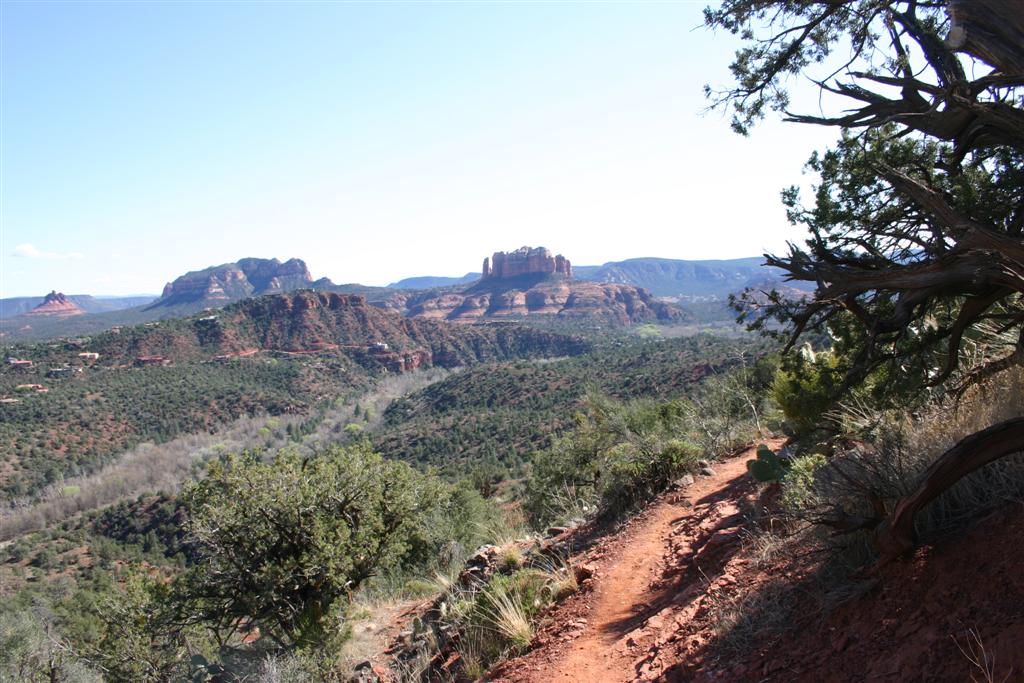 From Airport Loop trail looking south.  Bell Rock on far left, Cathedral Rock in center of image.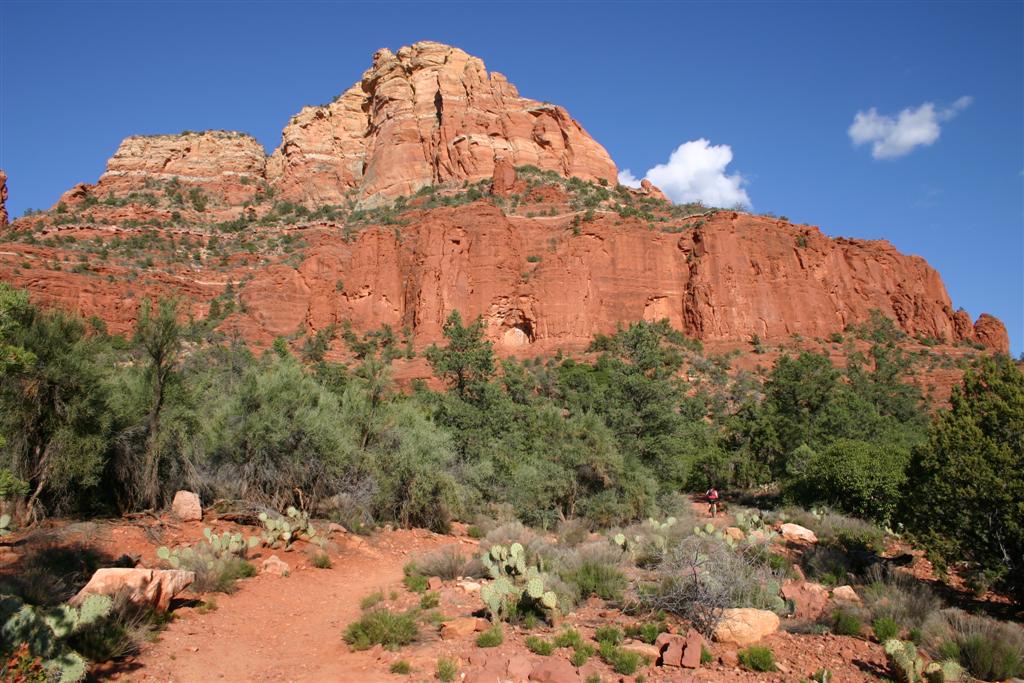 Dave finishing up ride on Mystic Trail.  I think this is part of Twin Buttes here.
National Trail/Desert Classic, 26-MAR-07
Phoenix
34.8 miles
5:28 riding time (approx. 7 hrs total time)
6430 feet climbing
8860-11,420 feet elevation range
The drive back to Phoenix was supposed to be 1.5hrs, but traffic in Tucson and Phoenix sucks.  Sunday night, bumper to bumper for miles at a time. Why??  We hit traffic like this all weekend.  It's worse during the week.  The Sonic malted shake did hit the spot though, holding us over for more food later in Phoenix.  When we checked in to Ramada Inn, the place had no water!  Just a dribble came out.  I was irate and called the desk for another room.  Manager said a pipe broke for whole hotel, and water would be back on shortly.  The place overall was a dump for over $100 per night.  Water eventually came on.
Plan was to ride the National/Classic loop just two miles away in South Mountain Park, where we did first ride of trip, before checking out.  We drove there to avoid mingling with rush hour traffic.  Our legs were too cooked to ride the trials type terrain of the National Trail up on mountain ridgeline.  We came back down from National and biked an out-and-back on Desert Classic Trail instead.  This was mostly buff, much flatter terrain that could be ridden very fast.   Classic gradually climbs from trailhead.  We rode out until we had just enough time to get back, shower, pack bikes, and check out at 11am.  On way back on Desert Classic, I lit it up, hammering big ring all the way back, often at speeds around 25mph.  Came close to sliding out around corners many times.  Was wicked fun, and it's the way that trail is meant to be ridden.
The bike pack, checkout, bike drop-off, and rental car return all went smoothly.  We even had time to get another Sonic malted shake (only 950 calories)!  The direct flight back to Boston was even slightly ahead of schedule.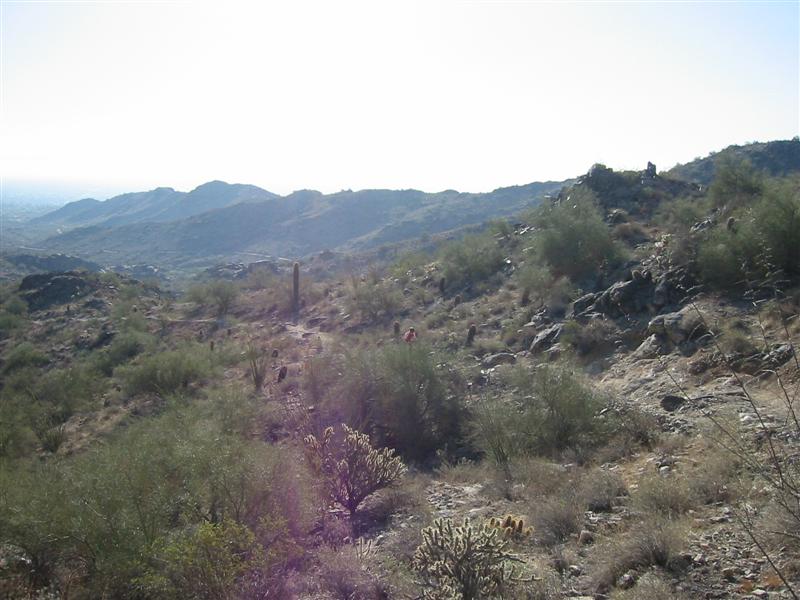 Looking southeast into sun with Dave coming up National Trail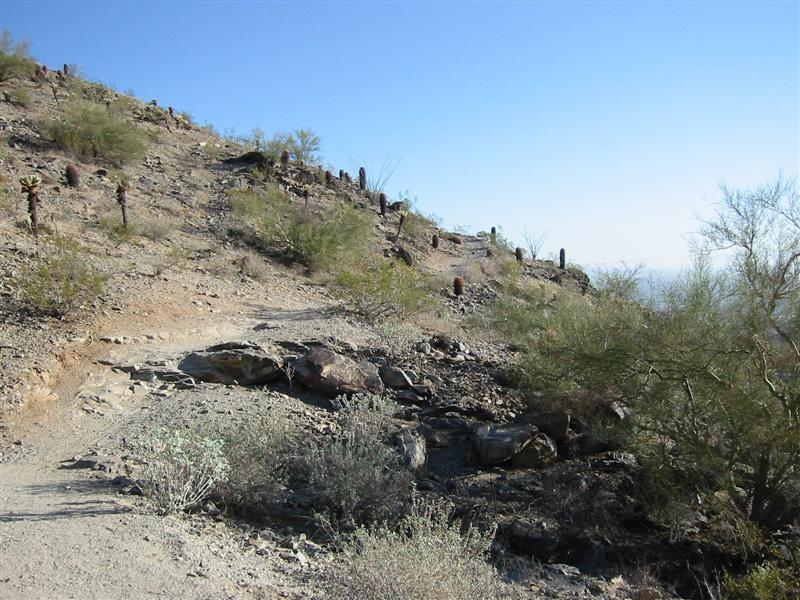 Looking up one of the rare easy patches of National Trail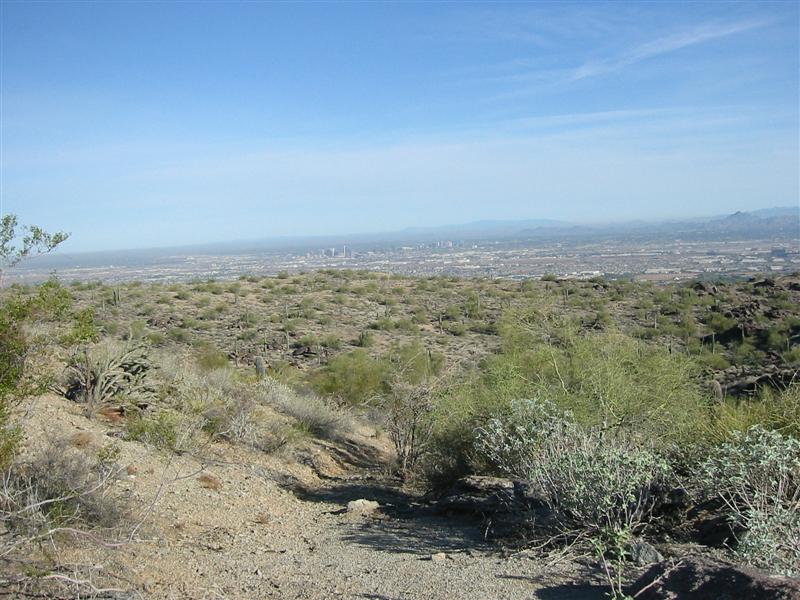 Phoenix from ridgeline of National Trail
Summary
Having come close to canceling this trip due to abysmal forecast, it turned out quite well.  We got poured on the first day and cut short by factor of two the riding I hoped to do.  We never made it to the McDowell Mountain Park where we planned to ride Thursday.  We did not get to do the planned Squeeze-the-Lemmon epic either, but still got 75% of the planned riding in that day anyway.  Saturday went almost as planed, riding all of the Fantasy Island trails and riding a variant of the planned 50-Year/Charouleau Gap loop.  Riding in Sedona on Sunday exceeded my expectations, both in scenery and riding fun factor.  We didn't nearly cover all of the trails on my wish list, but I knew that would be the case.  We stopped a little more often on this ride and some of the terrain was extremely technical.  Sedona was thoroughly satisfying however, easily making the trip worth while in itself.  The last day didn't quite go to plan either, but this was not a bad thing.  We were so wiped out from getting in great rides the prior three days.  We played it safe to not be rushed wrapping up another great cycling trip.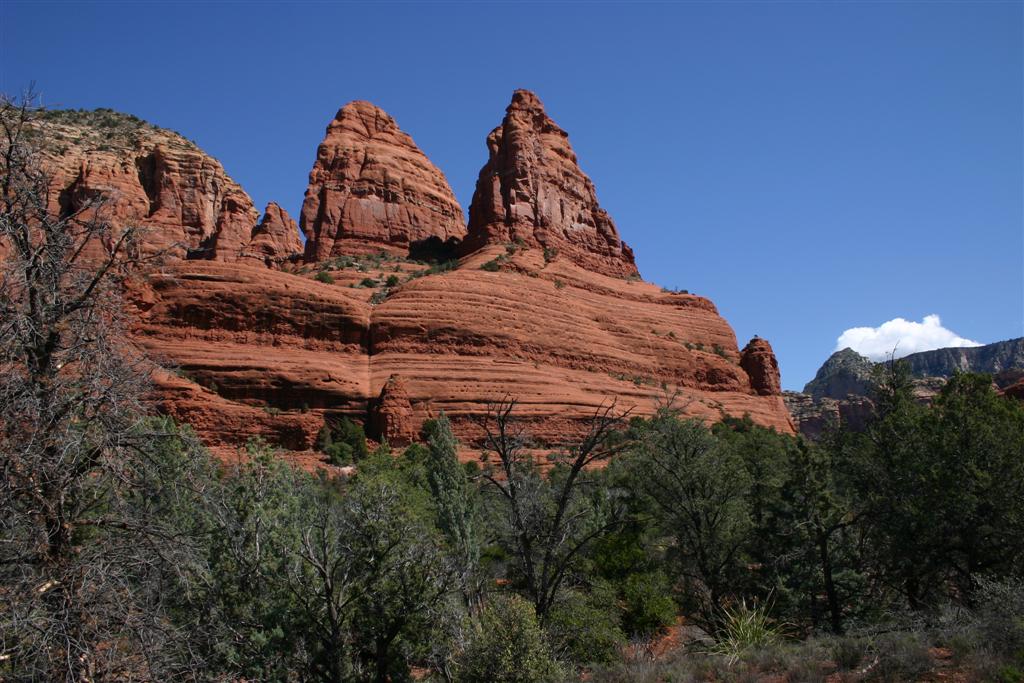 Report compiled on 29-MAR-2007 by Doug Jansen.
Permission to use any image is granted.