Alaska Family Trip
June 23 Ė July 2, 2006
by
Doug Jansen
Trip Highlights:
Doug and Cathy from NH and Mom Jansen from MI visited Anchorage (3 days), Seward (4 days), and Denali National Park (1 day)
Activities: Bike, Hike, Boat Tour, and Bus Tour (women)
Biked in

Chugach

State forest (two areas),

Chugach

National Forest (several areas), and Denali, hiked to Exit Glacier, took boat tour of Kenai Fjords National Park, women hiked Flat Top

Mtn

, bus toured Denali, and shopped
Seven Days Cycling summary

258.7 miles
23 hours, 8 minutes riding time
23,600 feet of climbing
Zero mechanicals and crashes

Wildlife sightings: Moose, Caribou, Black Bear, Marmots, Porcupine, Porpoises, Humpback Whales, Sea Otters, Harbor Seals, Sea Lions, Bald Eagles, Puffins, and many other bird species.

†

Women also saw Brown Bear, Dahl Sheep, Golden Eagles, and Fox.
Powerline Pass, Anchorage
Saturday, June 24, Loop Over Powerline Pass
36.0 miles
3:33 hours riding time (4:10 total elapsed time)
~4500 feet climbing
We arrived in Anchorage on time Friday evening.† I traveled with my Dean Colonel hardtail using USA Cycling free bike vouchers for United Airlines.† Anchorage is 4 hours behind eastern time zone, so when we got to hotel, it was very late eastern time.† It was hard to sleep in.† While the sun does set, it barely does so very late, rises early, and never gets completely dark.
Weather was decent Saturday morning.† We all drove out to Glen Alps where trailhead parking for Flat Top Mountain and Powerline Pass trails is located.† Mom and Cathy were going to hike Flattop while I biked Powerline.
Powerline Pass is popular ski and snow machine route in winter, but is open to mountain bikes in summer.† Parking is at 2250 feet elevation, while the pass is at 3550 feet.† The trail is essentially ATV/jeep road.† It gains elevation modestly for a while, then much steeper in the pass headwall area.† On the back side, the descent is the steepest Iíve attempted, an Łber hairball drop back to sea level.
The entire ride is highly scenic, huge mountains in any direction, open views of Anchorage down the valley, and views across Turnagain Arm on Indian side of pass.† Power lines subtracted only a little from scenery, as the valley is vast and powerlines were barely visible at times.† This ride is popular among local riders as it is so accessible.
As I approached the pass headwall, I realized I missed a side trail that traverses at a more manageable climbing grade. †There would be no way to climb the headwall directly.† Itís nearly vertical loose, shaly rocks, with a huge ribbon of snow wrapping around the top.† I became deeply worried, as any path over the pass necessitated traversing extremely steep hardened snow fields.† I was worried about both sliding off to my doom or avalanche.† I read warnings advising not to cross here in the winter due to extreme avalanche danger.† Being end of June, I speculated avalanche danger was past, as the snow had a couple months to settle and reach equal temperature (what they call isothermal I think).† But the snowpack was hard, and you couldnít just walk across it without going for a ride hundreds of feet down, only to be spit out on loose, sharp rocks at incredible speed.
The first band of snow had slid previously, and went from hundreds of feet above to hundreds below.† I had to kick each foot hold into the icy pack before moving the next foot forward, all the while holding my bike up with right arm and my body up with left arm against the snow pack.† I was petrified.† Really needed crampons, and I had no business crossing that stuff without proper gear.
The second band of snow at the head wall was even more terrifying, as it was steeper and it tapered off to vertical below with nastier rocks below that.† A fall here would have been catastrophic.† It must have taken me 20 minutes to cross 50 feet of snow.† At one point, I was so scared I didnít think I could go on or go back.† I made it across and nearly kissed the ground.† The pictures donít do these snow patches justice, as they donít show how icy it was or what was below the snow.
The descent to Indian looked nice to start.† Very rocky, couldnít carry much speed with my hardtail.† But eventually the powerlines dog leg to the right and bring Turnagain Arm (branch of Cook Inlet) into view.† I thought to myself, this ainít too good.† I was still at around 3000 feet, but in about a mile it looked like sea level.† Parts of this descent were so steep that I could not control my speed with butt dragging on back of rear tire.† It was just as scary to walk vs. ride down a couple sections of this, which I ended up doing, sliding and catching myself at times.† Maybe with a relaxed geometry DH oriented bike, this would be doable.† Not with my racy hardtail though.† Grade eventually relaxes as foliage becomes dense.† Tons of bear scat about, so I kept my speed down a bit and my eyes tuned.† I did not have bell or spray at this point.† Bugs were nasty on this side where it was warmer in the sun.
I dump out on the Seward Highway that follows Turnagain Arm to Anchorage.† Flat, but right into the wind.† Had 12-15 miles of this before beginning climb back to car.† The 2250ft climb about killed me.† The ride took way more out of me than I had planned.† It was supposed to be a ďwarm-up to AlaskaĒ kind of ride, but was as hard as any 3-4hr hammerfest I do at home.† I think part of this was due to 30-40 minutes of kicking way across snow fields, using a lot of muscles not normally used.† The climbing was harder and steeper than expected too.† Saw no other bikers.† Wonder why?† Overall, a very satisfying ride.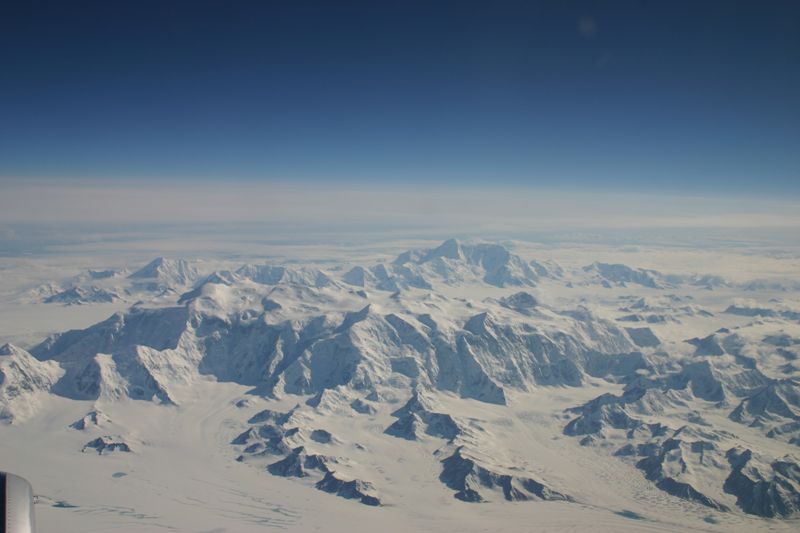 Mt Logan, highest point in Canada in the Yukon, from 36,000 feet.† Mt McKinley is only few hundred feet higher.
Area here for hundreds of miles around was glaciated or covered in snow at the end of June.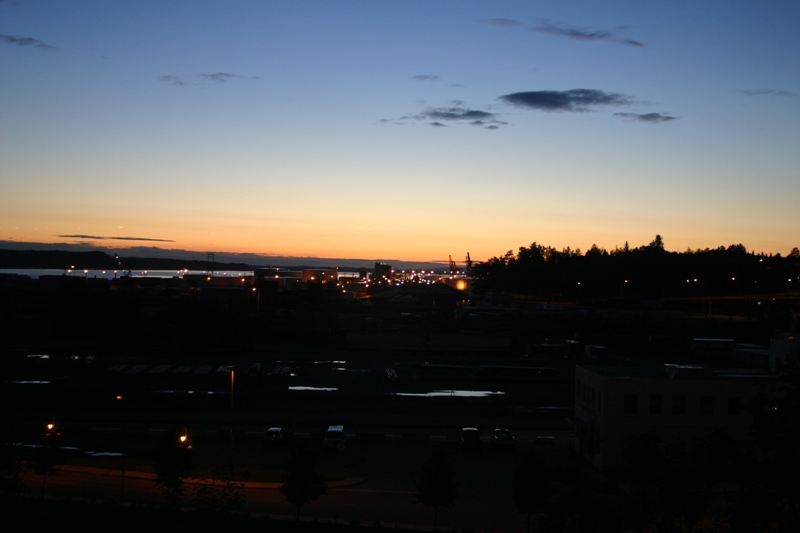 2:30am in Anchorage, looking due north.† The streets were much brighter than they appear in this photo.† This was
darkest part of night.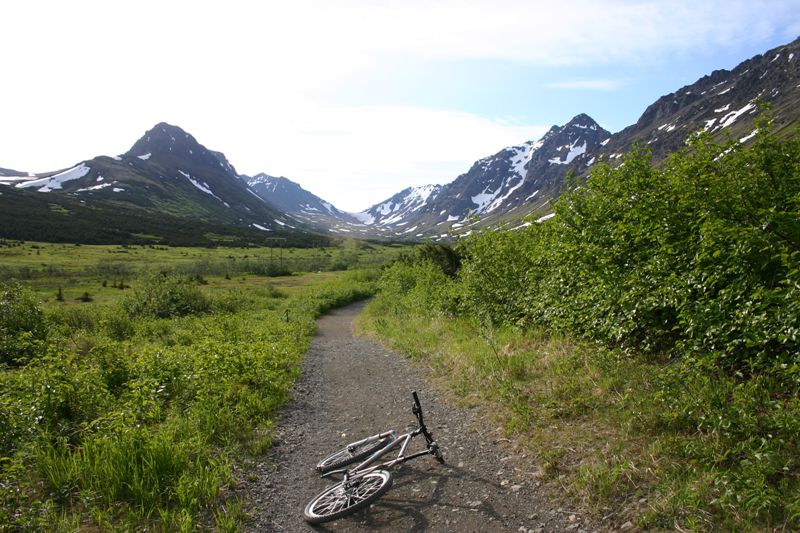 Beginning climb up Powerline Pass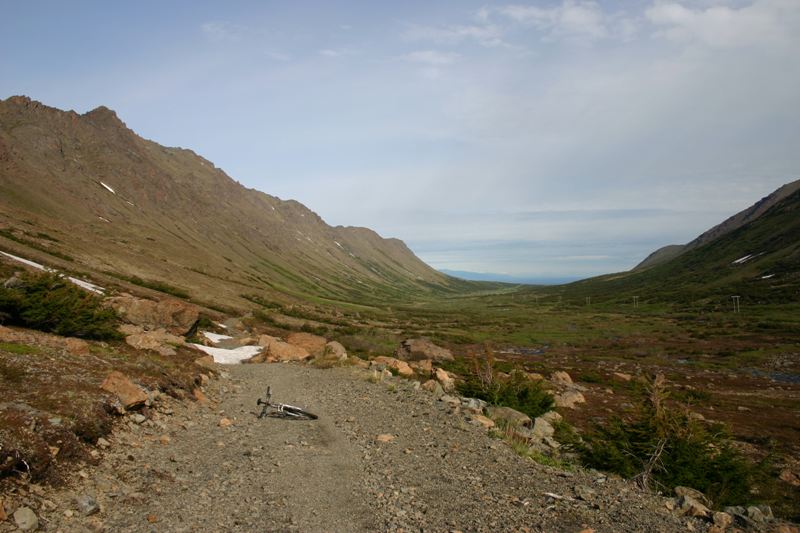 Part way up pass looking back towards Anchorage
Getting closer to pass head wall. Faint upper trail on left was only feasible route.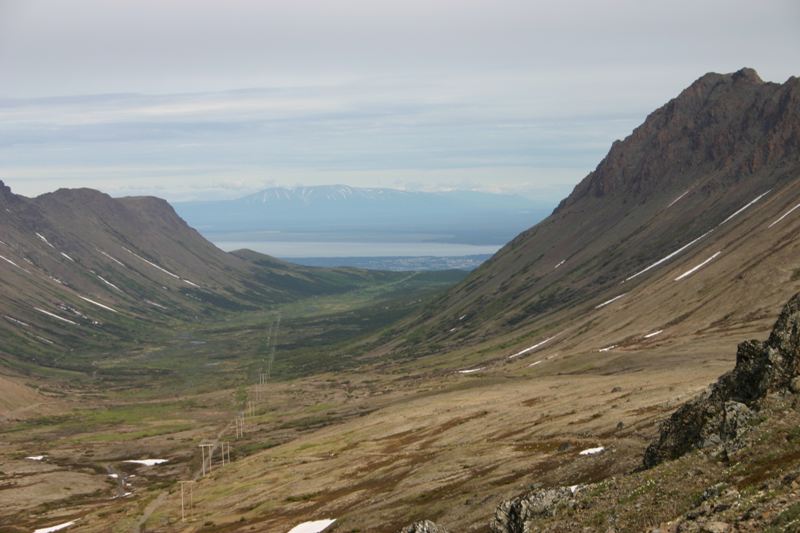 Anchorage bowl and mountains across the Knik Arm.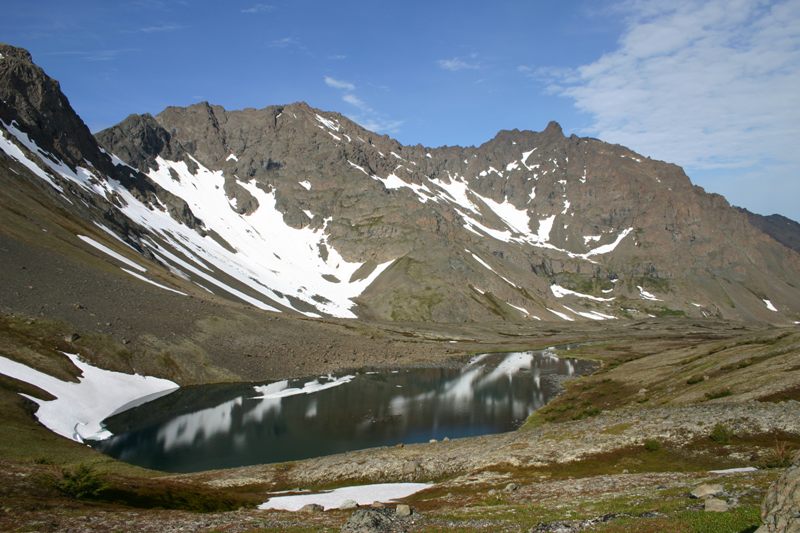 Green Lake with Ptarmigan Peak reflecting.
First snow crossing.† Scaling this image says about 70% grade.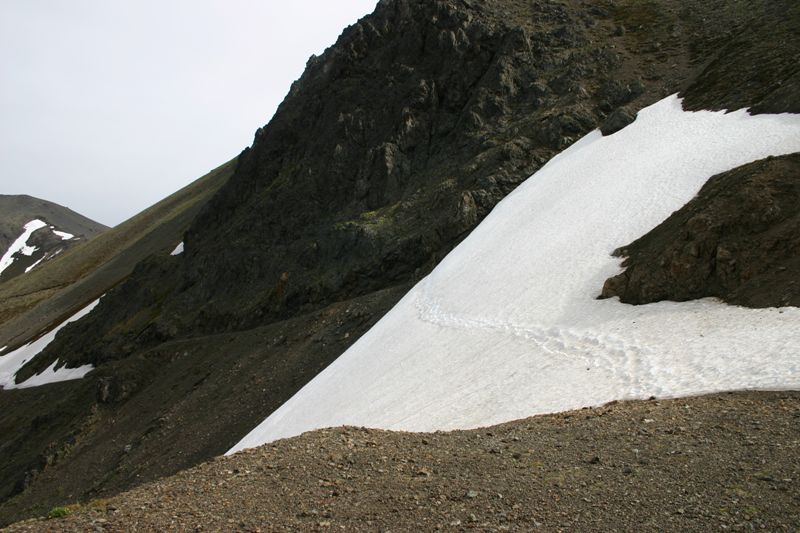 Second snow crossing.† Nearly 100% grade, and it dropped to near vertical out of view.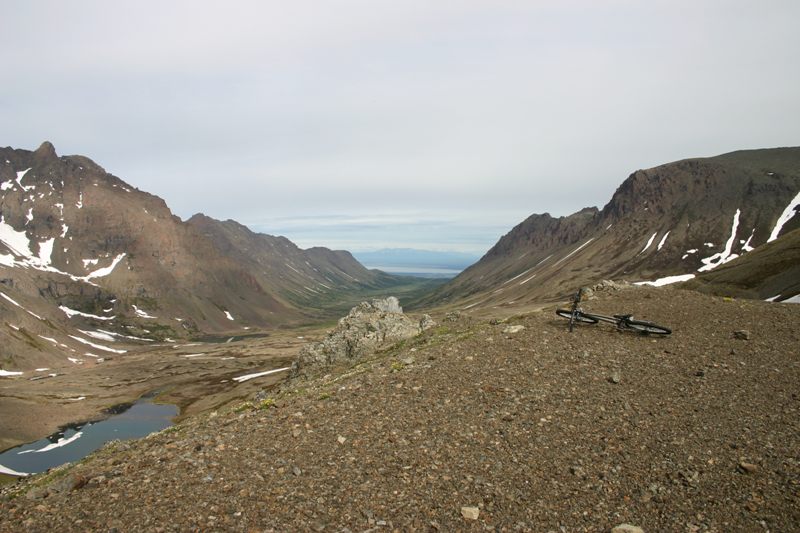 From pass looking back to Anchorage.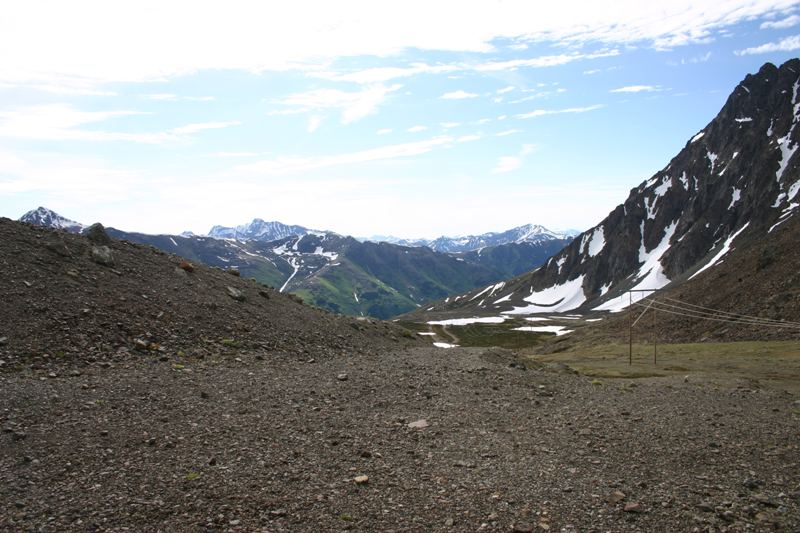 From pass looking down valley towards Indian (not visible yet).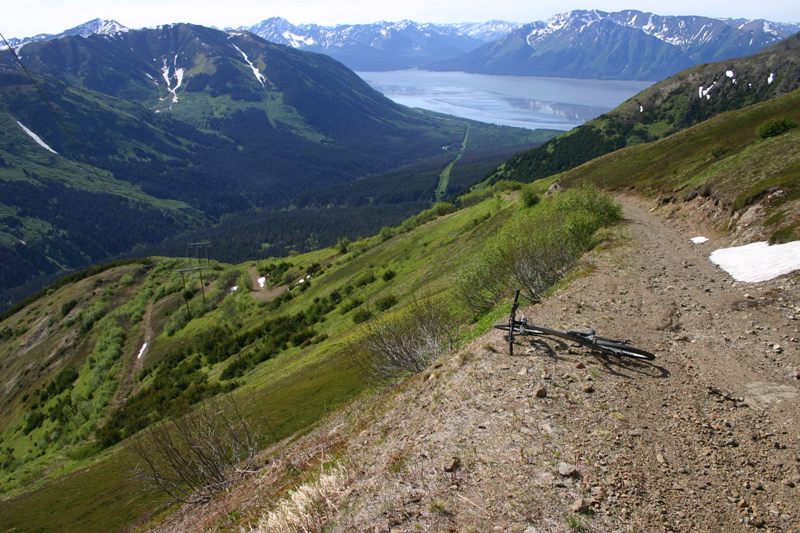 Plummet to Indian in cove below.† Drop 3000ft in very short distance here.† Water/mud flat is Turnagain Arm,
mountains on other side are Kenai Peninsula where I did epic singletrack rides.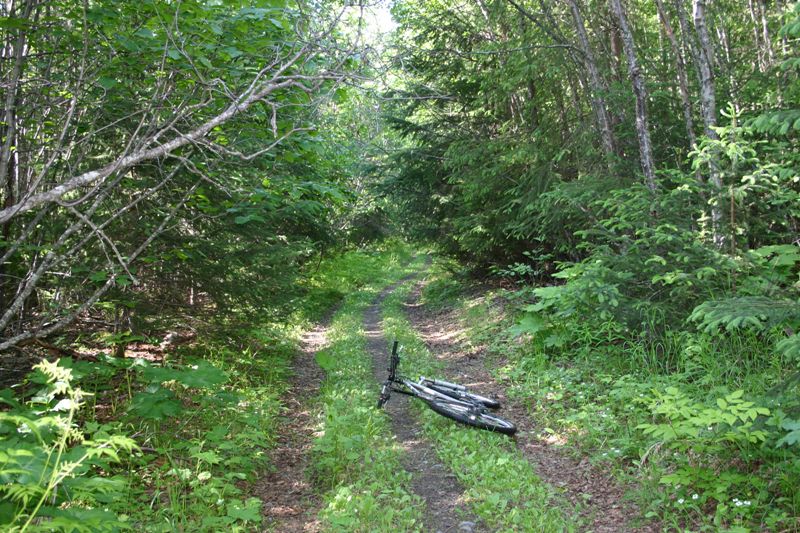 Near bottom.† Wet in places, lots of bear scat in trail.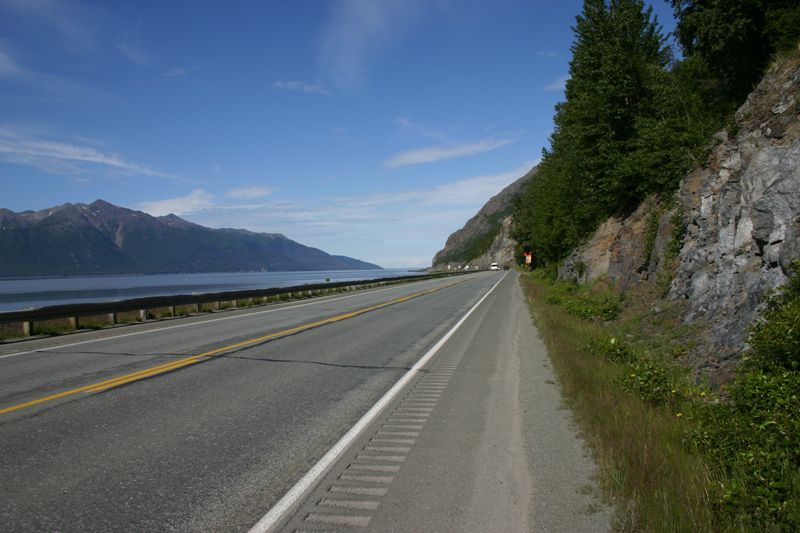 Seward Highway back to Anchorage.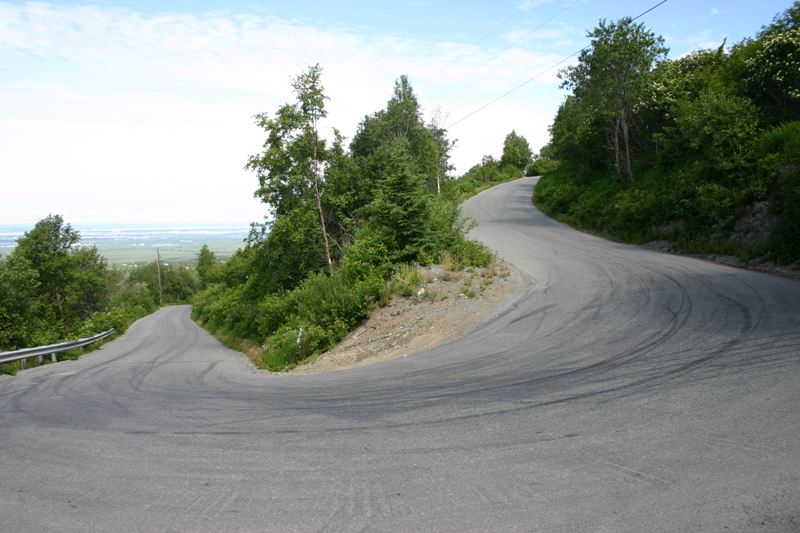 Tollsome Hill Drive back up to Glen Alps trailhead.† Probably around 12% sustained grade.
Lost Lake/Primrose Loop, Seward
Sunday, June 25, Loop Over Lost Lake and Primrose Trails
33.5 miles
3:31 hours riding time (4:25 total elapsed time)
~3500 feet climbing
We spent Saturday night in Anchorage also.† Before retiring for the day, we hit the Omni Theather show on Alaska and REI.† I needed bear spray and chain lube.† I donít fly with chain lube, as the kinds I like are flammable.† I bought the larger canister of bear spray.† It shoots a jet up to 32 feet away.† Idea is, if you are being charged or a bear charge is imminent, you blast a cloud of pepper spray in the bearís path.† It deters some attacks.† Many locals pack large caliber rifles when heading to the woods.† Strangely, moose are feared more by many than bears, and black bears are more apt to kill you than a brown bear (Grizzly).†† My mother brought her bear bell for me to use.† Very annoying, but the alternative (being a bear snack) would be more annoying.† I encountered lone hikers who appeared to carry no protection in the wilderness.† Makes me wonder if it was just concealed, bear encounters are over exaggerated, or the hikers are just stupid.† I did read a statistic though, that only 20 people where killed by bears in Alaska from 1900 to 1985, while from 1975 to 1985, 19 people were killed by dogs.† Hmmm...† Perhaps I should carry the pepper spray with me on my local angry dog road rides.† I bought a bottle cage and foam beverage cooler per recommendation of REI sales person.† The foam cooler makes the smaller diameter bear spray canister fit snuggly in bottle cage, yet it is highly accessible.
Sunday morning we drove to Seward.† The women were going to drop me off at the Lost Lake trailhead, then continue another five miles to Seward to check in and tour the quaint fishing village.† Seward is a lot like Ogunquit, Maine.† Tides can range 33 feet though, which is incredible.† My plan was to ride the Seward Hwy back to town after finishing ride on the Primrose trail.
Lost Lake Trail climbs to the lake on beautiful singletrack.† Forested at first, but then opens up to expansive views of tundra and glaciated mountain peaks.† Was cold up here, and much snow was around.† Also experienced a few brief downpours.† Could go from partly cloudy to rain and back in minutes.† Lost Lake was still completely frozen over in the last week of June!† Plus, I must have gotten off the bike 25 times or more to hike across snow patches.† Snow was like spring corn snow and was utterly unrideable.† In places, feet would break through and youíd end up thigh deep in sharp ice crystals.† Shins got cut up good, as I did not wear tights.† They call this post holing.† I had to be careful, as water undermines the snow in places.† I didnít want to disappear until all of the snow melted later in summer.
I met two bikers coming up from opposite direction.† I contemplated aborting and enjoying the great 2400ft descent back down Lost Lake Trail.† They commented that it took them an hour to cross the pass with numerous snow patches, but encouraged me to do same as the descent down the Primrose Trail was worth it.† They said it was steeper and more technical.
After having my shoes packed with corn snow for an hour with no feeling left in my feet, I put the last of the snow behind me.† At least there were no bugs up top.† The view of Kenai Lake appears, and the descent begins.† Totally fun stuff to blast.† Scary thing was you never know when a bear is just around the corner.† Bears donít like to be surprised, especially sows with cubs.† I make it down to the lake and the Seward Hwy to begin the 17-18 mile paved ride back into town.† I was going right into a vicious headwind again and dying the whole way.† This ride took even more out of me than previous day, so I was pretty well cooked with over 7 hours saddle time in two days.
My new protection.† Some out-doorsy types appeared to carry nothing, others
carried large caliber firearms.† You are allowed to carry firearms any time of
year in Alaska for self protection.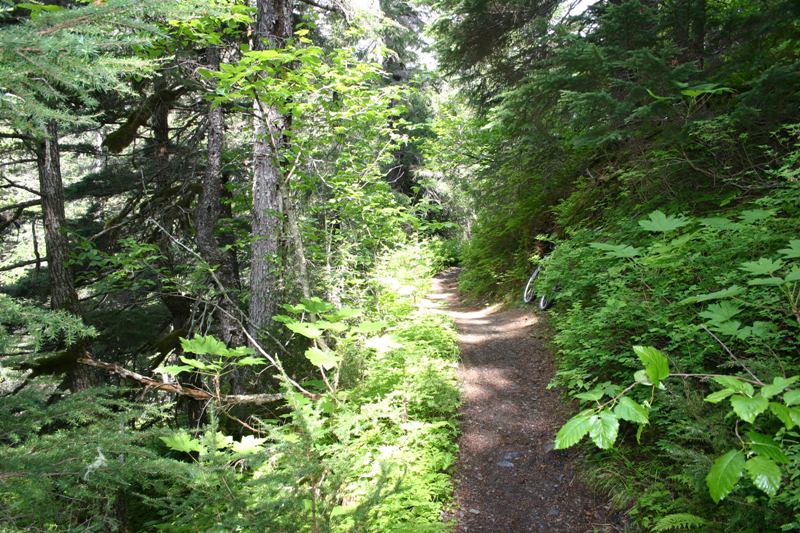 Starting out on bench-cut Lost Lake Trail.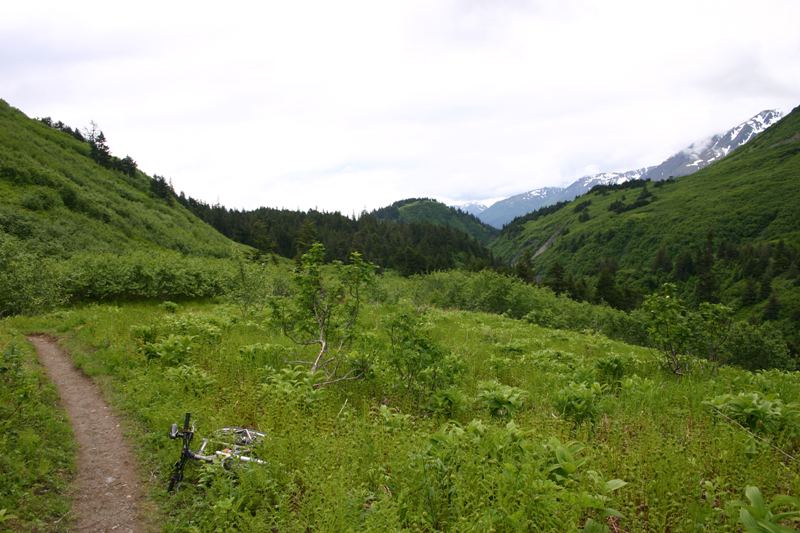 Gaining altitude, losing the trees, but starting to rain.
Raining here, looking back down toward Seward (not visible yet), getting close to tundra.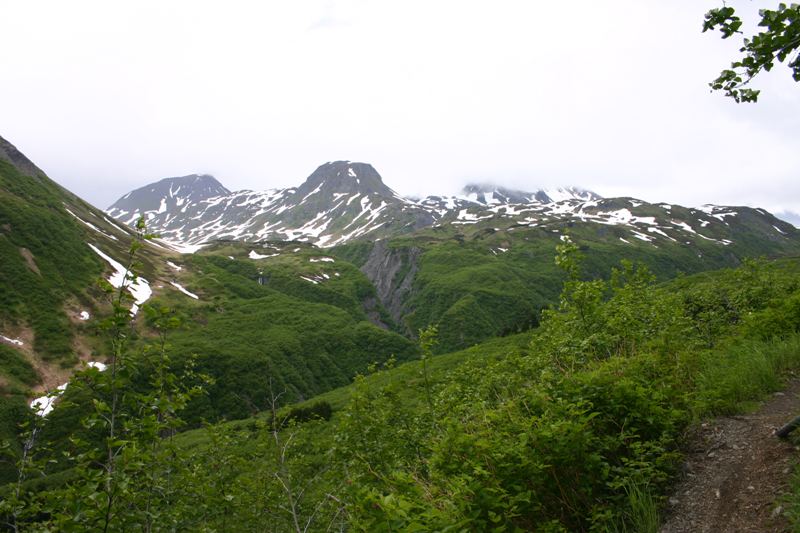 Mt Ascension, obscured by clouds.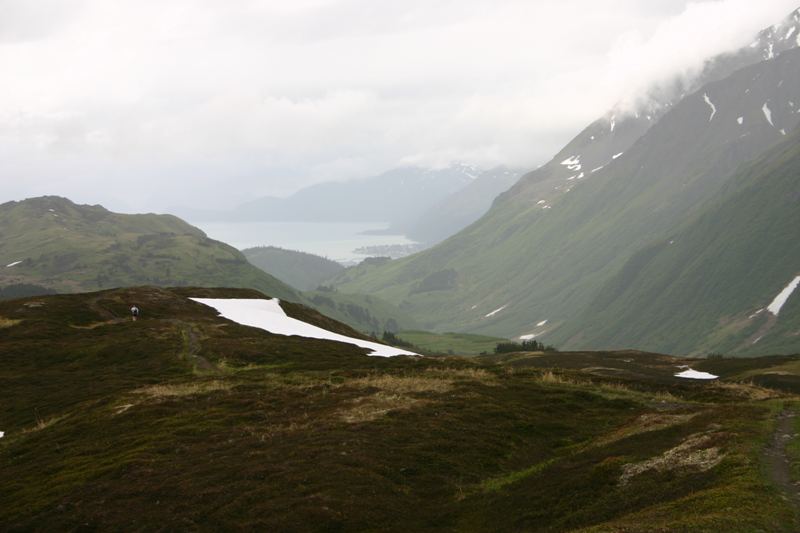 Seward visible in center of image.† Half the shelf it sits on fell into the ocean during the earthquake of
1964.† Some day the rest of it will fall in.† Resurrection Bay is over 900ft deep I believe, so mountains
continue to dive steeply below the waterís surface.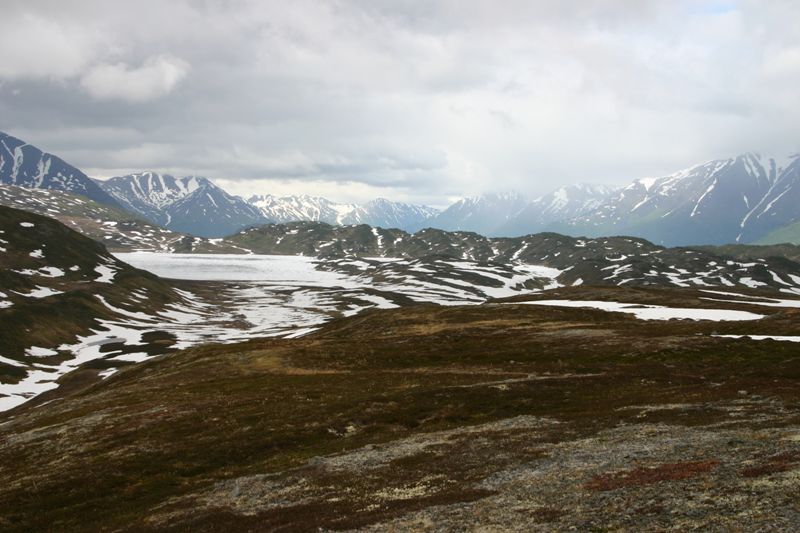 Frozen Lost Lake.† This is near high point of pass.† Might be higher point on other side of lake
where the trail went.† Lots of snow to cross between the two sides of this tundra area.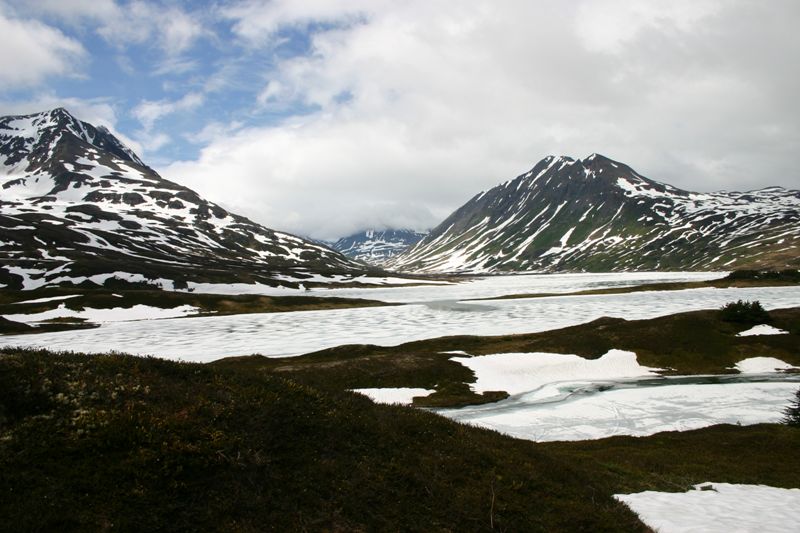 Closer view of Lost Lake from east side.† Photos canít give you any idea how vast this area is.† Mt Ascension, now
in the clear on the left, rises nearly 4000ft above lake.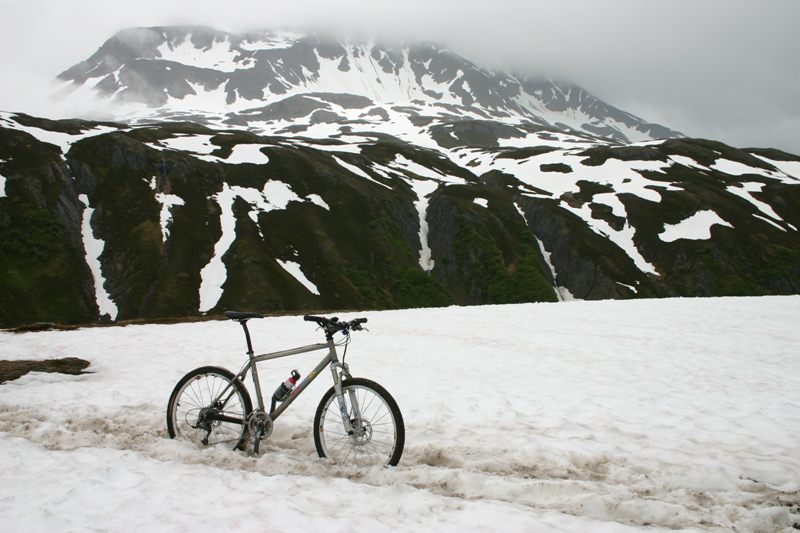 One of many, many snow patches to hike across.† Sometimes snow would give way, tearing legs up on
sharp ice crystals as you went in mid thigh deep.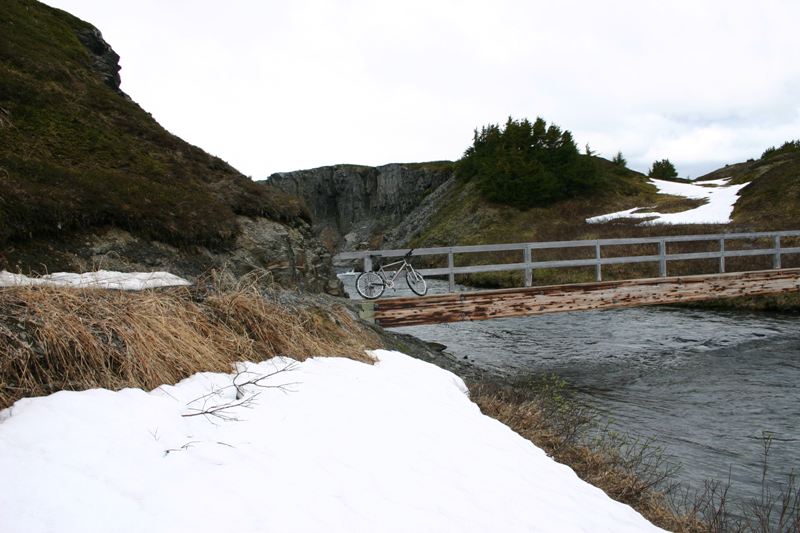 Skinny bridge over Lost Creek.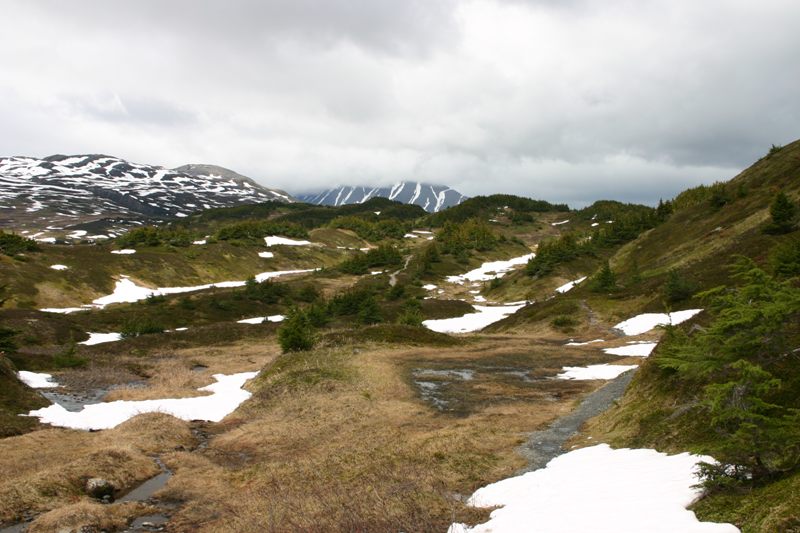 This would be awesome singletrack if you didnít have to get off your bike every 50 feet for snow.
Most of snow behind, now on Primrose Trail.† This was pure bliss to fly on.† Hard packed, narrow, dry gravel surface.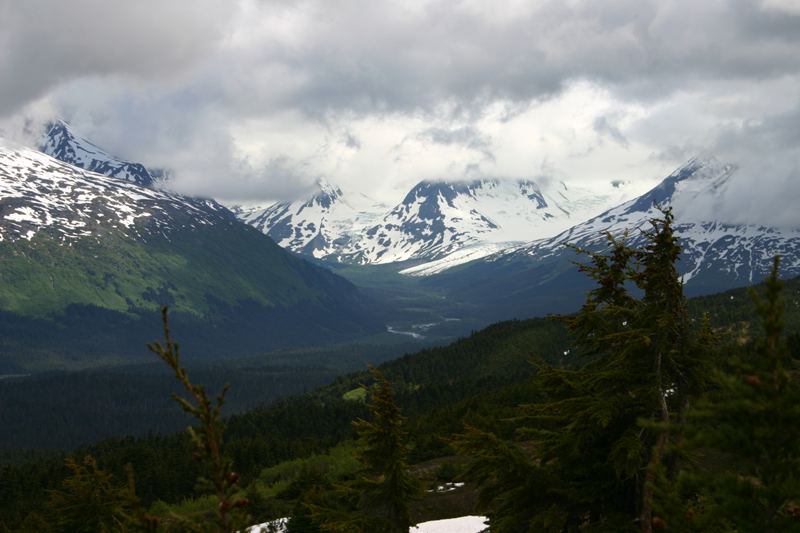 From Lost Lake looking east at glaciated mountains.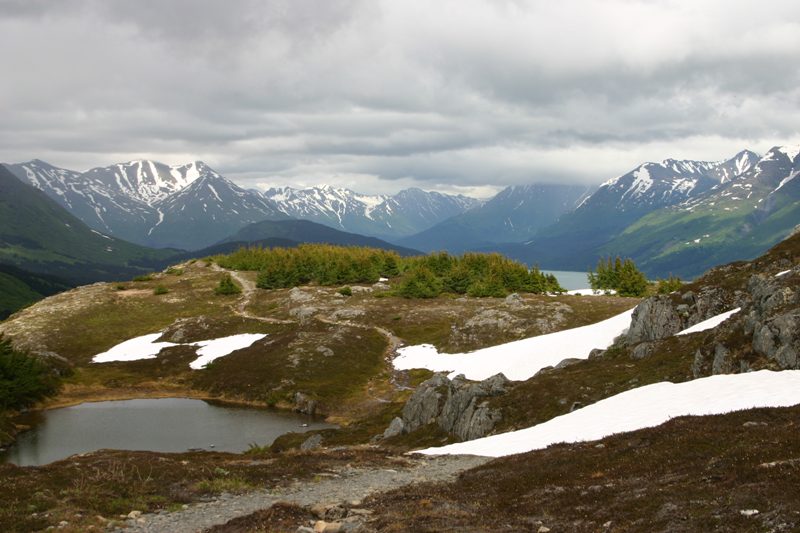 Beginning 2000ft descent to Kenai Lake in distant background.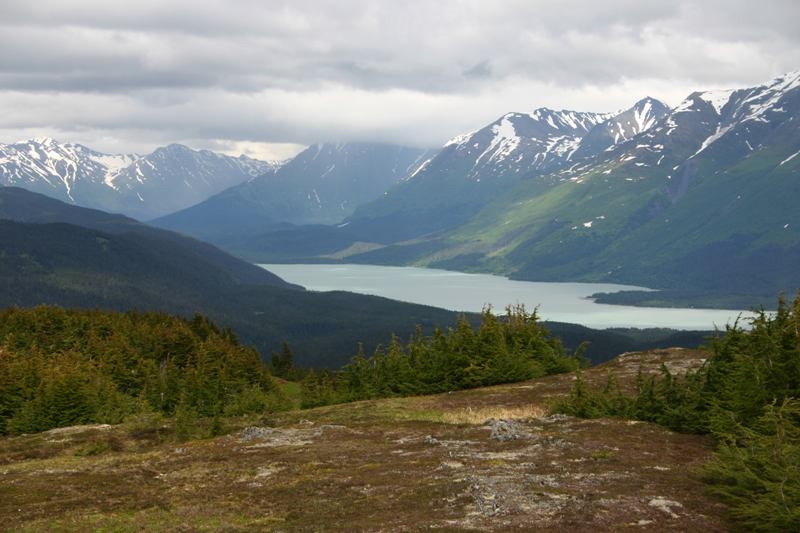 Getting closer to Kenai Lake.† The Seward Highway (not visible) follows the far shoreline.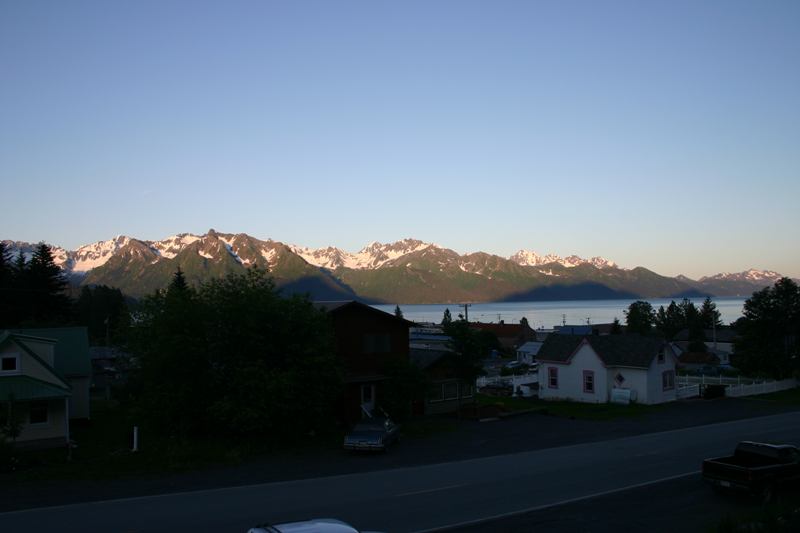 View from our B&B window of Seward and Resurrection Bay.† Marathon Mountain shadow can be seen
cast on mountains several miles across the bay.† This was taken late in evening.
t of Fruita
Kenai Fjords, Seward
Monday, June 26, Kenai Fjords Boat Tour
The weather for Monday was iffy with high probability for rain.† But, as we learned, weather forecasts are horribly inaccurate in the coastal areas.† Locals donít even pay attention to them.† I was pretty trashed and decided to take a rest day.† Original plan was to do capstone ride on Monday, but I opted to join the women on the Kenai Fjords tour.† Room was still available on the boat, as it was half-booked.† We booked the 9.5 hour tour that went all the way out to Northwestern Glacier.† We had the whole lagoon to ourselves, watching glacial ďcalvingĒ and plentiful wildlife.† The tour covered 150 miles by boat and visited many coastal and bay islands where all types of wildlife hang out.† Open seas were quite calm, despite forecast day before for high winds.† When I asked with of the deck mates how calm it was on a scale of 1-10, 10 being too rough for them to go out, he said about 2 or 3.† The day before he said it was an 8.† Mom does not handle high seas well.† We lucked out.† It was also sunny most of the day, and I got horribly sunburned, having forgotten to put sunscreen on.† It looked cloudier over the mountains inland and it might have rained there, but where we were the weather was spectacular.
We ate at Rayís Waterfront restaurant, one of the pricier places in town, but some of the best seafood you can get in Alaska.† I had Salmon on plank of cedar, Cathy and Mom each got Halibut meals.† All of it was very good.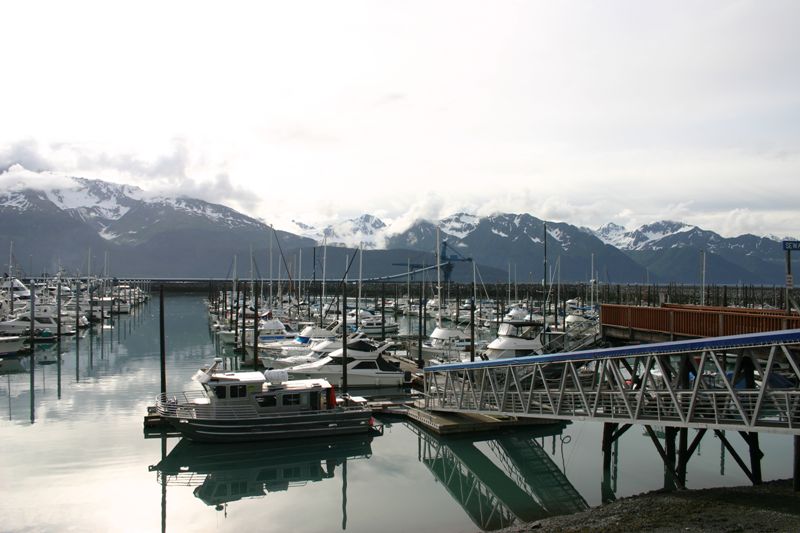 Small boat harbor at Seward.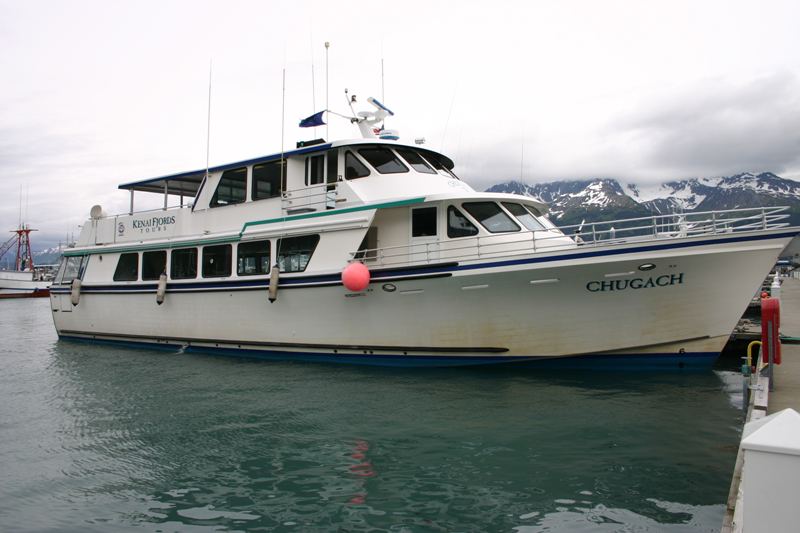 Our cruise boat, the ďChugach.Ē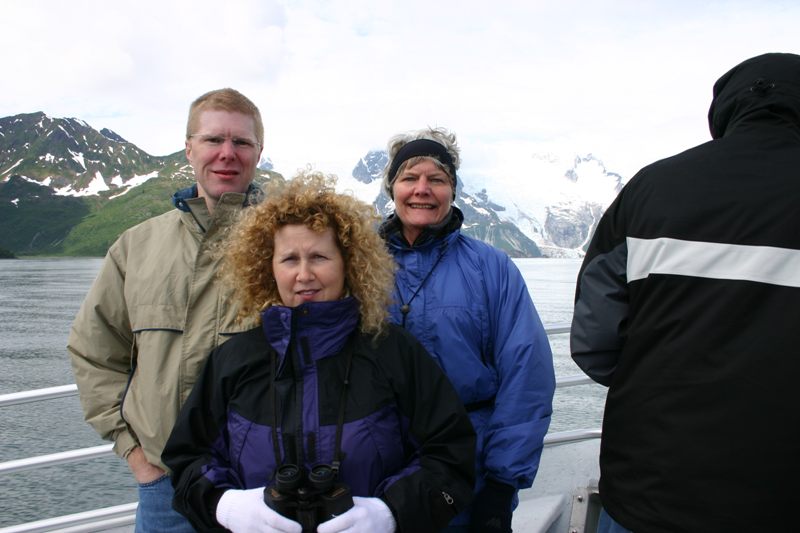 Doug, Cathy, and Mom in Northwestern Lagoon.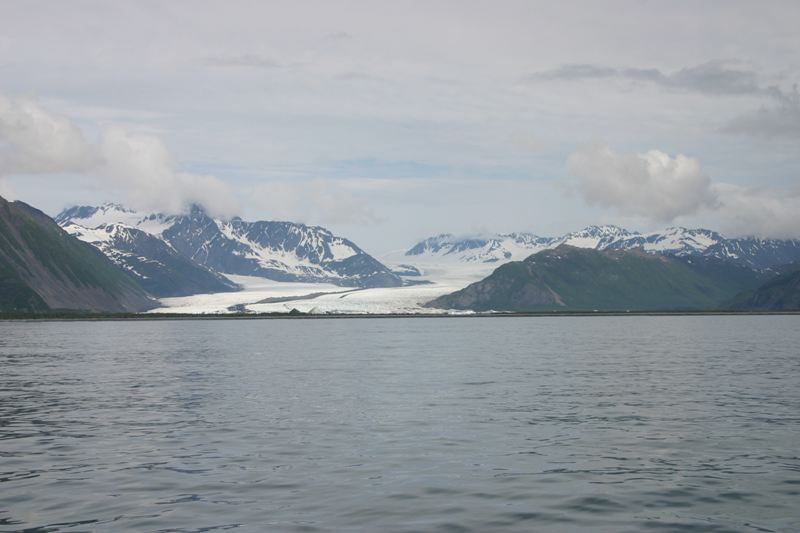 Bear Glacier.† A terminal moraine faintly visible across the front of the glacier
prevented closer inspection by boat.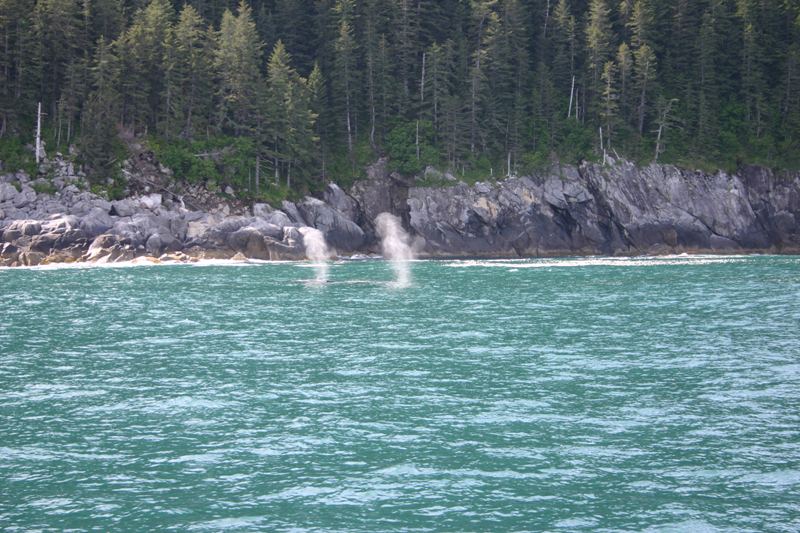 Pair of Humpback Whales in Resurrection Bay.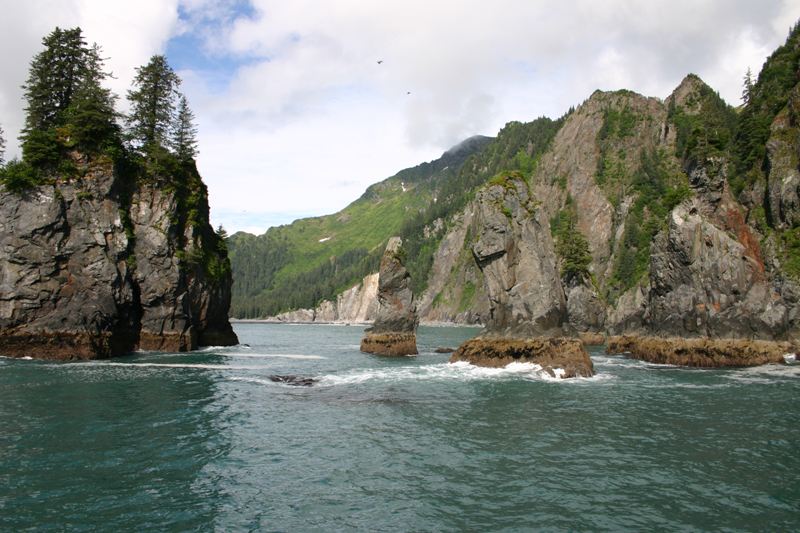 Narrow passage in Resurrection bay.
Marathon Mountain.† You can see the trail that scales the fall line of this monster.† The peak, just obscured
by clouds, is at 3022 feet.† Each 4th of July, a lucky 800 runners get to race it round trip.† It is hands and feet scrambling
most of the way.† Most competitors are bloody by the time they get back down.† Record time is 43 minutes
and change, and thatís round trip!† Glad we got out of Seward before the 4th, as upwards of 20,000 people come
to this tiny village for this event.† Think of it was the Alpe díHuez of the trail running world.† I thought Mom and
Cathy might have wanted to give a try.† Mom thought I was trying to get my inheritance early.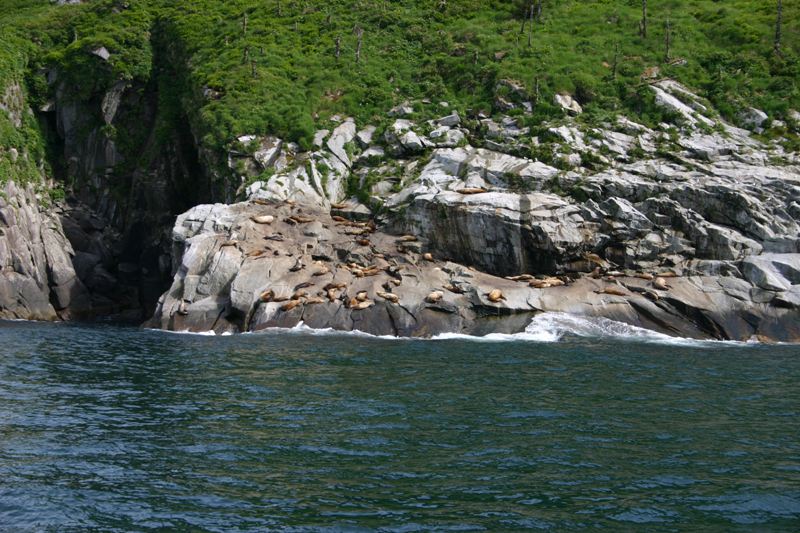 Sea lions basking in the sun.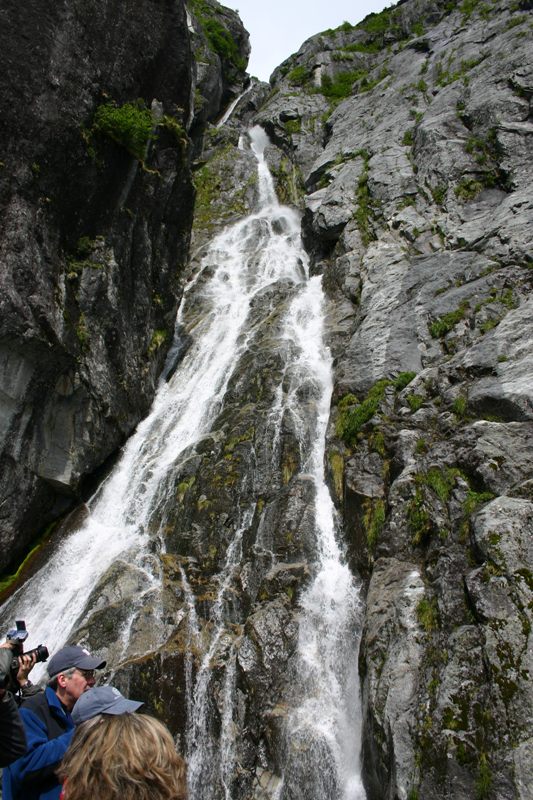 Falls in Northwestern Lagoon.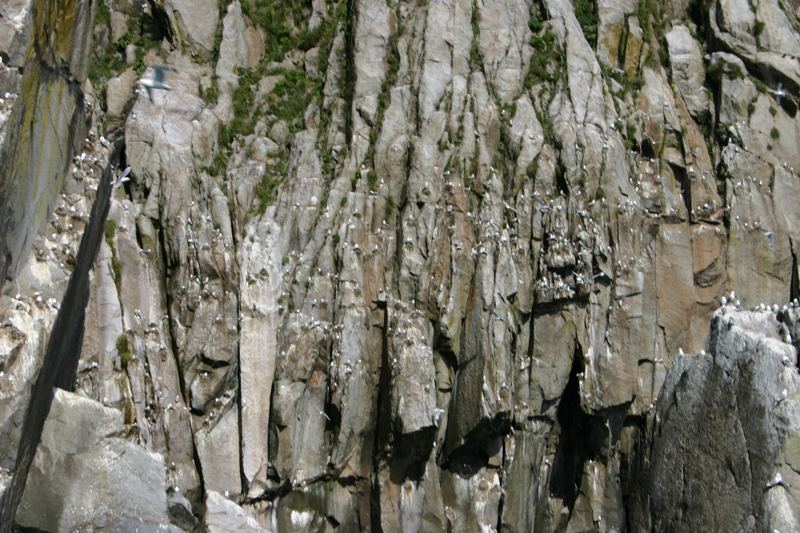 Birds nesting on island cliffs.† Mostly gulls here I think, but we saw lots of puffins too.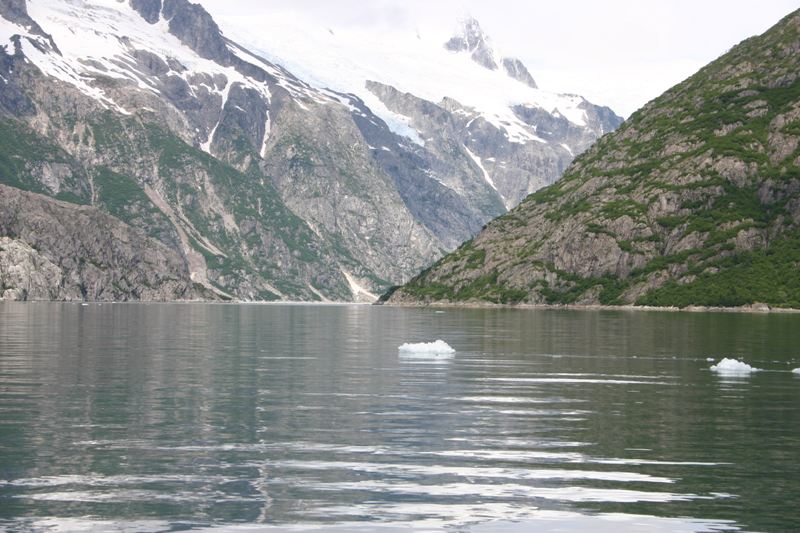 Ice bergs in Northwestern Lagoon.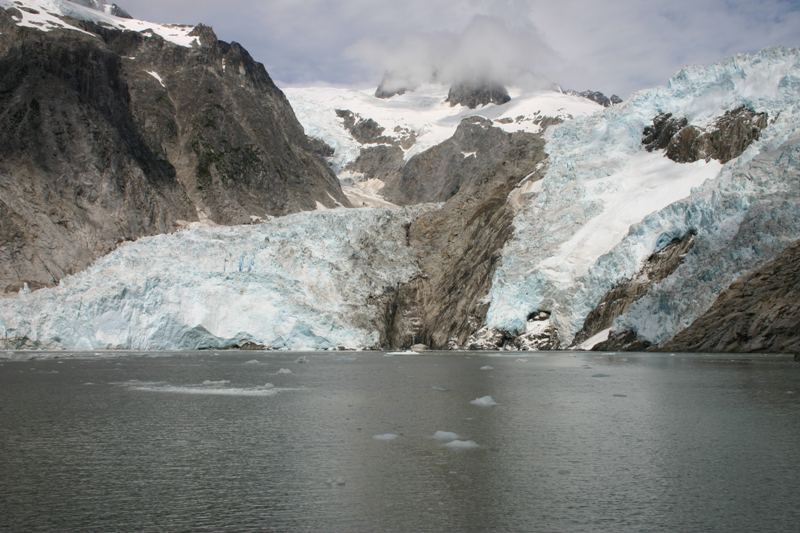 Northwestern Glacier.† Only a few years ago it completely covered the rock in the center.† In a few more
years, it will cease to be a tidal glacier.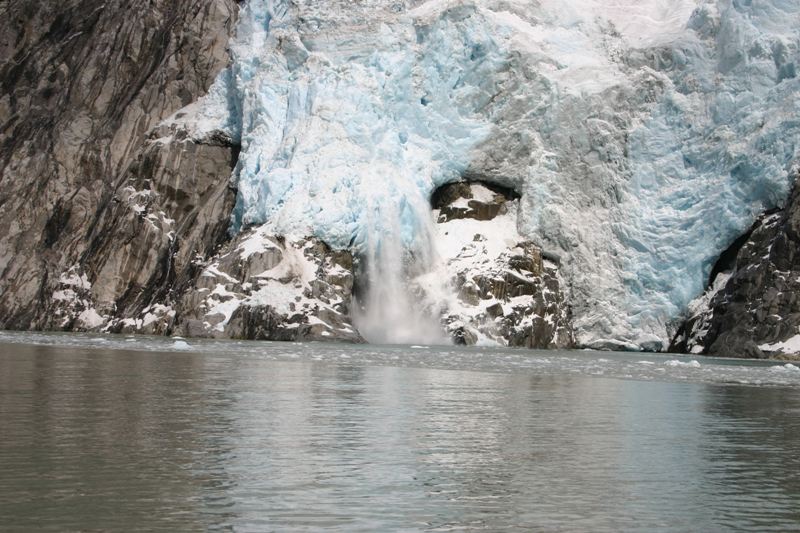 Northwestern Glacier ďcalving,Ē meaning chunk of ice breaking off into lagoon.
Capstone Ride of Trip:† Resurrection Pass/Devils Pass

Panoramic view looking north from Devilís Pass
Resurrection Pass/Devils Pass, Cooper Landing
Tuesday, June 27, capstone ride of trip
50.8 miles
4:48 hours riding time (5:52 total elapsed time)
~4500 feet climbing
Feeling refreshed having taken a day off from riding, I was ready to do the biggest planned ride of the trip.† I toyed with riding the 40 mile length of Resurrection Pass Trail, then taking another 44 miles of paved road back to car.† But three or more hours riding MTB on road did not appeal to me.† Plus, I read many good things about Devilís Pass Trail, which branches off Resurrection Pass near the high/mid point.† So I decided to climb to Resurrection Pass from Cooper Landing, then back track a couple miles to Devilís Pass for the descent back to the Seward Hwy.
Weather was nice for this ride.† Resurrection Pass Trail begins as steady singletrack climbing.† Not steep, and it was well foliated with trees and other undergrowth.† Had to watch out for the Cow Parsnips and Devils Club.† I did not get any reaction from Cow Parsnips even though I knew I came into contact with it.† The sap of this plant can cause severe blistering of the skin upon exposure to sunlight.† Light is an activator of sorts.† Symptoms sound like light activated poison oak or poison ivy to me, also neither of which Iíve gotten reactions to.† Devils Club, on the other hand, gives you instant feedback that you contacted something you shouldnít have.† It has a fine, needle covered stem structure, maybe hundreds of needles per inch of stem.† This plant is like nettle or ďitch weedĒ found in other northern states, but on steroids.† I found the burning to subside quickly.† Both the Cow Parsnips and Devils Club obscured the various trails I rode in different places.† Hard to avoid contacting these big leafy plants.
Upon reaching Juneau Lake, the trail closely follows the waters edge for a mile or two.† Views were fantastic.† A little more climbing brings you to Swan Lake.† A pontoon plane was just coming in to pick up some campers from the hut there.† You see these planes everywhere in Alaska.† Itís the only way to reach many areas, as roads arenít possible or feasible to most places.
After leaving Swan Lake, serious climbing began.† I could see what looked like a wall looming above for some time, and yep, Resurrection Pass was above that.† The trail switch-backed many times with occasional views of Swan Lake below to give status on elevation gain.† I was lucky to catch the plane take off again with a birds eye view.† Swan Lake is a narrow, curvy sliver of water buried in a steep valley.† I wouldnít want to take a plane in or out of there.
After climbing the steepest portion of Resurrection Pass trail, the views started to open up as the landscape transitioned from forested to tundra.† The views rivaled the best from Hawaii or Crested Butte, Colorado.† I found many similarities to Trail 401 in Crested Butte.† The Resurrection Pass trail hugged one side of the valley for a while, offering panoramic views across, up and down the valley.† Eventually, the junction with Devils Pass Trail is reach.† Thereís a hut and outhouse there.† I wanted to ride to the high point of Resurrection Pass first, so I continued another couple miles, gaining only slightly more elevation.† A recent reroute of this portion of trail moved it up out of valley floor so it was much drier.† Fortunately there was a sign there telling me I reach the pass.† It was a blast to bomb back down to the Devils Pass junction.† If I ever get to Alaska again, I will have to ride the Resurrection Pass Trail in its entirety.† I rode only the southern half.
Resurrection Pass is a little higher than Devils Pass.† The Devils Pass Trail initially descends, then climbing slightly to the actually pass.† Views were non-stop drop-dead.† You couldnít take a bad picture in this area.† What was so cool was I didnít even have to look at a map, as there are so few trails that traverse the area, and they are well marked.† There were a couple snow patches to hike across, but nothing like Lost Lake a couple days earlier.† The descent starts very gradually with some short climbs along the way.† Once the grade stays pointing down, many rock slide areas must be traversed.† Nearly all of these were meticulously paved with carefully placed rock slabs, making these traverses choppy, but rideable.
The trail eventually becomes bench cut into the step valley side wall.† It curved in and out of numerous micro-valleys carved out by water.† Dozens of water crossing were splashed through.† One of these had a huge amount of avalanche snow still in it.† The problem was, the water cut a 6ft deep trench through the middle of it, and the whole thing looked terribly unstable.† The portion that could have fallen on me might have weighed 10 tons.† I wasnít sure how I would hoist myself up and over the frozen corn snow berm.† After determining that the snow was solid and not imminently ready to topple over or down the ravine, I found myself a sharp brush branch in the avalanche debris.† I used it to chisel into the snow up top, then used it to hoist myself up bringing one leg up first.† I was scared to death, as sliding down the snow went into who knows what.† Sliding down the ravine with the water into the cavern under the snow was even scarier.
The rest of the descent was smooth sailing, much of it wicked fast.† I was always worried a bear would be just around the next bend, and I would not only get too close, but actually collide with it.† There was tons of recent bear scat on the trail.† Near the bottom I passed two women hiking down.† These were the only people I saw on 10 miles of Devils Pass Trail.† Not sure if they hike over the snow ravine or not.† It certainly would have been easier with two.
The bugs were pretty bad on this ride, but mainly at the lower elevations.† Couldnít stop for more than a minute without being inundated with mosquitoes.† I got bit a lot, but I never seemed to get any bumps.† Pesky, but only while they swarm and bite.† The mosquitoes are bigger there too.
After 32 miles of riding pure singletrack, I reached the Seward Hwy.† It was a long 18 mile haul back to the car.† Riding the Seward Hwy was ok, as it had wide shoulders.† But I soon branched off onto the Sterling Hwy.† Parts of this were very narrow with no shoulder.† Twice in 10 minutes I was nearly killed by trucks.† They intentionally got close to me with no oncoming traffic.† One, a double-bottom 34 wheeler, squeezed me between guardrail with no more than 6Ē to 12Ē space between his wheels going by at 65mph.† I was very nearly sucked under the second trailerís wheels.† He honked after he passed, like ďha-ha, how did you like that!Ē† What if I had been a kid or somebody with less experience?† There would have been a very messy fatality there.† People think riding around Boston is bad, but I had other close encounters riding in Alaska make riding around greater Boston seem as safe as riding your trainer indoors.† Yeah, it was that scary.
On a side note, I learned in the news the next day that hours after I passed the Resurrection/Devils Pass junction, a small plane crashed right there while making a food drop for a large church group doing an overnight hike.† The pilot was killed and passenger critically injured.† One of the group members had to run 10 miles to find nearest help.
In the evening, Cathy, Mom and I drove out to Exit Glacier and did the short hike to the glacierís termination.† It was interesting driving in, as they had signs with years on them indicating where the glacier terminated at those times.† The glacier has shrunk considerably.† But, it is interesting to note this rapid shrinkage started hundreds of years ago, long before man started pumping greenhouse gasses into the atmosphere.† This was pointed out several times during our trip, in Kenai Fjords, and in Denali National Park.† The shrinkage has accelerated some in the last couple decades.† Proponents of the Global Warming religion often gloss over the fact that ice packs have cycled many times in the last 100,000 years.† The last ice age was about 20,000 years ago, but there are micro cycles over hundreds of years, kind of like mini ice ages.† I donít deny man likely impacts the environment, but I also donít buy into the stop-everything-now-gloom-and-doom of the fringe environmental movement.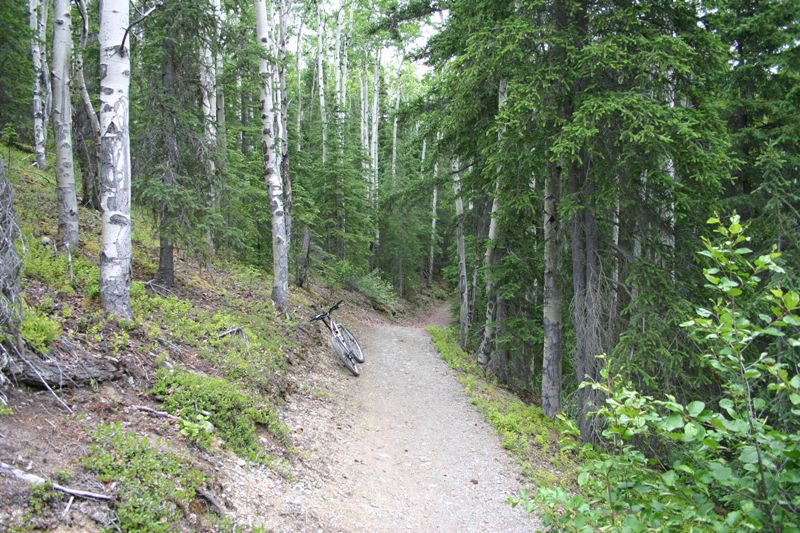 Resurrection Pass Trail starts out a little wide but quickly narrows down as it goes deeper into the woods.
Climbing starts right away and doesnít let up.† This is starting from the south end, or at Cooper Landing.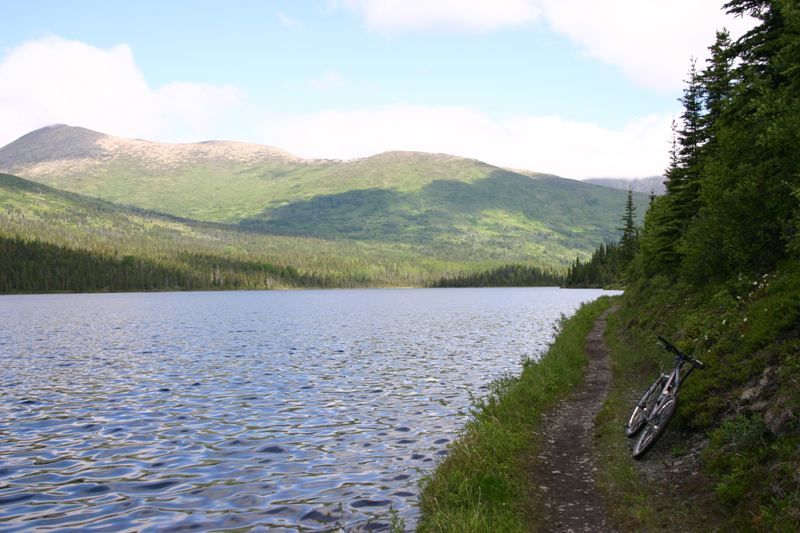 Juneau Lake.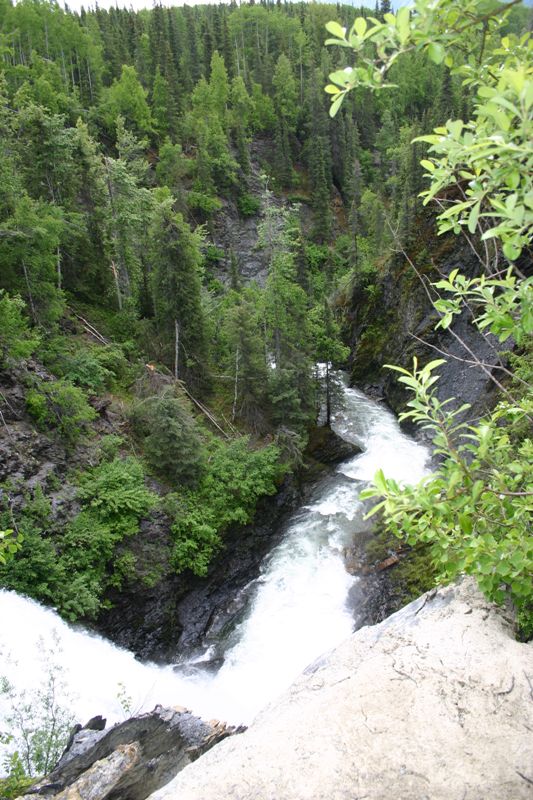 Juneau Falls.† One step and 200ft straight down.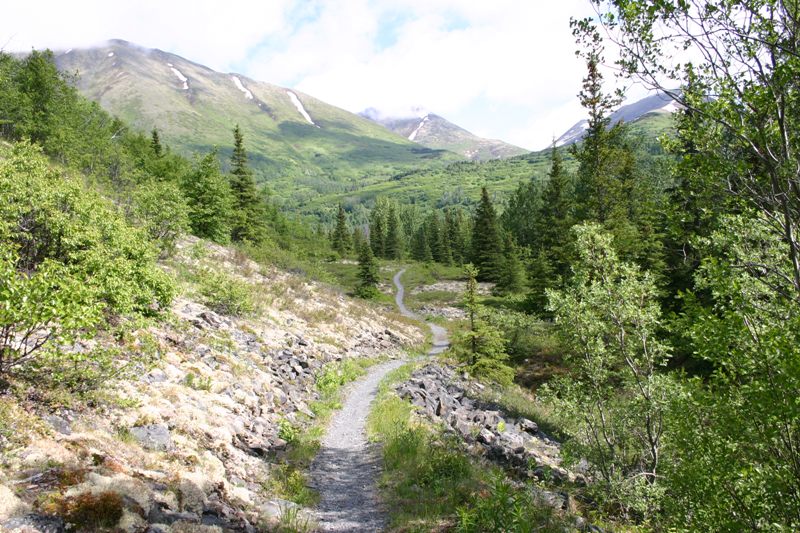 This should be singletrack between Juneau and Swan Lakes.† Trail aims right for very steep
grade that had to be climbed.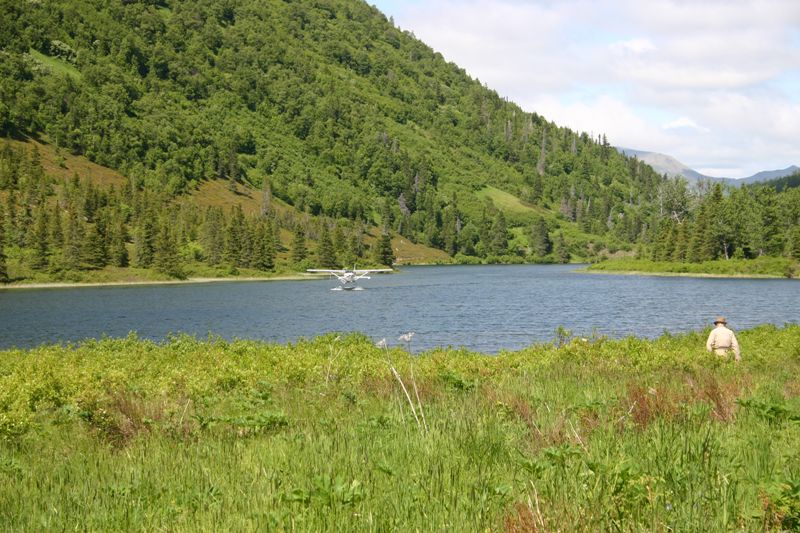 Plane arriving on Swan Lake to pick up overnight cabin users.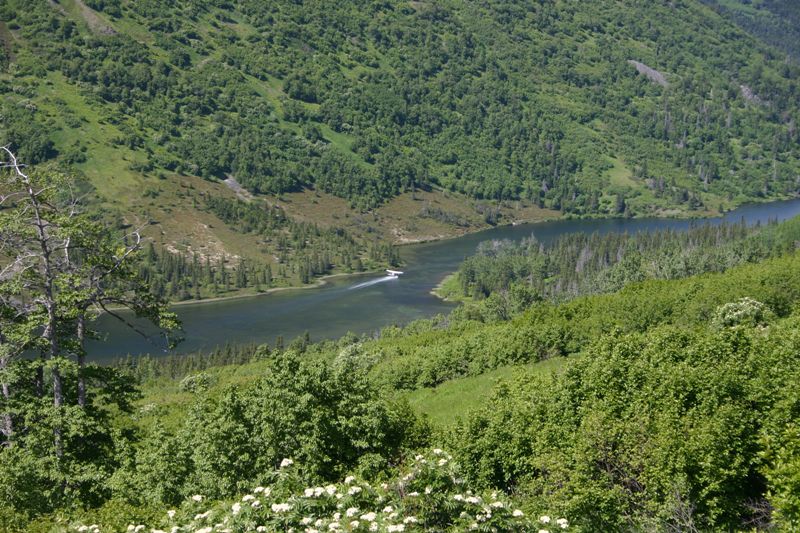 Plane departed with 3 passengers picked up.† Donít know if any got off.† This valley is very deep, the
lake narrow and twisty.† I would never fly in and out of here.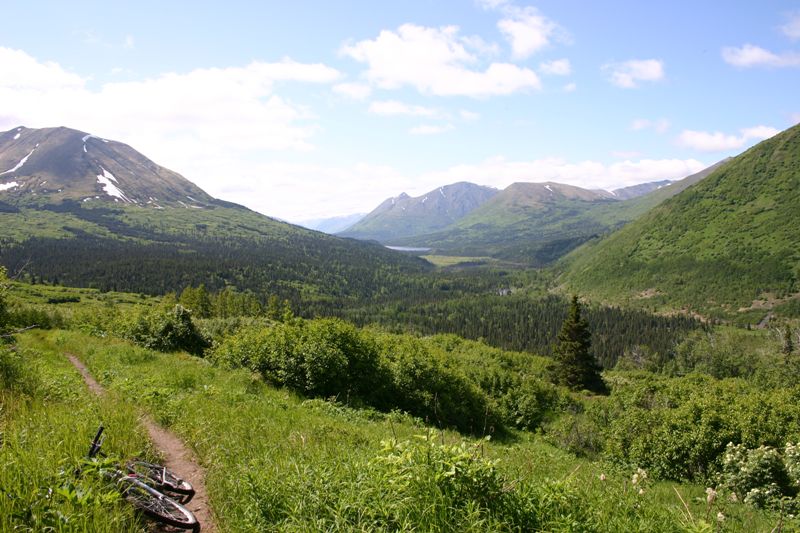 Well above Swan Lake now looking back down narrow ribbon of singletrack.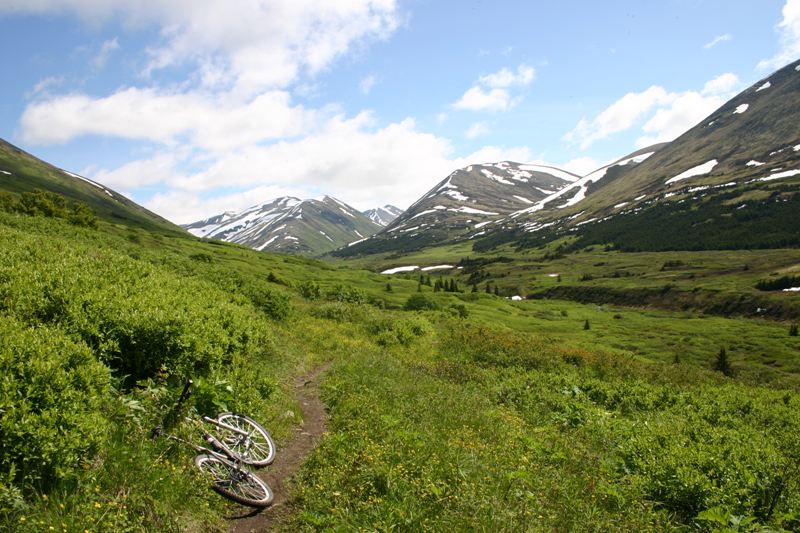 Approaching Resurrection Pass.† Very similar to views in Crested Butte, Colorado.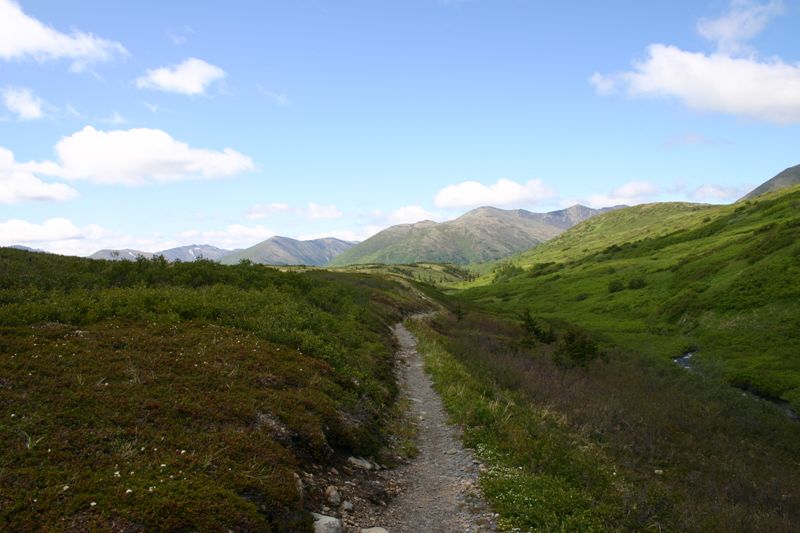 Approaching the pass but looking back down in direction I started from.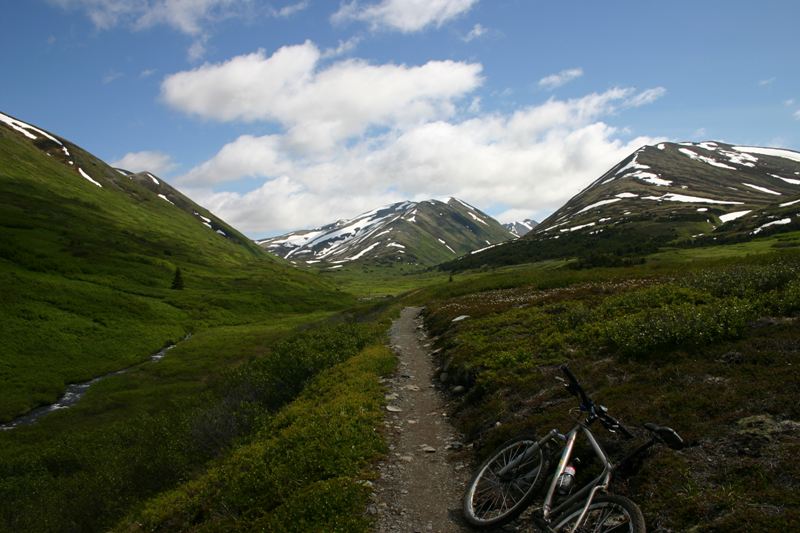 A little further up Resurrection Pass Trail.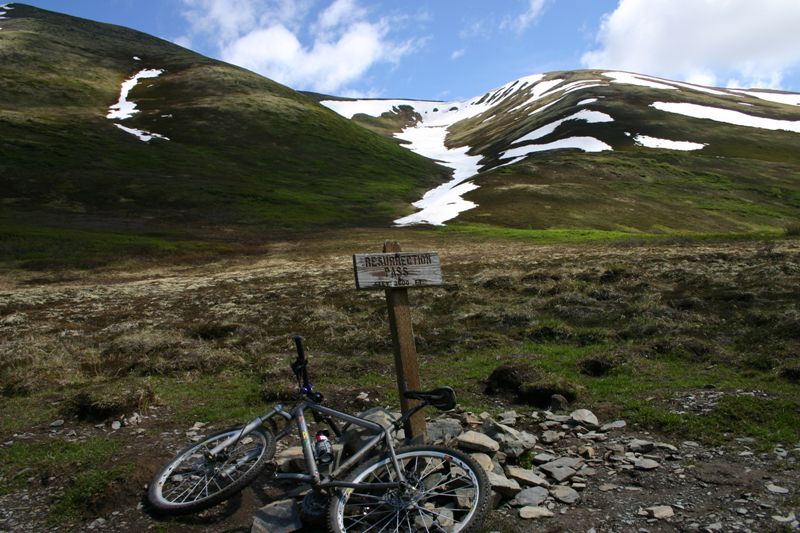 At Resurrection Pass.† Trail continues for another 20+ miles to the north to the town of Hope.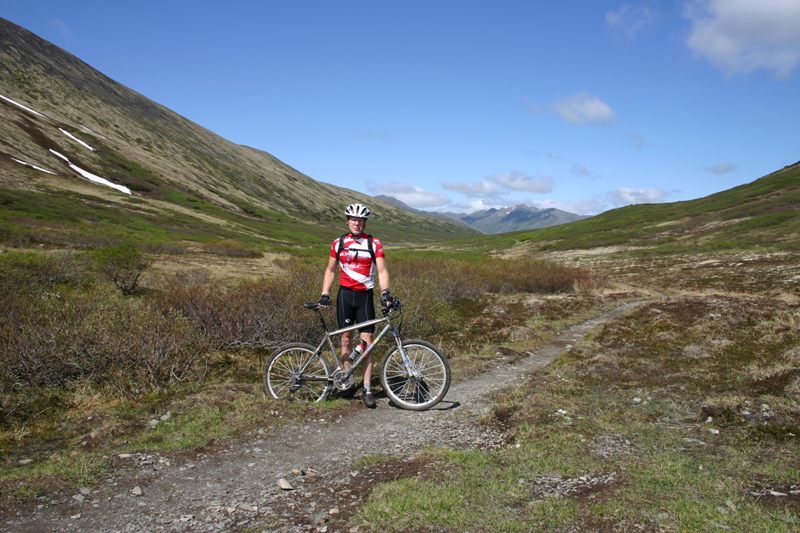 Self portrait at Resurrection Pass looking north toward Hope.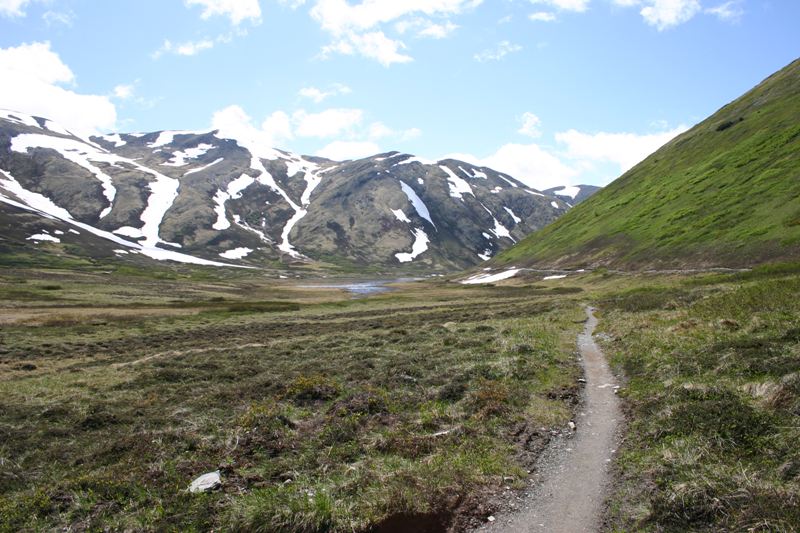 Looking back down Resurrection Pass just after turning around at the sign.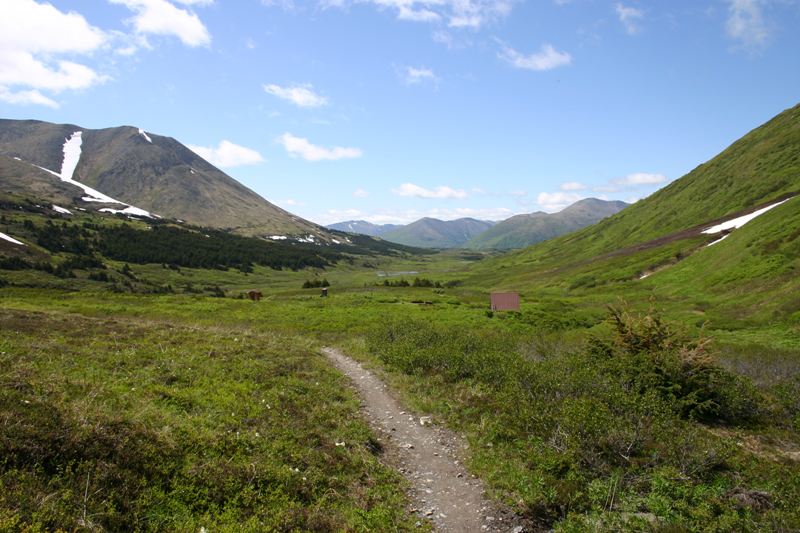 Hut (large tan roof center right) and outhouse (center left) at junction of Devilís Pass and Resurrection Pass Trails.
Less than four hours after taking this photo, a small plane crashed 200 feet from the hut.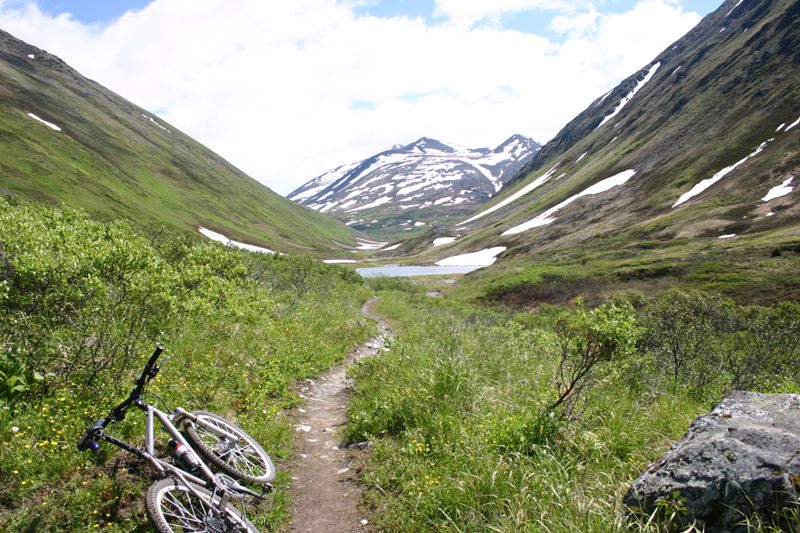 Beginning Devils Pass Trail.† Lose a little bit of vertical through this valley before climbing slightly to the right
in another valley that opens before you when you get there.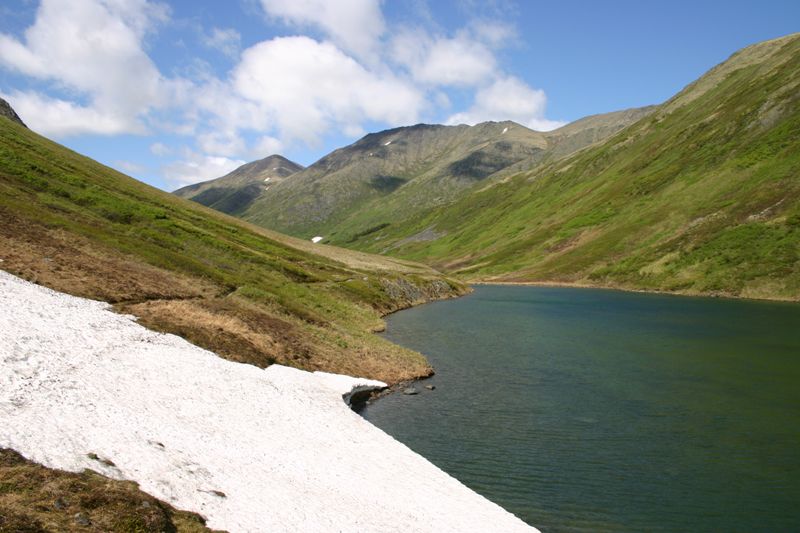 A small snow field to hike across.† Not too steep, but if you did slide (which was easily possible), youíd
fall 10 feet off the lip of snow into 10 feet deep 35F degree water.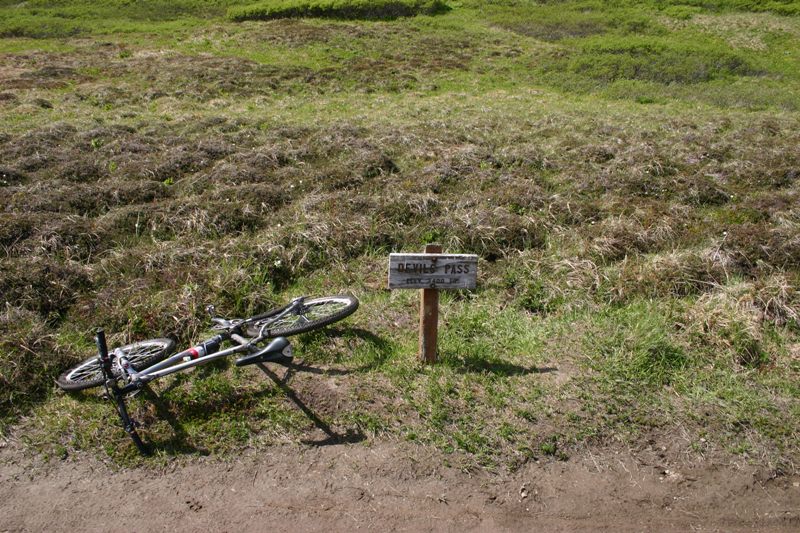 Devilís Pass at about 200ft lower than Resurrection Pass.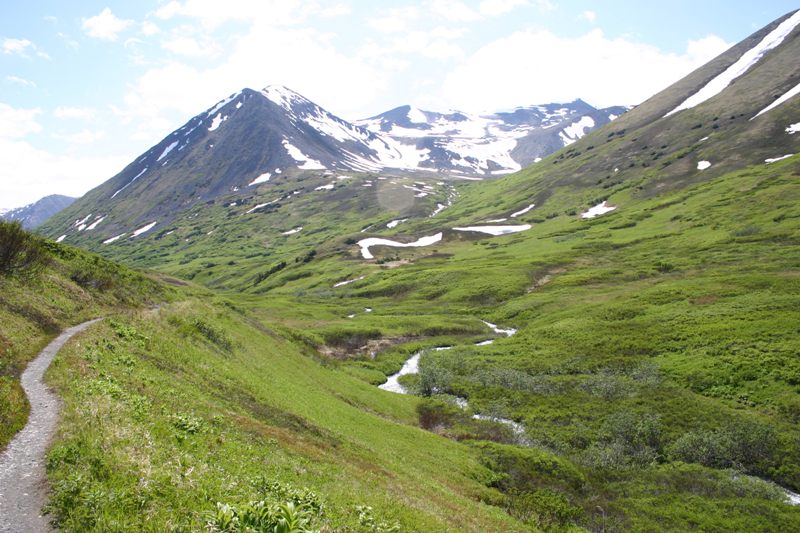 Just past the pass sign looking down the valley.† The descent starts to get down to business here.† I kept going off
the trail and nearly crashing because the scenery was so good.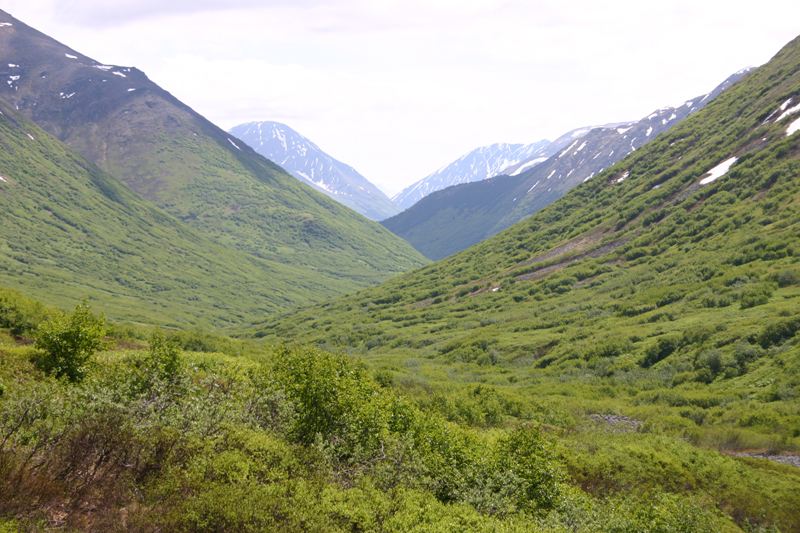 Zooming into the Devils Pass Trail valley.† You can faintly see the trail bench-cut on the left flank.
Bench cut singletrack part way down Devils Pass Trail.† Trail weaved in and out numerous nooks and crannies.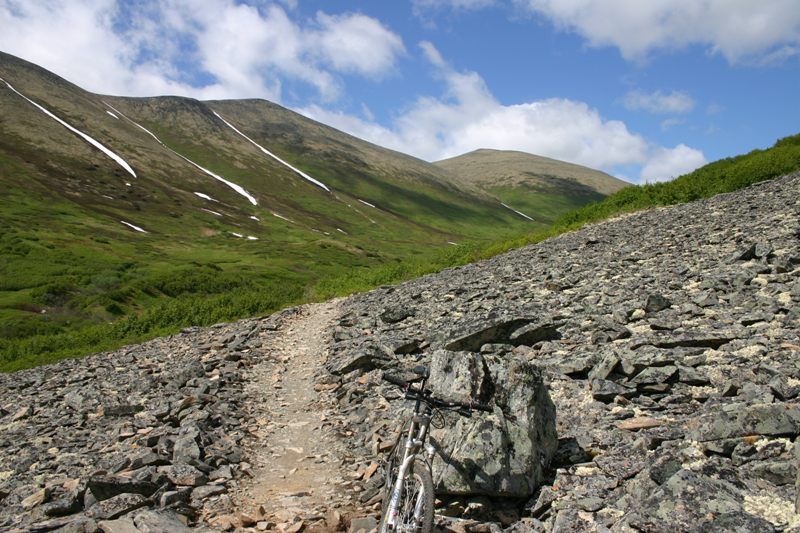 One of several rock slide areas to traverse on Devils Pass Trail.† They were all well groomed for riding.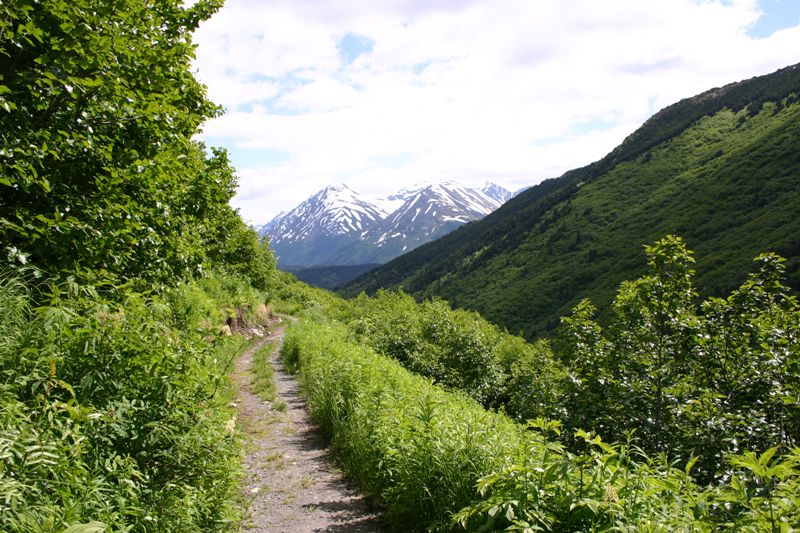 Half way down Devils Pass Trail.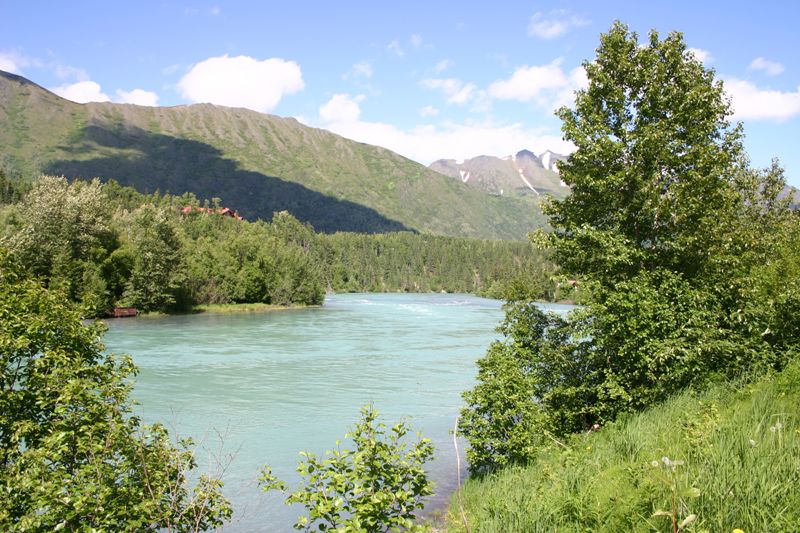 The deep blue-green Kenai River.† The Sterling Highway follows this for some distance, and this is also
where I about got creamed by semiís twice.† Deep and wicked fast.
Johnson Pass, starting from village of Moose Pass
Wednesday, June 28, Point to Point Ride
25.0 miles
3:01 hours riding time (3:38 total elapsed time)
~3000 feet climbing
Before leaving on this trip, I made a last minute decision to include info on Johnson Pass as an alternative to the Russian Lakes loop I had in mind.† Since I took a rest day on Monday, I had to pick Russian Lakes or Johnson Pass today.† Johnson Pass was on the way back to Anchorage, as we were driving through Anchorage en route to Denali on this day.† Plus, the salmon were running in the Russian River, which the Russian Lakes trail follows.† This meant two things.† First, hundreds of fishermen will be out plugging the trail up.† This would put a damper on a ride intended to get away from people and would break up the flow of riding miles and miles of uninterrupted singletrack.† Second, when salmon run, bear come out of the woodwork so to speak.† They feast on salmon too.† Fisherman have many run-ins with bear in this area.† My decision was easy, do the Johnson Pass trail instead.† It offered better views anyway, and supposedly the snow was gone.
The women dropped me off early at the southern trail head, about 30 miles from Seward.† They then went back to finish a couple chores, picking me up at the northern trail head on the same highway about 63 miles from Seward.† The mosquitoes where terrible in the parking lot.† Youíd swat one, only to have three others bite you simultaneously.† Staying there was a losing battle.† I canít wear deet, as it makes my skin burn and can give me asthma.† I have to tough it out.† Once I got moving, the mosquitoes were not a problem.
The day was warm and clear.† I went short sleeves for the whole ride.† Climbing gradually to the pass, I encountered no other trail users.† No bears either, but there was a lot of scat about.† The trail was pretty muddy in spots.† Lots of water crossings.† Becoming overgrown in places too.† There was only one small snow patch that required portage.† This trail sees a lot of group MTB use, like guided tour type deals.† I think they usually start on the north end, opposite the way I was going.† I encountered many riders after cresting the pass, including a group of 15 or so teenagers with full panniers on MTBs.† The views in the pass were stunning with two lakes to ride past.
The descent back to the Seward Hwy was a blast.† Great scenery, big waterfalls, fast blue-green rivers, and buffed singletrack.† This ride was thoroughly satisfying.† I got to the parking lot just a few minutes after Cathy and Mom arrived.† They were talking to a local out walking with his son or grandson.† He was sporting a large caliber rifle with a short barrel.† It was interesting talking with him.† He told us some good first hand bear and moose stories.† Heís more concerned about encountering a moose, especially cow with calf, than a bear.† Moose will charge, punch you out cold or kill you with their front hoof, then trample you to make sure youíre dead.† Iíve encountered moose several times in New England and never felt threatened.† Iíll think differently from now on.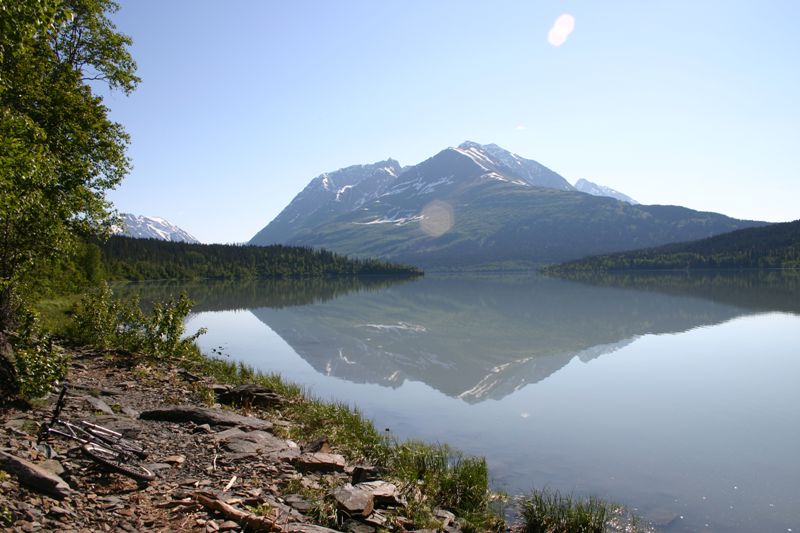 Upper Trail Lake at start of ride.† Trail follows this for a few miles before beginning ascent into pass.
I believe that is the peak of Lark Mtn reflecting off the lake.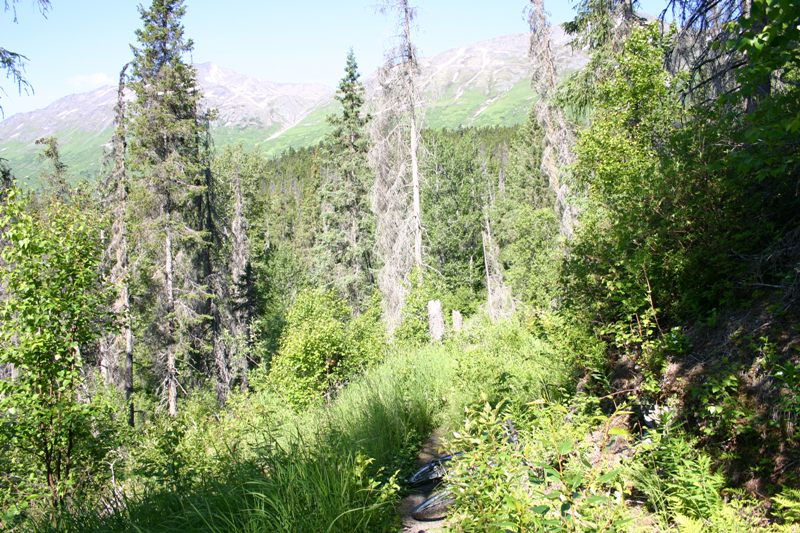 Beginning climb to Johnson Pass.† Trail was getting overgrown in spots and probably will be in
a couple weeks.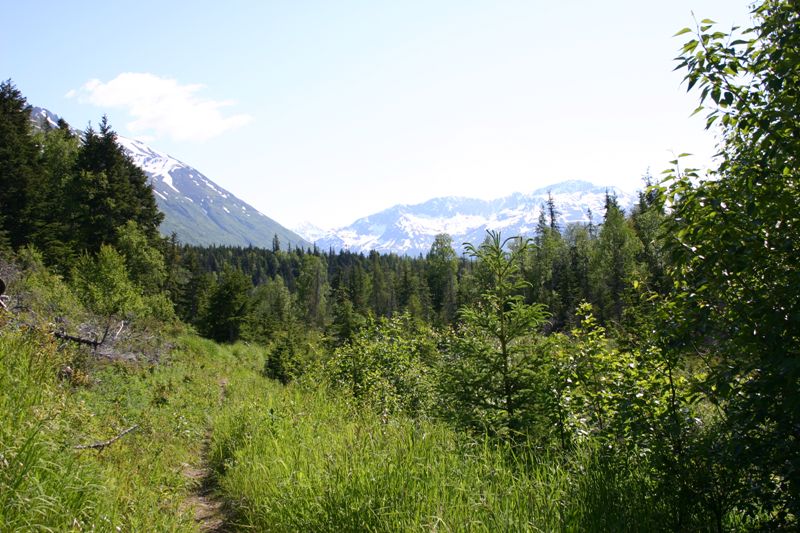 Heading towards Johnson Pass out in far distance.
Johnson Lake.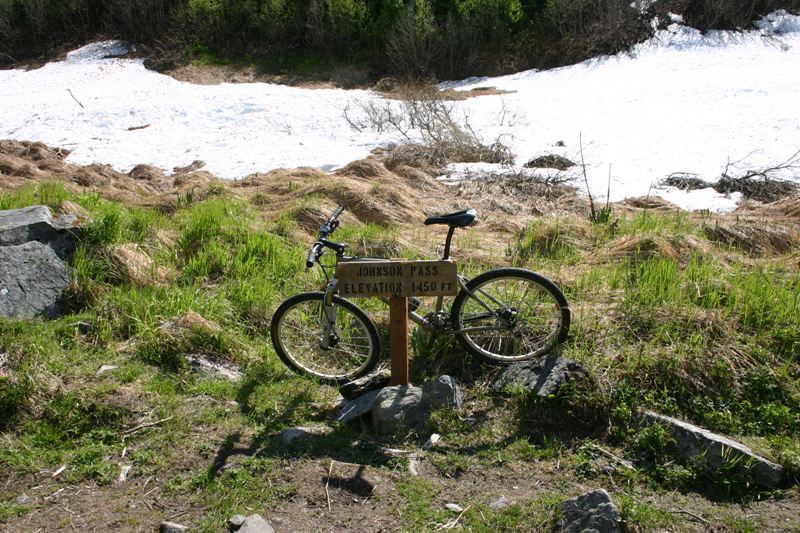 Johnson Pass at only 1450ft.† Probably why thereís not much snow here.† There was one hike-a-bike section.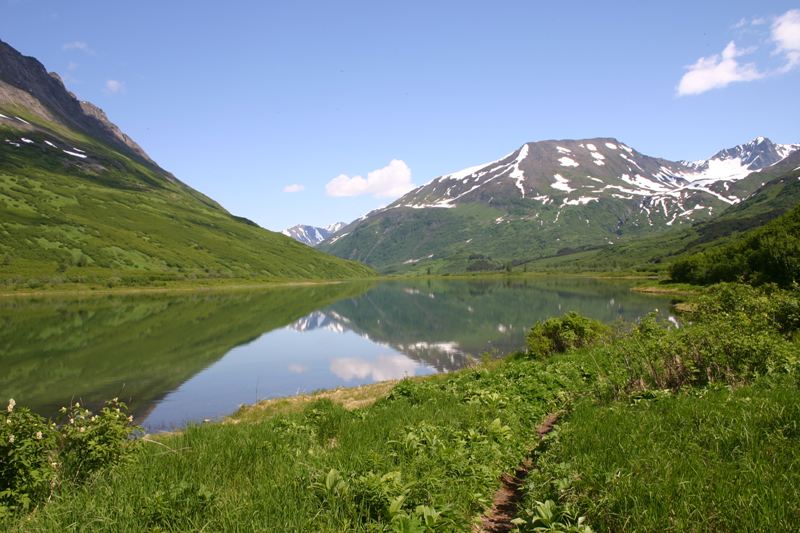 Bench Lake.† Bugs were so bad were this trail followed lakeís edge that opening mouth for one
second resulted in inhaling mouthful of bugs.† Didnít seem to be a biting variety though.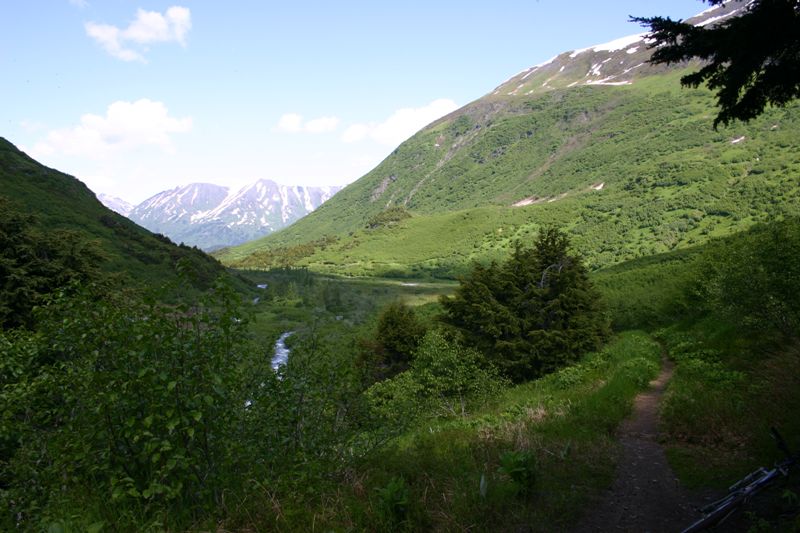 Beginning descent from Johnson Pass.† Descent goes on forever, but there were a few muddy spots.† Bench
Creek in valley below.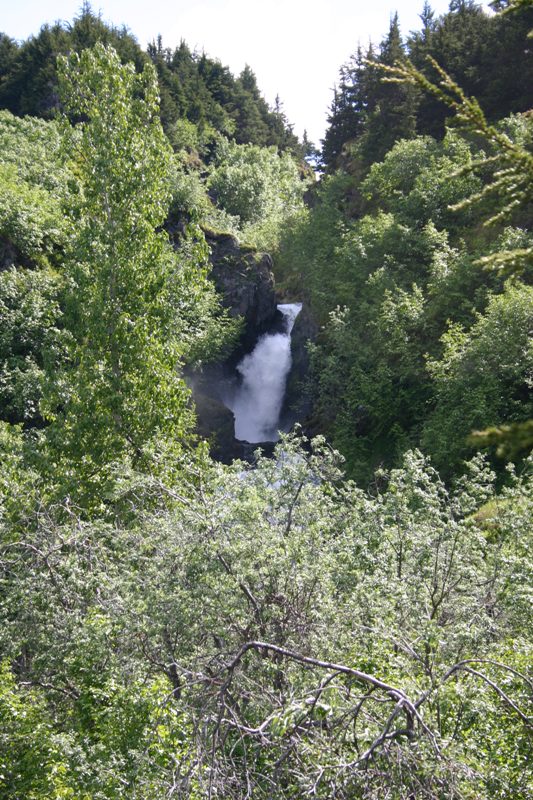 First significant falls encountered on descent.† Donít know the name.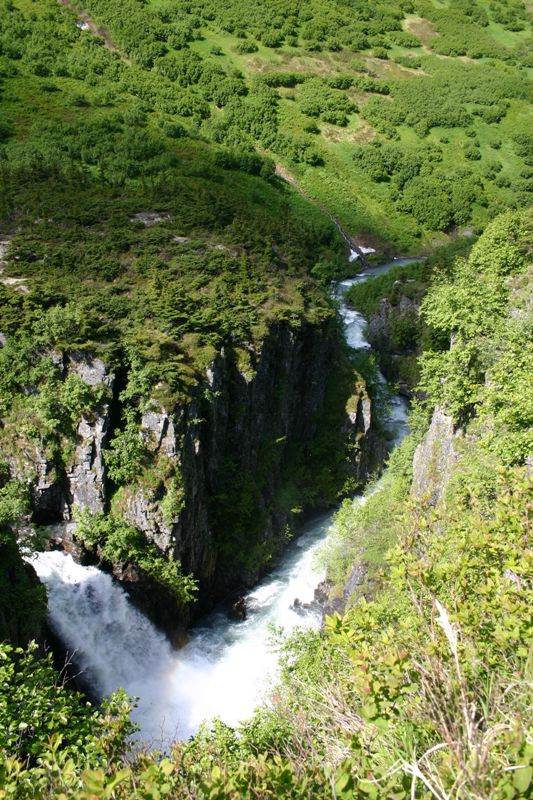 Another big, thundering falls.† You hear these things long before you get
to them.† Then you look for a side trail that might take you to a vantage
point for a look.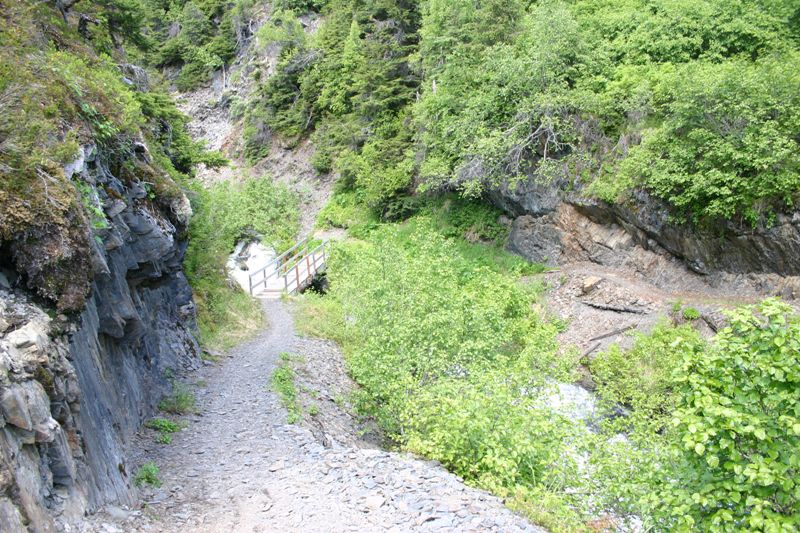 Some rocky, steep, bench-cut trail in this section.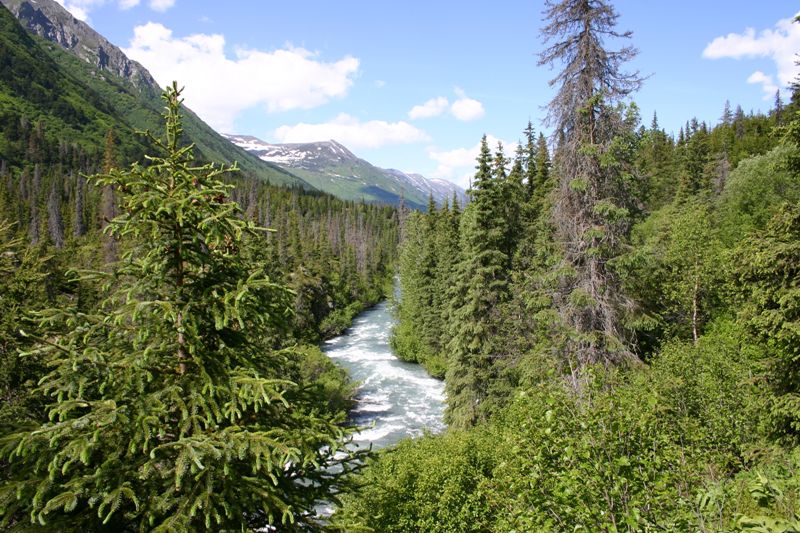 Bench Creek much further down from the pass.† It had a magical milky blue-green color to it.† From
glacial run-off.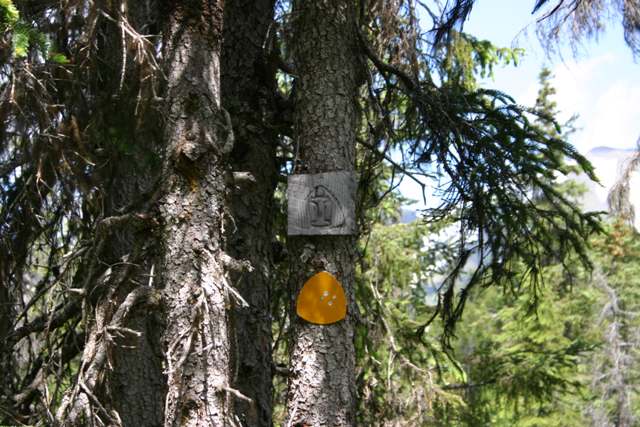 Johnson Pass Trail is part of the Iditarod National Historic Trail.† I donít think
itís part of the dog sled races anymore, however.
Denali National Park
Thursday, June 29, Dirt Road Out and Back
63.0 miles
4:43 hours riding time (5:18 total elapsed time)
~5800 feet climbing
The drive to Denali took a long time.† Had to drive through Anchorage (where I kept screwing up trying to connect with the highway that goes to Denali), and pass through Wasilla.† Most of the drive was uninteresting.† There were a couple pull-offs to view Mt McKinley, but clouds obscured the view.† We first had to pick up the womenís bus tour tickets to learn where and when they had to be picked up.† To our horror, their departure time was 6am.† This meant getting up by 5am.† We checked in, bought some extremely overpriced gas station deli items for breakfast, then hit the sack.† Our room was very musty smelling.† ATVs are popular around here, and leaving our window open meant listening to 2-cycle throttling all night.† Window went shut.† It really didnít get dark here, being much further north than Anchorage.
When we awoke, I had a nasty sore throat.† Just came out of nowhere, like the kind you get when you come down with a head cold.† I took extra doses of antioxidants and drove the women 10 miles back down the road for their 6am bus tour of Denali.† I went back to motel.† I contemplated just going back to bed instead of kitting up for a monster ride in the park.† I ate, prepíd Camelbak and bike, getting to park by 7:30 I believe.† The deal was, I needed a pass, but the visitor center didnít open until 9am.† I went back and forth twice between the wilderness center where bus tickets are purchased and the visitor center based on bad info people gave me.† Eventually I found somebody that seemed to talk with some authority and said I could just drive up to the small Savage River parking lot and begin my ride without a pass, that I would not be stopped.† The paved road ends at the Savage River, 15 miles into the park, and passenger cars are not permitted beyond there.† There is a ranger check station there.† Only park busses and other specially permitted vehicles are allowed beyond that point.† I was worried Iíd be turned back entering without a pass, but I wasnít.† Bikes and hikers are allowed on the park road year round.† Only stipulation is that bikes must stop and get off the road when a bus comes, which can be a real pain at times.† Other times you could go 15-20 minutes without a bus coming by.
The gravel road is well maintained, but probably not good enough for standard road tire use.† Further in, the gravel aggregate became large and sharp.† It was great riding for a hardtail with 55 lbs in tires and fork locked out.
The views were expansive the whole time.† I kept a keen eye out for bears, not so much out of safety, but just so I could see some.† Having not seen a bear thus far, this was the best place to sight bears, brown bear particularly.† I saw snowshoe hares and caribou early in the ride.† Never saw any bear or dahl sheep.† The views were fantastic though.† I didnít go to Denali just to see wildlife, I went to Denali to do Denali.† This means to interact with the environment in ways most visitors to the park do not.† I wanted to feel the burn of the climbs, the euphoria of the descents, all the while soaking in fantastic views.
There were three major climbs, two that had to be done in each direction.† The first was Primrose Ridge, the second was Sable Pass, and the last was Polychrome Pass.† I turned around on Polychrome.† Sable Pass was the biggest, nearly monotonic climb going out, about 1400 feet.† Bombing back down this on the way back was thoroughly satisfying, as it runs out over 14 miles or so.† No busses passed me on this long descent.† I can only assume Polychrome Pass gets its name from the multi colored rock formations.† Poly means many, and chrome means color.† The view from the Polychrome rest area was unforgettable.
The women on their bus tour went much further than Polychrome, sighting bears, dahl sheep, and an unobstructed view of Denali (Mt McKinley).† We all really lucked out, as the forecast a day or two earlier was calling for rain.† I was feeling increasingly ill and wanted to head back.† I covered the bulk of what I wanted to ride in Denali anyway.† I got back to the park entrance just before the women did, and they wanted to gift shop a bit before finding supper.† I had time to shower and change at the motel before picking up Cathy and mom.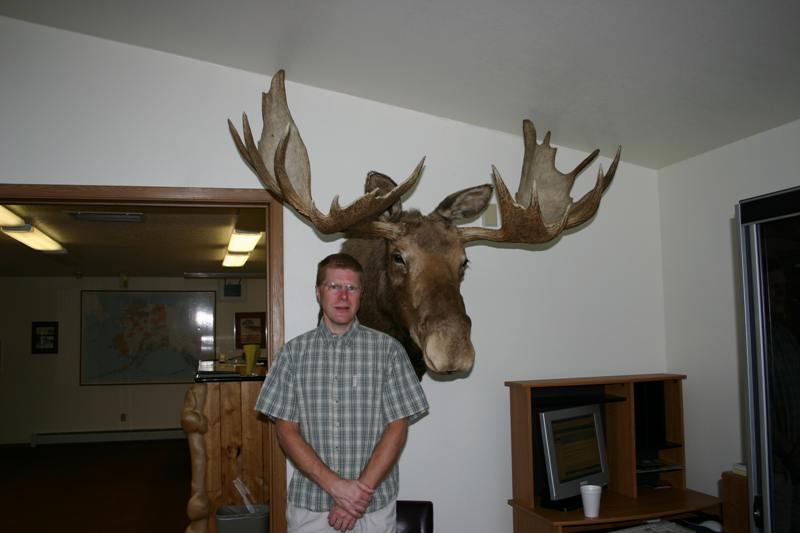 Ok, so I didnít bag this bad boy.† Iíd sure hate to get in a scuffle with one of these outdoors though.† The first time
I used the guest computer in the corner, when I was done I jumped up and smacked my face right into this thing.
Kind of creeps you out when itís late and youíre tired.

Panoramic from Primrose Ridge I believe.† Denali just visible on right edge of photo.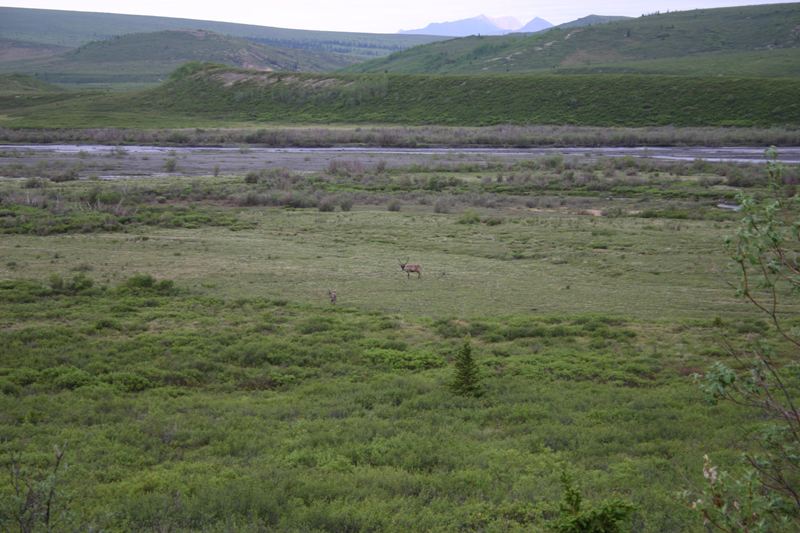 I no more than start my ride into Denali National Park and I spot two Caribou grazing.† Spotted several
more along the way.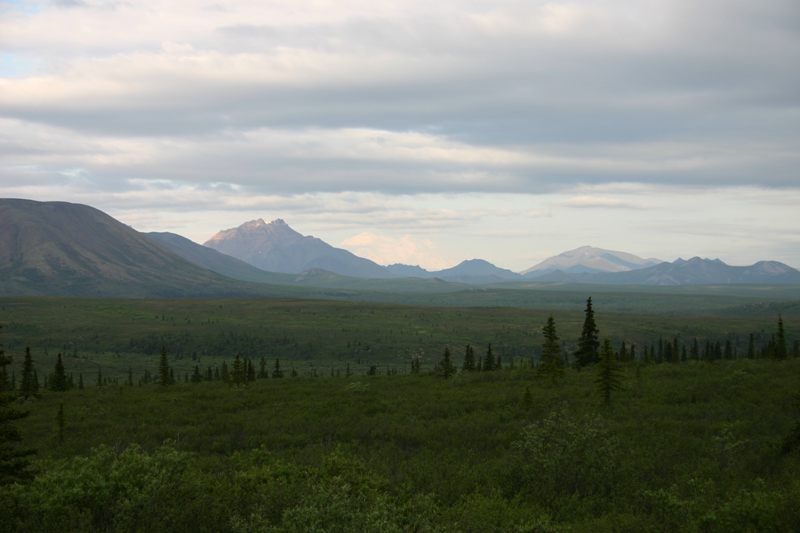 Denali (Mt McKinley) is faintly visible in the center of this image (all white).† It was more visible to the eye than
what the Canon Digital Rebel was able to capture.† Probably at least 60 miles away.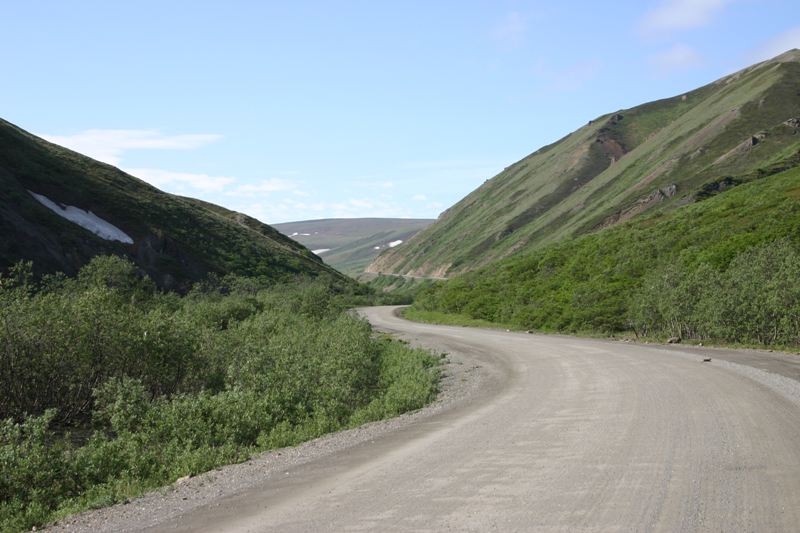 Beginning biggest climb heading into park.† This is Sable Pass, about a 1400 foot climb.
Looking up the Toklat River from the bridge.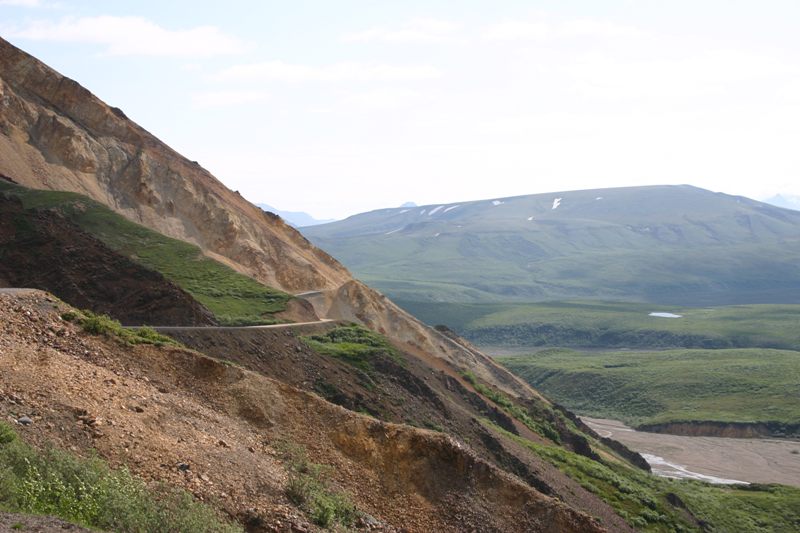 Looking back on approach to Polychrome Pass.† Only one lane wide.† Iíd be scared to ride a bus on this.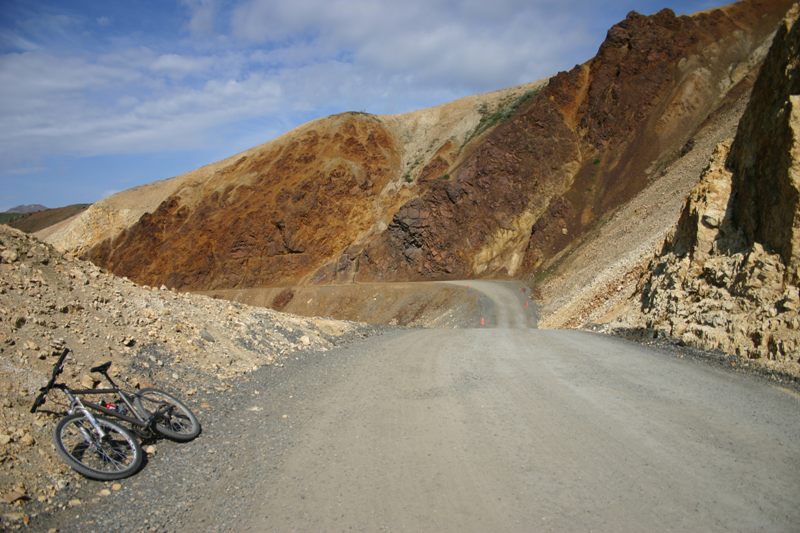 The multi-colored rocks of Polychrome Pass.
Pose from Polychrome Pass, my turn-around point.† Wasnít feeling well, so didnít take too many pictures here.
The landscape is so vast anyway that even riding 30+ miles into the park, things didnít change that much
across the valley.
Eklutna Lakeside Trail, Chugach State Park
Friday, June 30, Out and back on gravel road/trail
26.4 miles
1:57 hours riding time (2:13 total elapsed time)
~1200 feet total climbing
We had toyed around with white water rafting on this day in the Denali area.† But weather looked convincingly bleak.† A quick online check showed large areas of rain in the area, although it wasnít raining at the moment at the motel.† Mom wasnít too enthused about suiting up in a dry suit for potential submersion into icy cold water on a cold, dreary, rainy day.† I wasnít either.† I felt much sicker with severe throat pain.† No other symptoms really, other than feeling lousy, which seemed odd.† We decided to drive back to Anchorage.† It rained the whole way, letting up some as we arrived at the same hotel we started our trip in.† We were able to check in early, which was nice.† Skies were starting to brighten some, but heavy clouds still hung in the mountains.
The women were going to do a little more shopping.† I decided to try an easy trail ride I had some info on.† It was a mostly flat dirt access road that followed the Lake Eklutna shoreline for 10 miles before climbing modestly toward glaciers that feed the lake.† I hit more dark skies and rain driving over, but strangely, the state park was dry.† It looked as if it hadnít rained there.† The trail was almost dusty it was so dry.† That area must have been ideally sheltered by the heavy clouds moving that day.† Despite feeling lousy, I was psyched.
Since this ride was in a state park with campground and lots of people about, I didnít bring the bear bell.† I was somewhat disappointed that I rode hundreds of miles in Alaskan wilderness and never saw a bear.† Didnít matter too much, as I encountered two black bear at very close range in Canada once while mountain biking.
As I began the ride, I noted that there werenít any people around.† Maybe the rain elsewhere kept them indoors.† I also noticed lots of bear scat in the trail.† Maybe I should have brought that bell.† I did have the pepper spray.
The views across the lake were nice, although the low cloud ceilings truncated the mountain tops.† It is interesting to note that when riding in Alaska, you always underestimate how far away things are.† Everything is so big.† The lake looked small, but it took 40 minutes to ride to the far end of this valley lake.
The scenery became more interesting as the trail ventured away from the lake and up into the gorge feeding the lake.† I was in my own little world ripping around bend after bend when I suddenly realized a large black object was in my path.† A panic stop skidded the rear wheel and startled the large black bear that was standing in the road.† I was less than 100ft away.† He stared at me, I at him for a few seconds.† At first I thought a picture would be nice, but then I thought if I grab anything, itís going to be the canister of bear spray.† I hollered, he lumbered off the path.† I wasnít sure how far, so I moved forward a few feet to get a better peak.† He was just inside the trees still staring at me.† Yikes.† I hollered some more and tapped my Ti frame with a rock.† Iíve read bears hate metallic noises.† He lumbered far enough off the trail that I high tailed it through that point.
So now I had my bear sighting.† This was the last place I expected it.† My mother commented that the bell scared the bears away on all the other rides, so the one ride I didnít use it, I sneaked up on a bear.
The trail turns to singletrack and quickly becomes unrideable.† A short hike brings you to a glacier that not too many years ago came to where the main trail/road ends.† It was getting late and I didnít feel like hiking.† Going back was fun at first, as the trail descends 300ft back to the lake.† Lots of small rollers along the way added up to about 1200ft of climbing.† Saw only three other riders out.† It was cold, maybe low 50ís, so I wore tights and heavy long sleeve jersey for this ride.† A great bonus ride, perfect for tired legs and worsening illness.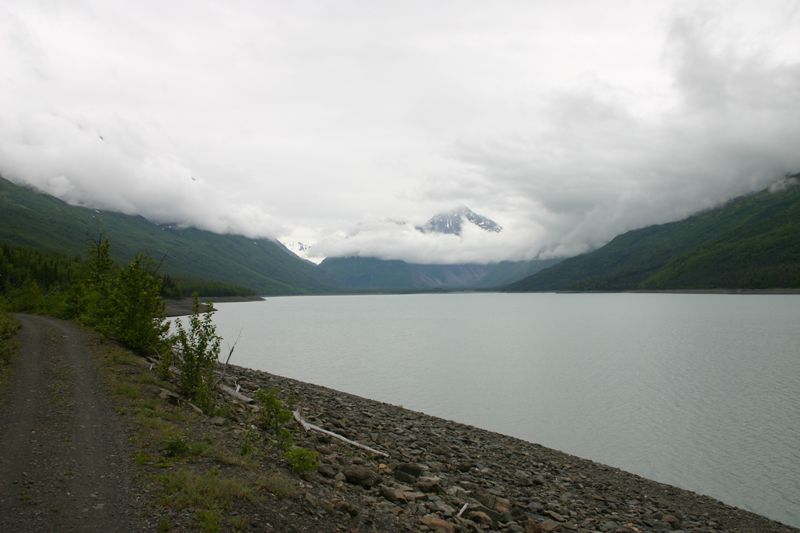 Starting out on Eklutna Lakeside Trail.† Far end of lake is nearly 10 miles away.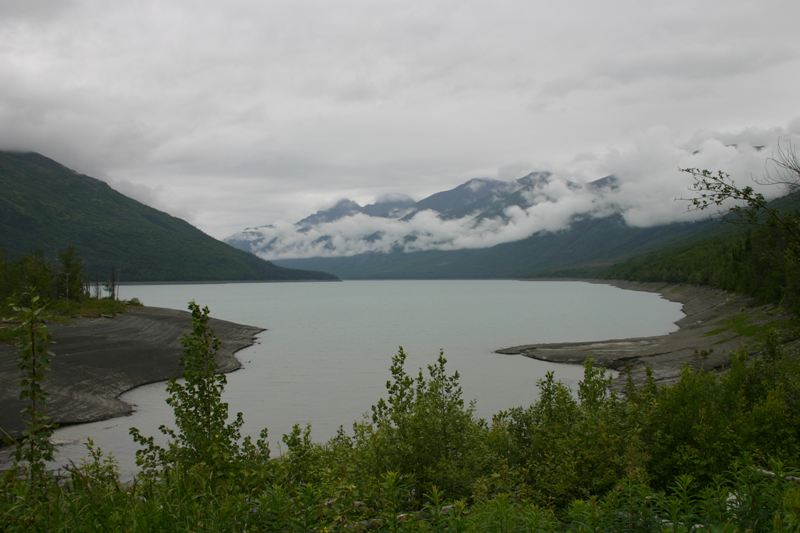 Far end of Eklutna Lake looking back towards start.† The lake sits around 900ft elevation.† It may have
still been raining back down by Anchorage, but it stayed dry here.
Glacier fed Eklutna River looking up into gorge.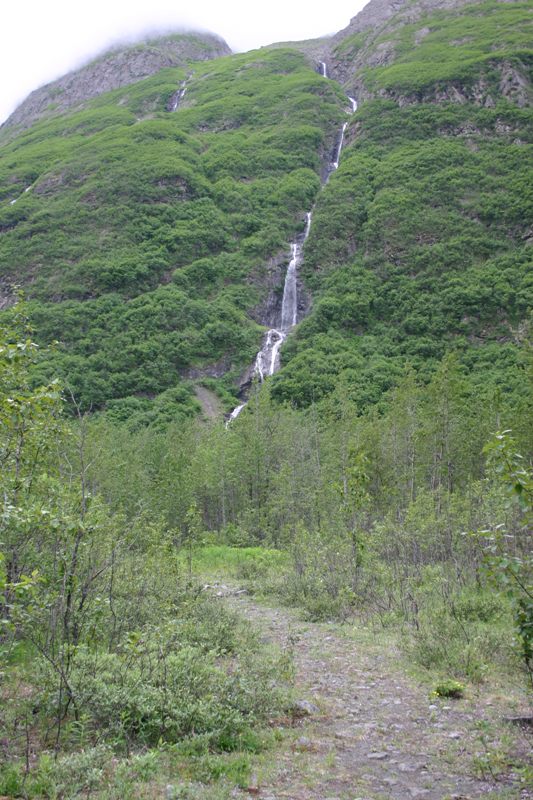 Serenity Falls along the way.† Saw the bear near here.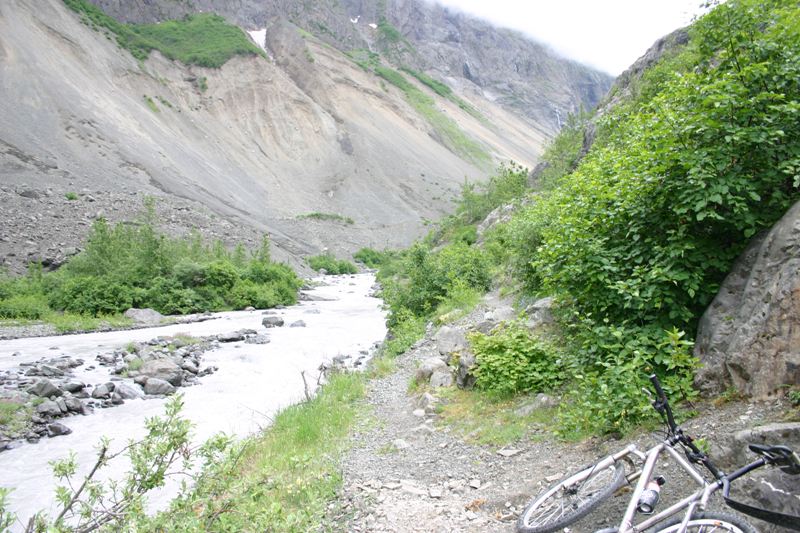 This is where the gorge got narrow and the trail turned into a hike-a-bike.† Itís a short hike from here to
the foot of Eklutna Glacier.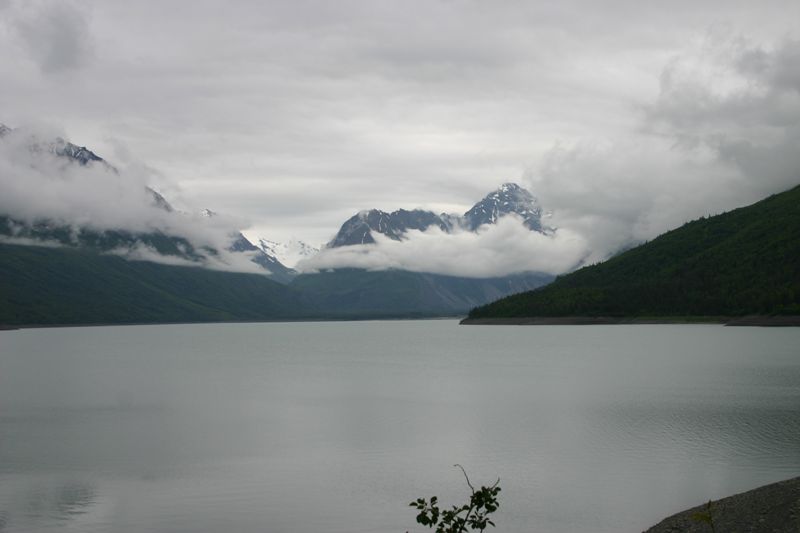 Clouds were lifting as I finished ride, so I took one more shot down the lake.
Tony Knowles Path/Kincaid Park
Saturday, July 1, Coastal paved path out to Kincaid Park and back
24.0 miles
1:35 hours riding time (1:49 total elapsed time)
~1000 feet total climbing
Last ride of the trip.† I had planned to do this ride with Mom on a rented tandem and Cathy on another rented bike.† But to pull it off meant that weíd have to check out before leaving to rent bikes.† All our stuff would be in the car, and no place to wash up afterwards.† Not the best way to start an overnight trip back to reality.† The women opted out of riding in favor of an early morning walk on the Tony Knowles Path which started less than two blocks from our hotel.† I decided to ride it.† A checkout time of noon allowed me to get back in plenty of time to shower and box bike up.
The path is sandwiched between metro Anchorage and the shoreline.† Nice views over Cook Inlet in most places.† Pretty flat with a few rollers, with bigger hills by the airport and Kincaid Park.† Moose sightings are so common here that path users expect to see moose.† I saw the same cow twice, going out and coming back near Kincaid Park.† She seemed totally disinterested in me.† No calf around, fortunately.† I took photos from about 50ft away and rode within 20ft.† She never stopped foraging.
Kincaid Park is essentially a metro park sandwiched between town and the coast at the tip of the peninsula.† It is a maze of trails.† Over the last several years, most of the trails have been ďimprovedĒ for cross country skiing, especially skate skiing.† This requires a very wide path to be cleared and graded.† As you may imagine, the Anchorage mountain biking community is having fits with this policy.† It appears other user groups in Anchorage have lots more clout.† XC skiing is a big deal in Anchorage.† Iíve read that every child by the age of 4 is involved in one ski program or another.† There are hundreds of miles of groomed trails, both in the city and leading out far from the city.† If I could handle 6 months of darkness and 2-3 months of summer, I could get into the XC ski scene there.† In June I saw folks on V2 rollerskis multiple times.† Itís a year-round passion.
It had rained earlier in the morning over Kincaid Park, so I sampled only a couple miles of trail.† The trails seem to roll quite steeply with upwards of 200ft elevation change min to max.† Sandy in places.† But the wet vegetation was making my tires pick up everything, throwing it into my face and drivetrain.† I had to pack my bike up as soon as I got back and wasnít too enthused about getting covered in sand and mud. †After getting a good enough sample, I popped back on the pave path and looked for a stream to dunk bike in.† Bike got clean, but stream I found was too stagnant to me to dunk in.
I was really sick by this point and couldnít even ride at an aerobic pace. †Throat hurt so bad I wasnít even drinking my water.† I started to wonder if I had strep throat, as I wasnít developing any other symptoms, no runny nose, no cough, no sneezing, etc.† Fortunately I got all the epic rides in before getting sick.† It was good to get out for one last easy ride before heading back to New England four time zones away.† We left around 8pm Saturday and planned to be back home by noon on Sunday.† Yuk.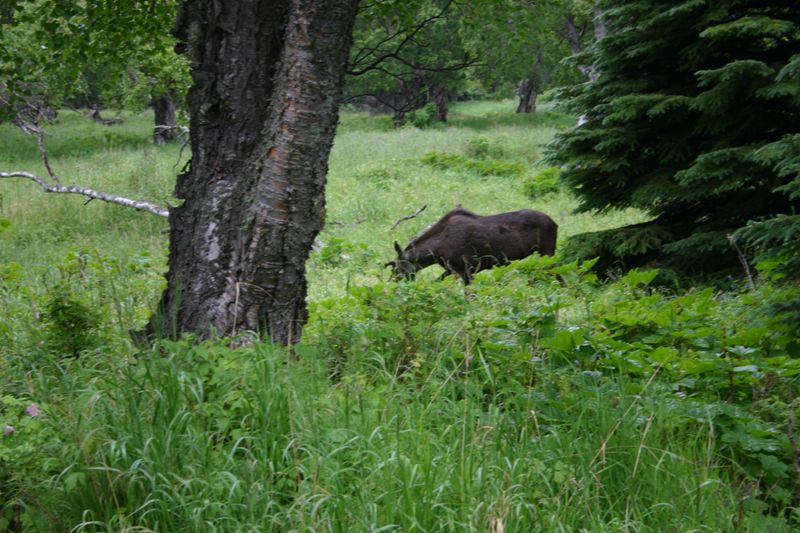 Cow Moose on way to Kincaid Park along Tony Knowles bike path.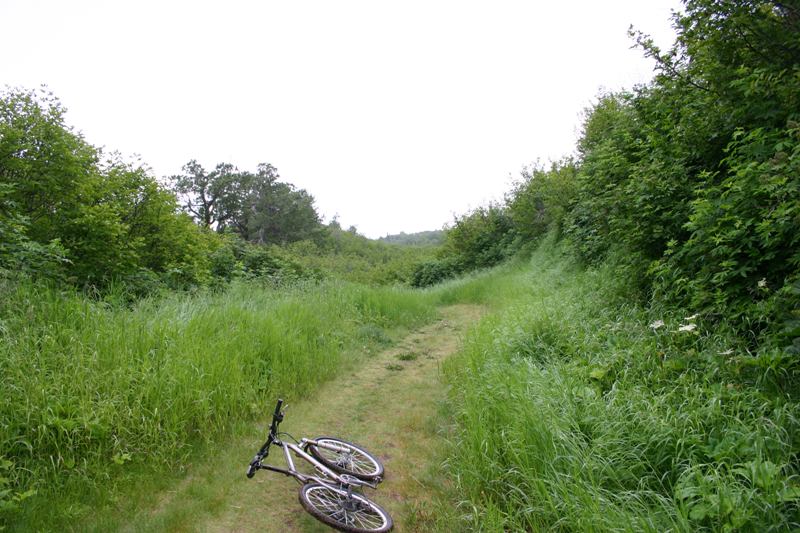 Typical dirt trail in Kincaid Park.† Not very inspiring.† Nearly all the trails have been cleaned out wide
like this and graded for XC skiing.† It was very steep rolling terrain however, something Iíd very much
like to try on skis.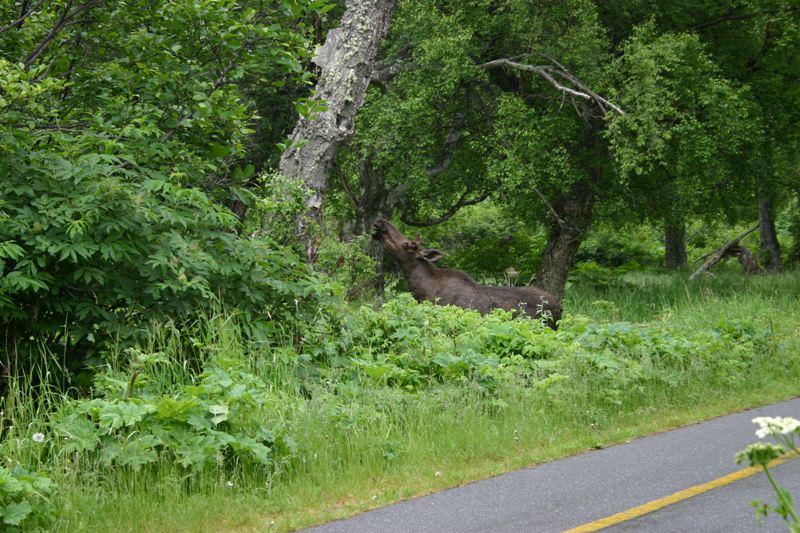 Same Moose on the way back.† The leaves must really be yummy up there.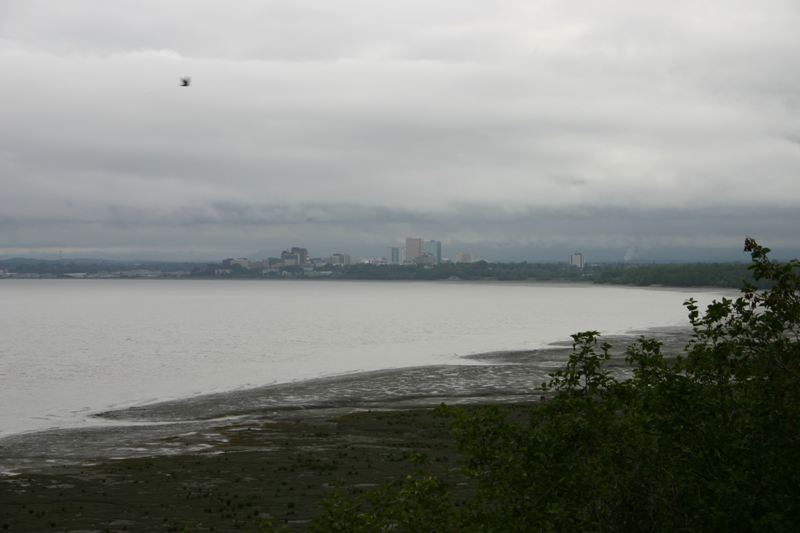 Downtown Anchorage from path.† Our hotel was just the other side of the tall buildings and the path wrapped
right around town on the waterís edge to it.
Trip Summary
Overall, this was another great cycling trip.† Getting sick towards the end put a small damper on activities.† At least I got in all the epic rides feeling great.† The weather held up marvelously compared to some recent patterns of all rain.† The days we needed to be clear or warm or calm, were.† I wouldnít rule out a return trip to Alaska, either a summer or winter visit.† There are many other trails I would like to ride, more places to visit.† The winter skiing sounds phenomenal, especially since it sounds like almost everything is groomed for skate-style skiing that has become very popular there.† Skate skiing has become a winter cross-training passion of mine.† Not that good at it yet, but I keep improving each season.
Perhaps the highpoint of the trip for me was the Resurrection Pass/Devils Pass ride.† So many miles of truly incredible singletrack, rivaling the best stuff Iíve ridden in places like Colorado or Hawaii.† When I planned the trip, taking the Kenai Fjords boat tour was not one of the things I was going to do.† I was glad to take the tour though.† I got some needed rest and saw many things that are uniquely Alaskan I would have missed otherwise.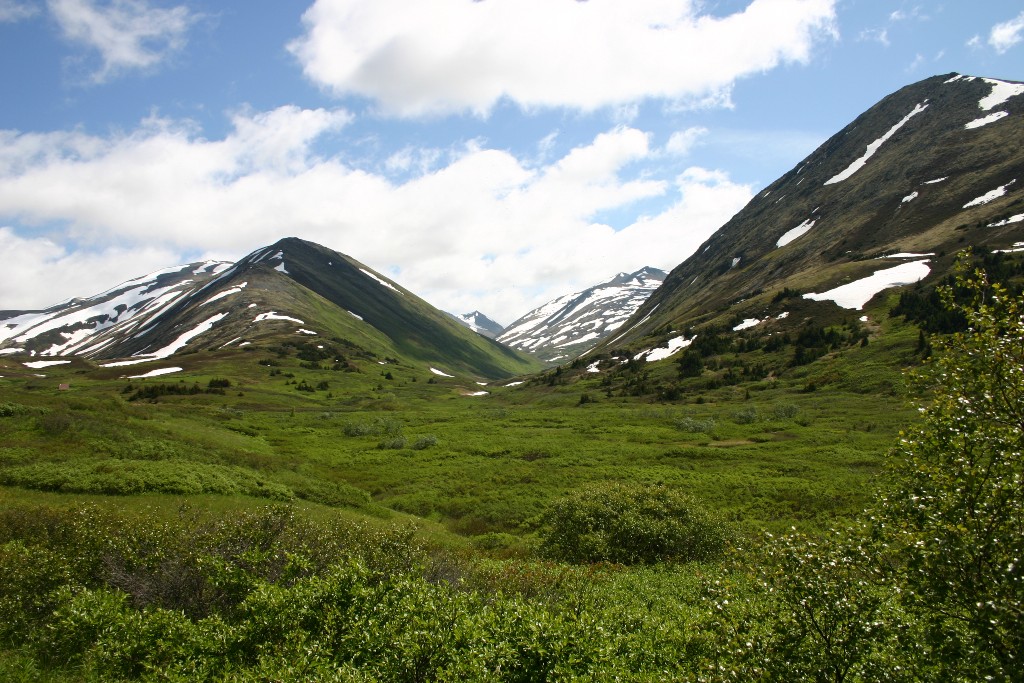 All photos by Doug Jansen unless indicated otherwise.† Permission to use any photos by author is granted.
Trip summary was compiled on July 7, 2006.