Arizona Trip – Tucson, Sedona and the Grand Canyon
April 1-8, 2008
Trip Stats:
<![if !supportLists]>· <![endif]>Family trip with Cathy and mom Jansen
<![if !supportLists]>· <![endif]>Five riding days, 274 miles, 33,000 feet of climbing, in 23.9 hrs riding time
<![if !supportLists]>· <![endif]>One major hiking day in the Grand Canyon plus two other hikes, about 10mi/5hrs total
<![if !supportLists]>· <![endif]>Highly cooperative weather every day, most daytime highs in the 70's
<![if !supportLists]>· <![endif]>No flats or mechanicals during rides, but a tire changed was required during the trip
Note: Most of the narrative in this trip report previously appeared in daily postings on the Hill Junkie blog.  Numerous new photos with captions have been added to this comprehensive report.
Squeeze the Lemmon MTB Ride, Tucson/Oracle, AZ
Wednesday, April 2
108.9mi, 13,500ft, 7:38hrs
Mostly sunny, ~60 to mid-80's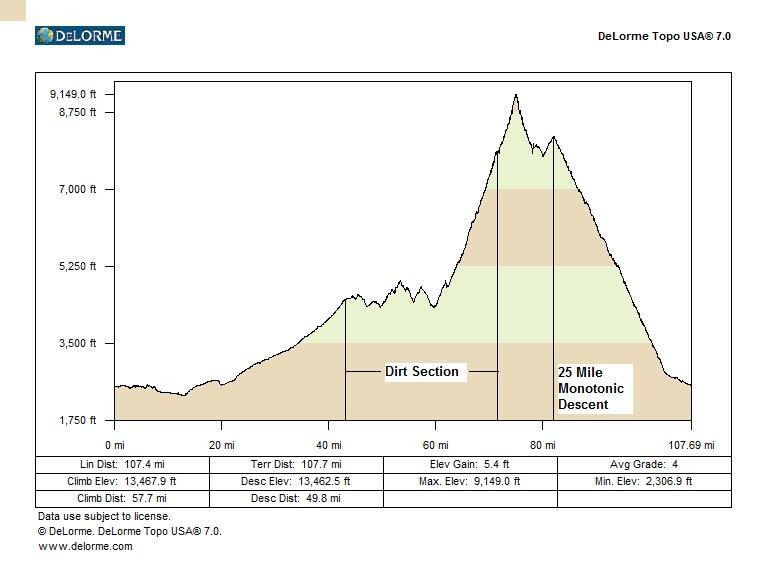 For about six years now, I've always wanted to bike to the very summit of Mt Lemmon. Not just the village, or even the ski area base, but the all the way to the high point. For years, the Mt Lemmon Highway has been under reconstruction. It was off-limits to bikes. Then last year, Dave Penney and I tried and got snowed out. After a long dry, warm spell, the summit was now nearly clear of snow.

I couldn't settle for just a roadie kind of climb, you know. I wanted to go big. This means to ride up the back side of Mt Lemmon, which is a rough jeep road, and descend the front side where most folks ride up. To do this required a very large loop, 108.9 miles to be exact. And a mountain bike was required. I have never ridden more than 70 miles on a mountain bike in a day before. But today's ride was mostly pavement, so not all of those 108.9 miles were going to be hard.

After a huge breakfast, I rolled out shortly after 7:30am. Bit chilly, but just warm enough to not need any warm layers. I took a long jersey and rain shell in Camelbak just in case. There was 10% chance of rain in forecast.  The women were going to sight see the Saguaro National Monument and take a foray up into Sabino Canyon.

The route skirts the northern reaches of Tucson on the way to Rt 77. Then in many mind numbing miles, gains about 2000ft gradually to Oracle. The 38 miles to Oracle took just over 2hrs, and I thought this ride was going to be too easy. The 1.6" tires at 70psi rolled quite fast.

But fantasies of wrapping the ride up in five hours soon evaporated. When I stopped in Oracle to get some more water, I only picked up a liter, as I hadn't drank that much out of my Camelbak. It didn't top off my pack. The gravel started innocuous enough, smoother and faster than most New England roads this spring. Then the rolling hills started. These weren't your typical New England rollers. I climbed for maybe 20 minutes at a time, then in 5 minutes I give it all back dropping into a ravine. The climbs and descents got progressively bigger, many hundreds of feet each. Each time I recovered lost vertical, I'd see my destination looming far away and high above. But then I drop again. It was maddening, a climber's purgatory of sorts.

Then there was that big sign at the bottom that said road closed 19 miles ahead due to winter conditions. Oh. I just pretended I didn't see it. By the time the climbing began in earnest with the rollers behind, I was out of water and it was hot out. I was freaking out, knowing that I probably still had a vertical mile to climb to the nearest water, and the temp was breaking 80F. The road became a narrow one-lane affair, non-stop washboard and embedded rocks. On a hardtail with 70psi tires, this was a non-stop butt pounder.

Eventually I reach the 19 mile gate that was supposedly closed. It wasn't, but the road got decisively rougher after this gate. I was becoming progressively dehydrated, and my average speed began to plummet. My throat was cracking with dryness, and I hadn't peed in 6 hrs. I had trouble holding 4mph in places, but refused to drop into the granny. After a while, I start to hear machinery. Town of Summerhaven I thought. But sound has a way of carrying in the mountains. I must have climbed another hour before I hit pavement. I was so relieved.

I went straight to the General Store in Summerhaven. It was closed! I turned more than a few tourist's heads with my vocal frustration. I went to gift shop to see where I could get water. They said next door at pizza shop. I asked if I could buy some Gatorade or water, and the nice gal that worked there offered to fill my Camelbak. Sweet. I also bought a Coke and $4.00 Oatmeal cookie. Steep price, but when I got it I knew why. It completely covered a paper plate, it was warm right out of the oven, and it was very yummy.

I had planned to summit first, before stopping in Summerhaven to refuel. But now I was good to go to finish the last 1500ft or so of climbing to 9150ft. Even though I was back on pavement, the going was slow. It was so steep, and air gets thin that high up. The ski area still had remnants of snow around, but it was closed. The service road going to top of ski area had been plowed at one time. I still had to watch for icy places. Eventually the observatories come into view, and my climb was about over. Net gain was about 6800ft, most of it on rugged jeep road. My average speed about 75 miles into the ride was only 12.0mph! I doubt most roadies climb the final service road to the summit. It is not in very nice shape.

I did a loop to the highest point of the mountain (might have technically been a restricted area) before dropping down a bit to catch a view of Tucson below. I think you really have to hike out to the rocks for a good view, as I could not readily find one on my bike. It was chilly up here, but I managed to hold off putting any layers on. This is far cry from when Dave and I tried to summit last year this time. It thunder snowed, and we donned full winter gear for the descent.

On the descent back to Tucson, there are a couple climbs. One gains hundreds of feet still near the top. I was starting to cramp up, my 100oz Camelbak was going empty again, and I had thirty miles to go! But once you crest that blip, it's pretty much all downhill for the next 25 miles.

I was passed by a roadie on the descent met others coming up. Why is it roadies don't even acknowledge dudes on MTB's? I had my NorEast team kit on, on a Dean Ti bike, but fat tires and no drop bar. I didn't even exist. Had I been on my Dean road bike, at least they would have glanced to see what I was riding. I bet the kid that passed me probably even thought I was dropped off at the top and just coasting down and had no idea I had been out 7 hours by that point and climbed 2.5 times as much as he did.

The wind was brutal coming back into town. So strong it pushed up the canyons, that I almost couldn't coast down a 5% grade in spots. I was becoming dehydrated again, and I had to work the last several miles into the wind as the grade tapered off into the city.

So this ride finally happened. I was psychologically unprepared for how hard it became, easily on par with 6-gaps of Vermont or the D2R2 ride. Getting dehydrated twice in the same ride was just plain stupid. And dangerous. On the dirt climb, I was out in bone dry nothingness for over 3hrs. Only two trucks came by during that whole time. But epics like this are priceless. Being out there without another soul around wondering if you made a huge mistake embarking on such a remote ride solo adds a rich dimension to riding.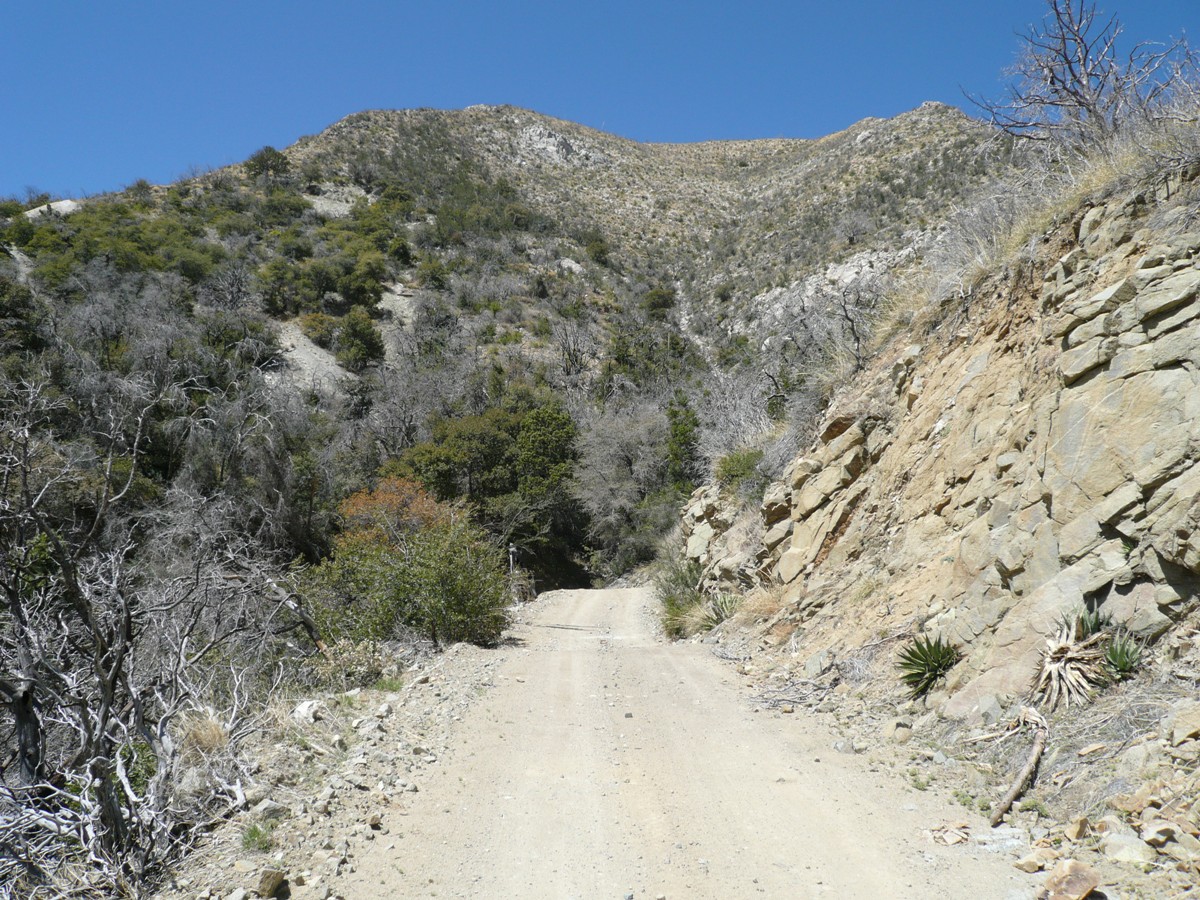 Climbing the Mt Lemmon Control Road.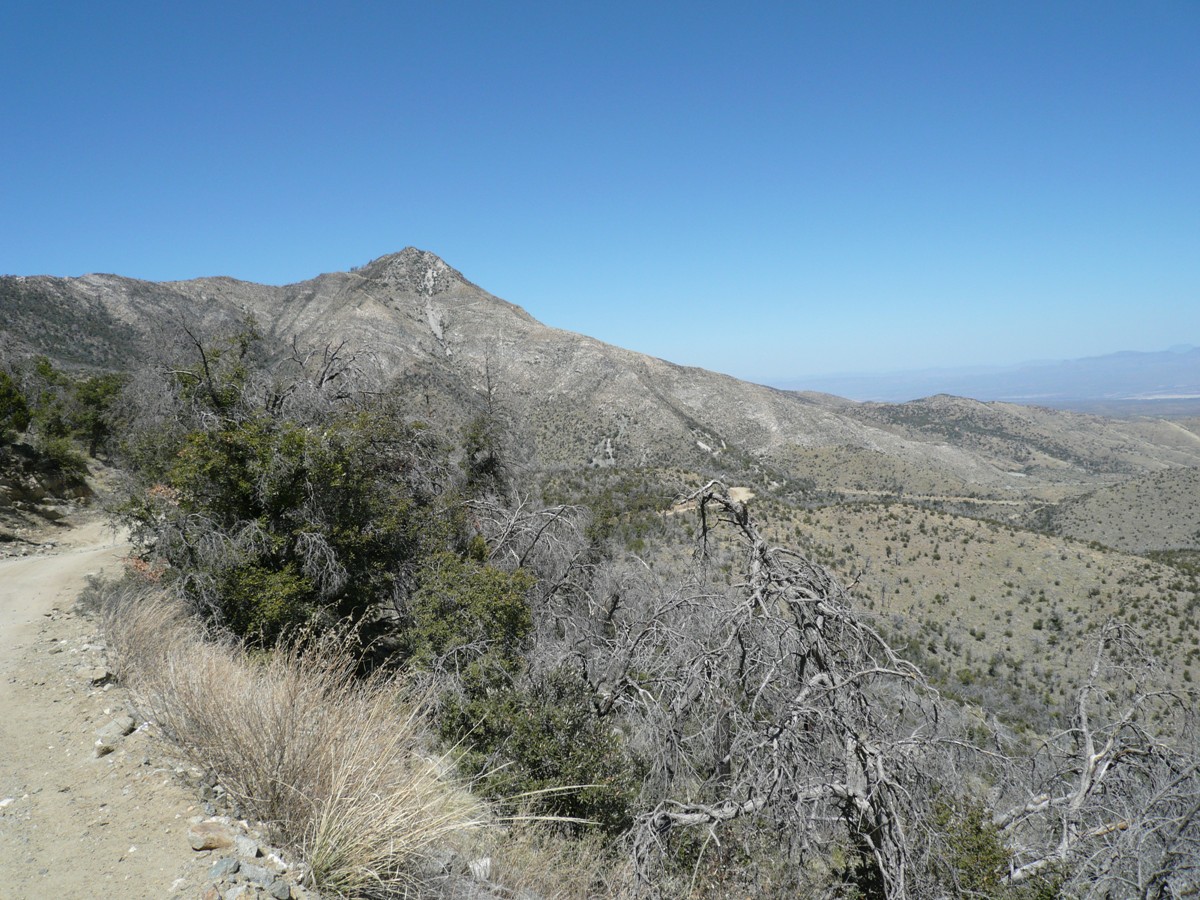 Looking down the control road.
I thought this snowy peak was the summit for the longest time.  I was only about 1000ft below it here and had been without water for an hour already.  This was not the summit.  It was several miles to the west of here and about 2500ft above where I was at.  It took me a long time to realize this.
Burn area north of the ridgeline from Summerhaven village (hi-rez).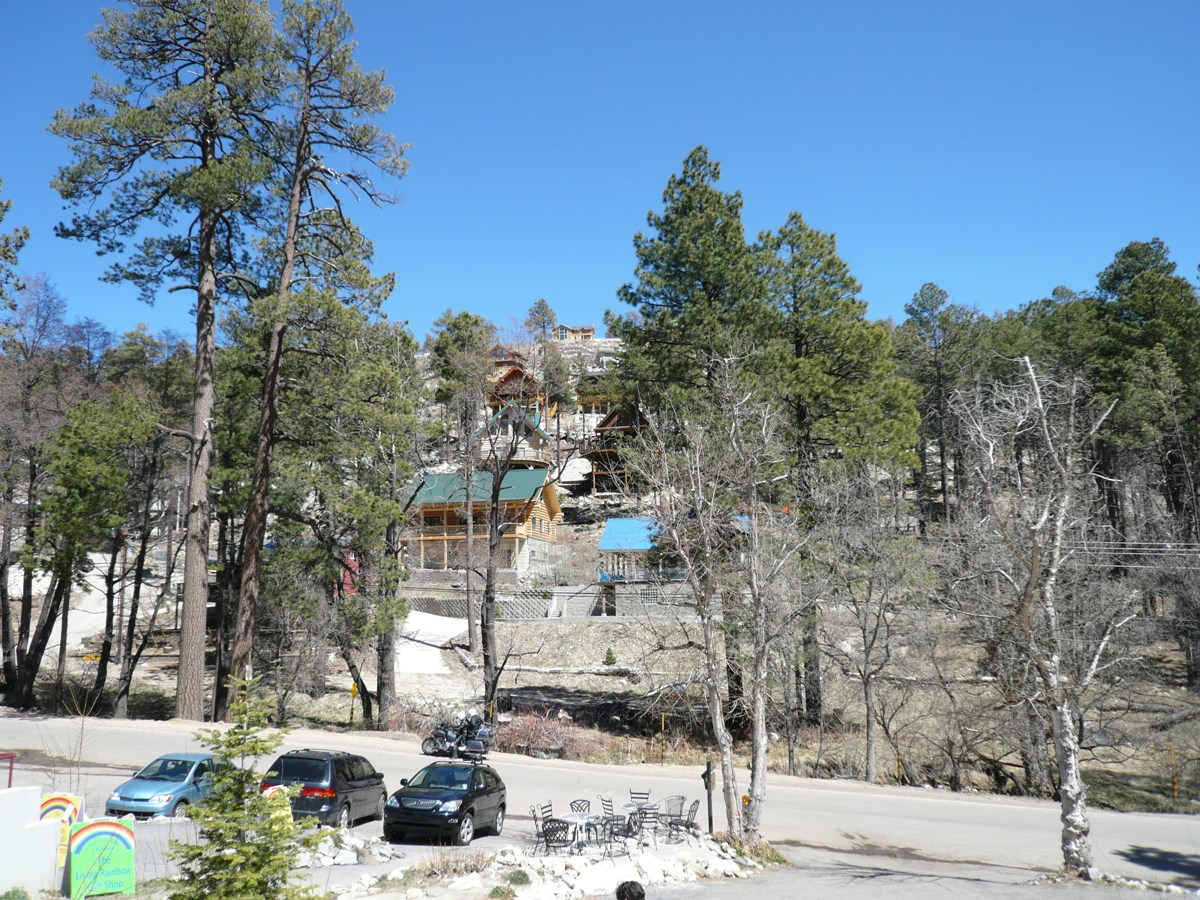 Village of Summerhaven.  I think only 3 structures out of several hundred survived the fire a few years ago.  These homes are all brand new, and they all have metal roofs.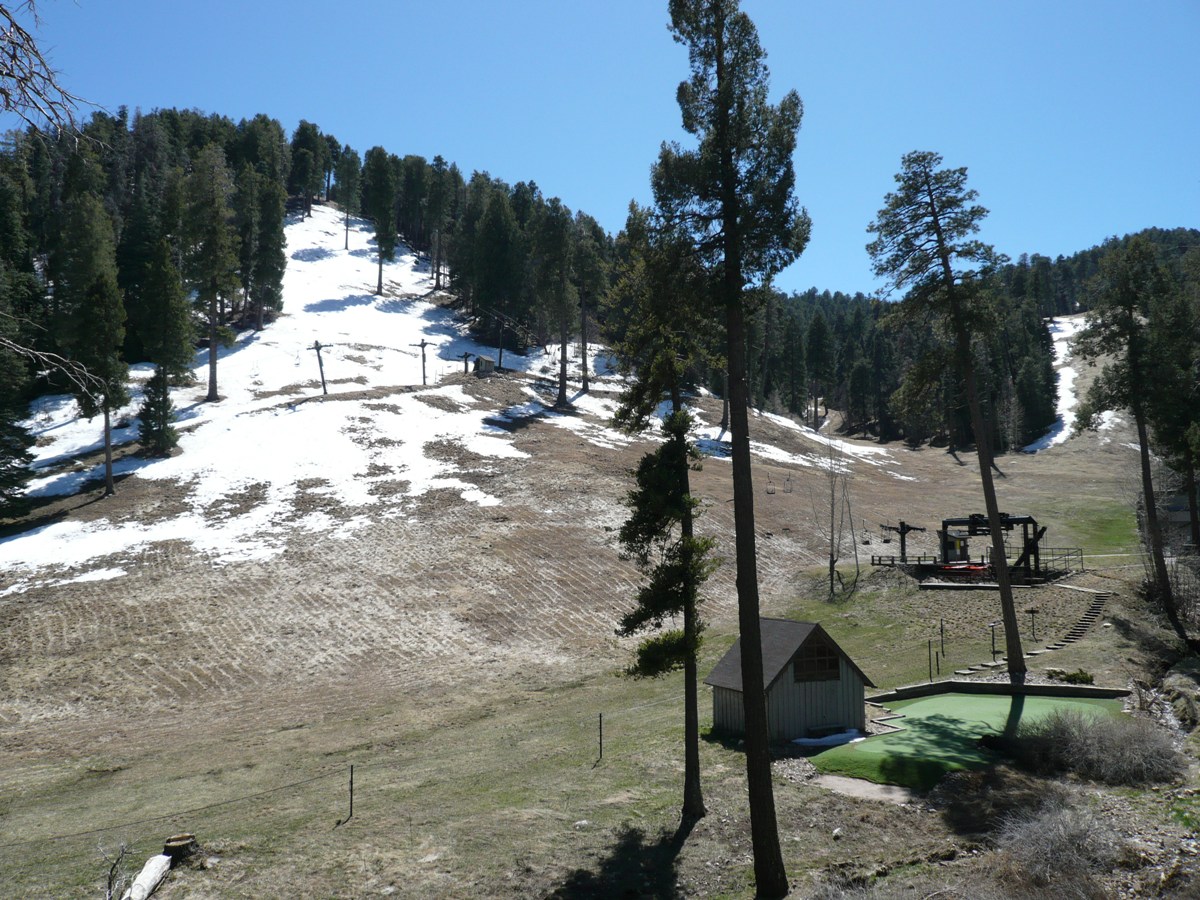 The ski area several hundred feet above the village.  A bunny hill by New England standards.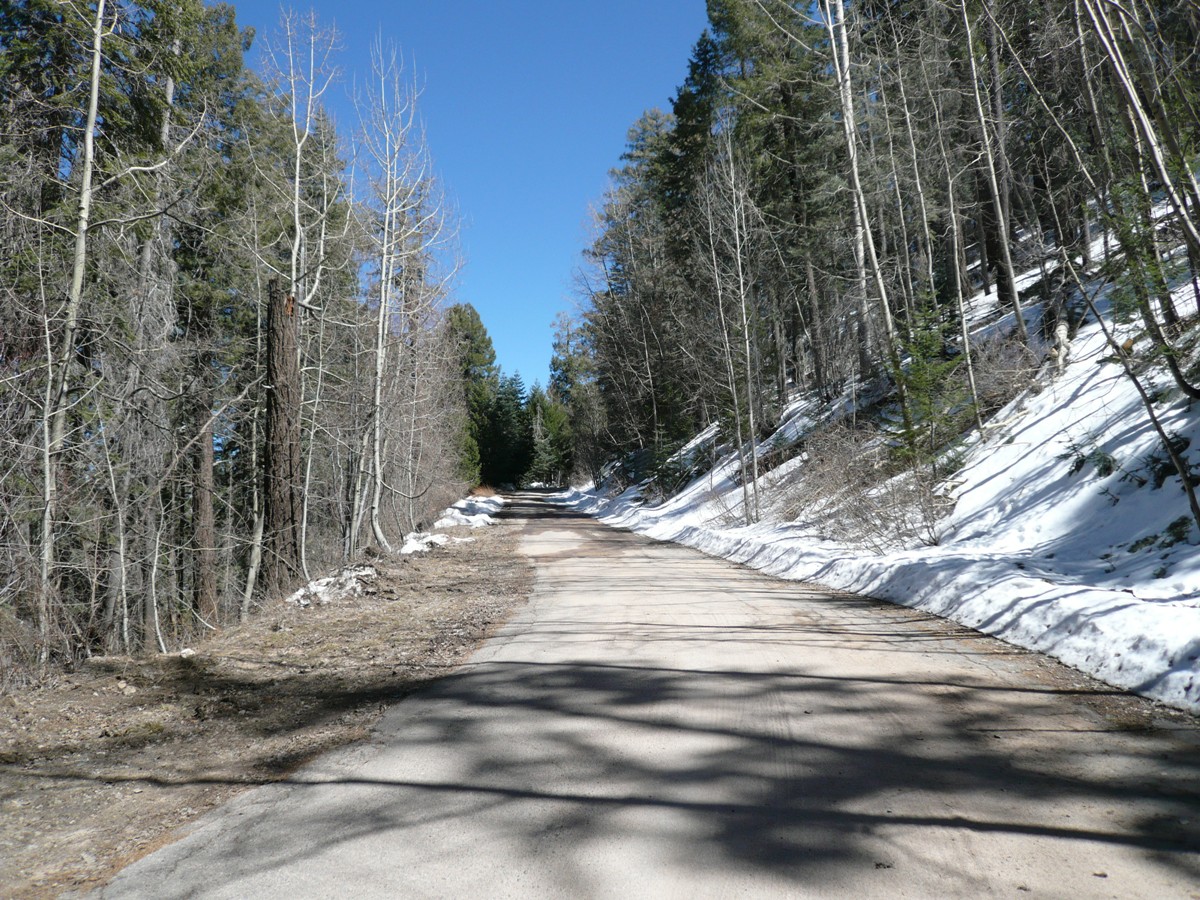 Access road rising above ski area to summit observatories.  At one point in this photo, the road was very nearly pinched off by ice and snow.  A few days earlier I might have had to walk a short portion here.  Why is it I always travel thousands of miles to get away from New England snow, only to find… snow?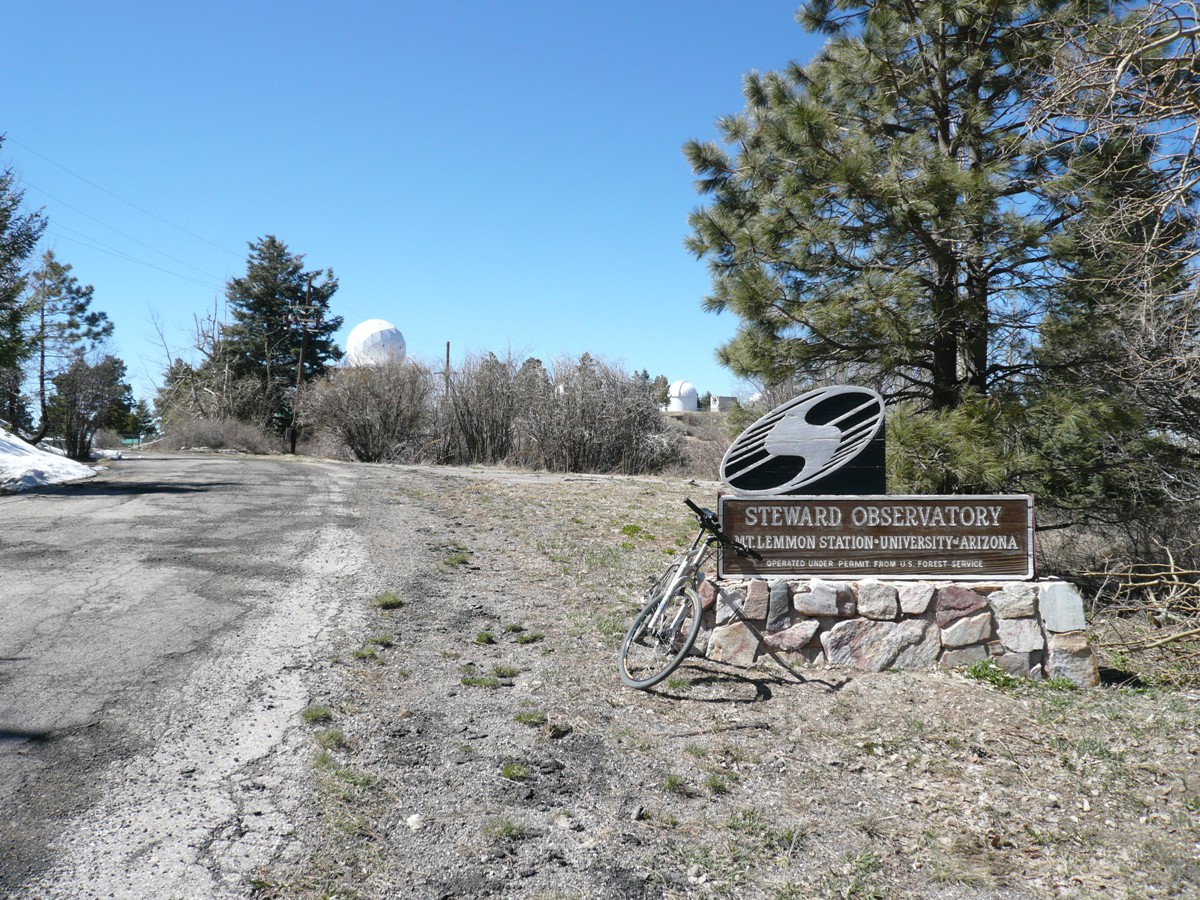 Finally, after many years wait, the Mt Lemmon summit.  I looped up inside the fenced area since it gate was open.  The high point appeared to be by bubble directly above my bike in this image.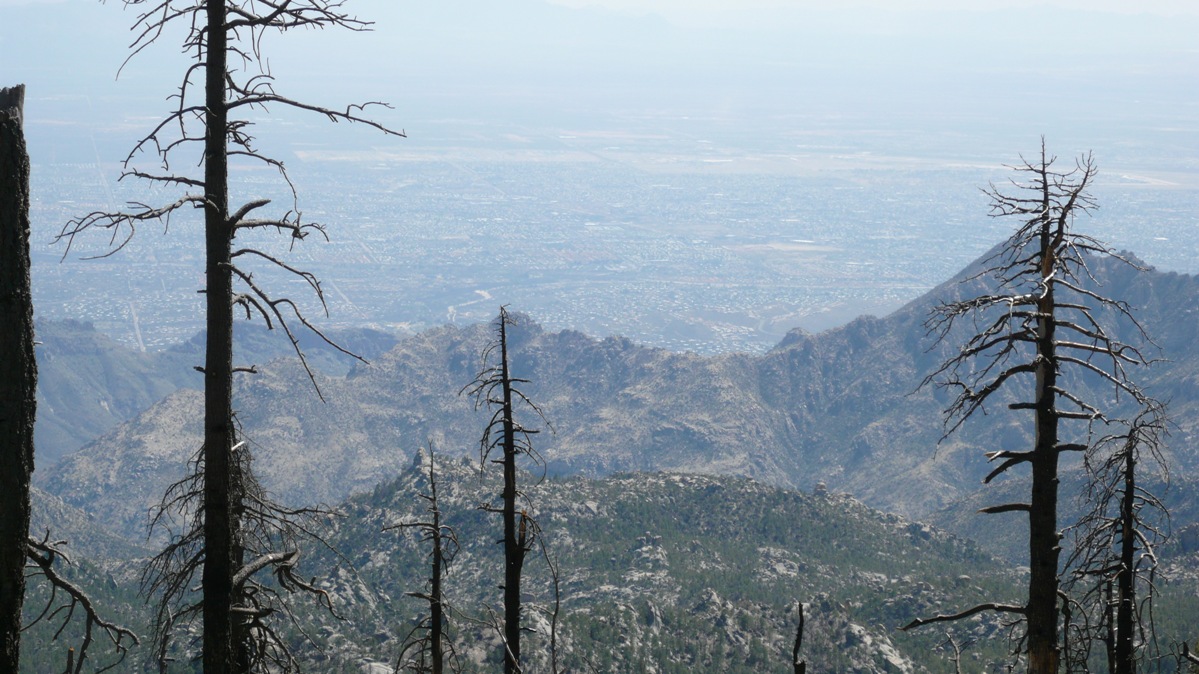 Tucson about 6700ft below from the summit of Mt Lemmon.  This area was burned too.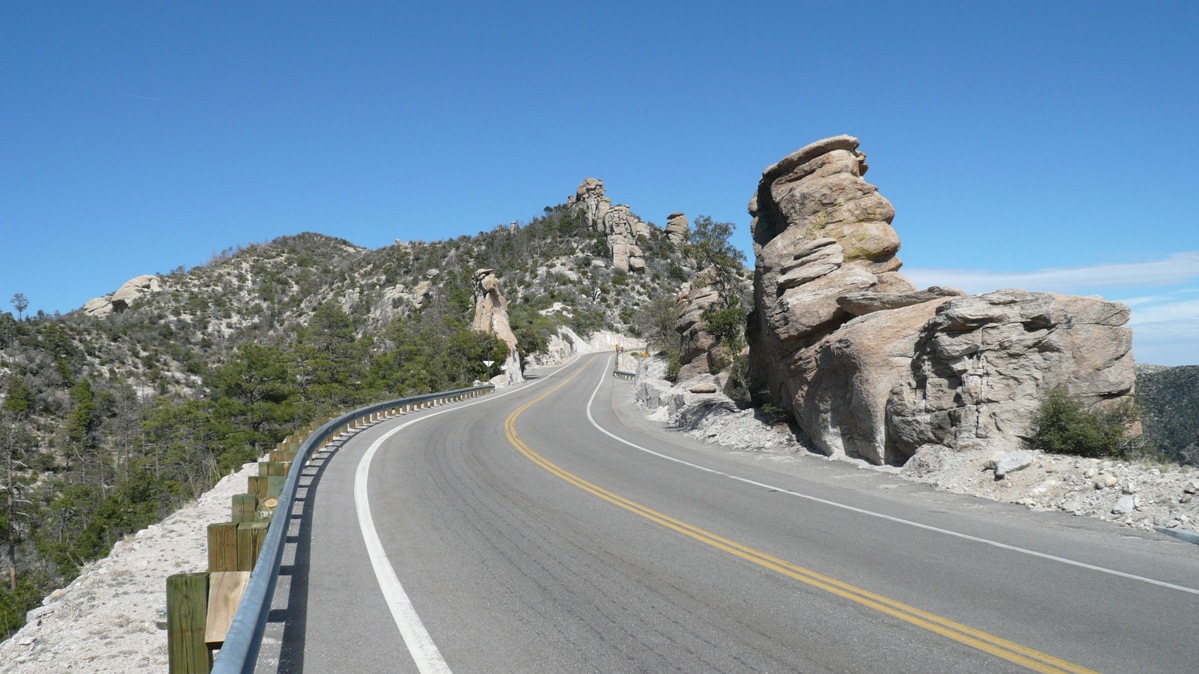 Looking up the Catalina Hwy part way down the descent.  About 25 miles of this descent is monotonic with near nil breaking required.
Another side shot of the descent with a balanced rock the size of a tank.  They must not get earthquakes out here (hi-rez).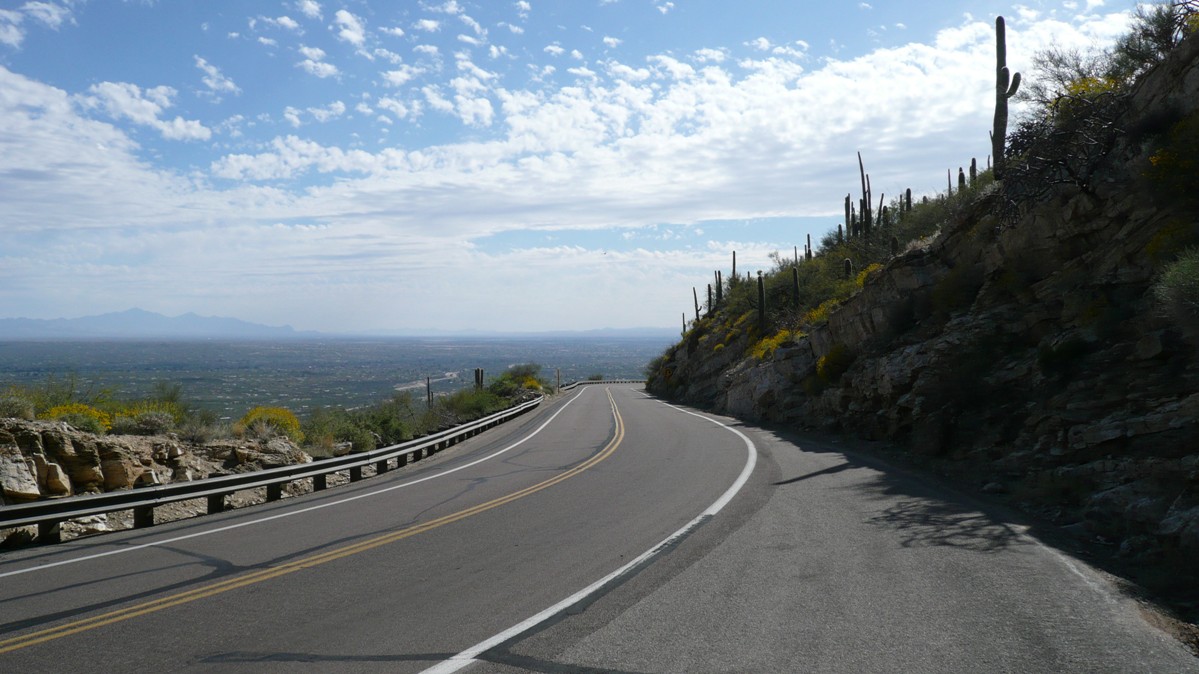 Nearing the bottom of the descent with saguaro cactus, spring flowers, and Tucson in the distance.  Mt Hopkins is faintly visible in the center left of image.  This will be the next day's destination.
Fantasy Island Trail Ride, Tucson, AZ
Thursday morning, April 3
21.5mi, 1:46hrs, vertical - who cares!
Cloudless 70 degrees
After epic ride the day before, some chill'n on trails was in order. The Fantasy Island trail network was a short 20 minute drive from the hotel. I was going to squeeze this ride in before checking out, and the women were going to hang out at the pool.
I planned to do full perimeter loop, which means hitting each of the named loops. All the trails are unidirectional. The whole place is like an amusement park for mountain bikes. No fear of death stuff, but tons of wash drop-ins, table tops, gravity cavities, and other opportunities to get air with amazing flow.
As I worked my way around, I noticed named loops that were not there a year ago. I had to ride them despite being on a time budget this ride. The Snake loop and Rez loop were new ones added off the Bunny loop.
When I stopped to take a photo, I swung my bike around and clipped a Cholla cactus with the rear tire. Chunks broke off, and about 30 needles stuck in the tire. I tried to remove the balls of thorns with a sharp stone, but the more I tried, the more they rolled around and embedded more thorns into the tire. Eventually I got the balls off, but the thorns would not pull out. They would break before pulling out. Now I know why these things are the bane of a mountain biker's existence out here. You hit one, you go to the hospital. Glad I run tubeless tires with Stan's sealer. At least a couple of the thorns went through the sidewall and leaked a little Stan's.
Anyway, it was a great ride, energizing even, on uber trashed legs from the 7.6hr deathmarch ride the day before. Got back in plenty of time to check out and prep for ride two of the day.
Dodging Cholla cactus on Fantasy Island trails.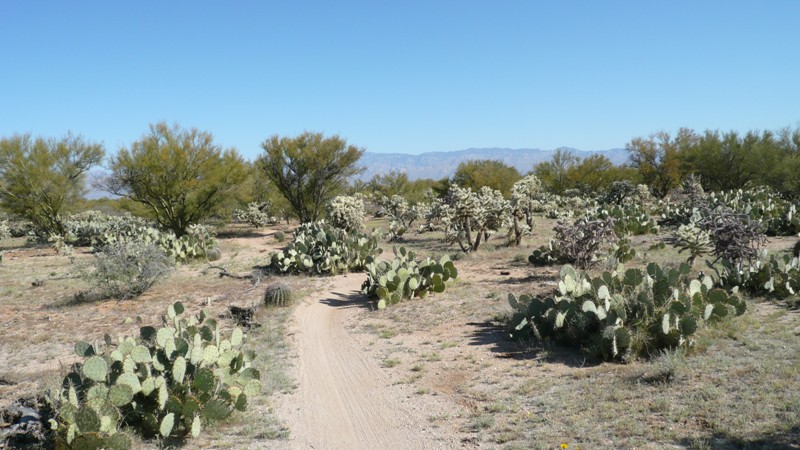 One of the more buff spots with Santa Catalina mountains in the background where I biked yesterday.
The halfpipe, a natural wash as far as I can tell.  The transition into the halfpipe was nasty if you weren't expecting a 3-4ft near vertical drop.
Mt Hopkins Hillclimb, Amado, AZ
Thursday afternoon, April 3
38.5mi, ~6000ft vert, 3:28hrs
Pleasant 70's bottom, frigid up top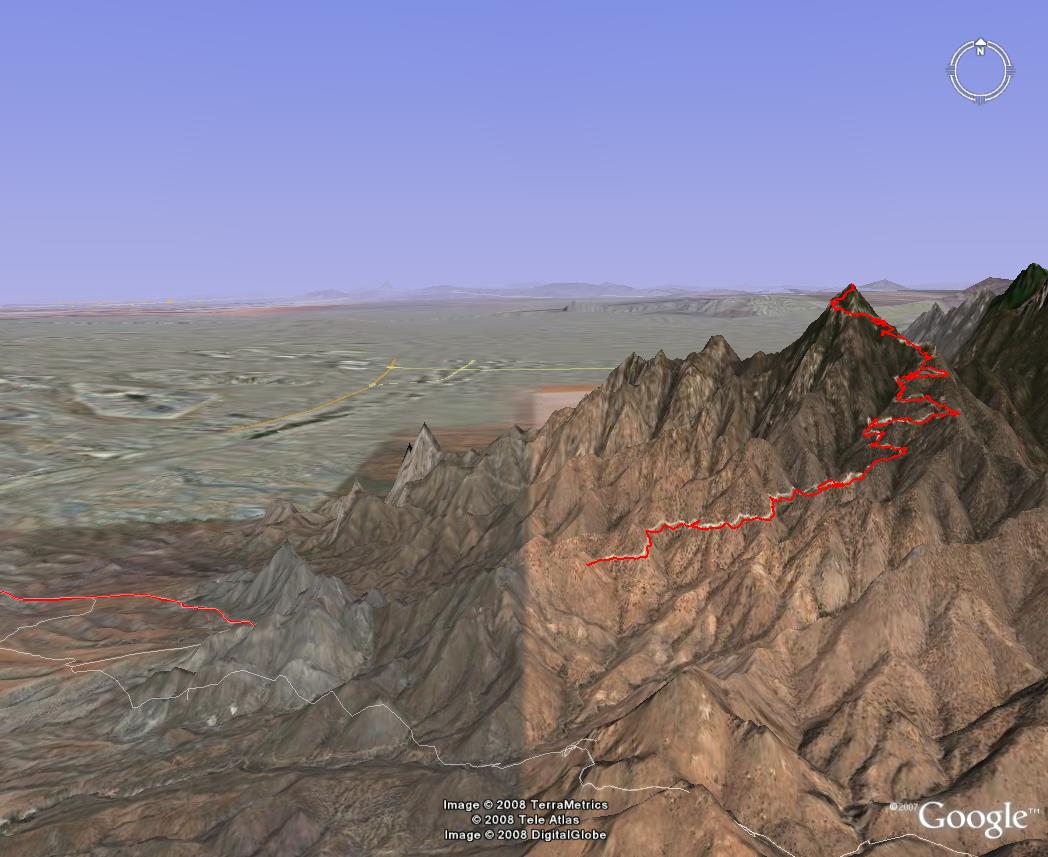 The women were nice enough to let me indulge in one more ride today. They dropped me off in Amado, just miles from the Mexican border, while I did an out and back up Mt Hopkins. They were going to hit the Pima Air Museum while I rode. Mt Hopkins from I-19 gains about 5500ft to 8500ft elevation. It is a one lane dirt road most of the way and meticulously maintained. There is a Smithsonian research complex with telescopes up top.
In haste, I forgot to take long layers with me when I got dropped off. Easy to do when it is clear and 75F at the bottom. I left a couple water bottles at the bottom in case I got back before the women and was dehydrated. My legs were so sore and sluggish starting out riding through a flowing wash 6" deep.
You can see the main observatory, precariously perched on the pinnacle, for much of the climb. At first, the grade is gradual, and it looks like you are making good progress to summit. But you are merely getting closer, not higher. After about 1.5hrs of climbing, you come around this bend and see the big white building up top almost straight above you. It is still waaaaay up there, and it completely crushes you. The road meanders all over in a very small volume as it edges up the cliff faces of this beast.
About this time, I started to get cold. I had severe reservations about continuing all the way to the summit, as a dark cloud was starting to form and I had no protection with me against hypothermia. When I climbed this mountain several years ago, I froze on the descent. It was 60-70 at the bottom and everything up top was covered in rime ice. I pushed harder and harder to stay warm and to make sure I had elevated core body temp to begin my descent. I figure I would suffer the first 20-30 minutes to get back down to less frigid air.
I was breathing very hard the last 30 minutes of the climb, and I felt the early tale-tell signs of cramping coming on. But I made it. The last 0.25 miles or so must average 20-25% grade. I resisted the urge to use my granny gear and suffered through this last bit with a 1:1 gear ratio. The view is stunning in all directions. I hung around only a minute or two, as any excess core body heat I had would be quickly depleted by the frigid breeze up top. It took about 2:26hrs to reach the summit from I-19.
I saw what looked like a little rain dropping from darker clouds in the distance, but I doubt any of it was reaching the ground. I was up much higher however, and I feared the dark cloud forming above the peak could douse me at any moment. I flew on the descent. I got cold enough that I started shivering, but nothing like the uncontrollable shivers Dave and I experienced on Mt Evans a year ago in sleet. The descent took 62 minutes. Amazingly, as I pedalled back through the wash I started this ride in, the women just pulled up. Perfect timing.
All cyclists should try this climb, including non-mountain bikers. The climb is road bikeable, but the descent would be ultra sketchy with road tires. I had the knobbies back on for this ride. A cross bike would be ideal. The climb is very isolated, and I encountered cars only a few times in 3.5hrs during the ride. Mt Hopkins is much bigger than Mt Washington in New Hampshire but not as steep. Like Mt Washington, you get that "top of the world" sensation at the summit.
Wash at start, Hopkins summit in distance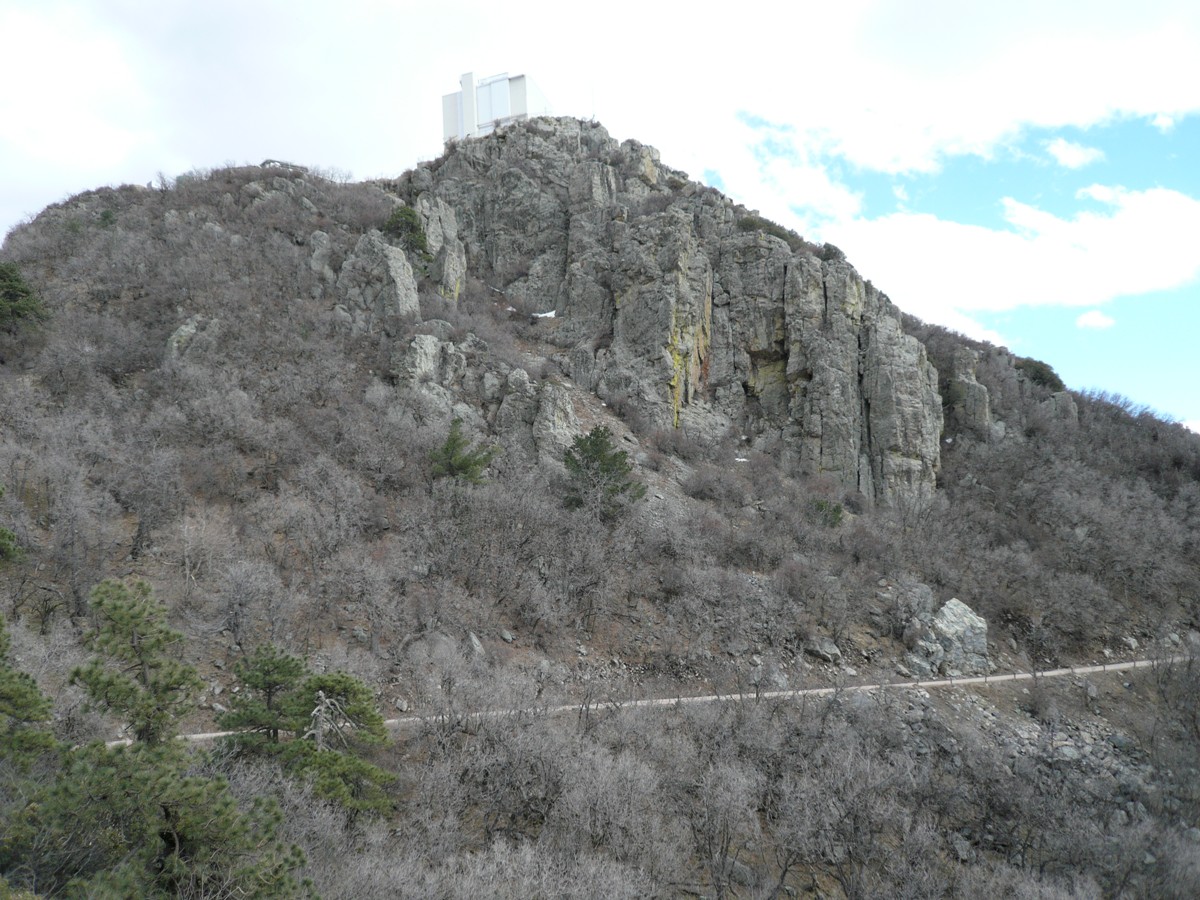 Getting close to the pinnacle.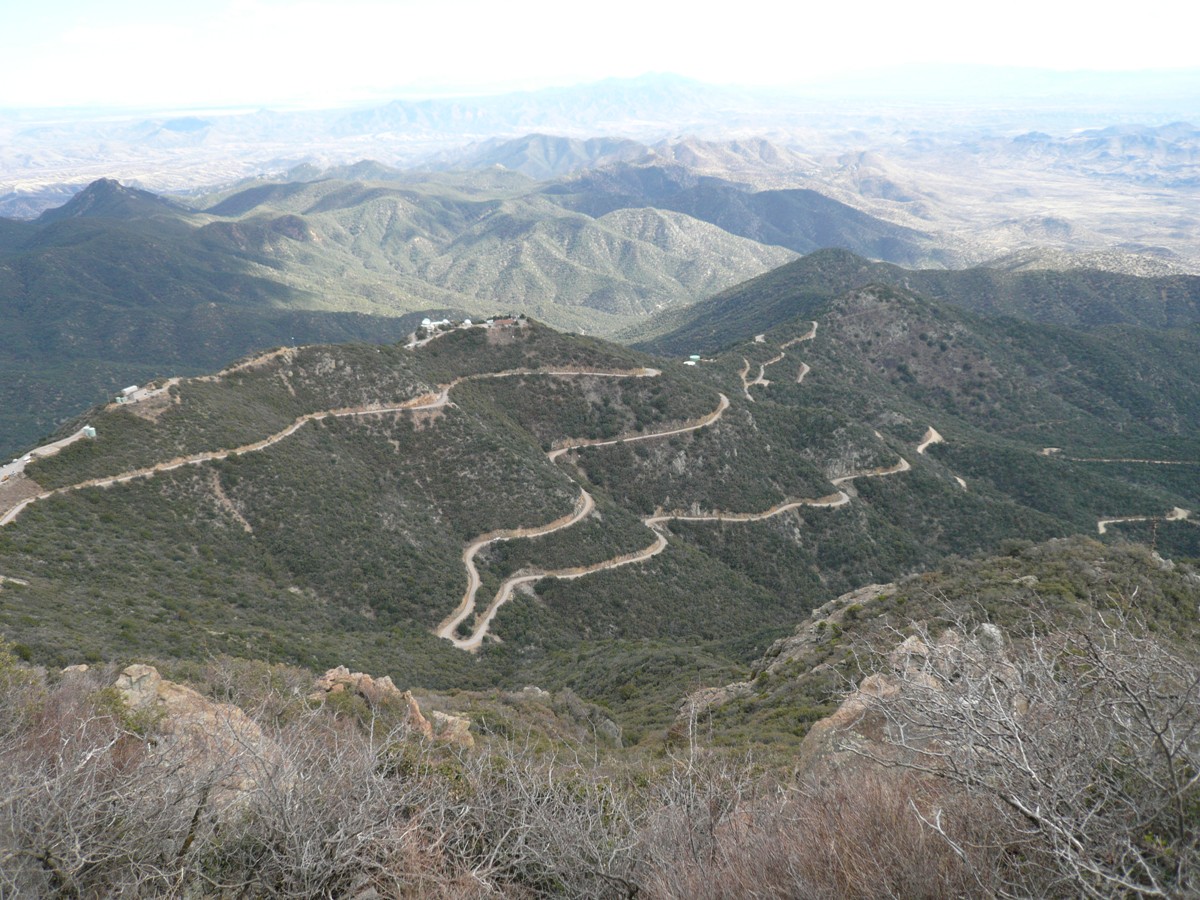 Switchbacks from Mt Hopkins summit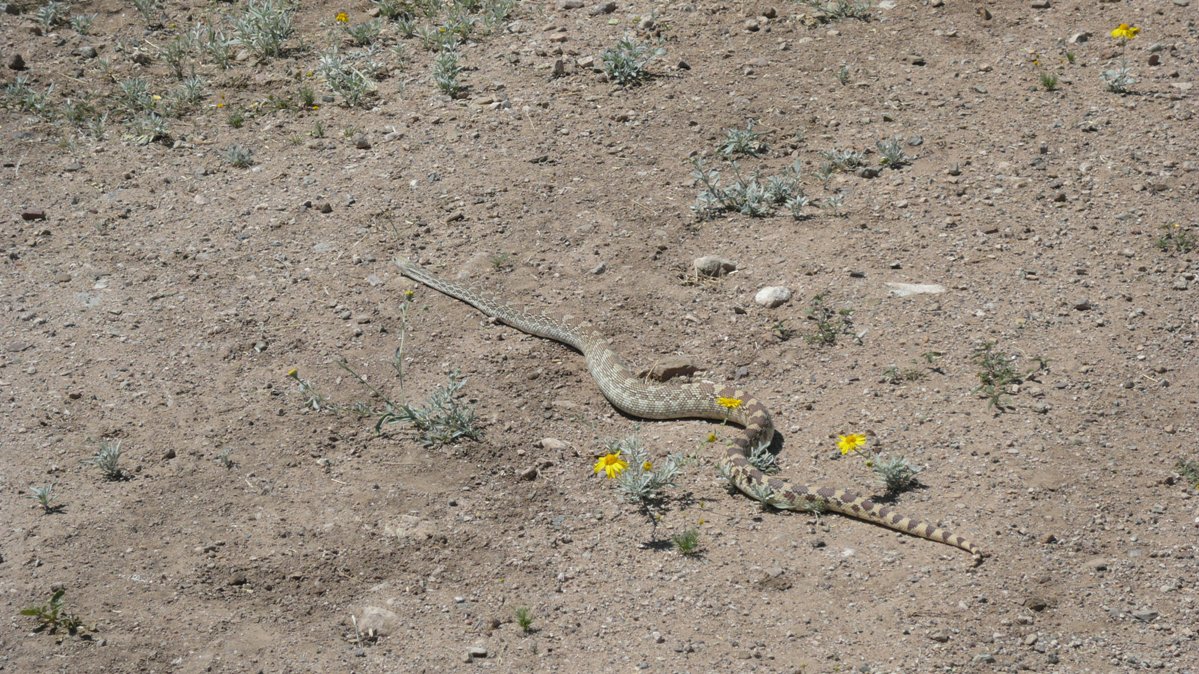 A Gopher snake on descent, it sure was big, but non-venomous.  They can reach 8ft in length, supposedly the largest snake you will find in Arizona.  The fat part of this one was almost as big around as my forearm.  My wife would have had a heart attack if she came across this.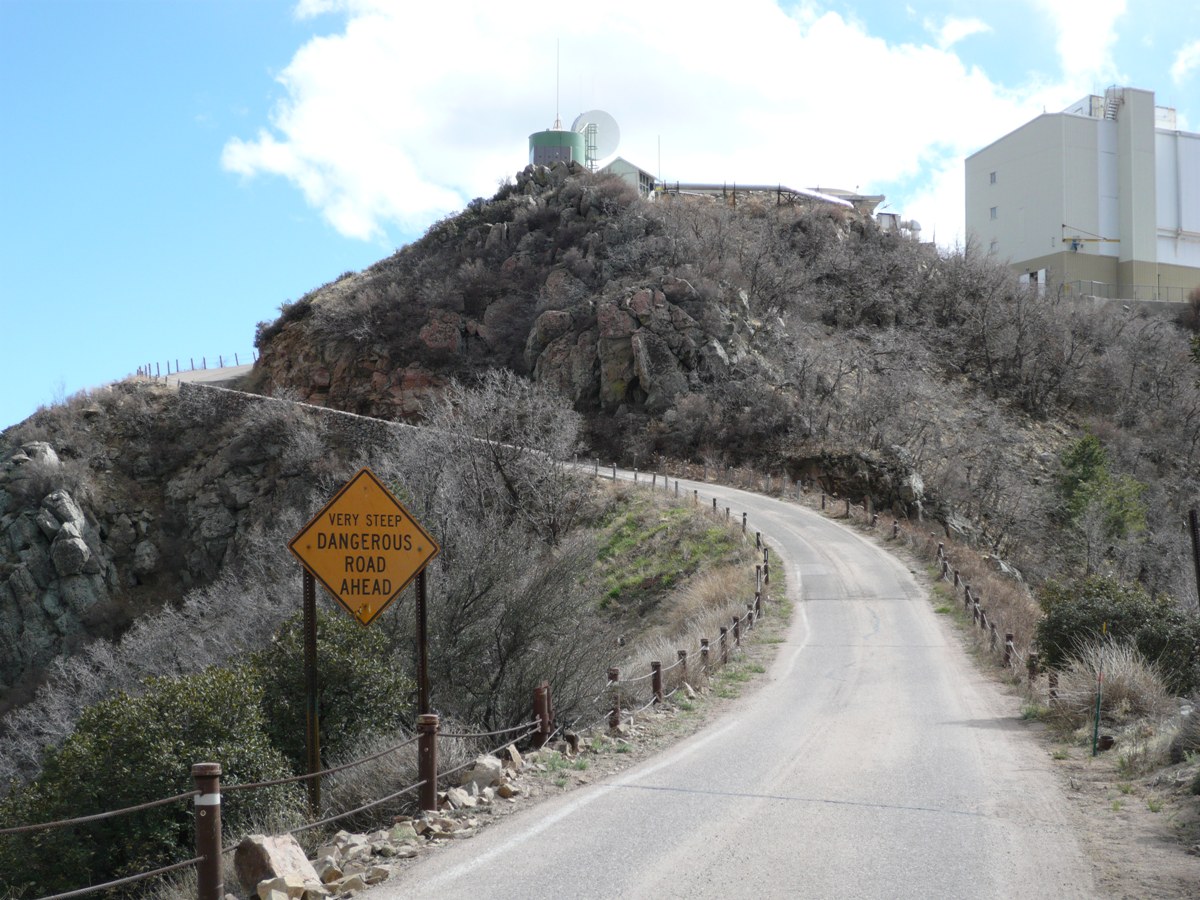 Hopkins summit, nasty steep.  I think I read somewhere this is 25% grade. I'm guessing it was more like 20%.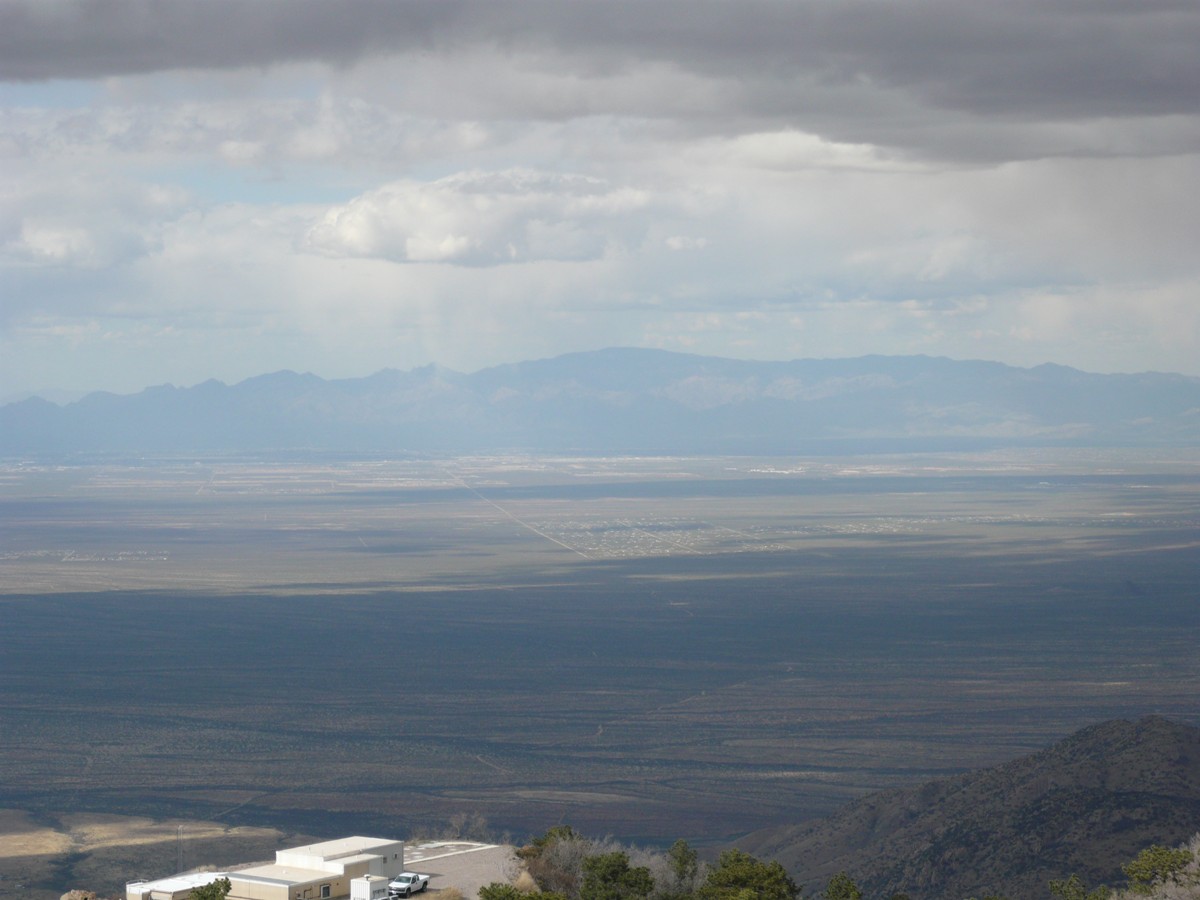 Looking north at Santa Catalina Mtns (Mt Lemmon highest peak) with Tucson at base
South Kaibab Trail, The Grand Canyon
Friday, April 4
Approx. 7 miles in 3.5hrs hiking time, 2050ft vert
Sunny, 46-60's (15F overnight low at South Rim)
The Grand Canyon.  South Kaibab Trail descending to Skeleton Point in lower center of image (click for hi-rez and pan around).  You have to be there to grasp the enormity of it all.
Yet another day perfectly matched for the planned activity. Mom, Cathy and I headed north 2hrs by car from Sedona to the Grand Canyon, south rim. We planned to hike a portion of the South Kaibab trail that juts out on a finger ridge into the canyon.
I can't imagine that another hike I'll do will match this in awe-factor. You really have to visit the canyon to appreciate the magnitude of it. It truly is one of the wonders of the world. From your first step over the rim all the way out to Skeleton Point, you are immersed in majestic views. The switchbacks starting out set the tone for the rest of the hike. I wondered what it would be like to ride down into the canyon but soon realized it would be a suicide ride.
Mom has been having some knee issues, so she was content on playing it safe and stopping at Cedar Ridge. This was half way to Skeleton Point, and Skeleton Point is only half way to the river. The canyon is about 4600ft deep here, and Cathy and I hiked nearly half of that down. Going down nearly destroyed my knees. The hiking is non-stop big steps which is high impact. I found hiking back up much easier, although aerobically challenging due to the 7000ft altitude. Cathy did well too on the hike up, as we climbed back to rim from Skeleton Point in 1.5hrs with stops. The guide says round trip takes 4-6hrs, and most people take twice as long climbing out as going in. Not for the aerobically fit however. We found hiking up to be faster with less issues of slipping or rolling ankles.
Mom made it back to the market place well before we did using the park shuttle bus service (you can't park at most trail heads). This was first time for any of us to visit the Grand Canyon, and we were thoroughly satisfied with our visit.
Cathy in the middle of the switchbacks on South Kaibab Trail (click for hi-rez).
Cathy finishing coming up switchbacks on South Kaibab Trail (click for hi-rez).
The Colorado River from Skeleton Point (click for hi-rez).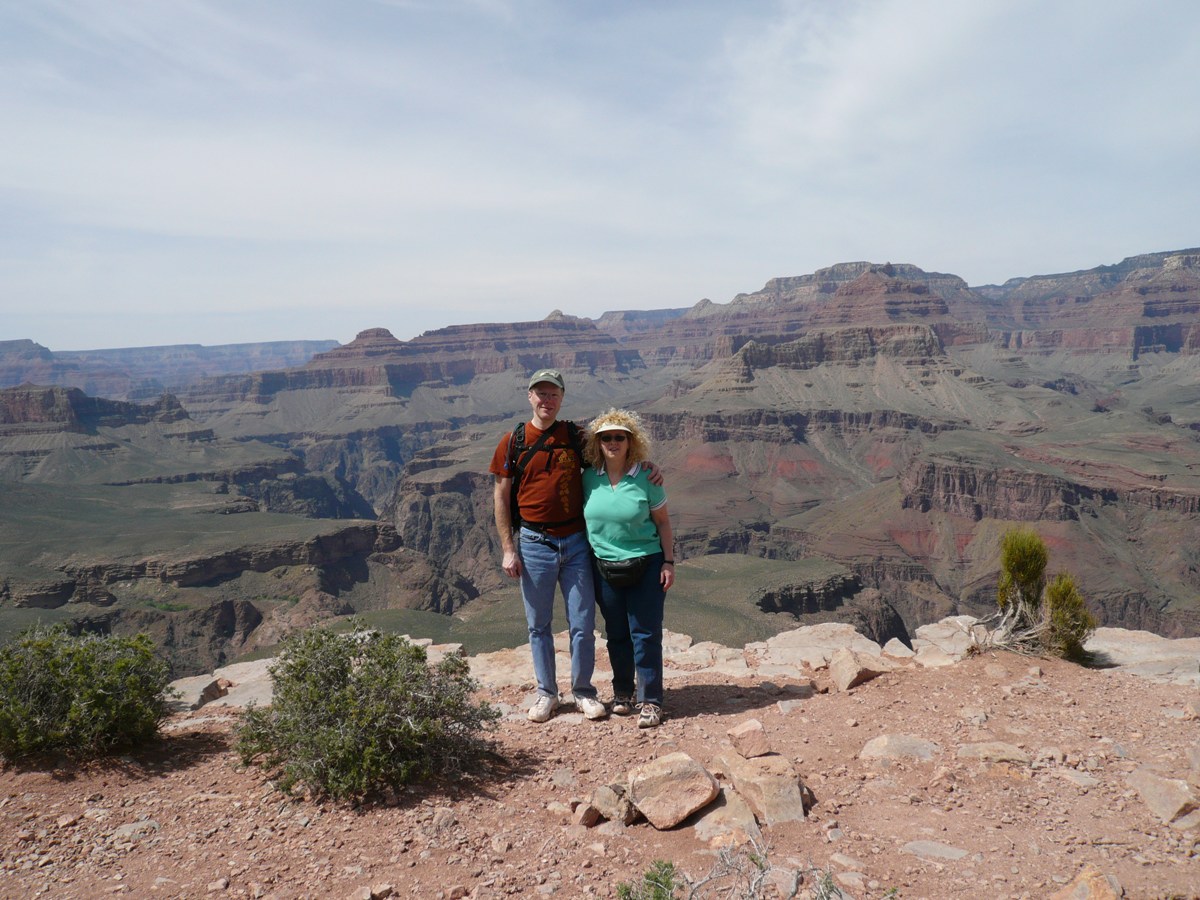 Doug and Cathy at Skeleton Point.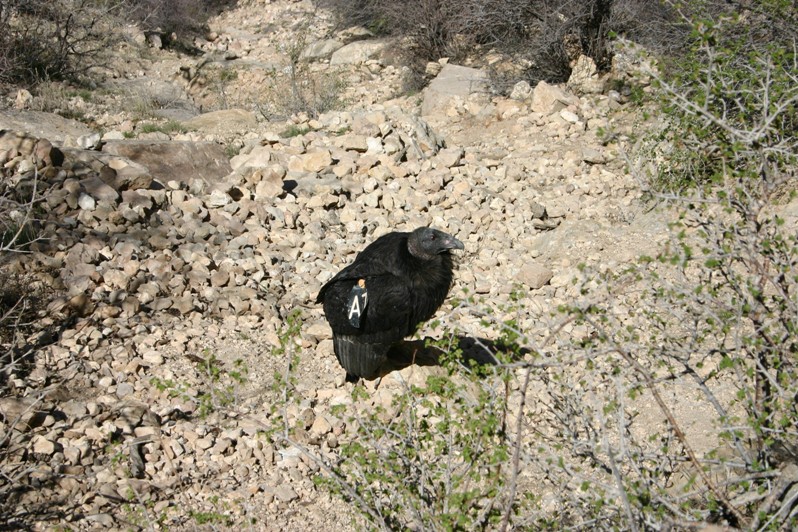 A California Condor looking for free handouts from tourists.  Shame it's tame.  Curious creatures.  It had a habit of rolling stones over looking for stuff.
Starting back up from Skeleton Point on South Kaibab Trail.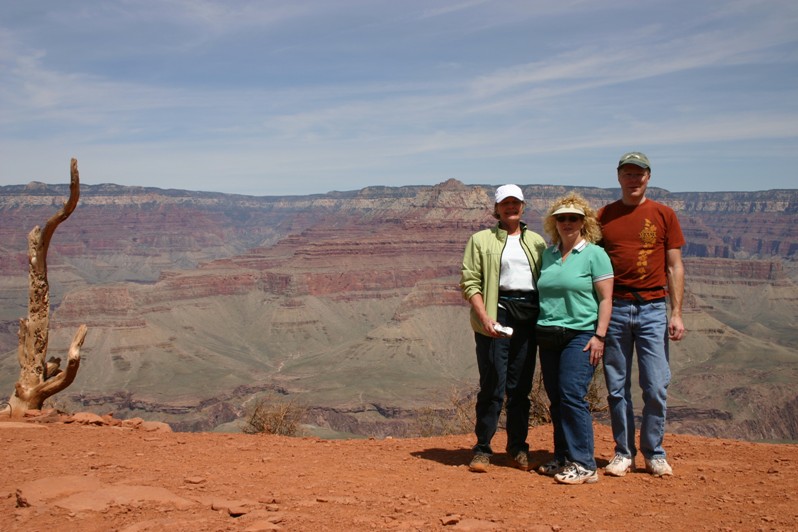 Mom, Cathy and Doug at Cedar Ridge.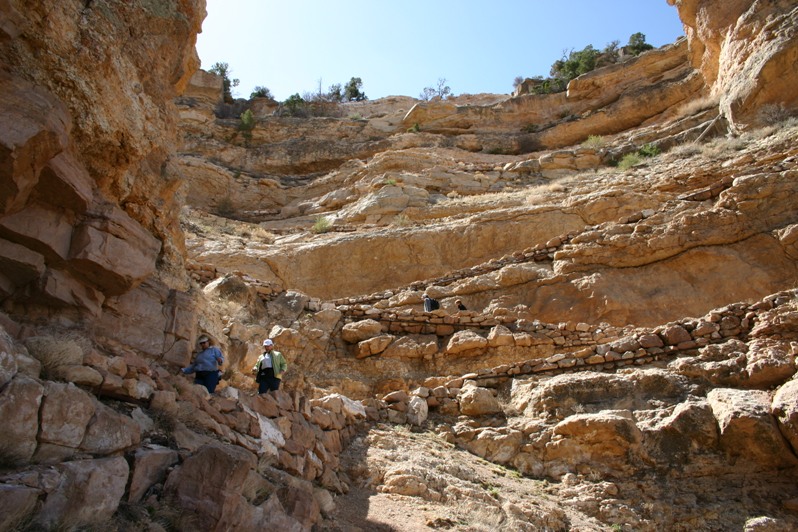 Cathy and mom coming down switch backs from rim on South Kaibab Trail.
A ravine from south rim of Grand Canyon (click for higher-rez).
Munds-Huckaby-Jim Thompson Loop, Sedona, AZ
Saturday, April 5
30.0 miles, 4300ft vert, 4:05hrs
Sunny, 60's to 70's
Was really itching to try some new trails today. When I came to Sedona in March '07 with Dave P., we spent one day here and I immediately recognized I would have to come back soon. My legs were in a major funk from the two huge riding days earlier this week (13hrs, 20,000ft climbing) and yesterday's big hike into the Grand Canyon. My calves were in knots and knees were extremely tender. I think it was from stepping down hundreds, if not thousands, of big steps on the South Kaibab trail. I think my wife and mom had less trouble than I did.
The morning started rough. My rear tubeless tire was flat. Seems the Cholla I clipped two days earlier did a real number on the sidewall. I put a spare, nearly bald, 1.9" UST tire on the rim and could not get the bead to seat to begin inflation. I had to go to service station and fuss with schrader nozzle on presta valve to blast enough air into the tube to get the bead to seat. This tire would later prove to be woefully inadequate for the terrain I was about to encounter.
Plan today was to repeat a climb Dave and I did last year, then on the descent pick up new stuff we did not get too. The climb up Schnebly Hill Rd went well, but I didn't push the pace. Strangely, the road was gated half way up to the scenic vista that hundreds of tour Jeeps drive up to daily. Don't know why. Was nice, as I had the upper portion of the road to myself. The road was much rougher than when Dave and I did it last year. This was a sign of more things to come.
Rather than stop at the scenic vista where the Jeeps turn around (and lazy tourists don't even get out of the Jeep to shoot photos), I continued higher along the rim. I wanted to see what was up there. The trail at this point was not maintained in any sense. It was brutally rocky and loose, barely rideable. This went on for a long time. The view was worth it though. The additional hundreds of feet of climbing brought much more of Sedona into view.
I opted to return down to singletrack at this point rather than explore further up on the high plateau land. I picked up Munds Wagon Trail, as Dave and I did last year. It was rocky last year, but much worse this year. Seems to have been very dry lately, and the trail was essentially a V-groove filled with large, loose, sharp rocks. They would constantly flip into spokes, feet, frame and slide out from under you when braking or pedaling. Very frustrating. I reached a point where I had enough and popped back out on the Jeep road to finish the descent.
Huckaby Trail was next. I thought this would be mostly downhill to Oak Creek crossing and buff. It was NOT. It was heinously steep up and down, requiring many dismounts and hike-a-bikes. When I got down to Oak Creek, the trail completely disappeared. I stumbled around for what seemed like an eternity over car sized rocks looking for a way out of the hundreds of feet deep gorge I was in. Eventually I found it, crossing under the Rt 89A bridge. I thought that surely must be the end of hike-a-biking.
Finding the Jim Thompson trail head proved challenging. The old two track/single track followed a stream bed and kind of disappeared and reappeared a few times. When I found Jim Thompson, I was greeted with more hike-a-bike, the really loose, steep kind that was even hard to walk on. The bald tire I had on back did not hook up with this loose-as-marbles stuff. Plus, I really needed about 6" travel front and back to properly ride this stuff. My hardtail has steep head angle and made the bony descents dicy. Jim Thompson eventually tames a bit and presented some fantastic scenery, stuff I hadn't seen last time.
The Jordan Trail was next, mostly rideable, but some dismounts required. I was getting tired at this point, having been on the trail for over 4hrs without a break. I hadn't yet seen another mountain biker either. Just hikers.
The final trail I rode was Tea Cup. It was the least technical trail of the day, and the only time I saw other riders. I still had to dismount a few times on this one, once after I spun my bald tire out on a steep dusty incline that caused me to bash a knee into the stem. I was ready to quit while I was still intact. My water was long gone, and I was only two miles from hotel by road. So I popped off trail and went back, a little ahead of planned rendezvous time with the women, who were shopping.
The best part of this ride was the scenery. The climb was nice, but the trails were more challenging than I like. Of the four hours I was moving, I'd say at least one hour of that was off the bike. My brand new $400 Sidi shoes are nearly destroyed. The carbon soles are chewed up, the replaceable treads will have to be replaced. This ride was no Otis AFB ride. Not sure what's on tap for Sunday yet. Could be a road-ish Mingus Mtn climb in nearby Cottonwood, or maybe hitting more Sedona trails I haven't explored yet. When I do hit the trails, I'll be sure to hit some of the stuff Dave and I did last year, like Llama and Broken Arrow.
Top of Schnebly Hill overlooking Sedona (click for hi-rez).  Airport Mesa in center left of image, Sedona wrapping around its base.
Huckaby in Oak Creek gorge. Lots of sunseekers in bottom, but water was still from snow melt – frigid!  Huckaby disappeared in massive bolder farm in lower part of image.  It took a while to find switchbacks up out of gorge (hi-rez).
Lots of contour riding on Jordan trail, mix of slickrock, hardpack, and loose gnarly stuff (hi-rez).
More contour following on Tea Cup Trail, this being just below Coffee Pot Rock I believe (hi-rez).
Self portrait on Jim Thompson I believe (hi-rez).
I think this is Jordan (hi-rez).
Huckaby with Rt 89 to Flagstaff in back ground.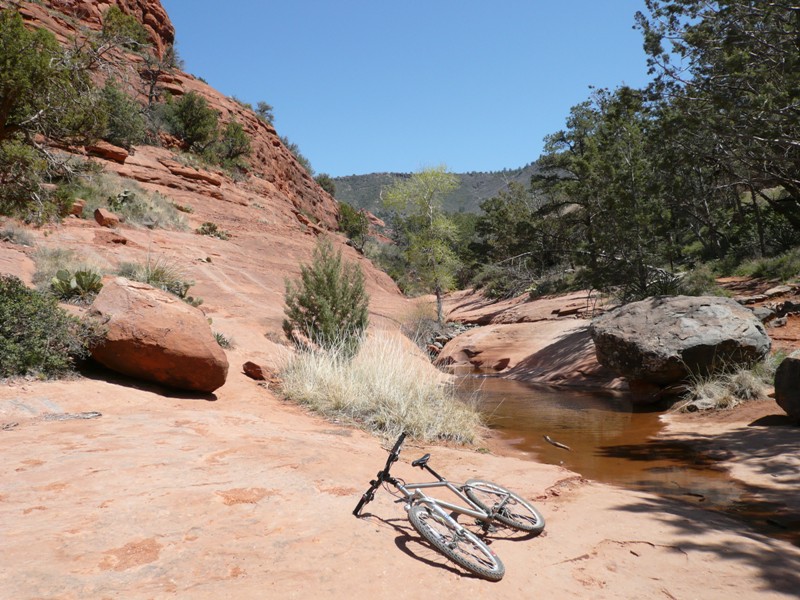 Lower portion of Munds Wagon Trail.  There were some very steep transitions zig-zagging across this wash.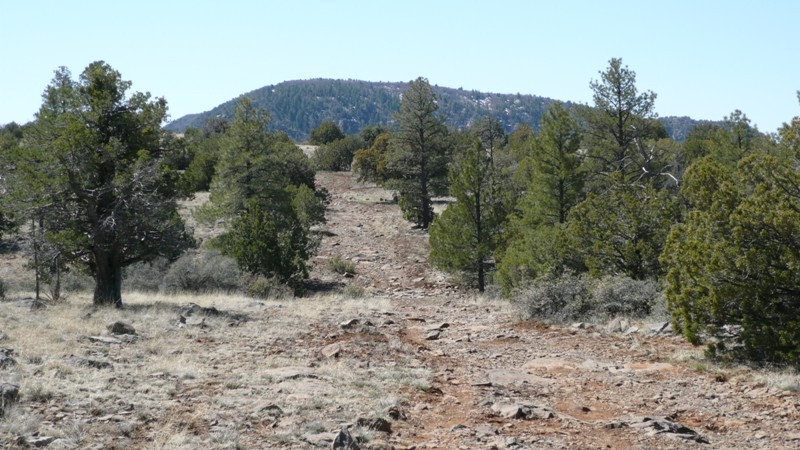 Upper portion of Schnebly vista climb.  This was quite brutal on hardtail coming back down.
San Francisco mountain near Flagstaff.  It peaks above 12,000ft.  Back side looked so snowy when we went to the Grand Canyon that I'd guess the ski area was still going strong.
Mingus Mountain and Thumper Loops, Cottonwood, AZ
Sunday, April 6
51.8 miles, 6200ft vert, 4:38hrs
Sunny, 60's to 70's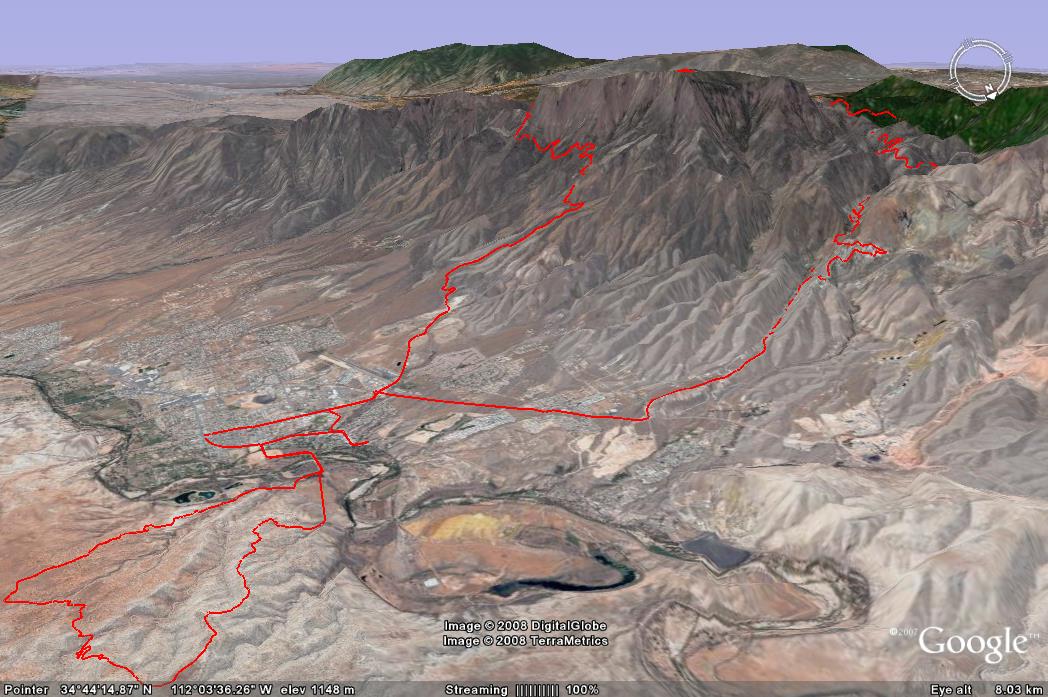 Mingus Mtn summit upper center of image.  Paved Rt 89a climb on right side, descent on rugged forest service roads in center of image.
I'm becoming such a roadie. It could turn out that my favorite ride from this trip will be a paved hillclimb. This ride almost didn't happen even. Logistically, it was hard to plan around what the women were doing. Mingus Mtn rises above the town of Cottonwood, just 20 minutes west of Sedona, and even closer to the Indian ruins that the women wanted to visit today. So they dropped me off in the morning and used the car for their activities.
Mingus Mtn is the last of the big Arizona hillclimbs for me to check off on my list. It rises about 4300ft in 19 miles. The first 16 miles from Cottonwood are paved on Rt 89A. The pavement is nice, but there is no shoulder. The last three miles are off-road on a decent gravel surface. In addition to Mingus, I have ridden Arizona climbs Mt Lemmon (6800ft, both ways), Kitt Peak (3700ft), Mt Graham (7000ft), and Mt Hopkins (5500ft). I've hit three of the five in this trip, with cumulative net gain of over 16,600ft.
Climbing Mingus via Rt 89A from Cottonwood reminded me a lot of the climbs in the Sierra Nevada's - open desert views, narrow road, twisty canyon topography. My legs were cooked from yesterday's 4.1hr ride, but climbing went well. I maintained steady tempo pace, pausing only briefly to snap a couple photos. The steepest part was actually climbing through the village of Jerome, a very Old West-ish kind of mining town. Once above Jerome, traffic became sparse. There was only one significant descent on the way up. I reached the summit in 2:02hrs riding time. Cell phone coverage was good up here (Verizon), so I called Cathy to discuss rendezvous plans.
For the descent, I opted to take forest roads, aka 4WD jeep roads, back down to Cottonwood. I started on FR-413. This begins under dense canopy of large pines. Parts of this were utterly brutal. I began to wonder if the descent would take longer than the climb, as my speed in places was only 4mph picking my way through wicked ledgy terrain. There was nothing out here, so crashing was NOT an option. I passed a man and women coming up on mountain bikes. I started to think I should have done the loop in reverse, climb on rocks, descend on pavement. I caught up to two large 4WD trucks picking their way down and passed them.
Eventually I reached the junction with FR-493. The initial portion of FR-493 was a hairball plummet. It consisted of large, loose slabs of jagged rock, and it was so steep that I could not control speed without continuous skidding. I thought I was going to have to ditch the bike at one point. But FR-493 eventually levels out and transitioned into a well maintained gravel road. This is were you can really rip. The last 10 miles or so of the 20+ mile descent was pure bliss. The wide open views were fantastic.
When I got back to town, I called Cathy again. I had two options. One, ride back to Sedona via divided highway 89A, a great cycling route with wide paved shoulders but mostly up hill for 15 miles, or two, do a short trail ride at Dead Horse Ranch State Park in Cottonwood and get picked up. Cathy and Mom were wrapping up visiting Bell Rock and Courthouse Butte in Oak Creek and would be available to pick me up. I pedaled a couple miles over to the state park.
After paying the $2 entrance fee, I talked with the ranger a bit. He's an avid singlespeed rider. We talked bikes (he liked my Ti Dean) for a bit and about the Thumper Loop. He mentioned record course time is 31 minutes. When I told him what I had already done and wouldn't be racing the loop, he was impressed. In general, I find people, including drivers, are very tolerant of cyclists in Arizona. When I first got down from Mingus and asked for directions to the state park, I had three people offer to help me, a skinny white guy in spandex. I have not yet experienced a hostile motorist incident on this trip, and I've ridden a fair amount of pavement.
The Thumper loop was a nice way to cap off a day of riding. Mostly buff singletrack, but there were some sandy areas and a few very technical spots that forced me to dismount. I passed one other rider out taking his dog for a ride. Shortly after passing him, I had to hike my bike down a cascade of gnarly 2ft drops. This guy was big, on a hardtail, and just rolled down the mess like it was nothing as he passed me.
This brings the total climbing from cycling and hiking on this trip to well over 30,000ft now. Aerobic activity for the week exceeds 20hrs. Monday, we have to check out and head back to Phoenix for Tuesday morning flight. I hope to ride Llama, Broken Arrow, and possibly Templeton trails in time to clean up before noon checkout. The weather could not have been more perfect thus far. Chilly mornings, calm, temp rising to 70's, brilliant sun, with wind picking up late afternoon every day.
Side view of outskirts of Jerome and winding Rt-89a (hi-rez).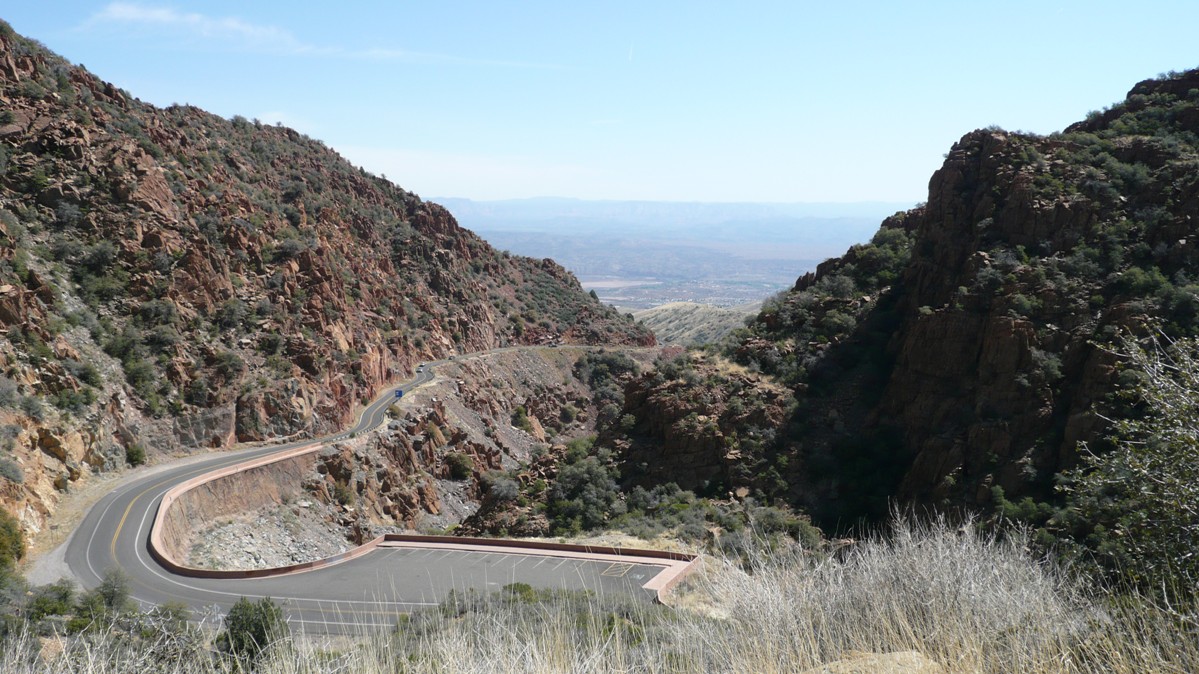 Rt 89a well above Jerome and Cottonwood (click for hi-rez).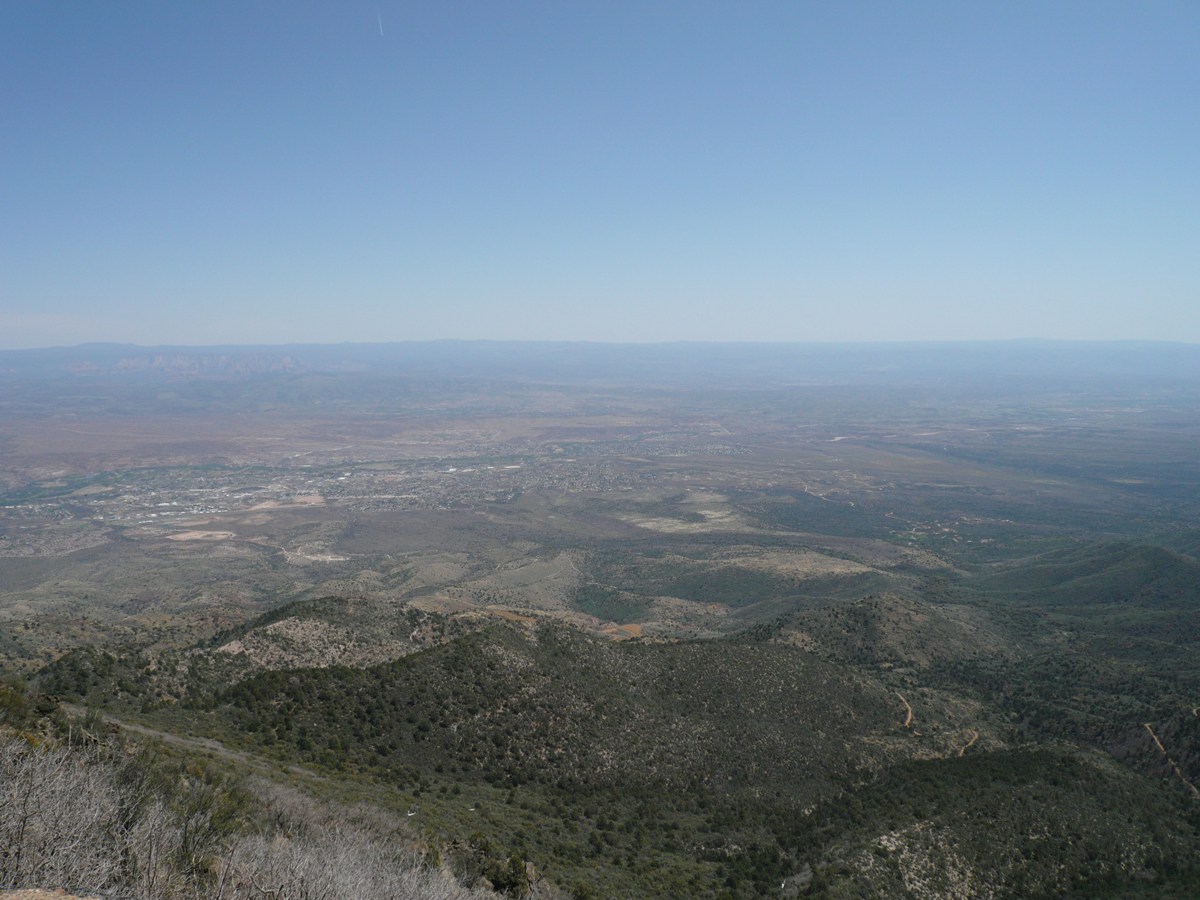 View of Cottonwood from Mingus Mtn summit.
The hang glider launch point from summit of Mingus Mountain.  It is near vertical 1000ft plummet off the ramp.  Zero room for error (hi-rez).
Looking southerly along the Mingus ridgeline.  I believe that is Forest Service road FR-413 on left side of image.  Descent started towards the west (away from Cottonwood) and had me worried.  But eventually it winds around to gap in ridgeline in wee distance where it begins to plummet towards Cottonwood (hi-rez).
Brutal FR-413 descent (hi-rez).  Carrying speed on hardtail was recipe for pinch flat, even with tubeless tires.  This was steep and not much fun.
Further down the Mingus descent, now on FR-493.  This was very smooth, and reckless speed could be obtained here.  Cottonwood still thousands of feet down in distance.  This was steep and wicked fun.
Thumper Loop in Dead Horse Ranch State Park.  A particularly ledgy section I walked (hi-rez).
More Thumper Loop (hi-rez).
I think this was Lime Kiln Trail near the end of the loop.  Nice flowy downhill stuff with a few surprises to keep you on your toes (hi-rez).
Llama, Broken Arrow, Submarine Rock, Templeton Loop, Sedona
Monday, April 7
23.0mi, 2:30hrs
Another Perfect Day
We got a one hour extension on hotel check out to 12 noon. This gave just enough time to get a respectable trail ride in and shower afterwards. The women dropped me off in Oak Creek and shopped there. Last spring, I rode Llama and Broken Arrow with Dave and knew I would have to ride them again some day. That happened this morning. These are the premier riding trails in Sedona, and one guide book says if you only have time for one ride, hit these. Sedona trails were much looser and dustier this year. I was dabbing and hike-a-biking more sections than I recall last year. Having a completely bald rear tire was partly to blame. Dry conditions were another part. And becoming a soft roadie was the rest.
We left the hotel in such a hurry early this morning that I forgot to grab the camera and trail map. The Bike and Bean shop was already open at 8am, so I picked up a basic map, not nearly as detailed as my large, plastic topo map. Most bike shops wreak of Triflow chain lube, but Bike and Bean smelled of gourmet coffee.
I hauled-A on the first few trails, I'm sure hitting the highest HR's of the trip. I wouldn't be riding the next day, and time was short. Dave and I skipped Submarine Rock last spring, so I decided to check it out. It's a half mile or so singletrack out to a large slick rock formation that resembles a submarine.
After I finished Broken Arrow, I wanted to ride as much of Templeton around Cathedral Rock as possible. This would be new to me. I cut in from the Cathedral Rock hiking trail head, rode out to switchbacks that descend to Oak Creek, then started working my way back to village of Oak Creek. The riding around the lower rim of Cathedral Rock was mostly slick rock with little elevation change, presented some exposure to steep drops, and offered great views. It was a great way to wrap up several days of riding.
Templeton Trail on the flanks of Cathedral Rock (hi-rez).
Cathedral Rock Hike
1.6mi, 45min, 800ft vert
After checking out and boxing bike, we decided to hike Cathedral Ledge. This is probably the most popular hike in Sedona, but it is not for the faint of heart. It is hands and feet climbing most of the way. The hard part is coming back down, as you can't see where to put your feet at times. Slipping is not an option in several places. Neither Cathy nor mom were willing to give it a go, so they hiked out and back on Templeton Trail that I biked a couple hours earlier.
The view from gaps between the spires was spectacular, one of the best in Sedona. From some angles, Cathedral Rock looks like a single monolith of sandstone, but it actually consists of multiple spires that you can climb in between. Upon reaching the high point, one climber immediately called a friend on his cell phone to say how amazing this hike in was. After capturing several photos with the Canon SLR, I had to hurry to get back down. I had to stop and dwell on several sections about how to navigate them. It is way easier to hoist yourself up with hands than it is to let yourself down the same section. Any fit person not afraid of heights can do this climb, although it was the most technical hike I've done.
Cathedral Rock from Templeton Trail (hi-rez).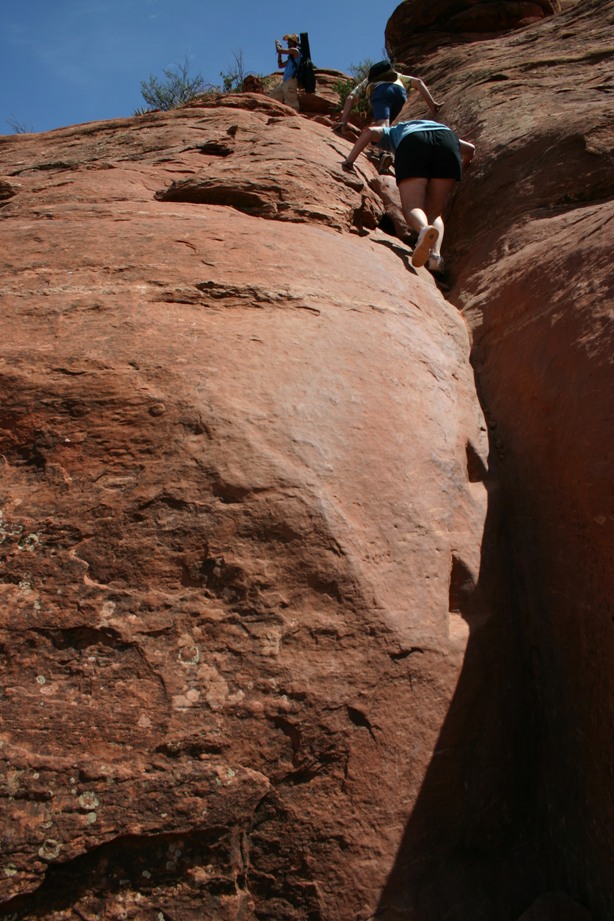 Climbing one of the trickier parts of Cathedral Rock. Note pockets for hands and feet.  This was near vertical here.
Another view of same section taken on way down.
Back side of Cathedral Rock (hi-rez).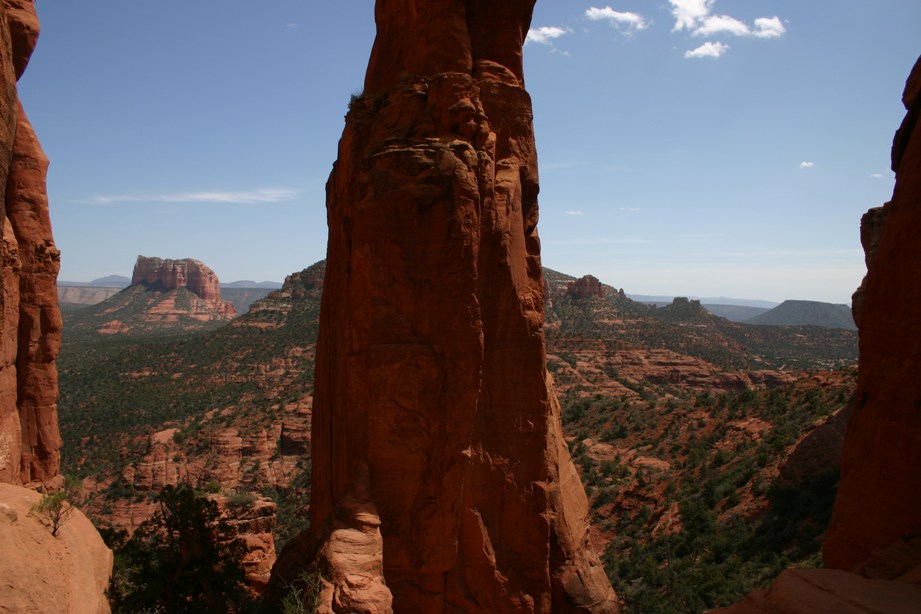 A spire from gaps in Cathedral Rock.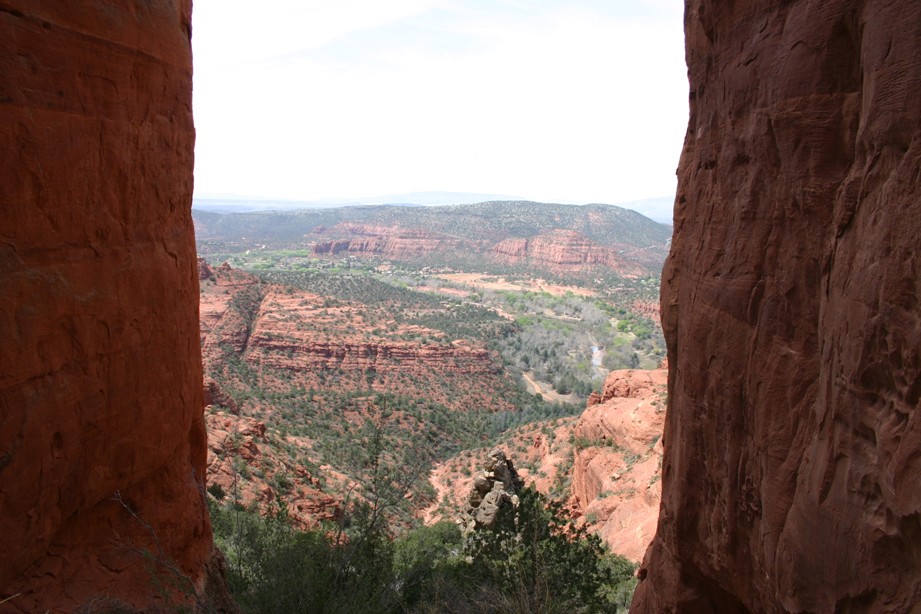 A gap through spires in Cathedral Rock.
That's a wrap for this trip. I now have well defined cycling tan lines in April. We had sunny or mostly sunny weather every day with temps into 70's and 80's and zero precip. No crashes or mechanicals on the trail, although a minor tangle with a Cholla in Tucson left me with a flat tire the next time I rode. We fly back Tuesday, back to work on Wednesday. The three hour time difference back to the daily grind will be hard to handle.
Compiled by Doug Jansen
14-June-2008