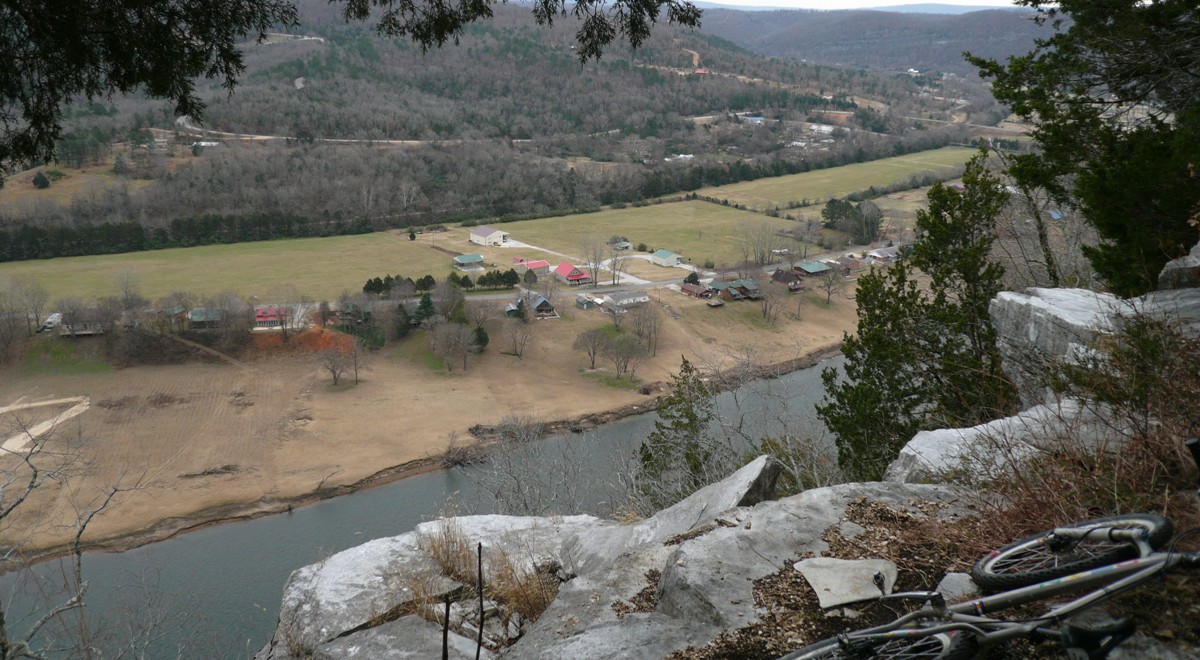 White River Bluff, Mountain View, AR
Ozarks Cycling Trip
December 9-14, 2008
Trip Stats:
· Solo cycling trip, meeting Dallas area friend for one ride
· Checked off two new states hitting Arkansas and Oklahoma
· Four riding days, 160 miles, 16,800 feet of climbing, in 16.5 hours riding time
· Cooperative weather, although unseasonably cool
· No flats or mechanicals
This trip had been planned for a long time. I was just looking for the right time to pull the trigger. Most years I go on one short, solo cycling foray, usually in the fall. I try to hit something new with a mind on budget. Pretty much all of the text you will read here is a compilation of blog posts.  If you followed the Hill Junkie blog during this trip, you won't find any new words of wit.  You will find, however, some new pictures. Most pictures are clickable for high resolution rendering.
Wednesday, December 10, "Womble Epic"
The Womble Trail, Mt Ida, Arkansas
52.7mi, 4321ft, 5:03hrs
Cloudy and cool
Enjoyed my best dirt ride today since Colorado in July. Really lucked out too. Flying into Little Rock last night, all I saw was water everywhere, flooded fields, murky fast running streams, etc. Some areas got 3" of rain on Tuesday. I figured I was doomed to a cold, messy ride today. To top this off, the local weatherman was saying a good chunk of Arkansas was under a winter weather advisory, but it should clear up by noon.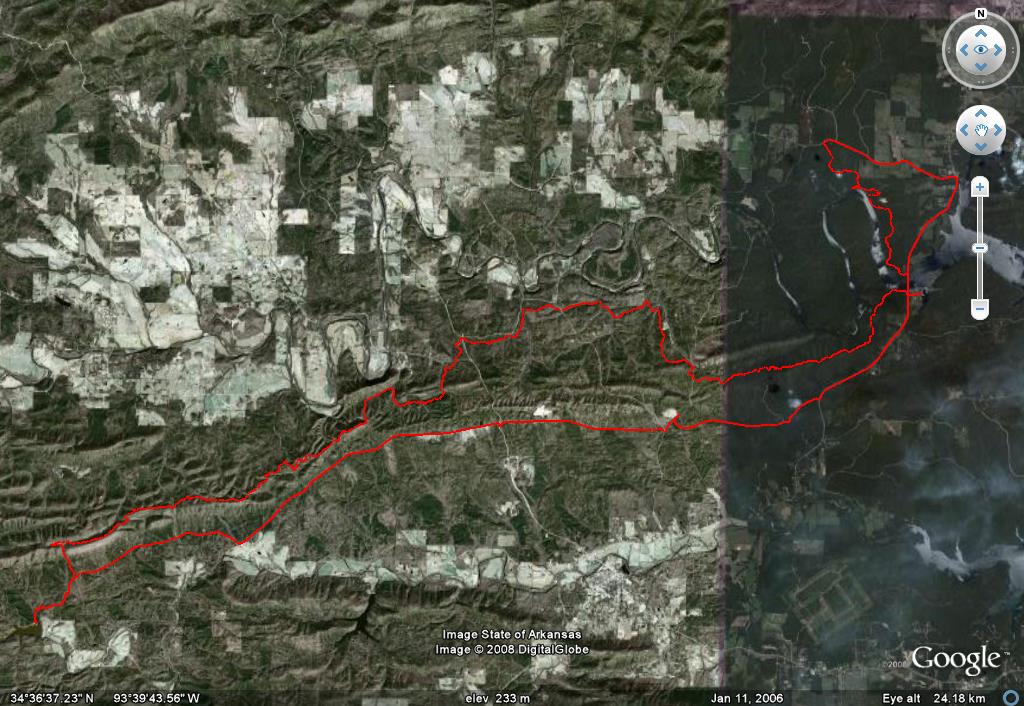 Kitting up, I realized I forgot to pack my booties. It was just above freezing. What can you do? I thought about picking up a couple grocery plastic baggies to wrap around my feet inside the shoes but decided to just suck it up.
The Womble Trail is just under an hour outside of Hot Springs, where I'm staying. I parked at the Fishermans Village on Hwy 27. The plan was to ride out to North Fork Lake on singletrack and back on forest service roads. This would be 25 miles of Womble singletrack, a couple more miles doubling back on the Womble, then 16 miles of rolling gravel forest road the rest of the way back.
I started off around 10am. The skies were dark and heavy, like it could snow any moment. From Hwy 27 heading SW, the Womble begins some pretty serious climbing. I've read reports that this trail is a single-speeders dream, but I wouldn't want to climb these hills on a 1x1. There was a killer view early on, where there was a hundreds of feet sheer drop to the Ouachita River below. The first five miles had a lot of steep climbing in it with ruckus descents. Then the trail mellowed out for several miles.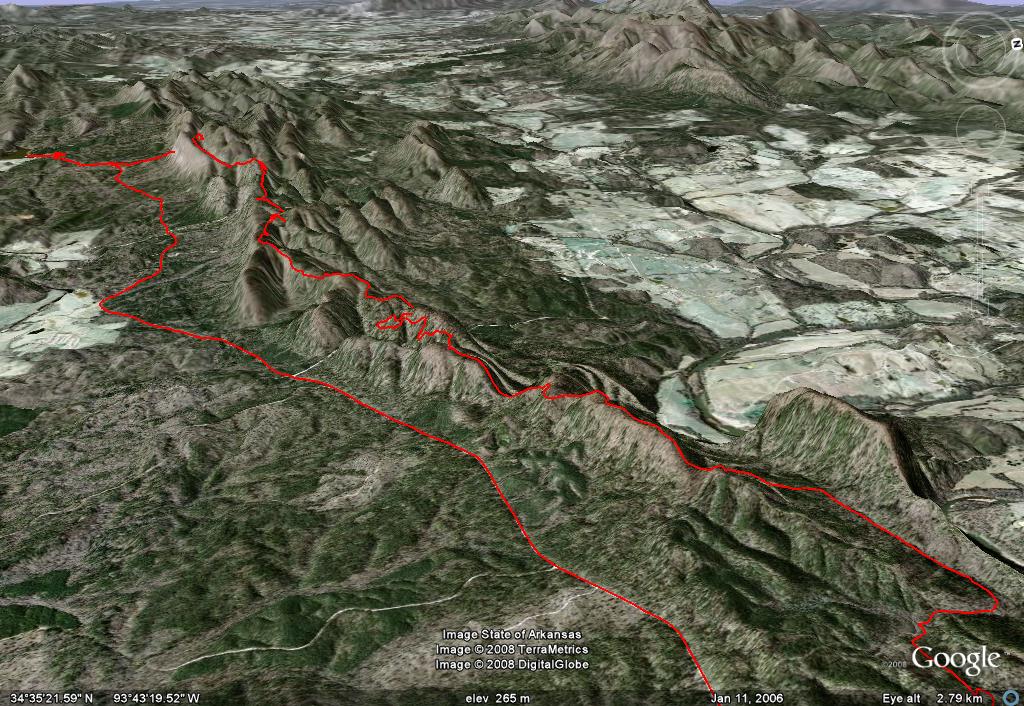 Detail of last several miles on ridgeline
The amazing thing was, there was no mud anywhere. The soil here is essentially coarse gravel. It drains marvelously and rides fast. It was hard to believe inches of rain fell here 24hrs ago.
The mid section of the trail was a riot. Gentle climbs, and scare yourself silly with speed going back down. This kind of riding I like. You get in this groove, tempo pace, no need to think about scary features, just meld into the flow of the skinny ribbon carving through nature. I would love to race something like this. A portion of the Womble is included in a race called the Ouachita Challenge (an 80 mile race!).
Then I got to a sign that said Mauldin Mountain. Hmmm, was I on it already or just starting out at the bottom? It was the latter. Lots more climbing ensued, including a steep switchback I botched. This part of the ride racked up a lot of vert. The trail basically cris-crossed over the ridgeline many, many times. You come up one side, ride the ridge a little ways, then down the other. Repeat often. With full leaf drop, there were some nice views of the valleys here and there. I would imagine in the summer you wouldn't see much at all.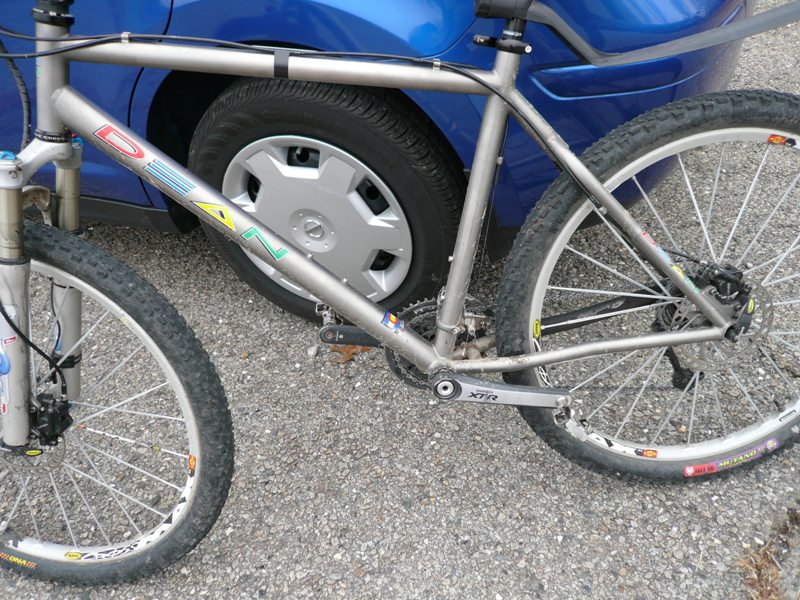 3" of rain, 50+ miles, and barely a mud spot. Fender was not needed
A few miles out from the west terminus of the Womble, it was time to cash in all that hard earned vertical. Nearly all of the Womble has a very narrow tread that is benchcut into extremely steep terrain. They call this exposure. This wasn't fear of death stuff, but you'd certainly go for a toboggan thrill ride with all those oak leaves coating the sides of the mountains. You did have to pay attention to what you were doing once in a while.
I was sad when I reached the end of the Womble. I was now 25 miles from my car by trail, a little less by road. Having a catastrophic mishap, like taco a wheel, was not an option. No cell phone coverage, and nobody I could call if there was. Fortunately the dirt roads were a fast, safe way to get back to the car. I never saw another person in three hours of singletrack time. Regular rifle season is over here, so no hunters to worry about either.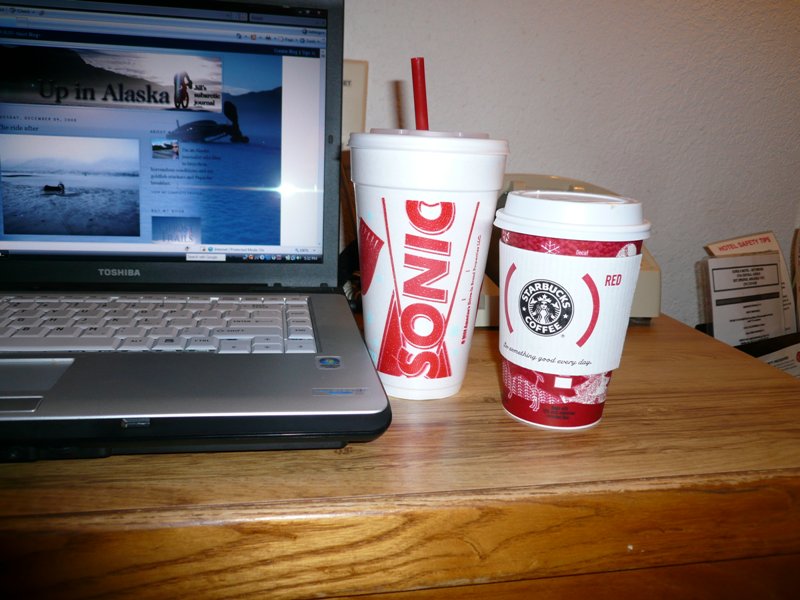 Favorite post ride beverages
I was still going strong with 43 miles and 4+ hours on the legs when I got back to the car. The day was still young. After wolfing down an egg mcmuffin sandwich that sat in my car all morning, I decided to ride a portion of the Womble north of the Ouachita (pronounced Wha-shi-ta). Sarah at the Chainwheel bike shop where I preshipped my bike said this section is not to be missed. At first I was dissapointed. It stayed low and hit more water crossings than I liked (remember, no booties, needed to keep feet dry). But then it went up with a vengeance. The exposure-o-meter ticked up a couple notches here. There were some seriously steep grinds, no more than 12" wide, with near certainty that the Ouachita river far below would be what ultimately stops your fall. With tired legs, I wussed out and walked a couple short sections. There would be no place to put a foot down if you petered out and leaned to the exposed side. The views of the river here were very nice. A few miles of pavement looped me back to the car.
It never got warmer than mid 30's down here today. I hear it was at least 20F warmer in Cow Hampshire. I have a knack for traveling thousands of miles to places people don't usually associate snow with ,but I manage to find snow or ride in wintry conditions. At least the dank skies never dropped anything today. The bike even stayed quite clean. So how do you top off a flawlessly executed trail ride? With a Sonic malted milkshake and a Starbucks, of course. Life shouldn't be this good.
I try to get away once per year for some solo riding. It's great for a mental reset. I've hit many states riding solo. Often in the past, it was extending a business trip by a few days. I haven't biked anywhere near central Arkansas before. Closest is probably Austin Texas, and that is about 500 miles away.
On tap for Thursday is riding the Ouachita Trail in Talihina, Oklahoma. My "Texas Connection" friend from Dallas will be joining me. Could be a chilly start, but 0% chance for precip, and the sun should make an appearance. I might have to bring the digital SLR camera for this one.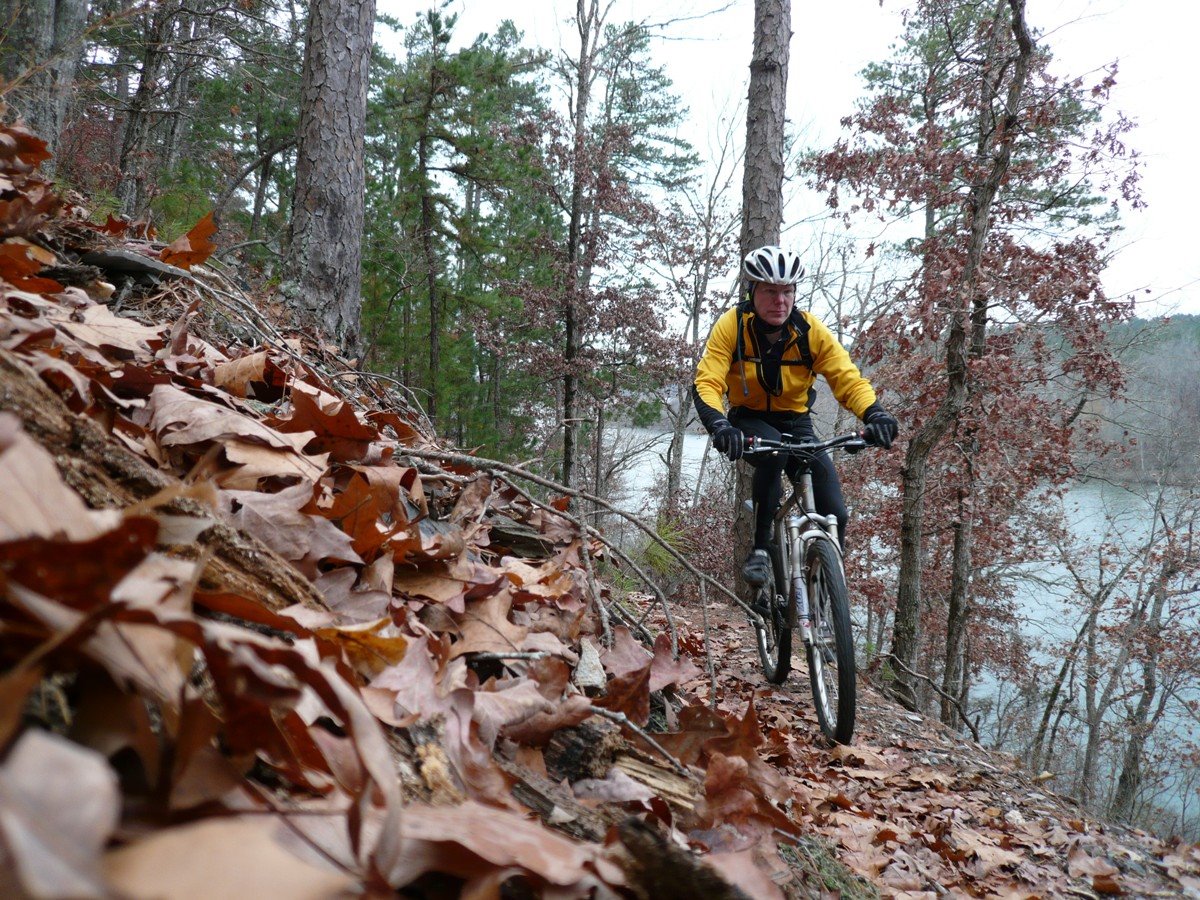 North side of Ouachita River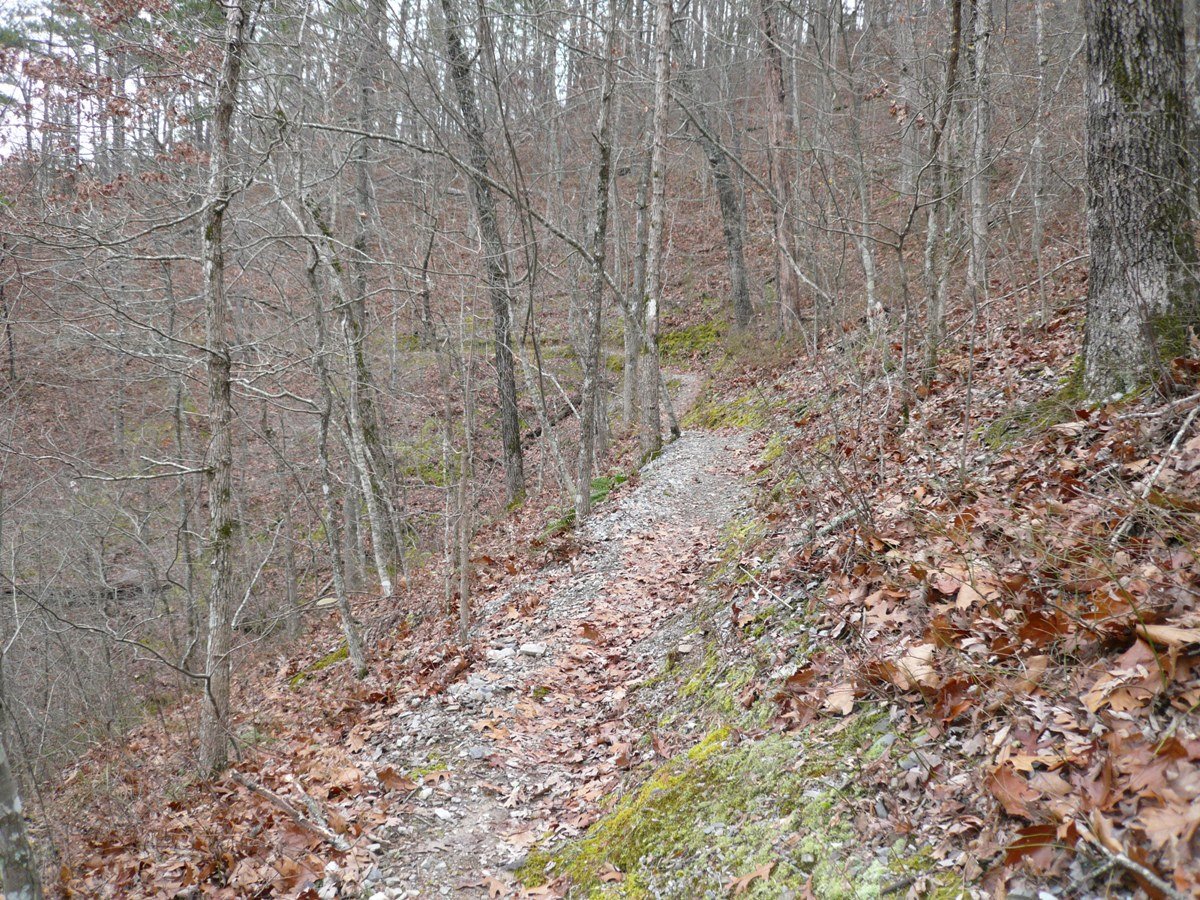 Natural surface of crushed stone. Drains, does not make mud. In the UK, they have to manufacture trails this way with heavy equipment.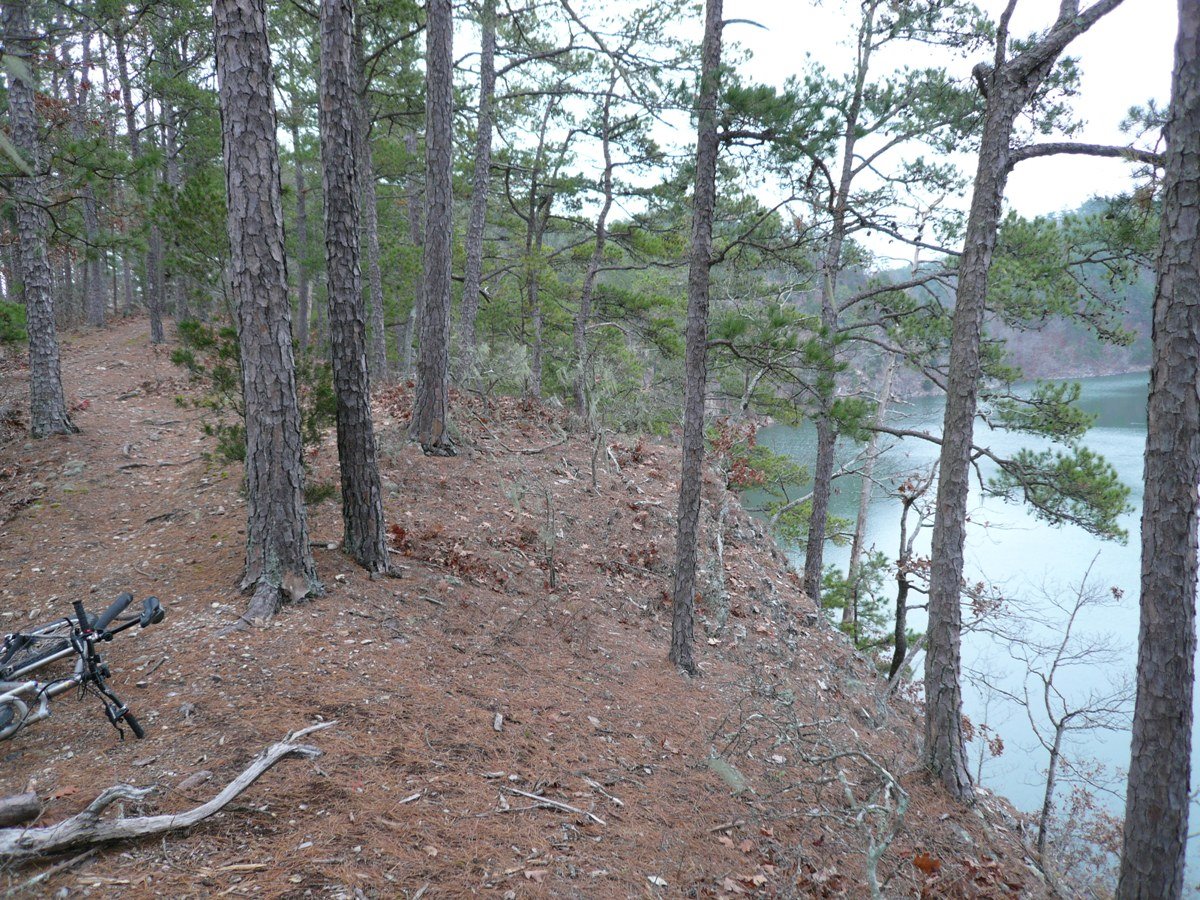 North side of the Ouachita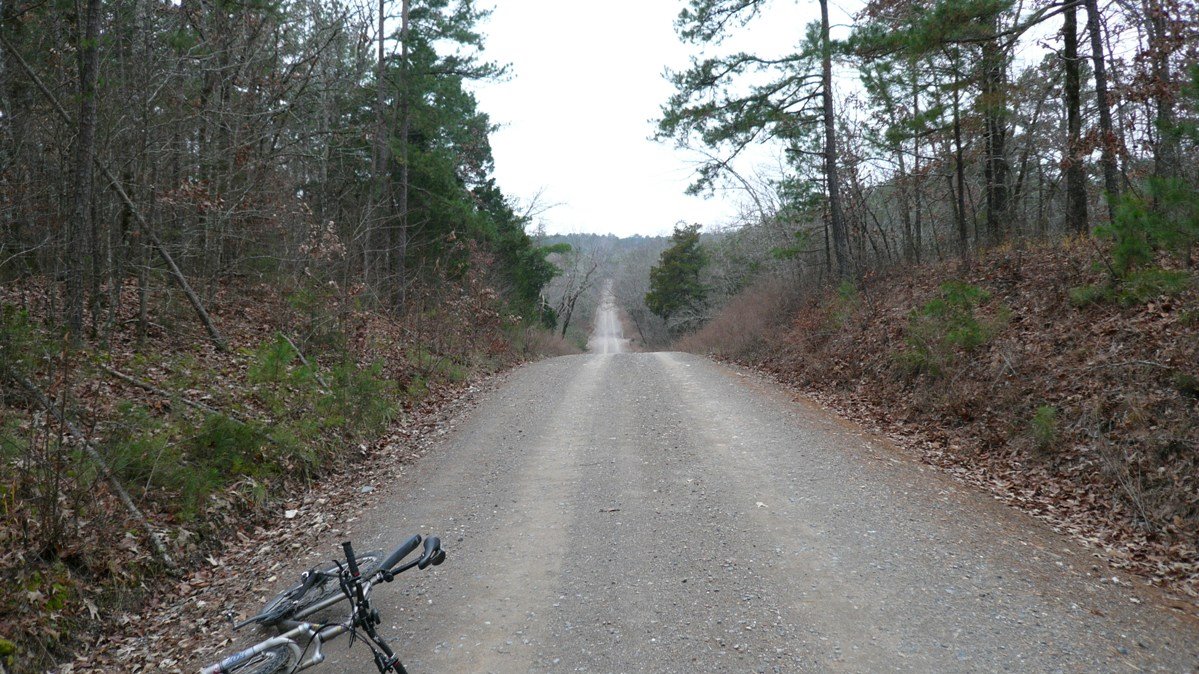 Forest service road 37 taken most of the way back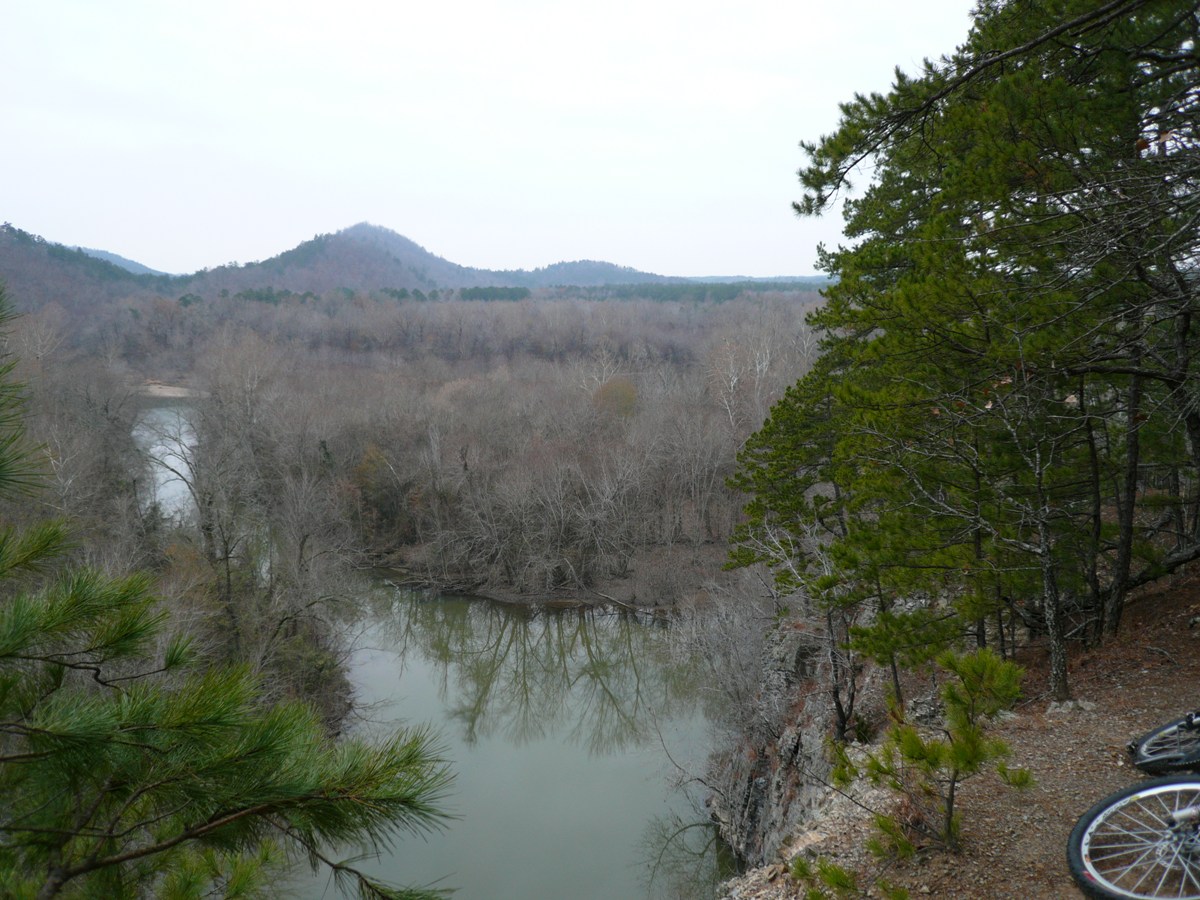 Shortly after starting out from Hwy 27 on the Womble
Thursday, December 11 "Ouachita Madness"
Old Military/Boardstand/Oauchita Loop, Talihina, OK
21.1 miles, 3090ft vertical, 2:42 hours riding time (5+ total)
Frigid morning, brilliantly sunny day
Once in a while a ride doesn't quite go as planned. Today we had one of those rides. This loop looked promising enough with good reports on the web, but alas, you can't believe everything you find on the web. Trail descriptions are relative to the rider, and GPS track files might really be just somebody doodling in DeLorme or the like with old topo data.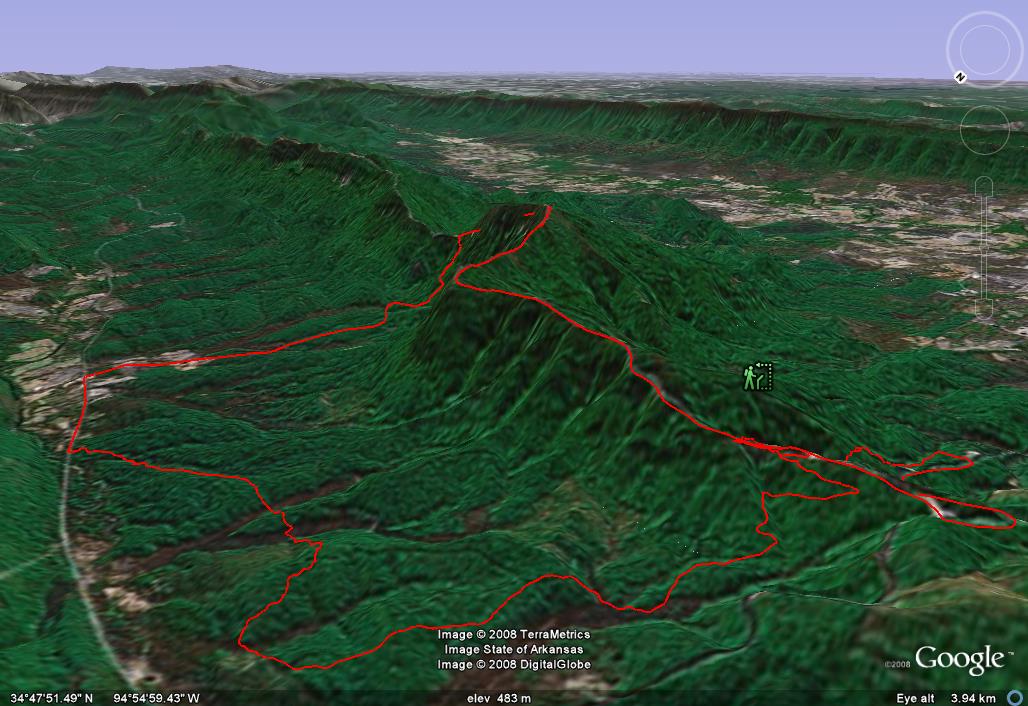 The drive over from Hot Springs was a real treat. I took the Talimena Scenic Parkway, a 21 mile portion of ridgeline at about 2000ft. Everything up here was caked in rime ice. With pristine blue skies, it was a dazzling display of sparkles and color. I began to worry about the ride, not about what I didn't know, but how cold it was up here. The wind chill must have been below 0F. I did not have clothes for this, and our loop was to come over the ridge.
Chris (who drove up from Dallas this morning) and I started off at mile marker zero of the Ouachita Trail, which is 192 miles long. It is a hiking trail that is open to mountain biking in most places. We immediately hit hike-a-bike sections. Many downed trees, wash-outs, etc. It appears no maintenance has been done here in a while.
We were to come many miles down the Ouachita later in the ride. But first, we forked off on the Old Military Trail around, an 1800's wagon trail. Following the GPS track, it immediately became unrideable and completely overgrown. We bush wacked for at least a mile, killing over an hour, before we reached the Talimena Parkway. I suspect the guy that put the track file up just traced it out from old topo maps. There hasn't been a hikeable or bikeable path through here in decades. The old wagon path was still faintly followable however.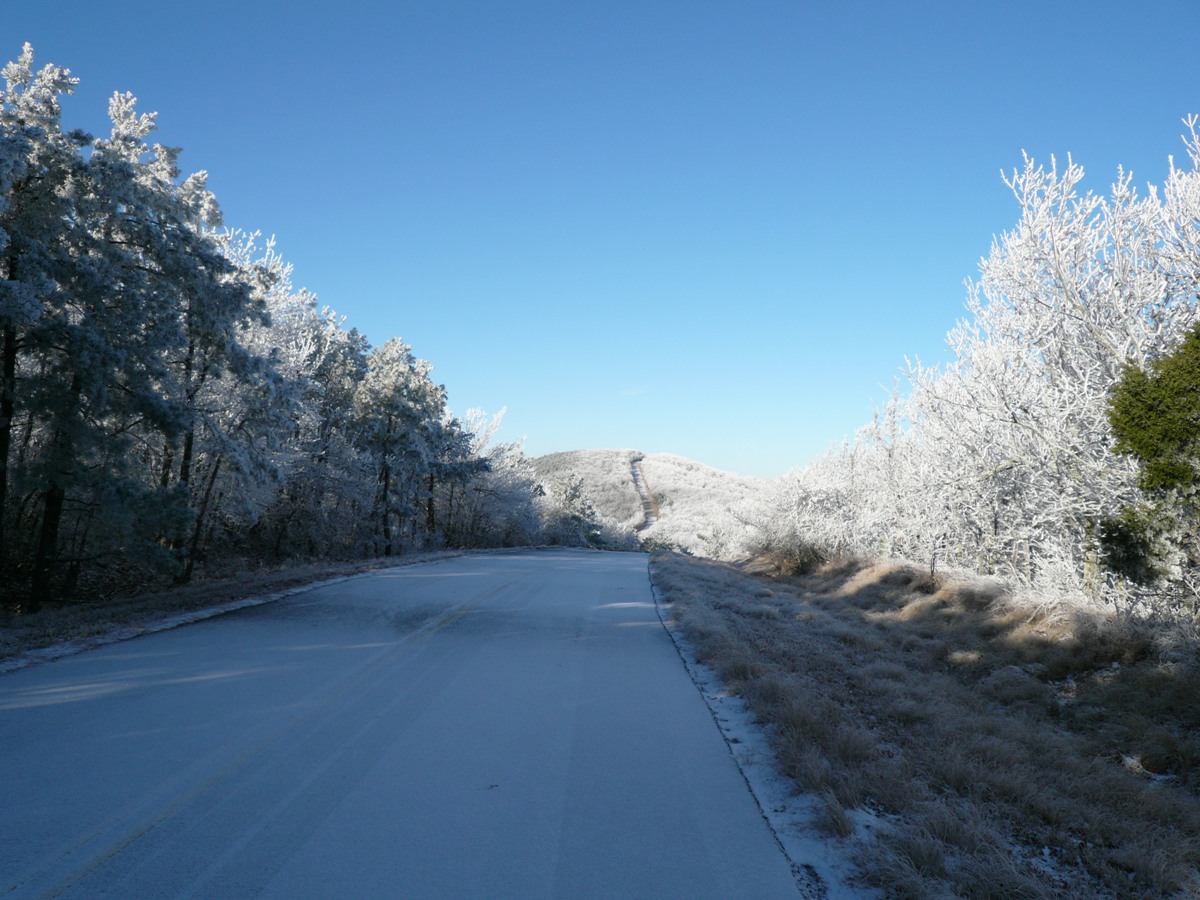 Rime ice on everything, even the road
From here we crossed over to the other side of the Talimena, gaining several hundred feet since the cars. It was bony as heck, but mostly rideable. The smallish girly tires I had on my hardtail had me fearing a pinch-flat. Pretty much the whole way was loose, sharp rocks, mostly buried under oak leaves. Made for some pretty dicy riding. A dualie with manly tires would have been nice.
The hike-a-biking and slow progress had us reconsidering our original ride plan. When we got to the junction of Boardstand Trail, it looked the same. This was a 7 mile climb on the same kind of hardscrable. There were two options. Loop pavement back to cars with minimal climbing or take forest service road to high point of the Talimina. Chris doesn't ride the wacko hours per week I do, so he opted to take Hwy 271 back to the Talimina State Park were we started. I still wanted to get that big climb in, even it was going to be a Jeep road instead of singletrack.
Killer grades on the parkway. My Nissan Versa struggle to hold 40mph up these hills.
We parted ways. I hit the climbing pretty hard once it got down to business. The grade held 12% average for 3 miles, portions much steeper. From where I split off with Chris to high point gained 1600ft net. The last 700ft were on the paved Talimena and were killer steep. The sign at the parkway entrance said 13% grade next 21 miles. I bet parts were >15%.
It was now much milder up here at 2300ft than it was in the morning. Rime ice was still breaking off the communication towers above me. The view was fantastic. From Panorama Vista, you get about 270 degree view to south, west and north. Visibility must have been 100 miles. It was now nearly all down hill from here back to cars.
I got back to the cars just after Chris did. Turns out he had a pretty good climb too on Rt 271. Ride fell well short of expectations, but I still enjoyed it none the less. Temp in 20's starting out really wasn't an issue. Got way more of a full body workout than I anticipated, carrying my MTB while rock scrambling insanely steep terrain. Talking with a hiker after the ride, I was really glad neither of us attempted the Ouachita Trail up on the ridgeline. The hiker never made it as far on his out-and-back as he wanted either. Lots of debris in the trail with blow downs. It would have compounded the frustration. Instead, we hit a hole-in-the-wall joint in Talihina after the ride. Dirt cheap prices. Half-pound burger for $3 and change. Fried okra was good too. Home grown we were told. First time I ever had it. Our total bill was less than $12 and we did not leave hungry.
It was good to see Chris again. He would like to visit the Ozarks with his family next fall. I would come back again too, with Cathy next time. There's lots more to do than ride.
Next up is more Ouachita Trail riding (if I dare after today). This is in area not far from Hot Springs, and the bike shop confirmed it is good. I should be ok. I hope to have enough daylight left to bike up to high point of Arkansas, Magazine Mountain from Havana, AR. It is about a 12 mile, 2350ft climb.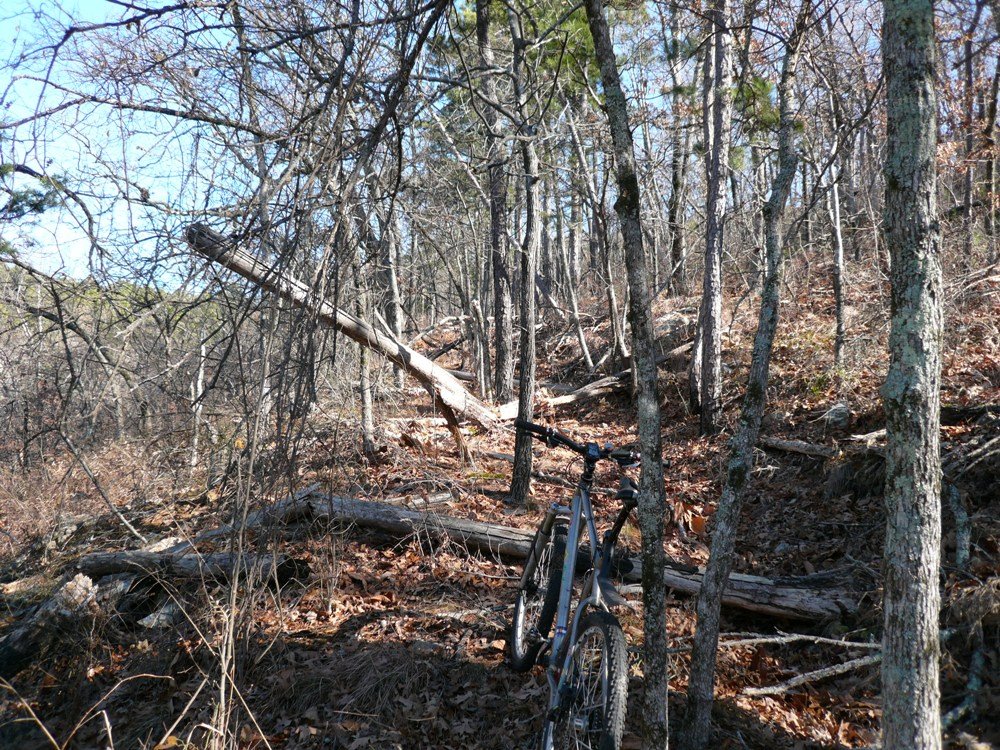 Old Military Trail. I think. GPS track went here. We hiked for an hour. Bike got so tangled in thorns at one point I thought about abandoning it in place.
The only buff spot on Old Military. All 50ft of it.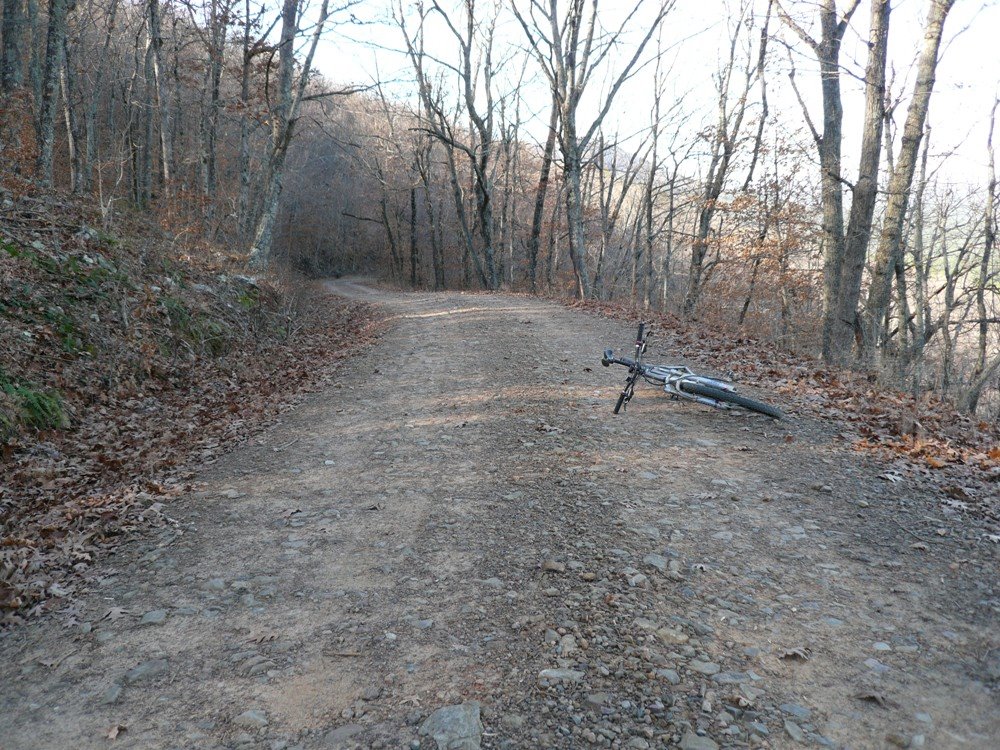 Forest service road 6010 to Deadmans Gap
Looking back east along ridgeline the Talimena follows.
From summit on the Talimina.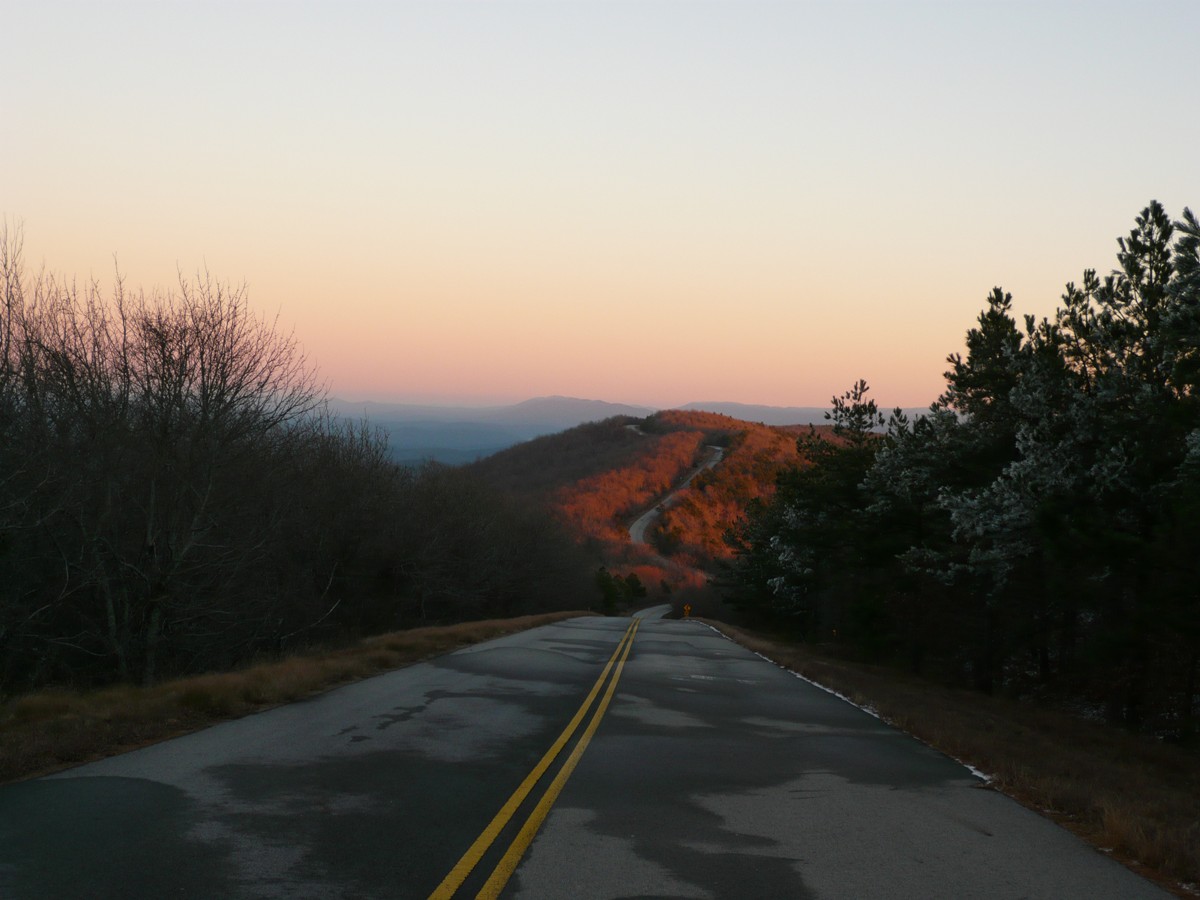 Drive back home on the Talimena at dusk
Friday, December 12, "Ouachita/Ozarks Double Header"
Another pristine day here in the south. Temperatures have moderated a bit, rising into the 50's. There was not a cloud to be seen all day with light winds.
My wife isn't the happiest with me right now. It seems we got a bit of ice back home. At one point, nearly half the people in the state of New Hampshire were without power. Reports are that our power might not be back on until Sunday or Monday. That could be four days. Many years ago I bought a cheap generator. I used it once, but power came back on shortly after firing it up. It has sat dormant for five years at least. I did put Stabile in the tank. My hook-up is bootleg. I never figured somebody else would have to get the generator going. My wife and son could not figure it out. Fortunately, my neighbor across the street came over, recognized my setup (kill mains first, start generator, then turn on secondary breaker). The generator started right up. Now Cathy just has to keep feeding it gas. It will die overnight. At least the pipes won't freeze. Sounds like a cold one on Saturday. Skiing sounds a bit rough this weekend, so maybe I didn't sacrifice much by coming down here. So on to the ride reports.
Ride One of the Day: Ouachita/FS-149/Womble Loop, Story, AR
25.4 miles, 3000ft vertical, 2:42hrs riding time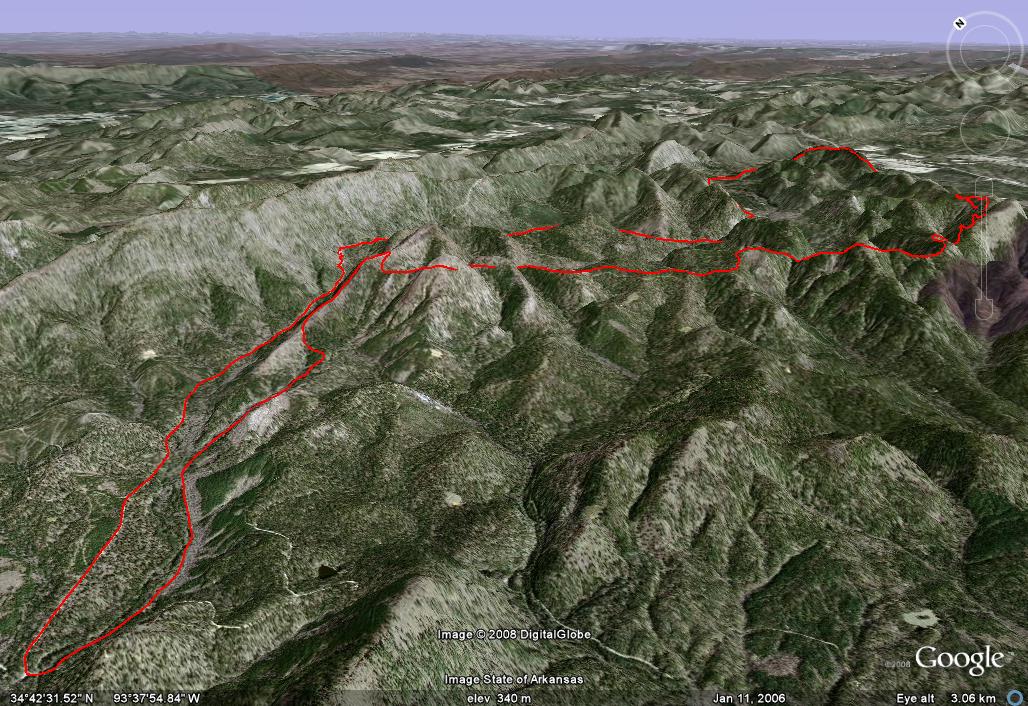 After yesterday's fiasco of a ride that was to include a section of the Ouachita Trail, I had reservations about hitting a different section, more than 100 trail miles east. My reservations grew driving to the trail head. The road was a two-track suitable for a high-clearance vehicle. I was scraping brush the last mile. I figured if access to the trailhead was this grown over, nobody comes out here to ride this.
Starting out, it was very rocky and immediately began climbing. Then it got steep. Seriously steep. Factor in loose rocks covered by 6" of oak leaves, I got off my bike. Maybe with no leaf cover and fresh legs I could have ridden this set of switchbacks. I believe this trail was called Round Top Trail, and it accessed the Ouachita Trail (OT) that followed the ridgeline. Eventually I reached the top and started following the OT. This was nice, but still quite techy. I never dared let my speed run out due to the perils that lurked just under the leaf cover.
One of the best reasons to ride down here this time of year is the leaf drop. Following the ridgeline, you could see out through the trees and knew you were somewhere up high. You'd lose that in the summer. There were no bugs or oppressive heat to deal with either. One of the worst reasons to ride down here this time of year is the leaf drop. There is so much loose rock mixed up in those leaves that it forces you to ride very defensively. Chose your poison.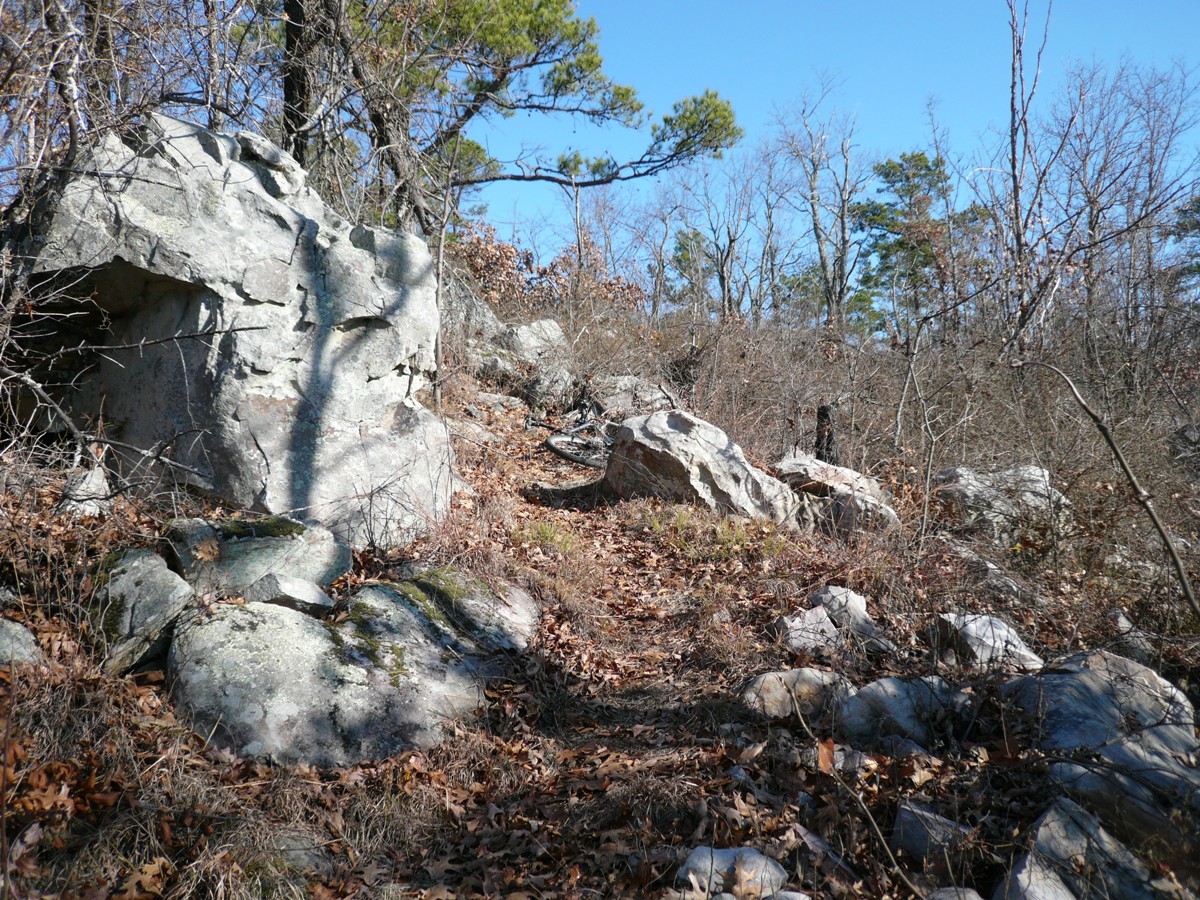 Approaching summit of Suck Mountain.
The OT runs out on Suck Mountain. Yeah, it is really called that. I think the locals call this the Suck Mountain section of the OT. The only thing that sucked about it was my legs with two days of hard riding in them. It was rocky going up one side, smooth down the other side. The descent followed an old logging road and was chocked full of giant water bars. There must have been at least 30 of them. You could get major air off each one. But I'm a wuss riding a hardtail with girlie tires. I didn't want to risk a pinch flat or an ouwie riding solo.
Descent from Suck Mountain. The trail bombs straight for a couple miles, popping over numerous waterbars.
After descending what seemed like forever, I reached Forest Service road 149. This was well groomed and was like a super highway back to the start. It climbed the first 4 miles though. Then 6 miles of sweet, mellow descent. This brought me back to the OT, but several miles east of my car. Plan was to get on the OT, but then veer off on the Womble trail were it first starts on the OT.
Getting back on the OT was a pain. It seems any access gets you to the top in the most direct, painful route. Another nasty set of switch backs sent my sorry carcass off my bike again. It seems I was either going 3mph or 10mph. When I was going 3mph, I was constantly jamming my thumb to find a lower gear. I was already in a 22x34, a sissy gear by Expert racer standards. When I was going 10mph, I was riding brakes trying not to slide out, pinch flat, or endo on on what lie underneath the leaves.
Once up on the OT, I did not stay on it for long. The Womble Trail starts up here. This was the most direct route back to the car. This means I rode all but a few miles of the Womble. I rode the 30 most western miles and 3 most eastern. That leaves about 4 in the middle I missed. I hope to come back here some day and ride the whole Womble in a day as a loop ride with other trails and fire roads. I figure that would be good for a 70 miler.
I maintained a pretty hard pace on this ride. I had another ride planned in the afternoon and wanted to make sure I had plenty of margin. What amazed me is that I never encountered another person on this ride. It was a pristine day by any standard. Granted, it was a work day. But it looked like the trails had not been hiked or biked in weeks based on how unpacked the leaf cover was and tree debris in the trail that had not been touched. I deeply enjoyed the solitude.
Ride Two of the Day: Mount Magazine, Havana, AR
26.6 miles, ~3000ft vertical, 2:00 hours riding time
Hill Junkie can't visit an area that has the state's highest point and not ride it. Doesn't matter if its a paved climb. I don't have a singletrack mind (ok, maybe I do but my MTB doesn't). Fat tires work on pavement too.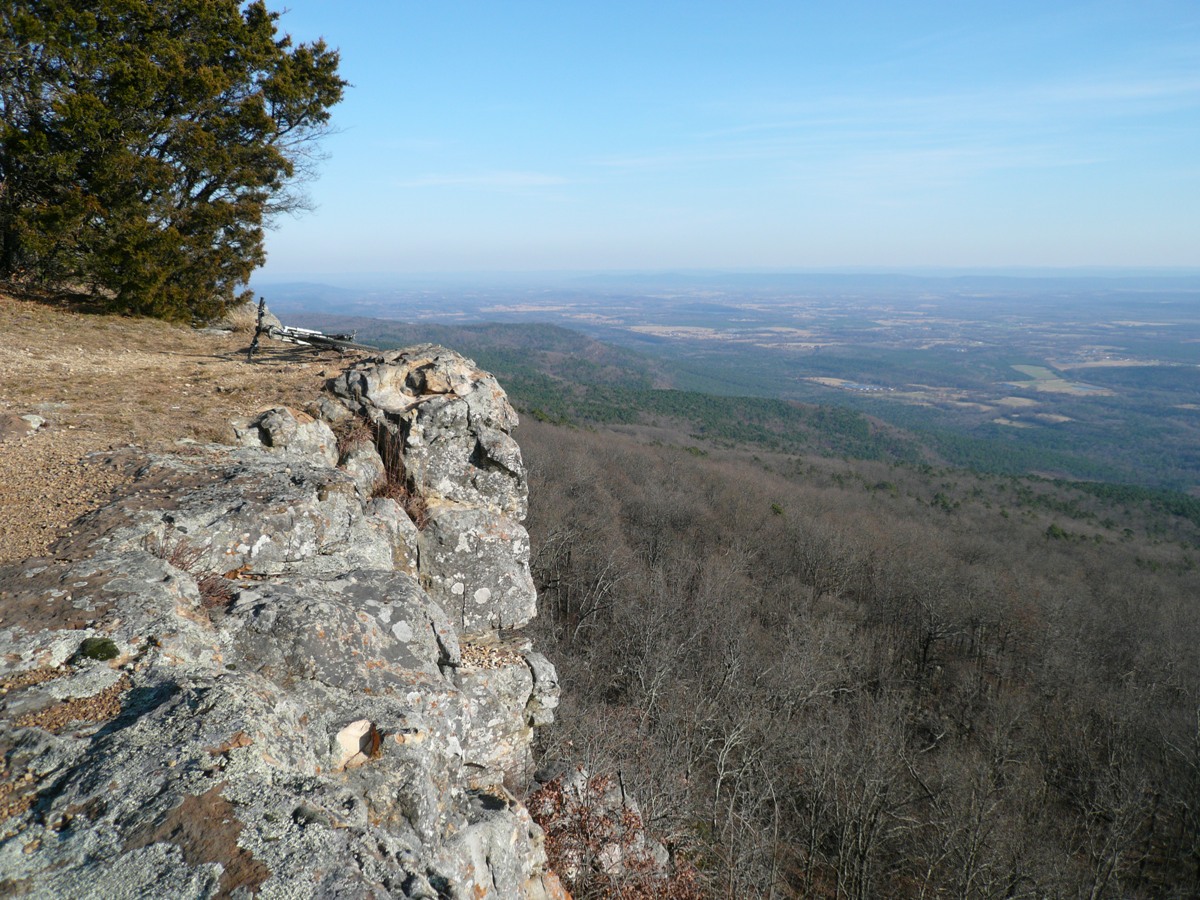 Mt Magazine ledge.
Mt Magazine was featured a while back in Bicycling as the climb to do when in Arkansas. It was practically on my way to my next destination on Saturday, just an hour away from this morning's ride. I ate only a Gu during the morning ride, and a Clif bar and half a scone on the way to Havana. I wanted to get there with good daylight margin so I wouldn't be rushed. This was a climb I want to savor. I skipped lunch. I didn't worry that bonking could turn this into a death climb.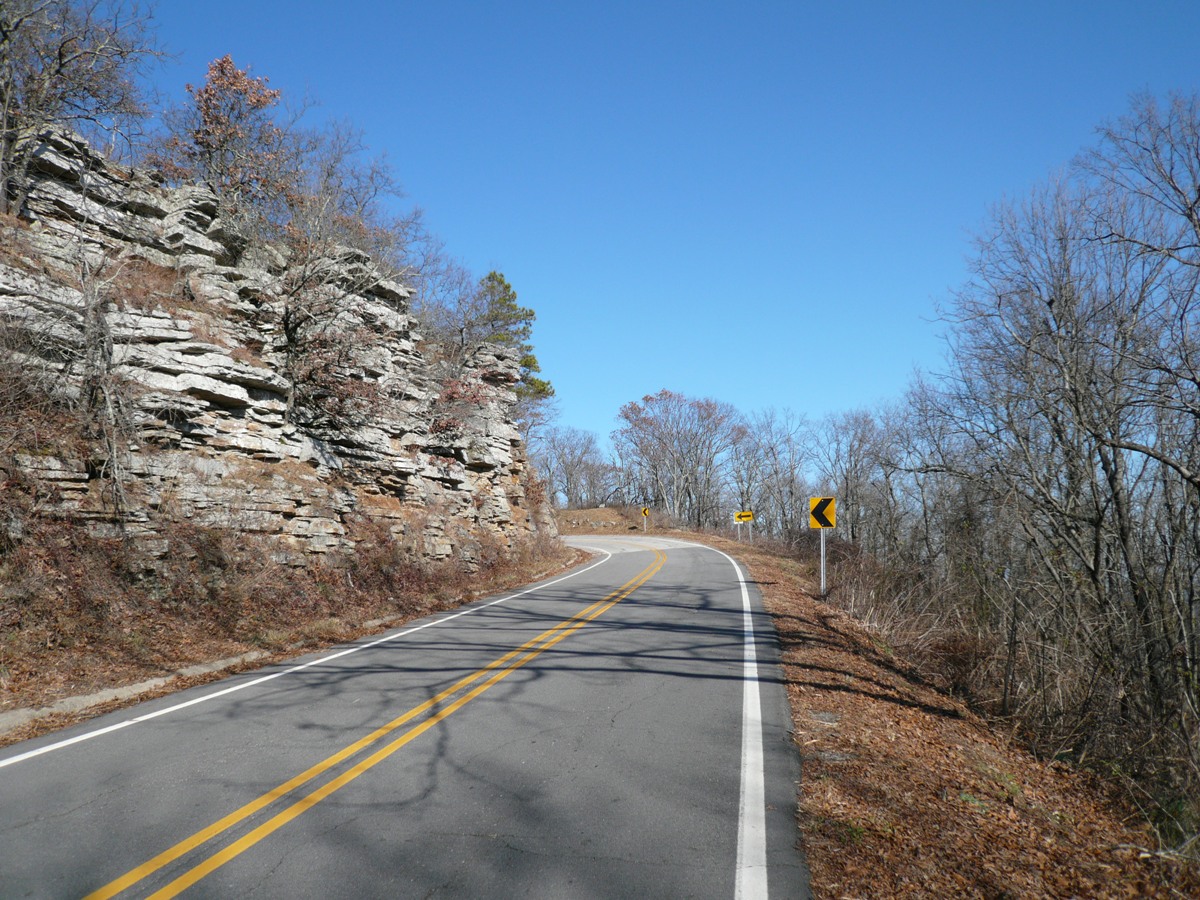 Nearing top of climb on Hwy 309.
I parked in a church parking lot right at the base of Hwy 309 that goes up and over Mt Magazine. The first two miles of the climb barely gained any vertical. The next seven hurt at ~7% grade. The 12 mile climb finishes out with a few miles of rolling climbing. The sky was still cloudless and brilliant. The views from the summit were stellar. A sheer cliff lines the whole southern exposure.
There is a lot built up on top. Fancy condos and huge resort. You'd think this was Vail, Colorado, but I'm not aware of skiing anywhere in Arkansas. It was at least 10 degrees colder up here. Perhaps folks come here in the summer to beat the heat.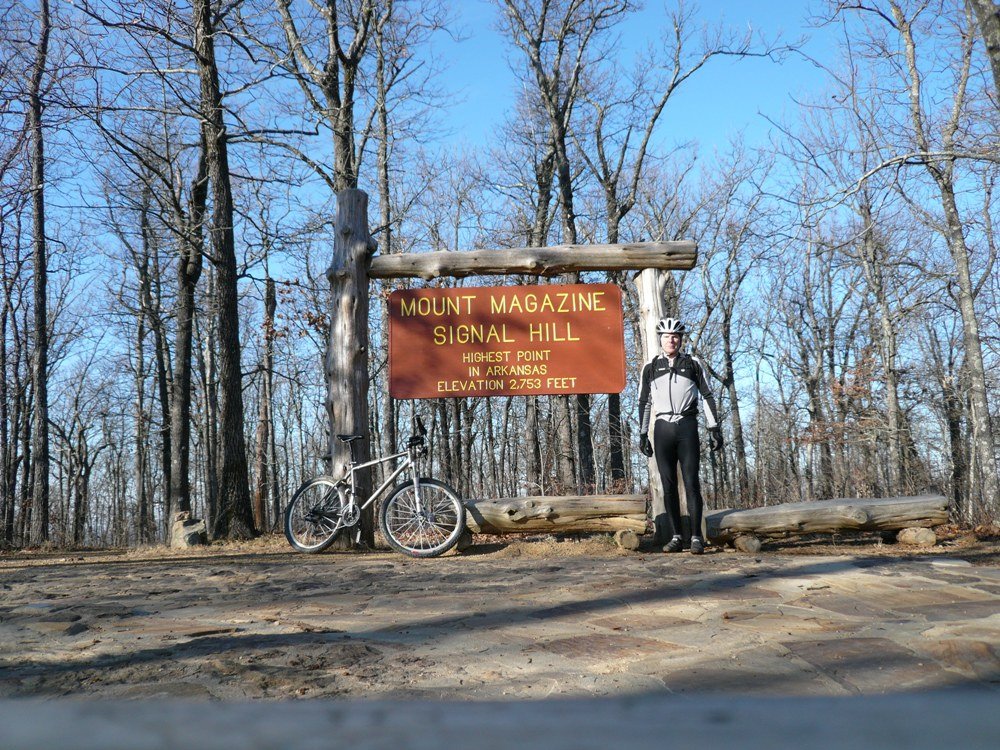 The highest point in the state reached by questionable means.
The high point is reached by foot path only, gaining another 100-200ft from pavement. Don't ask me how my bike got up there. The place was deserted. There were bits of snow on the north side of the peak. After the obligatory summit self portrait, it was time to bomb back down. I resisted the urge to put the wind shell on. Something about chilly air stimulating the senses when in an endorphin induced haze. The first few miles of the descent sucked, as there were some ups along the way. I was ready for all down. The steepest seven miles were nice, needing no pedaling. I got back to the car by 3:30pm, plenty of daylight left. It was still 52F out. I never bonked.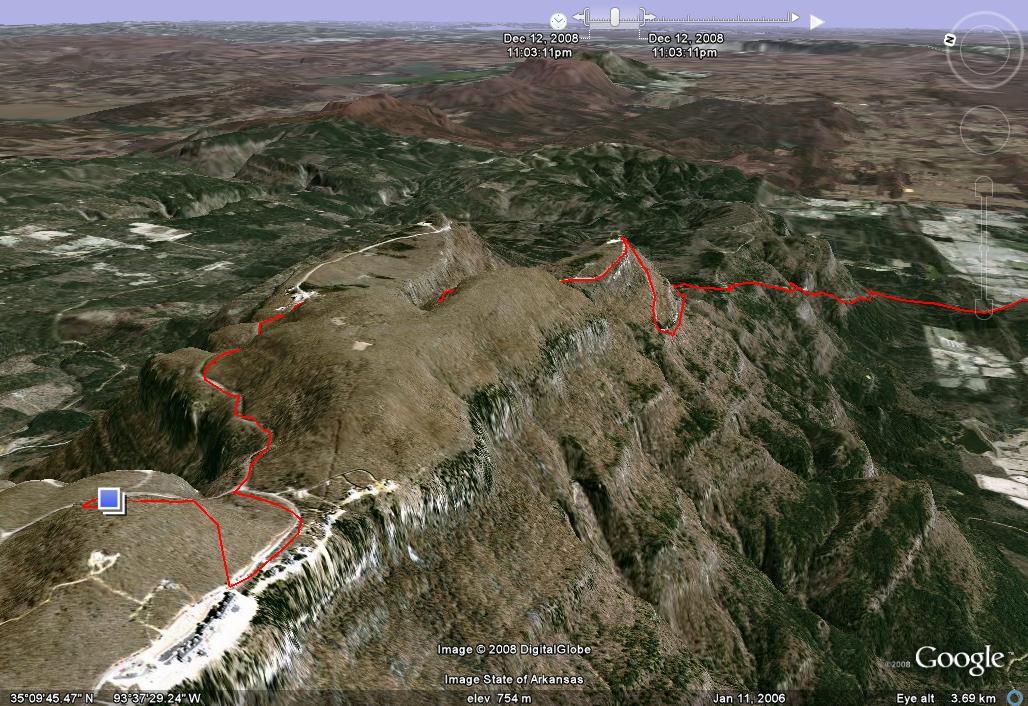 So I bagged another high point. I have no goal to ride high points in each state like the hiker club does. Most high points are either completely inaccessible by bike or illegal. Off top of my head, I've hit NH, MA, VT (almost), AL, AR, HI.
The WiFi here sucks. Blogger told me it kept saving as I typed, but it wasn't. I lost my connection and had to type 3/4 of this post twice. To top that off, MS Picture Manager stopped working so I can't reduce image sizes. You get only Mt Magazine pics today. Next up tomorrow is the Syllamo Trails. This is a purpose built 50+ mile network of singletrack about two hours north of Conway (where I'm staying tonight). With almost 13 hours of hard riding in three days, I'll probably do only 3-4 hours tomorrow and chill in the evening. Oh, from the hotel I can see a Sonic, Starbucks, and a Ryan's (all you can eat American). I could live off these three.
Saturday, December 13, "Syllamo Epic"
Syllamo Trails, Mountain View, AR
34.1 miles, 3327ft vertical, 4:02hrs riding time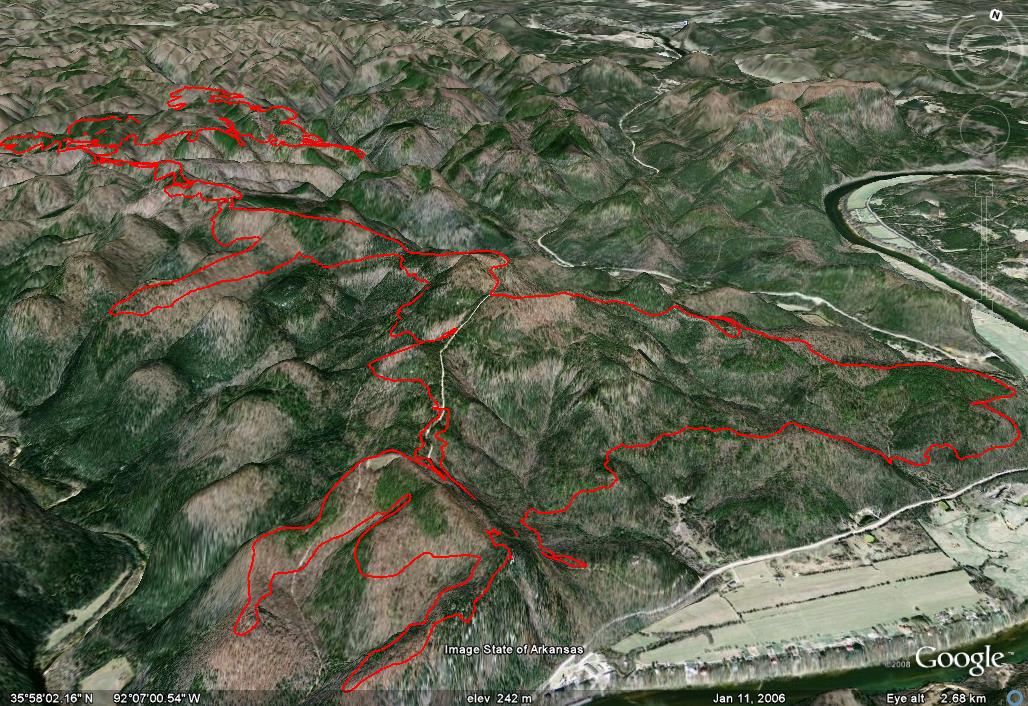 The Syllamo Trails network is the second IMBA designated epic I hit during this trip. There are now over 50 miles of purpose built singletrack here. Five major named and color-coded loops offer something for everyone, from first timer to experts. The way my legs felt getting up this morning, the beginner loops were looking pretty good.
I'm finally in an area with Verizon coverage, so I made a bunch of calls driving up. I rarely use my cell phone, even less while driving. I missed a turn while talking with my mom and was well on my way to Missouri before I realized it. Sounds like the situation in southern NH is bleak. Some areas may go a week without power. My house will probably be without power for at least four days. With neighbor's help, Cathy is making out fine with the generator. That thing is finally paying off. The neighbor helping Cathy did not have one, so he installed a hook-up so we could time-share the thing.
My weather here today looked iffy - overcast with some spotty rain in the area. I started riding just after 10am. Lots of guys in camo where heading into the woods with trucks. I guess some hunting is still going on in this section. I put my yellow wind breaker on to be safe.
White River Bluff Loop (Green)
This 5mi loop goes out to the precipice above the White River (map). Great views. But this was some techy stuff. No way could I clean it with my puny tires. Lots of sharp, ledgy slickrock to ride on. Very similar to ridgeline riding in New England.
Bald Scrappy Loop (Orange)
This 7mi loop begins with a serious, rocky descent. I began to wonder what I got myself into. I really needed a dualie with about 6" of travel to ride this stuff. It went down forever, and all I could think about was what is the "up" going to be like. In the CCW direction I rode it, not too bad. But I immediately started to bonk, not 45 minutes into the ride. I had doubts I ate enough last night, now I was certain I did not eat enough. I chowed a Clif Bar and pressed onward. I had originally planned to ride Scrappy Mountain Loop (Blue), but it is claimed to be the most technical loop there and it was long. I was already getting my ass spanked on the intermediate stuff. Instead, I finished the Orange loop which doubles up with the Blue loop back to Green Mtn Rd that winds through this part of the Ozark National Forest. It was nice stuff, popping out on a slickrock ledge for a good distance. No good views though.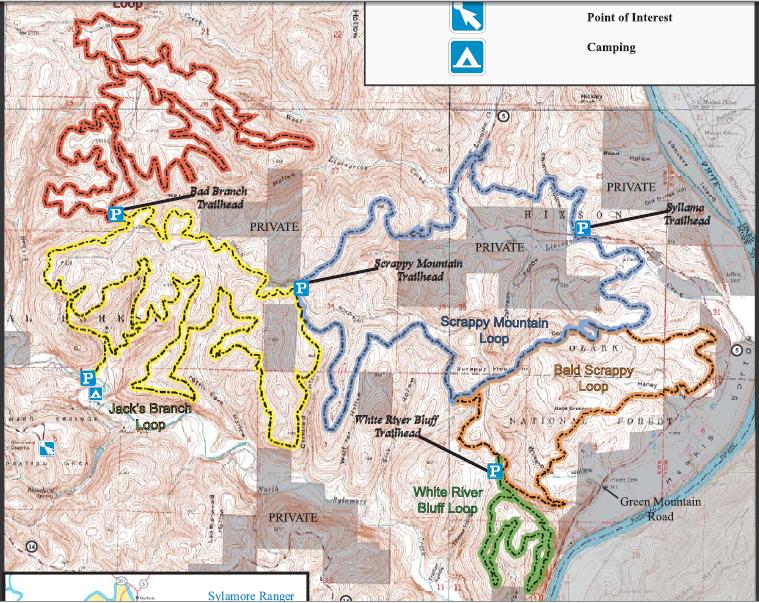 Bad Branch Loop (Red)
I rode Green Mtn Rd further in several miles to ride the Red loop. This is claimed to be the most beginner friendly loop at 12 miles in length. It was sweet, very much like the Womble Trail I rode on my first day in Arkansas. Elevation changes are neither big nor steep. No need for a granny ring on this one. Brakes were rarely needed on the descents at 15-20mph. No need to think about what you were doing. On this loop, I encountered the only other rider I saw on the whole trip, another solo guy like myself. Startled me actually. I did see a couple hunters in the distance up on a ridgeline a few minutes earlier though.
I now had a choice. Do I ride the whole Jack's Branch Loop (Yellow) at 14 miles or start working a more direct route back to the car. I had nearly 3hrs riding time already. Jack's had more tech stuff in it, and I was pretty beat up already. I opted to take a portion of Jack's (Yellow) to Scrappy Mountain (Blue) to Bald Scrappy (Orange) back to the car. The 3mi of yellow was nice, much like the red loop. The blue, however, forced me to become reacquainted with my granny ring. This 4 mile portion is closed during the week right now for logging. I at first thought what logging, but then I hit it. What a mess. I could not tell where the trail went. I was ready to give up and back track several miles and take the gravel road back. It started to sprinkle out. Great. But then I saw some fat tire tracks here and there and followed them. They got me back on course. The sun came out (first time all day). Life was good again.
I next reached the junction with Bald Scrappy (Orange), the last little piece of it I hadn't ridden yet. Would it be like the first 6mi? No. This was more like Vietnam in Mass. I was rapidly imploading, having long since finished my carb supply I took along. I got off my bike a lot. Just when I thought this segment would never end, I dropped back down to my parking lot. There were no cars there when I started, now there was one other.
So is this place worth all the hype given it? Yes, I would say it is. For most riders, you could get two full riding days out of it. I covered about 2/3 of it in 4hrs riding time. The more technical parts I missed would add 3hrs I think. I wouldn't try to do the whole system in one day. As it was, the prior three days did not give me any blisters. Riding 4hrs here today put blisters on my hands. What does that say for the brutality factor? When I come back to Arkansas to ride again some day, I would come back to the Syllamo Trails. I think there are still plans to expand he network further.
I ate obscene amounts of food tonight. I'm quite certain I shed a few pounds over the last four days. First I loaded up on all kinds of things that aren't good for you at Sonic not more than 10 minutes from the trail head. It was yummy though. Then later at the hotel, I hit the local Ryan's for round two. I ate a few things good for ya, like steamed broccolli and lima beans, but chowed on steak, pot roast and four rolls with real butter. That was just for starters. After three trips up for hot stuff, I finished up with two oatmeal cookies, carrot cake, and chocolate chip cookie dough ice cream. I used to eat at these places in Michigan when I weighed 230 lbs. Now I can eat at them just to maintain a 160-ish weight.
It's been a great short trip. I rode 16.5hrs in 4 days, mostly on singletrack, most of it at a fairly aggressive pace on rough terrain. I'm pretty happy with how well the body held up. The two days with most dramatic scenery were also the clearest, brightest days which was nice. I come home to a house with no power on Sunday. I don't know if there will be power at work yet on Monday. I don't need another vacation day. You'll have to suffer through a couple more trip updates with photos after I get back since I lost my primary photo editor. These were resized with MS-Paint.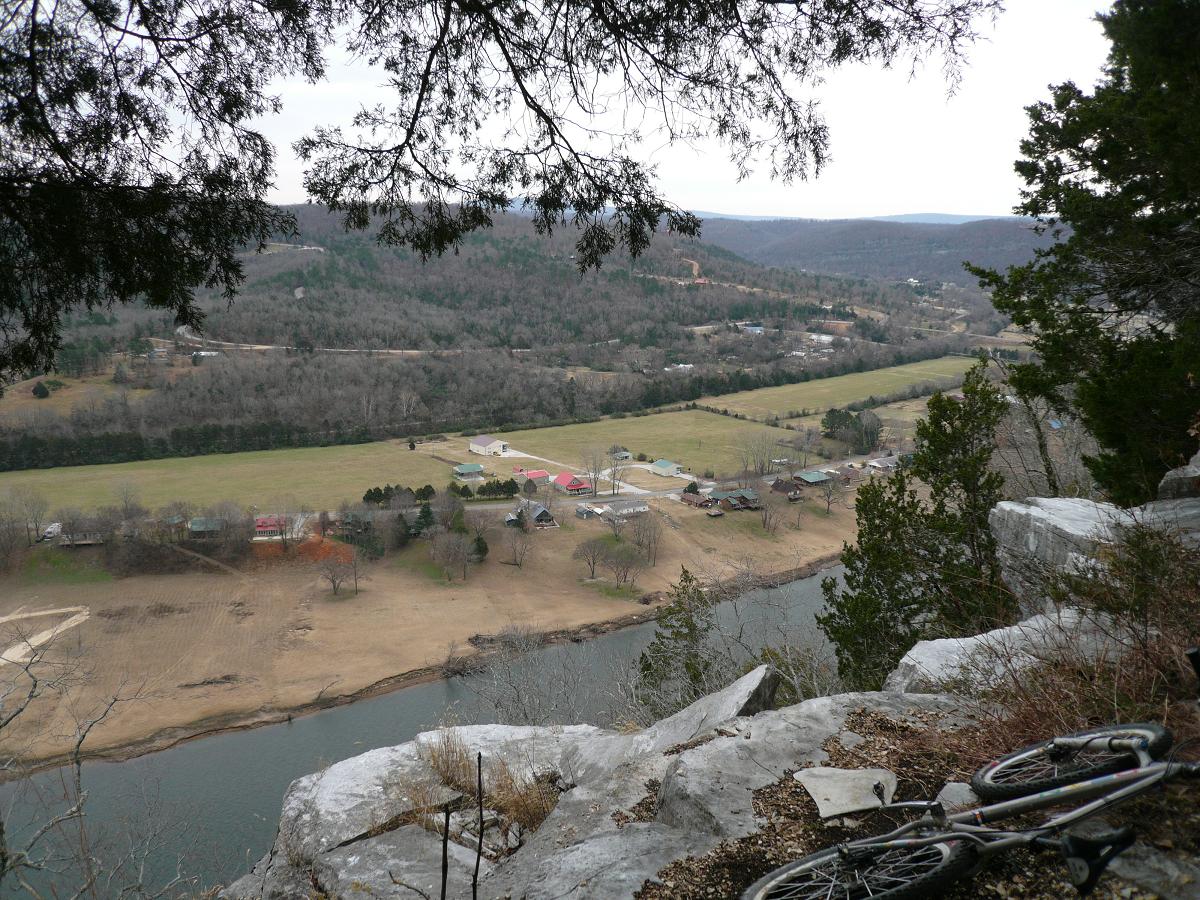 White River Bluff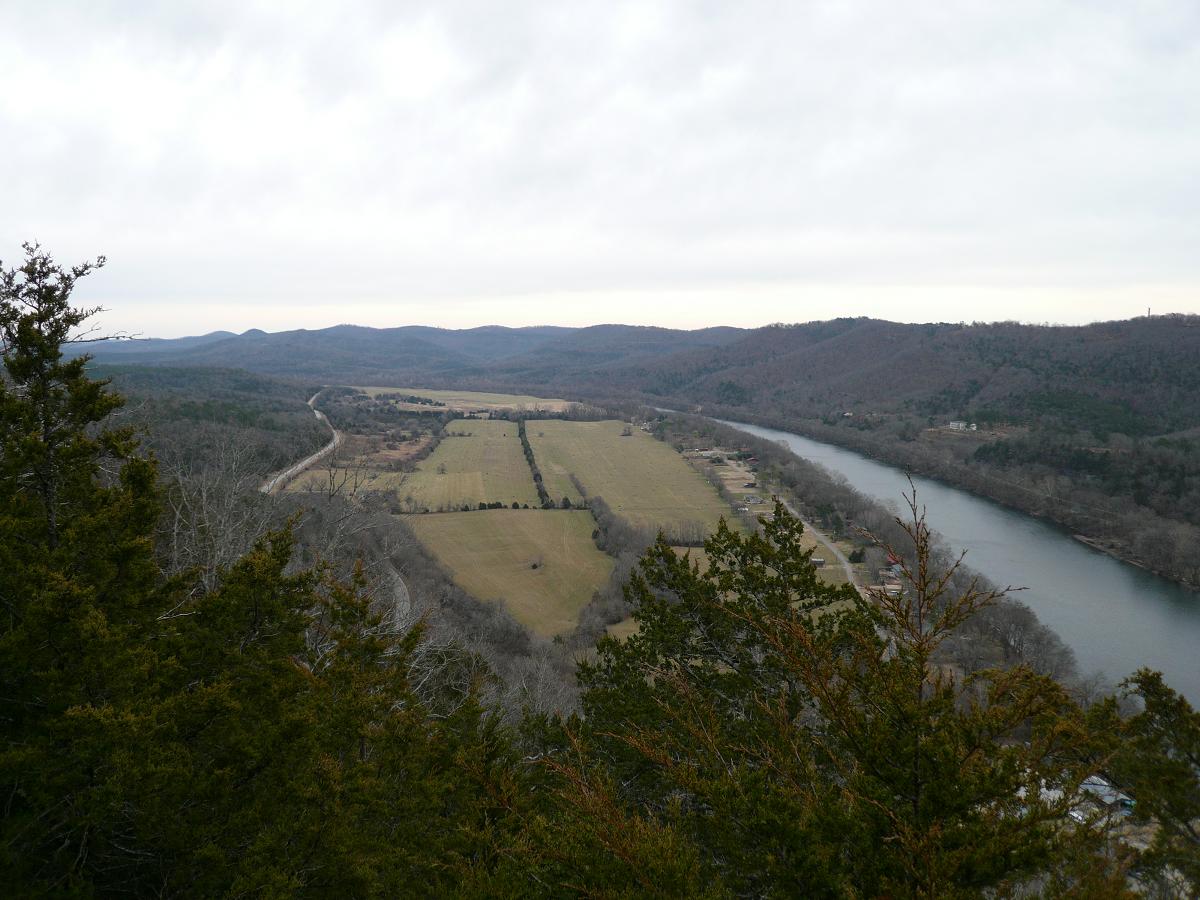 White River Bluff looking north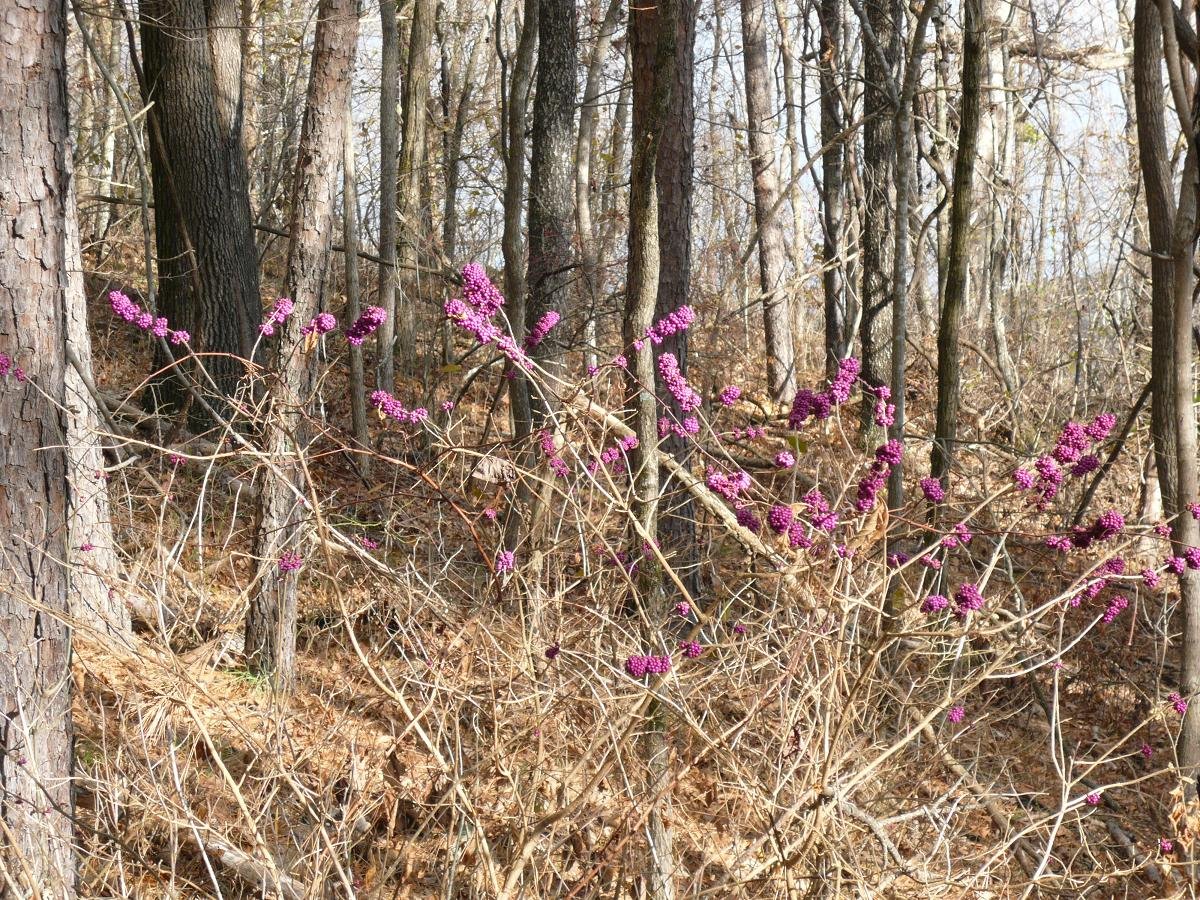 I did stop to sniff the berries once in a while. These things were everywhere. Don't know what they are. They almost looked fake because they were so iridescent purple, like 1990's mountain bike parts.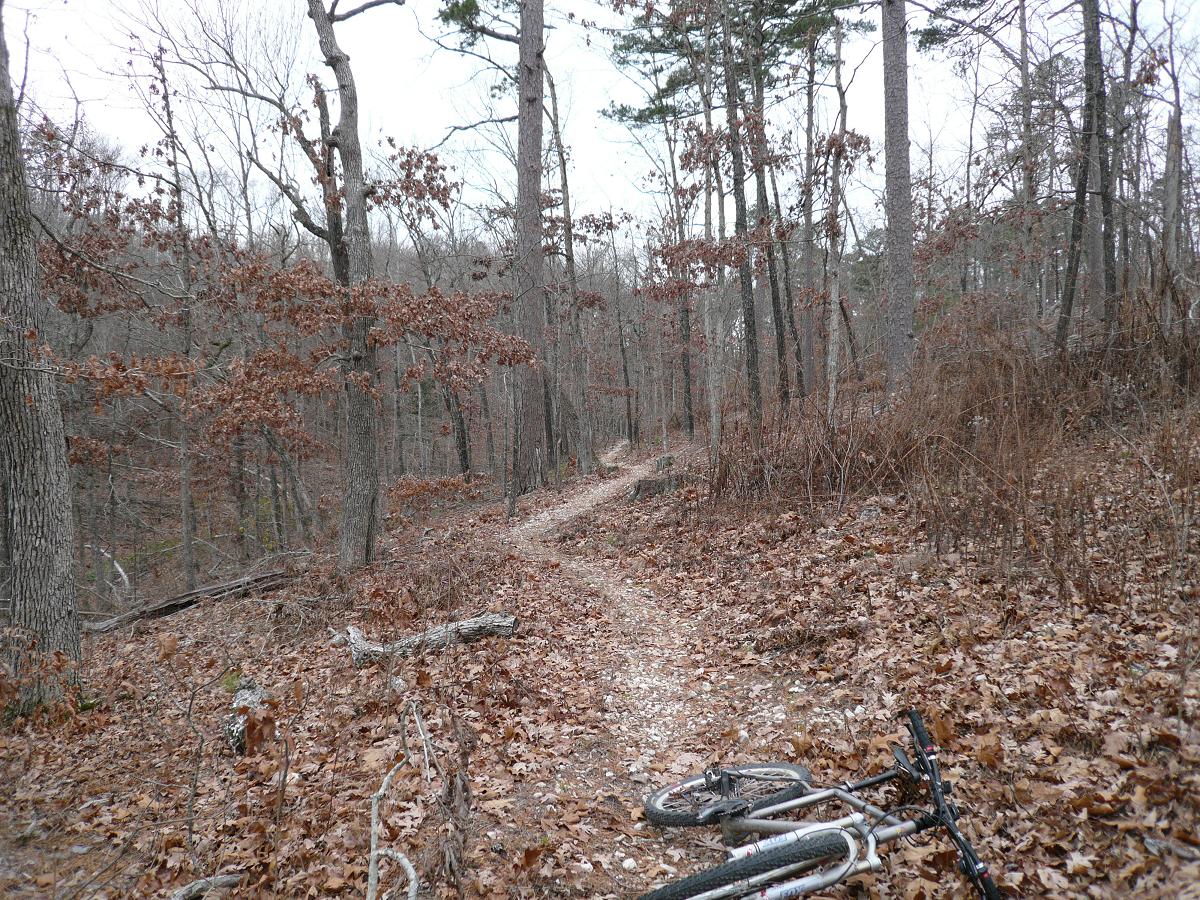 Buff stuff on the Red loop
Standard fare on the Orange loop
Trip Wrap-up
I really lucked out on the weather in Arkansas. It rained heavily during the days before I went down there, and it has been raining since I left, including winter advisories this week. I never got rained, snowed or sleeted on. I have ridden in 16 states so far this year. Arkansas and Oklahoma are new states, bringing to 42 states where I have sampled dirt so far. The other new states added to my list this year are Minnesota, Iowa and Wisconsin. Michigan over the holidays will make 17 states ridden in 2008. I'll leave you with a few photos captured with the Canon Digital Rebel on Talimena Scenic Drive.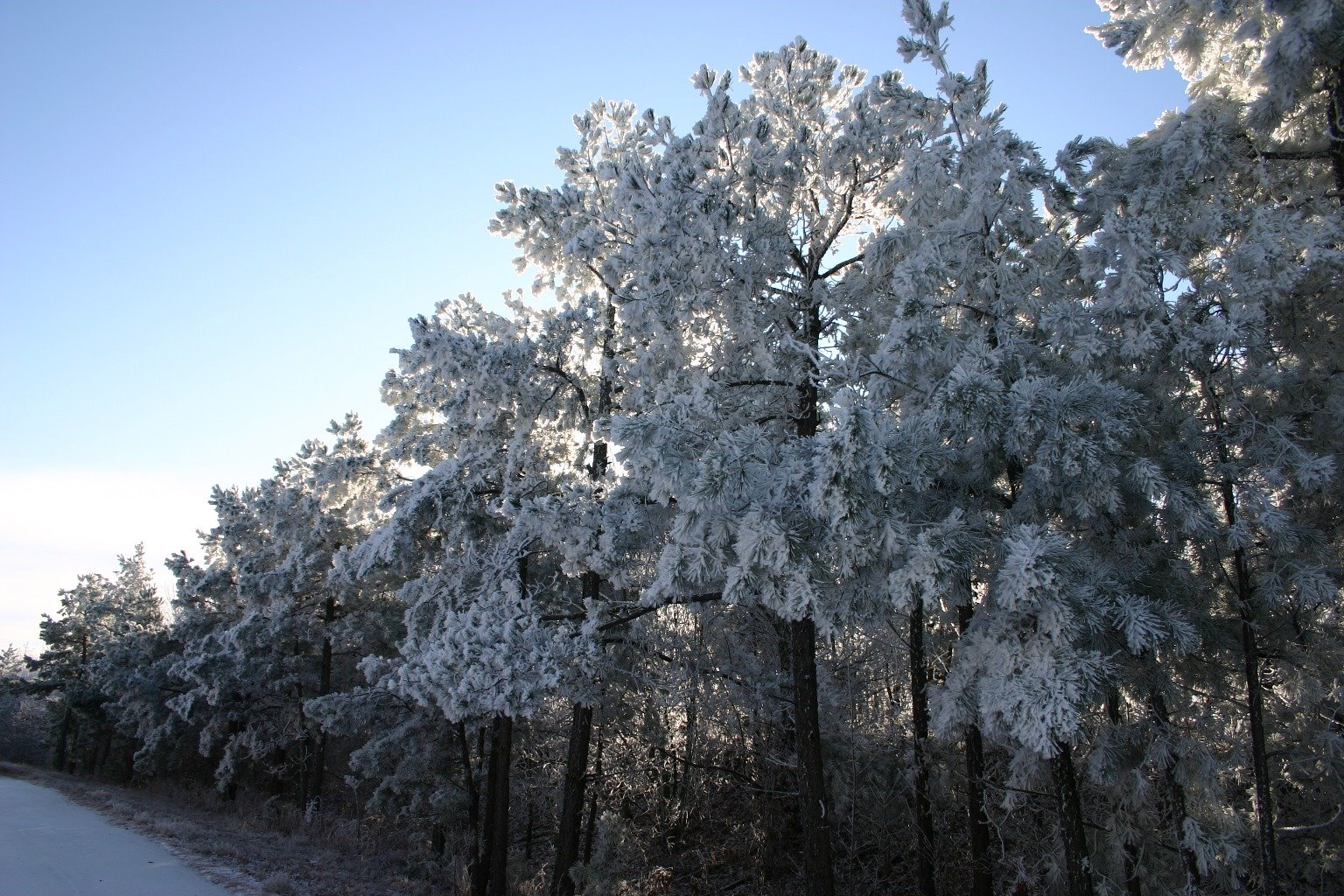 Compiled by Doug Jansen
23-February-2009